amanda + zach // Aurora Cellars Winery
Romantic Wedding on a Winery Estate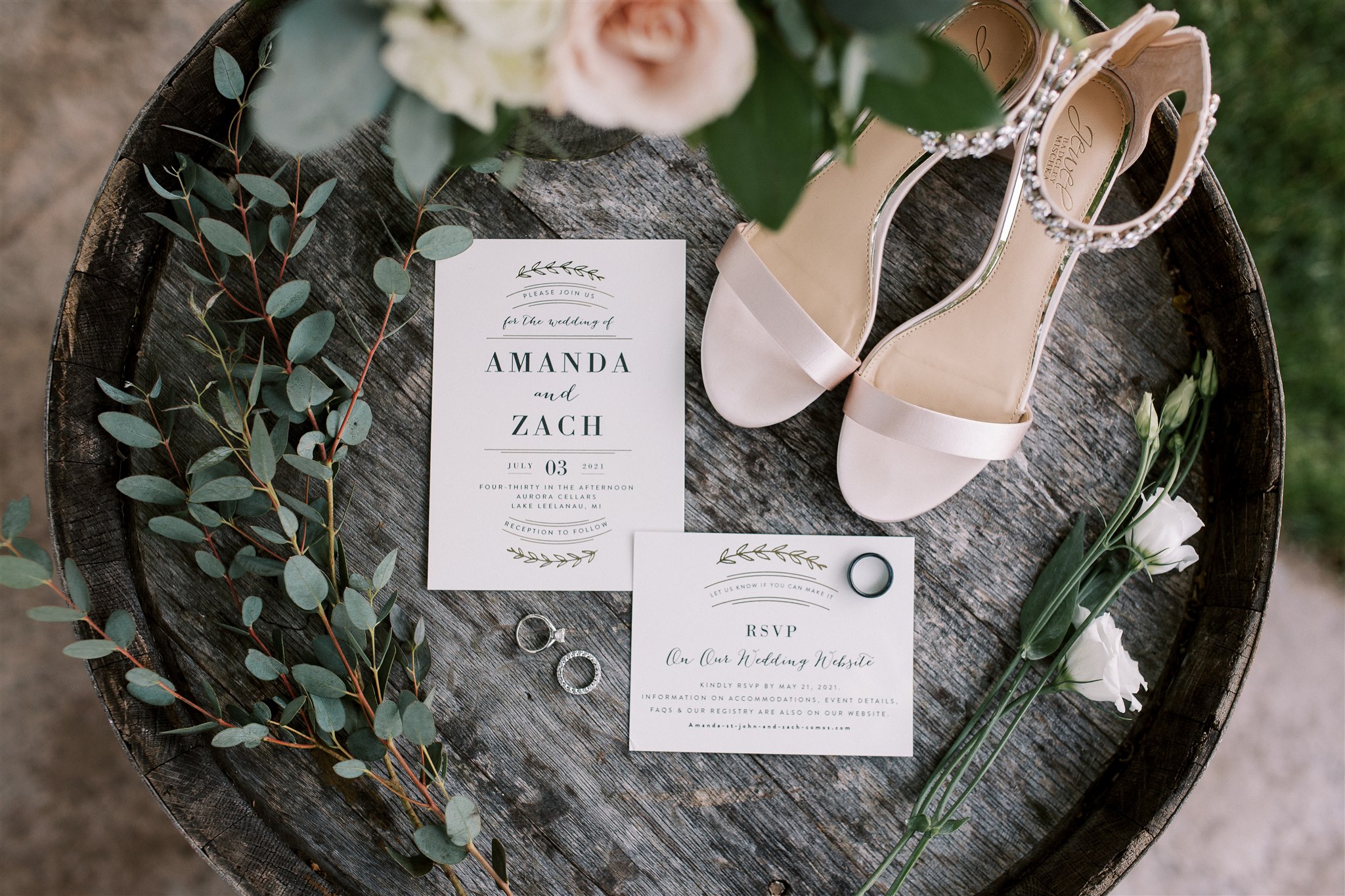 Naturally Blush
Amanda & Zach have a lovely sense of style, endearing personalities, and the cutest little pups.  When we started working on their design, we described our goal as "romantic, naturally luxe, relaxed elegance".   A palette of pinks on the sweeping vineyard estate (and a few other fun details) brought this dreamy weekend together in a way we still look back to for inspiration.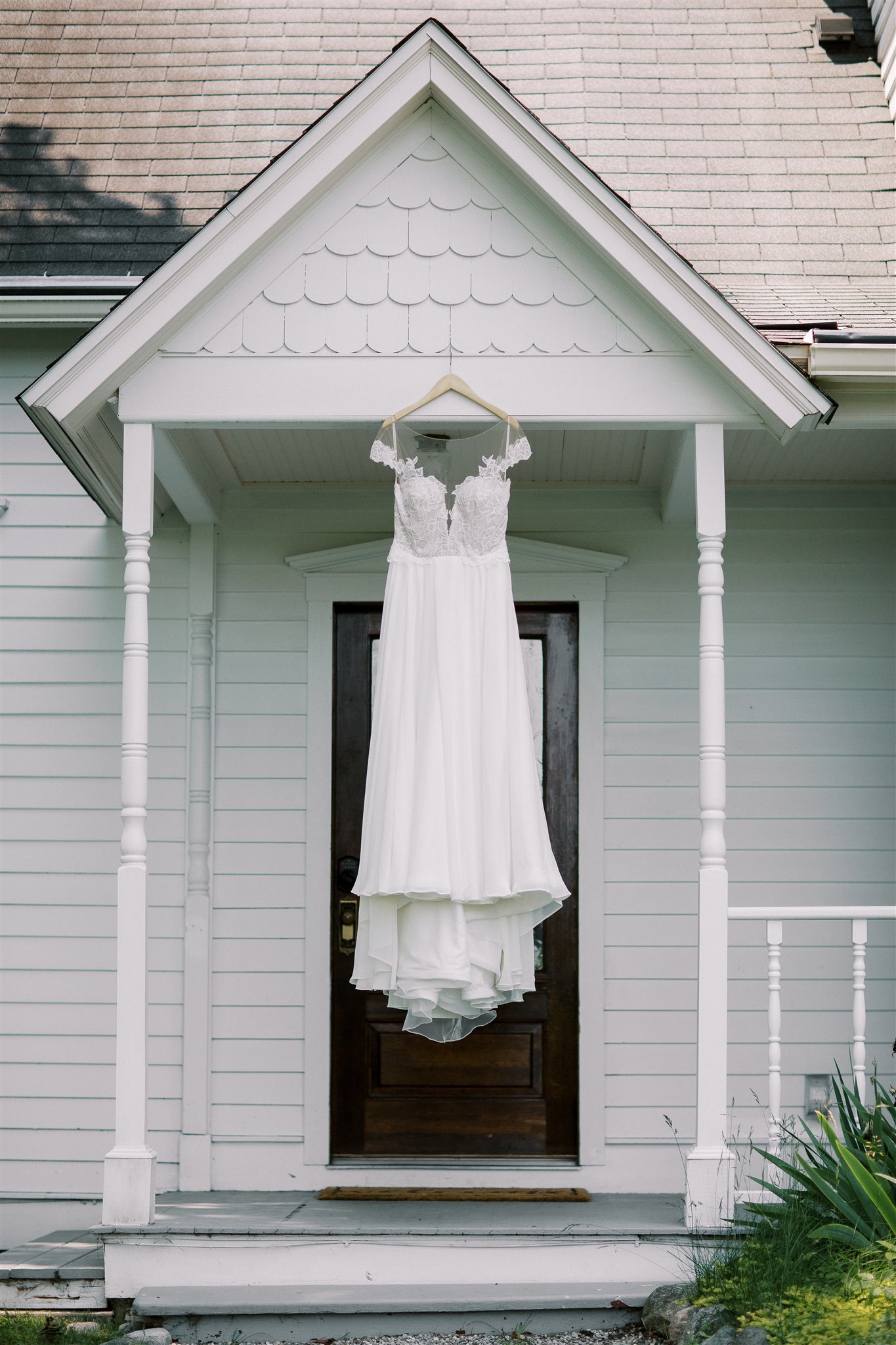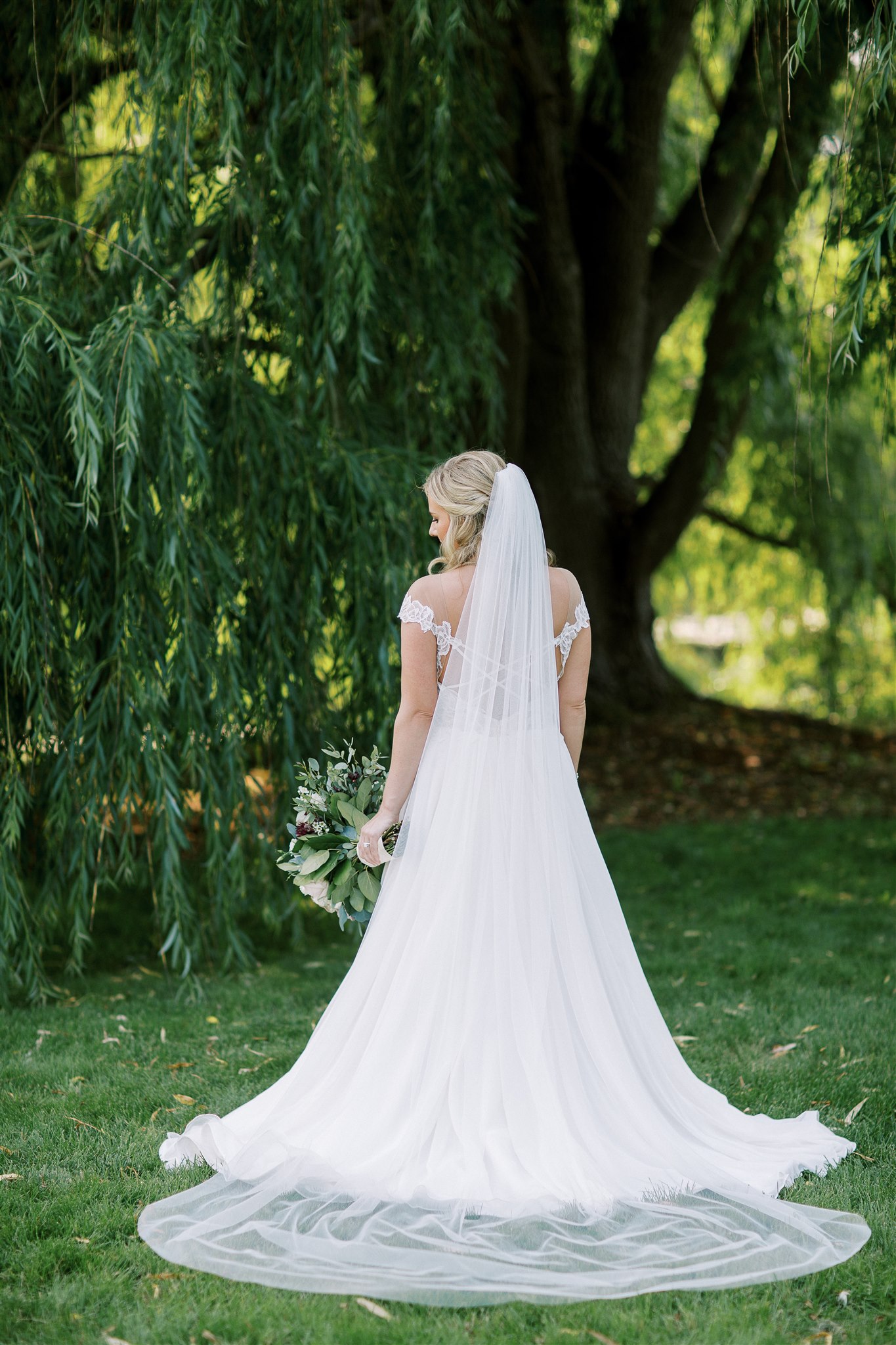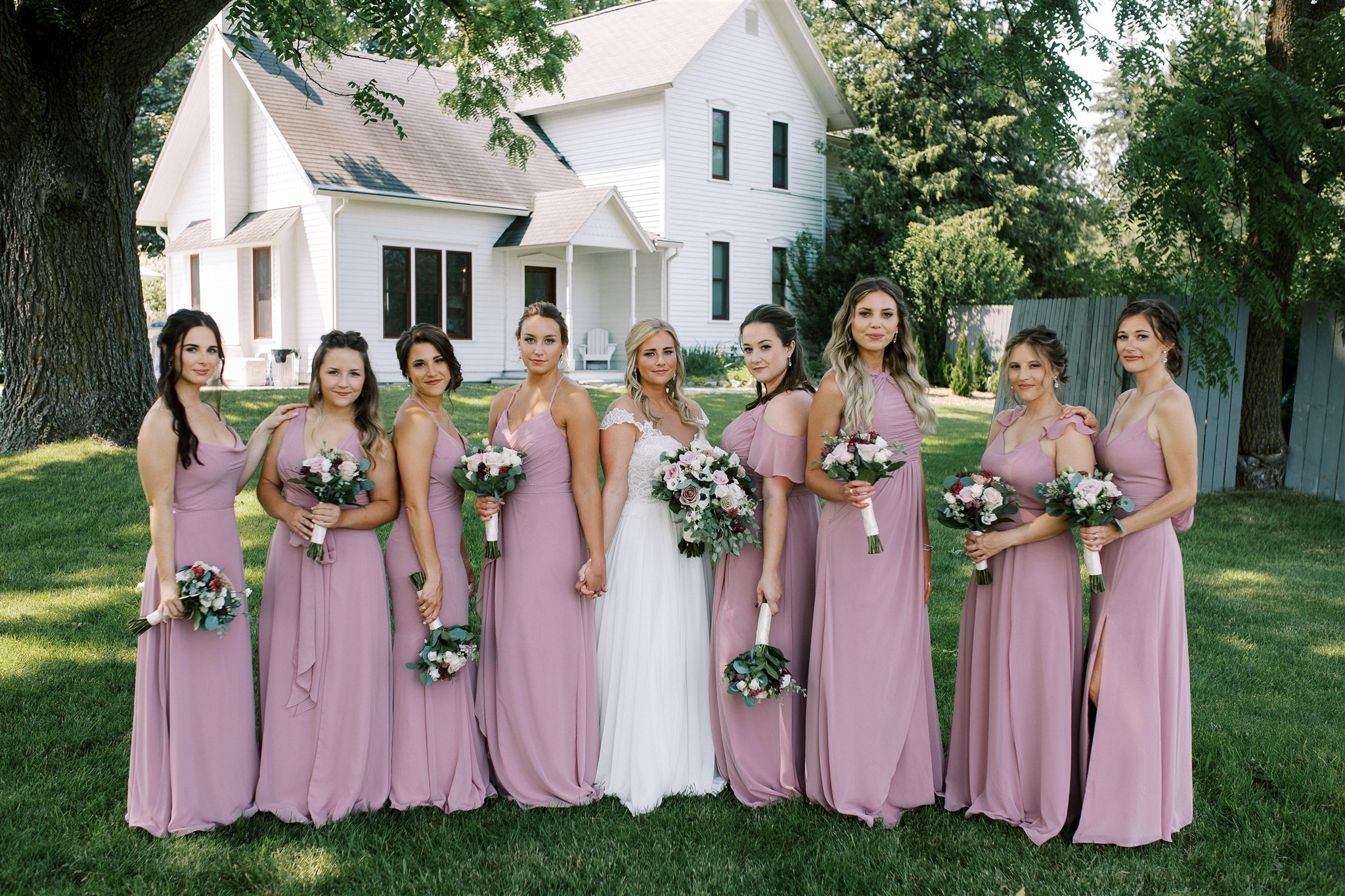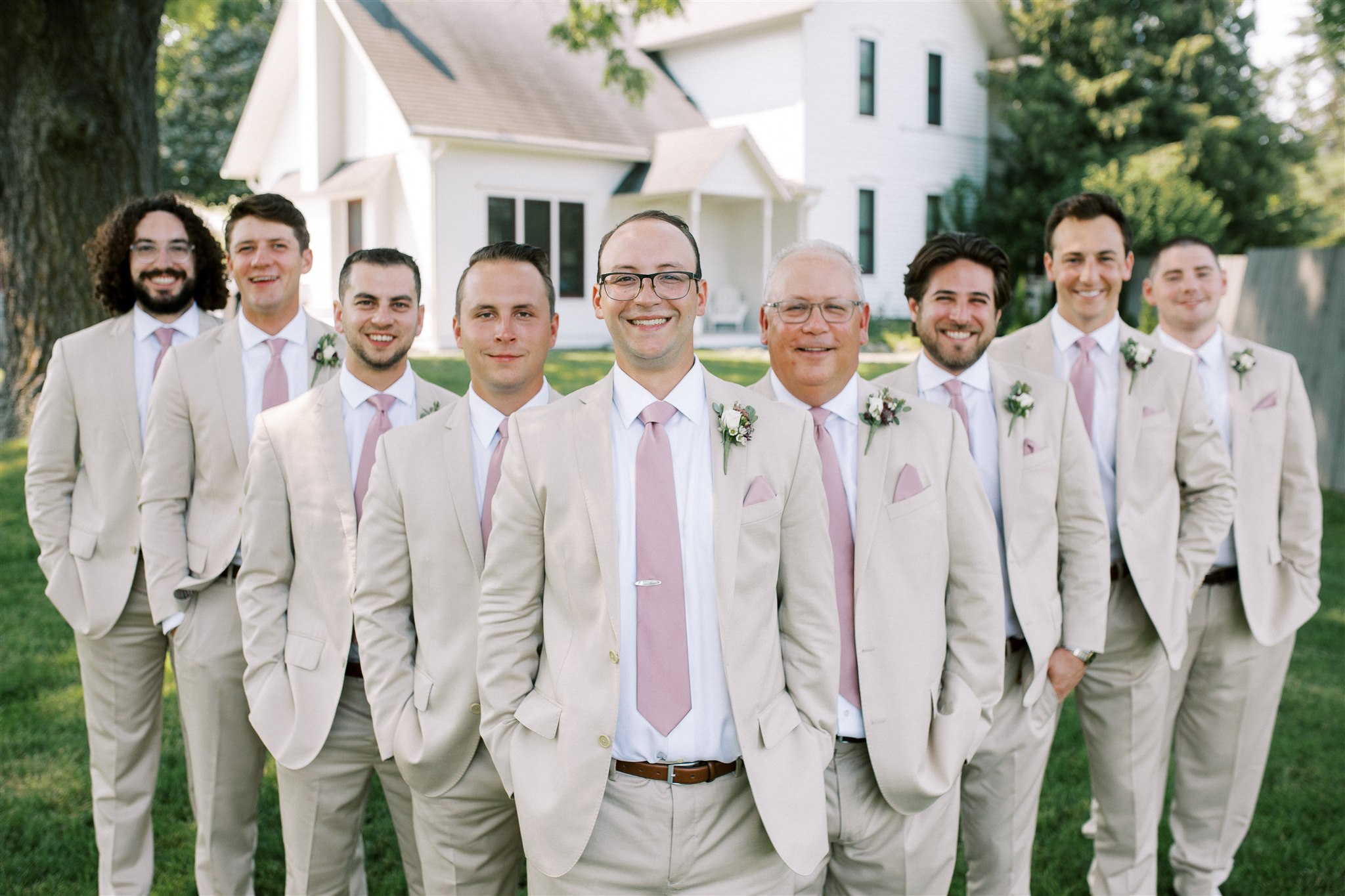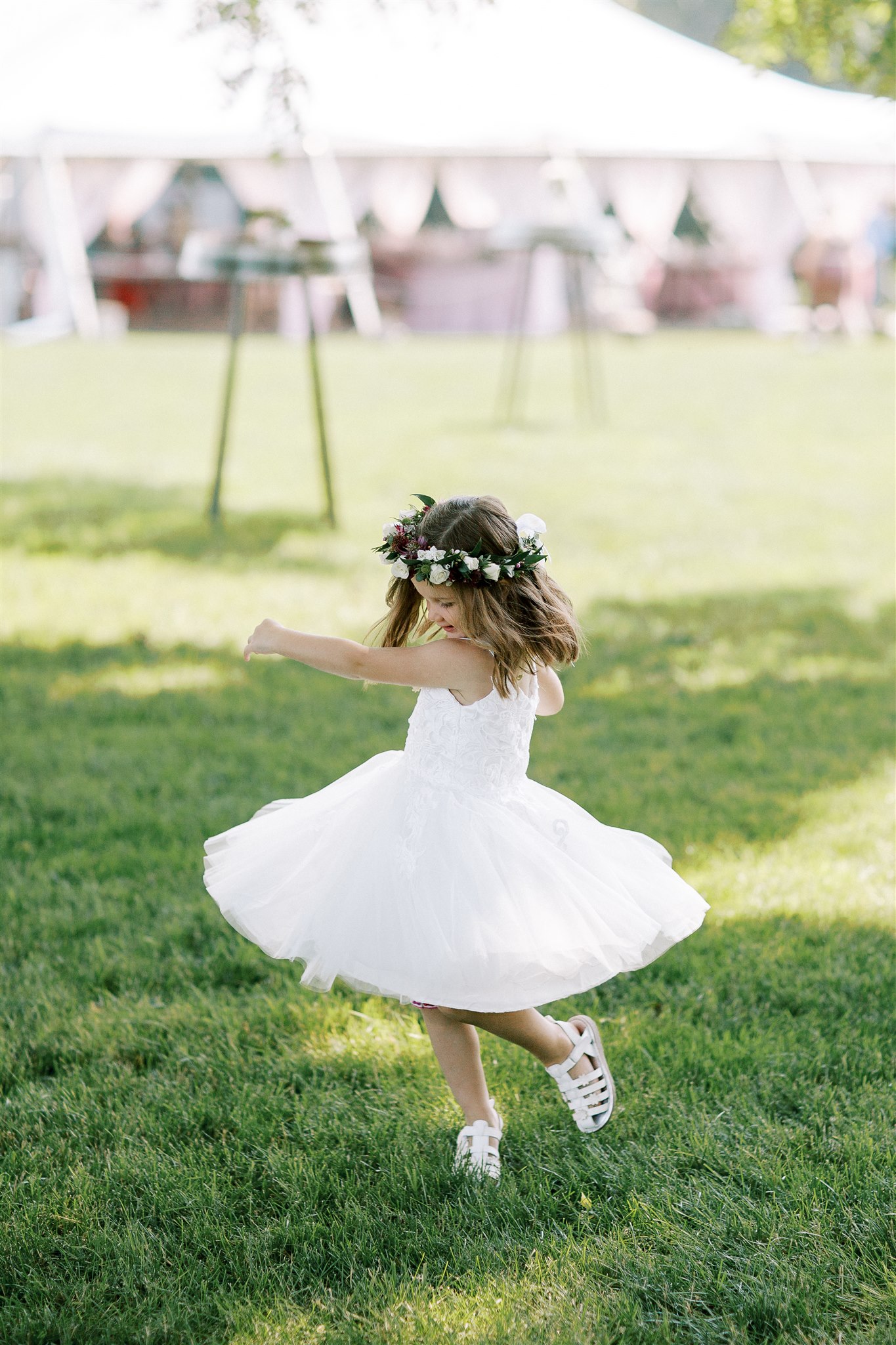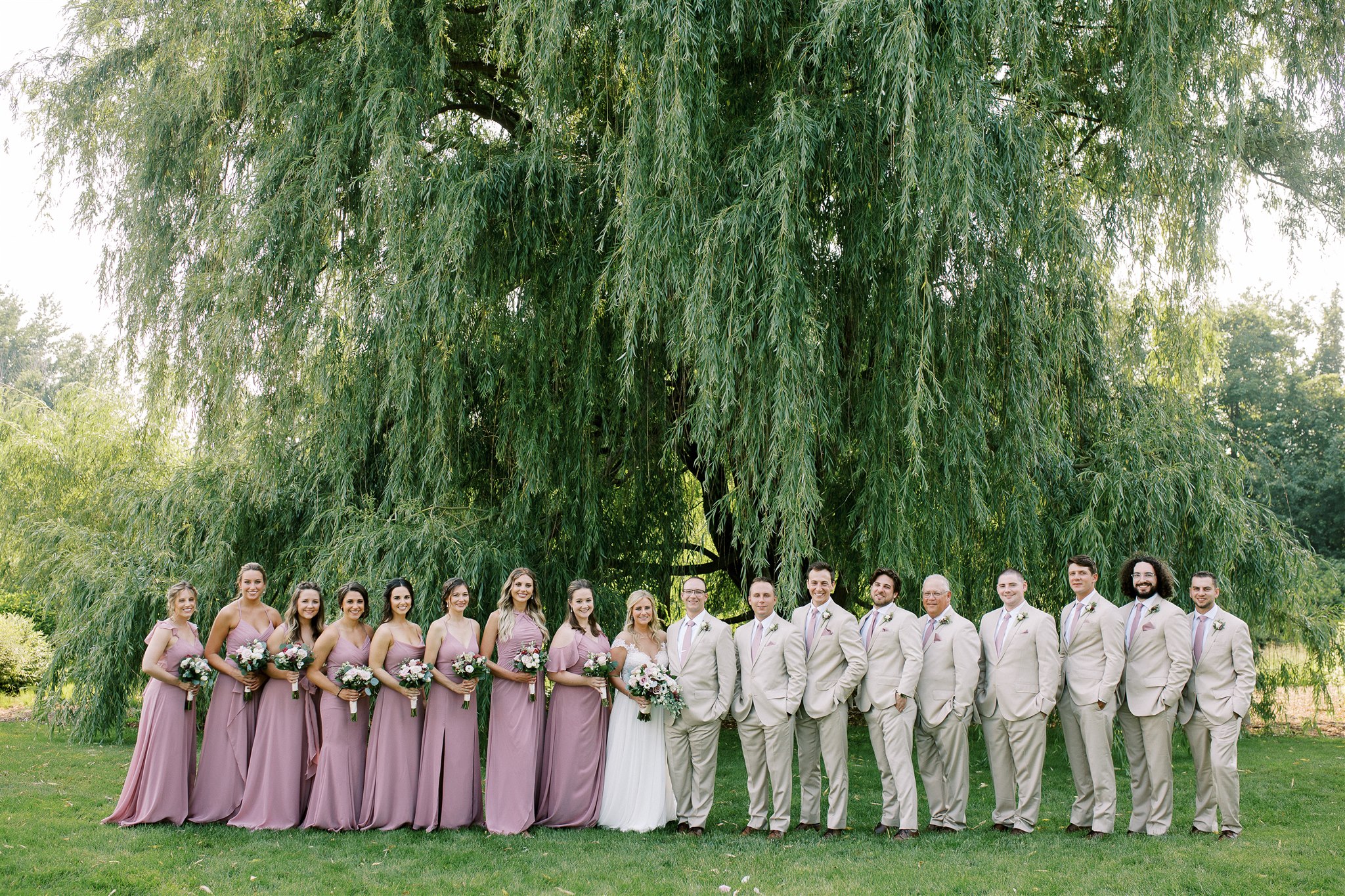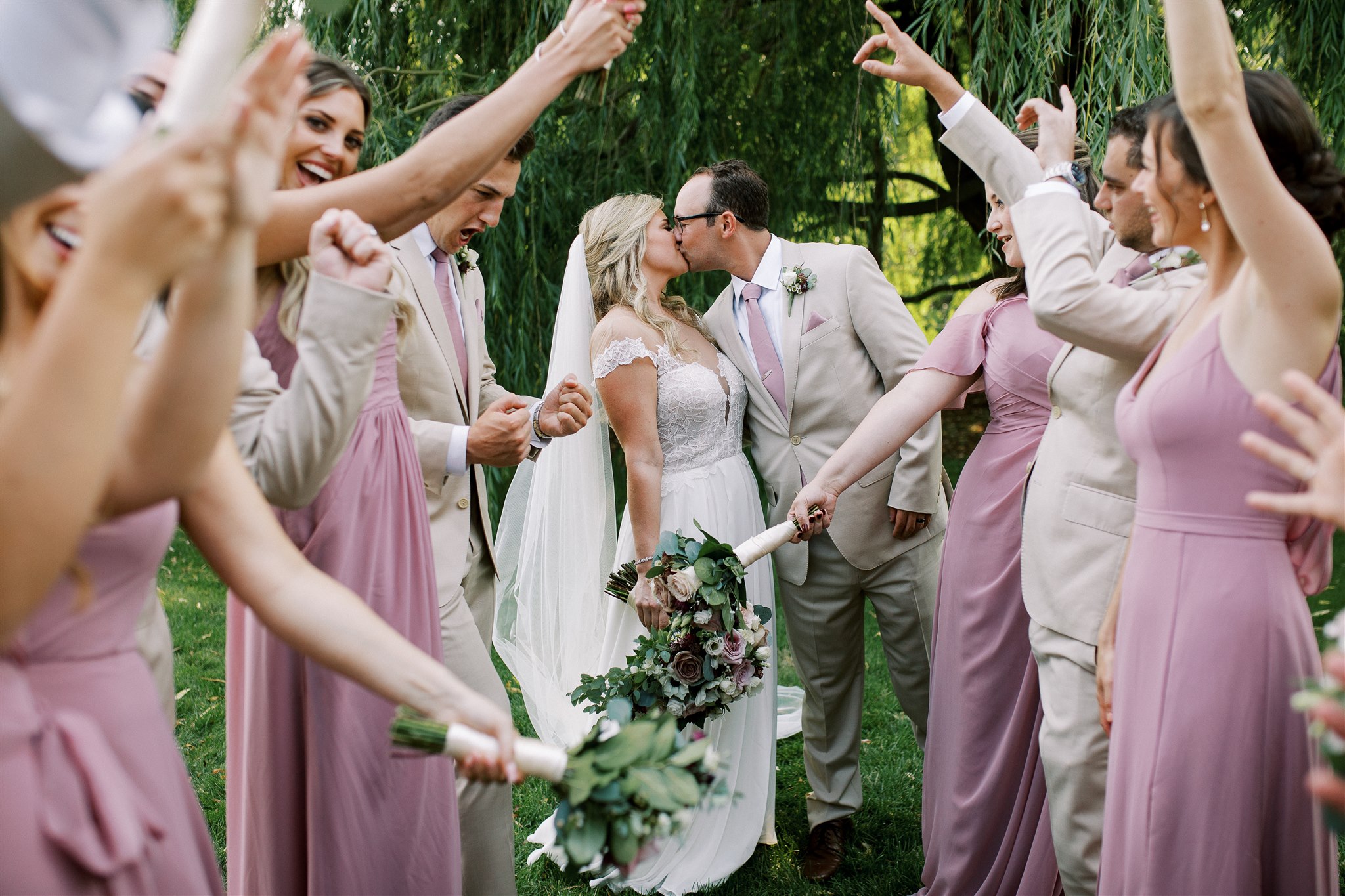 Under the Willow Tree
The willow tree of Aurora Cellars is famous in its own right and paired with a charming farmhouse for getting ready and a pristine white tent for partying in, the property is a gem.  To add touches of romance and set the elevated vibe, we welcomed guests to the scene with a custom linen banner hanging from one of the walnut trees.  A beverage station when guests arrived sat under the banner and was later switched out to a dessert station in the evening.
Natural wooden crossback chairs (with a light whitewash) awaited guests for the ceremony and we added six floral arrangements at varied heights at the back of the aisle.  Blush chiffon was draped on each end chair at the back to add a layer of softness and color to the scene.
Cocktail hour featured adorable cocktail napkins and bar signage with the couples' pups.  Lawn games and appetizers were enjoyed alongside the vines.  
En route to the tent, guests found their seating assignments on a white door frame swagged in mauve chiffon.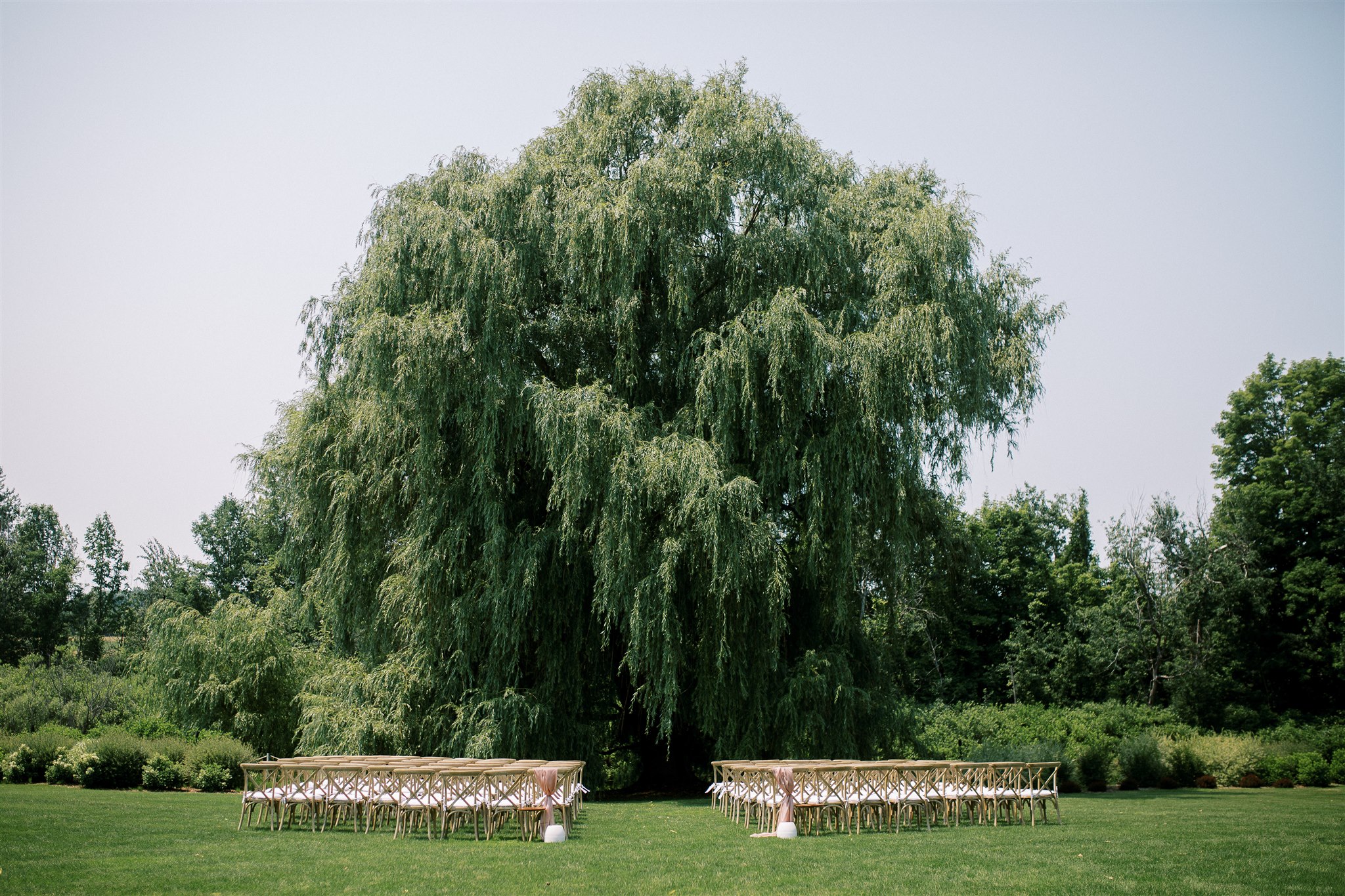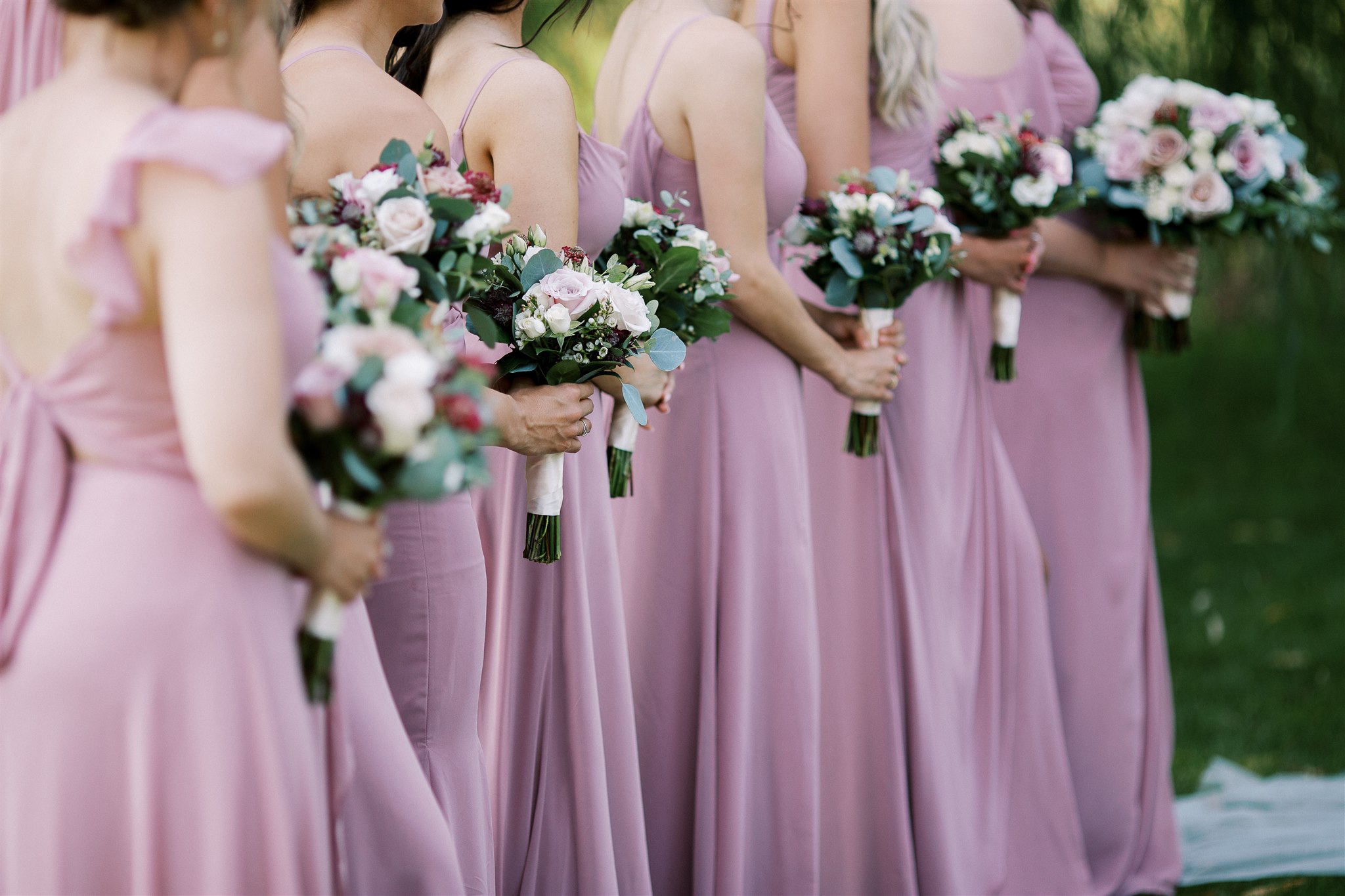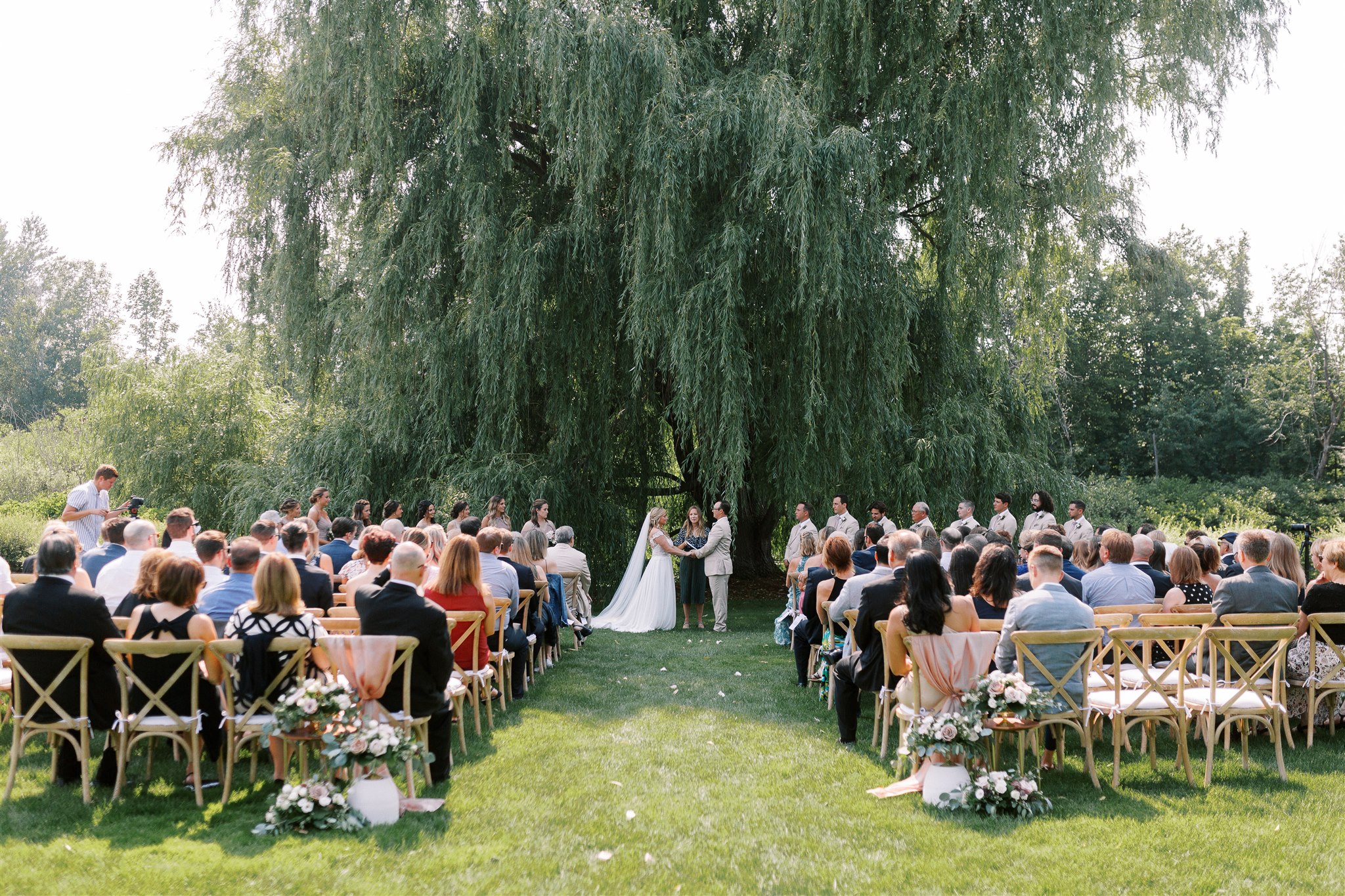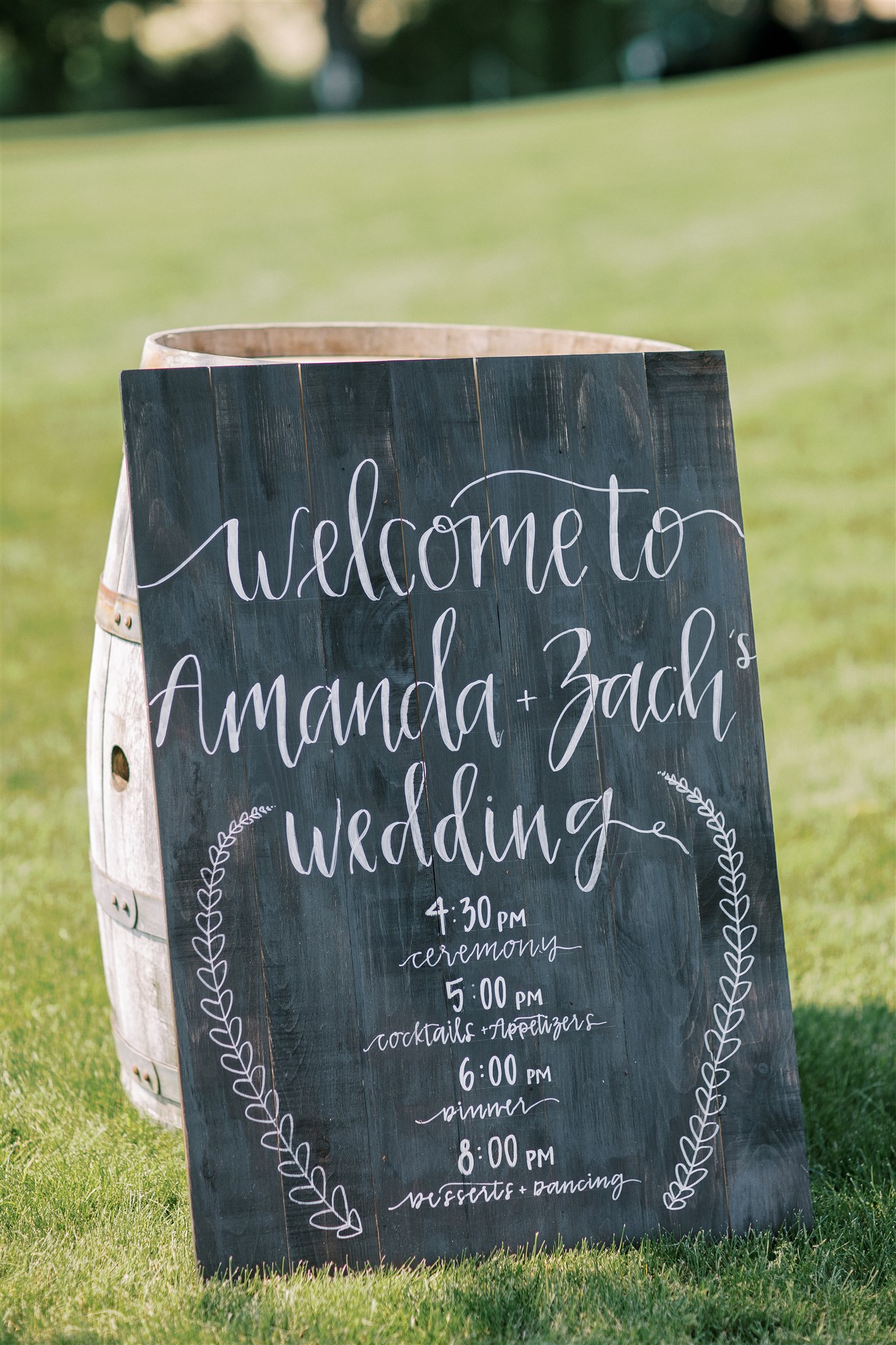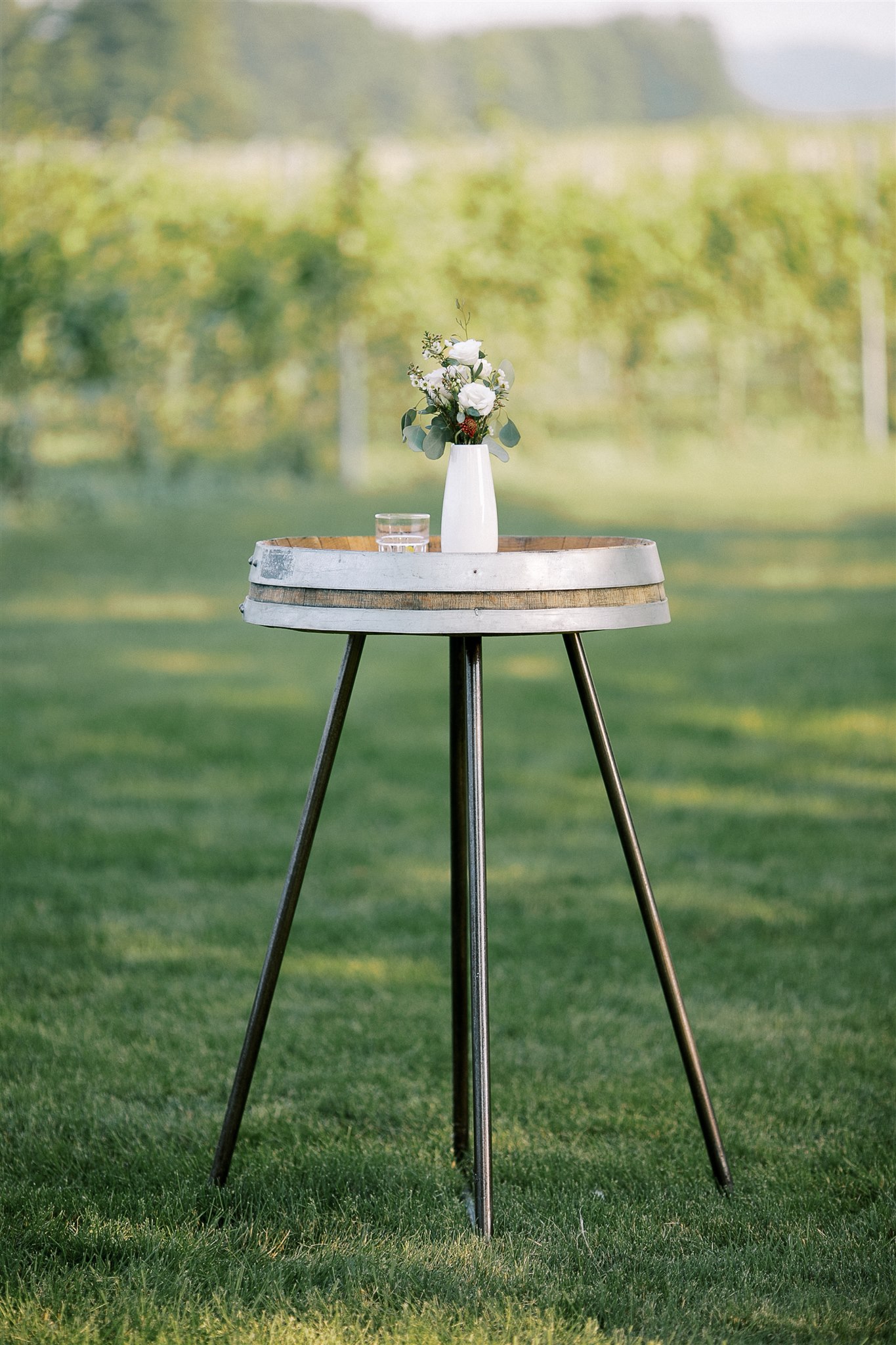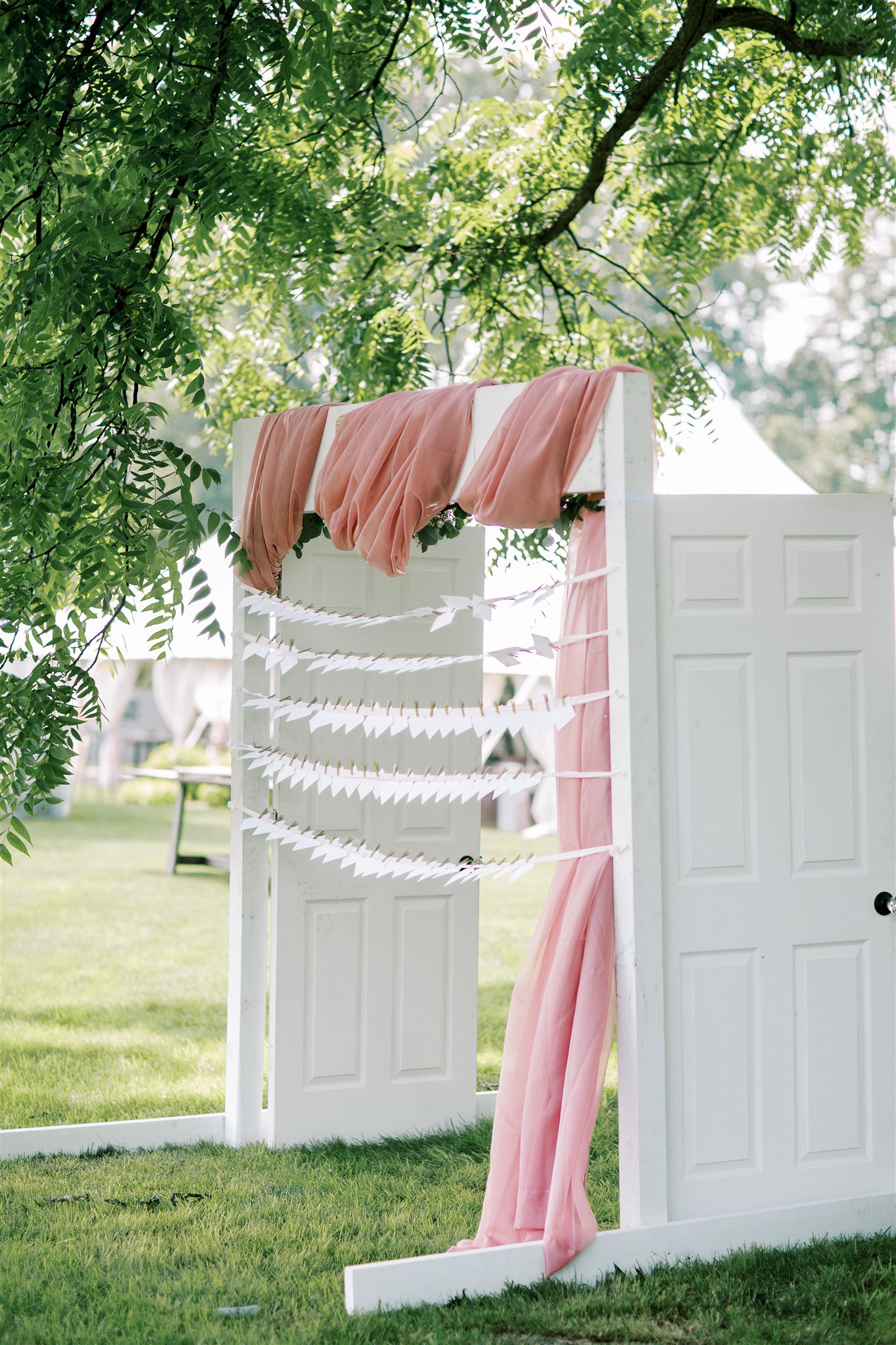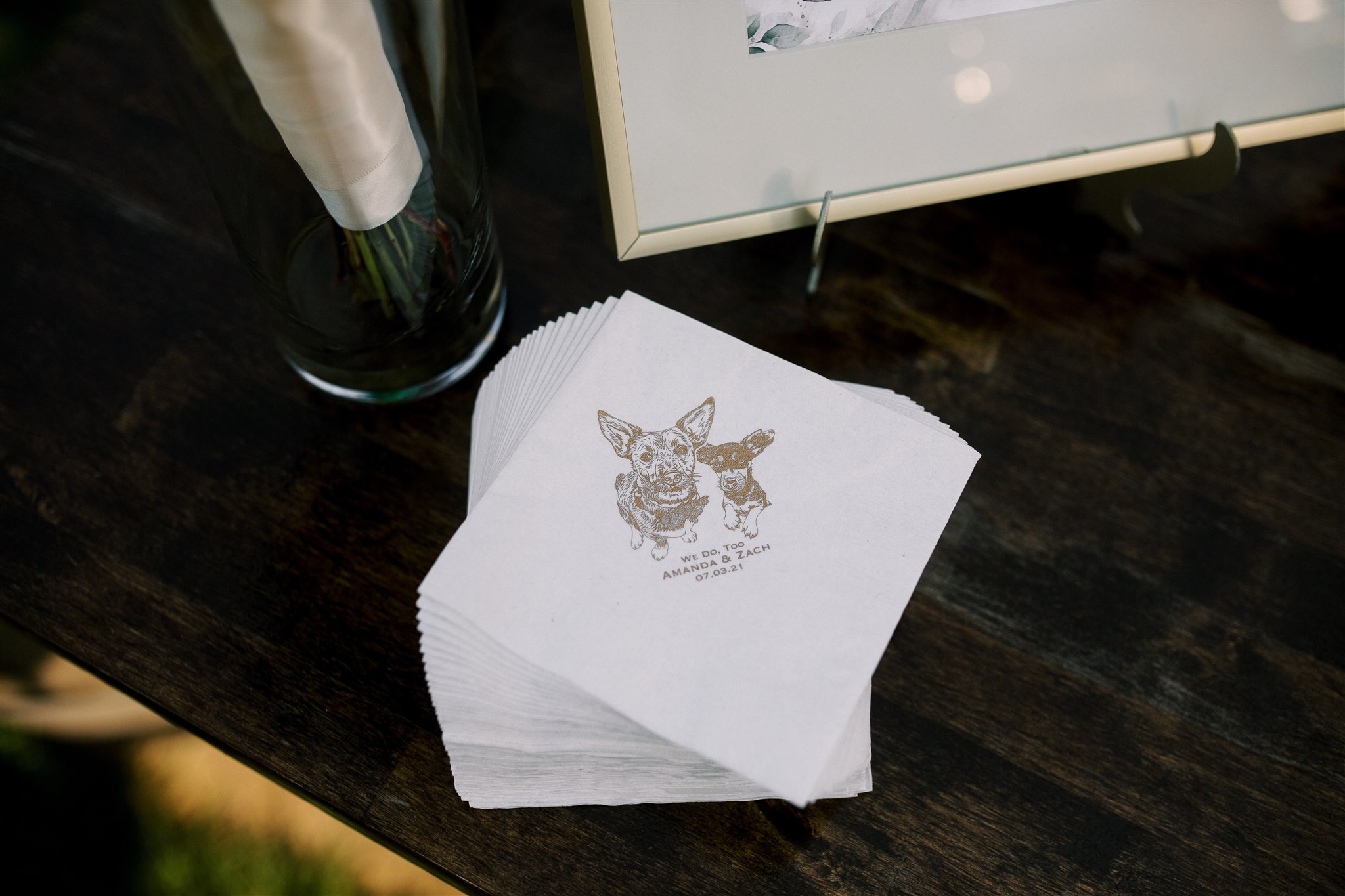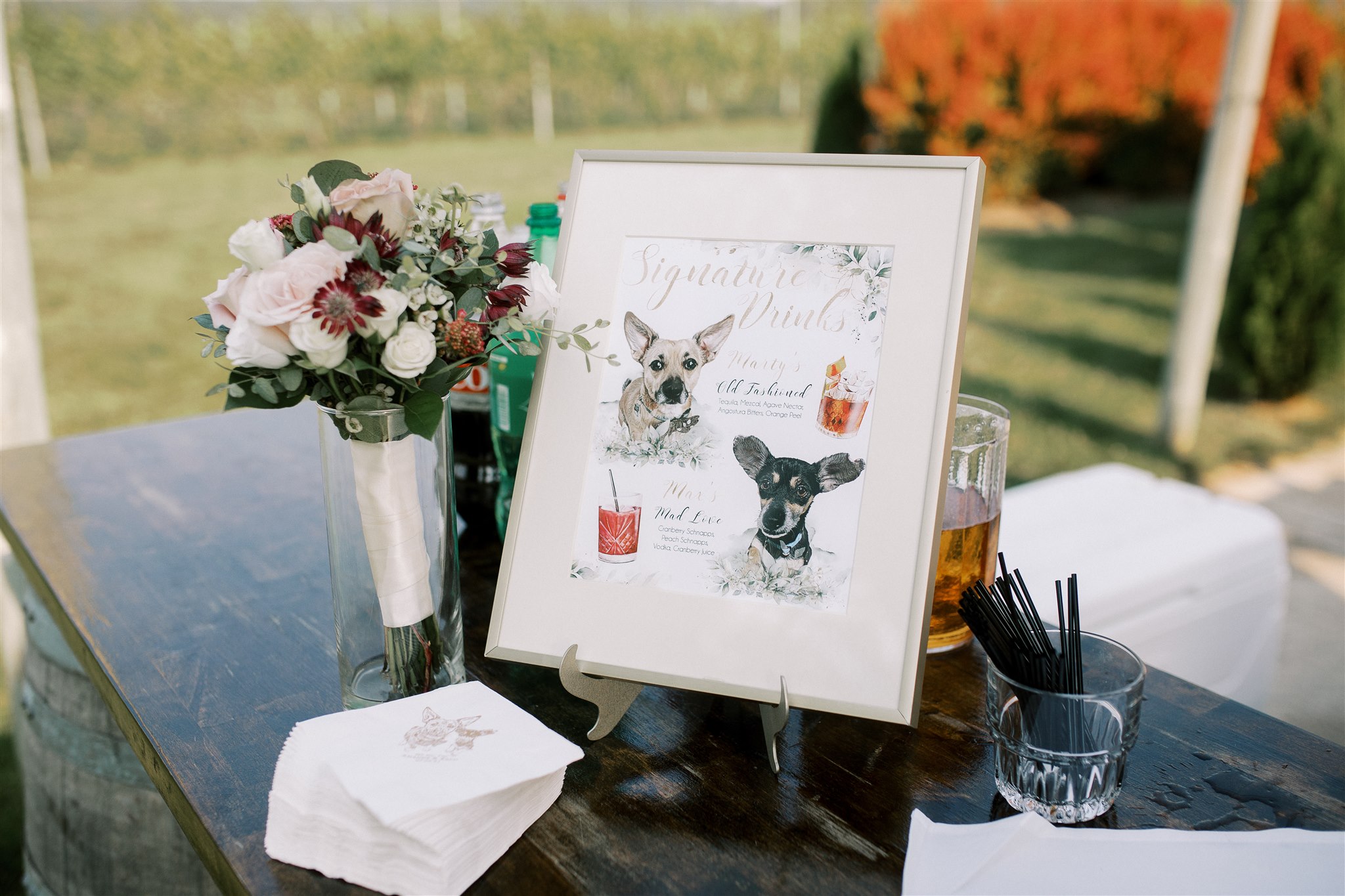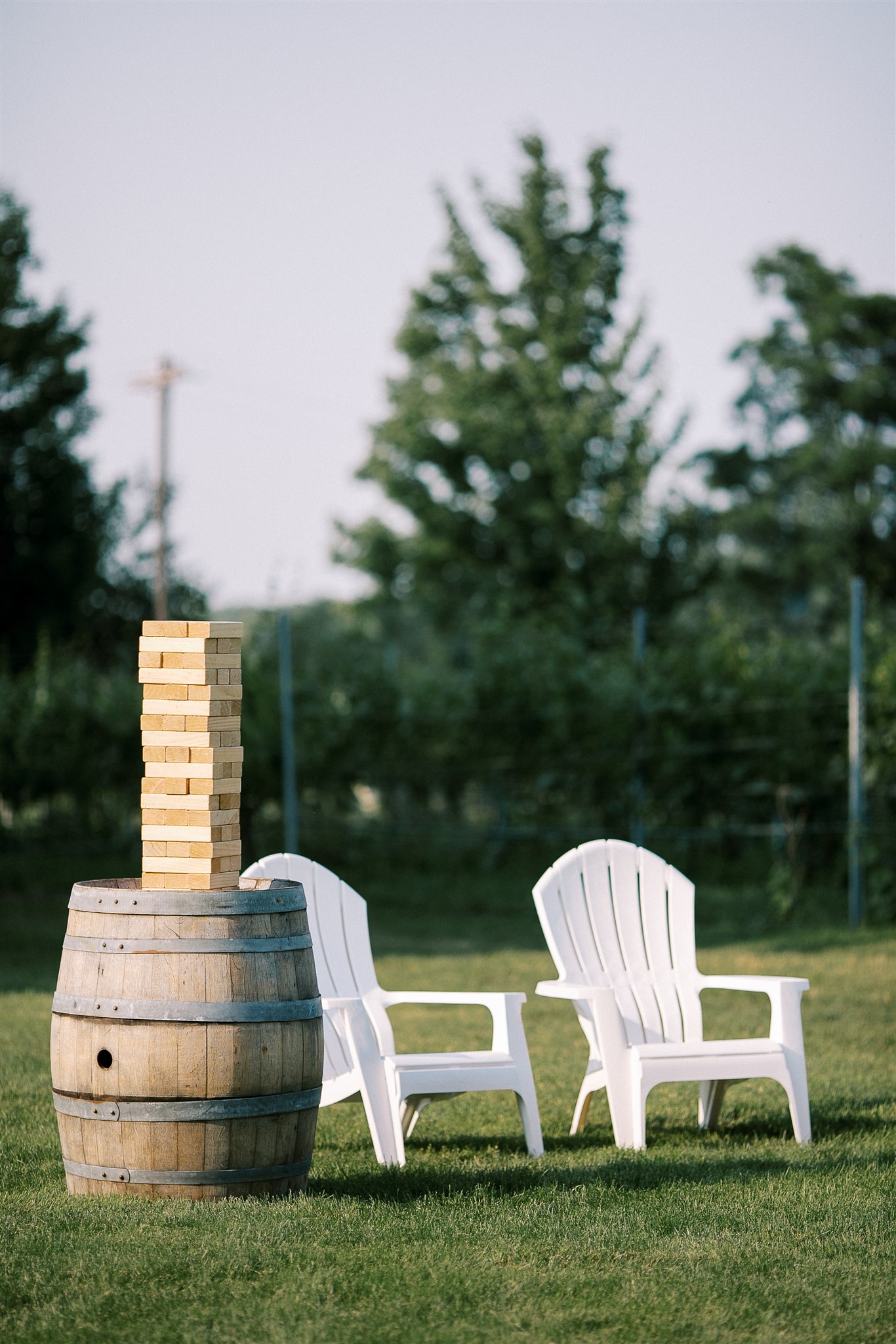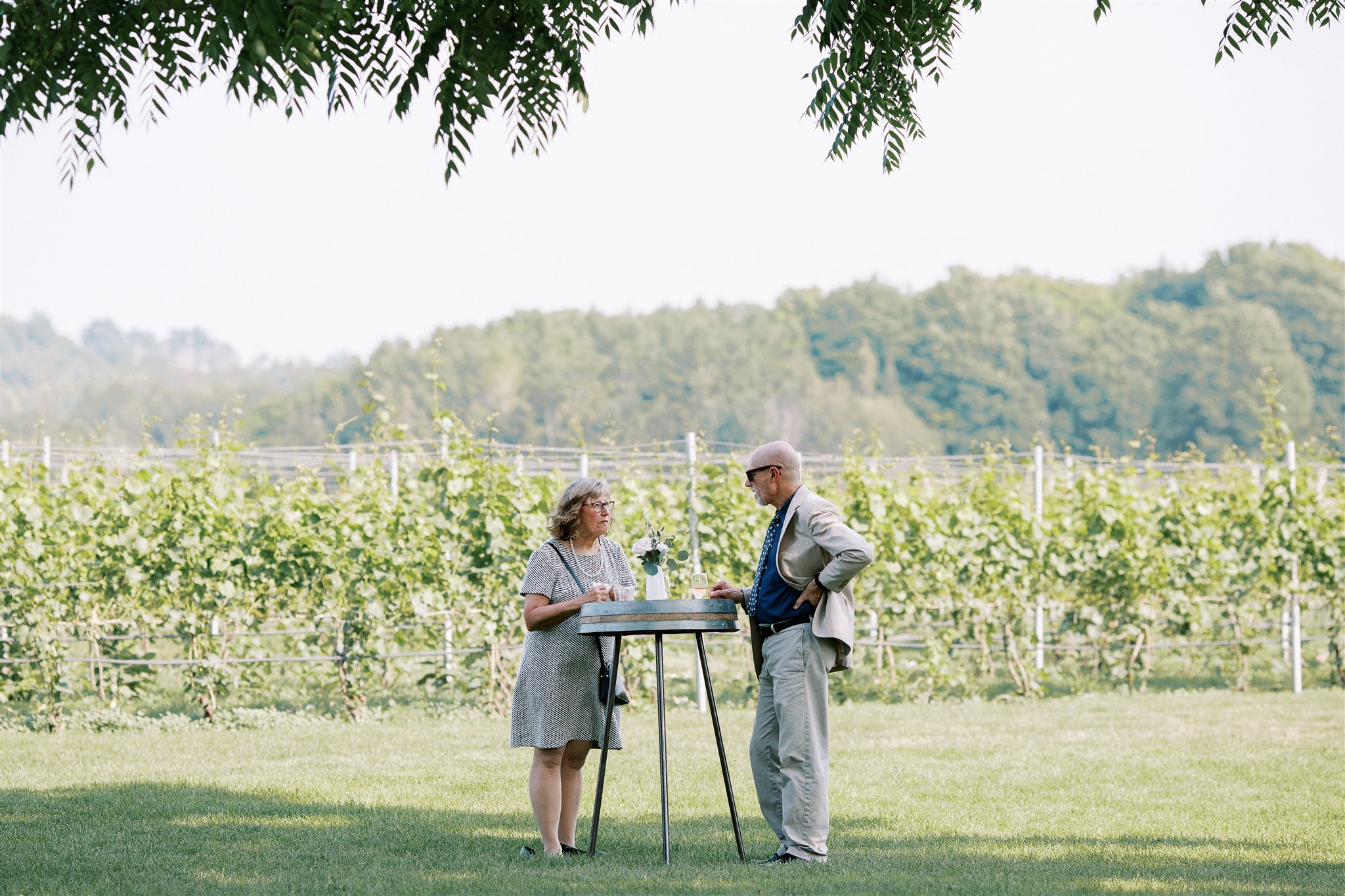 Enchanting Tent Scene
Amanda's vision for the reception tent was to "bring the outdoors in" with greenery, soften the scene with drape, and give the tablescape texture.  The result was enchanting. 
In fact, Sensational Events began installing the greenery and blush drape on Thursday and my jaw dropped when I stepped in that evening to drop off rentals.  The next day, Amanda saw it and texted one line that now lives on in j+l vocabulary.  "I am deceased."
Under the canopy of blush chiffon and greenery, we mixed in some round tables with blush linens among the long wooden farm tables to add softness and color.  Farm tables featured a luxe gauze style blush runner and we paired that with blush gauze-style napkins at each place setting.  White plates with subtly detailed edges and vintage style gold flatware complimented the farmhouse vibe nicely.  Gold rimmed wine goblets and a rose-colored estate bubbly in champagne flutes completed the place setting composition.
In the center of the tables, gorgeous centerpieces from Upsy Daisy Floral played pinks and pops of mauve with greenery for a cohesive look.  For one final layer of textural interest, we used blush glass holders for blush taper candles.  Romantic.  Naturally luxe.  Relaxed elegance.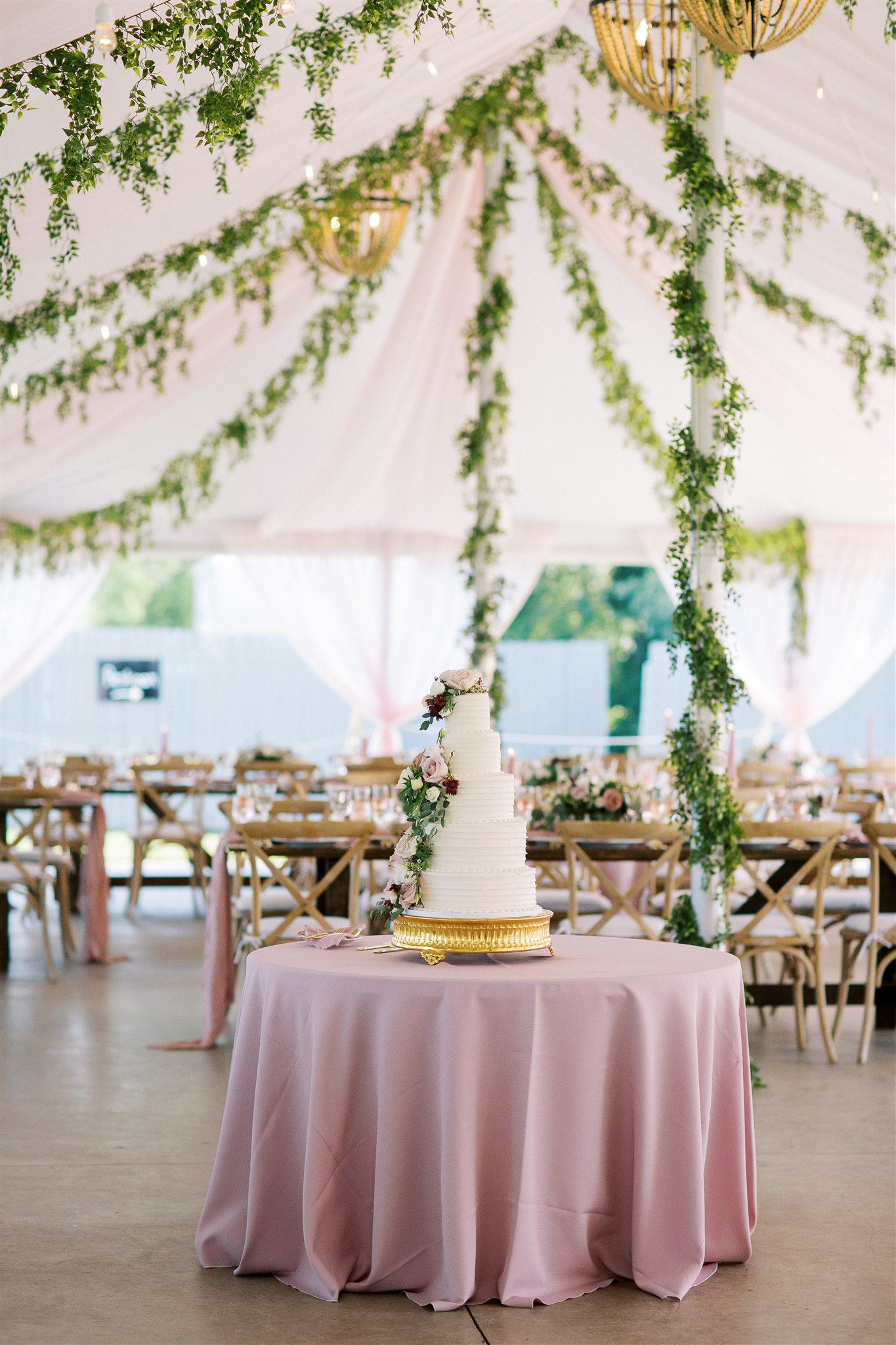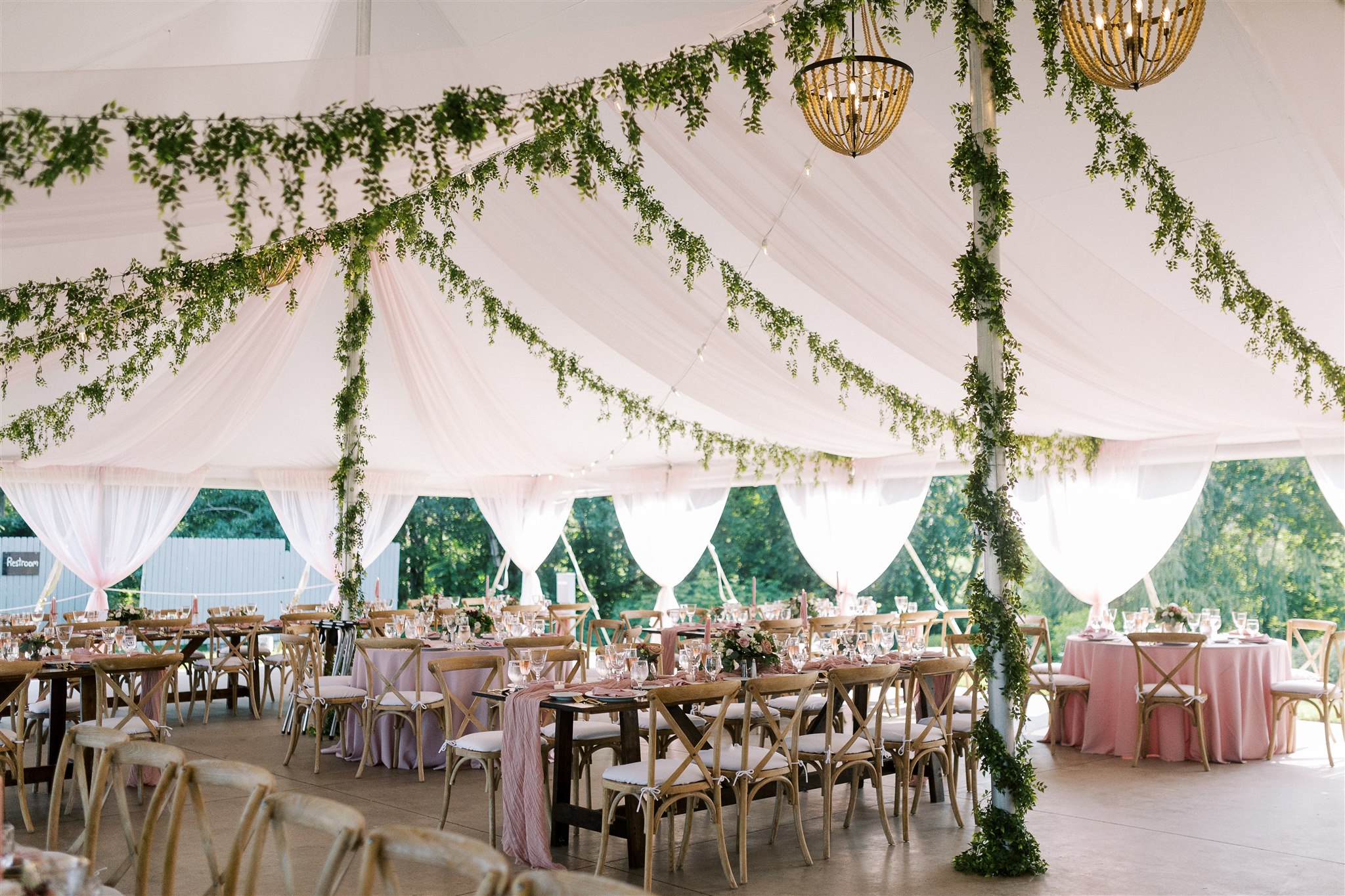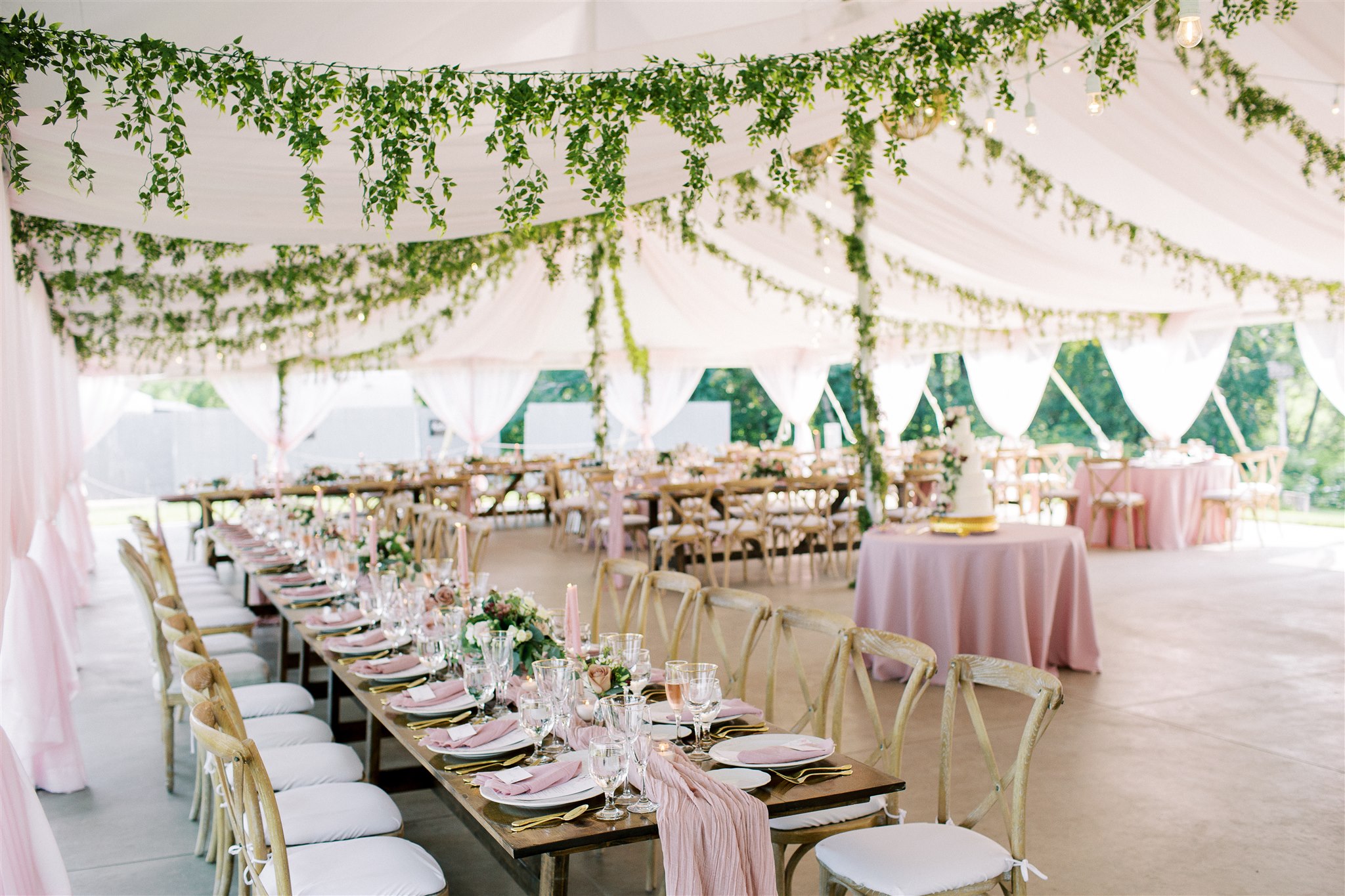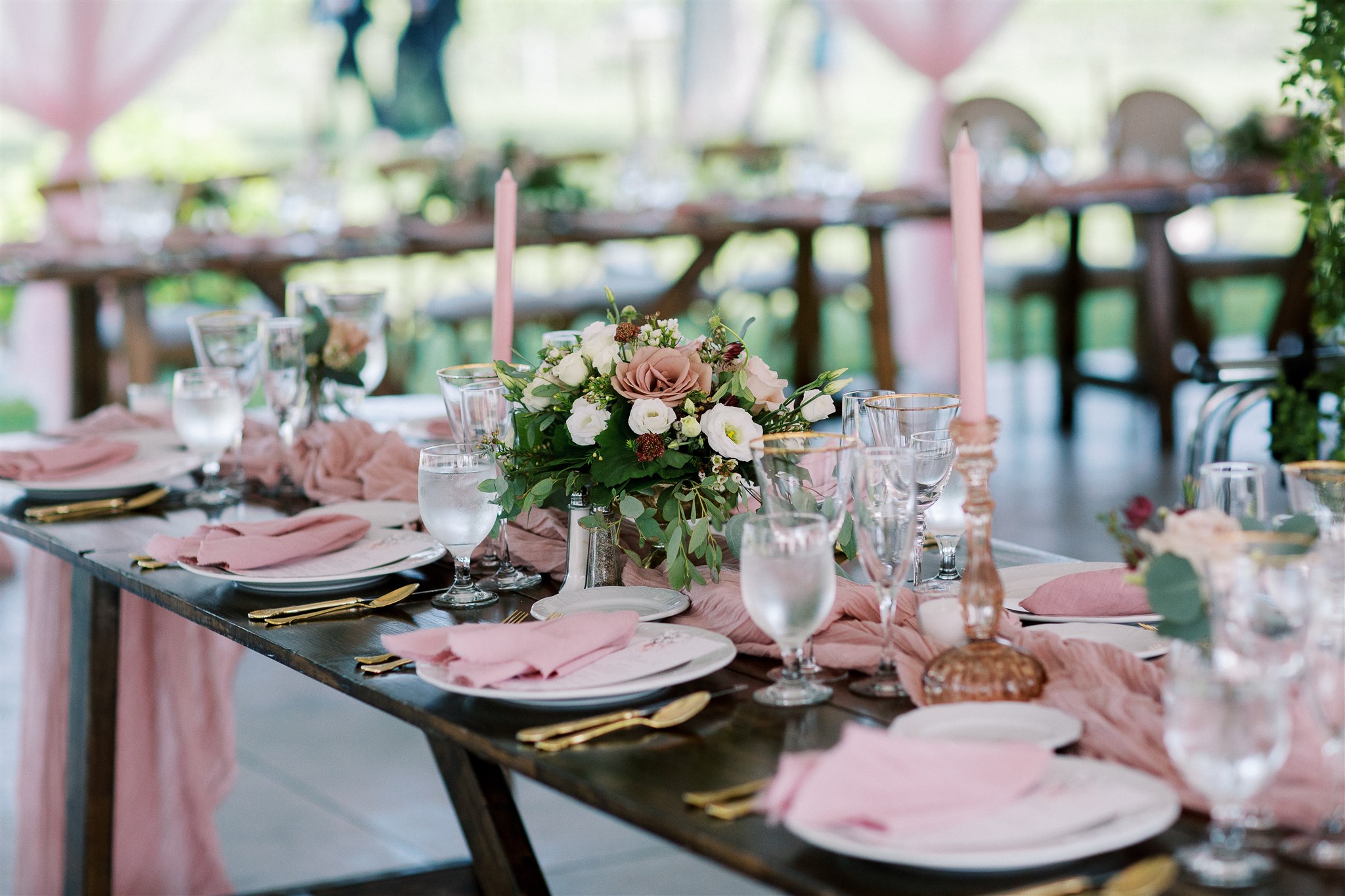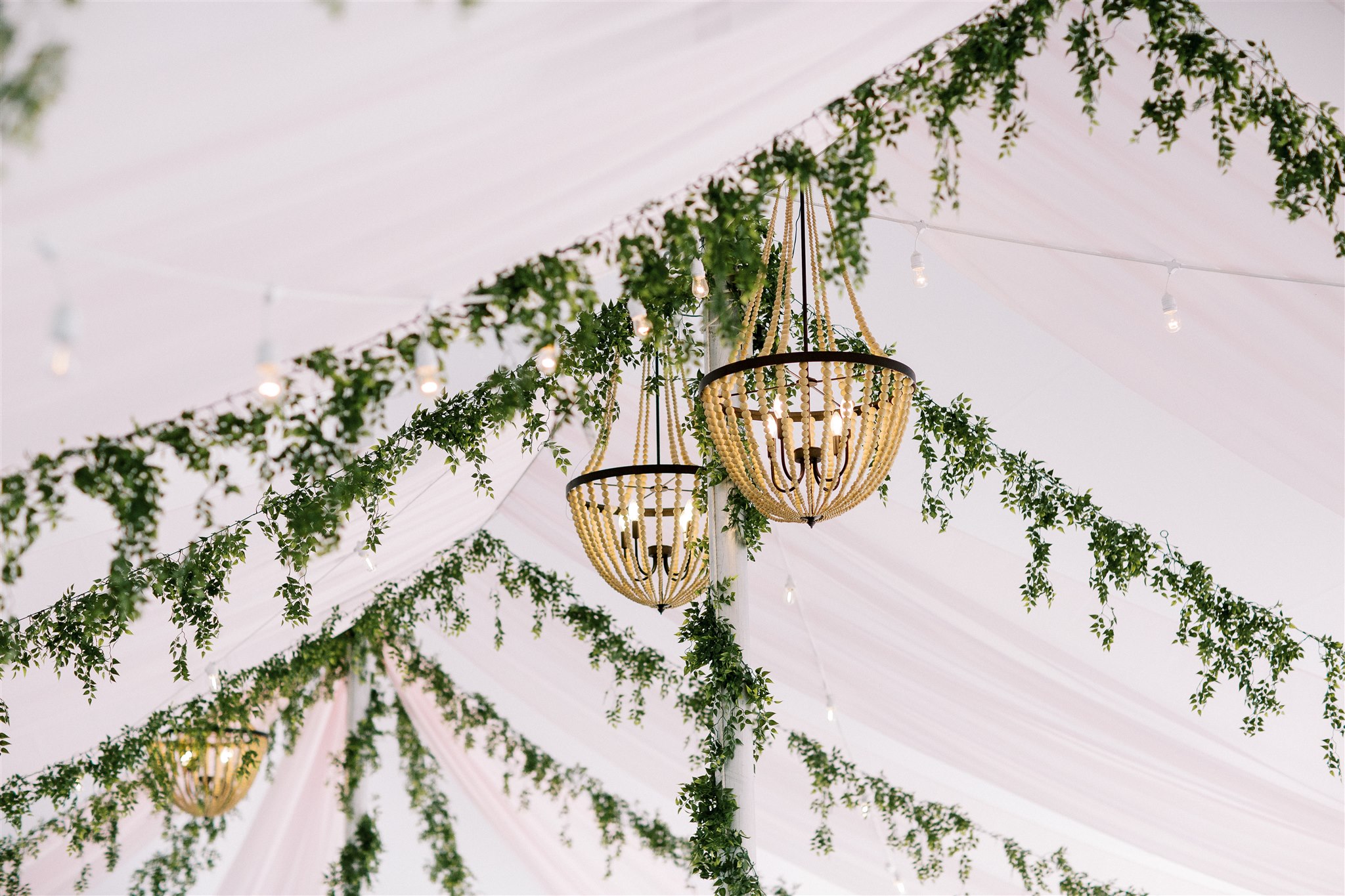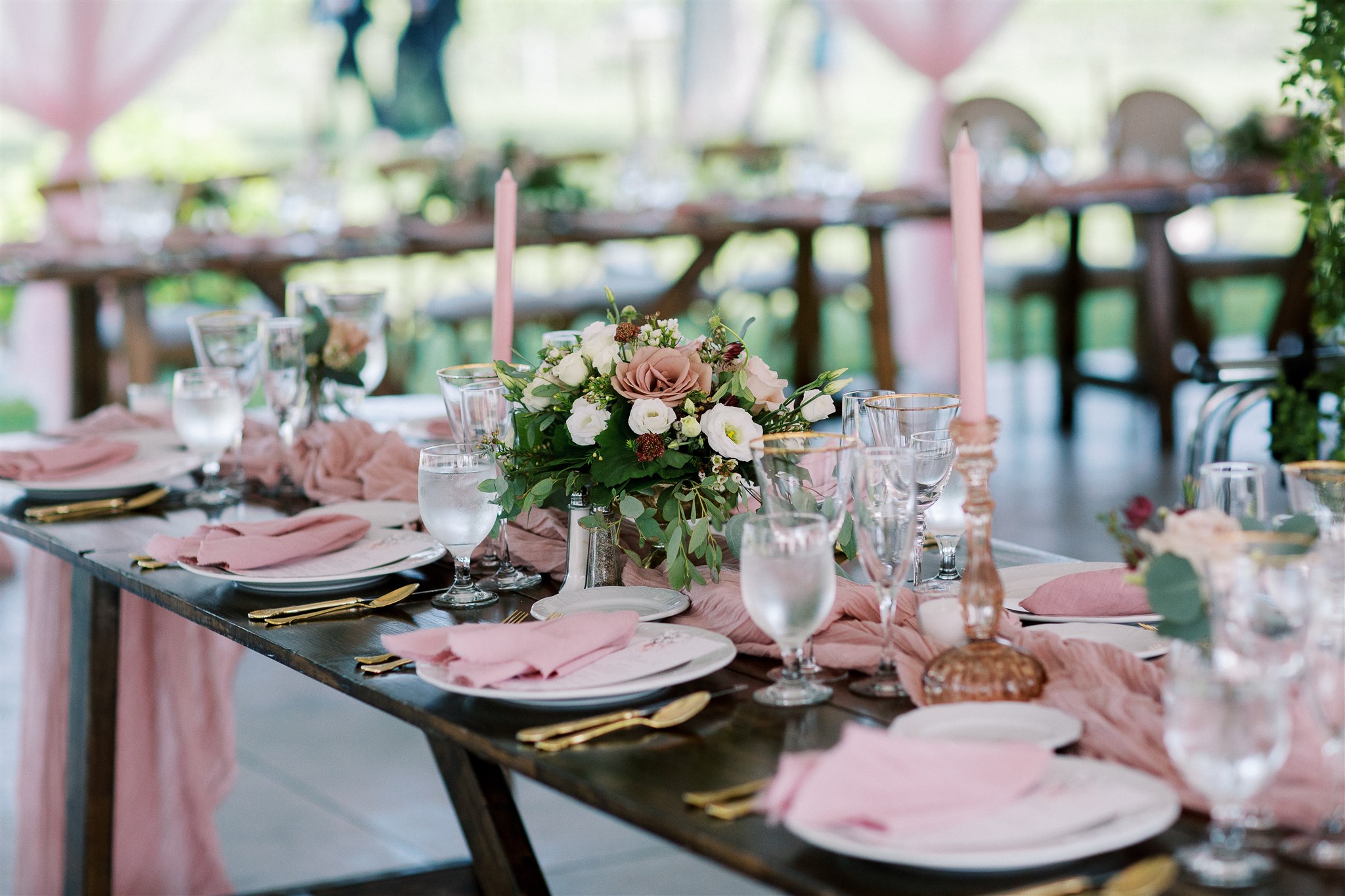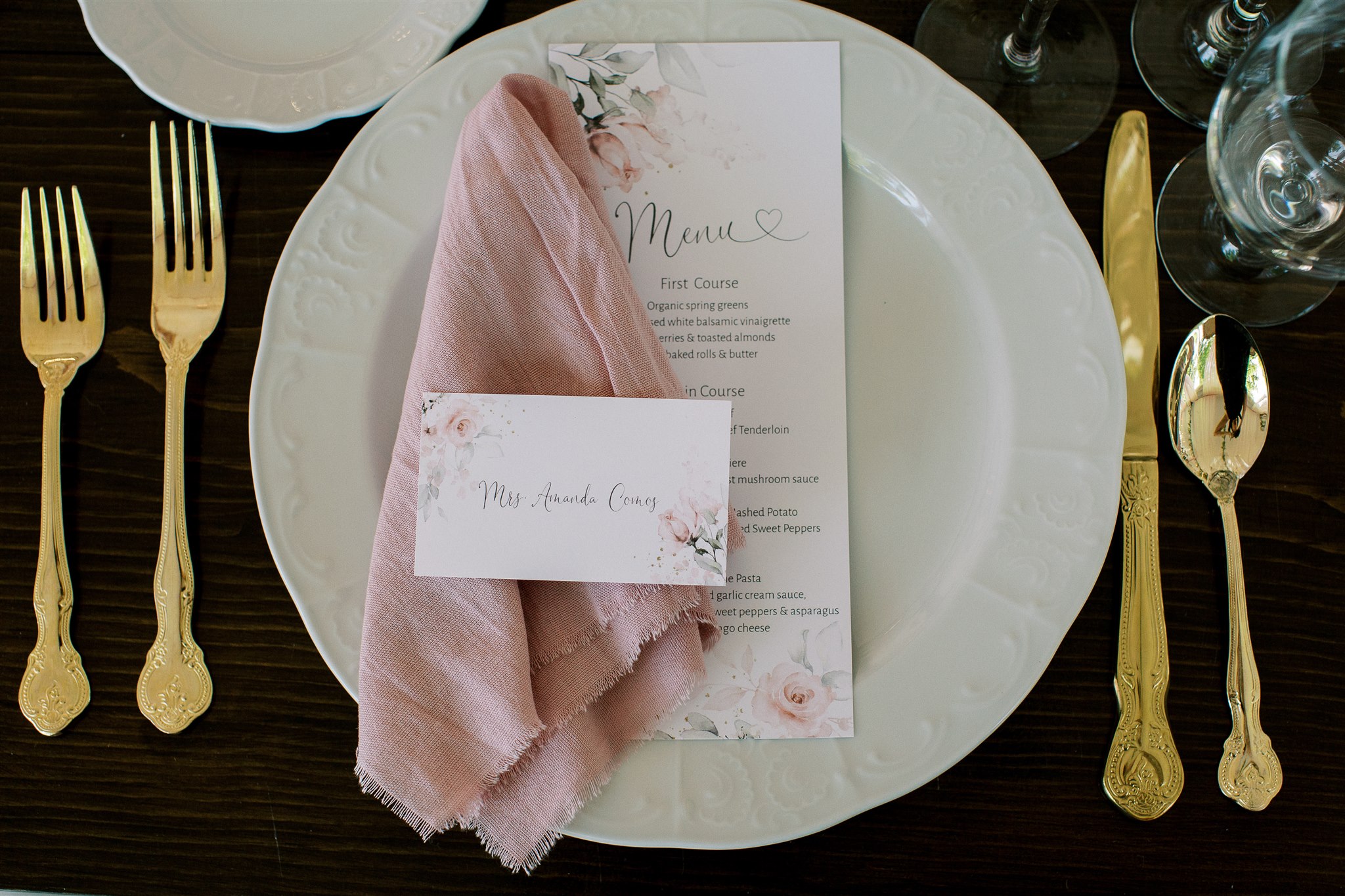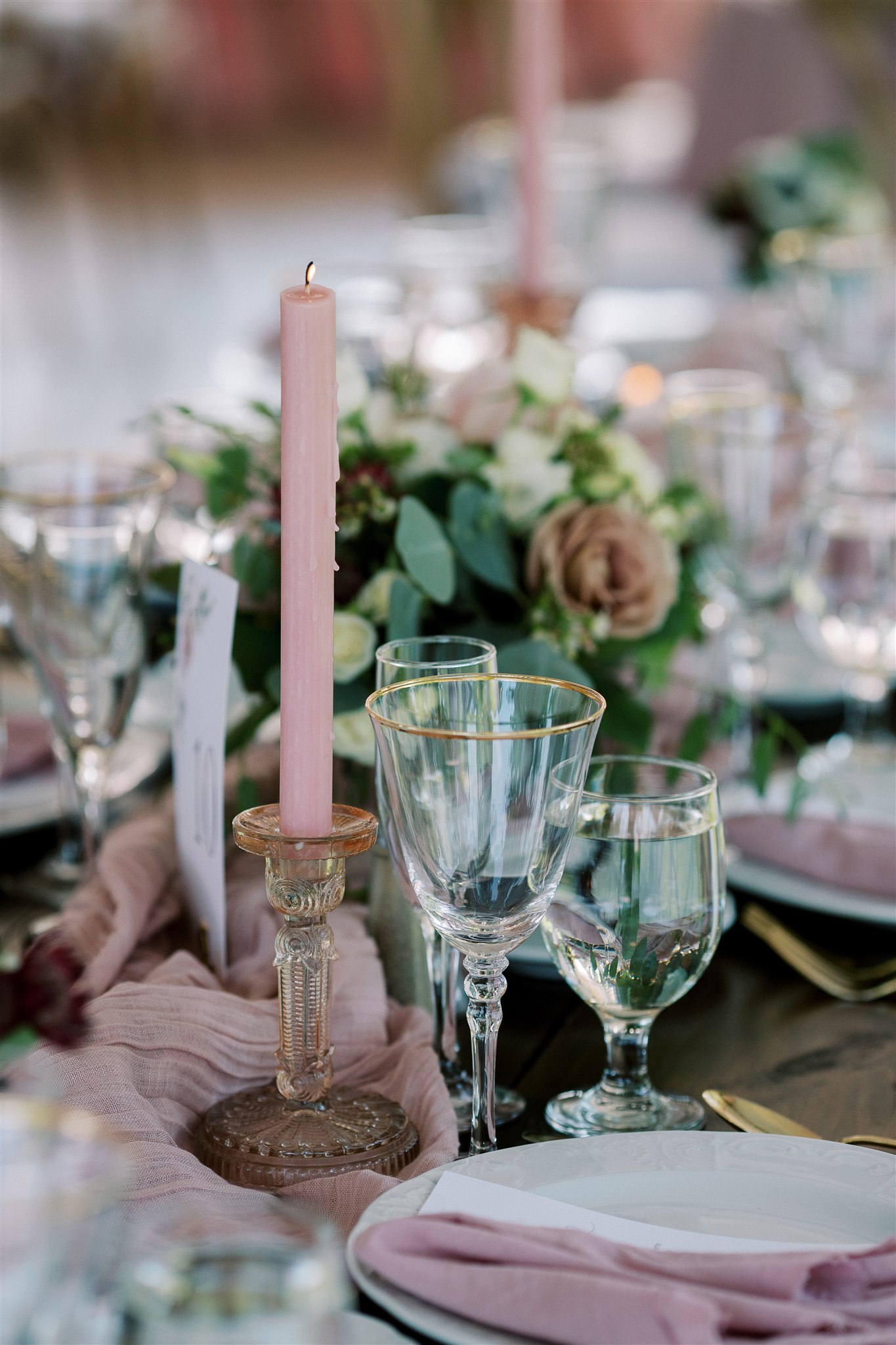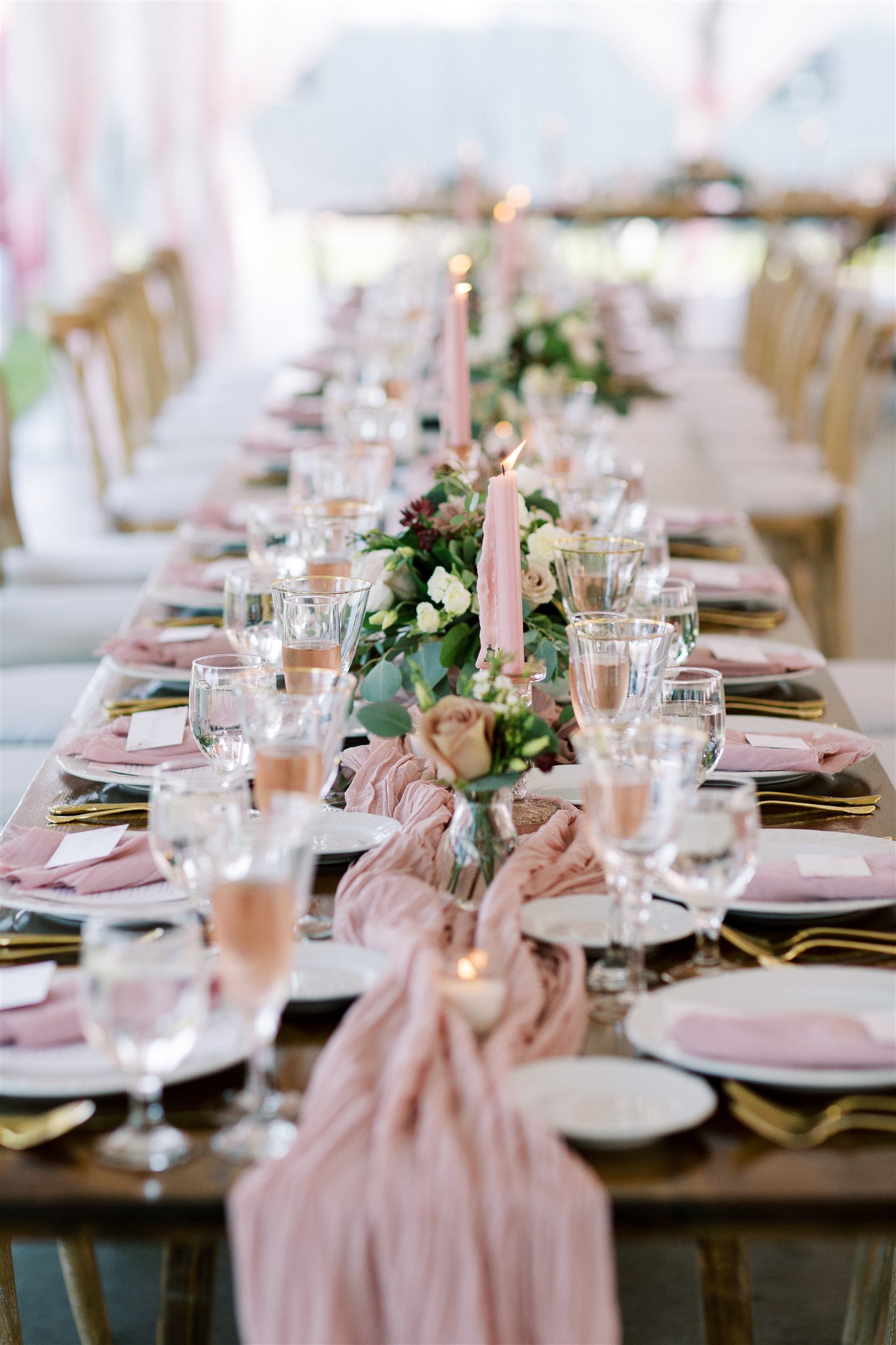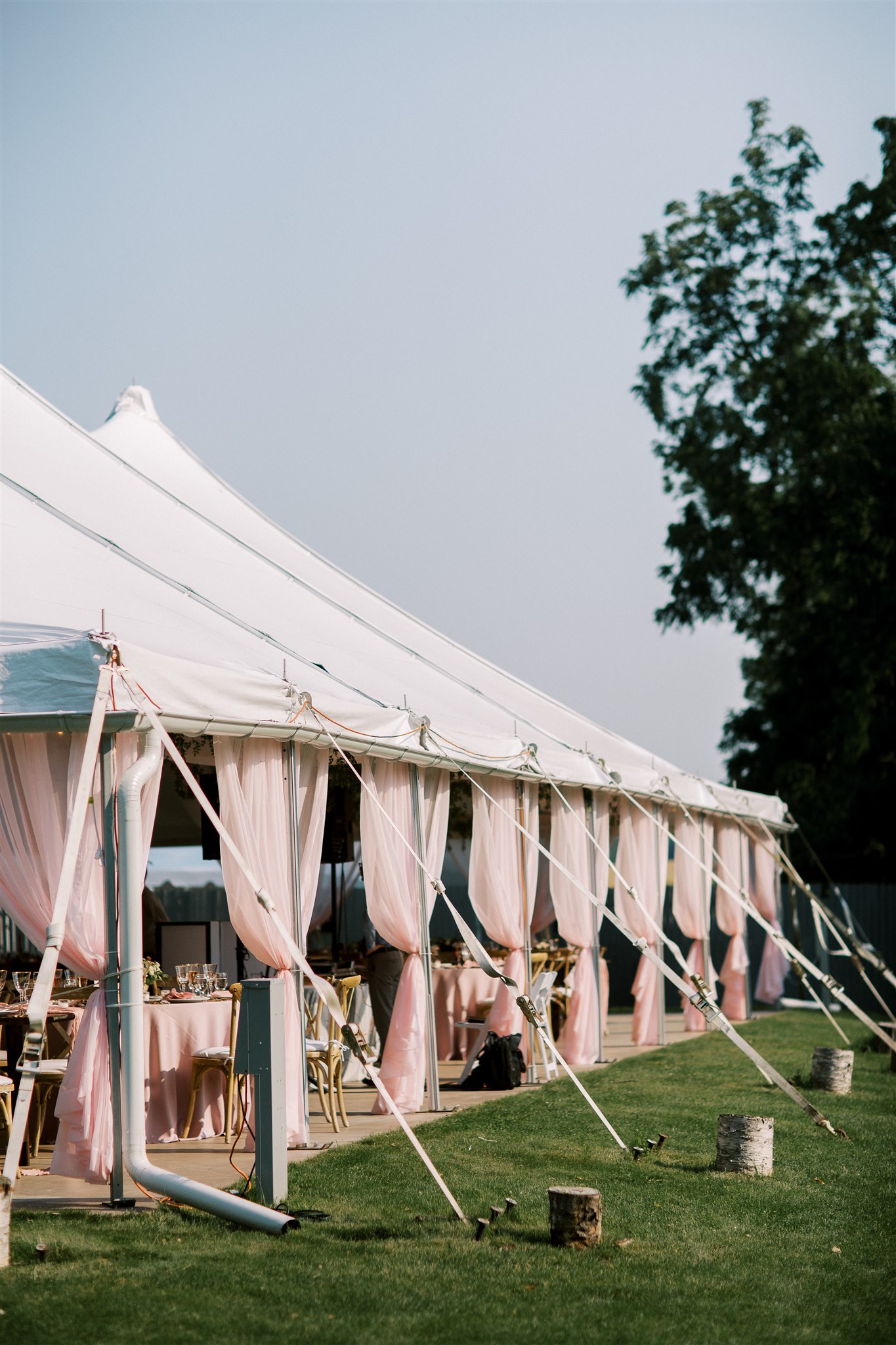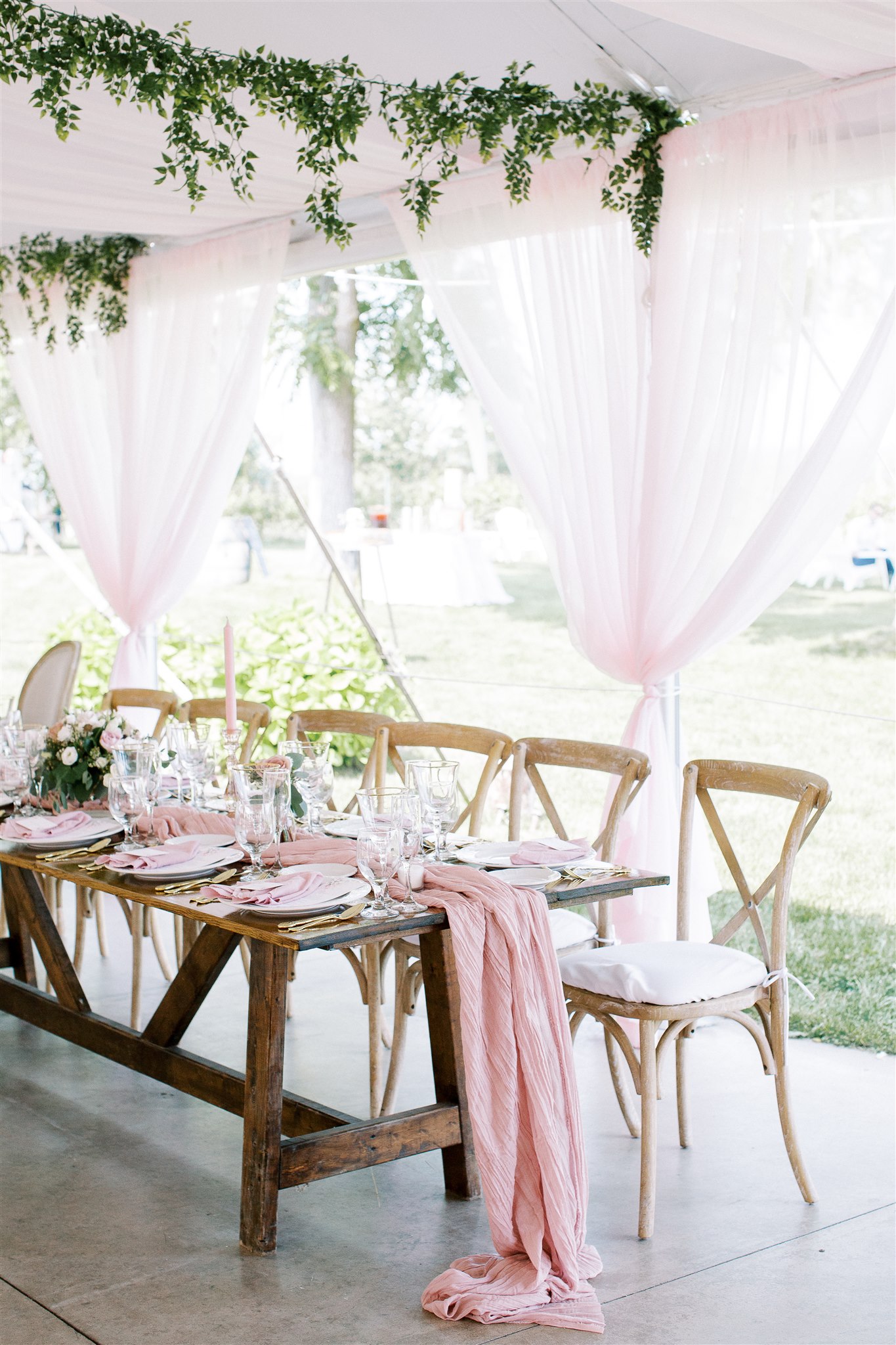 Sweet End to the Evening
Meanwhile under the walnut tree, wine barrels and blush linened tables were loaded with sweet treats and cute signage for evening enjoyment.  A five tiered cake on its gold stand commanded the dance floor thru dinner. After Amanda & Zach returned from a golden hour stroll in the vineyard for a few last photos, the "relaxed" part of their vision kicked in with some whole-hearted revelry on the dance floor.   We sum up this weekend in the words of Amanda's text.  "I am deceased."  In the very best way.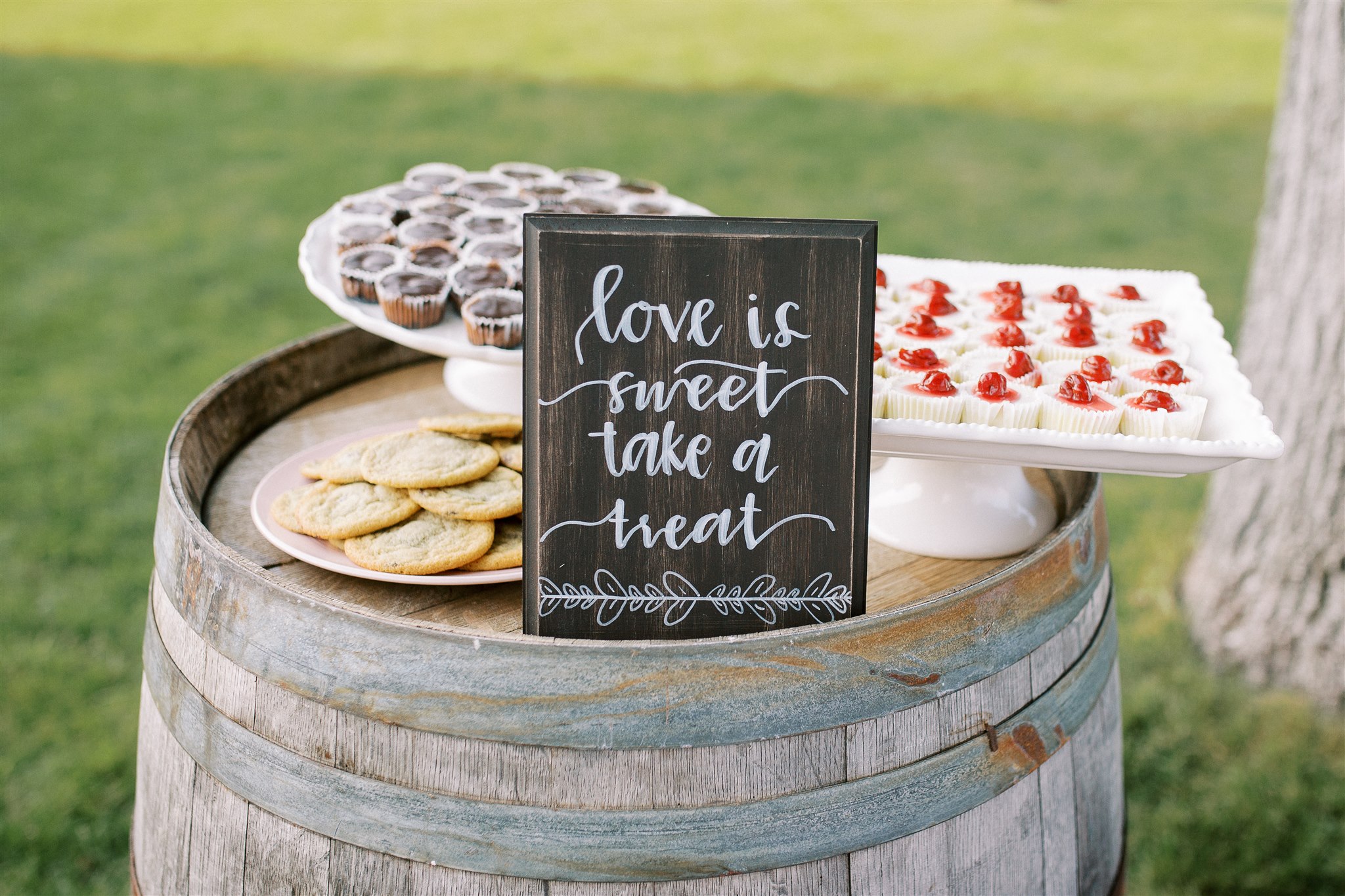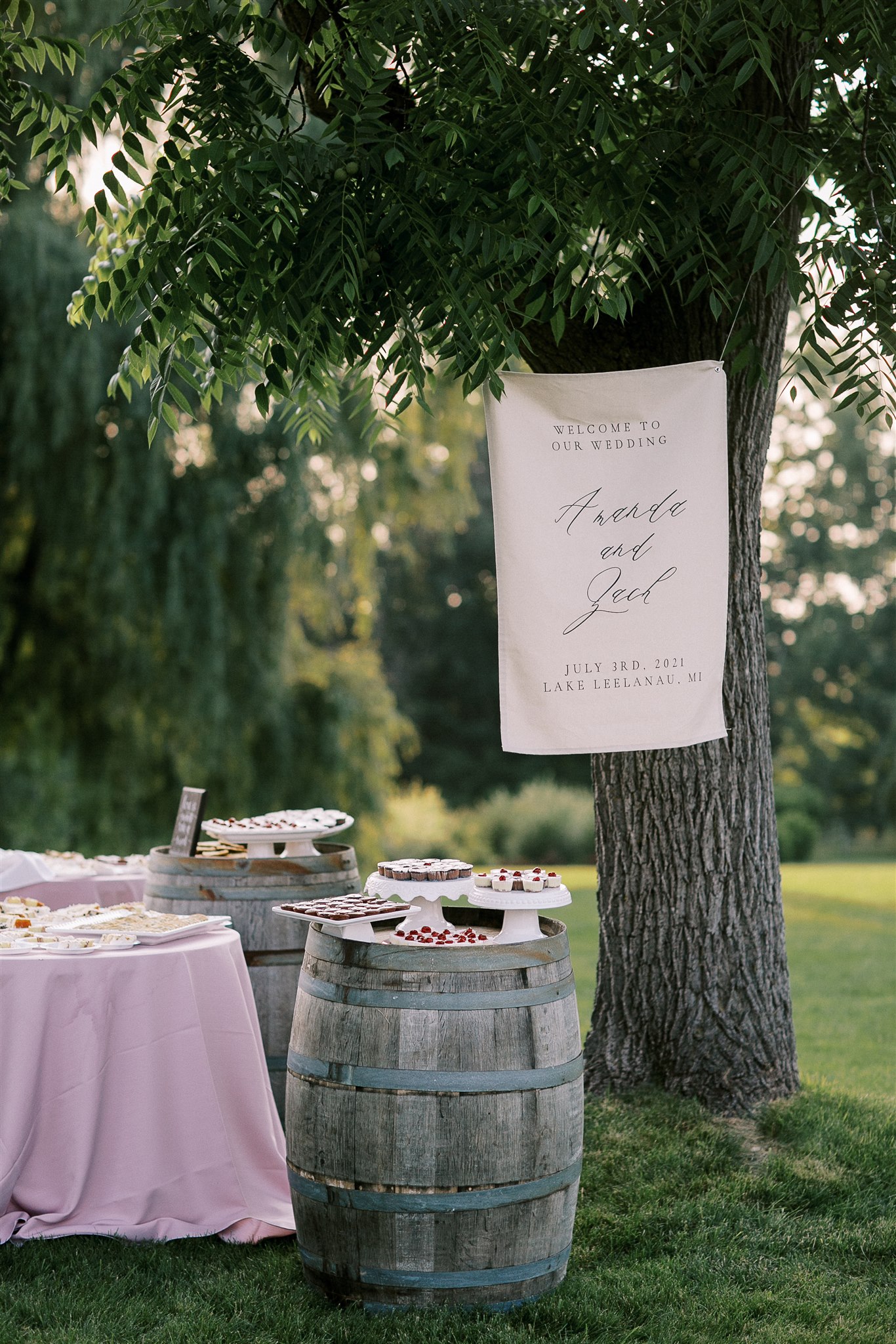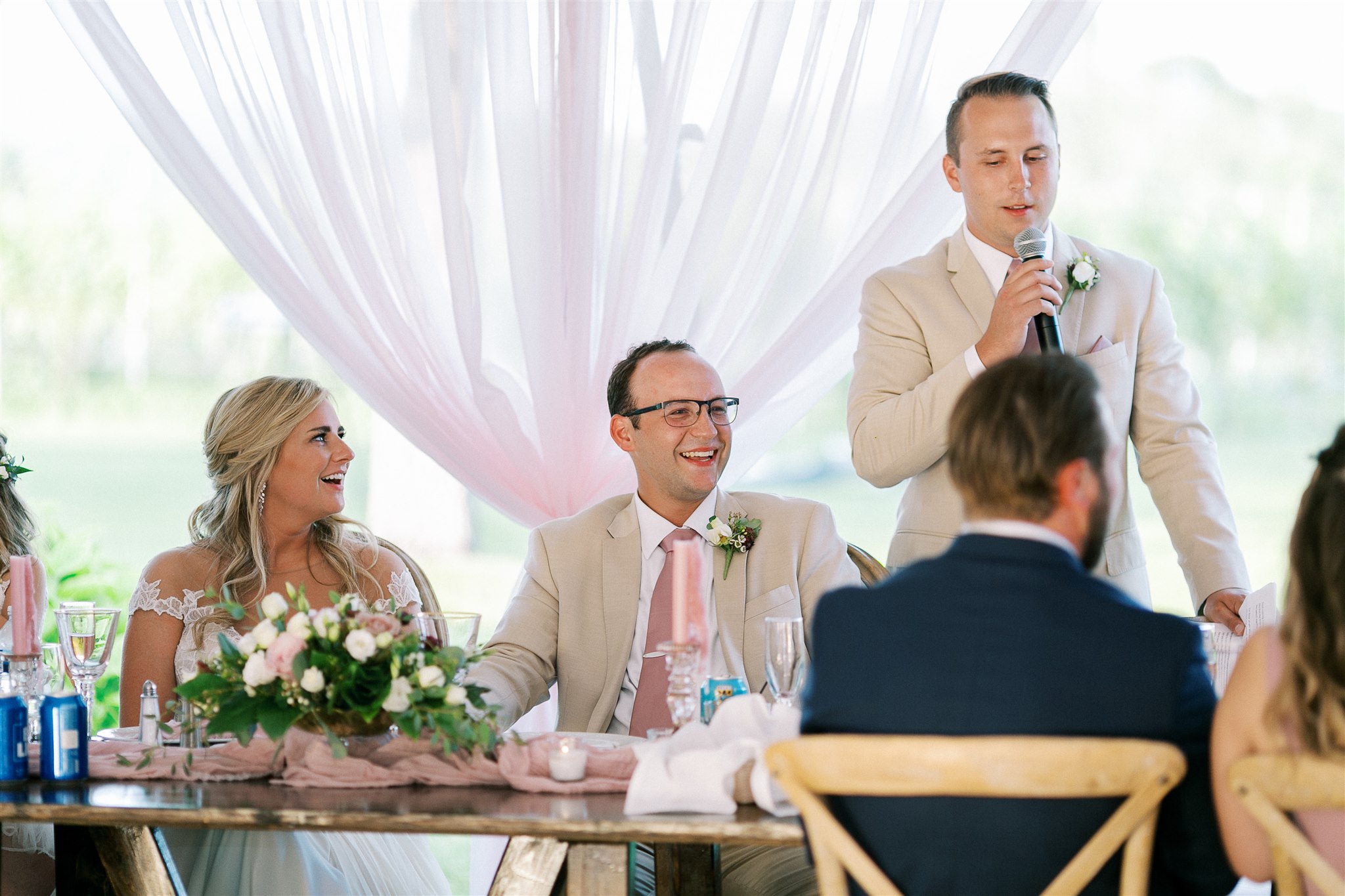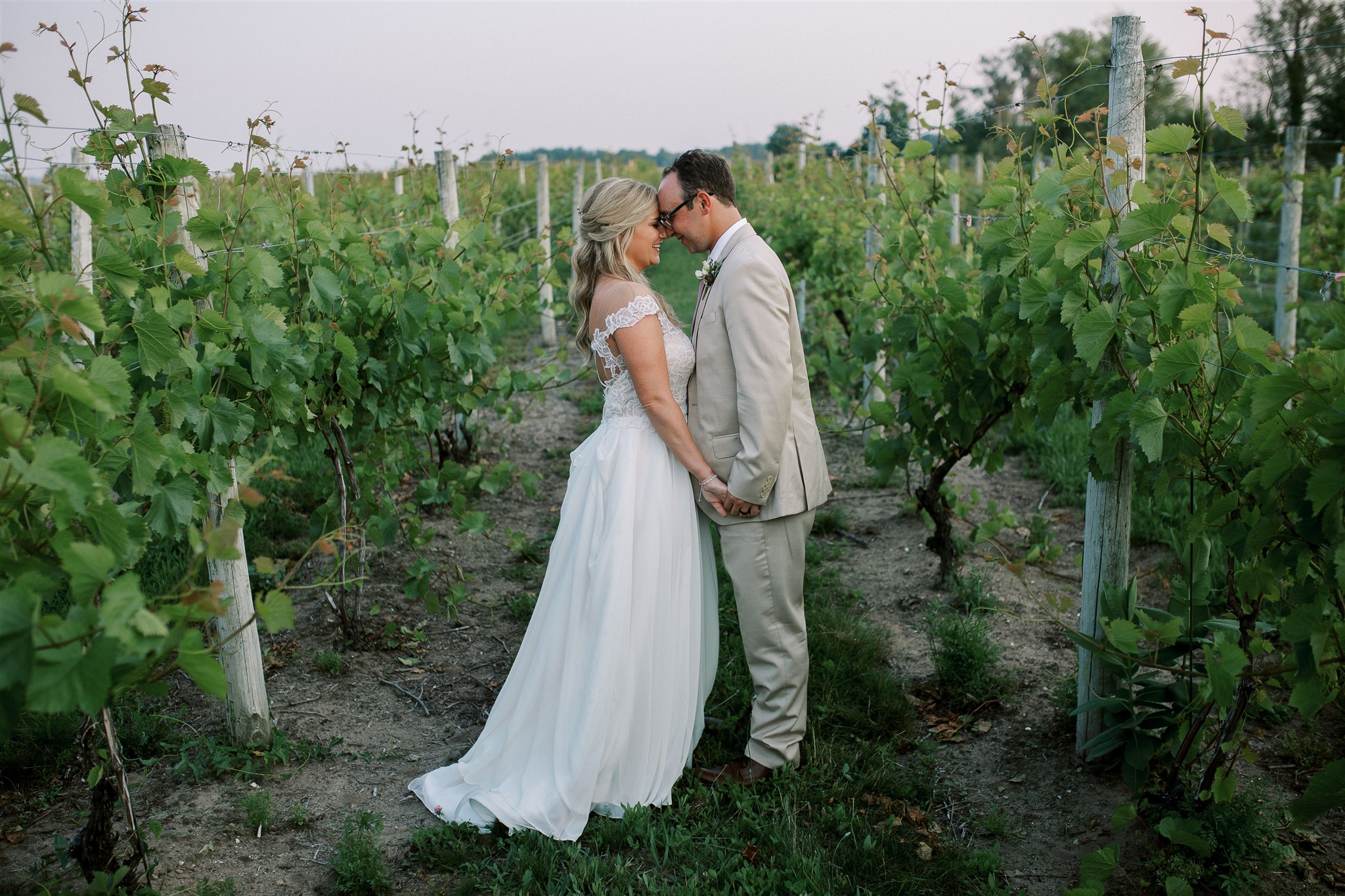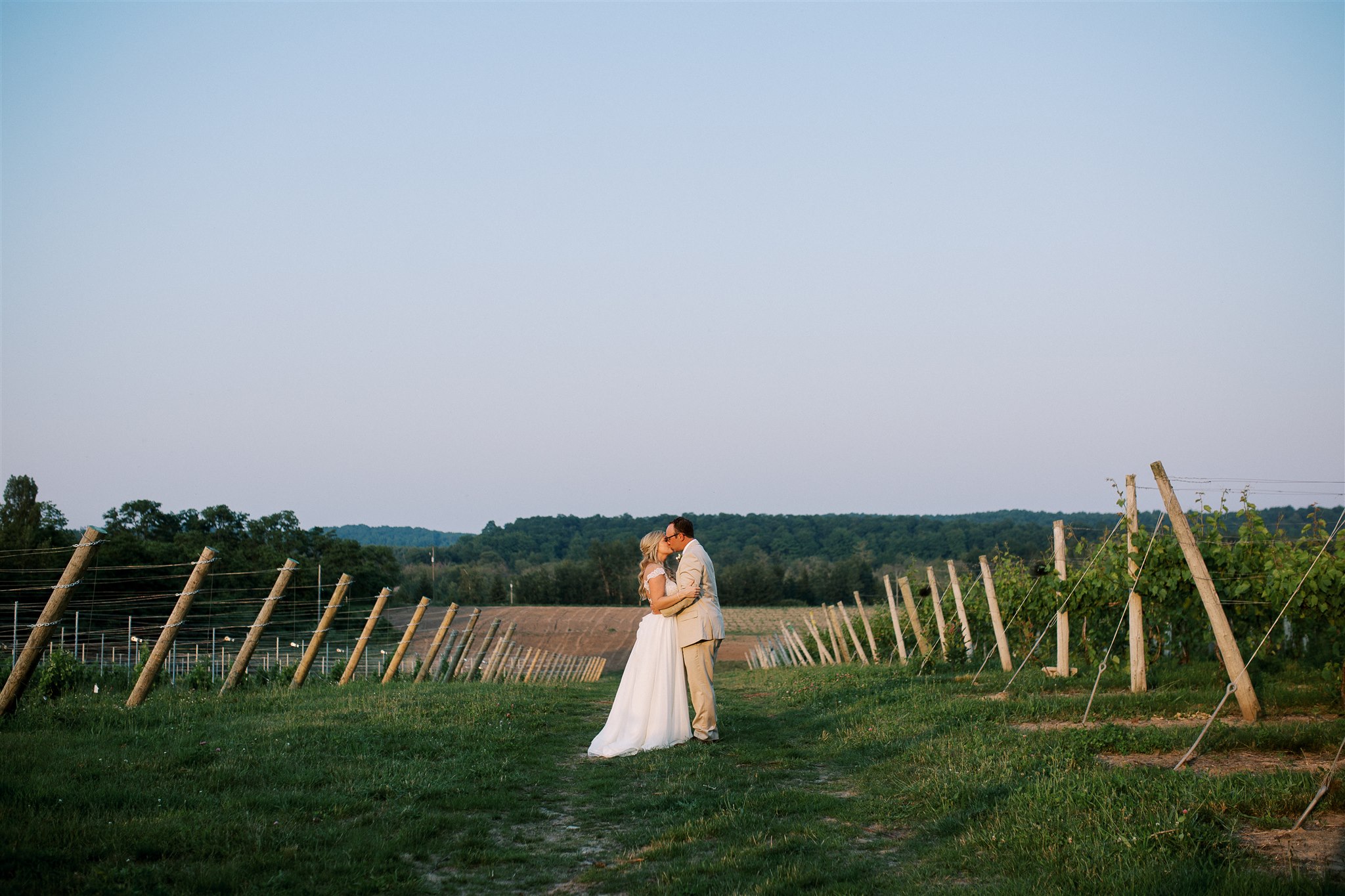 Creative Team Credits
Photography:  Dan Stewart Photography (Anna)
Videography:  SJK Weddings
Design + Coordination:  Juniper & Lace Events
Venue:  Aurora Cellars
Catering:  Catering by Kelly's
Cake & Desserts:  Sweet Tartlette
Floral Design:  Upsy Daisy Floral
 DJ:   2Bays DJs
Hair & Makeup:  The Hair & Beauty Lounge
Transportation:  The Magic Shuttle Bus
Blush Drape & Ceiling Greenery:  Sensational Events
Decor Rentals:  TC Tented Events, Event Theory, Gigi & LaClede, Events by iCandy
Linen Rentals:  BBJ LaTavola, Cloth Connection