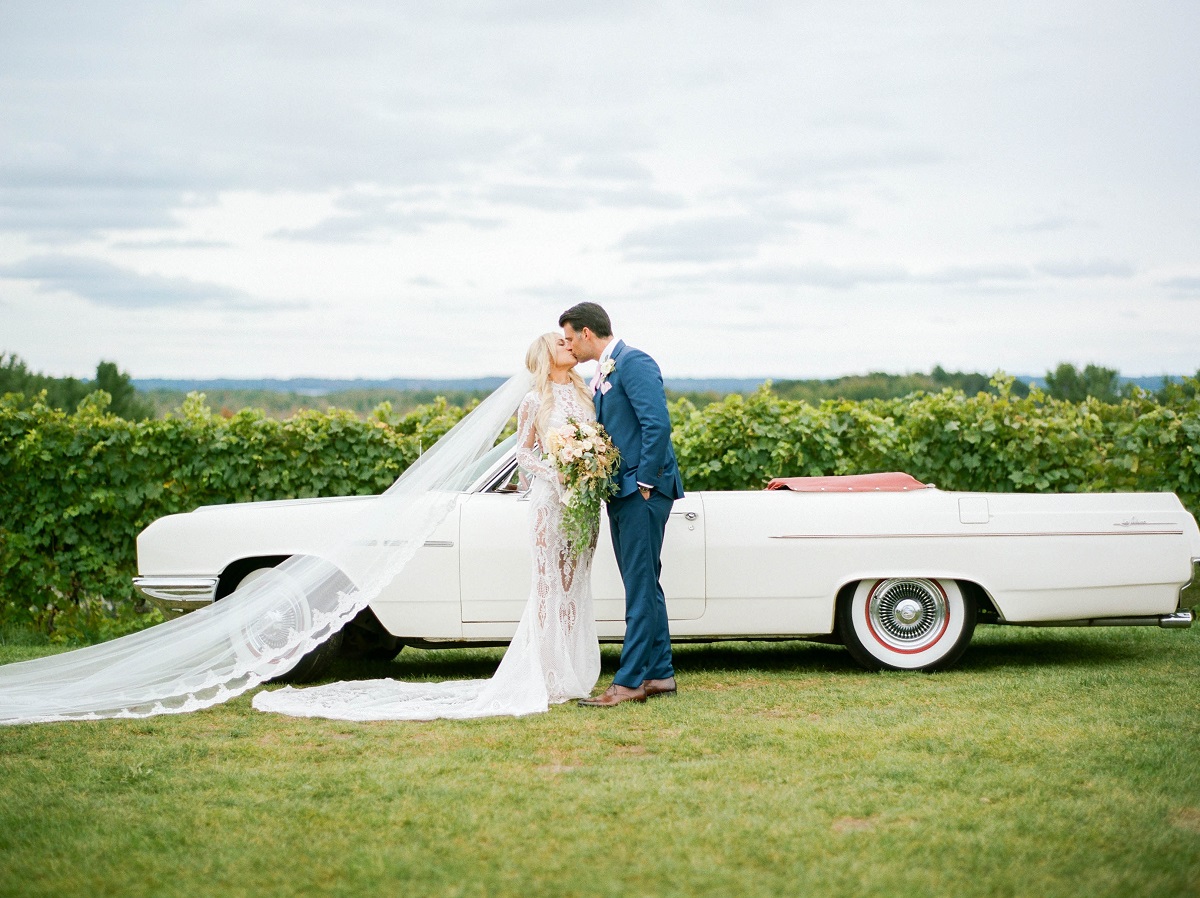 TAWNEY & MIKE | Black Star Farms, Suttons Bay | Carrie House Photography & Montage Media Films
They had me at "dinner in the vines" with champagne drape, chandeliers, and blush goblets.  Talk of kicking off the weekend at a local cidery with dueling pianos and a bbq food truck sweetened the deal.  Epic video on the "must have" list because Tawney's connection to northern Michigan was her first job as a TV reporter in Petoskey pretty much sealed the deal.  I wanted in and my September was wide open.  I thought of the 17 months of planning fun we would have together and it was one of those laughter-filled conversations that felt like the wedding planner's version of Christmas—dream clients who already felt like friends with a dream vision that thrilled my creative soul.  Somewhere towards the end of that first call, I picked up on one more detail that quickened my pulse.  They weren't talking about next September.  They were talking about the September that was 5 months away.  Just like that, the one fall weekend we had been calling "our weekend off" became the wedding weekend we're still talking about. 
It was remarkable because the vision was romantic, stunning, and experiential.  It was remarkable because we had a team willing to embrace that vision, to work hard and try new things.  The goal-make it lovely and give the guests a good time.  To quote Mike's rehearsal dinner speech (at Suttons Bay Ciders between gourmet Cordwood BBQ  and dueling piano performances), "I'm not big on gifts, I'm big on experiences and a good time."  Infused in all the talk of blush goblets and silk shawls from Shanghai was a passion to make this experience not only pretty but unforgettable. 
The wedding day welcomed guests to a clearing in the vines with tray-passed prosecco under a champagne draped chandelier entrance and classical music played by live musicians.  An aisle lined with garland, roses, and chiffon led to the arch framing a hilltop view of the bay.  When Grandma Dolores & Uncle Charlie reached the front with their flower basket and ring bearer pillow, Elise stood to sing O Mio Babbino in her strong melodic voice.  As the opera performance resonated among the vines, the slow roll of a classic Buick brought Tawney's veil into view.  Ray pulled his beautiful daughter off the back of that corvette in her exquisite Italian lace wedding gown, turned her to face the guests, and walked her under the chandeliers to marry Mike.  Breathtaking.  Still talking about that entrance. 
Cocktail hour in the estate style inn featured live guitar music, a custom keg wall, a flower wall, and wines made from vines the couple had just exchanged vows in.  As guests enjoyed their hors d' ouvres, our team, Black Star Farms, and 307 Events pulled tables from the bushes, grabbed linens, flowers, candlesticks, and gold flatware from our cars, and carried cheese and charcuterie boards from the cook's tent to set dinner for 96 guests under the champagne drape and chandeliers that had just witnessed Mike & Tawney's ceremony.  Shuttles picked those 96 guests up from their cocktail hour at the inn and returned them to "dinner in the vines" crafted with locally sourced ingredients, served with wine from the vineyards, and enjoyed with so much laughter, joy, and happy tears.  Mike nailed the sabering of his champagne bottle for toasts as our team moved custom keg wall, boxwood flower wall, lounge seating, and a stunning cake from the historic inn cocktail hour space to the venue's barn.
As the sun set, shuttles brought guests from their leisurely dinner in the vines down to Pegasus Barn where a decadent cupcake bar awaited inside and a custom s'mores bar by the firepit was complimented by signature (spiked) coffee from the artisan Planetary Coffee truck.  The bridal party was introduced with an "evolution of dance" theme that started with the first couple doing a twostep and proceeded thru the ballroom moves of 1910, Charleston of the 20's, Swing, Jitterbug, The Twist, and so on, leading up to Time of My Life from the 80's "Dirty Dancing" movie.  Tawney not only rocked an outfit change featuring Louboutin heels and a five tier gown from Winnie Couture custom-altered in bespoke fashion, but she and Mike also nailed that signature lift at the end.  The crowd cheered with wild delight.
Guests may have thought that was the last curated experience of the evening but Jeff from Montage Media Films had stayed up until 3am the night before editing rehearsal dinner footage; he had worked thru dinner adding wedding ceremony footage; and then he worked thru the cake cutting on one final edit.  Within half an hour of Mike & Tawney's crowd-wowing lift, Jeff wowed every one of us yet again by showing a highlights video of the weekend guests were still experiencing, ending in the dance lift they had just witnessed.  Goosebumps and tears.
At 10pm, the coffee truck closed down, guests picked up their jars of Mike's homemade bbq sauce favors, lit an aisle of sparklers, and cheered Mike & Tawney down to the shuttles that took them all to the afterparty at West Bay Beach Resort where dancing and revelry continued until 2am.
We talked about it over bacon and coffee at brunch the next morning.  I talked to Mike and Tawney about it again in Chicago a few weeks ago when we met for drinks at the restaurant where they had first dated.  We still talk about it.  They had me at "dinner in the vines" with champagne drape, chandeliers, and blush goblets.  But their passion for crafting an experience with each part of the weekend, of making moments, of delighting guests with the unexpected—this kind of passion and vision inspires and shapes our team.  Tawney & Mike, thank you for inviting us to create this level of an experience with you.
Full credits at the bottom to the creative team—we could not have pulled it off without every one of you saying yes to doing things a little differently and then doing them really well.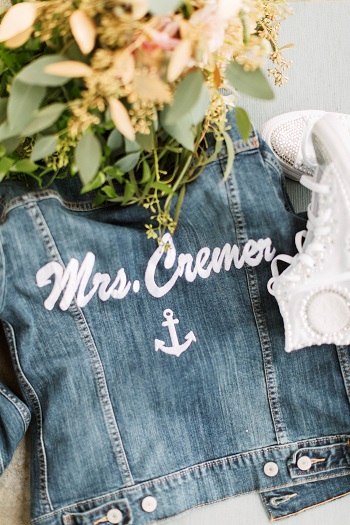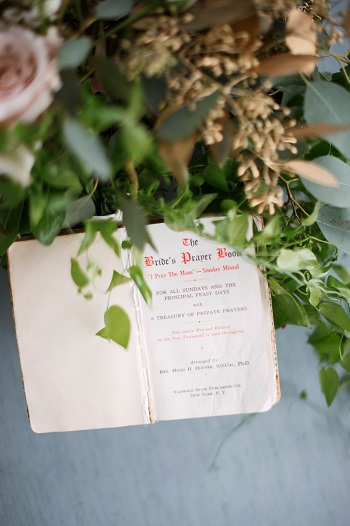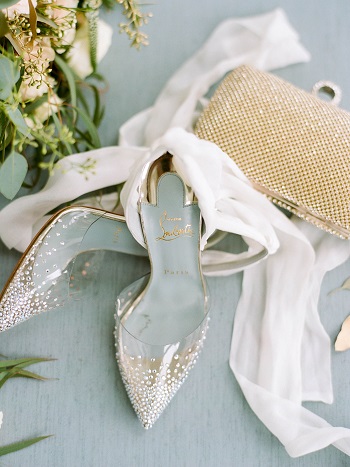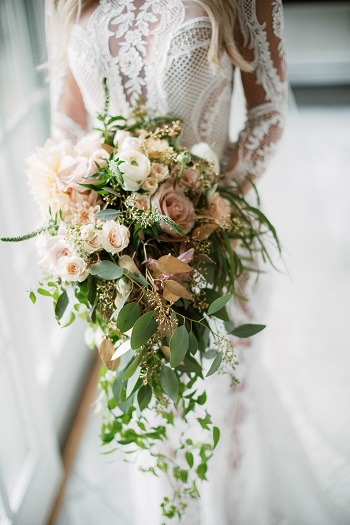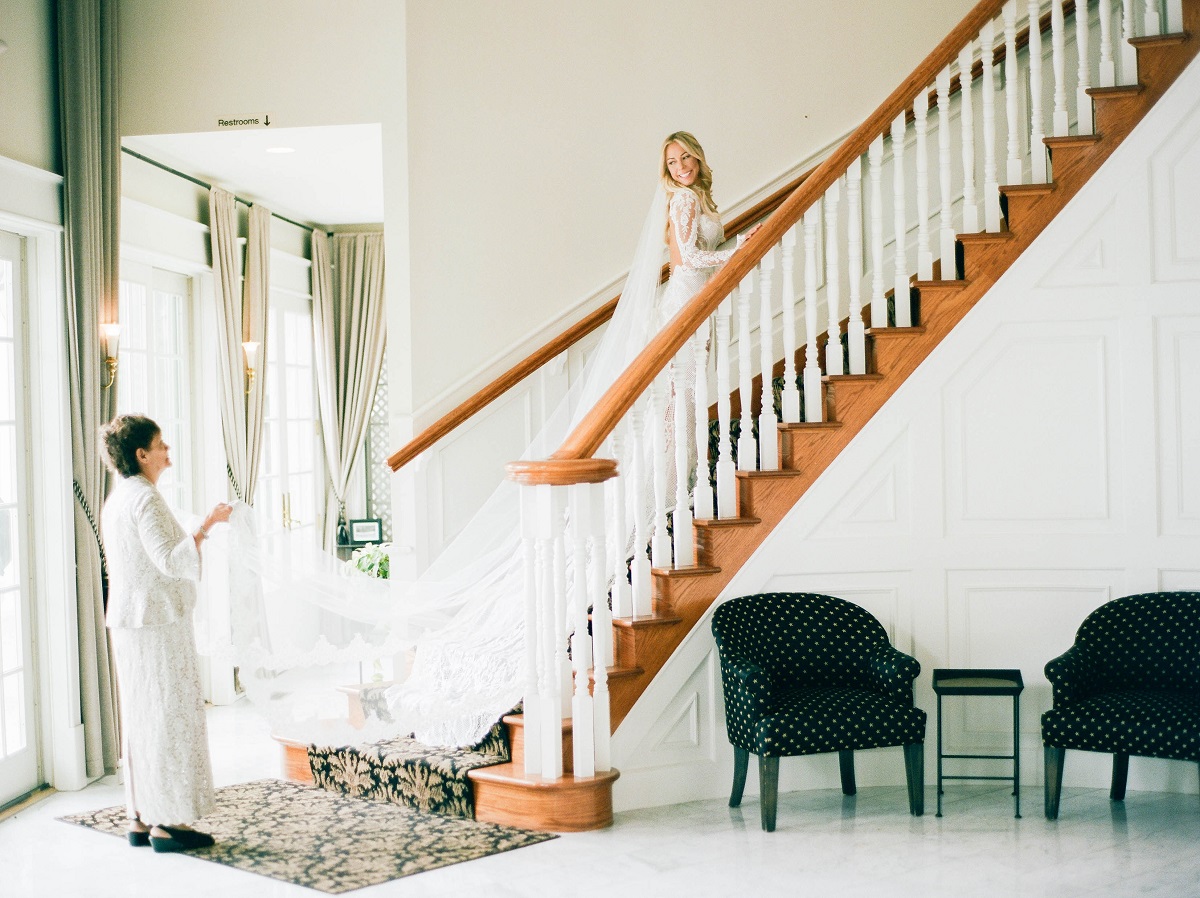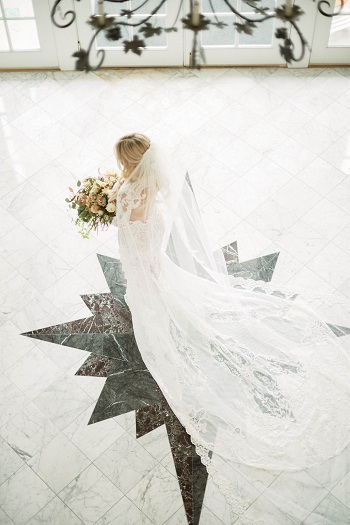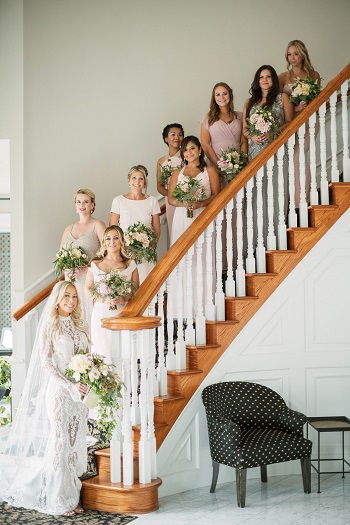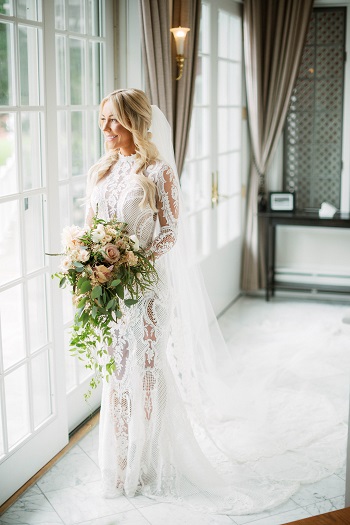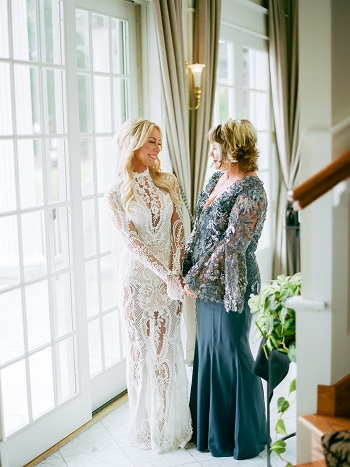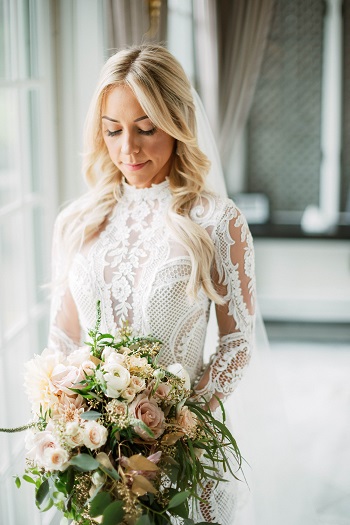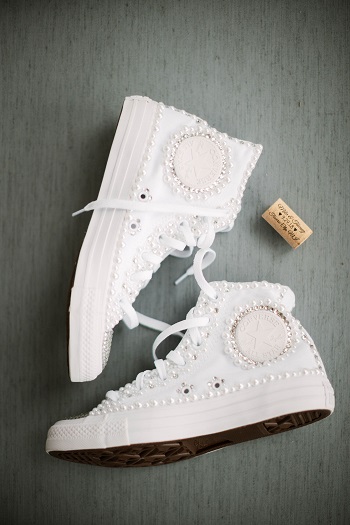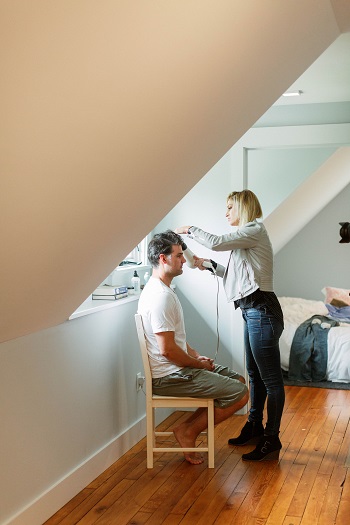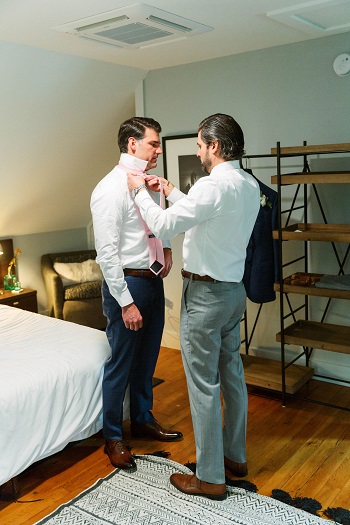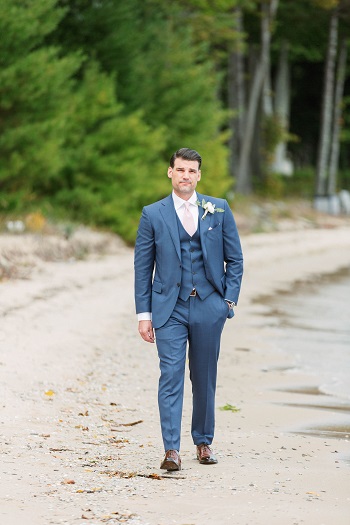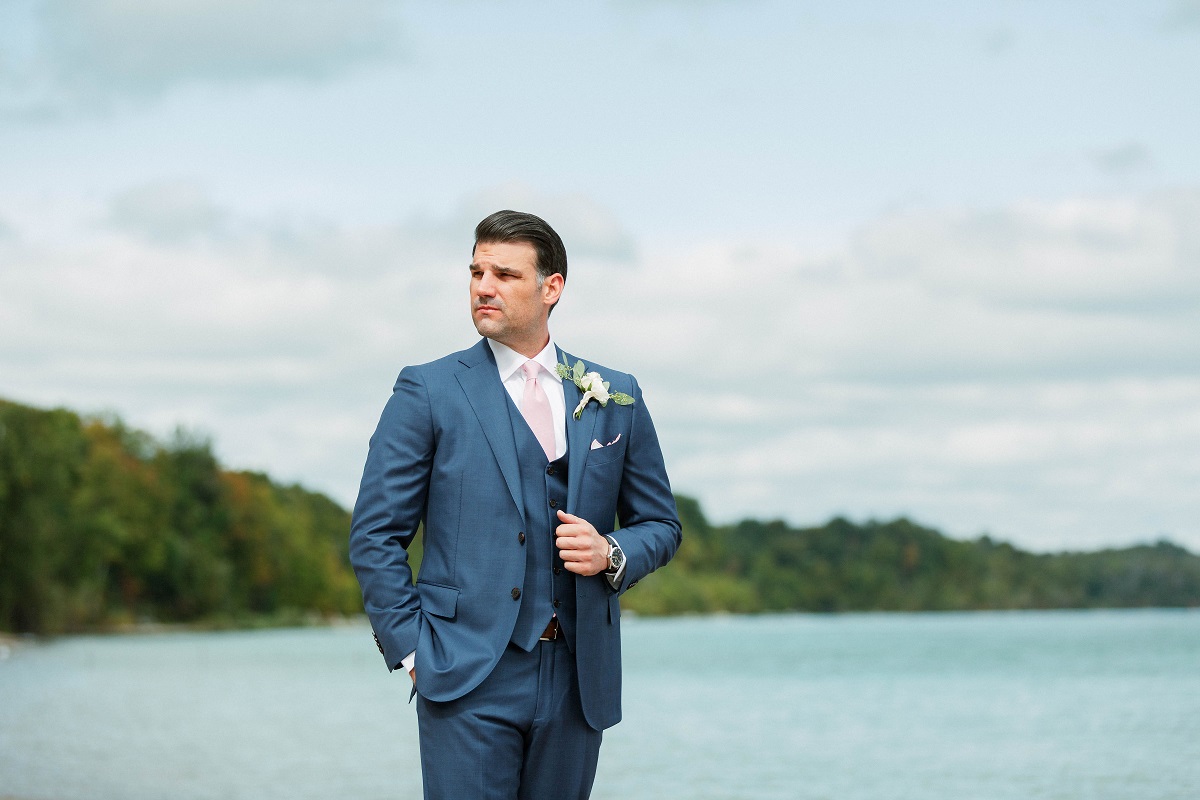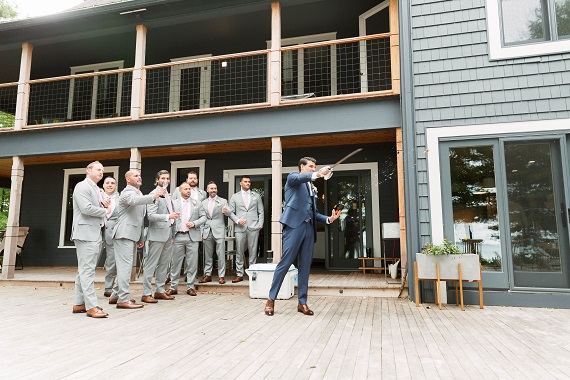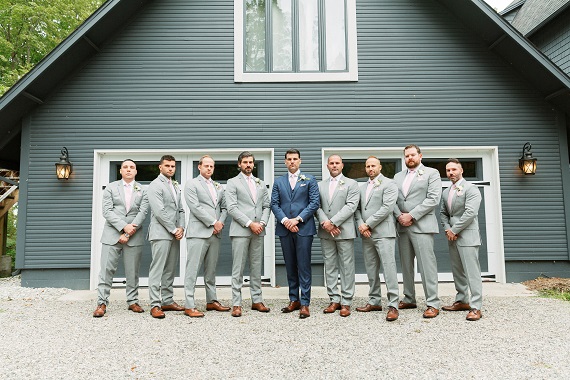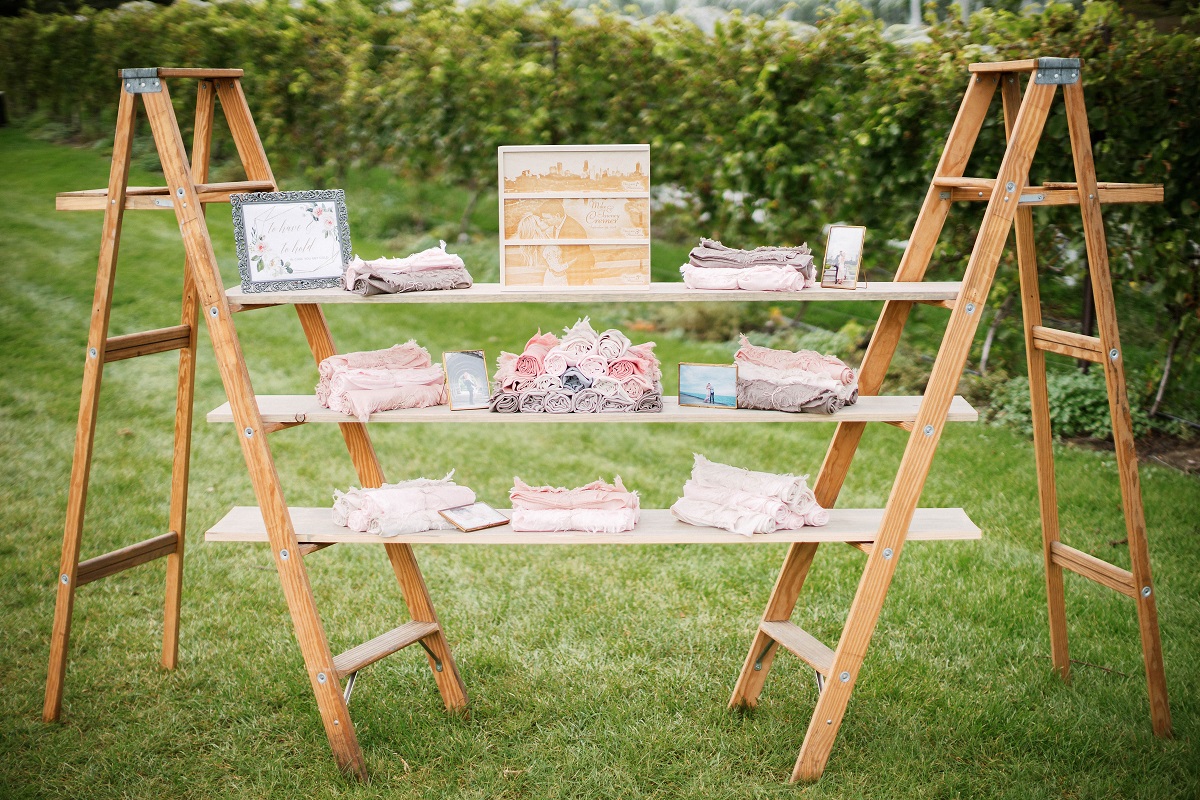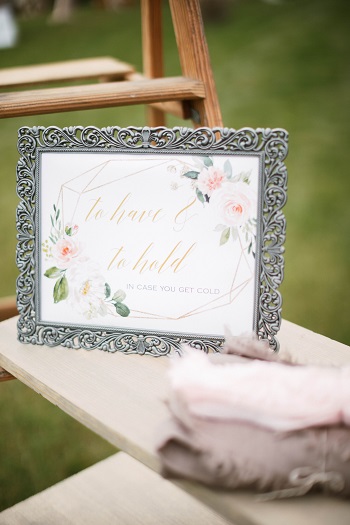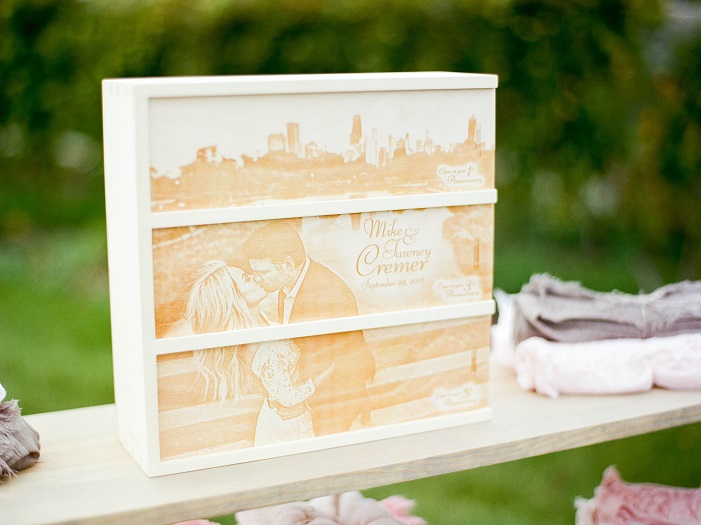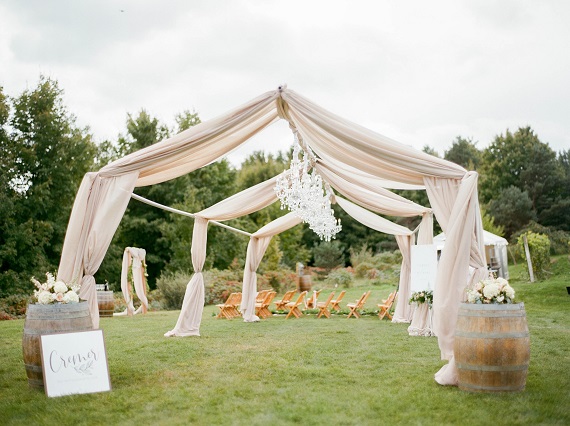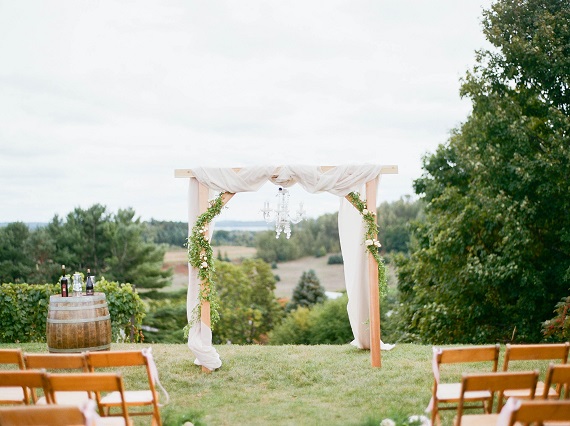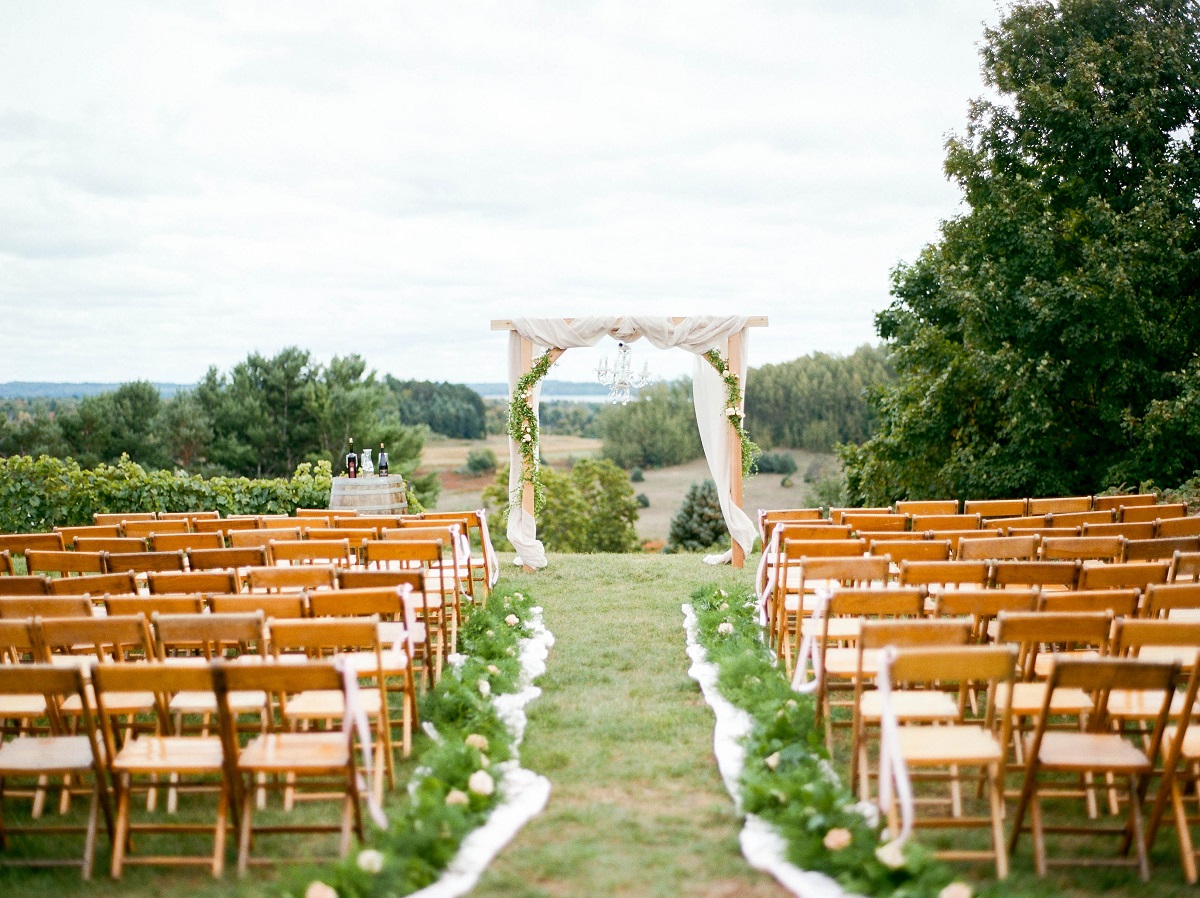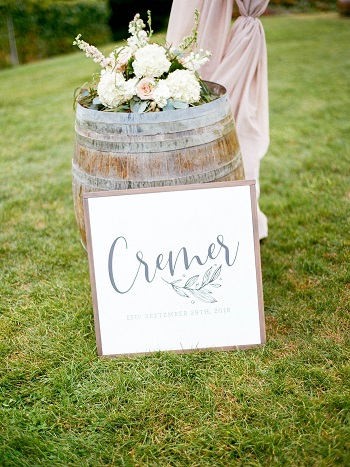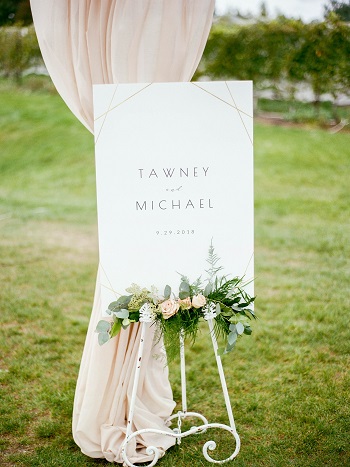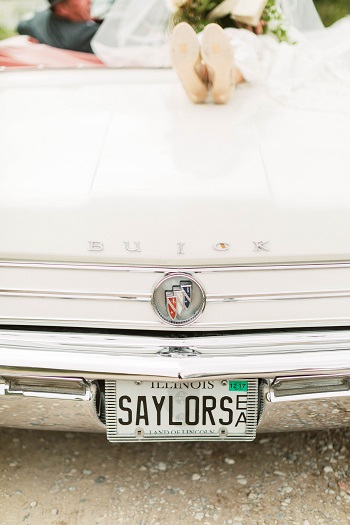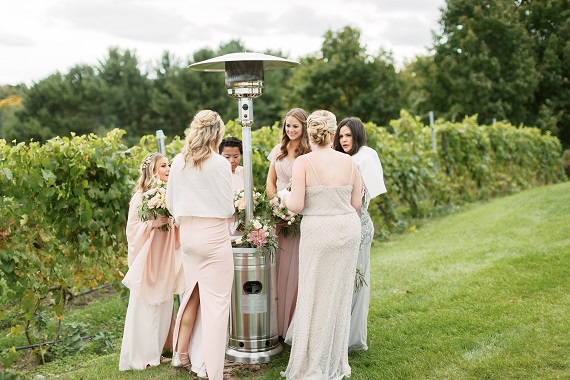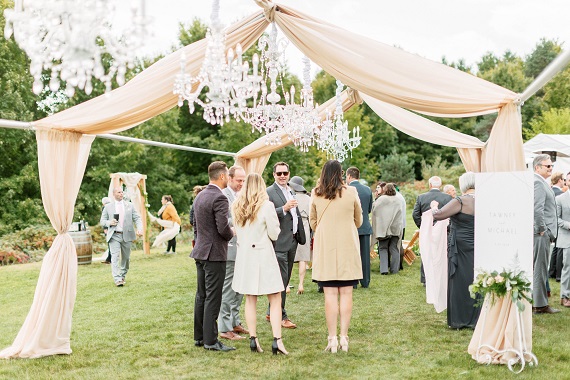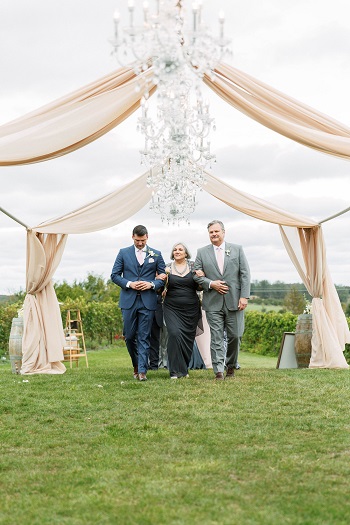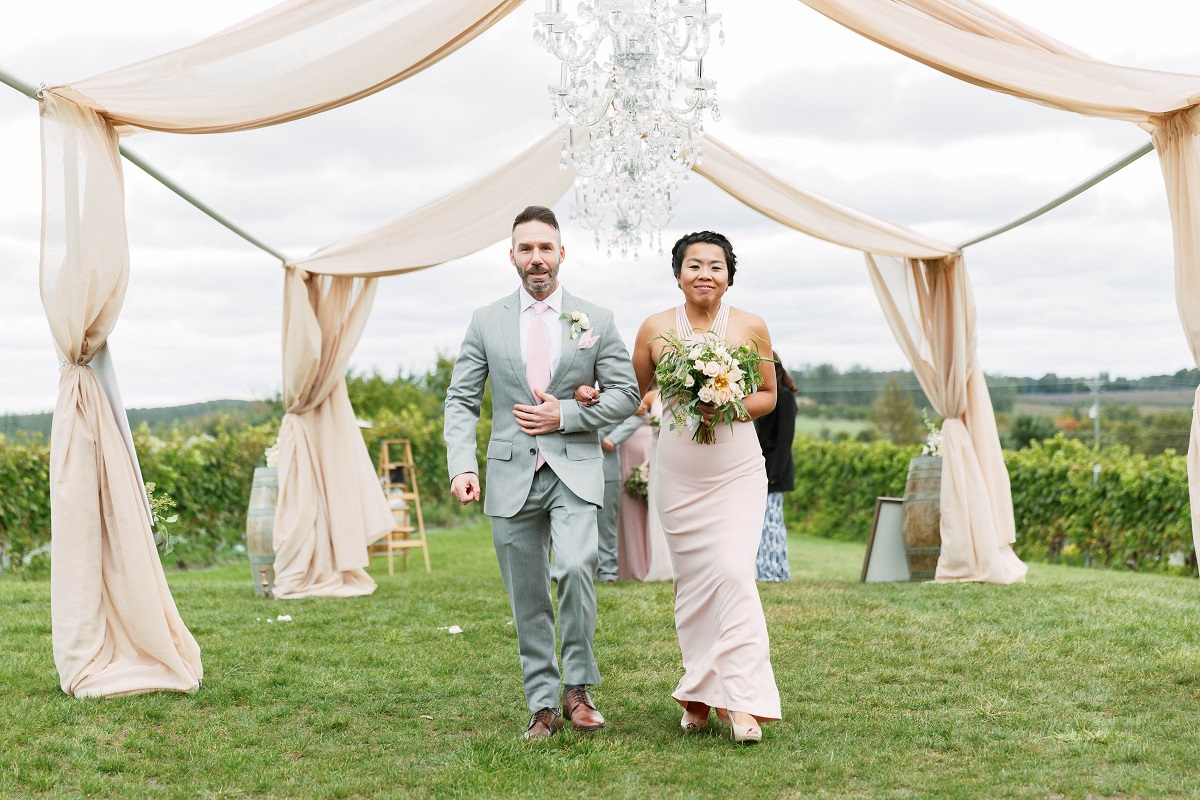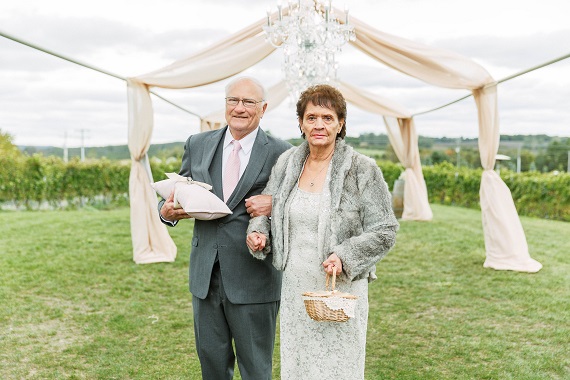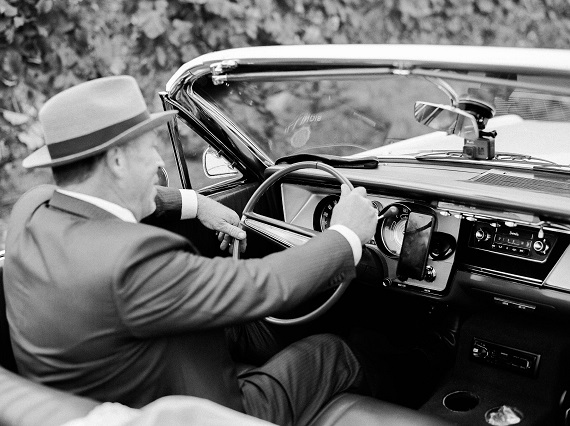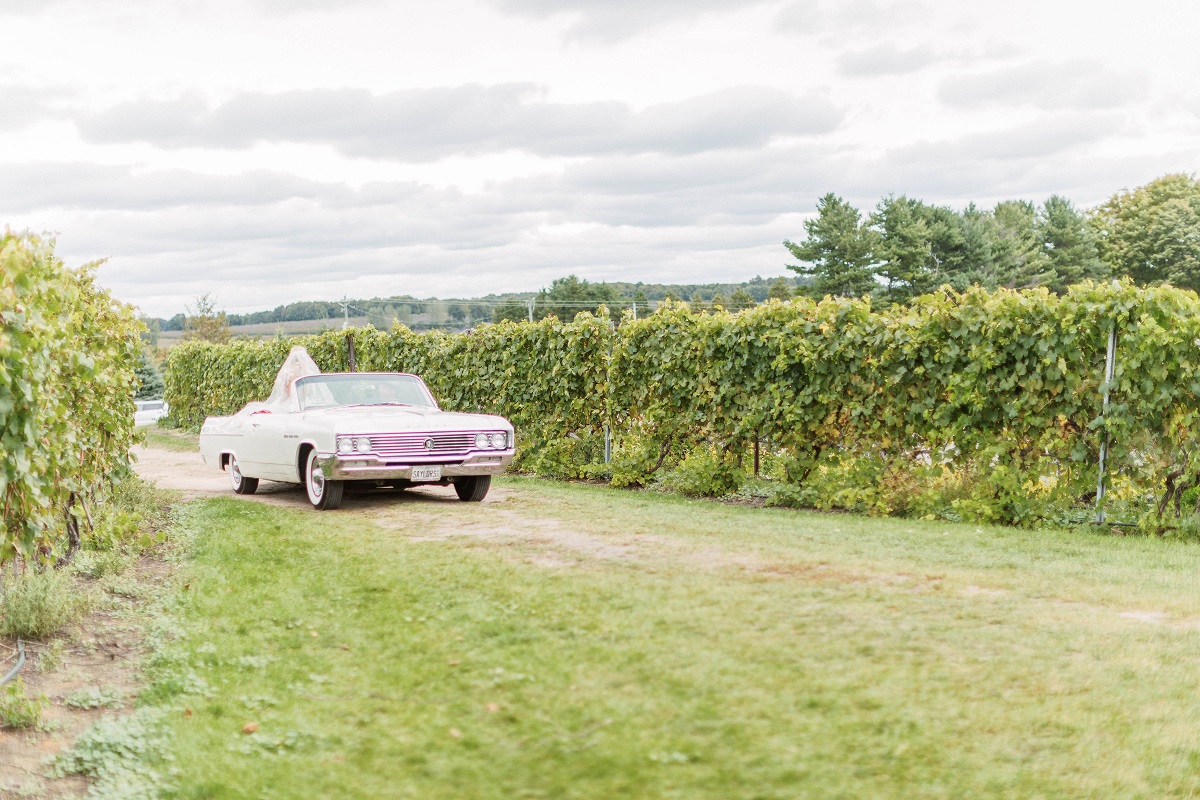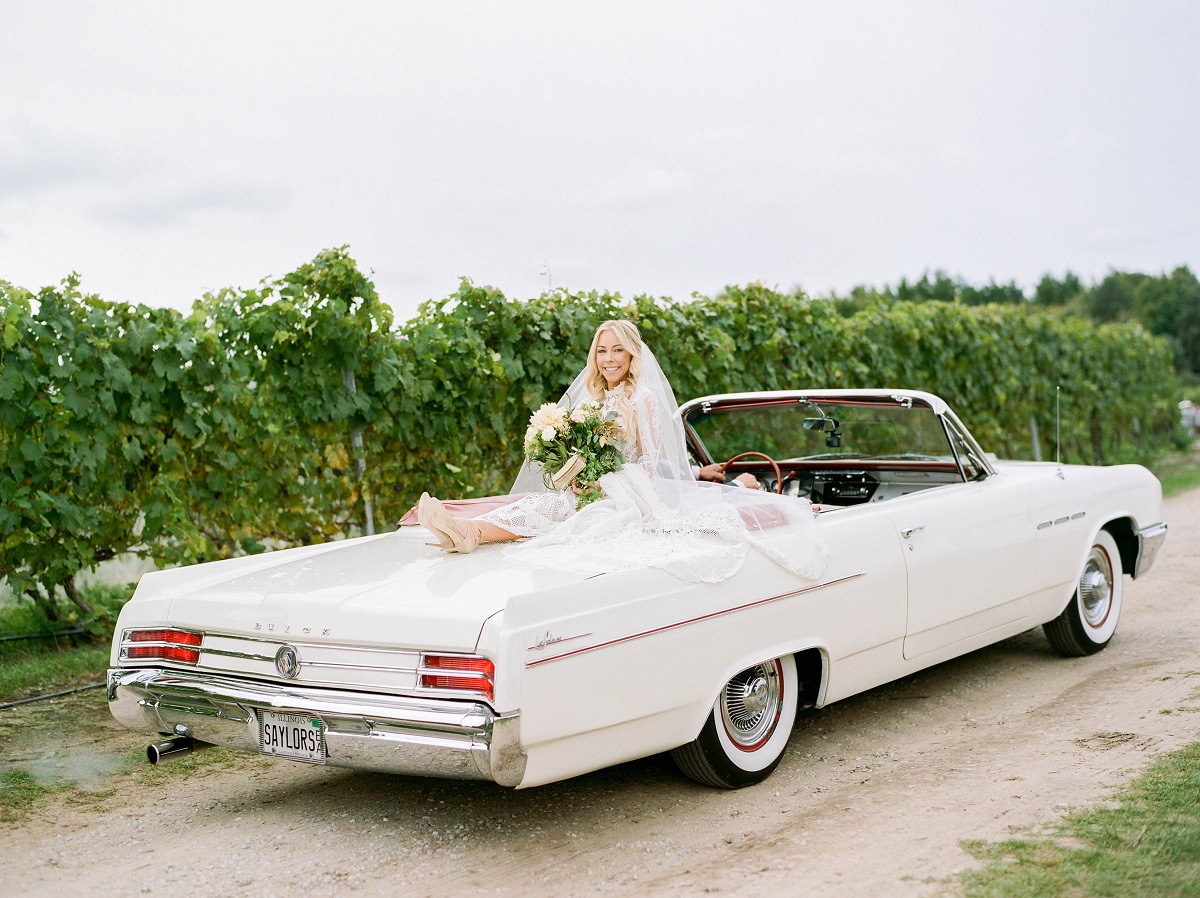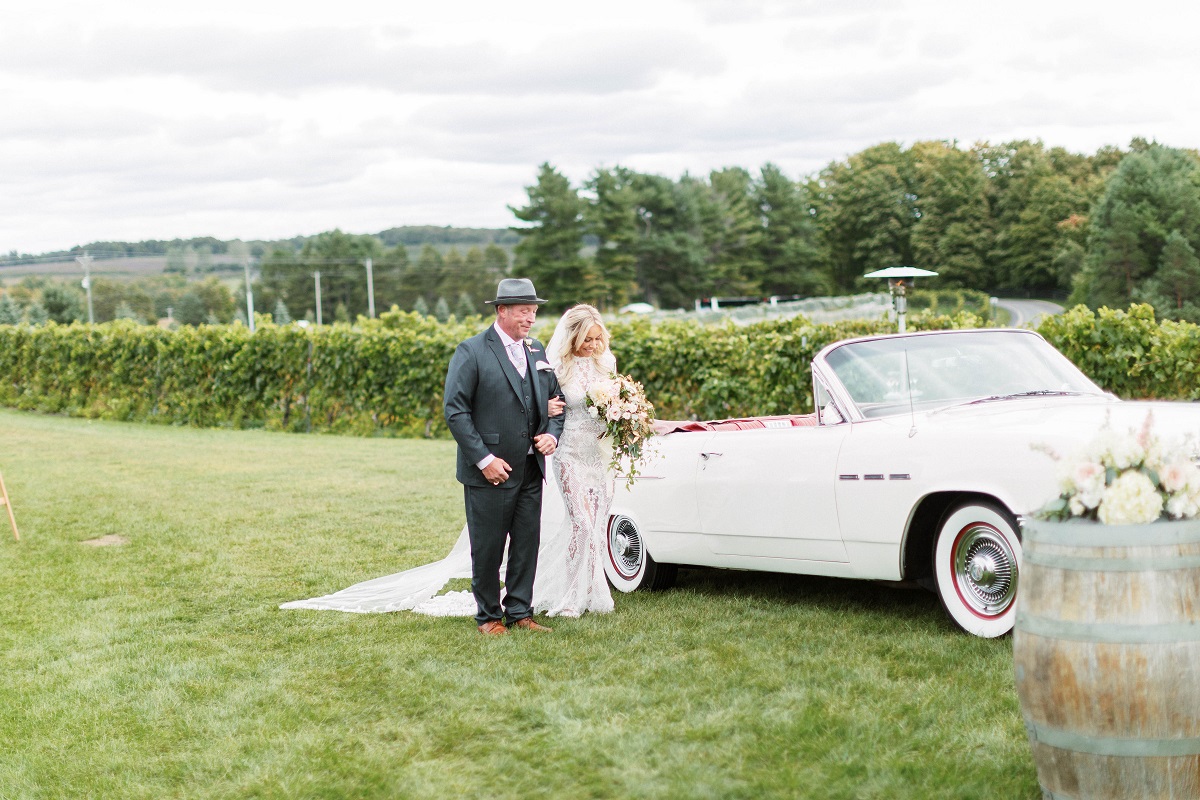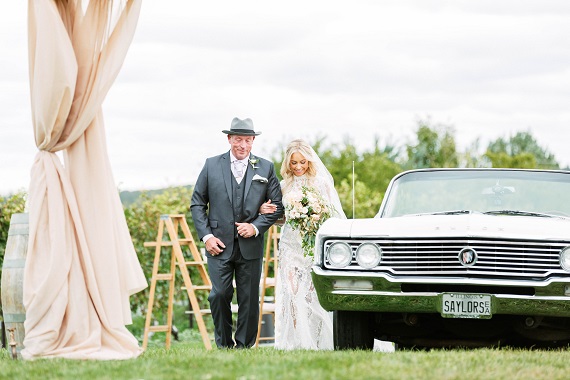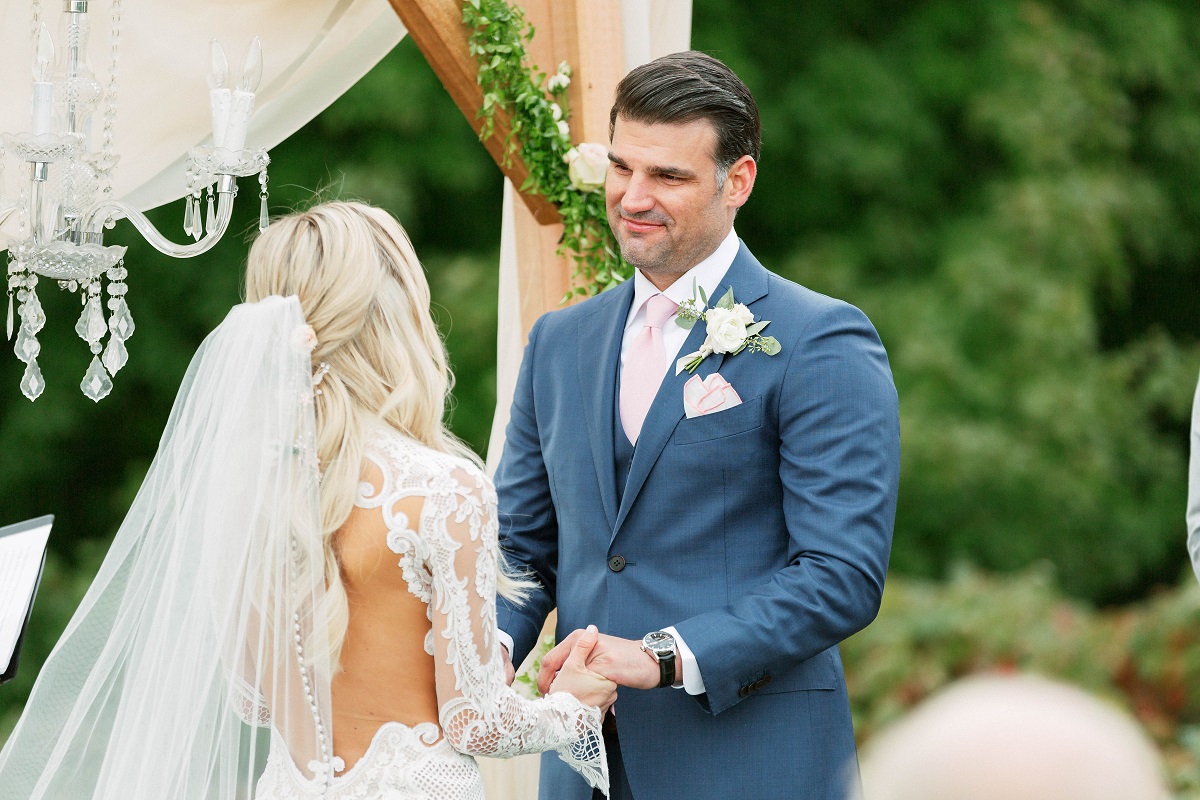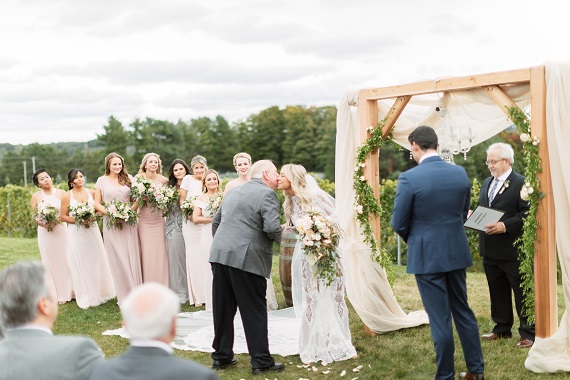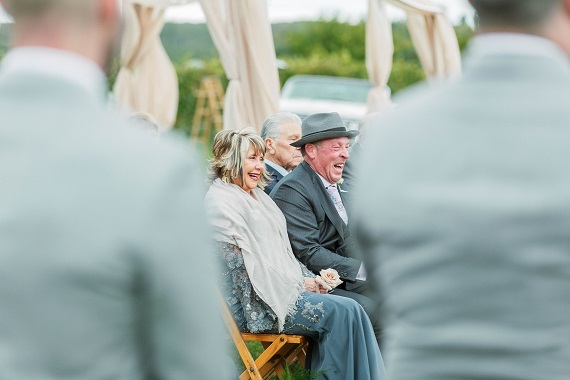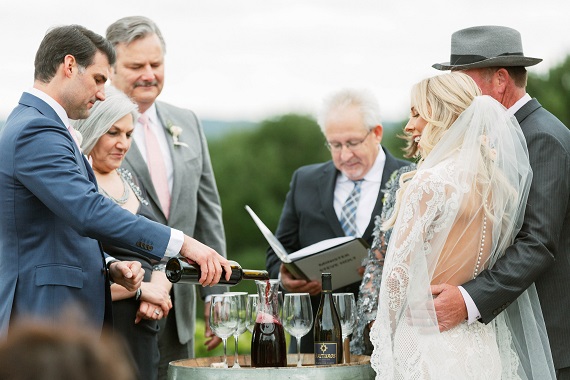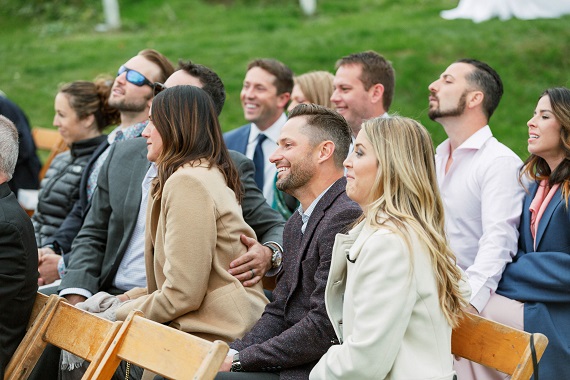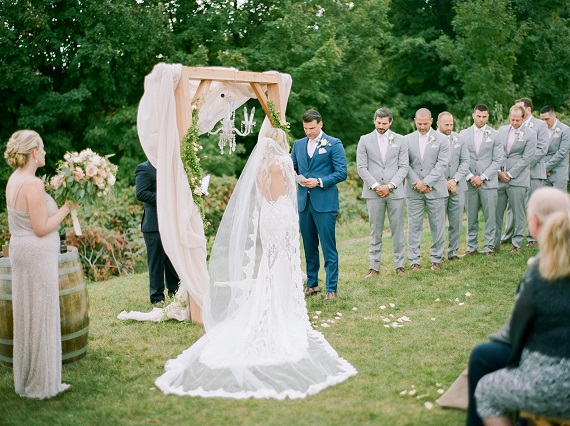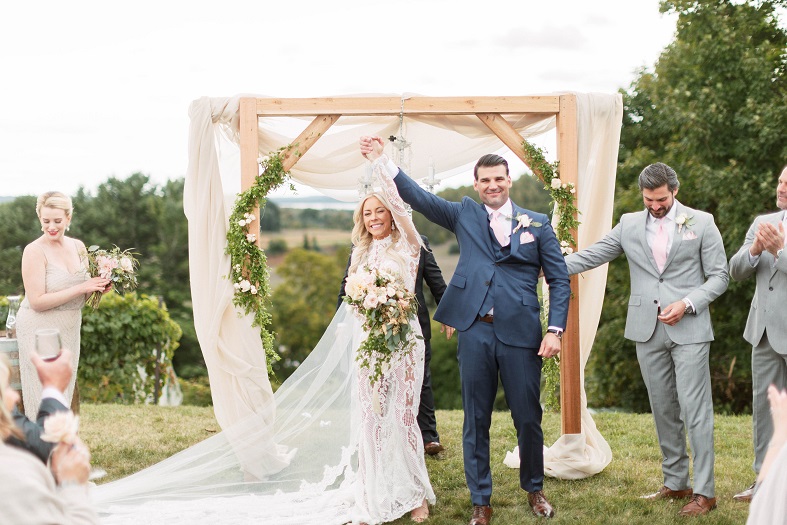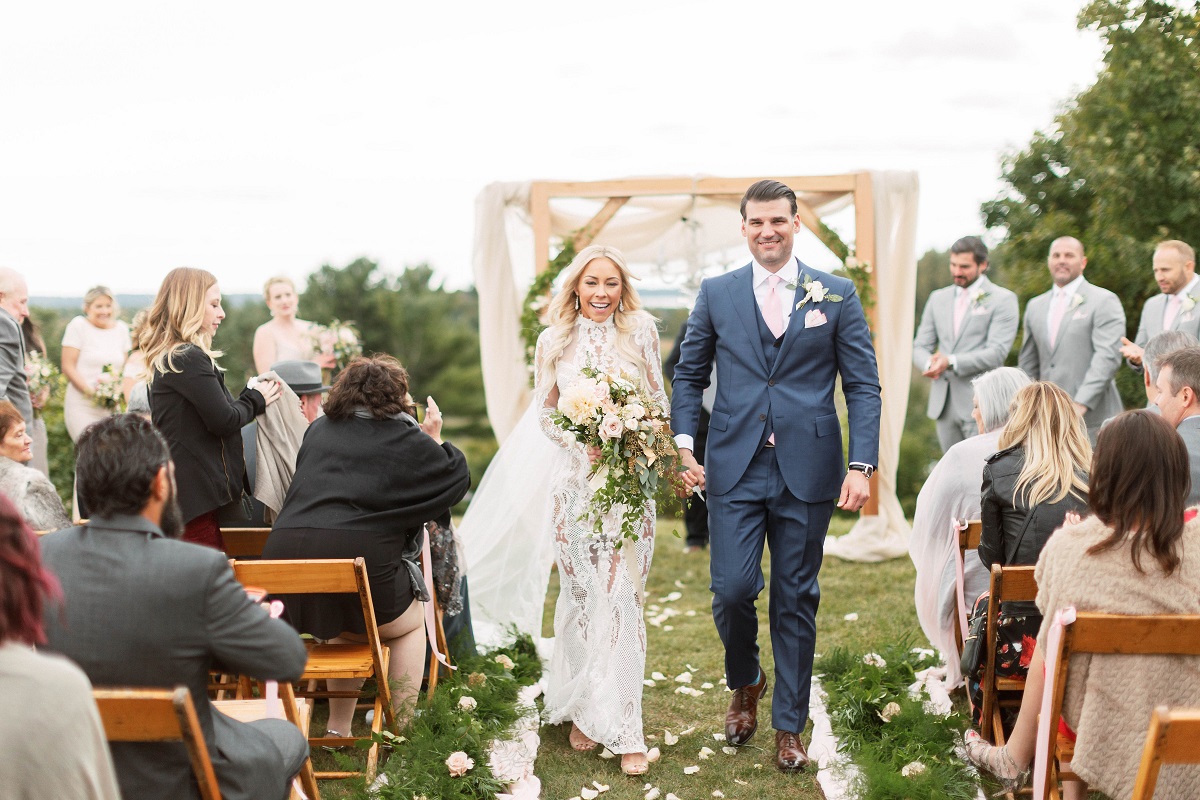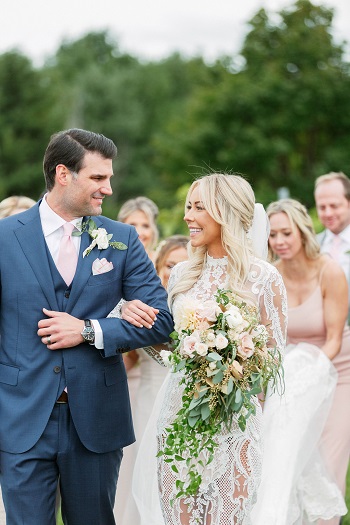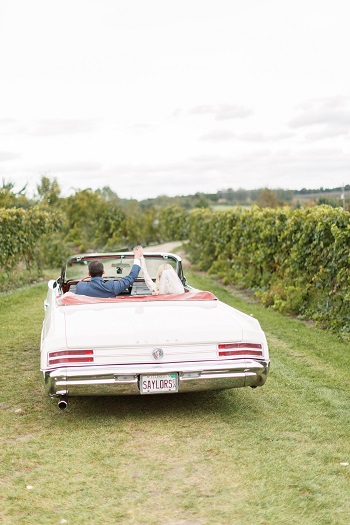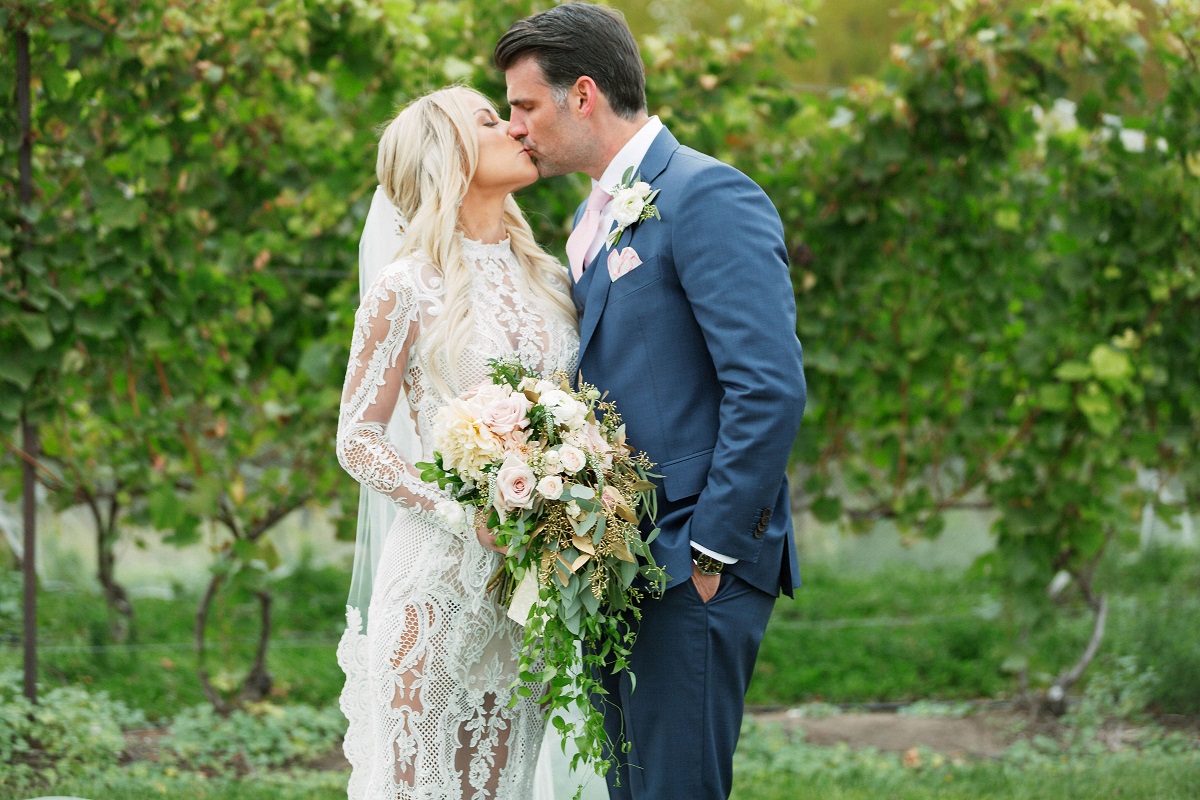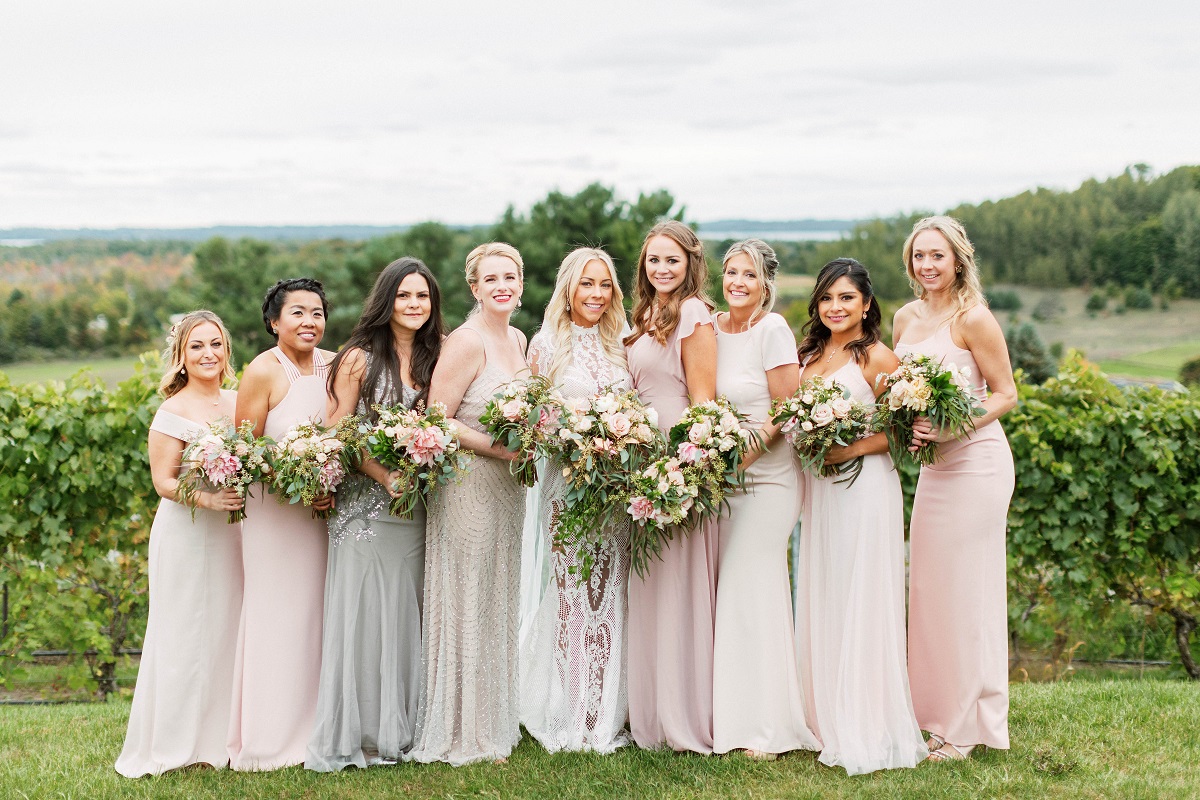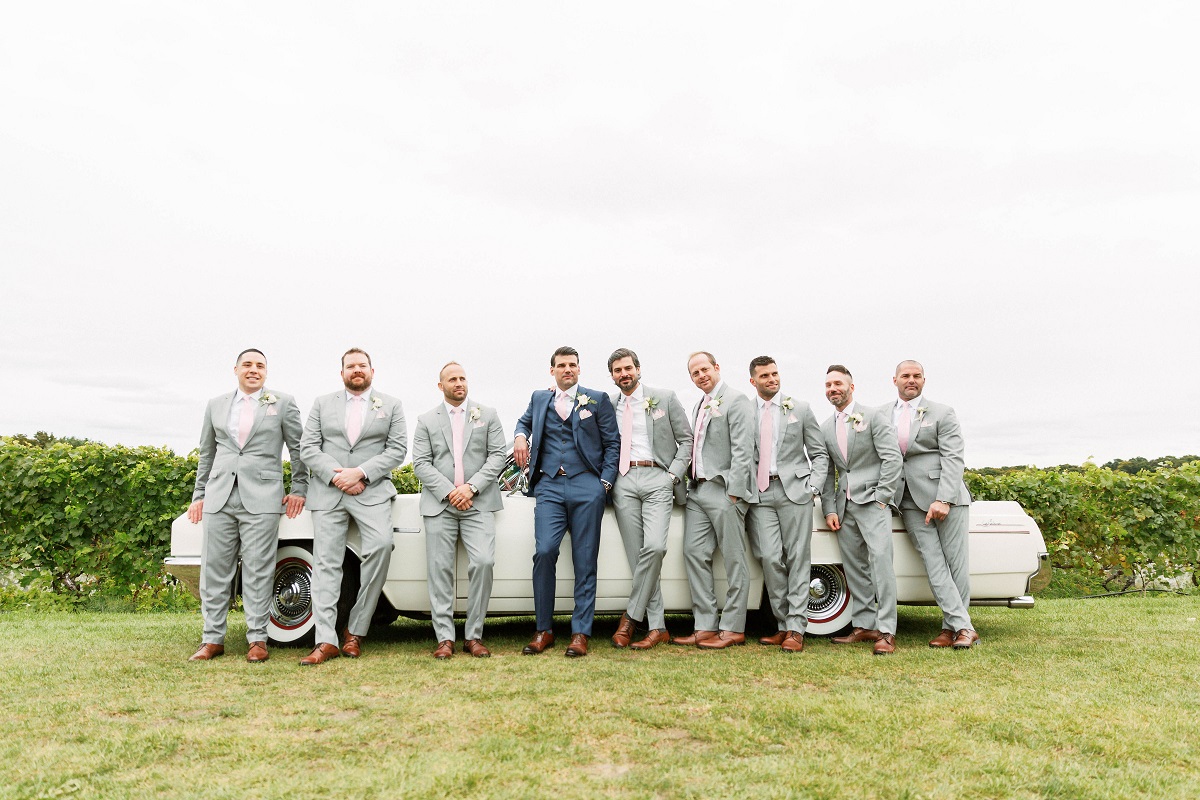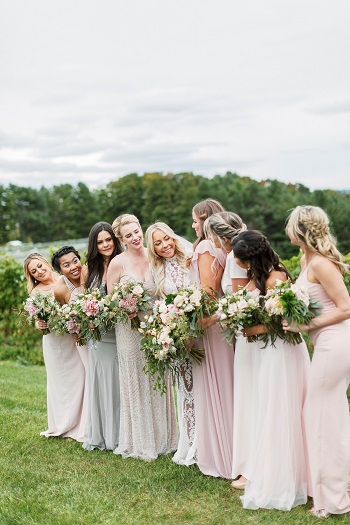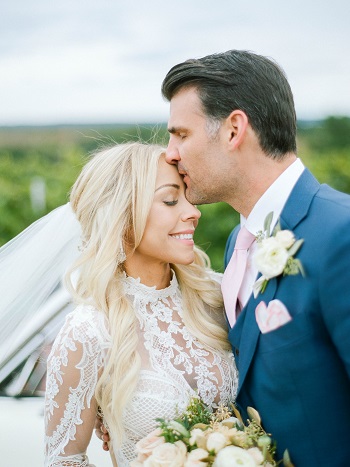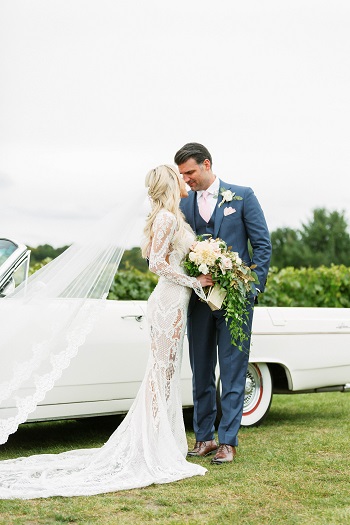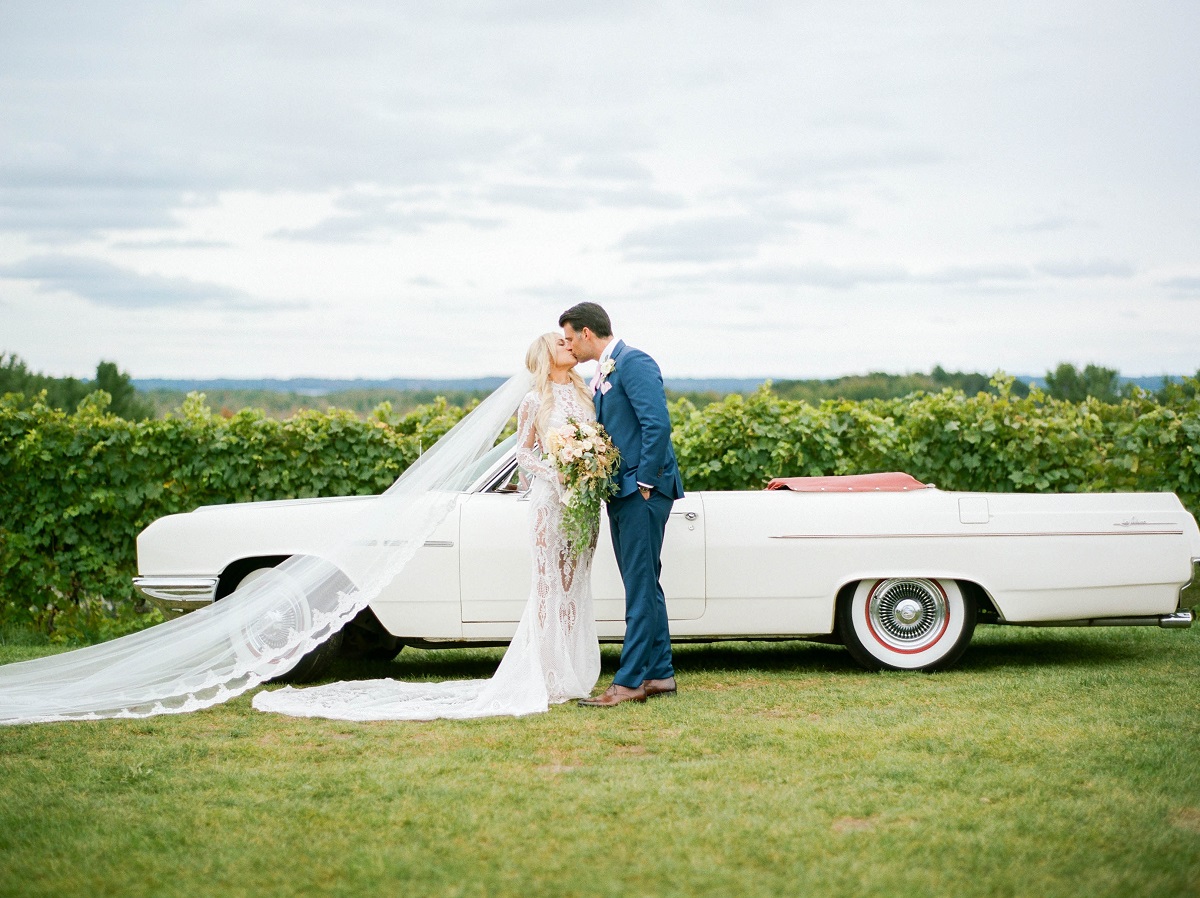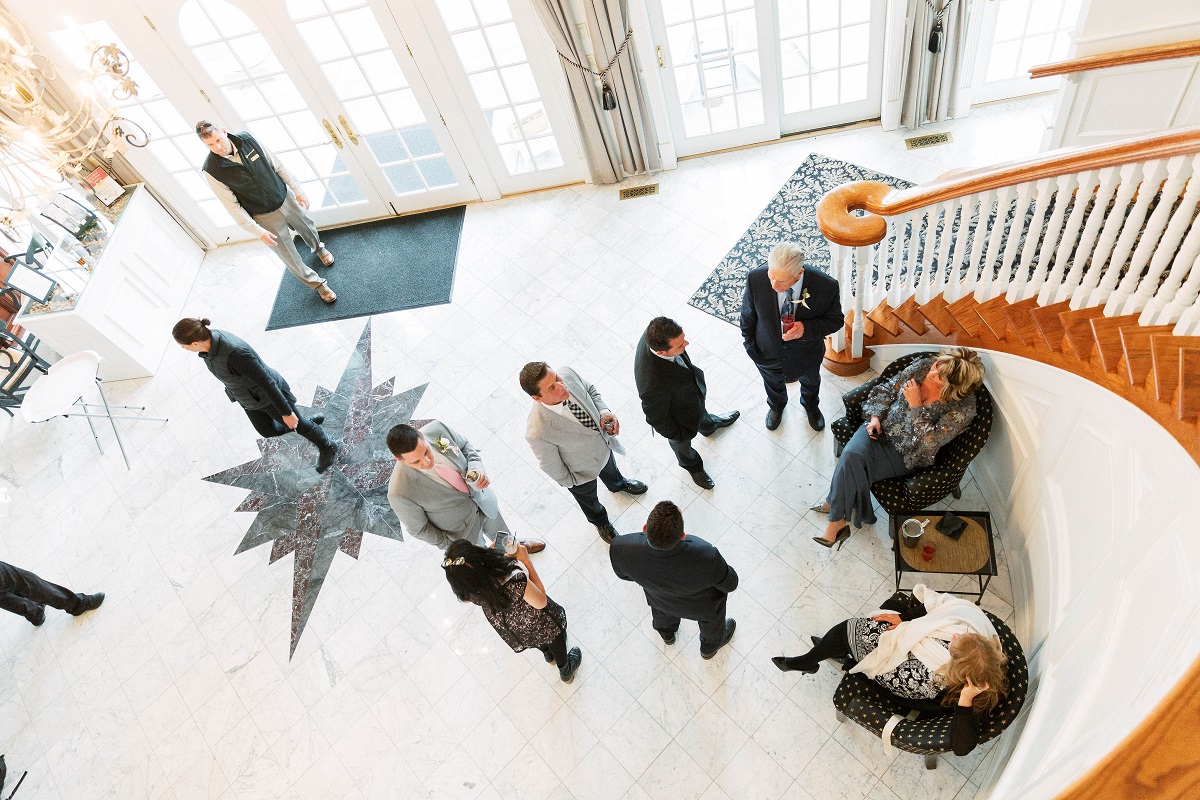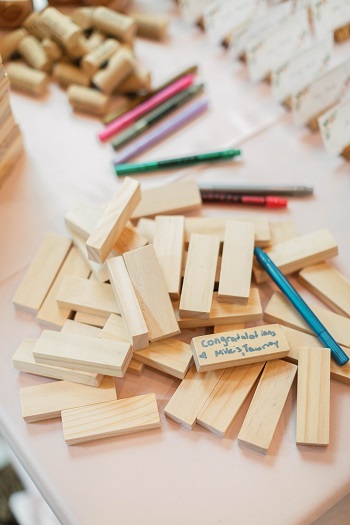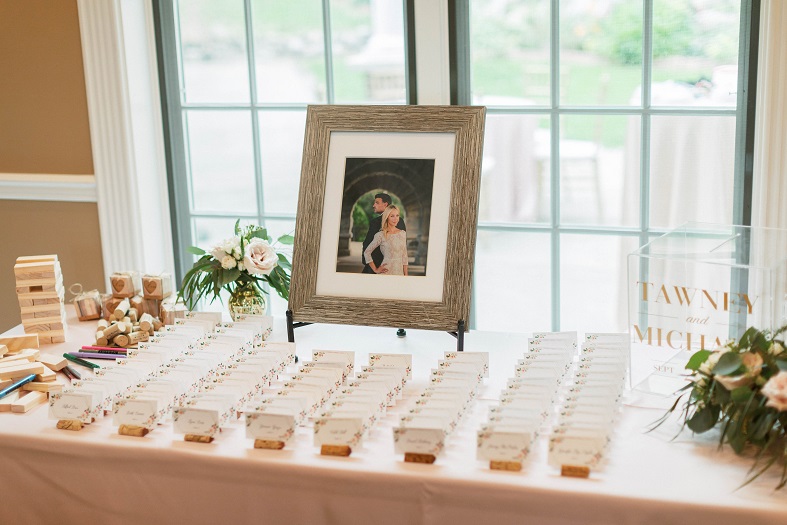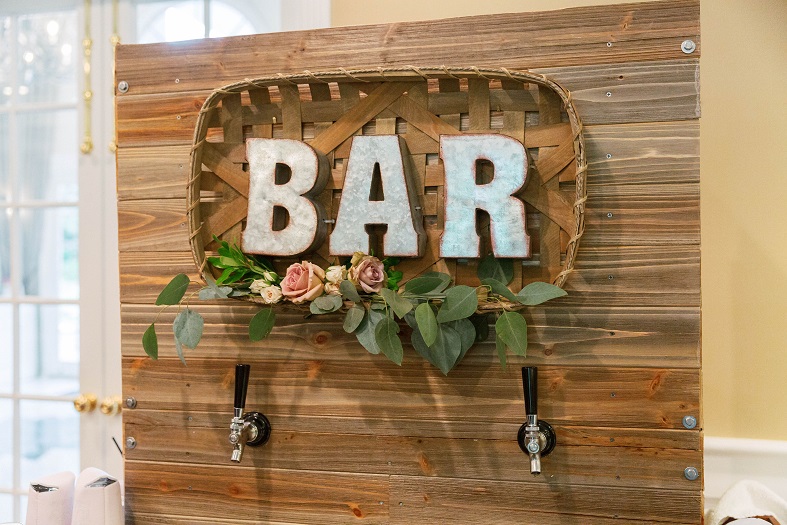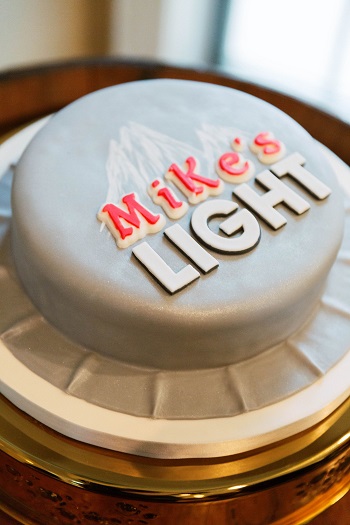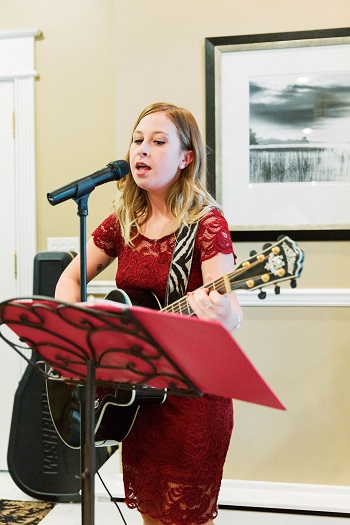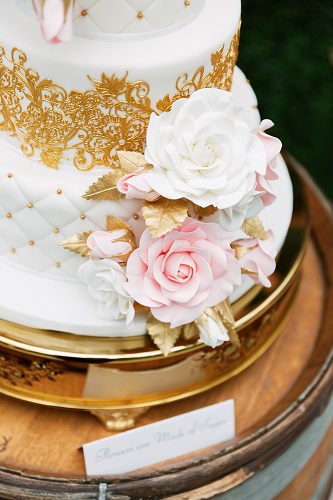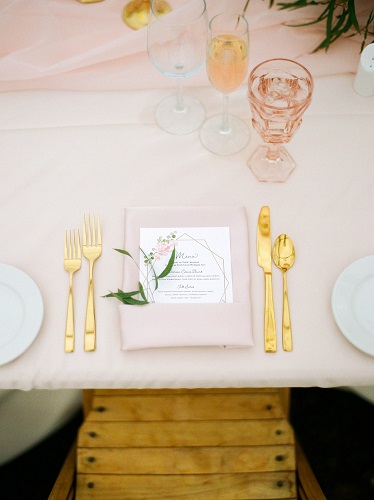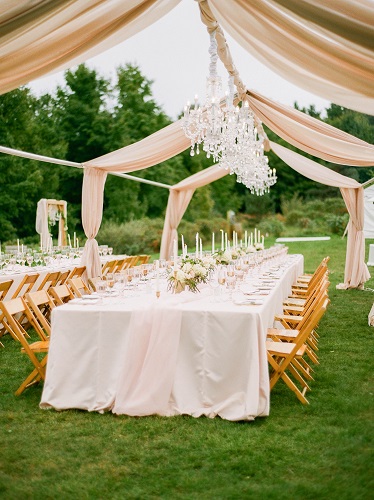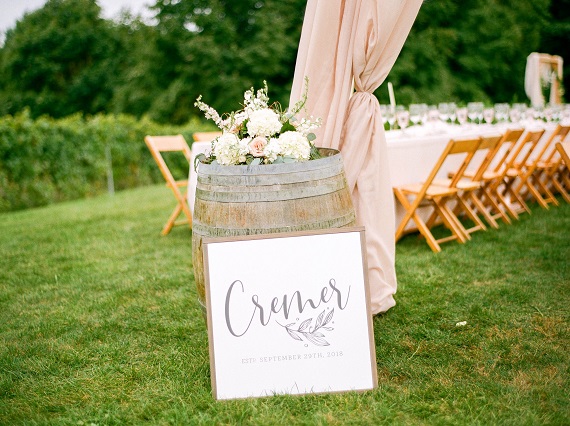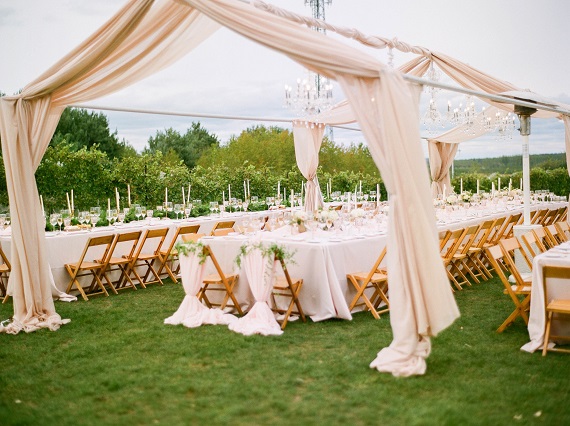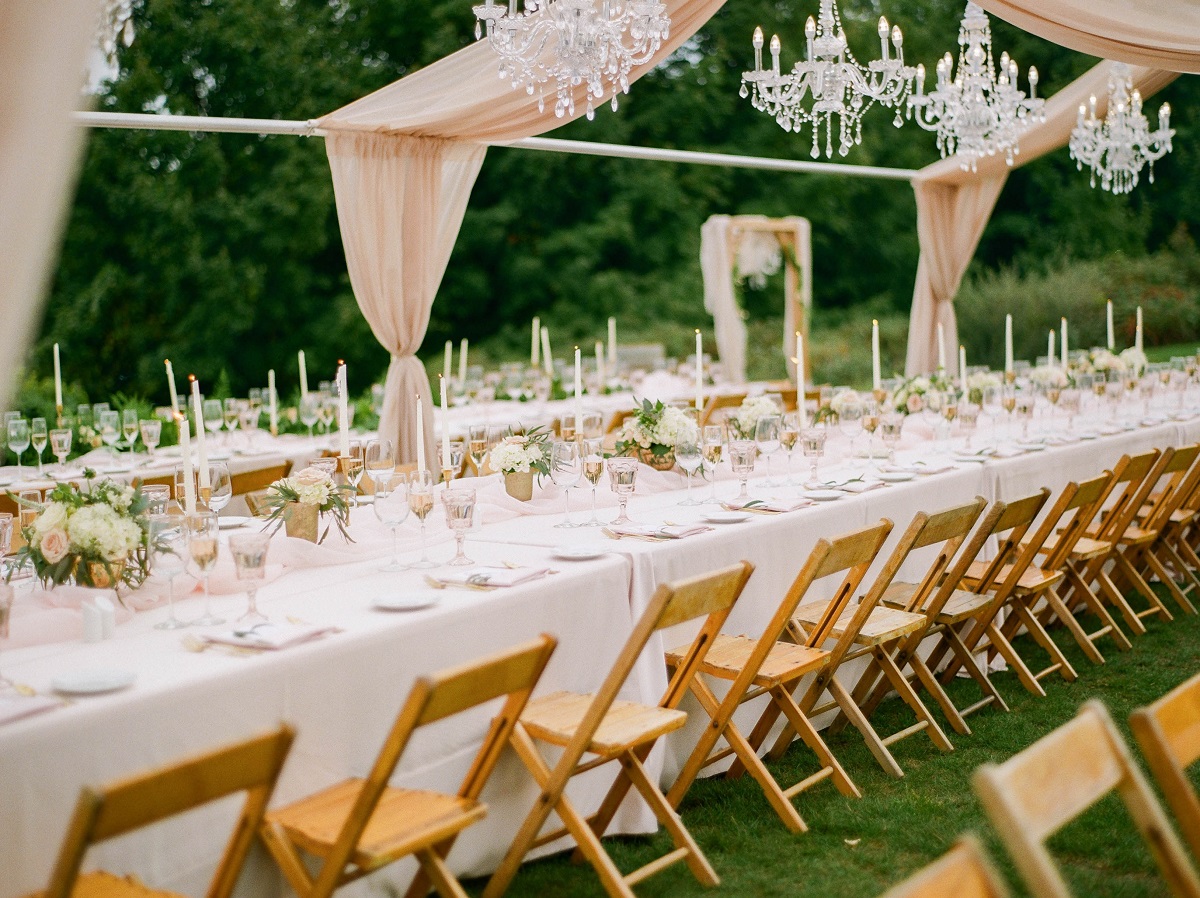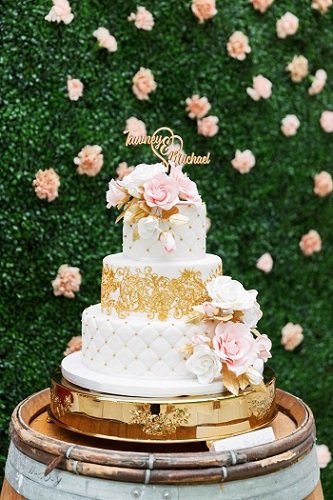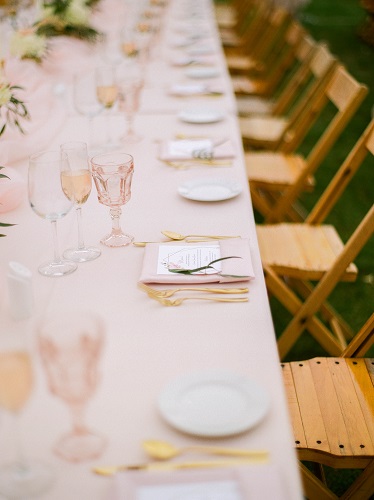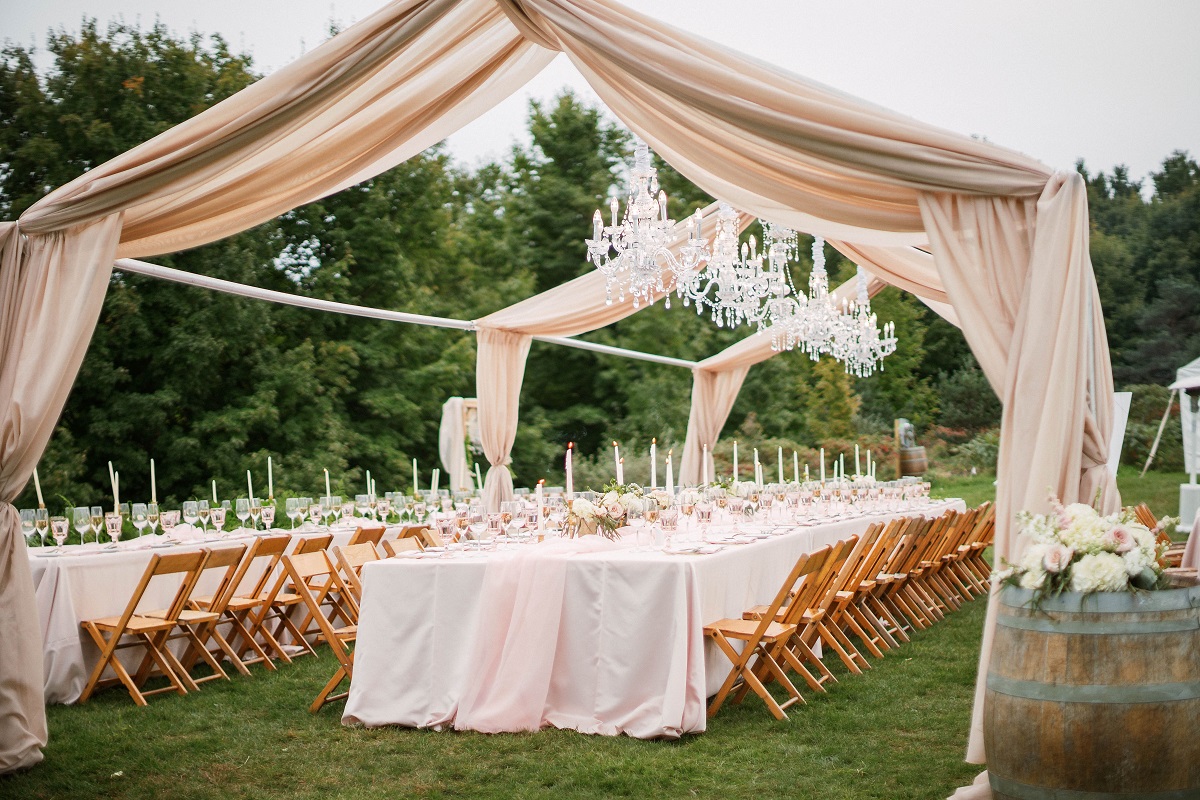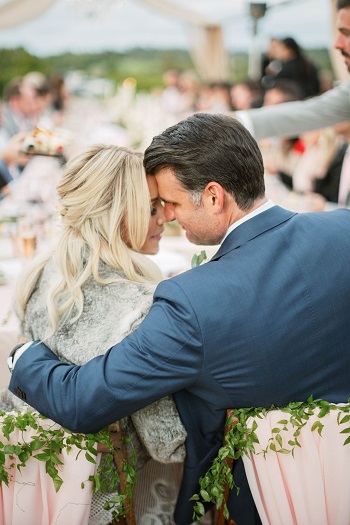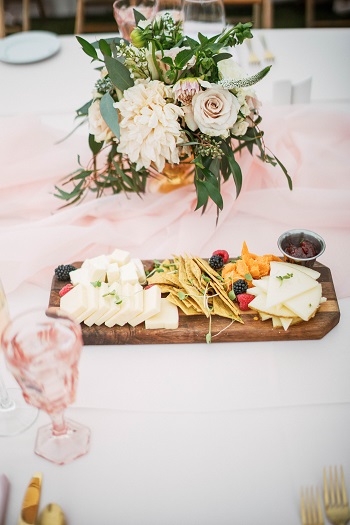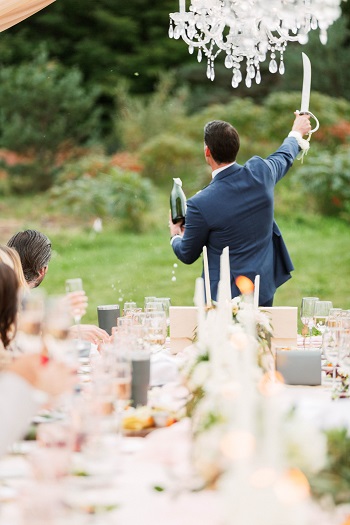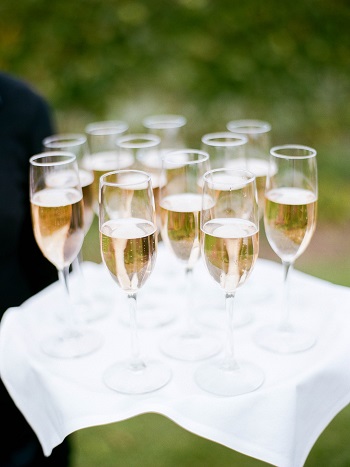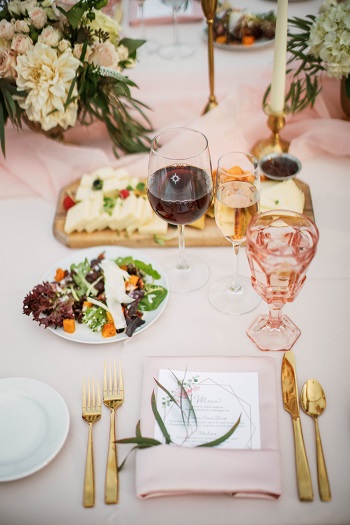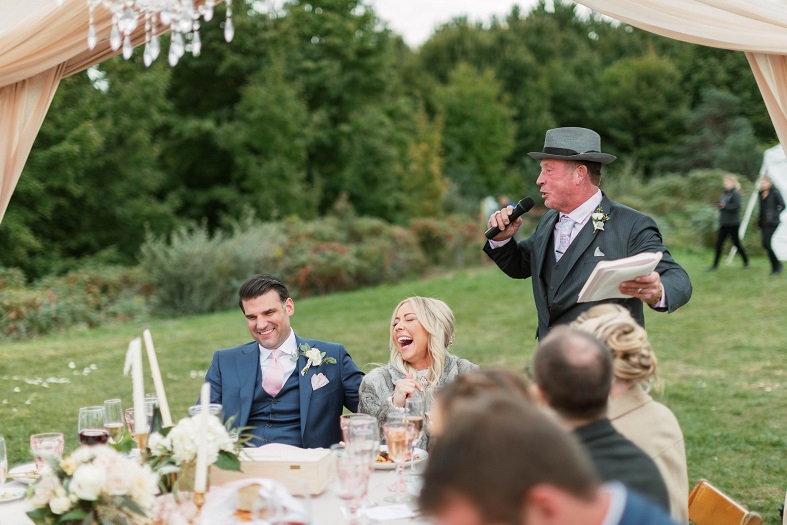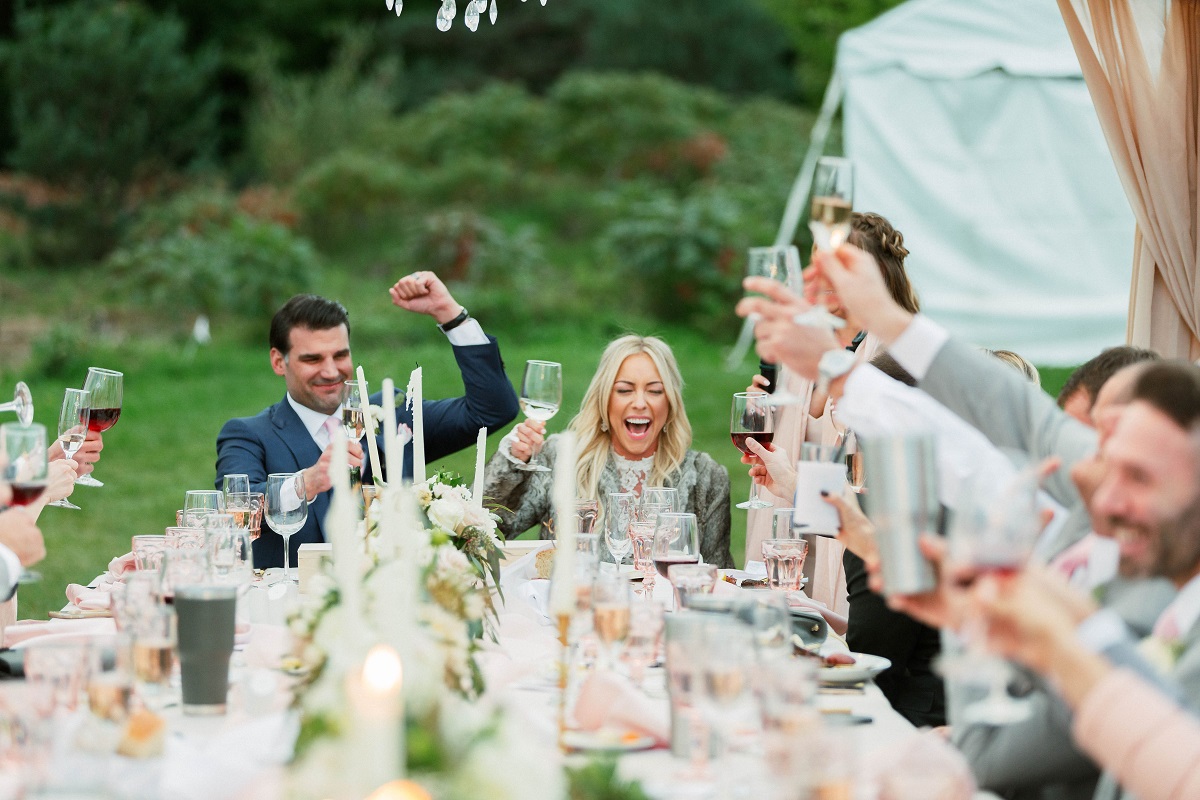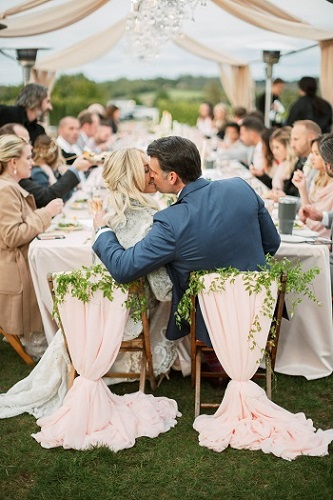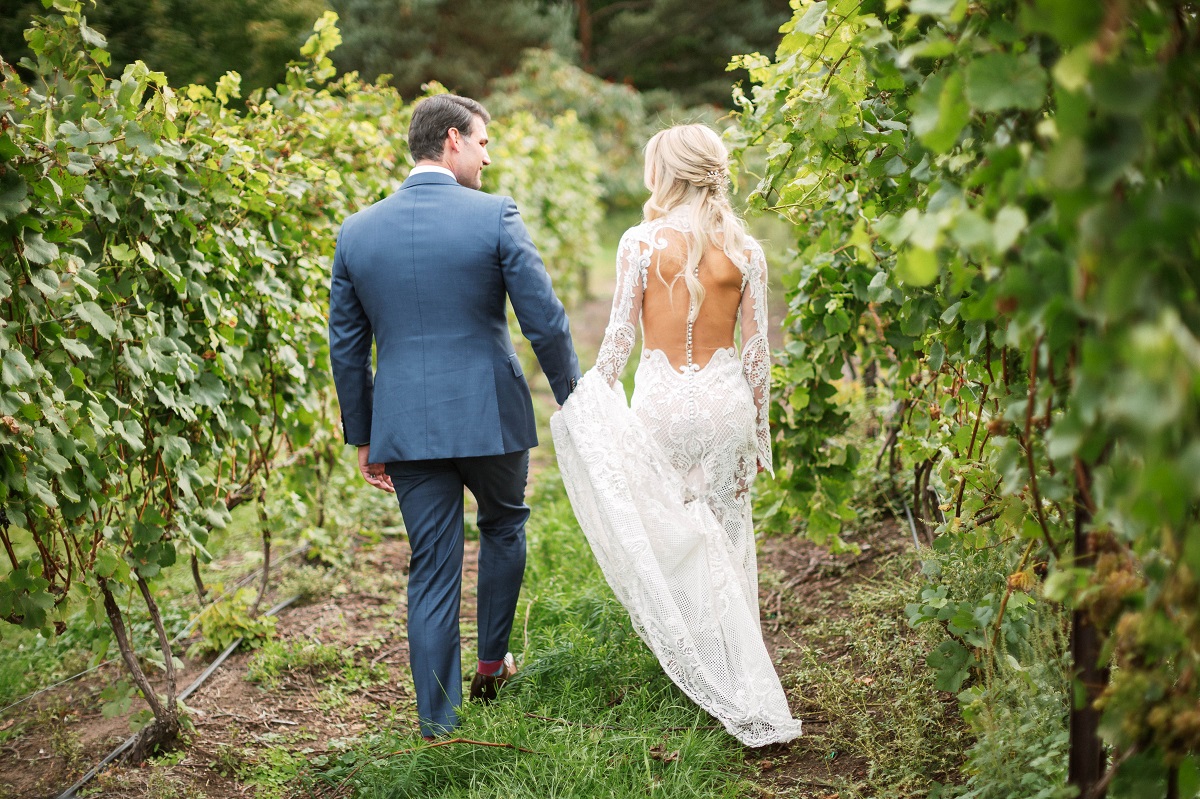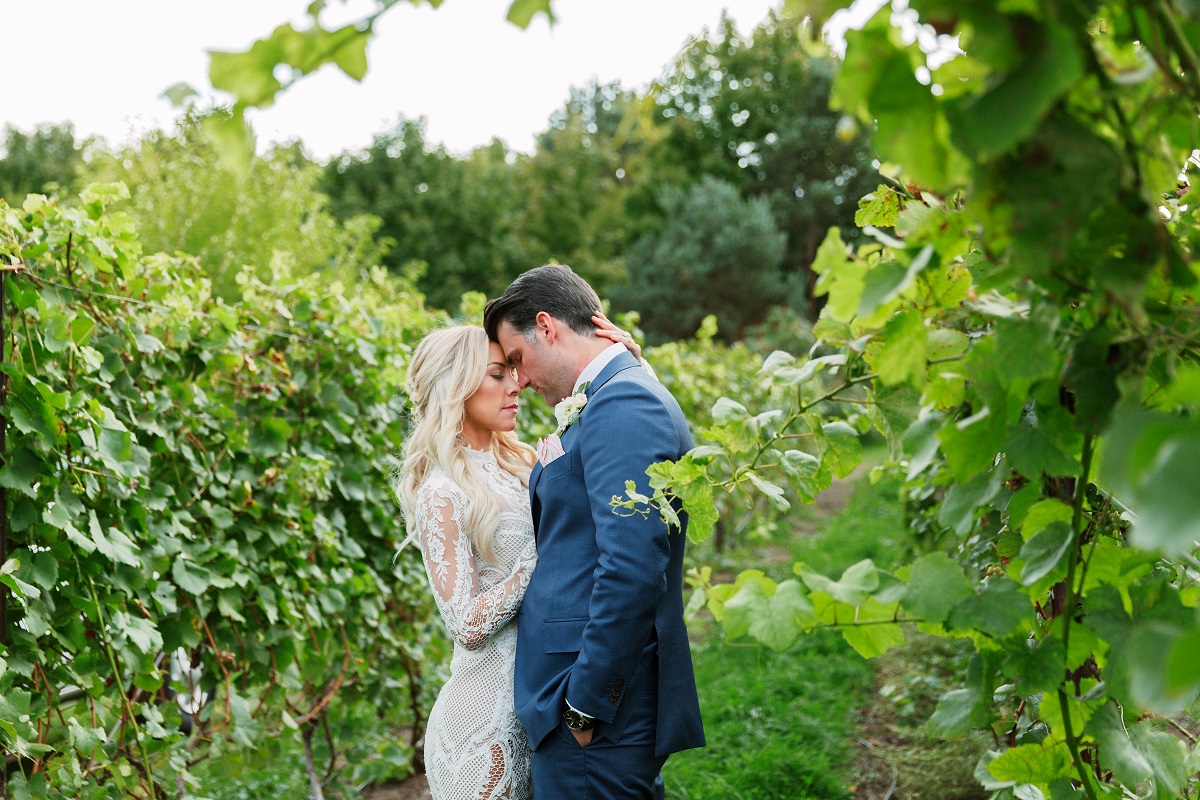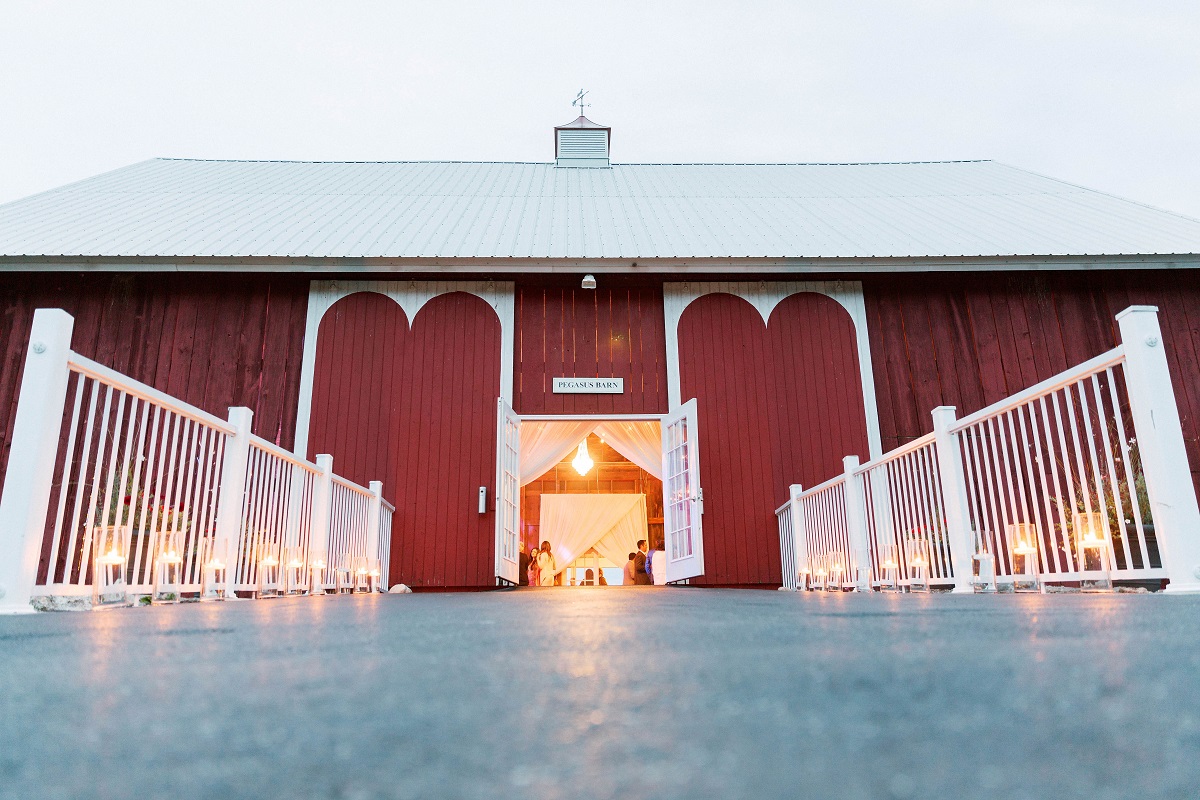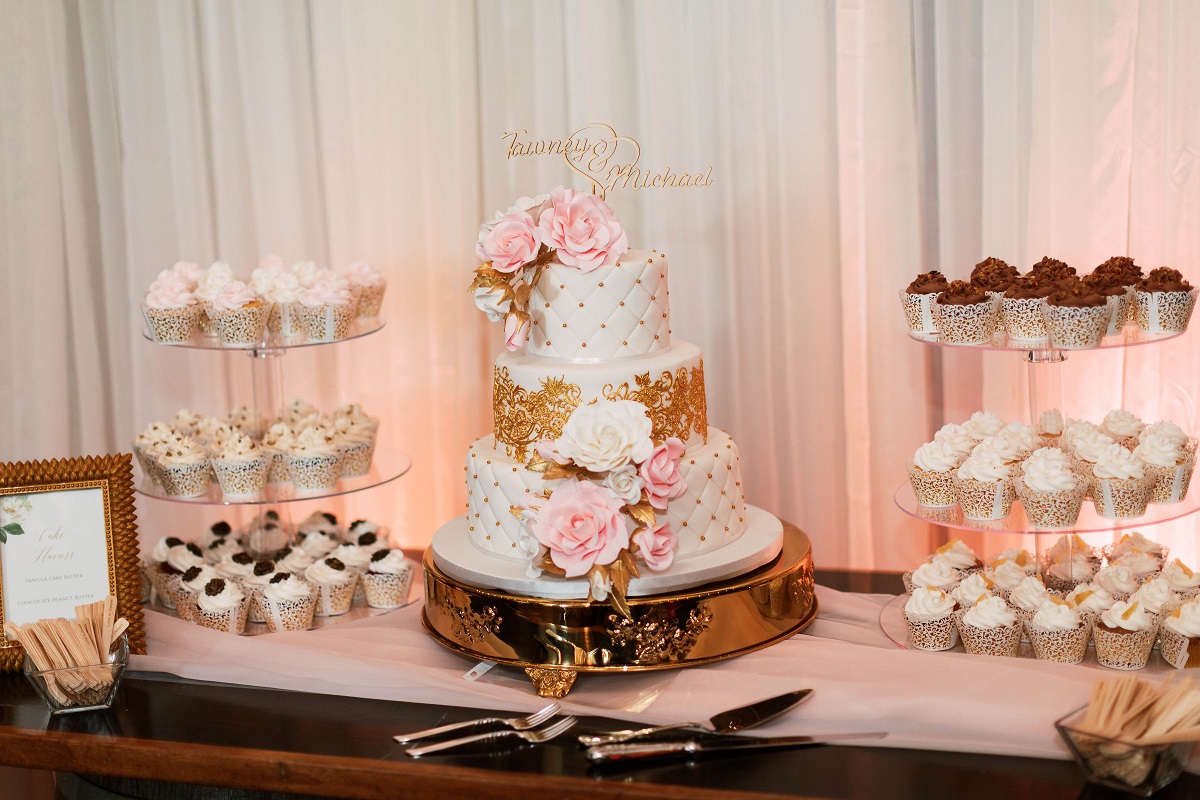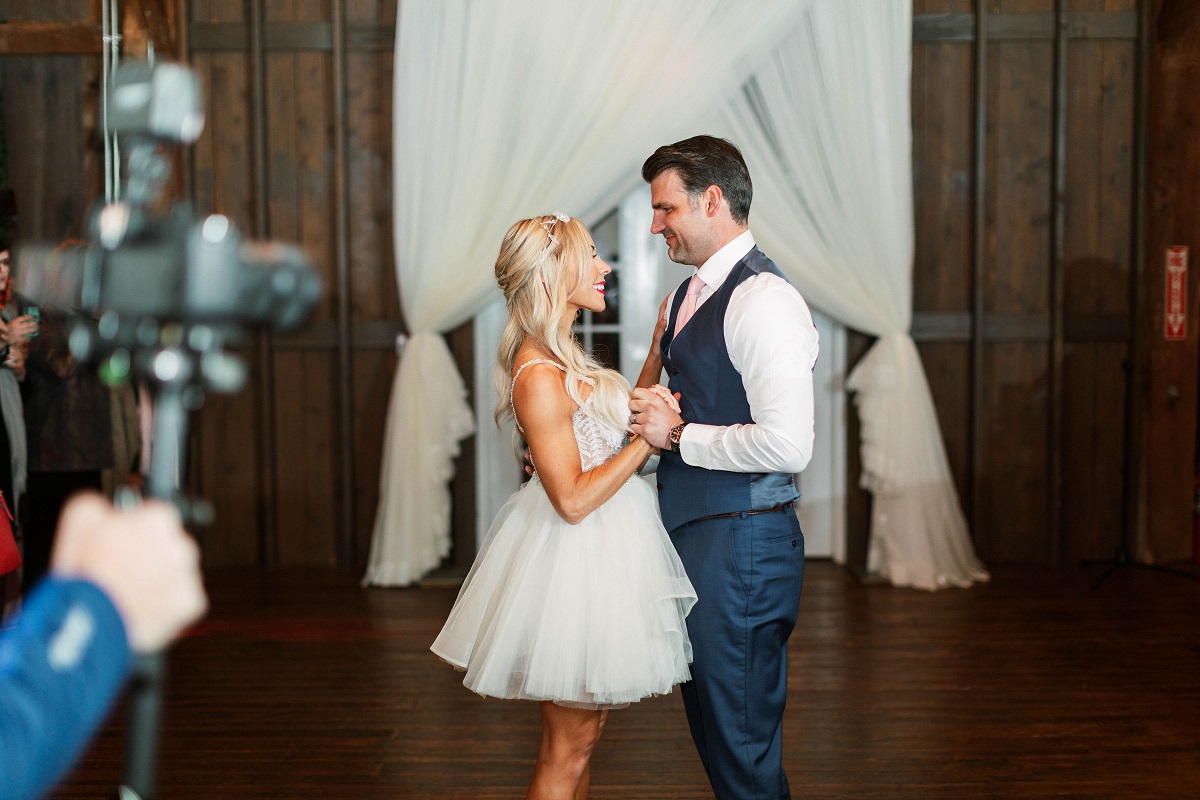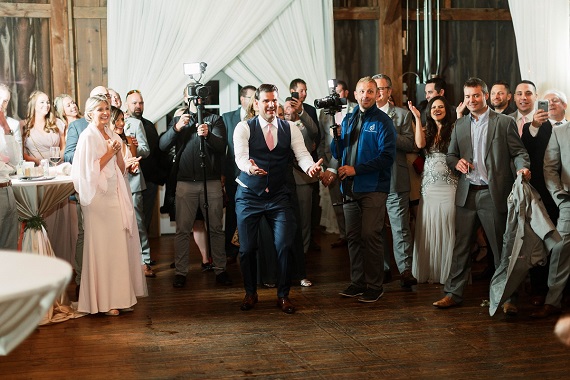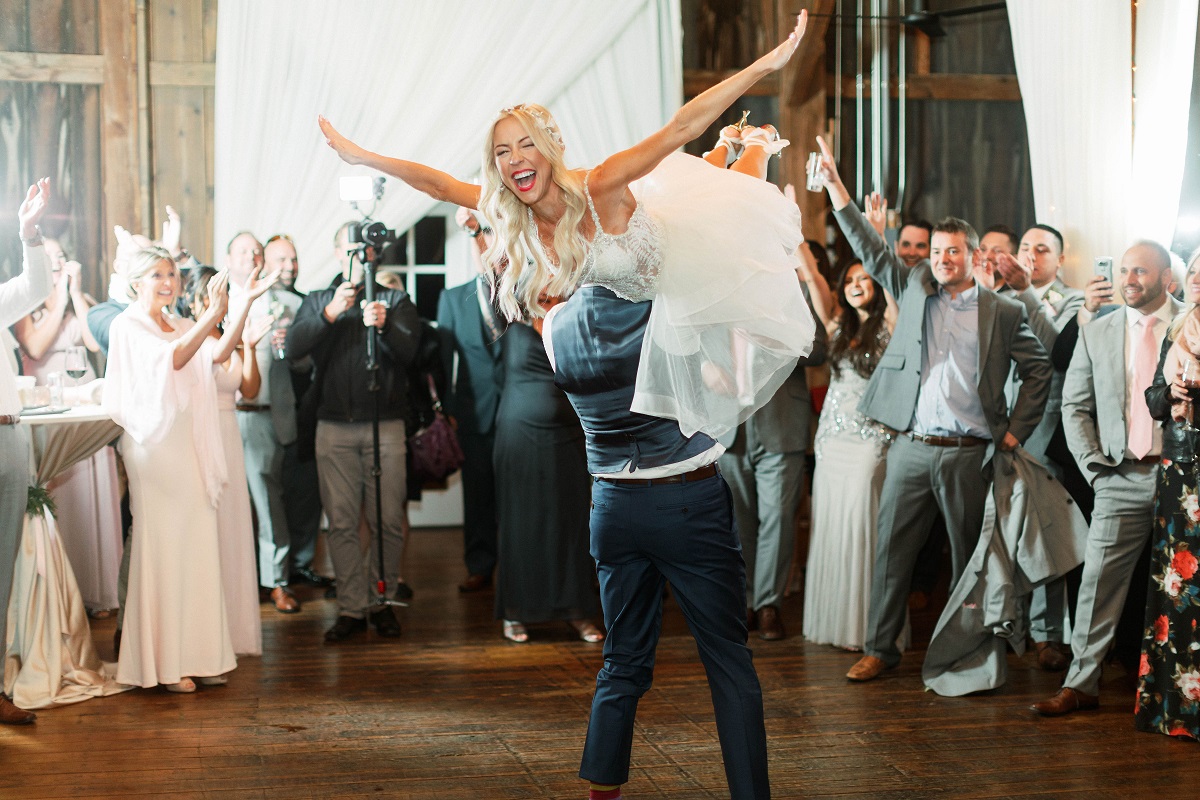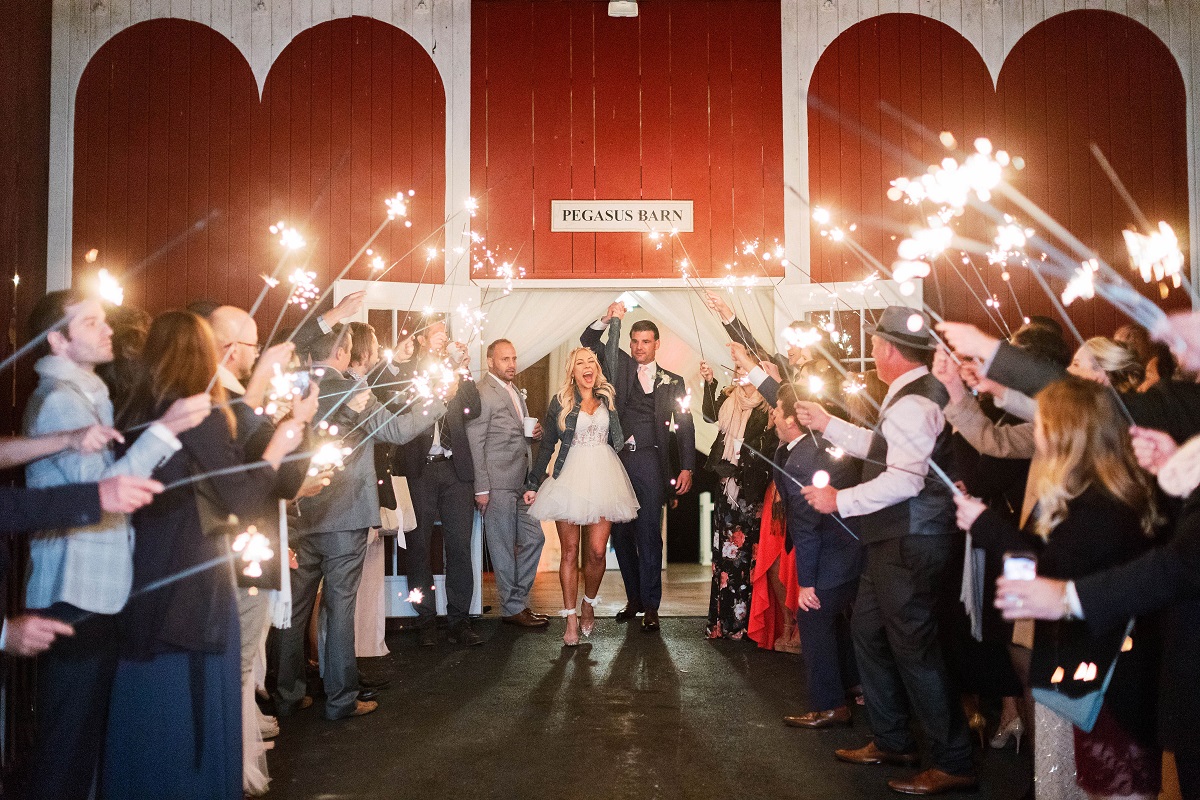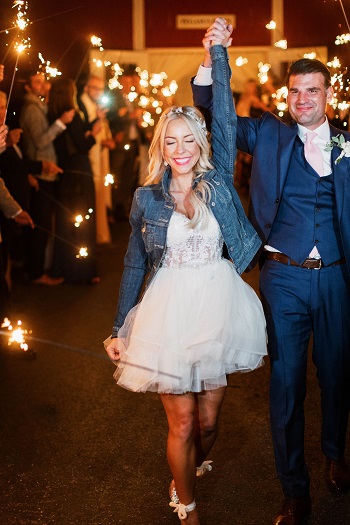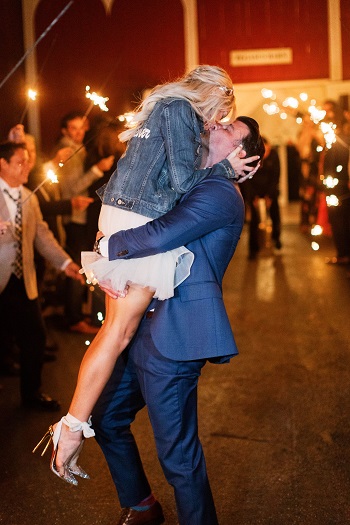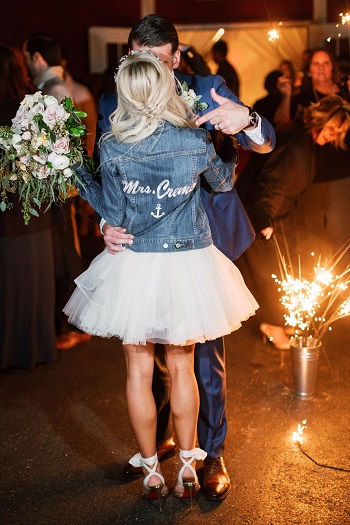 Tawney + Mike Same Day Edit (with reactions) from Montage Media Films on Vimeo.
THE CREATIVE TEAM
Planning & Design:  Juniper & Lace Events | Venue & Catering:  Black Star Farms | Photography:  Carrie House Photography | Videography:  Montage Media Films | Floral Design:  307 Events | Drape & Chandeliers:  Sensational Events | Frame & Rentals:  Monstrey MacDonald Events | Blush Goblets:  Gigi & LaClede | Linens:  Special Occasions | Band:  Mac Daddy Band | Ceremony Music:  August Strings | Ceremony Opera Performer:  Elise (friend of bride) | Cocktail Hour Guitarist: Kristy, family member | Officiant:  Steve, family member | Cake & Cupcakes:  Top Tier Cakery | Custom Keg Wall:  Serradella | Coffee Truck:  Planetary Coffee | Hair & Makeup:  Danni & Bianca (Chicago stylists) | Ceremony gown:  J'Aton Couture from Dimitra's Bridal | Reception Gown:  Customized Winnie Couture | Sound system:  Sound Environments | Transportation:  Blue Lakes by the Bay | Portable Restroom:  Houdek's | Lodging & after party:  West Bay Beach Resort | Rehearsal Venue:  Suttons Bay Ciders | Rehearsal Dinner Catering:  Cordwood BBQ | Dueling Pianos:  Midwest Dueling Pianos