Hannah + Jacob // Aurora Cellars Winery
Spanish Mediterranean Wedding in a Vineyard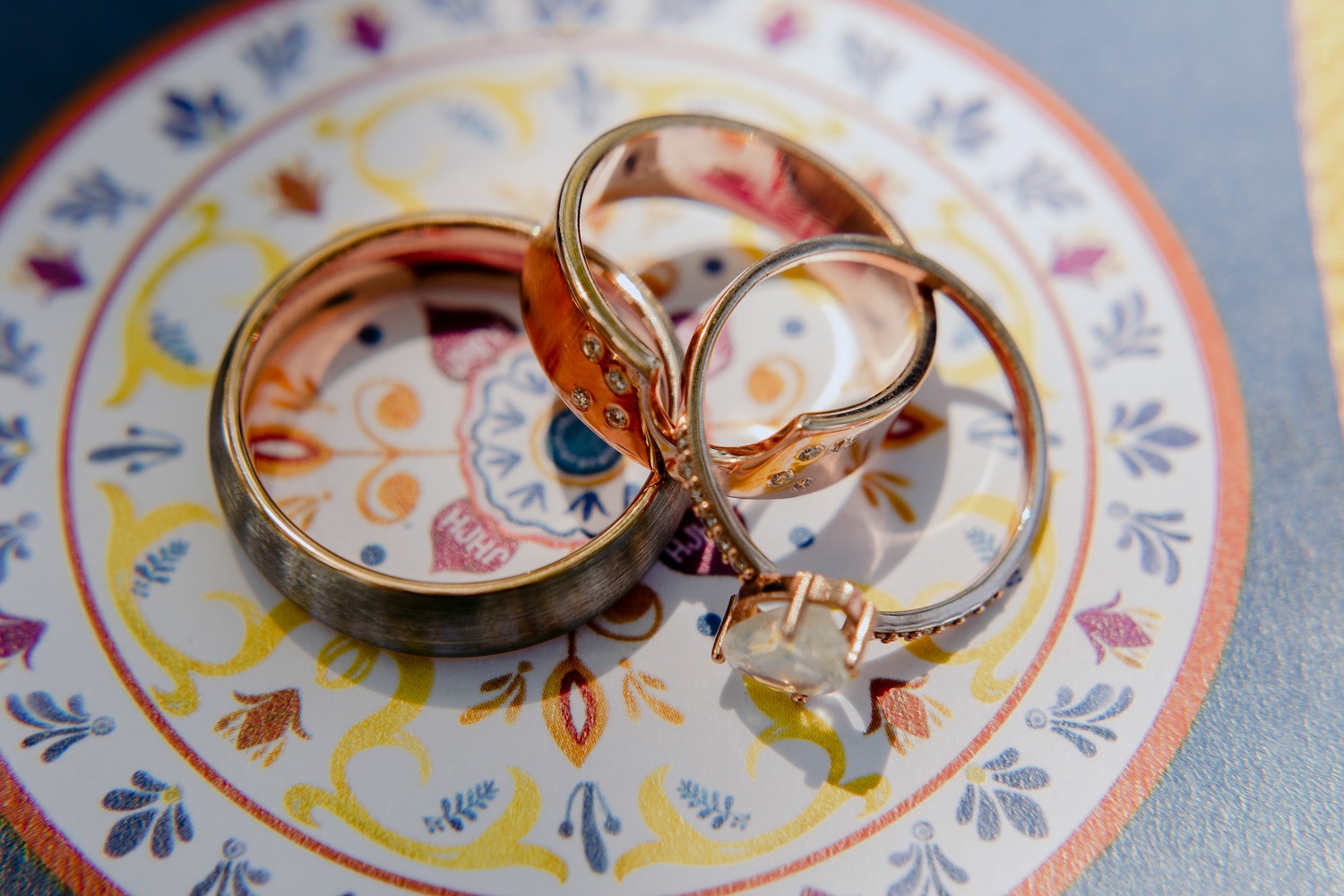 The Tile Crest
Hannah & Jacob wanted their wedding to reflect Hannah's Spanish-Mediterranean heritage so after we found a caterer to make paella and decided there should definitely be sangria at the bar, our next move was to work with Holly Thomas Design to create a custom "crest" in circle tile form.  Its colors were inspired by a sangria pitcher Hannah had found in her travels and the "monogram" of their initials was subtly repeated in the center of the design.  It was a masterpiece motif that we proceeded to use throughout the wedding experience, from save the dates to favors and all things in between.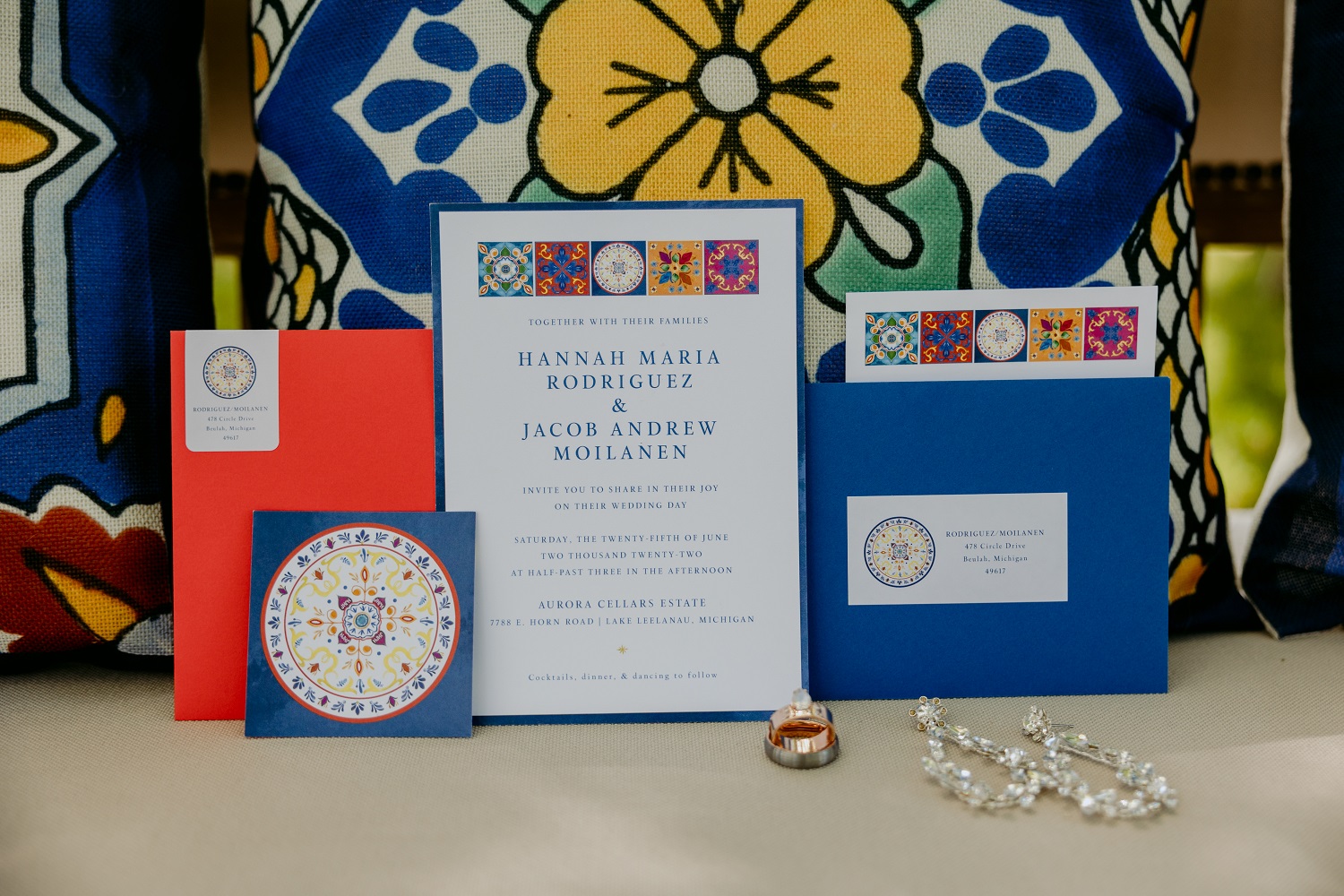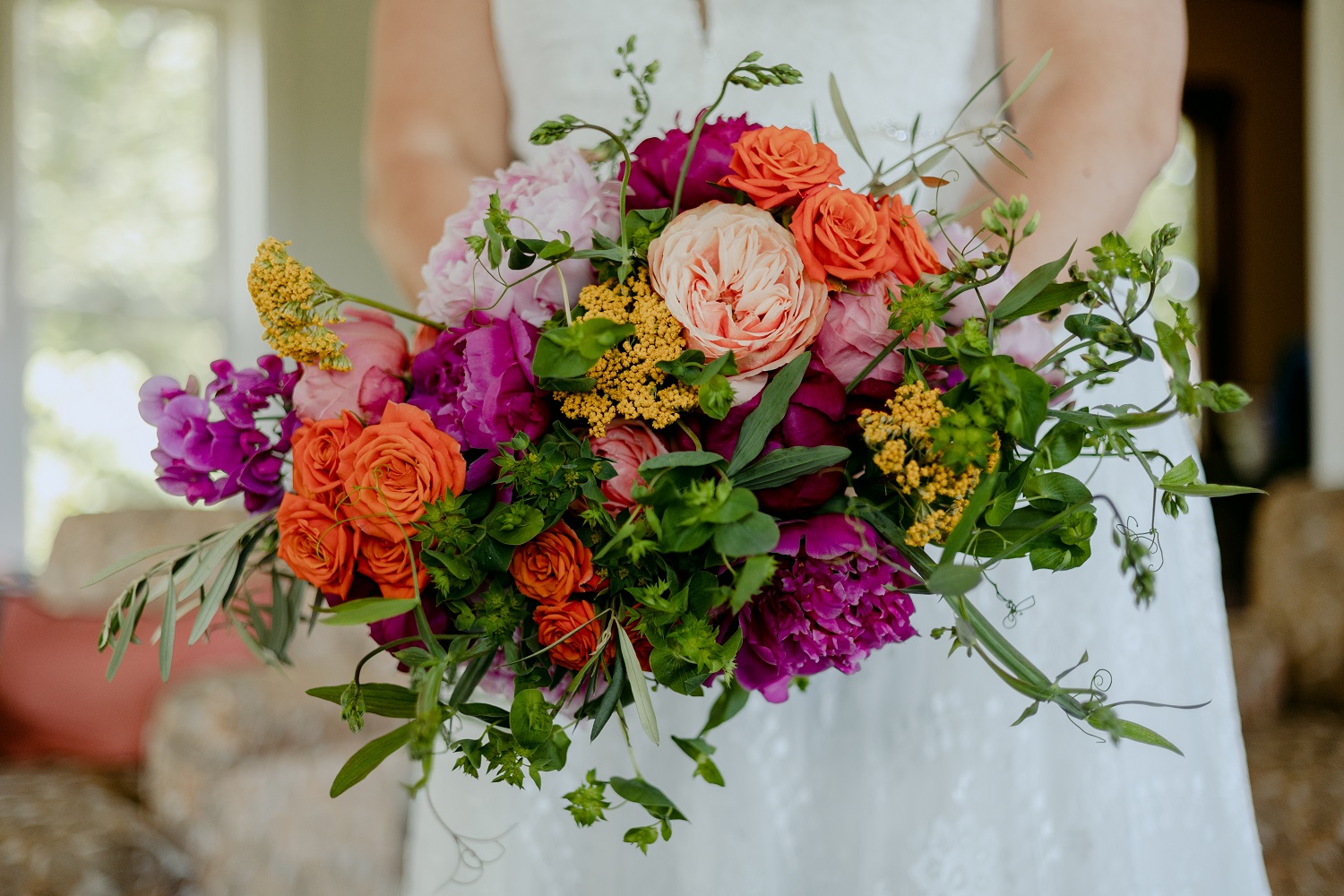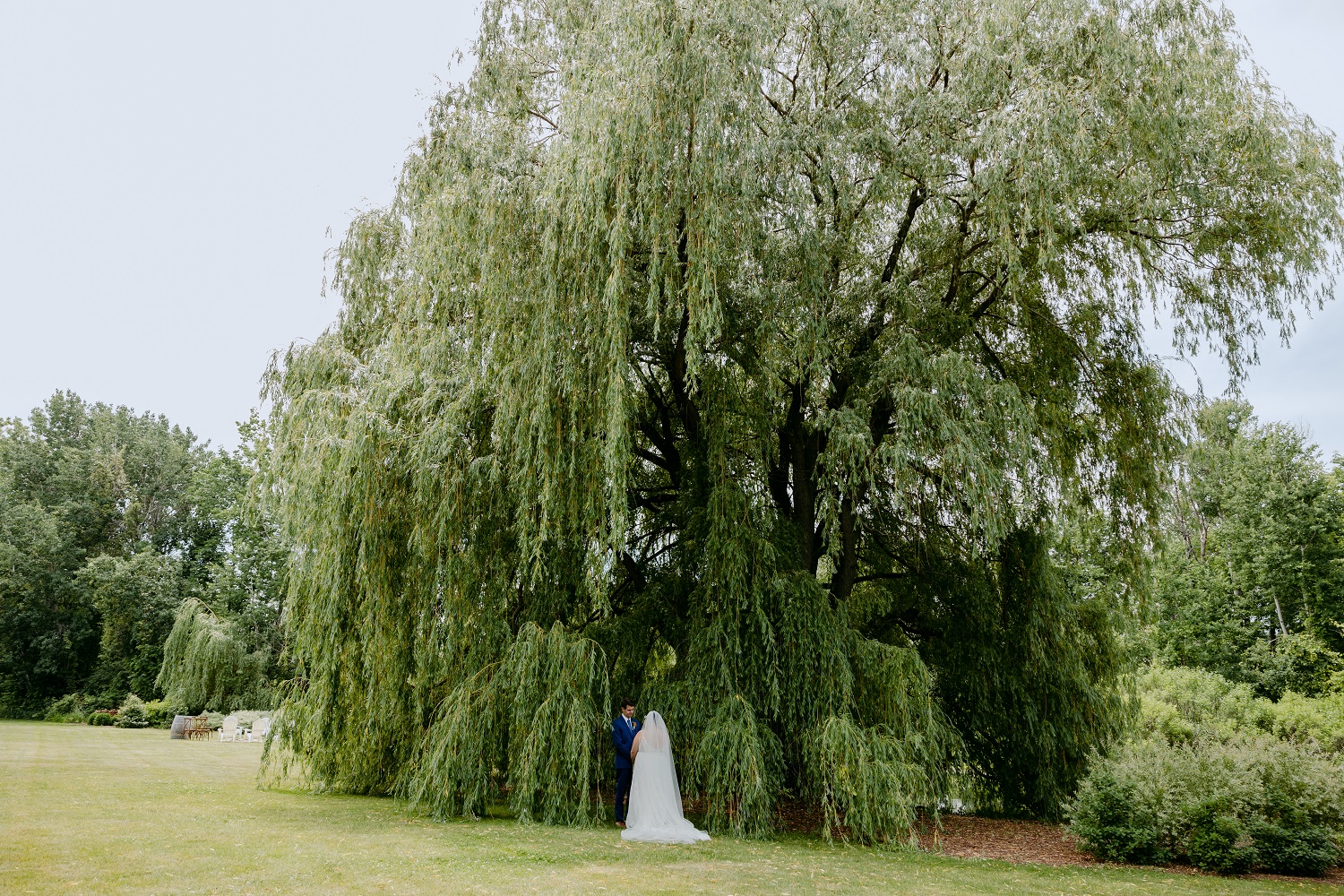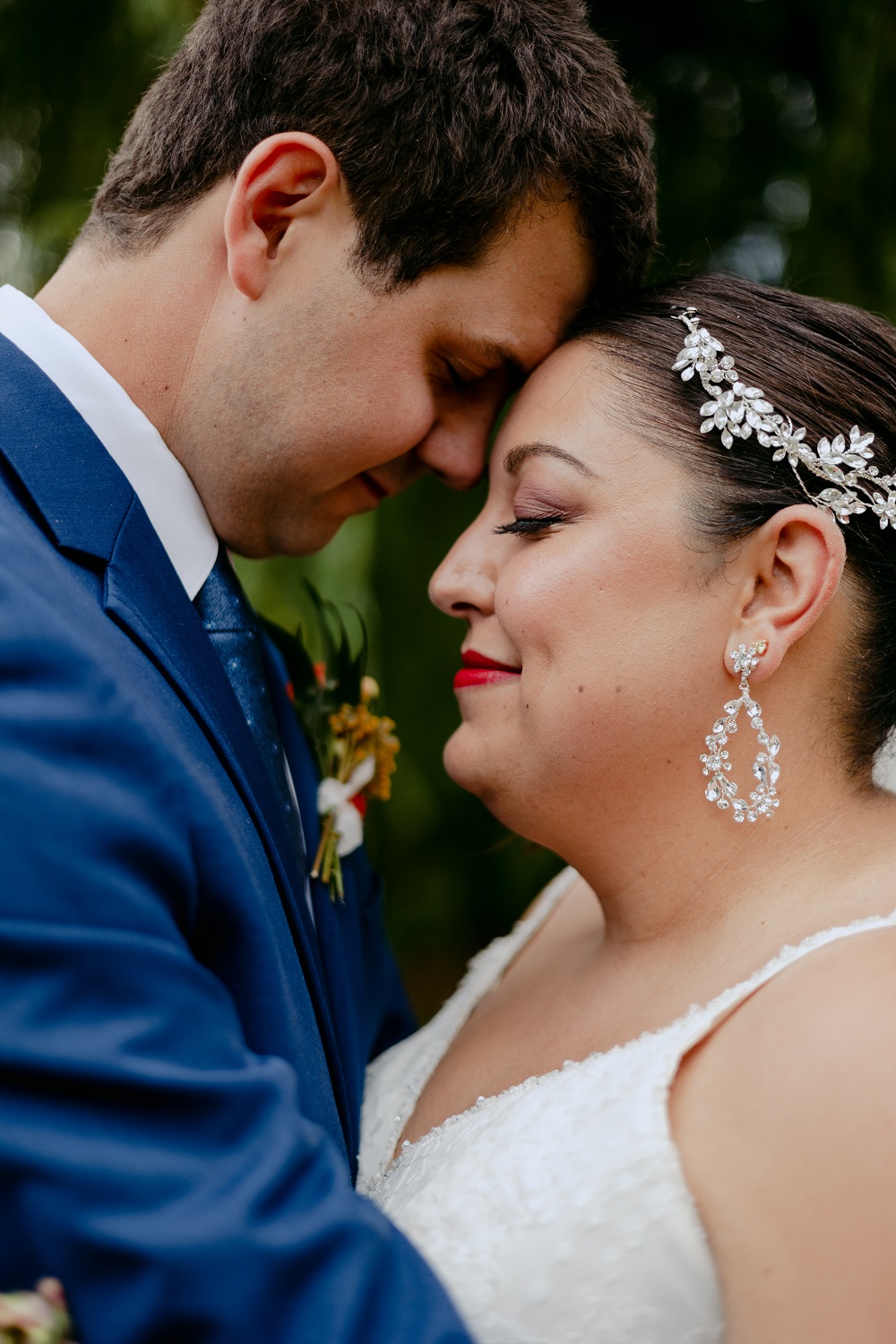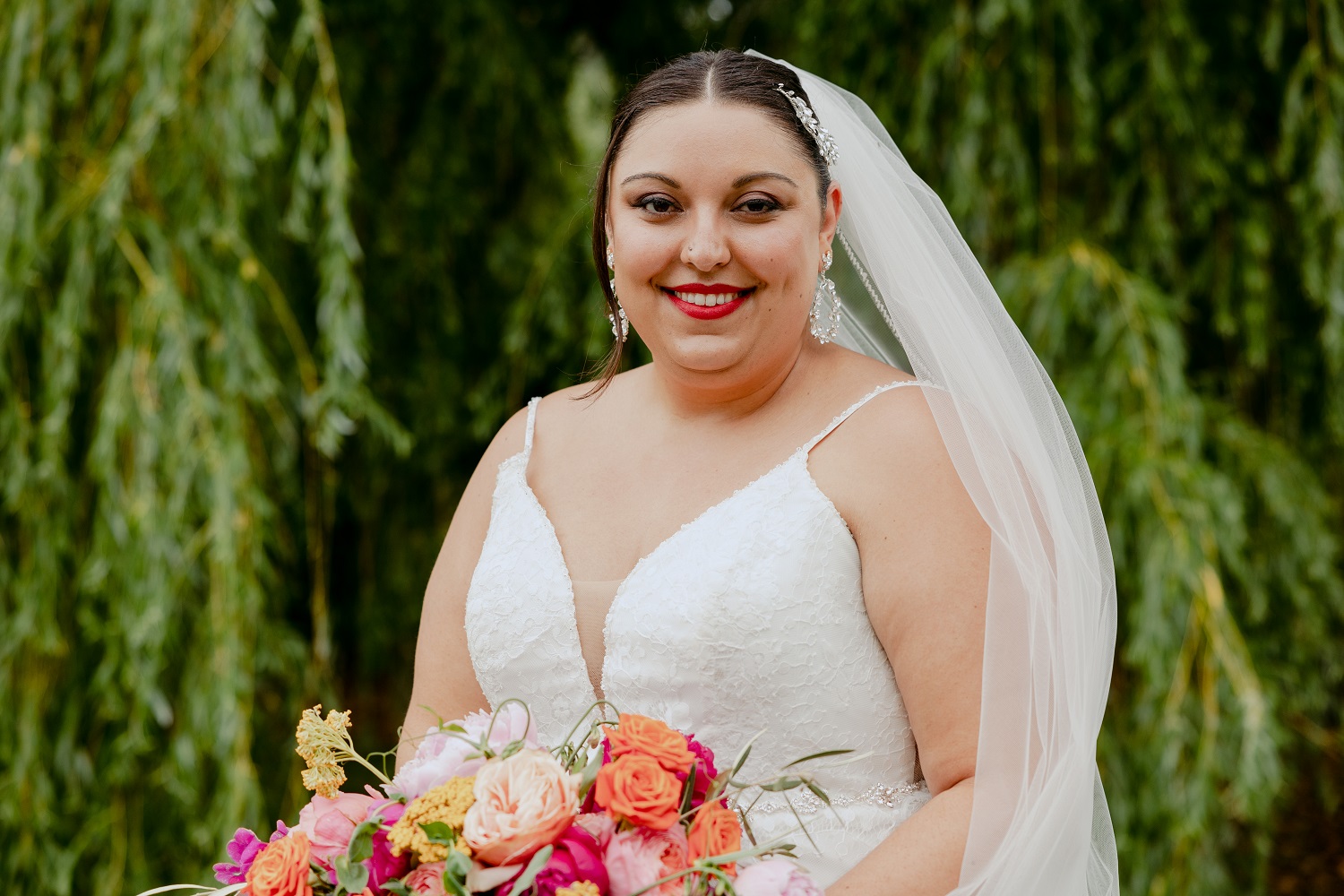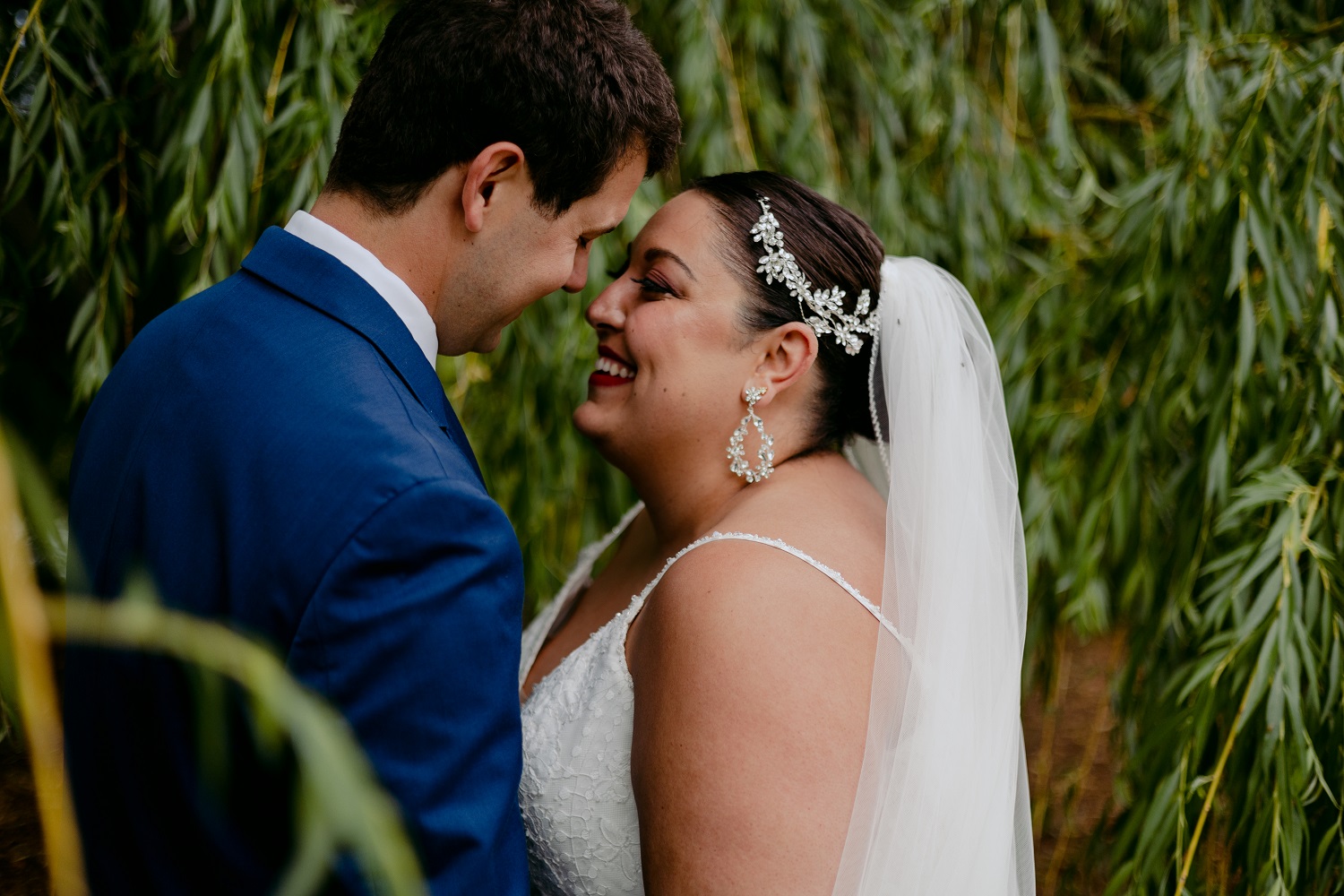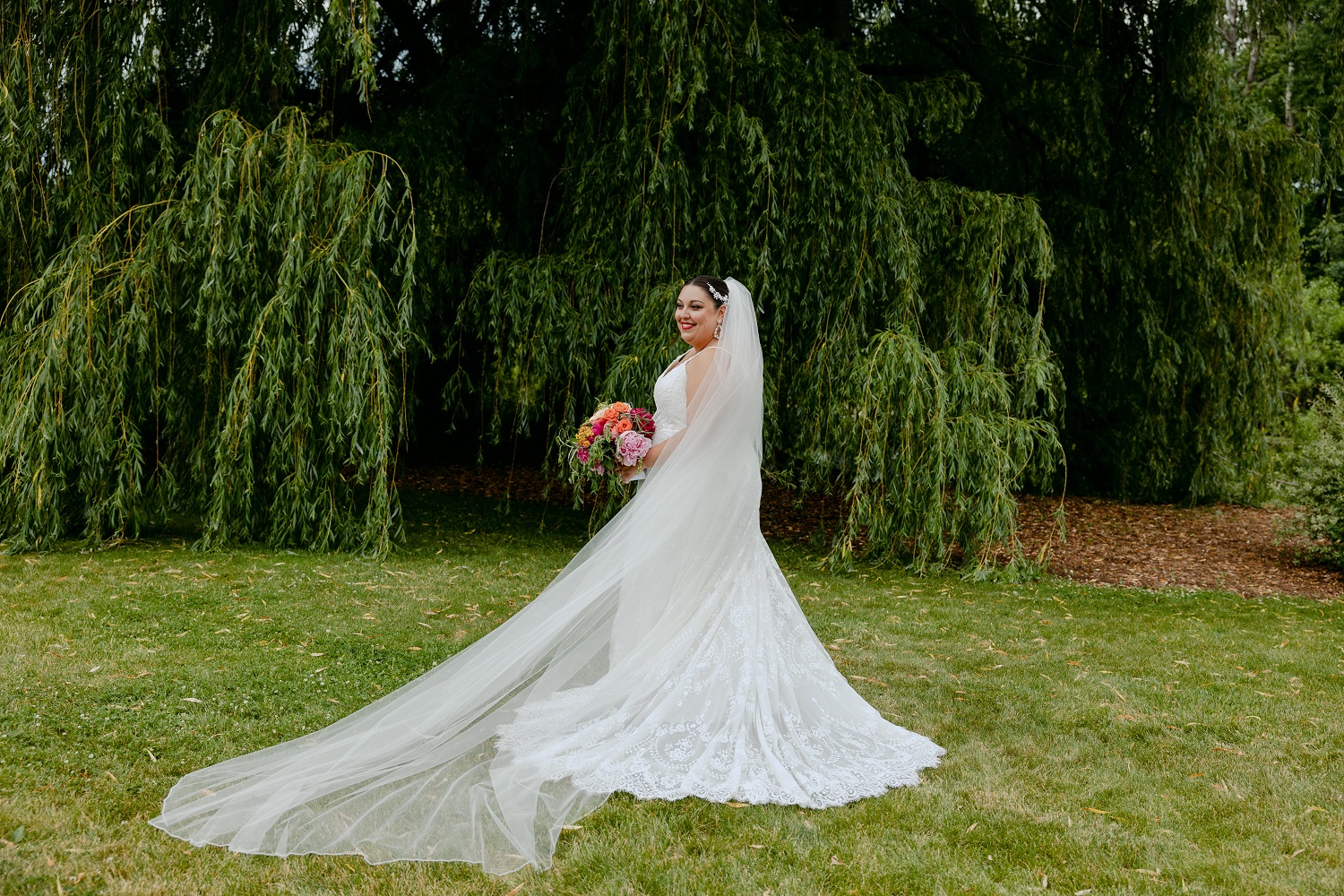 Ceremony
under
the Willow Tree
Hannah's bridal look with her smooth black hair, red lipstick, bling accessories and lace wedding gown embodied the Spanish vibe exquisitely.  We set the ceremony scene with warm toned wooden crossback chairs and Bittersweet Floral created stunning floral arrangements to sit on weathered wine barrels for a punch of color.  Combined with the sweeping boughs of Aurora Cellars' statement willow tree, the scene exuded warmth, natural elegance, and fun-spirited revelry – a lovely reflection of Hannah & Jacob and their families.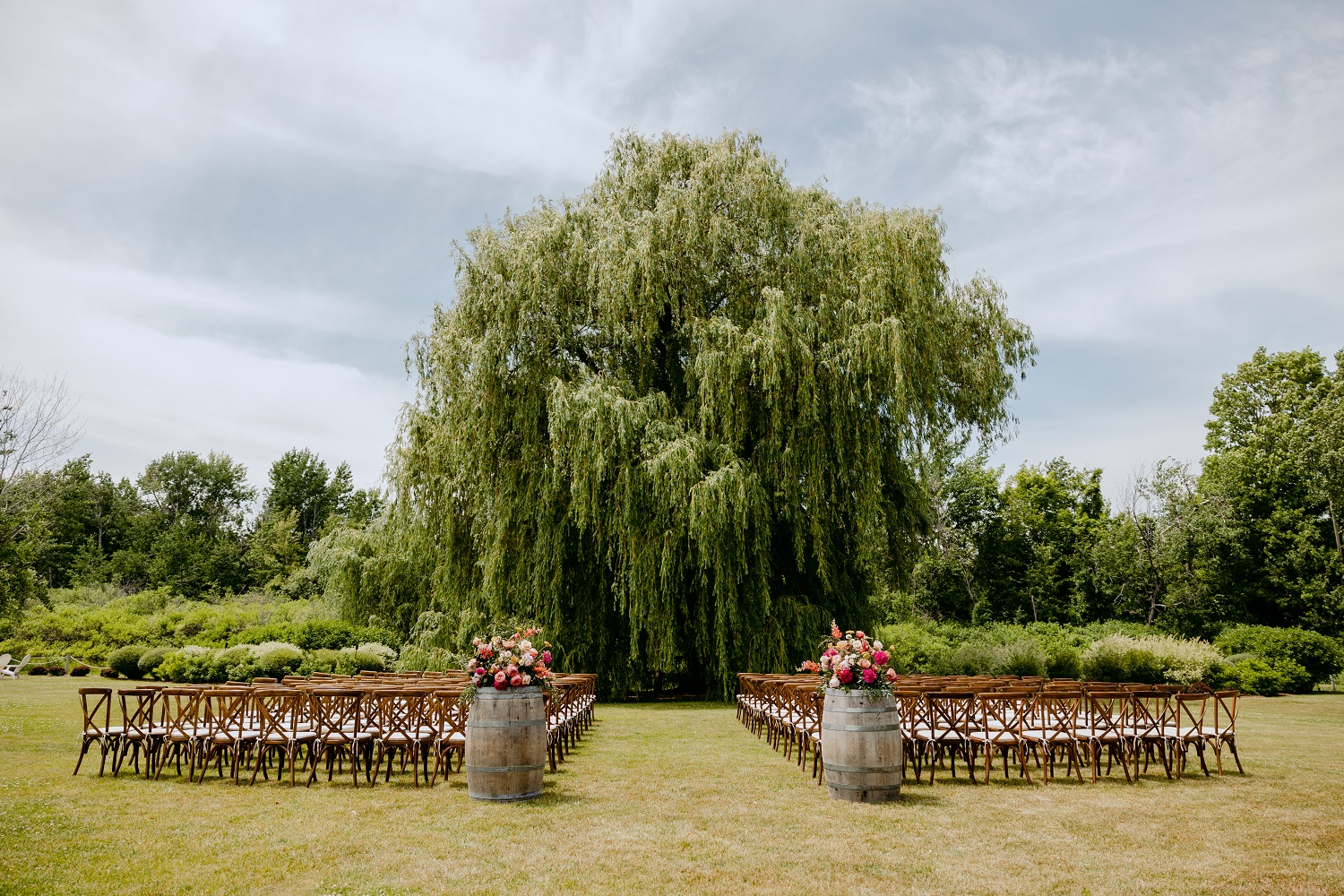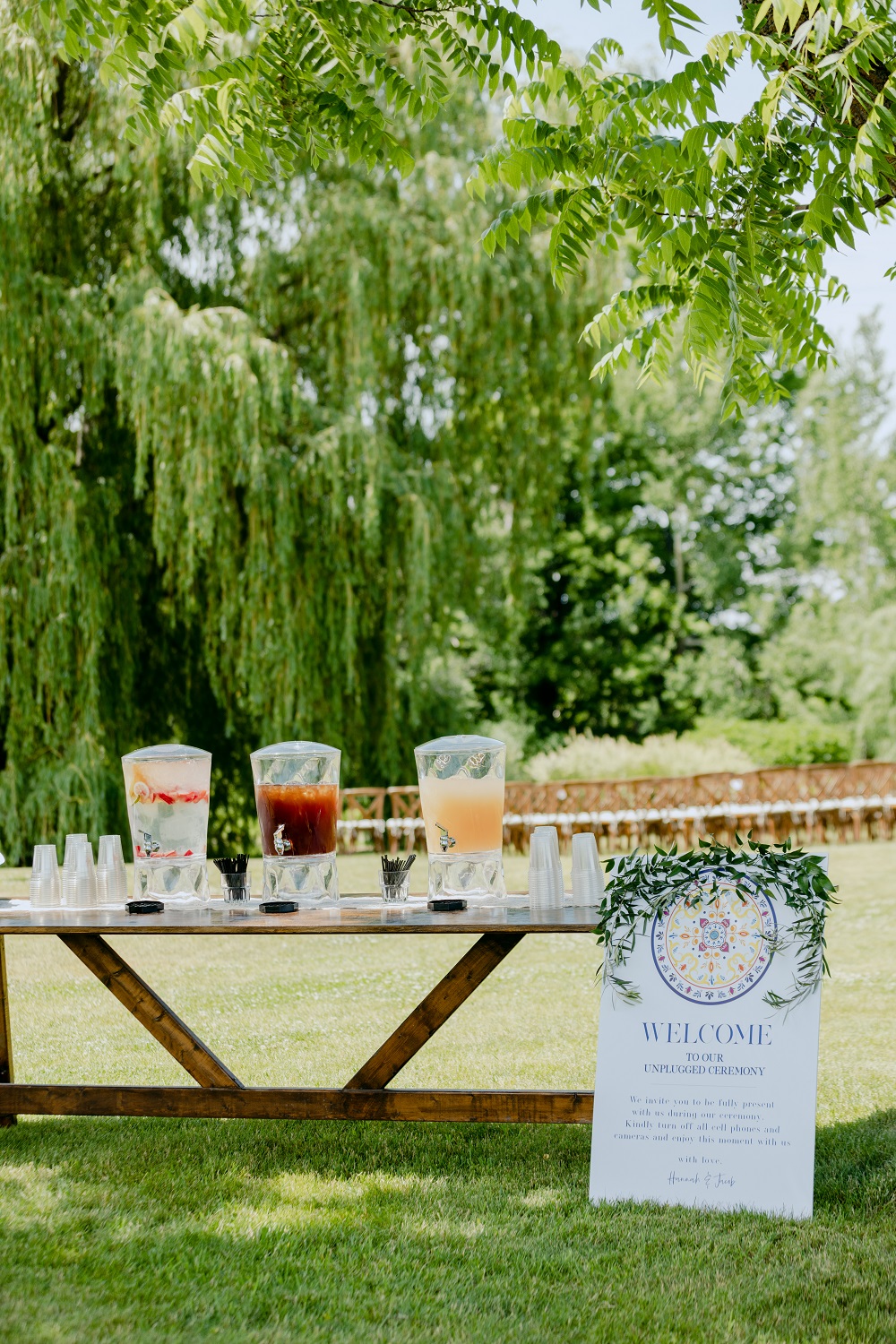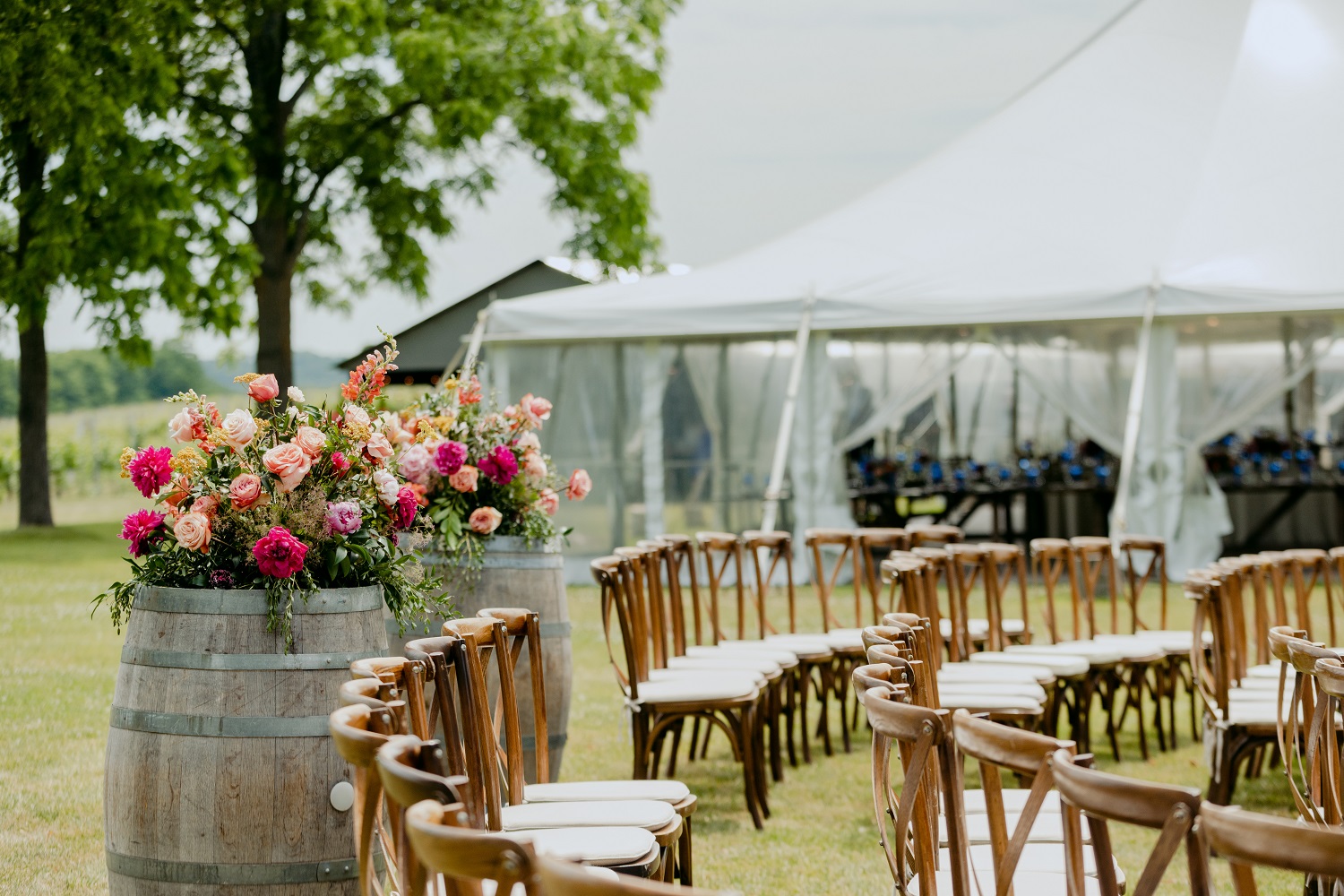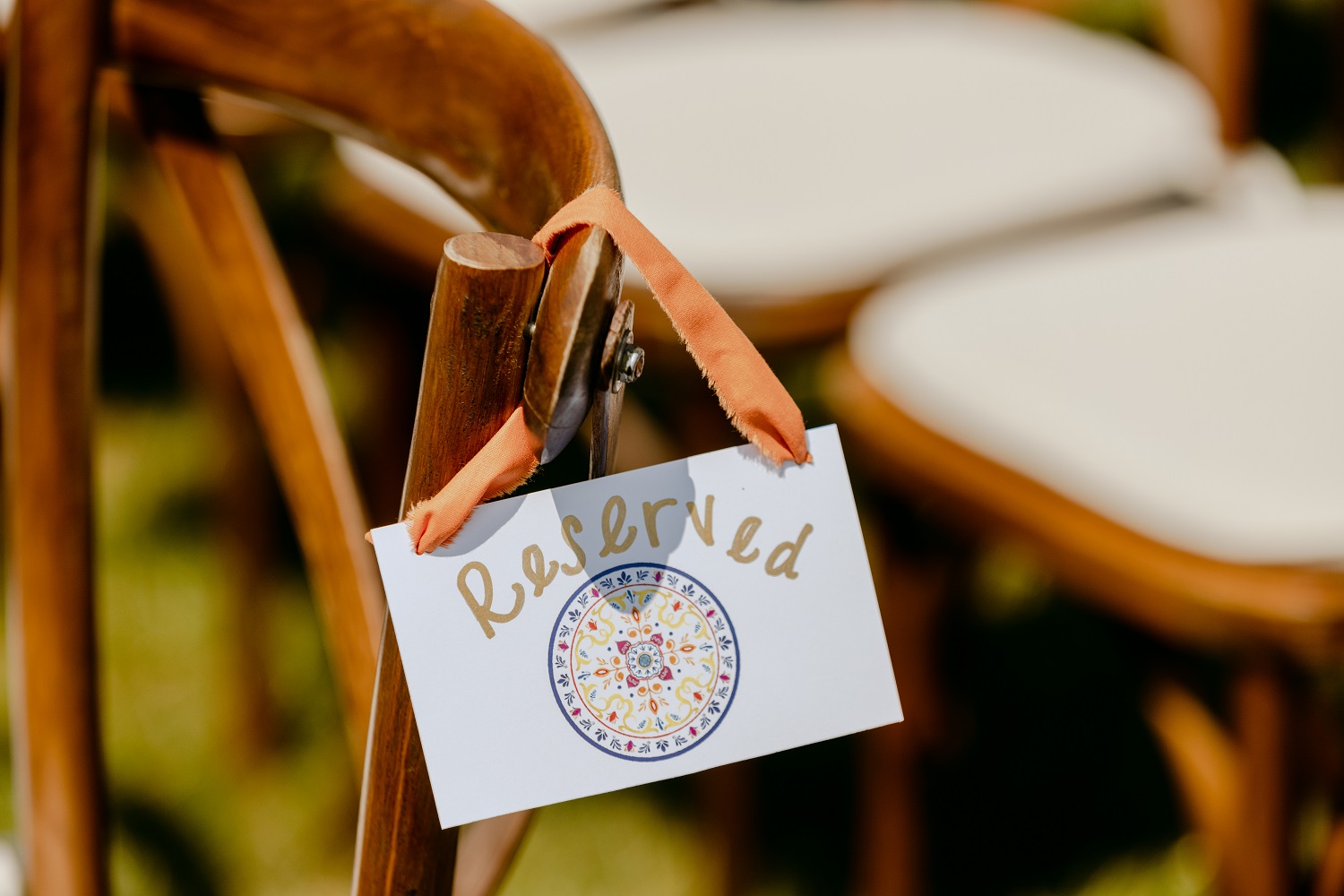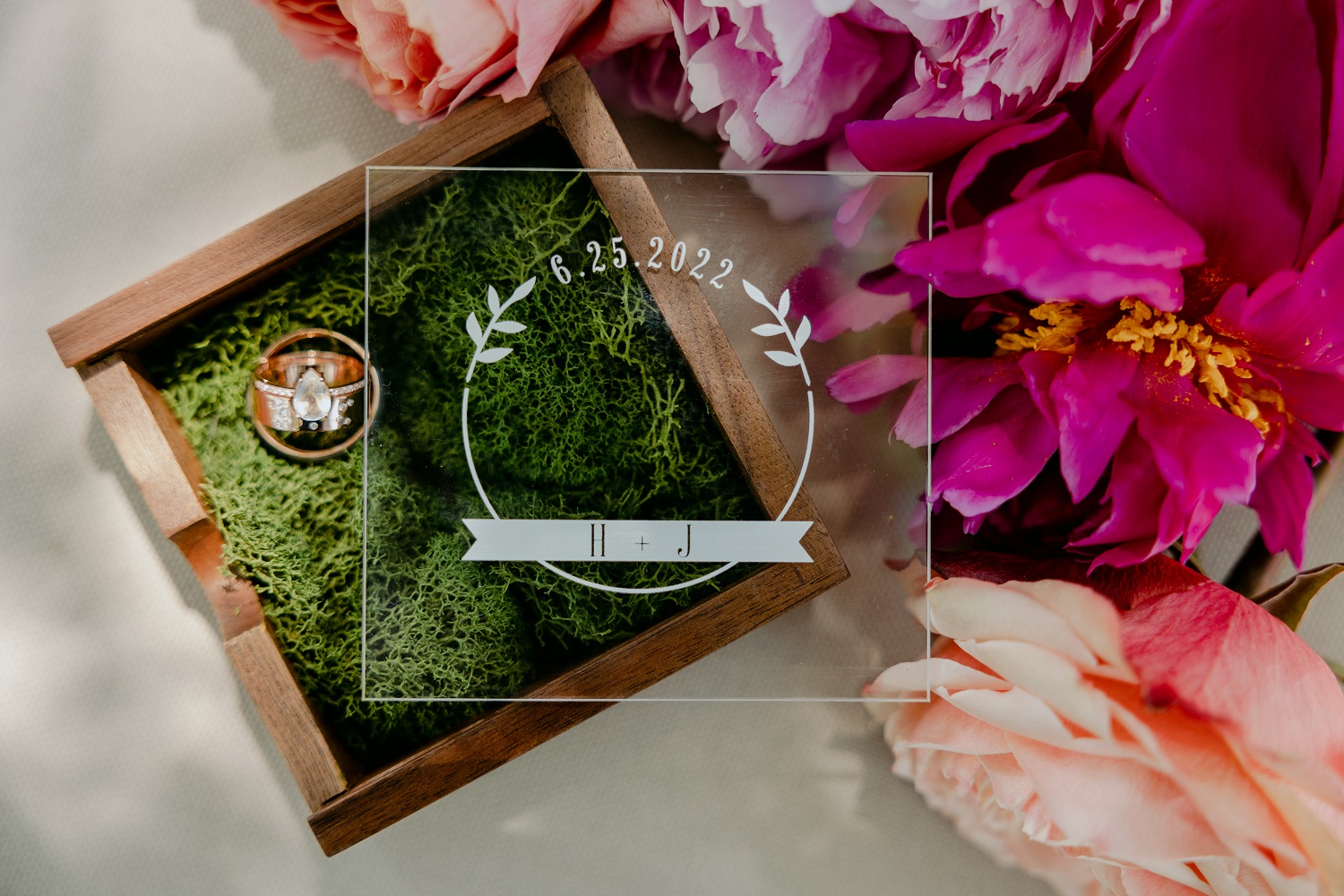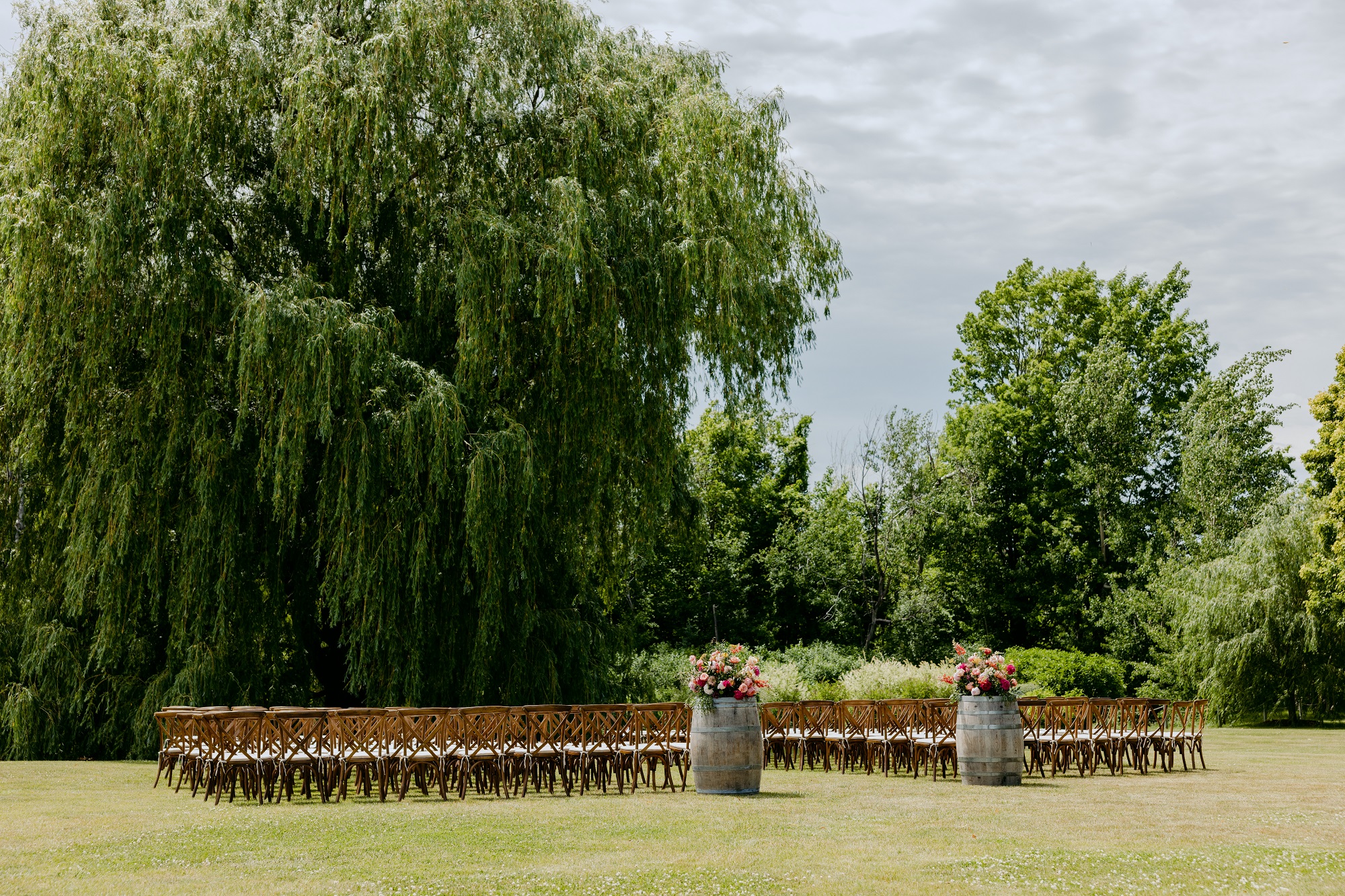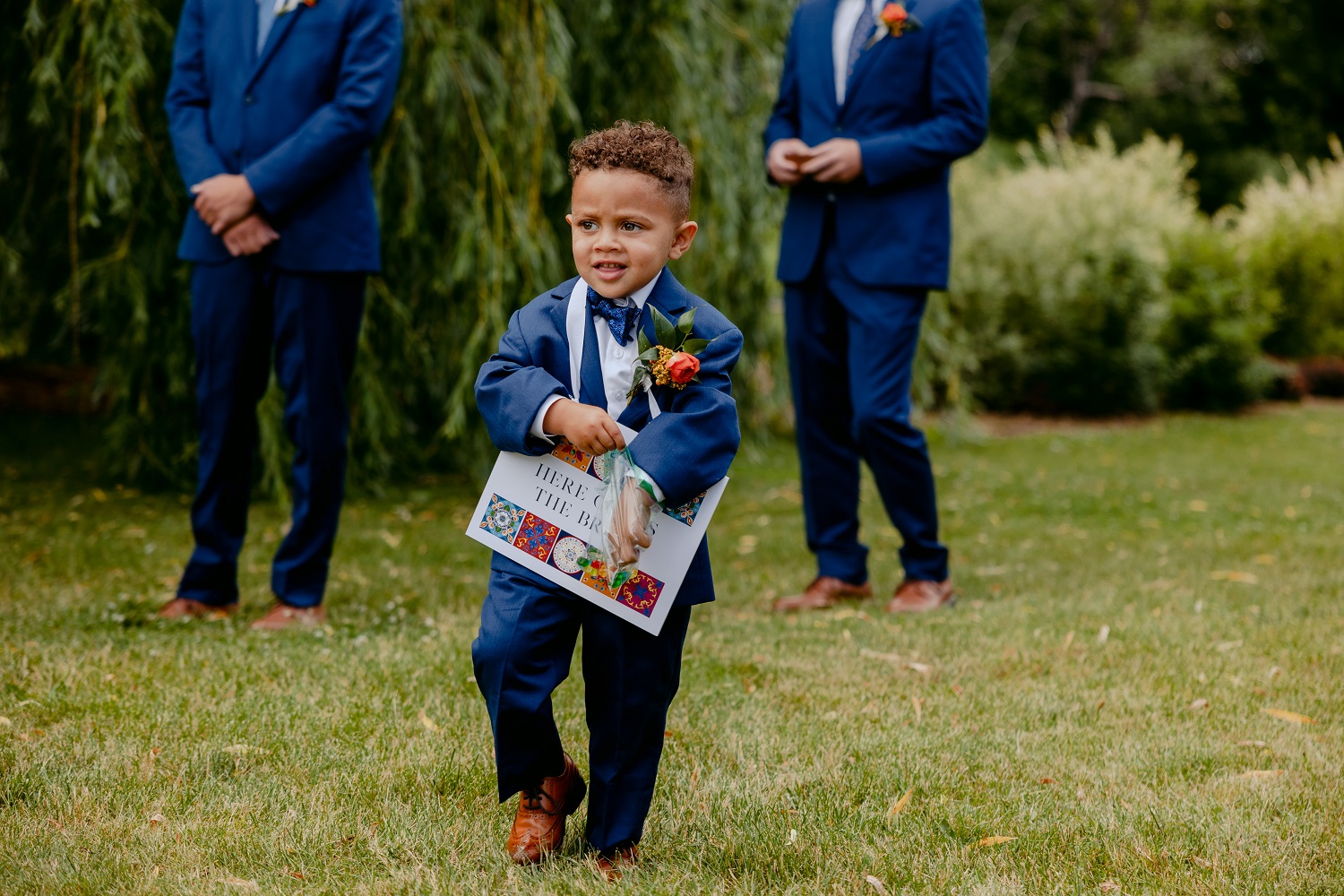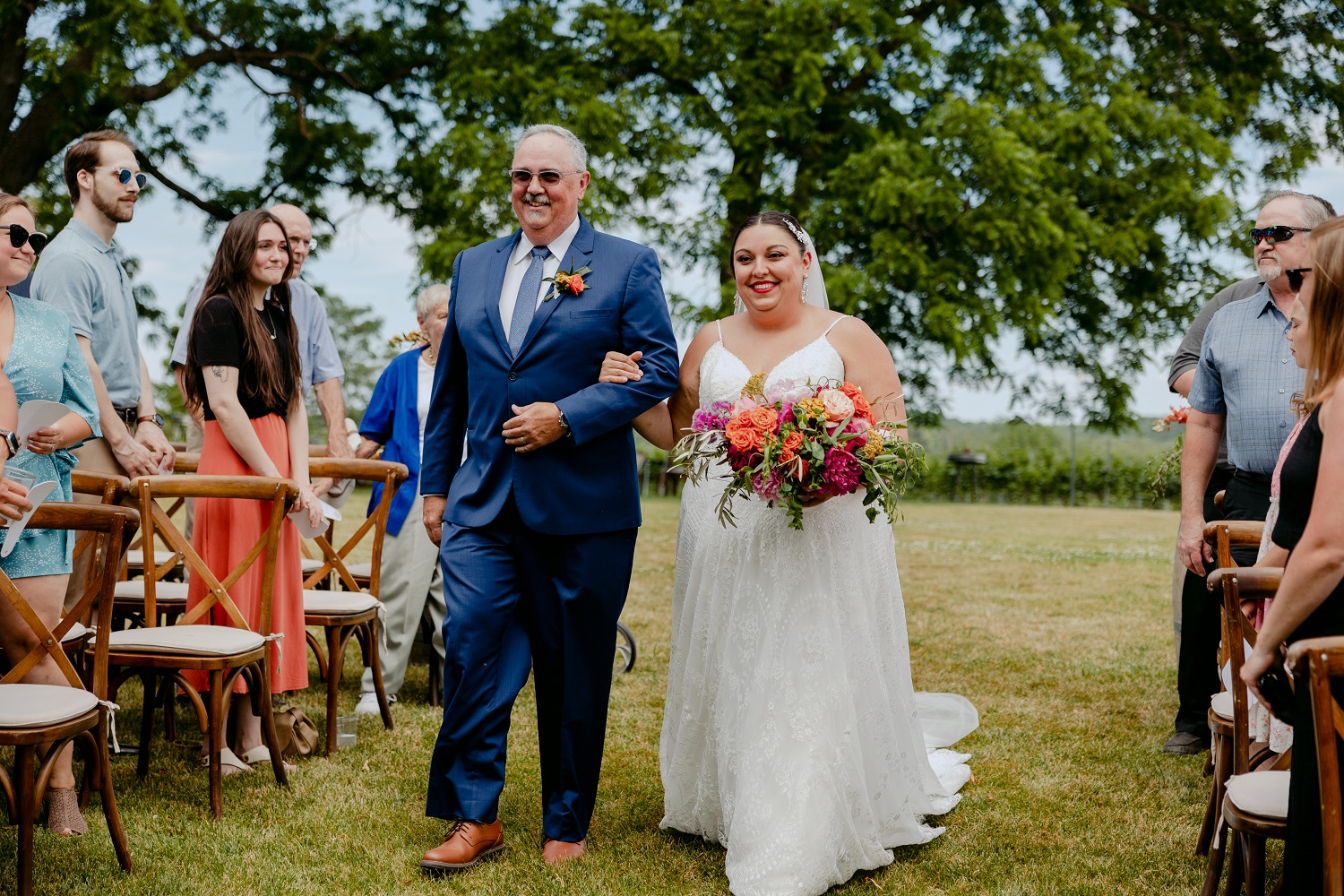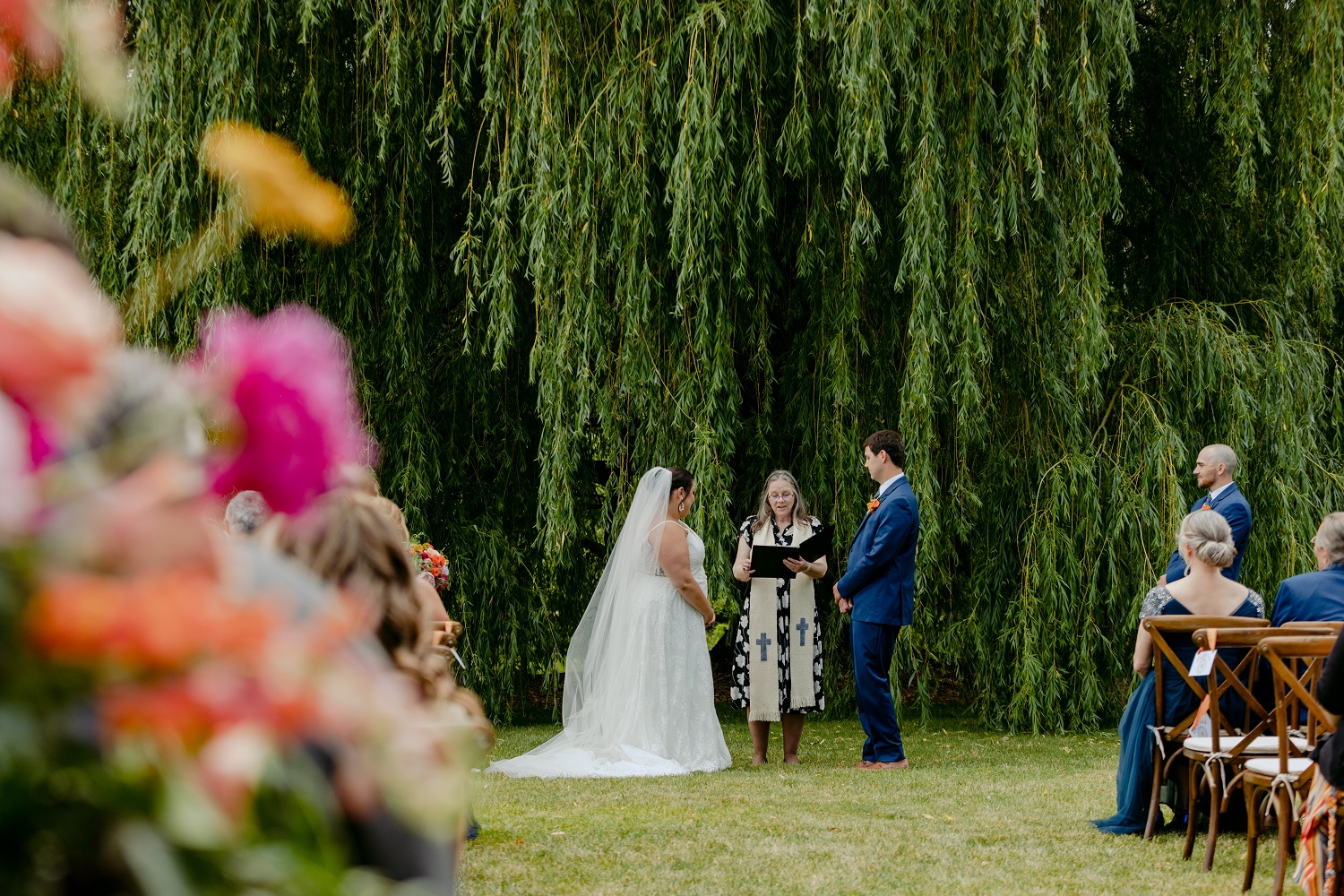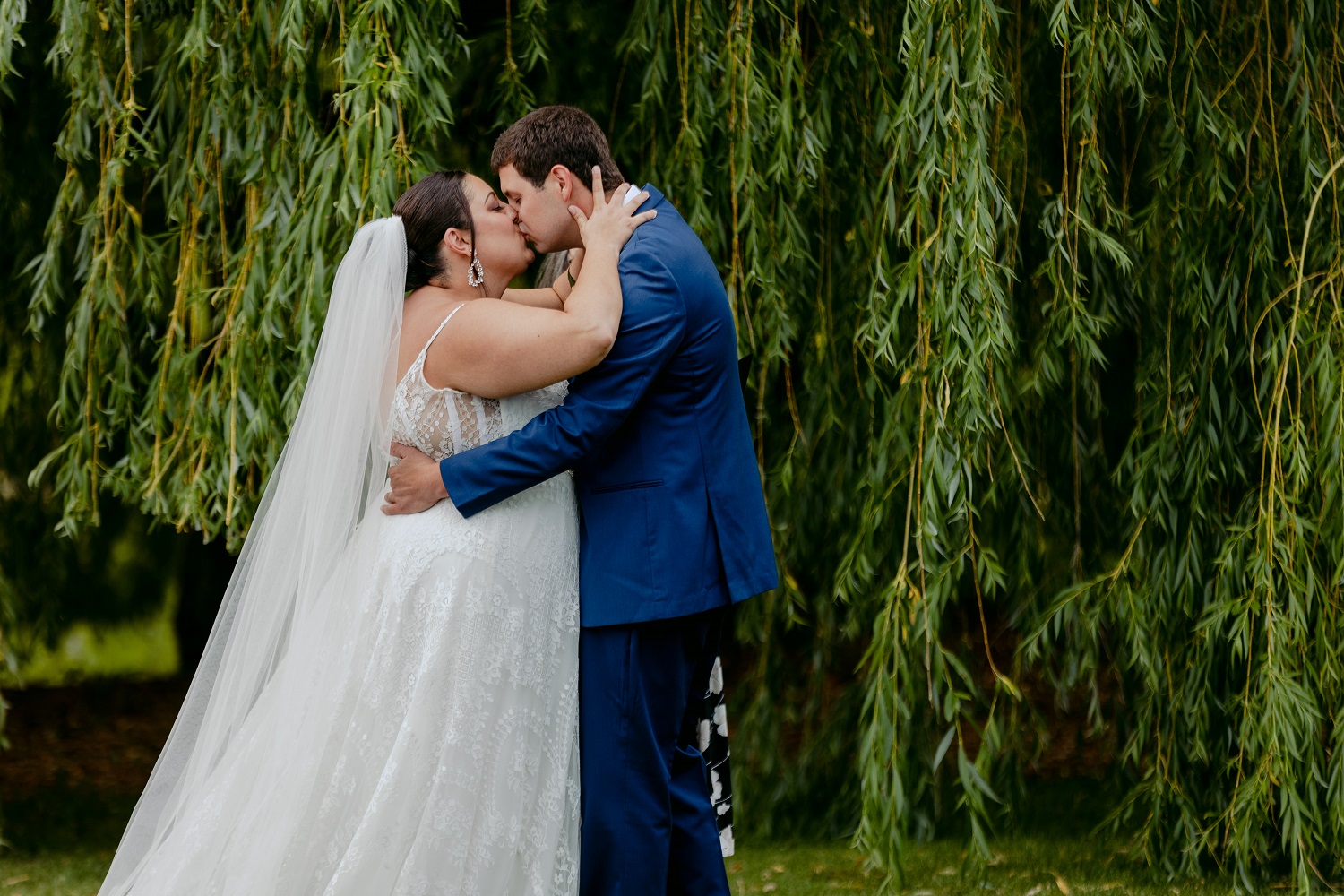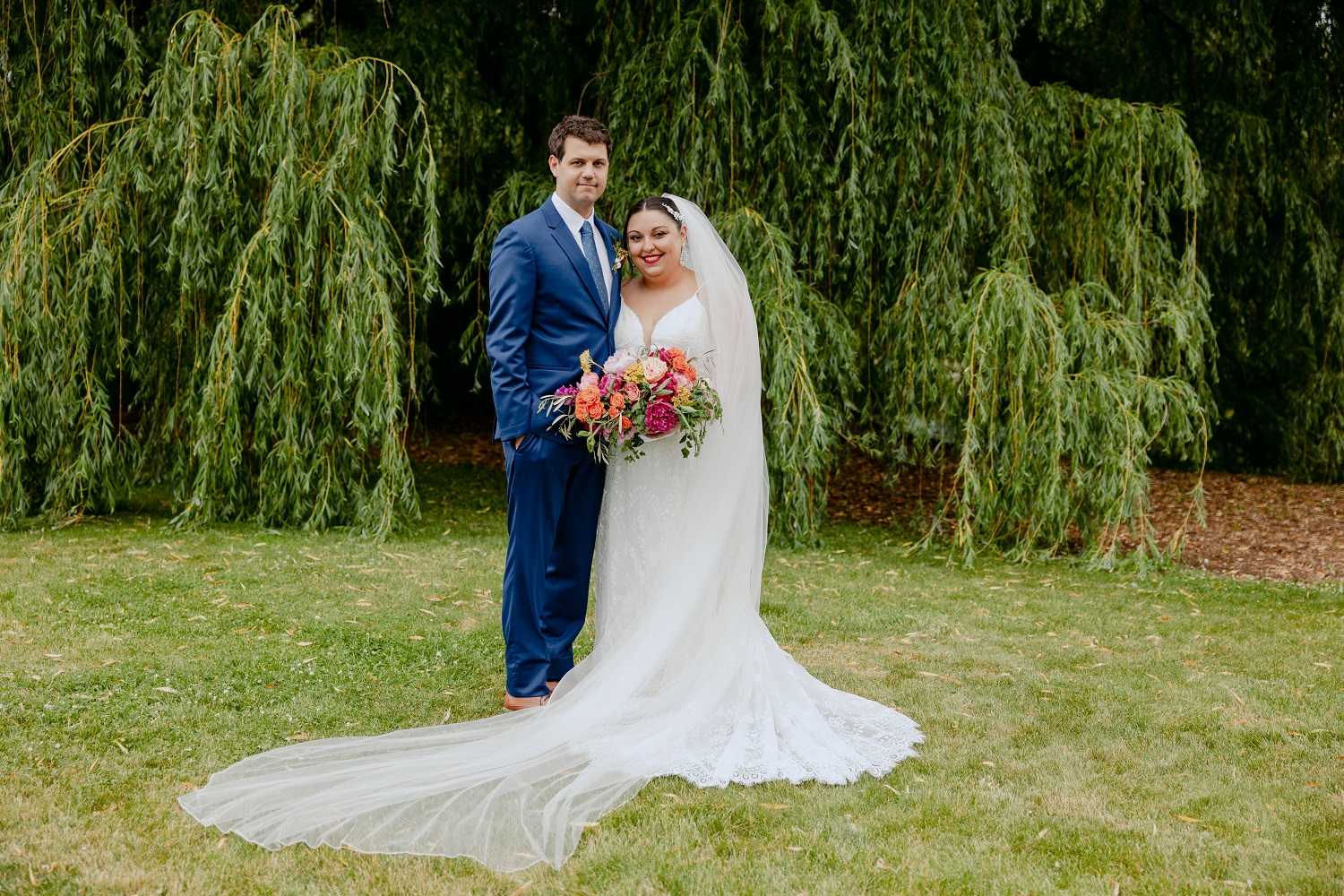 Sangria under the Walnut Trees
Aurora Cellars is a winery estate and the wines that guests drink thru the evening are made from the grapes that grow next to the cocktail lawn.  Incidentally, those wines along with some Heirloom Cider make for a delicious sangria.  We sent their house recipe to our caterer, along with a beautiful display dispenser from Hannah's mom.  Served in wine glasses garnished with fruit wedges, this taste of Spain was a well-received welcome to cocktail hour under the walnut trees.  Peonies in earthenware vases topped wine barrel-top cocktail tables (made by the venue).   Ivory lace accented wooden tables and tile pillows adorned weathered wood + linen lounge furniture for a statement punch of color and signature pattern.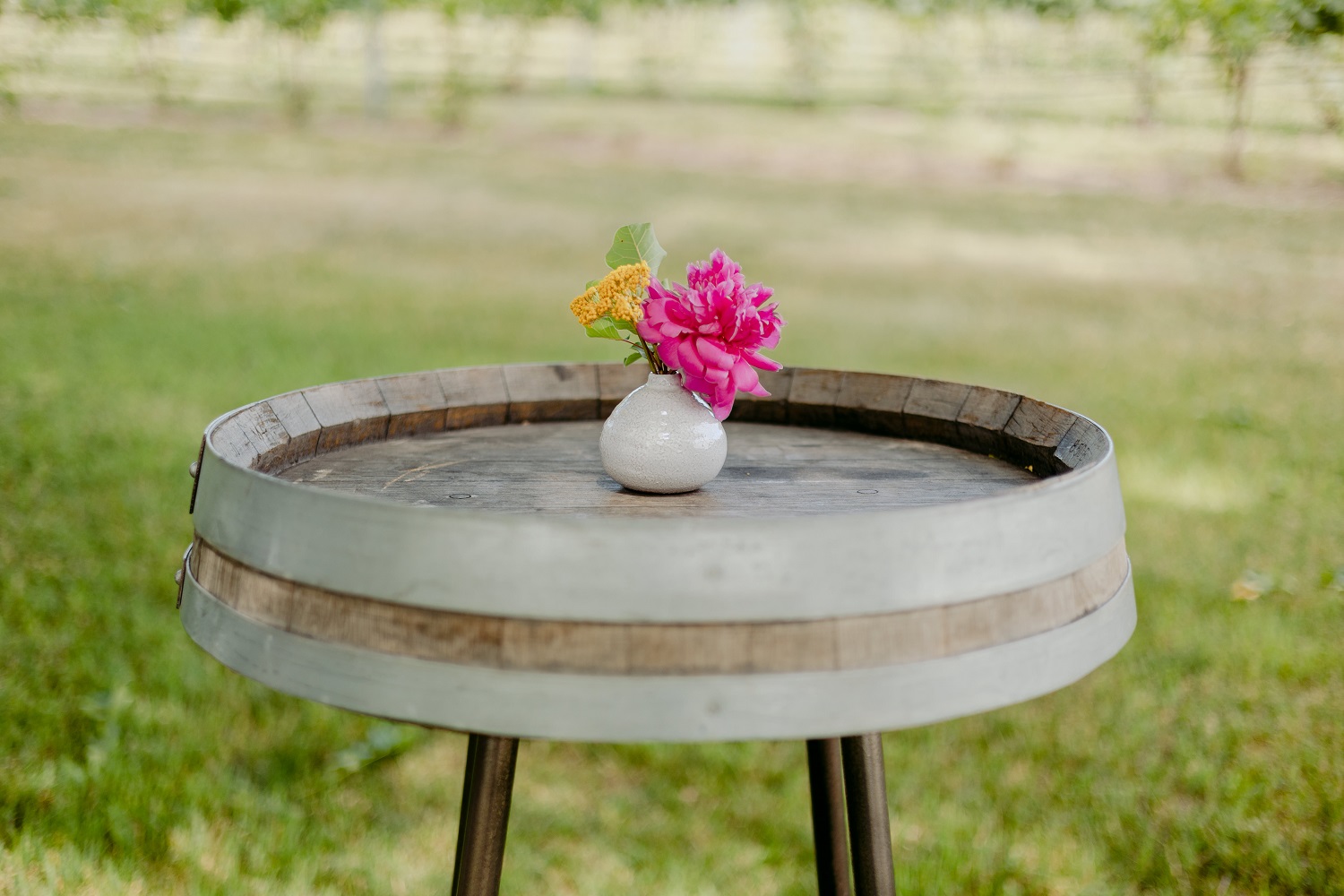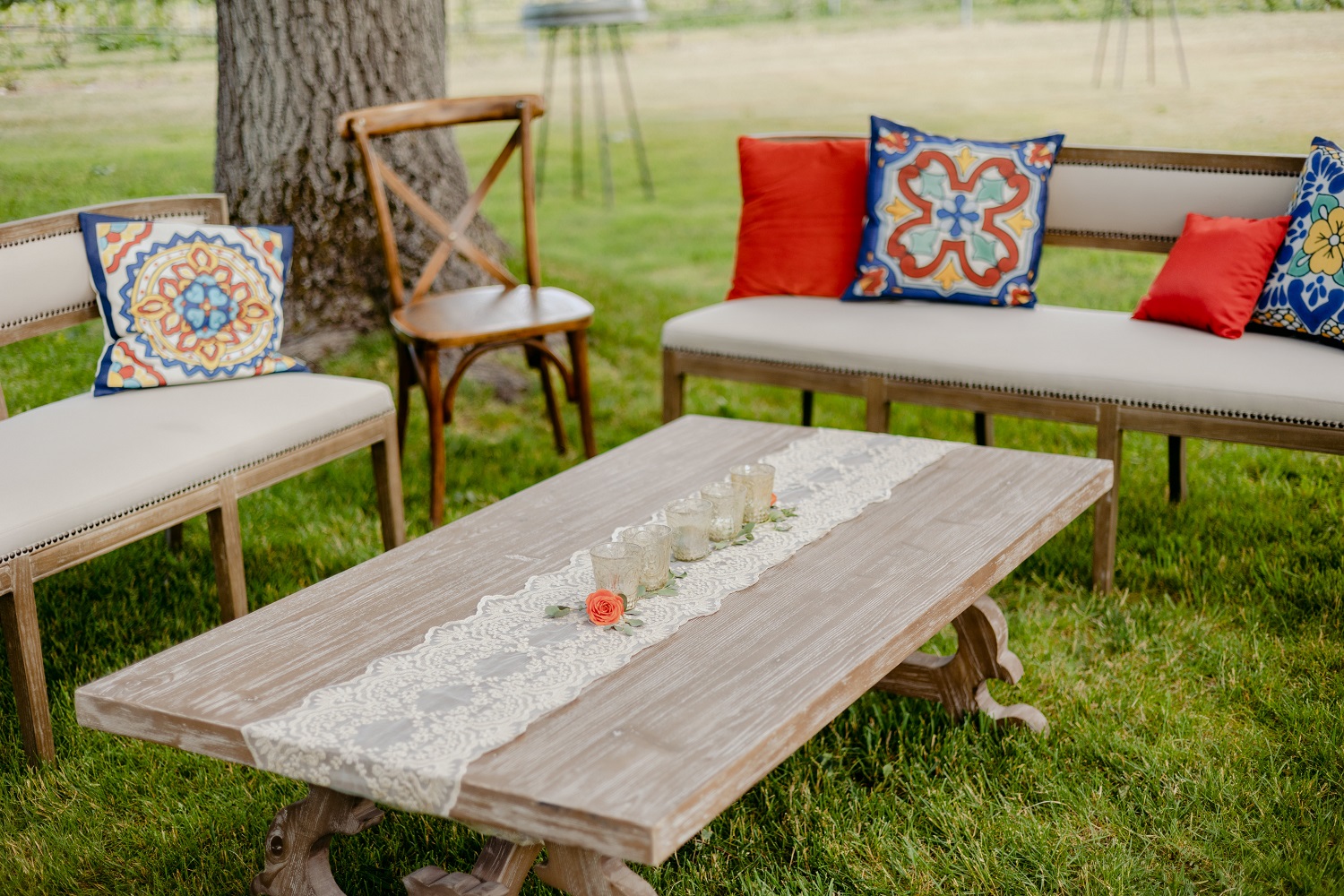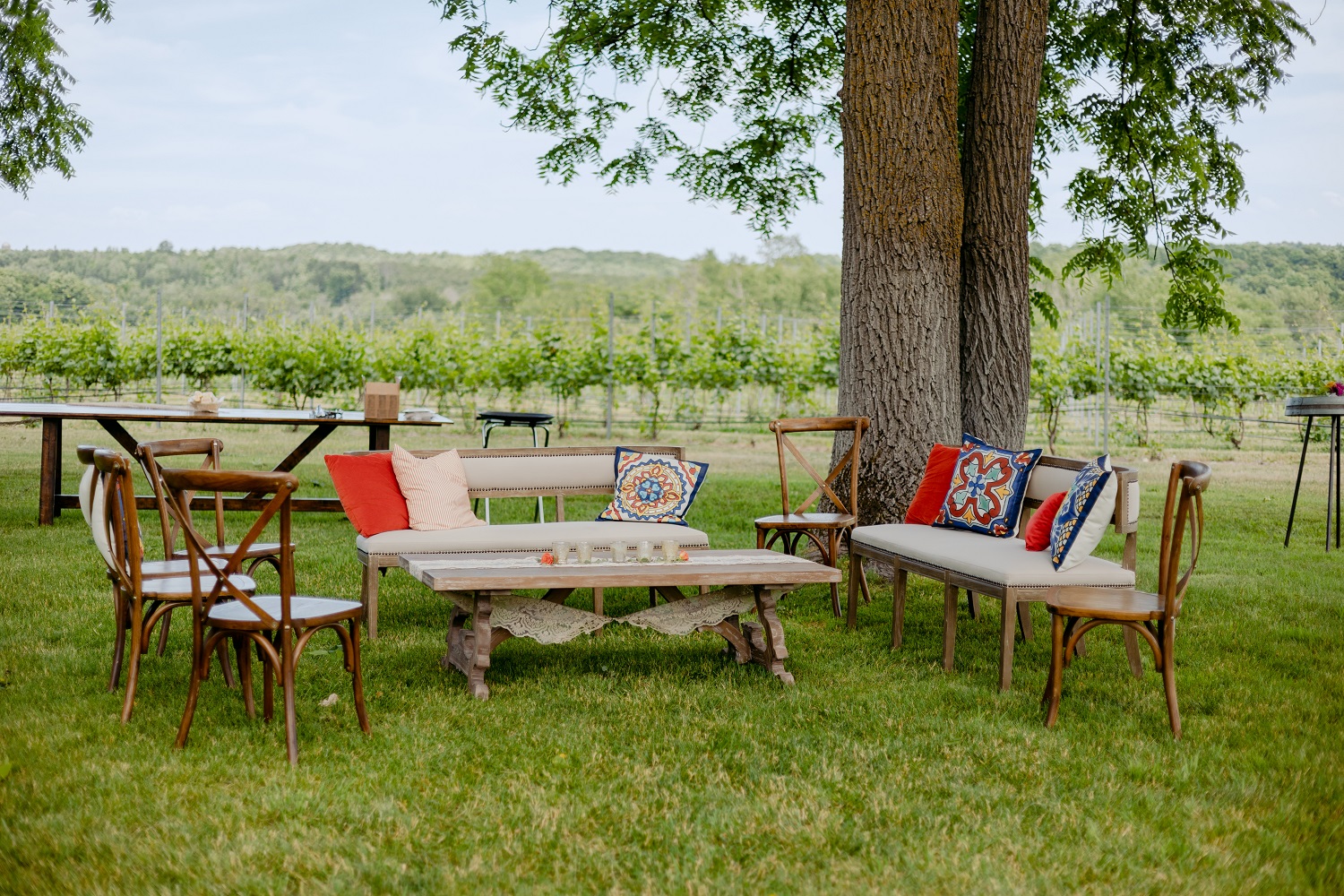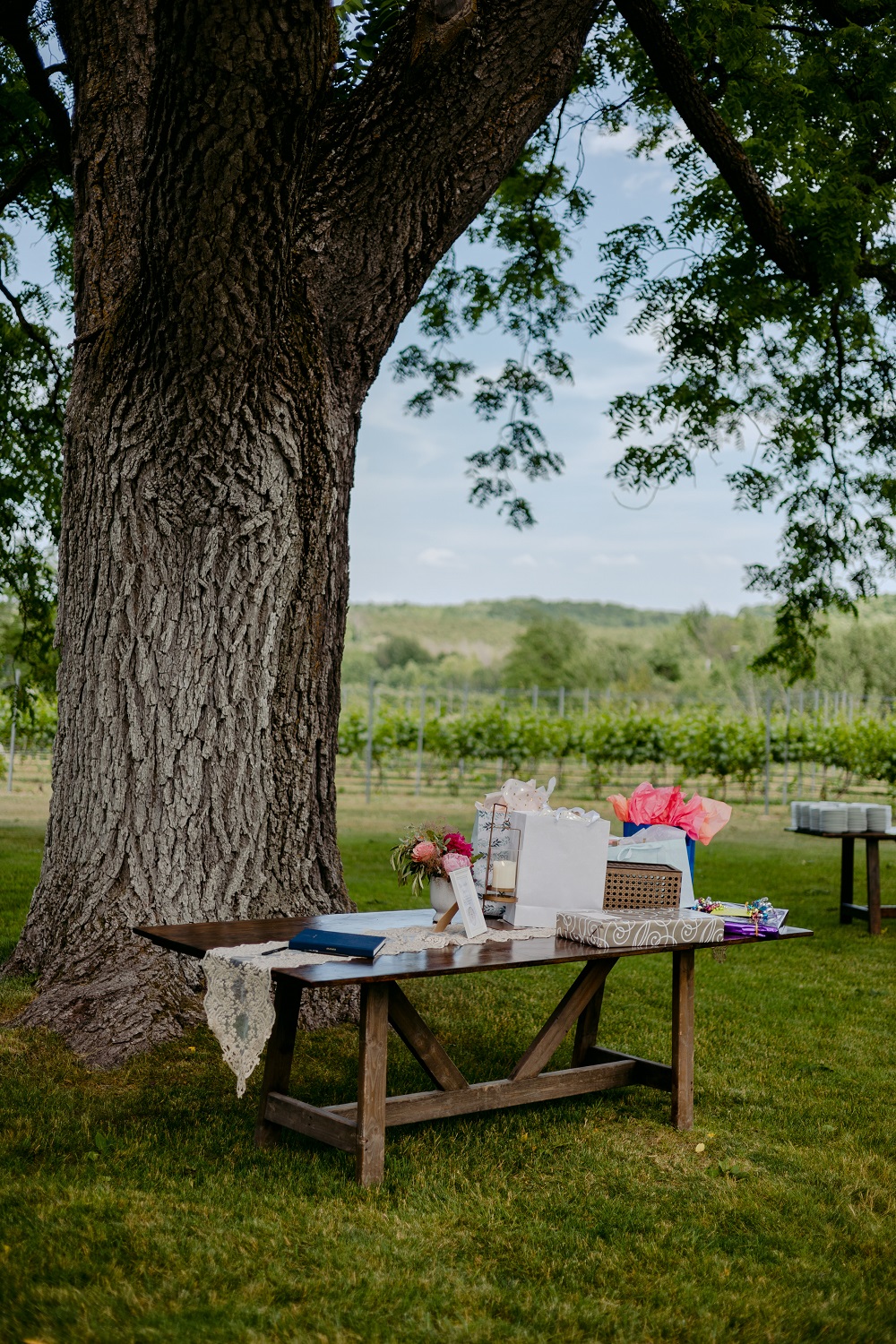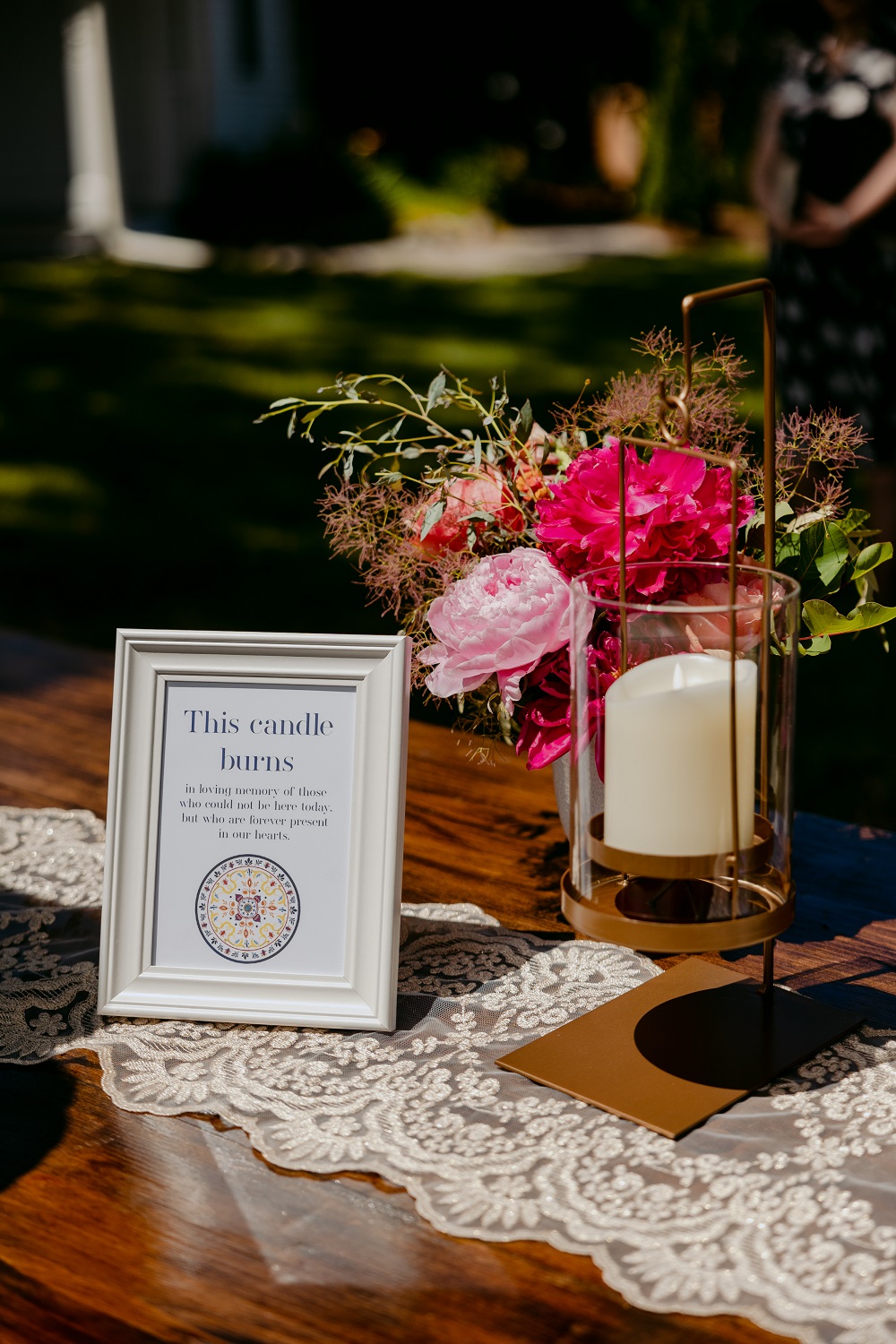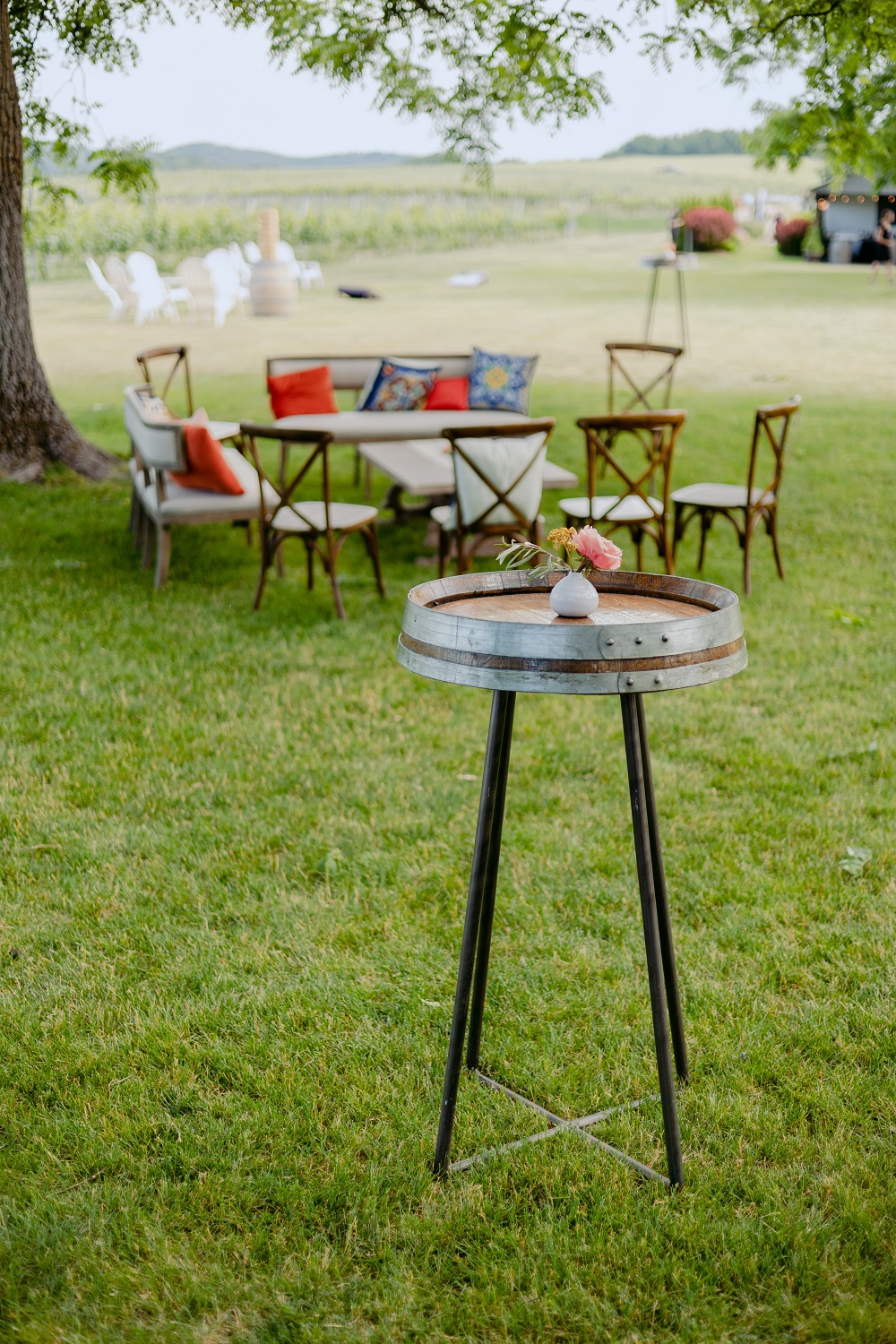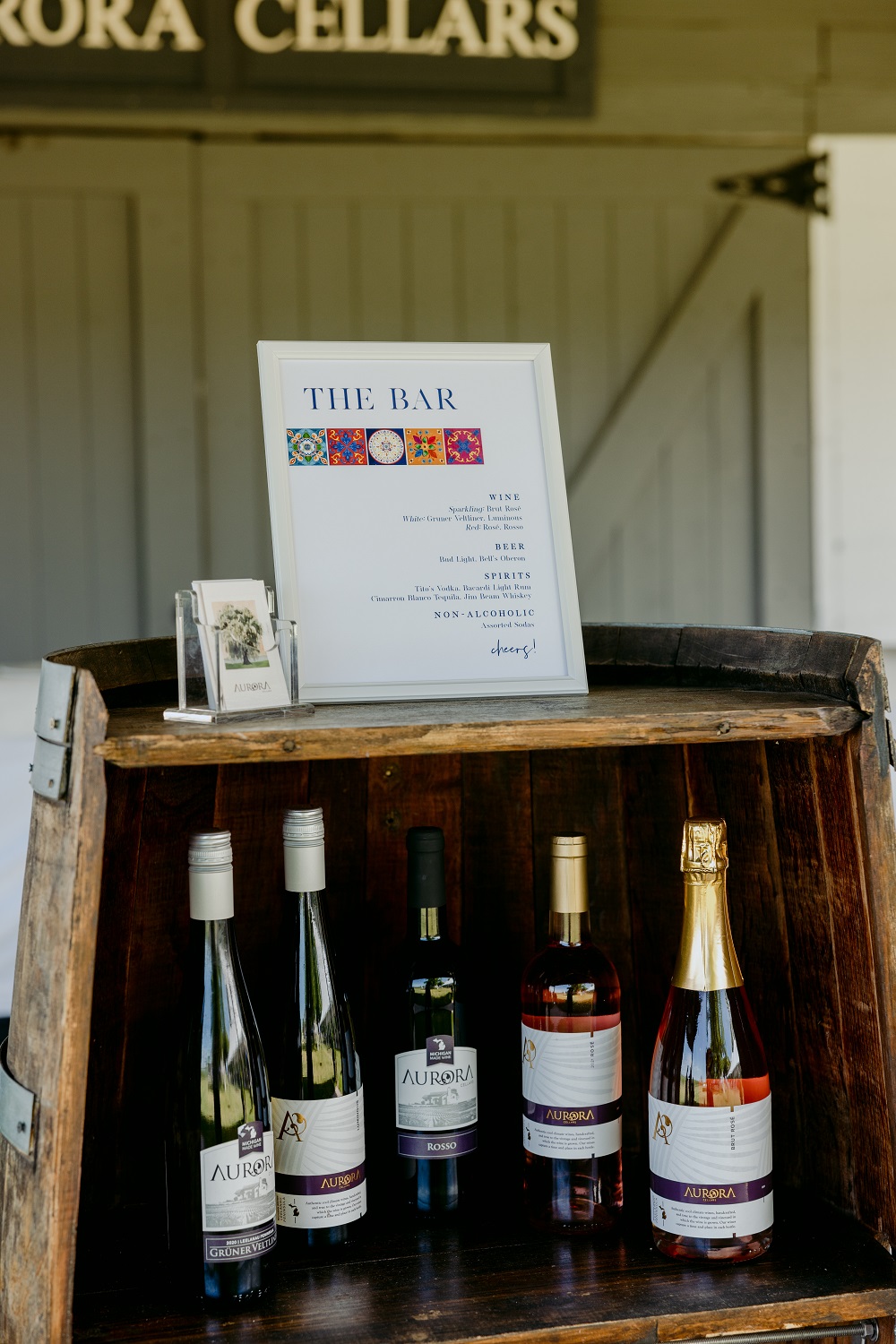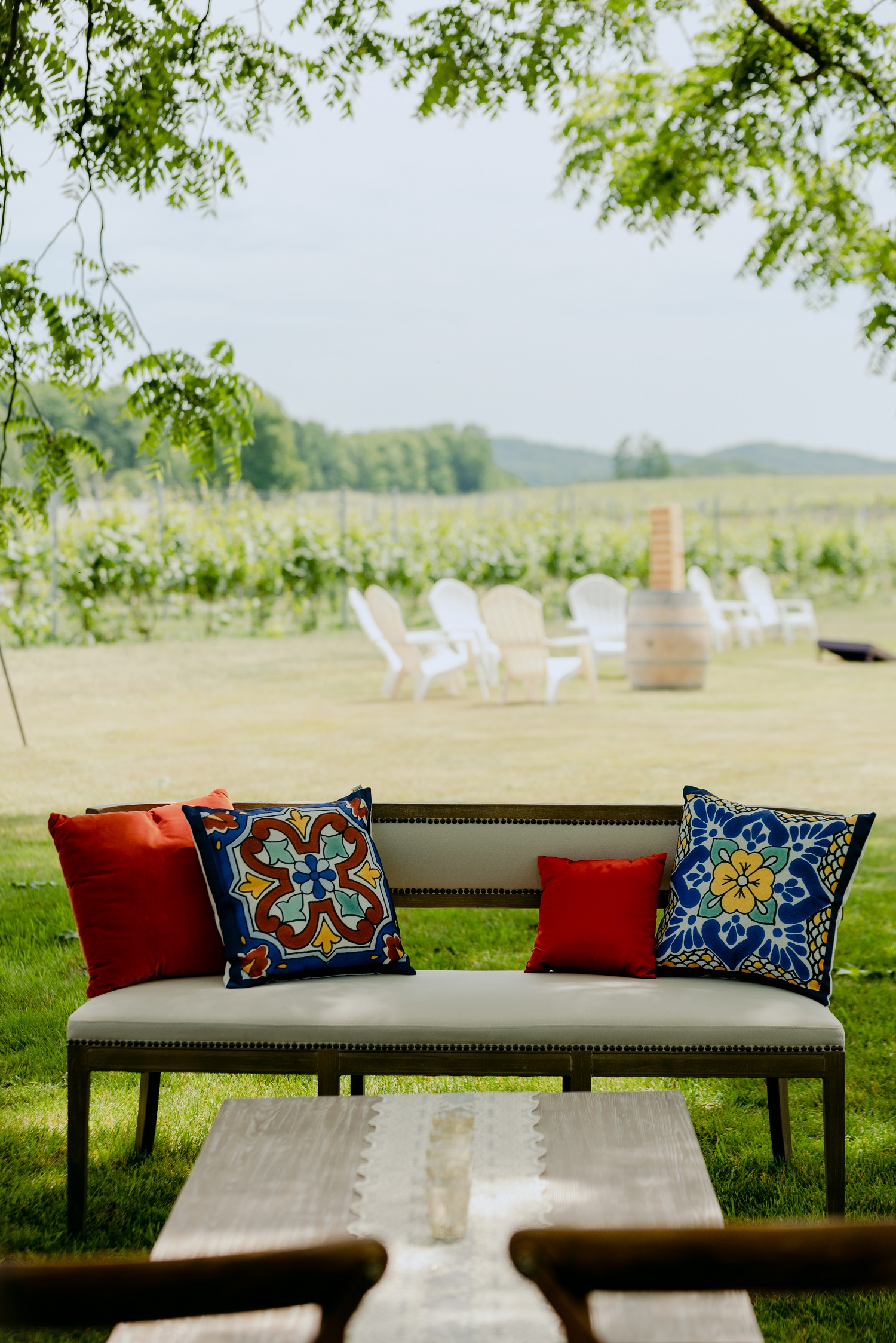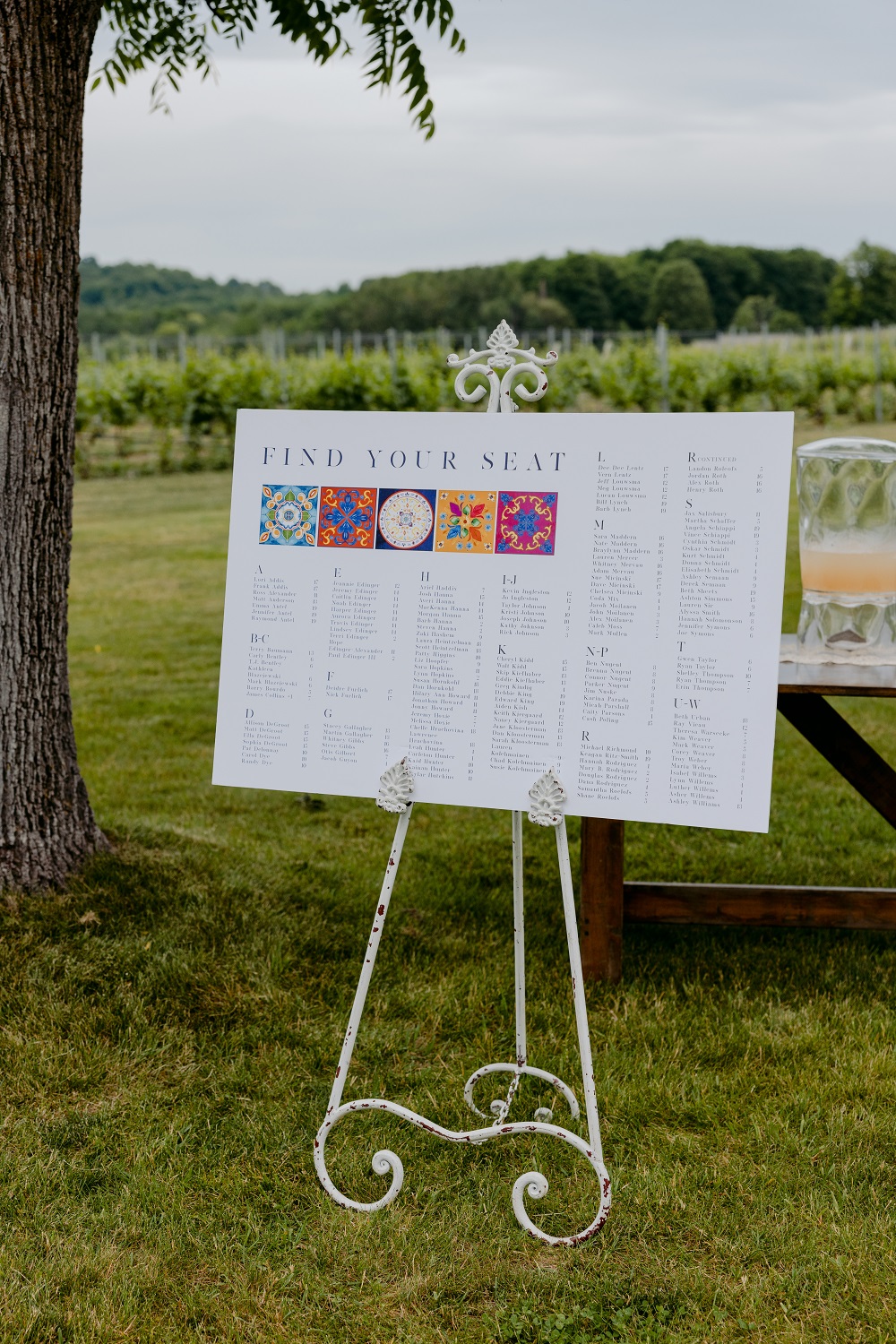 Paella & Punchy Place Settings
The reception tent was a fusion of old world textures – lace, linen, wood, and antique gold, mixed with the punchy colors of a cobalt goblet, a salsa orange dinner plate, the tile motif and stunning big blooms.  Cute little truffle boxes (tied in a tile thank-you note) from Grocer's Daughter, the couple's favorite local chocolatier were added to place setting.  It was festive vibes grounded in tradition and heritage.  It was one of the most fun designs we've seen come to life.  Photos from Courtney Kent capture the details better than my words so I'll let her images convey the scene.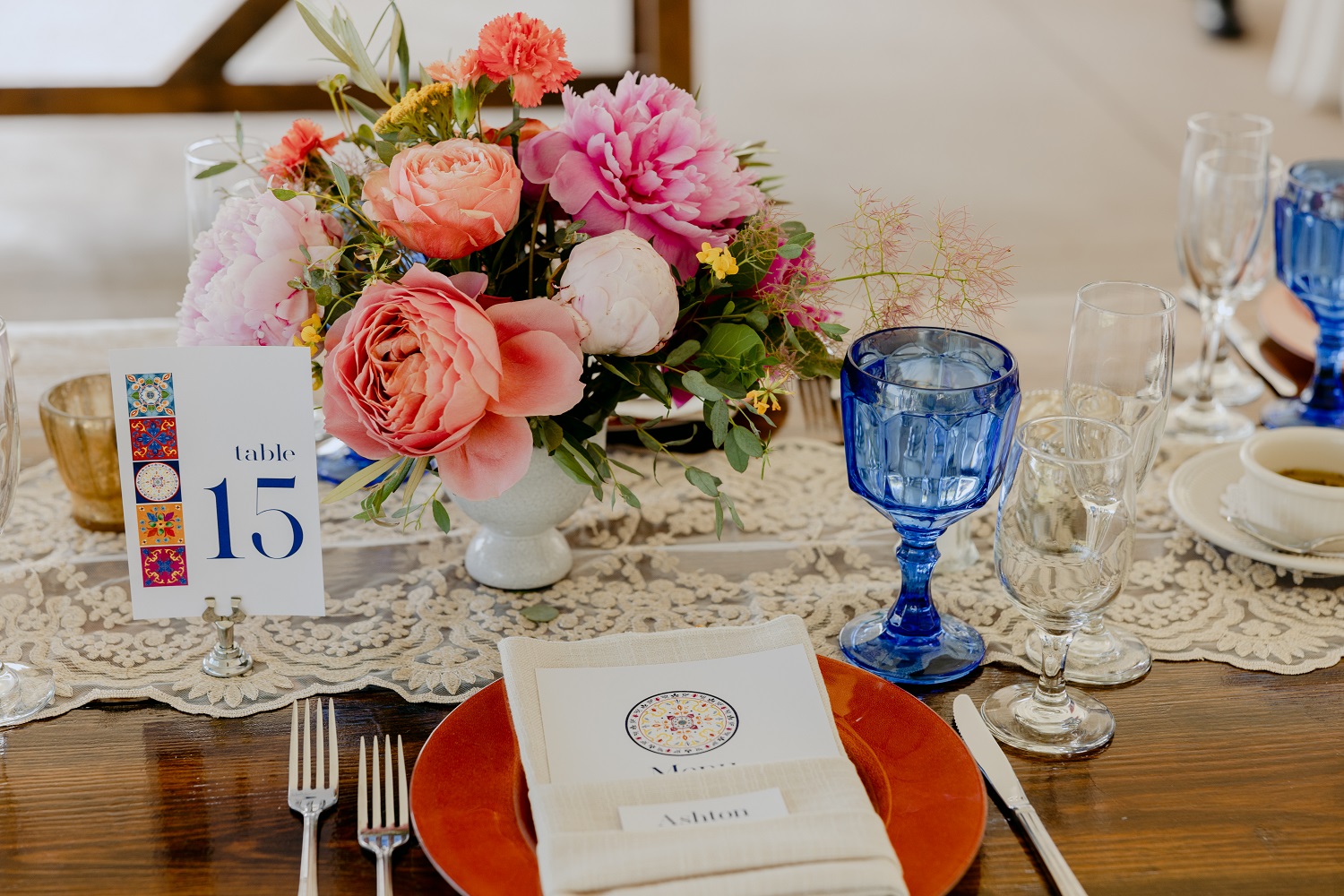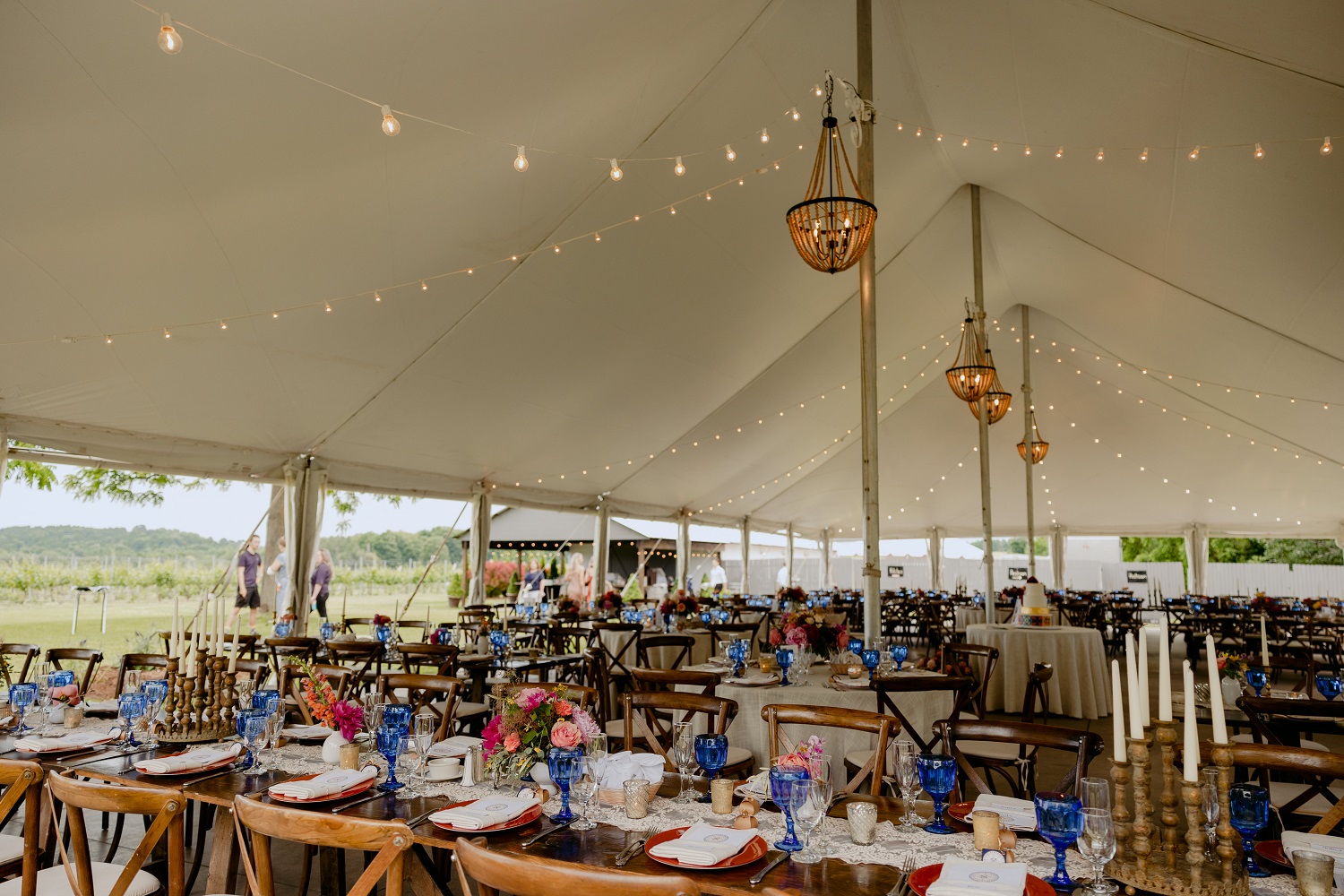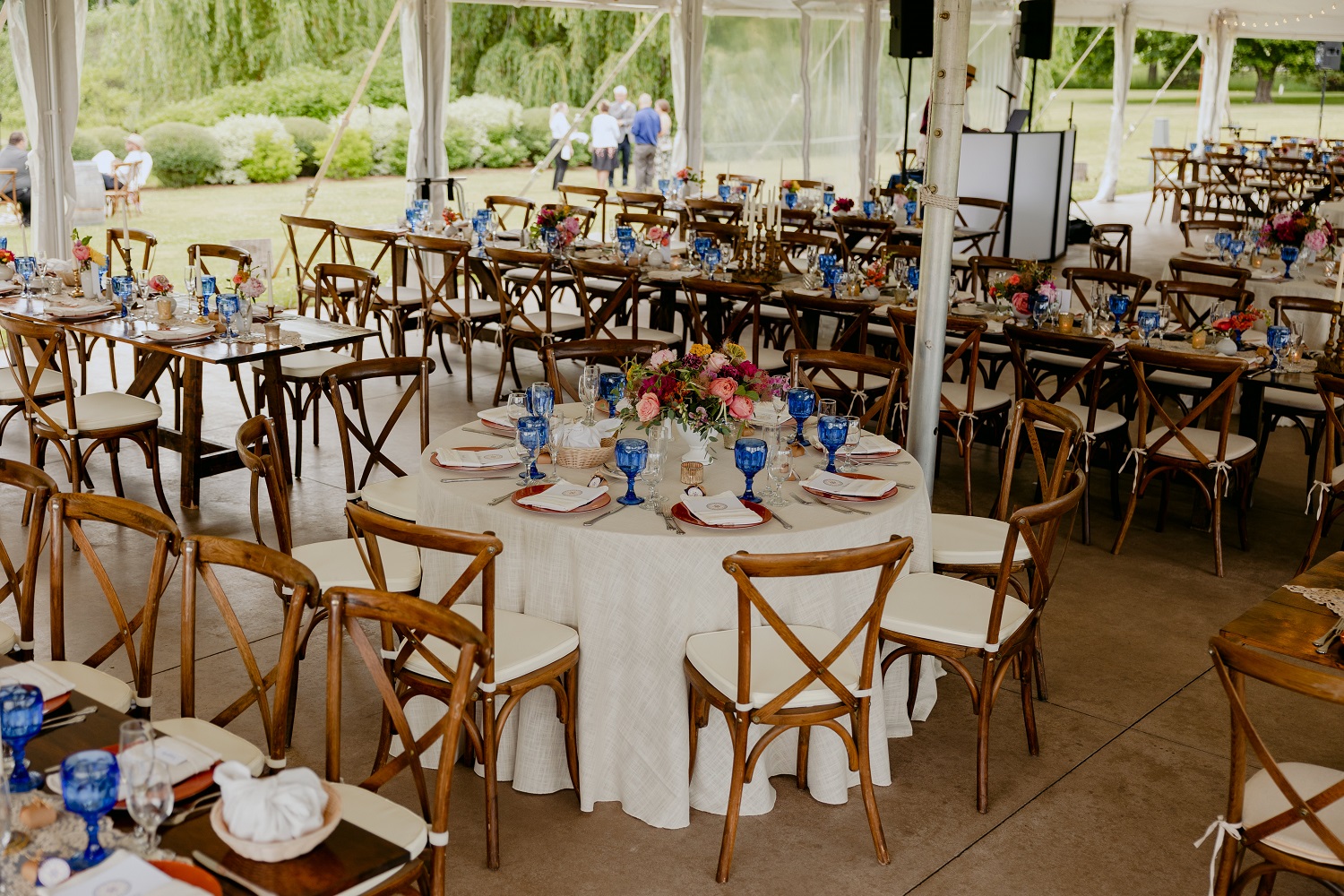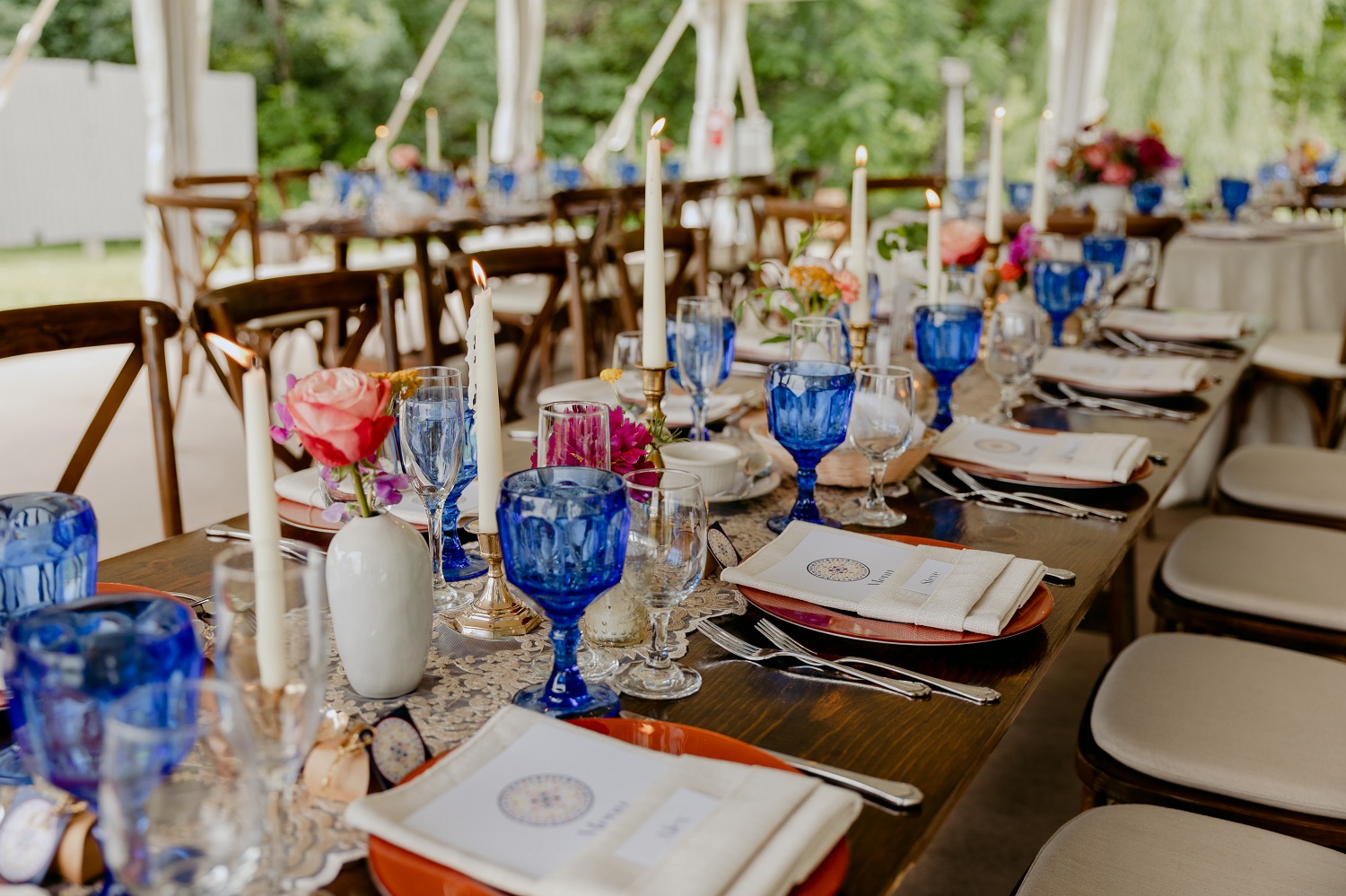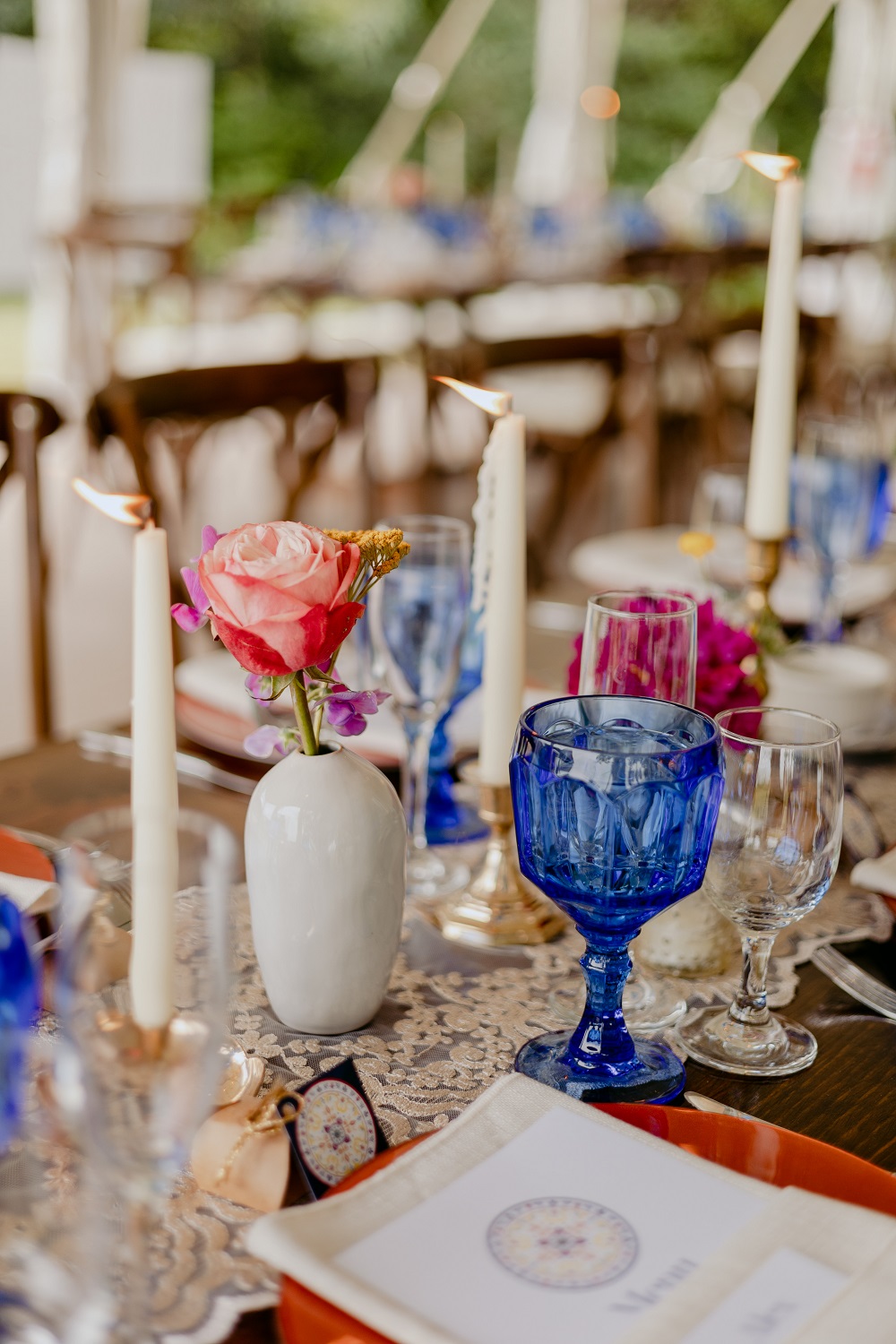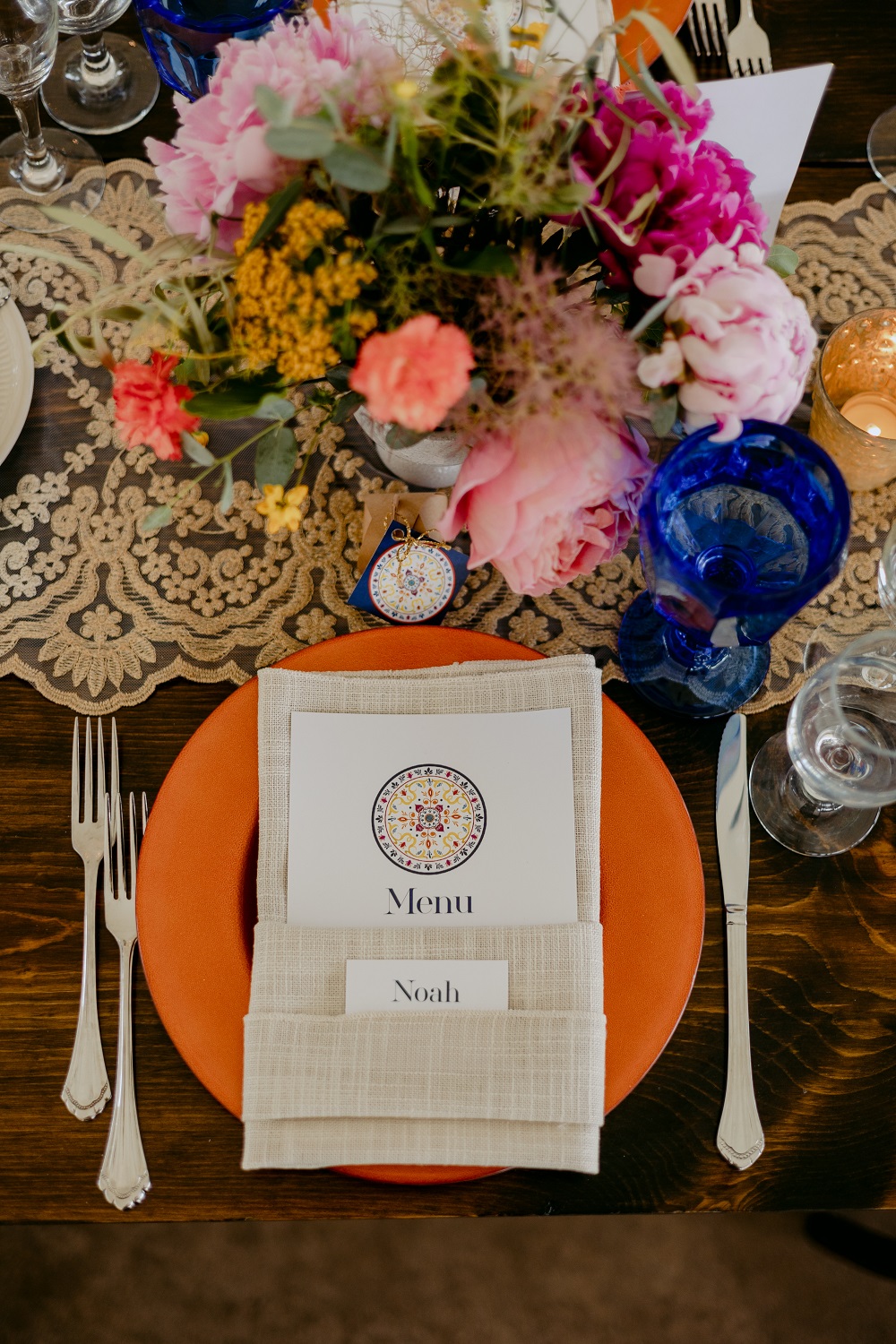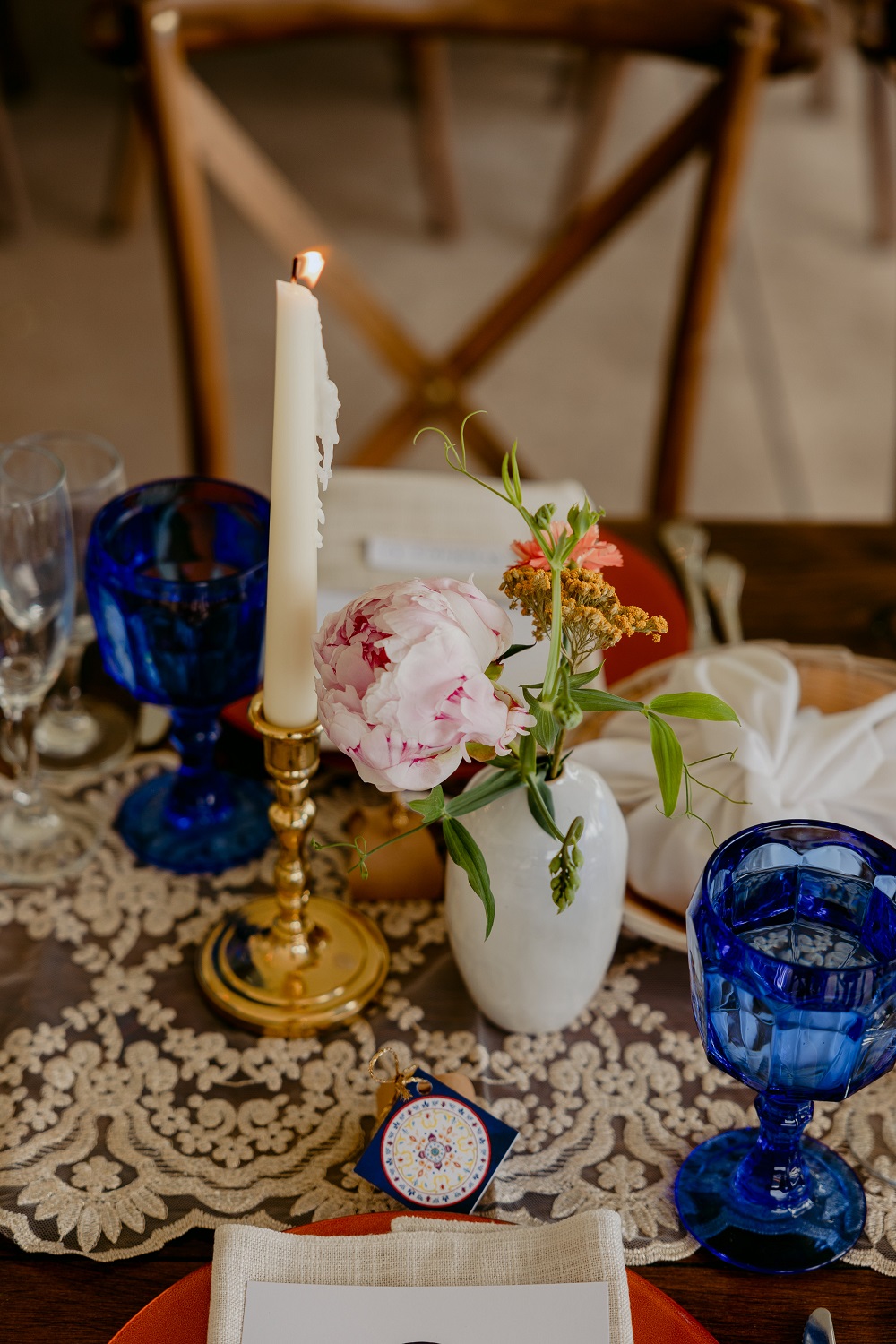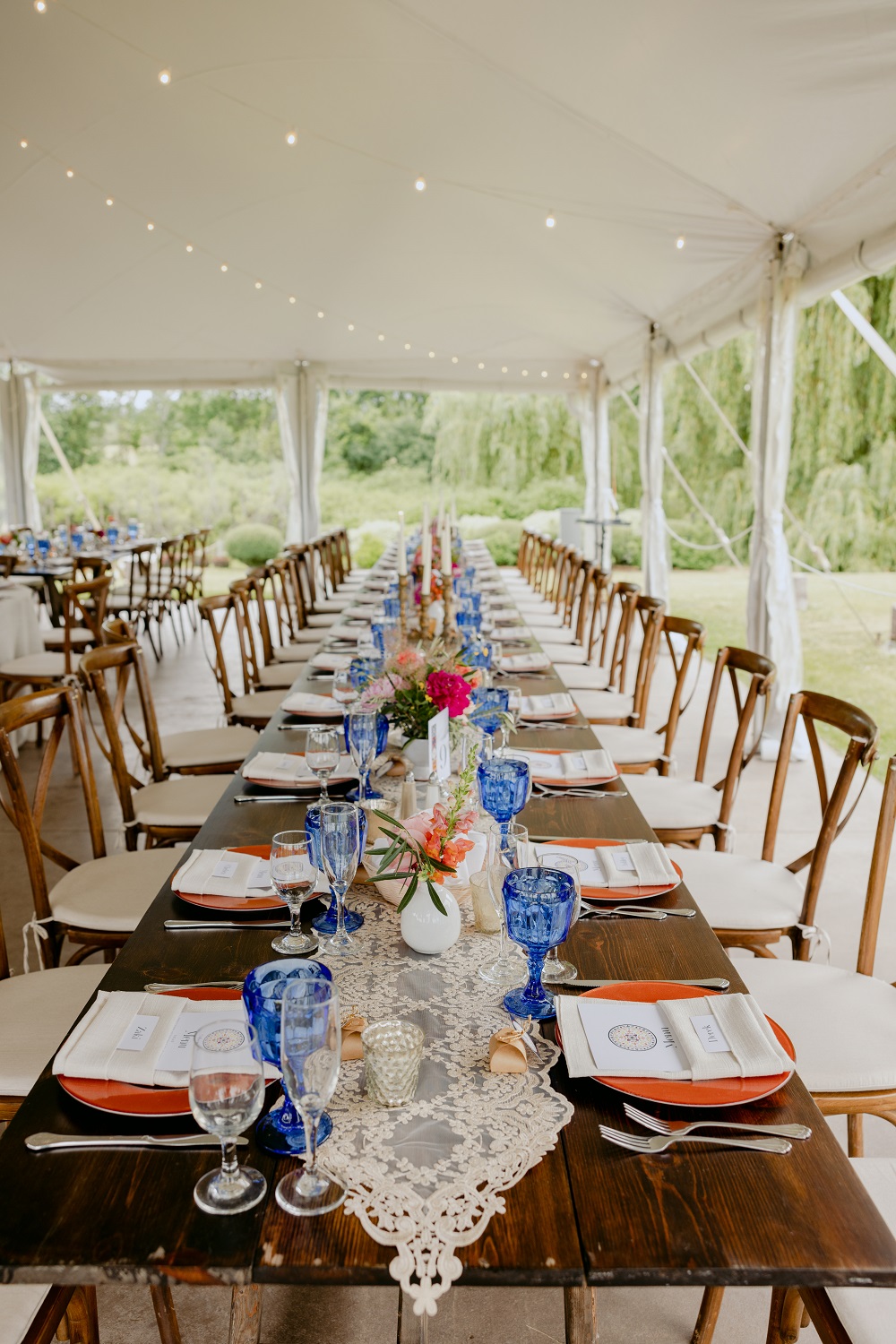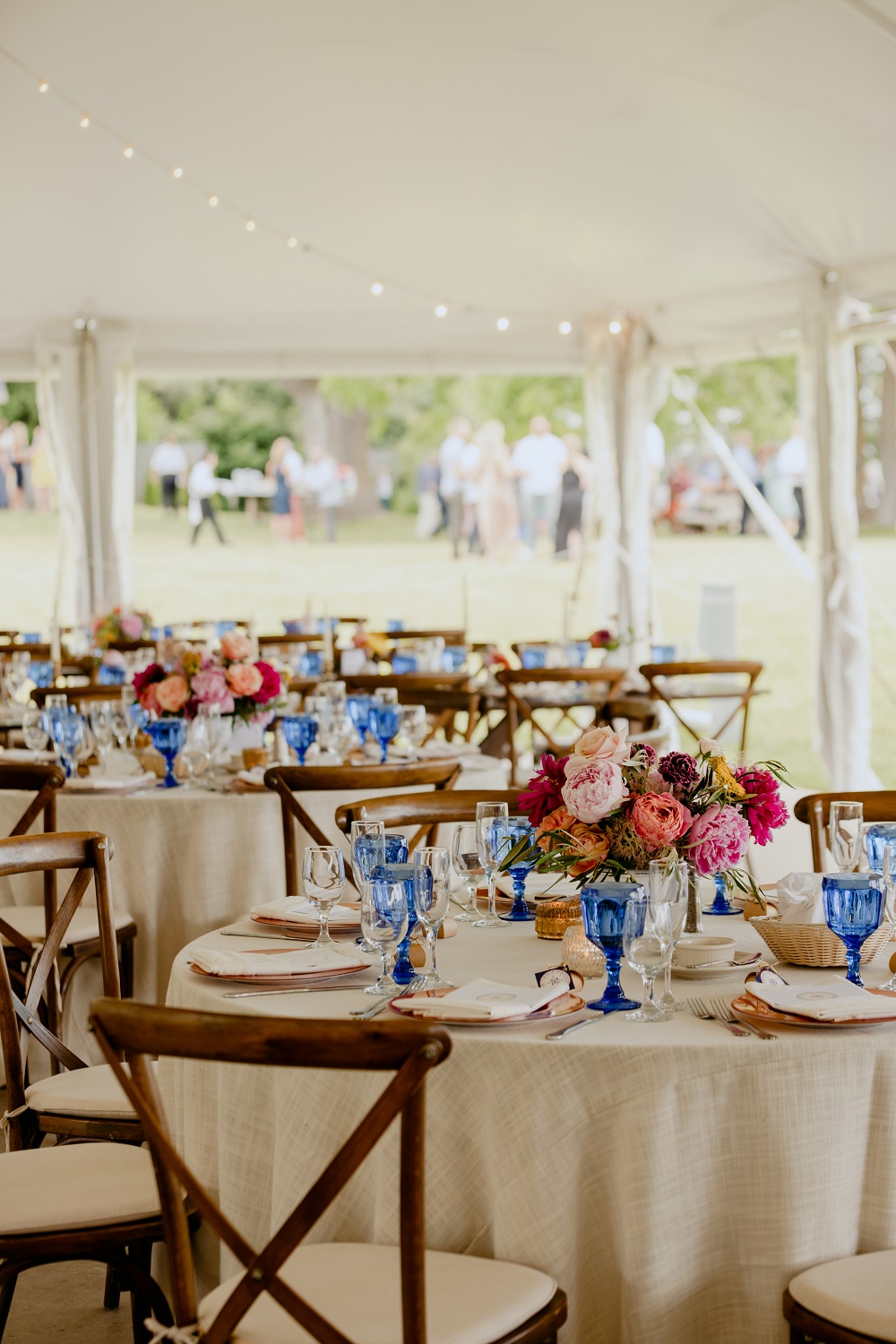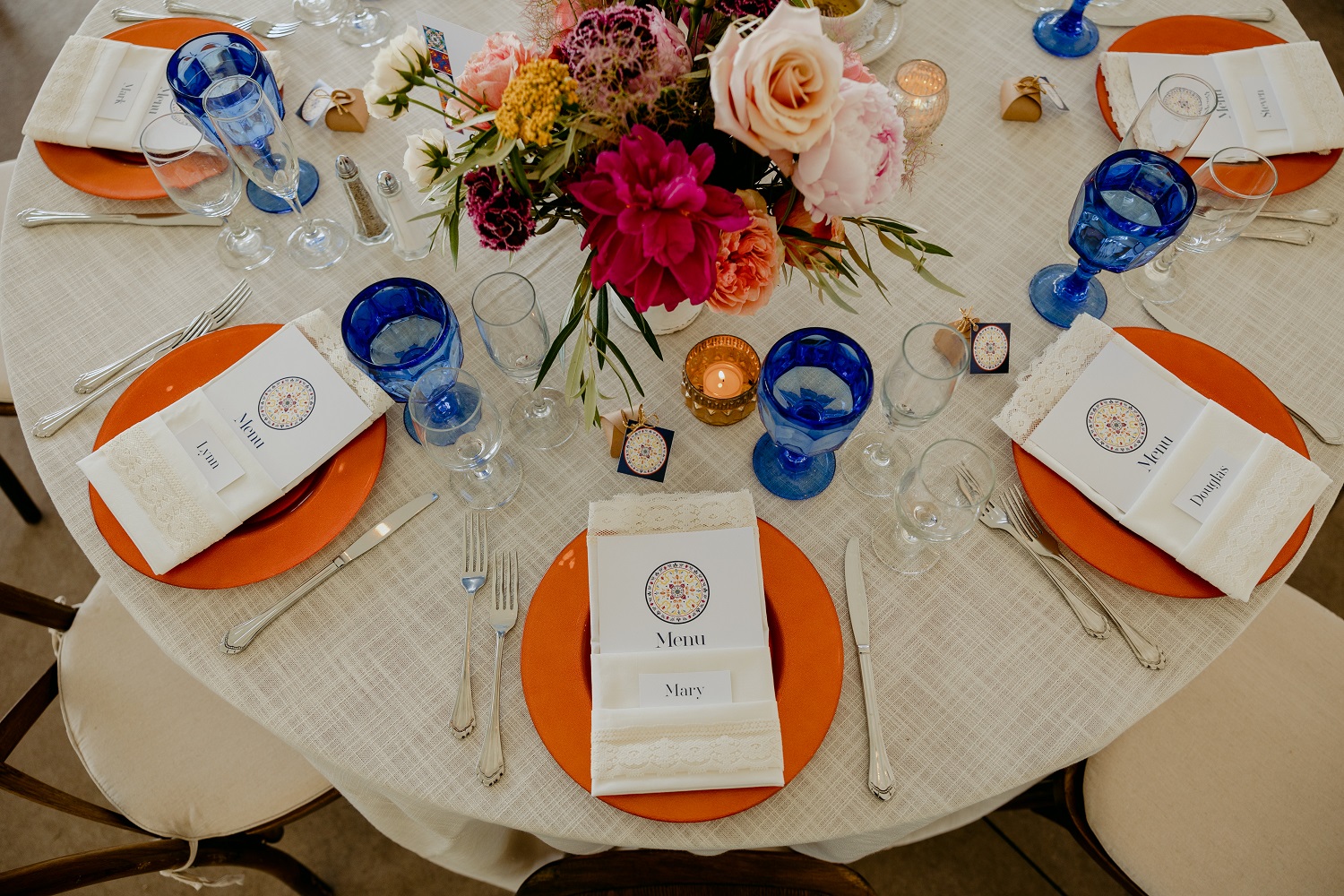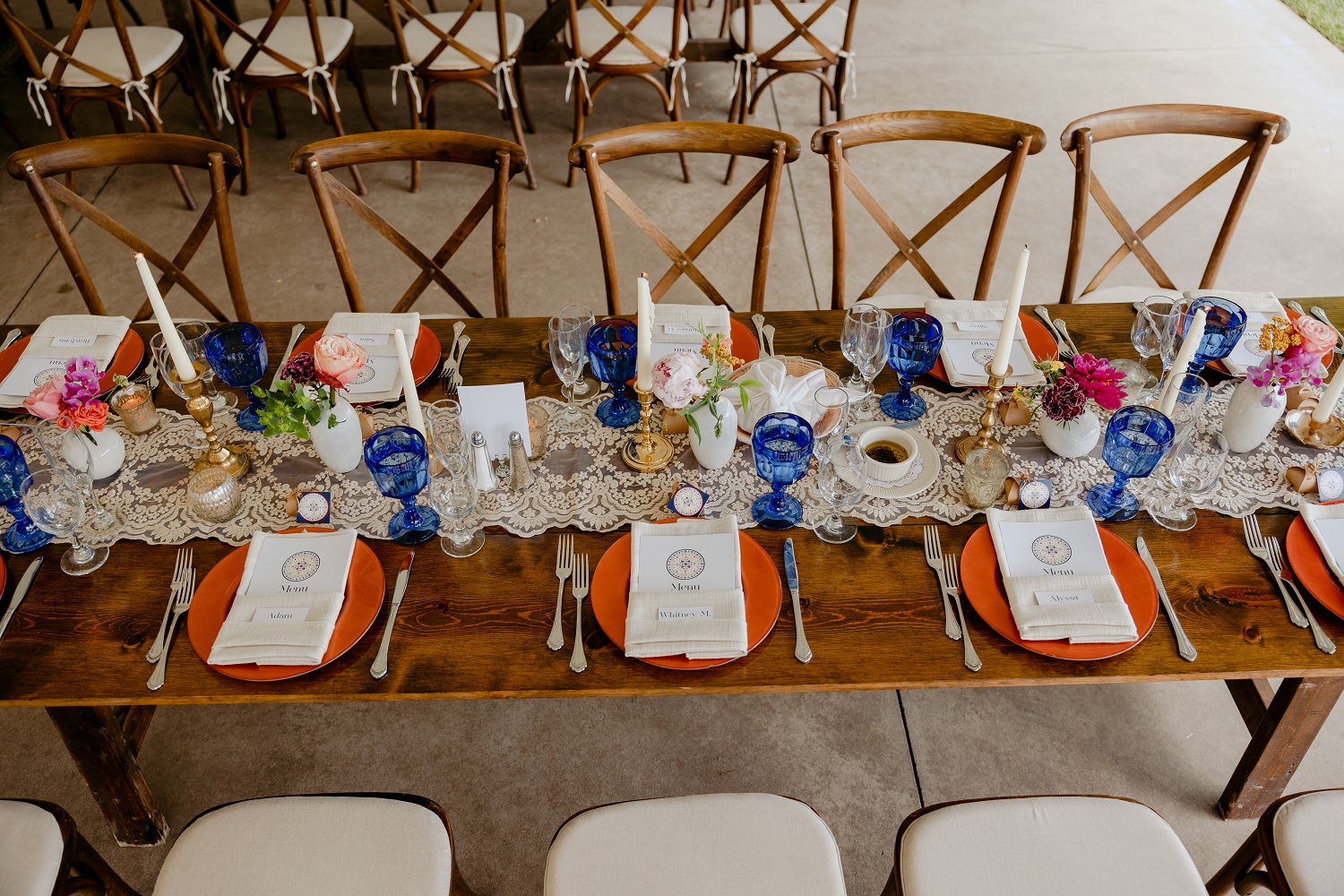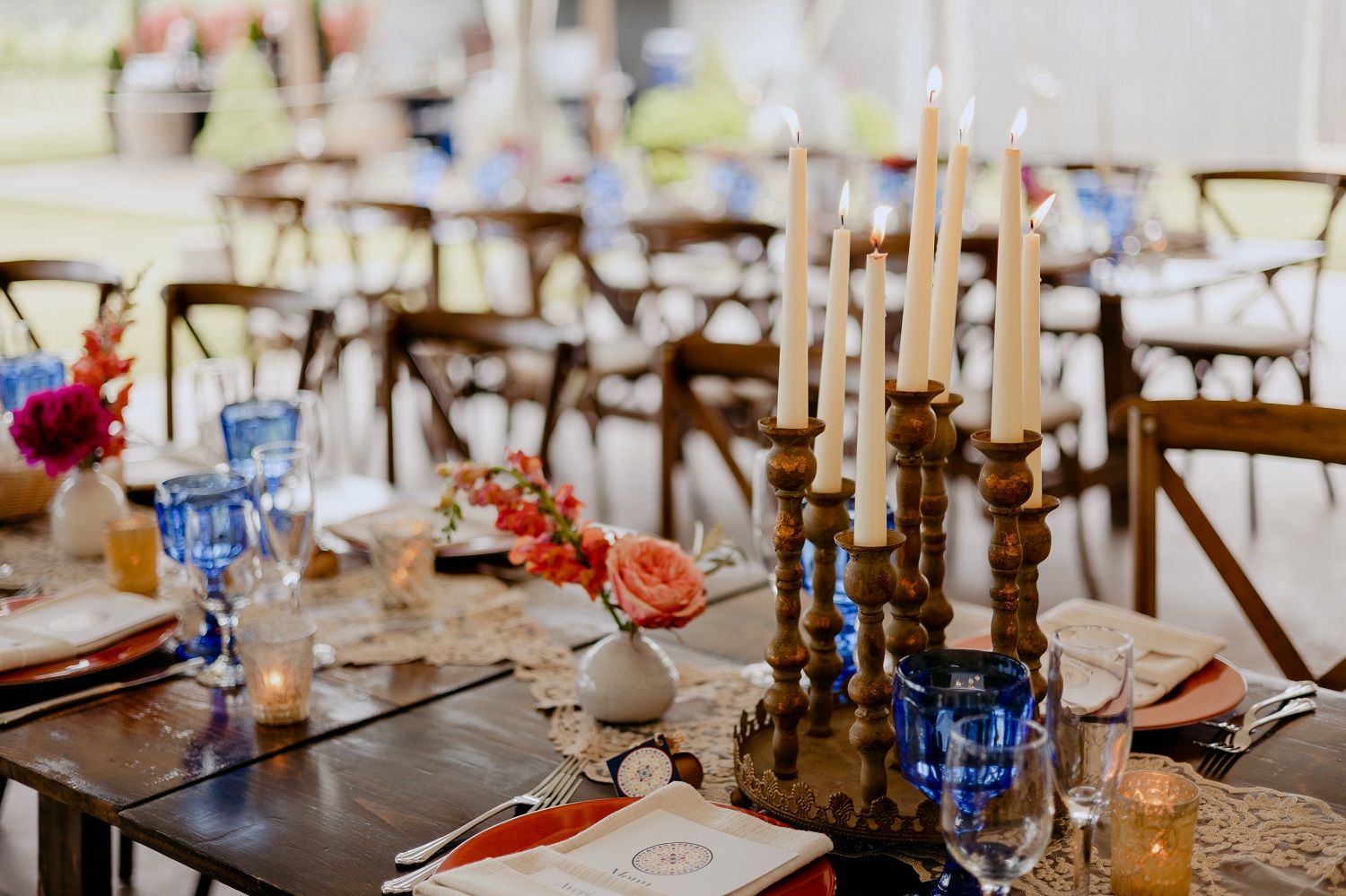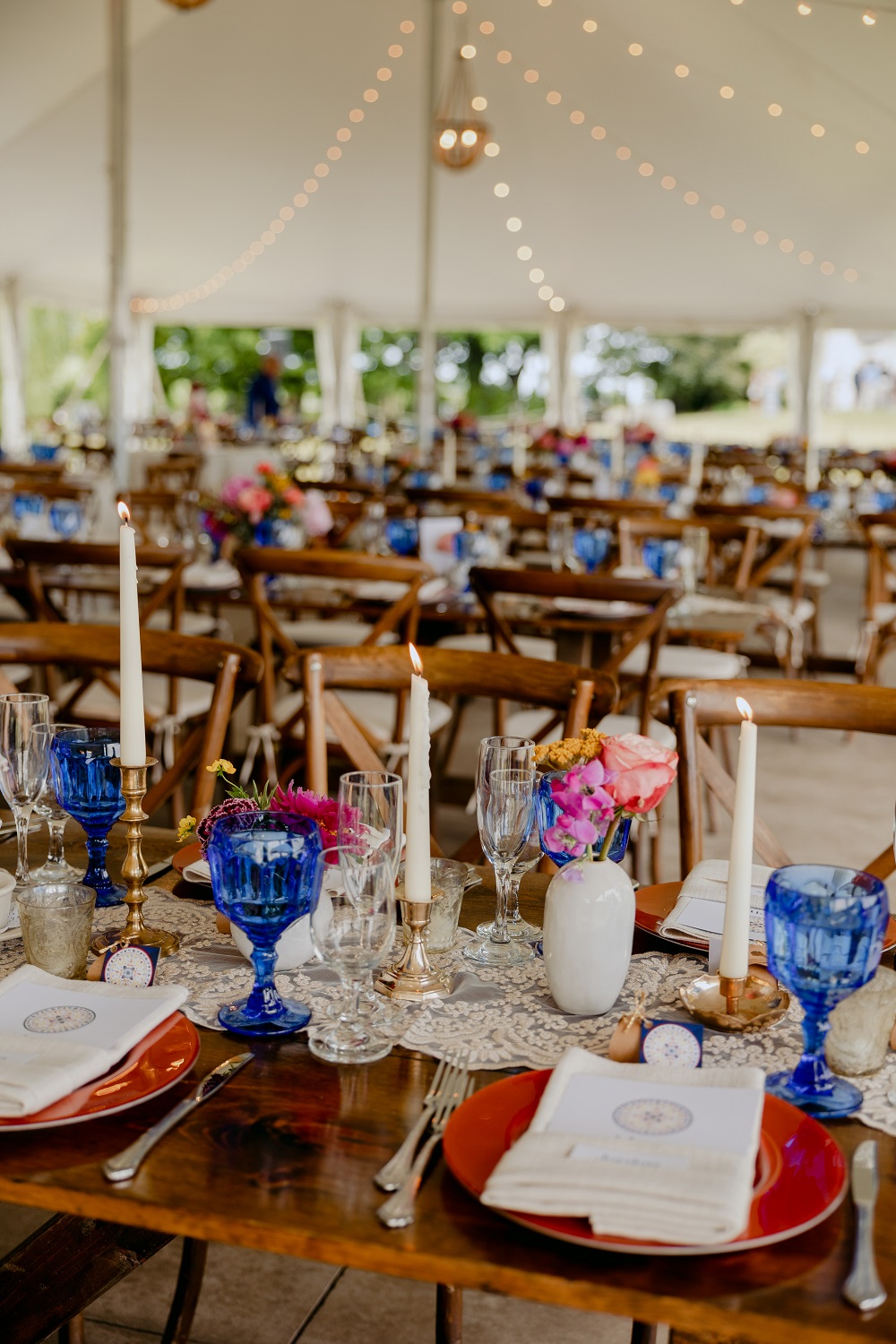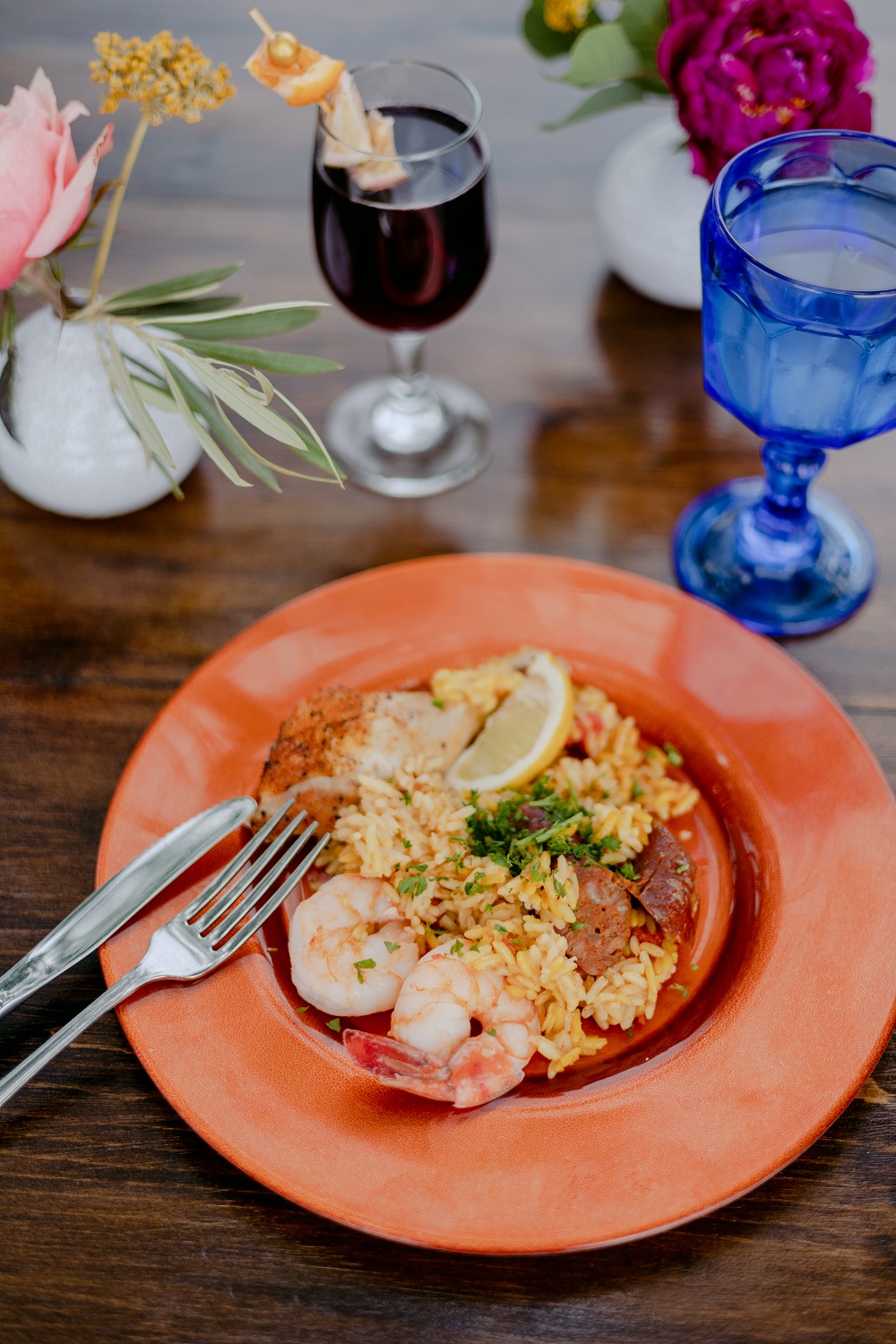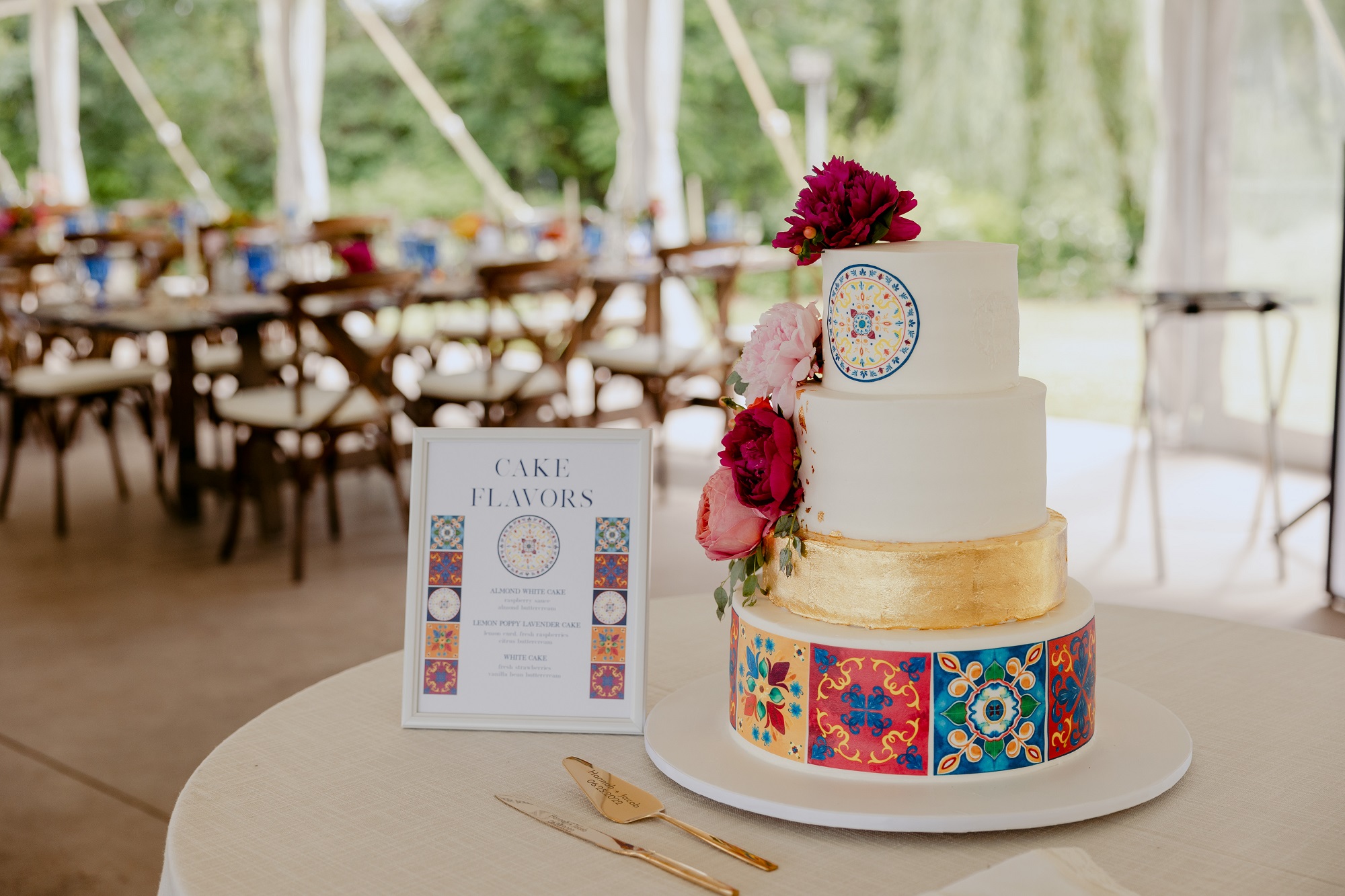 Cake Artistry & Sunset in the Vines
We'll never get over the wedding cake.  It was a masterpiece of the couple's custom tile art accented in gold and fresh peonies, brought to life by Ann from Cakes by Aunt B.  We almost didn't want to cut it, except that Ann's cakes taste as good as they look.  Masterpiece.  Later in the evening, we brought out another favorite from Grocer's Daughter – their famous chocolate chip cookies, wrapped to-go and accented with the signature tile sticker.  So many truly thoughtful details and moments went into this celebration and we feel honored to have been part of it.  Shout-out to Hannah and her mom Mary for bringing such a fun vision to the table and for their ideas thru the planning that made it beautifully unique.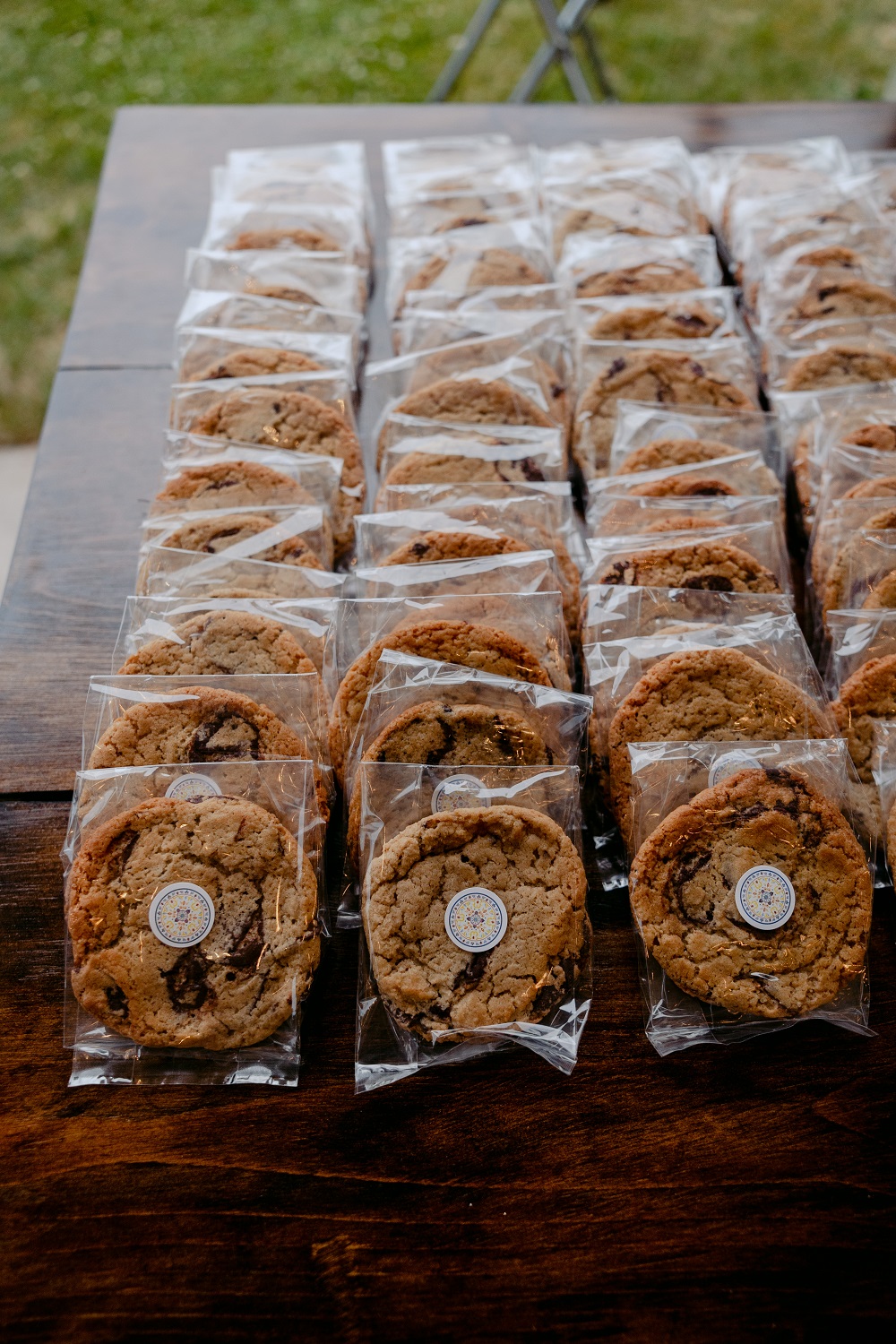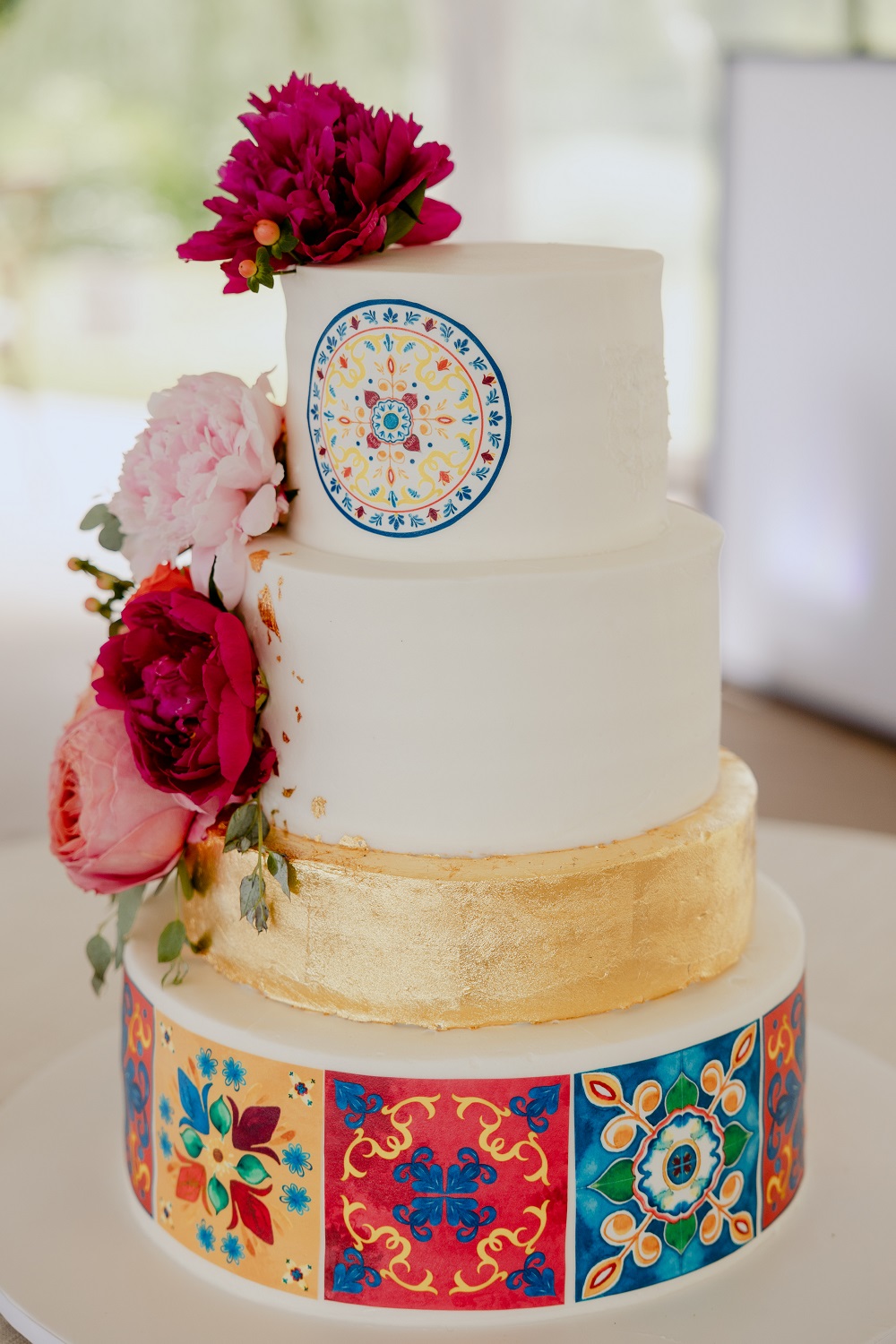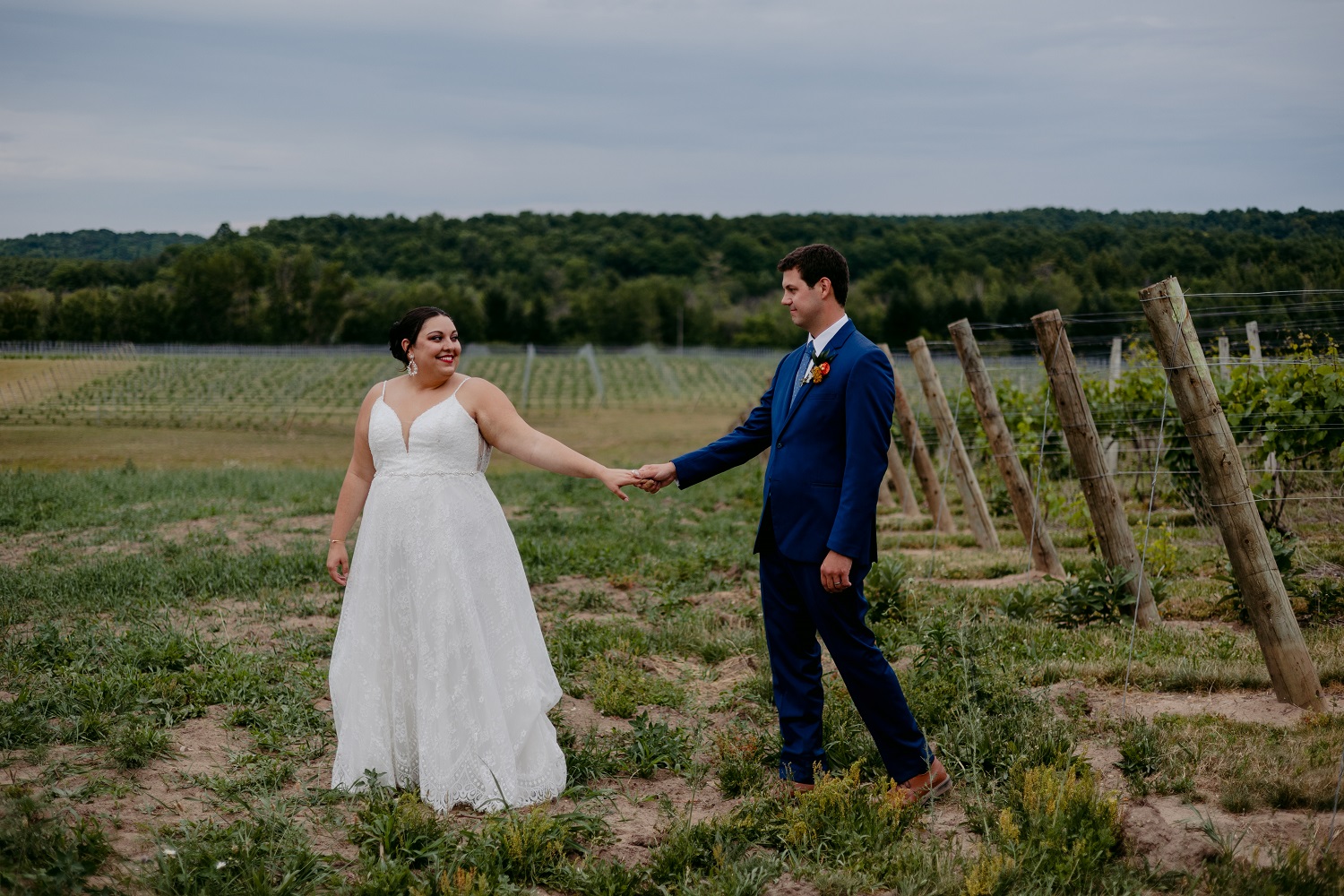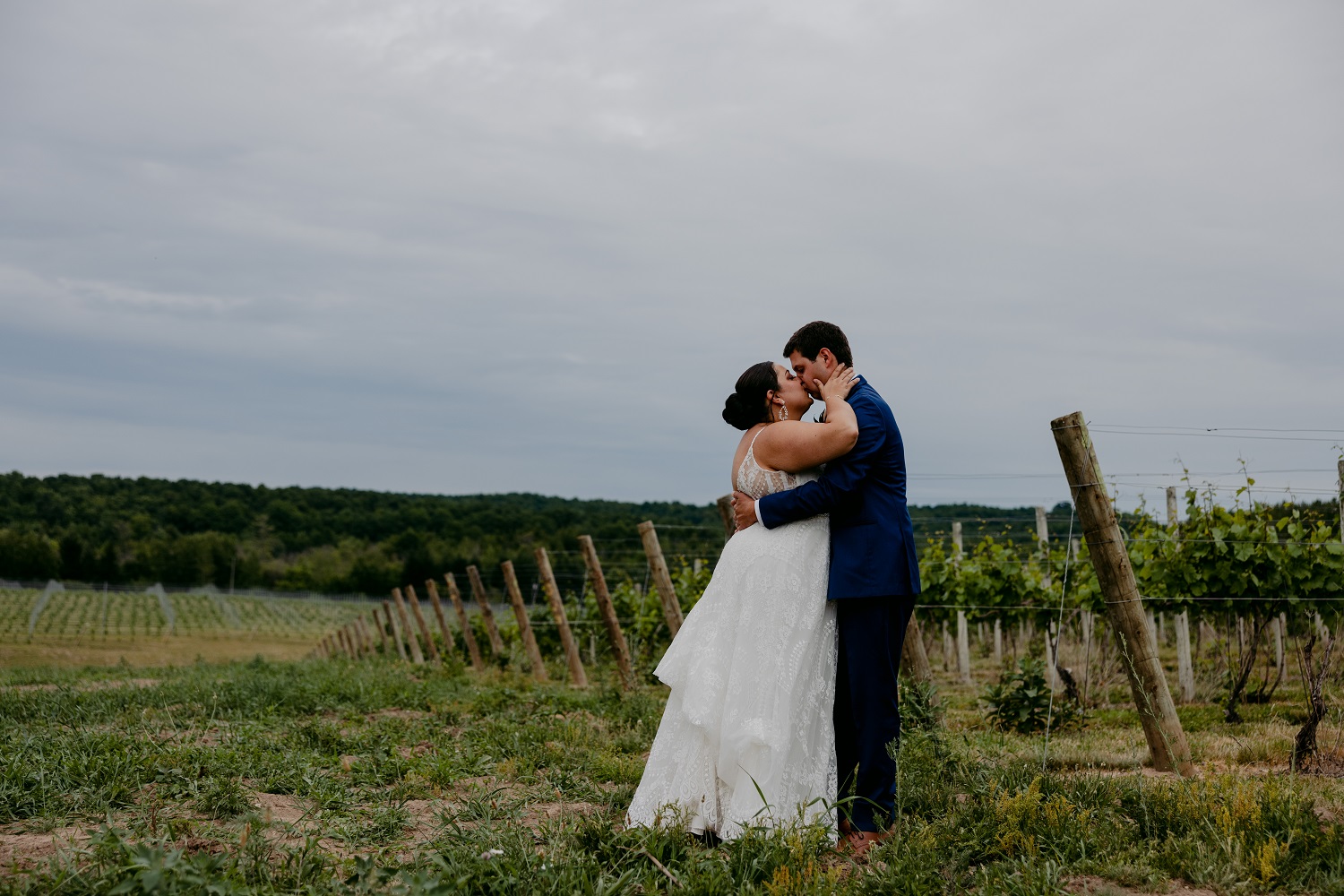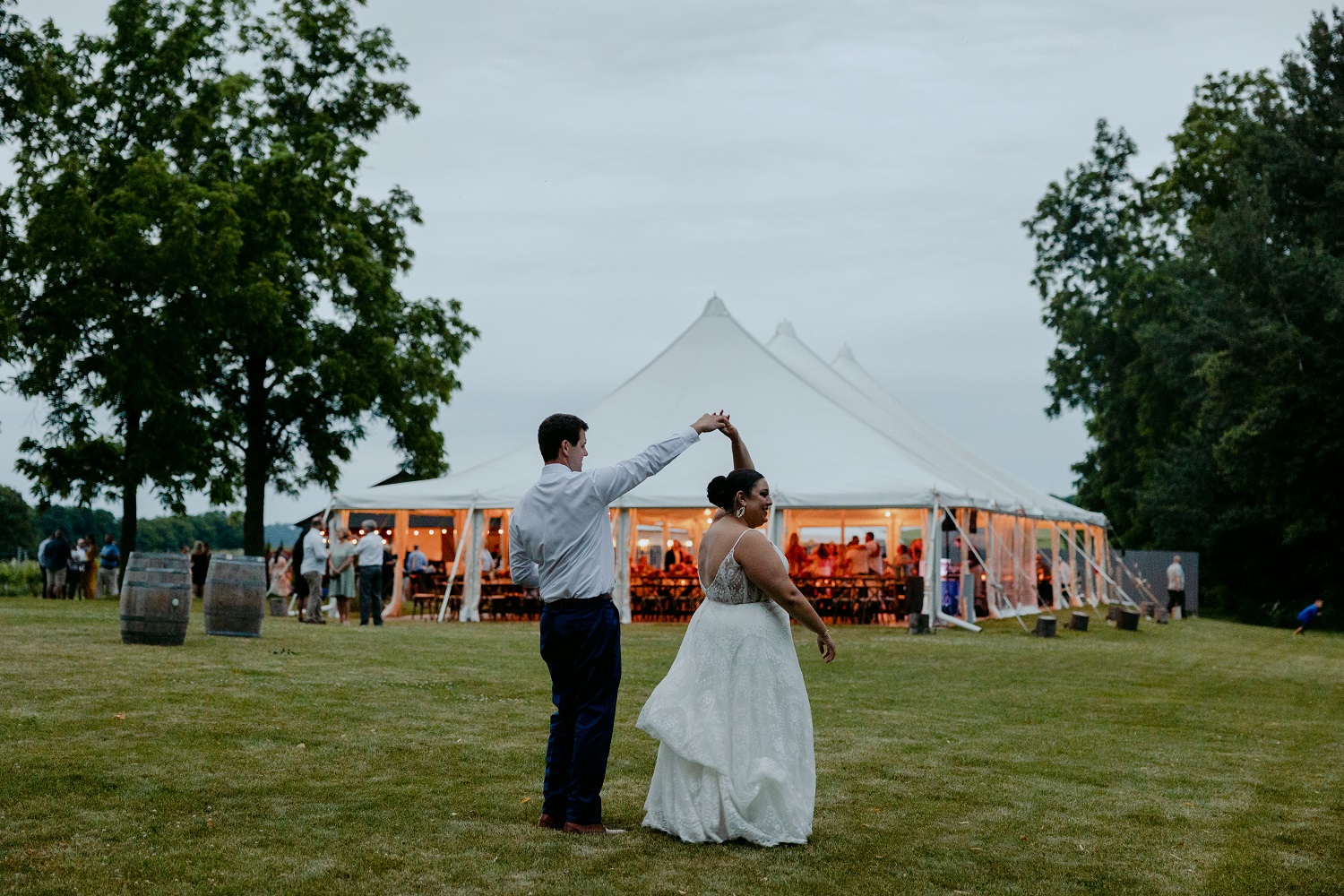 Creative Team Credits
Photography:  courtney kent photography
Planning + Design + Coordination:  Juniper & Lace Events
Venue:  Aurora Cellars Winery | Lake Leelanau, MI
Invitation Suite & Tile Crest Art:  Holly Thomas Design
Floral Design:  Bittersweet & Co
Catering:  Catering by Kelly's
Cake:  Cakes by Aunt B
DJ:  2Bays DJs
Decor Rentals:  Events by iCandy, Event Theory, 307 Events
Officiant:  Pastor Patty Higgins
Hair Stylist:  Sara Salisbury
Makeup Stylist:  Posh Beauty Bar
Truffles & Chocolate Chip Cookies:  Grocer's Daughter Chocolates