abbey + joe // shinola hotel // detroit, MI
Chic Romance
in Downtown Detroit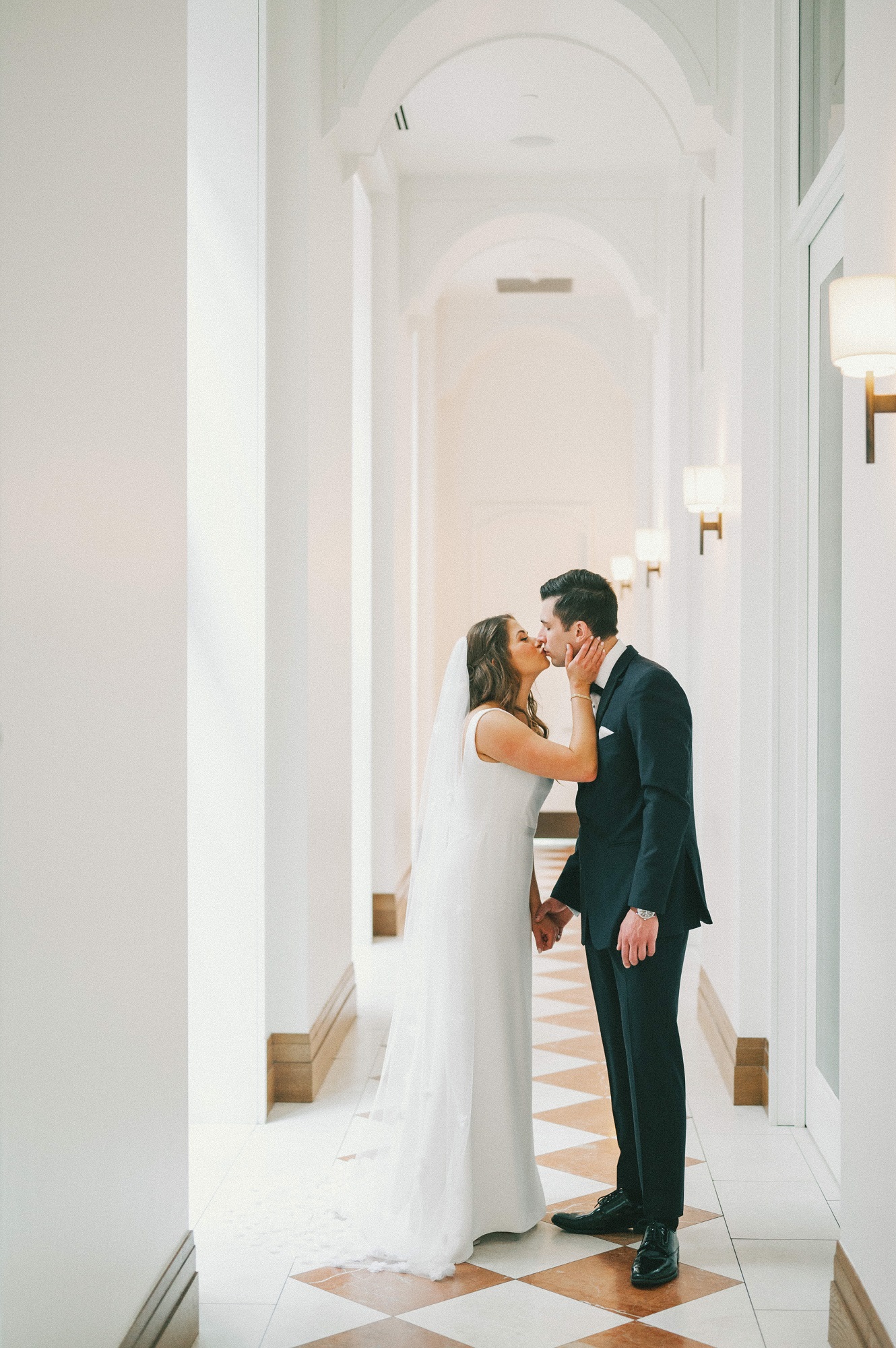 The vision
Abbey & Joe are a smart, fun and successful couple, widely loved with a guest list reflecting friendships that span the decades from school to university to work.  Their families celebrate with beautiful intention and they hired a great band so their wedding was destined to feel authentic and full of joy on the "best of times" level.
They chose a sophisticated venue in the heart of Detroit.  The Shinola Hotel has a signature conservatory style room (The Birdy Room) with a rooftop patio which we used for cocktail hour and again for dancing.  The design was inspired by Abbey's lovely aesthetic, a soft fresh spring palette with a contemporary edge.
Invitations and print design featured Abbey's favorite flower, the intricate ranunculus.  The gold edged invitations with rose gold foil printed names and headings were a subtle yet striking preview of the revelry to come.  Floral envelope liners and a floral die-cut invitation to brunch completed the suite with tasteful dramatic flair.  Making them even more notable, the suite and signage were designed by a team at Write Impressions, a stationary store owned by Abbey's mom Lori.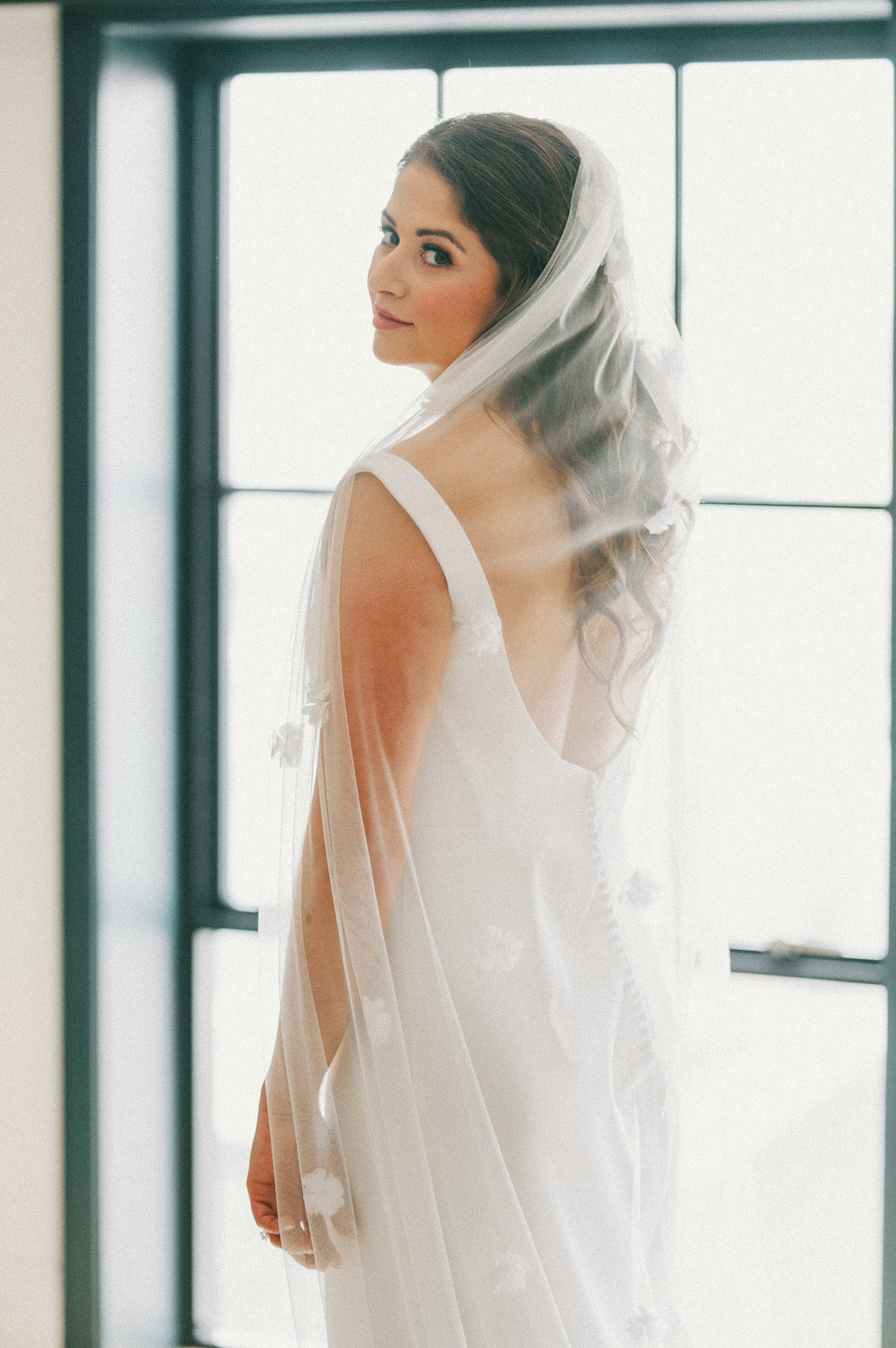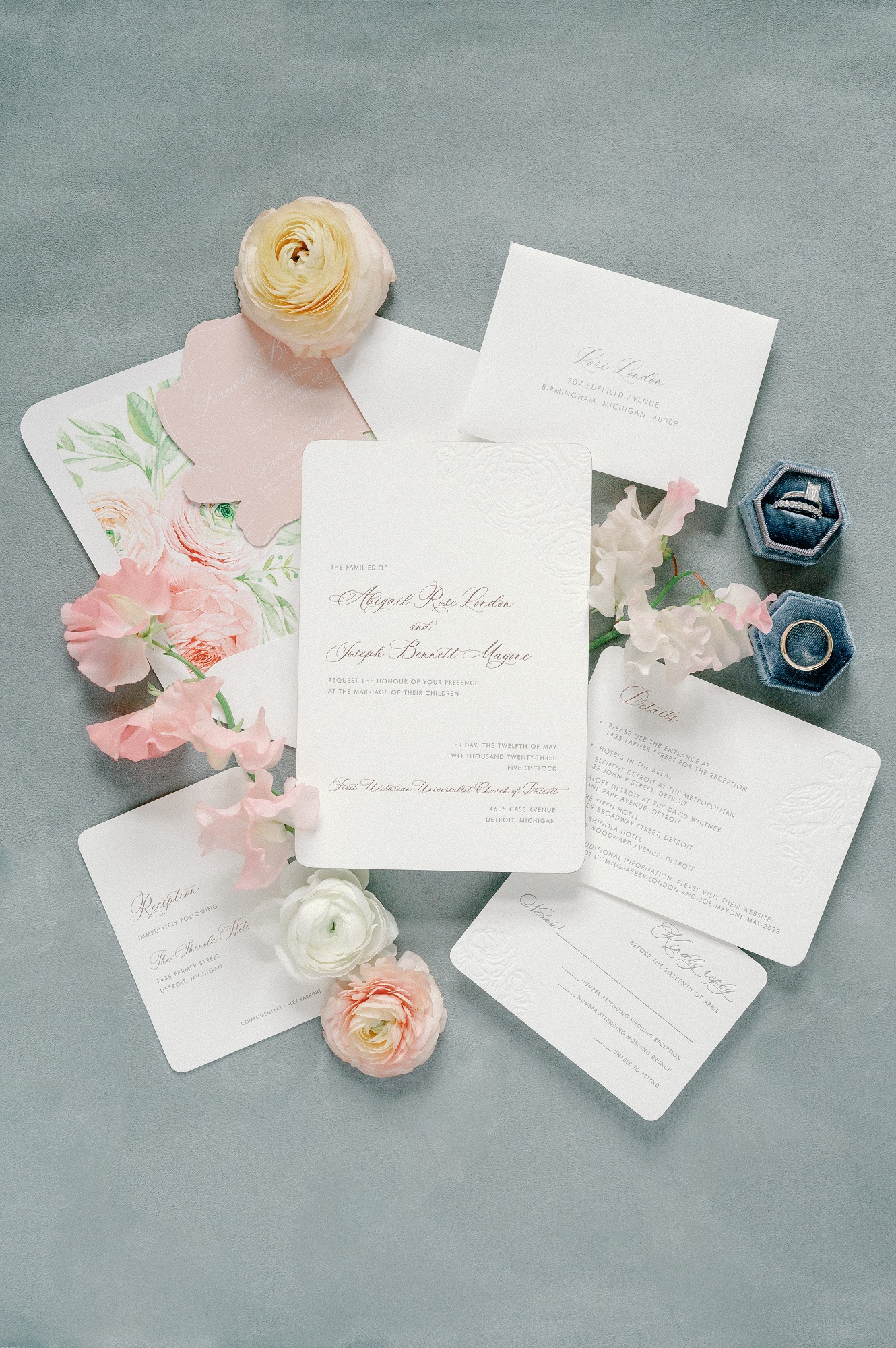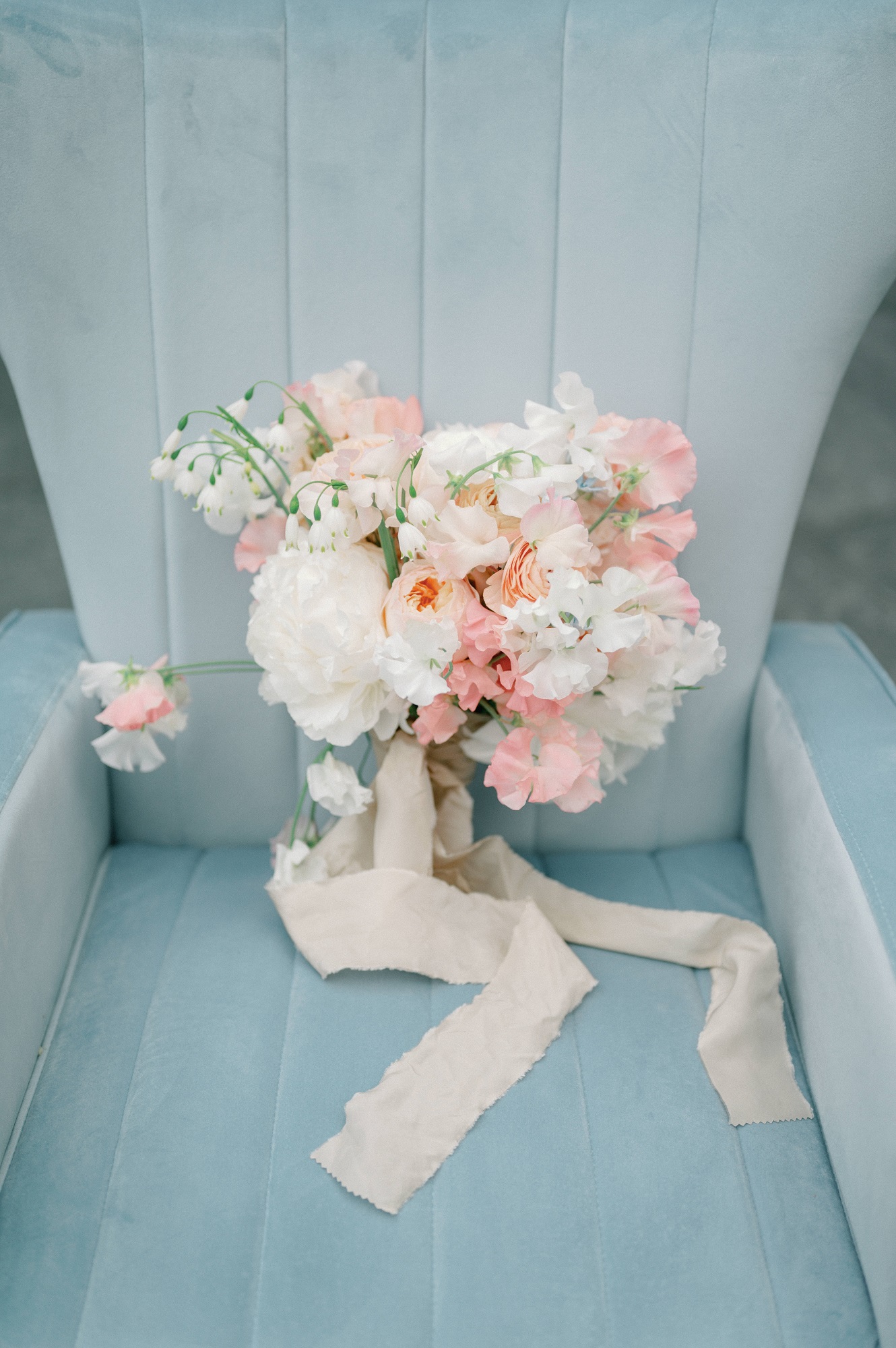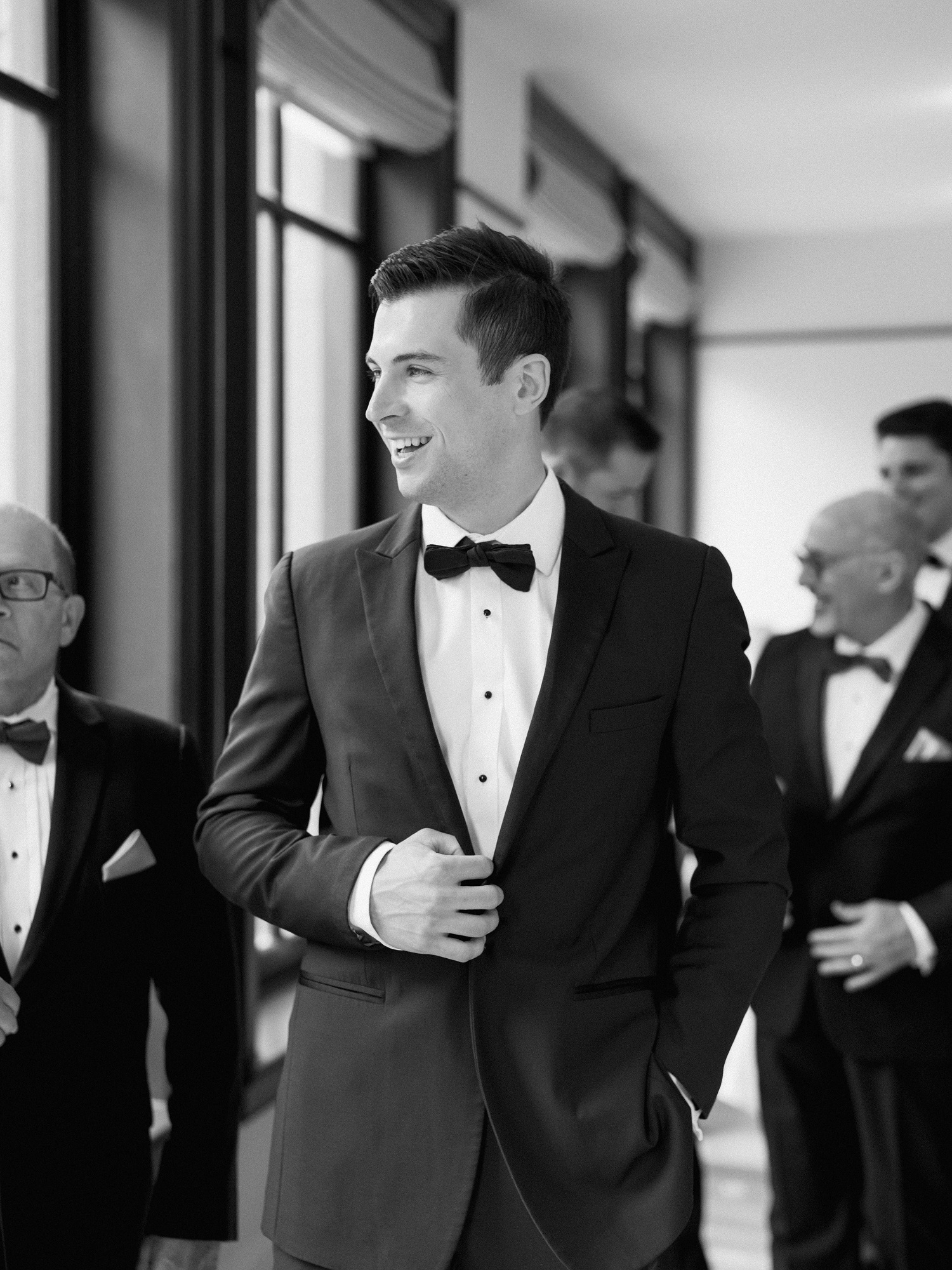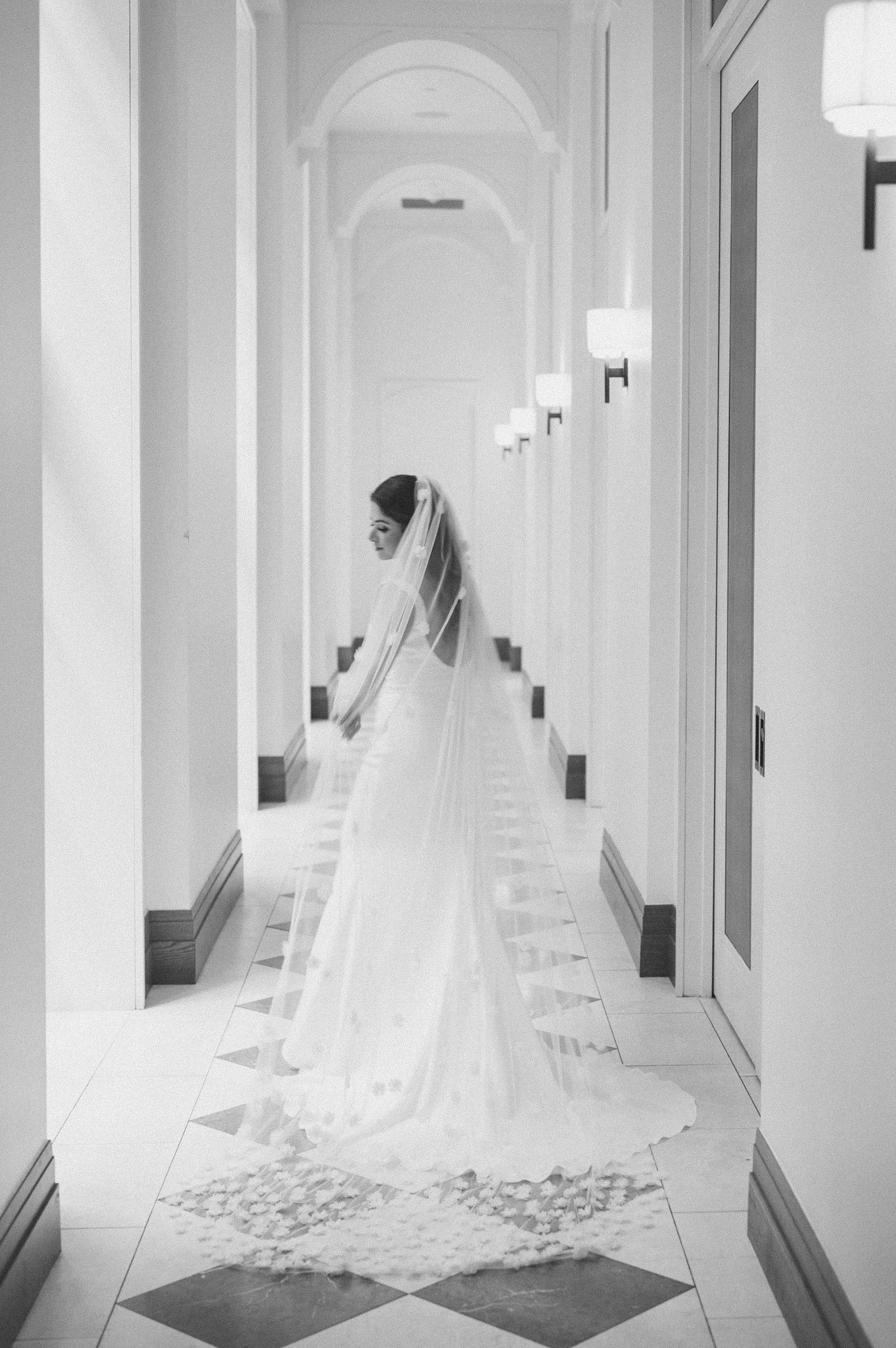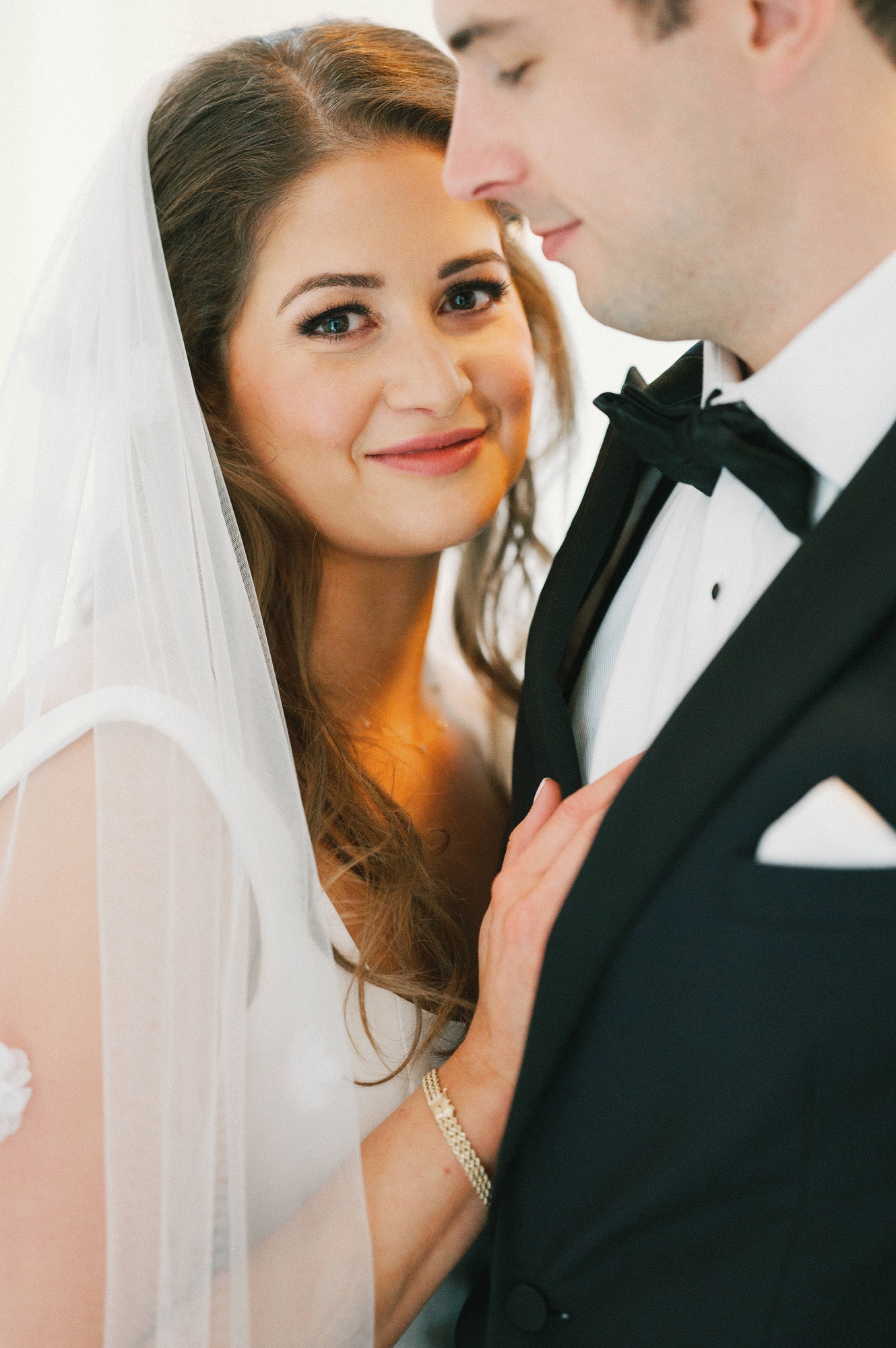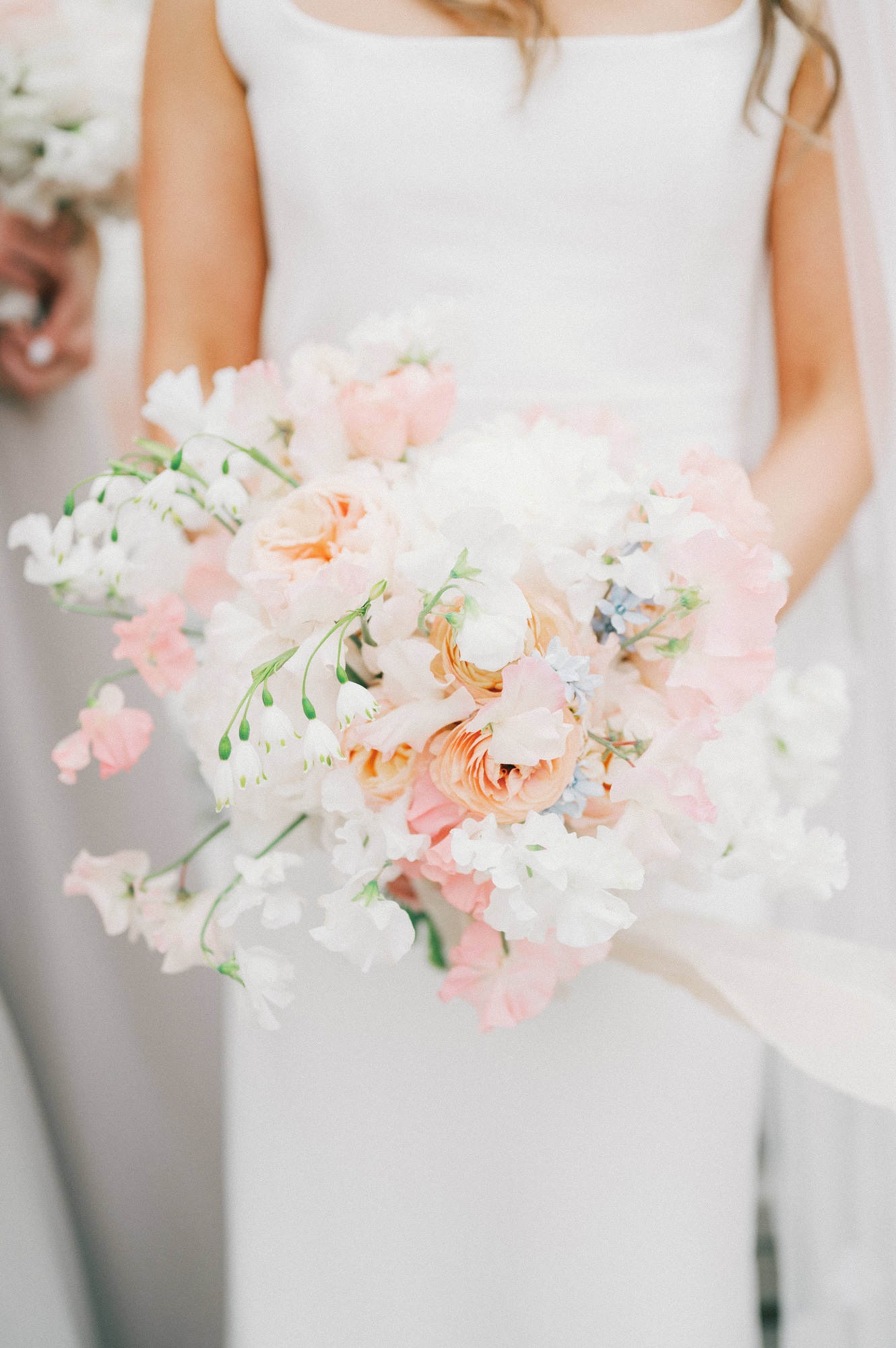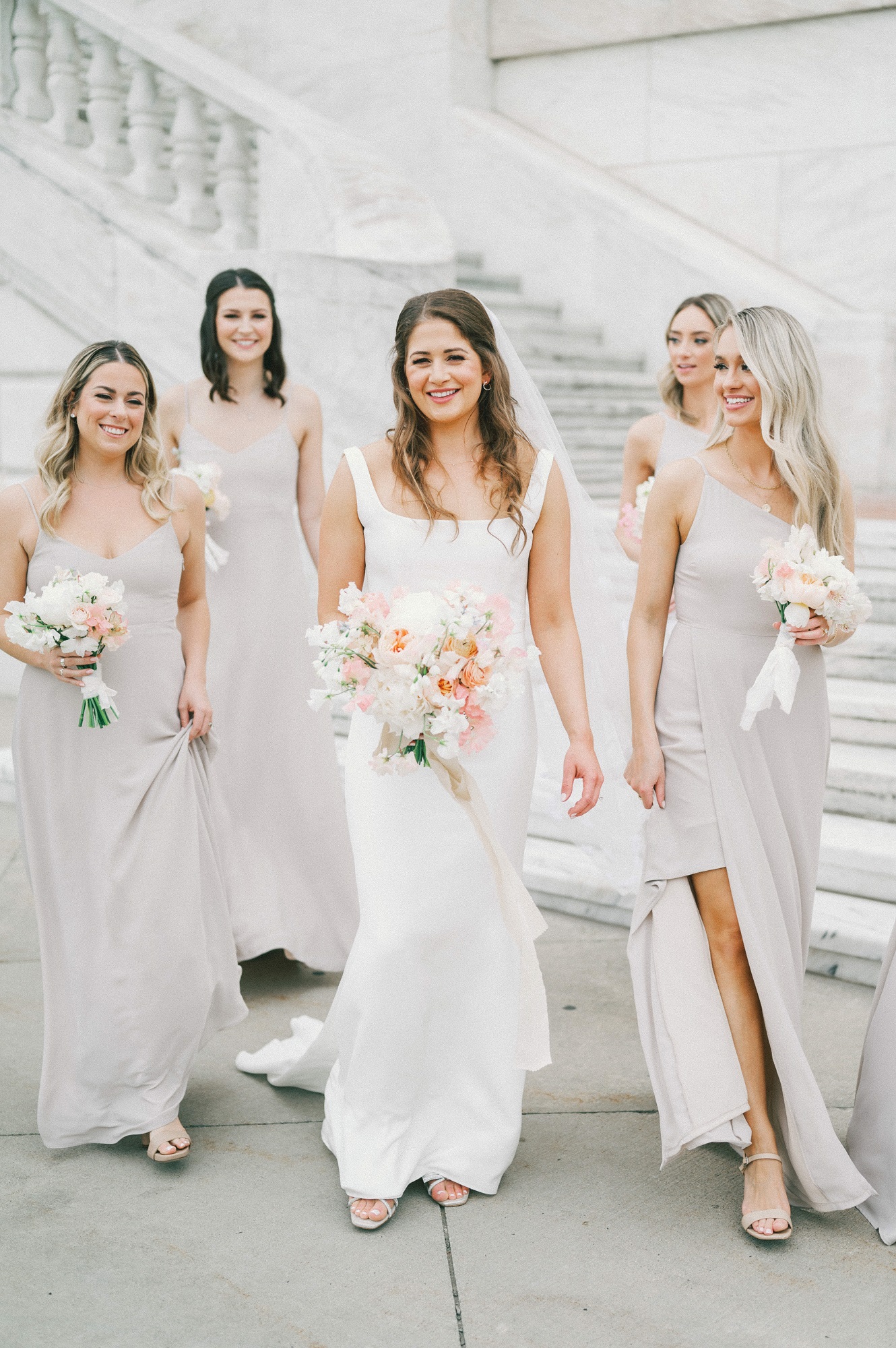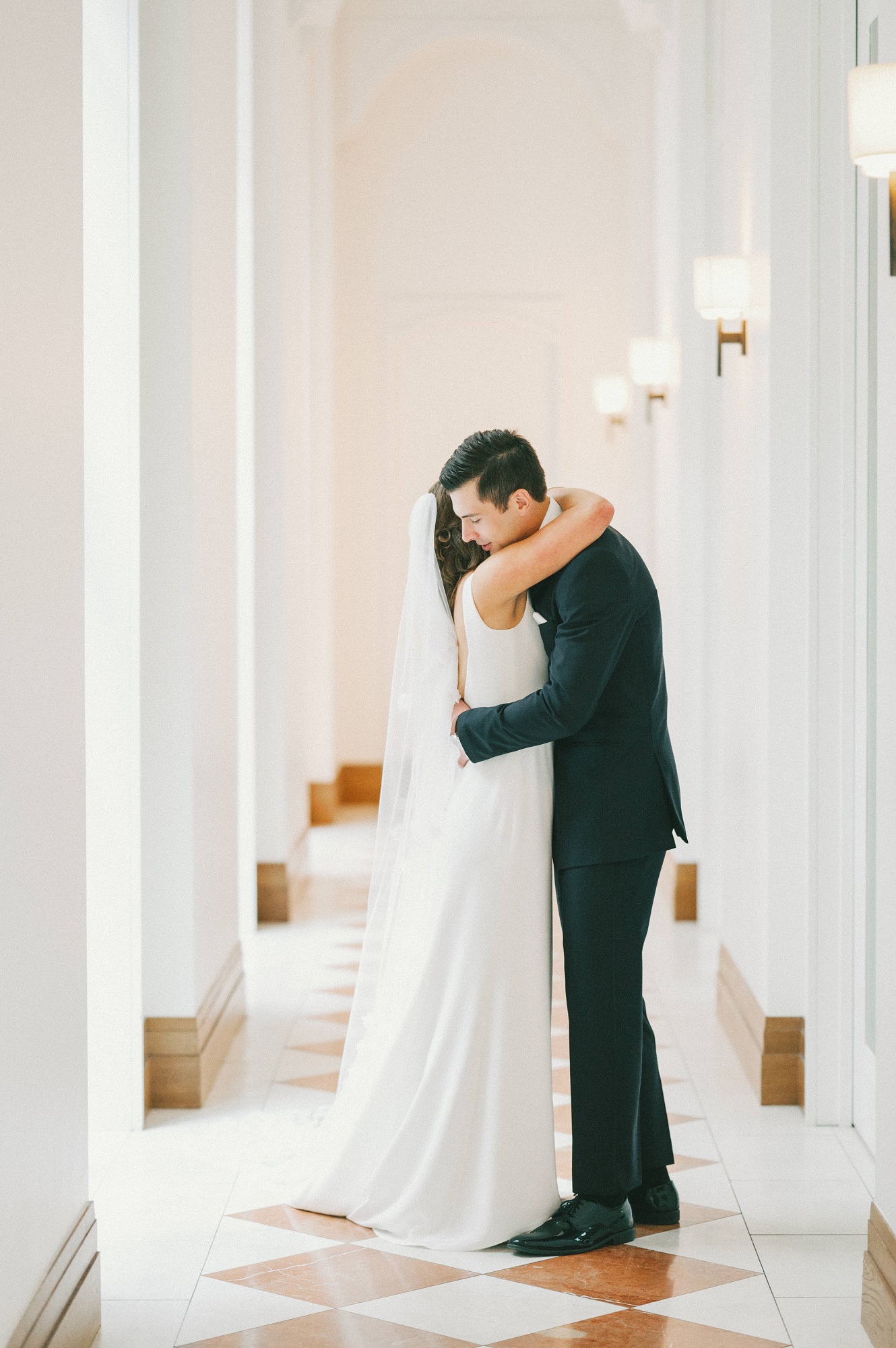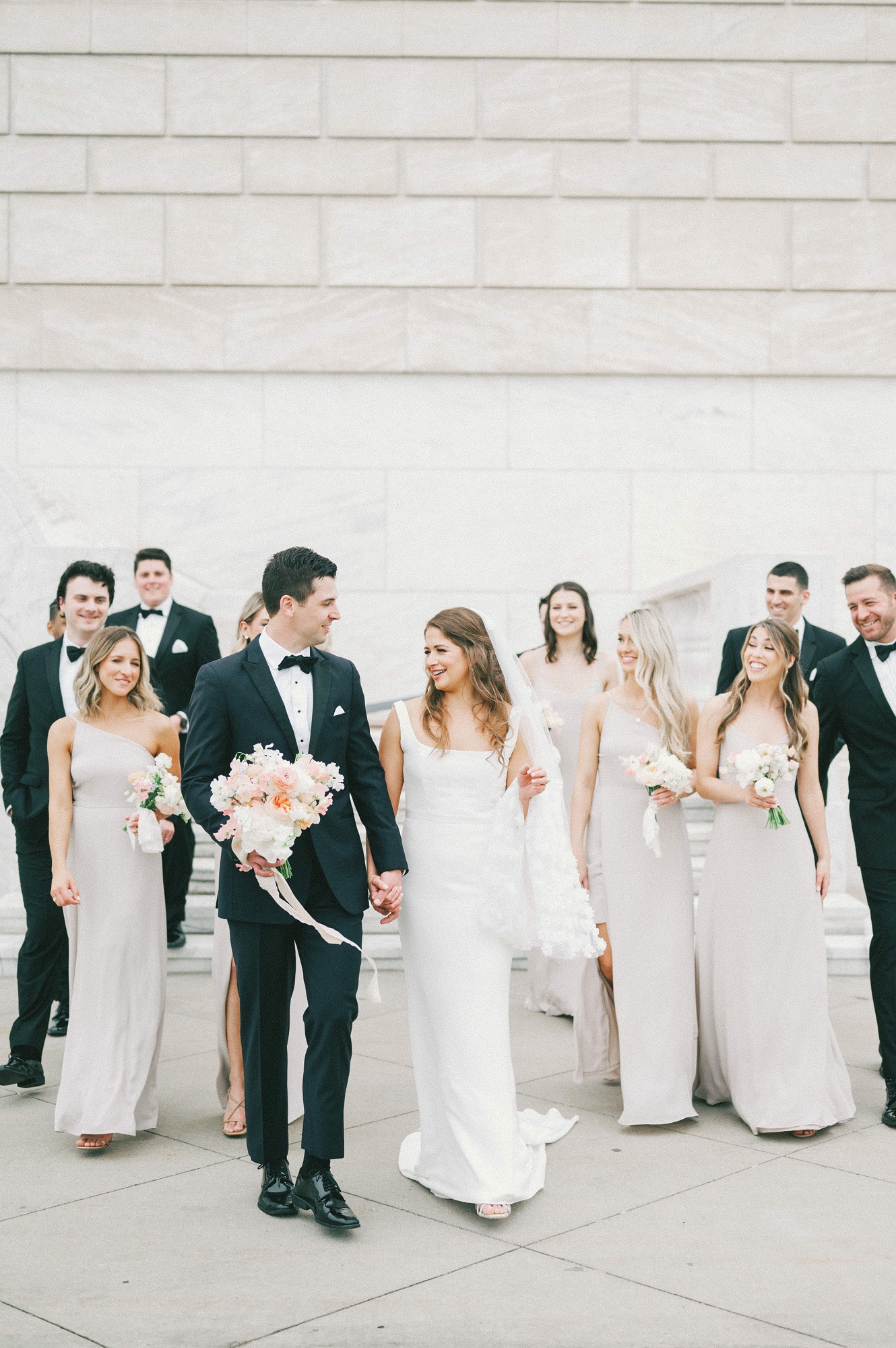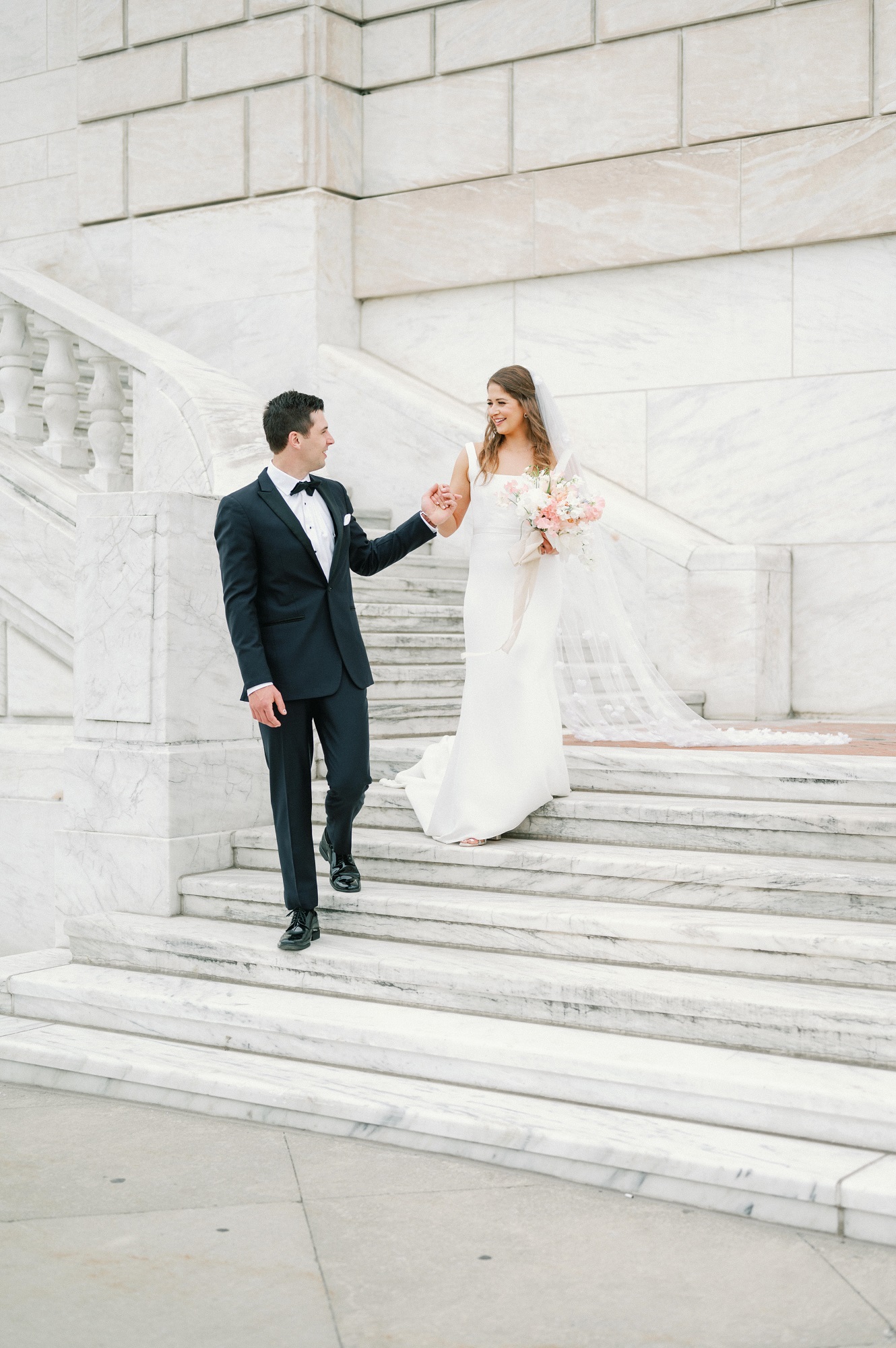 Vows under the pipes
Candles and floral adorned the entrance steps of the First Universalist Unitarian Church of Detroit as guests entered and found their seats in wooden pews under lofty brick arches built in 1916.  Abbey & Joe exchanged vows under towering organ pipes and detailed woodwork with family friend Pastor Joanne officiating.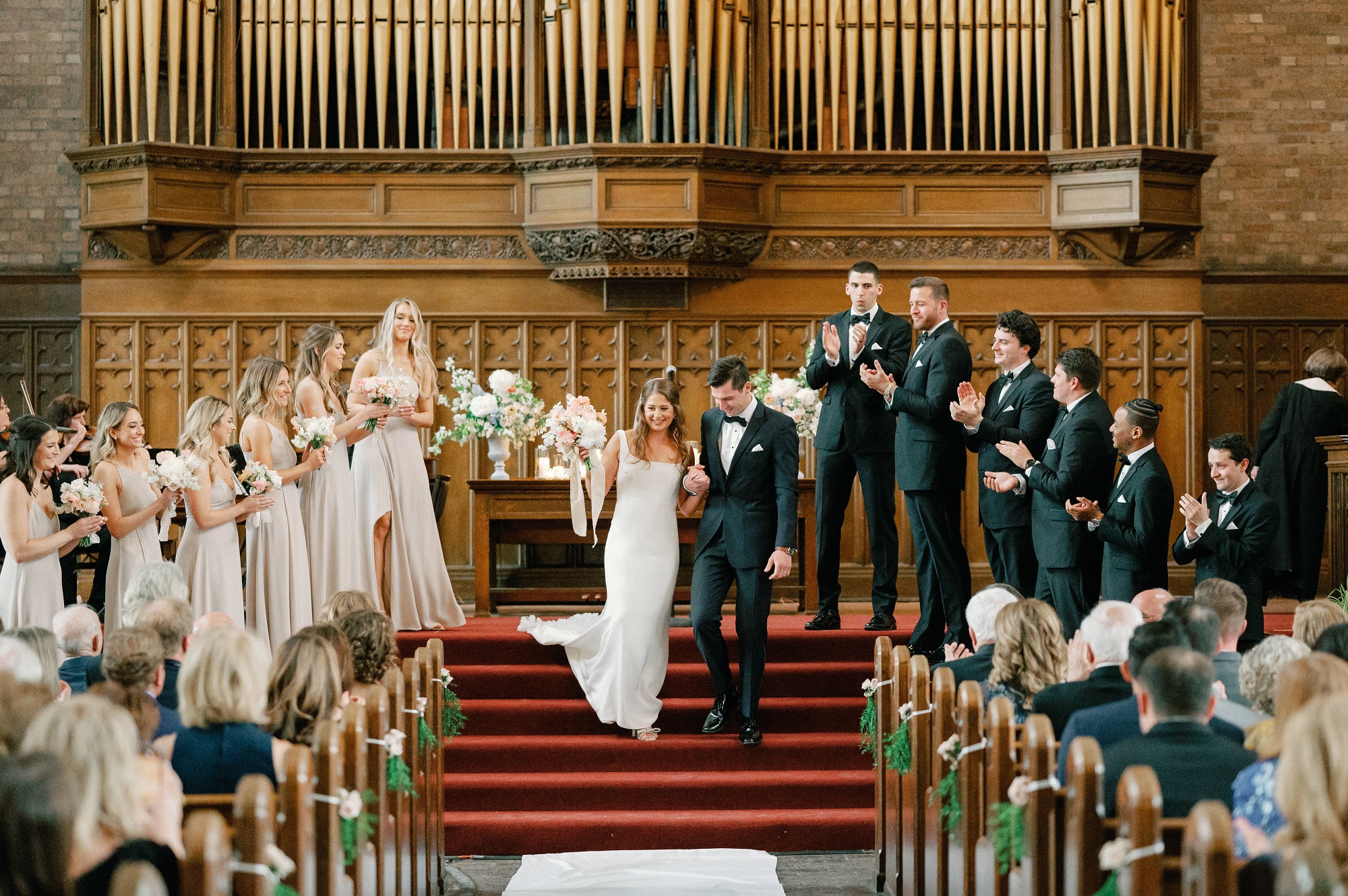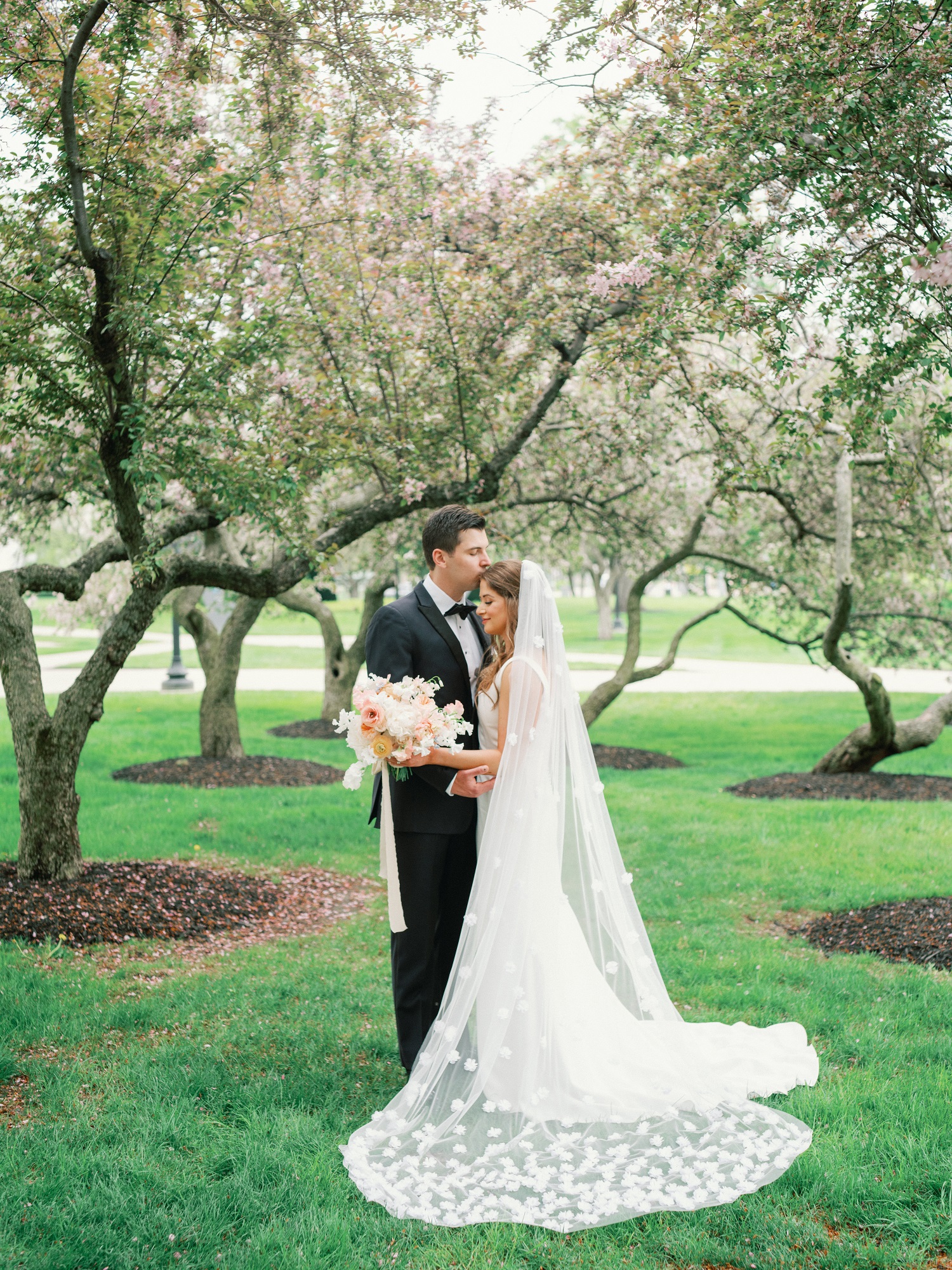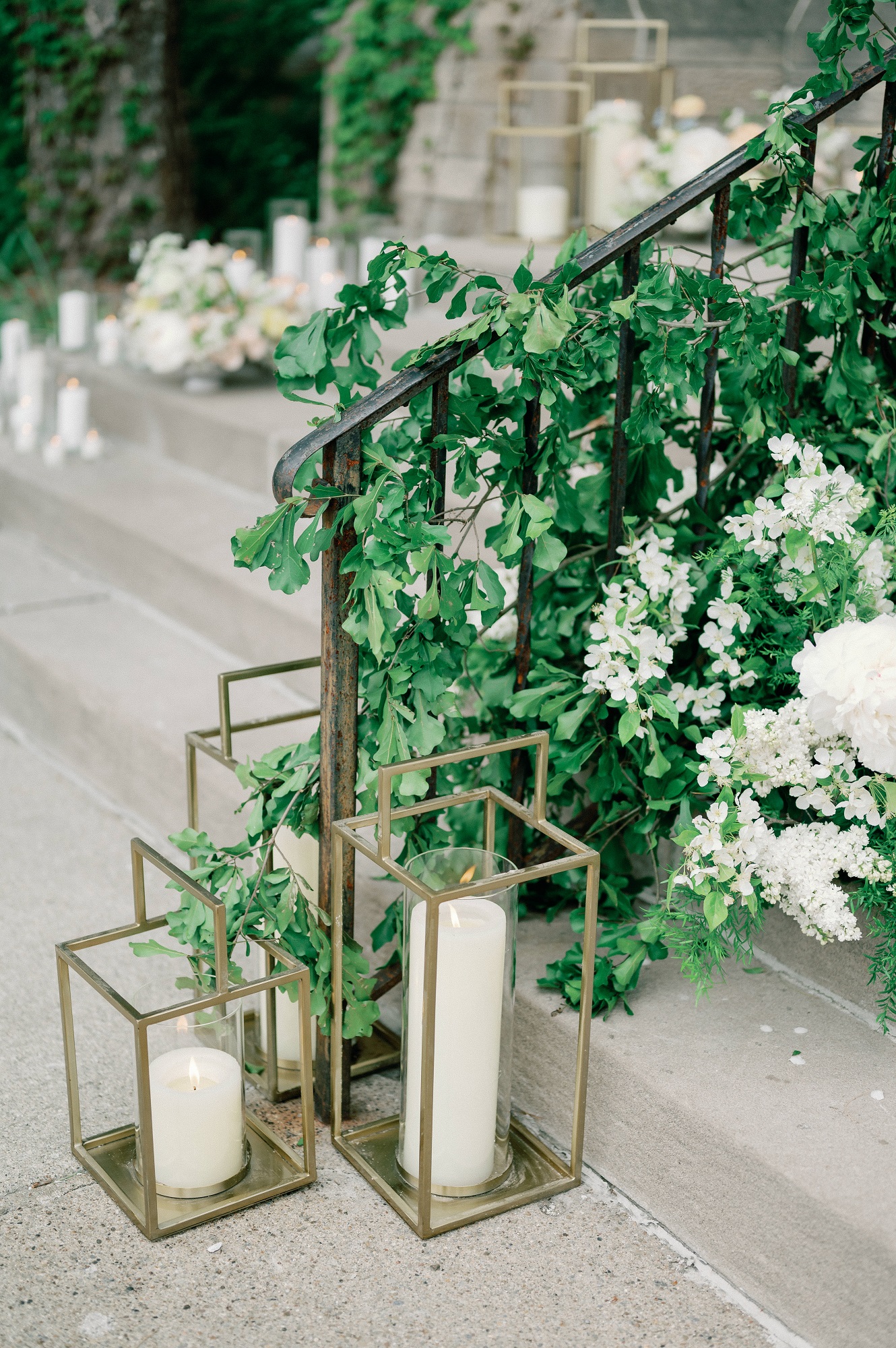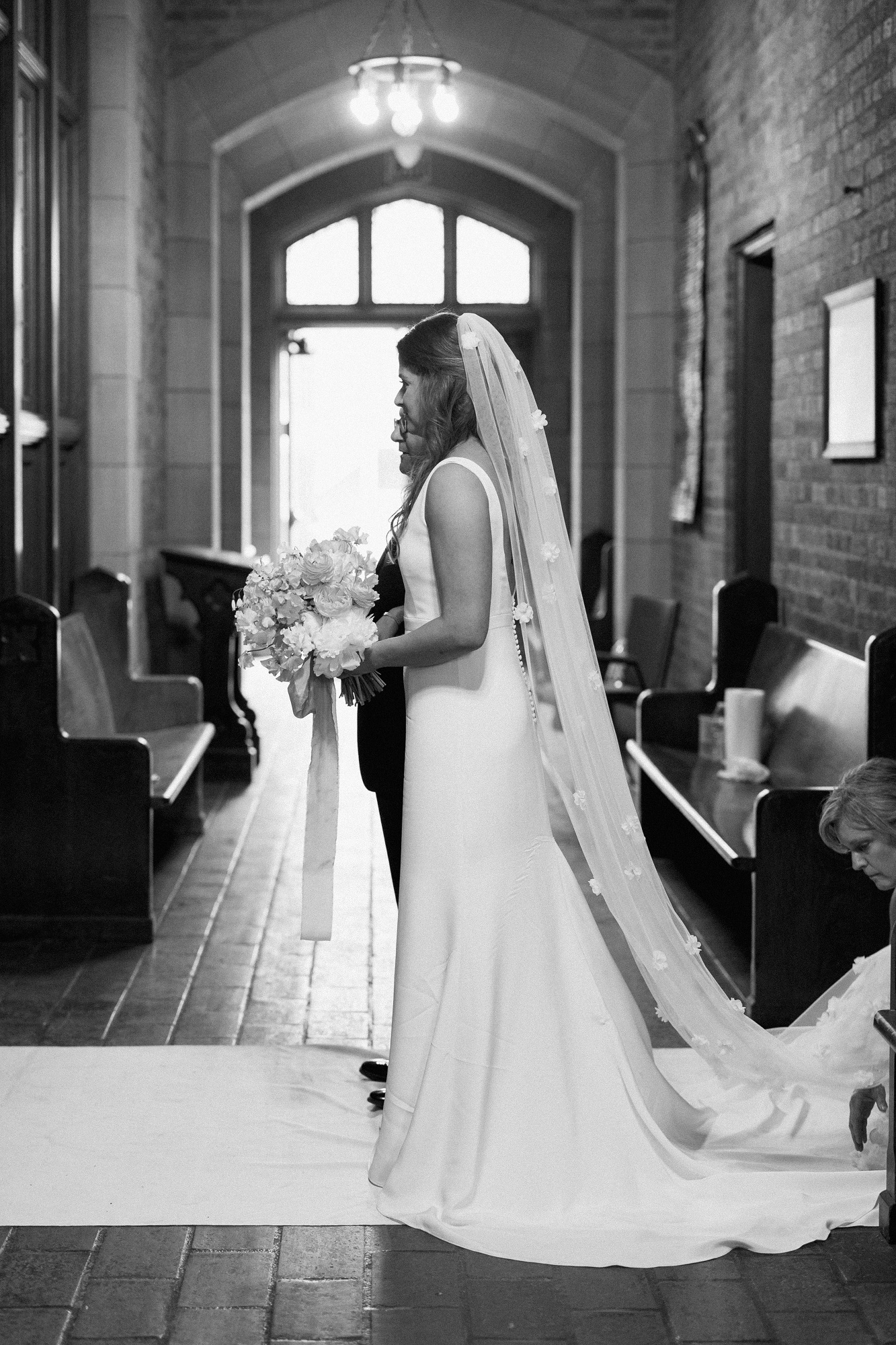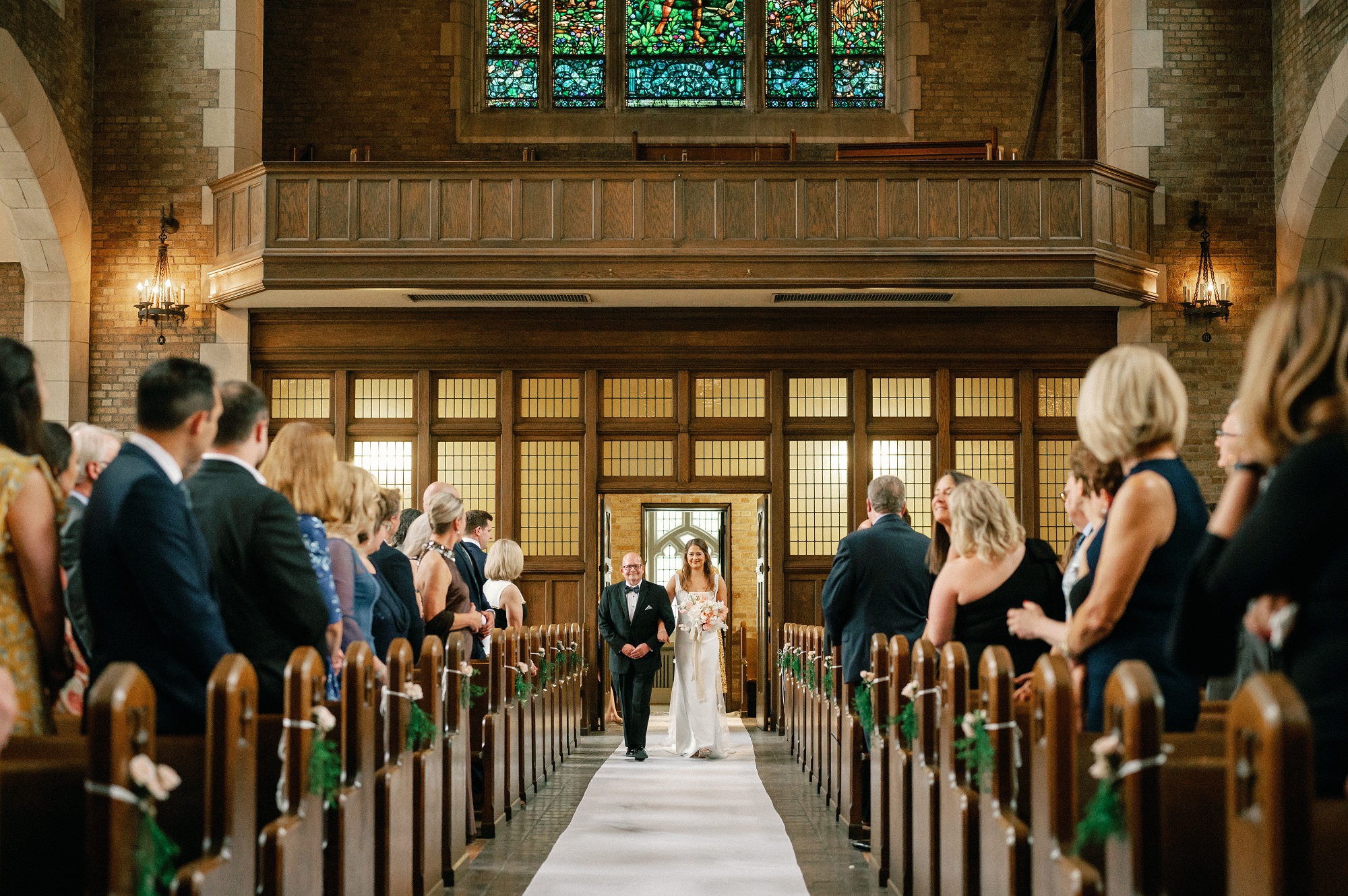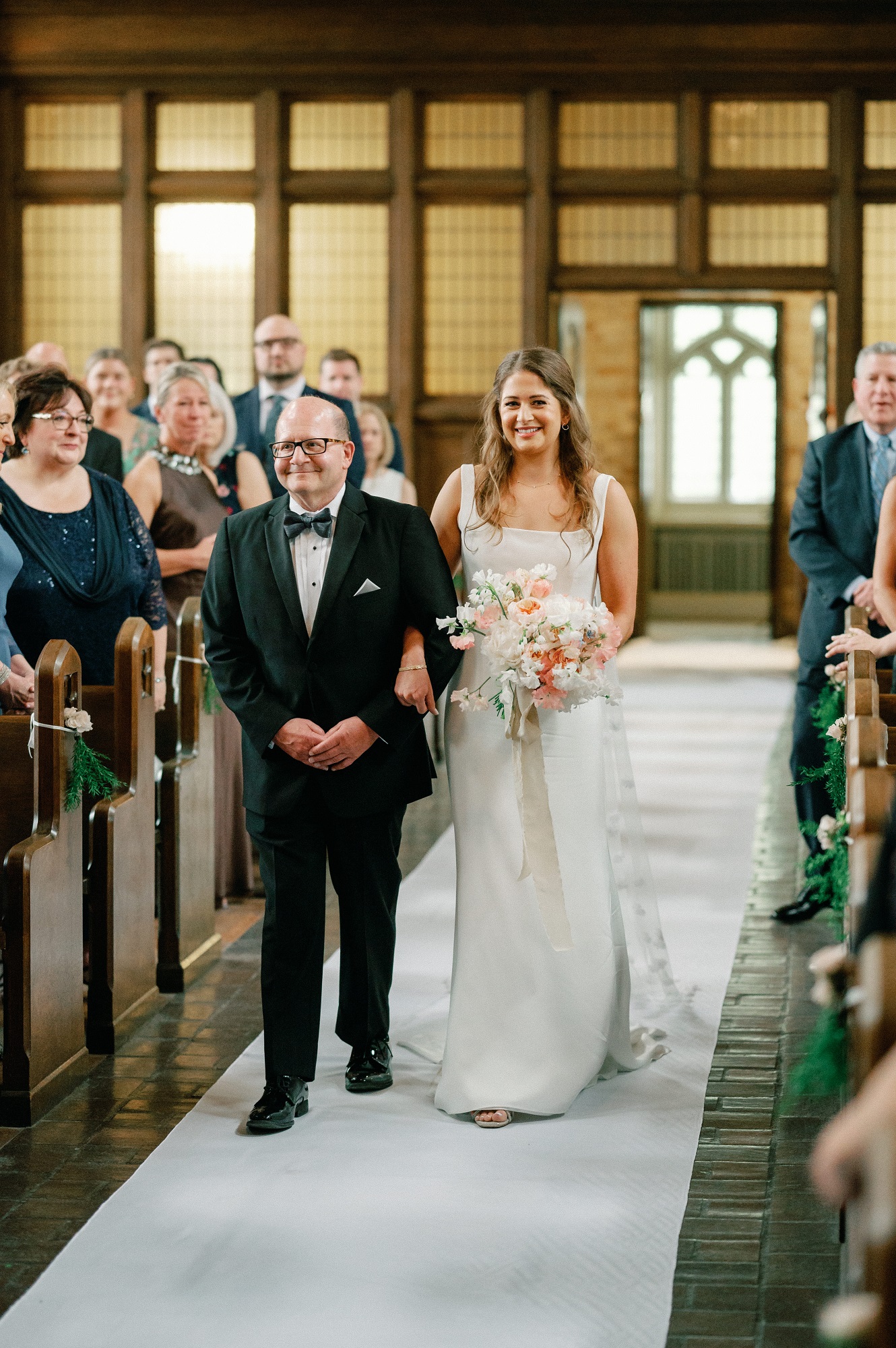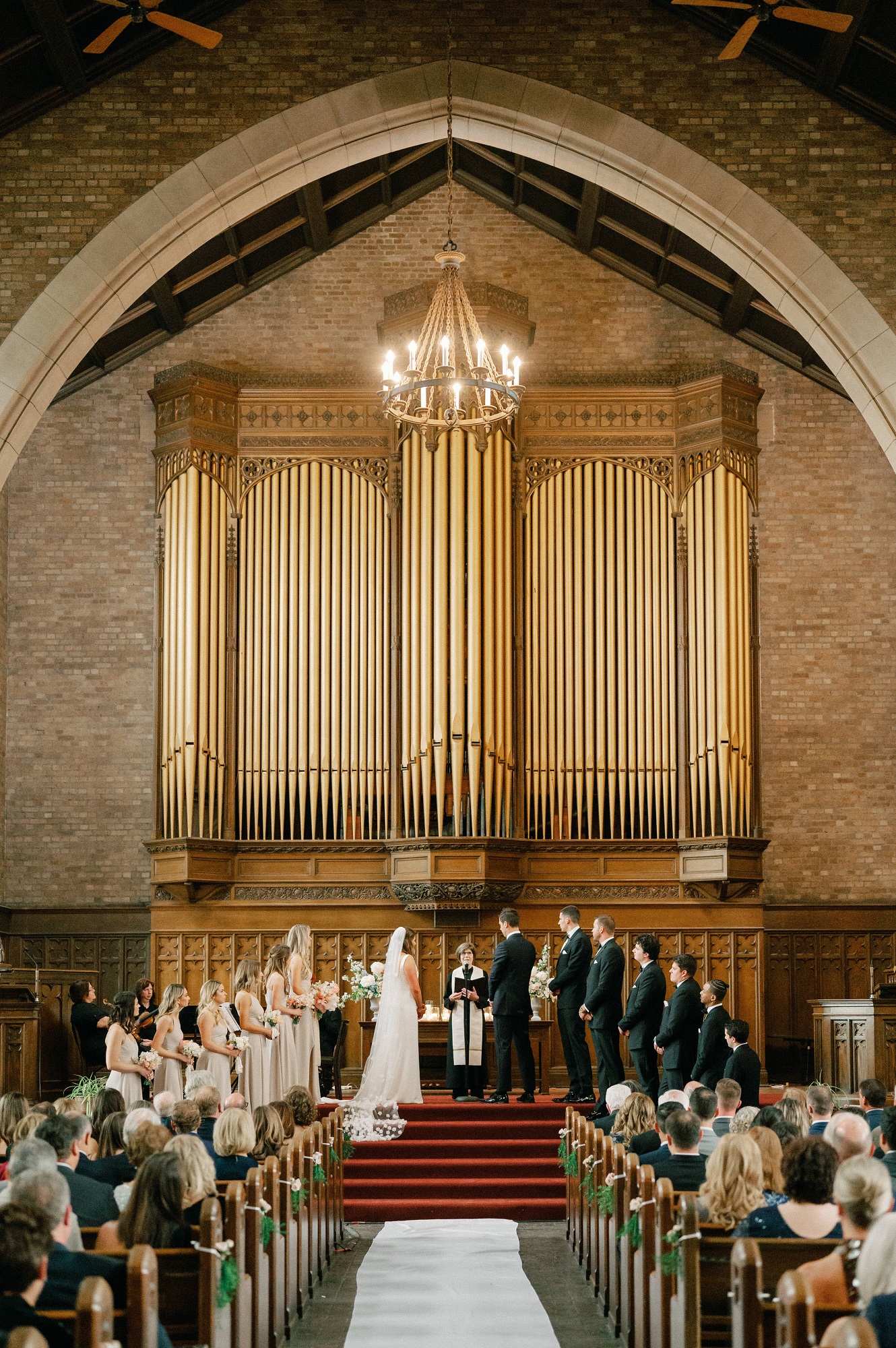 Cocktails & city views
Guests arrived at the Shinola for cocktails thru an arched hallway so we created a welcome moment at the entrance.  An arched sign featuring the signature ranunculus graphic was displayed with layers of floral and candles.
Thru the hallway, guests emerged into the striking Birdy Room – a black framed greenhouse style structure featuring hanging potted plants and light globes.  Shelves of plants uplit at the statement bar make a naturally striking backdrop.  To the room, we added a few cocktail tables tied in light blue sashes and topped in fresh floral.
The adjoining rooftop patio with city views was a popular hang spot all evening.  To personalize that space, we added a chic pair of light blue velvet wingback chairs and an ivory loveseat.  Bistro tables with light blue patterned linens and black bentwood chairs were tucked among the venue's potted trees for additional conversation spots.  A clear acrylic seating chart hung from a black frame and was backdropped by the cityscape scene.  Bistro lights framed the perimeter for a festive evening vibe.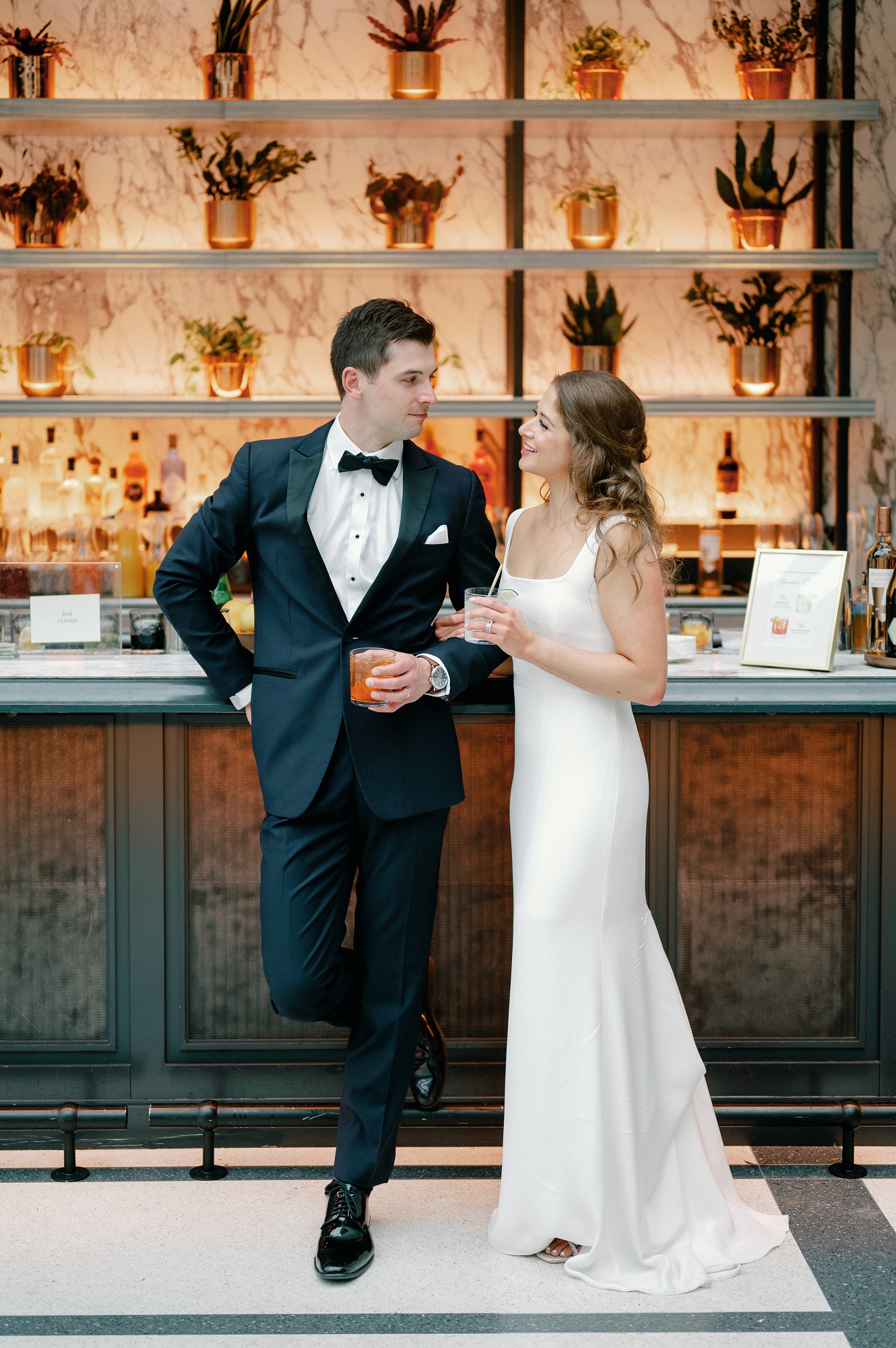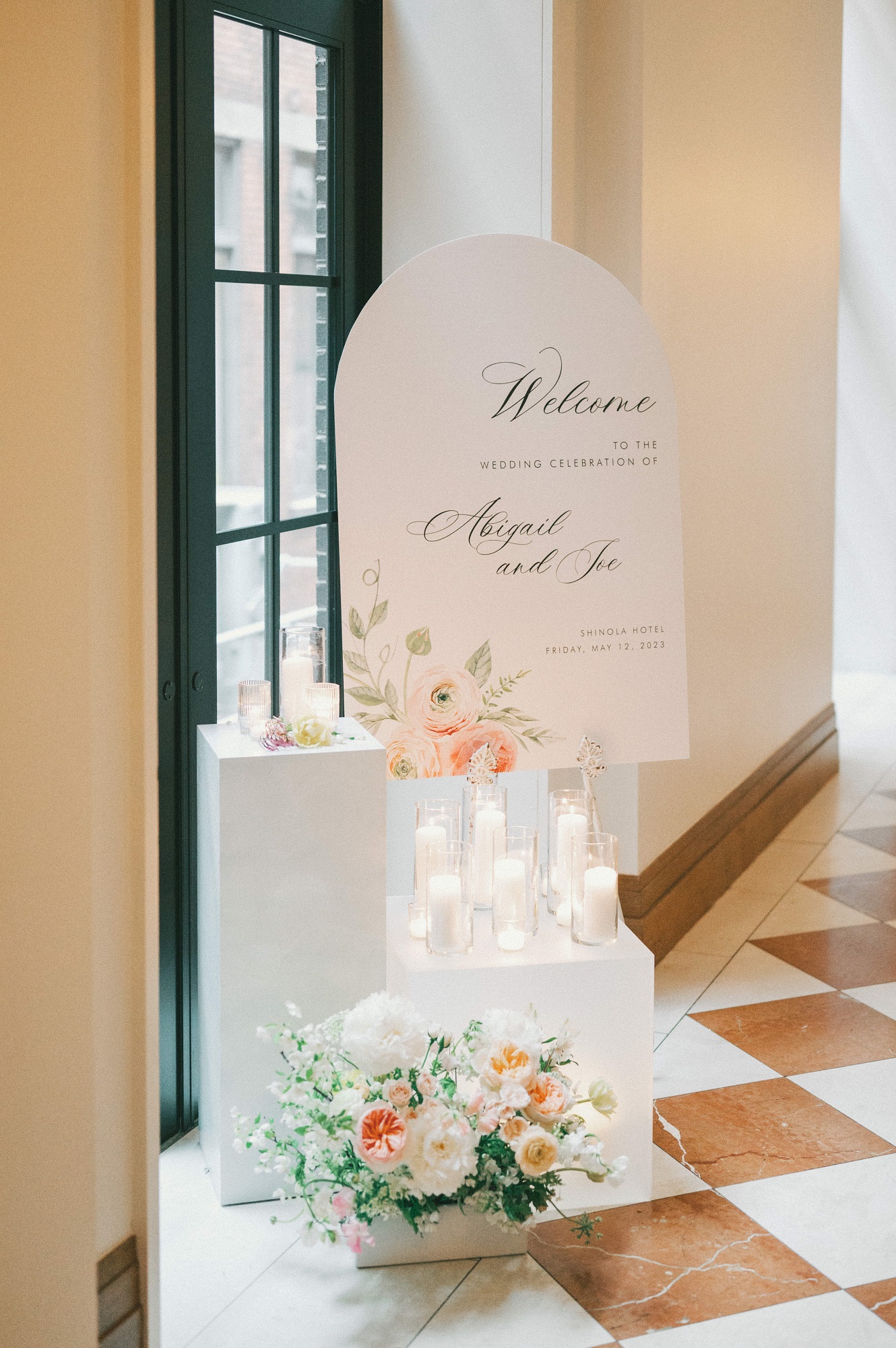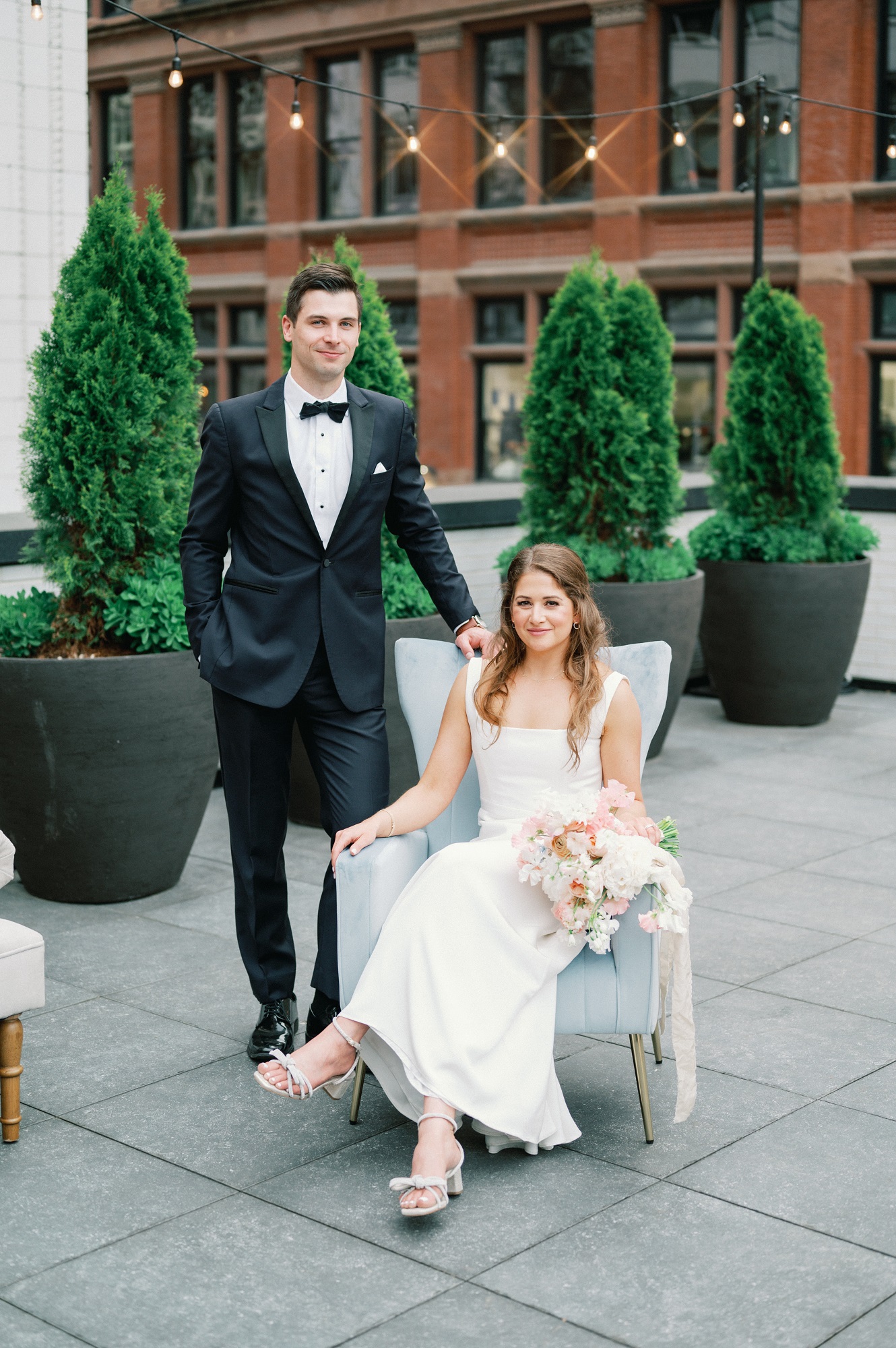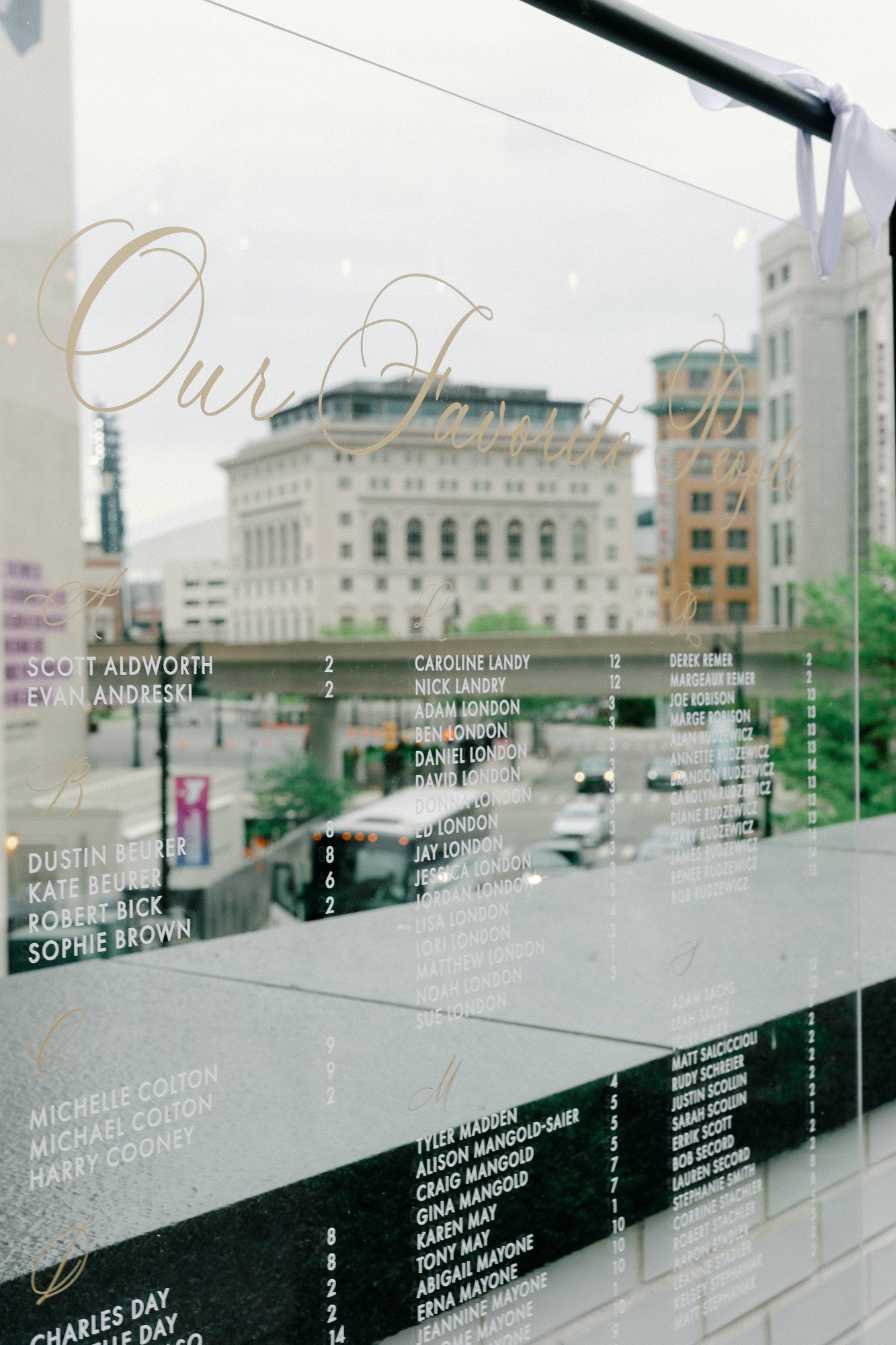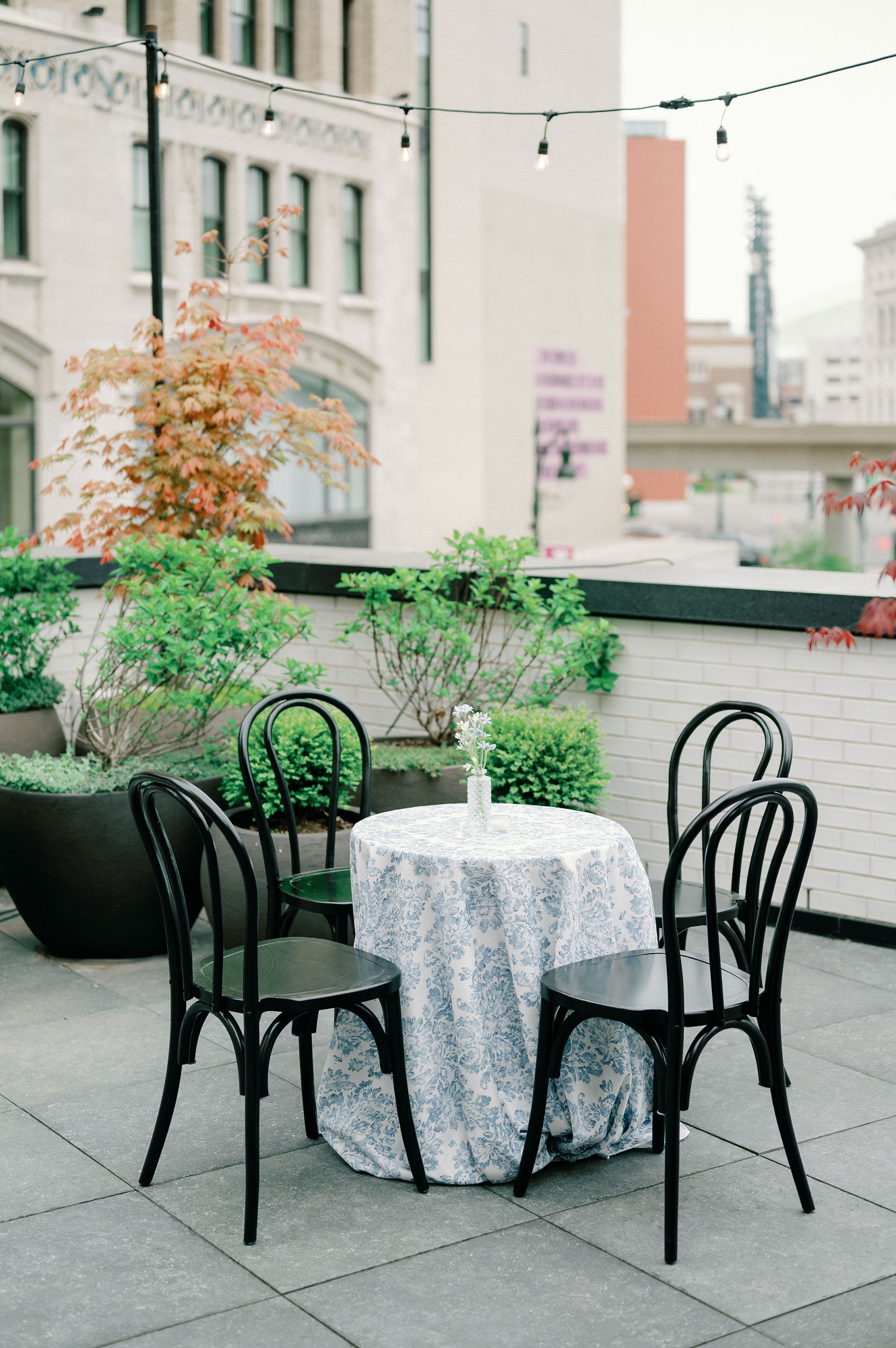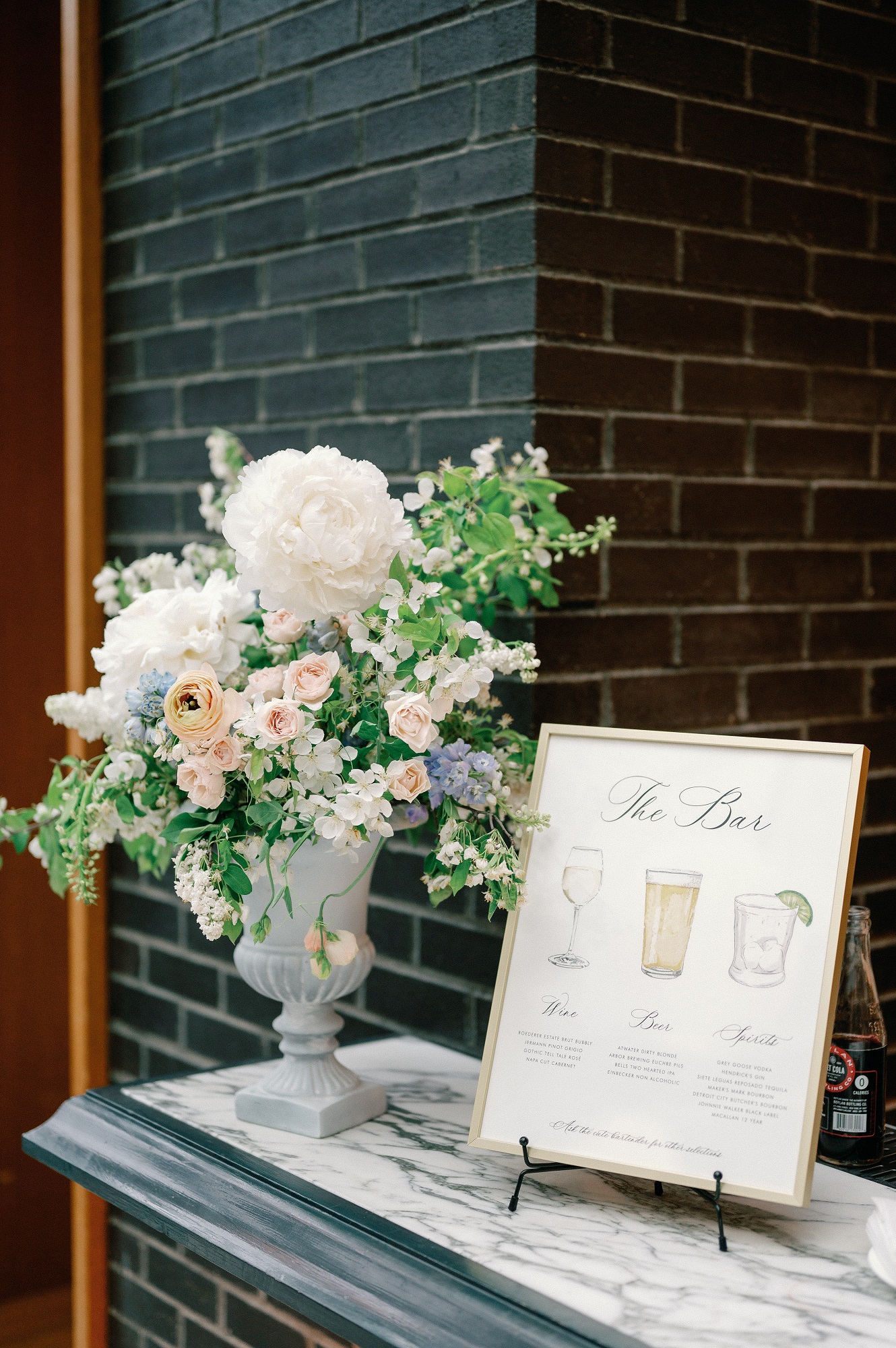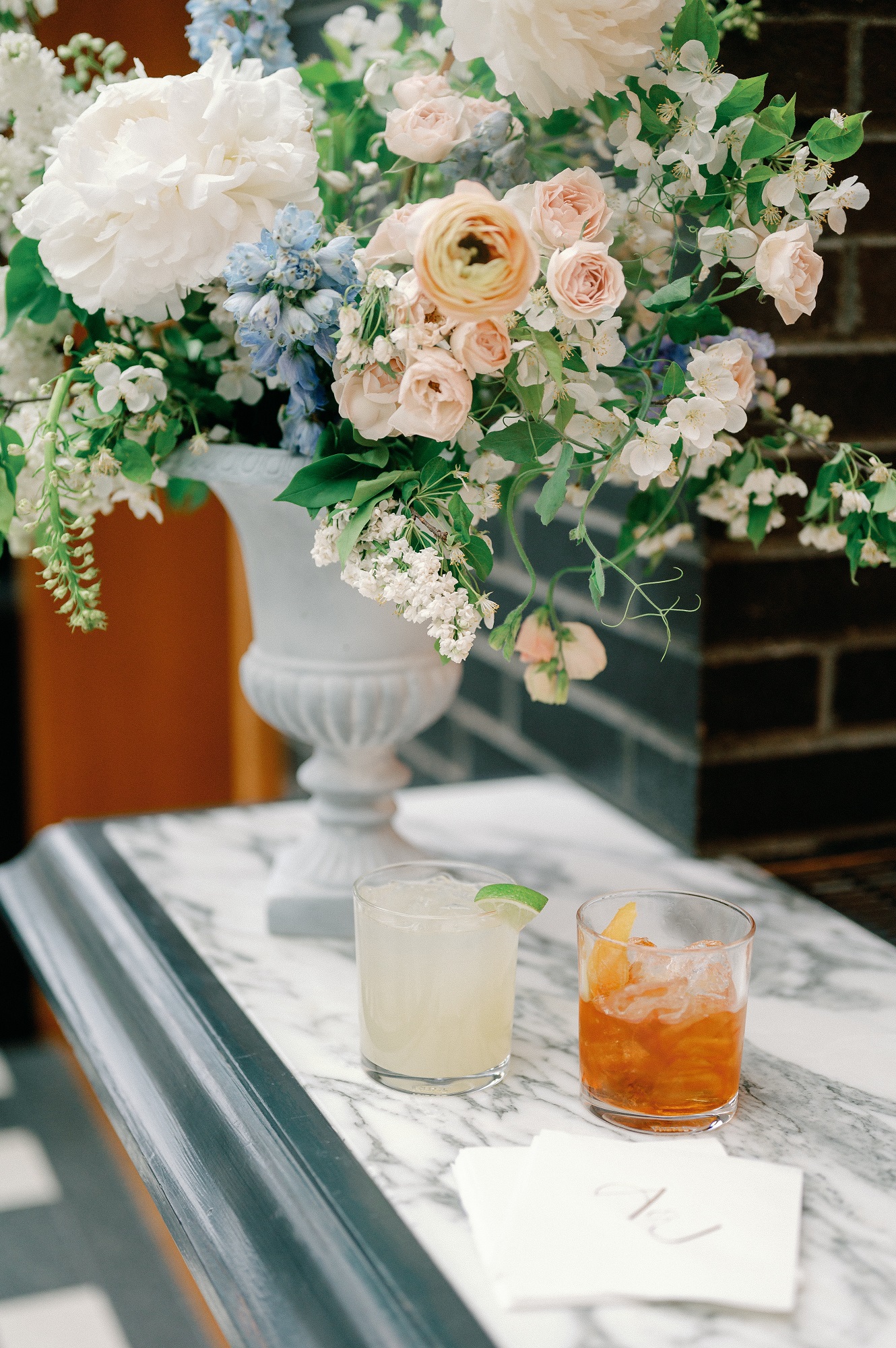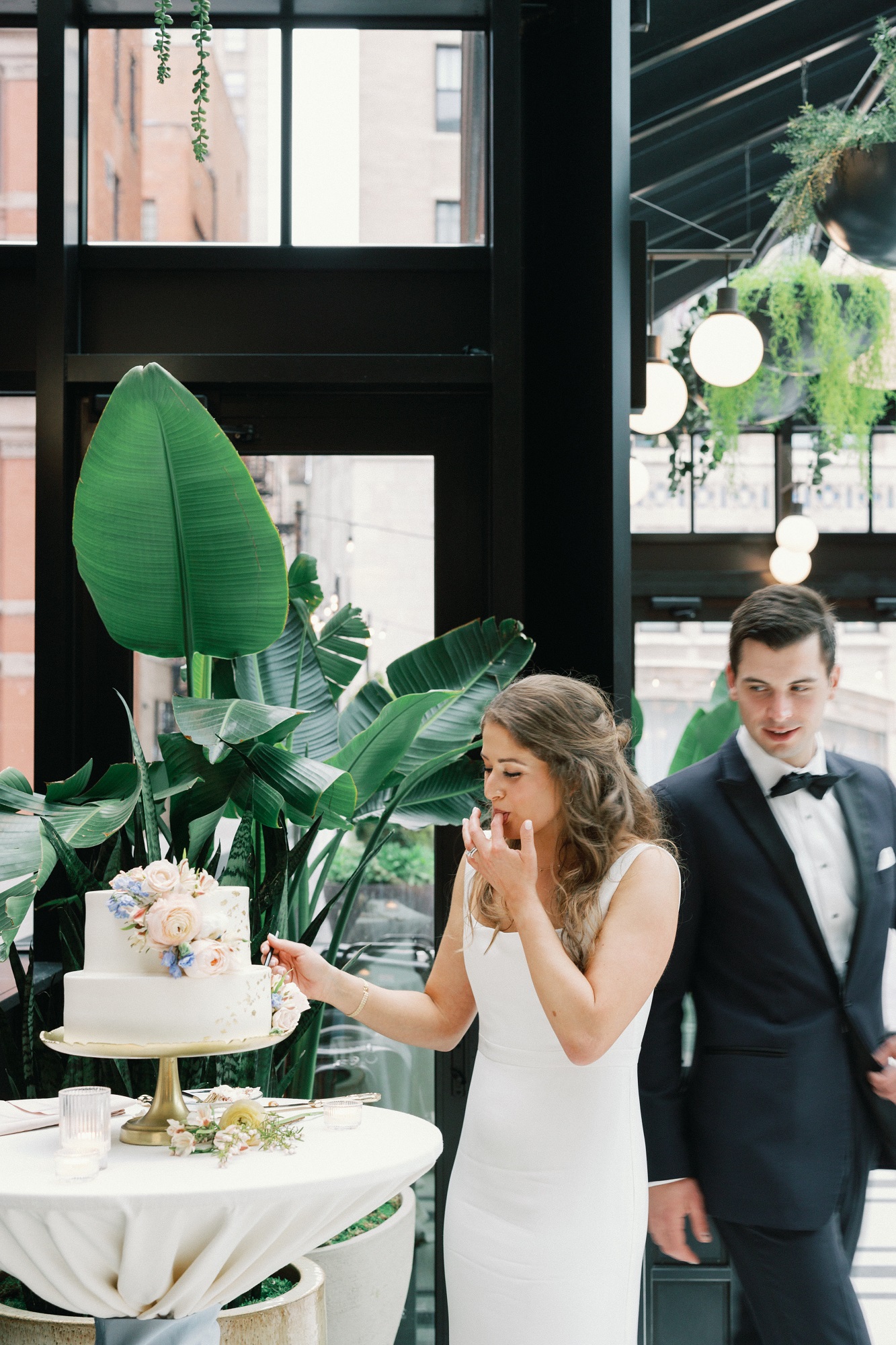 Dining with soul & edge
Dinner was a family style experience with platters of three salads, pasta, salmon, and beef striploin passed among friends and family.  The scene was set in Bixby Hall where candlelight mirrored the unique circular brass chandeliers overhead.  Gold beaded chargers were framed by black handled gold flatware.  Gold monogrammed menus were tucked into taupe-blush napkins and a Paris blue water goblet added an unexpected pop of fun.  STUNNING floral arrangements by Niloo Rosi Design and light blue taper candles graced the table centers and black bentwood chairs finished the look in a very "Shinola" style.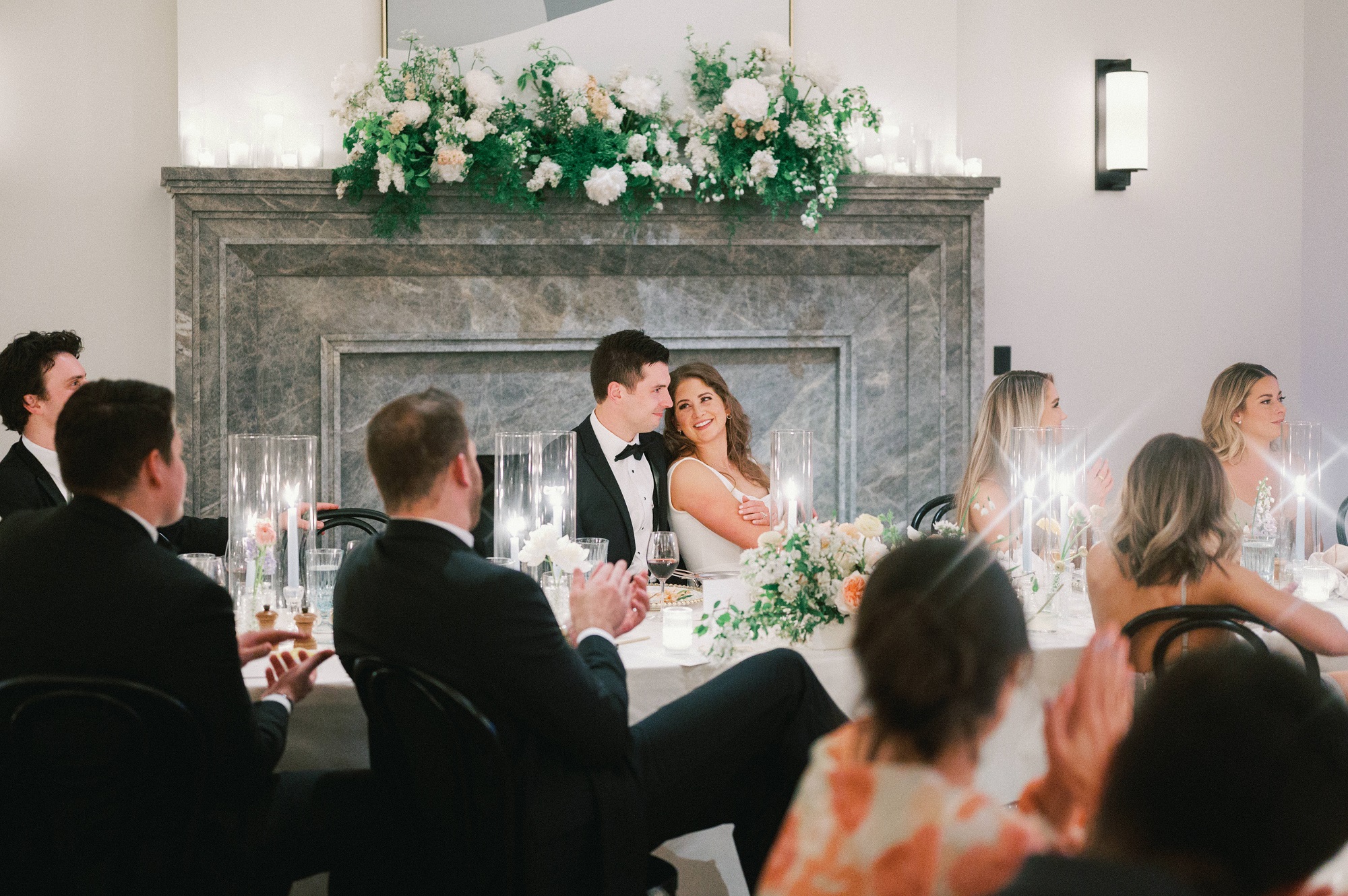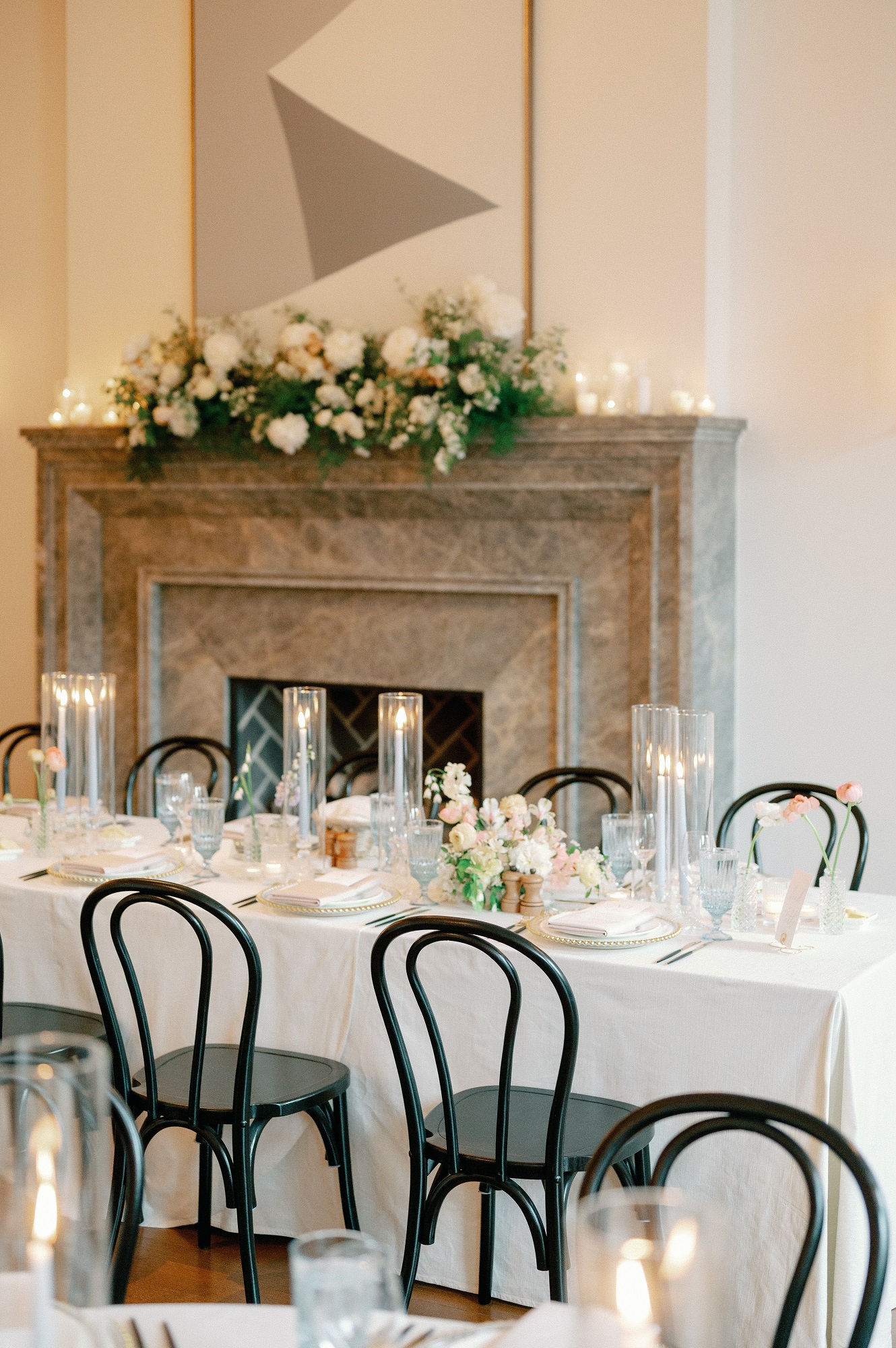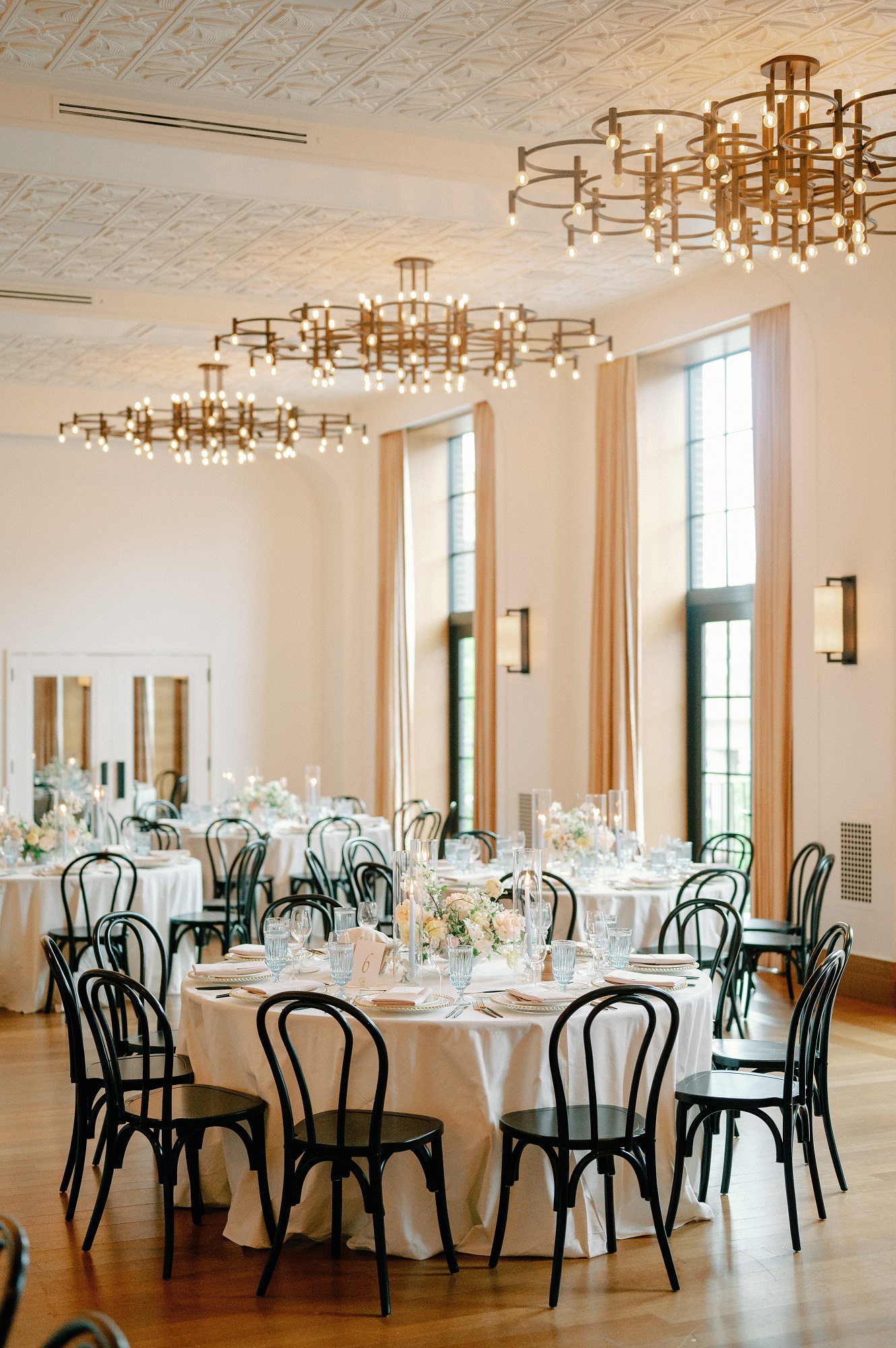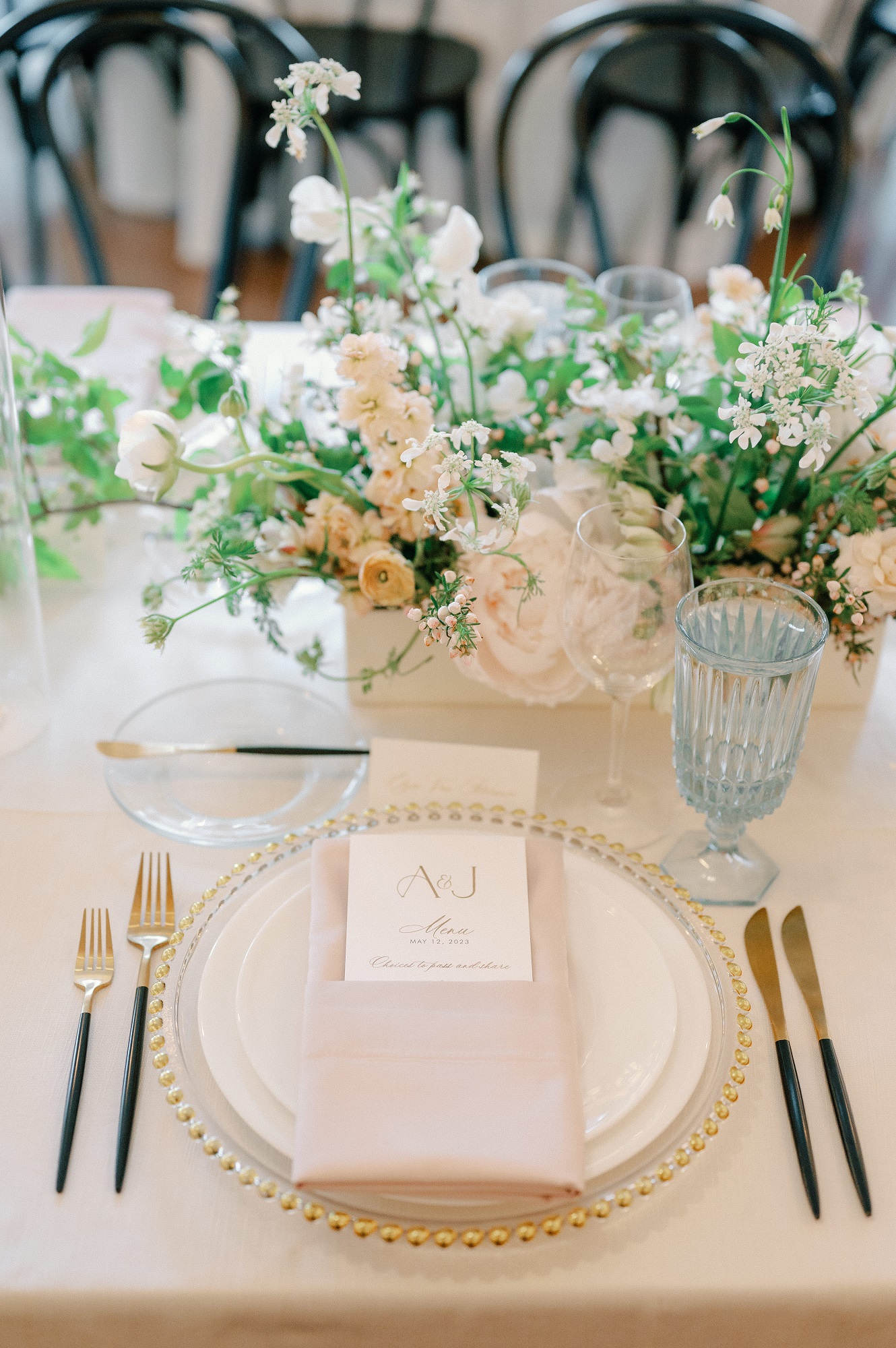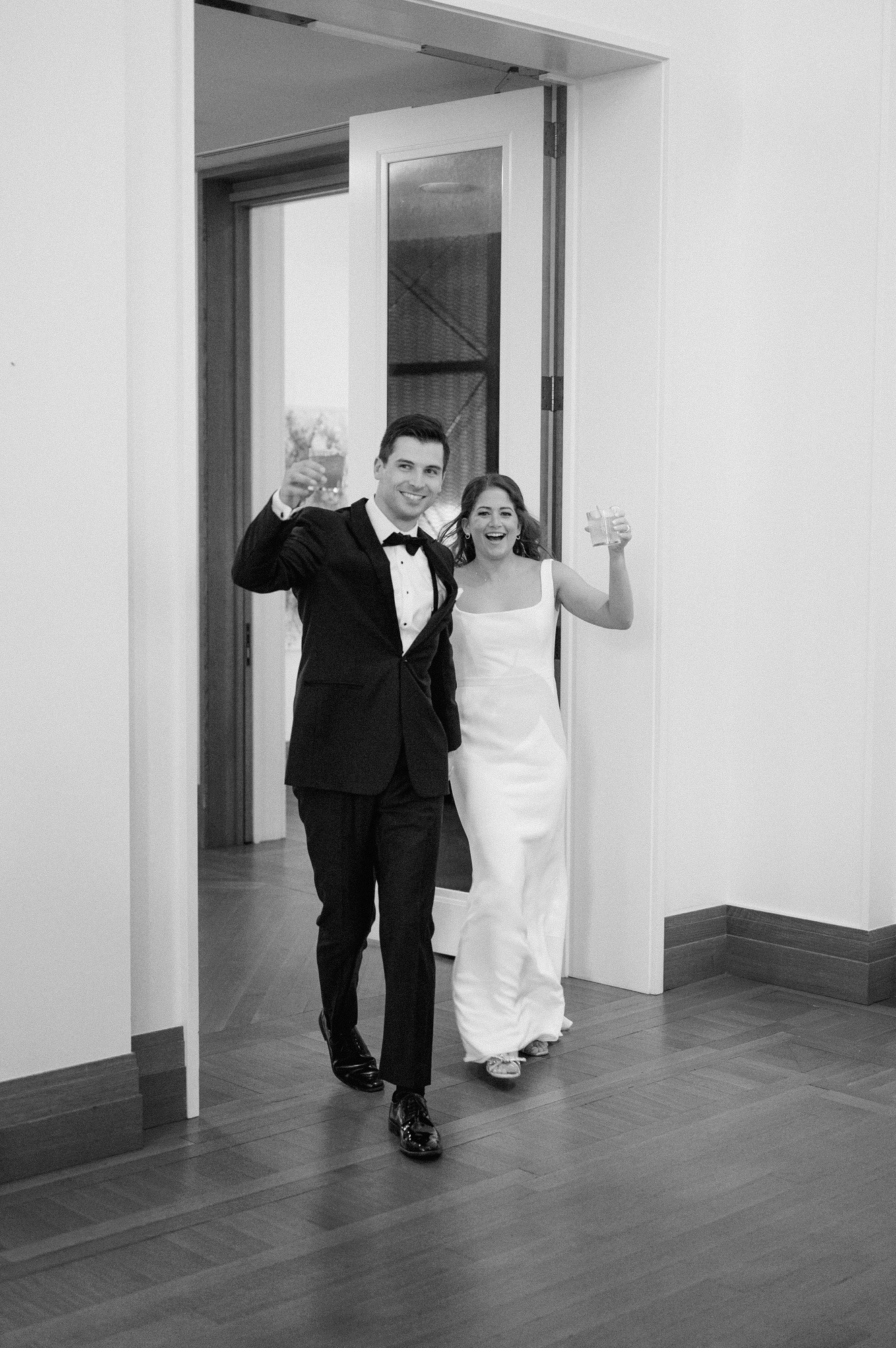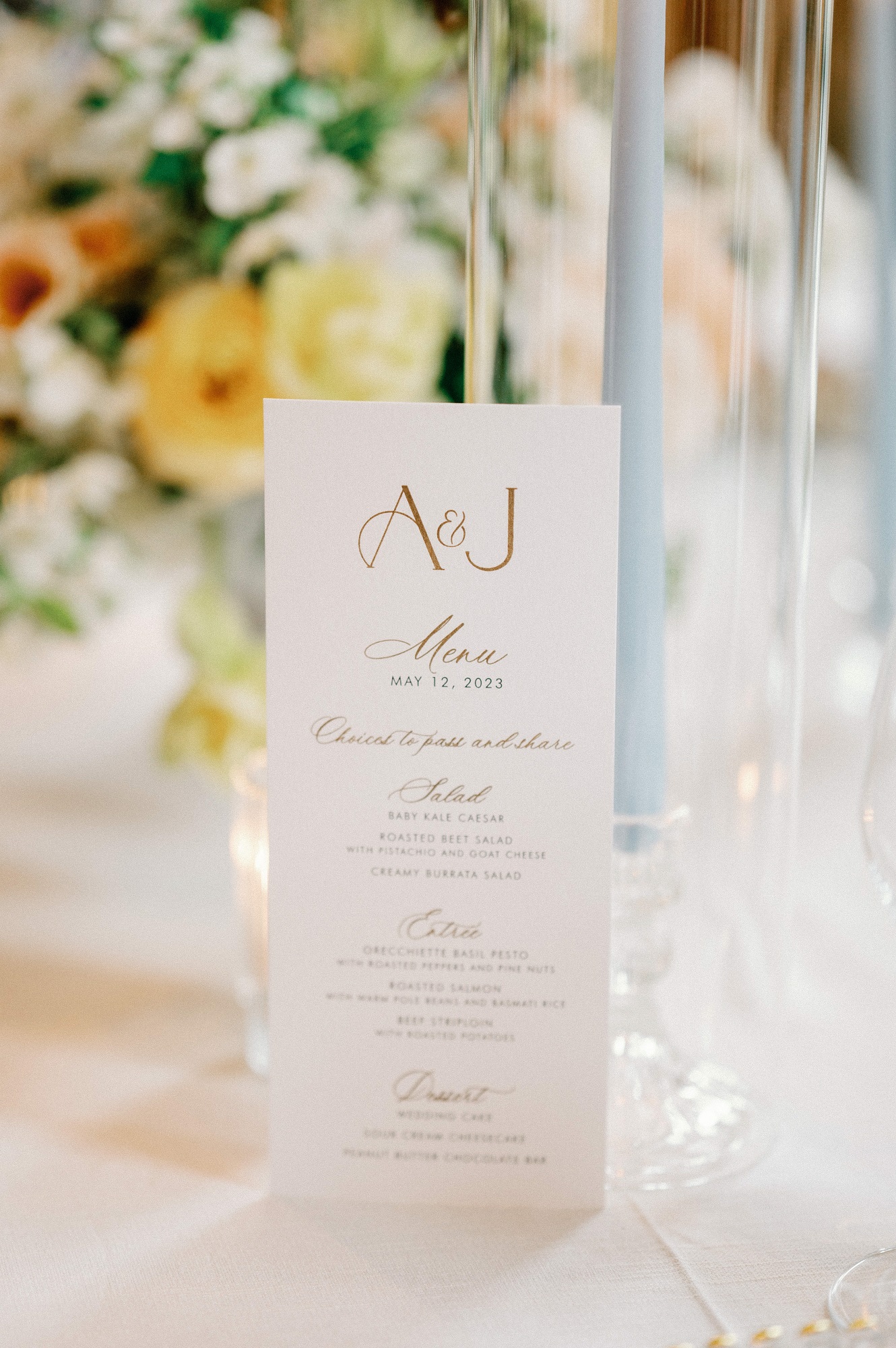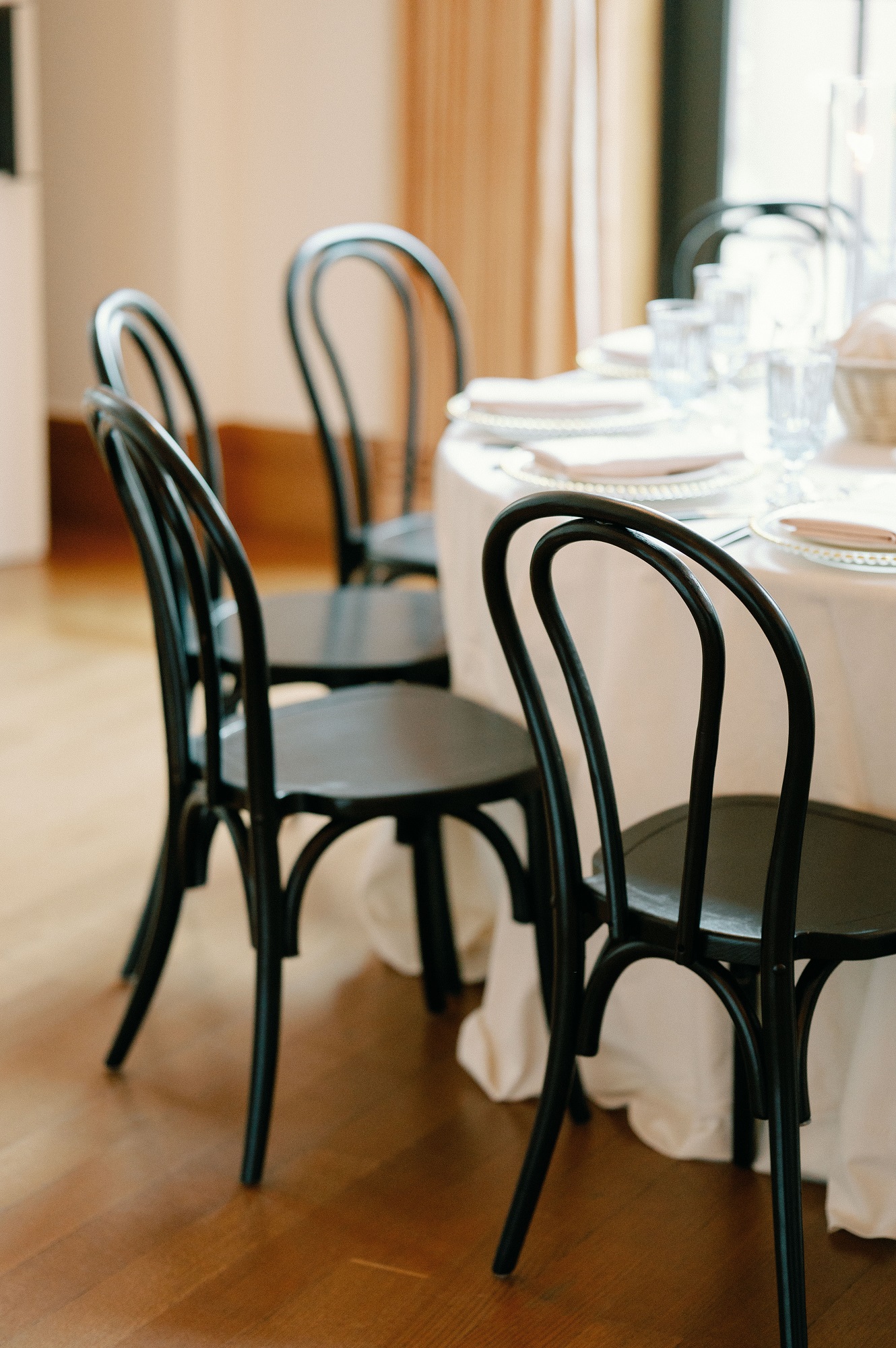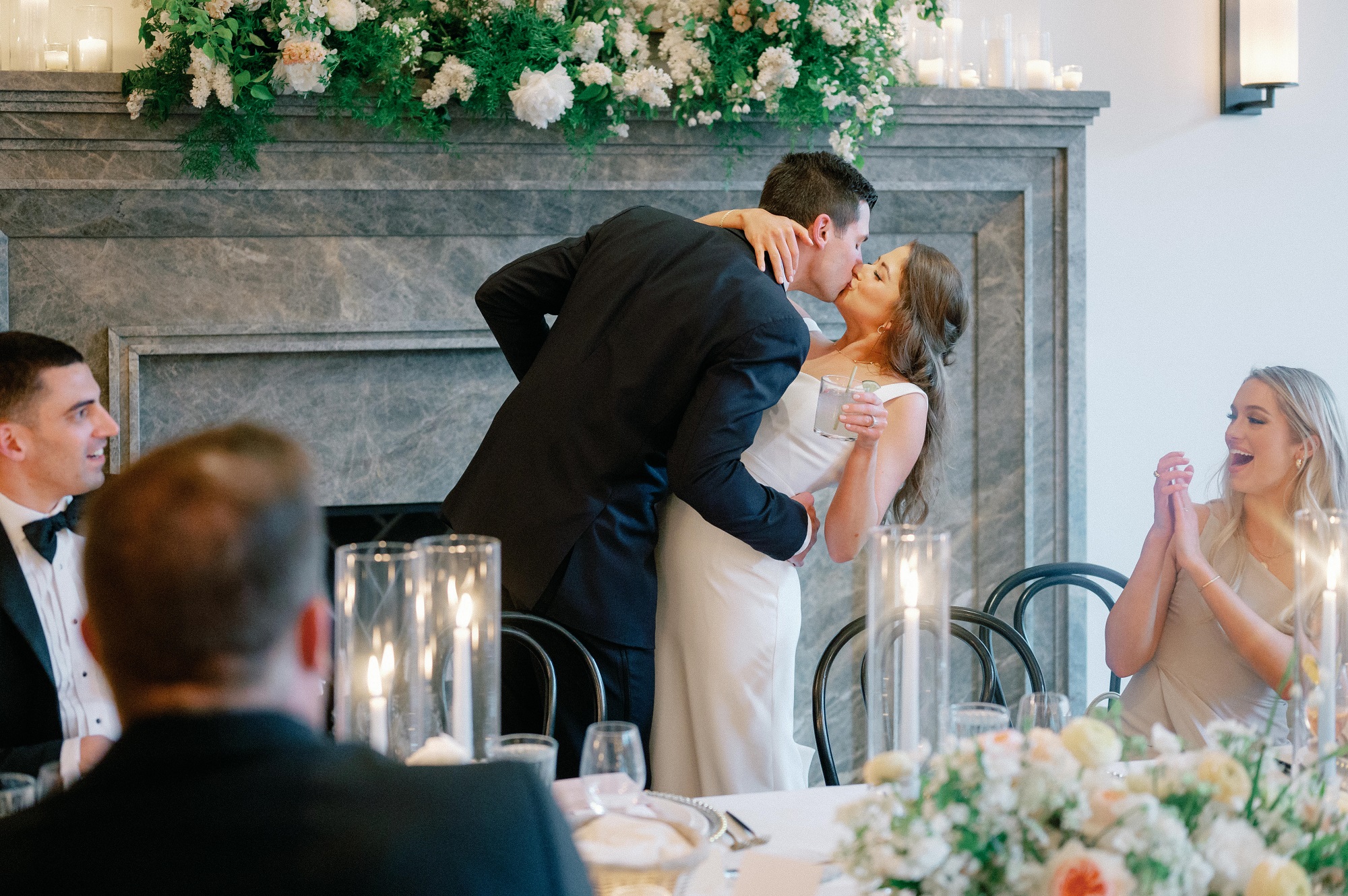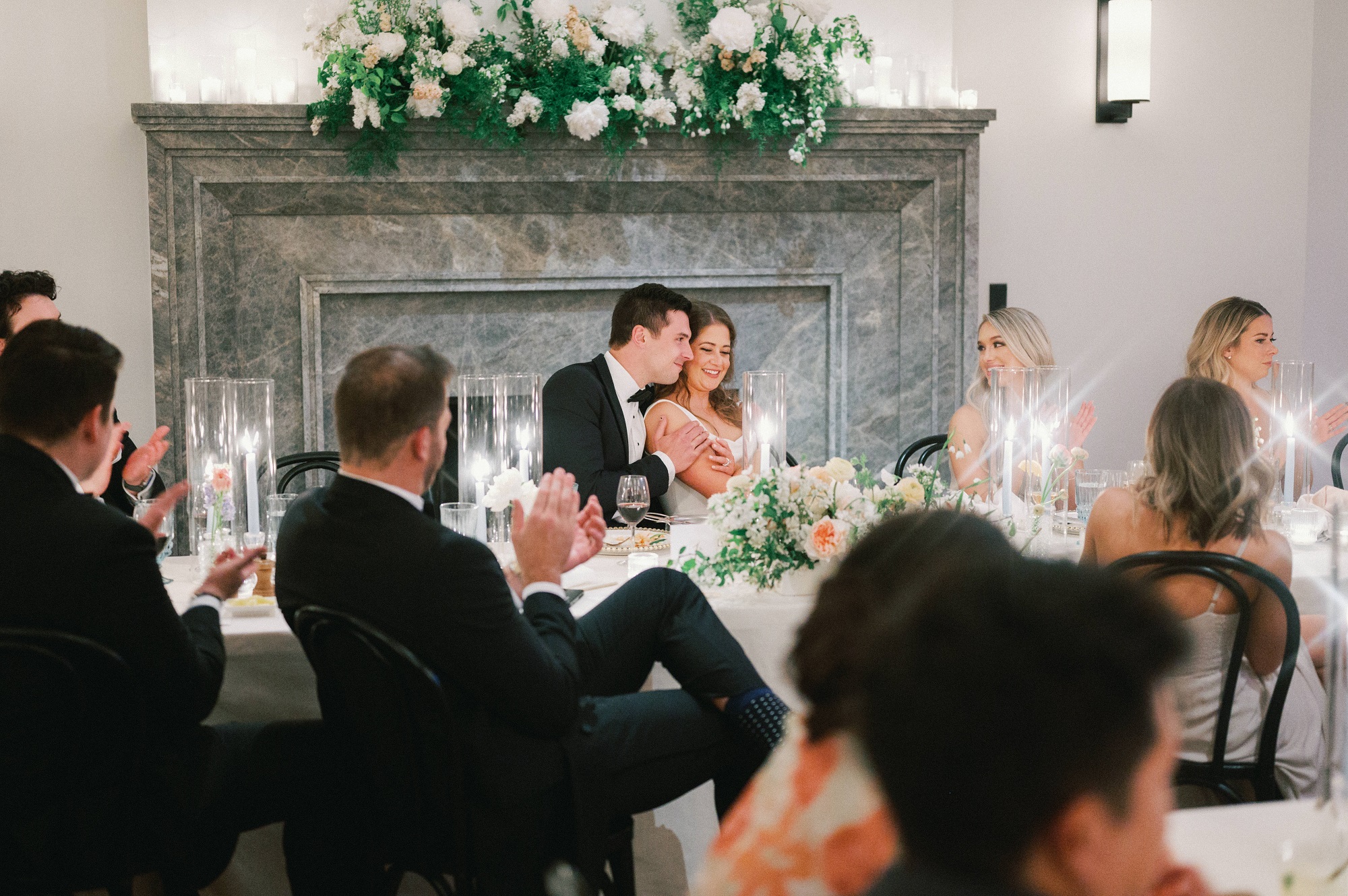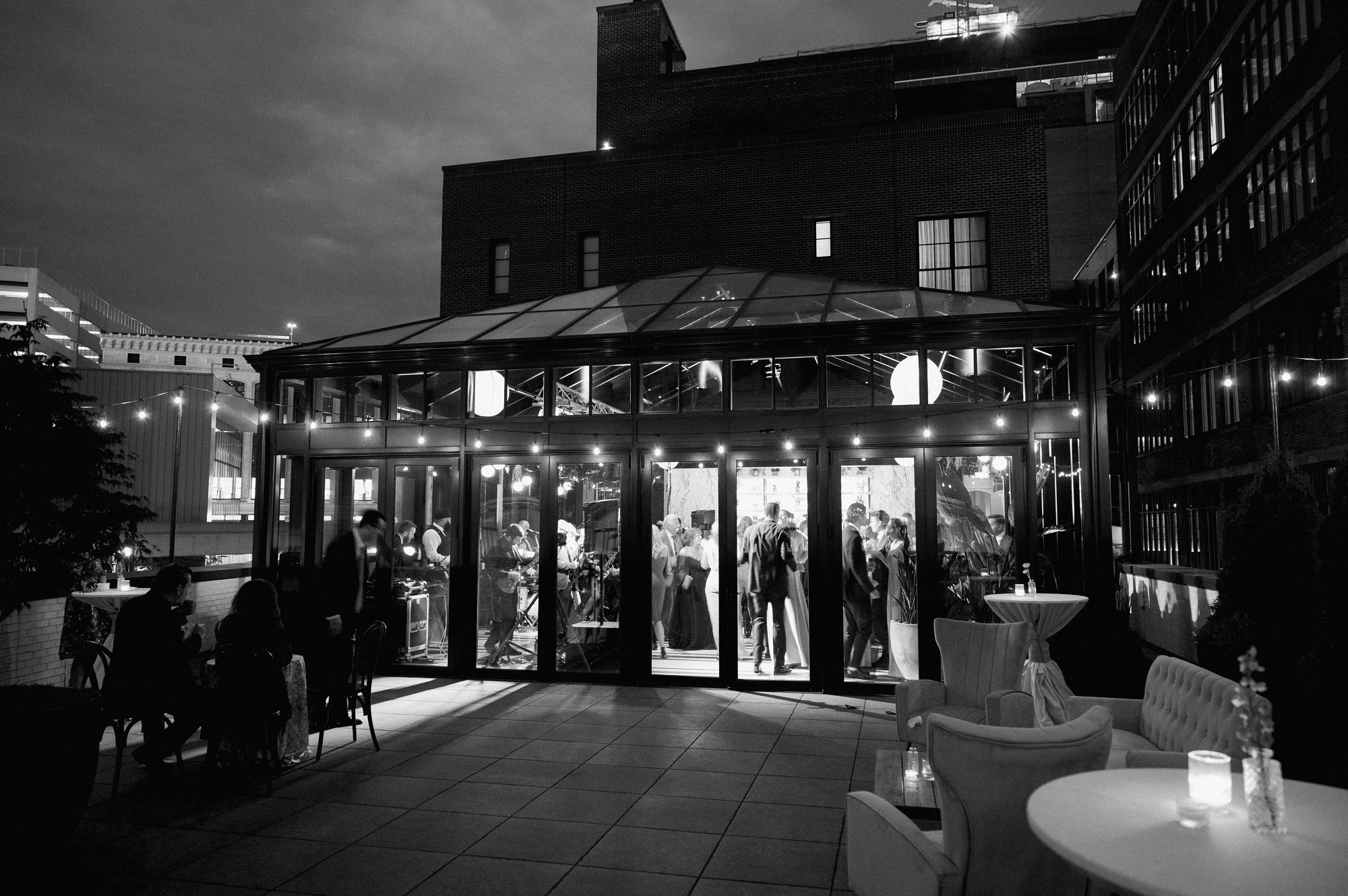 An evening with spark
After dinner, guests returned to the Birdy Room & terrace to rock out the night with Collision6 Band and to surround Abbey & Joe with sparklers for a champagne pop to celebrate the evening.  The evening was lively and after the band's encore last song, a chant for "three more songs" turned into acapella singing by a still packed dance floor.  Best vibes with authentic whole-hearted revelry on the rooftop!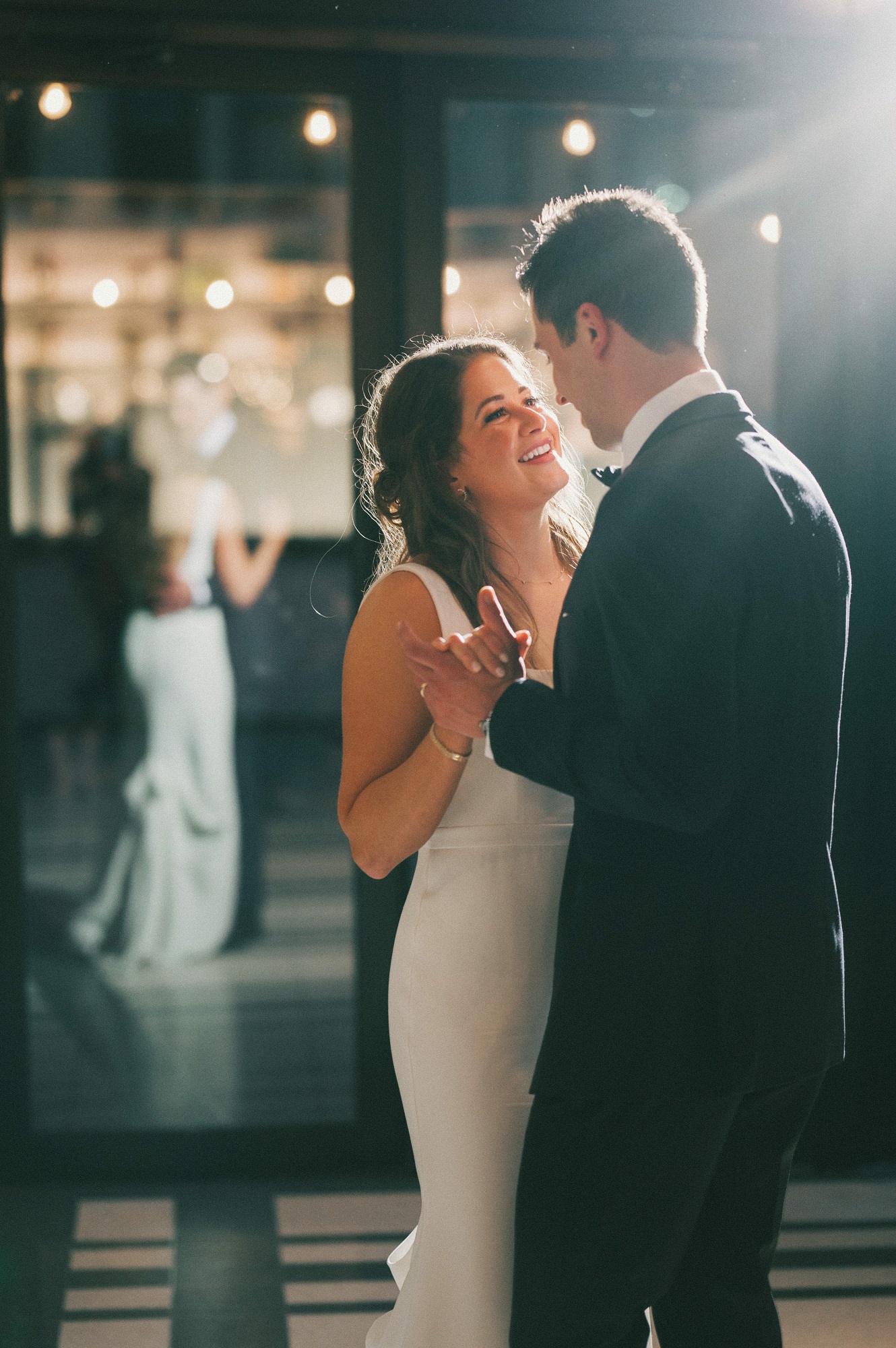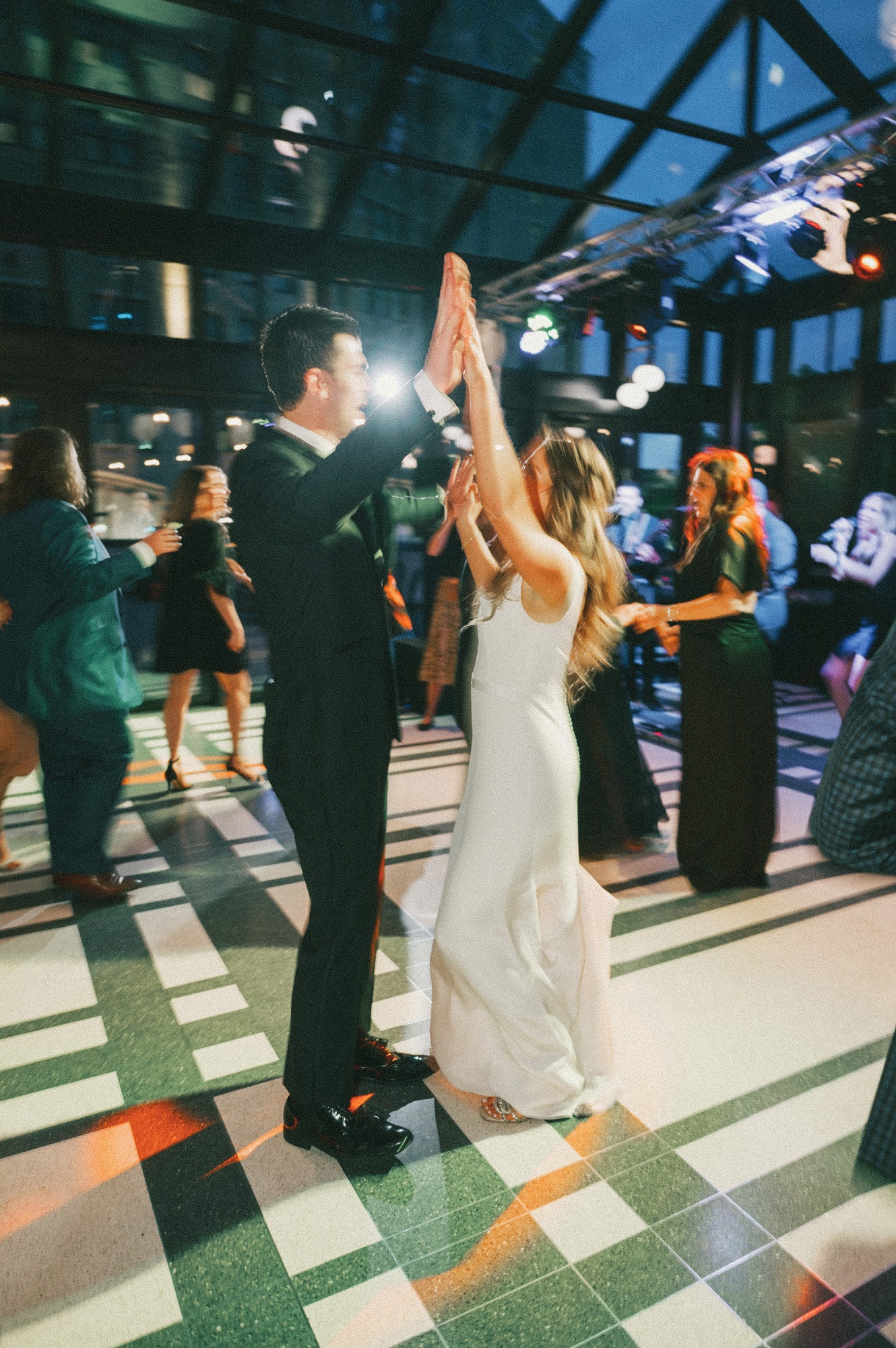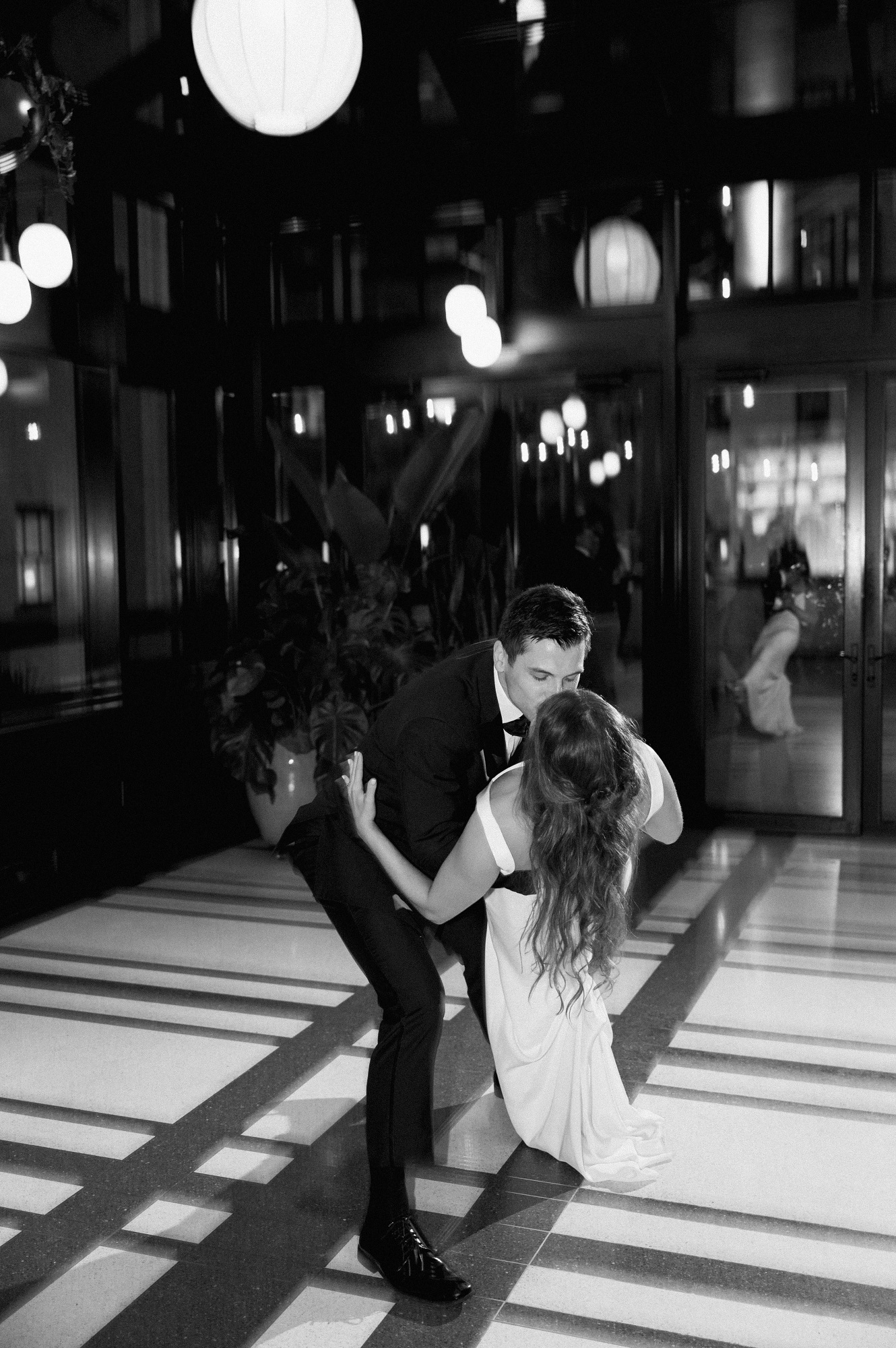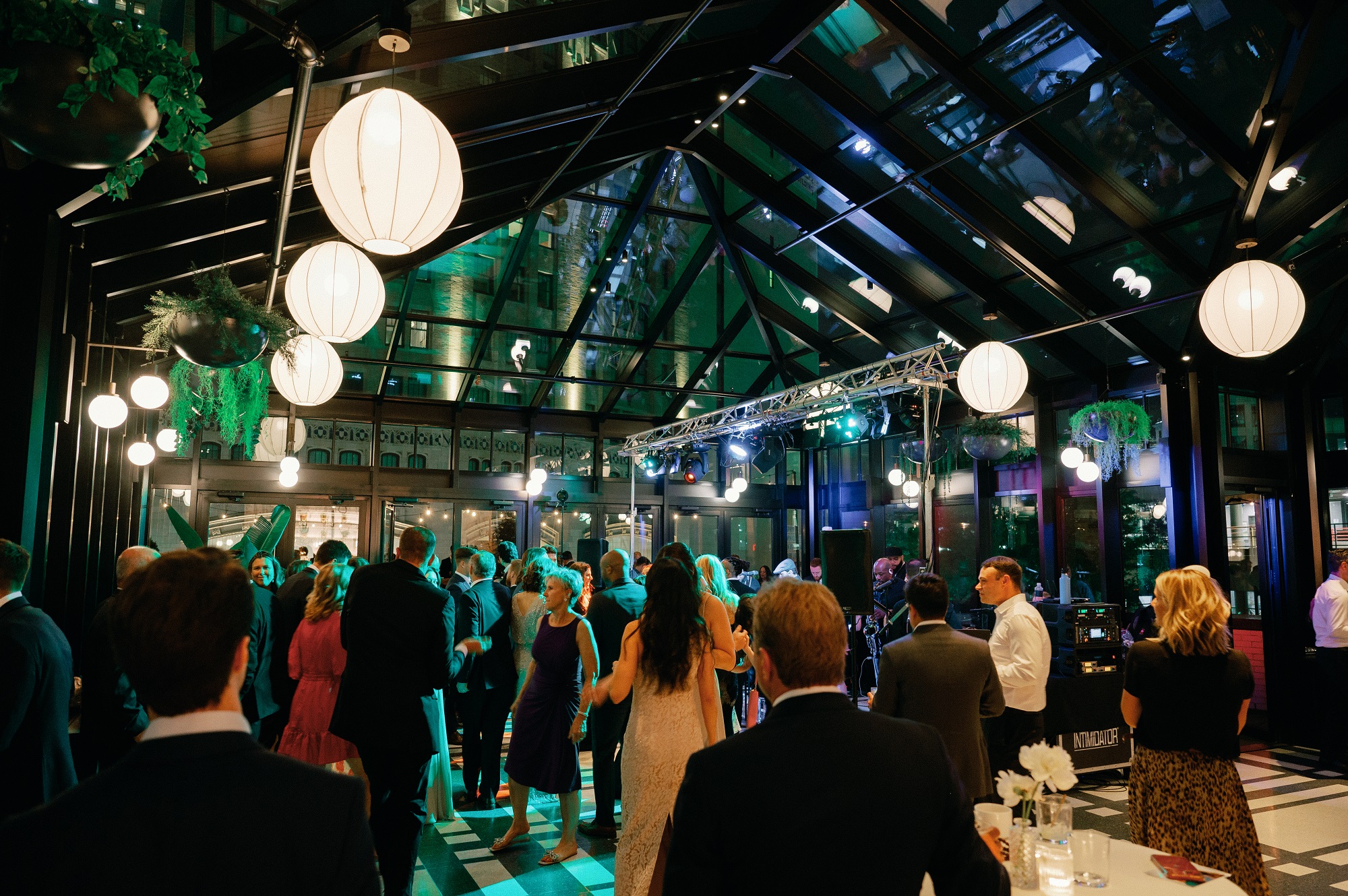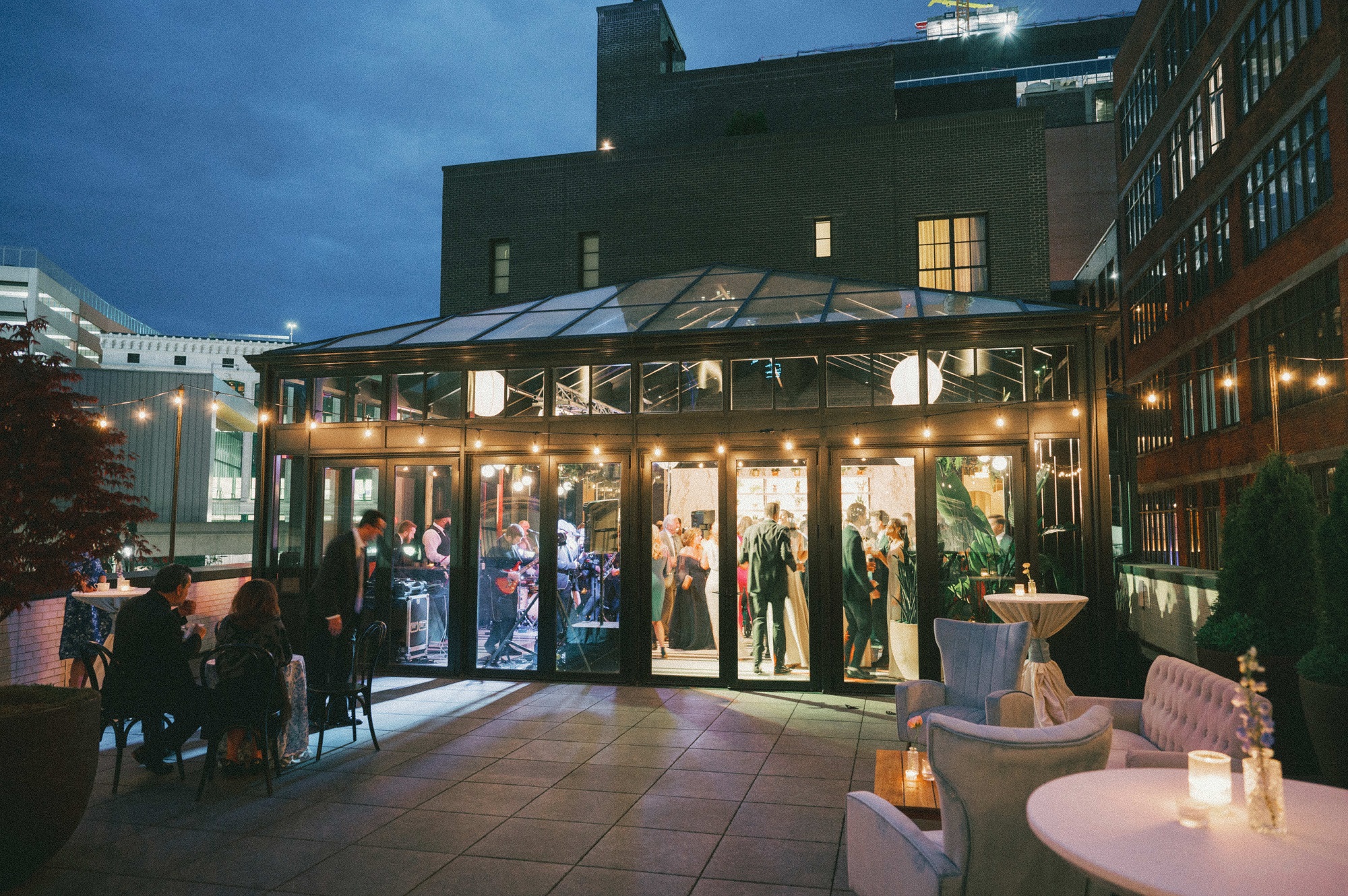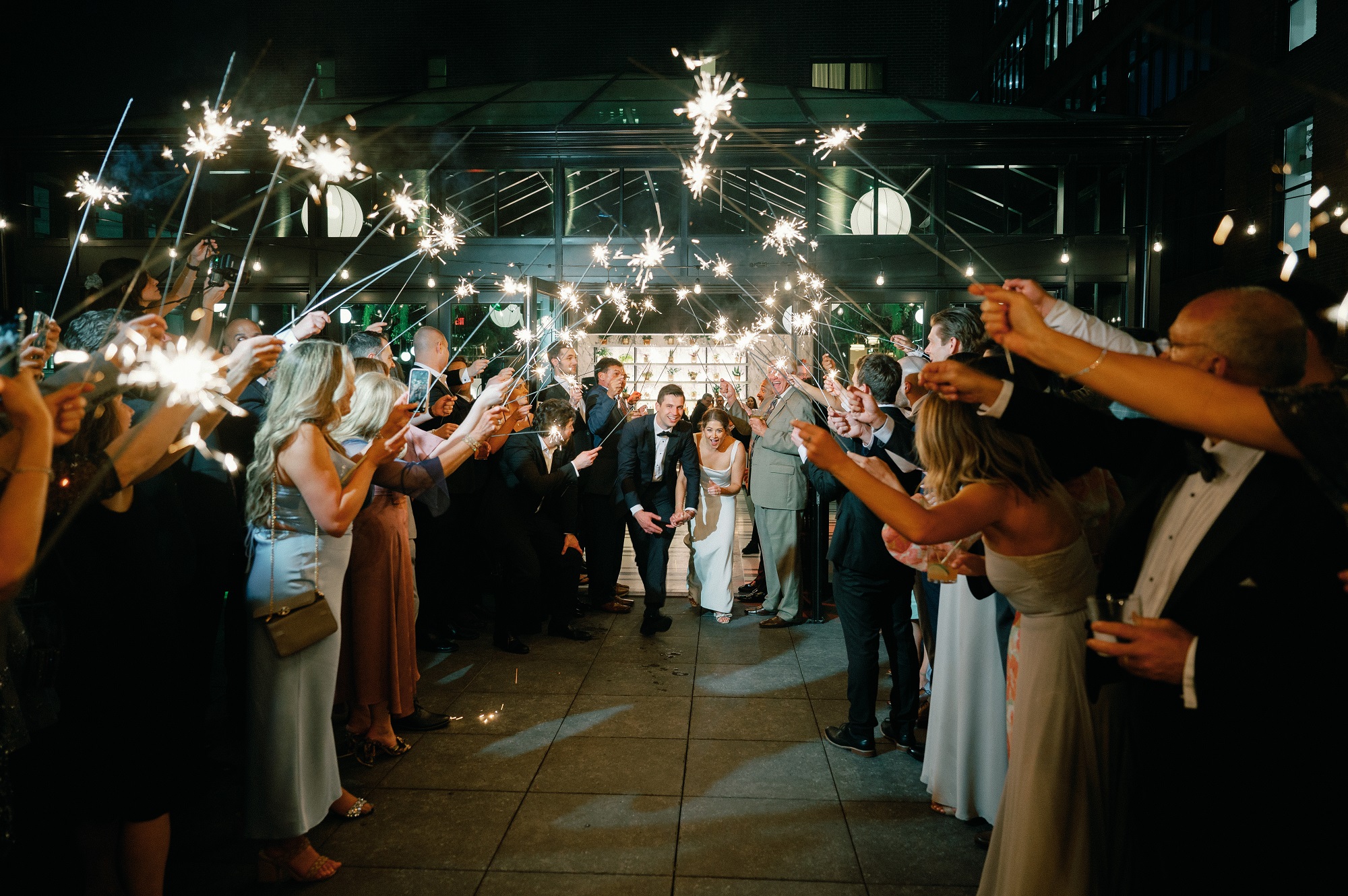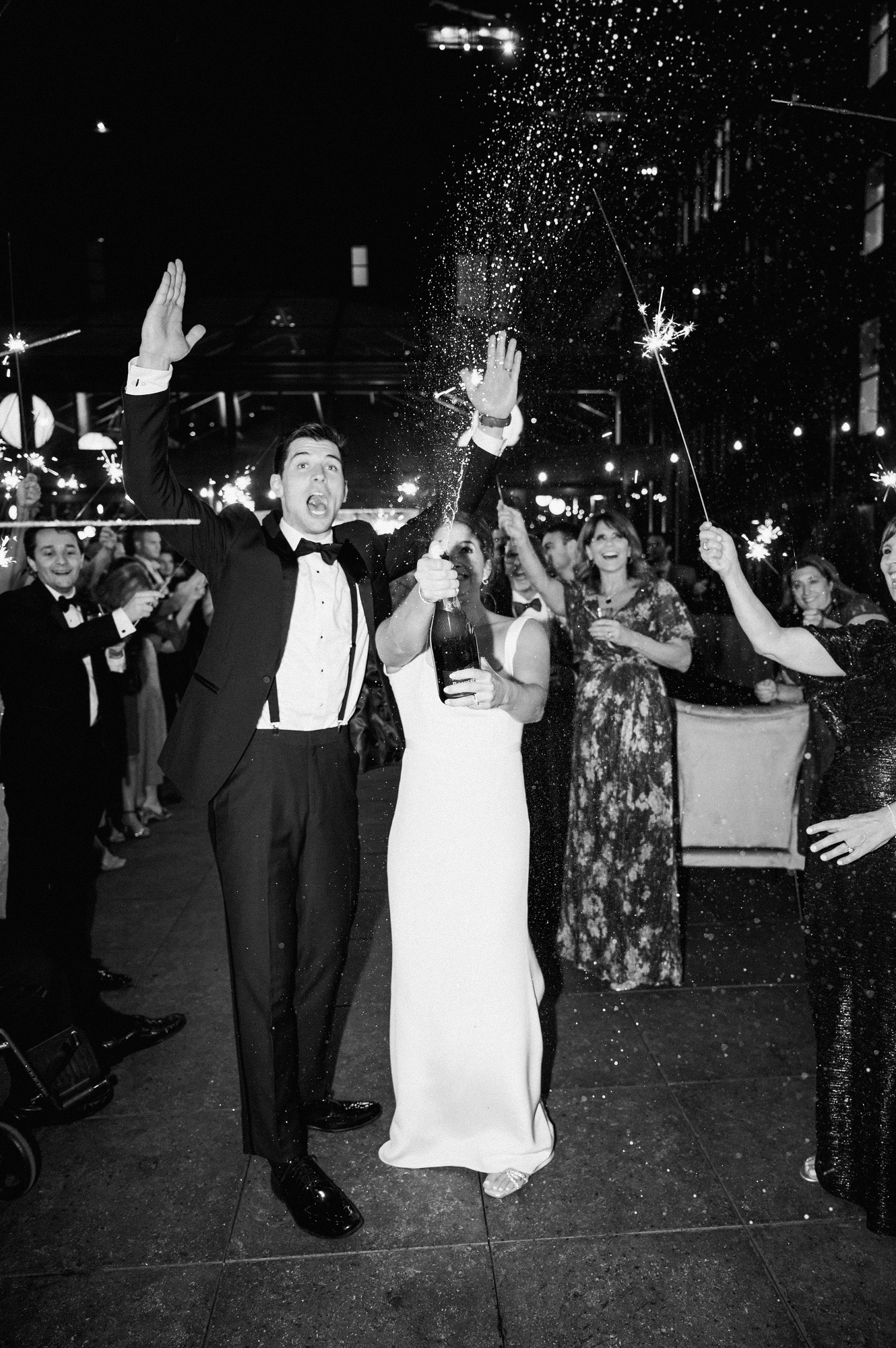 Creative Team Credits
Photography:  J&N Photography
Planning + Design + Coordination:  Juniper & Lace Events
Ceremony Church:  First Unitarian Universalist Church of Detroit
Reception Venue/Catering/Bar:  Shinola Hotel
Print Design:  Write Impressions
Floral Design:  Niloo Rosi Design
 Band:  Collision6 Band
Rentals:  Timeless Event Rentals, Gigi & LaClede, BBJ LaTavola
Lighting:  Elysium Experience
Cake:  Holiday Market, Royal Oak
Photobooth:  Stunning Shots Photobooth
Hair Styling:  Salon 6
Makeup Styling:  Danielle Paquin
Officiant:  Pastor Joanne Blair
Ceremony Quartet:  Rondo String Quartet
Transportation:  Top Limousine Service
Farewell Brunch:  Coriander Kitchen