ELLEN + DYLAN // Family Farm in Petoskey, mi
Sailcloth Tent Soiree
on the Family Farm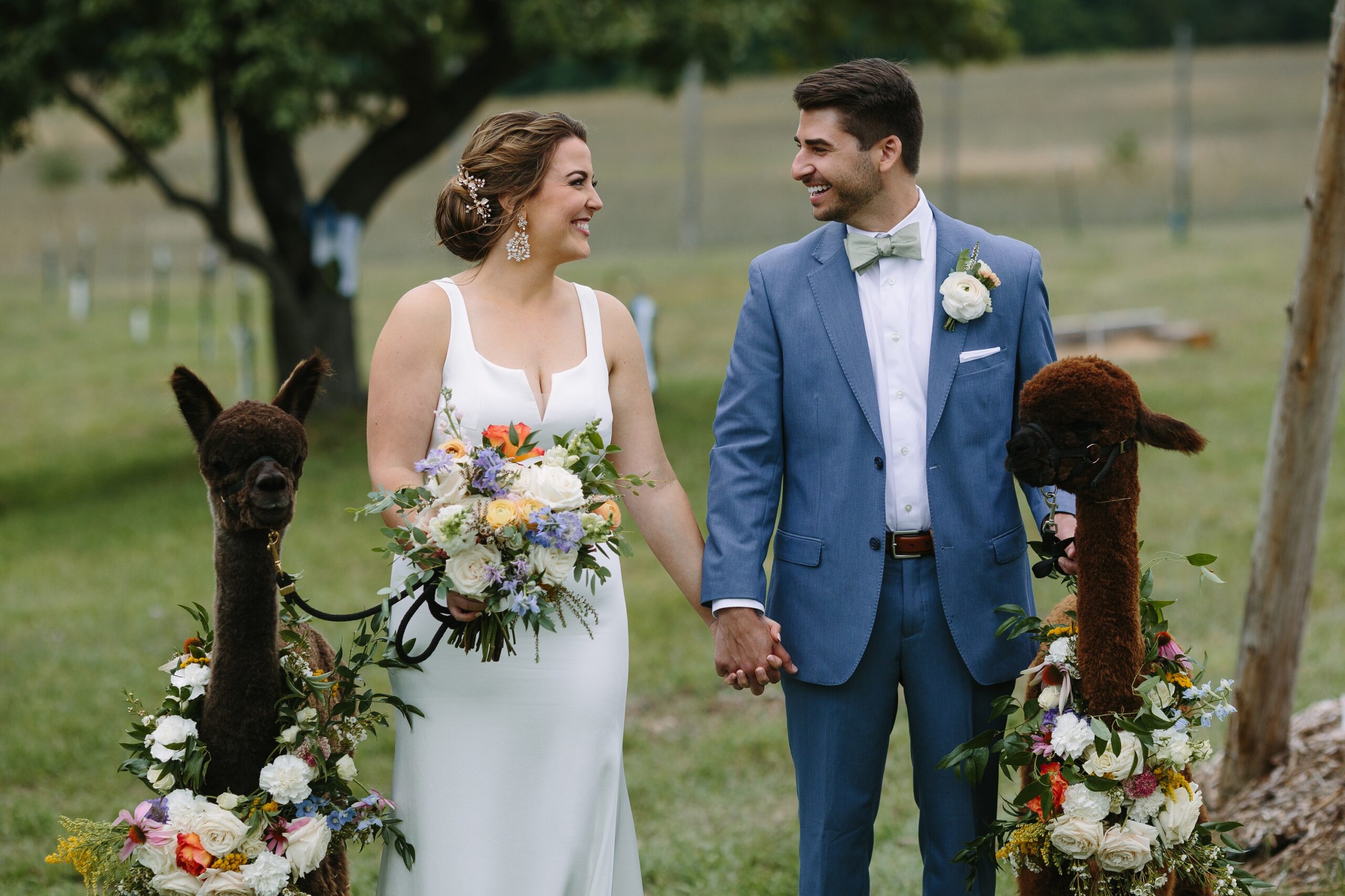 Hosting on the Farm
Anyone who has planned a wedding on their own property knows it takes an extra level of involvement and usually involves some renovation and landscaping projects along the way.  Ellen's parents took hosting to a new level when they decided to restore an historic barn on the family's new "up north" property in Petoskey, Michigan.  So many projects, fun conversations, vision and love went into this soiree celebrating Ellen & Dylan.  From the alpaca greeters to the macrame chandeliers to the espresso martinis, this one is full of inspiration and a joy to relive in photos.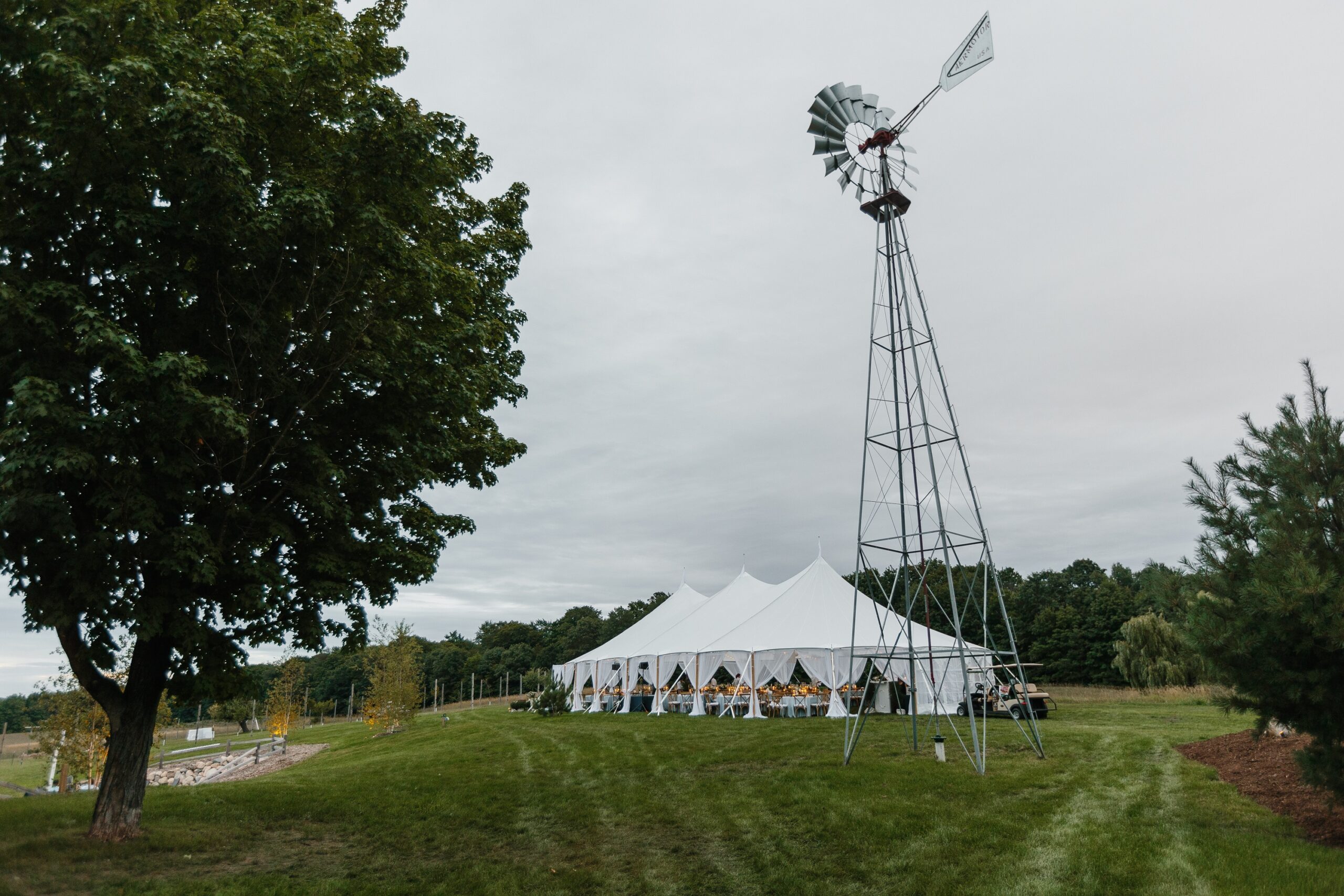 The Arrival Experience
The weekend kicked off on Thursday with a welcome party at Grandma's cottage on Walloon Lake featuring gourmet boxed meals served from a vintage wooden rowboat and a game of volleyball in the lake, just a couple properties over from Ernest Hemingway's old cottage.
On Friday, the bridal party boarded a pontoon boat after rehearsal to boat over to Stafford's Pier in Petoskey for rehearsal dinner with the family and then guests gathered at Rubdeckia Winery/Burnt Marshmallow Distillery for some locally crafted beverages.
On Saturday, Ellen & Dylan had their "first look" at the lake cottage and then joined their bridal party at the farm where the alpaca greeters were getting decked out in floral wreaths and baskets of programs.
Meanwhile, guests arrived by shuttle and were welcomed at the barn entrance by the couples' mothers.  They walked thru the newly renovated barn and onto a deck overlooking the orchard, the cocktail lawn, and the ceremony field.  Gold shelves of prosecco and sparkling water splits tied with cute straws flanked the stairs down to where alpaca petting was encouraged en route to the ceremony stroll.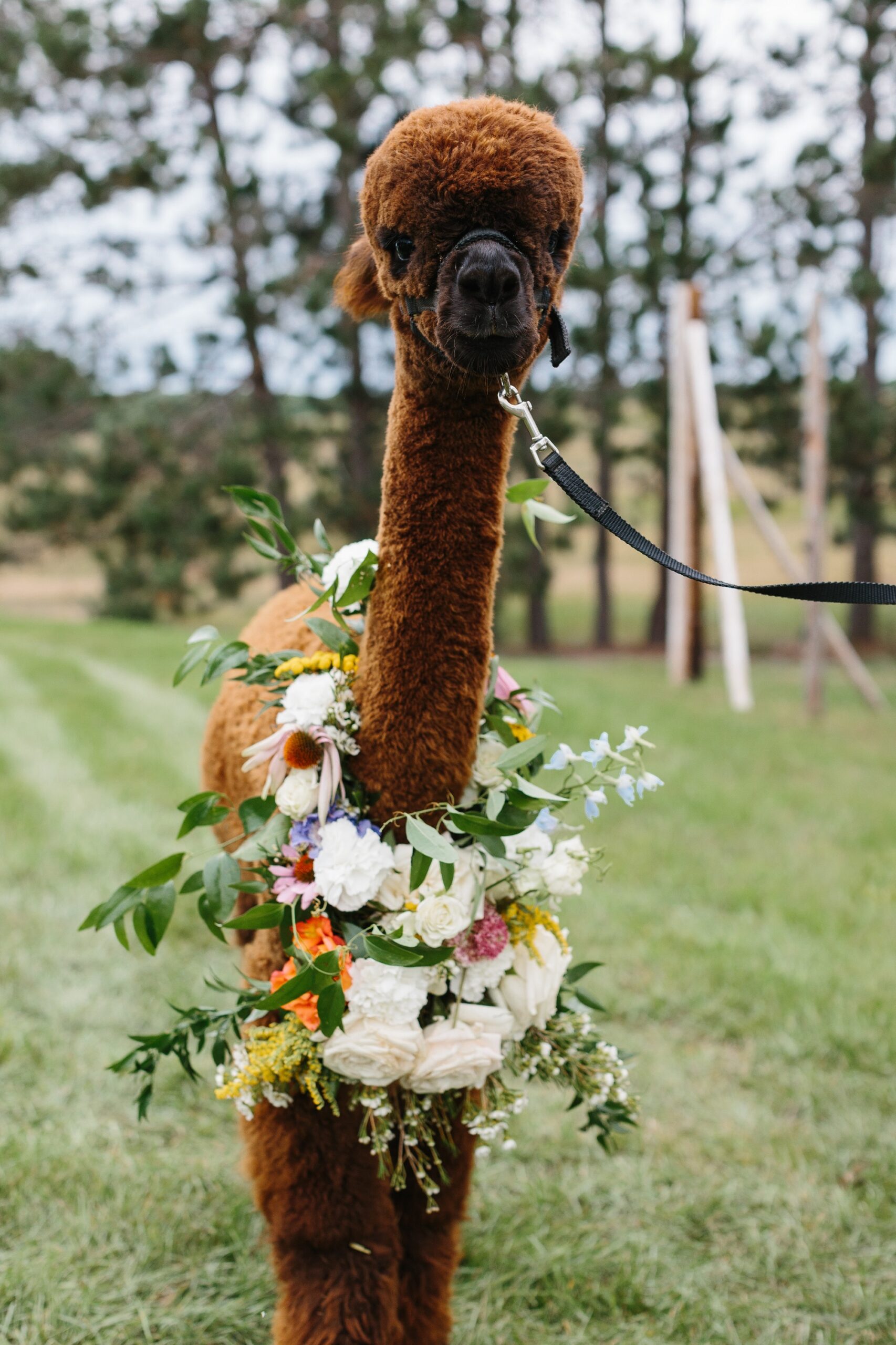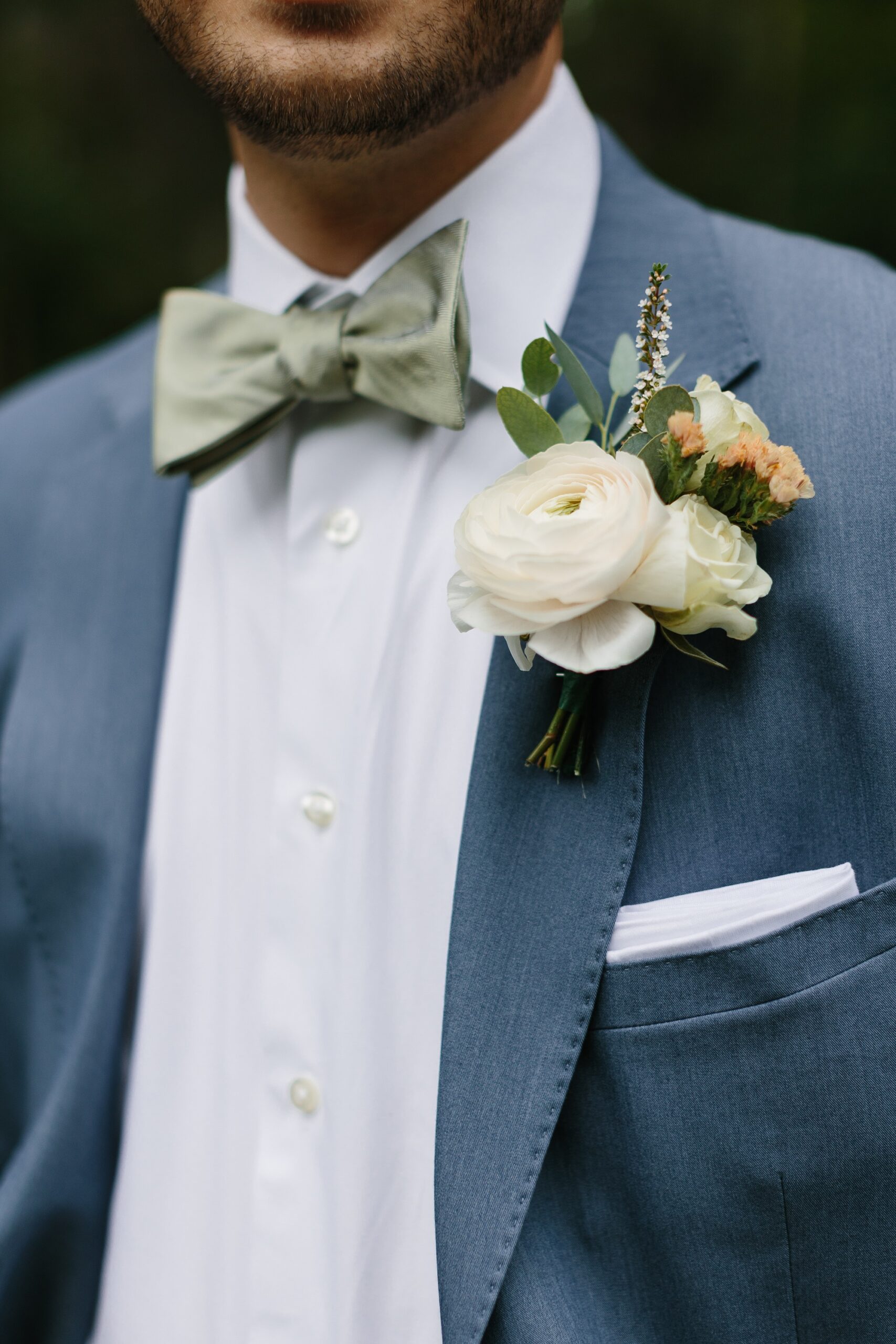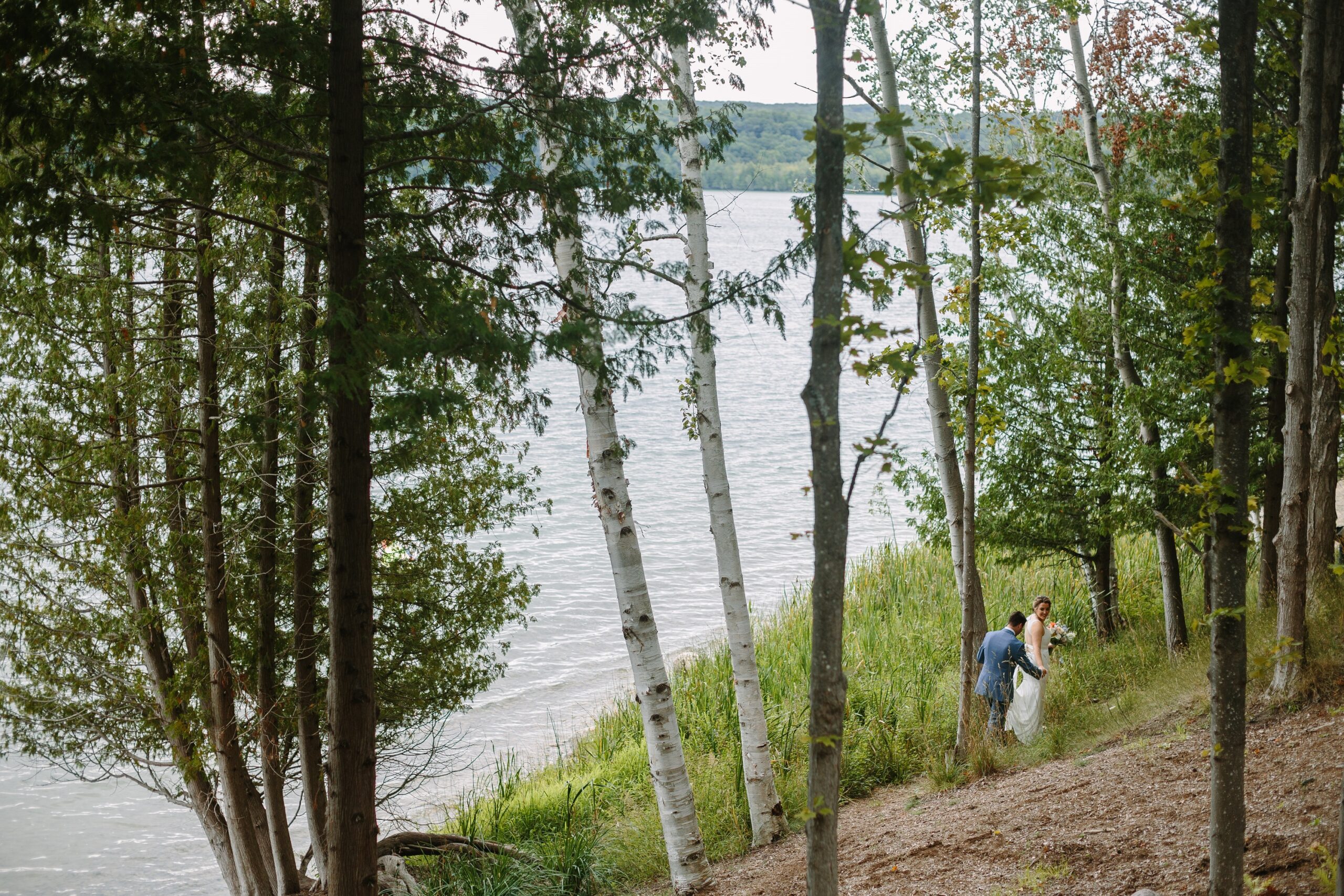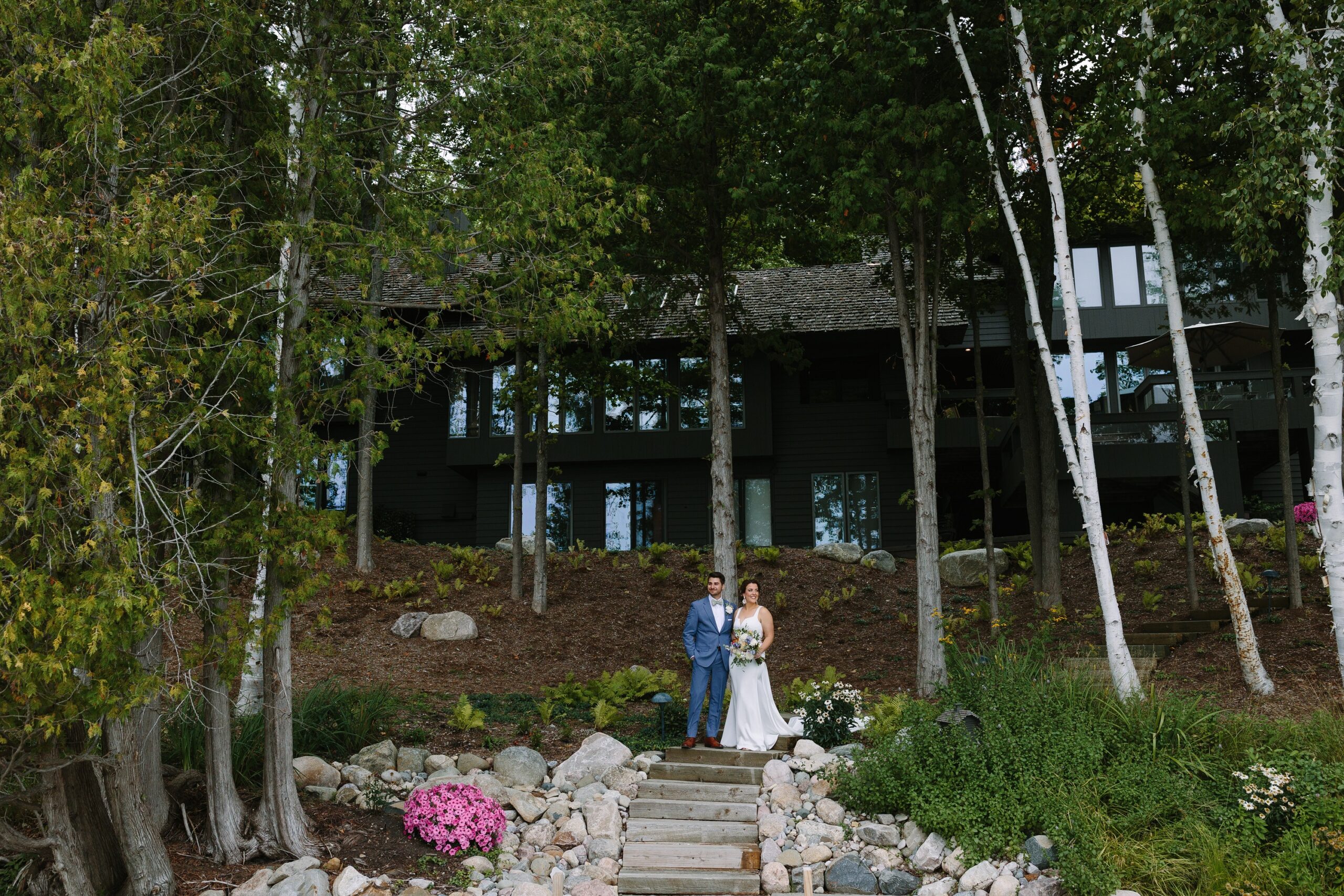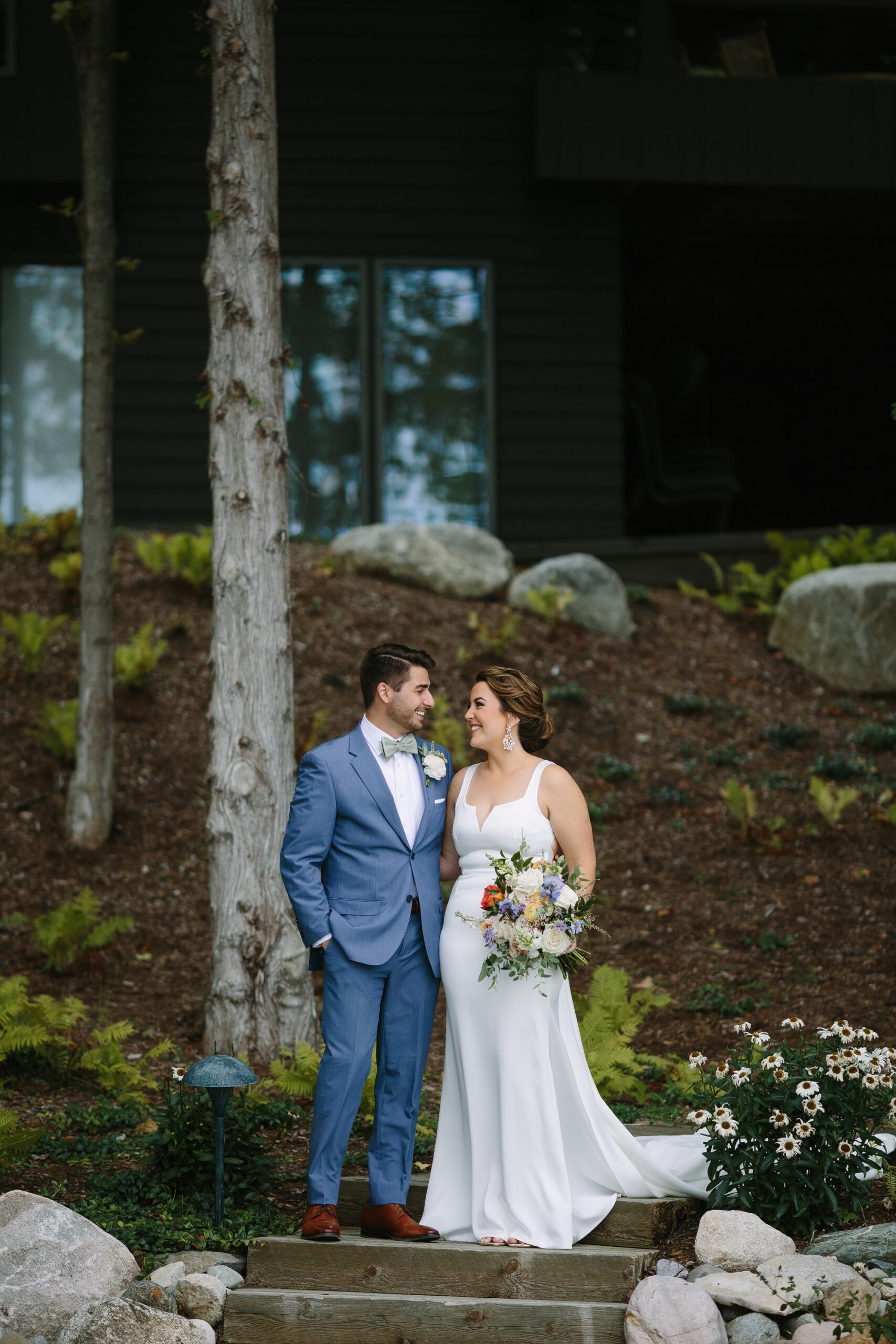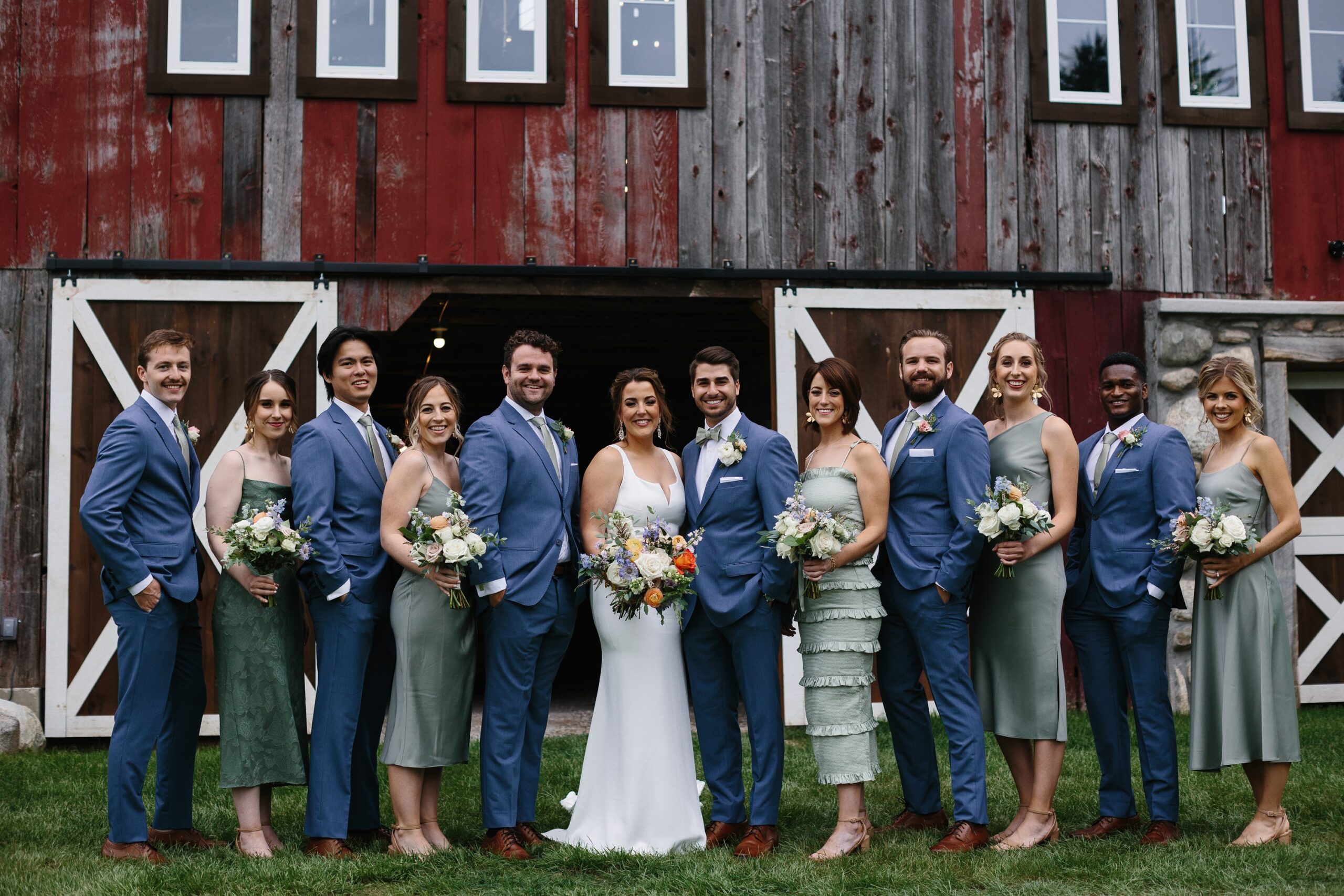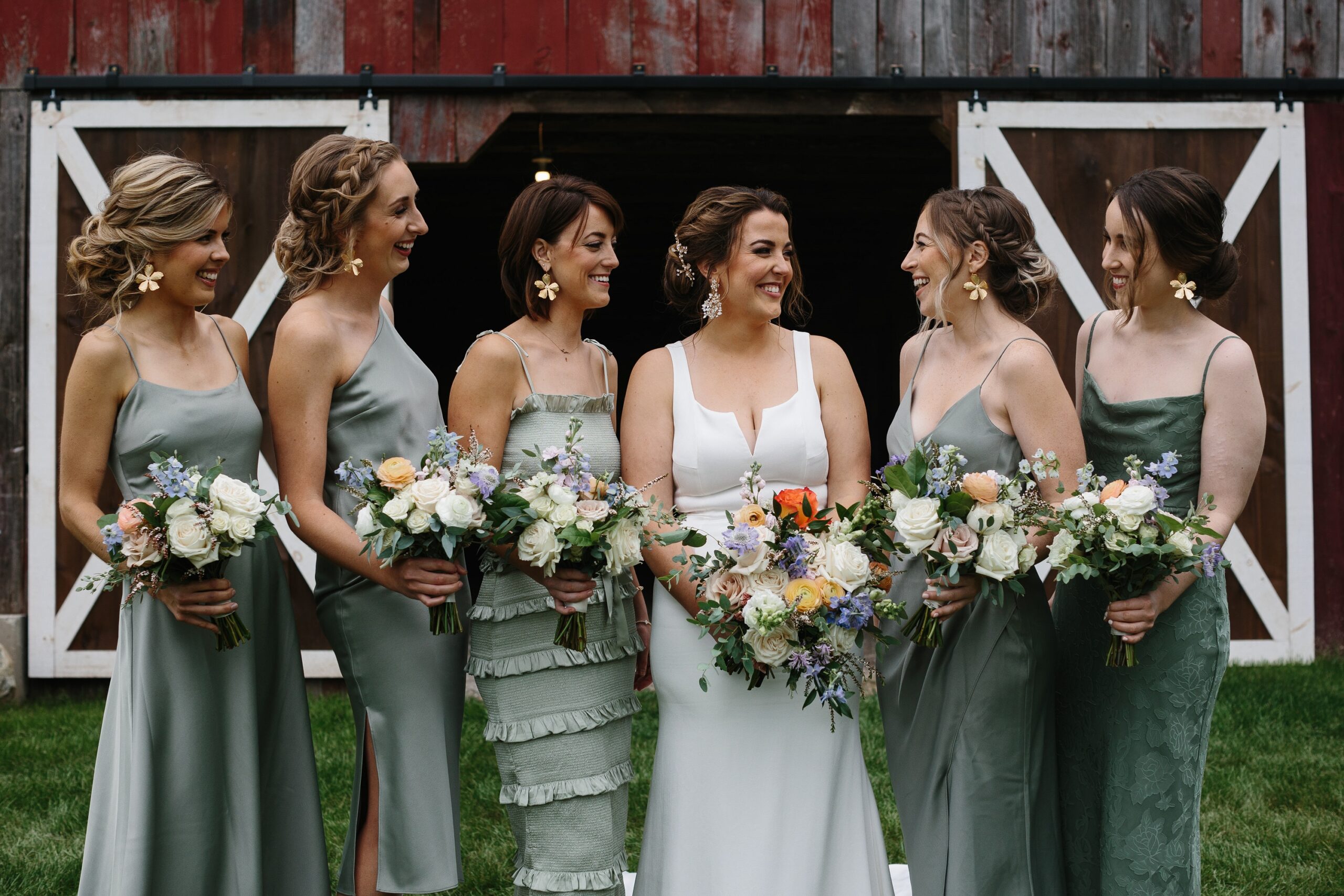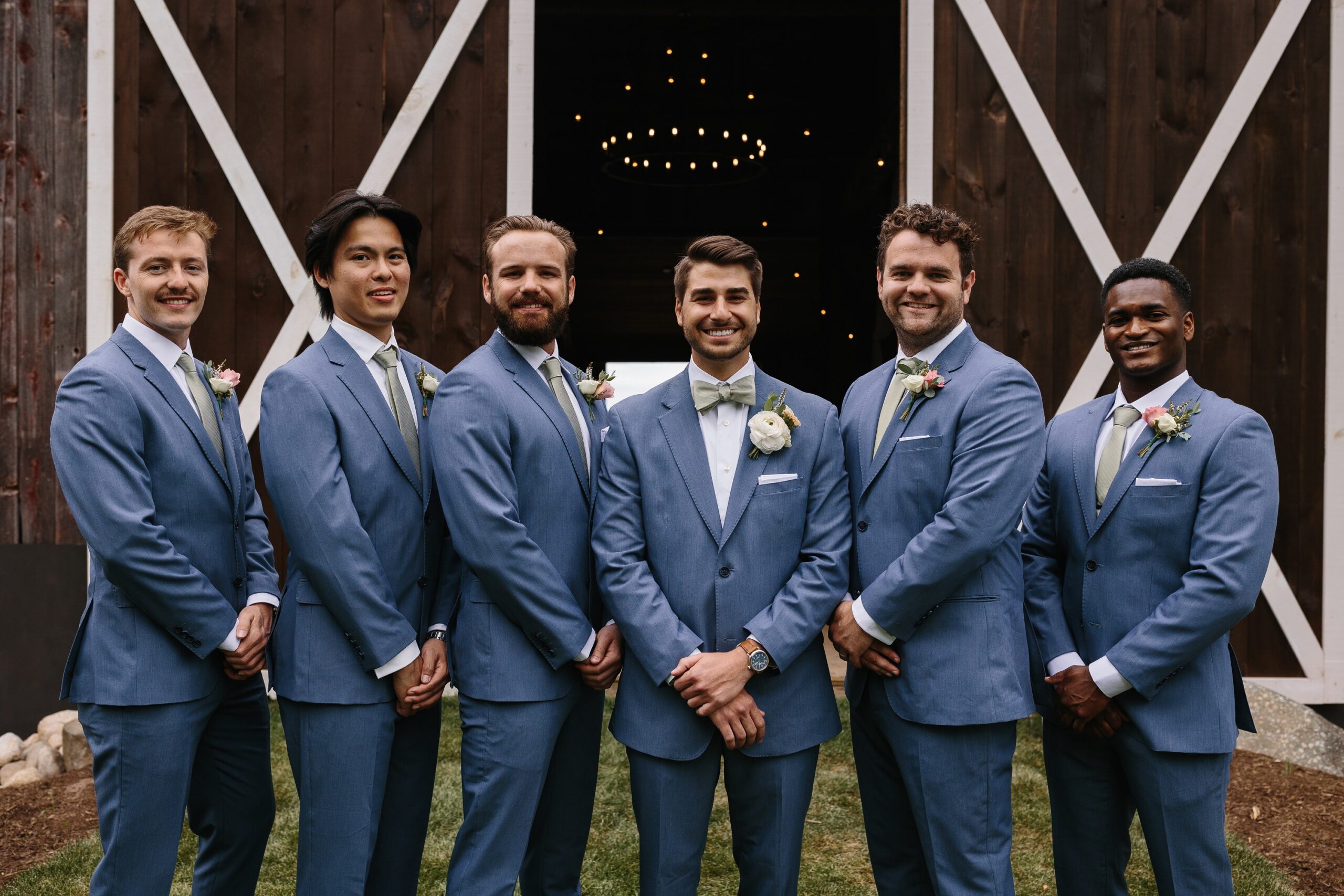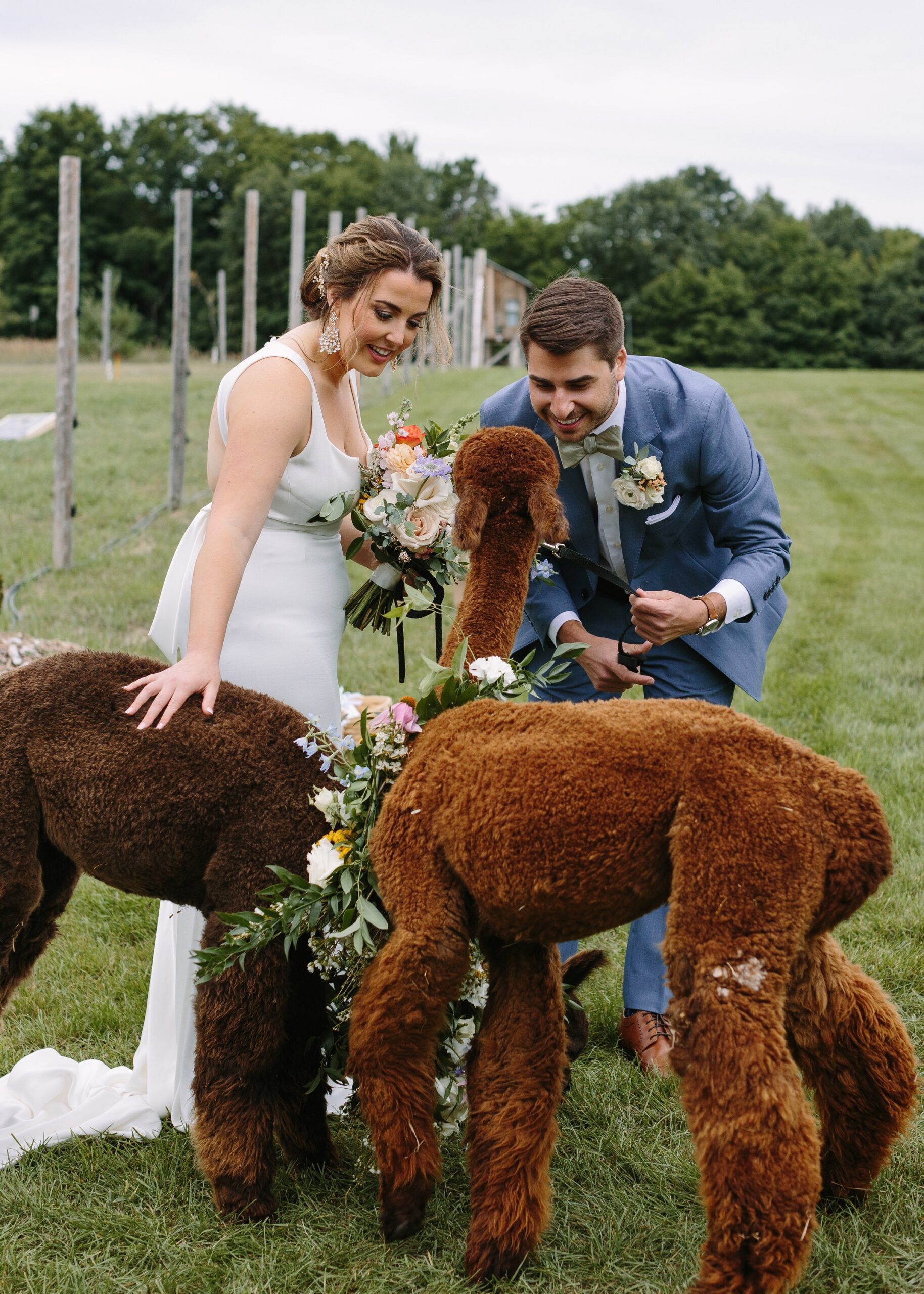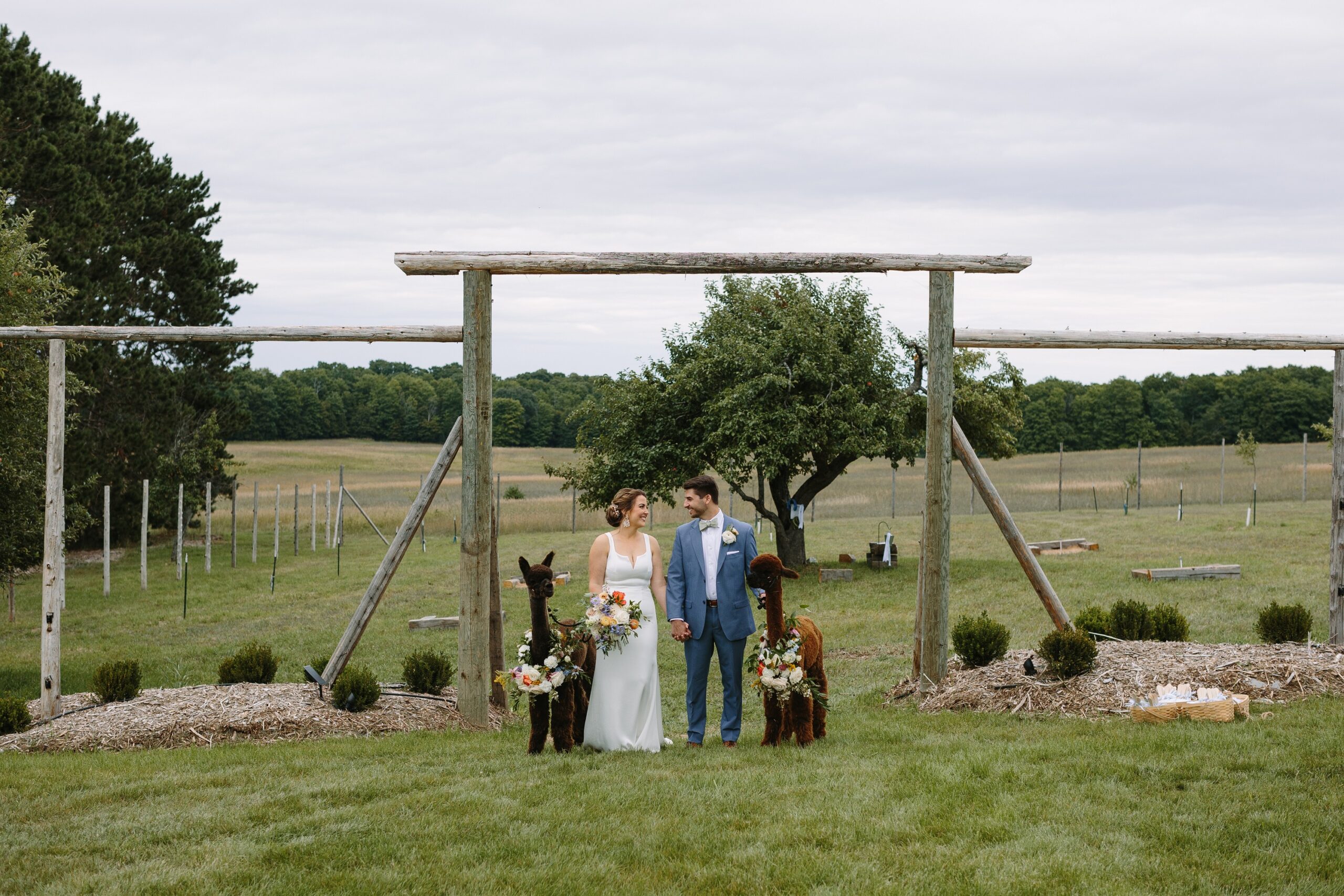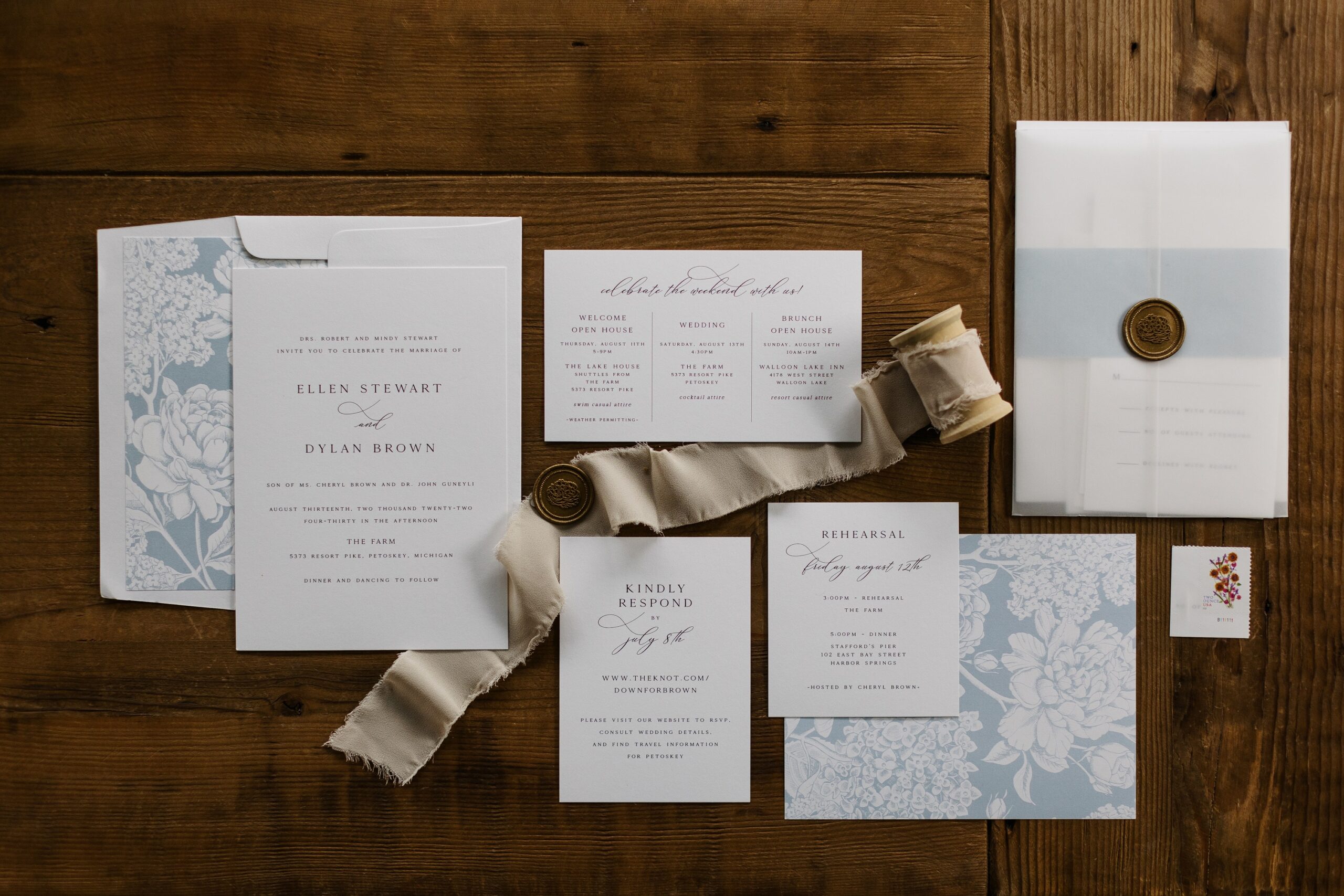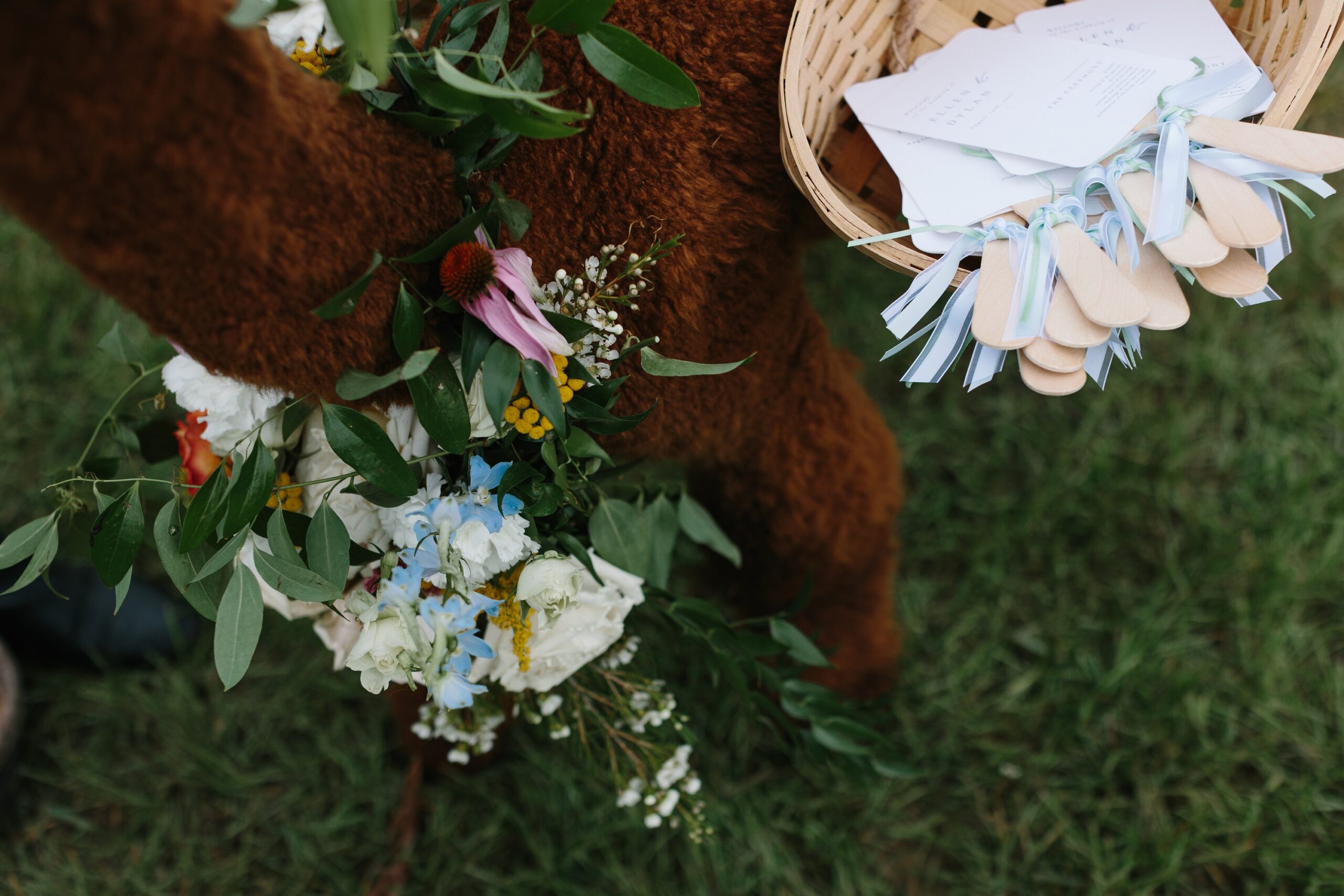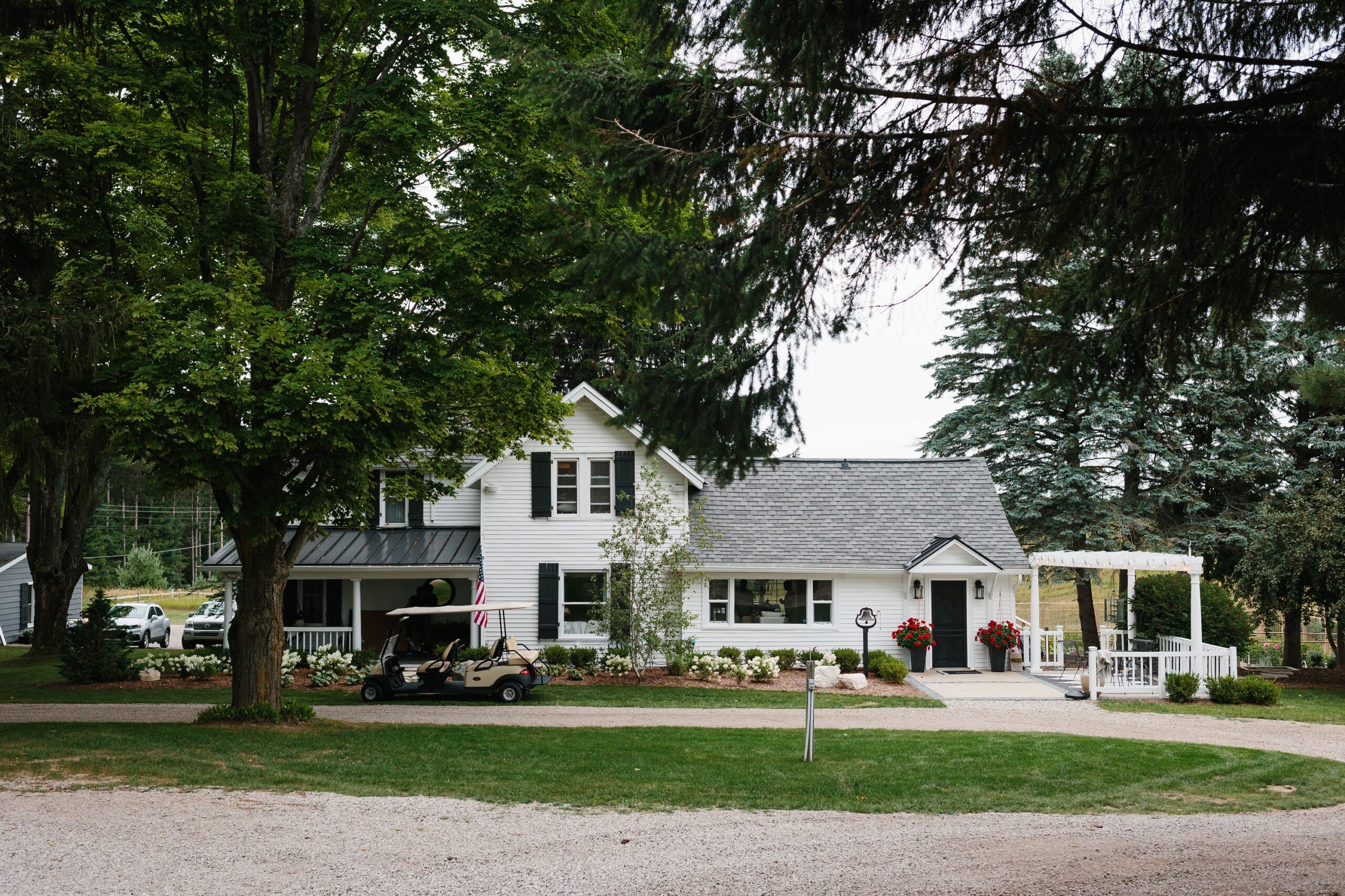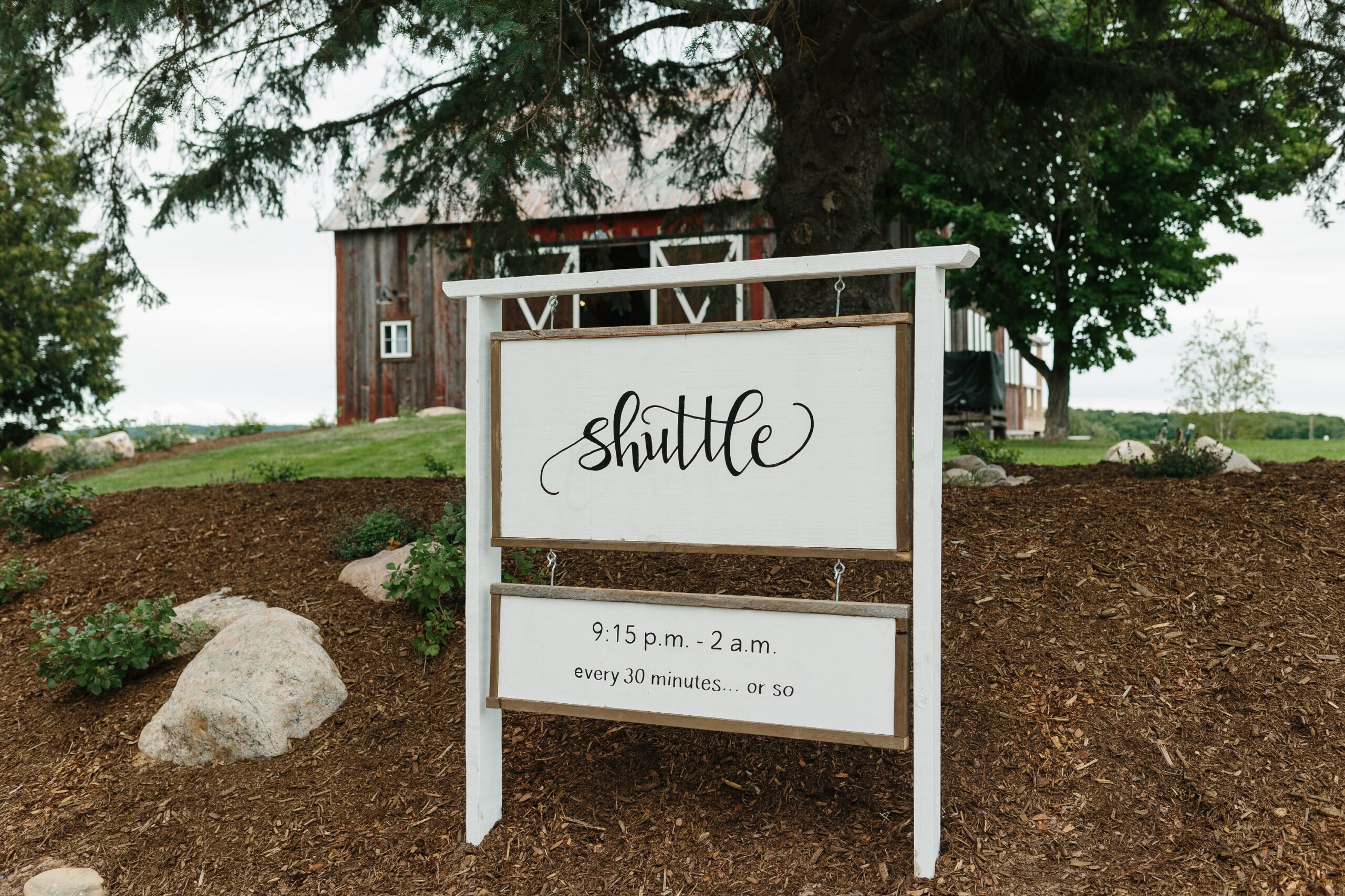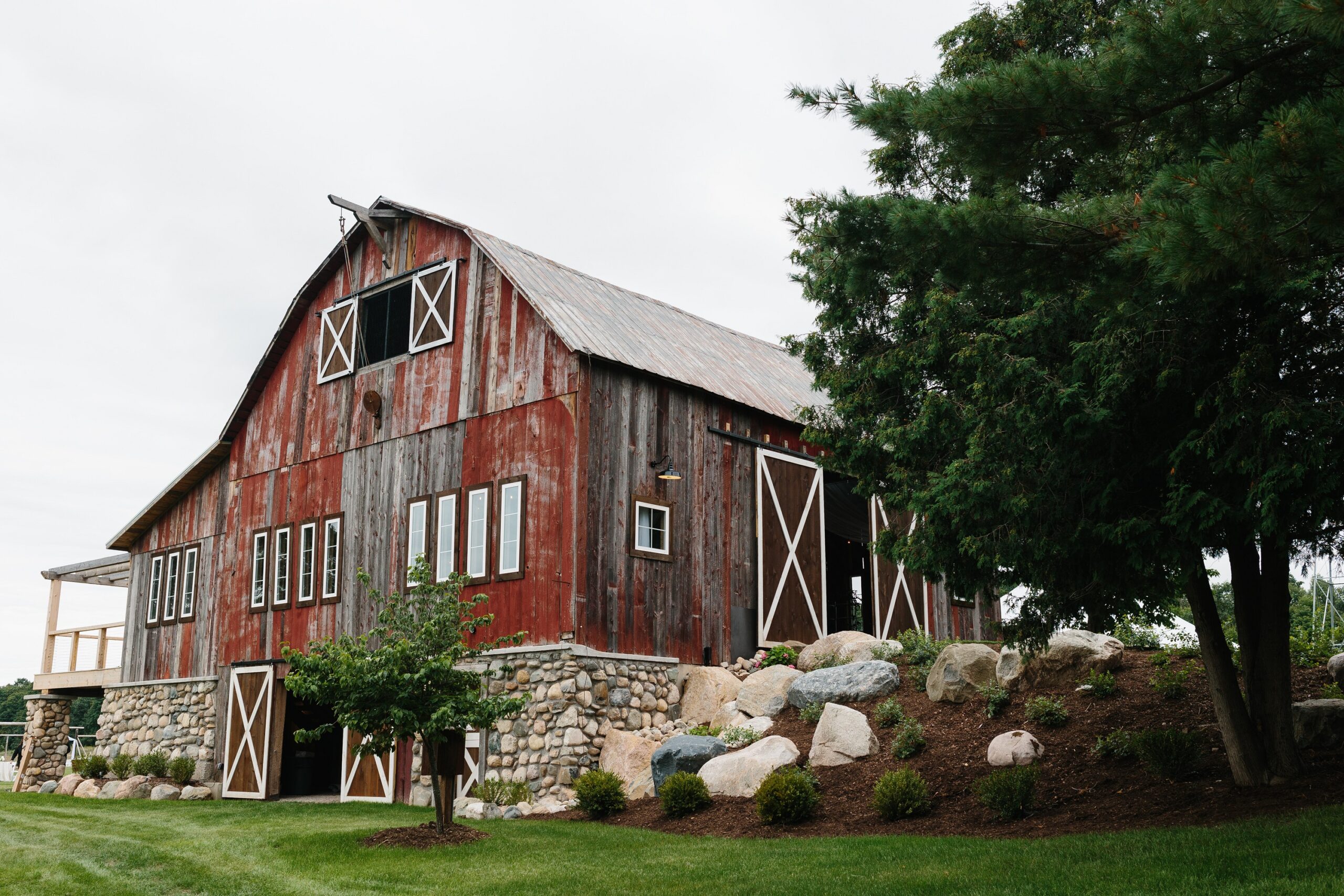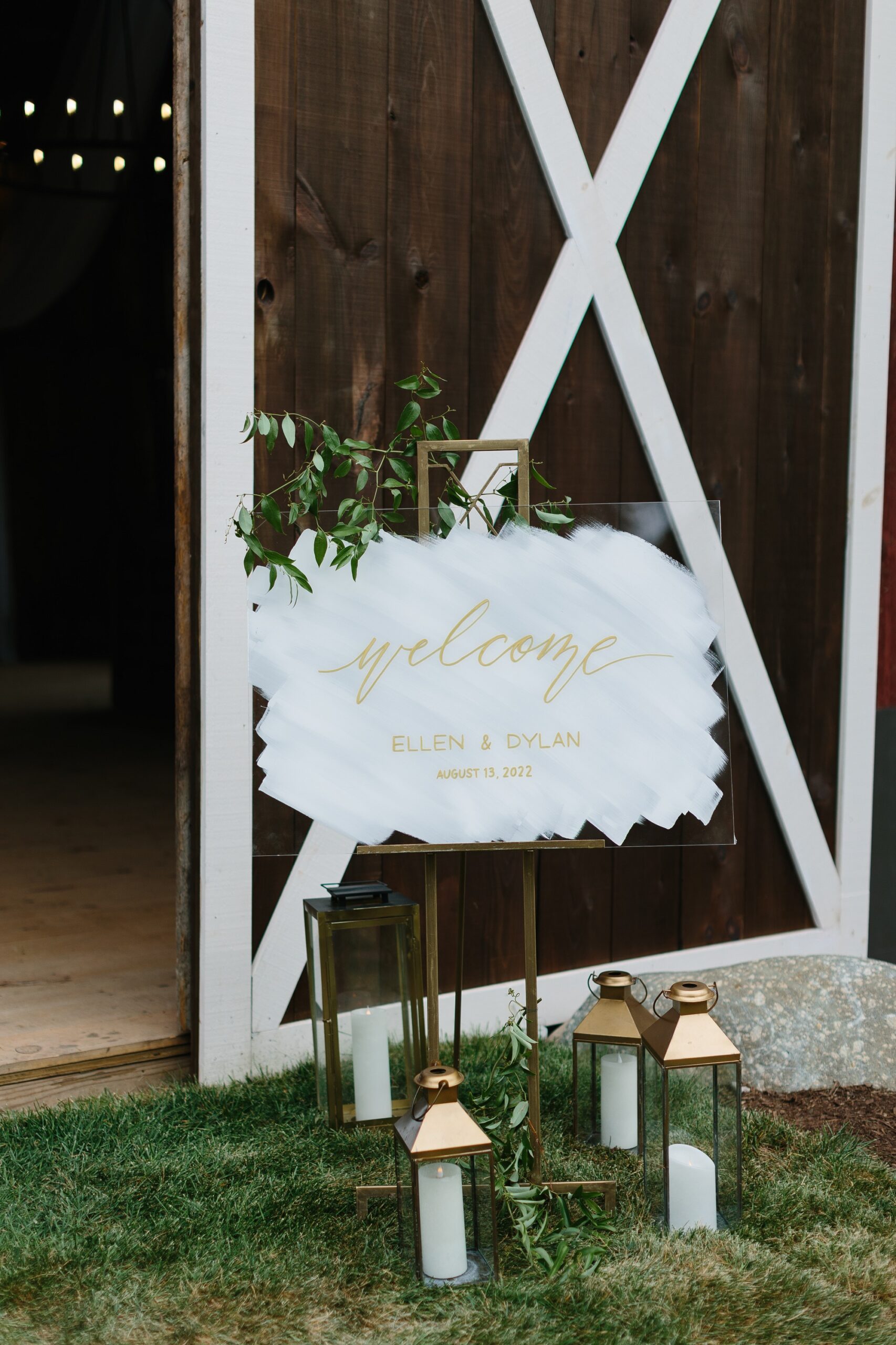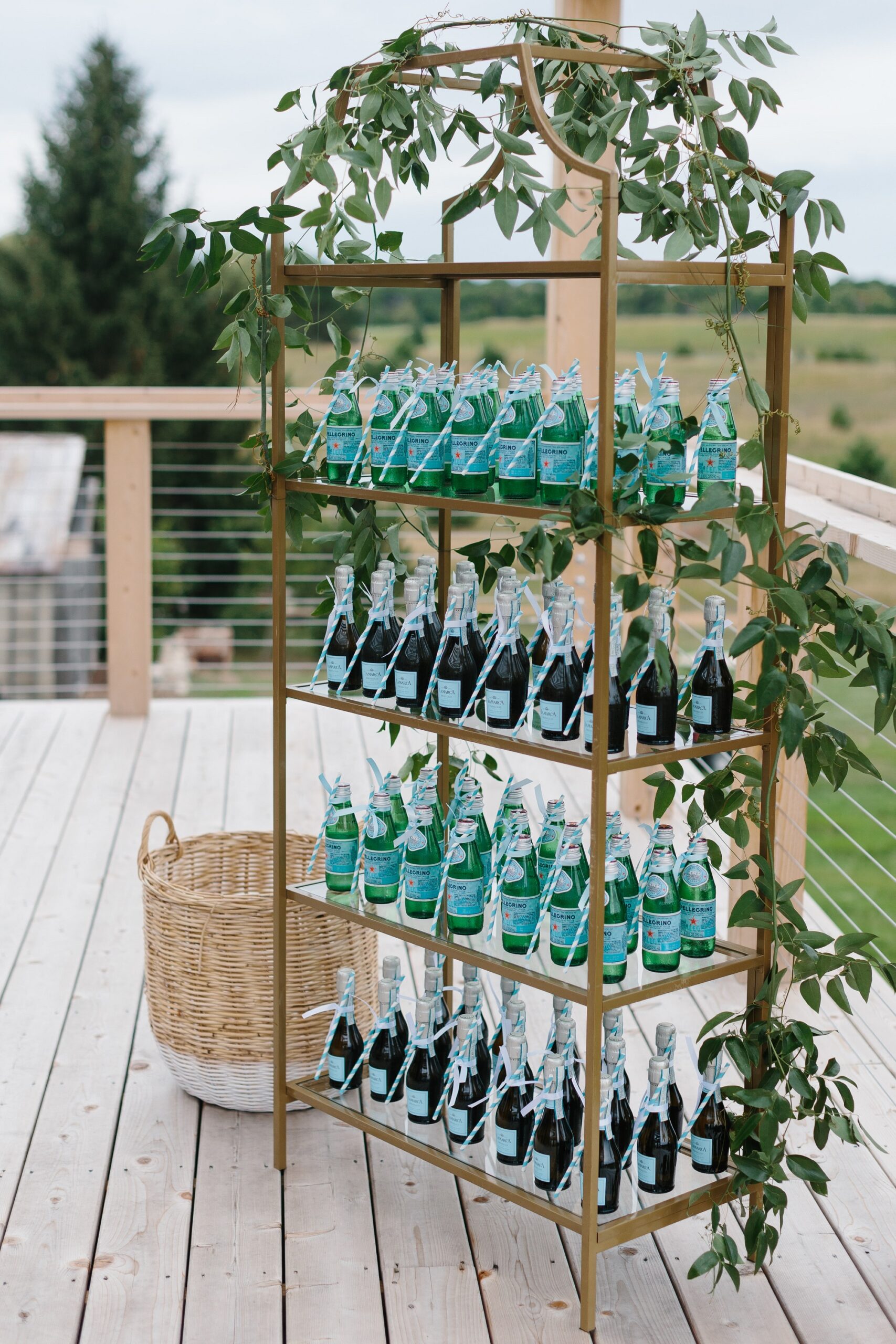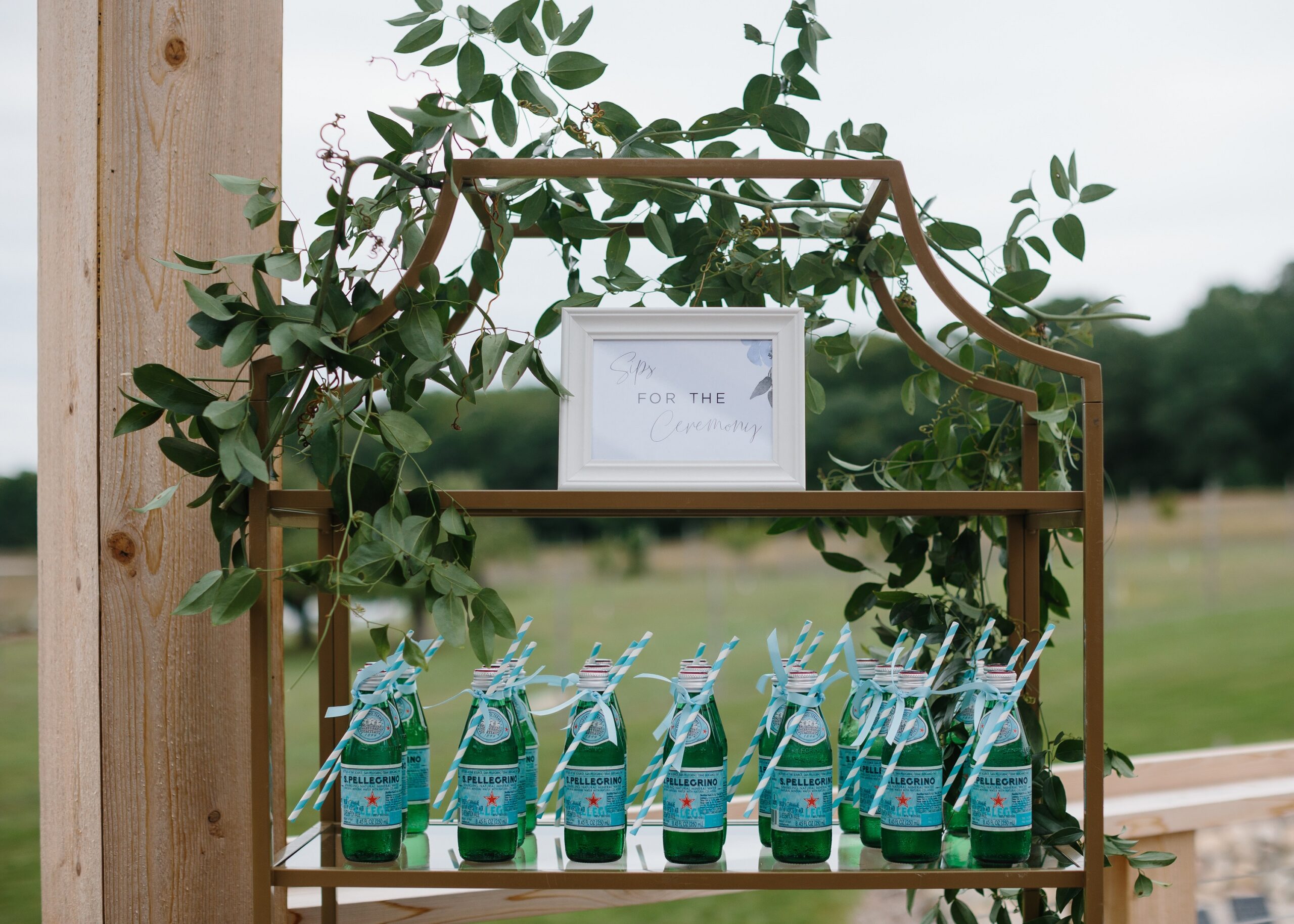 Ceremony in the Field
Ellen & Dylan's ceremony took place at the edge of the orchard under one of the old farm gate entrance structures.  The view featured an open field of late summer grasses and a distant treeline.  The dramatic weathered gate was adorned in graceful chiffon drape with a crystal chandelier overhead and a subtle blue rug underneath.  Eucalyptus greens tied in blue ribbon accented the aisle and framing the back of the aisle, baskets of floral paired with potted bushes and white candles in glass gave a natural yet elevated finishing touch.
Ellen's dad drove her up to the aisle in a vintage blue Ford truck and Uncle Chris's ceremony matched the joyful intentional spirit of the day.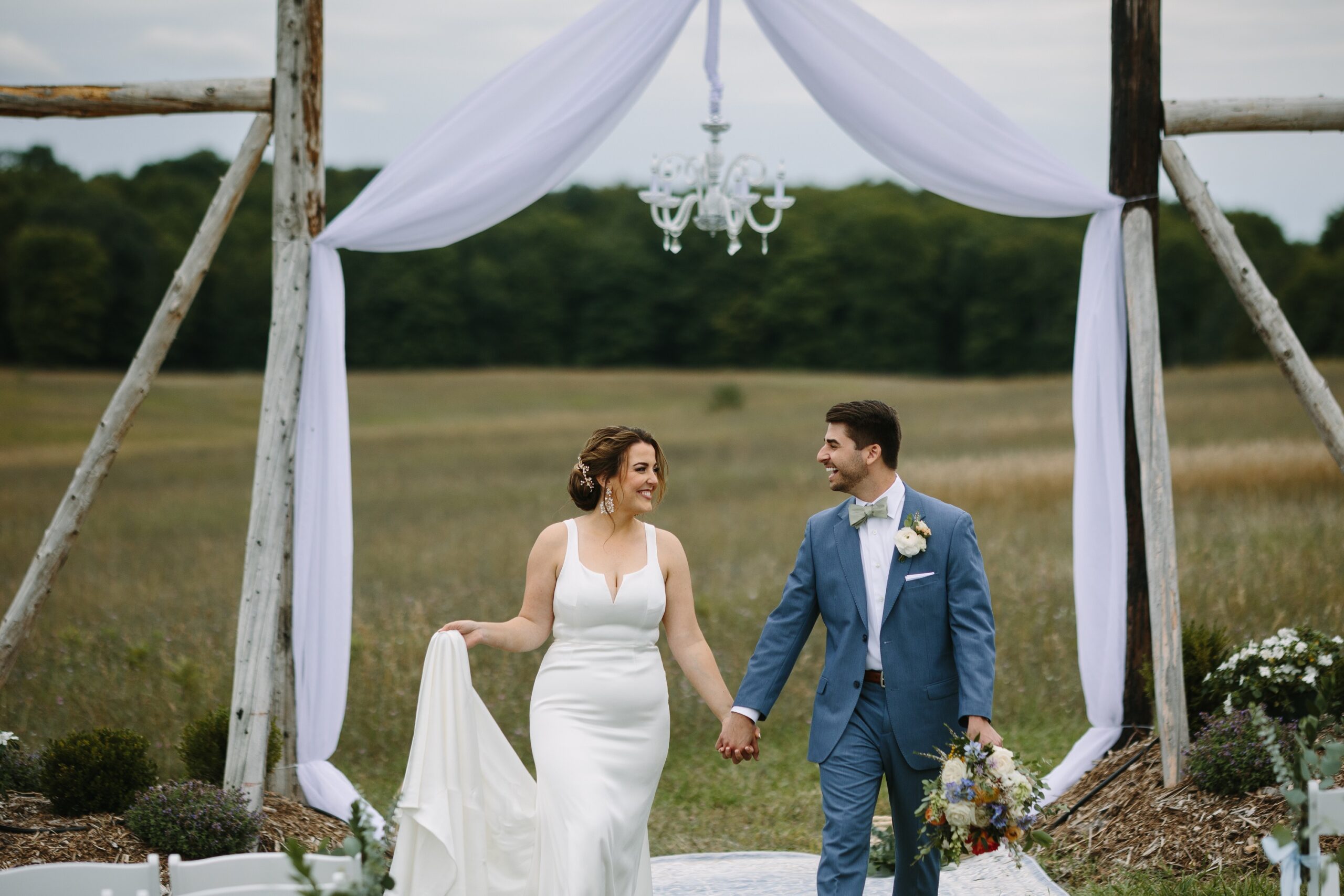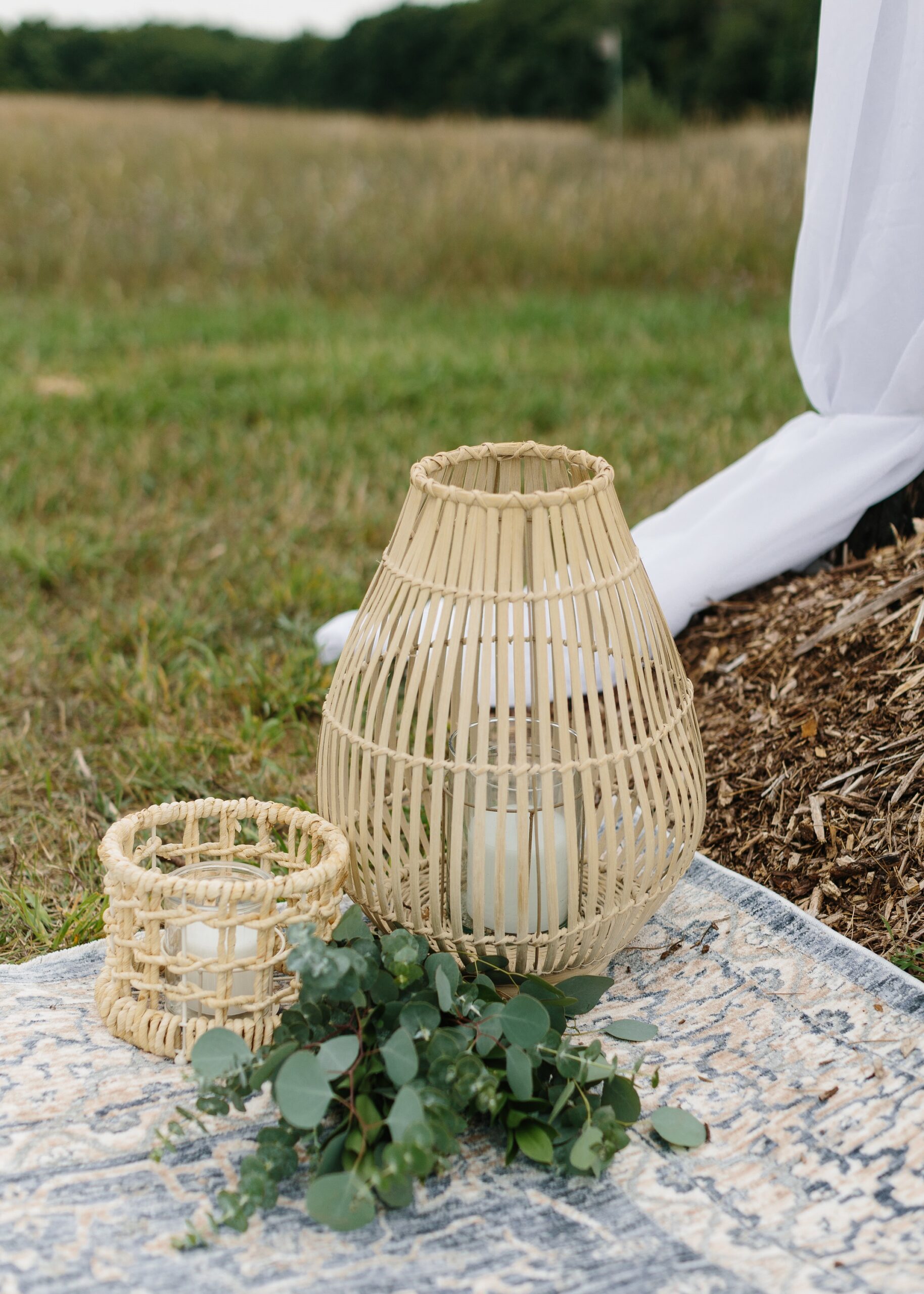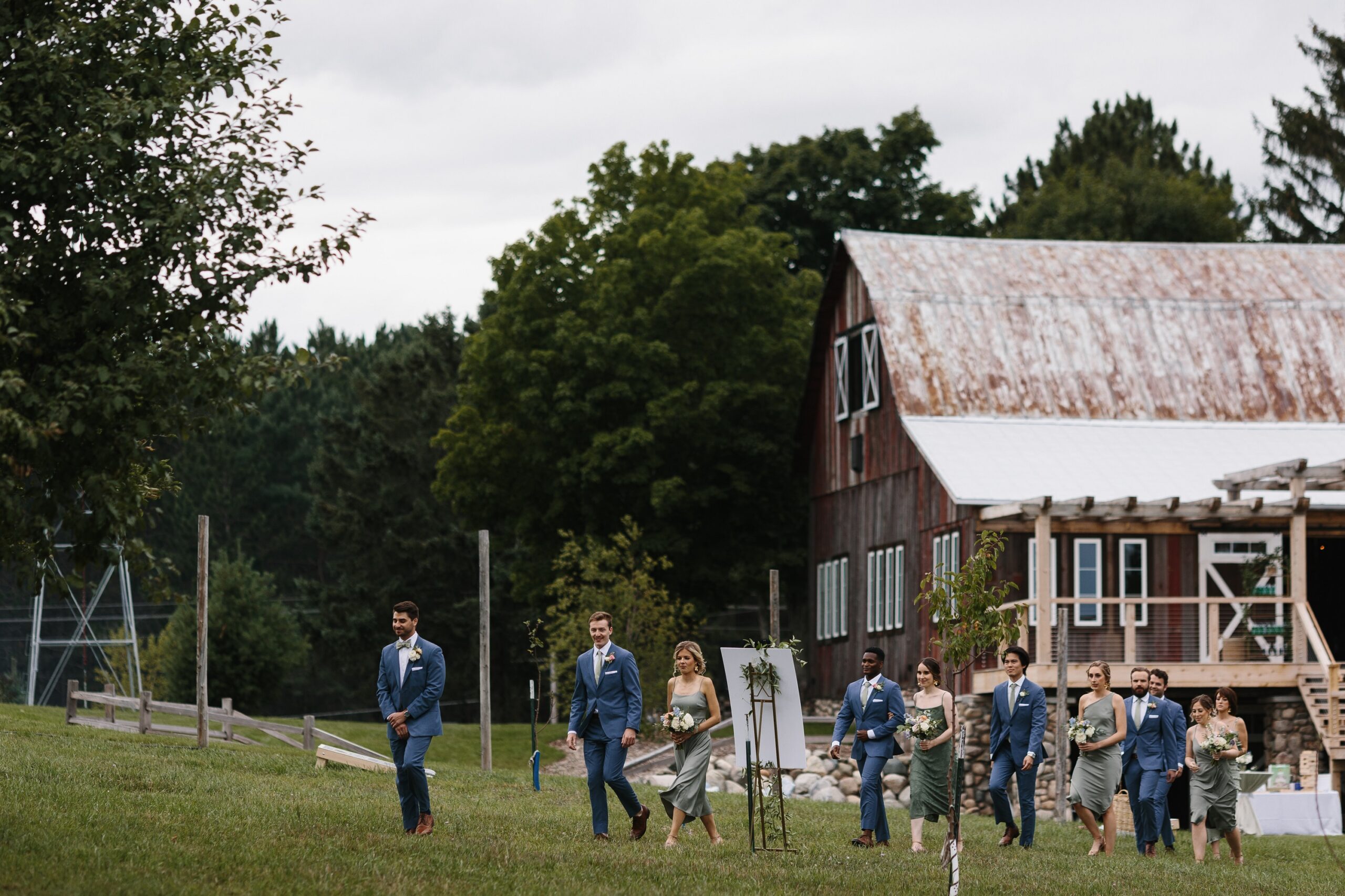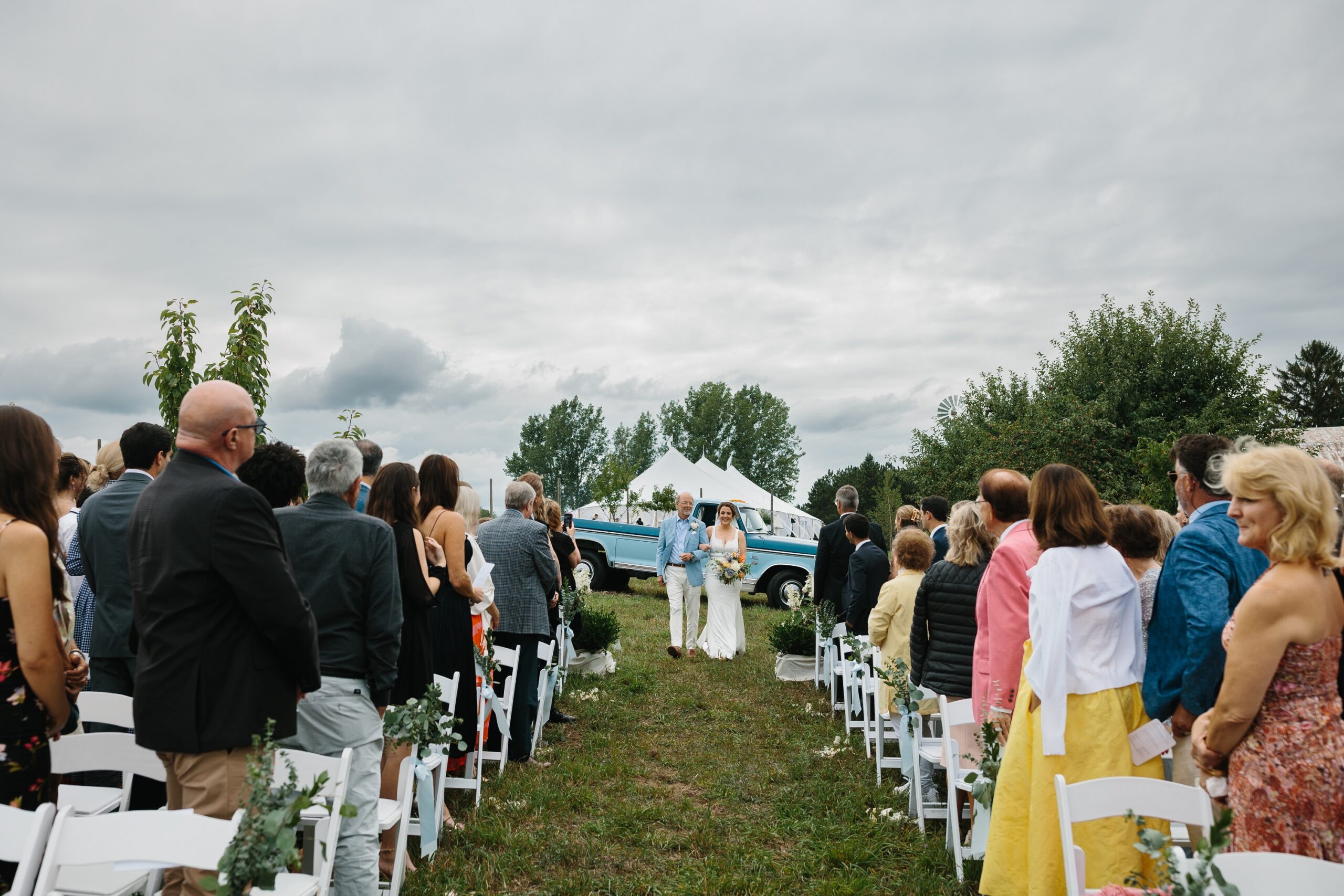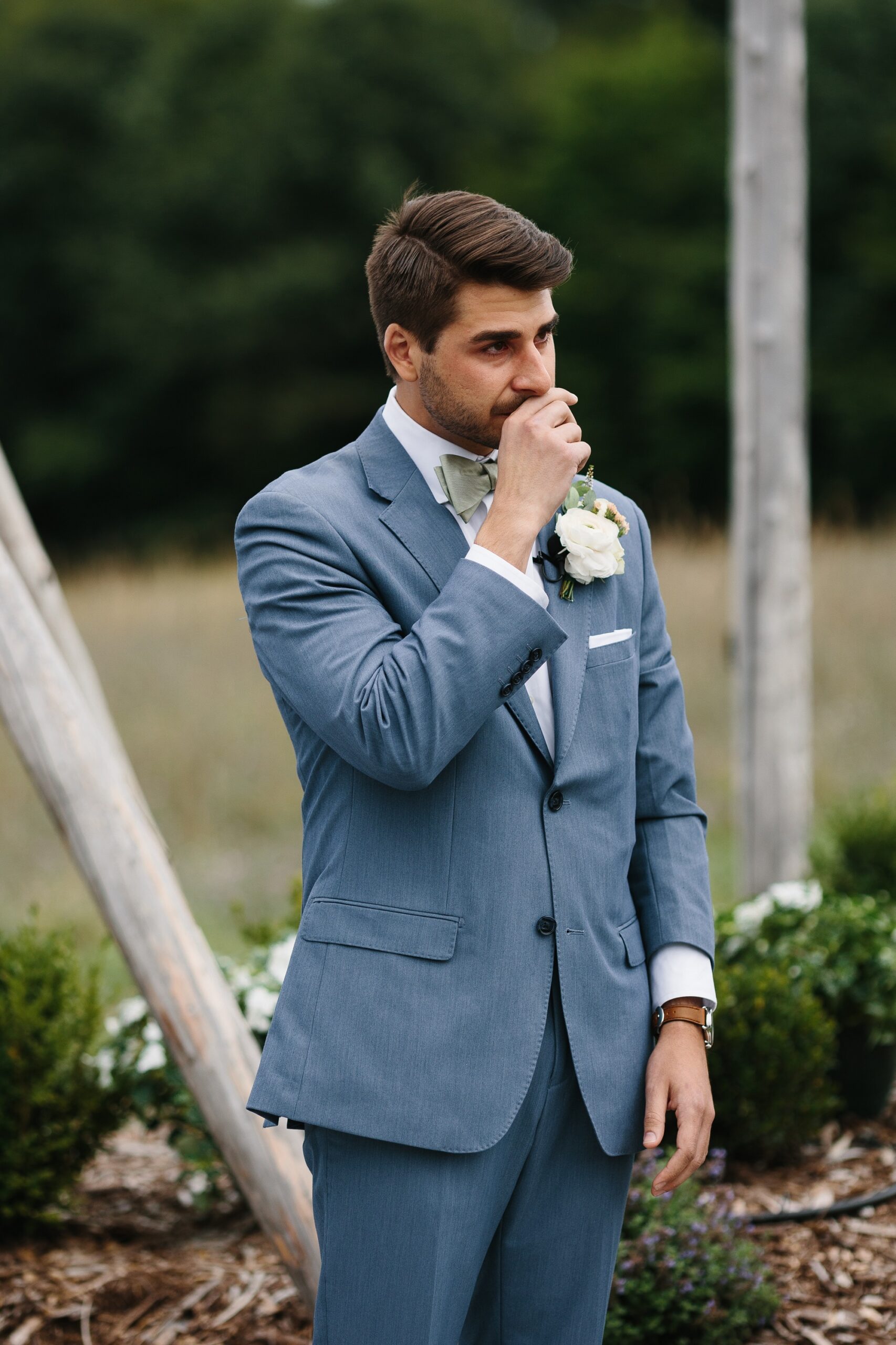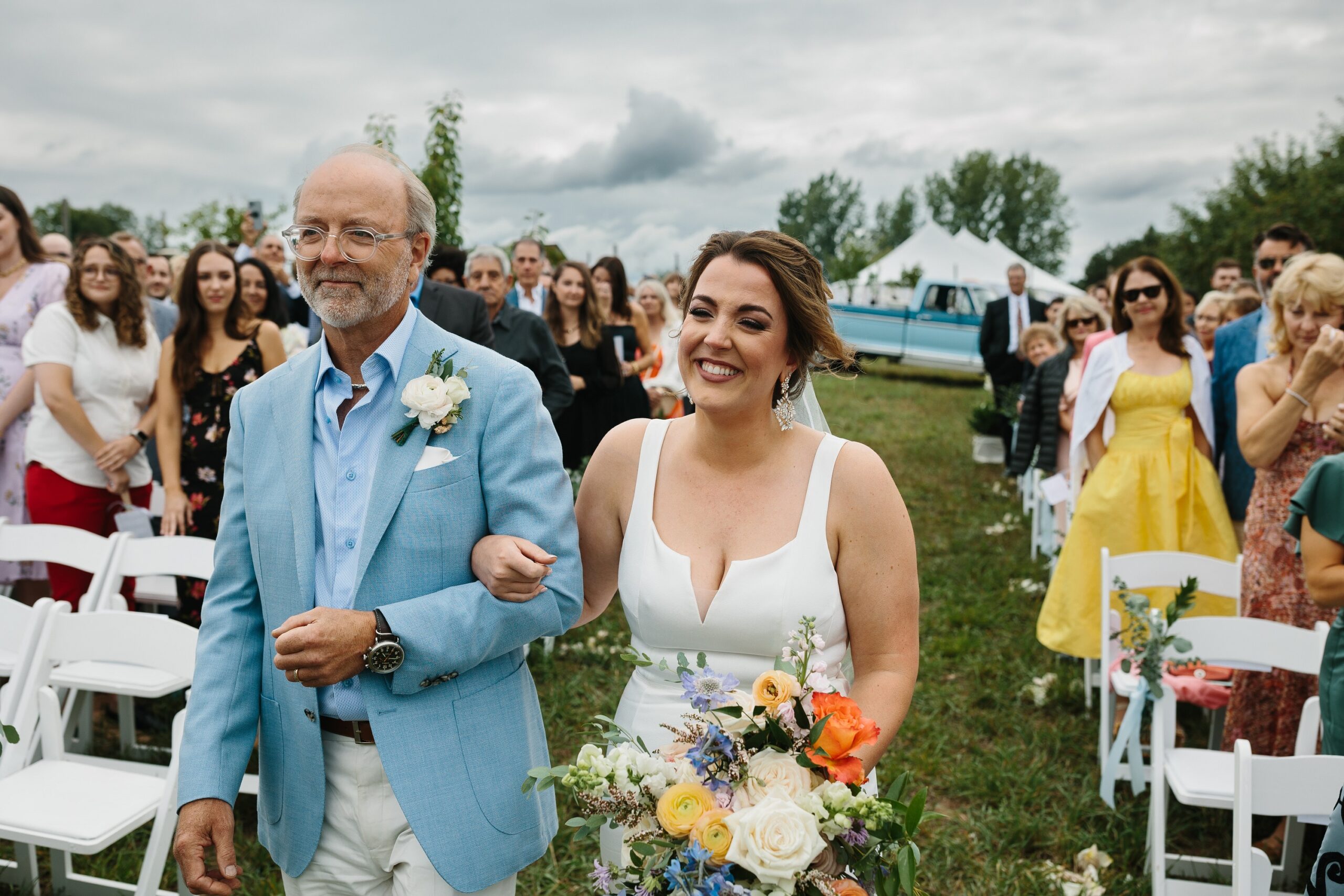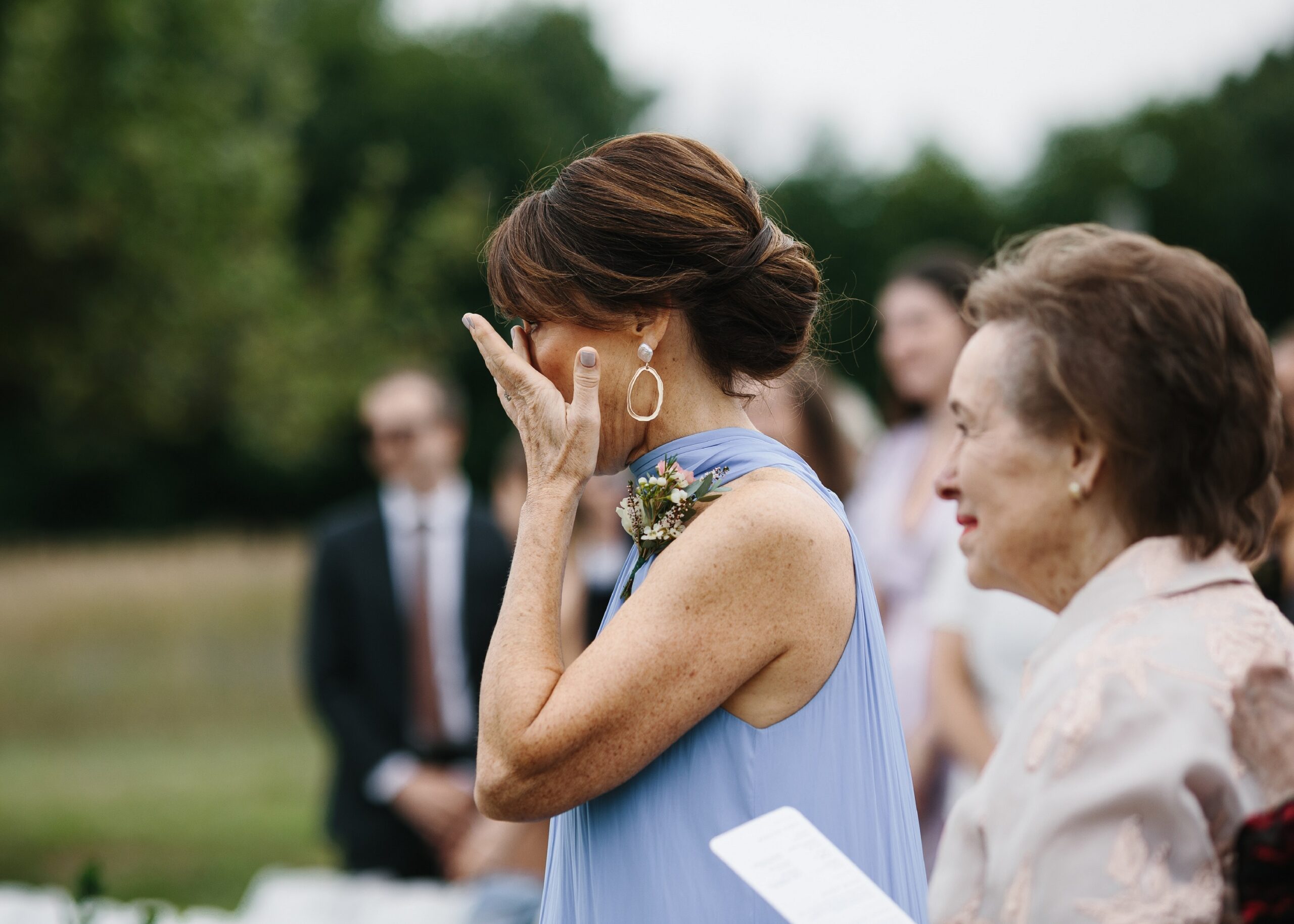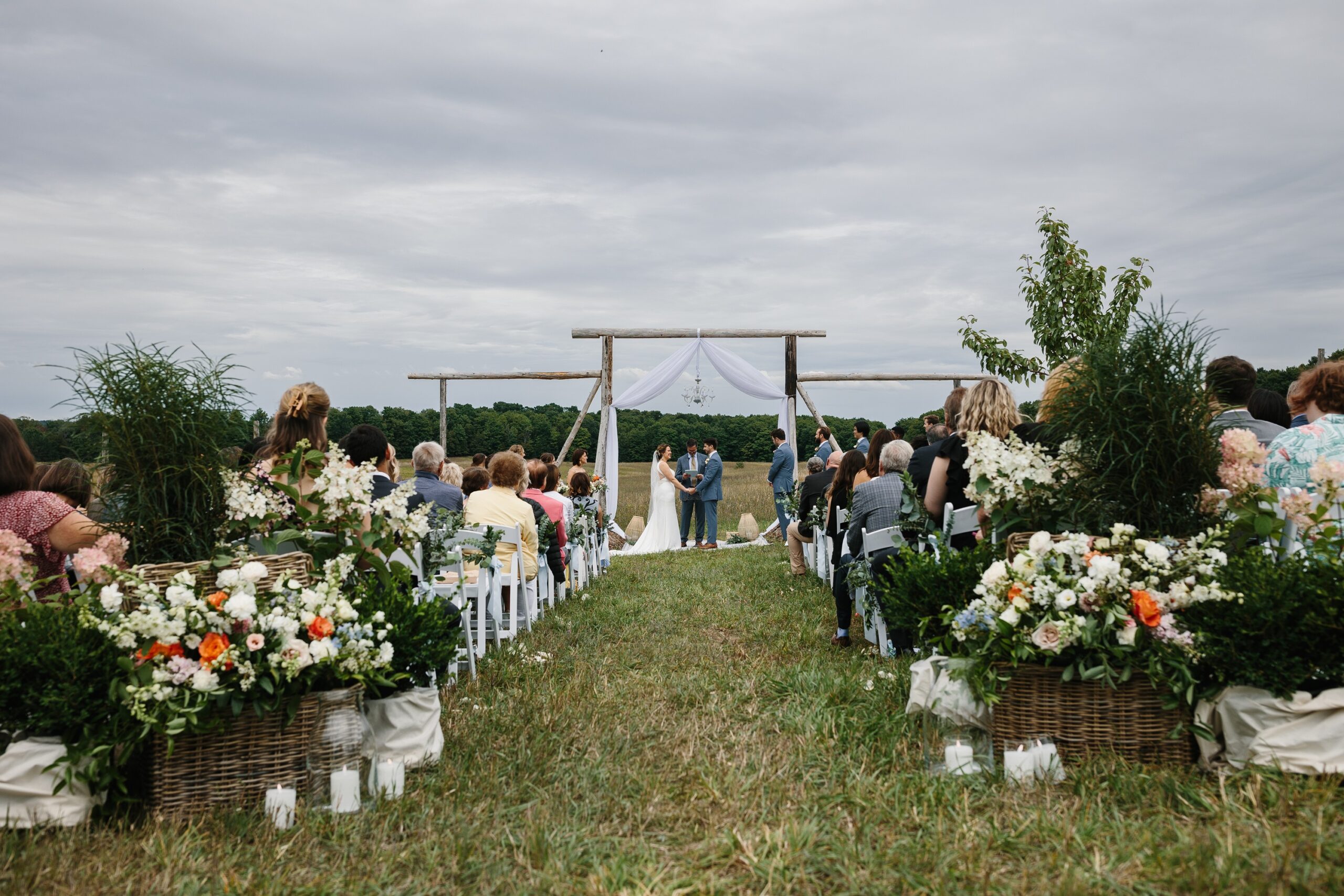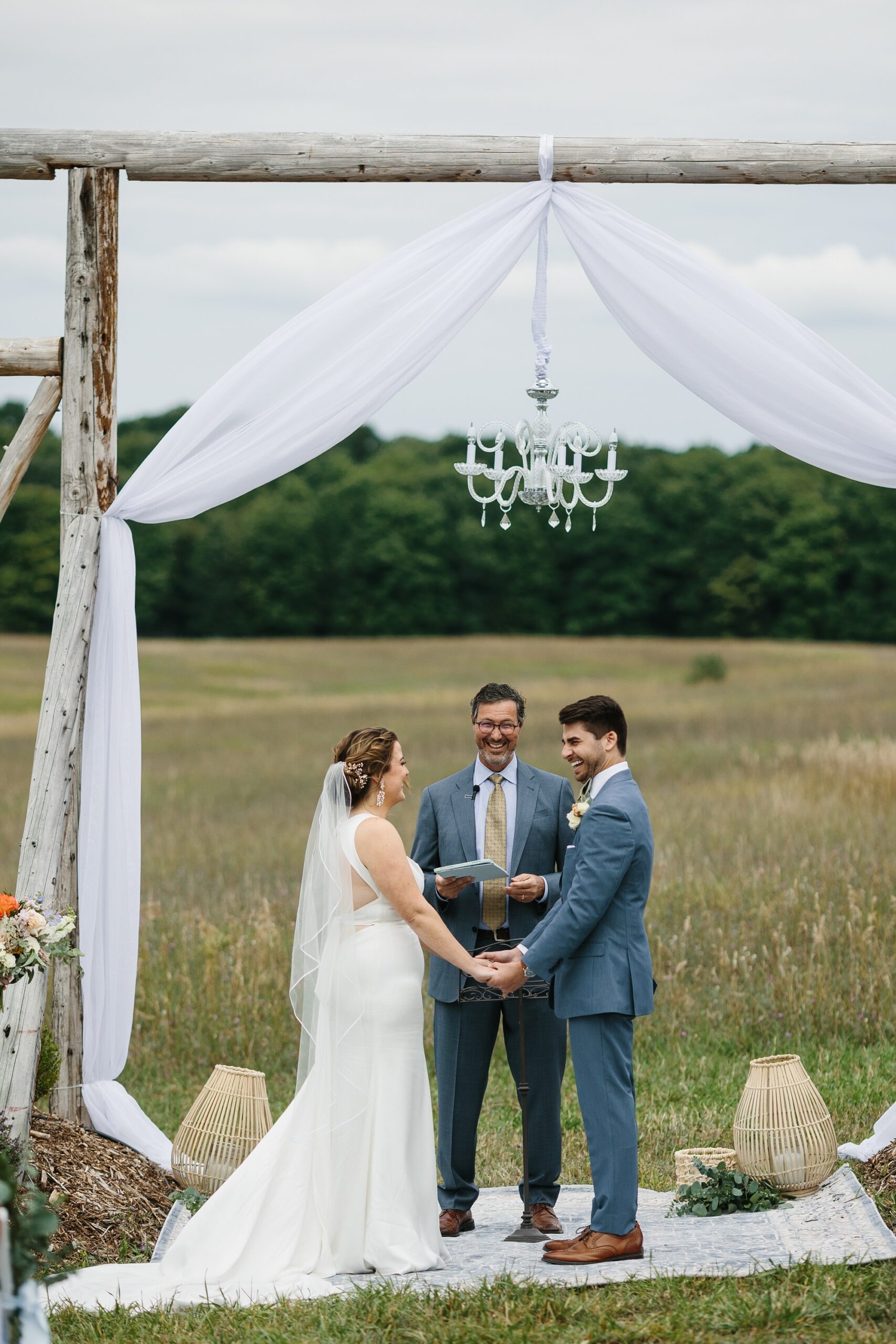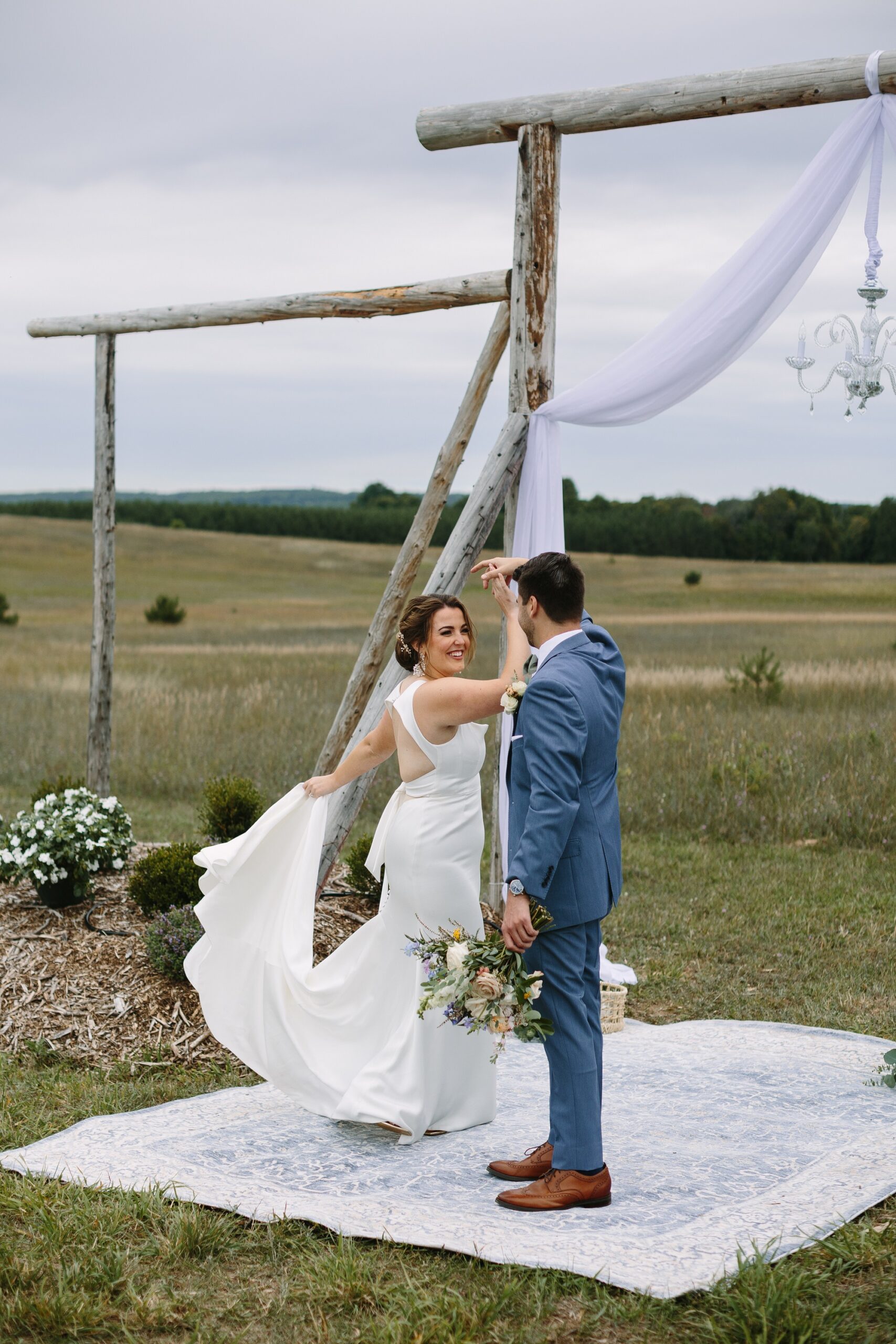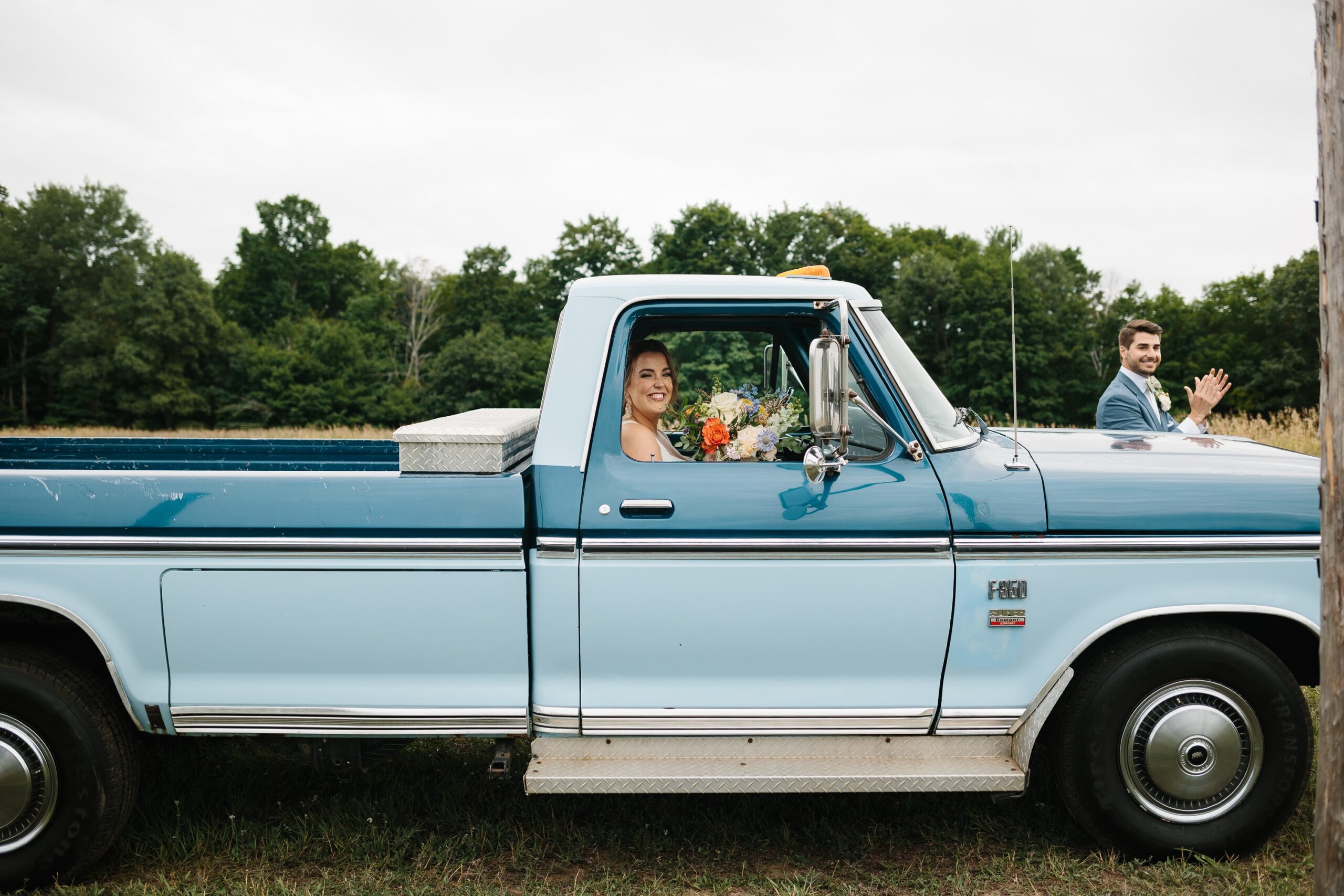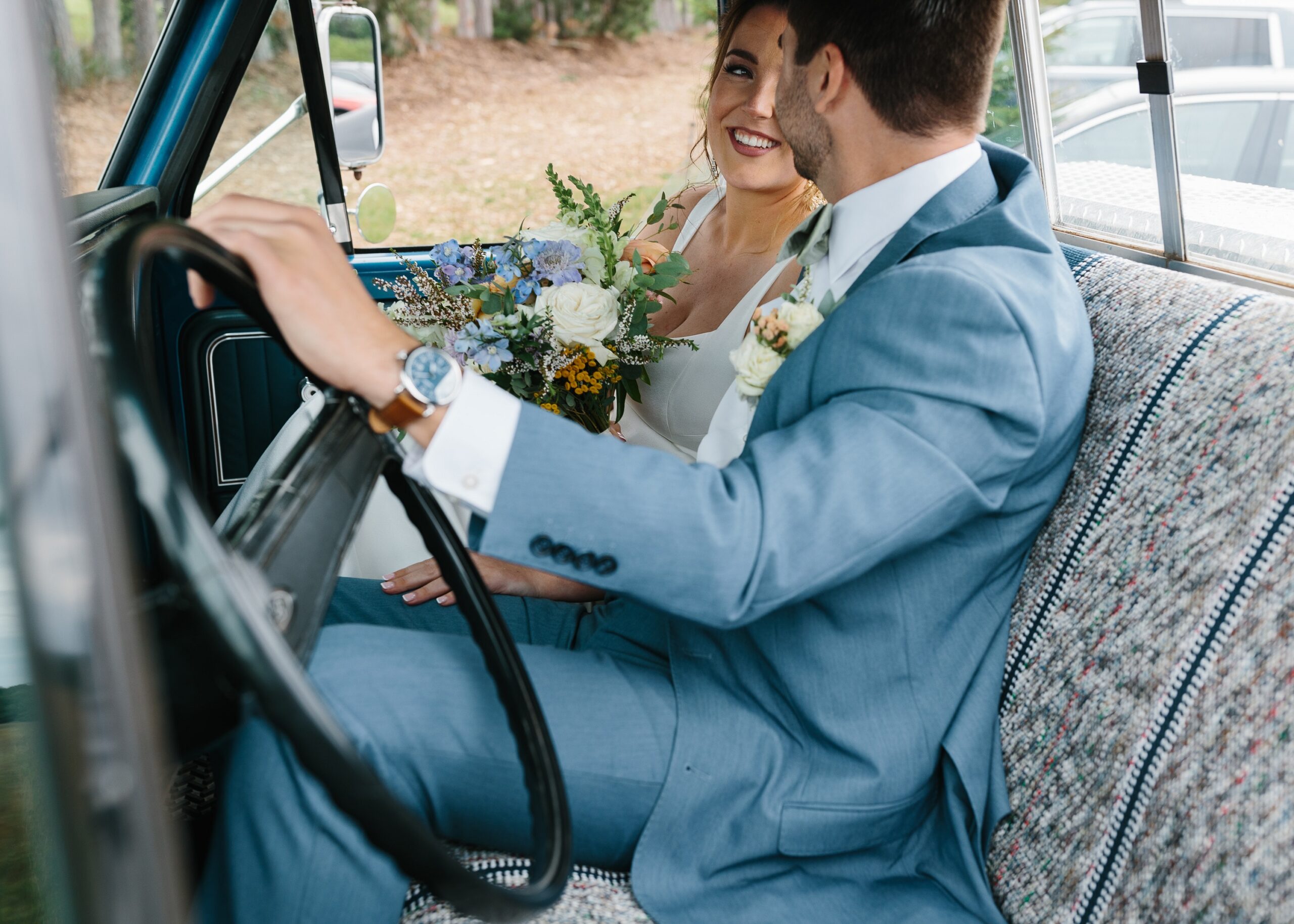 Cocktails by the Orchard
As Ellen & Dylan drove off in the vintage blue Ford, guests strolled back thru the orchard for custom cocktails, lawn games, and lounging.   We loved the thoughtfully designed moments in this scene – beautifully captured by Matt & Ashley Photography and beautifully enjoyed by guests.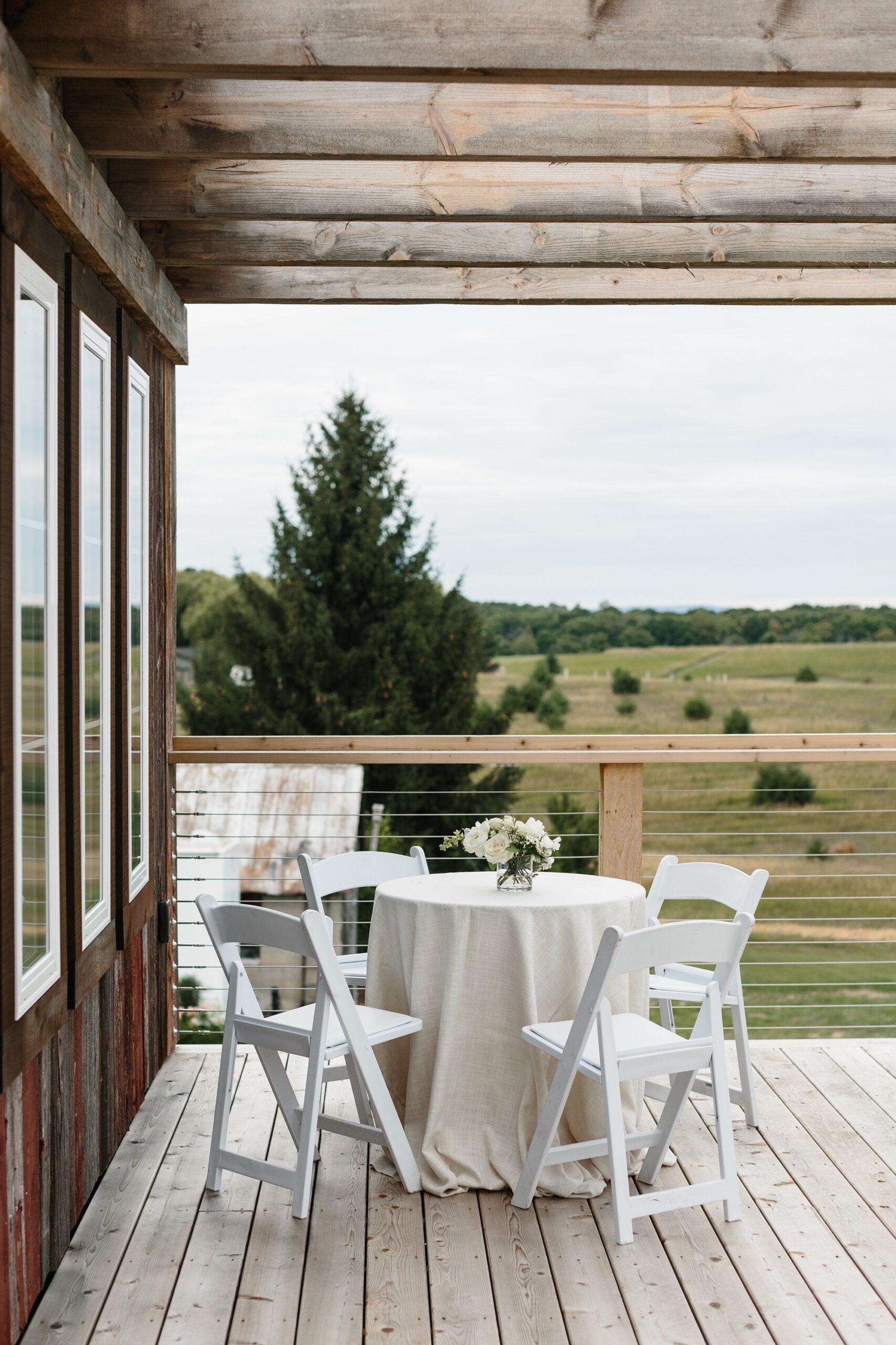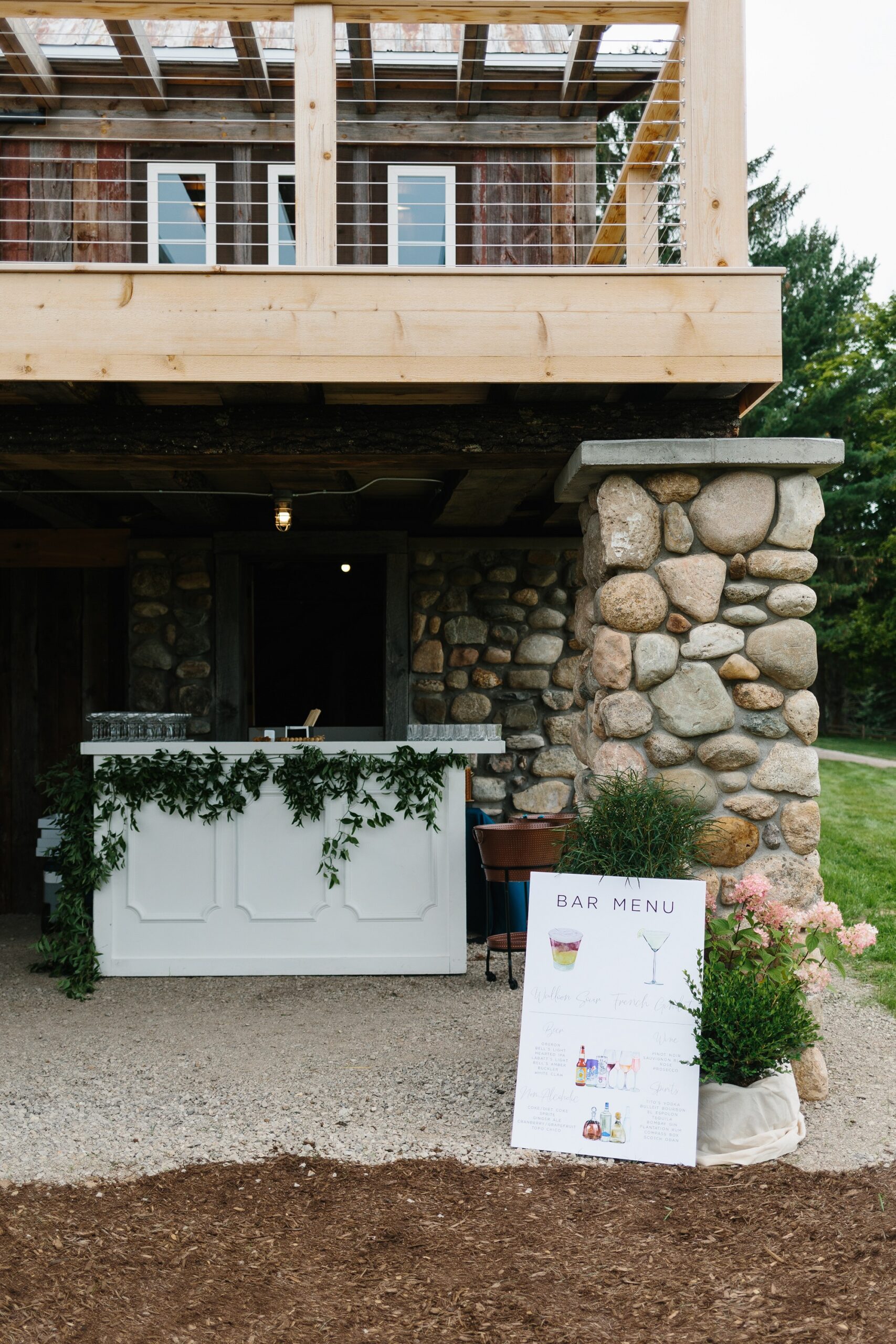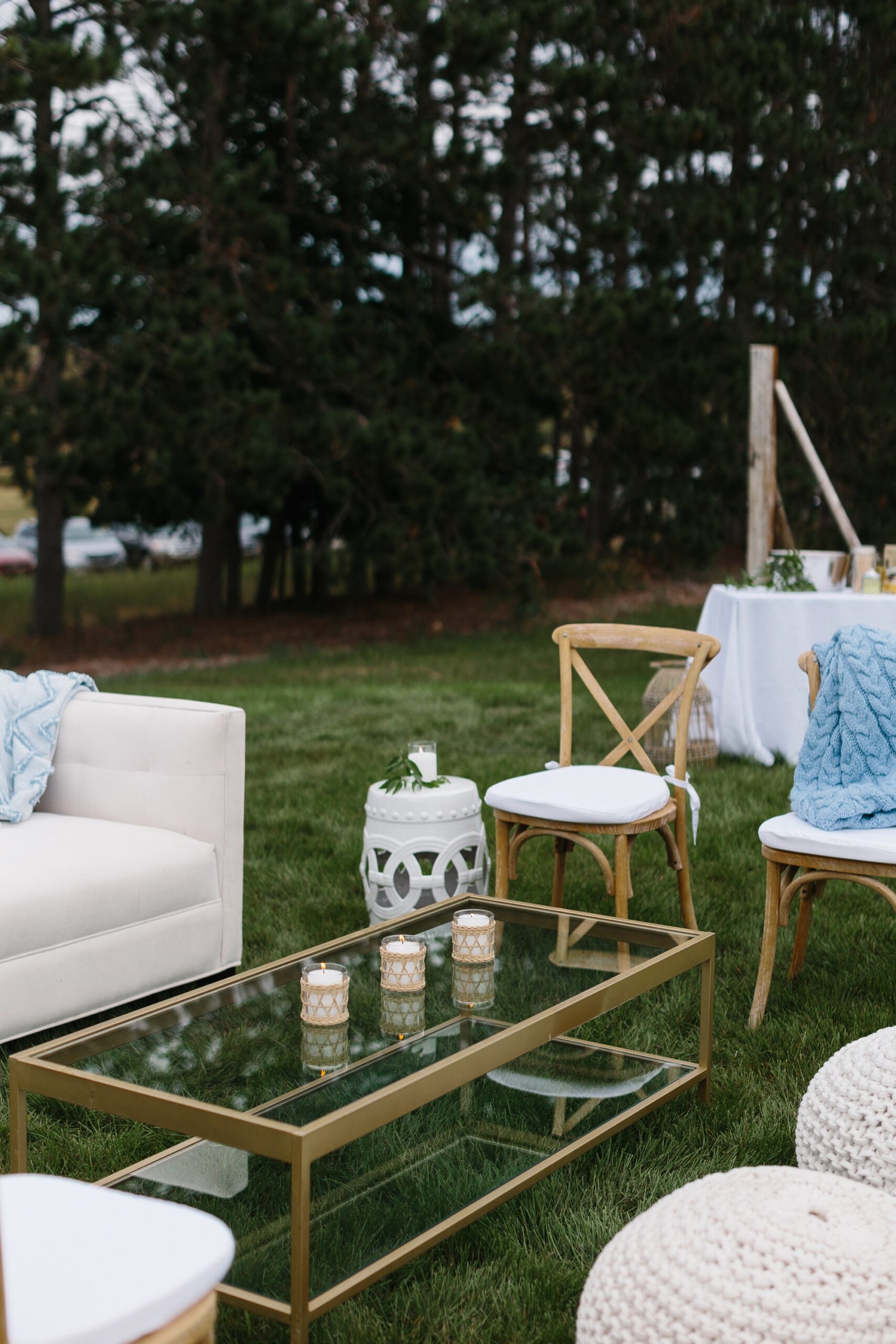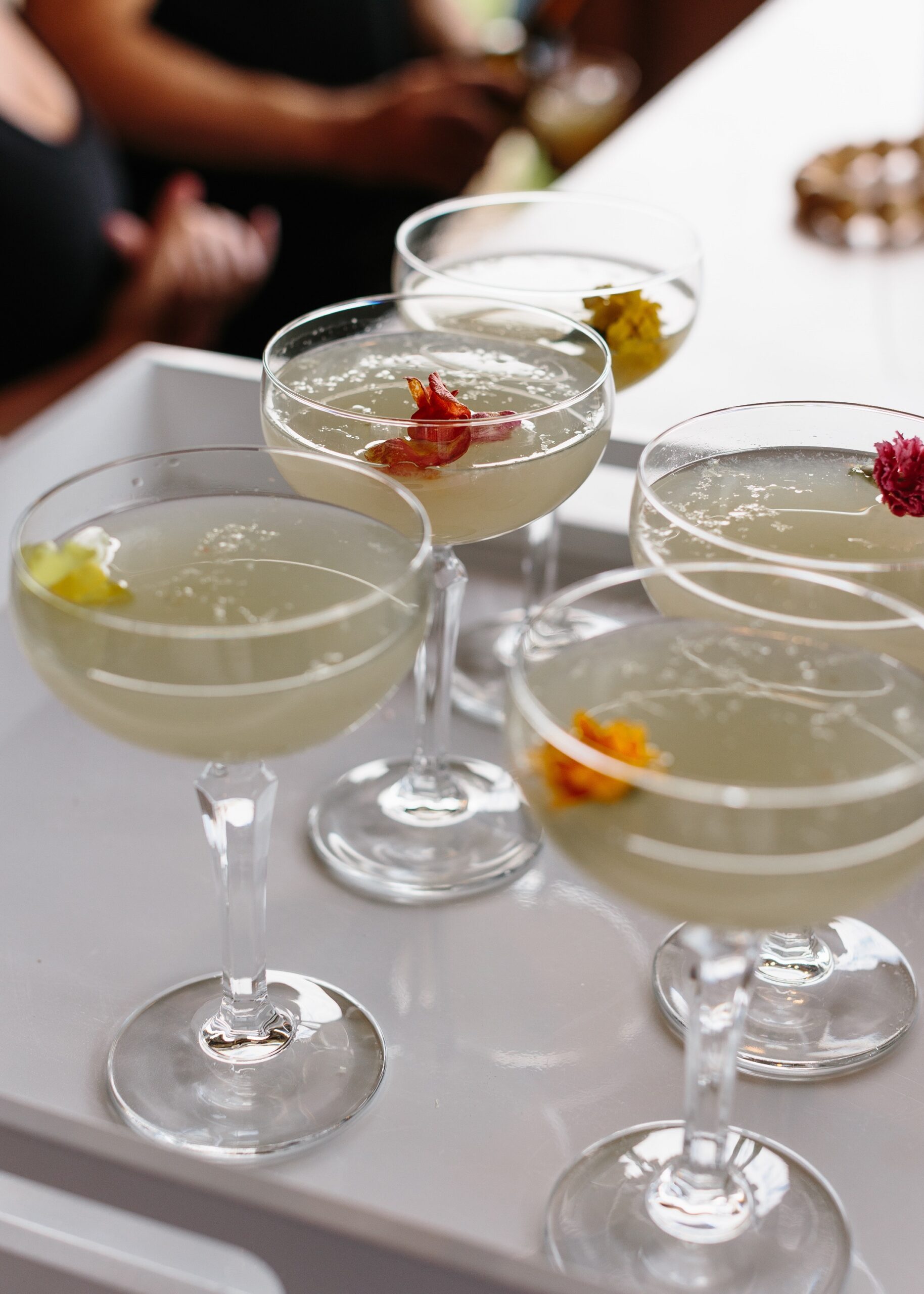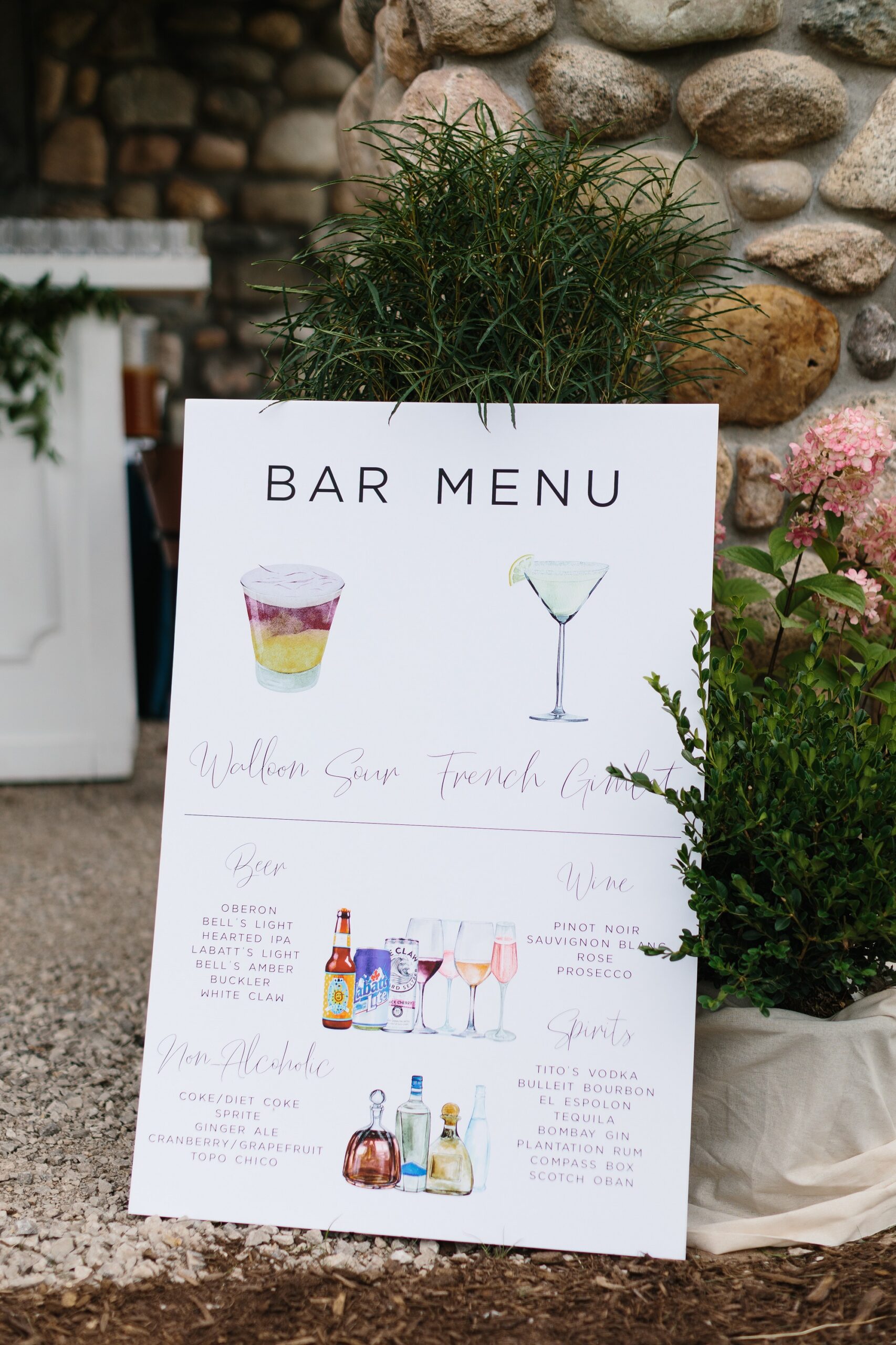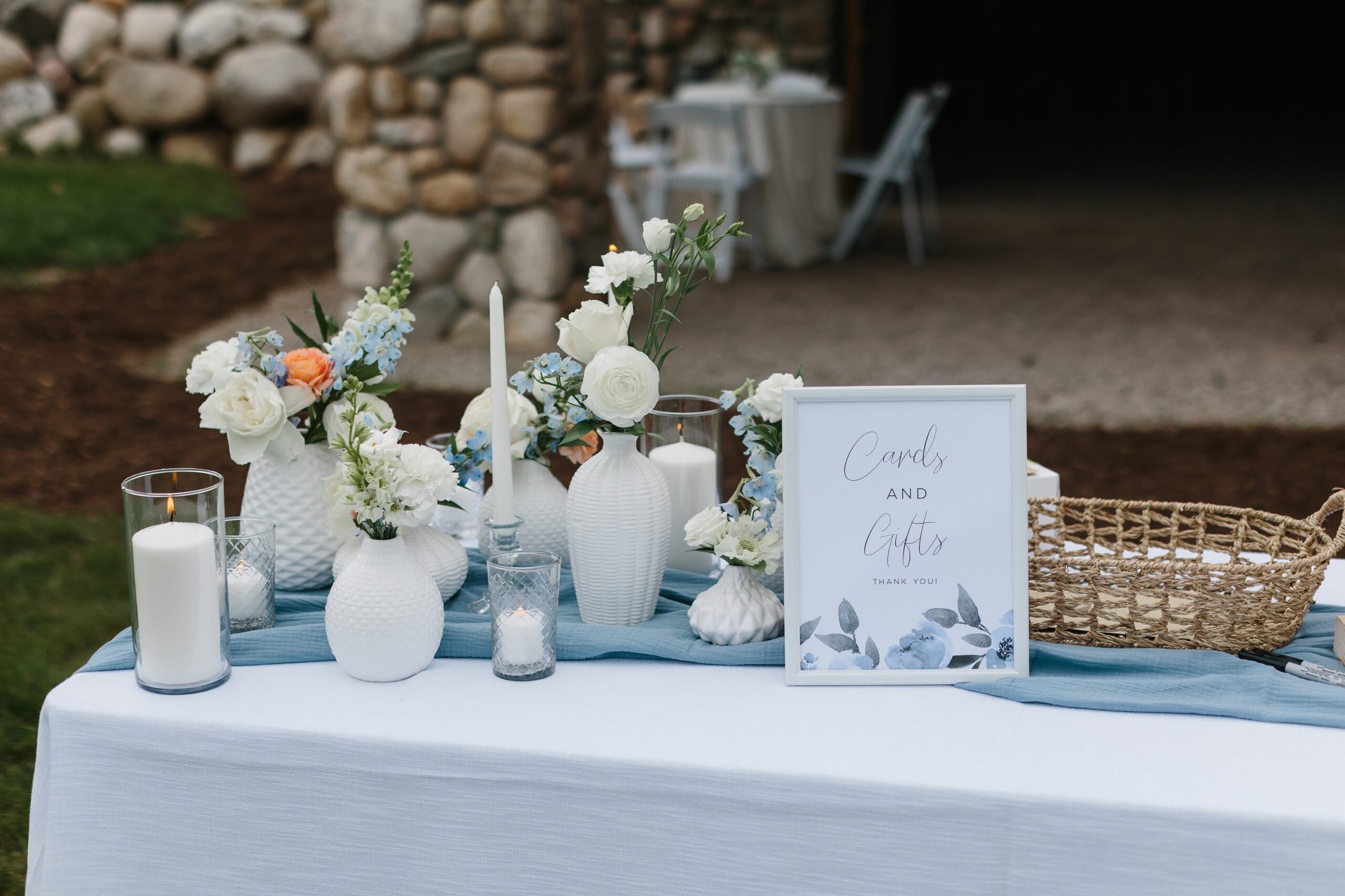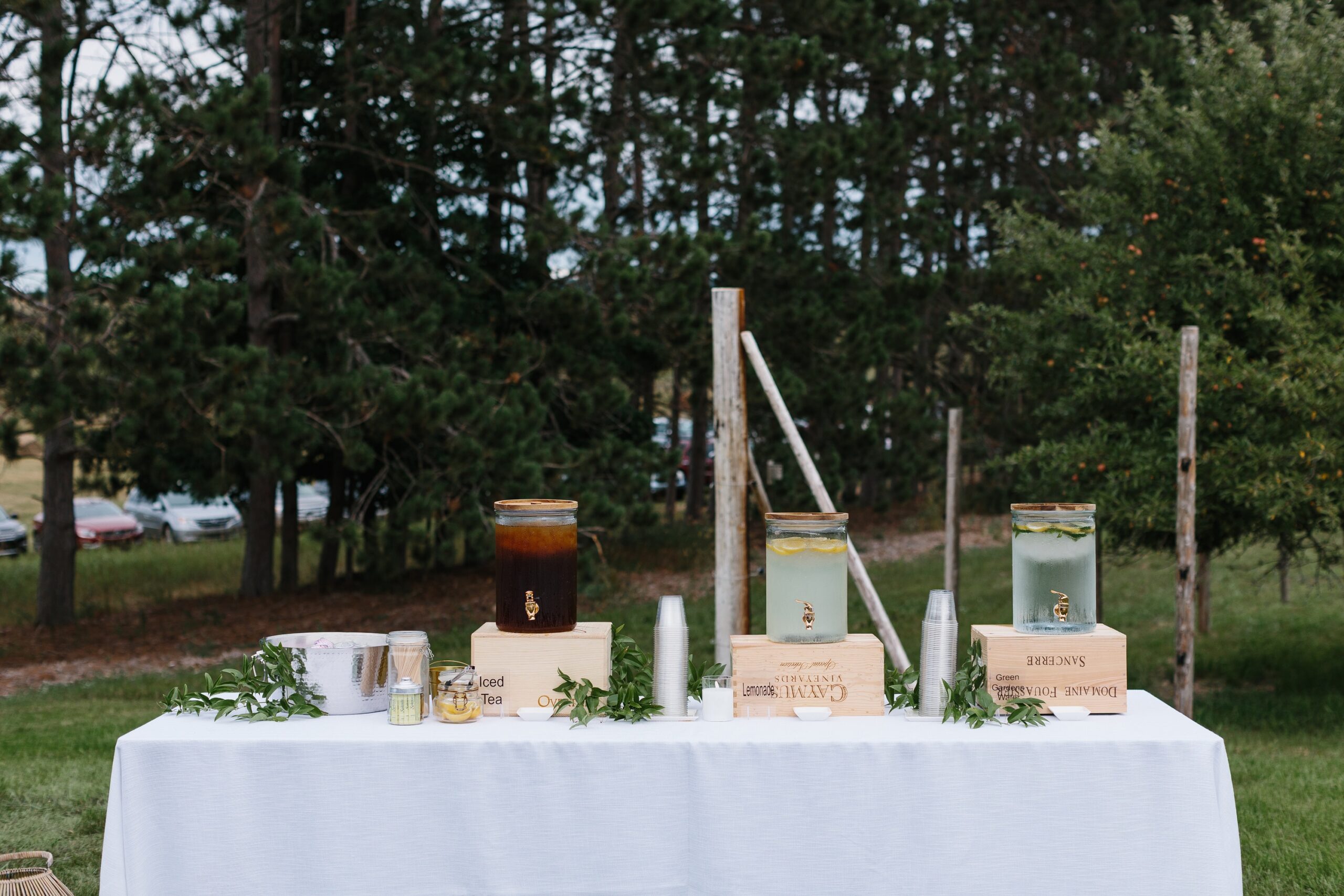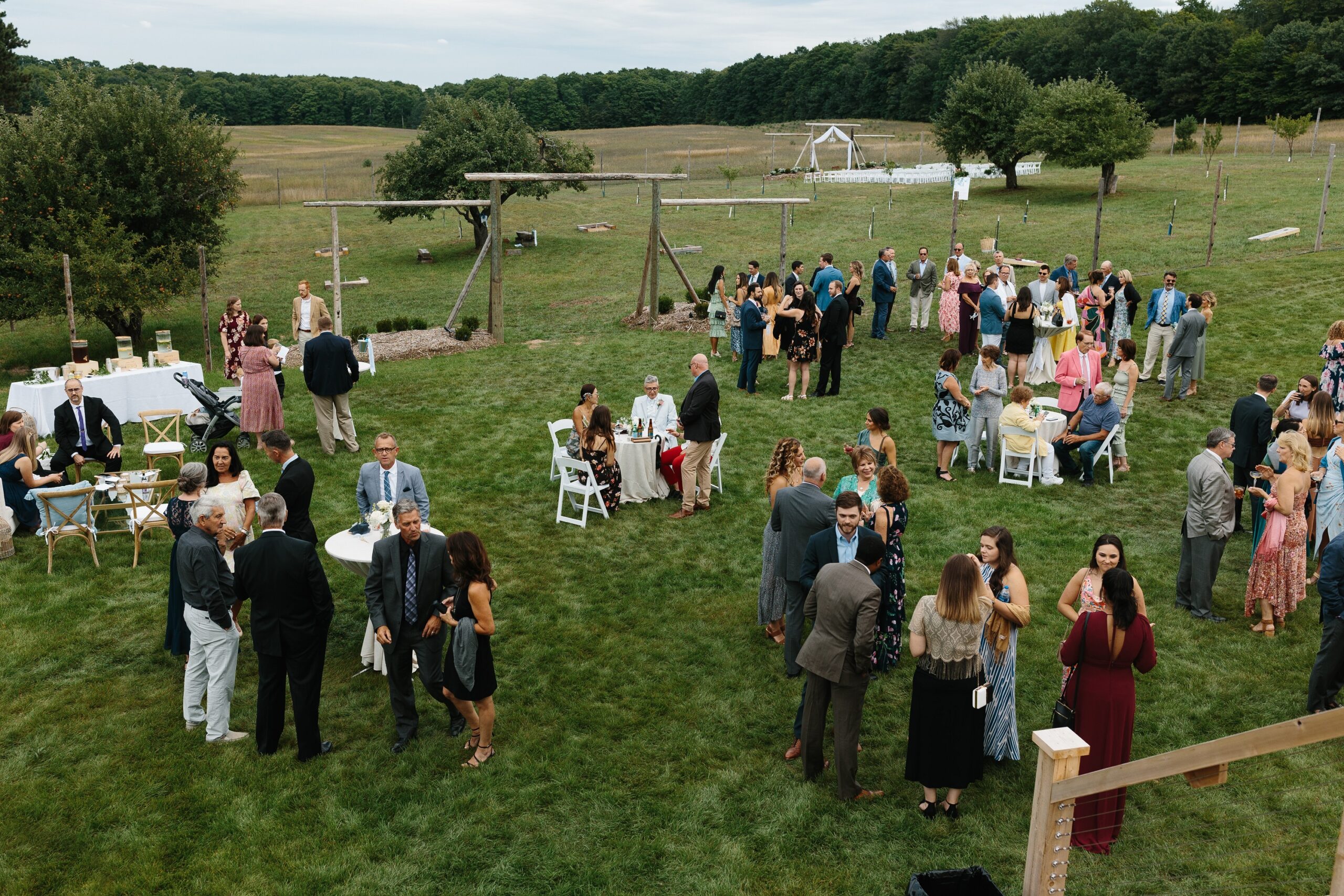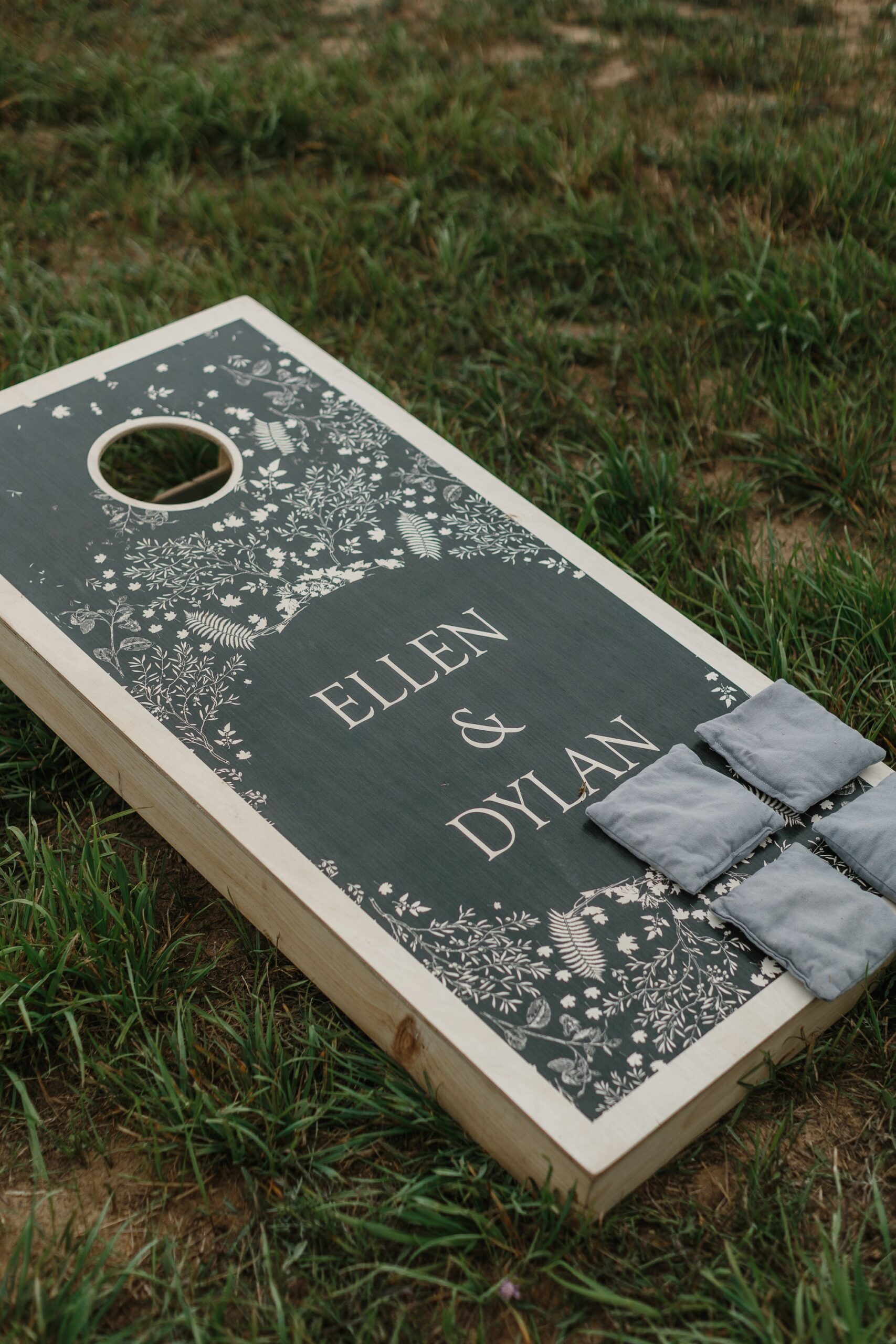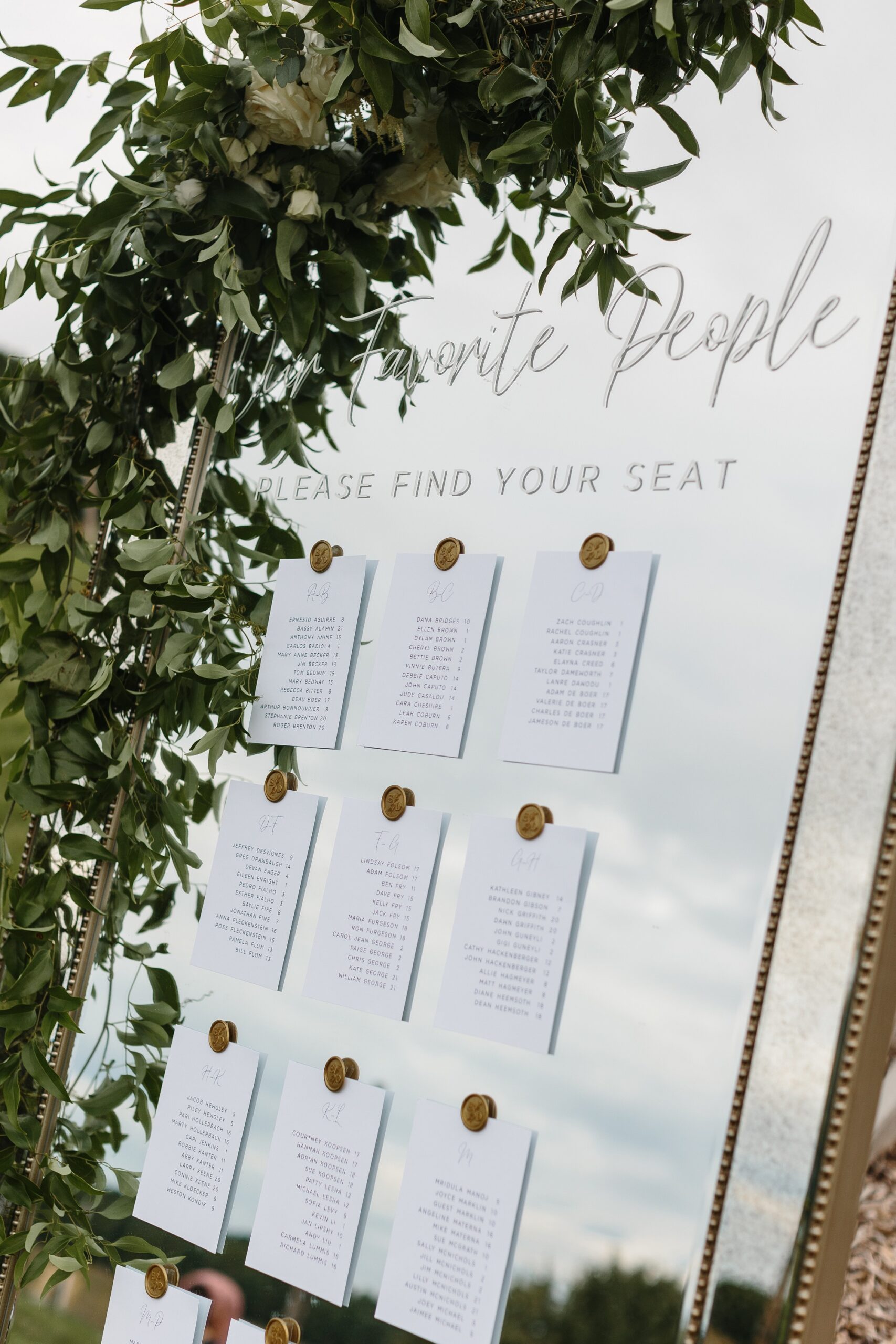 Dinner in a Sailcloth Tent
The dinner scene under a sailcloth tent was a masterpiece of design, thanks in large part to the thoughtful vision and dedicated refinement that Ellen's mom (Mindy) brought to our planning experience and to the stunning macrame chandeliers that Dylan's mom (Cheryl) hand-crafted based on an inspiration photo from Ellen.
Arrangements by Sweetwater Floral of white blooms and greenery with playful hints of peach and blue adorned guest tables dressed in textural blue linens.  Modern white-handled gold flatware framed gold-beaded chargers and a blue and white floral pattern framed menus adorned with a monogram gold wax seal.  The bridal party king's table was an inverse of the round tables with its white linen and blue napkins.  Hundreds of candles in glass added a timeless elegance to the summer look.
Dinner by one of the family's favorite fine dining restaurants, Willow, was an experience of culinary excellence featuring local flavors in a station style service that encouraged guests to mingle and kept the energy level festive.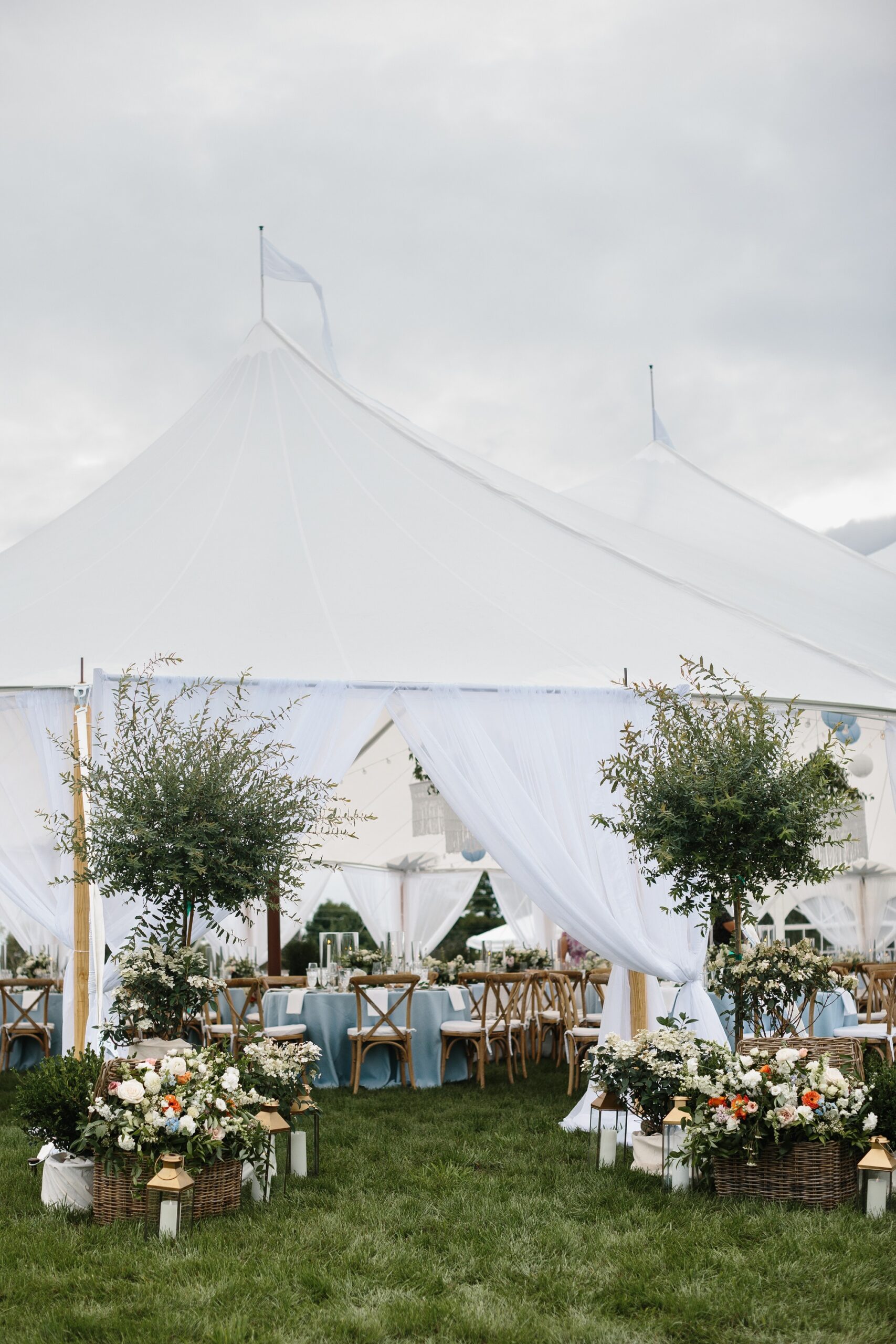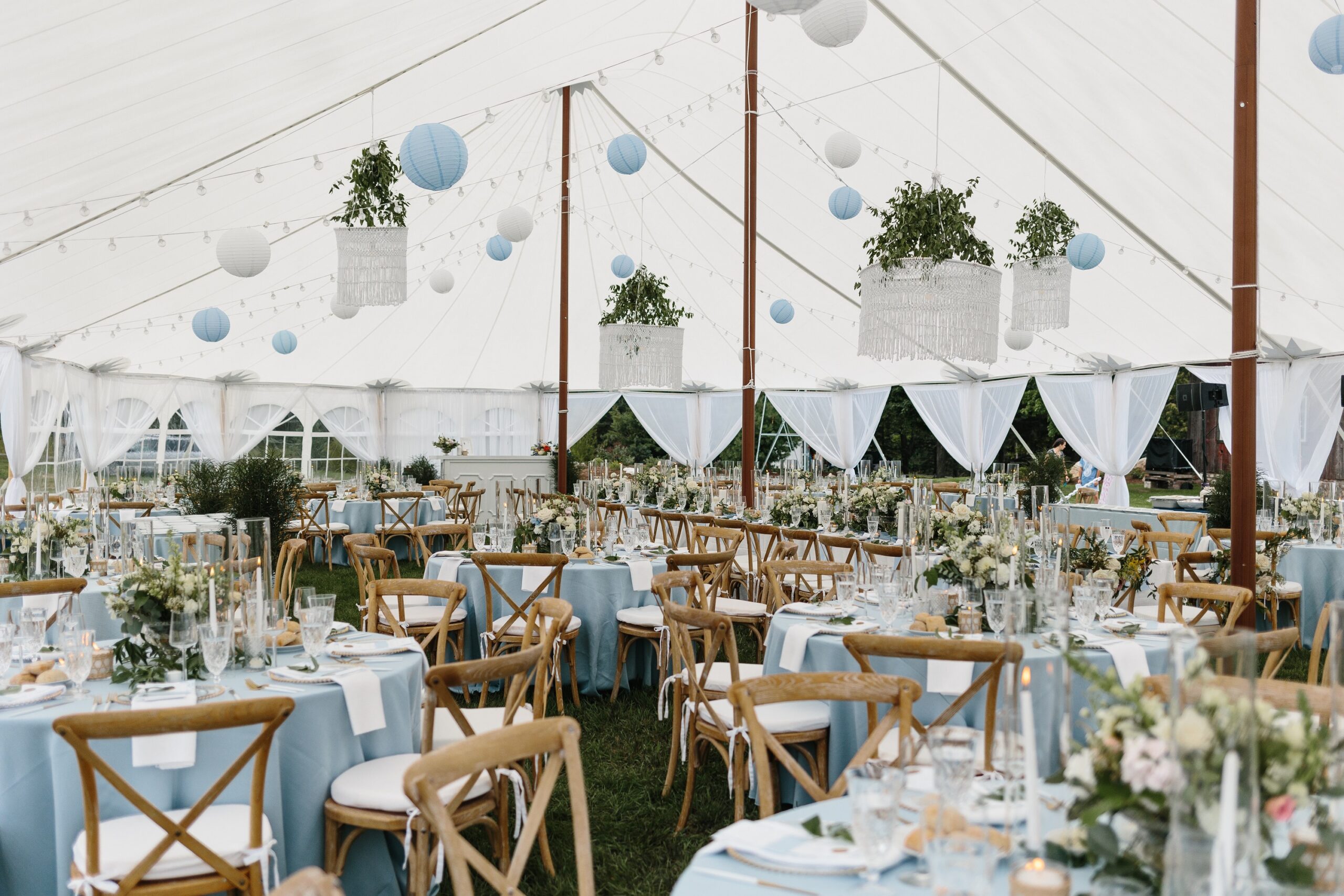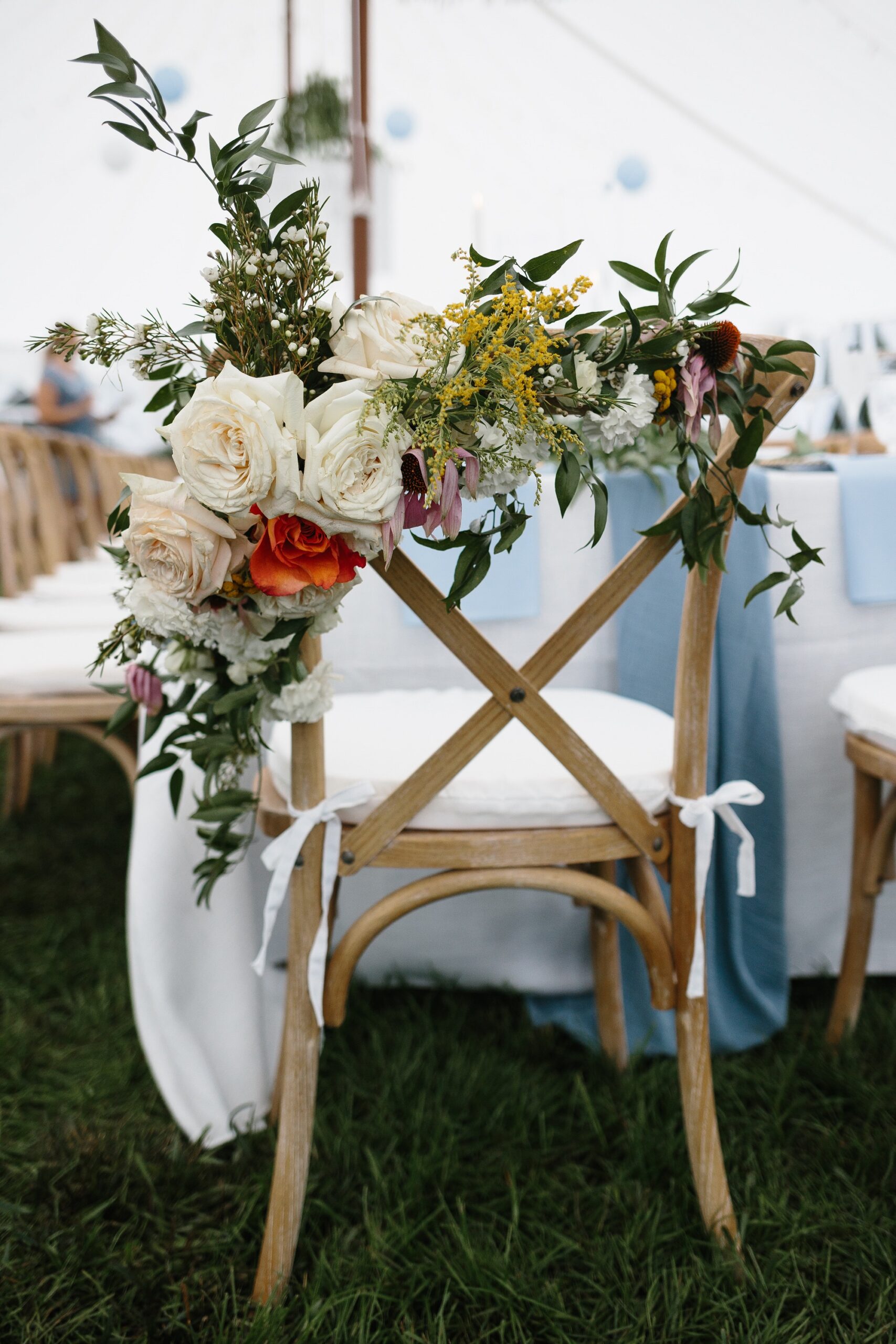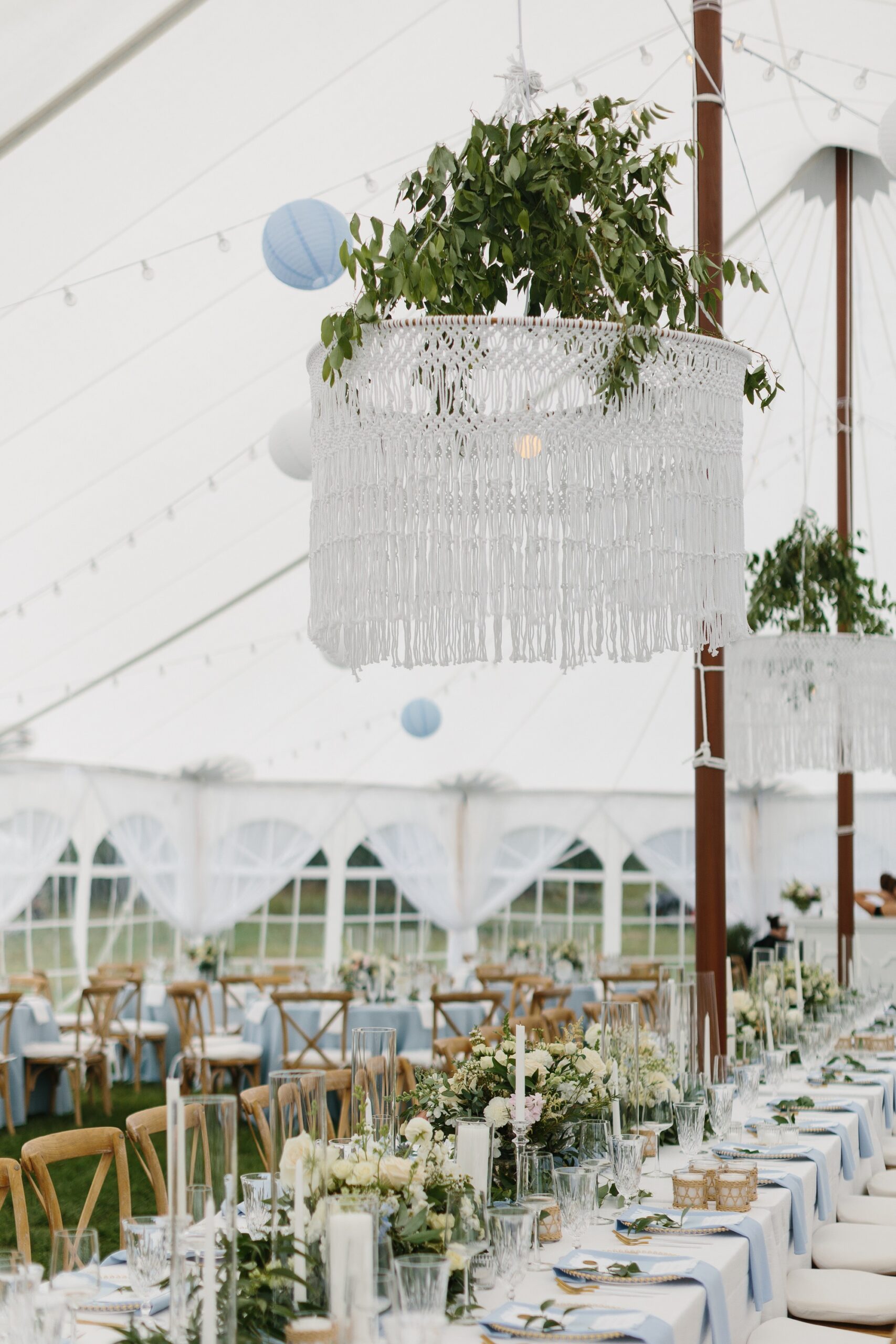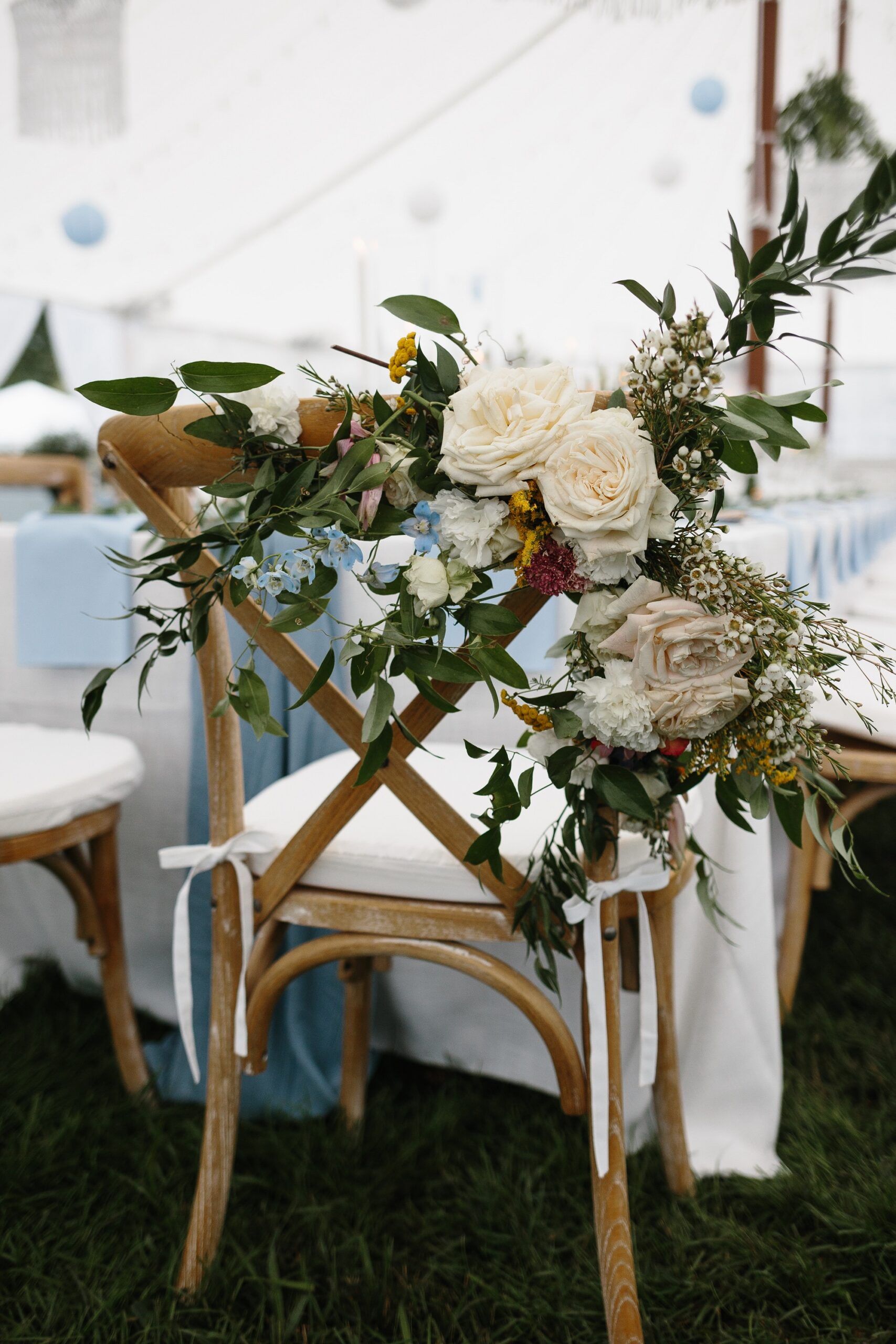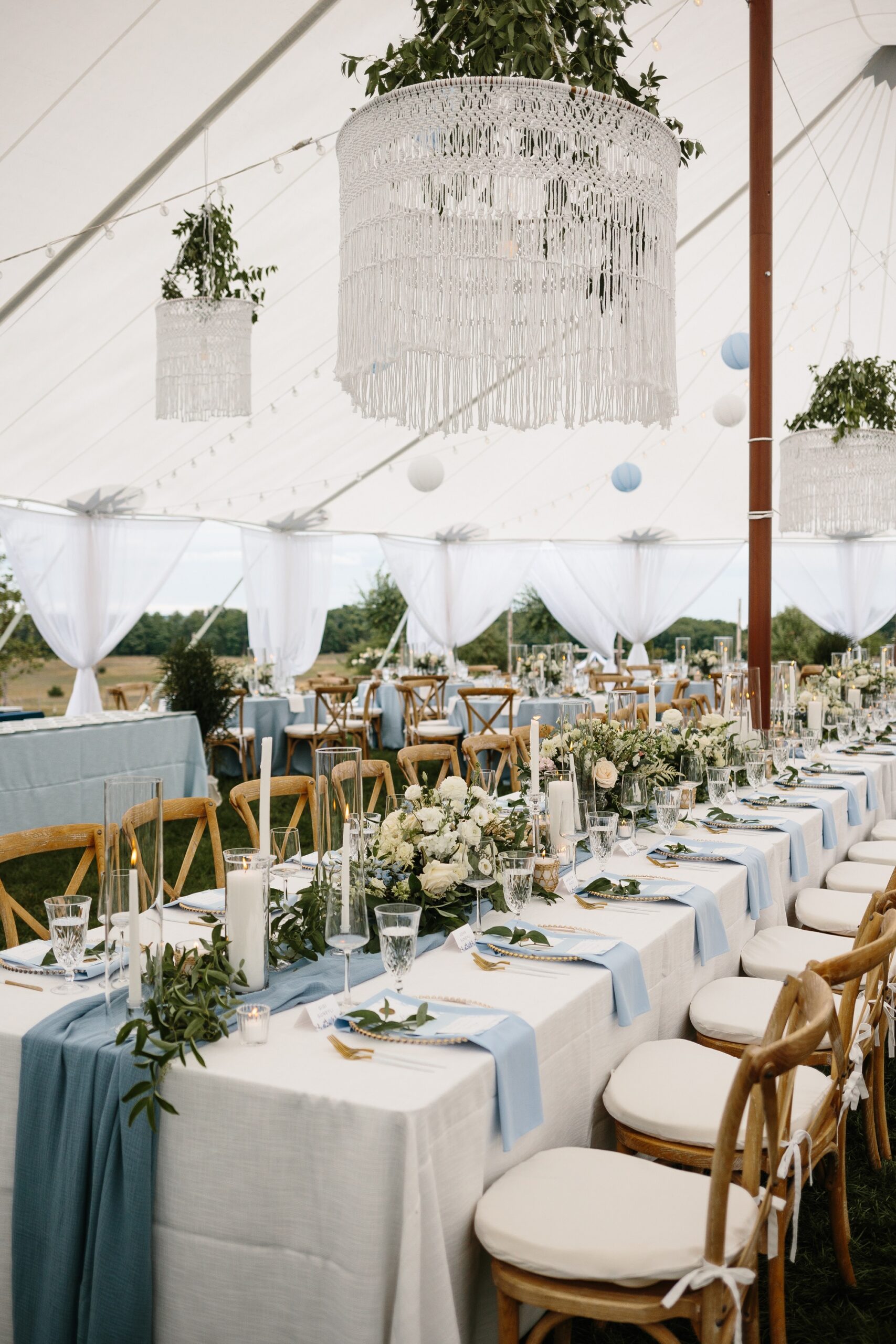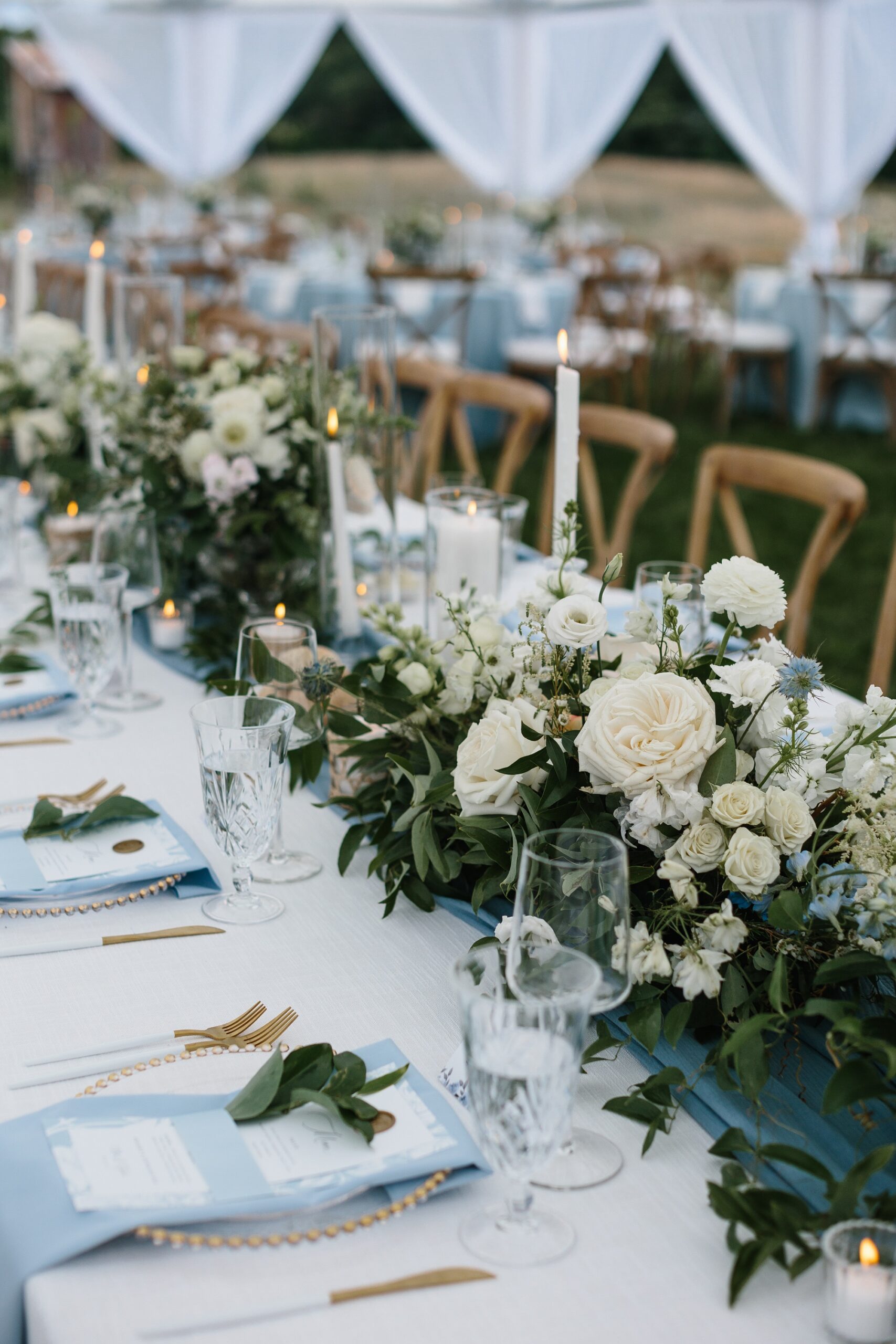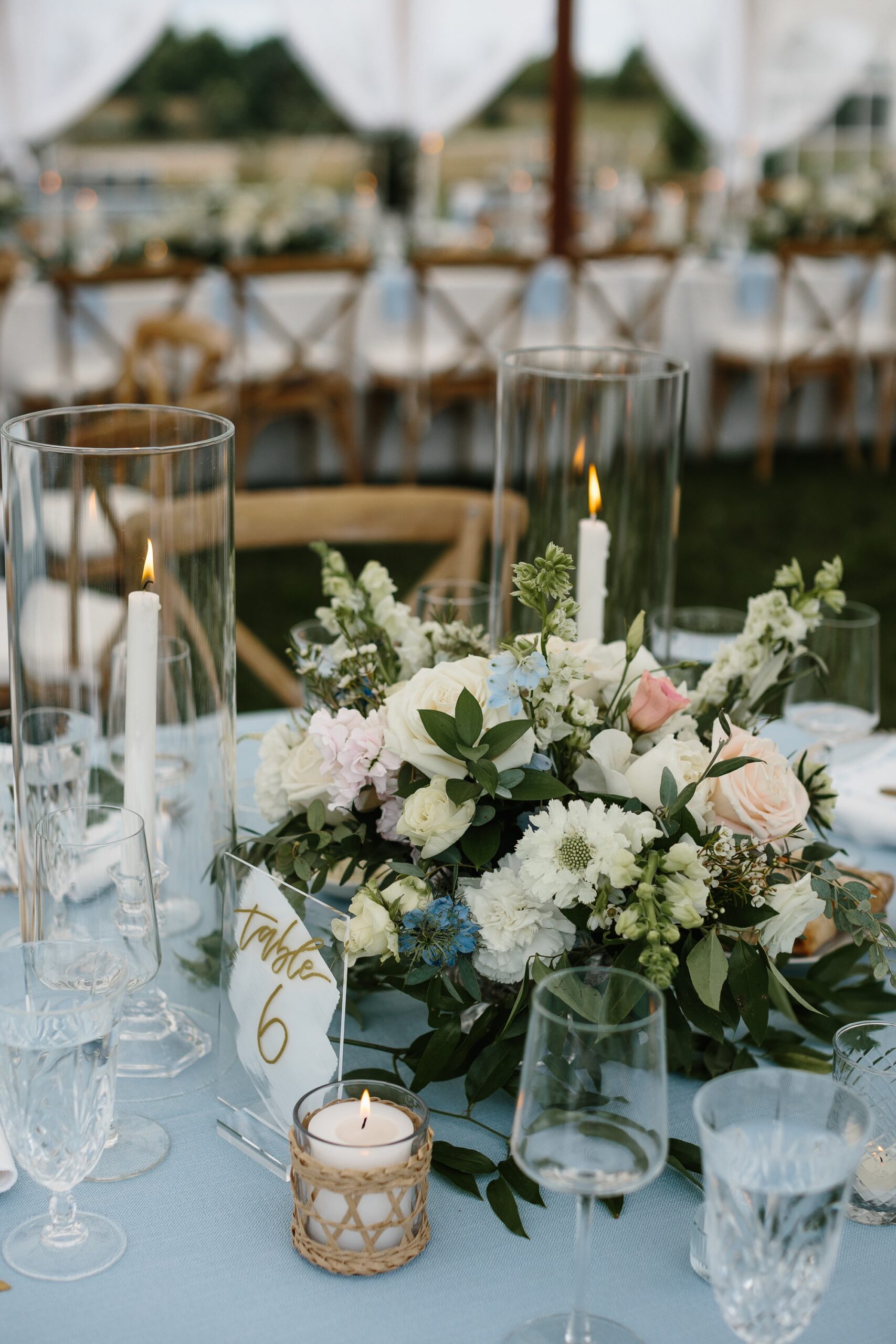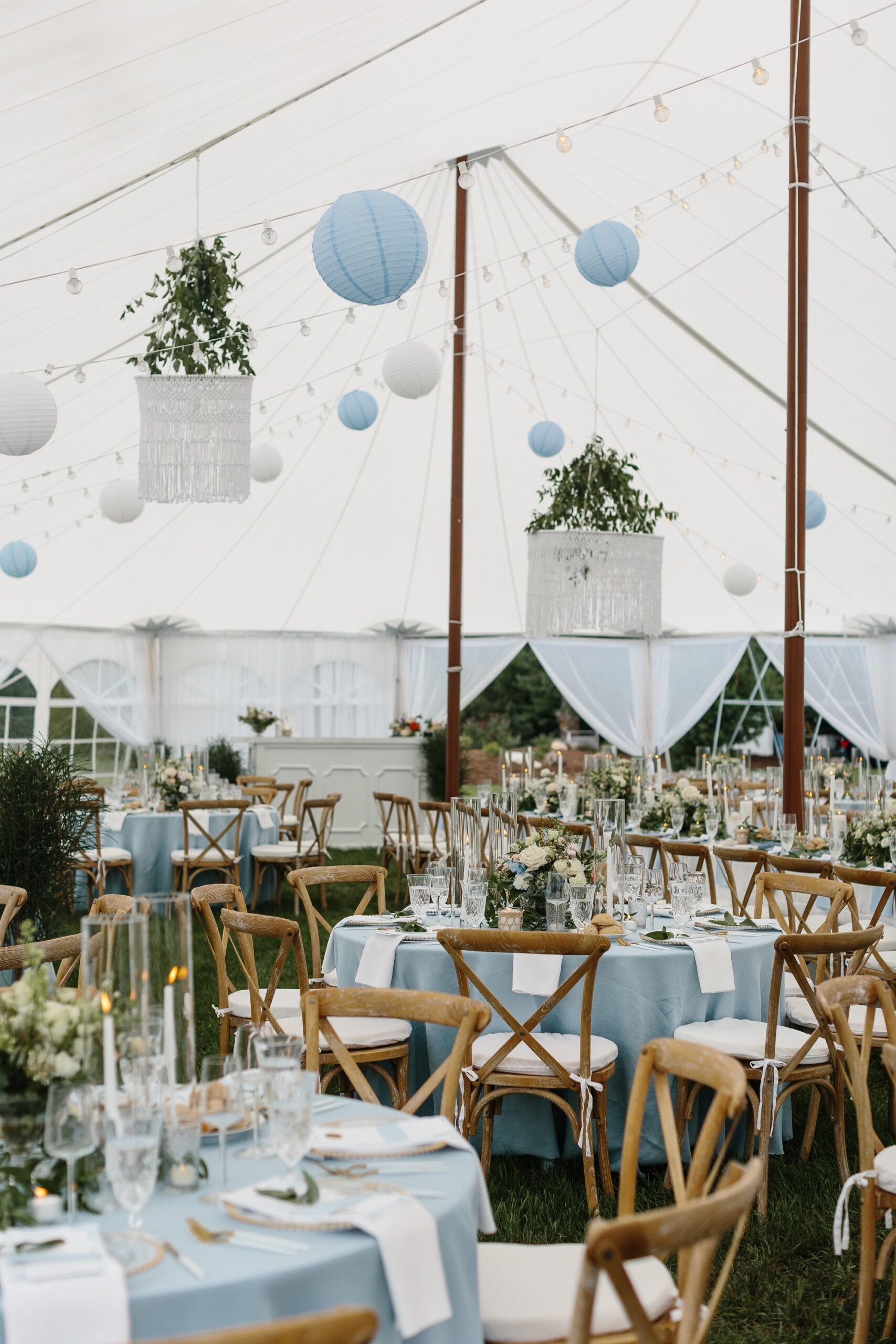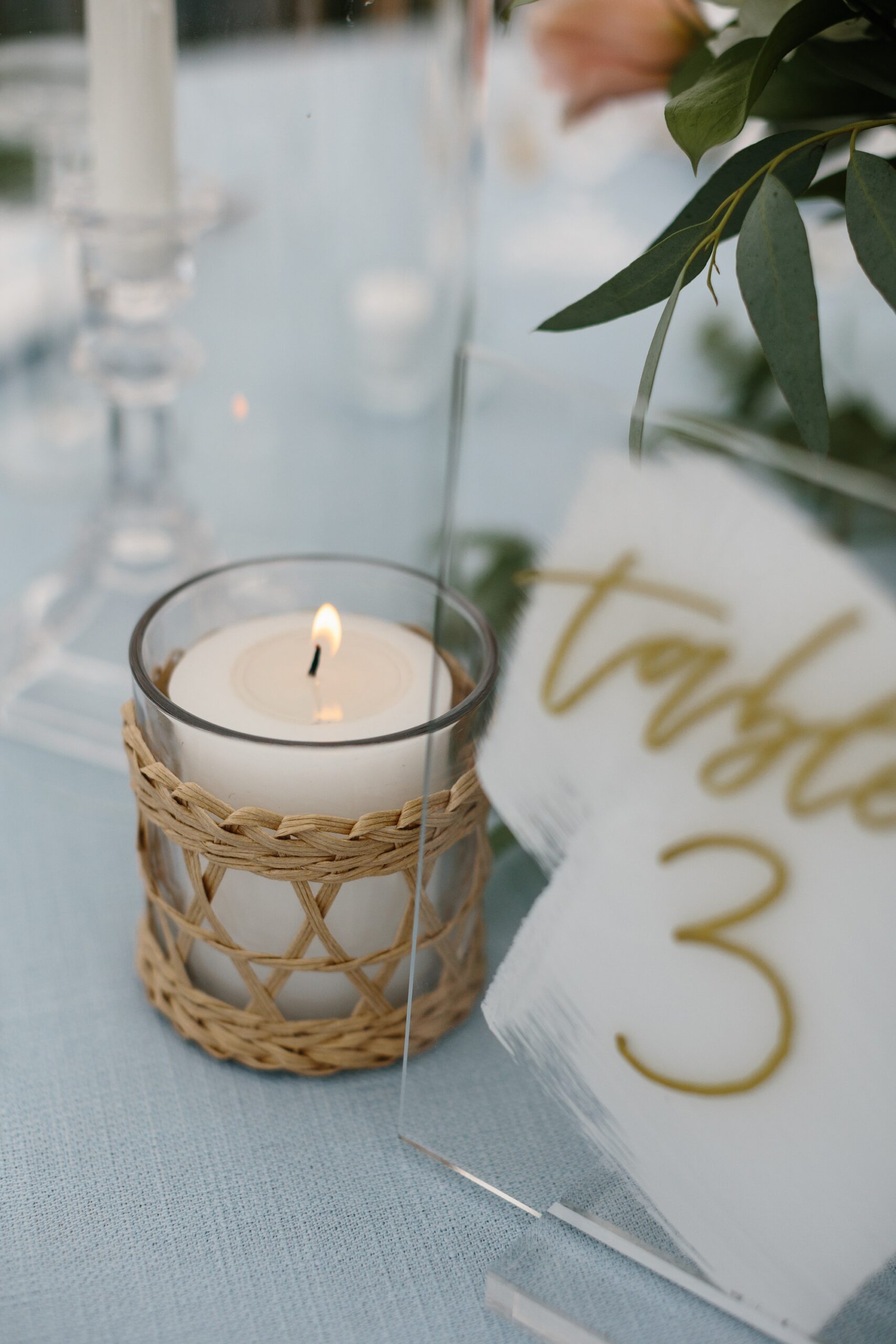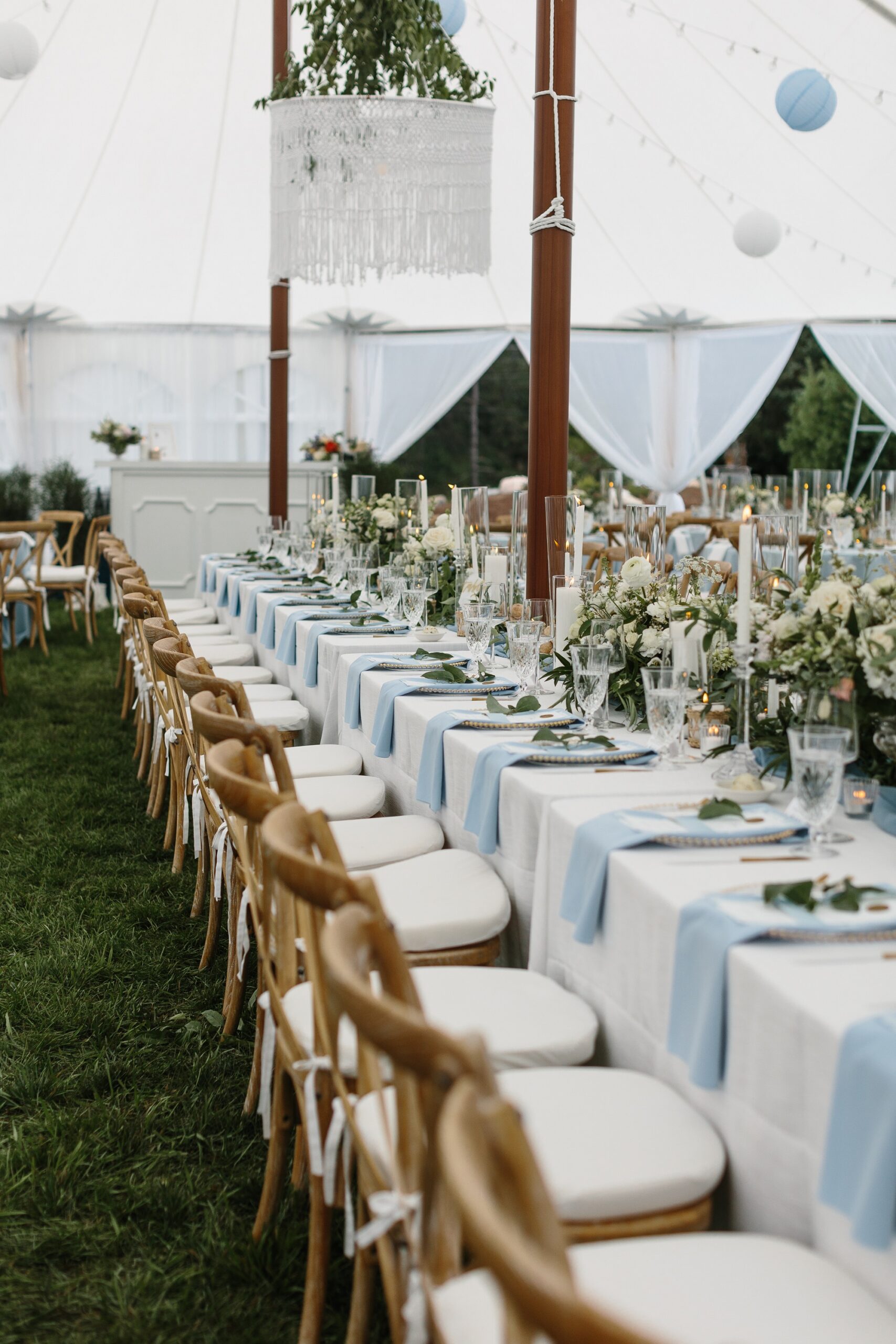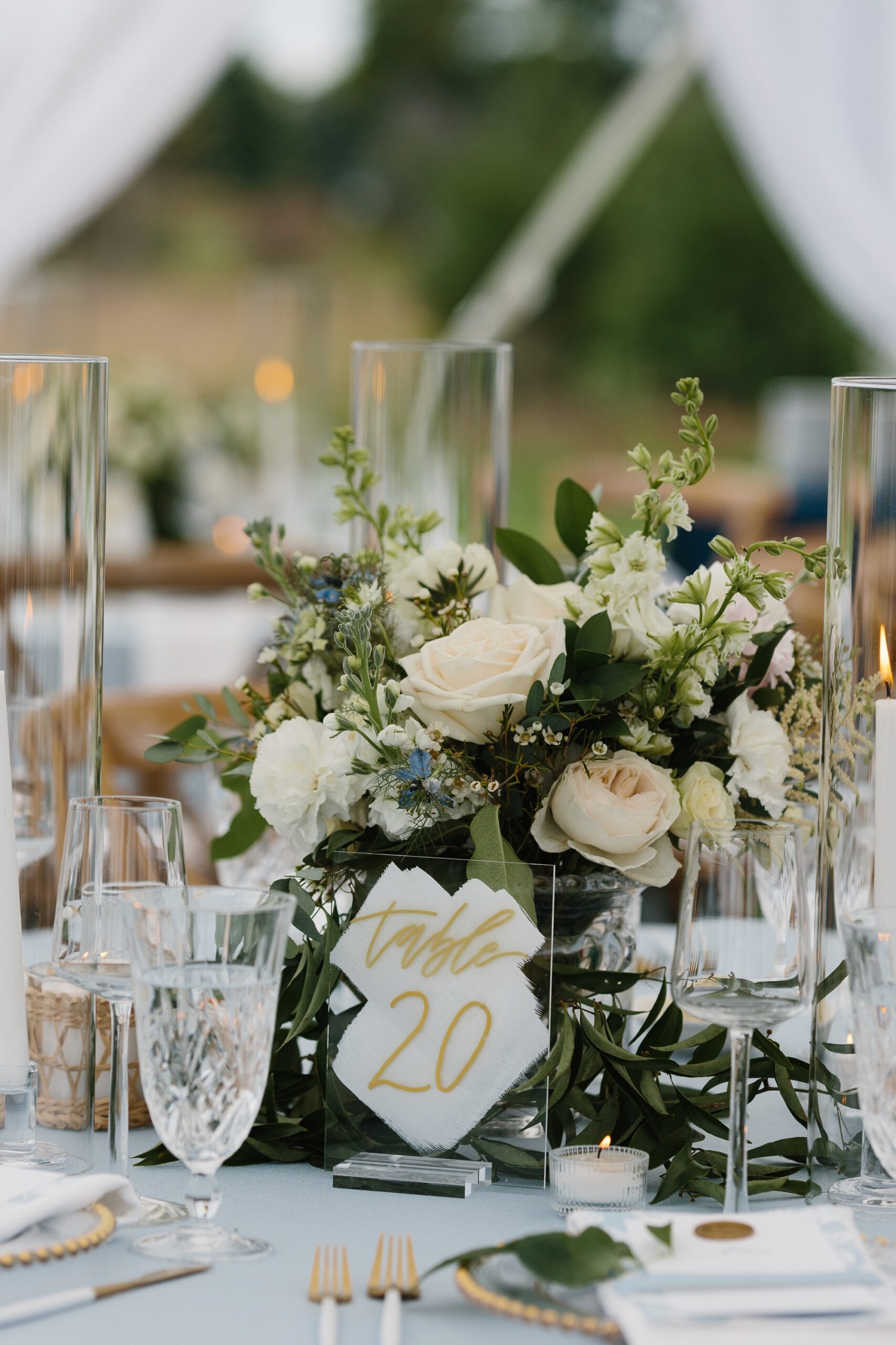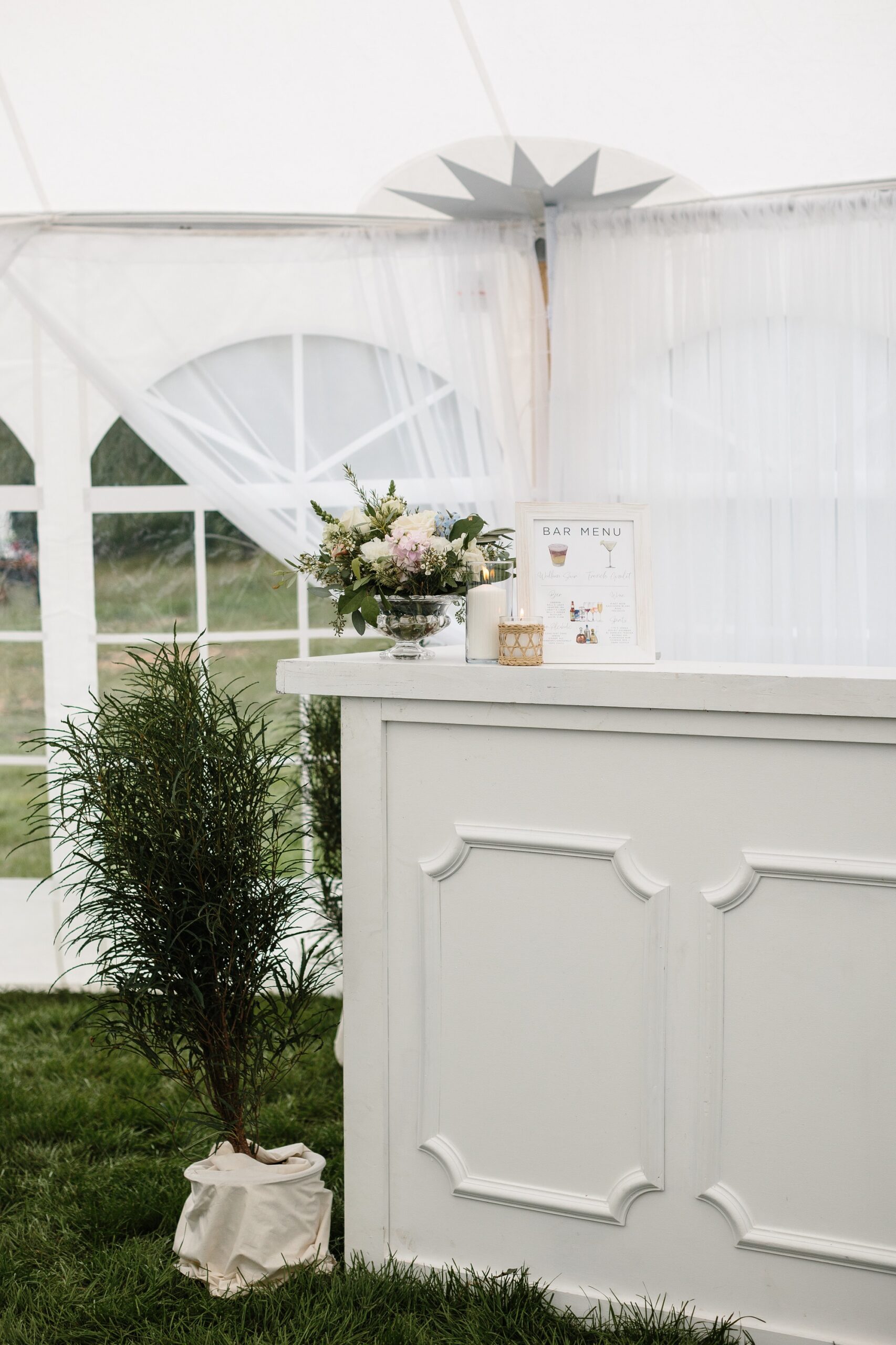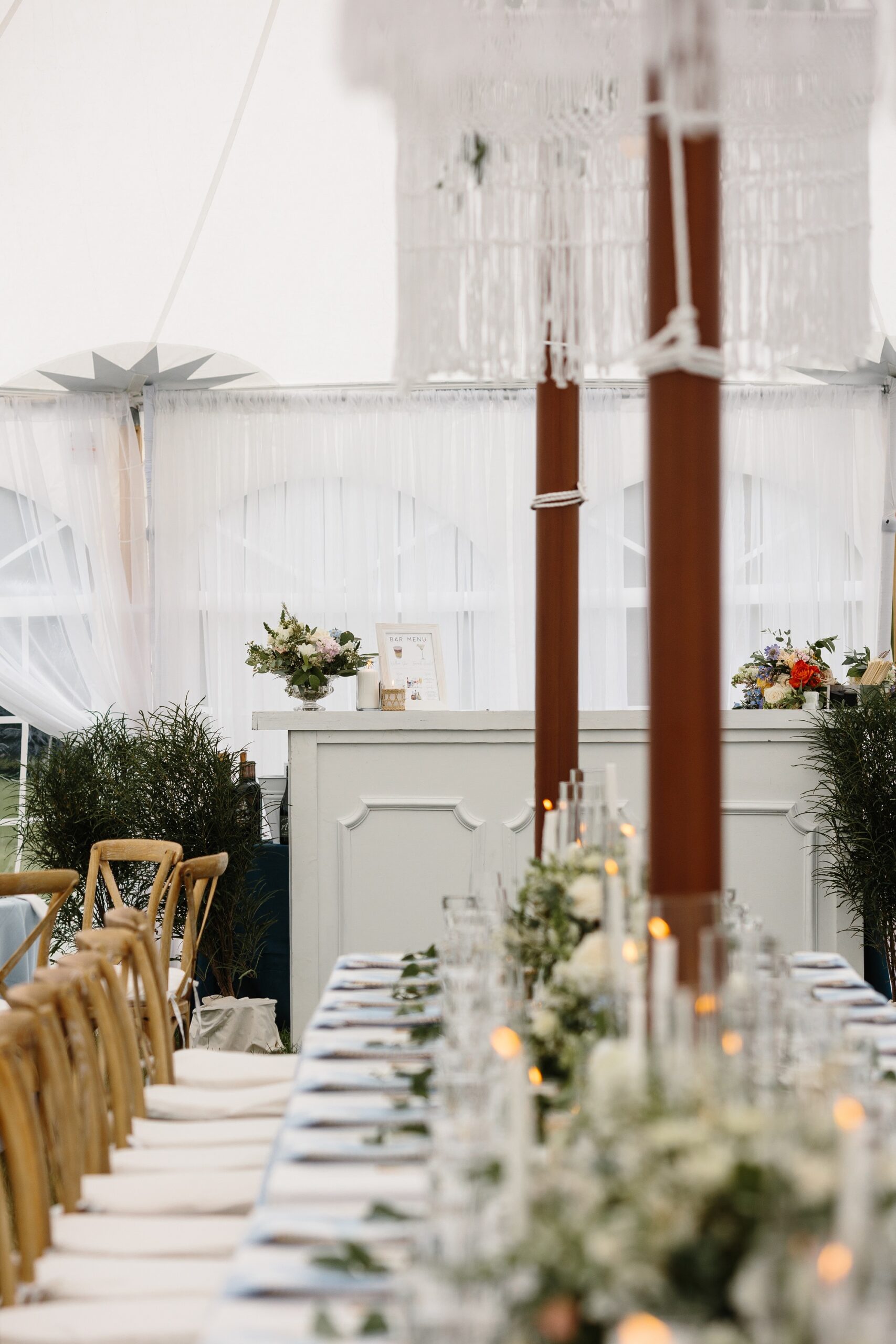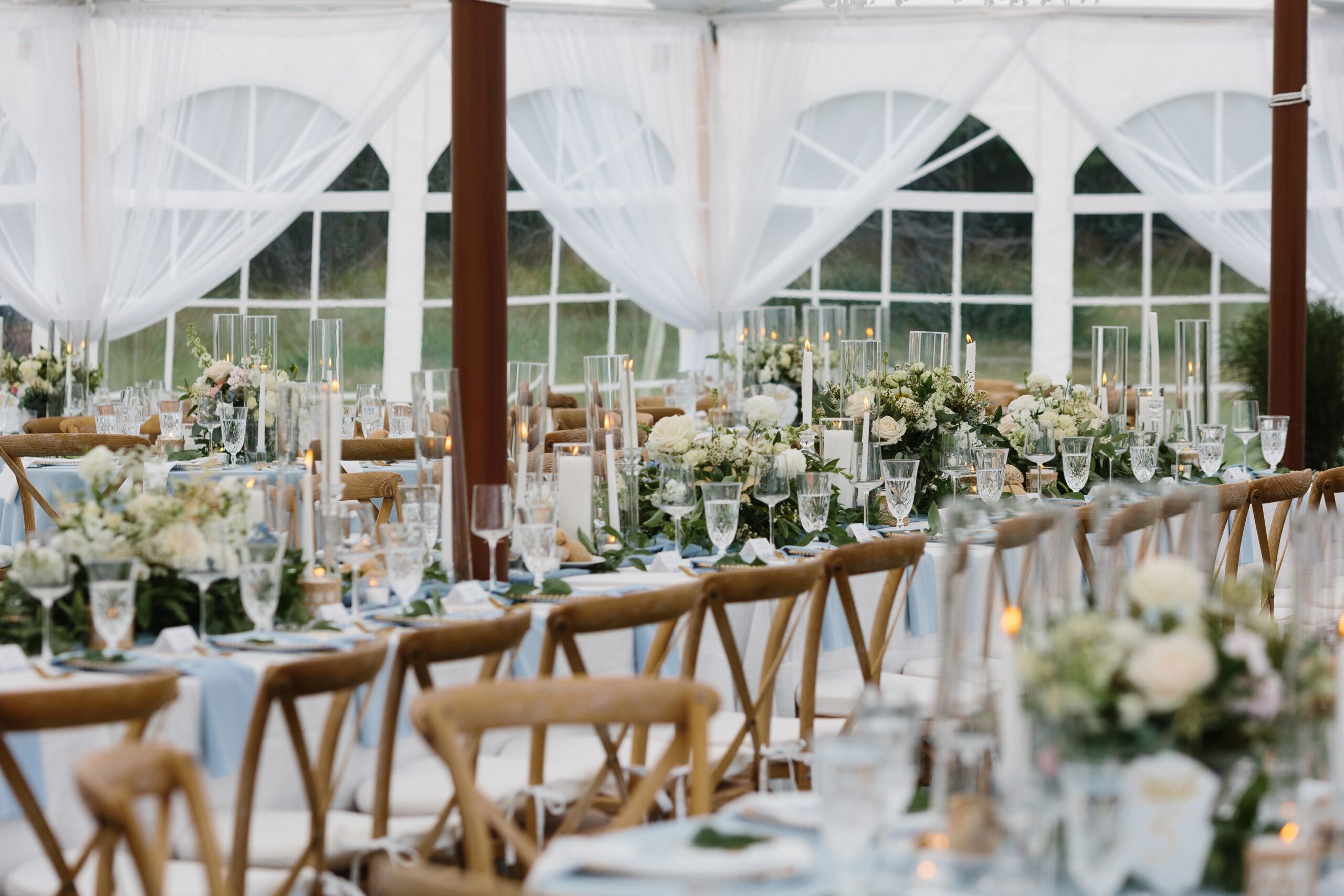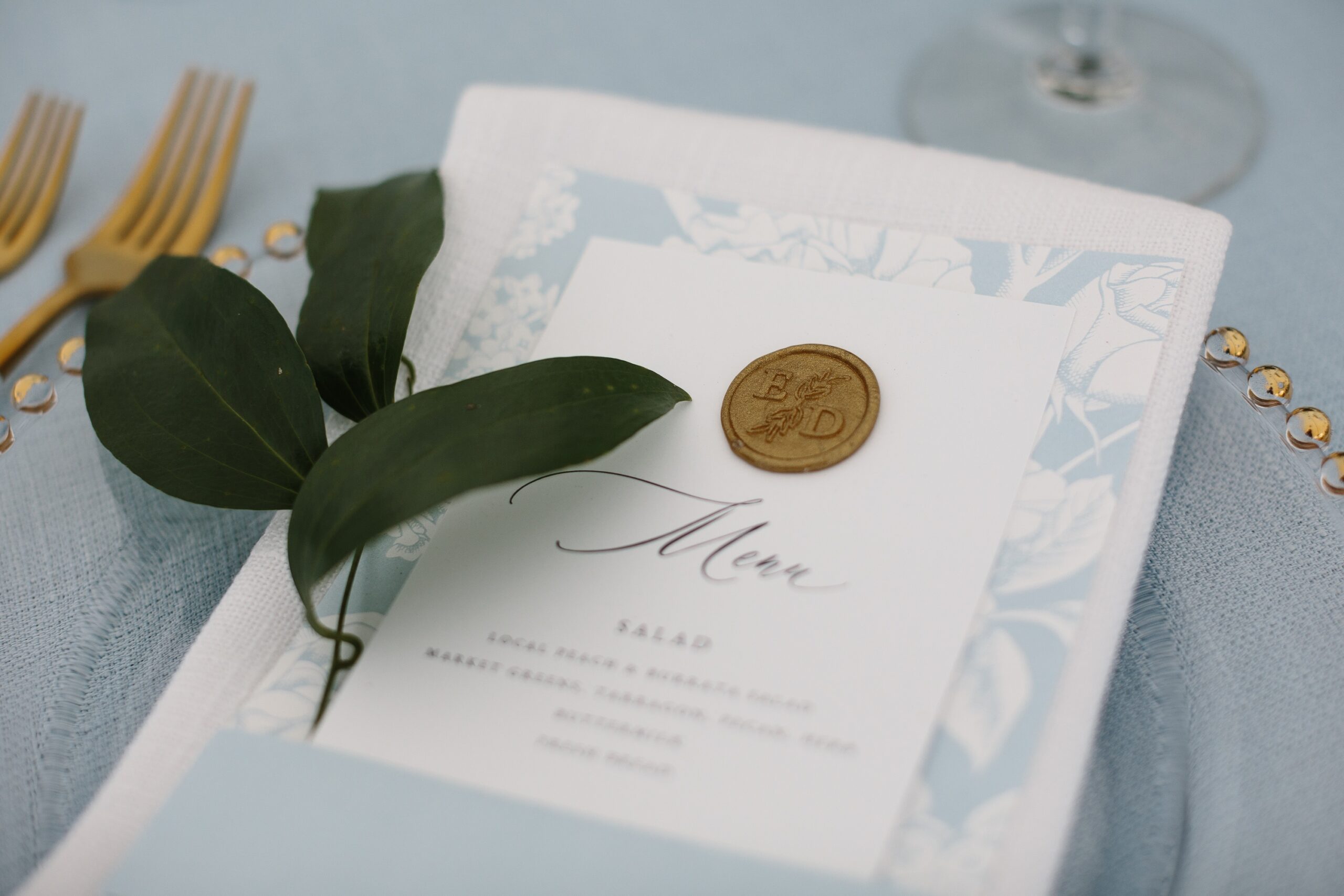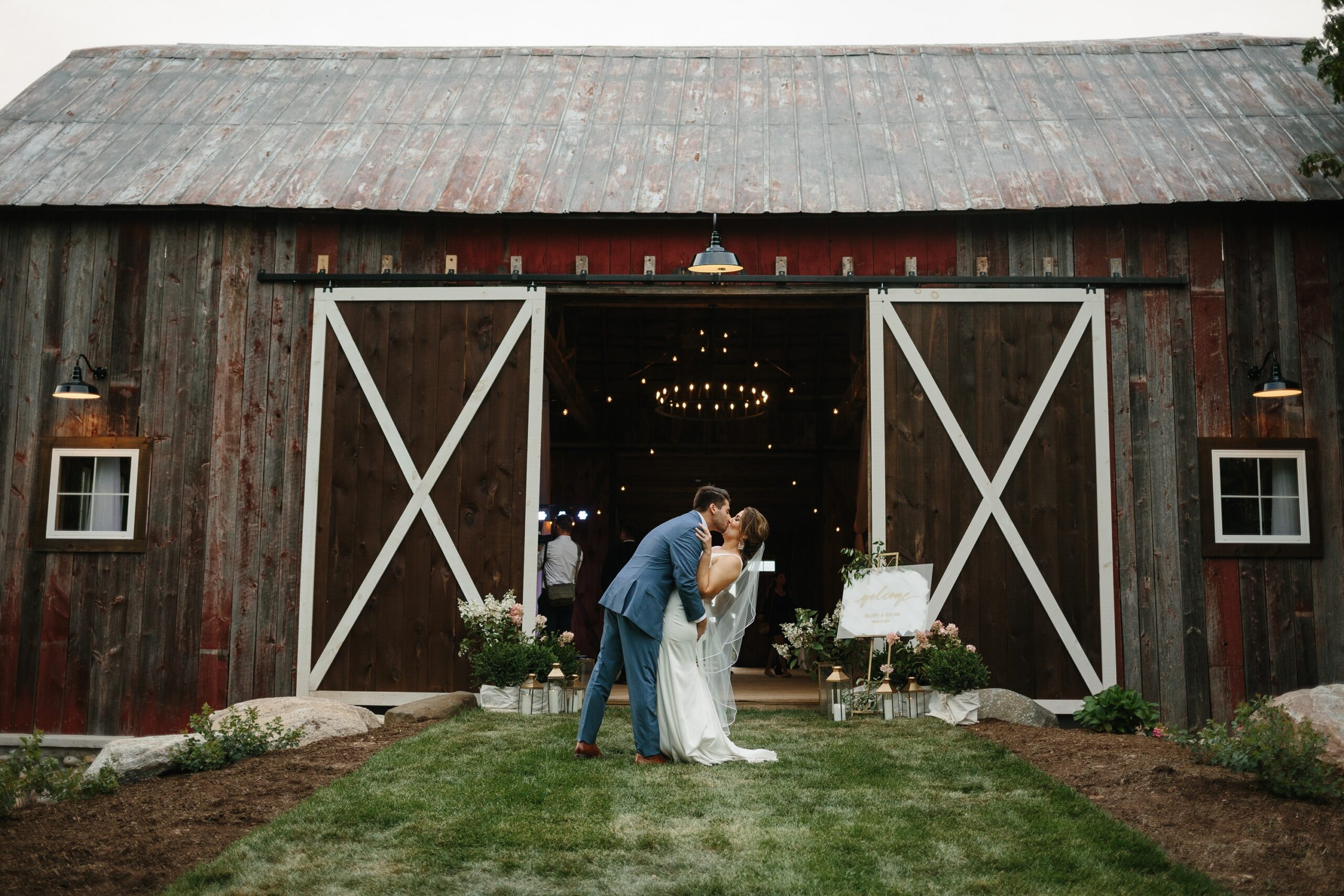 Dancing in the Barn
The barn restoration was a labor of love over nearly two years.  For all of the craftsmanship and attention to detail that was invested into bringing those old timbers back to their former glory (and beyond), the amount of love and whole-hearted revelry those walls contained that night made it easily the most glamorous night those walls have ever witnessed.
Under sweeping chiffon drape and modern wheel chandeliers, guests danced to the Jerry Ross band (one of the best bands in the state), drank espresso martinis with their desserts and sipped espresso drinks from the coffee cart with their friends.  Sunset faded to moonlight and the barn glowed under the old windmill.  It was exactly what Dylan had predicted it would be on that winter planning day when we tasted food out of to-go containers off the tailgate in a parking lot, "it's gonna be crazy but it's gonna be so fun".  In all the best ways, he was right.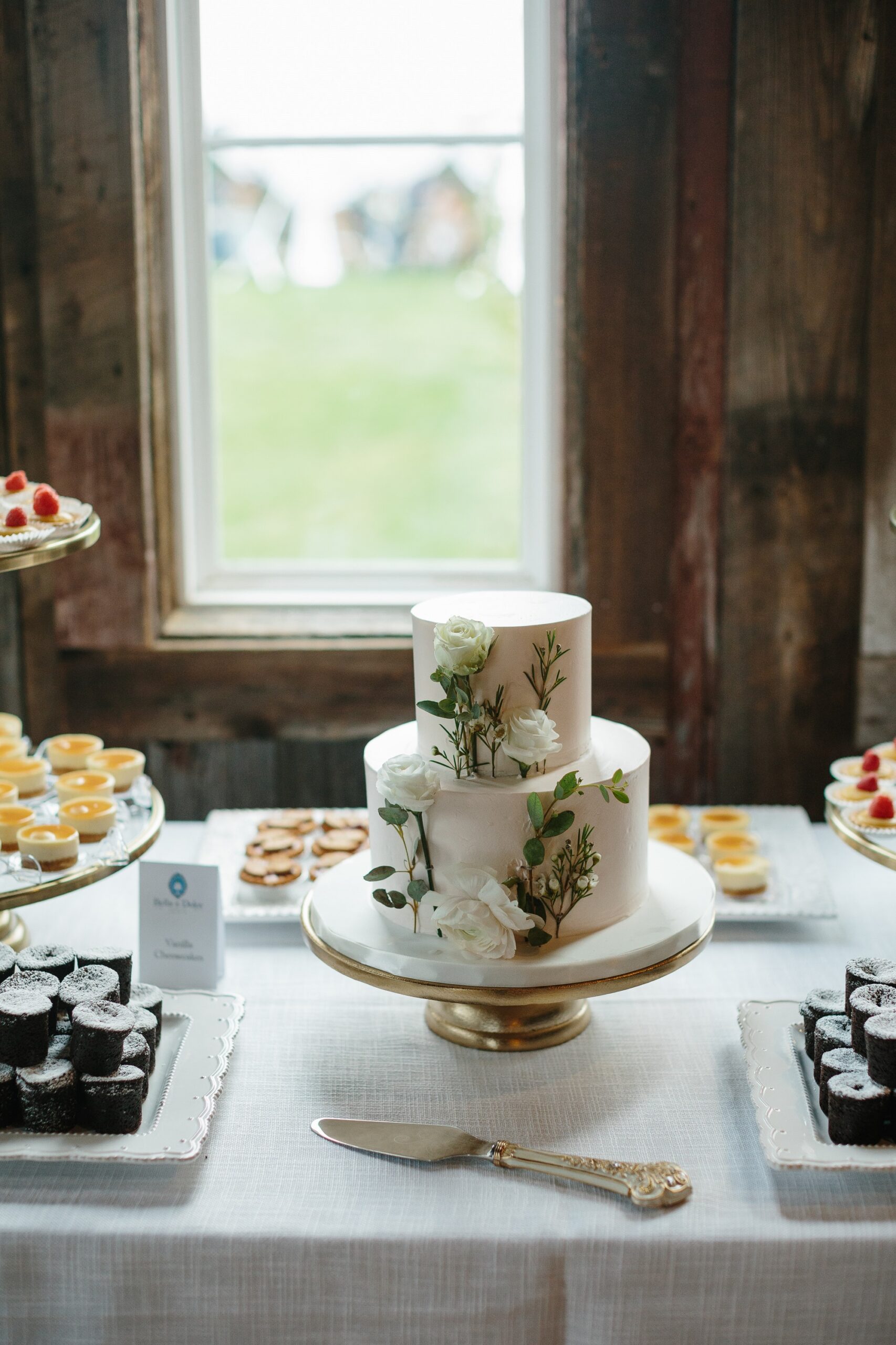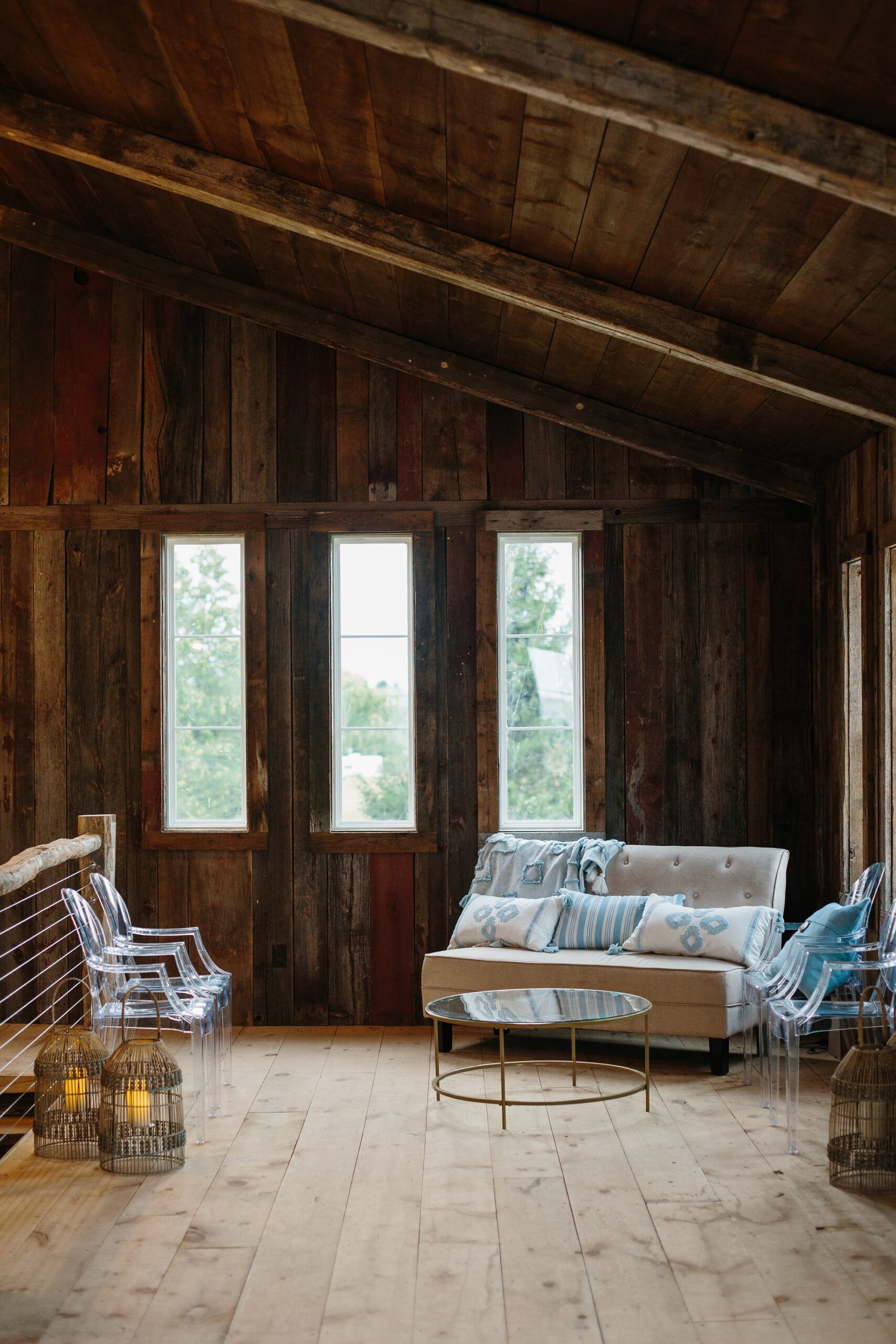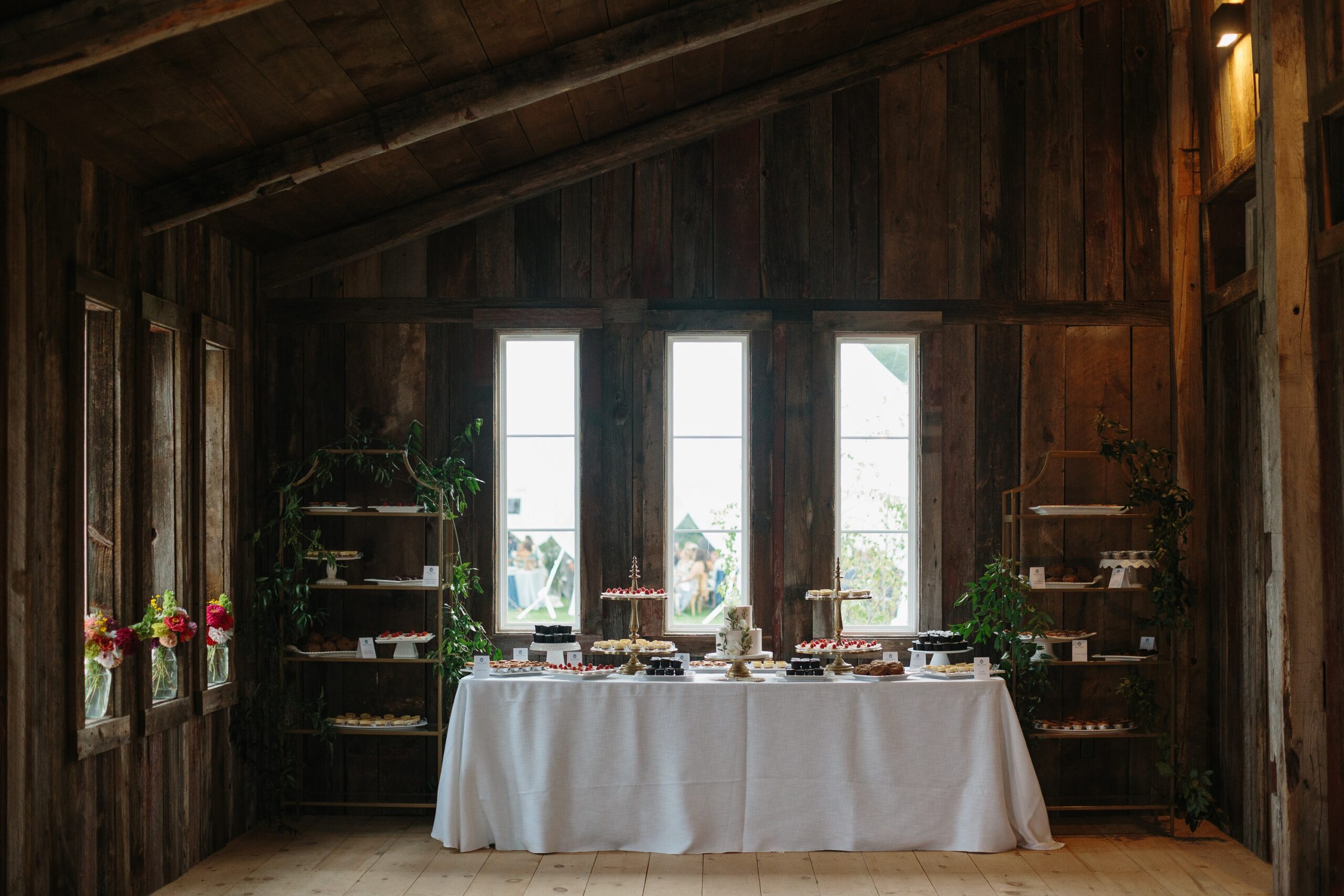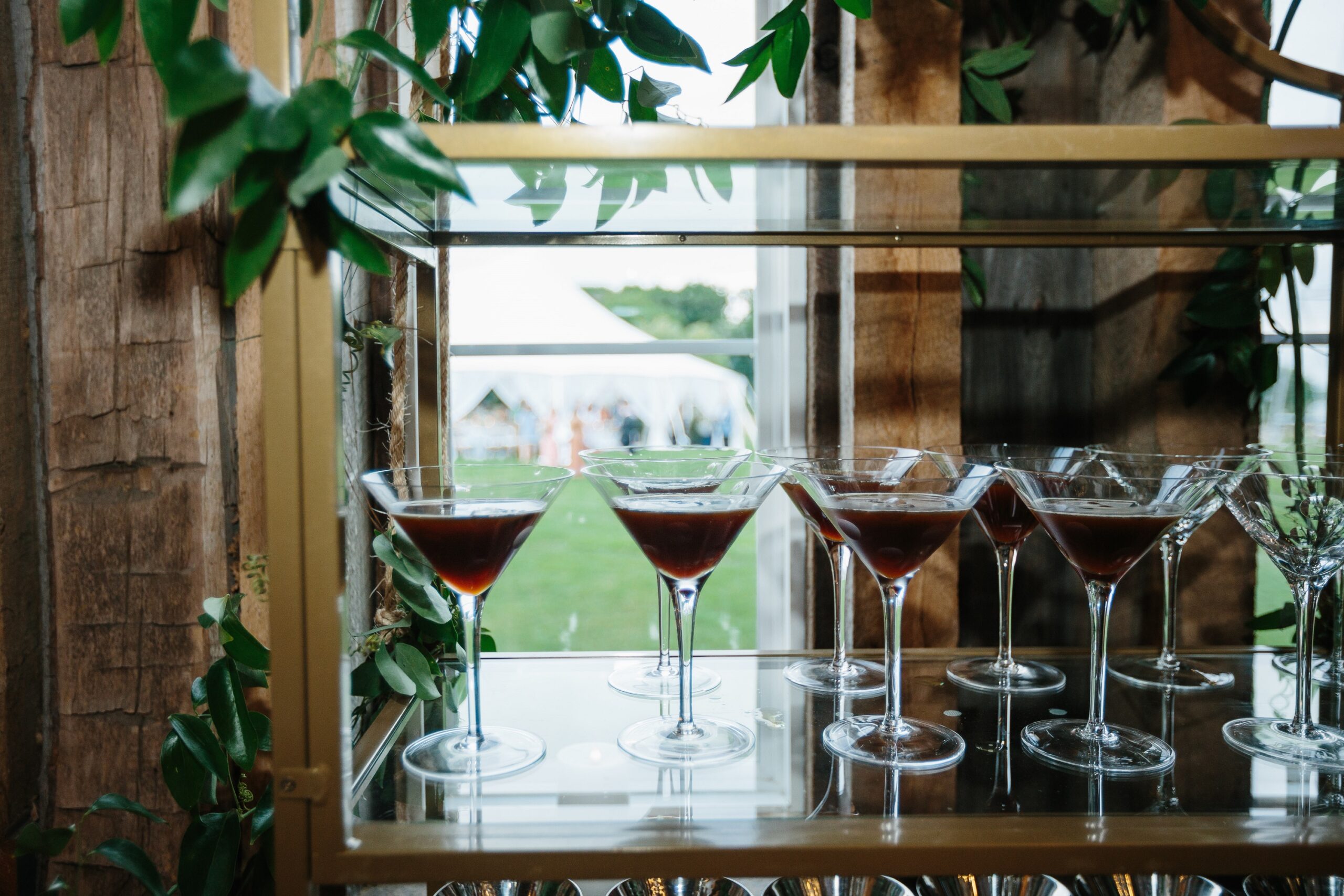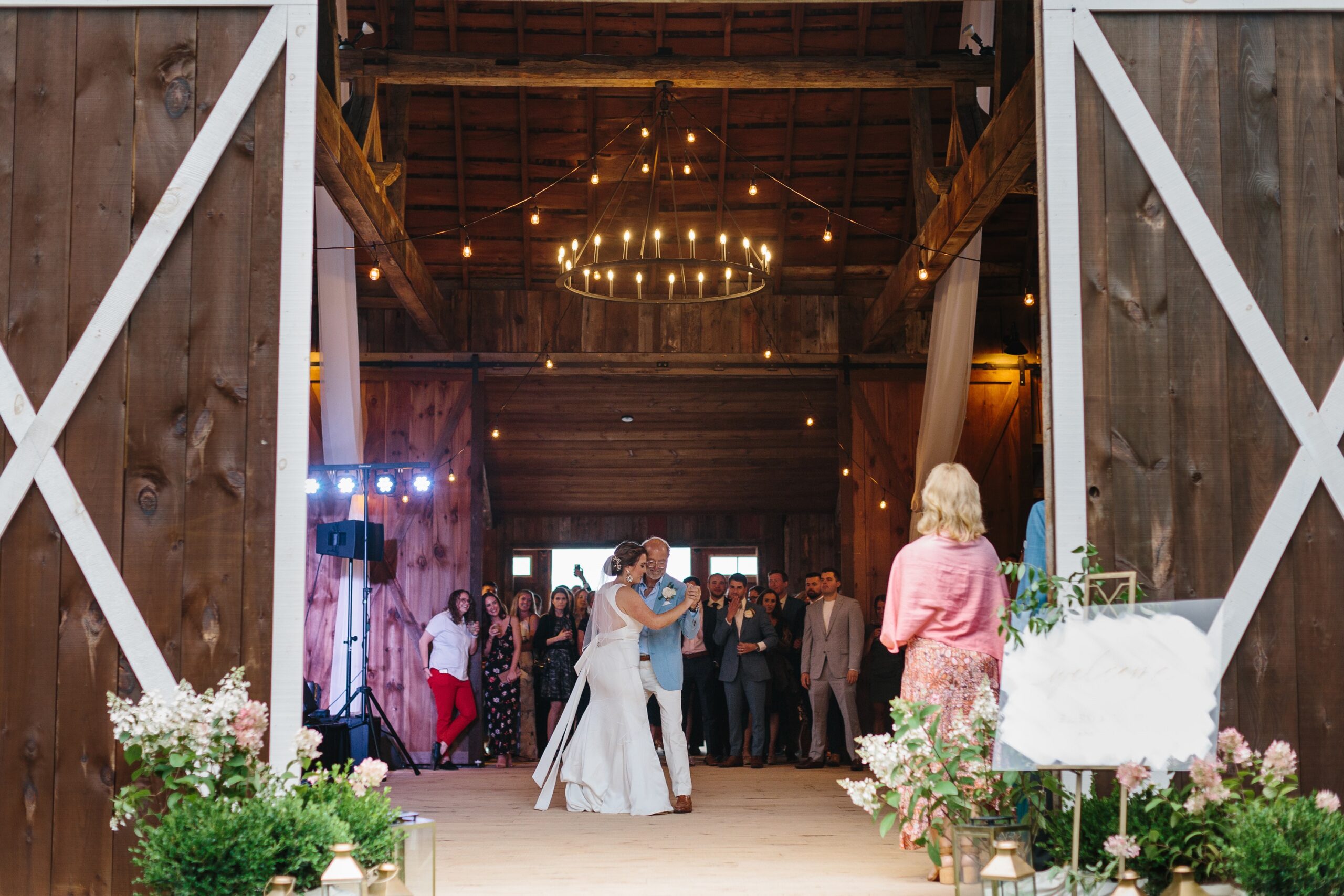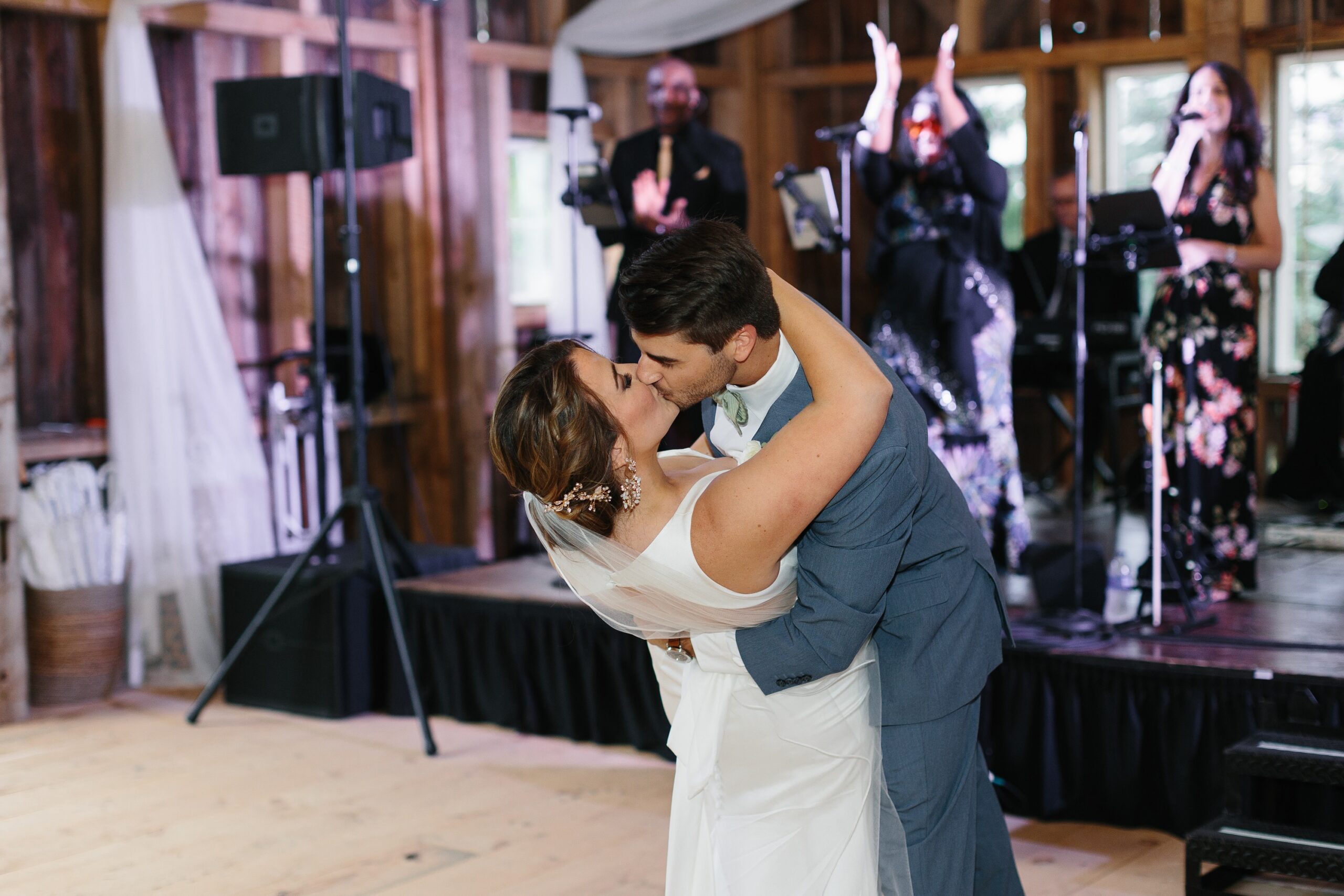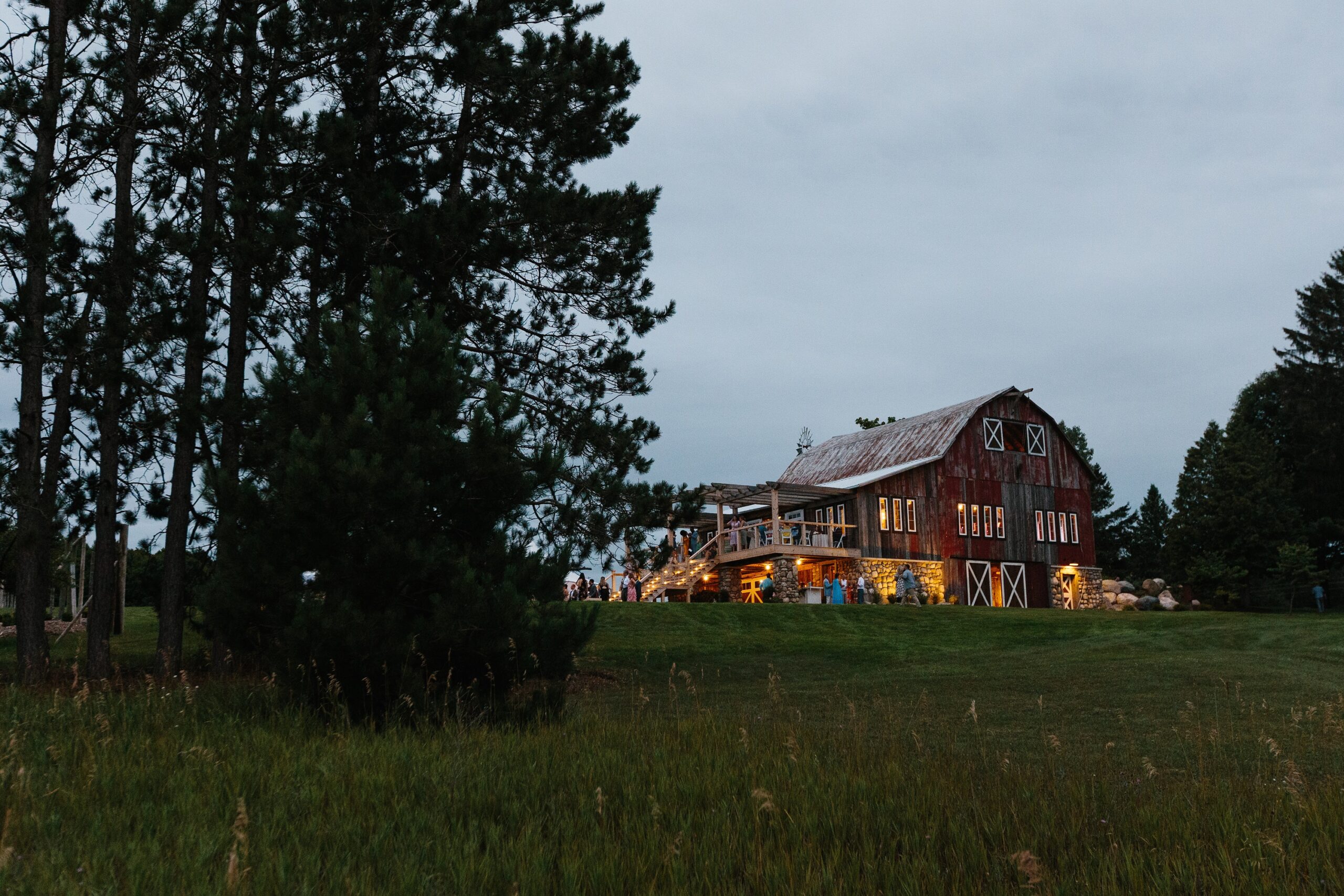 Creative Team Credits
Photography:  Matt & Ashley Photography
Planning + Design + Coordination:  Juniper & Lace Events
Venue:  Private Residence Farm
Floral:  Sweetwater Floral
Catering:  Willow
Bartending:  Tonic & Lime
Band:  The Jerry Ross Band
Ceremony Music:  Robert McCloy
Alpacas:  Crystal Lake Alpaca Farm
Hair & Makeup Styling:  The Hair & Beauty Lounge
Alcohol:  Bill & Carol's Market
Cake & Desserts:  Bella e Dolce
Coffee Bar:  Lake Street Coffee Co
Officiant:  Uncle Chris
Tent & Rentals:  RediRental
Drape & Lighting:  Eleve Events
Decor & Lift Rentals:  307 Events, Event Theory, Taylor Rental
Welcome Sign:  Ampersand Lettering Lab
Directional Signage:  friend of the family
Macrame Chandeliers:  Mother of the groom
Transportation:  Sunset Premier Shuttle, Great Lakes Golf Cars
Restroom Trailer:  Best Mobile Restrooms