kasey + wade // normandy farm // blue bell, pennsylvania
Revelry under the Silos on a Pennsylvania Farm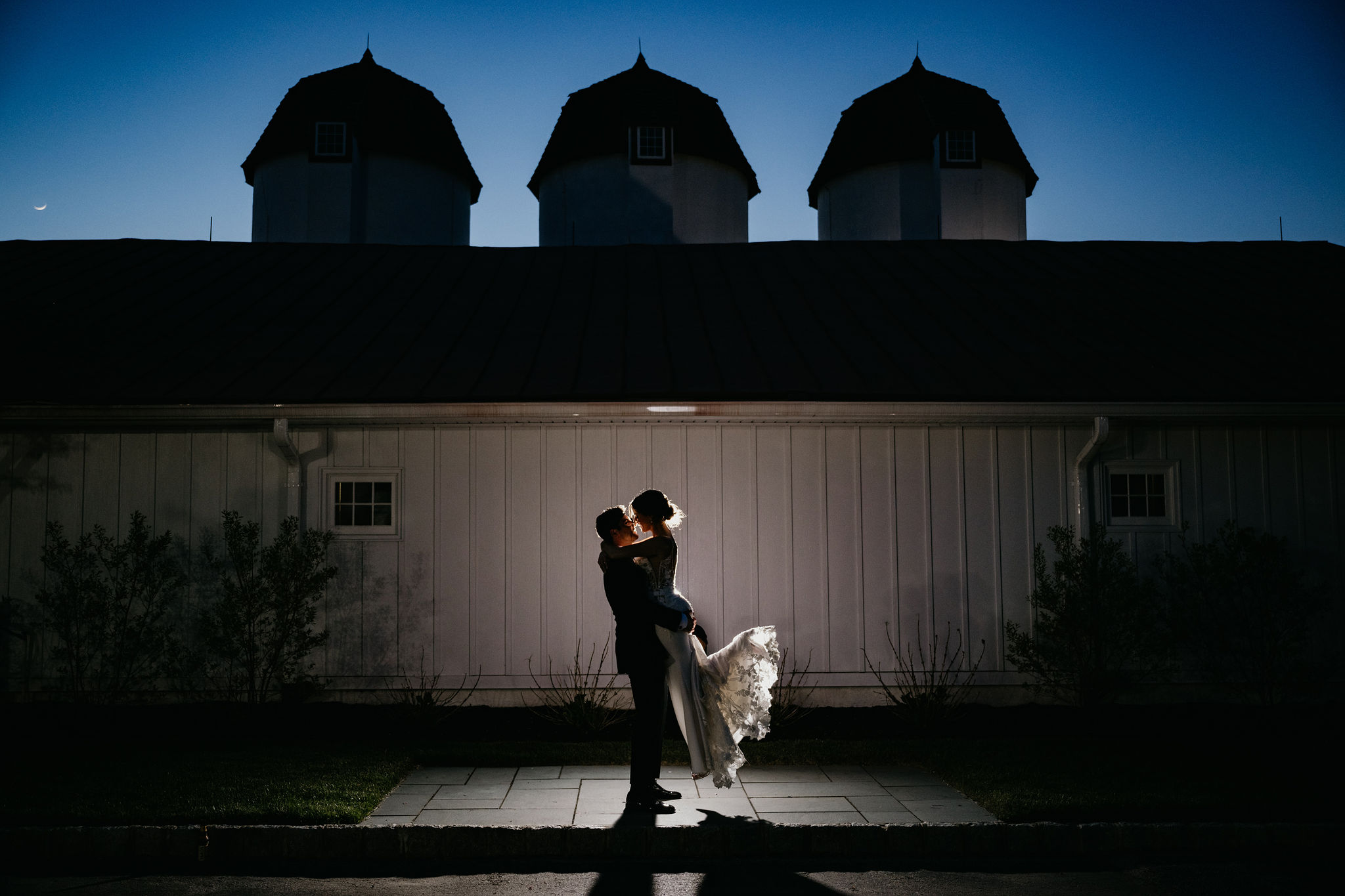 The Farm Connection
Normandy Farm is an historic property in Blue Bell, Pennsylvania, just outside of Philadelphia.  The grounds feature beautiful accommodations, a notable restaurant (Farmer's Daughter), two ballrooms and a team of friendly and efficient staff.  When Kasey & Wade got engaged, Kasey heard rave reviews of the farm from a friend and since most of their families live within an hour or so of Blue Bell, it was an easy decision to celebrate there.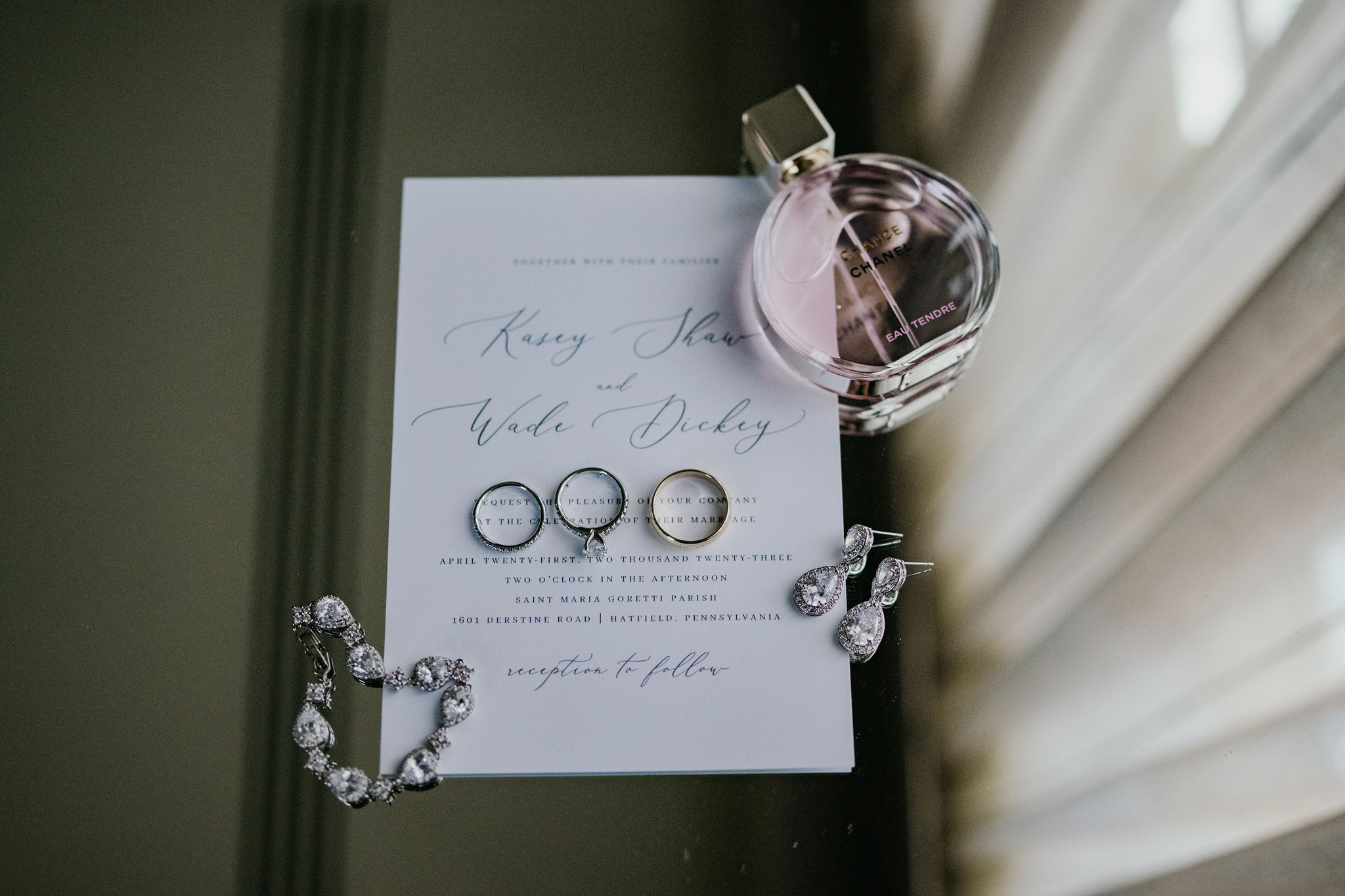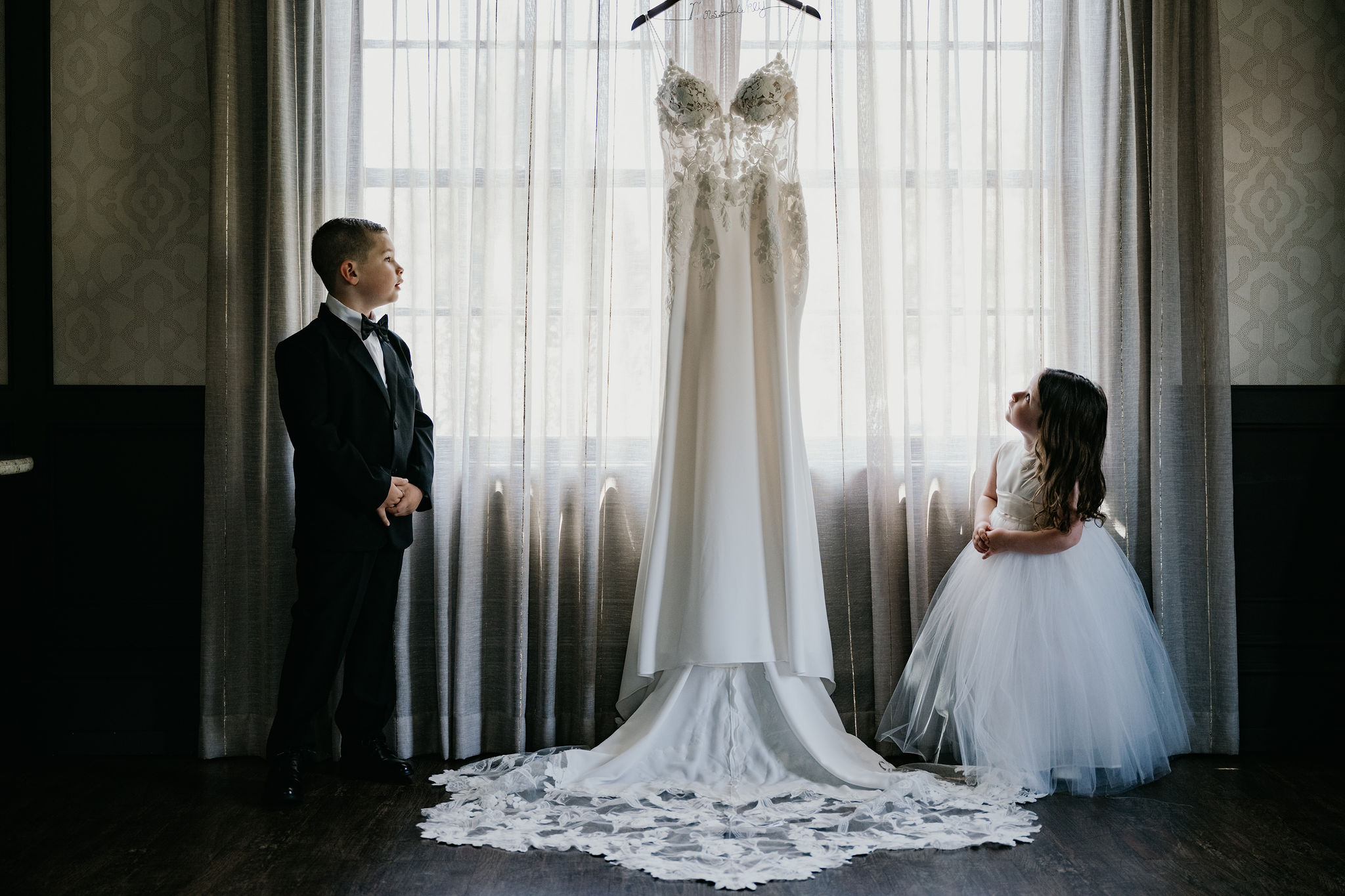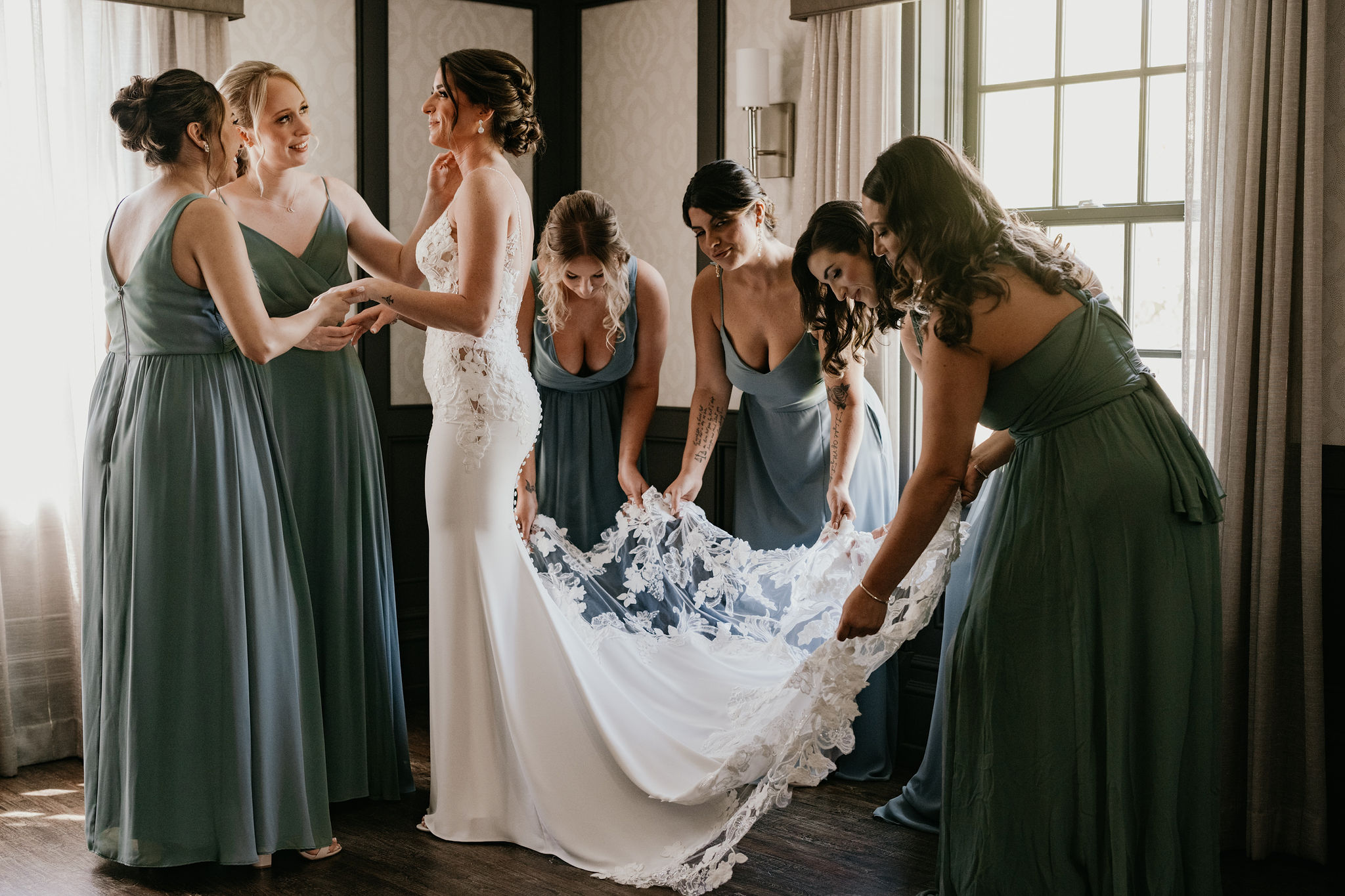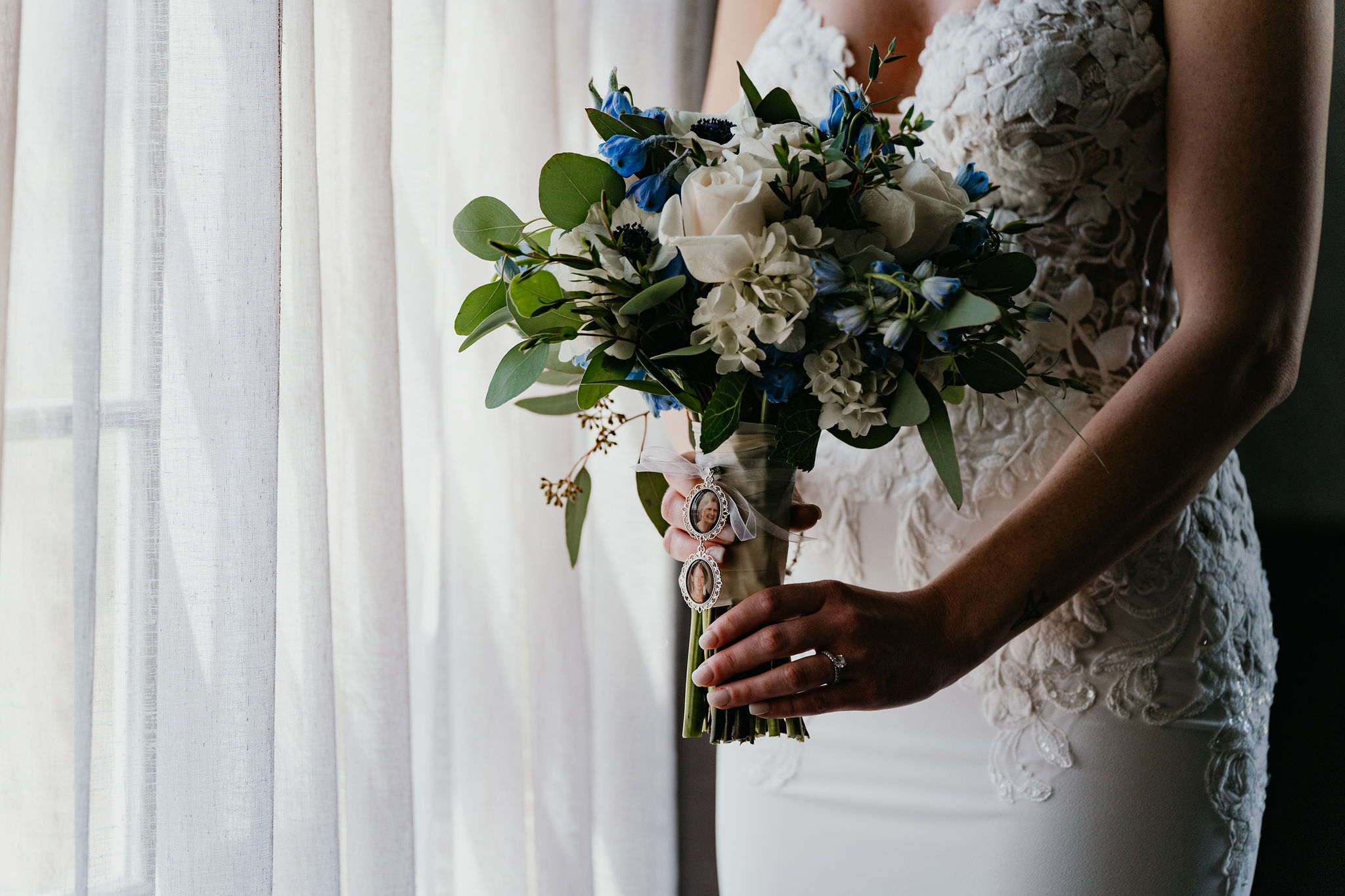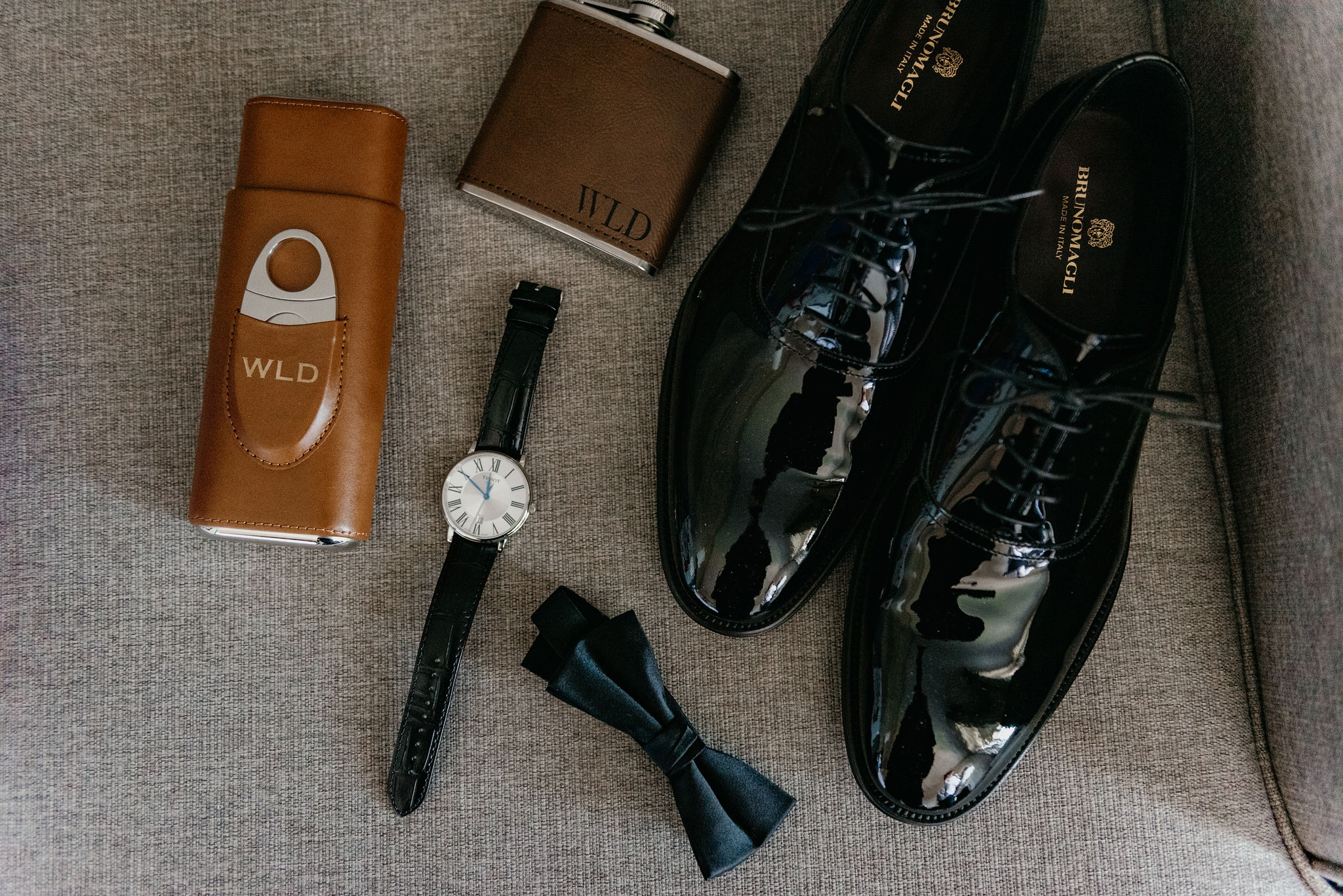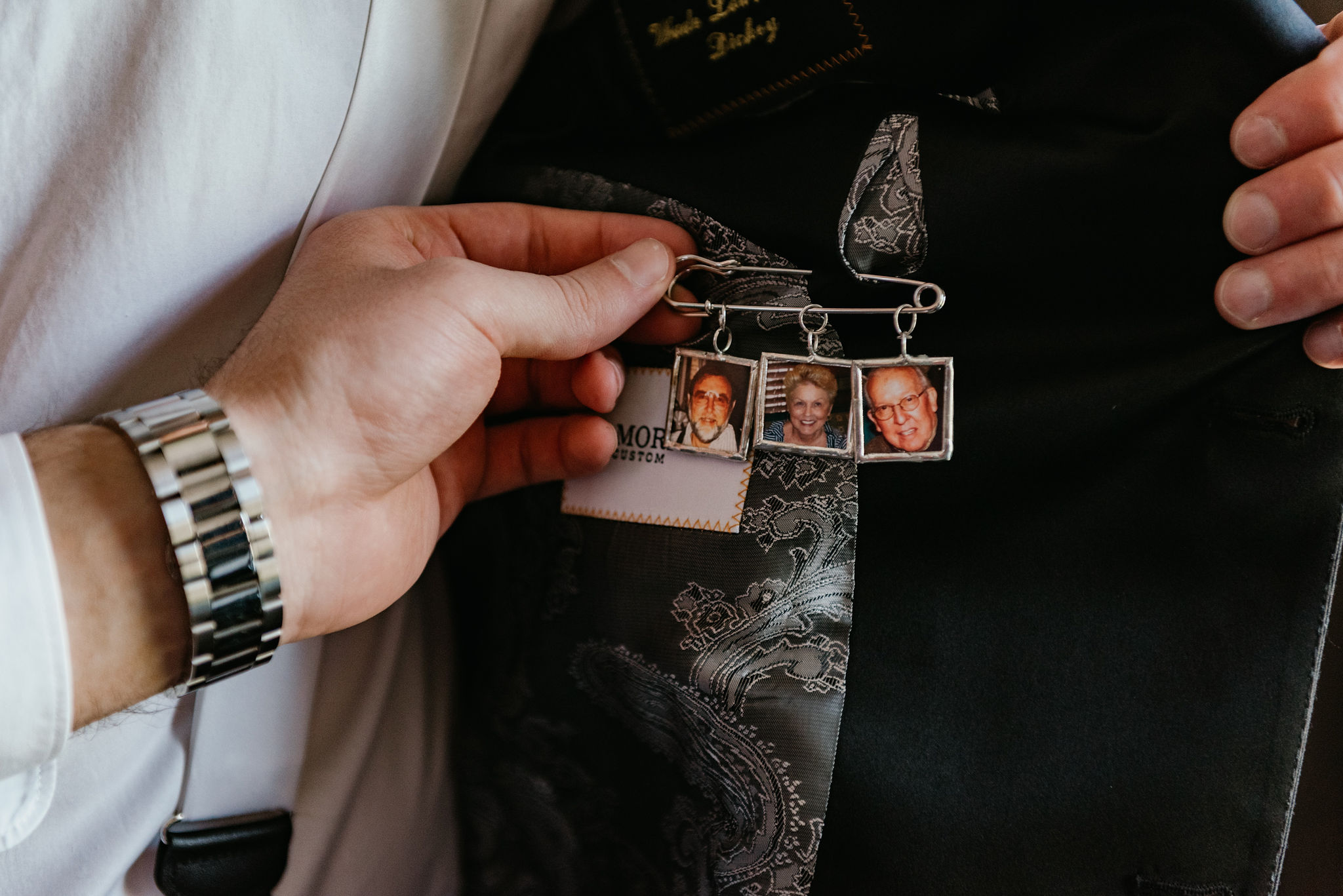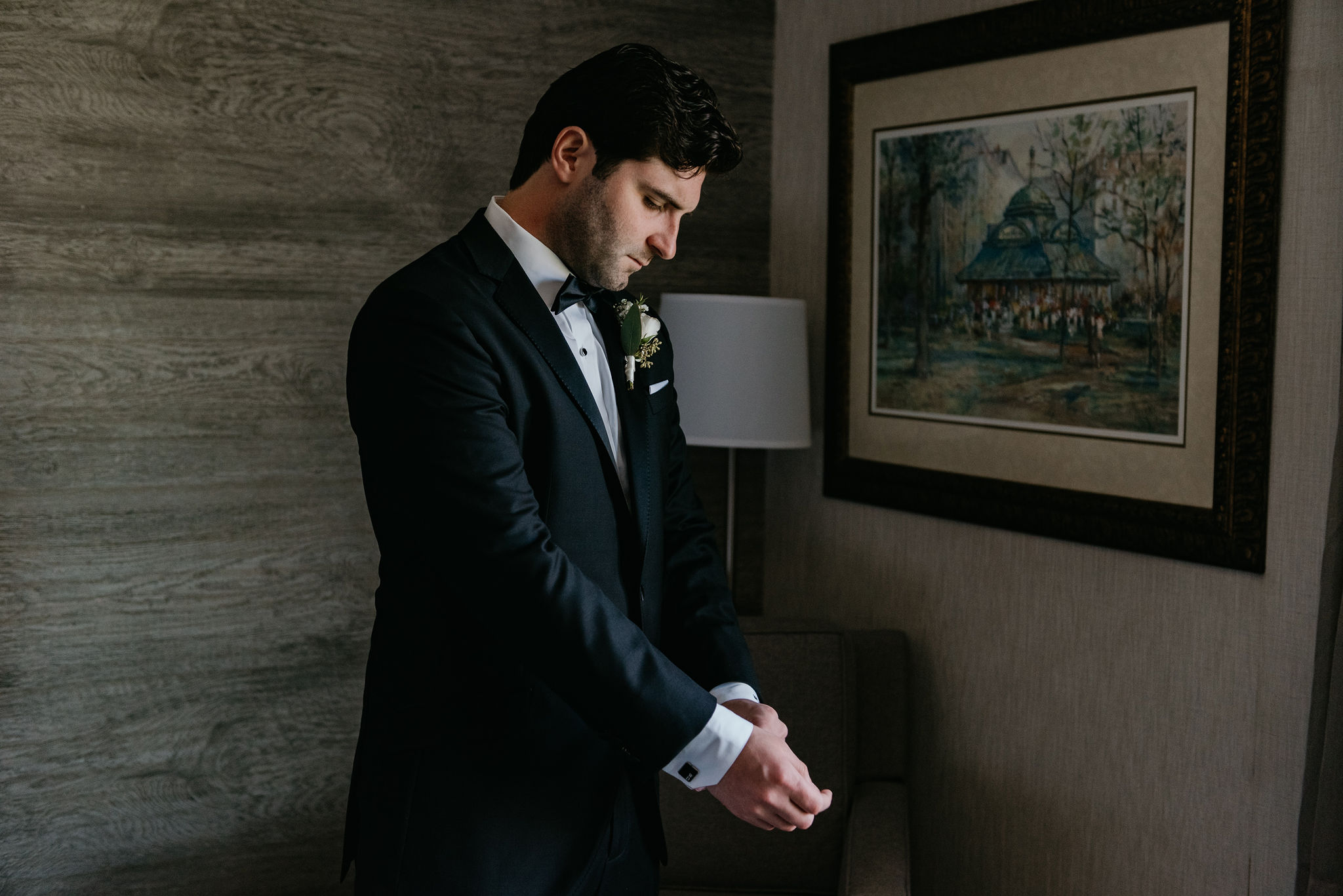 Ceremony at St. Maria Goretti
I met Kasey & Wade in California, celebrating Wade's brother's wedding in July.  By then, the pair had booked Normandy Farm and a great band so the essentials for a great party were already in place.  The family graciously asked if our team would travel to Pennsylvania in April and we couldn't have been more thrilled to celebrate with this fun-loving crowd "out east".
The ceremony was an idyllic drive down winding roads lined with trees in the full bloom of spring.  The altar of St. Maria Goretti was adorned in blossoming branches (courtesy of the church).  Kasey and Wade were framed at the altar by their lovely bridesmaids in seaglass green dresses, groomsmen in sharp black suits, and a sweet flower girl and ring bearer to complete the bridal party.
Back at the farm, guests had some time to relax in their rooms while Kasey & Wade took photos with their entourage around the farm grounds under blossoming trees and in front of charming historic buildings.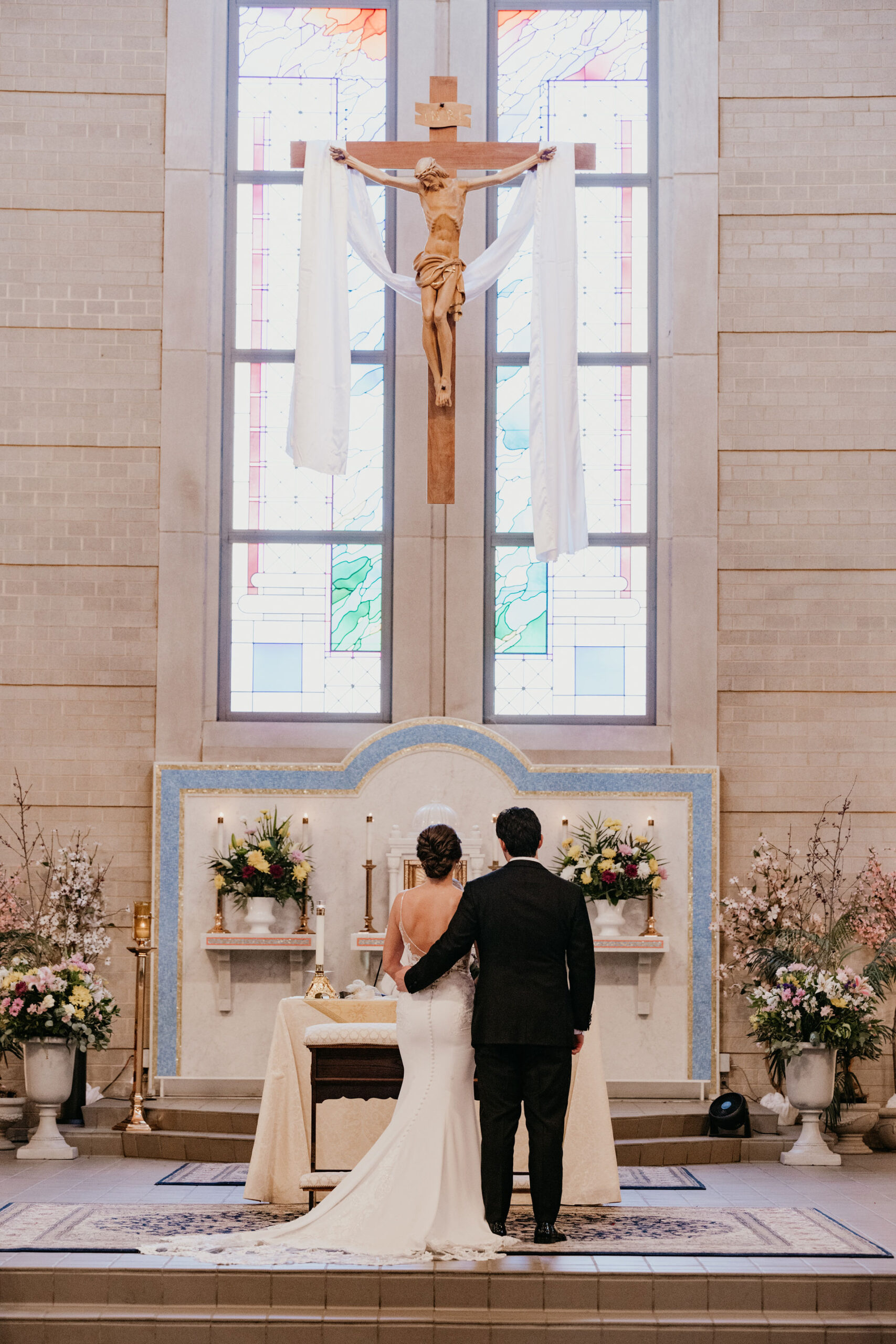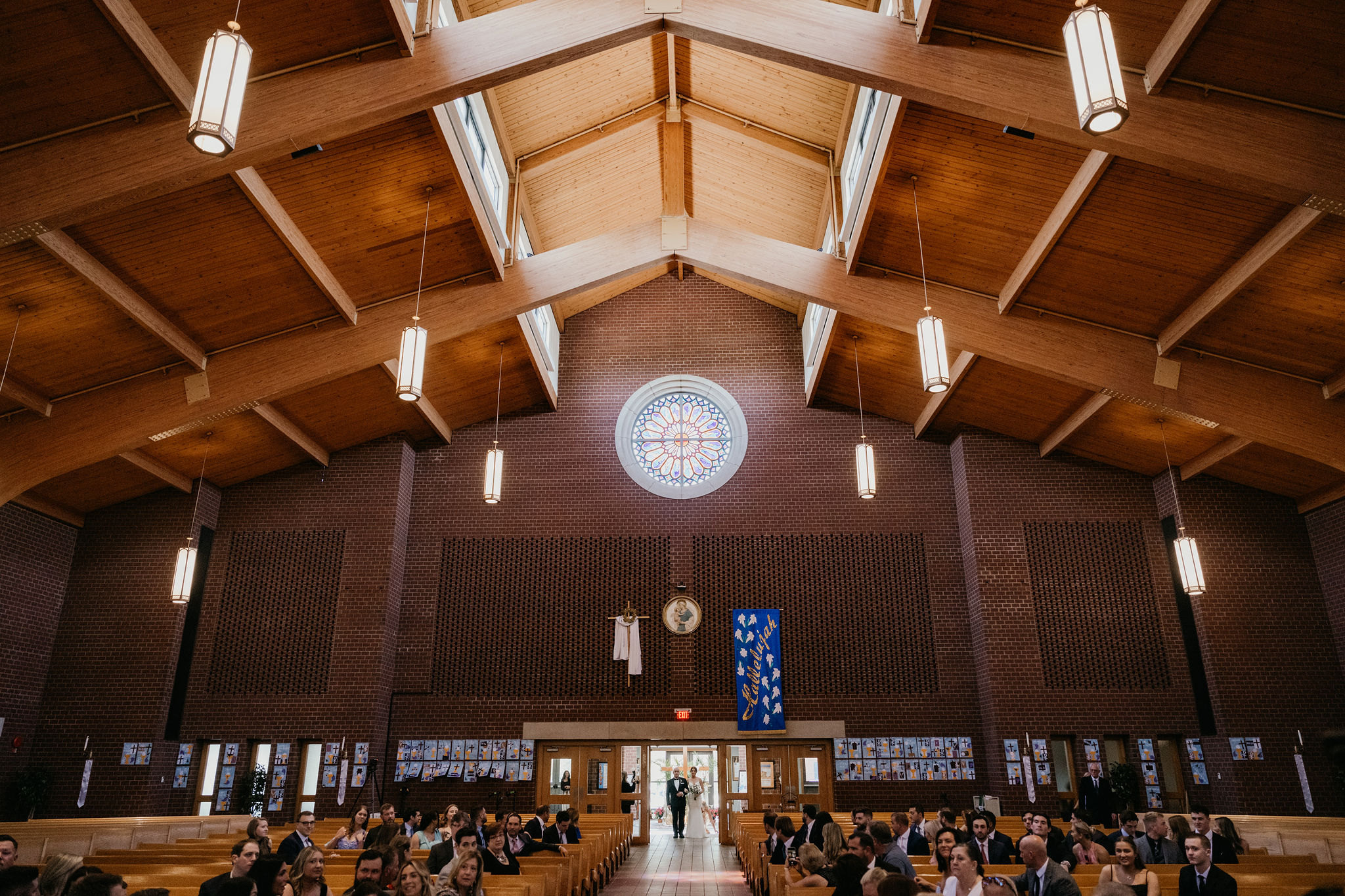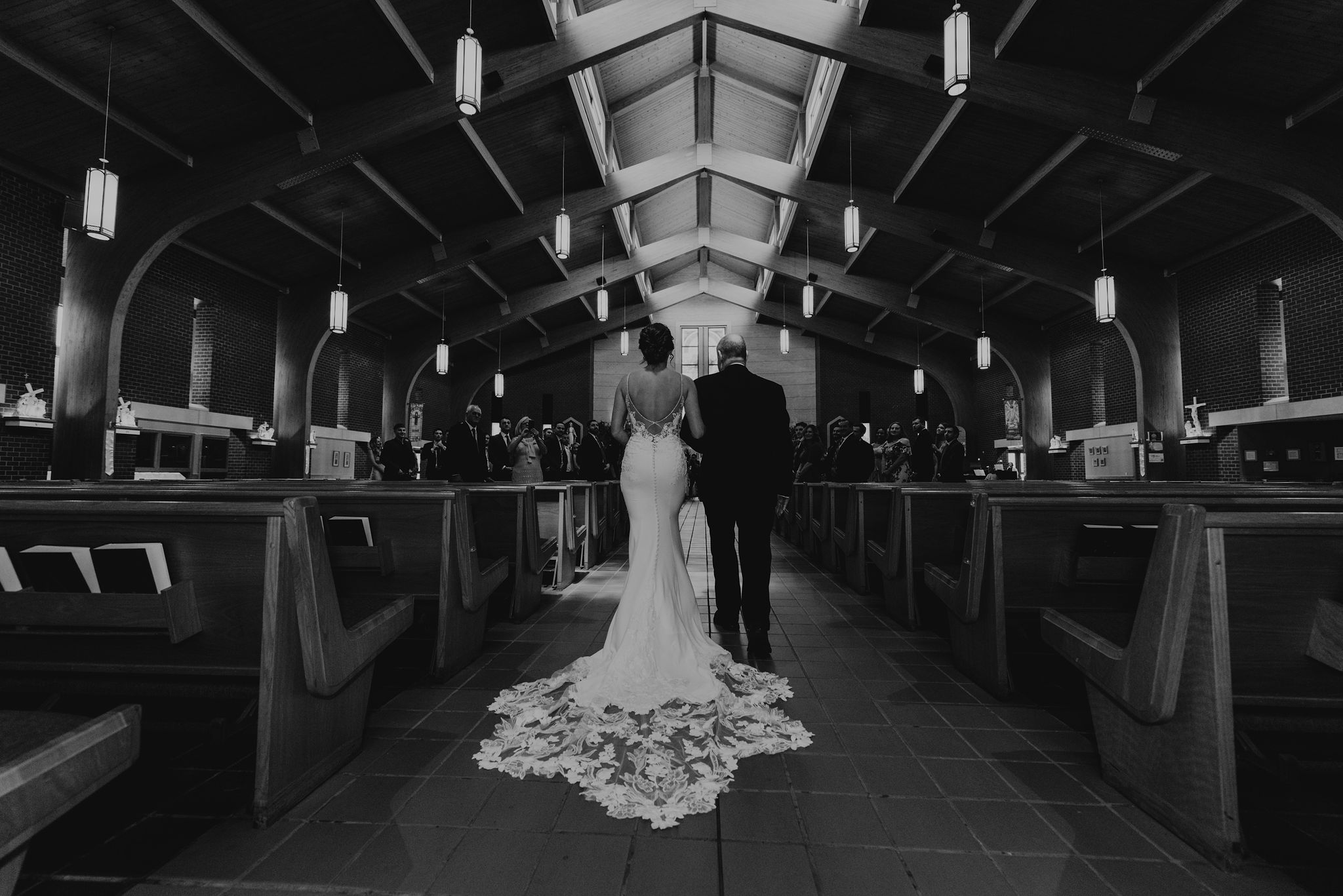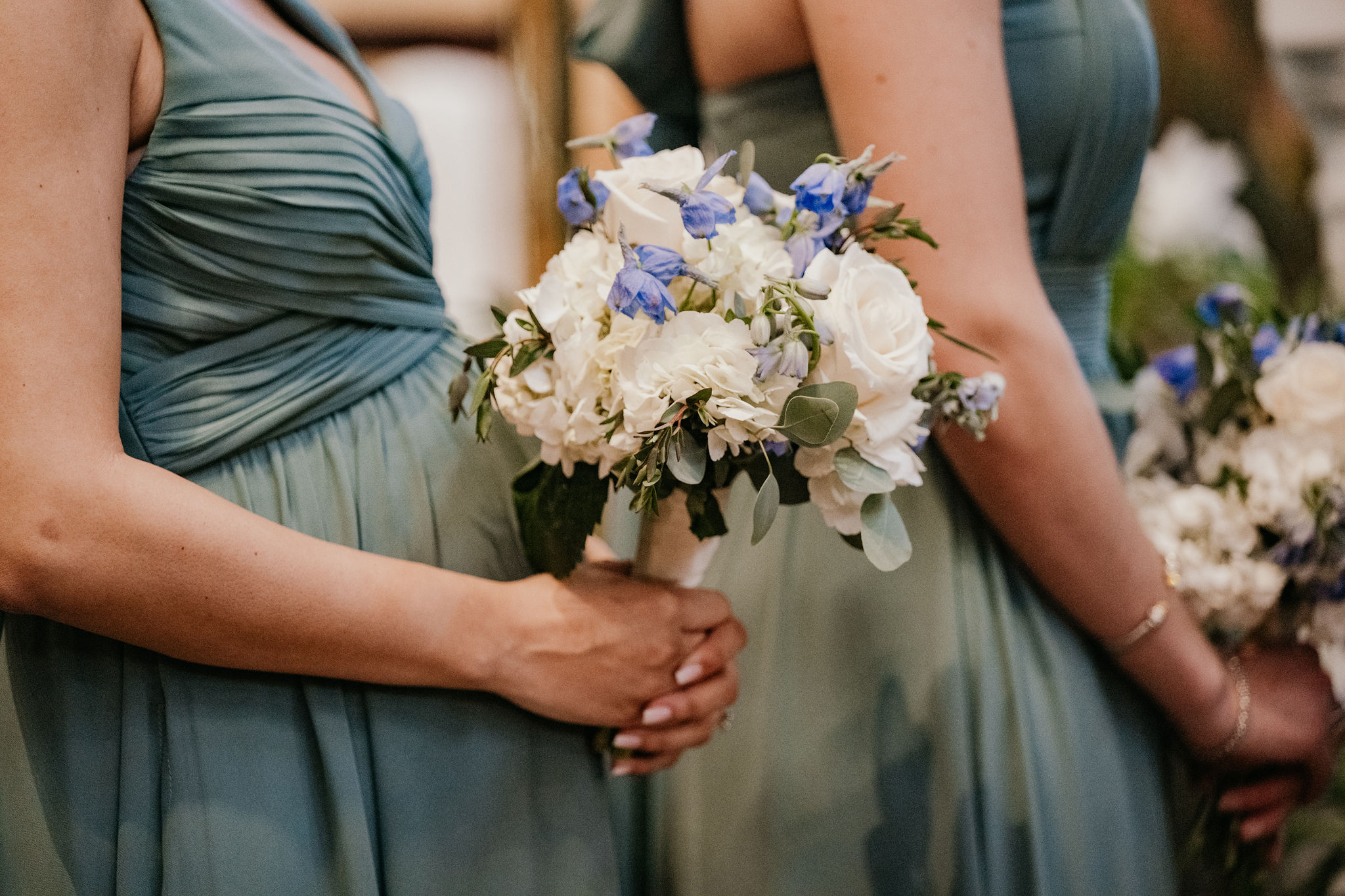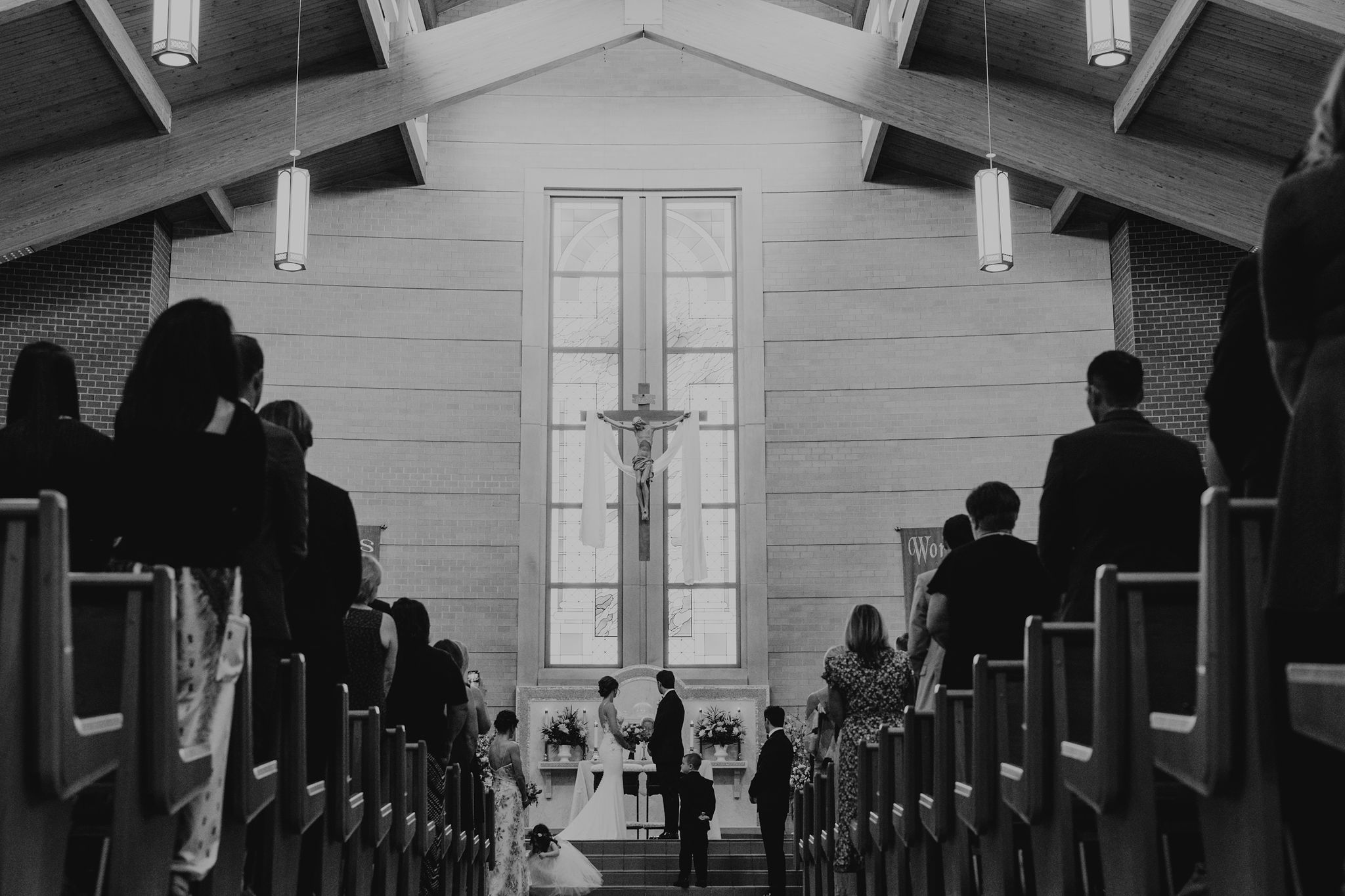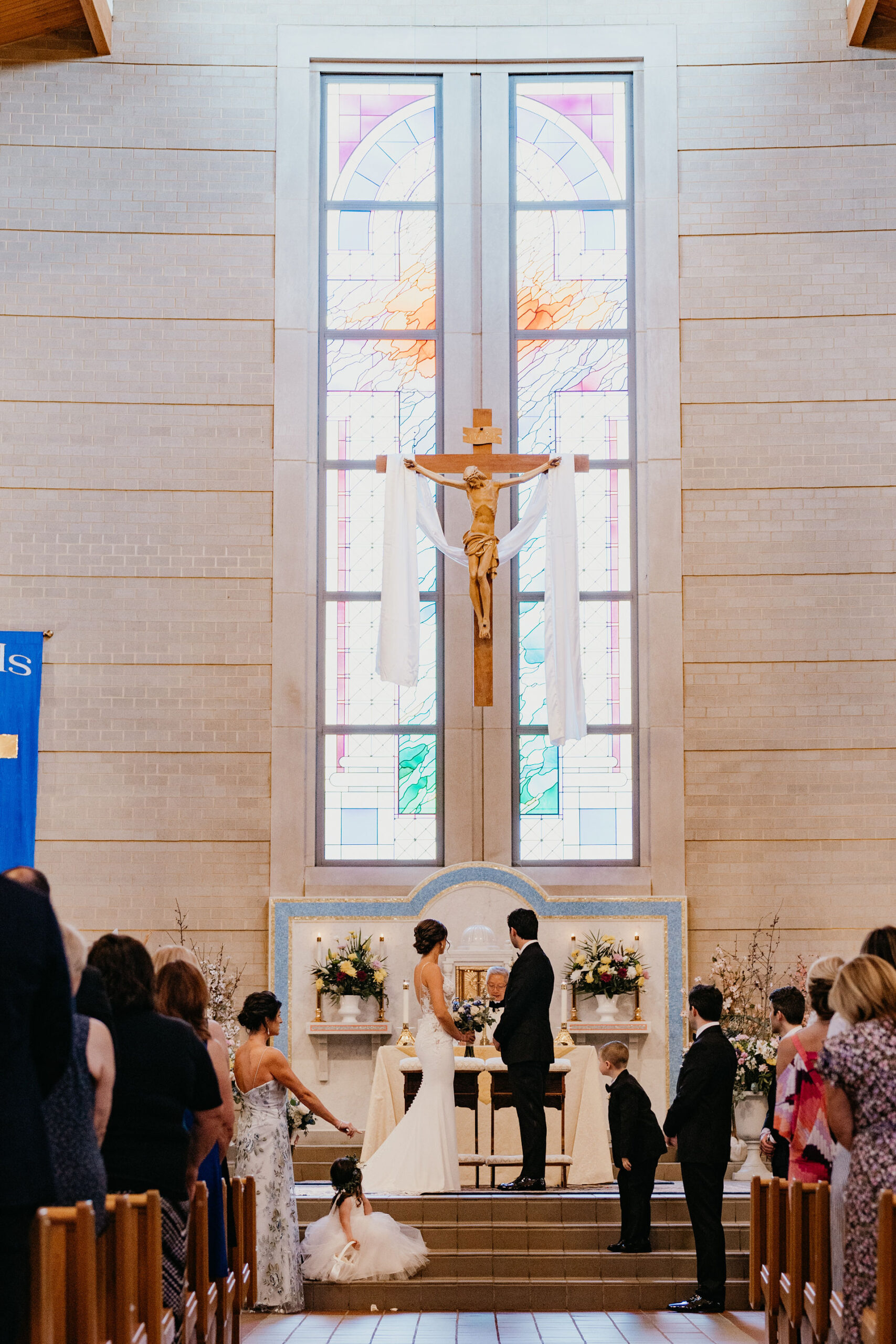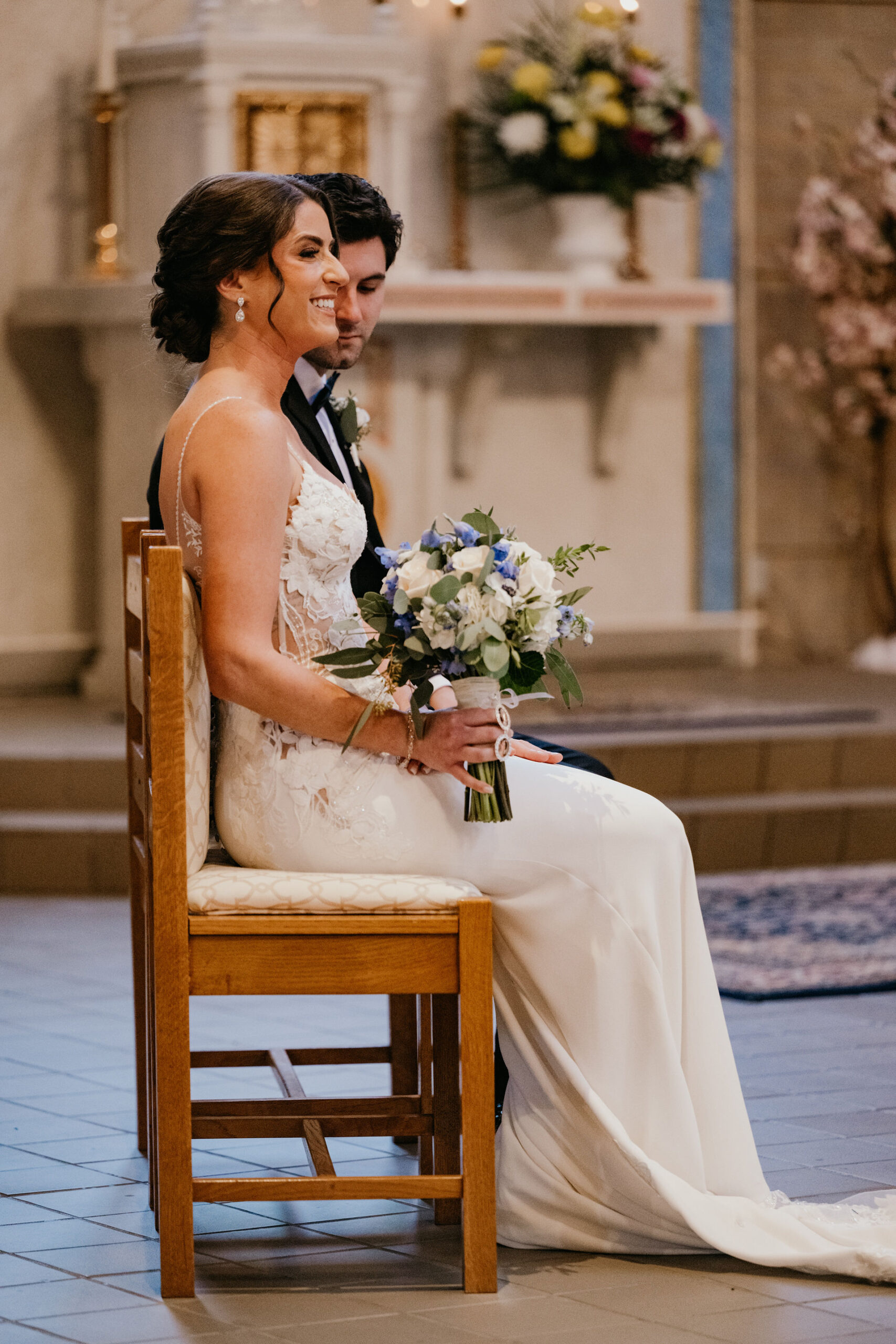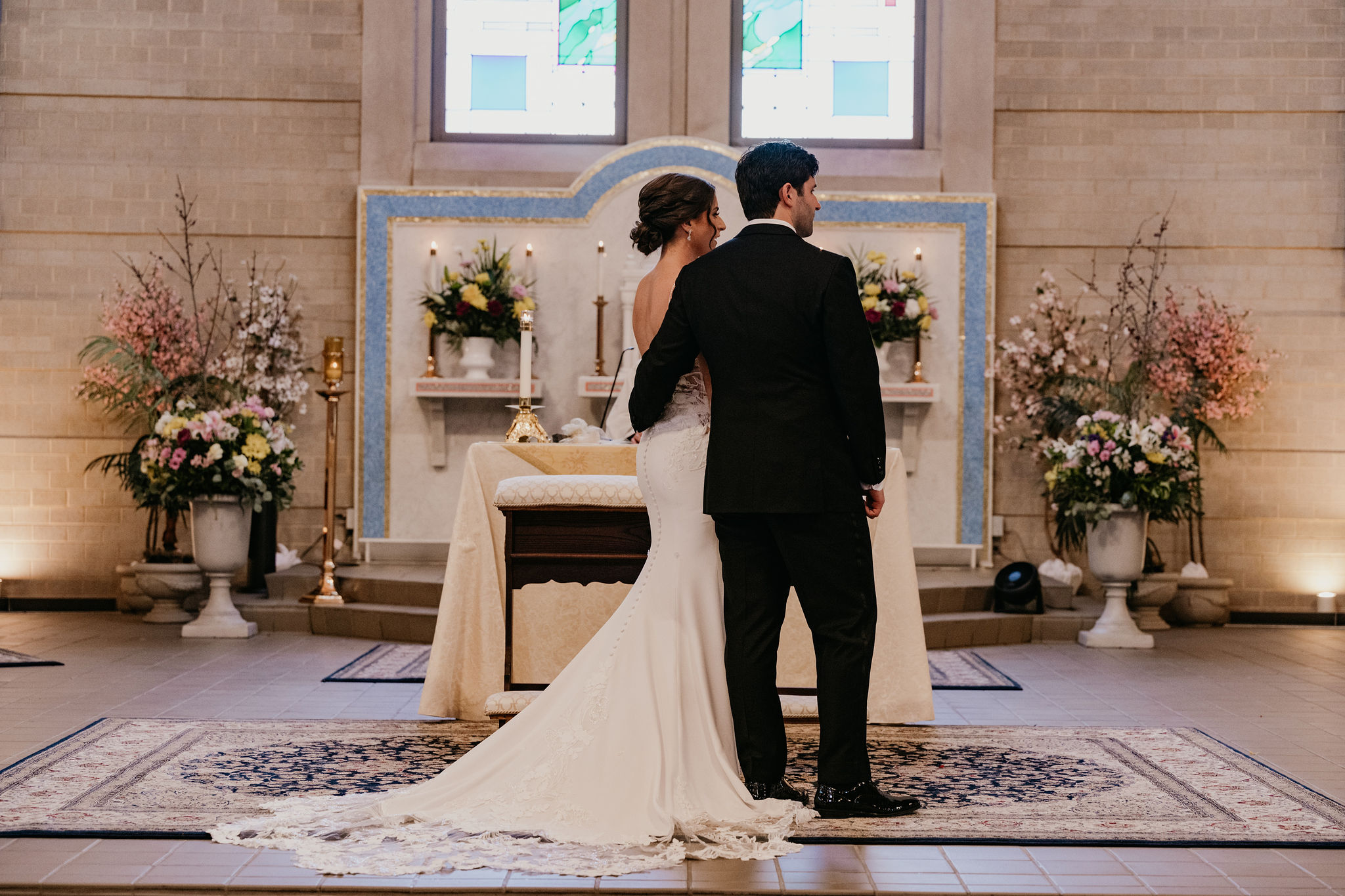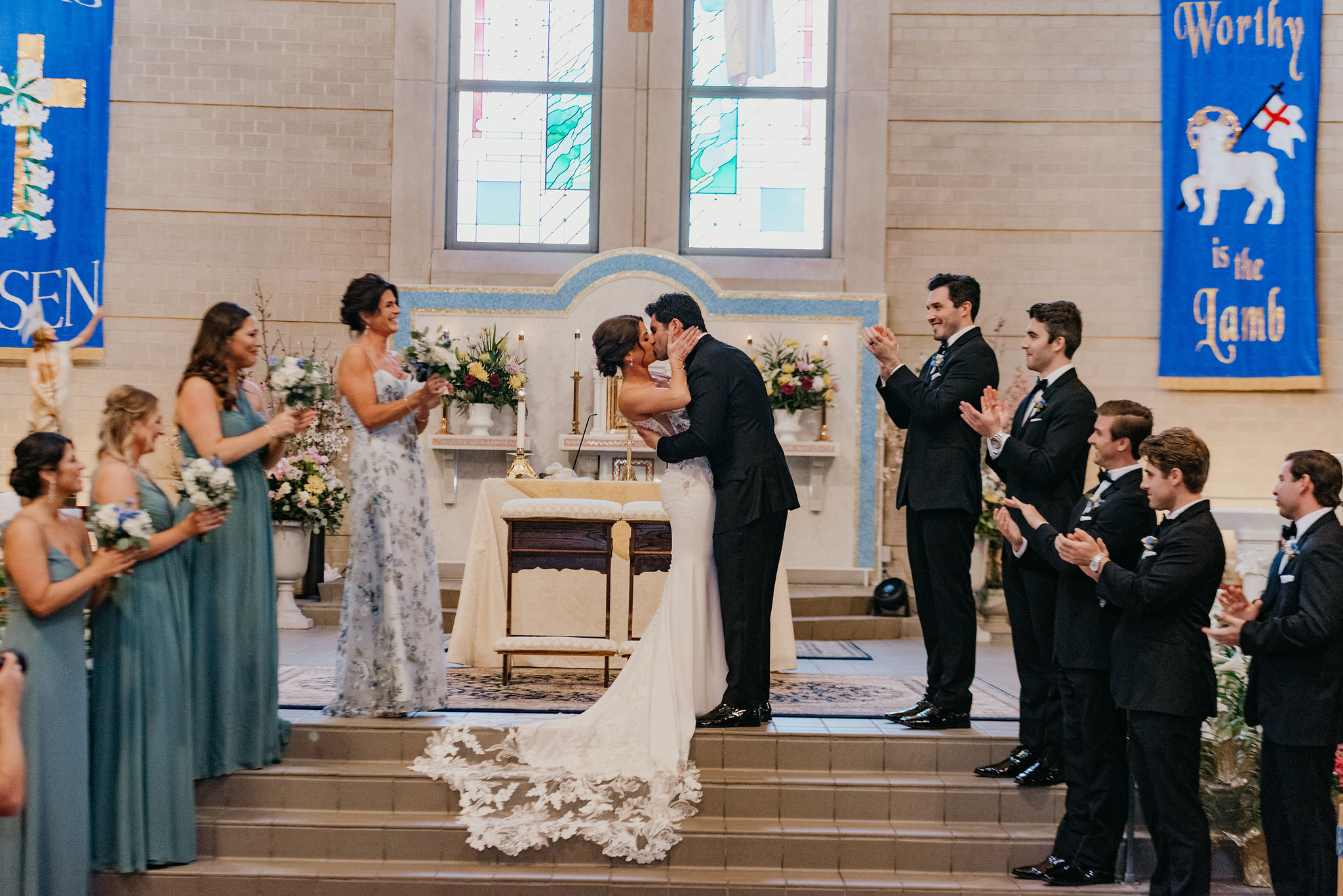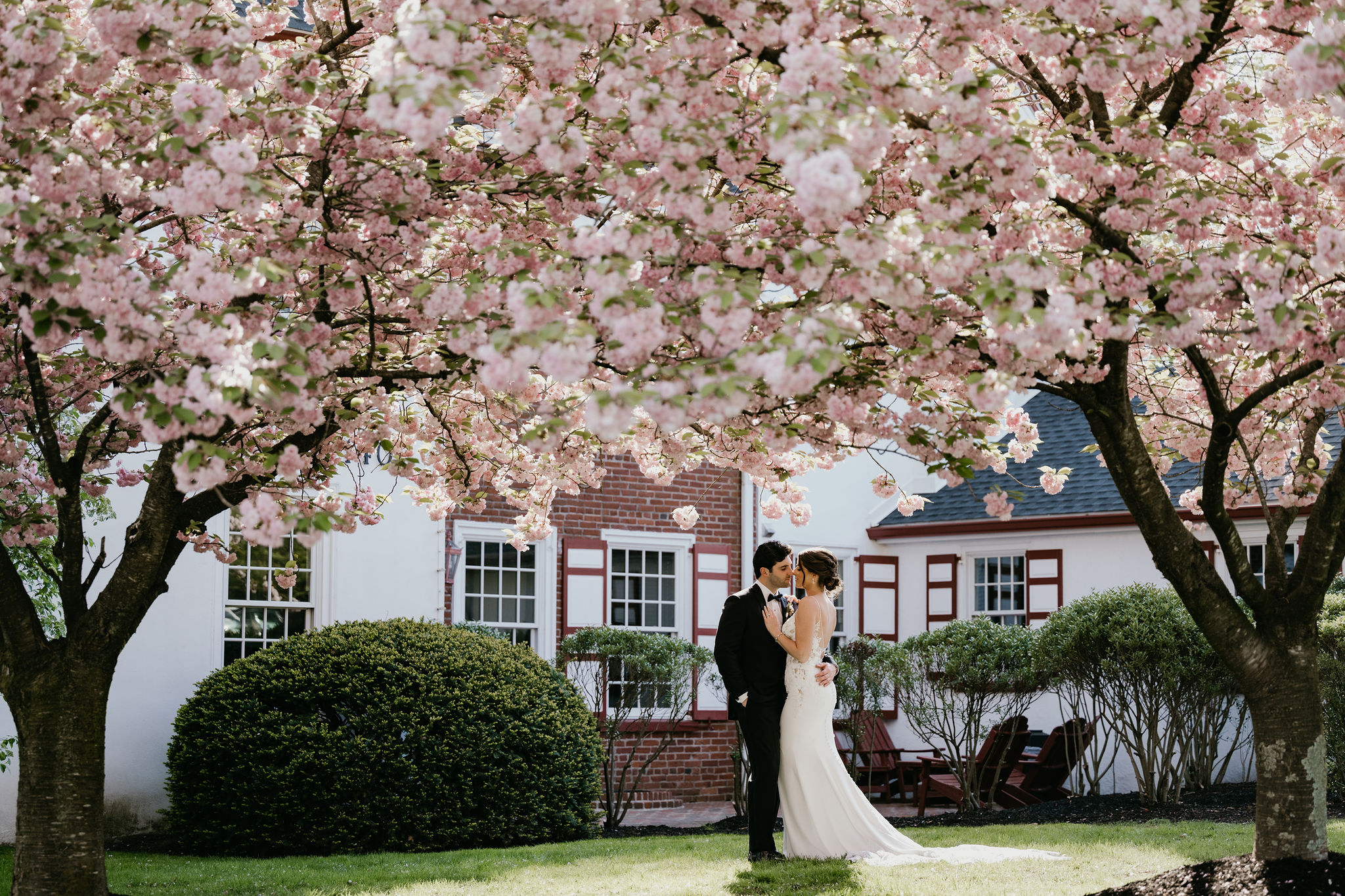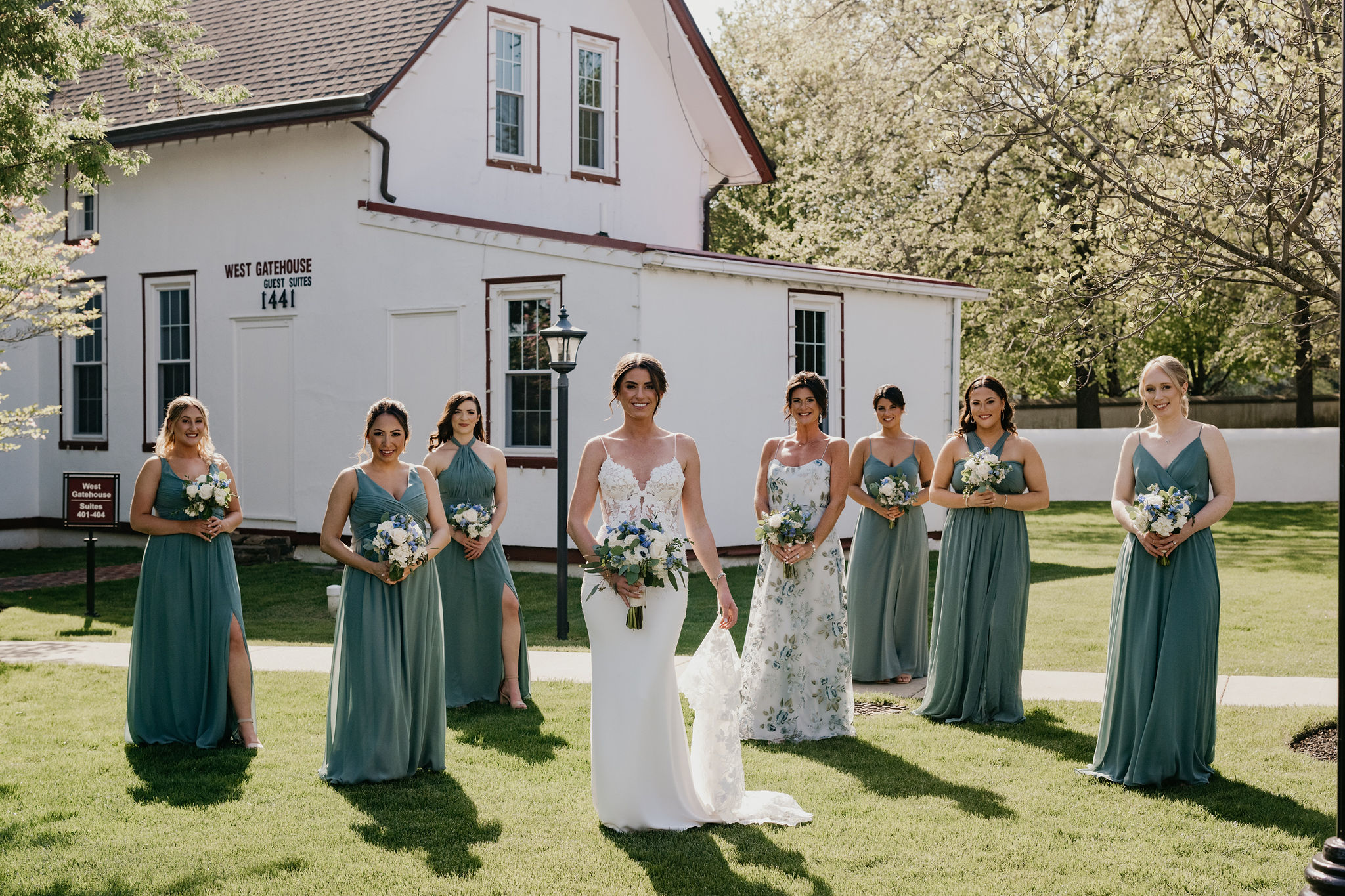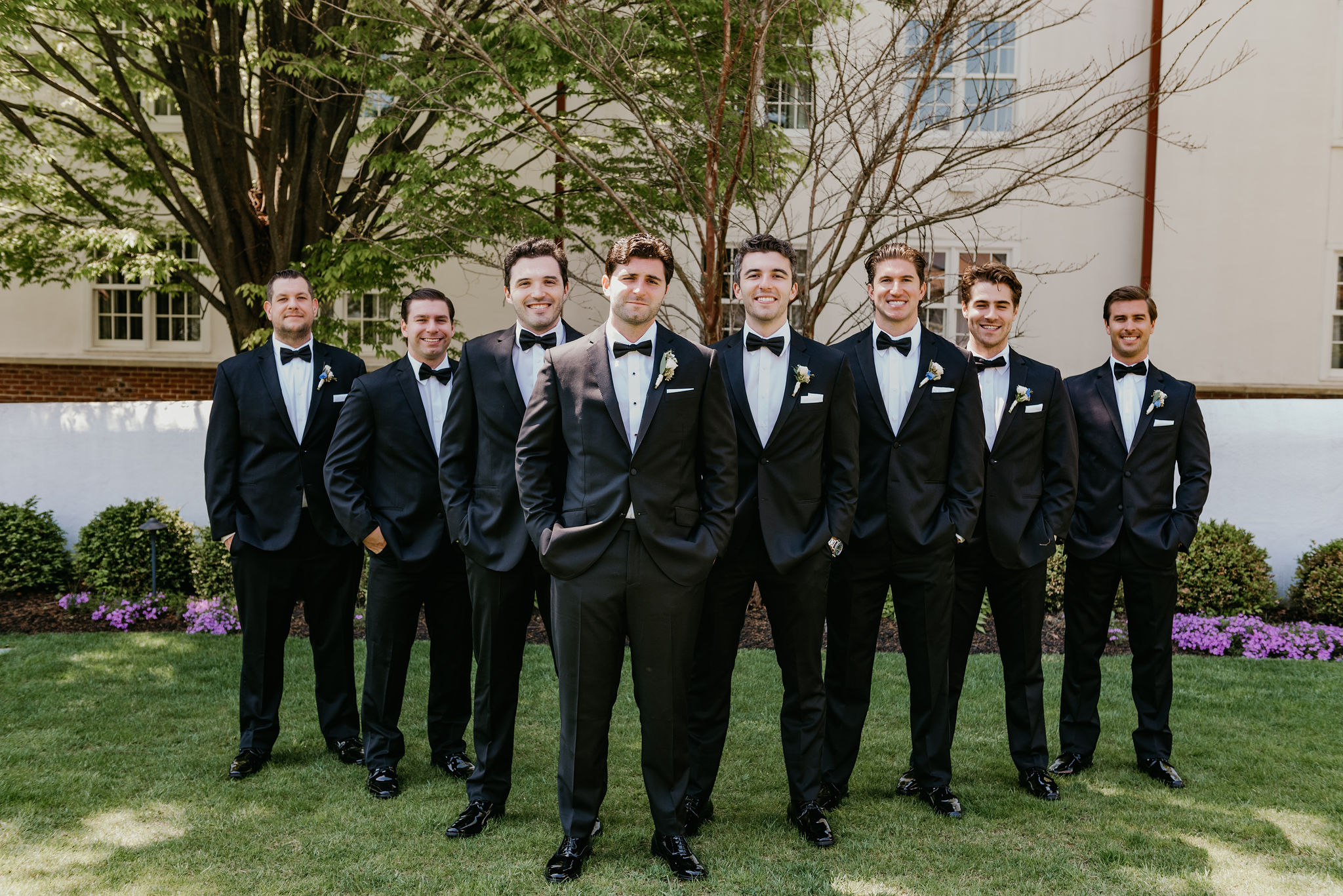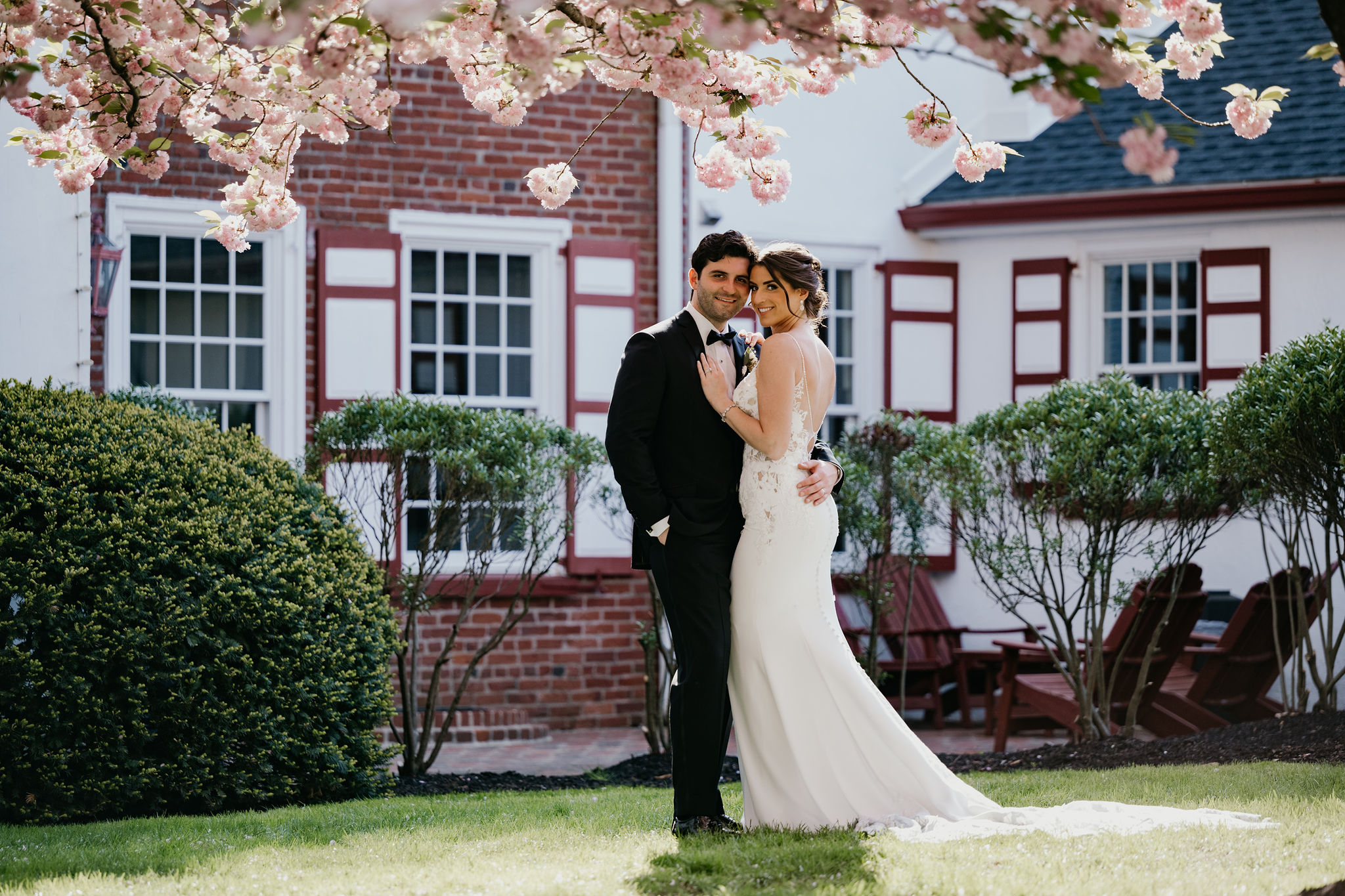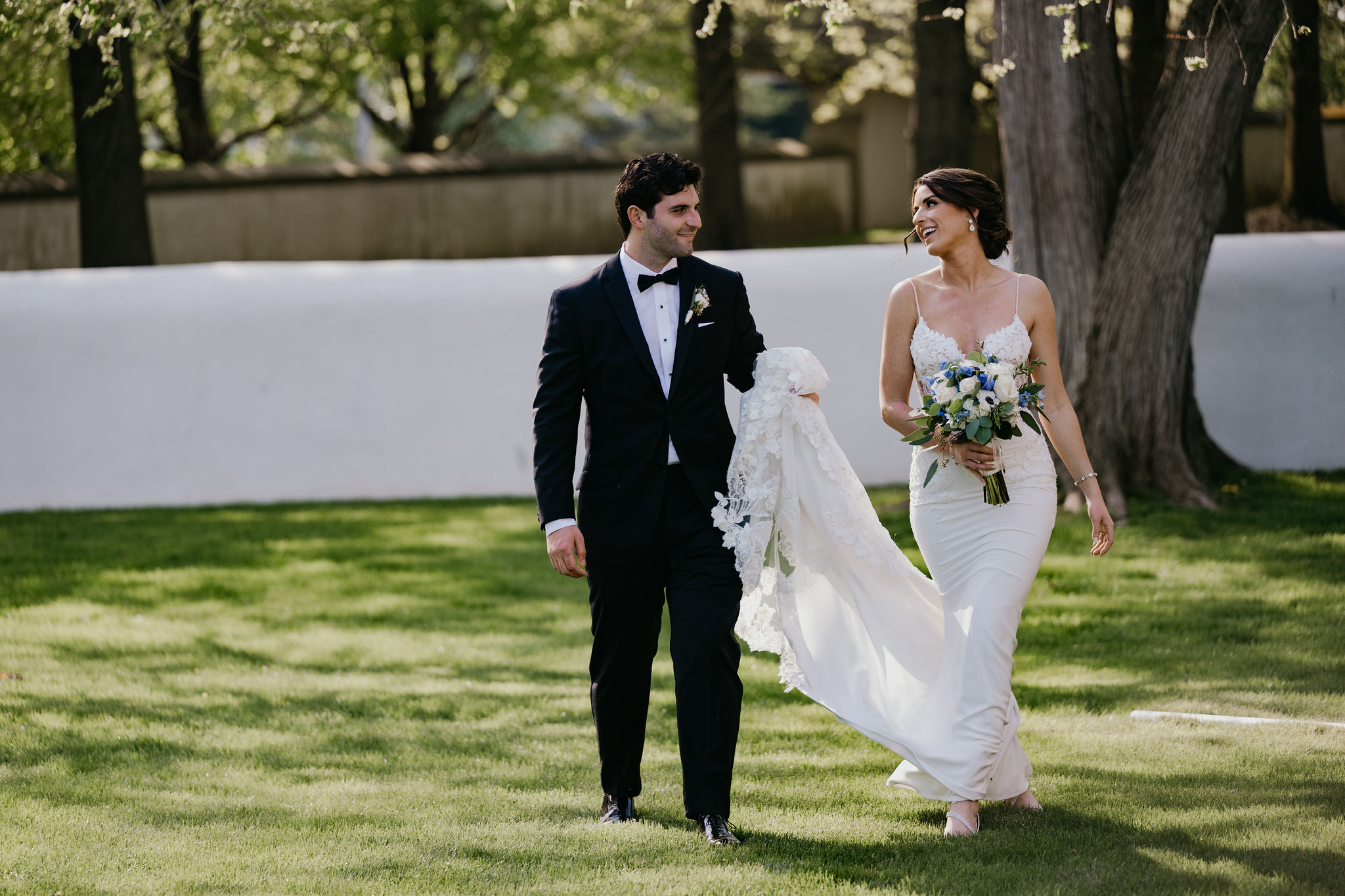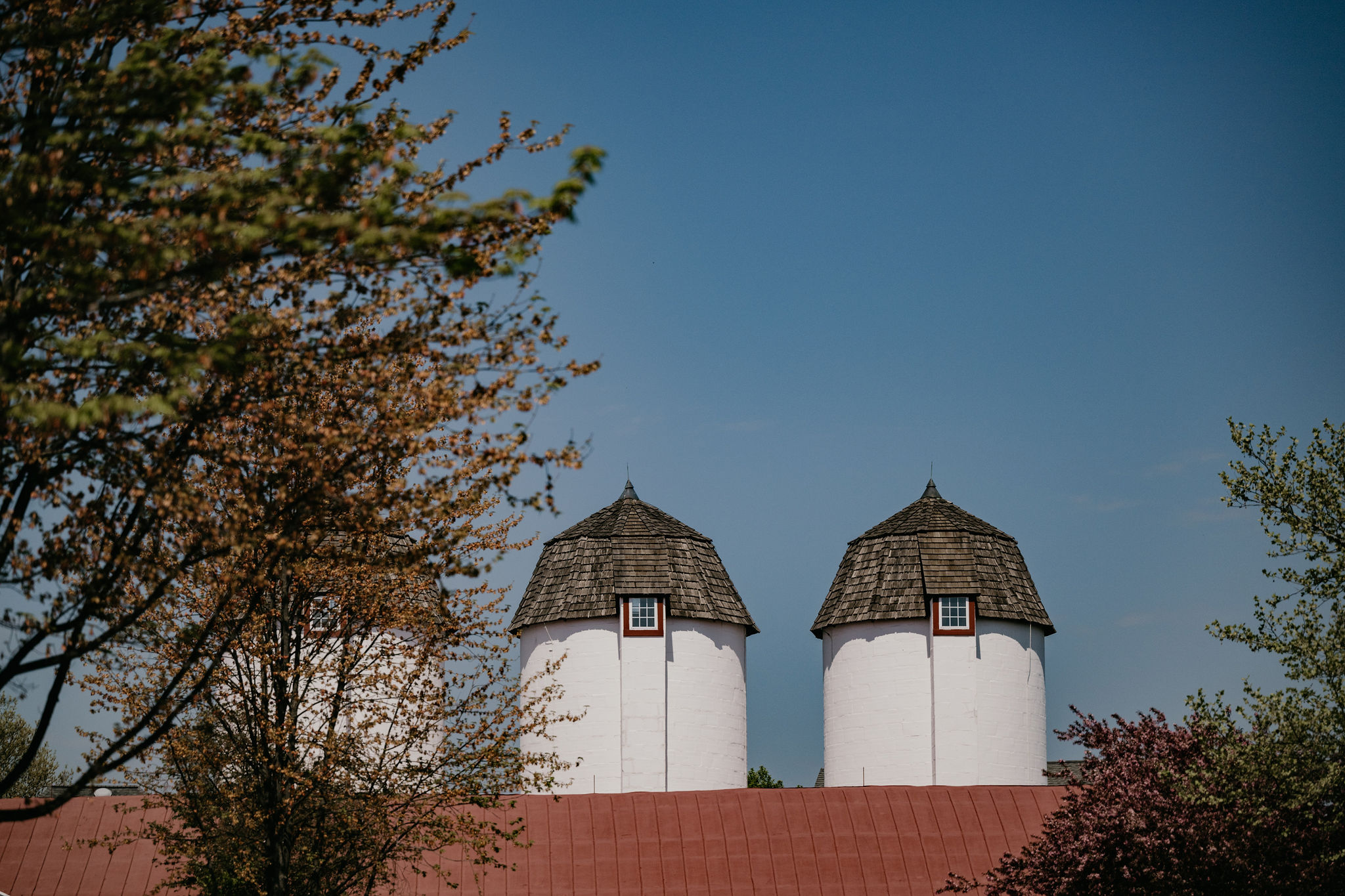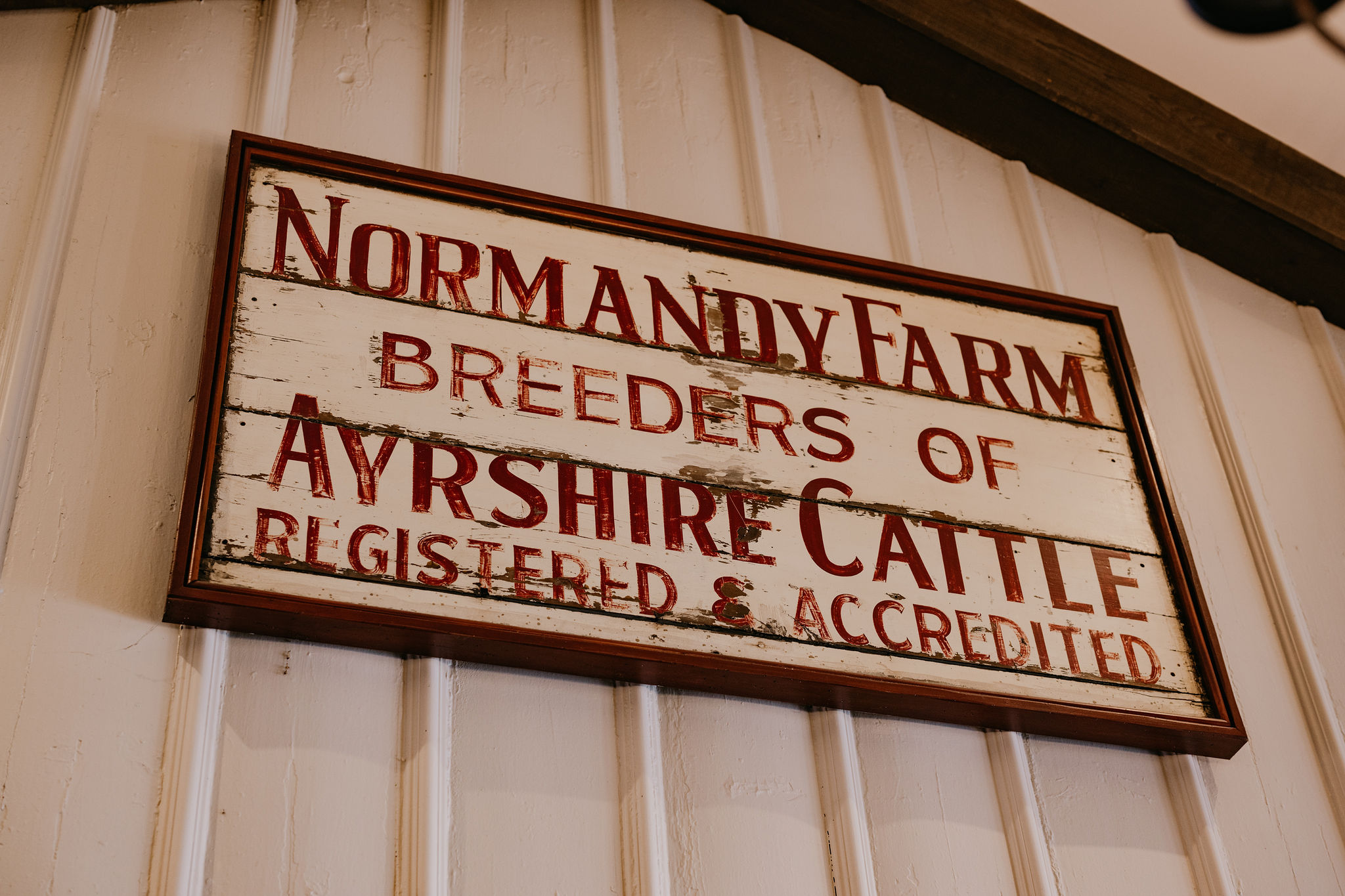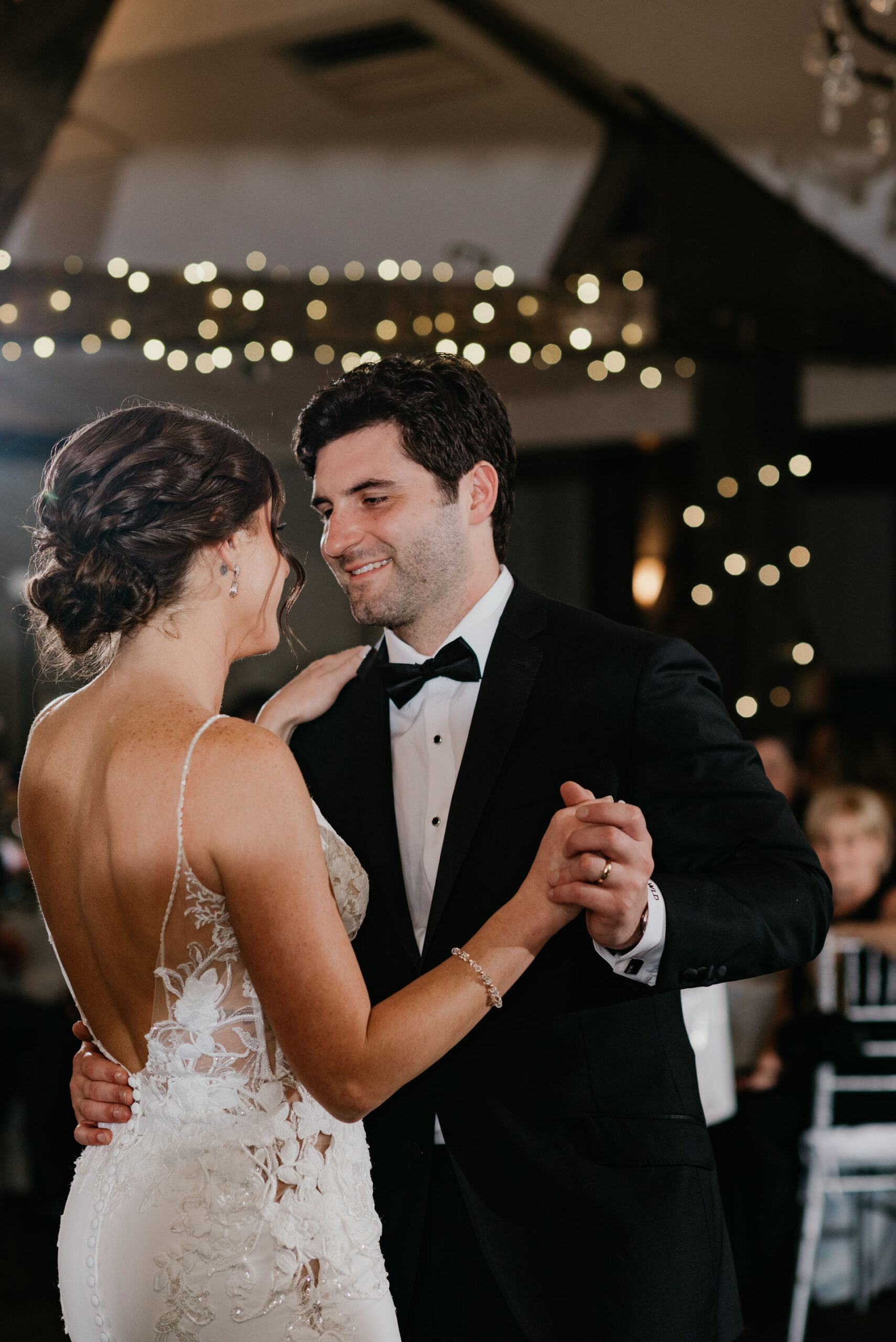 Revelry under the Silos
The Silos Ballroom is known for the three round rooms that open off of the main ballroom – actual silos.  If you look up, you can see the towering silo tops above you.  We displayed their cake in one of these silo rooms but the main revelry happened under wooden beams adorned in twinkle lights with crystal chandeliers between. 
On a design trip months before, Kasey, her mom and I (with phone video input from her sister) pulled together a look that drew inspiration from the seaglass green and blue floral bridesmaid and maid of honor dresses.  We found a patterned linen with a light and playful aesthetic, layered it with farmhouse charger plates light blue napkins, a silver wax seal on the menus to tie in silver flatware, and a Paris blue water goblet to add vertical texture.  Wax seals on the place cards finished the look and served as entree indicators.  Willow & Thistle blew us away with their lush centerpieces and textures of greenery, white hydrangea, and accents of blue delphinium.  Silver chivari chairs kept the airy spring look across the room.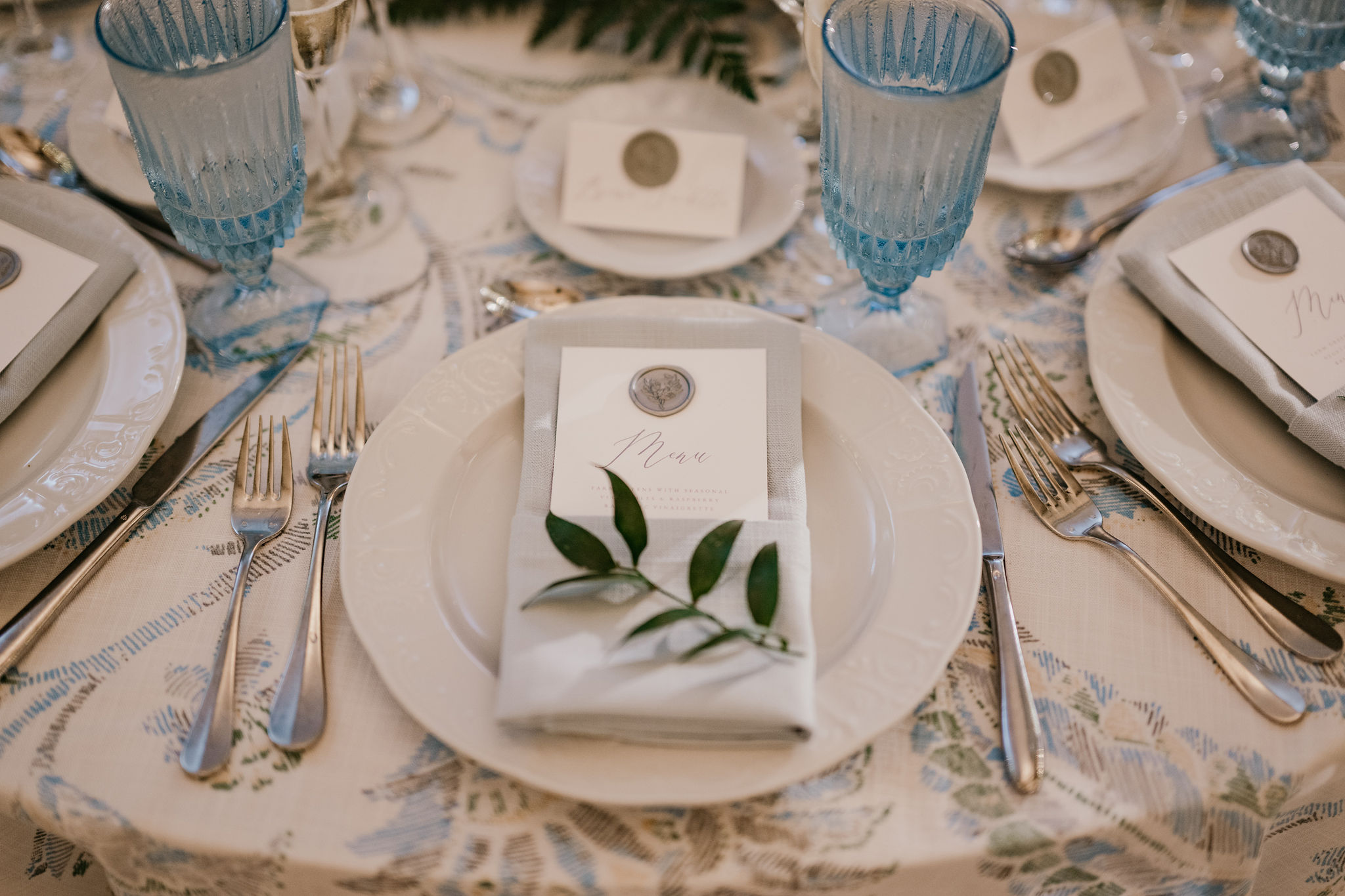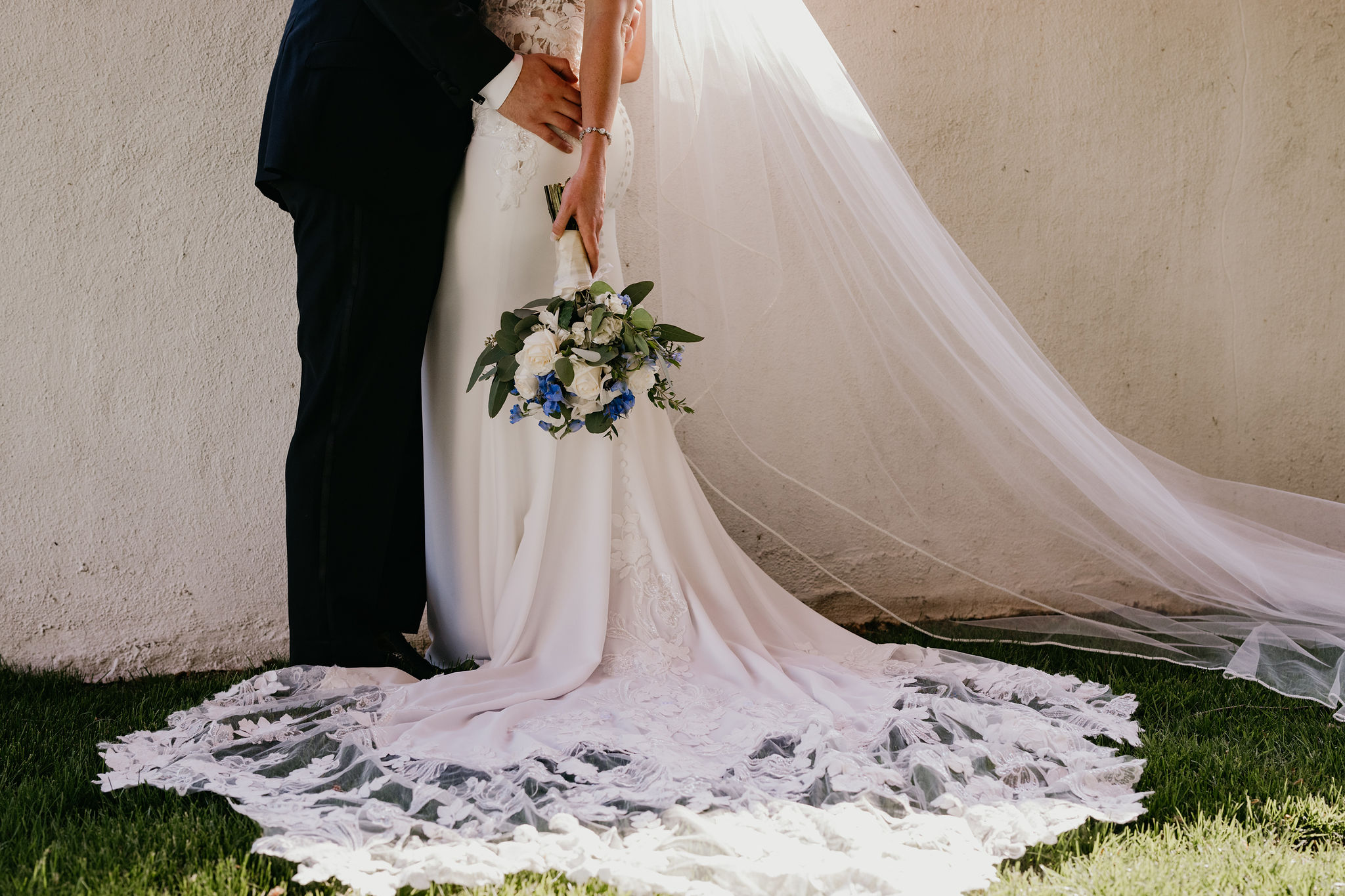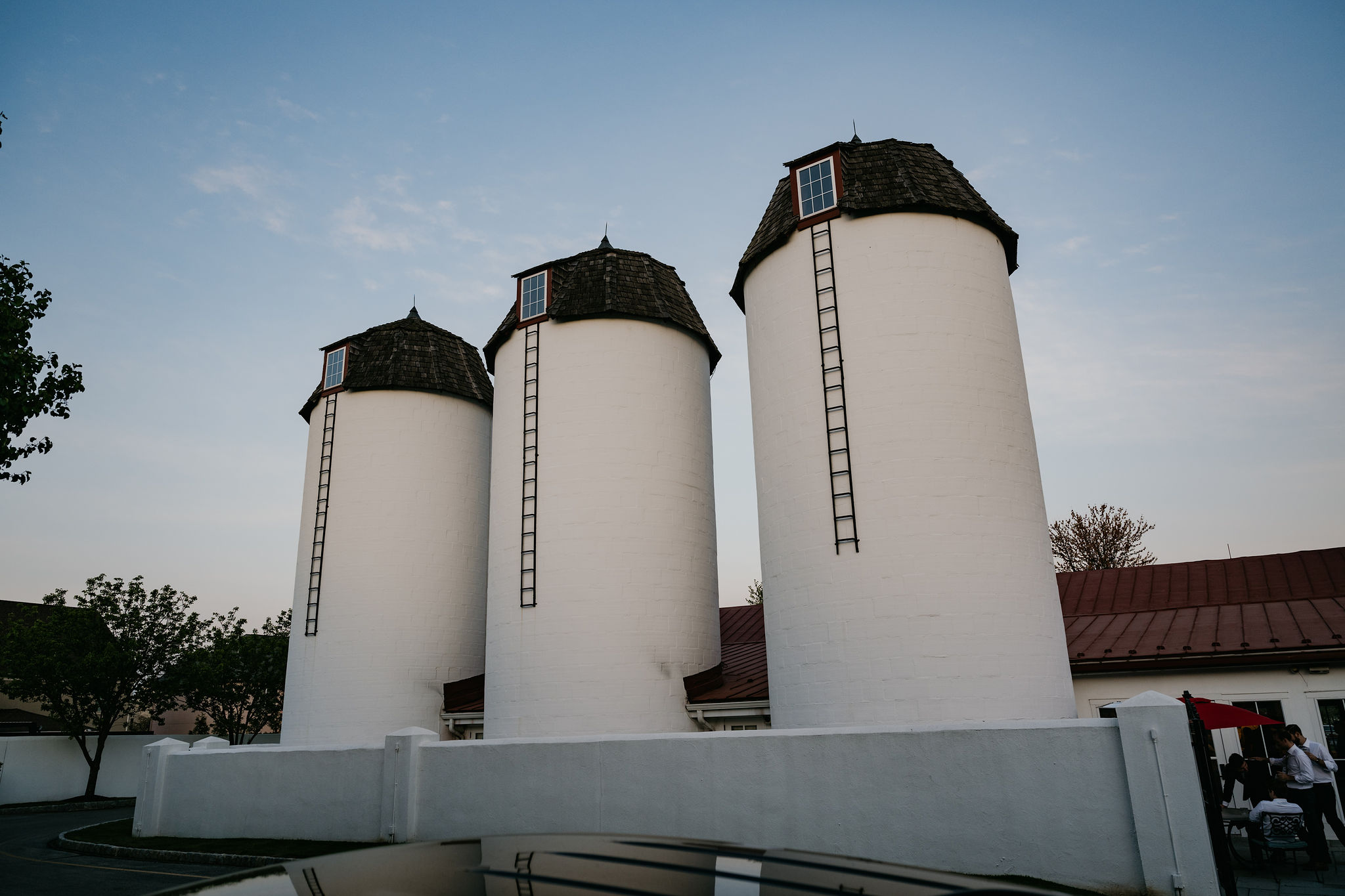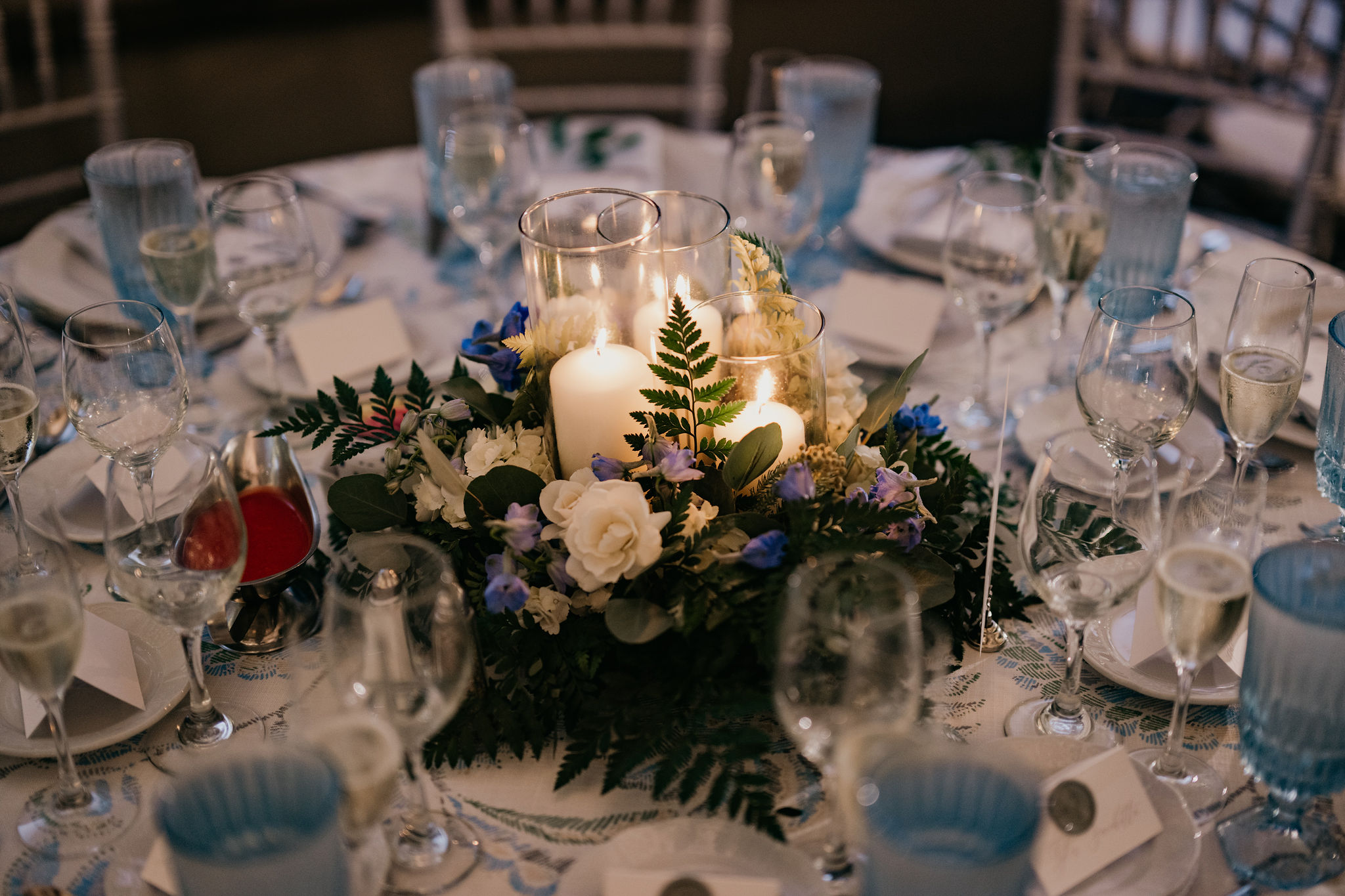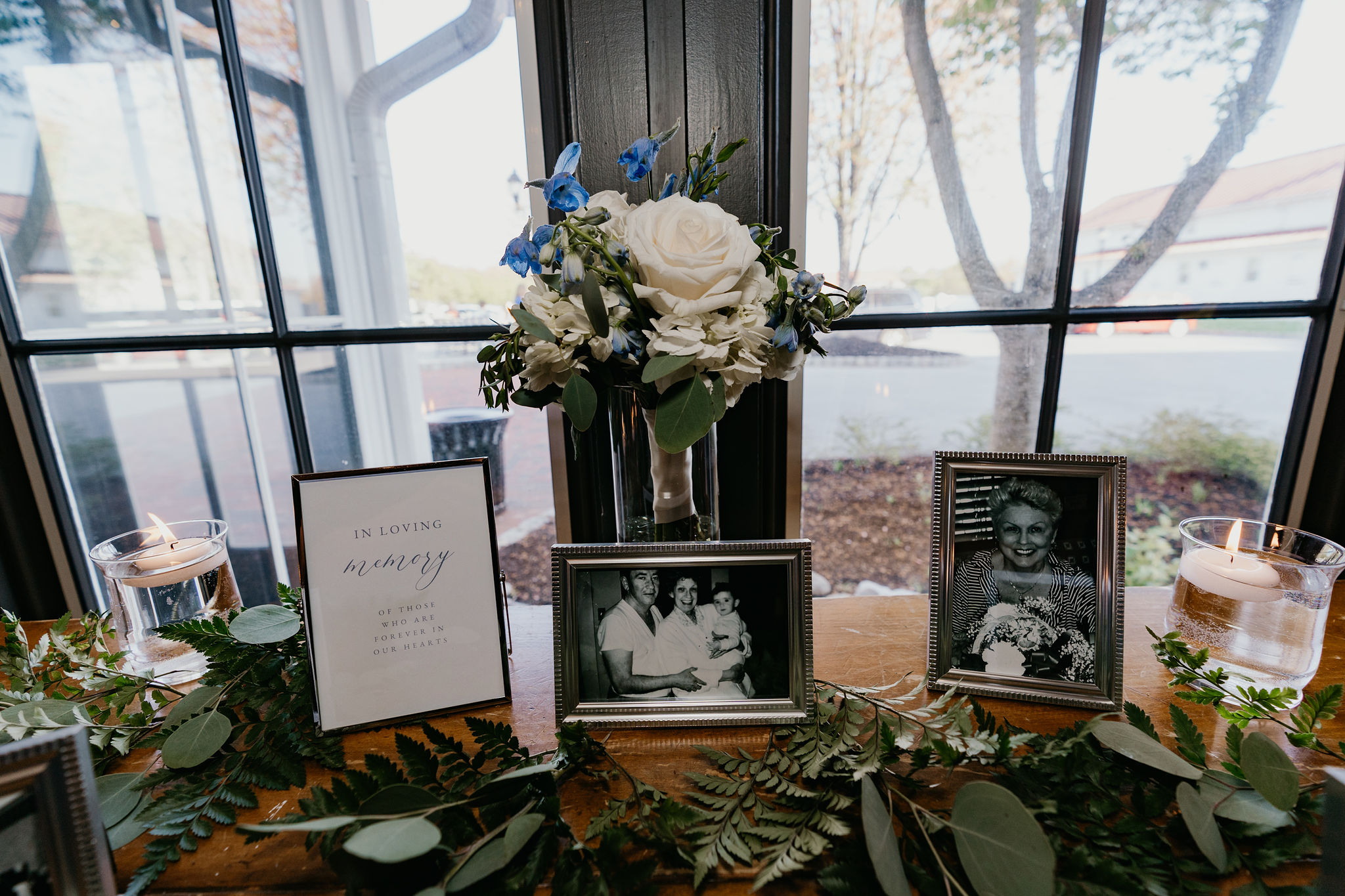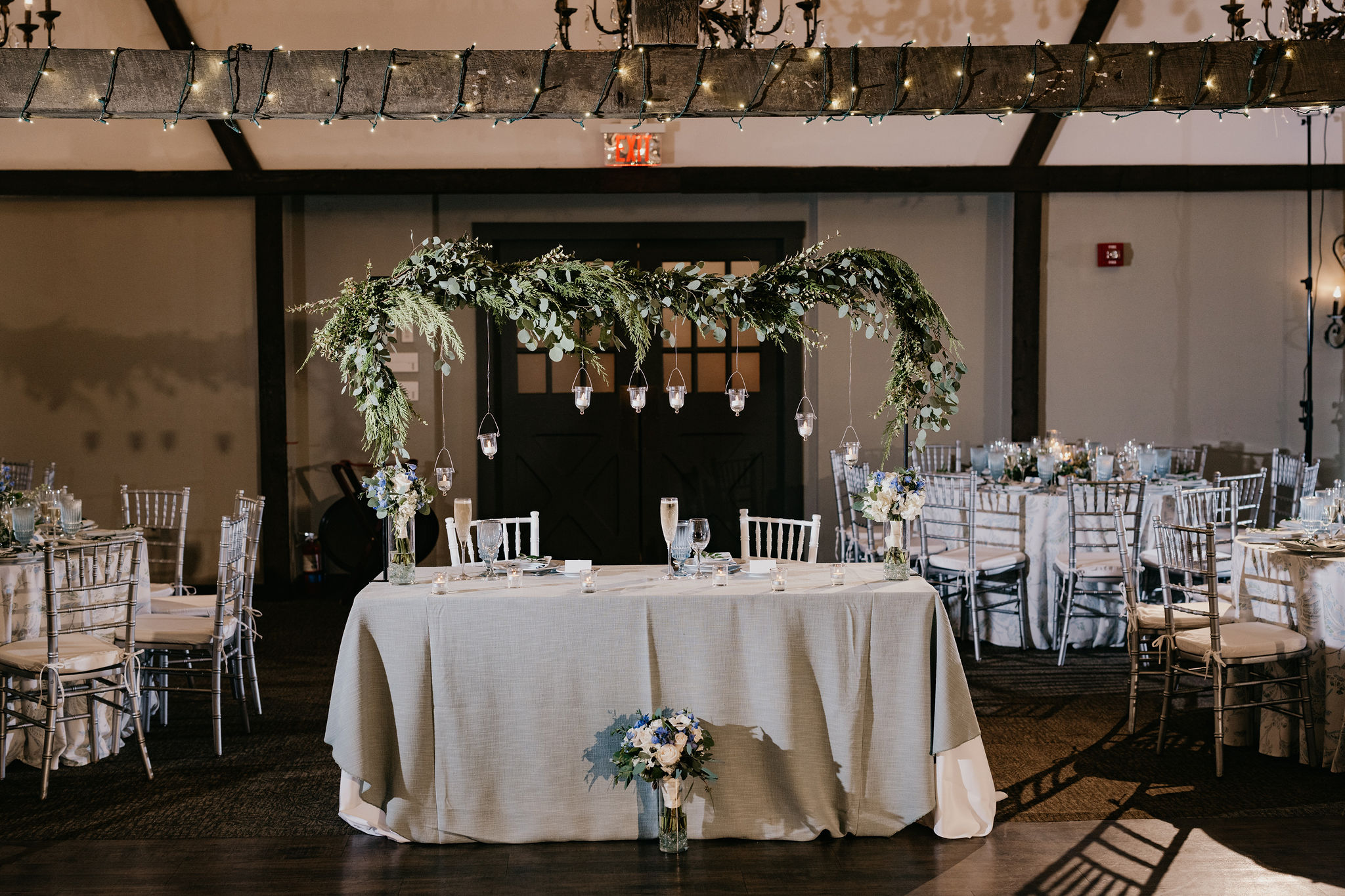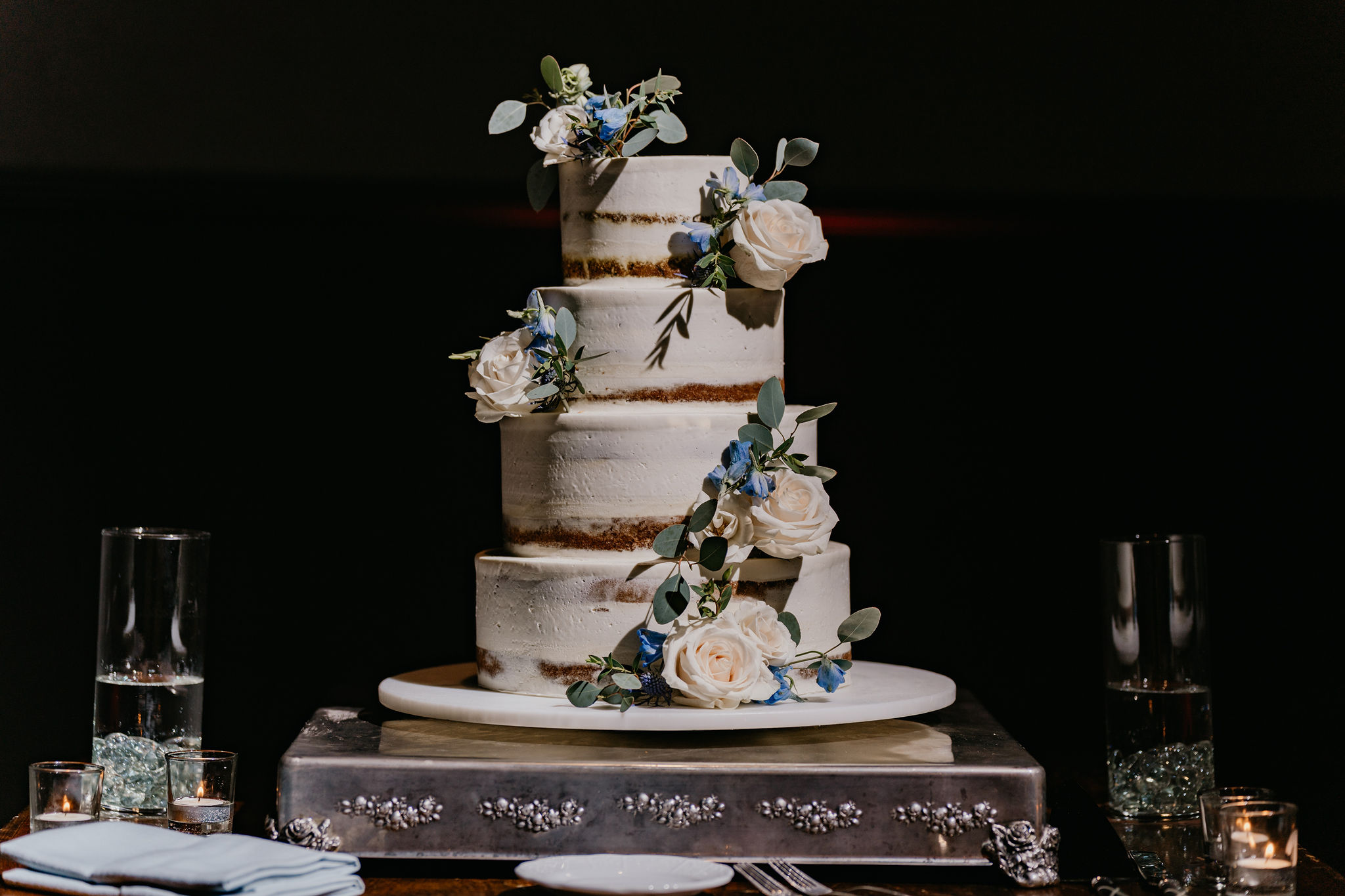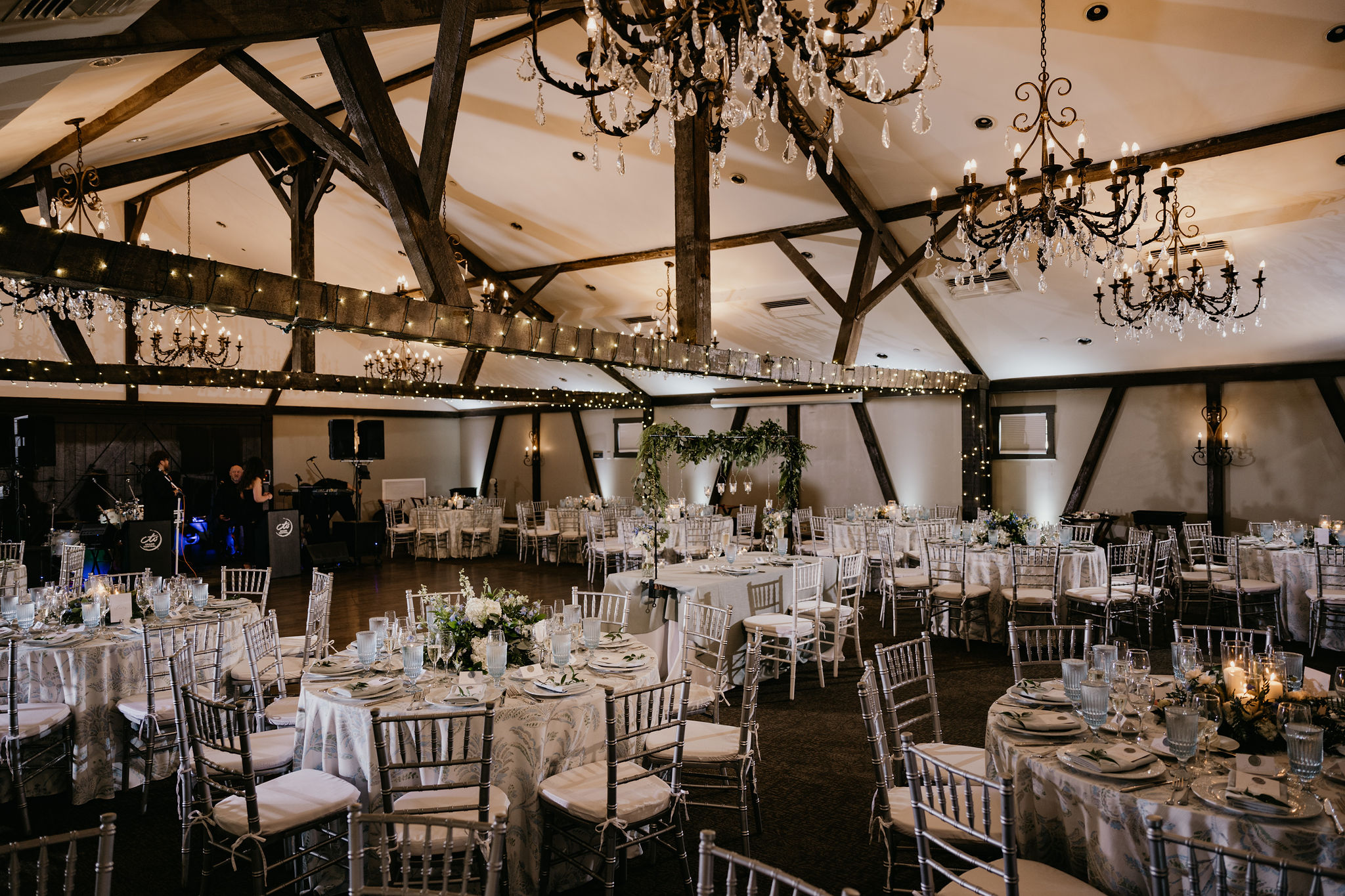 Dance Moves, Sweet Cones & Hot Honey
The sweetheart table stood out with a sage linen, white chivari chairs, a lovely frame of greenery and candlelit orbs and an even more lovely couple.  Truly the beauty of celebrating with this family is both the creative vision and adventurous spirits they bring to the table and especially the fun they have with their people.  Our band had promised that the party would be epic and they fully delivered with a lively dance floor all evening.  Mini ice cream cones were a fun and tasty late night treat to keep the energy going.
Kasey & Wade sent guests home with Mike's Hot Honey and one of the most quotable thank you tags I've seen, "Love is always sweet & sometimes spicy."  Cheers to keeping things spicy and thanks so much for the adventure, friends!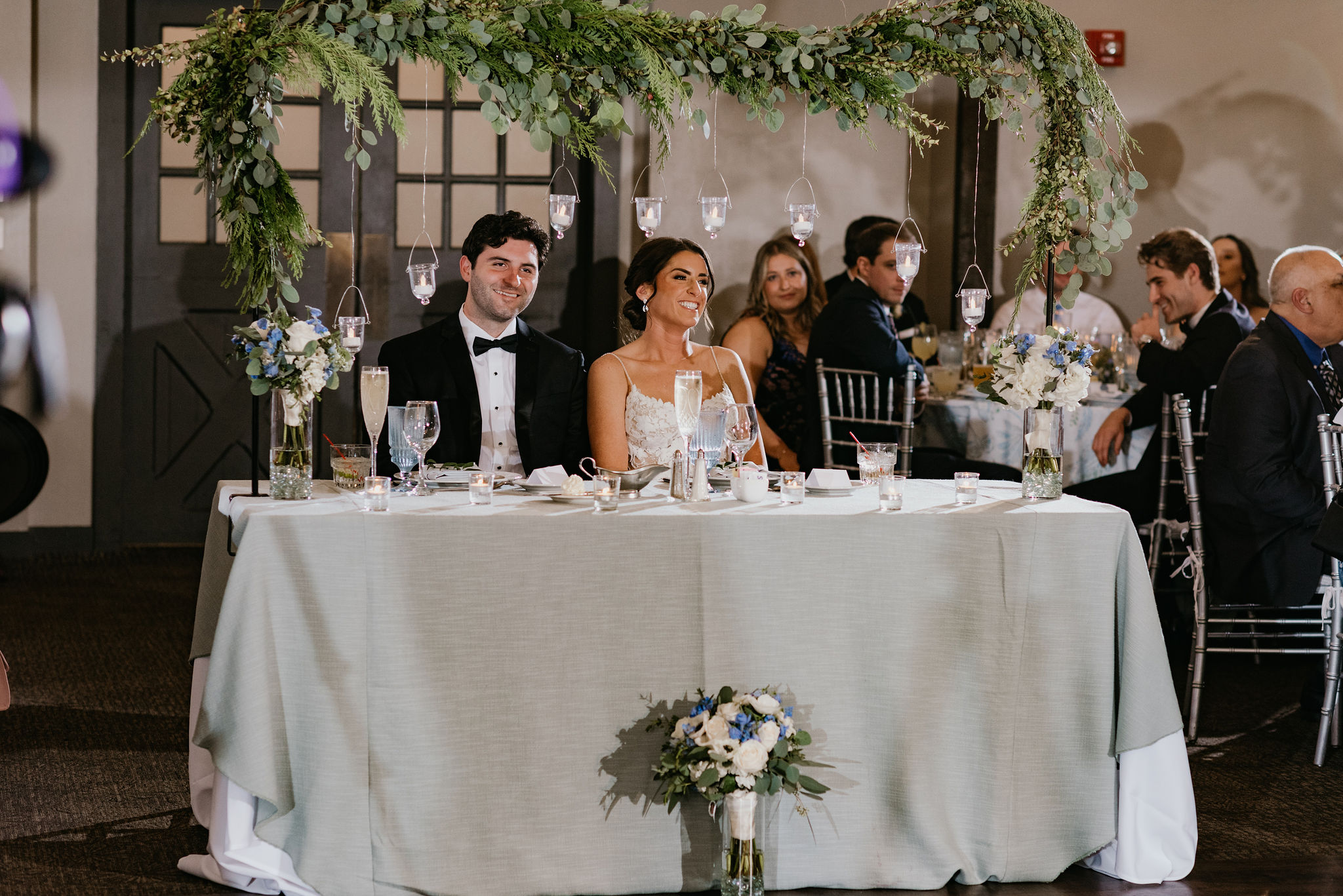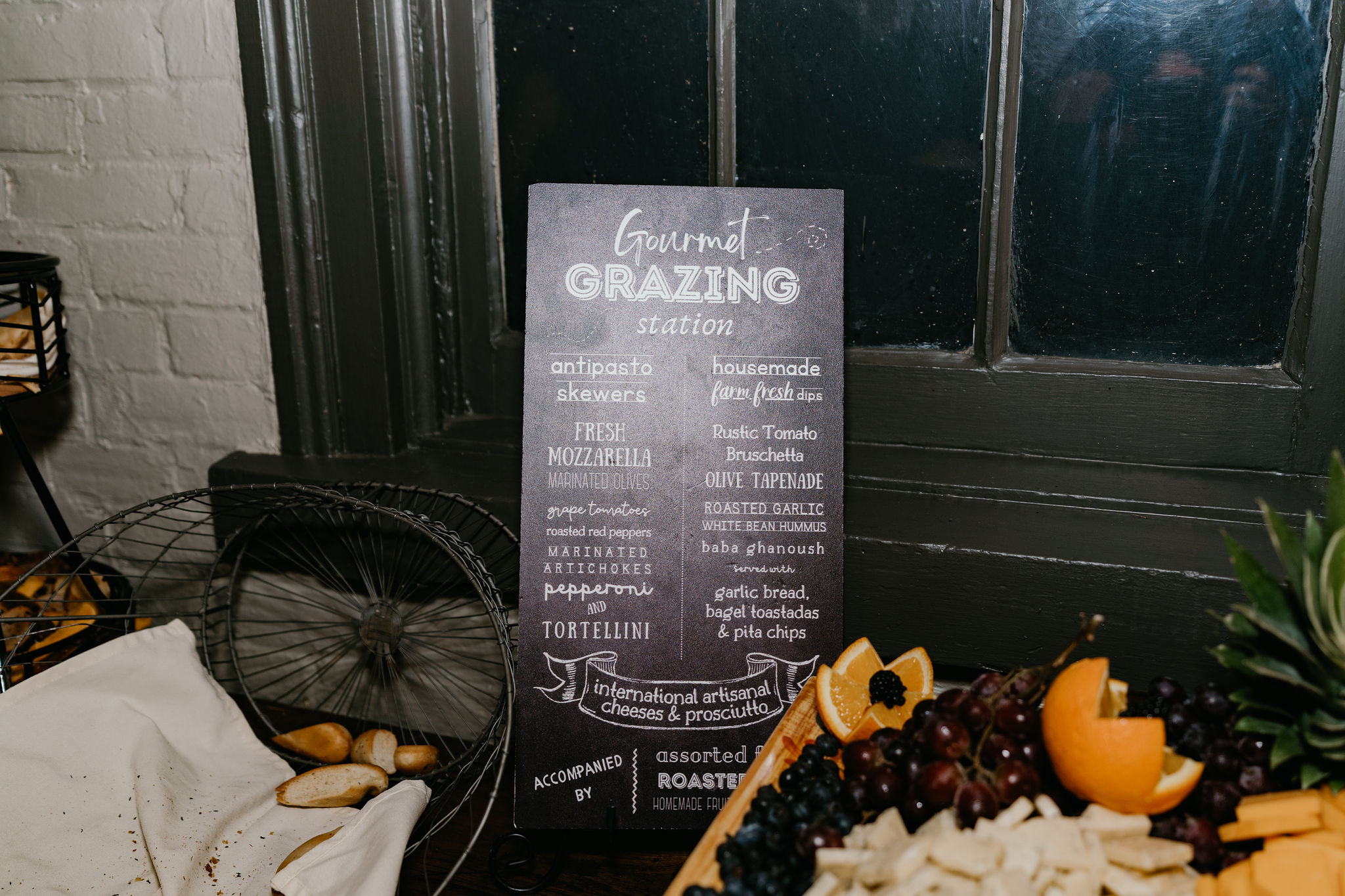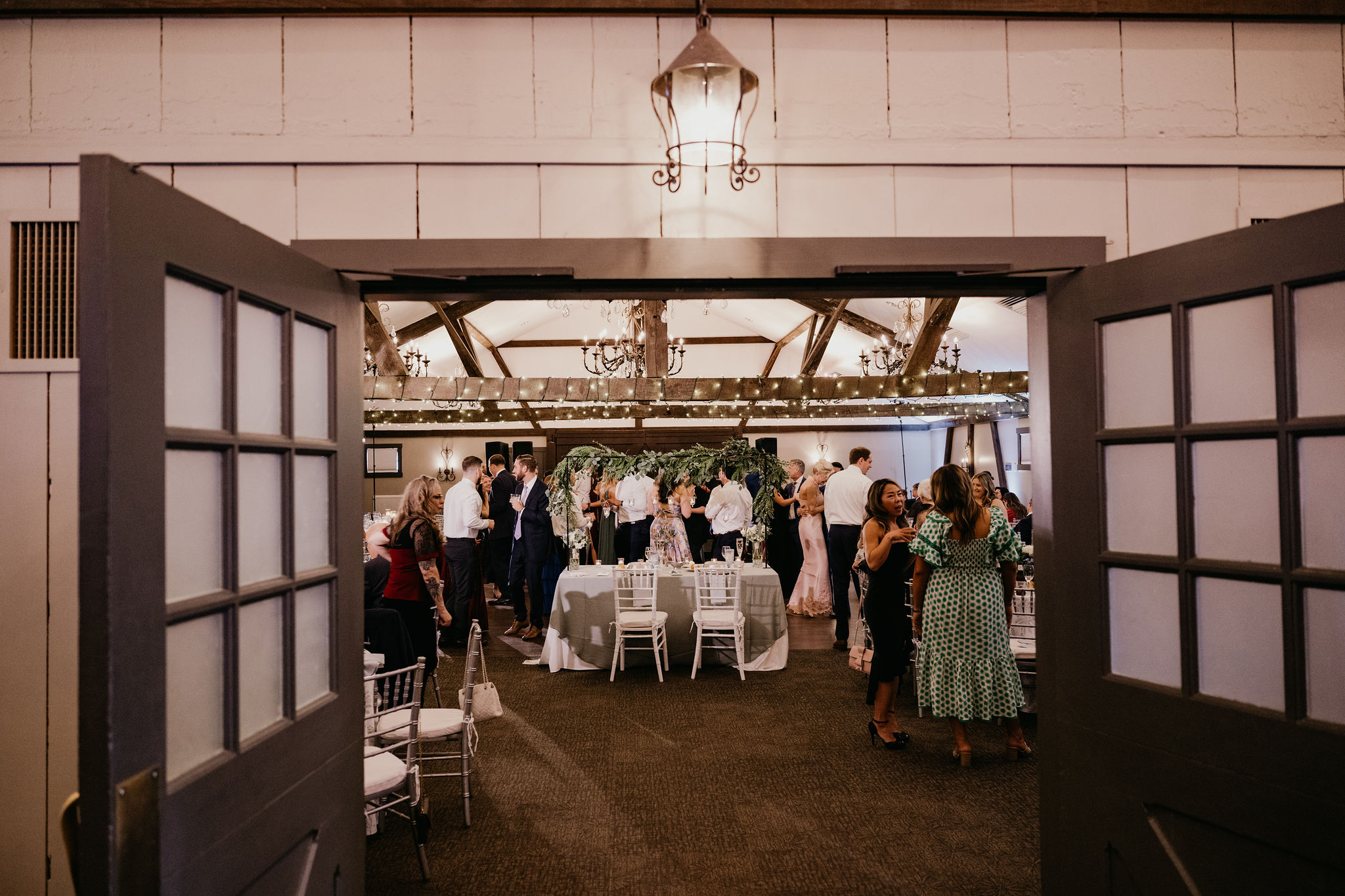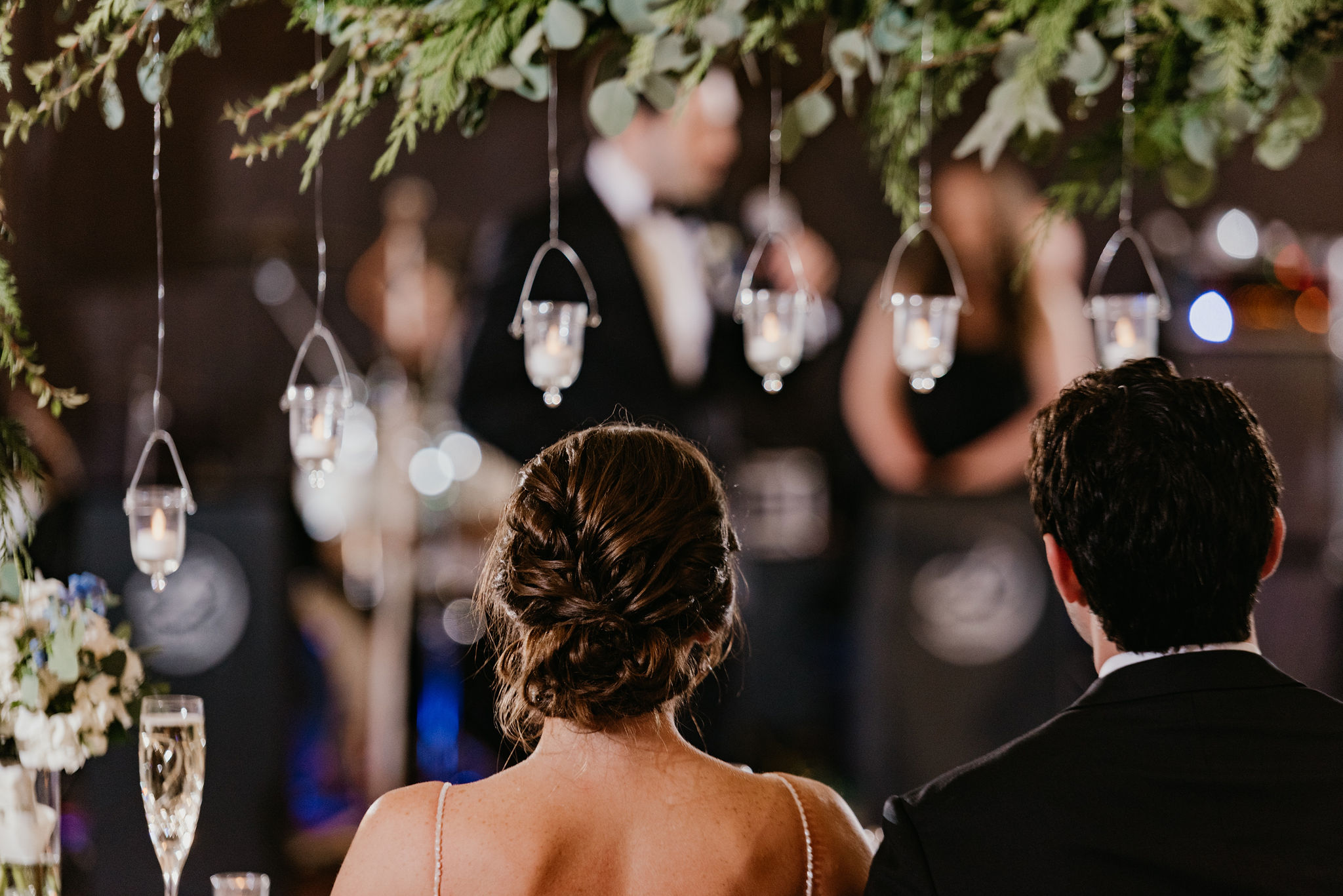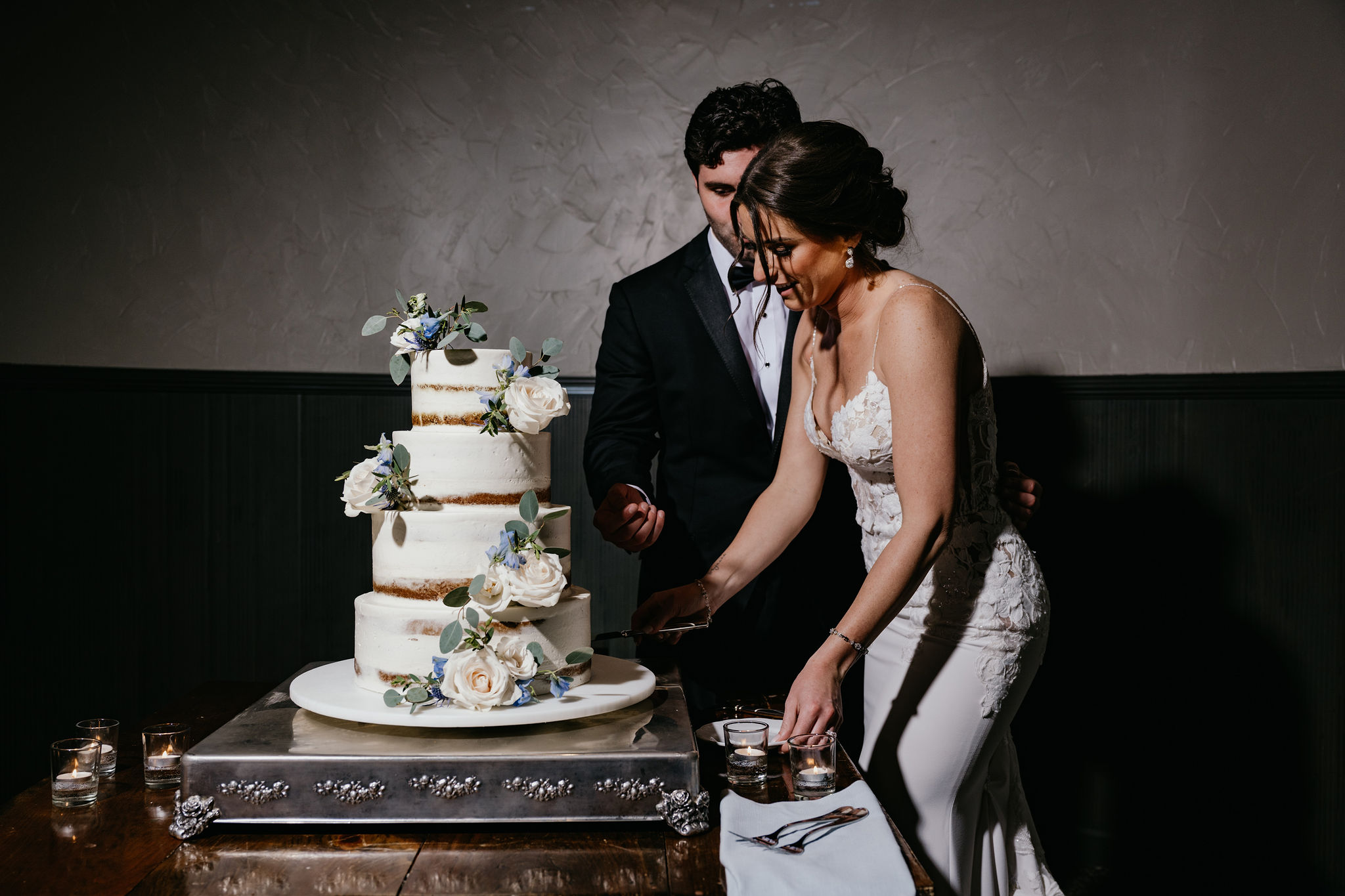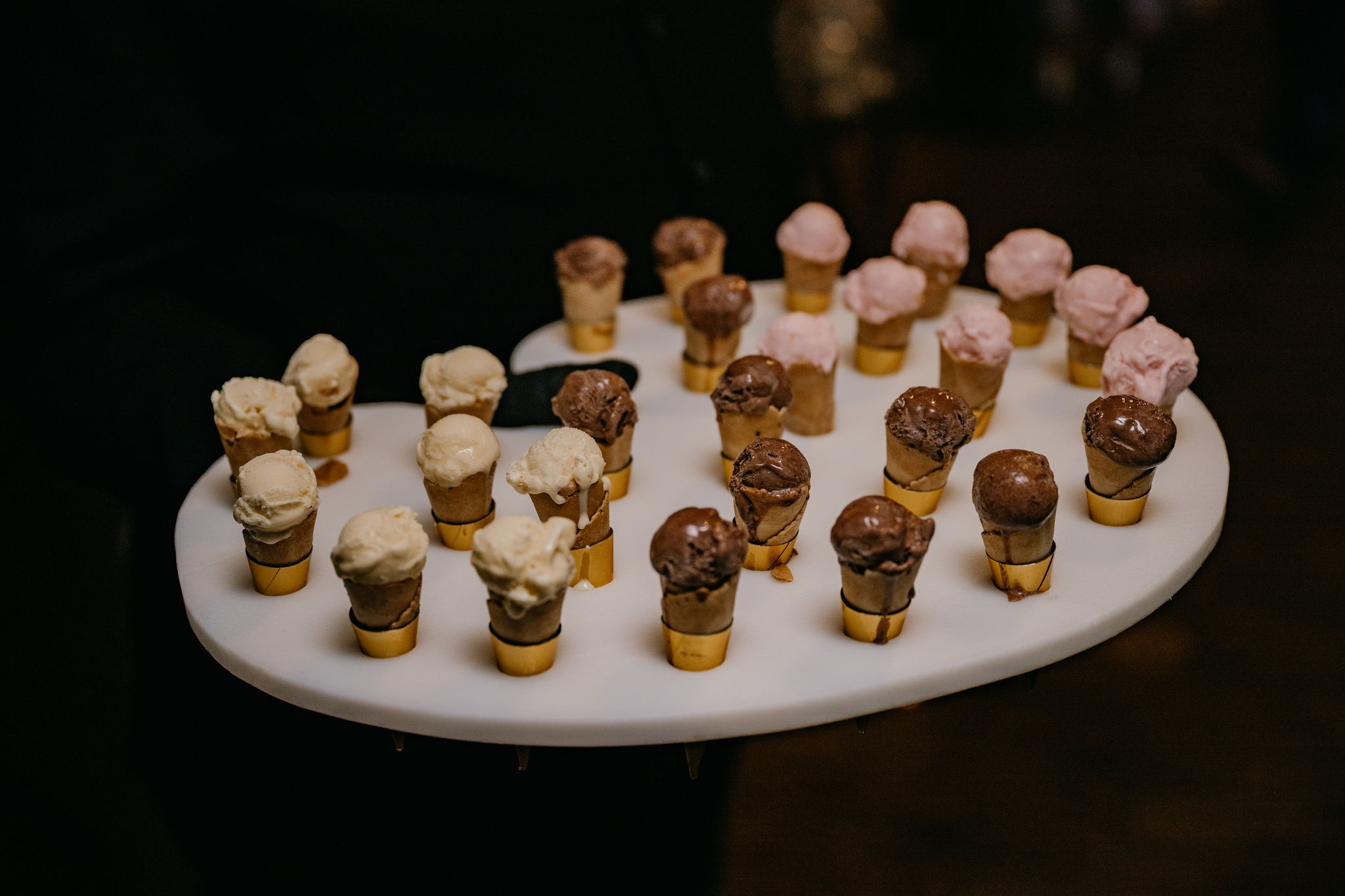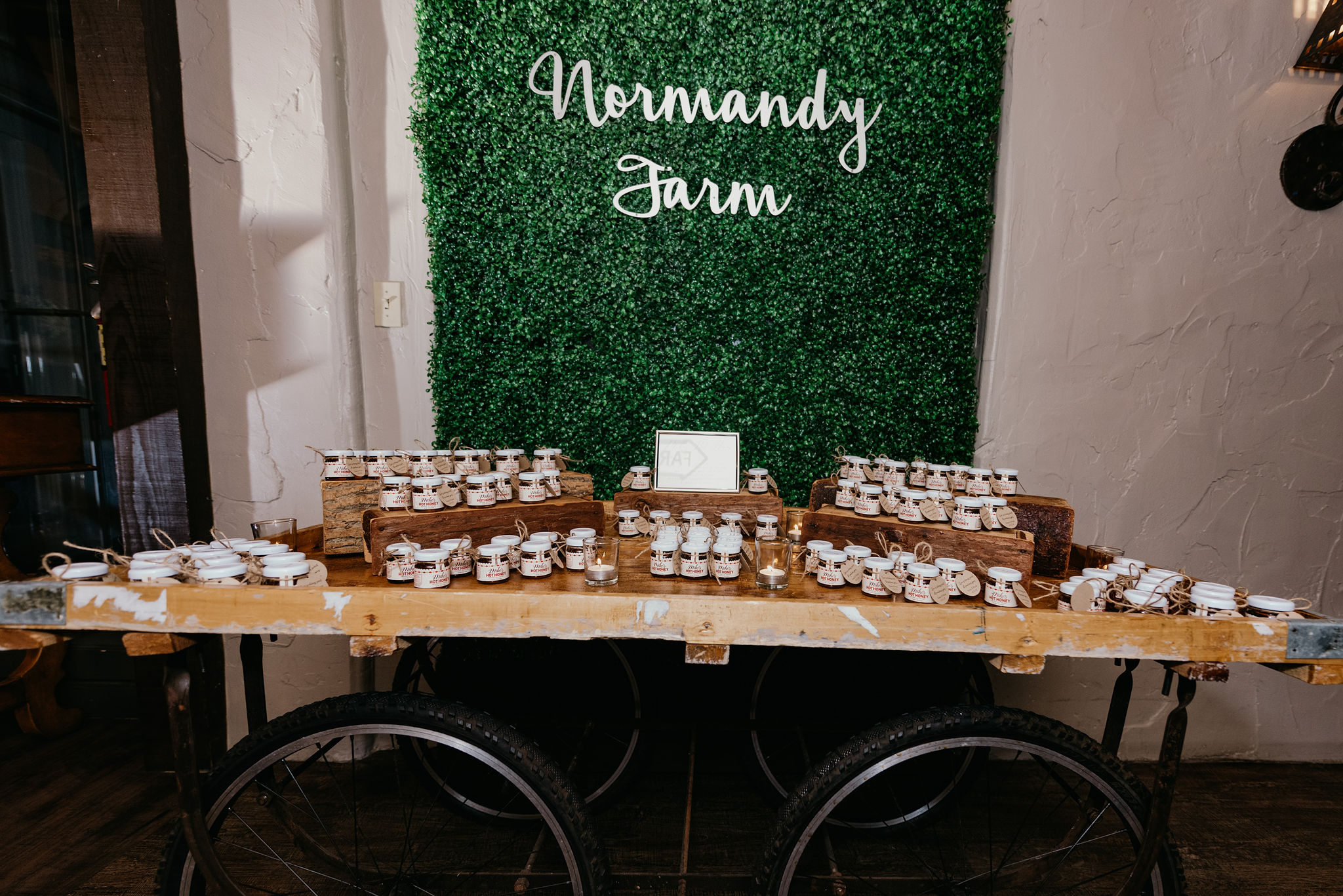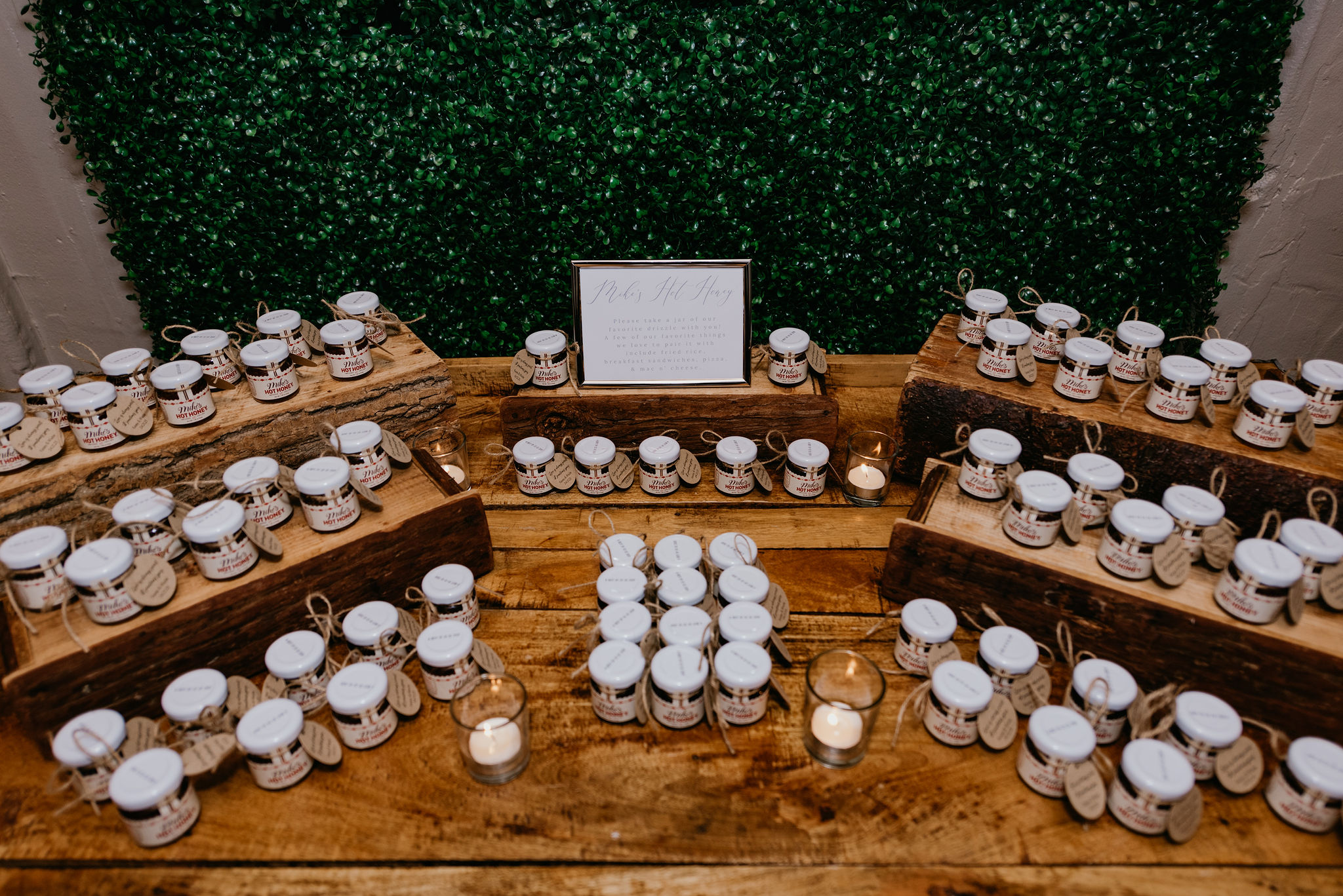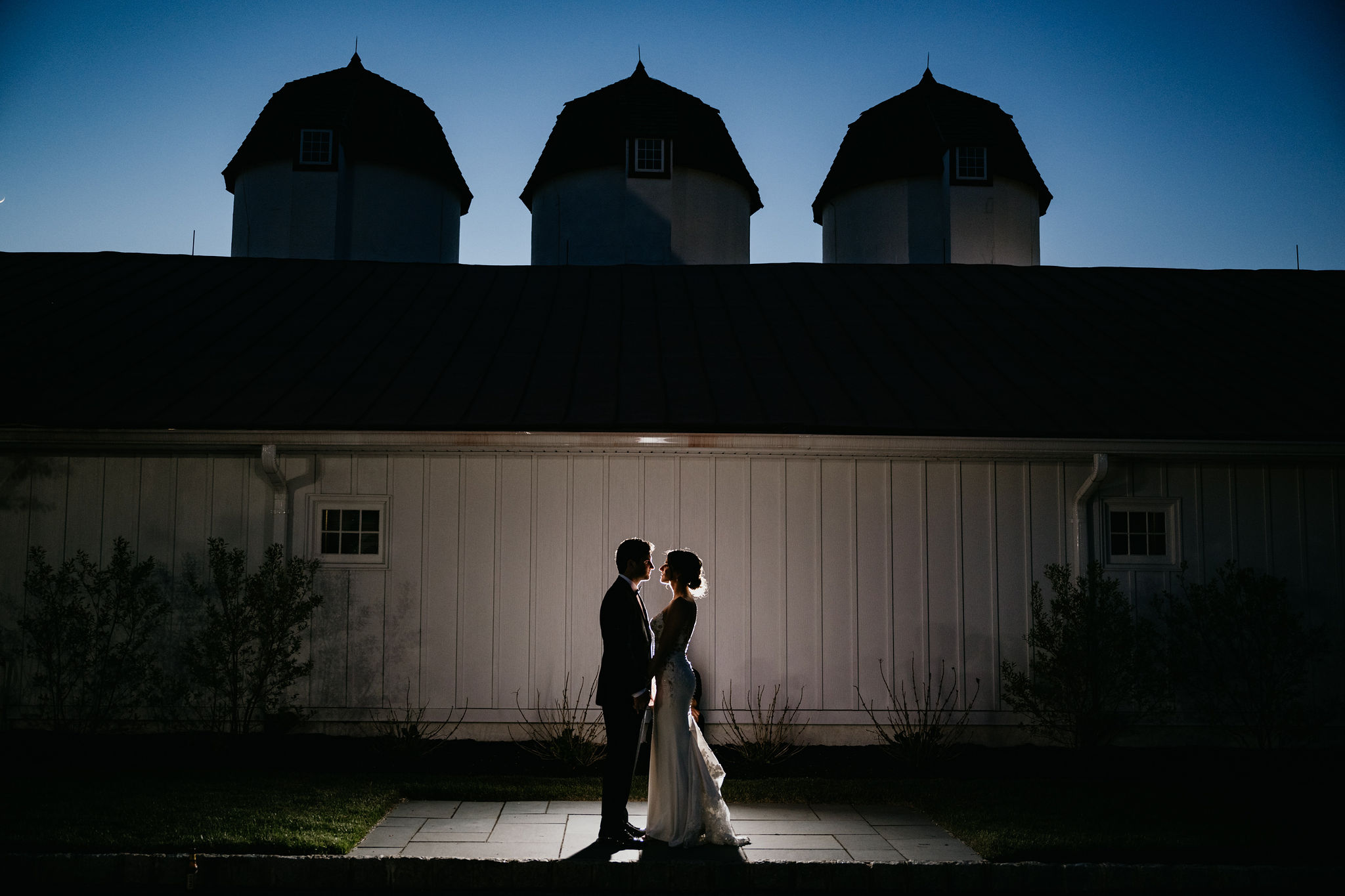 Creative Team Credits
Photography & Videography:  Tyler boye photography
Design + Coordination:  Juniper & Lace Events
Ceremony Venue:  St. Maria Goretti Catholic Church
Reception Venue, Catering, Bar & Cake:  Normandy Farm
Floral Design:  Willow & Thistle
 Band:  CTO Music Artists
Hair Stylists:  Up Your Do
Makeup Artists:  Makeup by Carly G (bridal) & Leann Magrone (bridesmaids)
Chair Rentals:  Vision Furniture Event Rentals
Plate & Goblet Rentals:  Gigi & LaClede
Linens & Napkins:  BBJ LaTavola & I Do Linens 
Transportation:  King Limousine Service
Favors:  Mike's Hot Honey