Andie + Dane // The Haven at Tomales
Summer Soiree in Northern California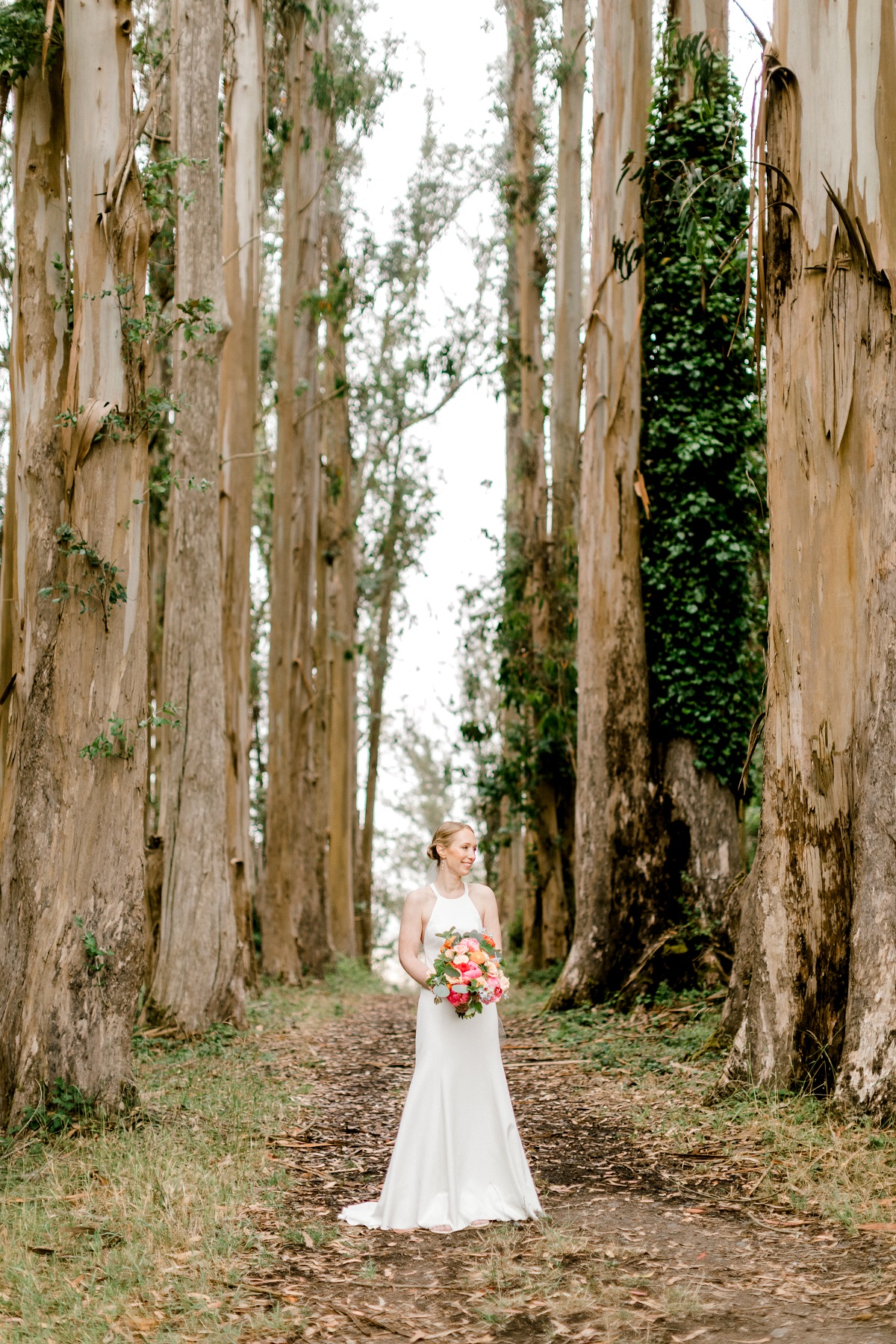 First Look in a Eucalyptus Grove
In the beginning of planning Andie & Dane's wedding, we created a spreadsheet of beautiful places around the country and filled it in with details like how many people were allowed in a national park ceremony and how close the nearest airport was.  We were looking for a stunning landscape and we were up for an adventure (with 120 friends and family). 
We sent Andie's parents on a road trip to a farm outside of Las Vegas and some estates outside Santa Barbara.  In the journey of searching, Andie found a farm in Marin County, just two miles from the Pacific Ocean  and within a couple hours of where she grew up.  It is owned by the most welcoming family whose passion for sustainable farming and land conservation resonated with us.  It had a uniquely northern California vibe with black angus cows and green trees dotting the rolling golden landscape.  It had the most stunning eucalyptus grove we've ever seen.  It was a dream.
That eucalyptus grove is where Andie & Dane started the together part of their wedding day.  They rode a golf cart out to the grove (separately) and read their vows to each other with the kind of words and emotion that move me to happy tears every time I watch their video.  A coastal fog moved in over the hills as they walked back to marry each other, completing the surreal scene.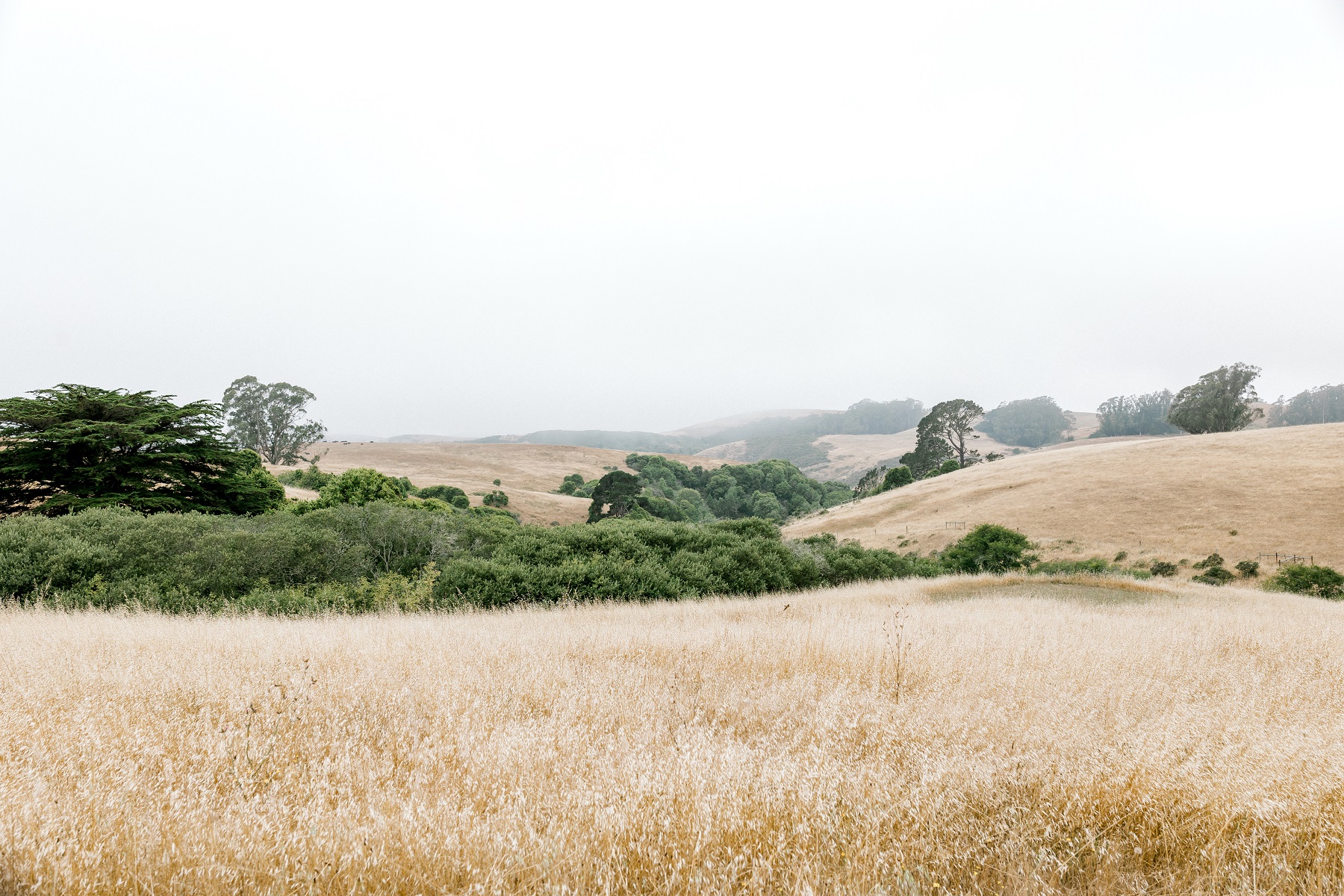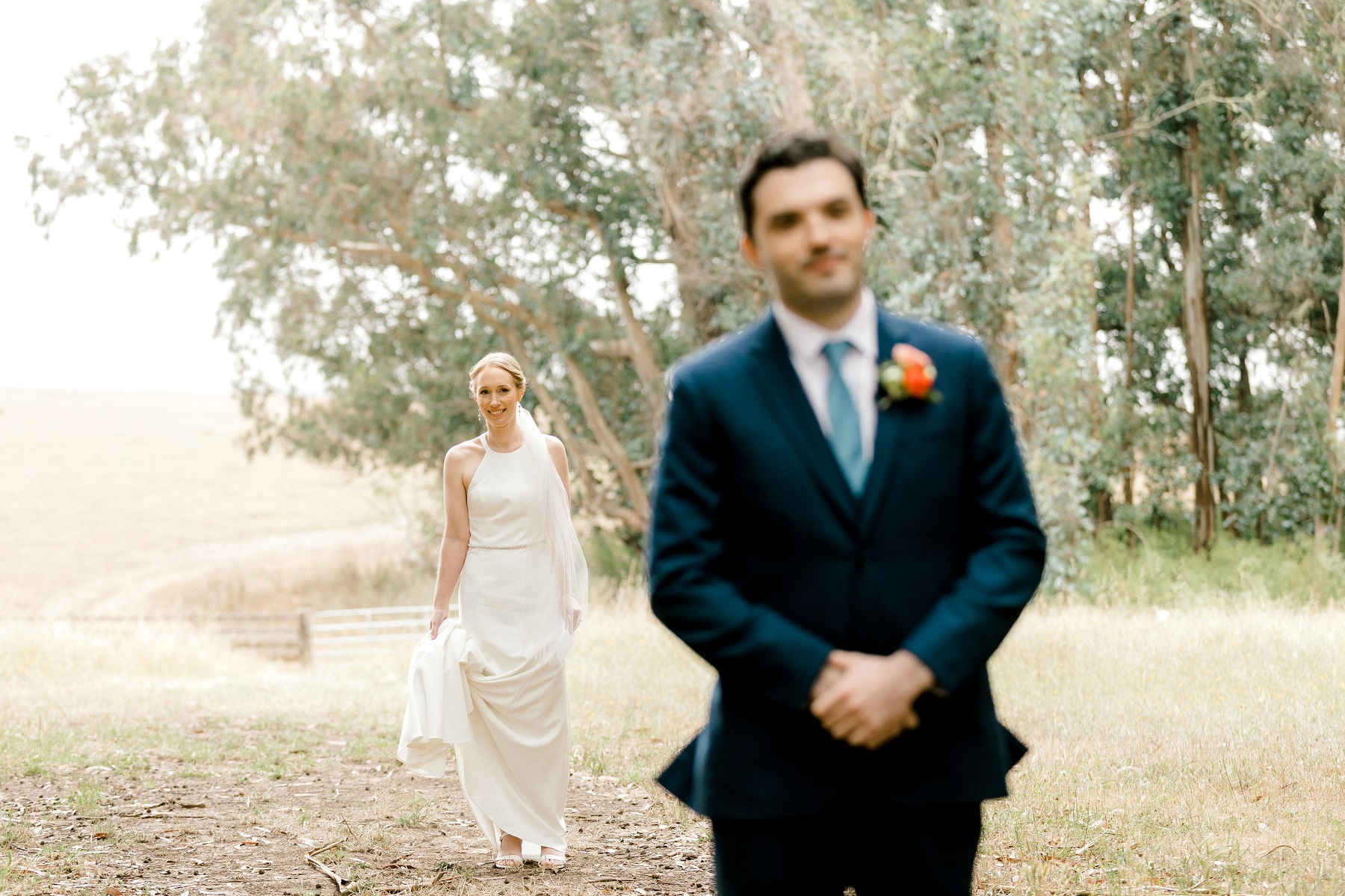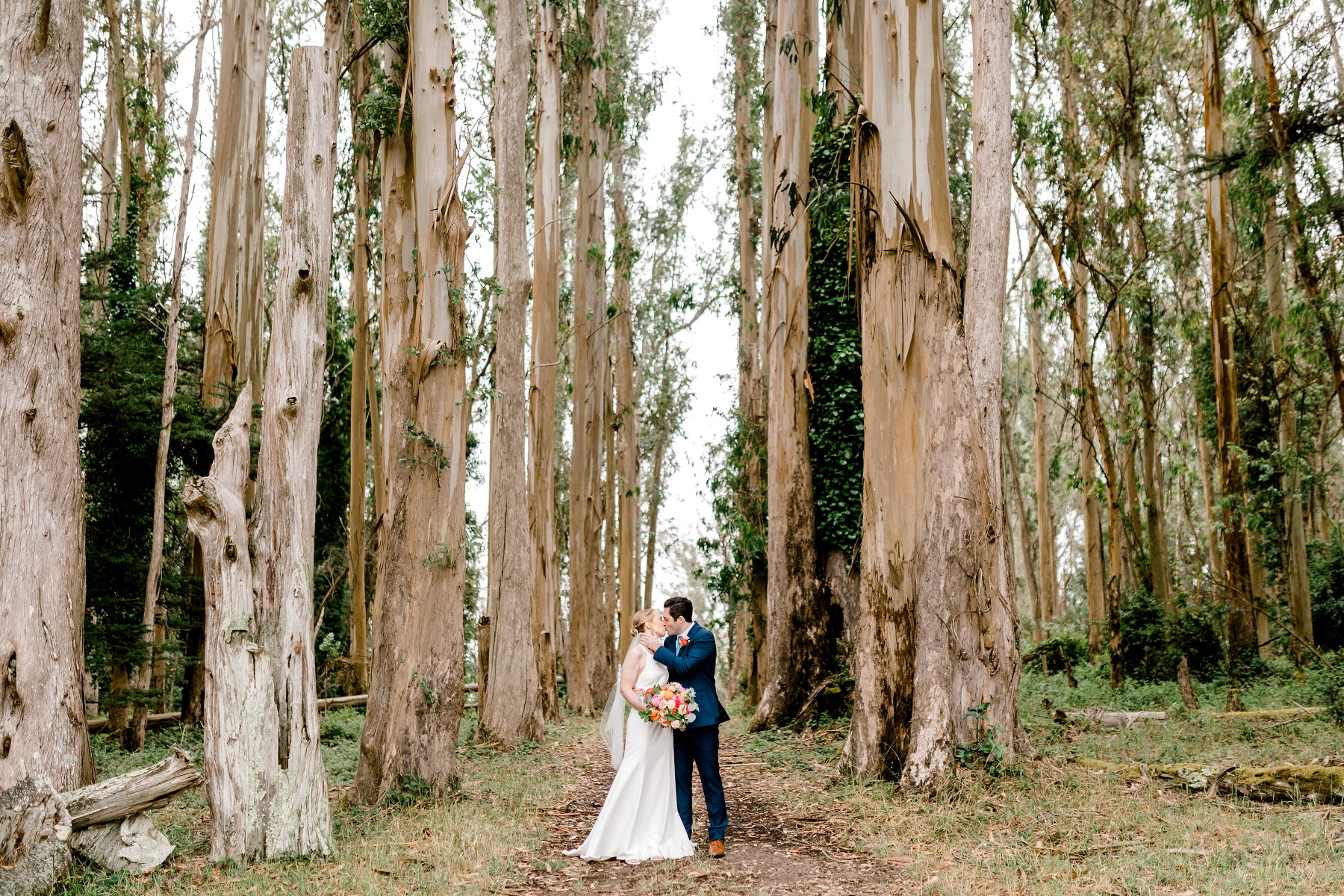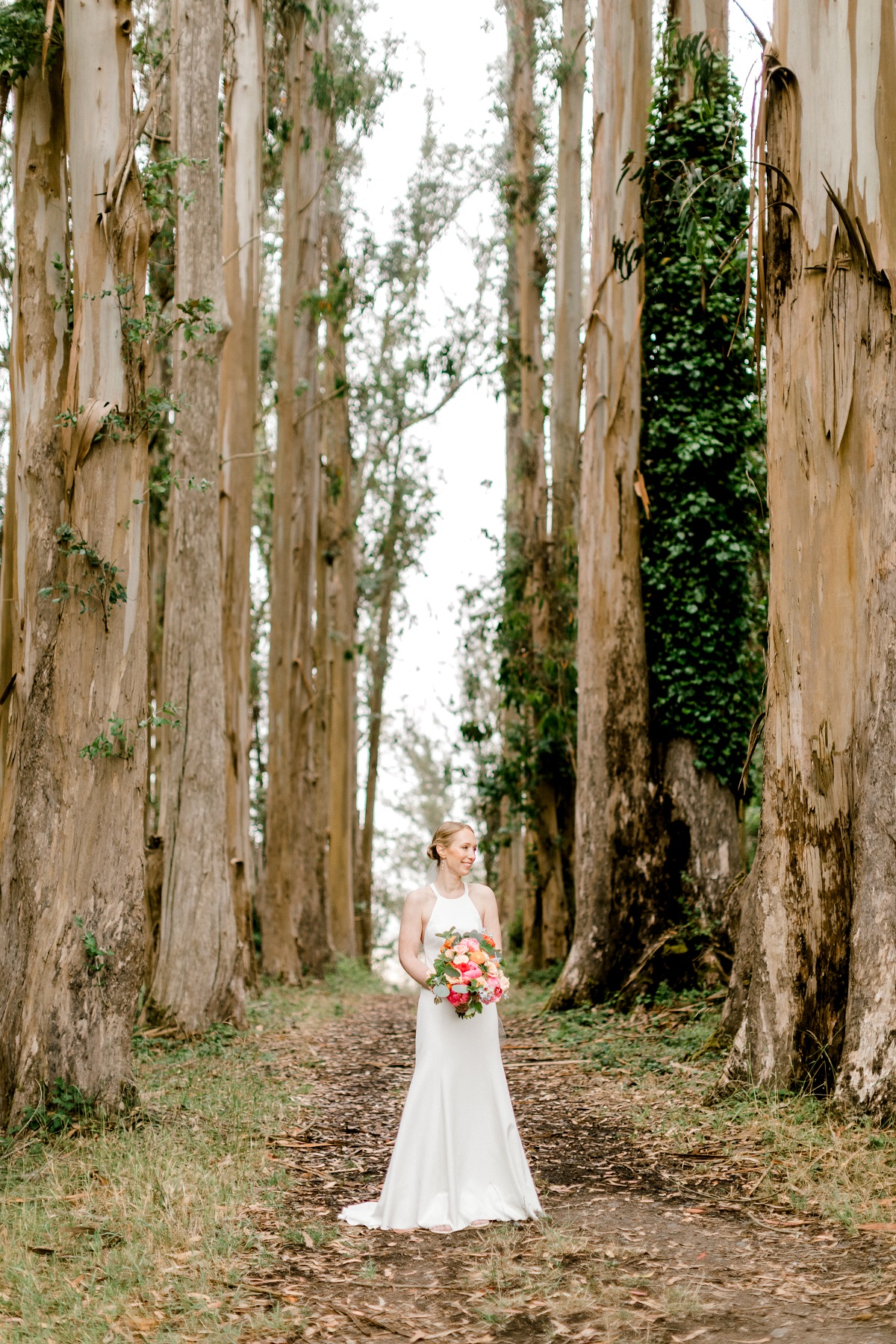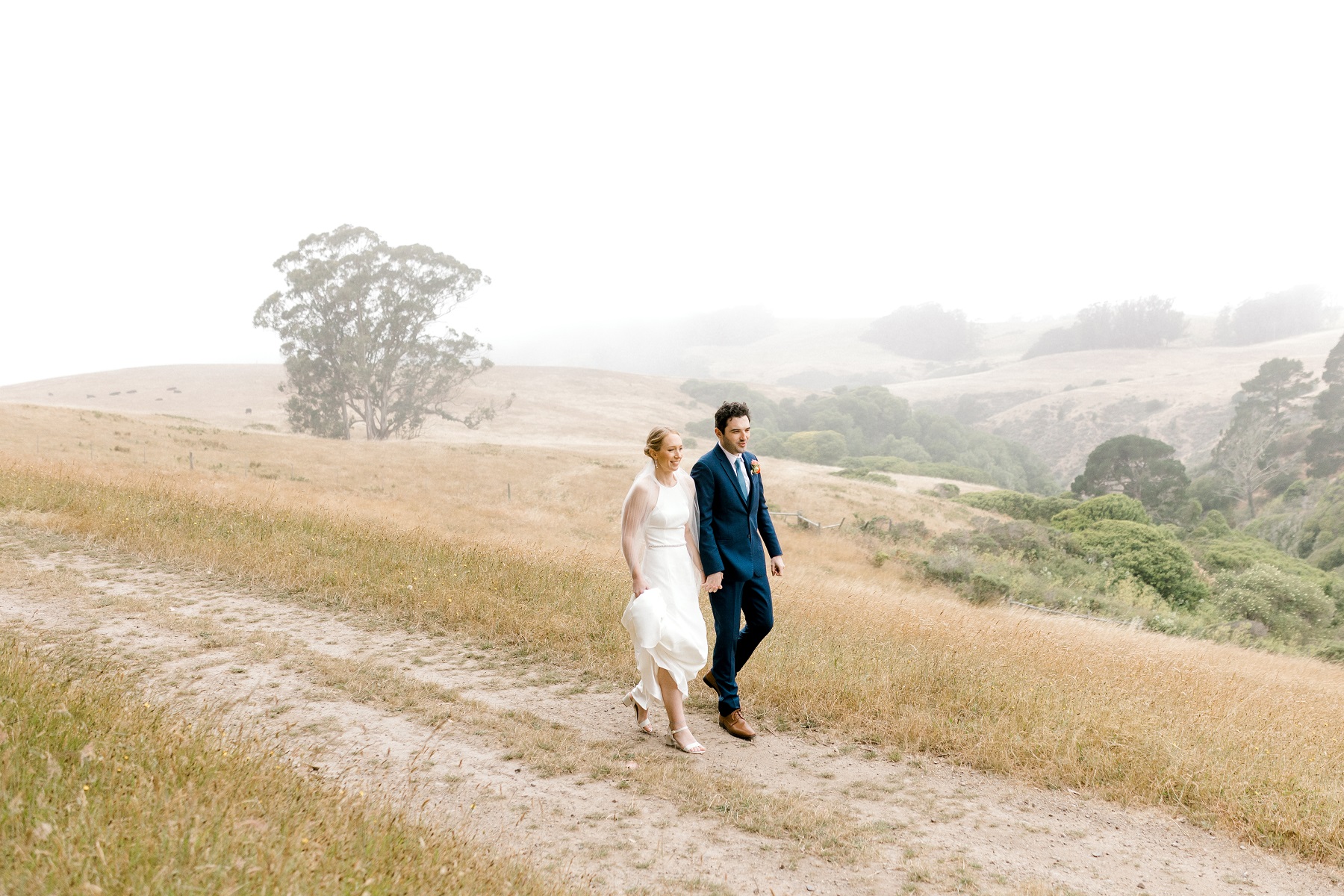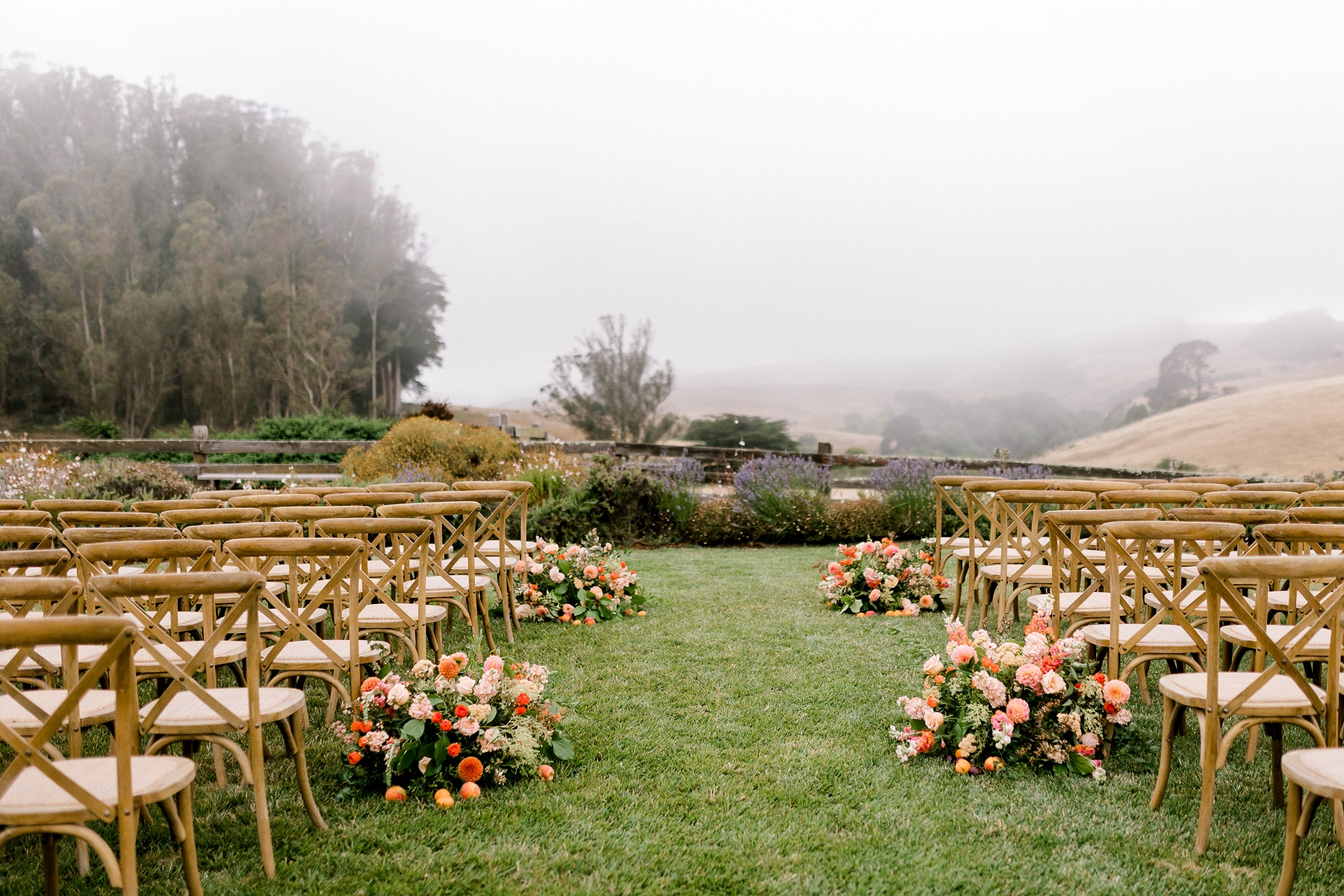 Ceremony in the Misty Golden Hills
Having fallen in love with The Haven at Tomales, Andie & Dane's original vision of hosting a fun-spirited experience in a beautiful place grew.  We talked about embracing the agricultural bounty that northern California is known for, both in floral and produce.  We set their ceremony with natural wood chairs that complimented the golden hills.  Angella Floral Design created luxurious vibrant aisle arrangements and we added peaches and nectarines to convey a sense of local natural abundance.  The bridal party dressed in playful shades of blue, reflecting the adventurous spirit of the day.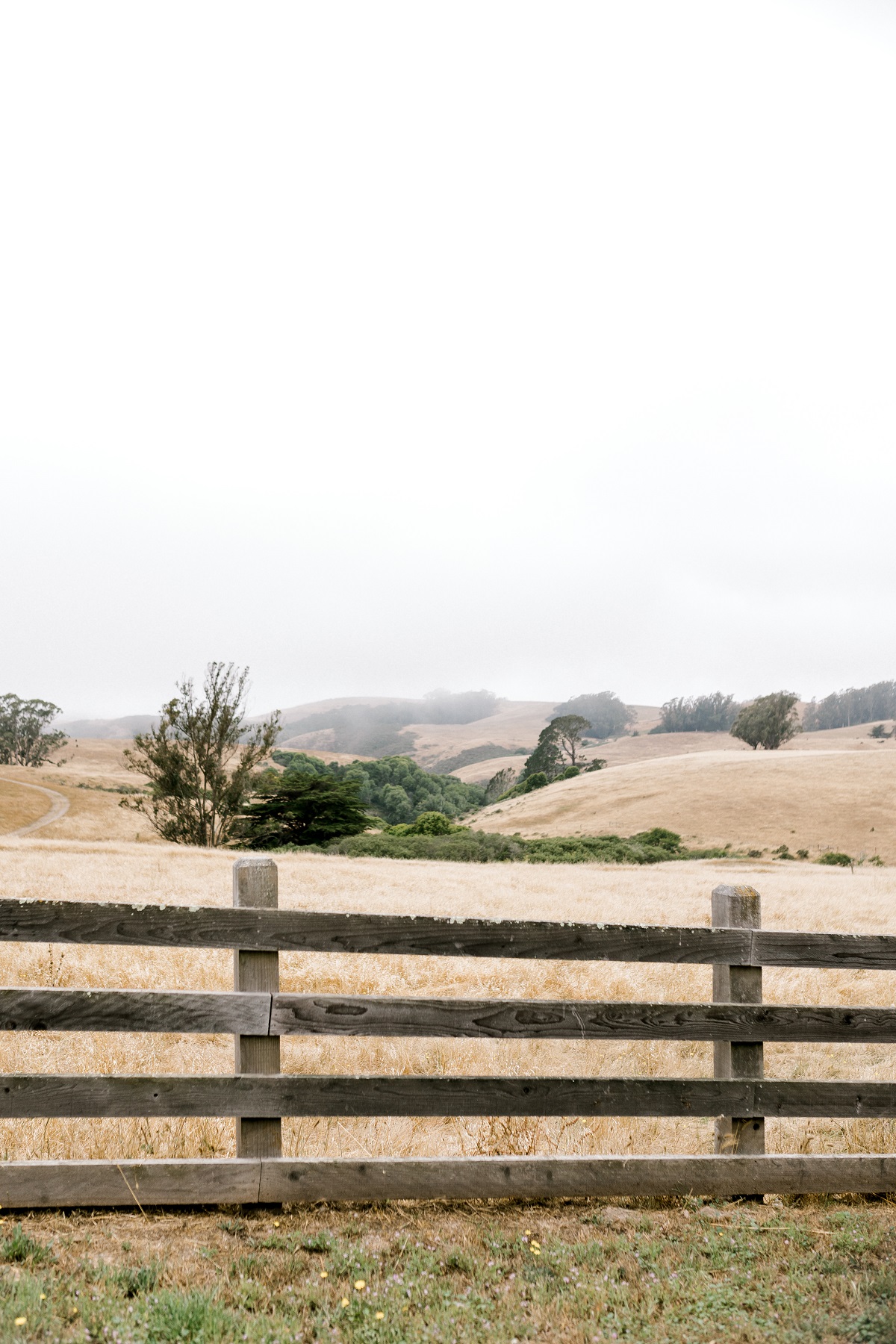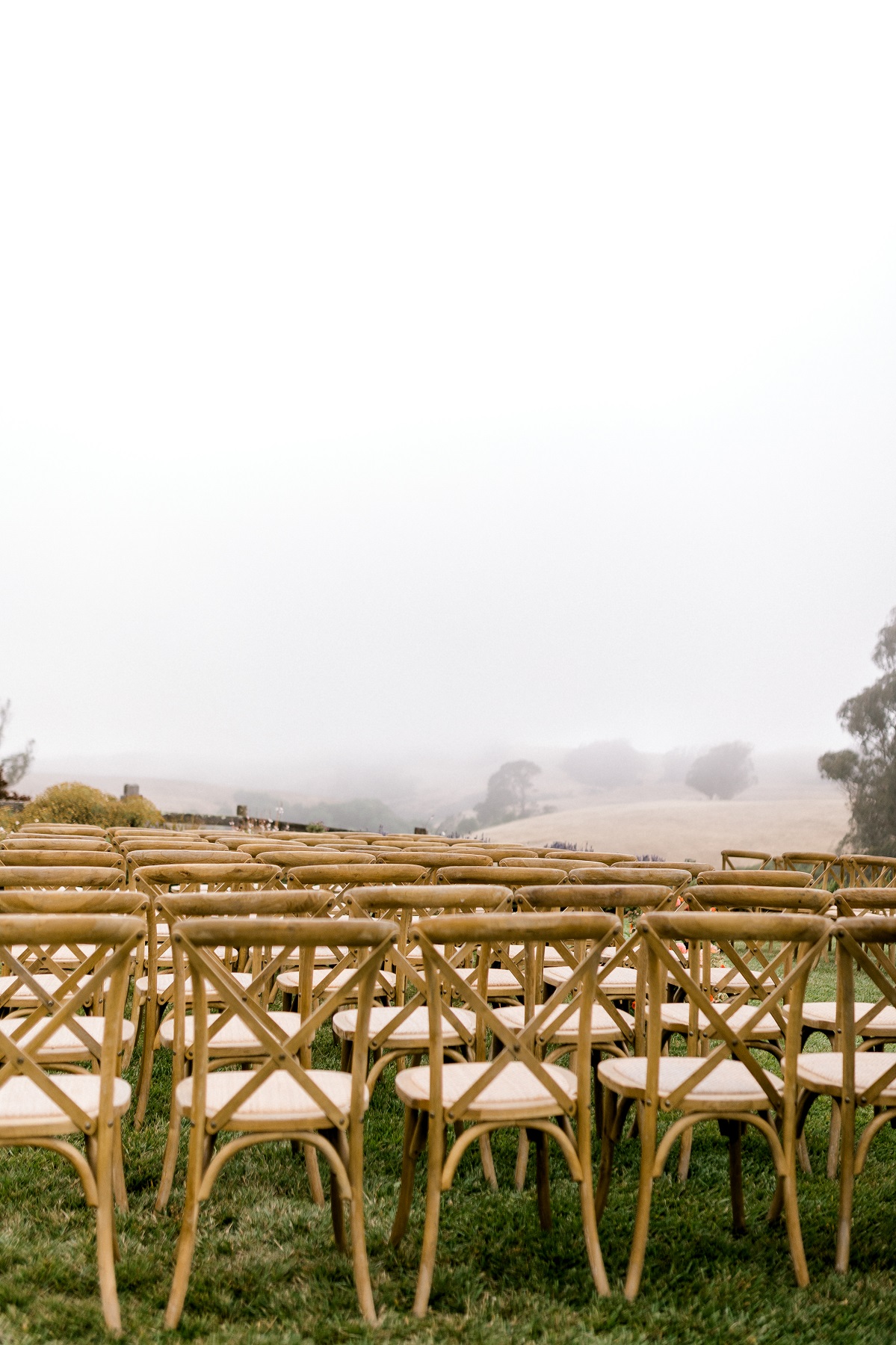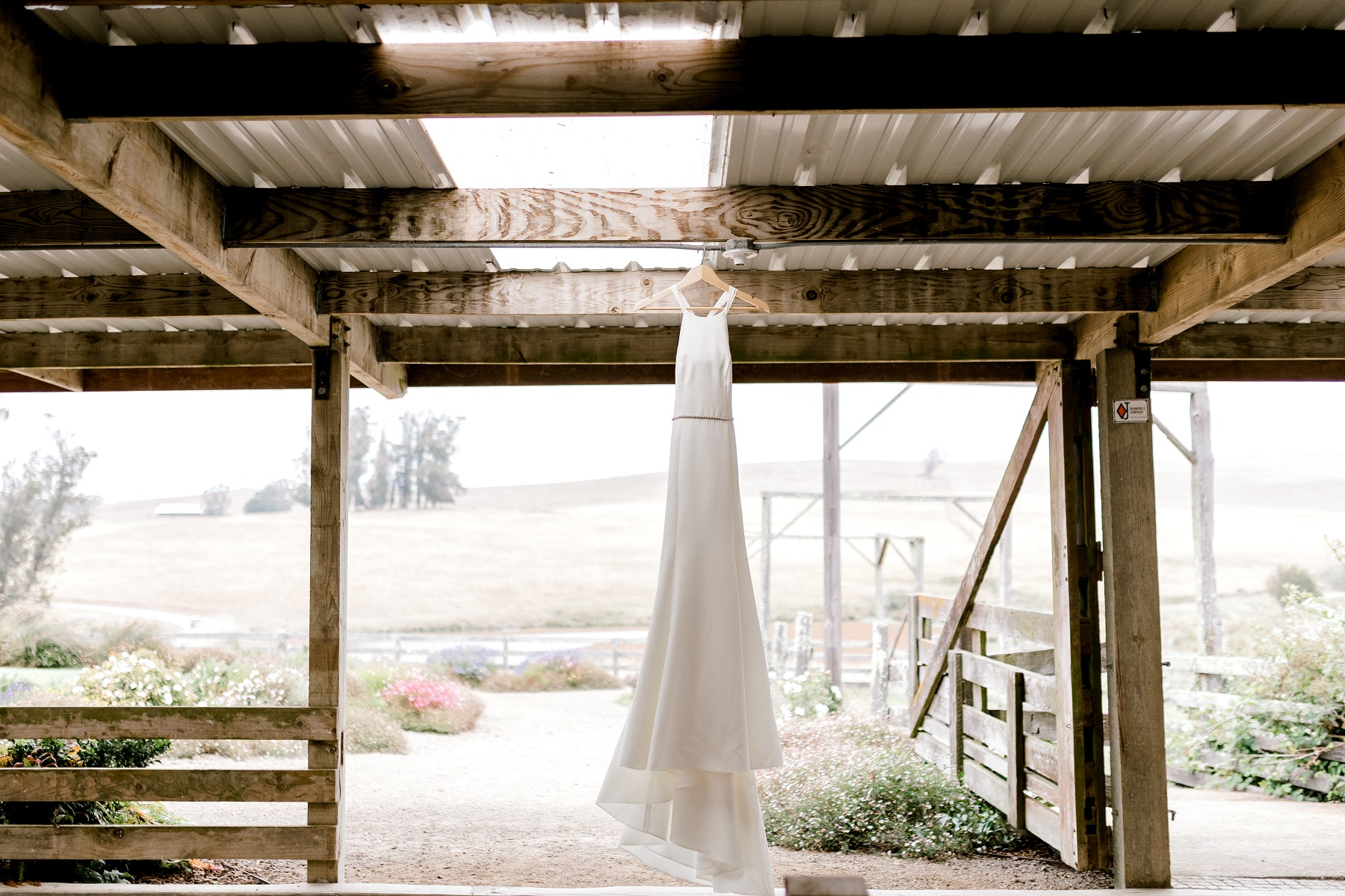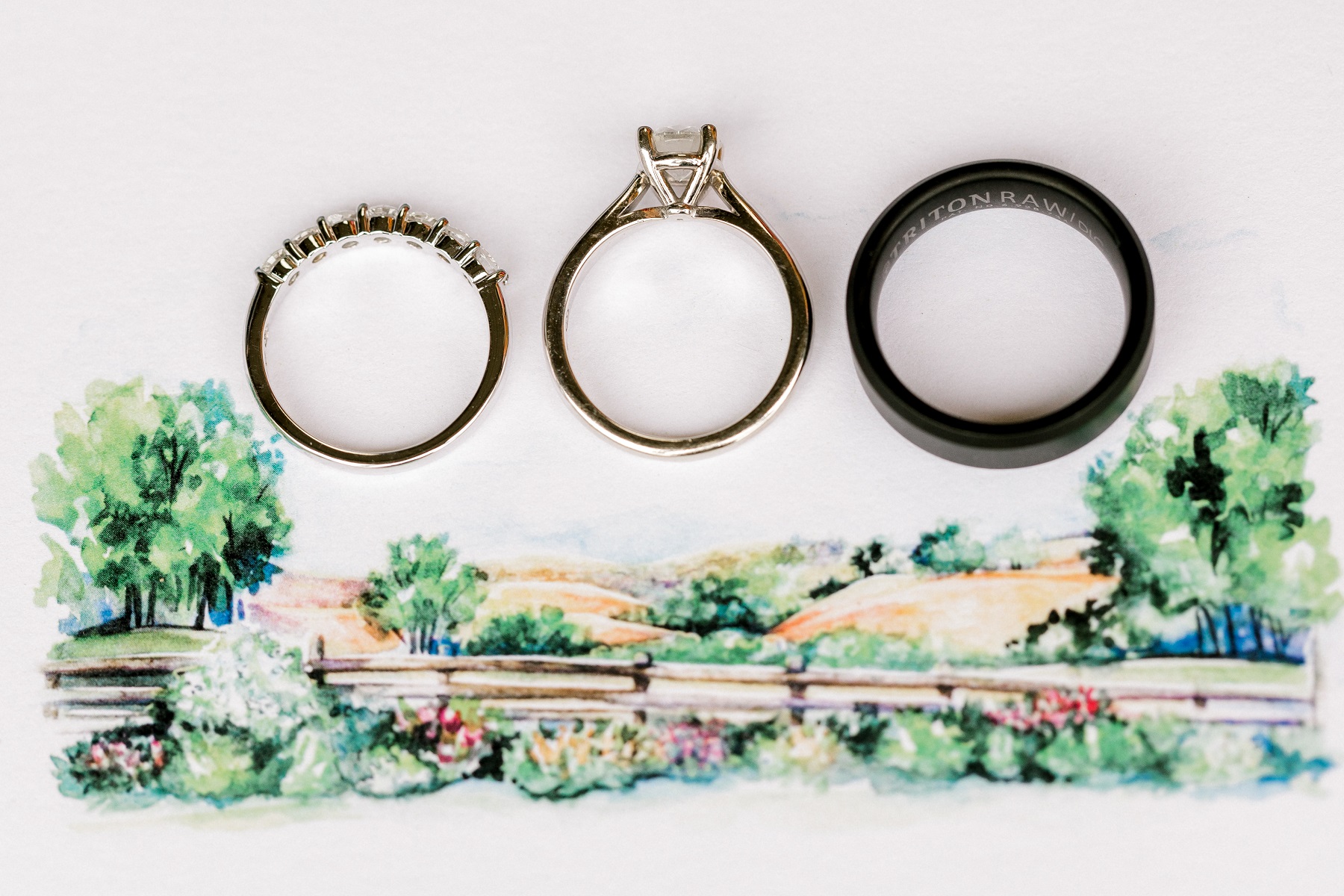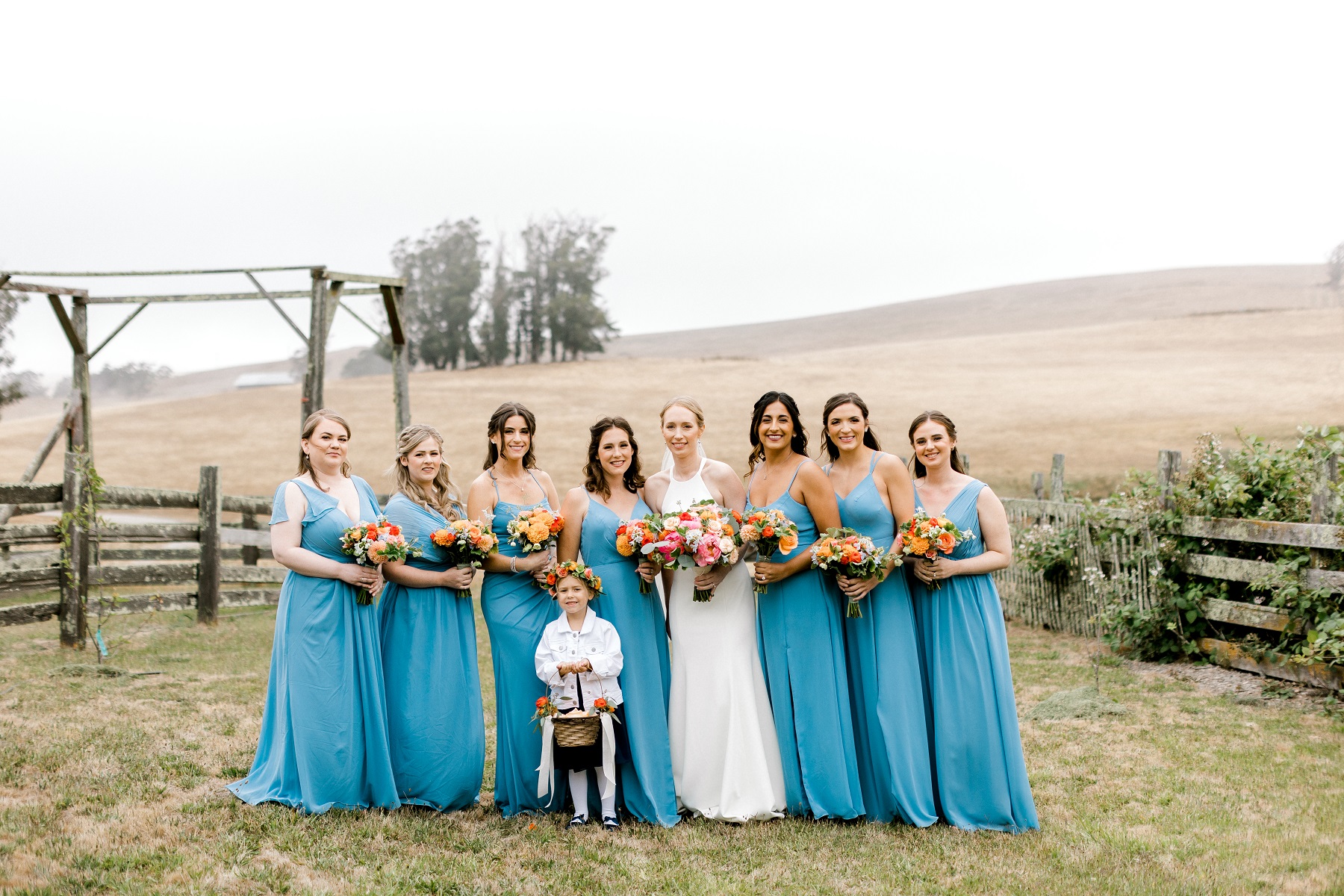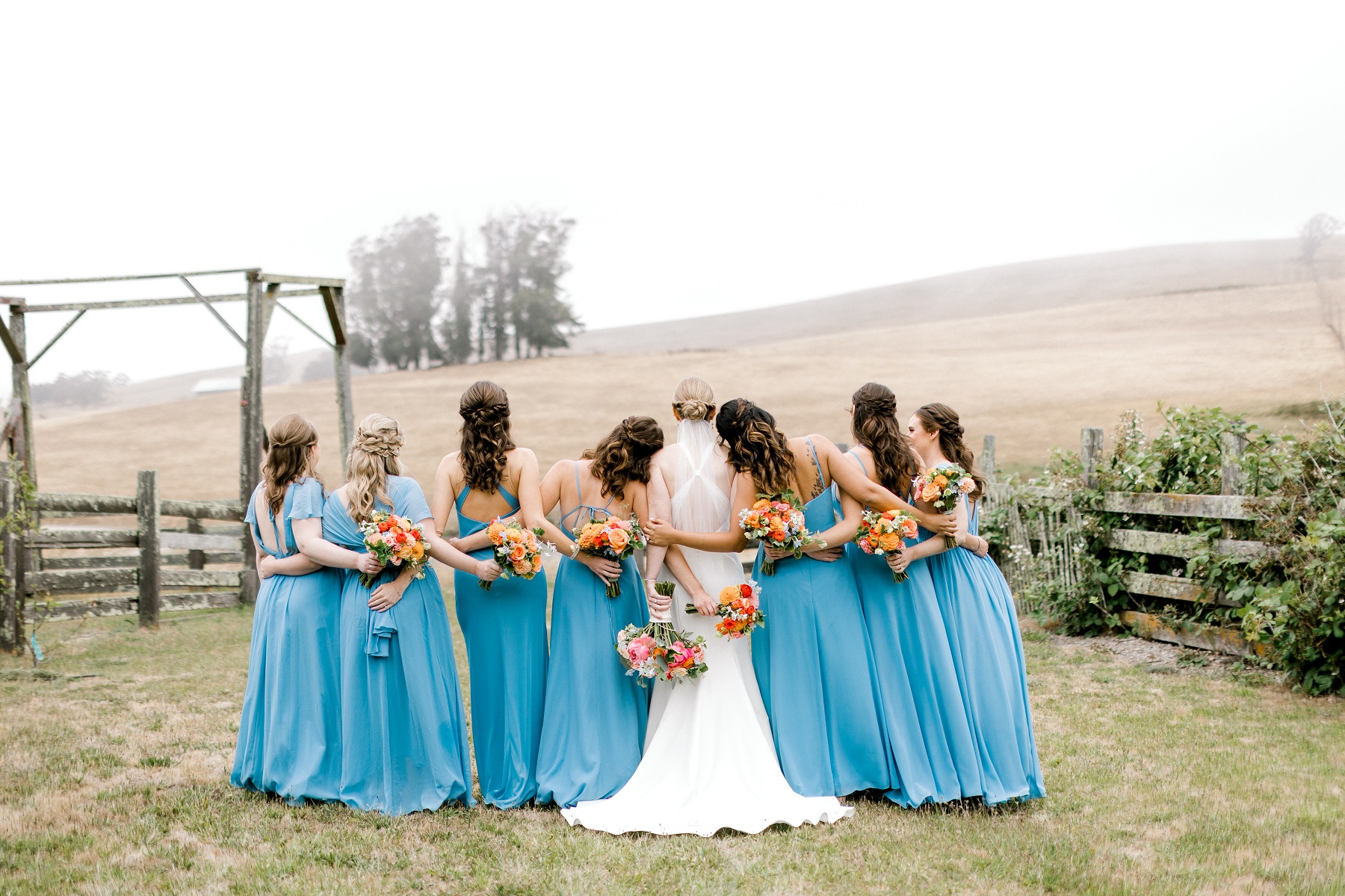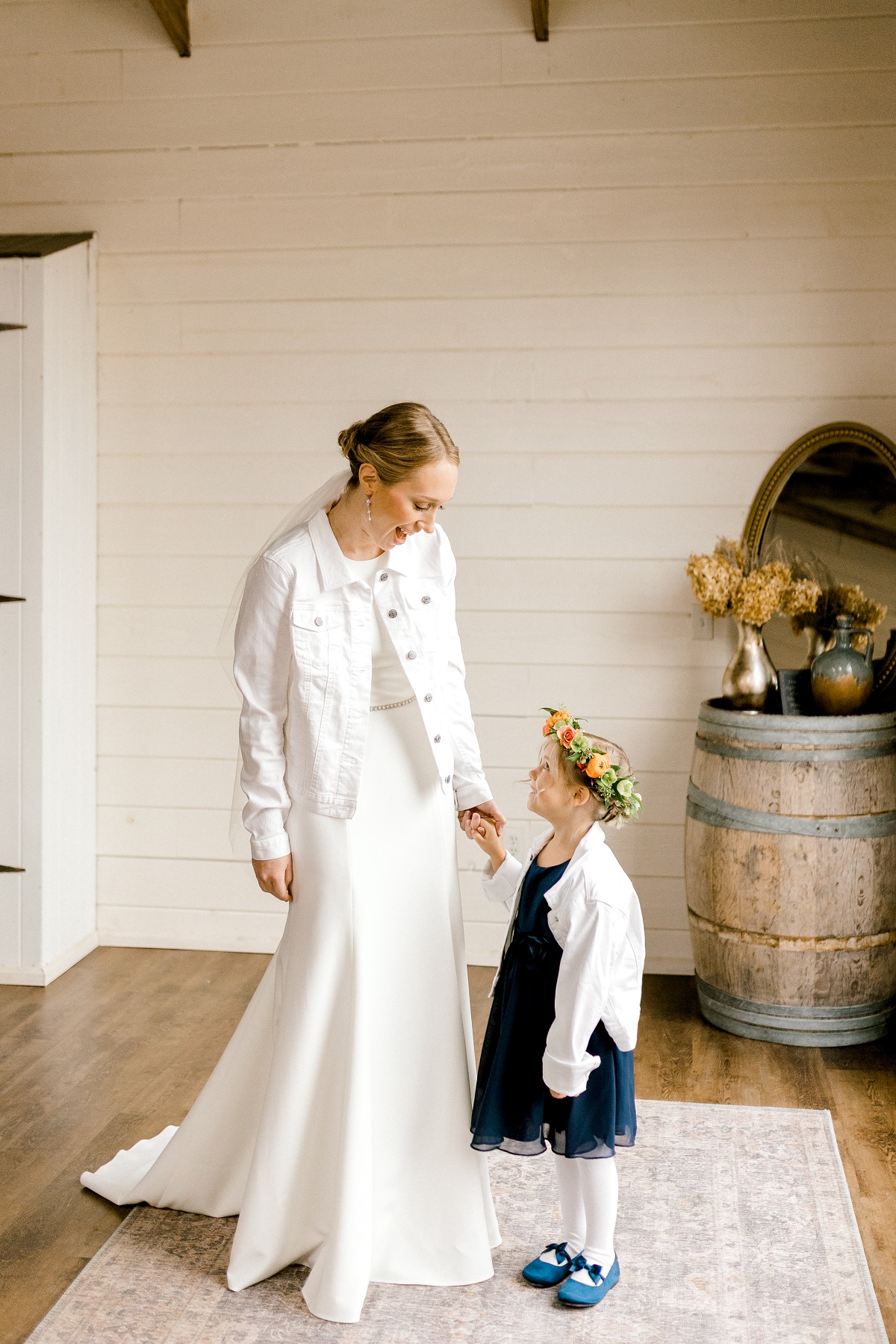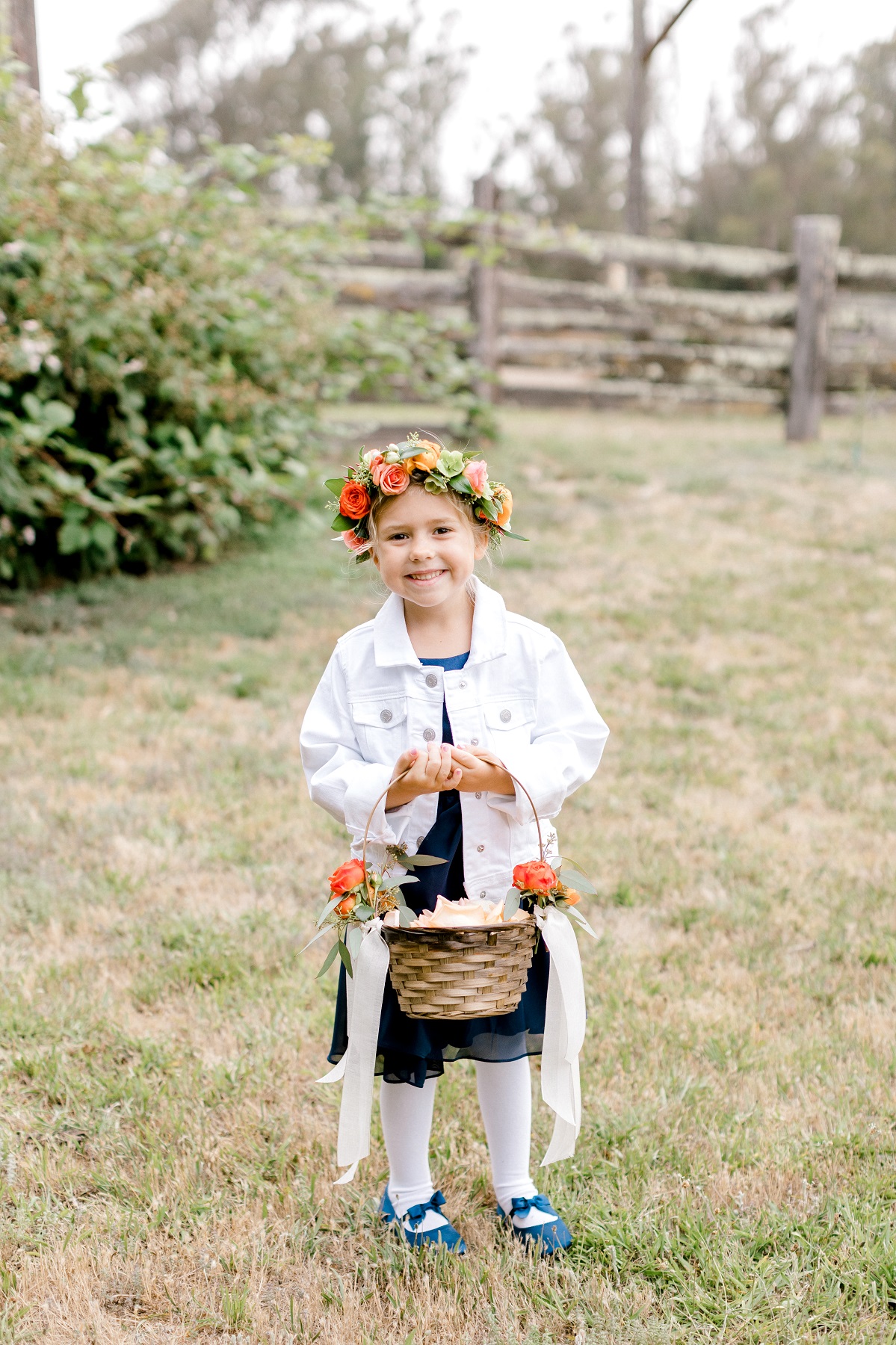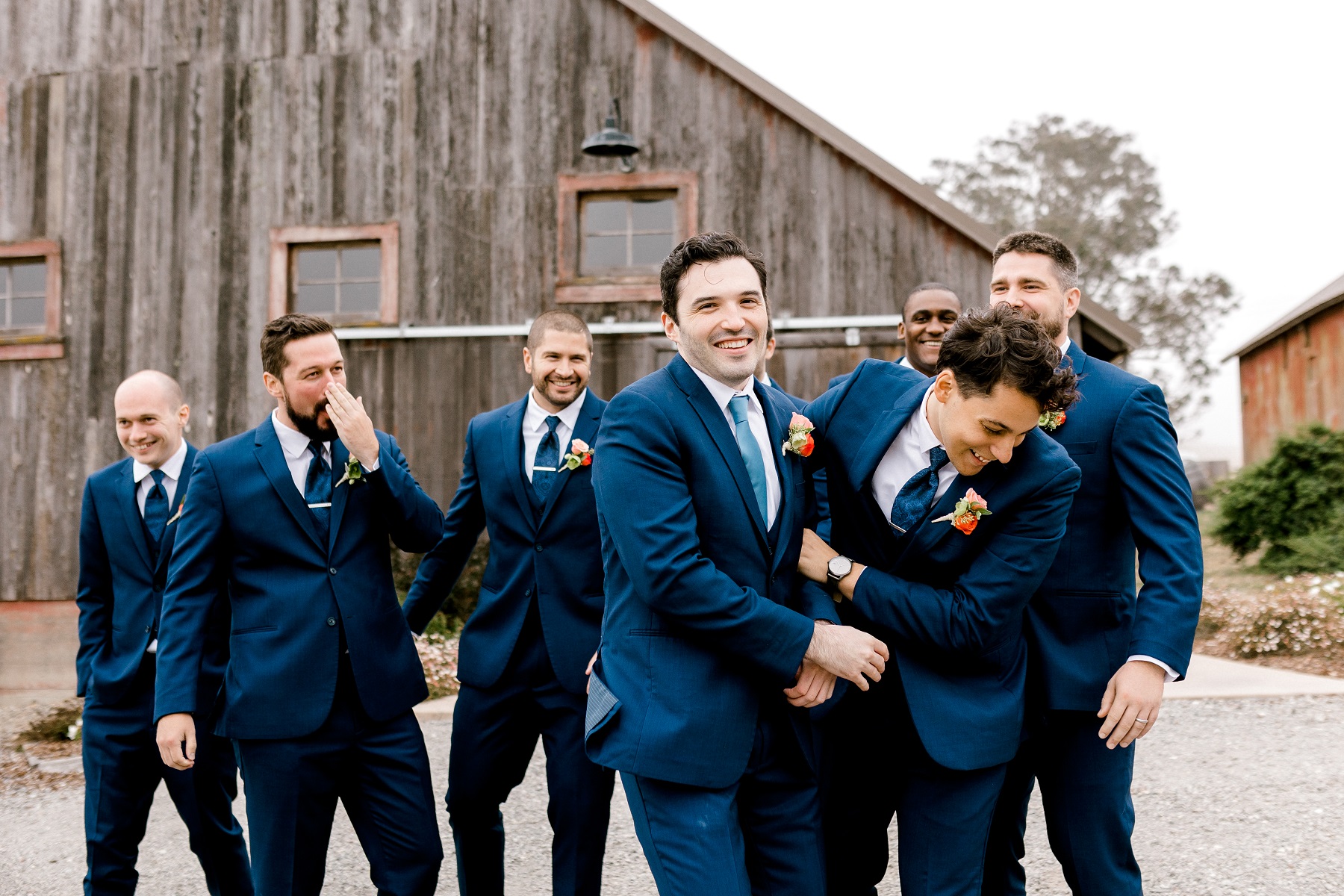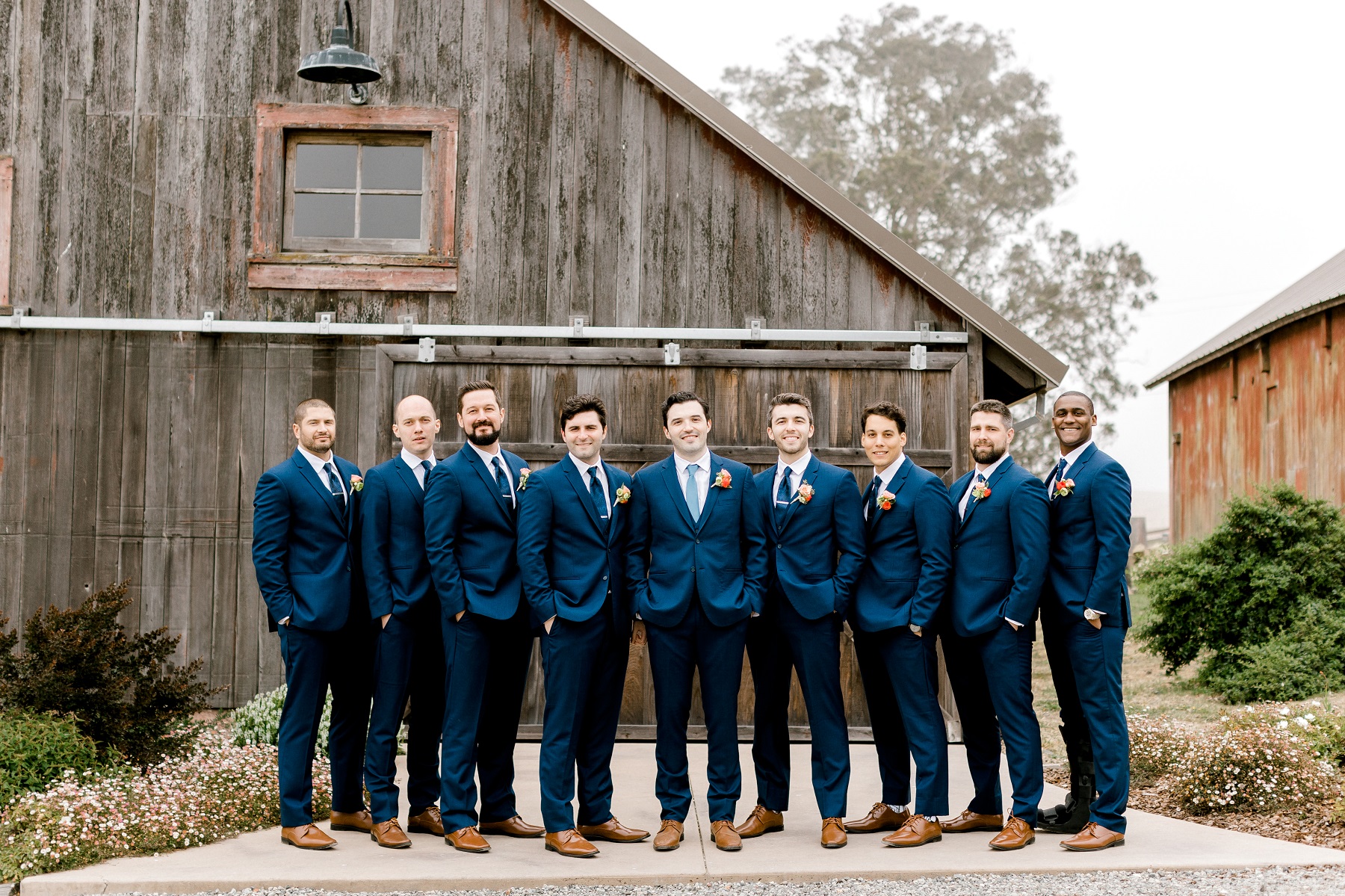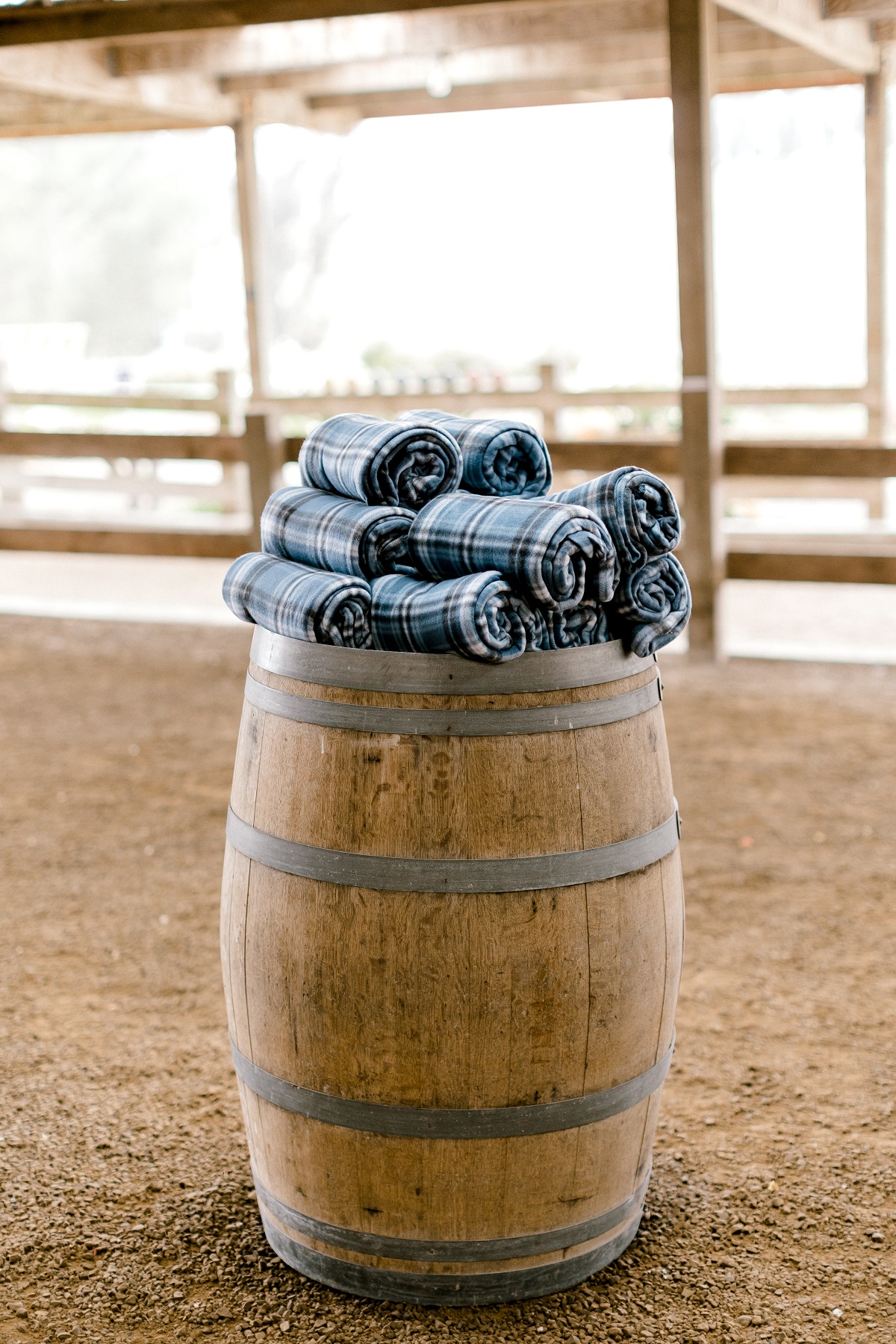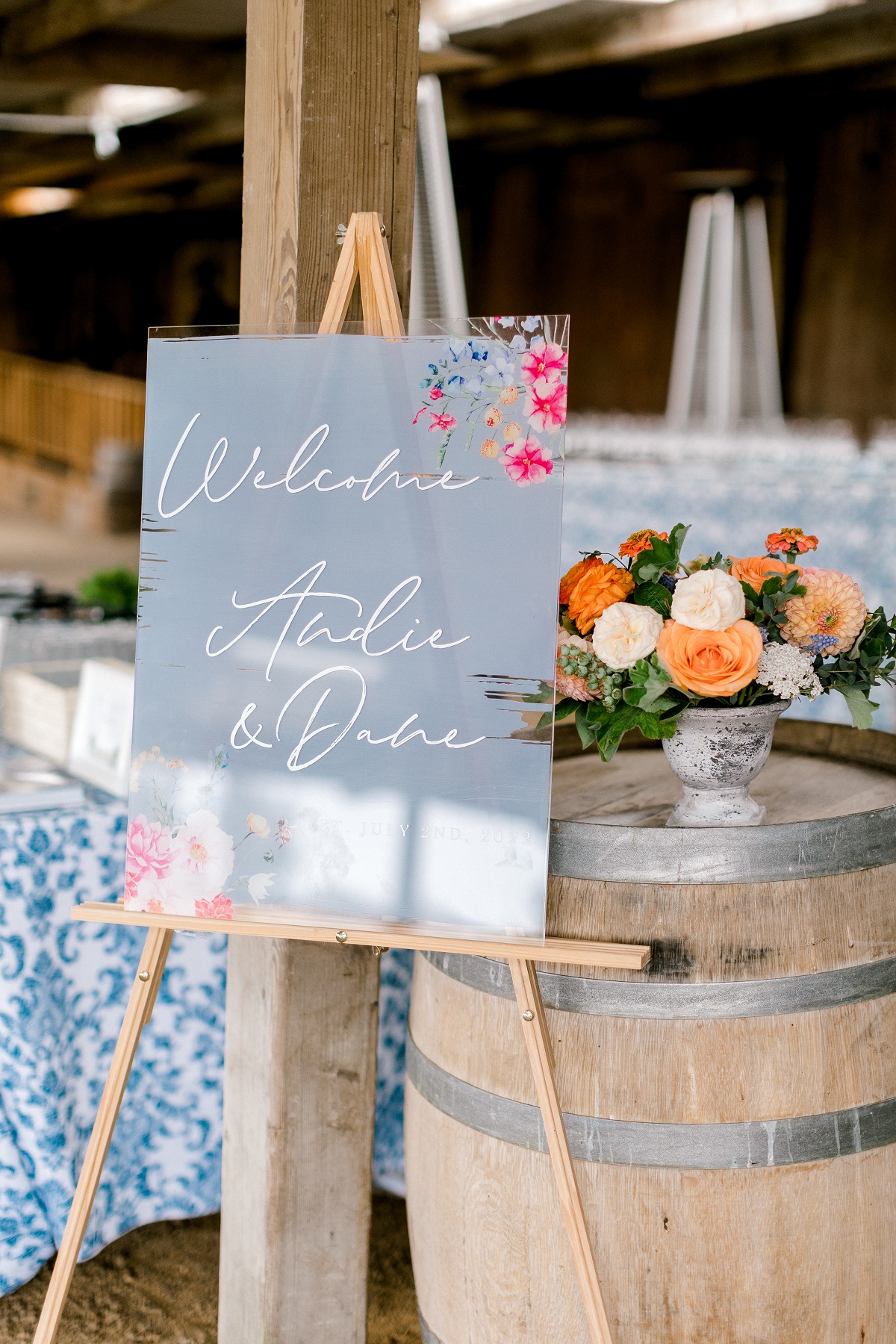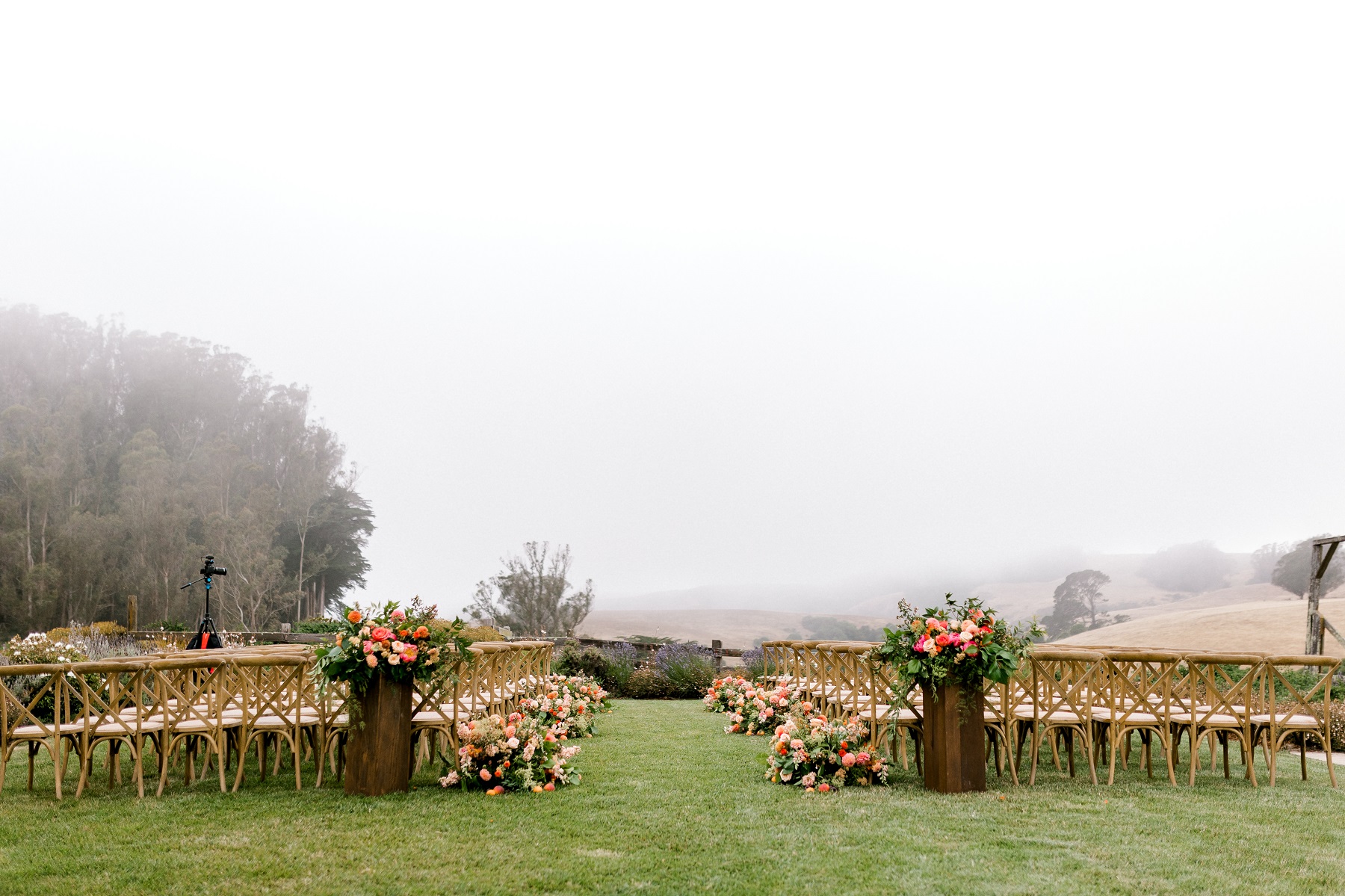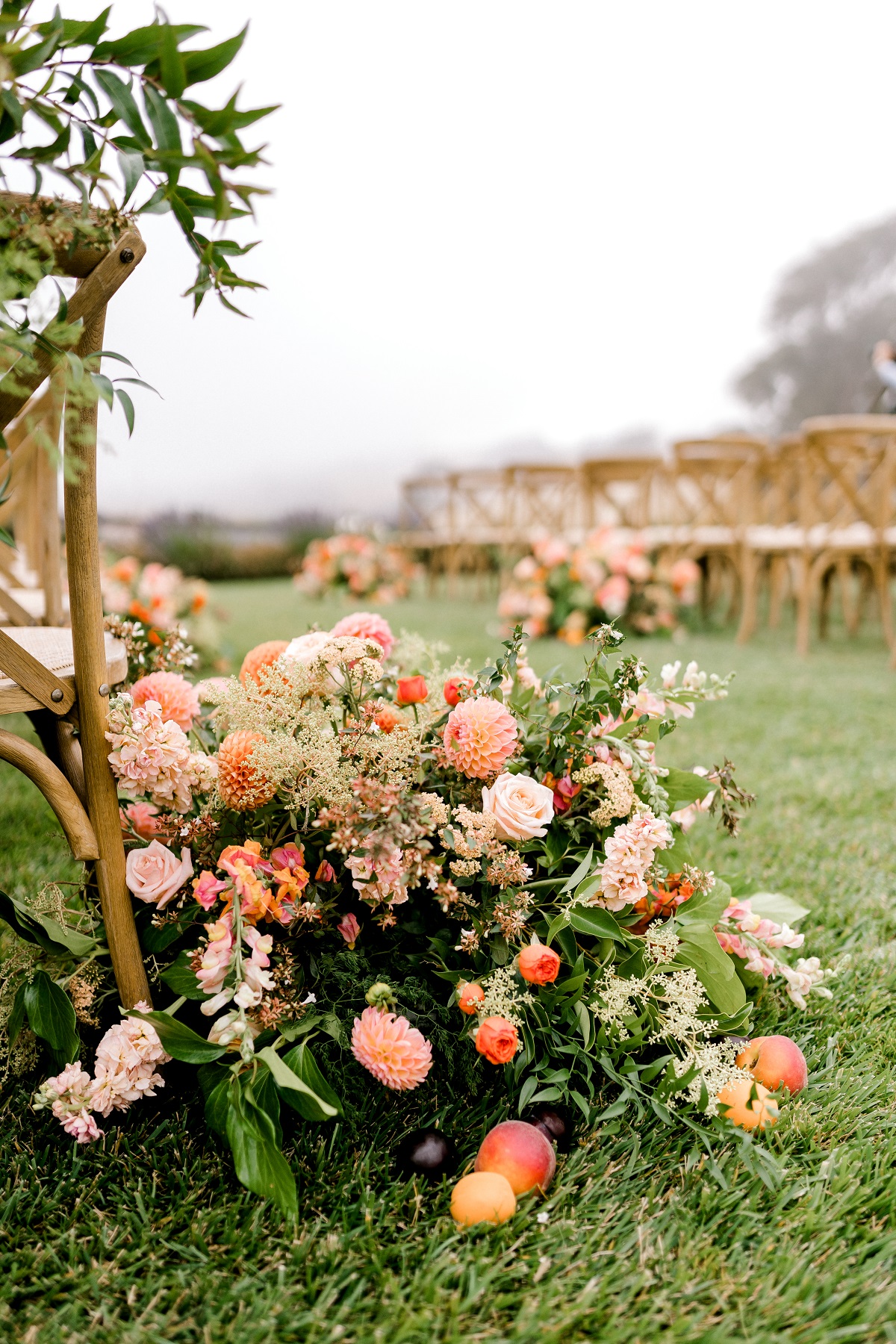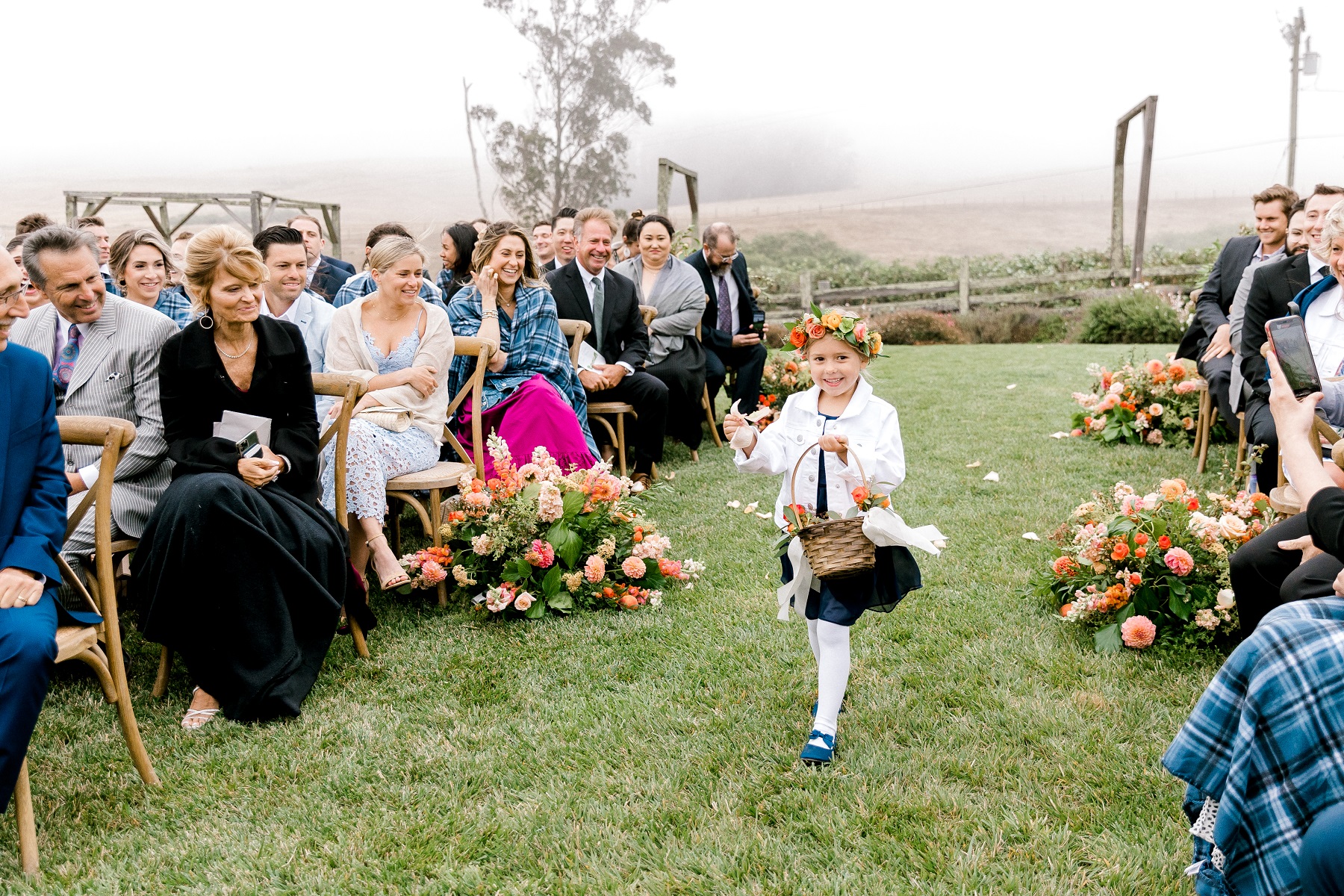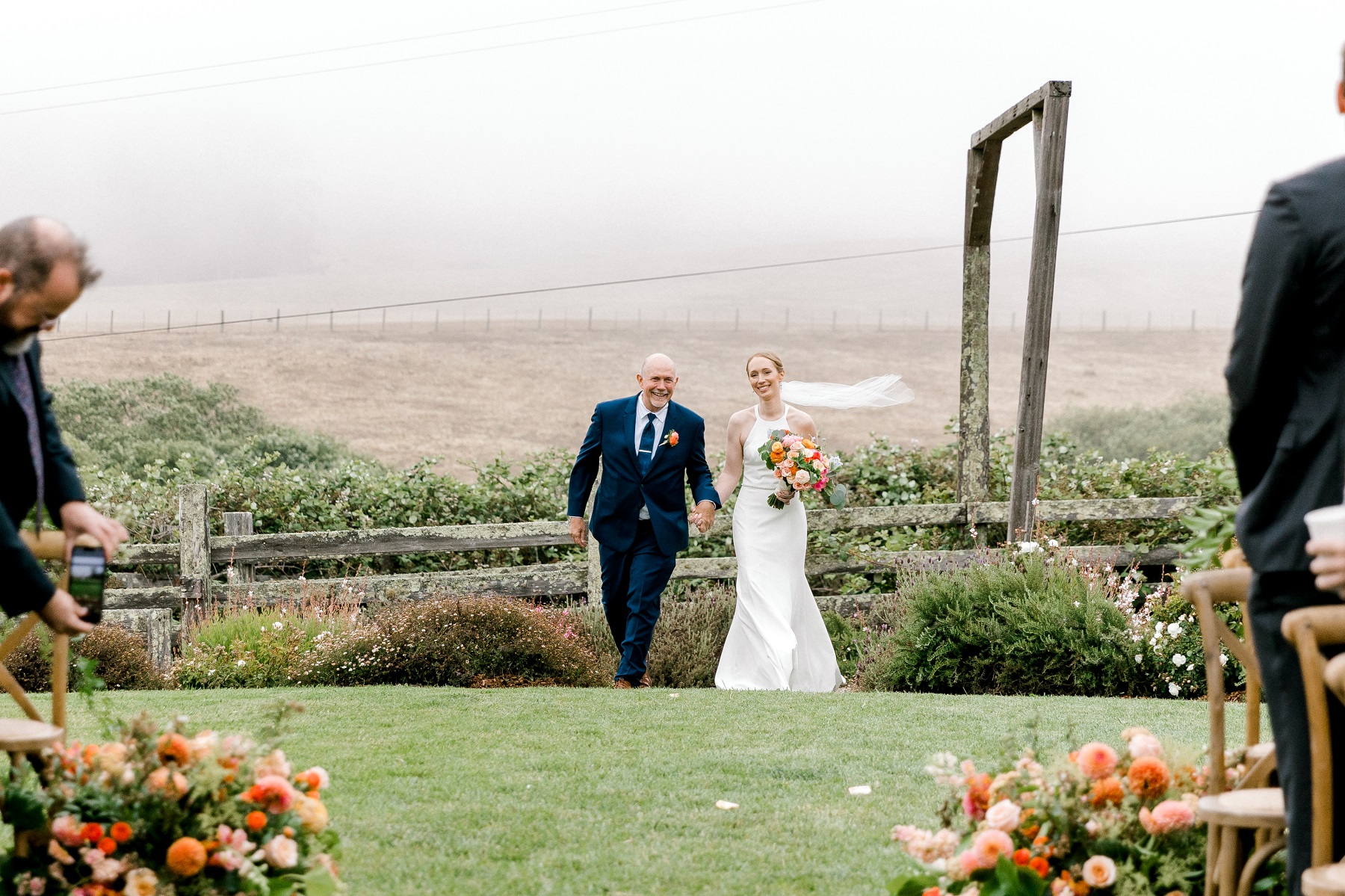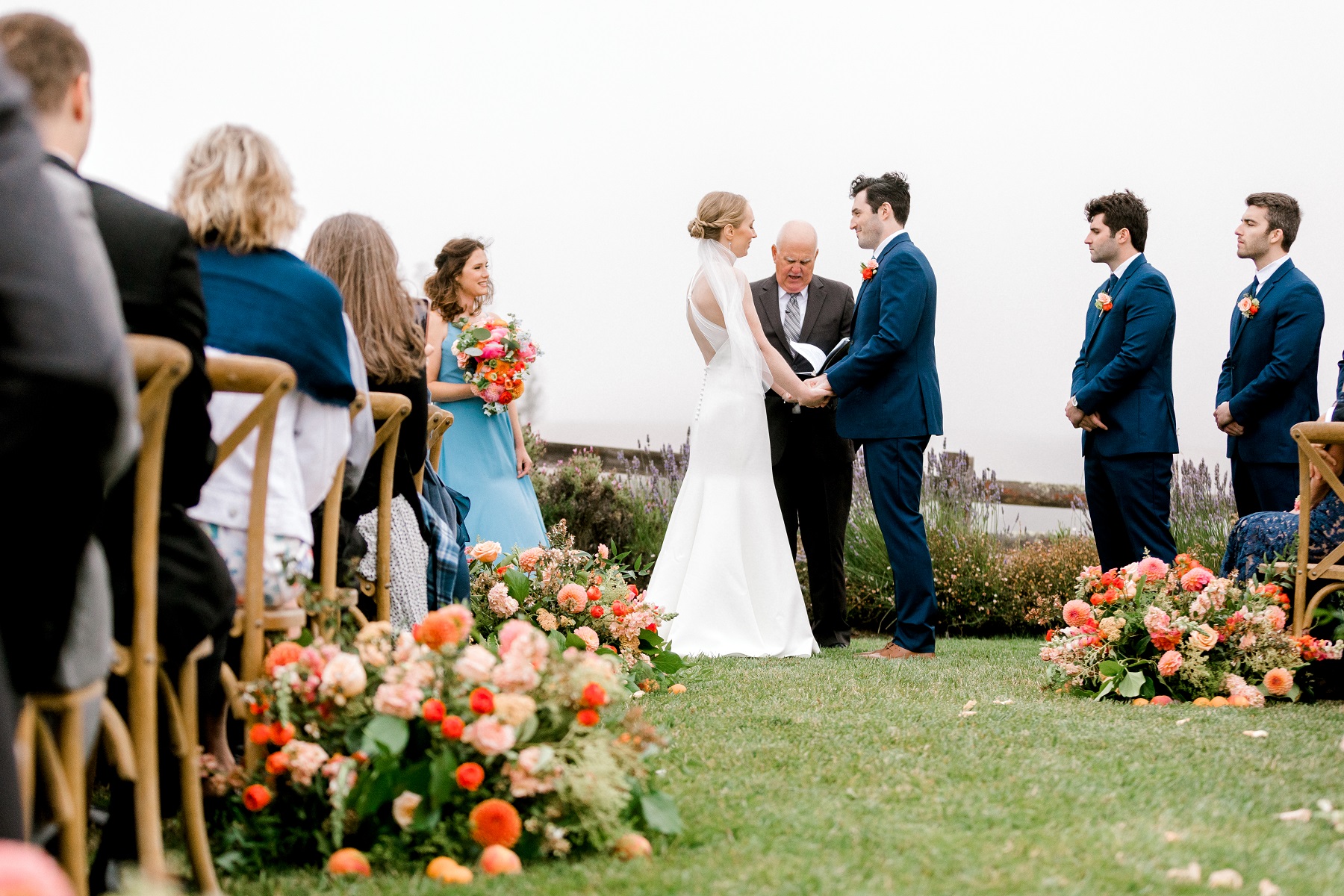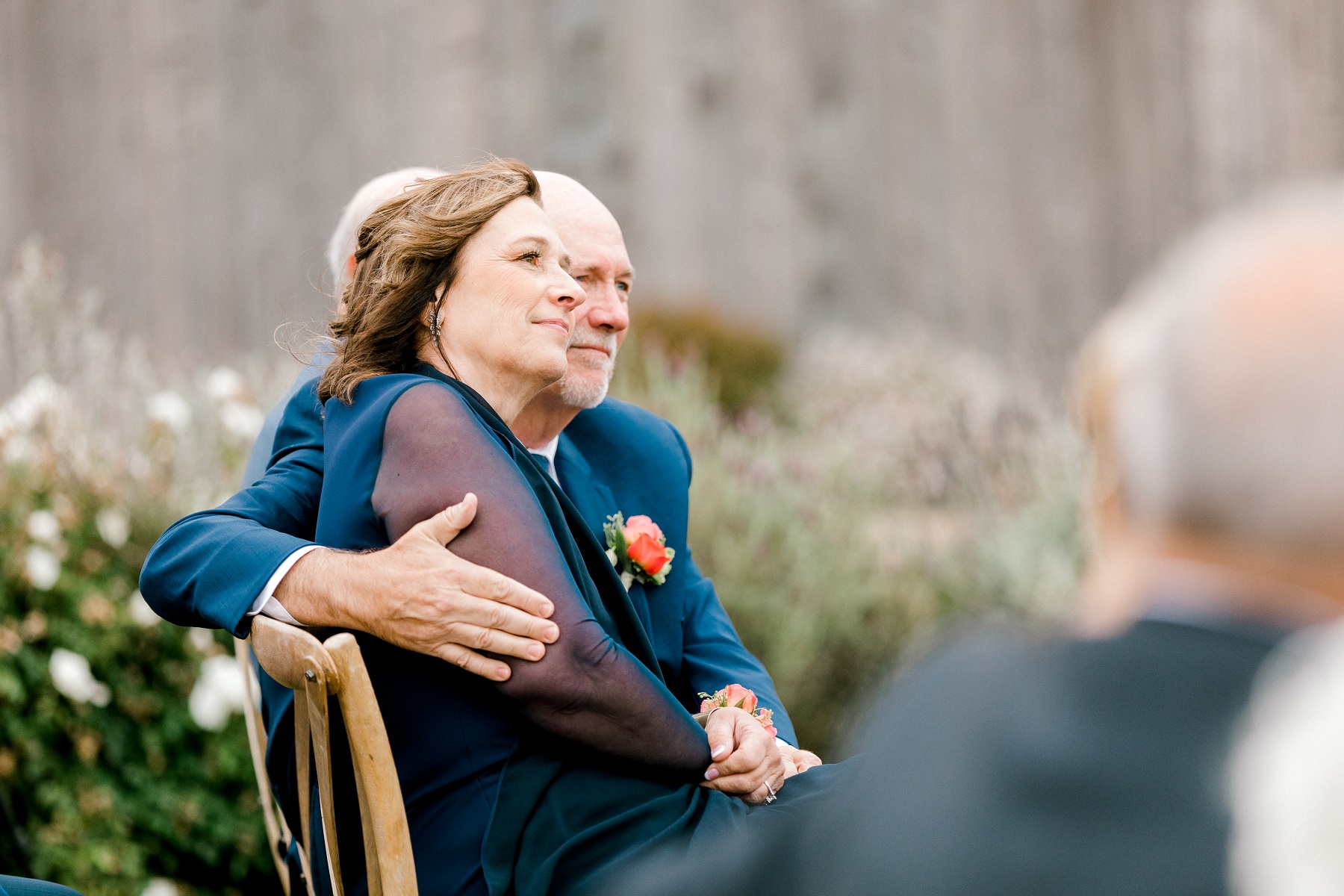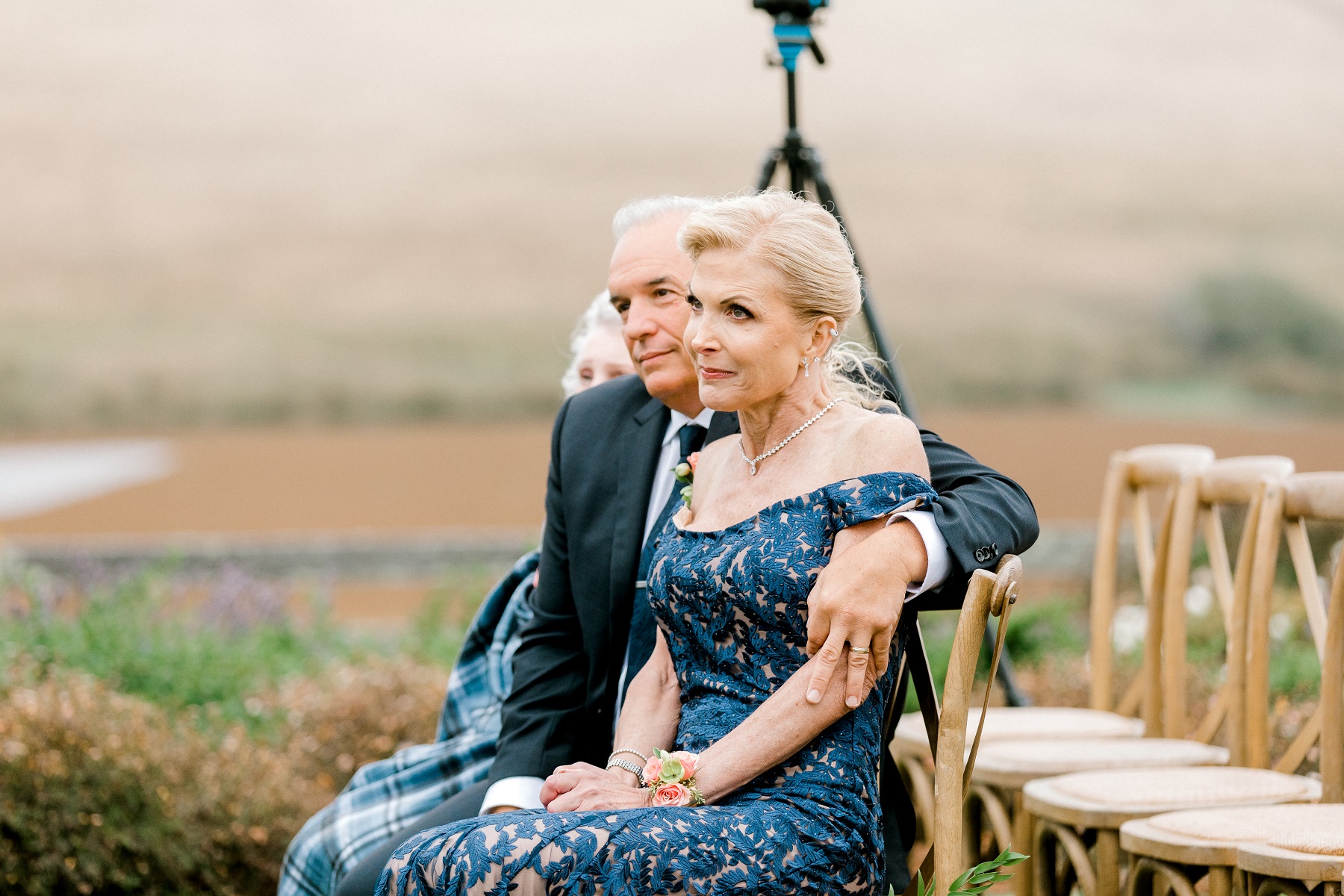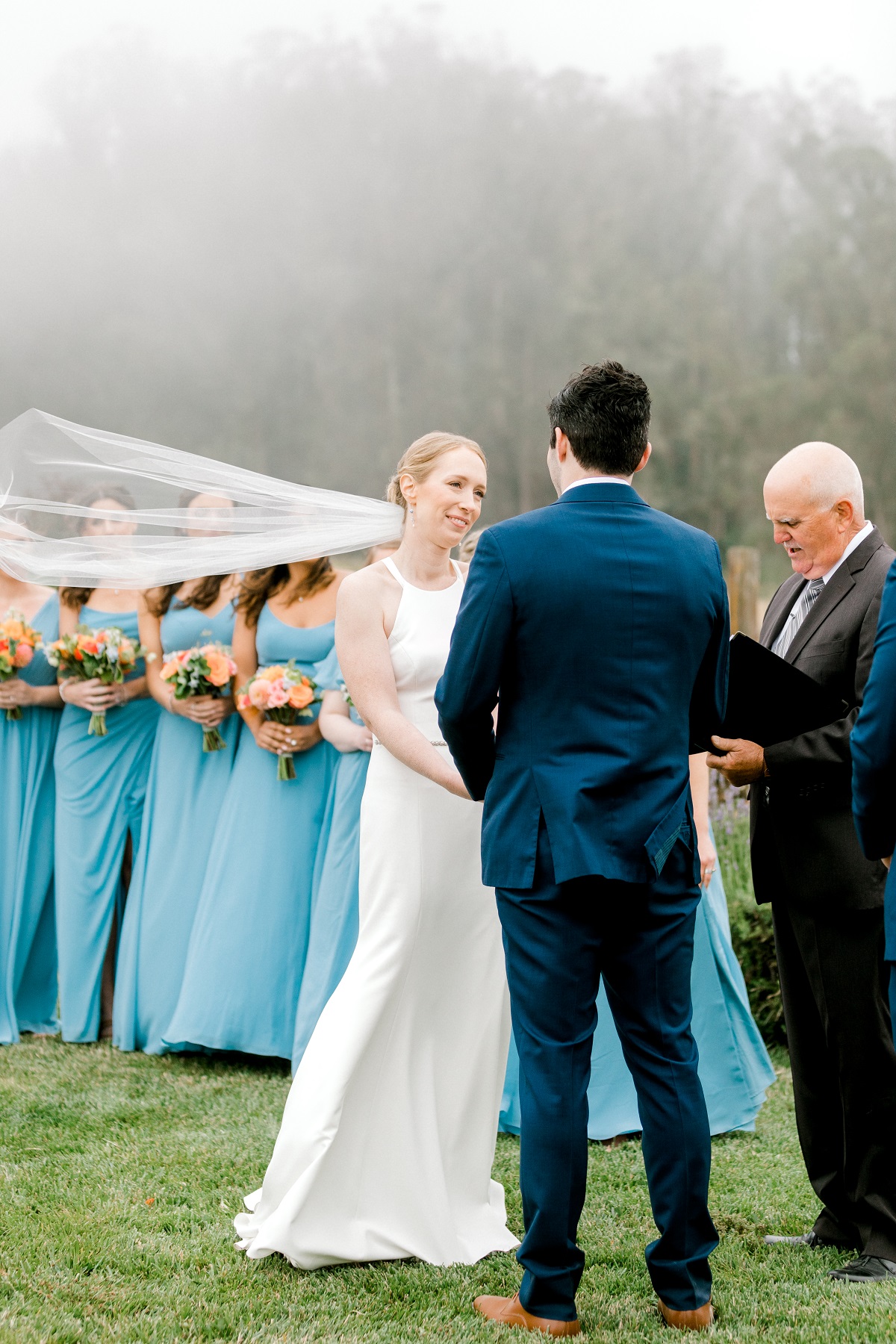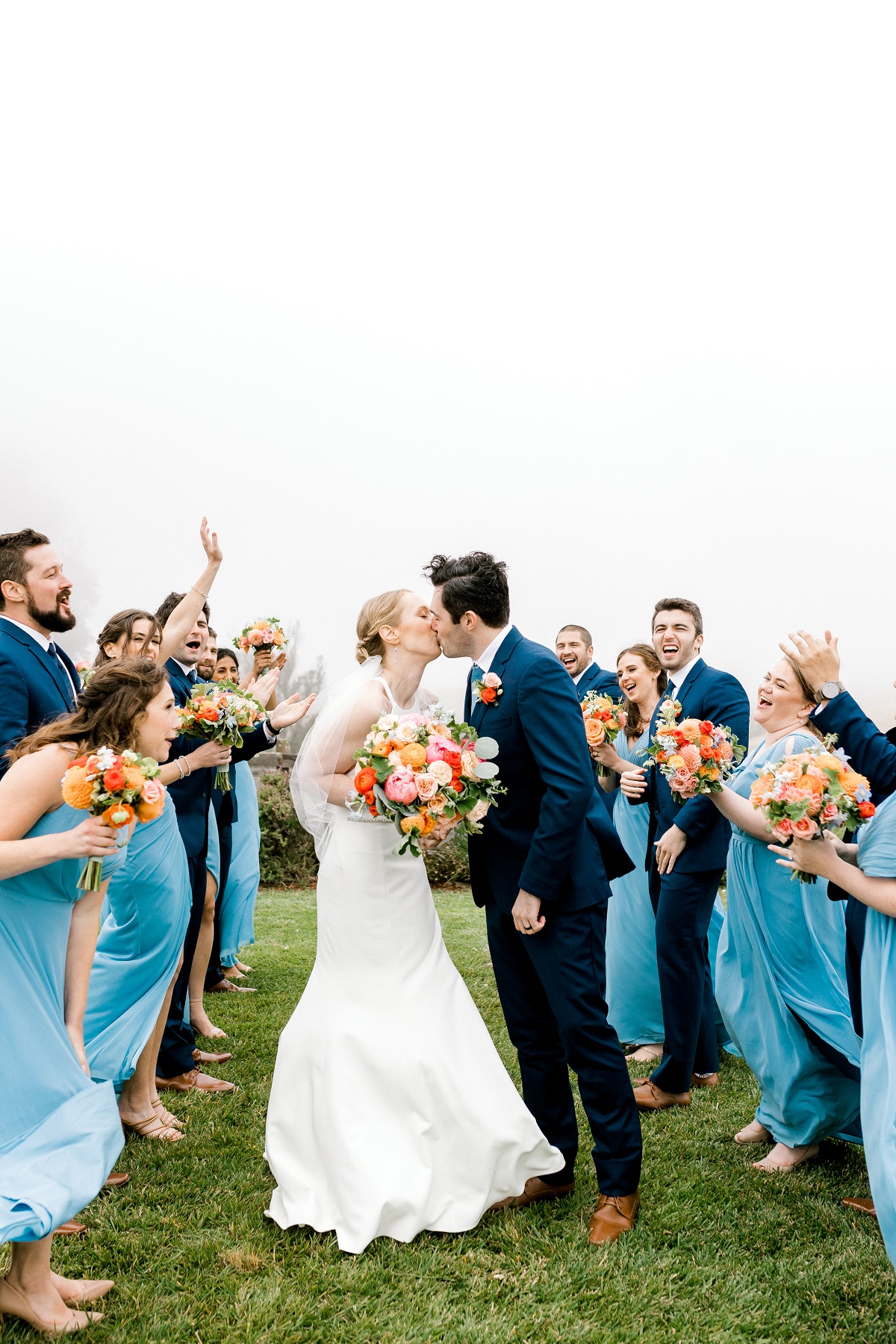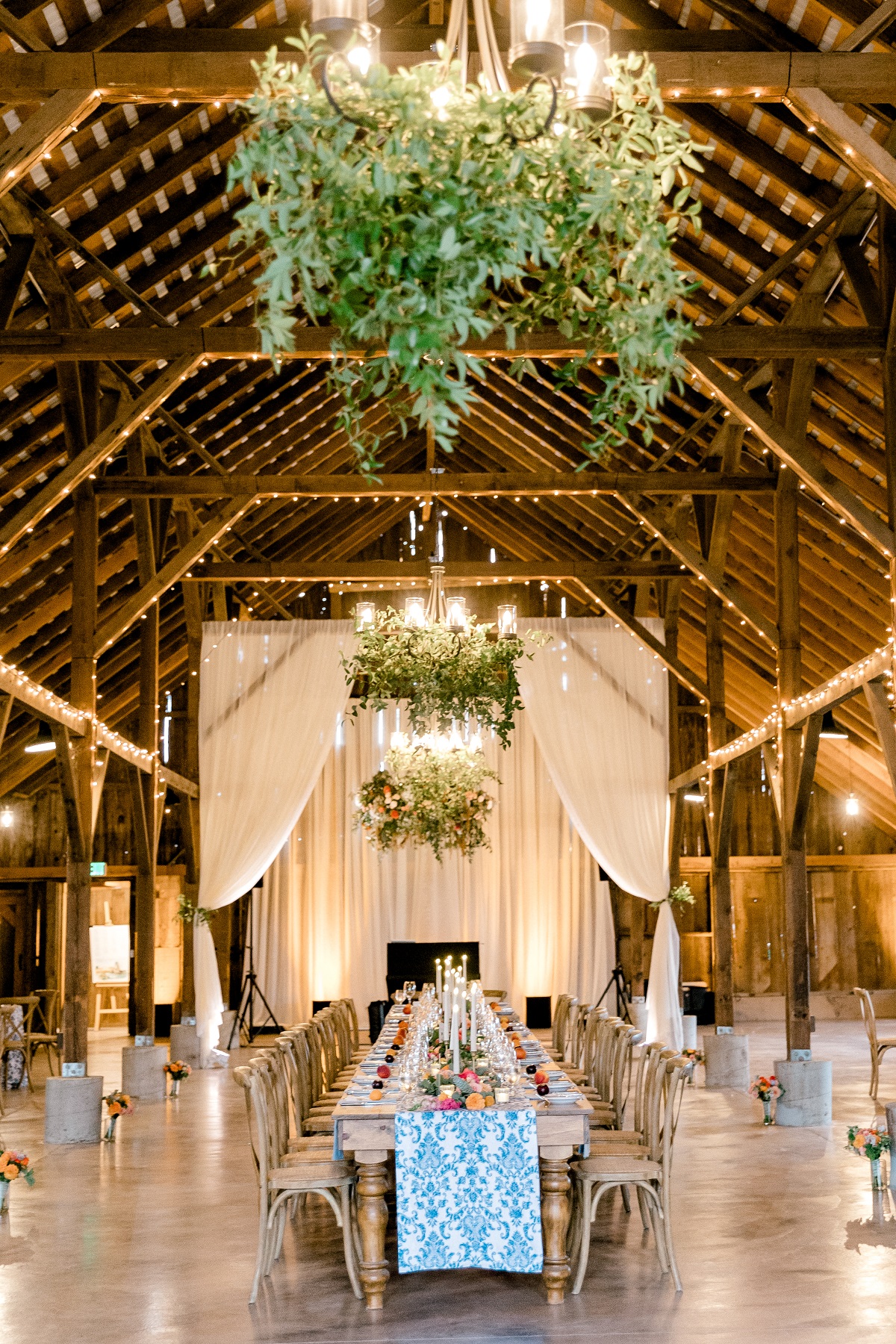 Party in the Sheep Barn
Before The Haven barn hosted weddings, it welcomed lambs into the world as a sheep barn.  Over 150 years old, the timbers of the cathedral ceiling inspire the eye to look upward.  To highlight the architecture, we enlisted Illuminate Events to light the beam lines.  Chandeliers of greenery over a long head table and a statement floral chandelier over the dance floor also drew the eye up without distracting from the beauty of the beams.  Drape framed and backdropped the scene.
In keeping with a fun-spirited experience, we paired a playful blue patterned linen with bright floral and stone fruits.  The head table also featured citrus fruit cut in half for a punch of juicy color and texture.  One of our favorite details was alternating peaches, plums, and nectarines at each place setting, set atop a menu booklet whose cover was a custom watercolor painting of the barn by Sterling Stripes.
A velvet lounge set paired orange chairs with a blue couch and bowls of fruit on the rustic coffee table accented the scene.  We used the venue's shelf to display "generations of love" with wedding photos from Andie & Dane's parents, grandparents, and great-grandparents.  Even the food from Elaine Bell Catering and cake from Flour & Bloom was artfully presented and creatively chosen.  
We are deeply grateful that Andie & Dane trusted us to be part of their adventurous celebration and especially appreciative of Mandy at The Haven and all of the vendors who collaborated to bring this to life beyond our expectations.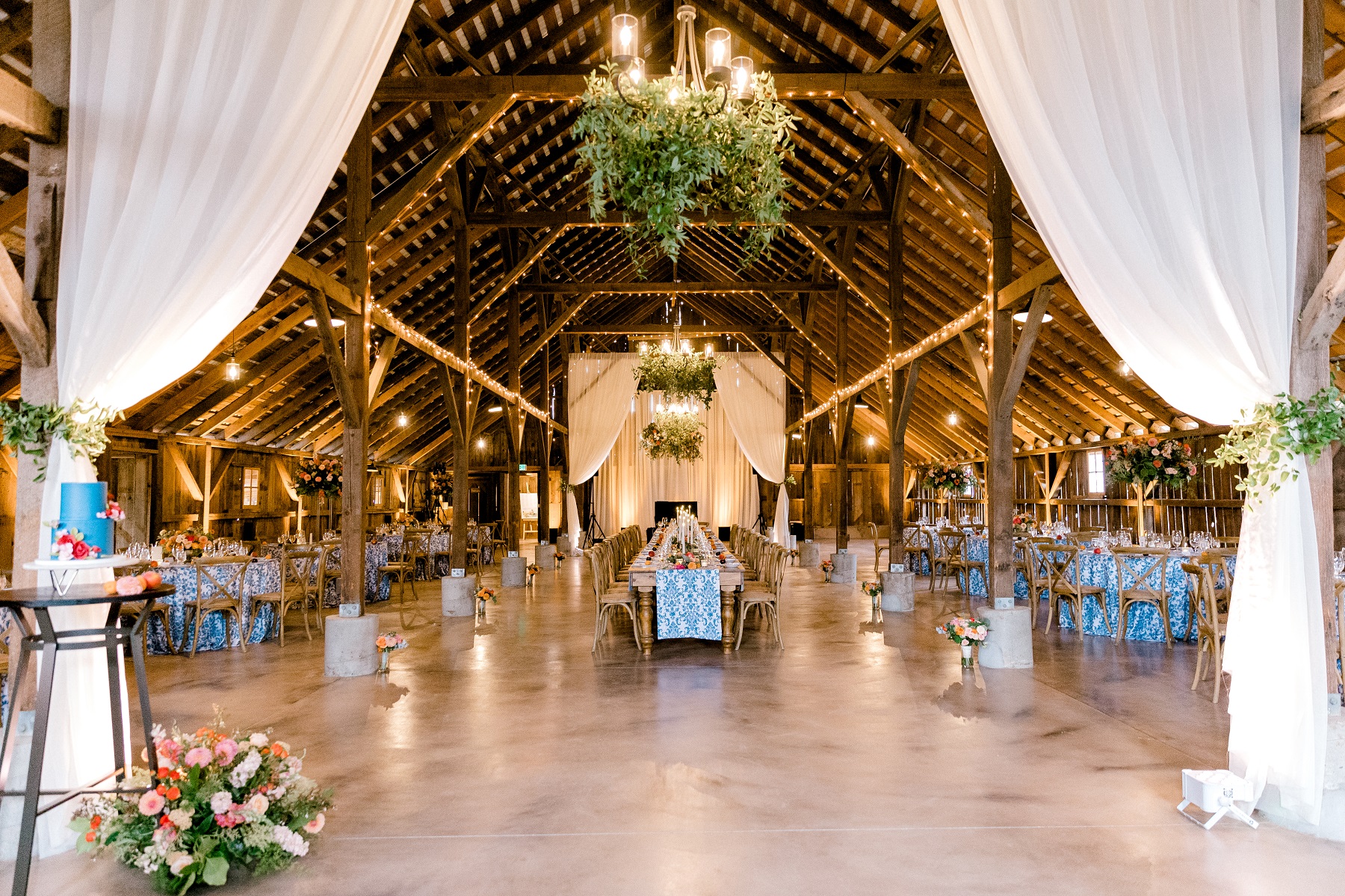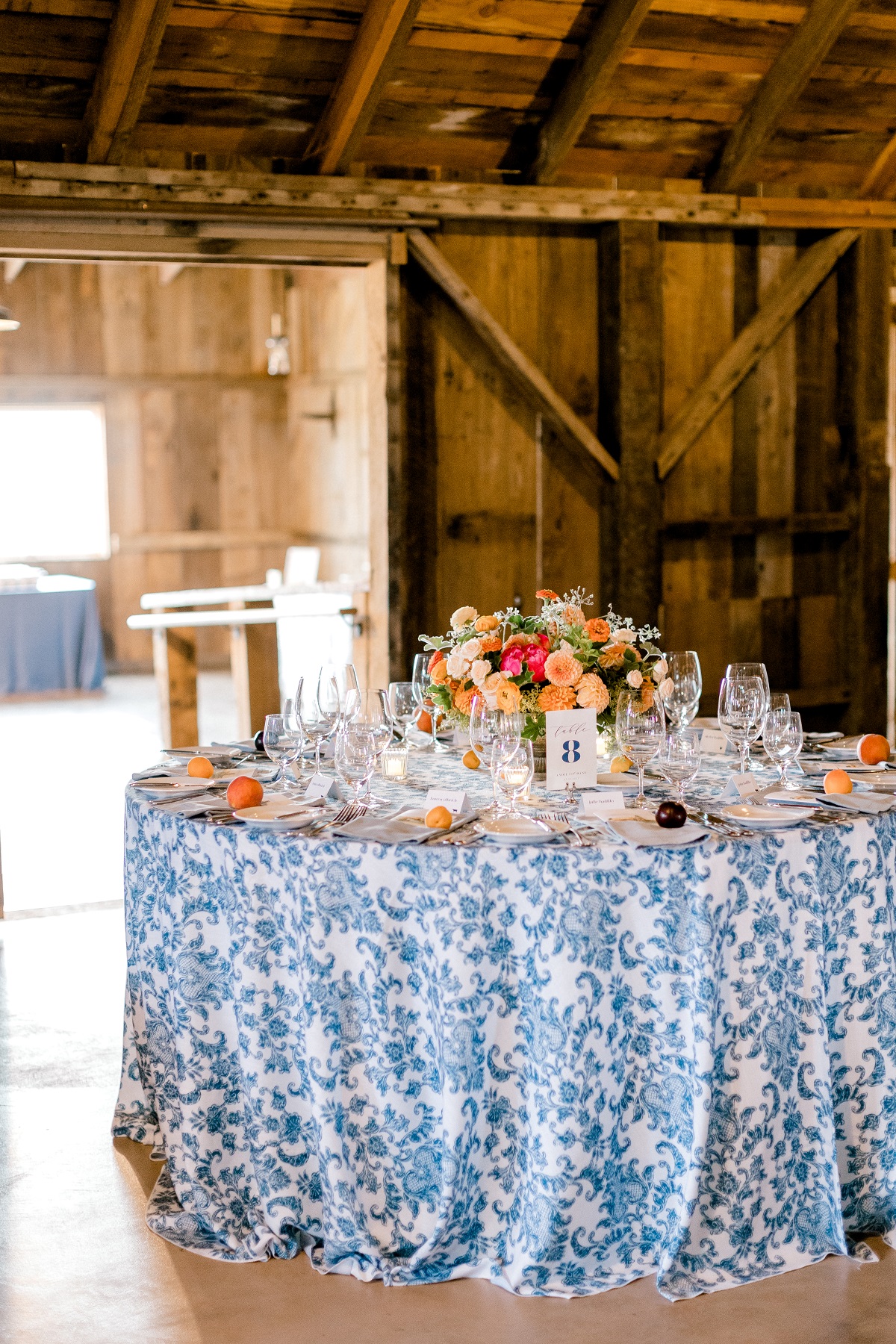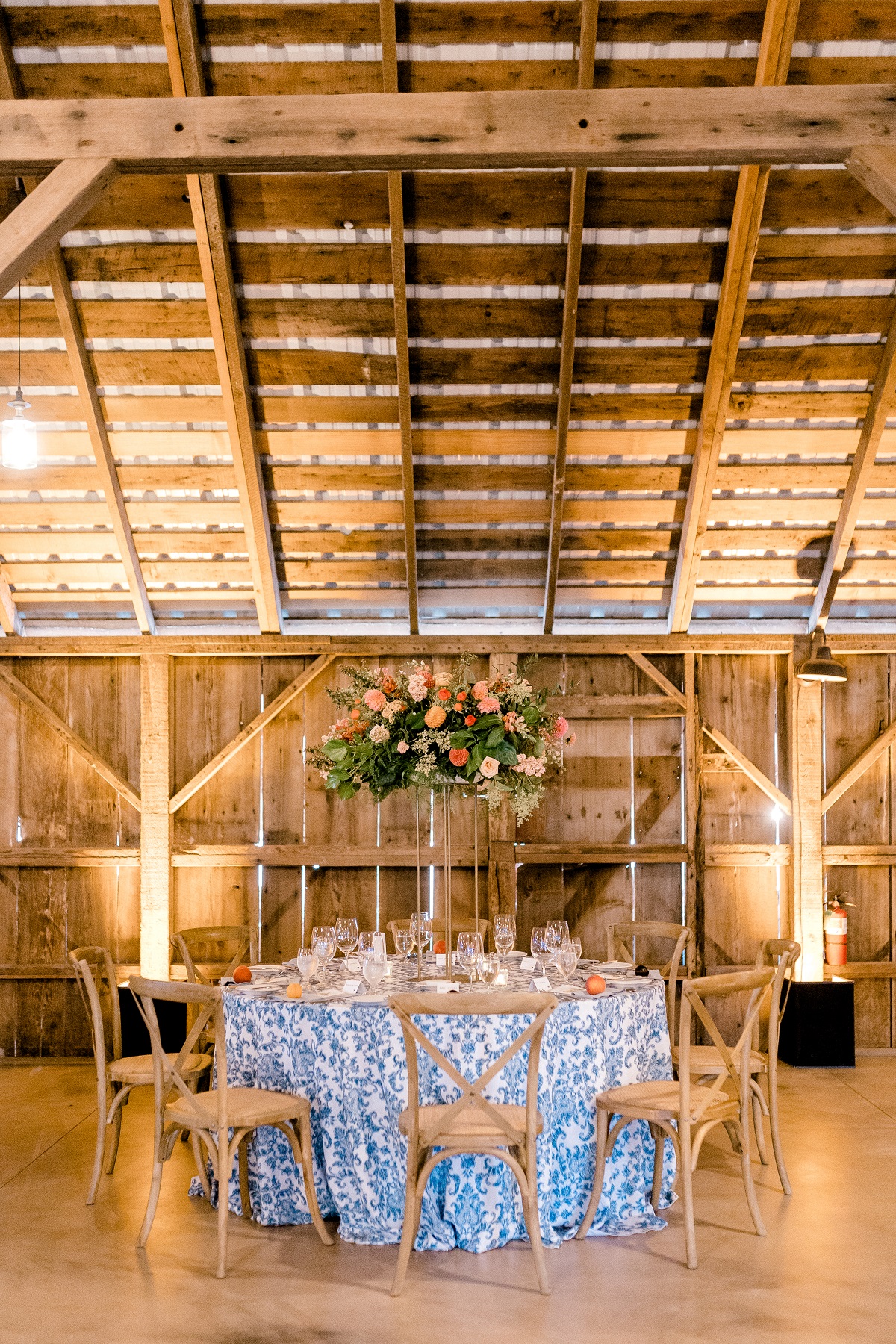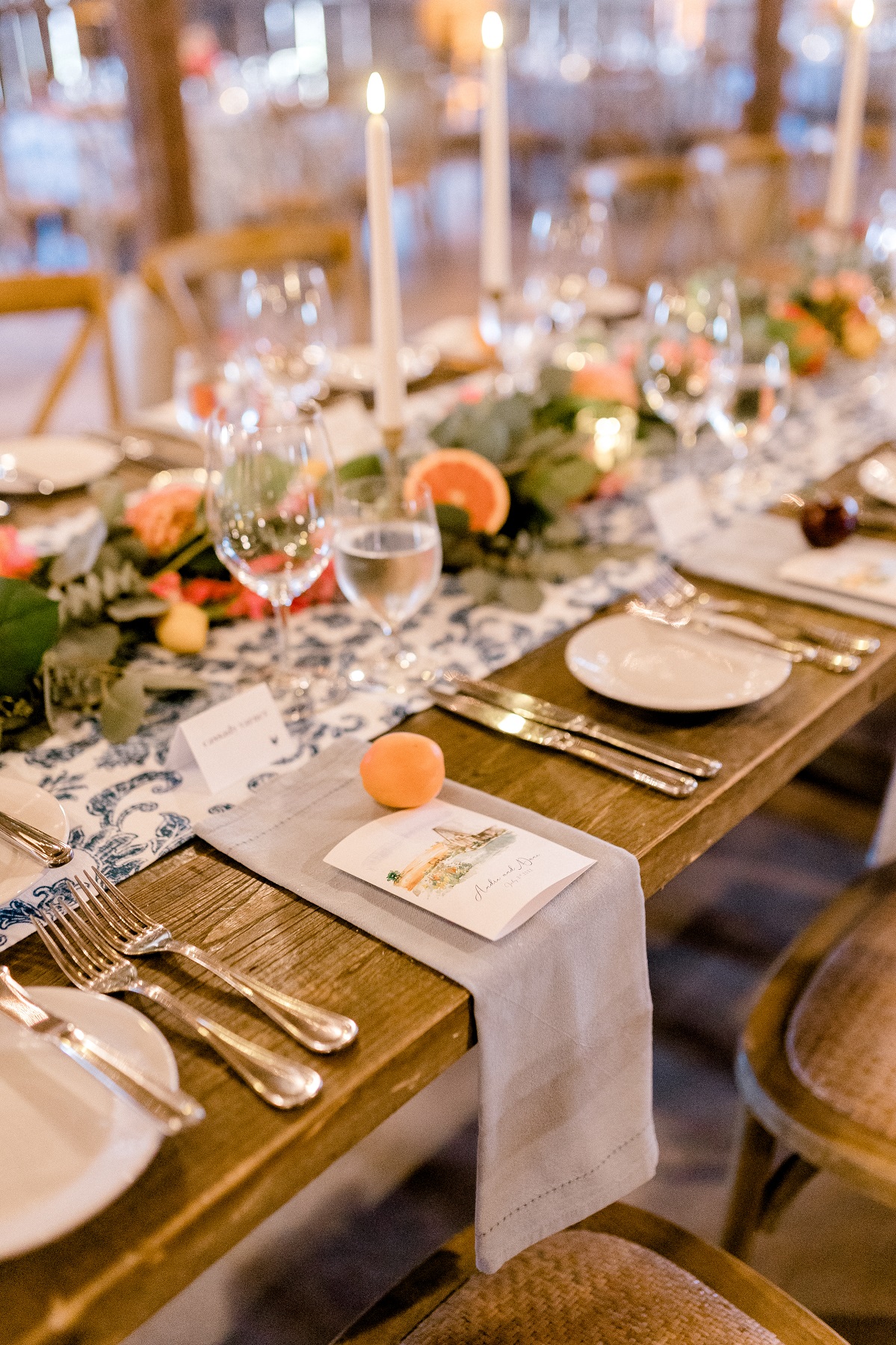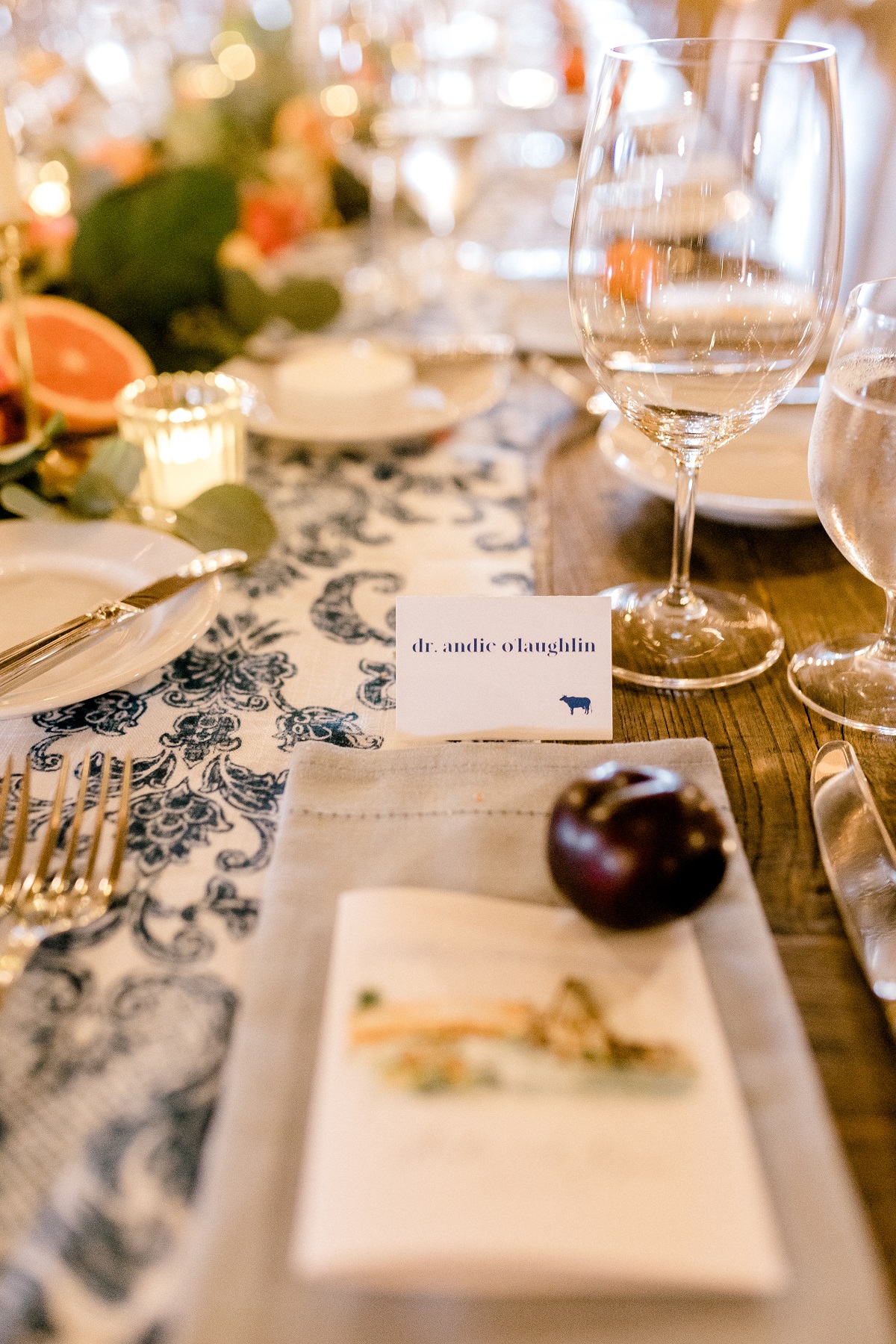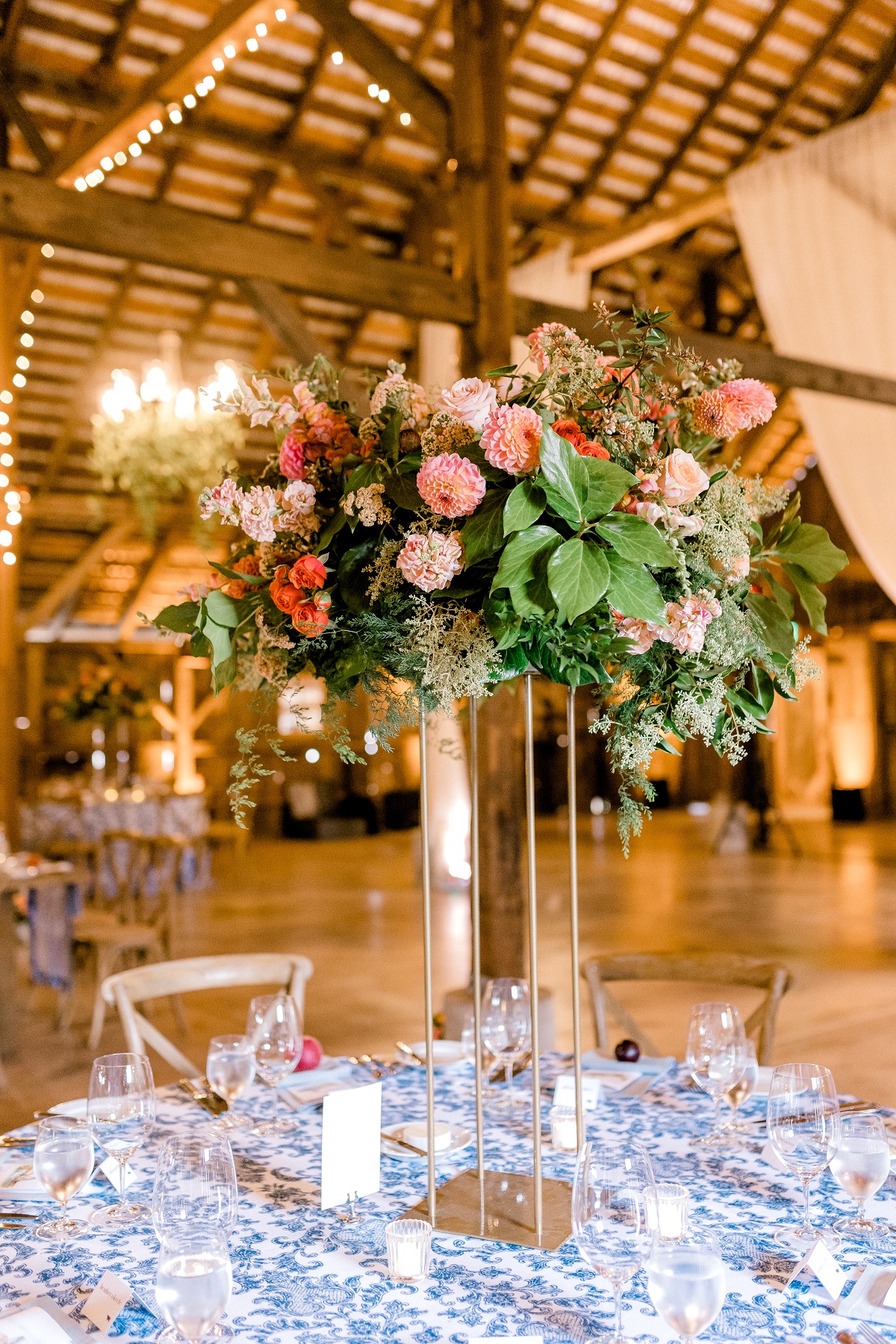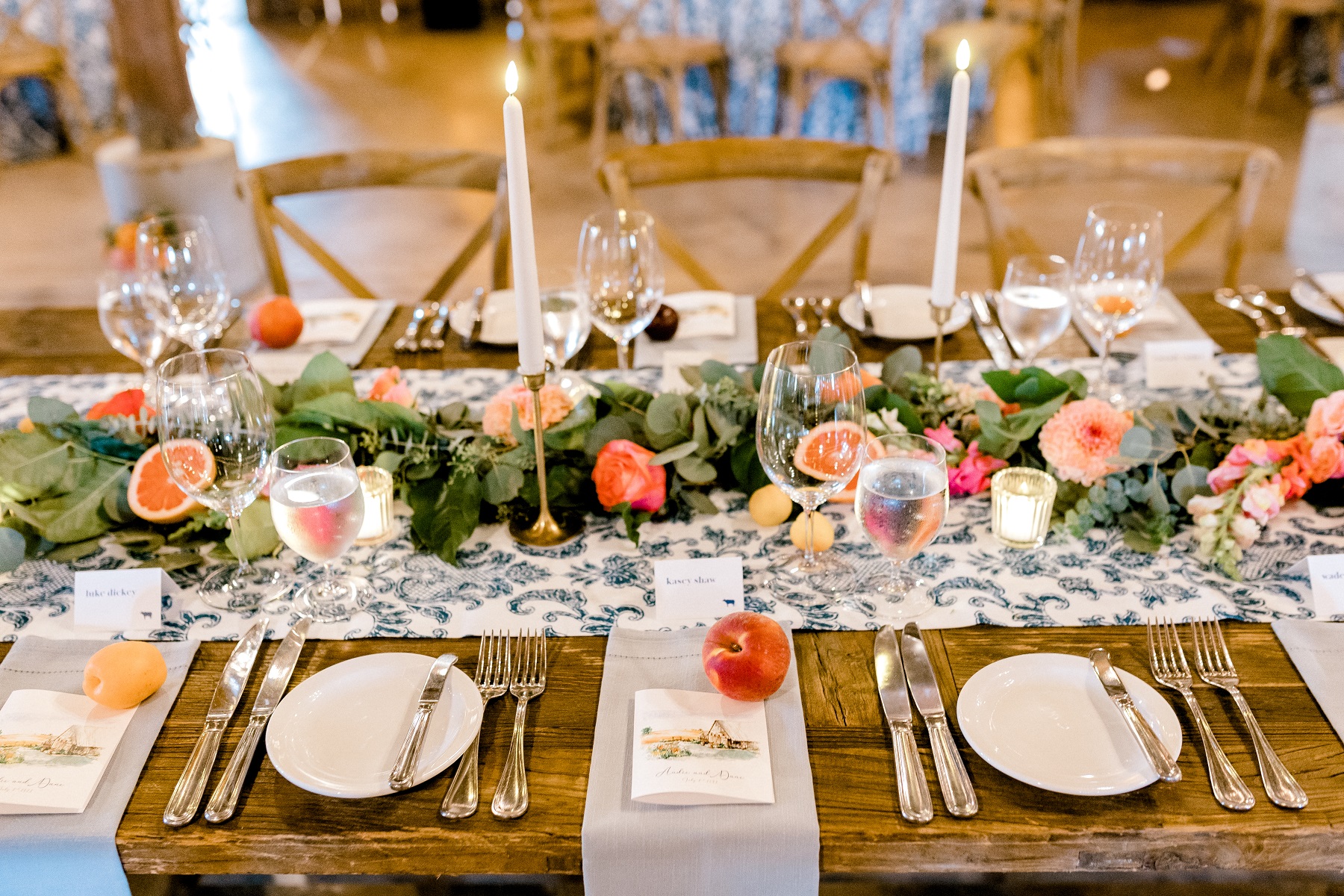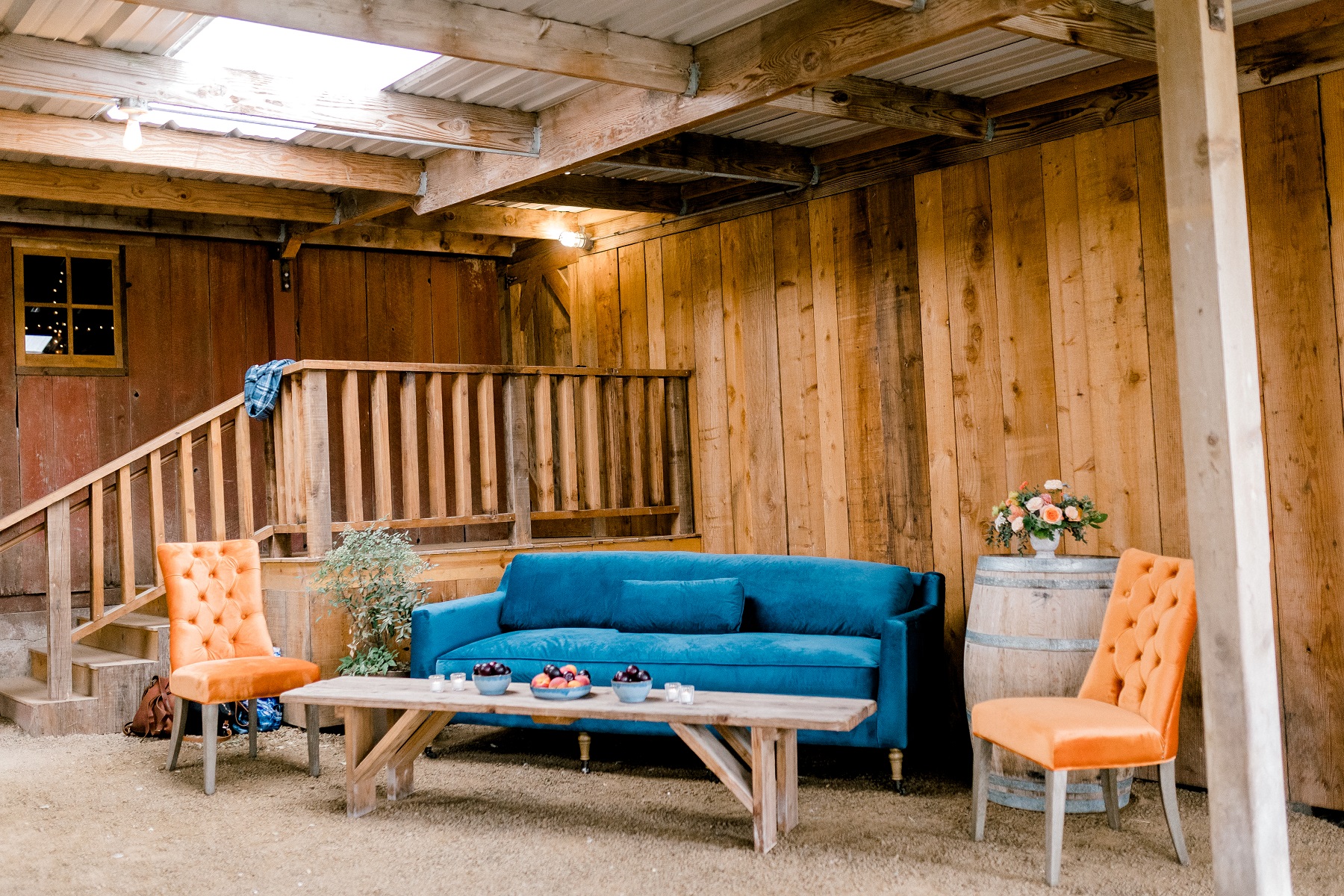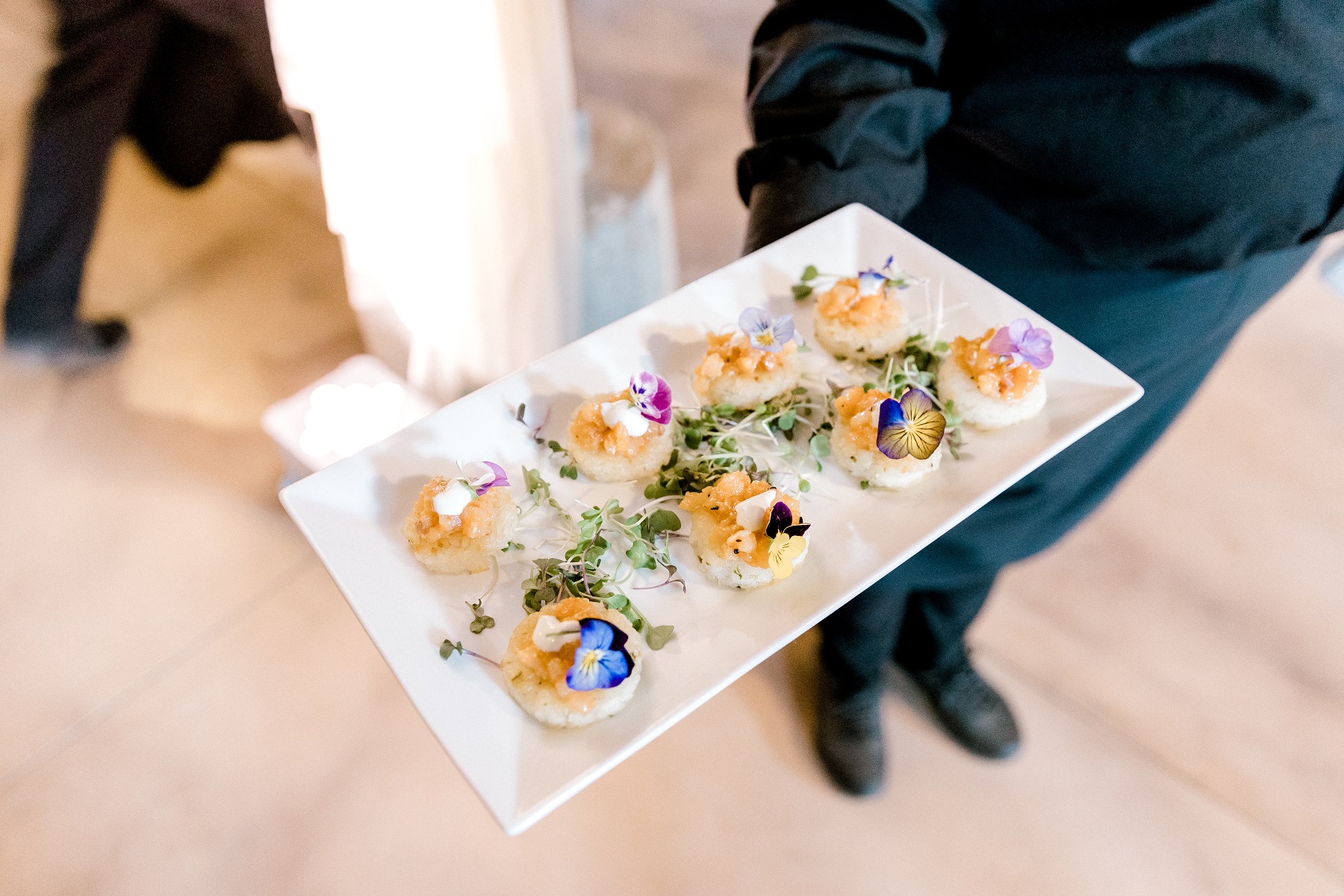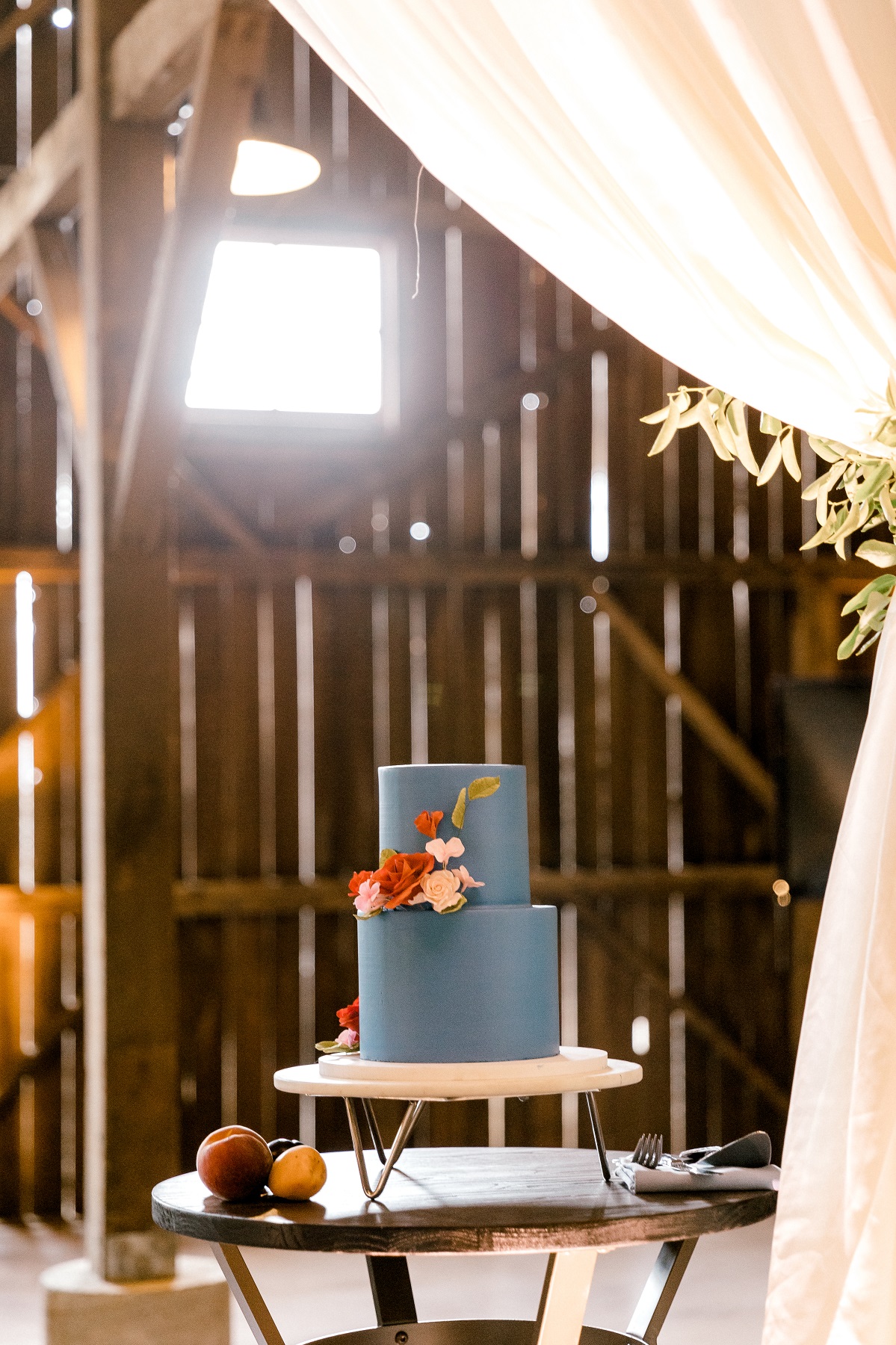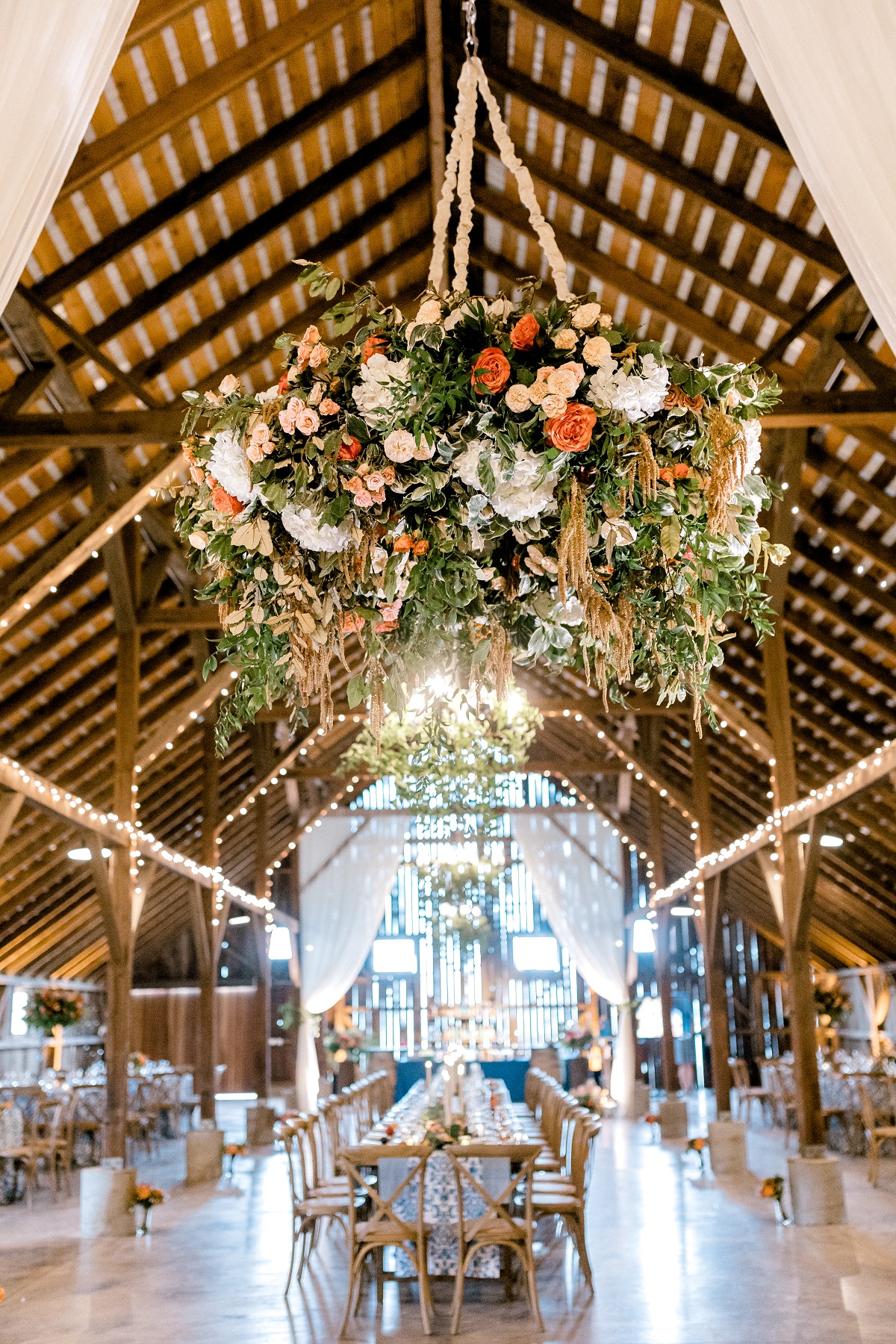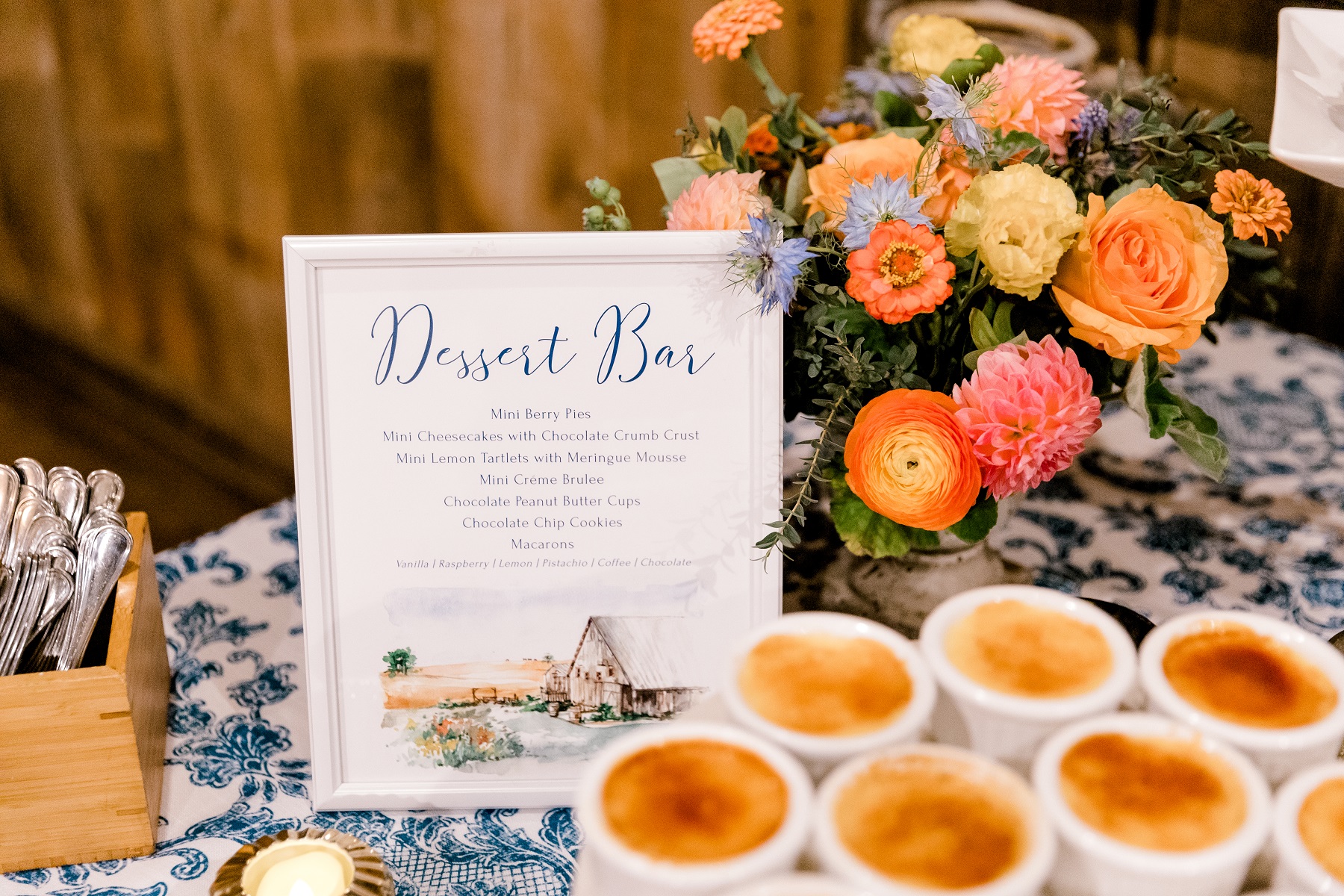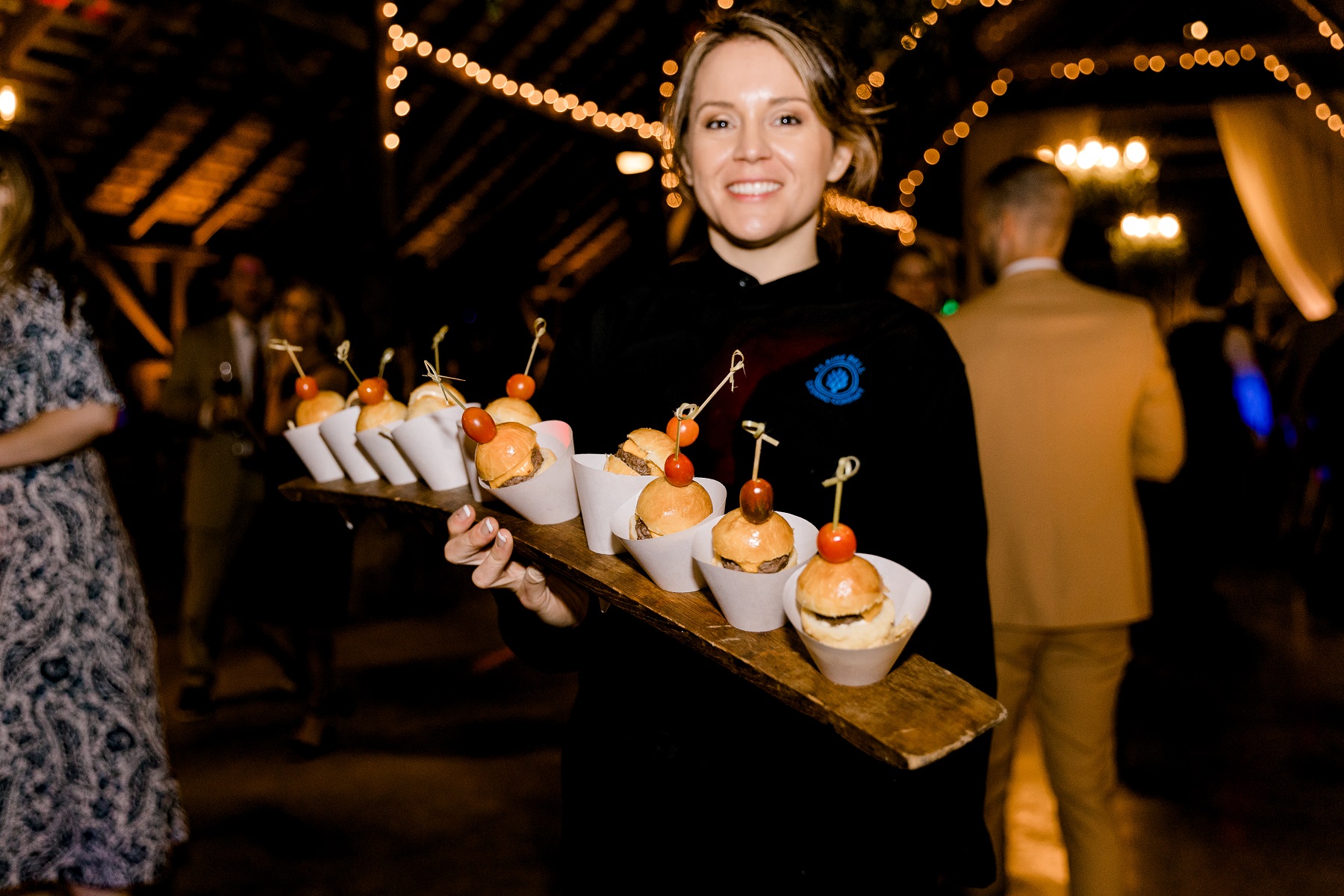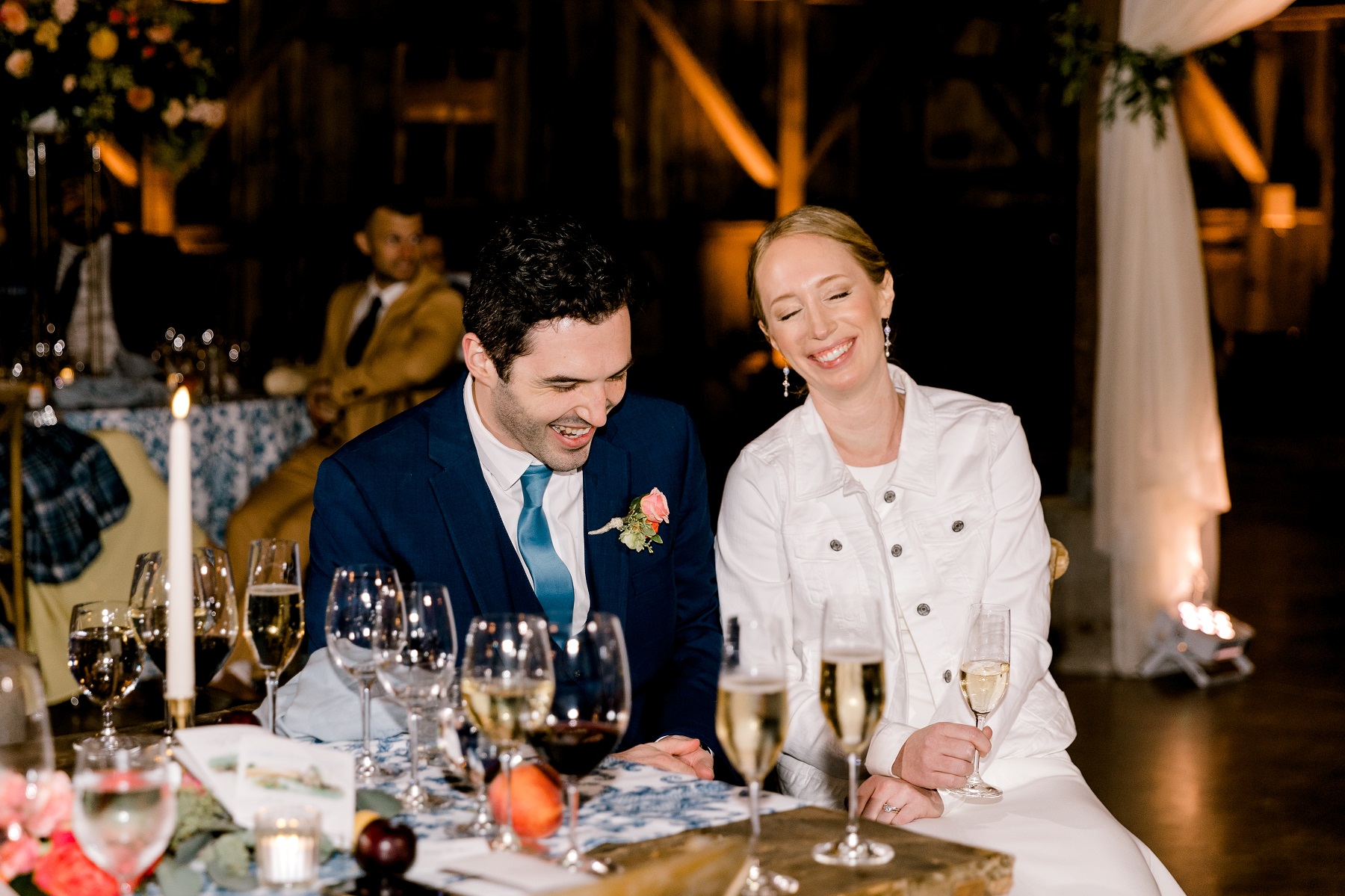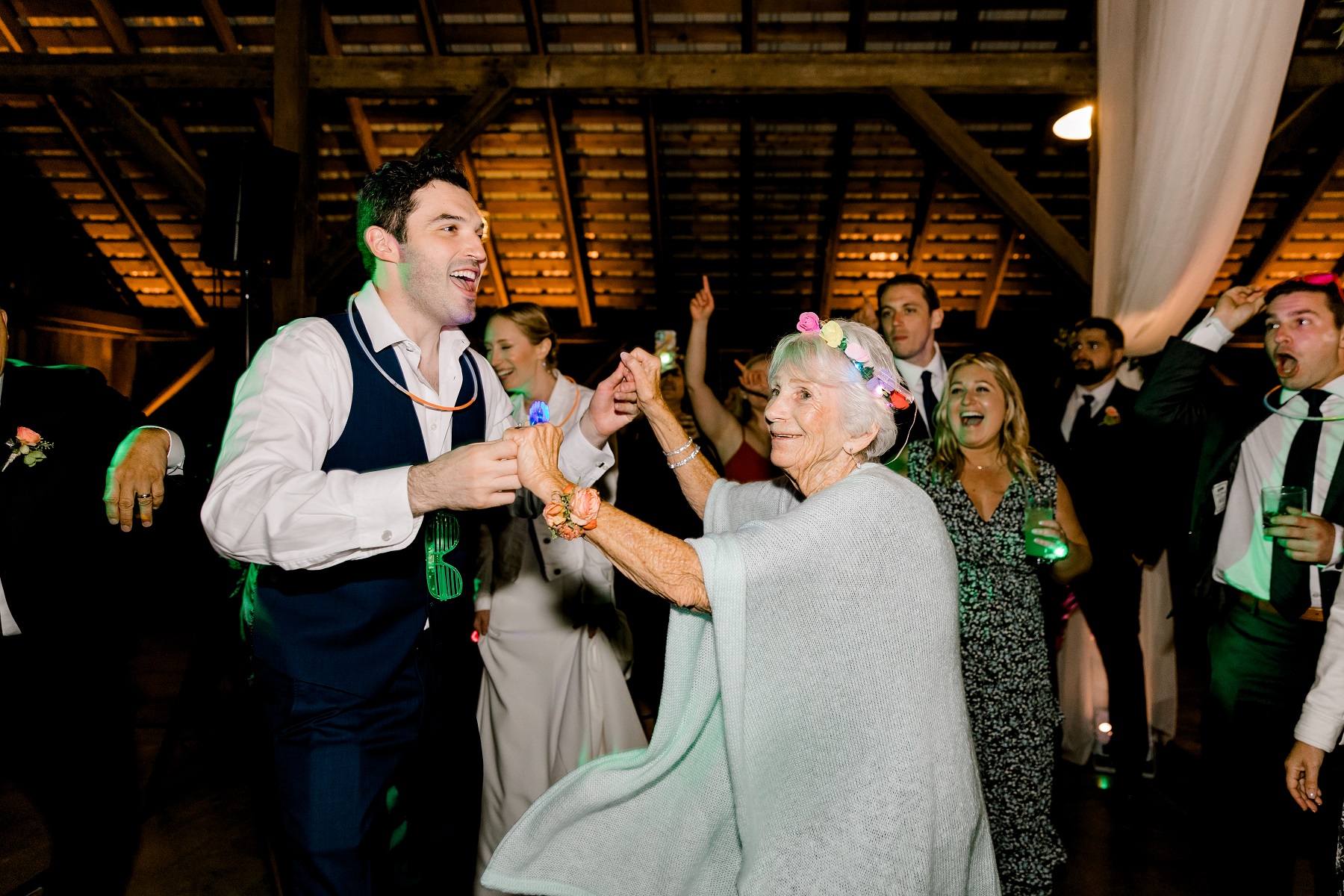 Creative Team Credits
Photography:  Brittany Connor Photography
Videography:  Montage Media
Planning + Design + Coordination:  Juniper & Lace Events
Venue:  The Haven at Tomales
Floral Design:  Angella Floral Design
Catering & Bartending:  Elaine Bell Catering
Cake:   Flour & Bloom
Hair & Makeup:  Ritual Salon
DJ:  Premier Productions
Cocktail Hour Music:  arranged thru Kristen Strom
Officiant:  Rev. Richard Meyer
 Invitations & Custom Print Design:  Sterling Stripes
 Drape & Lighting:  Illuminate Events
 Decor Rentals:  Theoni 
Linens:  BBJ LaTavola
 Transportation:  Beau Wine Tours
Alcohol:  BevMo