Serena + Marvin // Moab, Utah
Fashionable Desert Adventure Elopement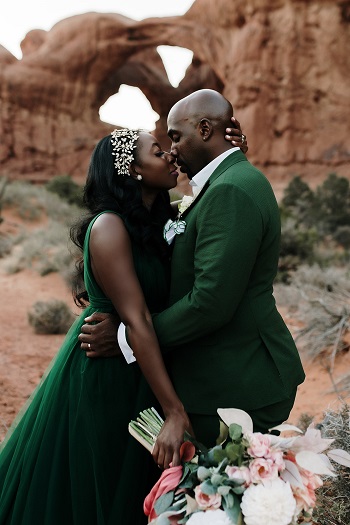 Moab by way of D.C.
I met Serena & Marvin one January when they were in Michigan, touring venues for a summer wedding.  We had the best time so when their plans changed to get married closer to home in the Washington DC area, I took a trip down, toured their lovely venue, visited some beautiful rental showrooms, and we came up with a design for their day.
When the pandemic postponed their big wedding, we joked about them eloping somewhere fun and when Serena let me know they actually had decided to elope in Moab in the fall, I was all in.  I'd been to Moab once and they had never been…and so the adventure began.
(This adventure was featured in Brides:  An Epic Fashion-Forward Elopement in the Utah Desert and on these Instagram pages:  Brides  |  Munaluchi Bride  |  100 Layer Cake  |  Milla Nova  | Moda Operandi  |   Style Me Pretty )
Arrival Adventure
Serena & Marvin dream big, even if the party is just for eleven of their closest friends.  I love that about them.  Once the destination and date was decided, Serena found a local chef and talented videographer, a photographer from New Mexico and an air bnb big enough for all of the guests to stay together.  I planned the design while she planned an itinerary that involved flying with their closest friends and family to Salt Lake City.  They rode ORVs around the Salt Flats, took a hot air balloon ride, and enjoyed the night life before driving across Utah to Moab.
Meanwhile, I drove cross-country from Michigan in a truck loaded with rentals and decor, picked up my cousin Wendy in Colorado and we made our way to scope out the best ceremony spot in Dead Horse Point State Park with location tips from our videographer Josh Harkin.  After our scouting hike, we met the gang with grocery supplies at their Air BnB in the desert.  While they settled in and headed out for dinner at the food truck court, my cousin and I reassembled pampas grass arrangements shipped in from our DC florist and dialed in the placement of our farm tables from a Moab rental company.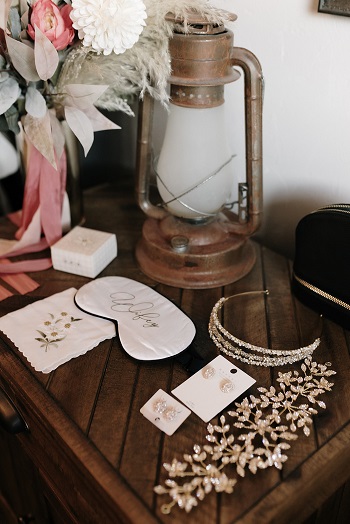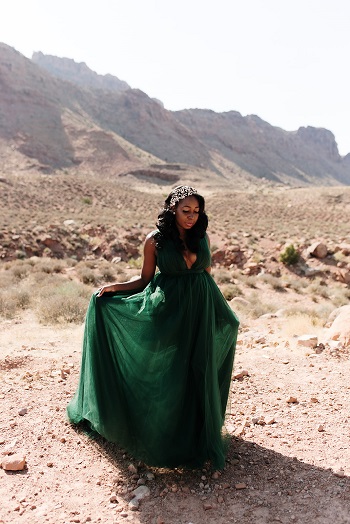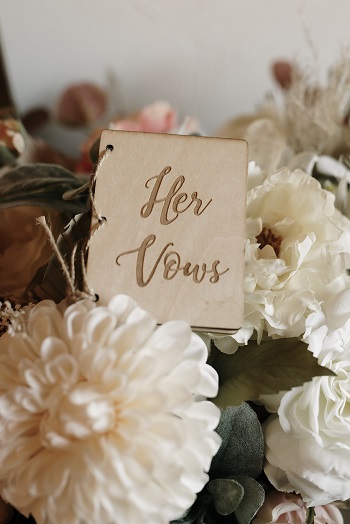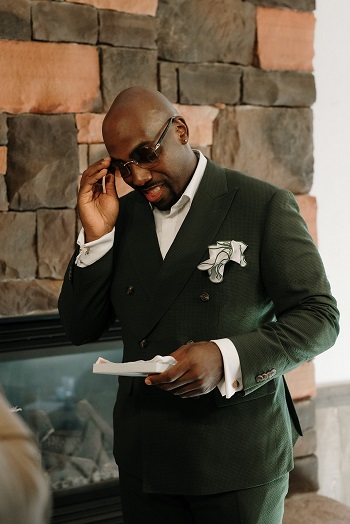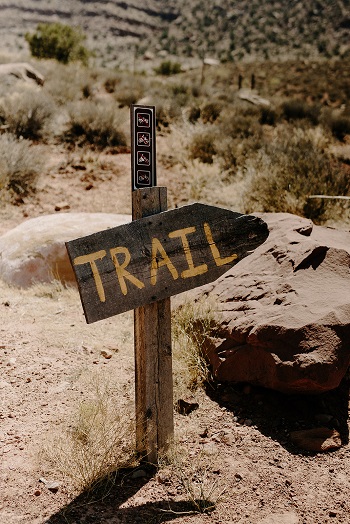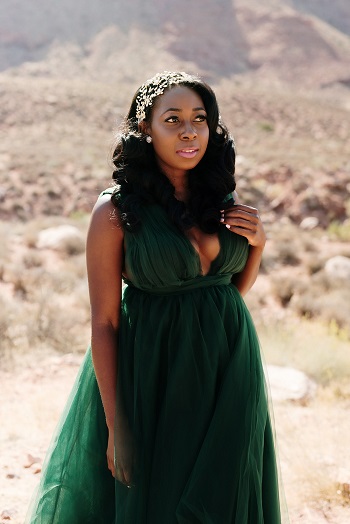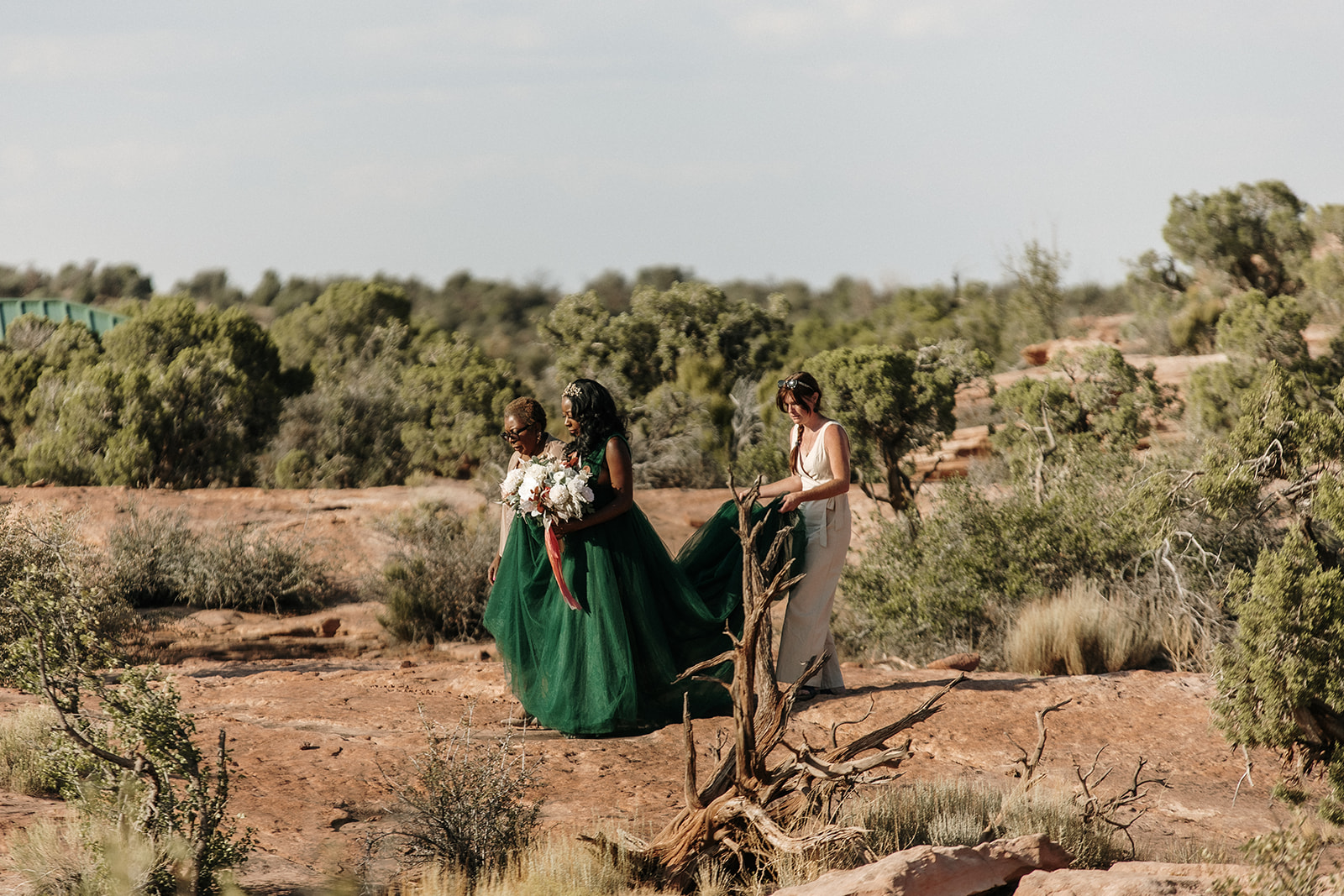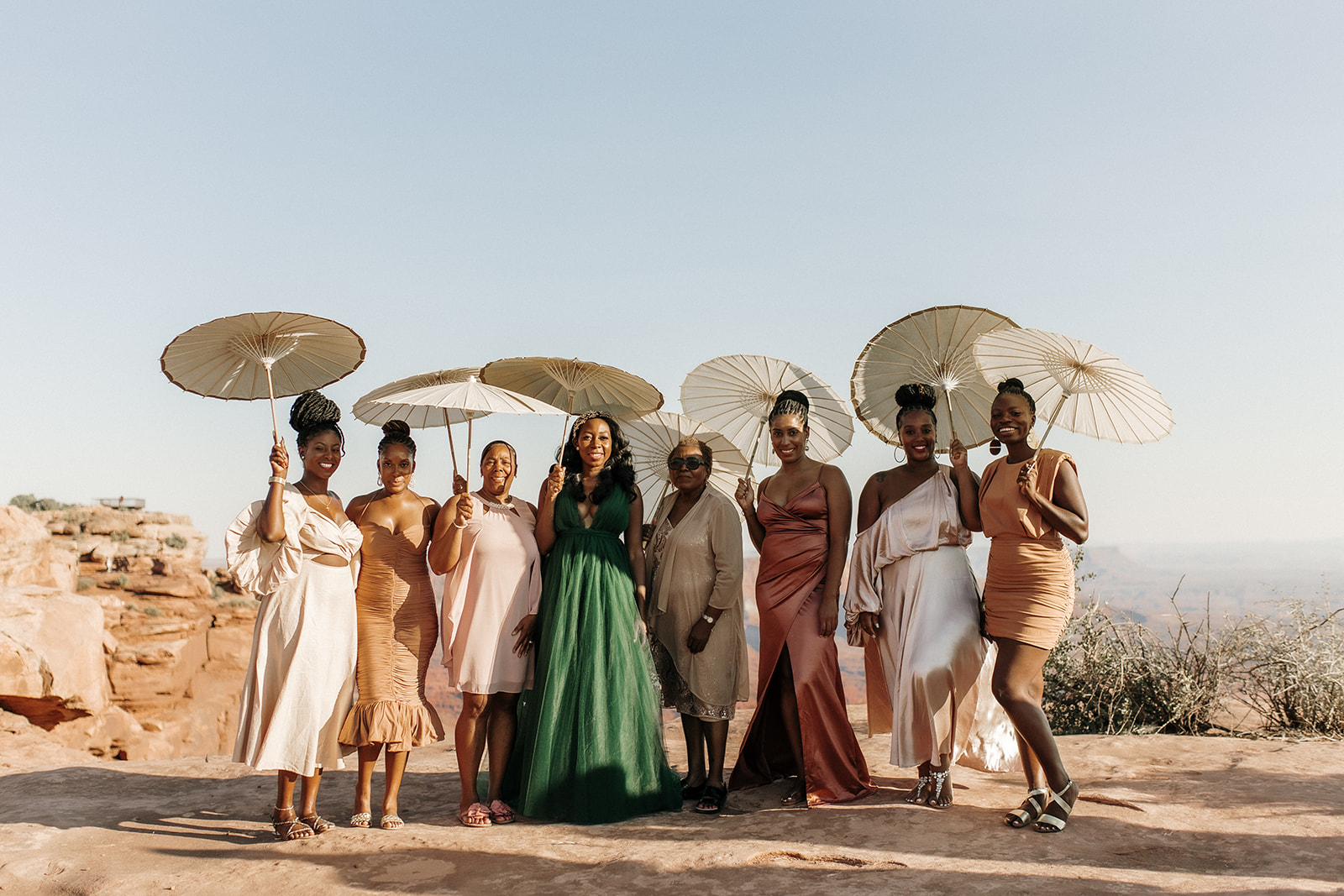 A hike in fancy clothes
On the wedding morning, Serena styled her own hair and makeup (she's a professional stylist) and the pair got ready in the air bnb with friends, careful not to see each other before their ceremony.
Meanwhile, Wendy and I set the dinner table to be photographed, then loaded chairs, pampas grass arrangements, and a cooler of champagne into our truck.  We hiked everything in to the edge of a precipice with one of the best views in the park and set a textural scene for Serena & Marvin's ceremony.
 Guests arrived dressed in high fashion according to the earth tone mood board Serena had sent them ahead of time.  Serena & Marvin were dressed in stunning emerald green like the winding river below.  The scene was a fusion of refined fashion glamor and the raw beauty of nature's glamor, stunning on every level.
After a ceremony officiated by Marvin's father, we passed out champagne for a toast and then Serena & Marvin had their first dance on "the edge of the world".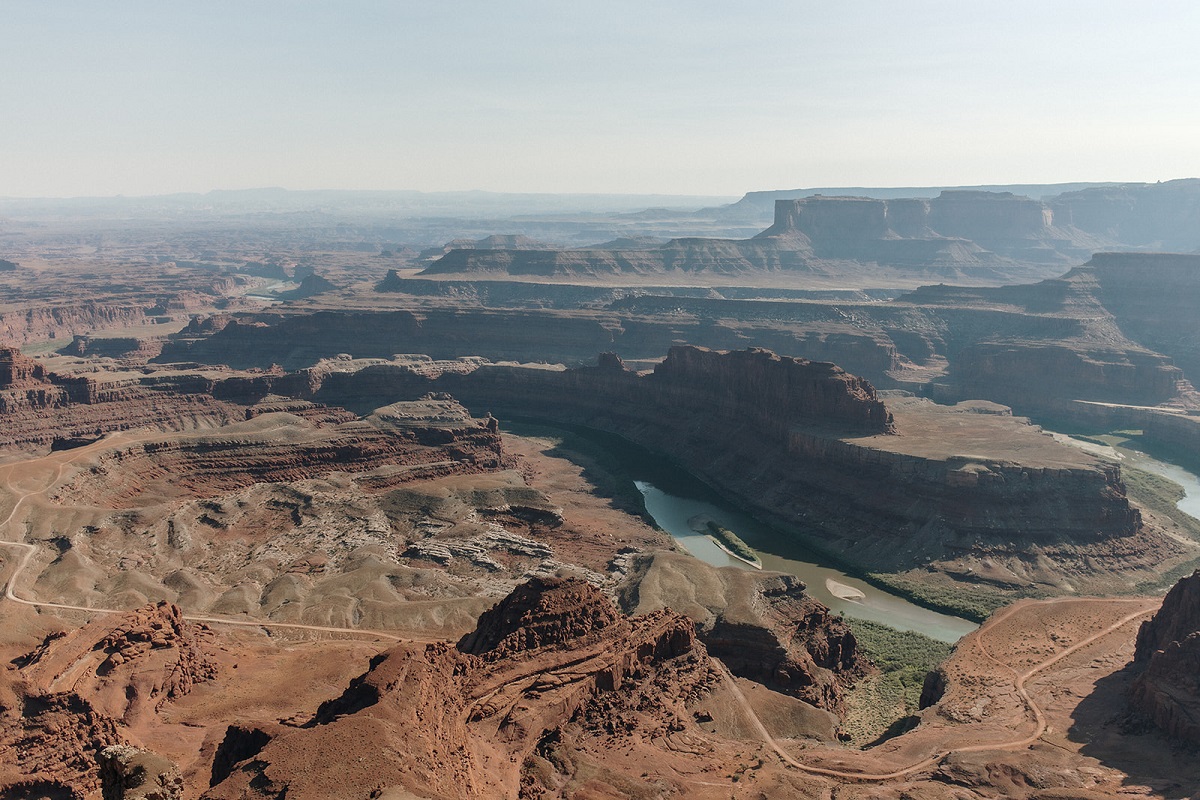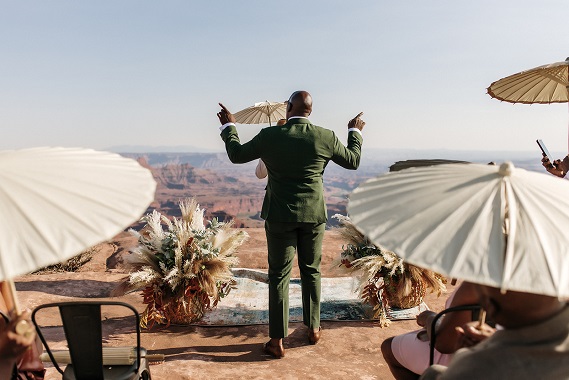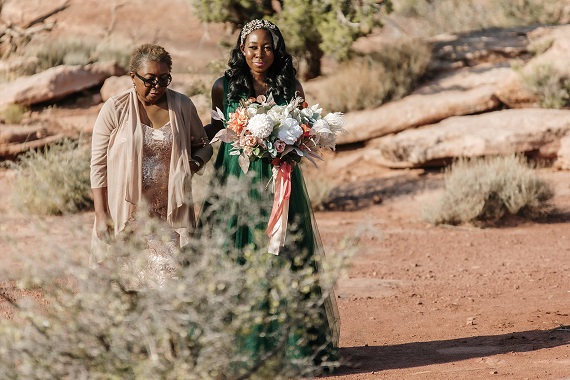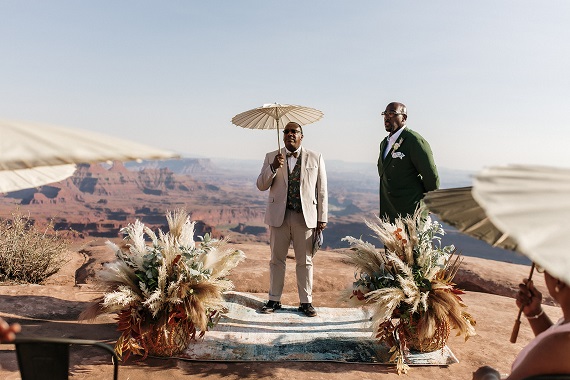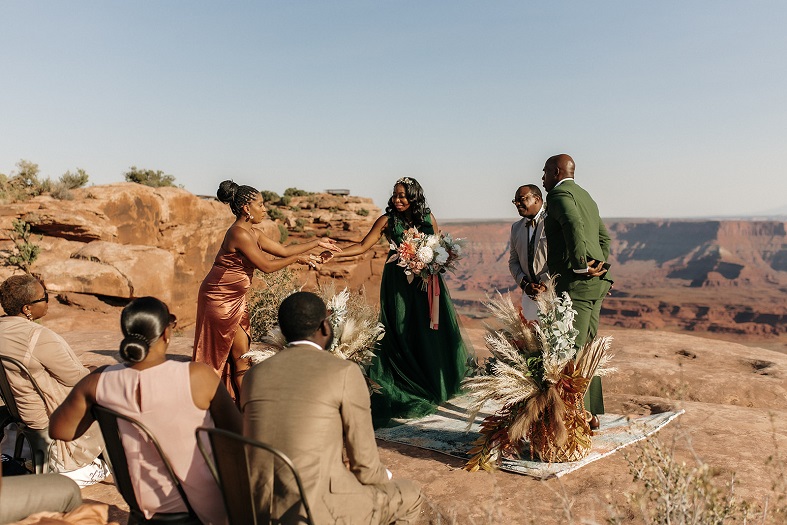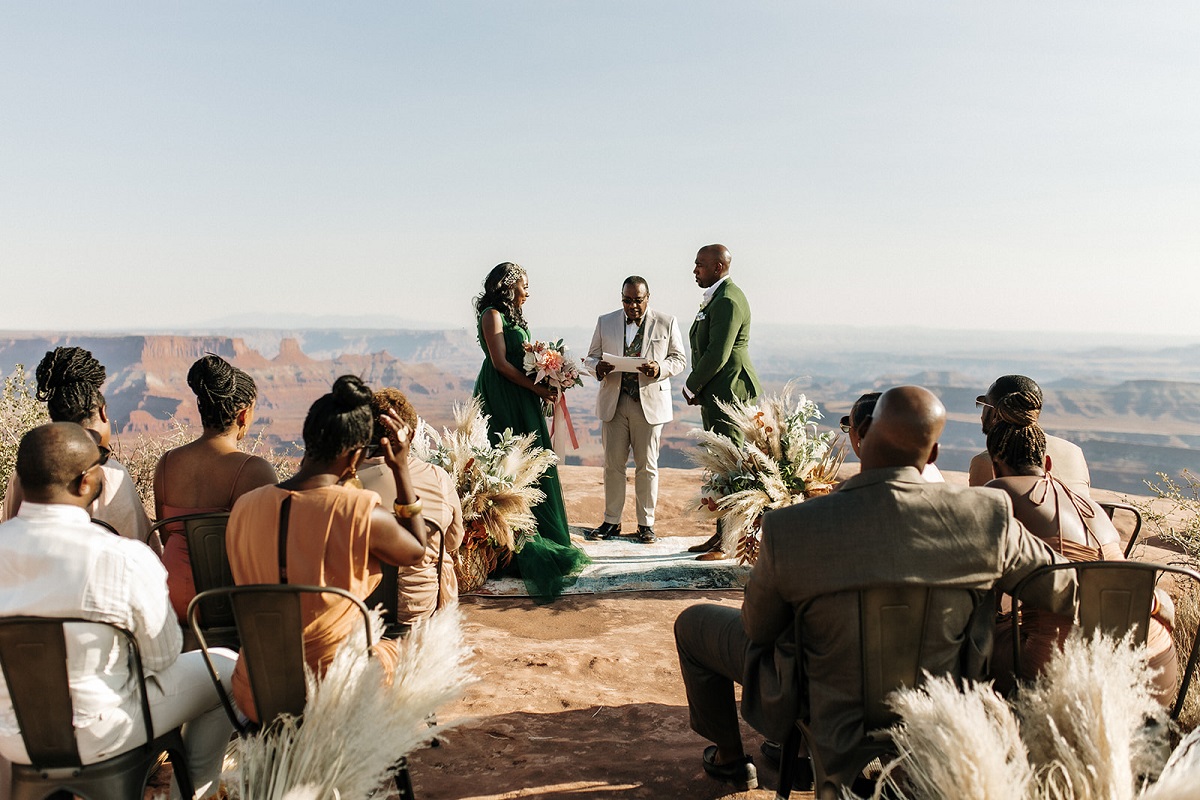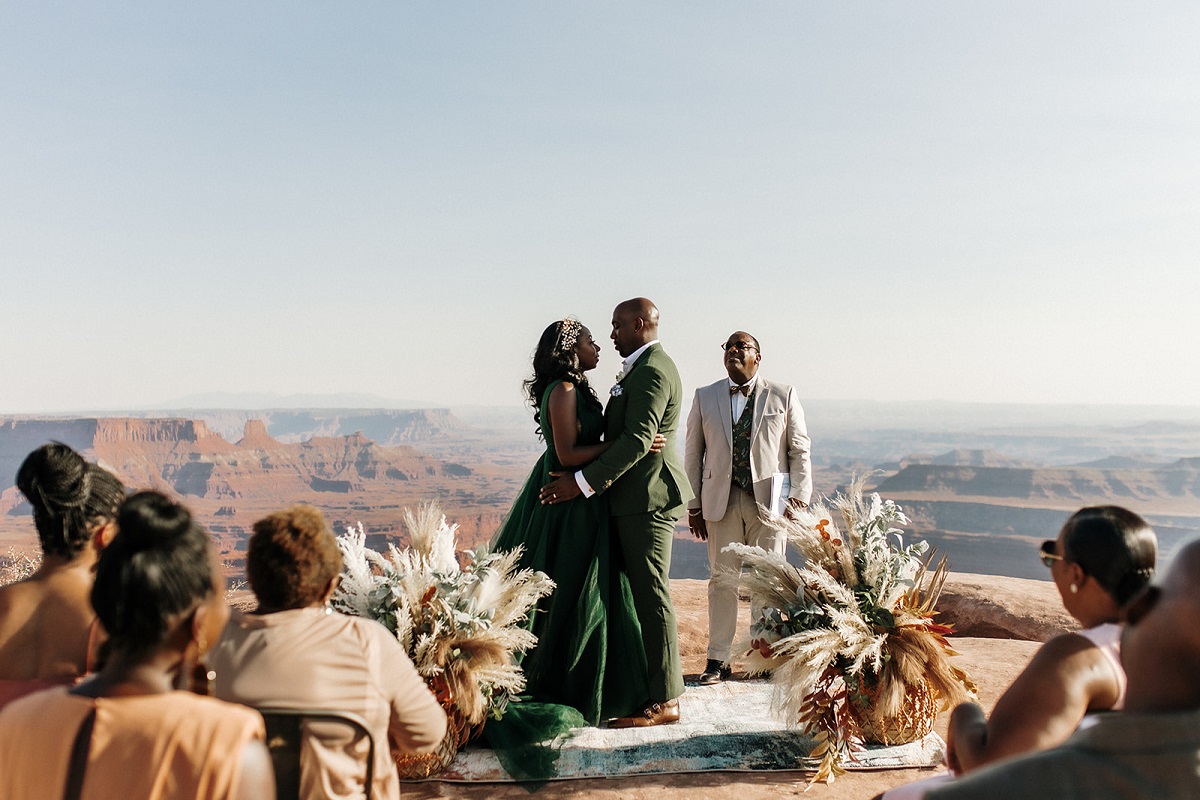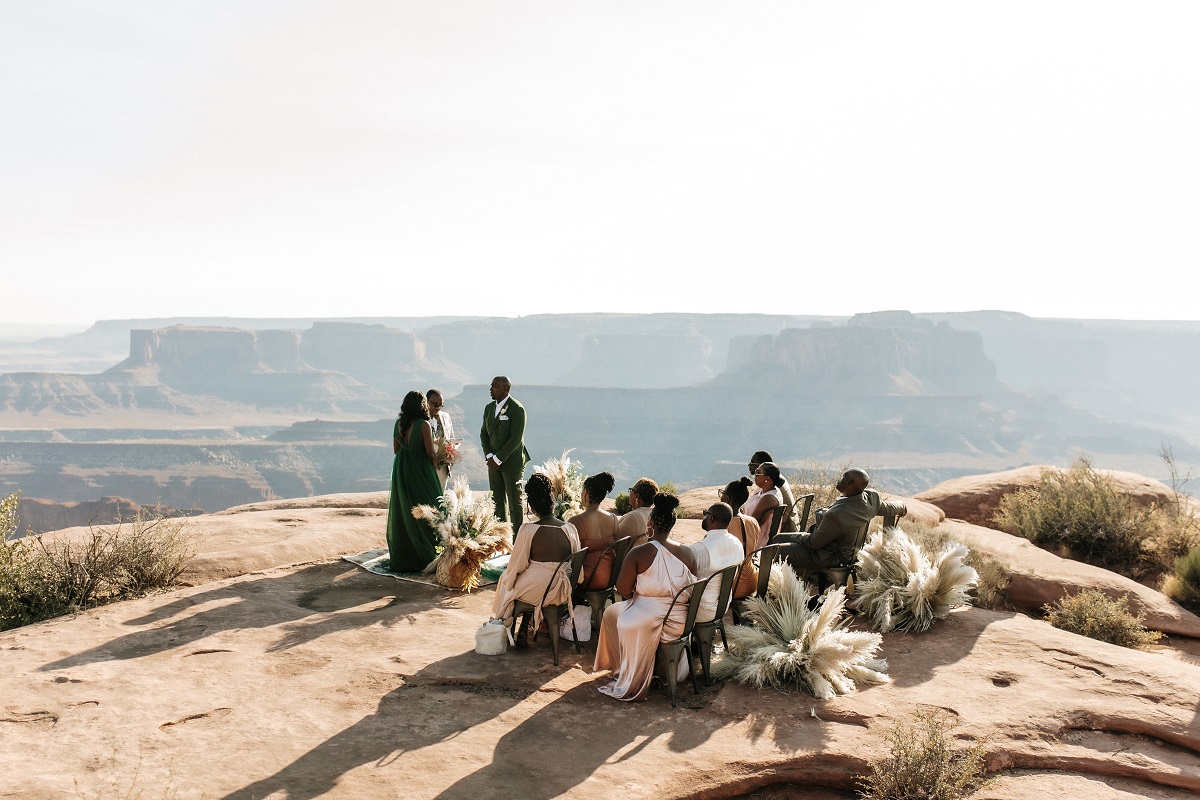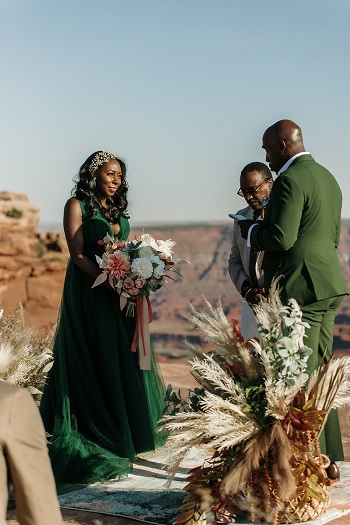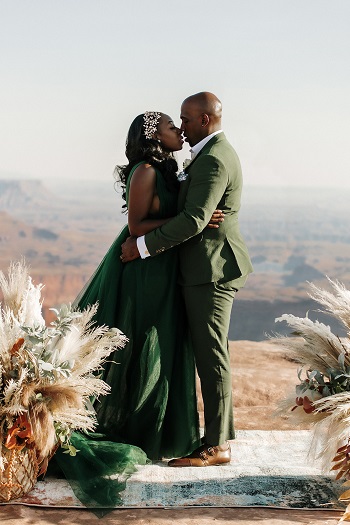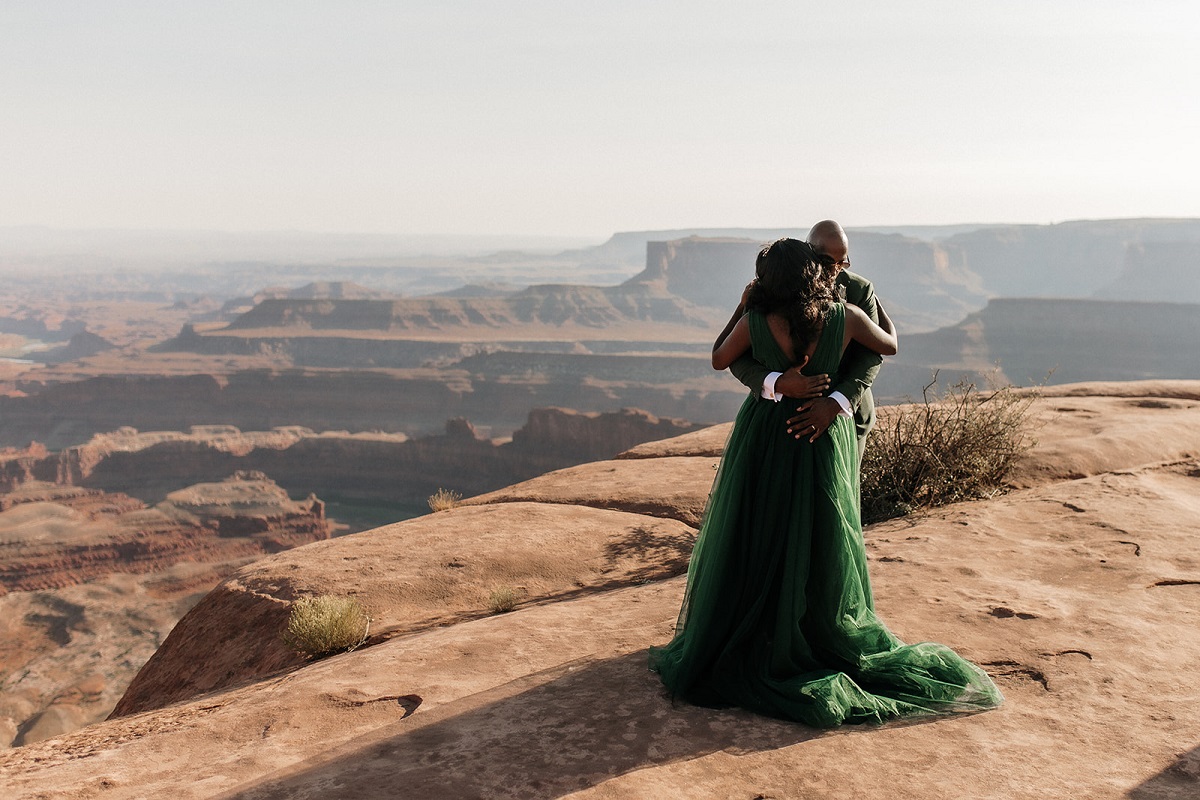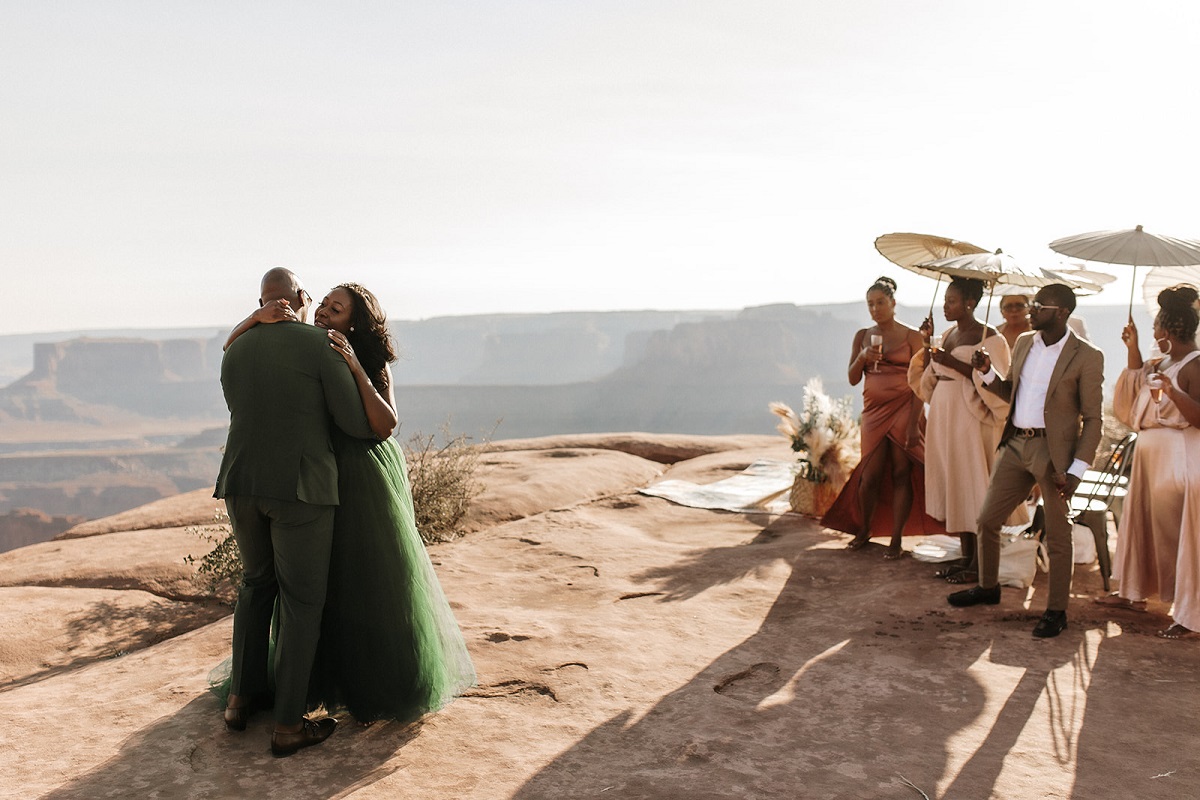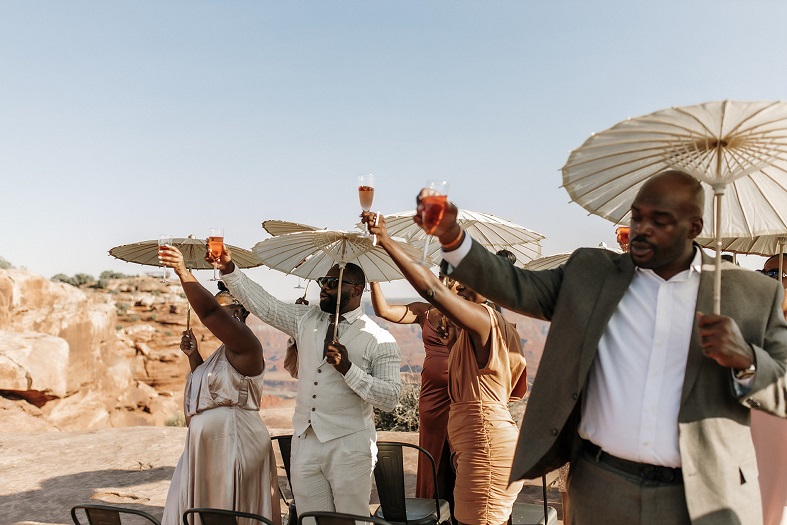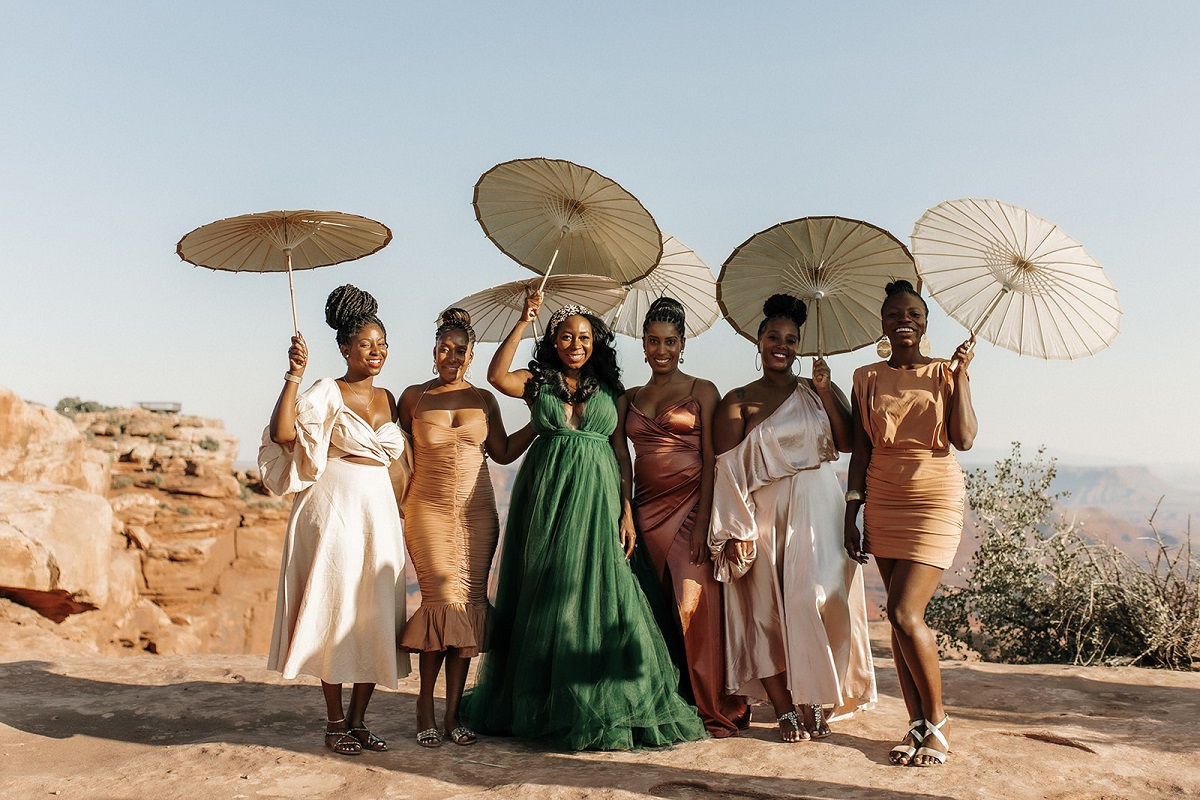 Dining in desert landscape
Serena & Marvin went on to Arches National Park for some iconic photos.  As our catering chef grilled local lamb chops and maple glazed salmon for dinner, Wendy and I lit the candles around a table inspired by the layered landscape we celebrated in.  Under towering pampas grass arrangements on copper stands, taupe candles in gold candlestands and copper votives added romantic candle light.  The layered motif of red earth cliffs in our backyard was reflected in a stoneware vase and in the chargers and ombre water goblets.  Copper flatware framed the place settings and white agate slices featured each guest's name in gold.  Small bouquets of dried pampas tied in trailing teal ribbon finished the look.
As dusk gave way to starlit skies, guests dined on the best salmon I've ever tasted.  Toasts and laughter and dances with parents under the glow of bistro lights made for a magical scene and an unforgettable experience.  In the days and weeks to follow, we like to say they "broke the internet" with features on top wedding and fashion sites.  It's how they roll – in high style with a punch of adventure.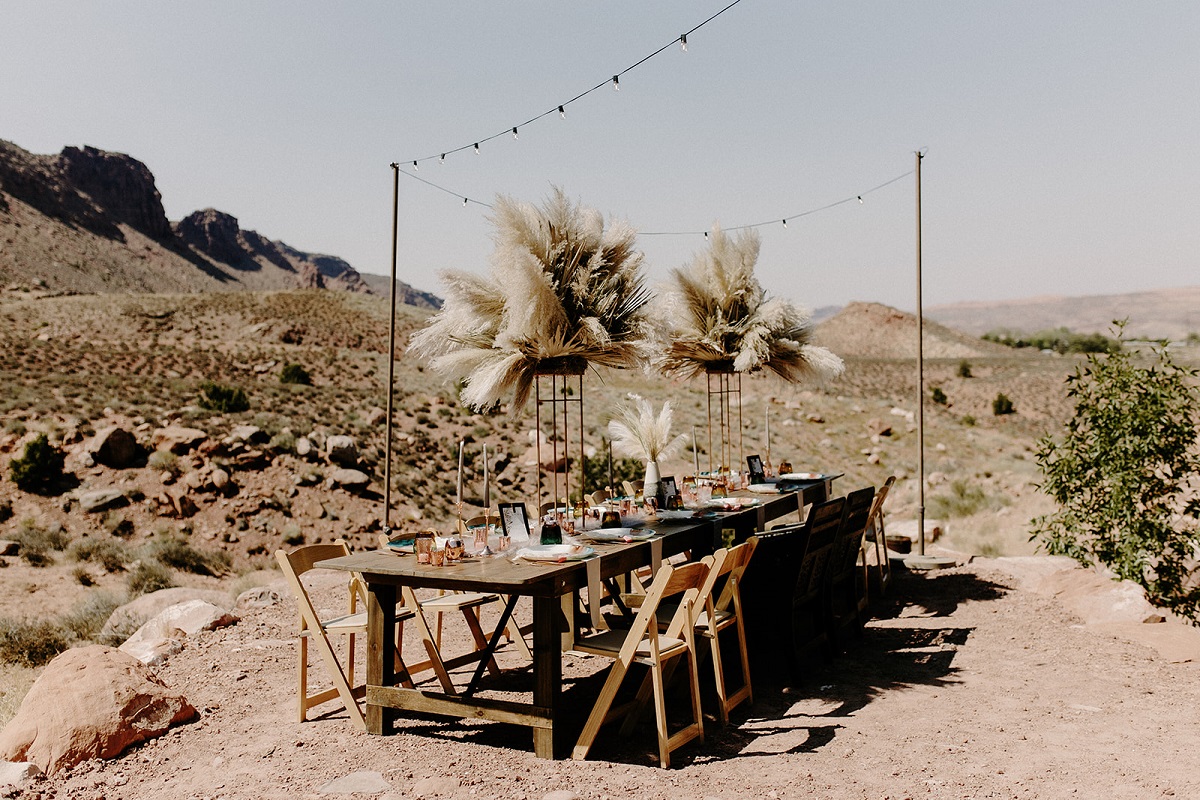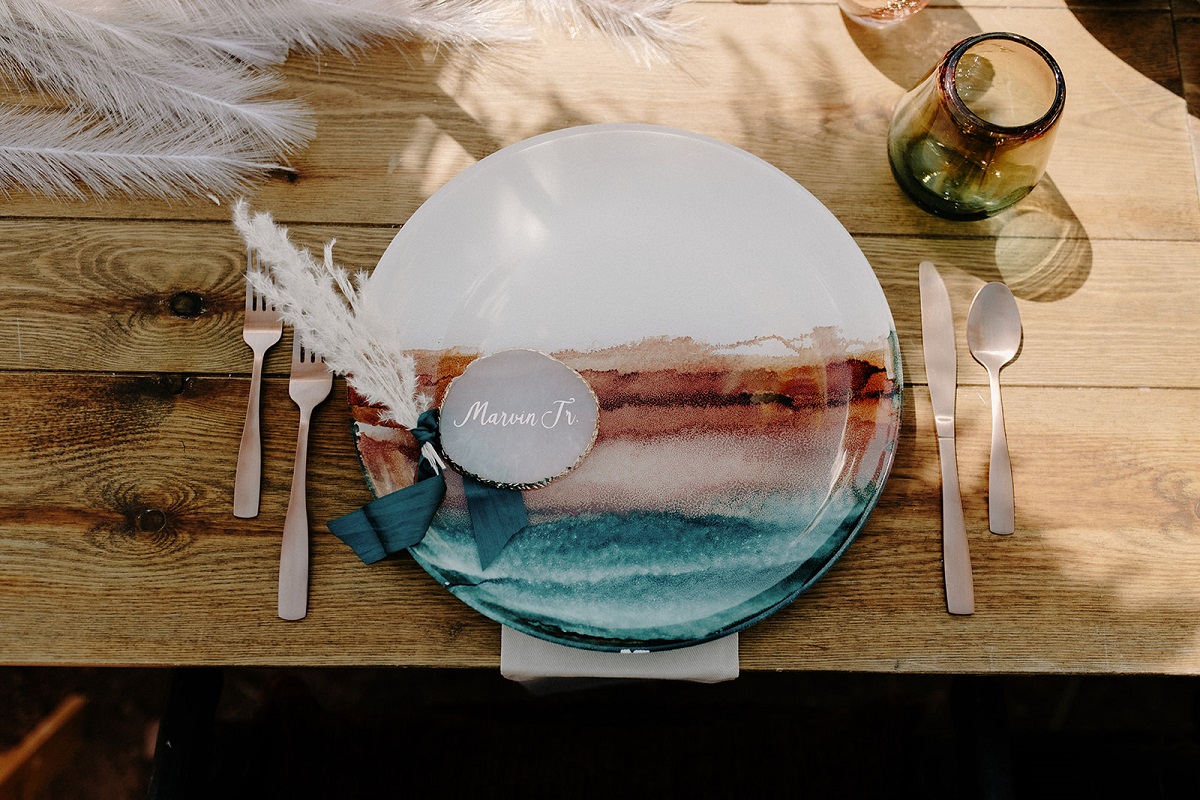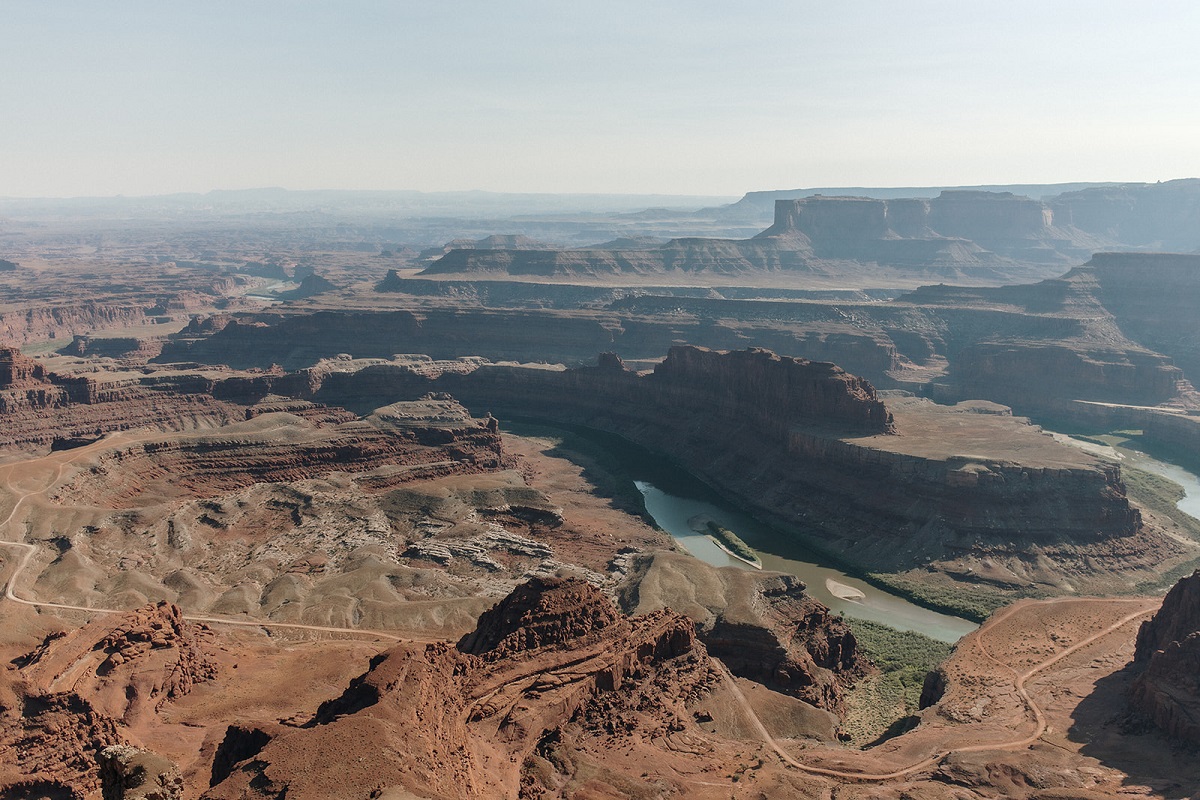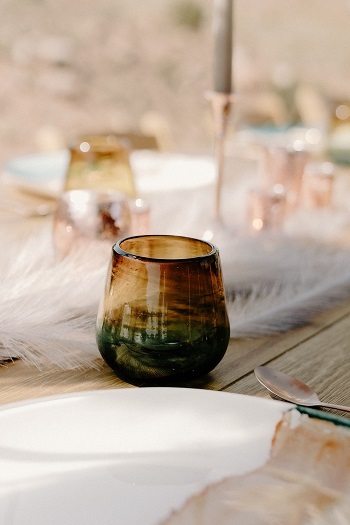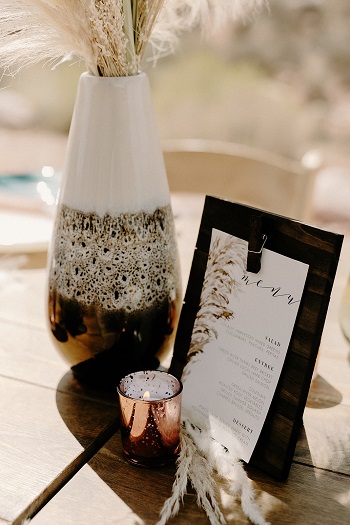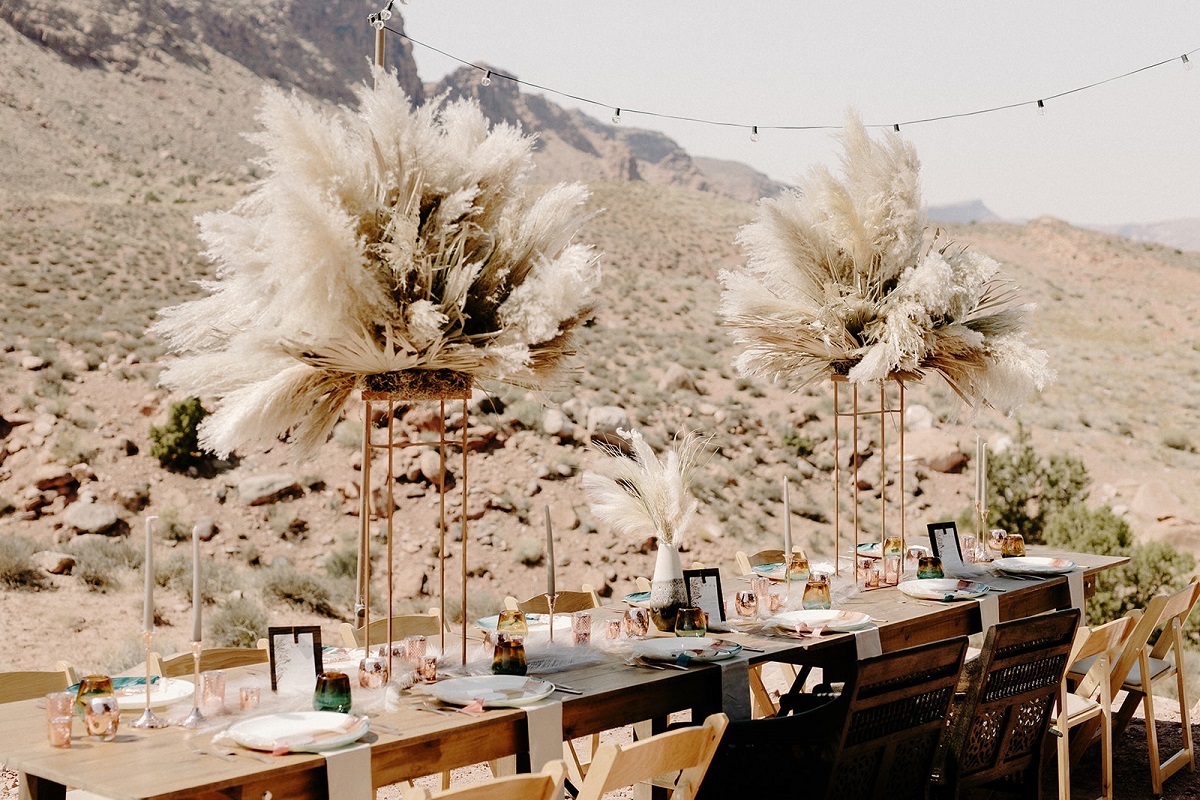 Creative Team Credits
Photography:  Elizabeth Wells Photography
Videography:  Harkan Films
Design + Coordination:  Juniper & Lace Events
Ceremony Location:  Dead Horse Point State Park
Dinner Location:  Hideout at the Rim, Air BnB
Floral Design:  Eight Tree Street Floral
Rentals:  Moab Event Services, BBJ LaTavola, Premier Floral
Catering:  South Mountain Provisions
Hair & Makeup:  Tress Art Hair (bride)
Donuts:  Doughbird
Officiant:  Father of the groom