lane + copeland // headlands dark sky park
Lake Michigan Wedding in Mackinaw City, MI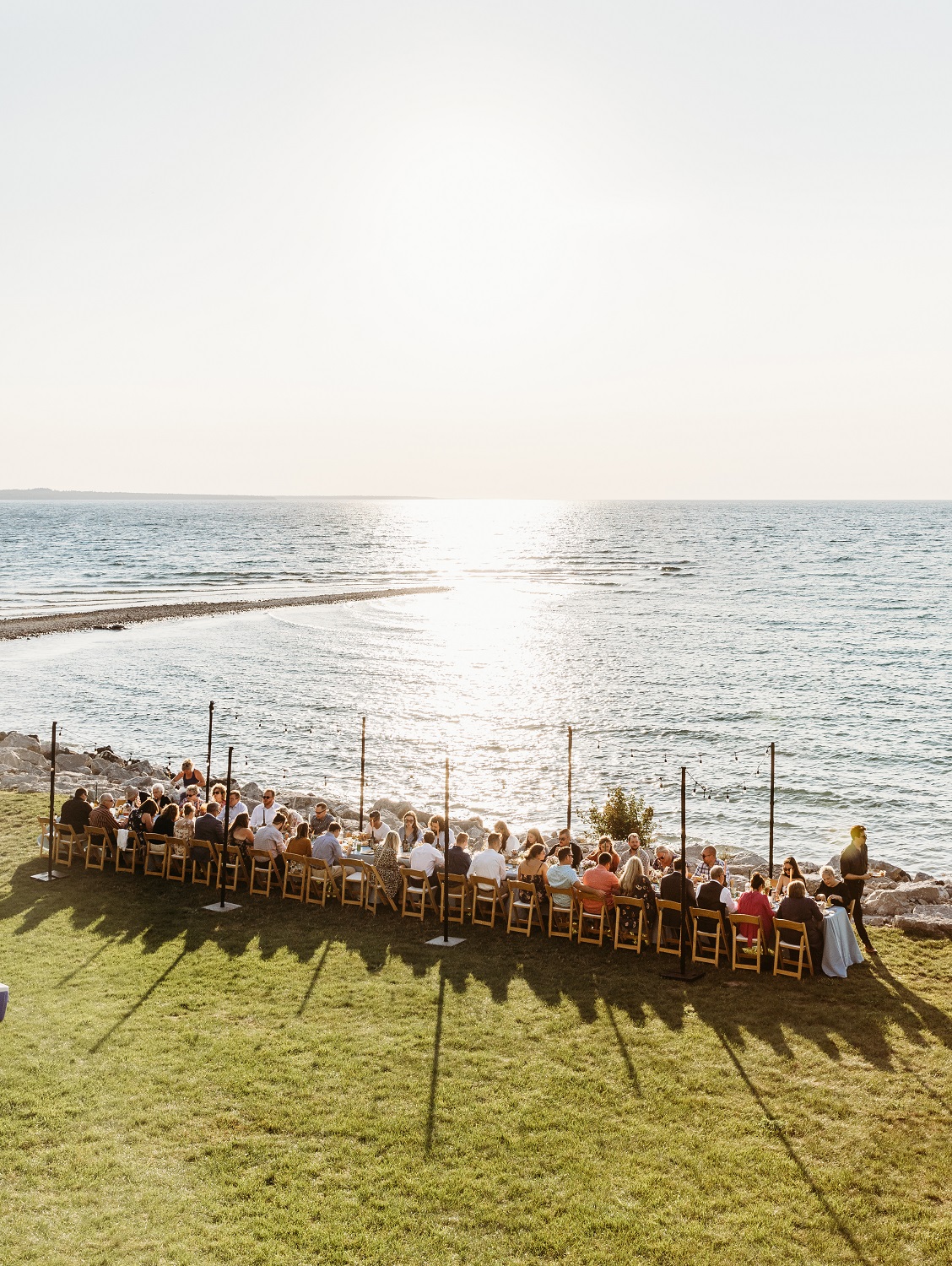 Friday Shrimp Boil
Copeland asked Lane to marry him on a trip to Mackinac Island so when we started planning their wedding, a "Mackinac Day" was always on the itinerary.  We all rolled into town on Thursday afternoon and on Friday, guests caught the island ferry, took a horse-drawn carriage tour and then enjoyed a picnic lunch in a park overlooking the marina.  
Upon return to the mainland, we did their rehearsal in the forest while the ladies from Knot Just a Shrimp Boil prepared a southern-style dinner that got rave reviews from even Copeland's southern family.  Guests dined along the lakeshore at one table set for 50 guests under bistro lights.  Lane's theme of "wildly in love" featured packets of wildflower seeds clothes-pinned to each  place setting, textured amber goblets on sky blue linens and wooden script names for each guest.  Vases of colorful floral were interspersed with taper candles of different colors and displayed in wine bottles collected by Lane & Copeland.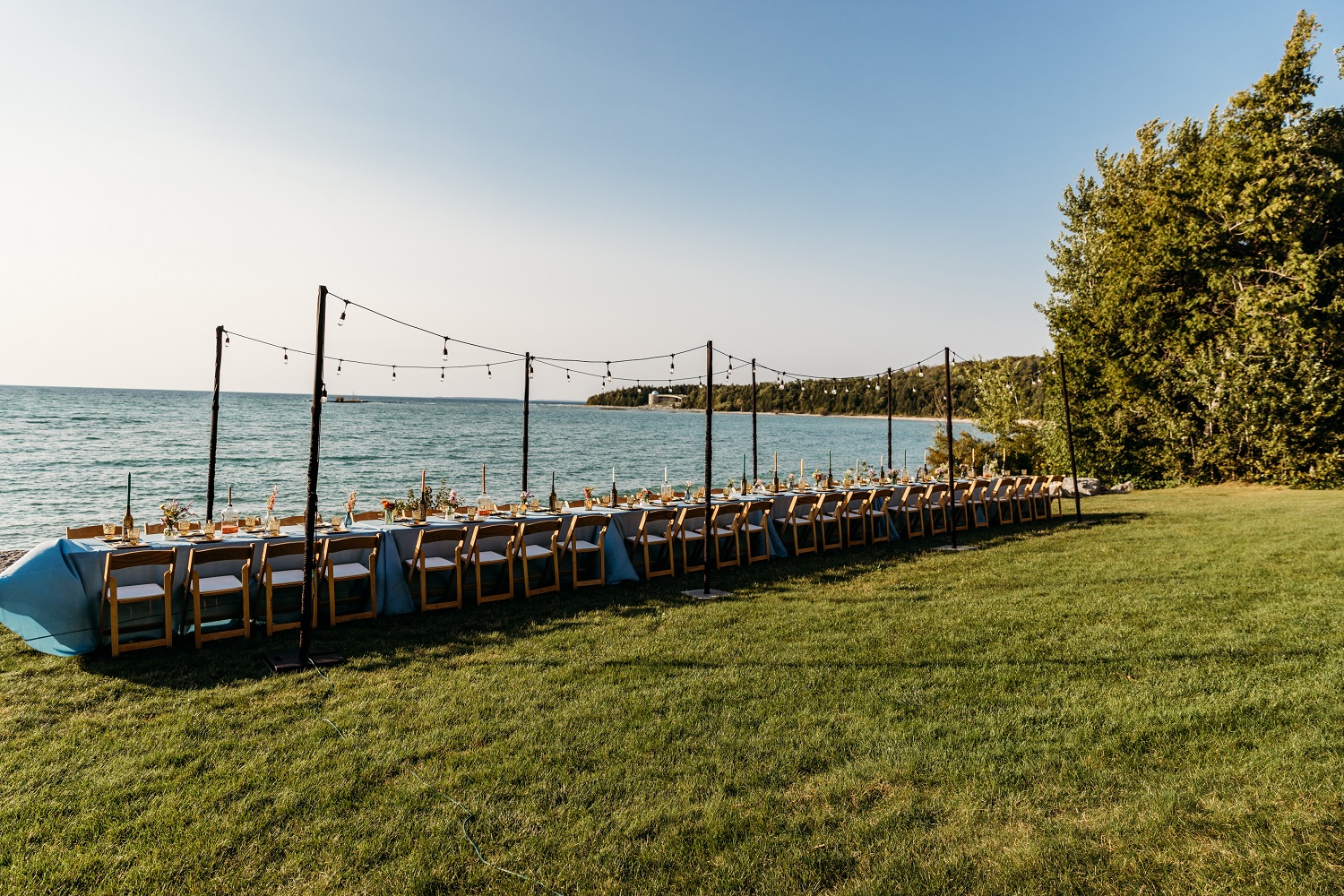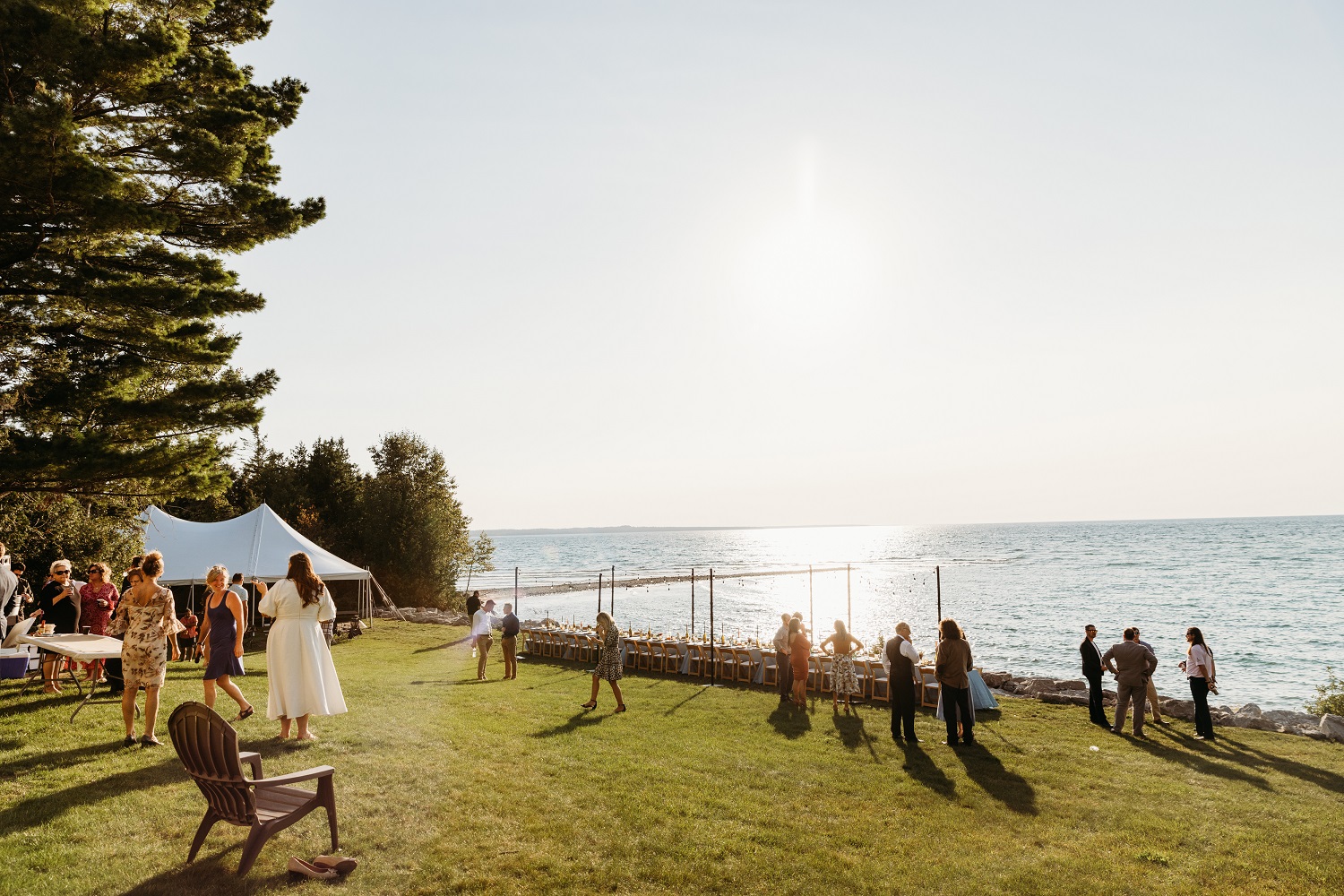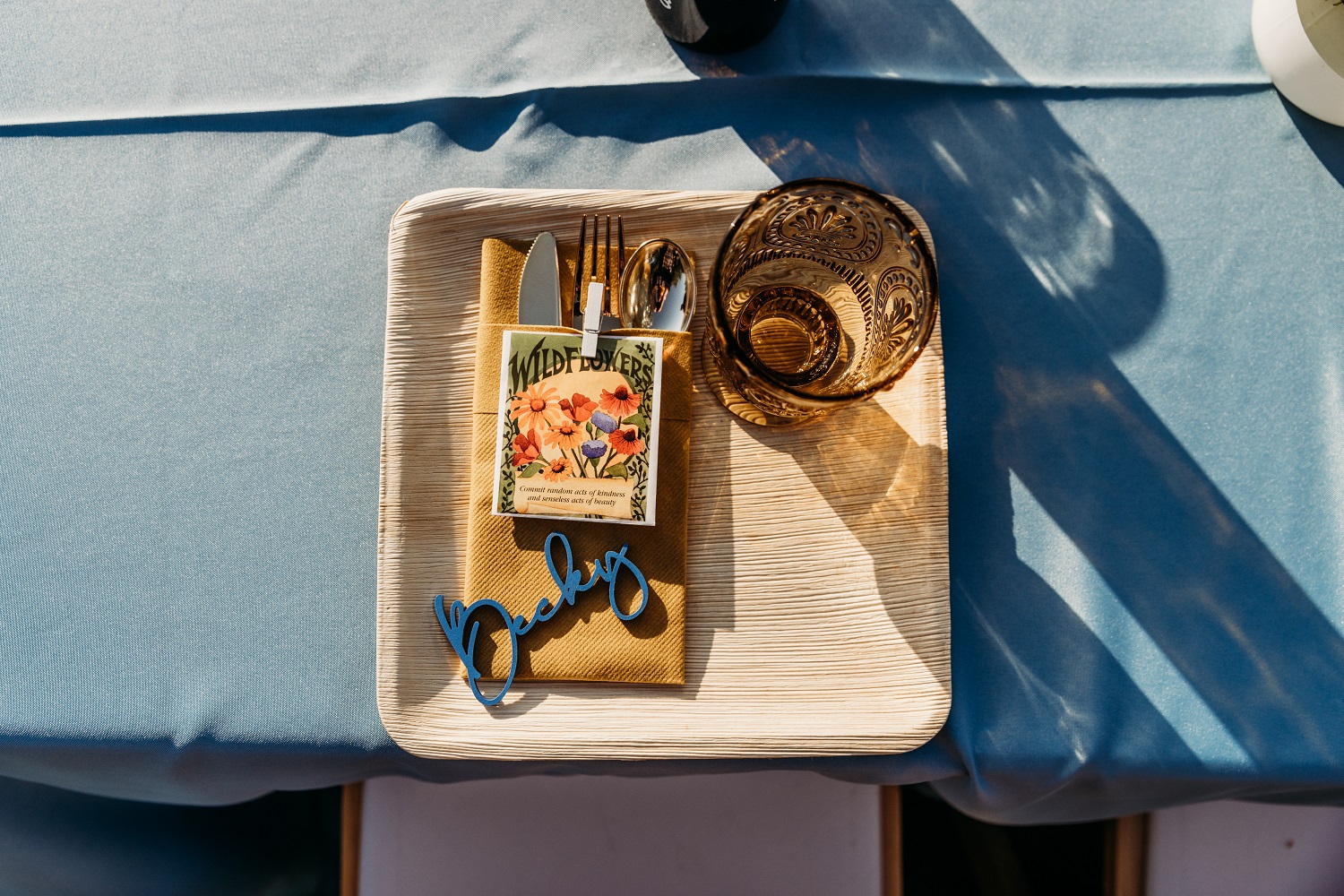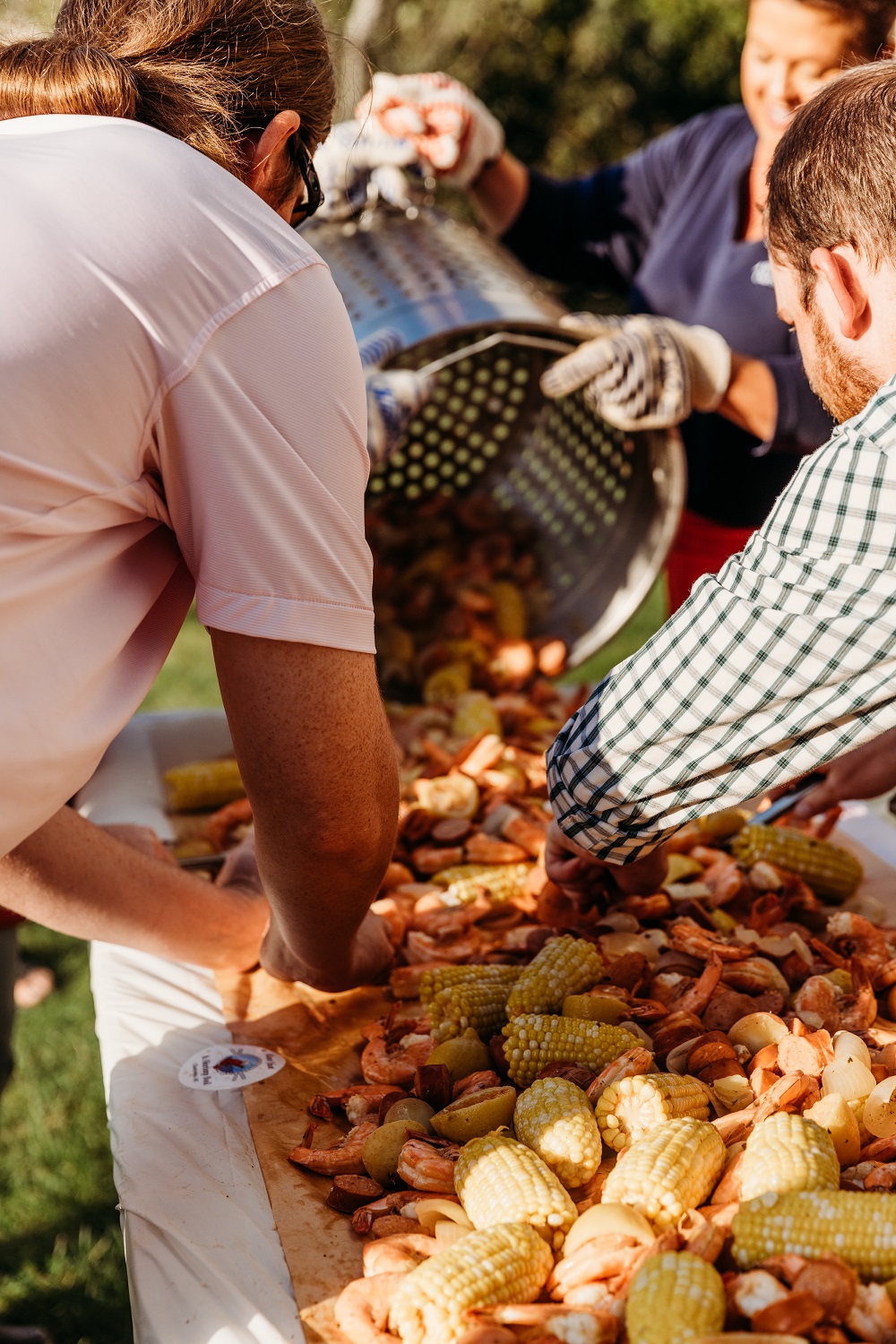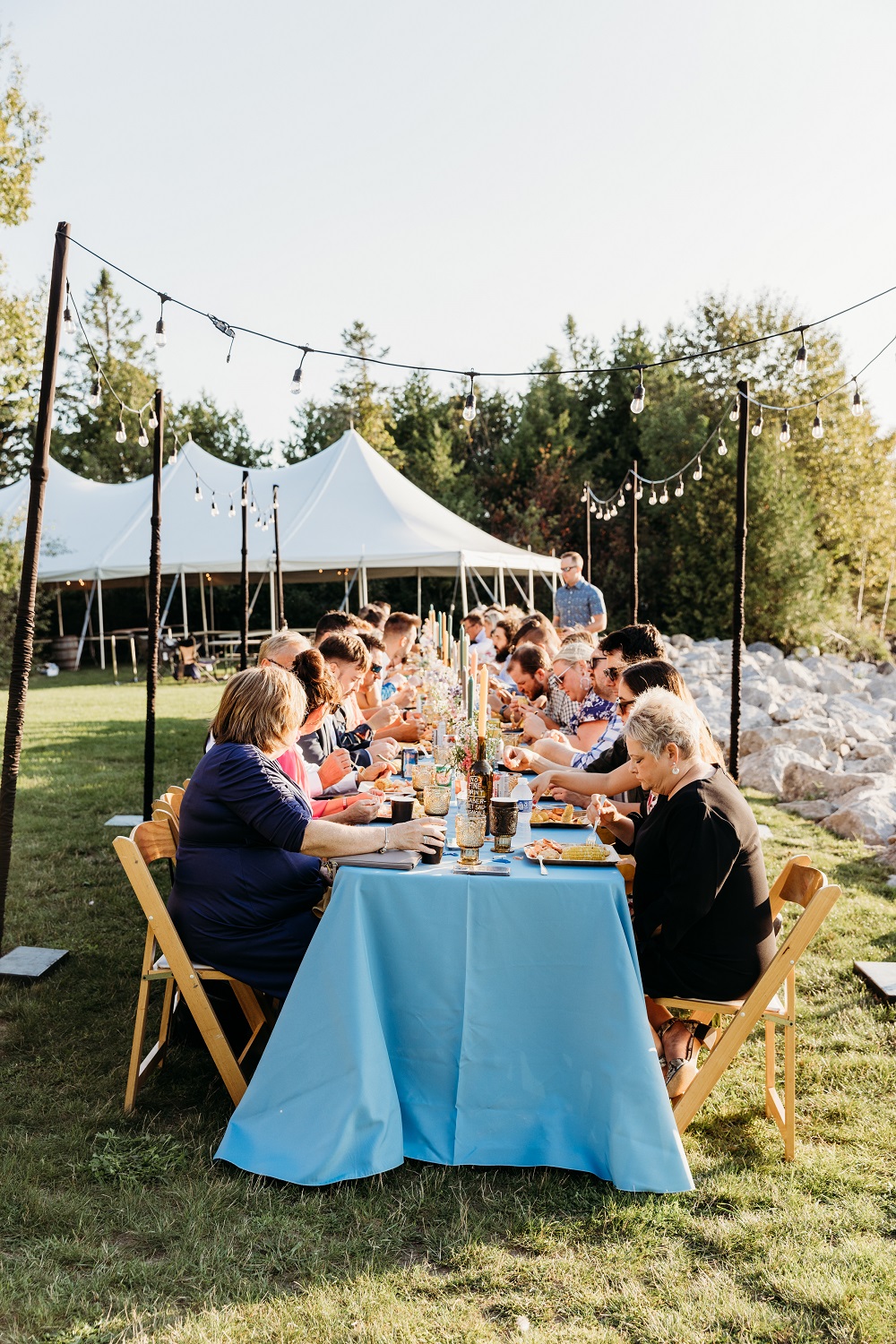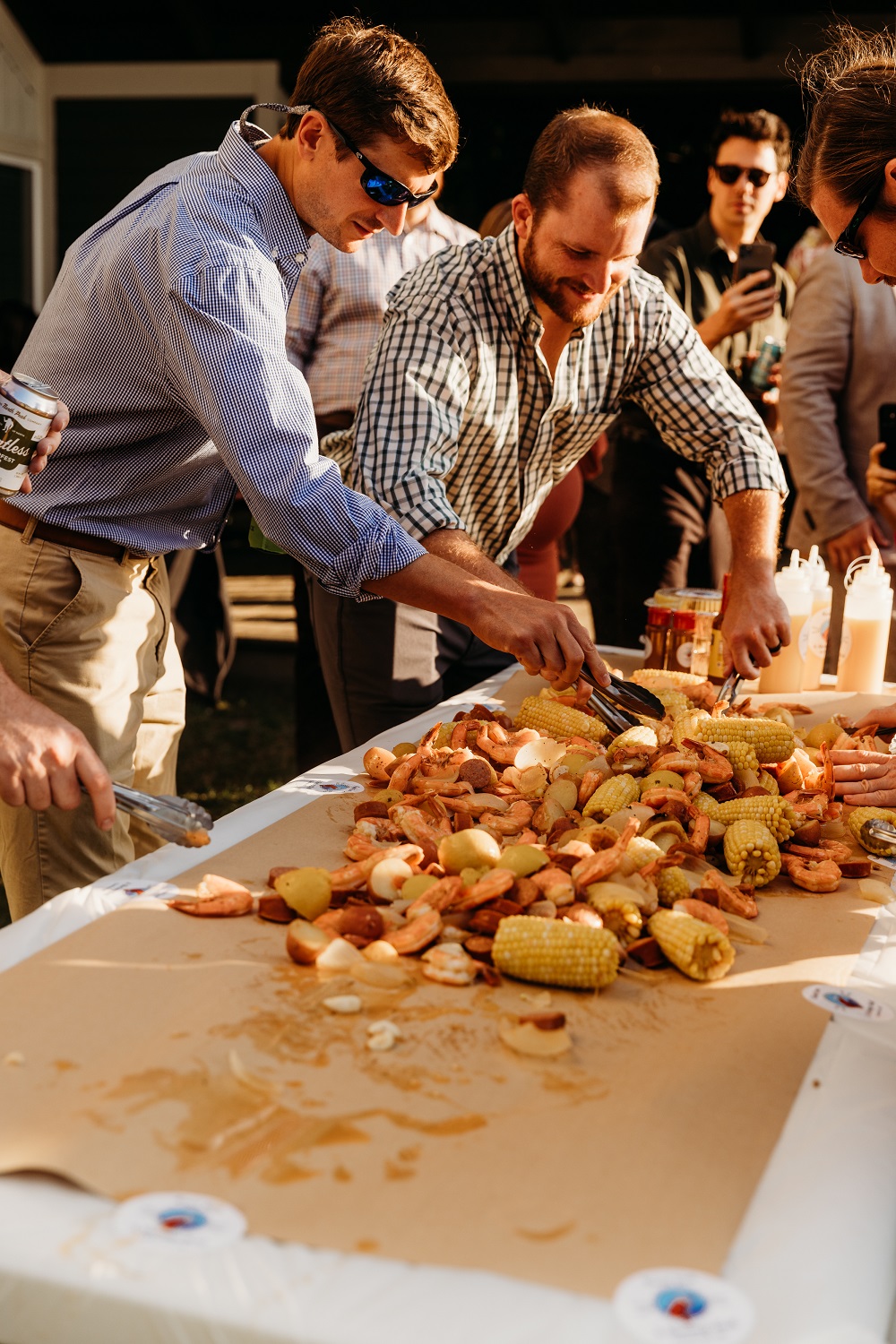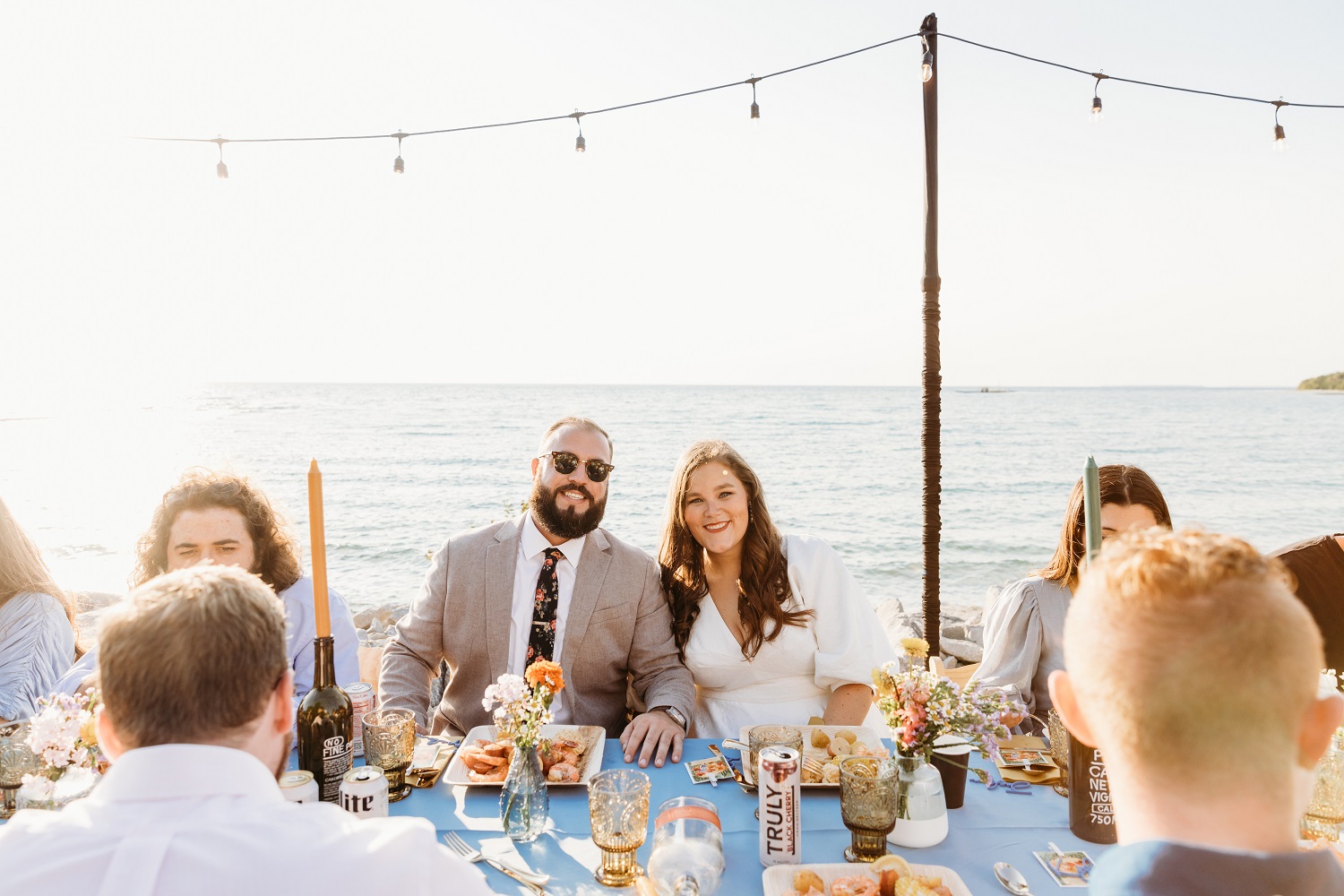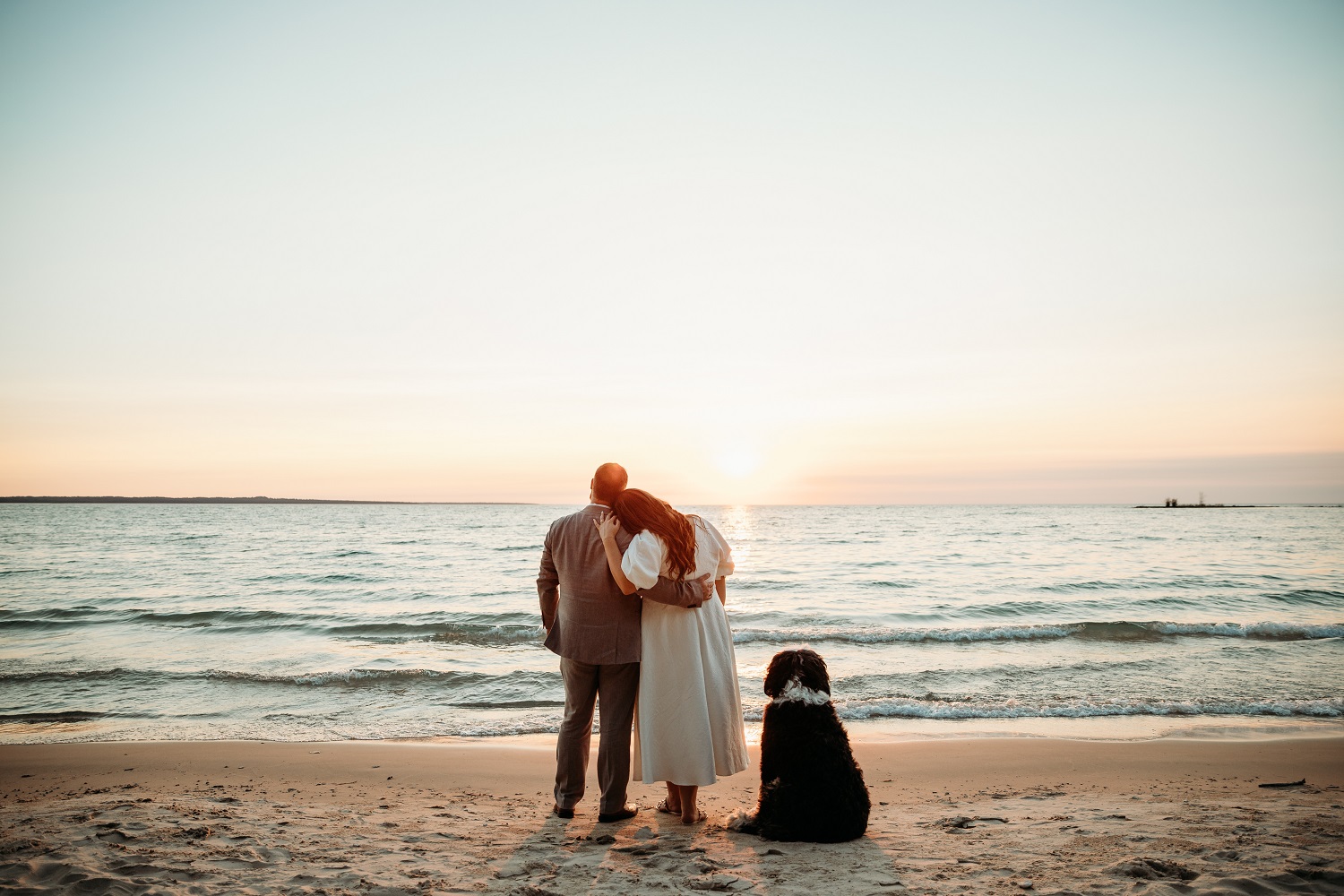 Olive in the Forest
Lane is an interior designer so we knew this wedding was going to be fun and creative.  Her favorite color is olive green so we leaned heavily into that color in the design.  Her (and Copeland's) favorite dog is Olive so naturally, Olive was adorned in a floral necklace and assigned greeter duties.  She rocked it.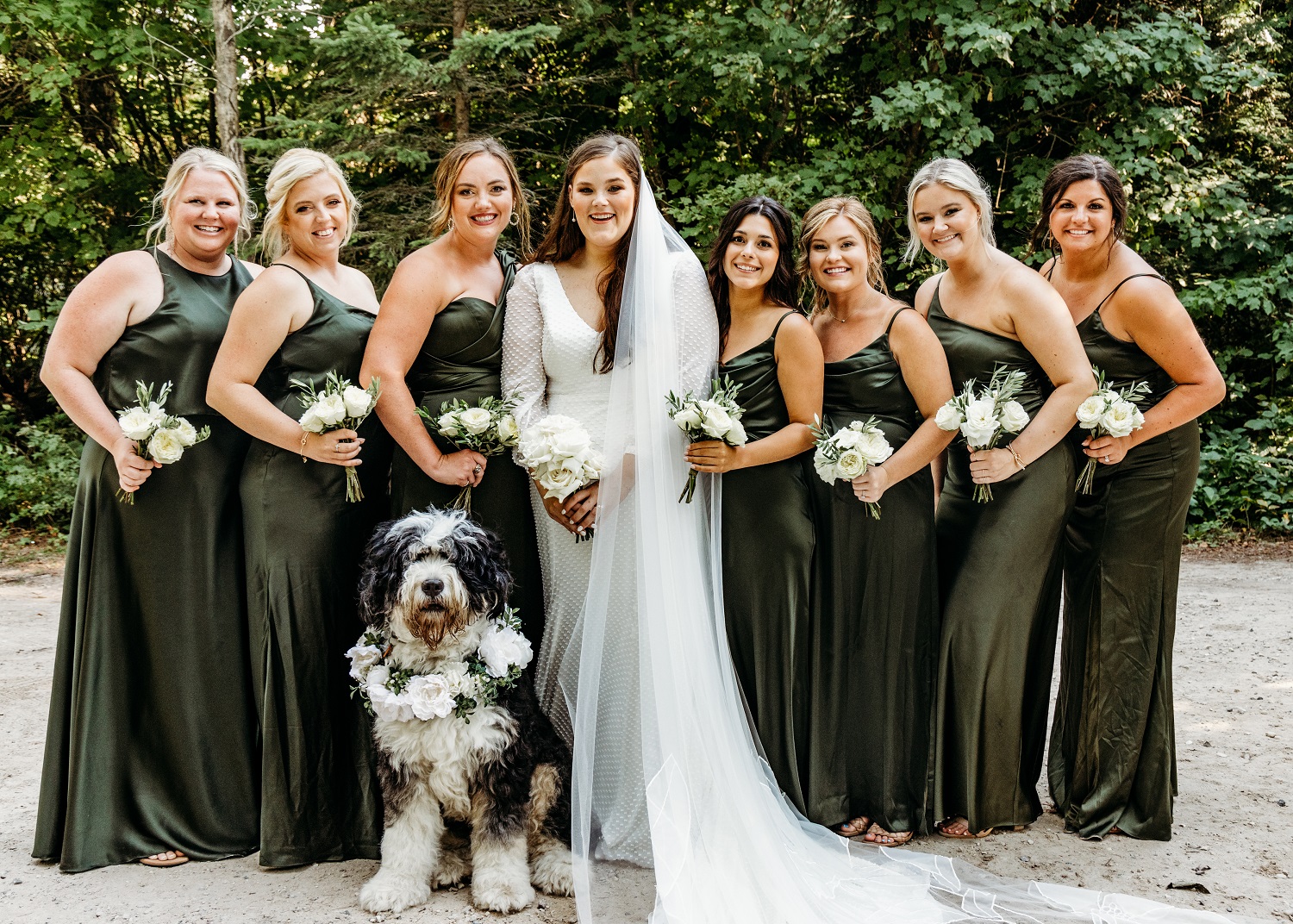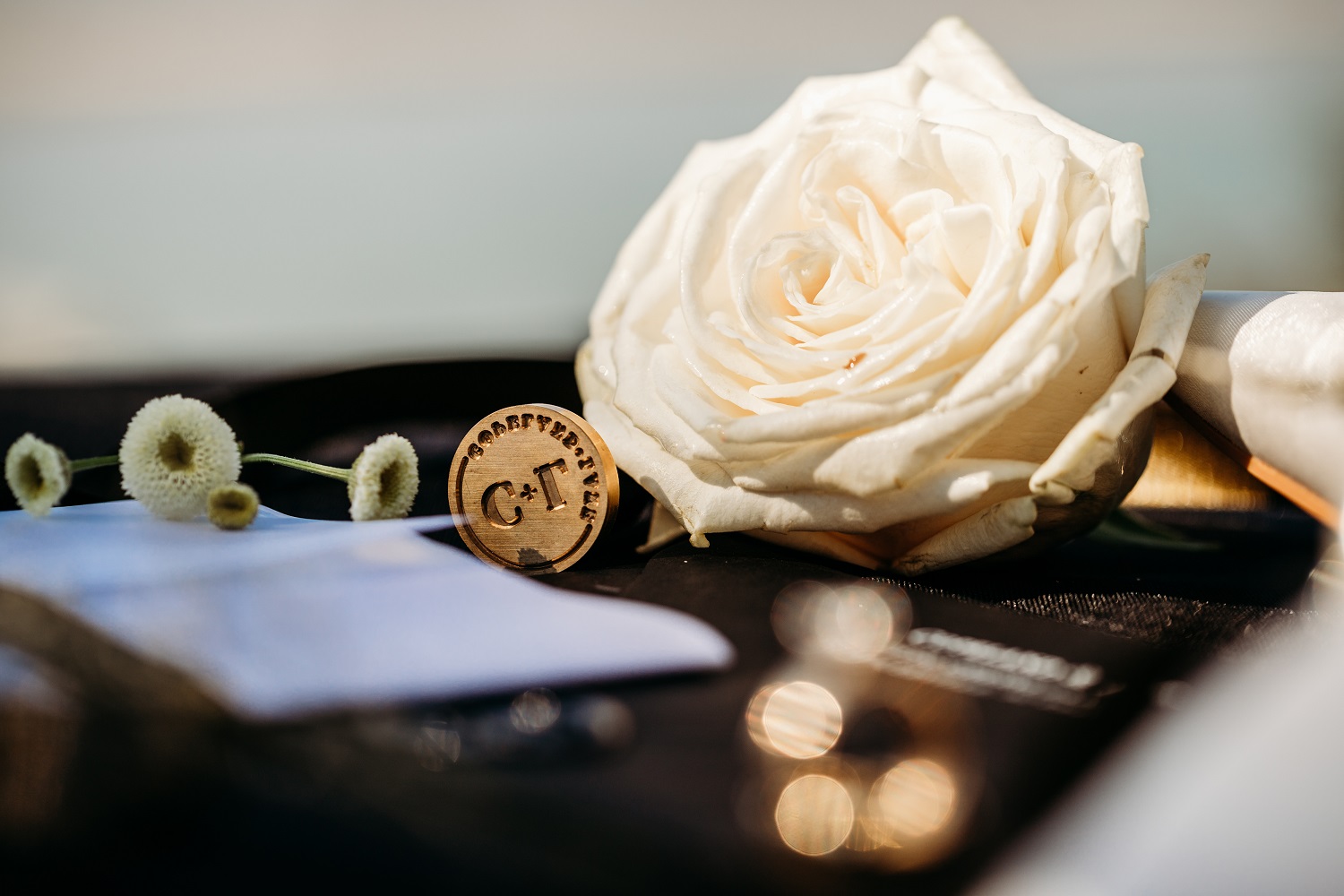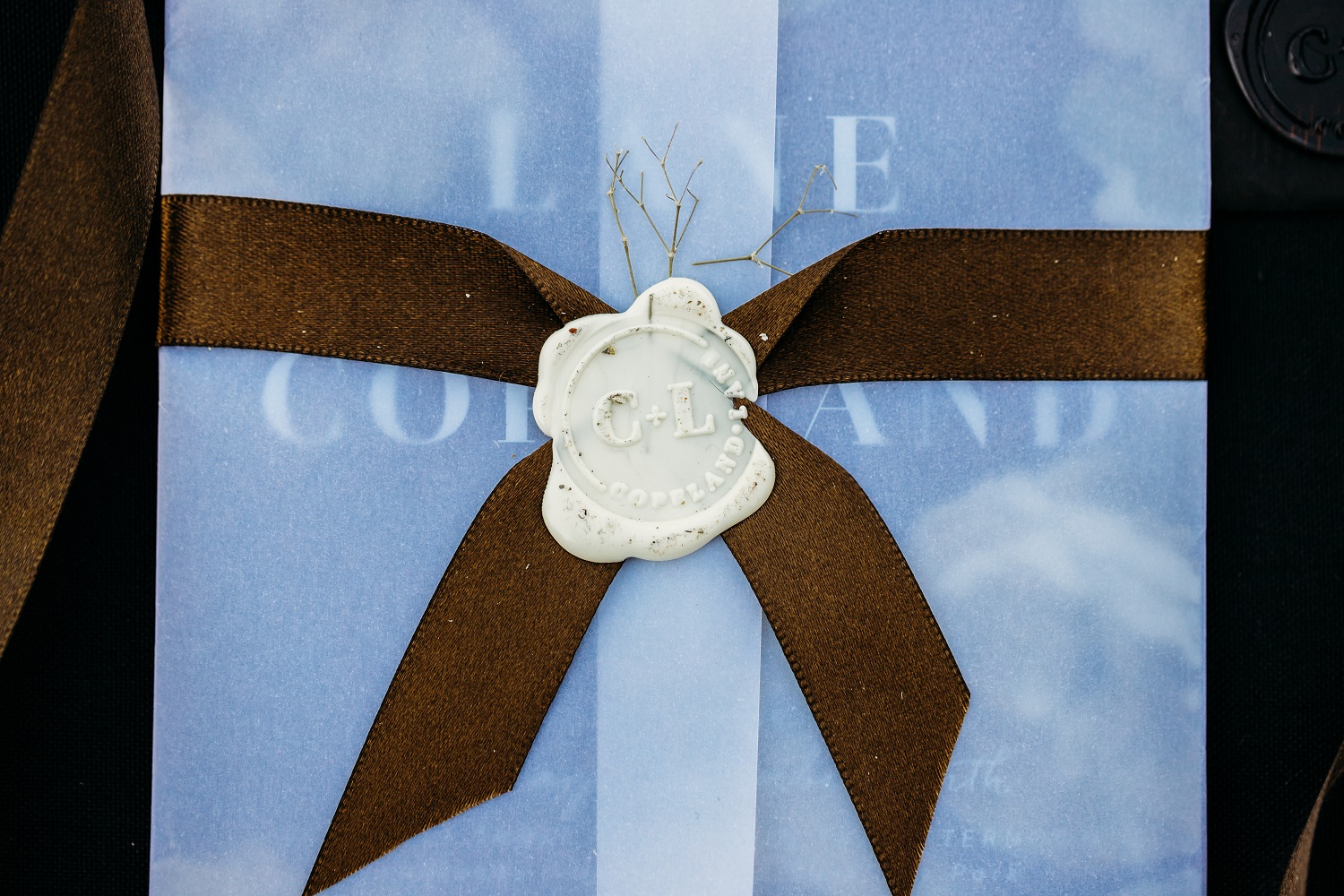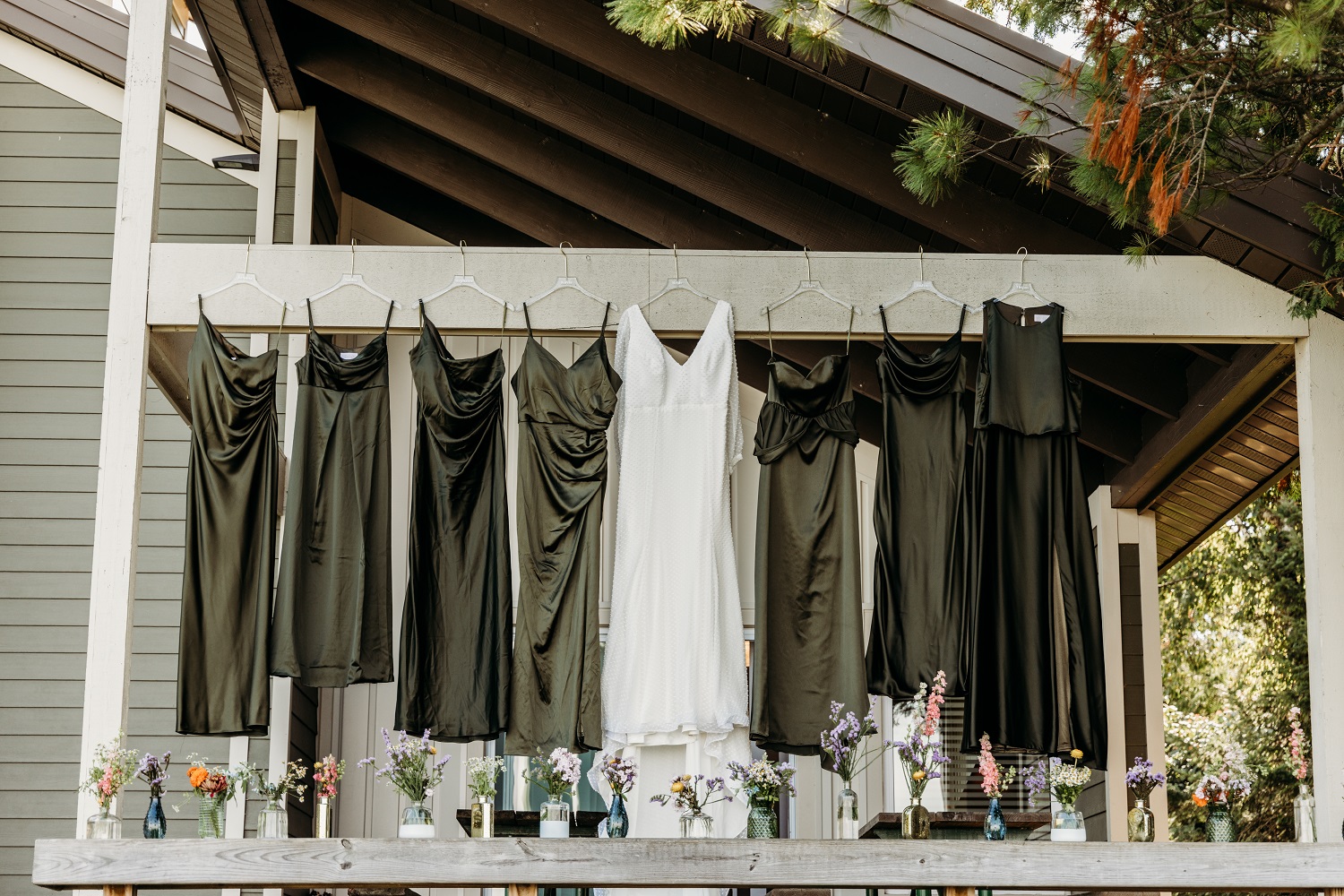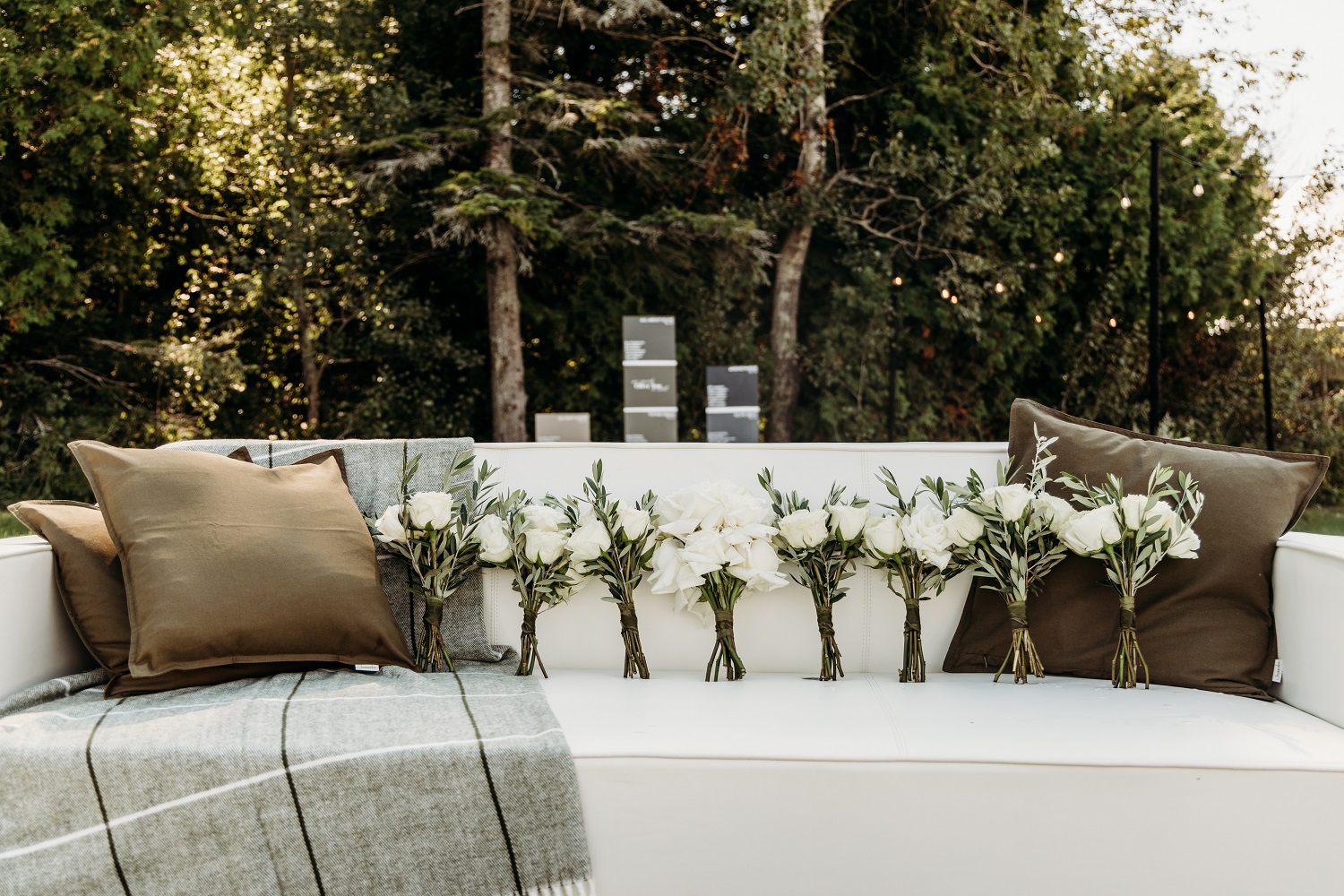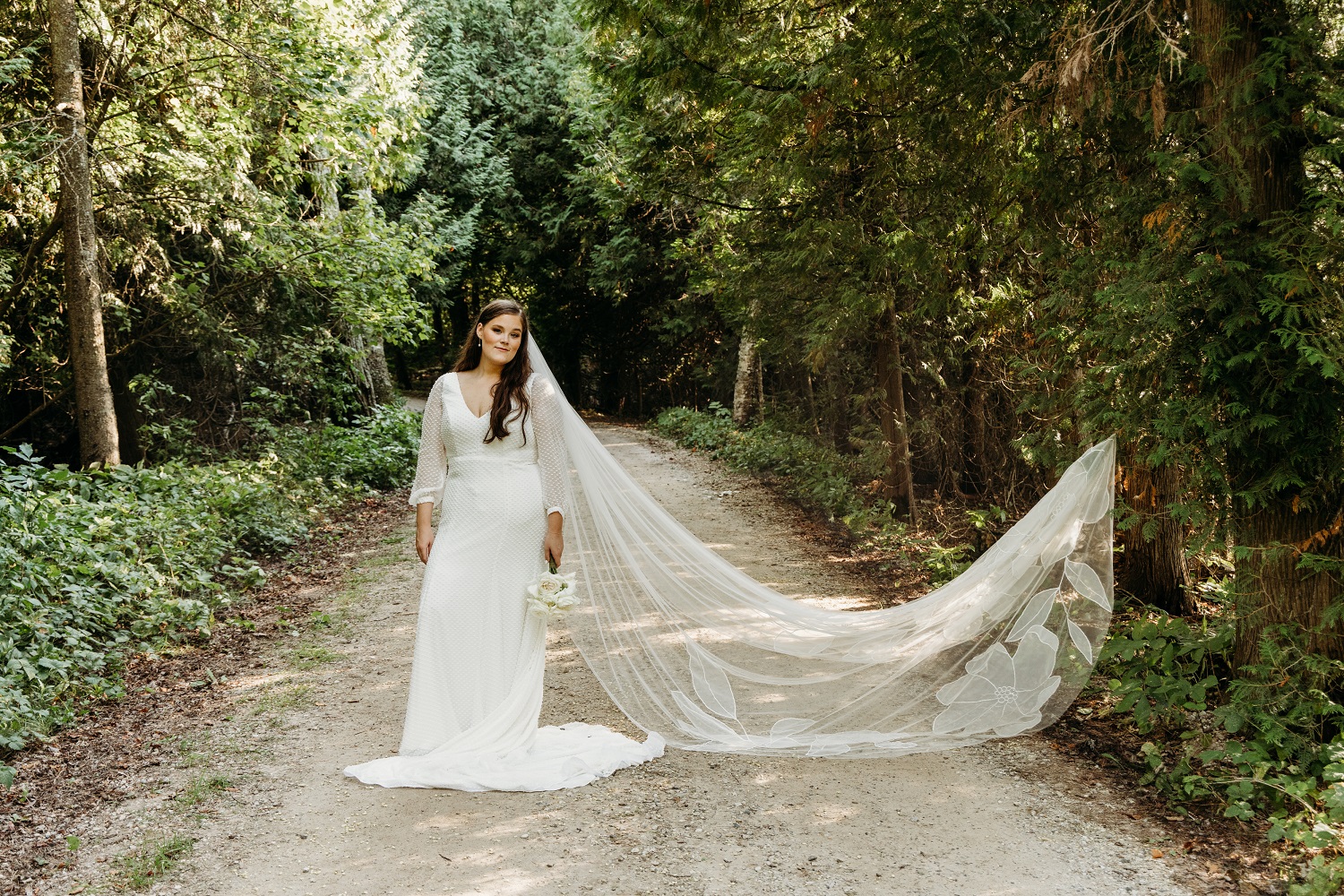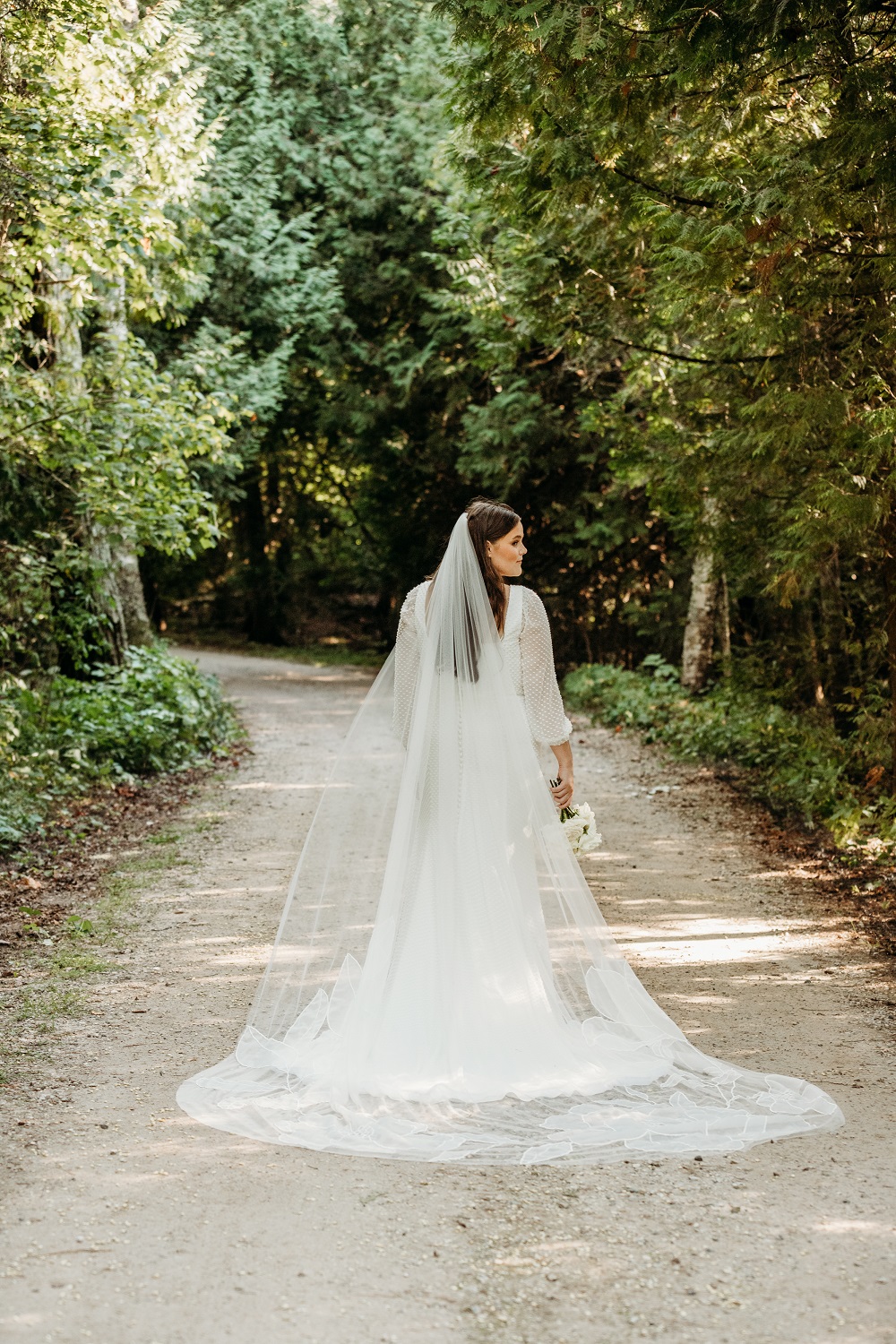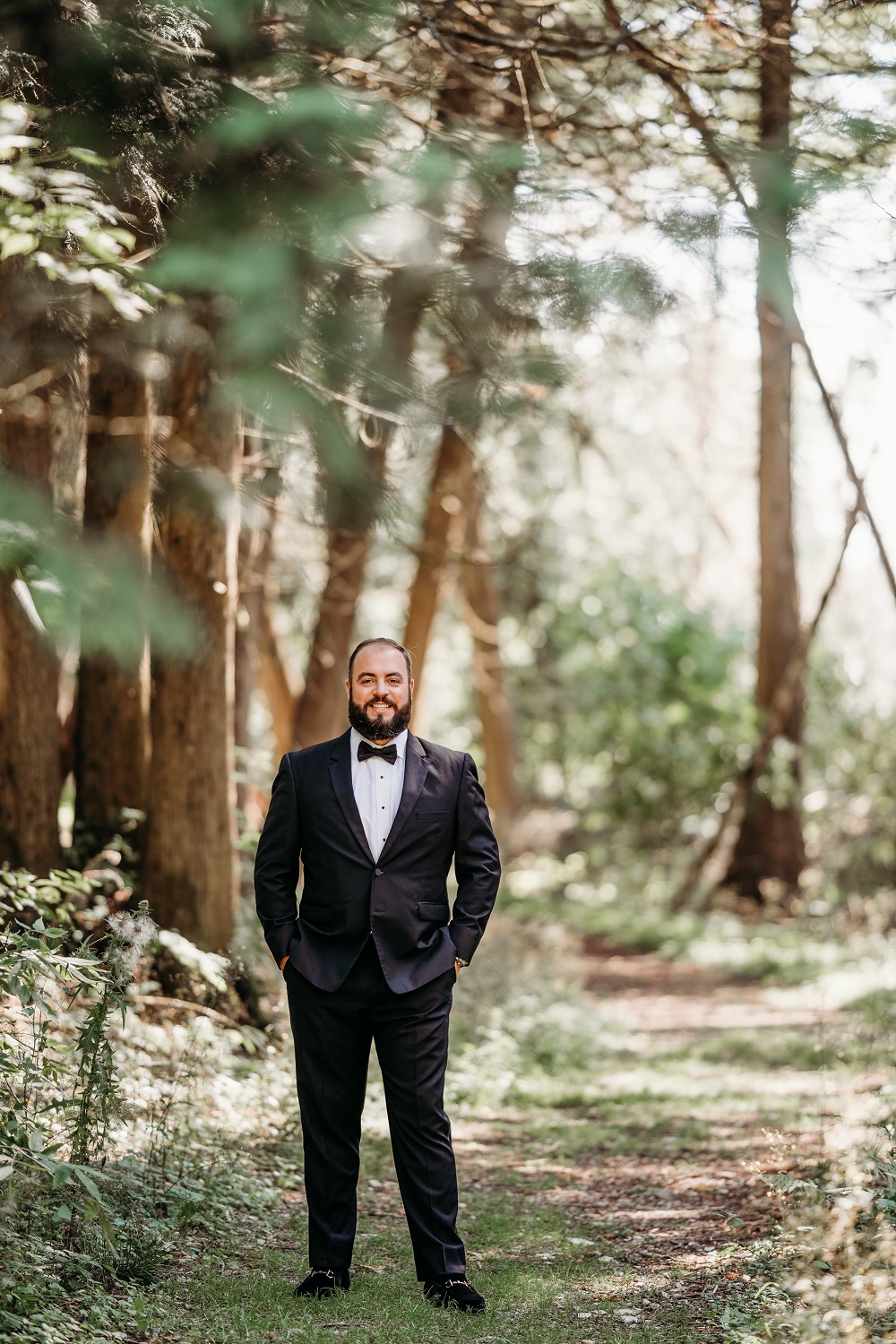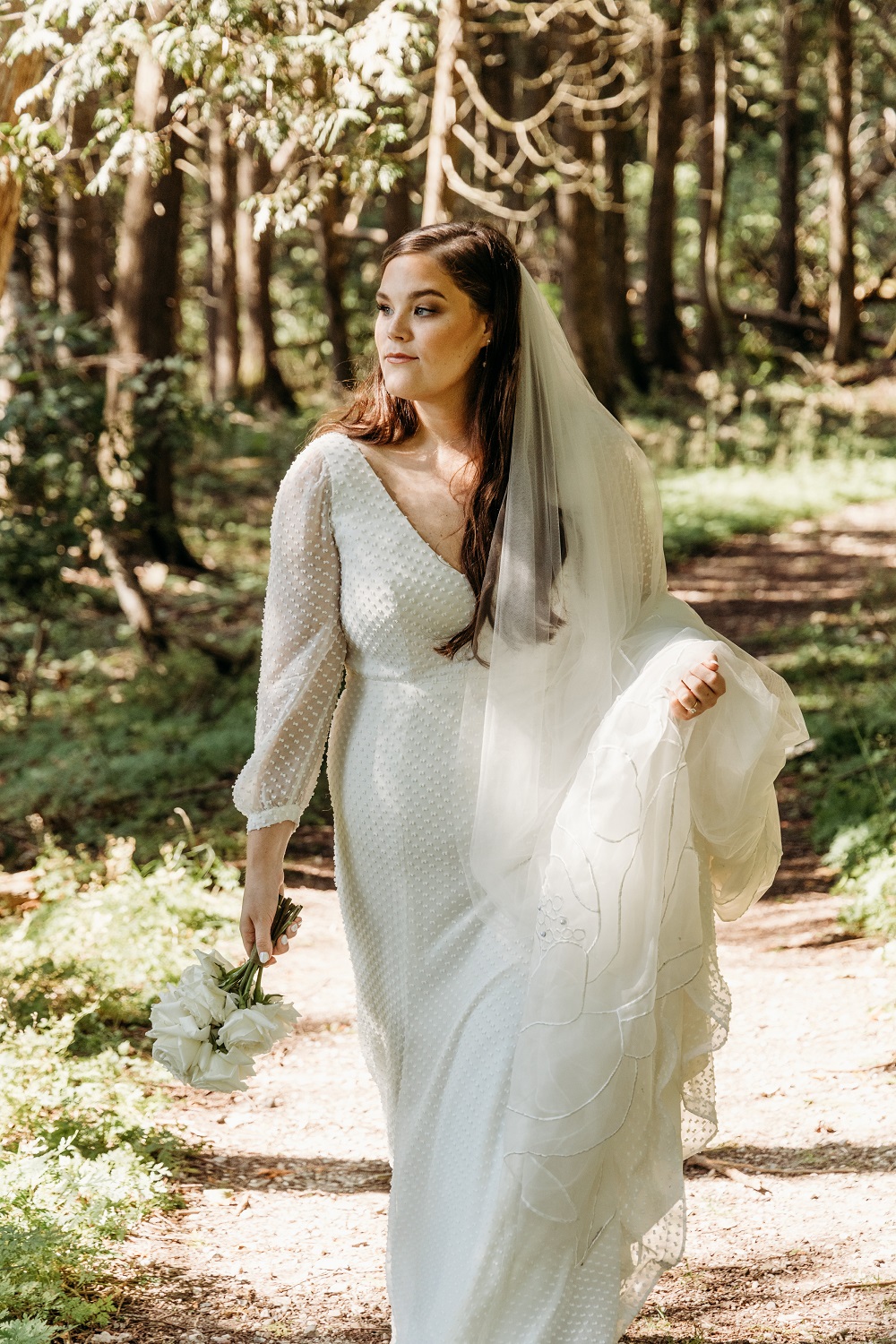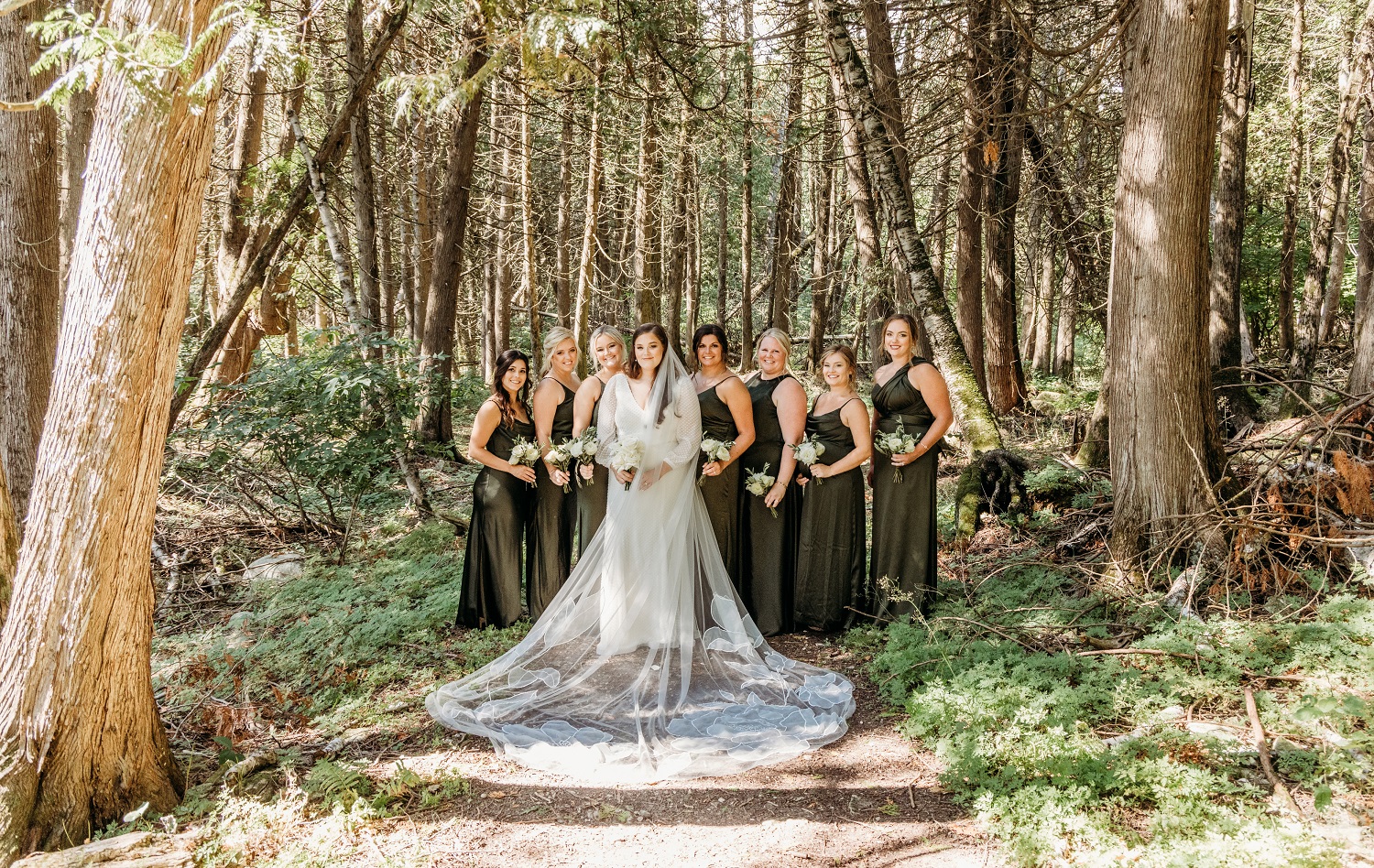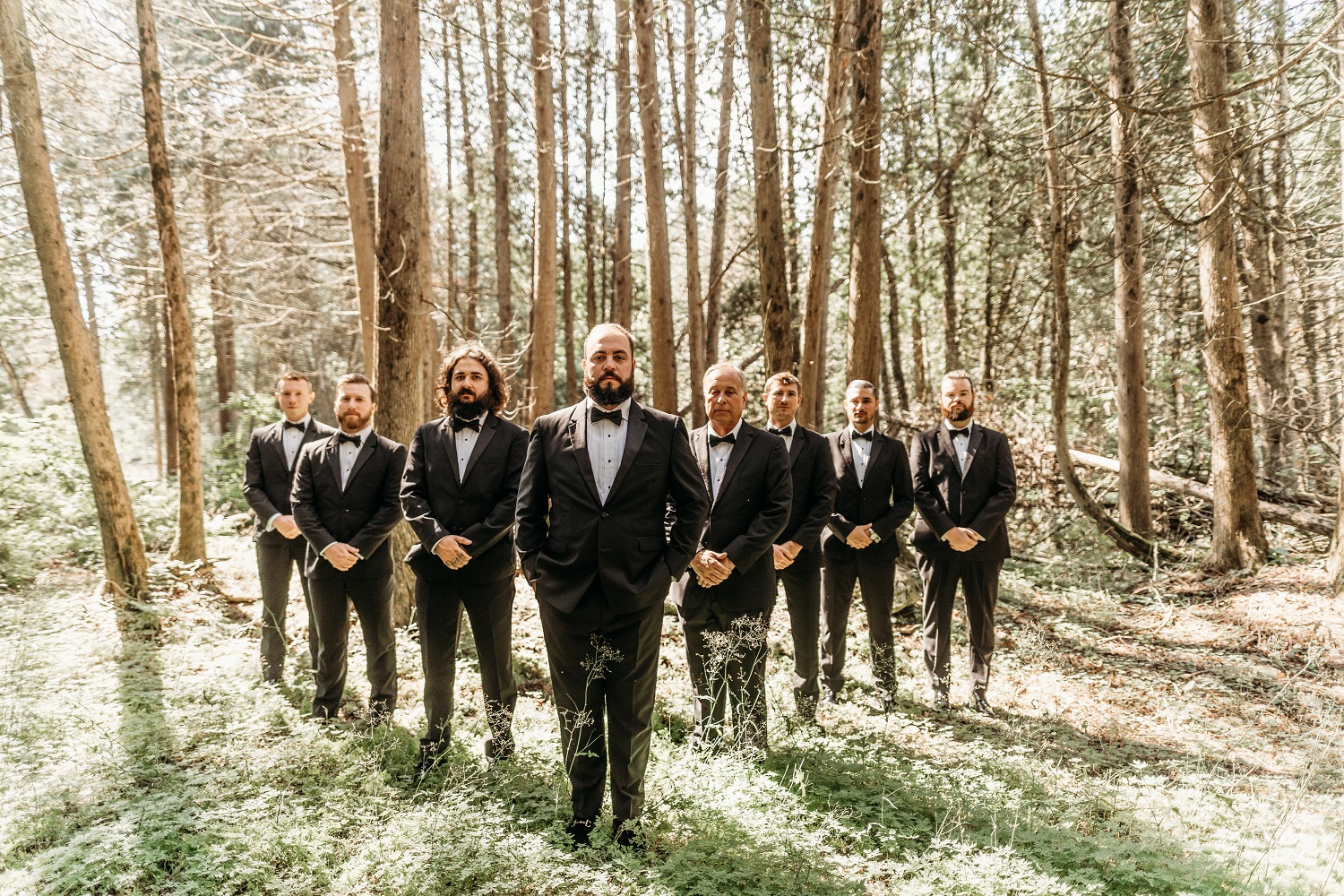 Forest Road Ceremony
Lane & Copeland's vision for a forested road ceremony that felt like guests were immersed in the woods led to a few scouting trips "up north".  In the end, the perfect forested stretch of road happened to be at The Headlands Dark Sky Park, a venue Copeland found, thanks to his passion for constellations and the night sky.   
A clawfoot beverage tub (painted black with gold claws), a large scale photo display, and an acrylic sign with trailing baby's breath and white roses greeted guests as they arrived by shuttle.
Wooden chairs lined the gravel road.  The music of a string trio mixed with the sound of waves crashing ashore thru the trees.  Golden candelabras were adorned in white floral and topped with black taper candles for a moody glamorous vibe.  Lane's floral veil was a statement piece down the aisle and after she reached the front, the couple's dog Olive came strolling down the aisle to join them.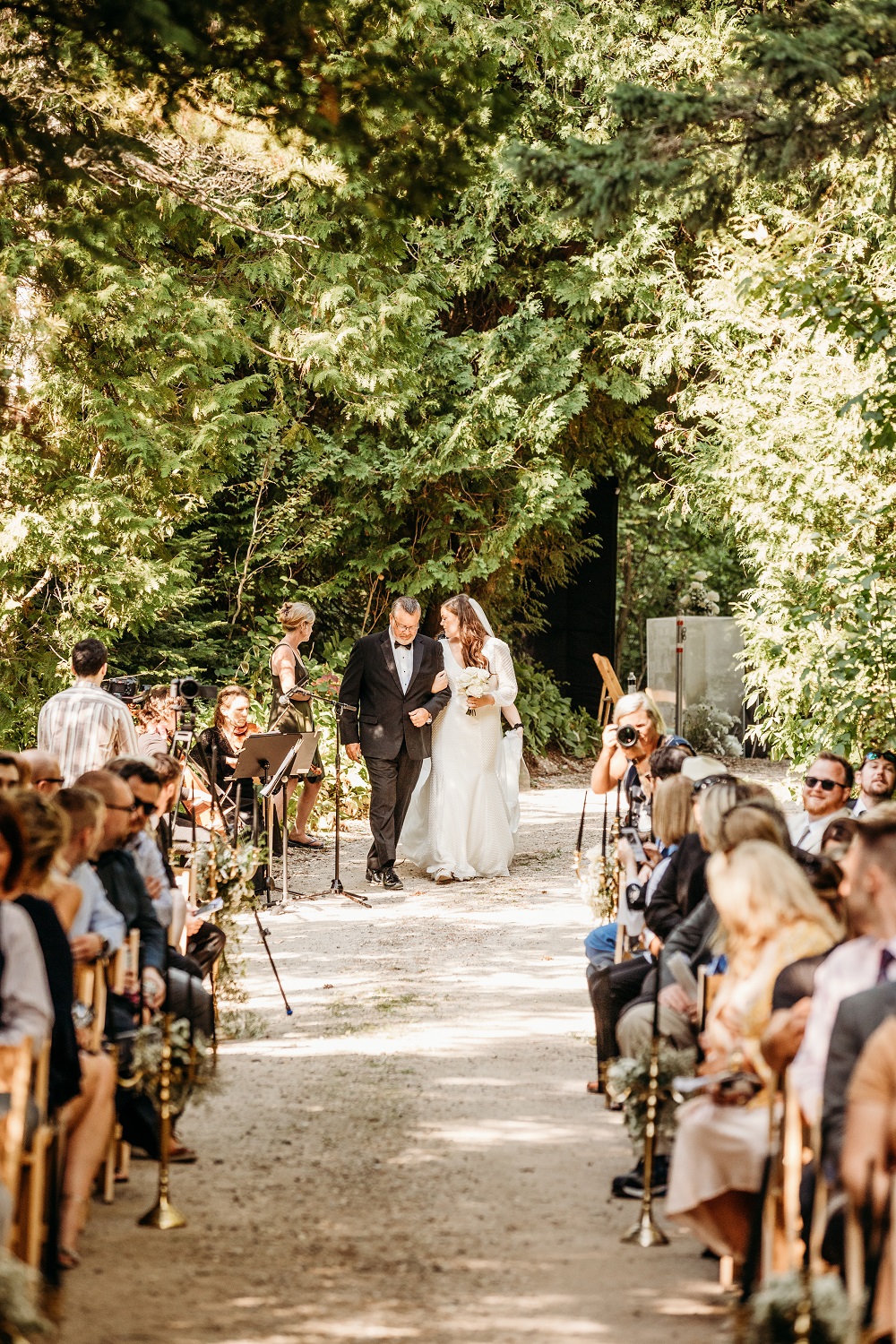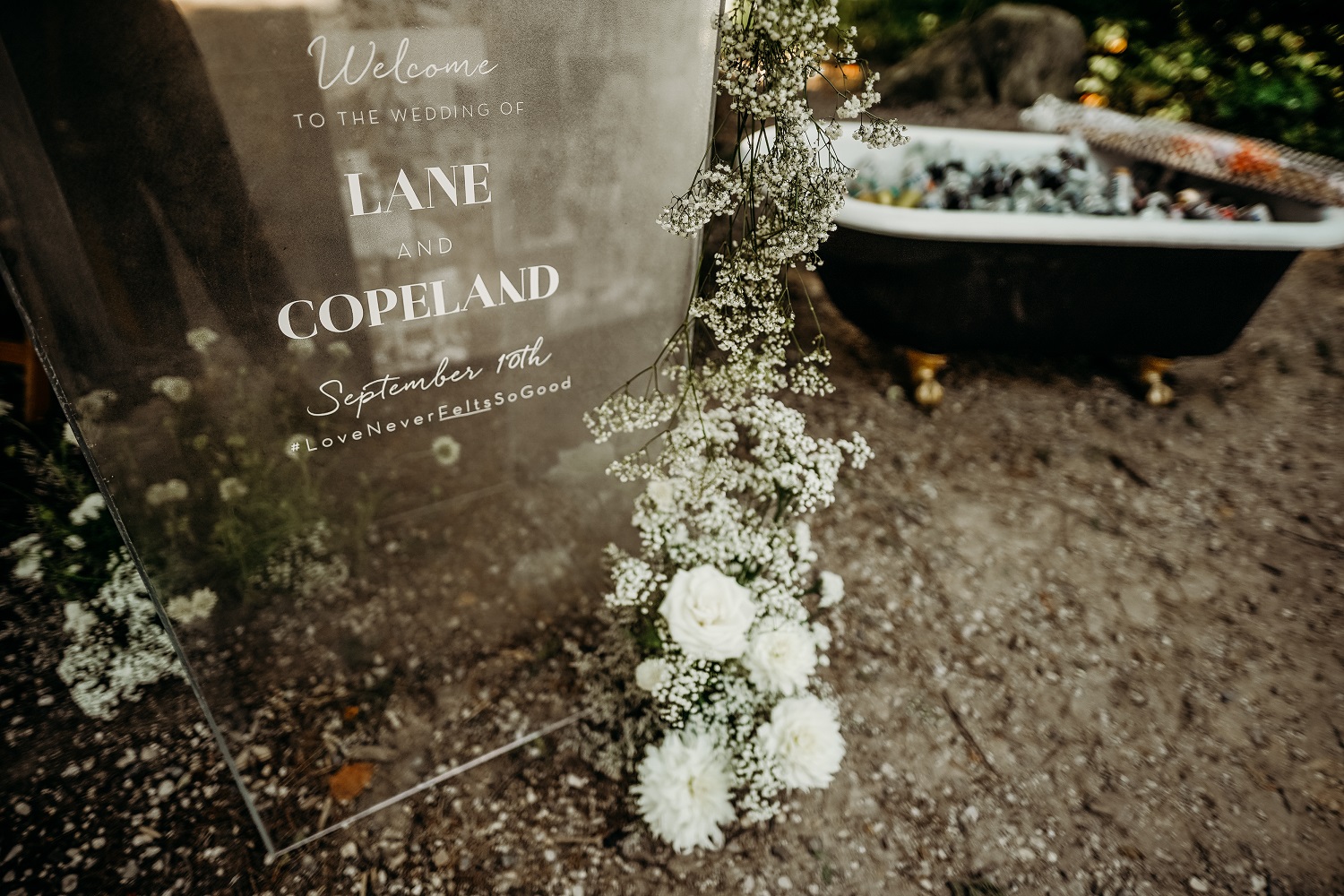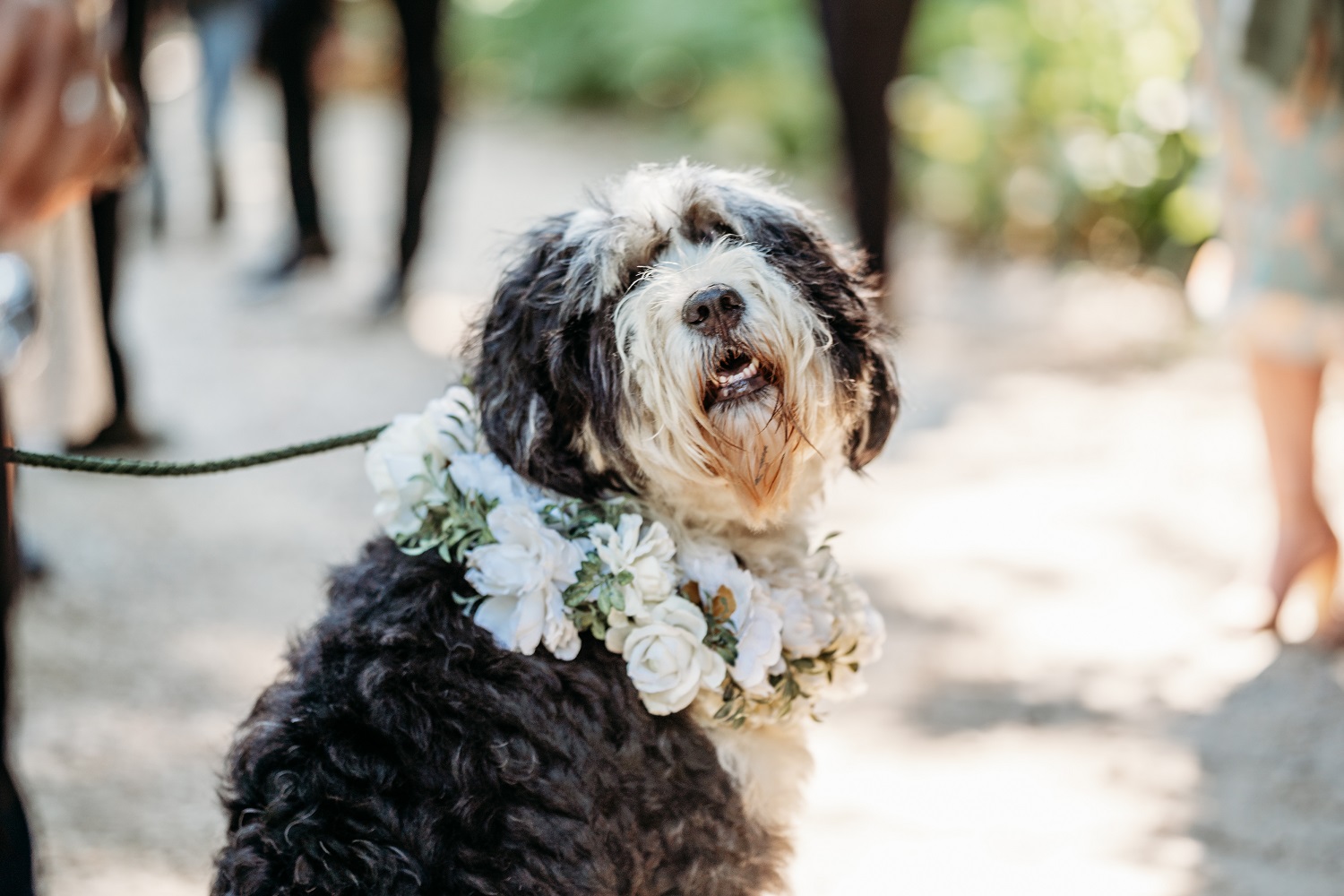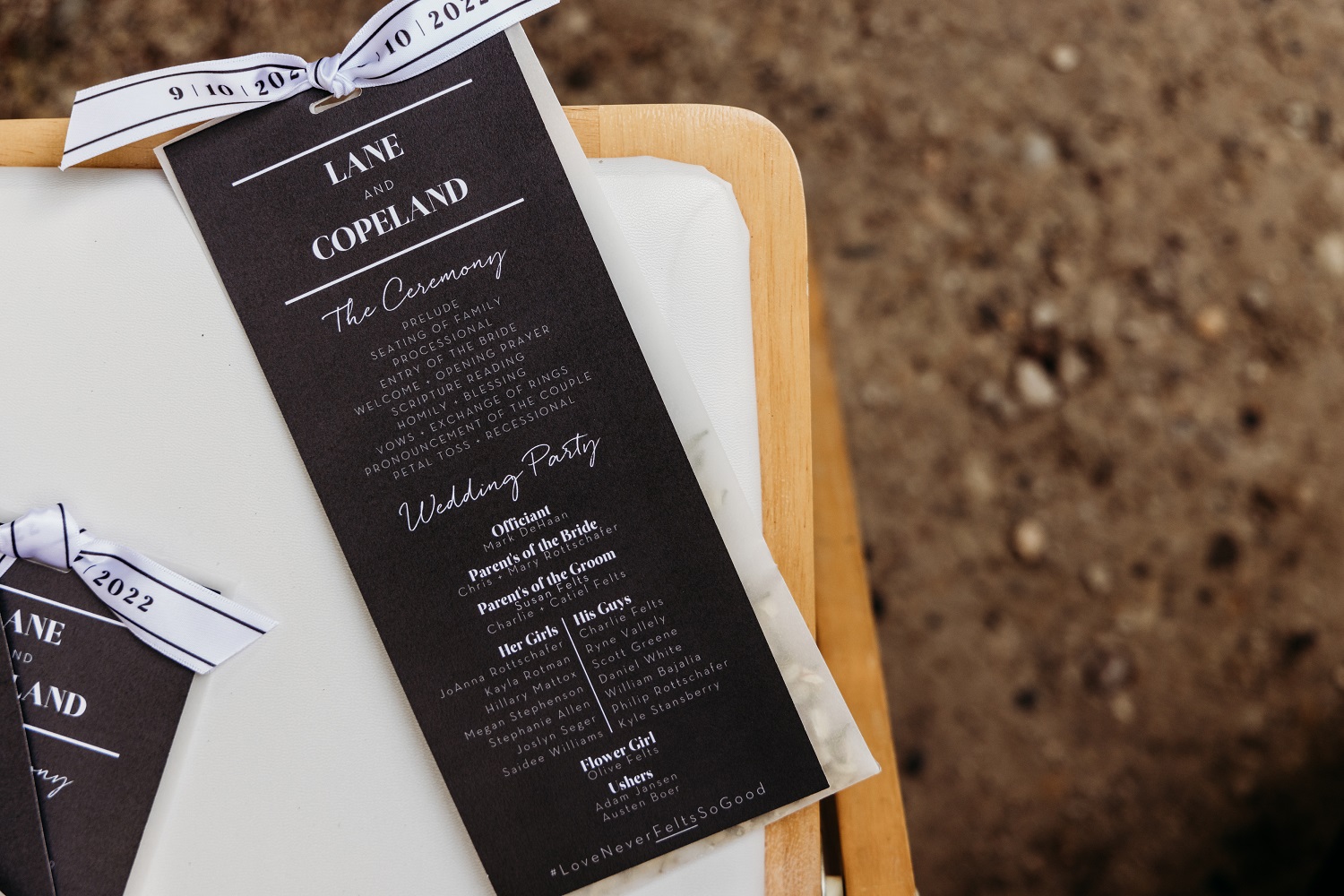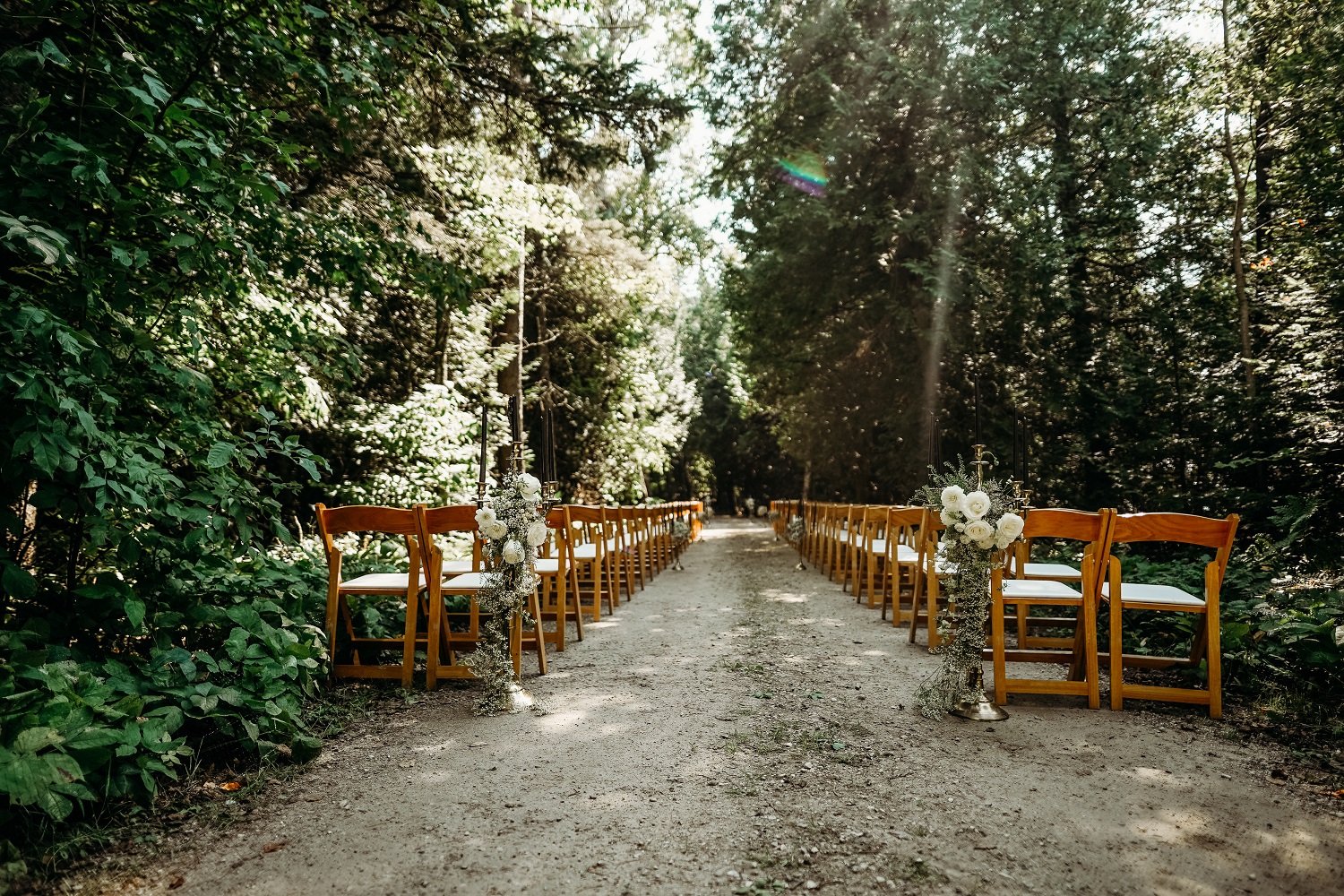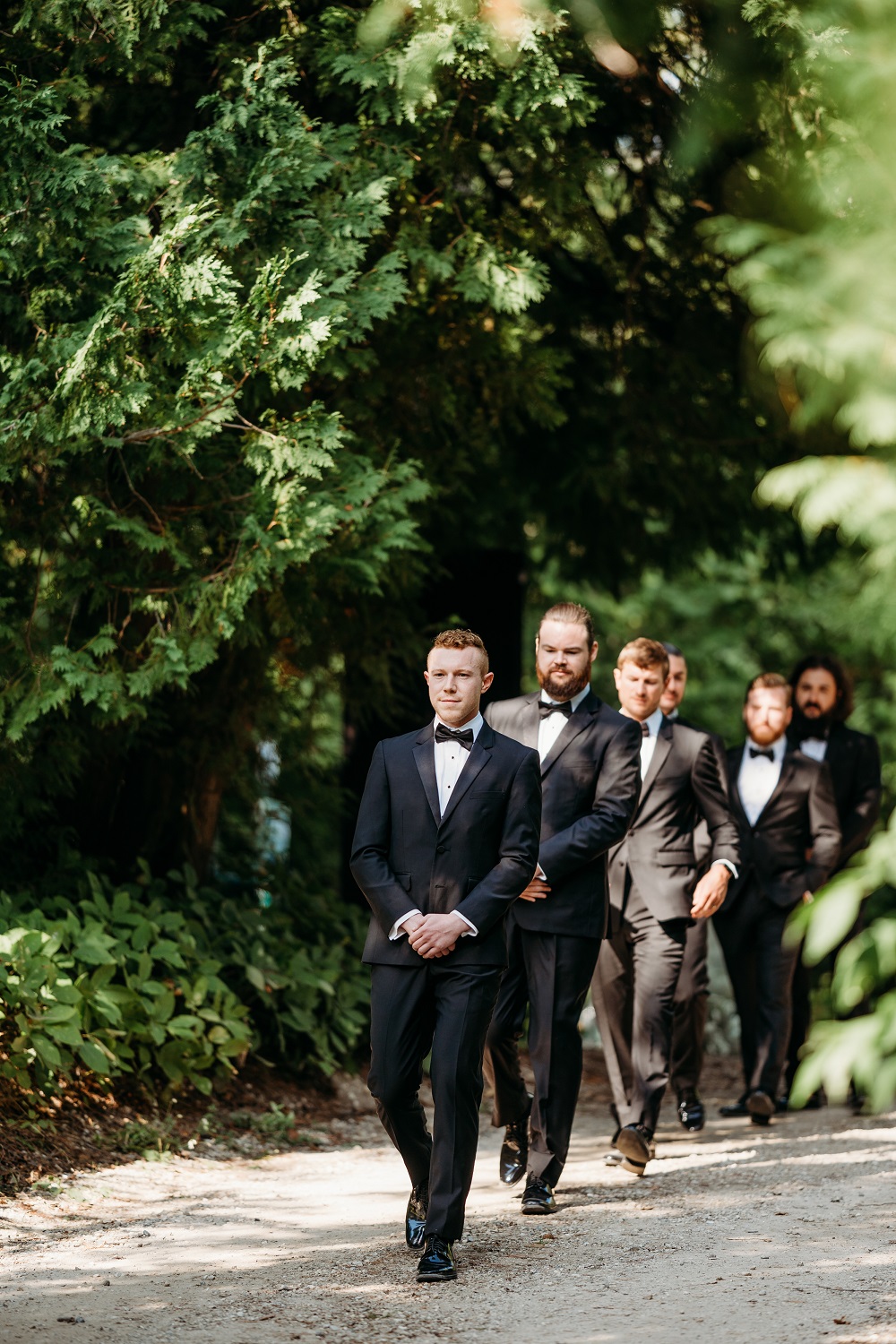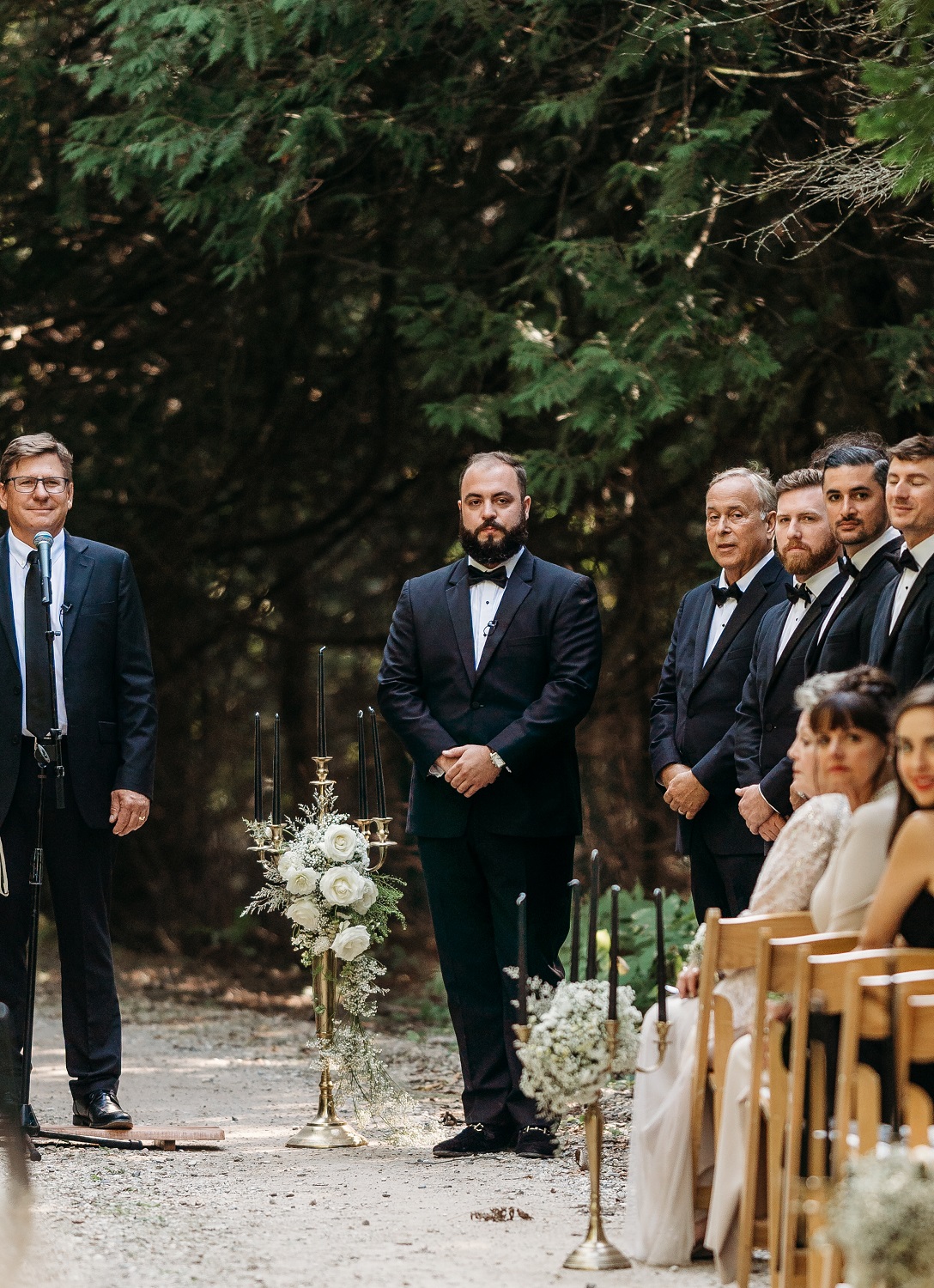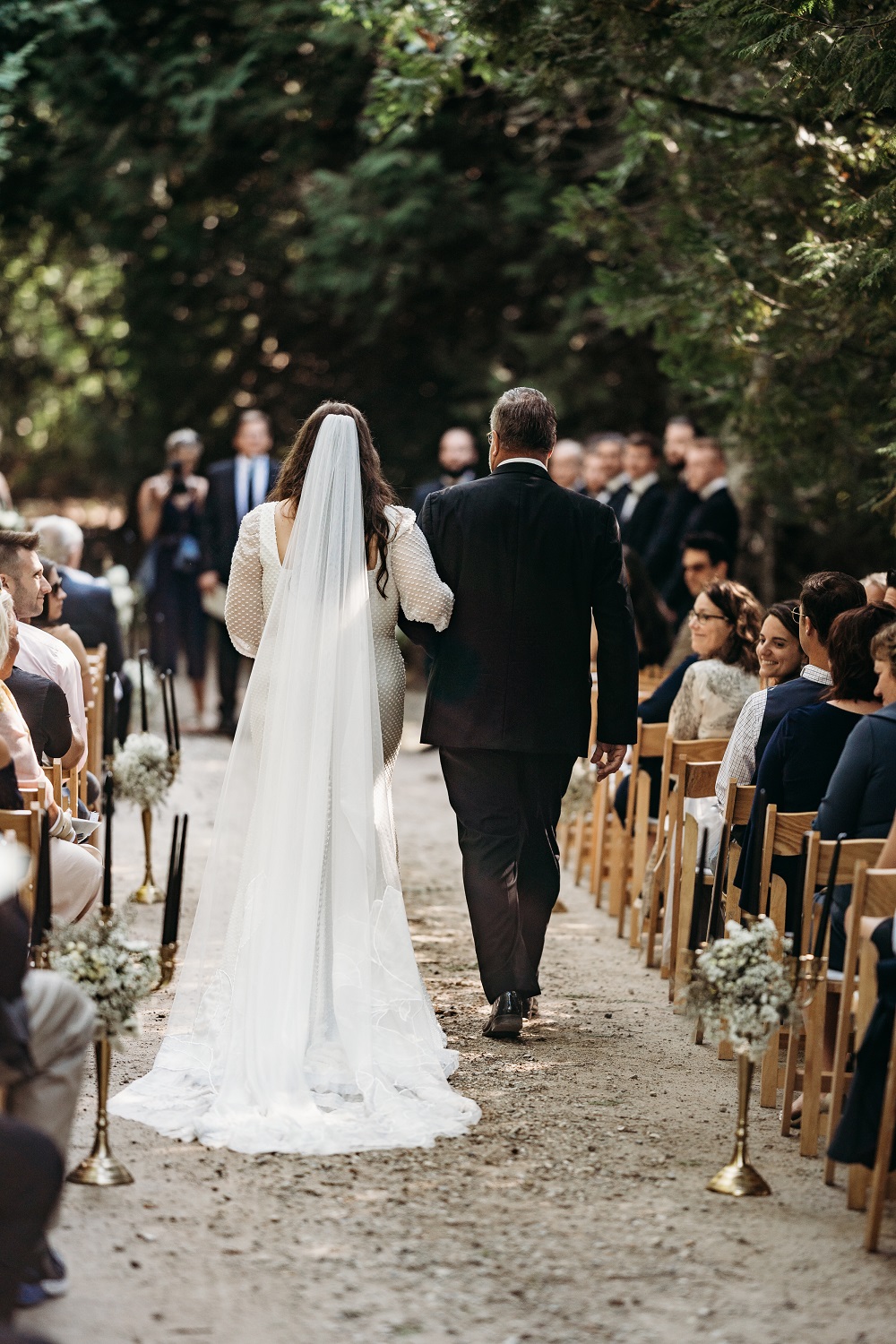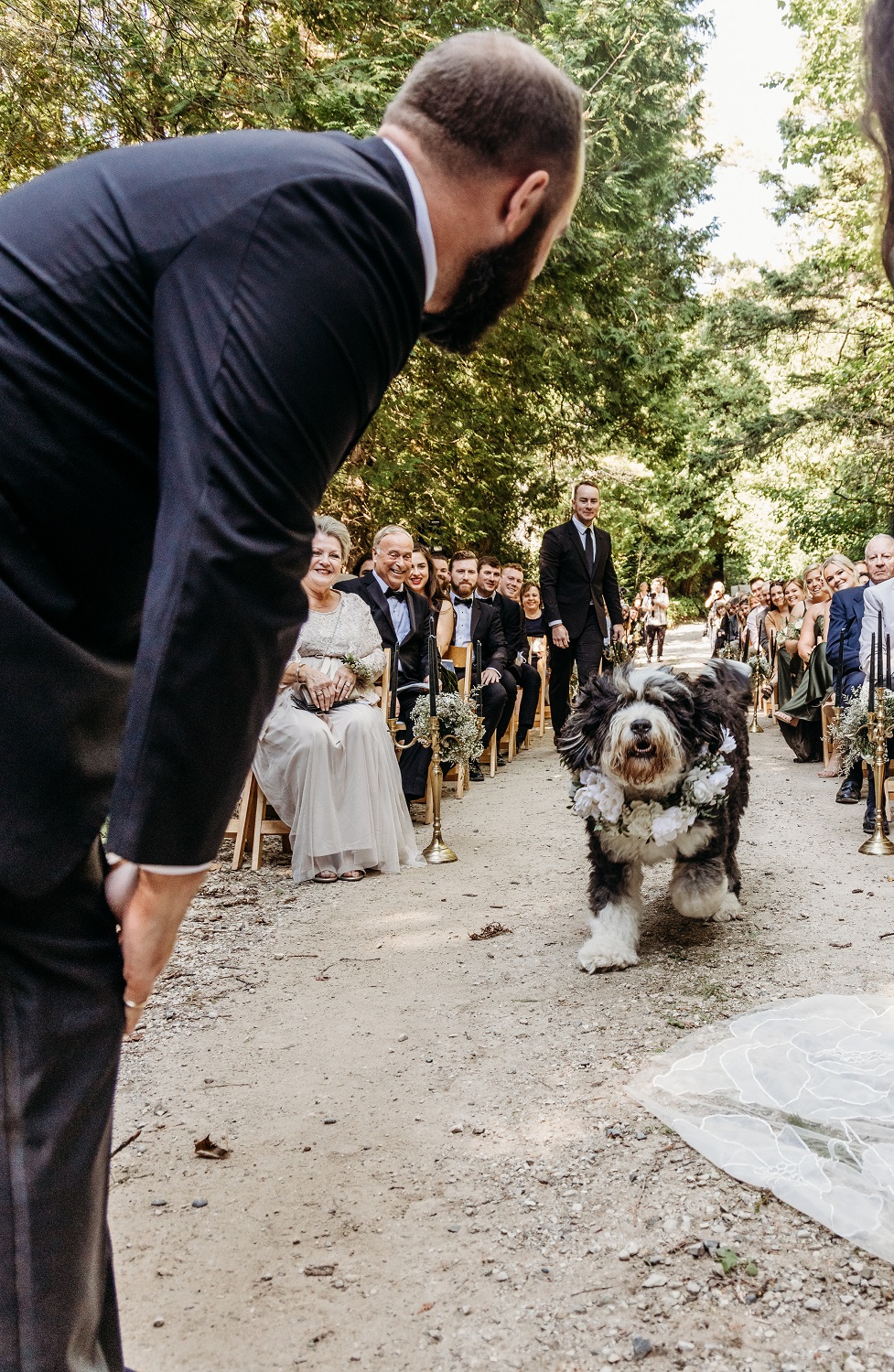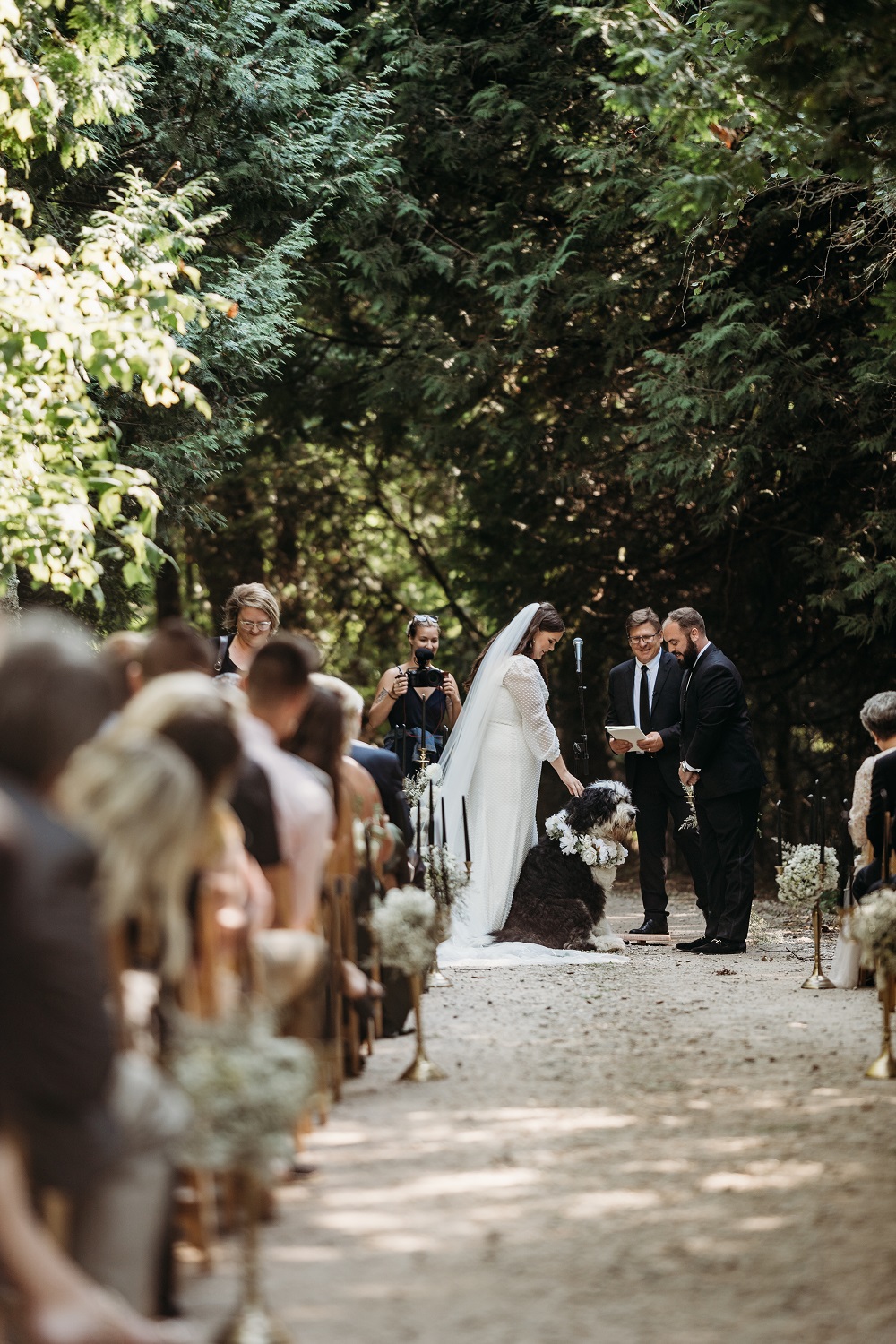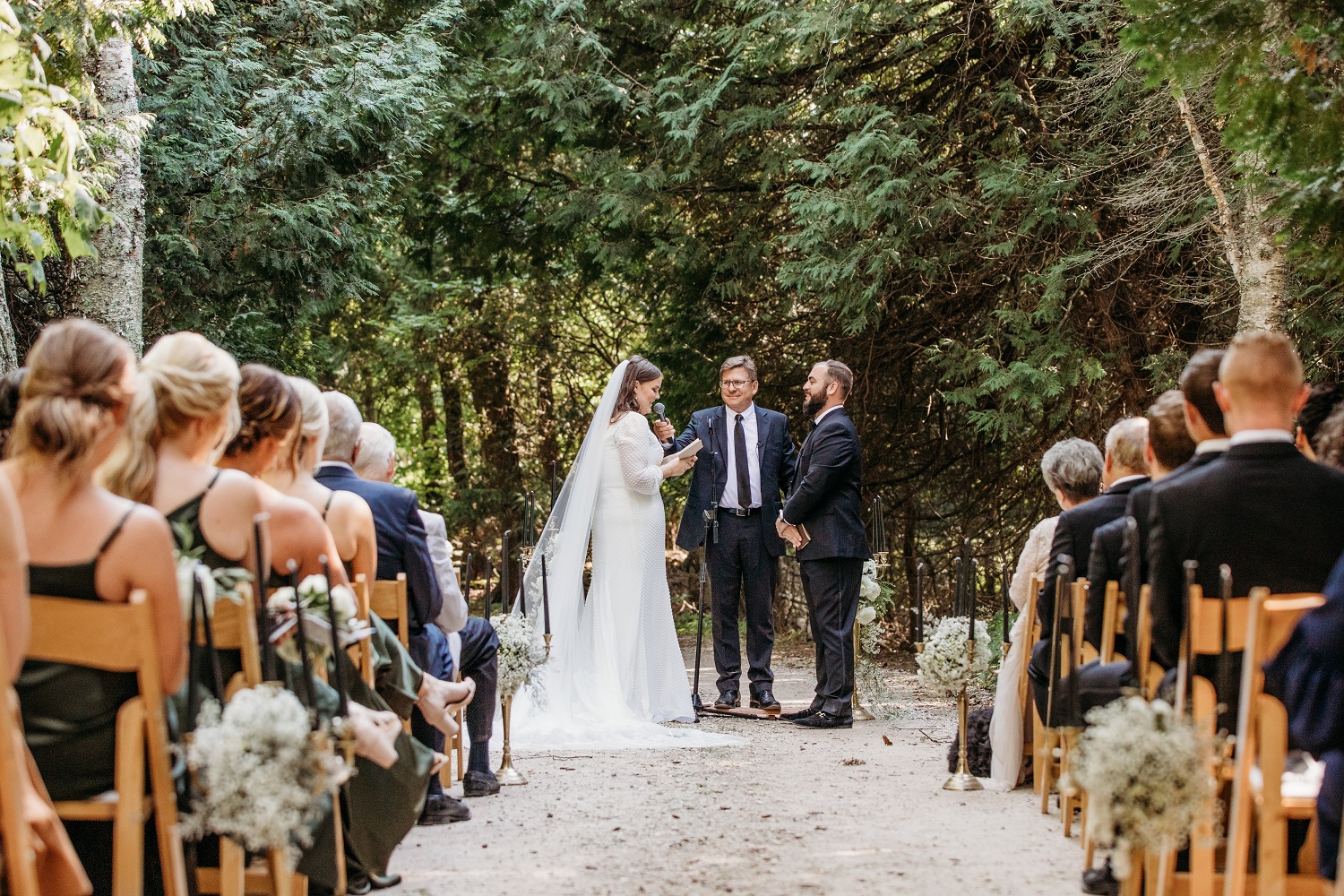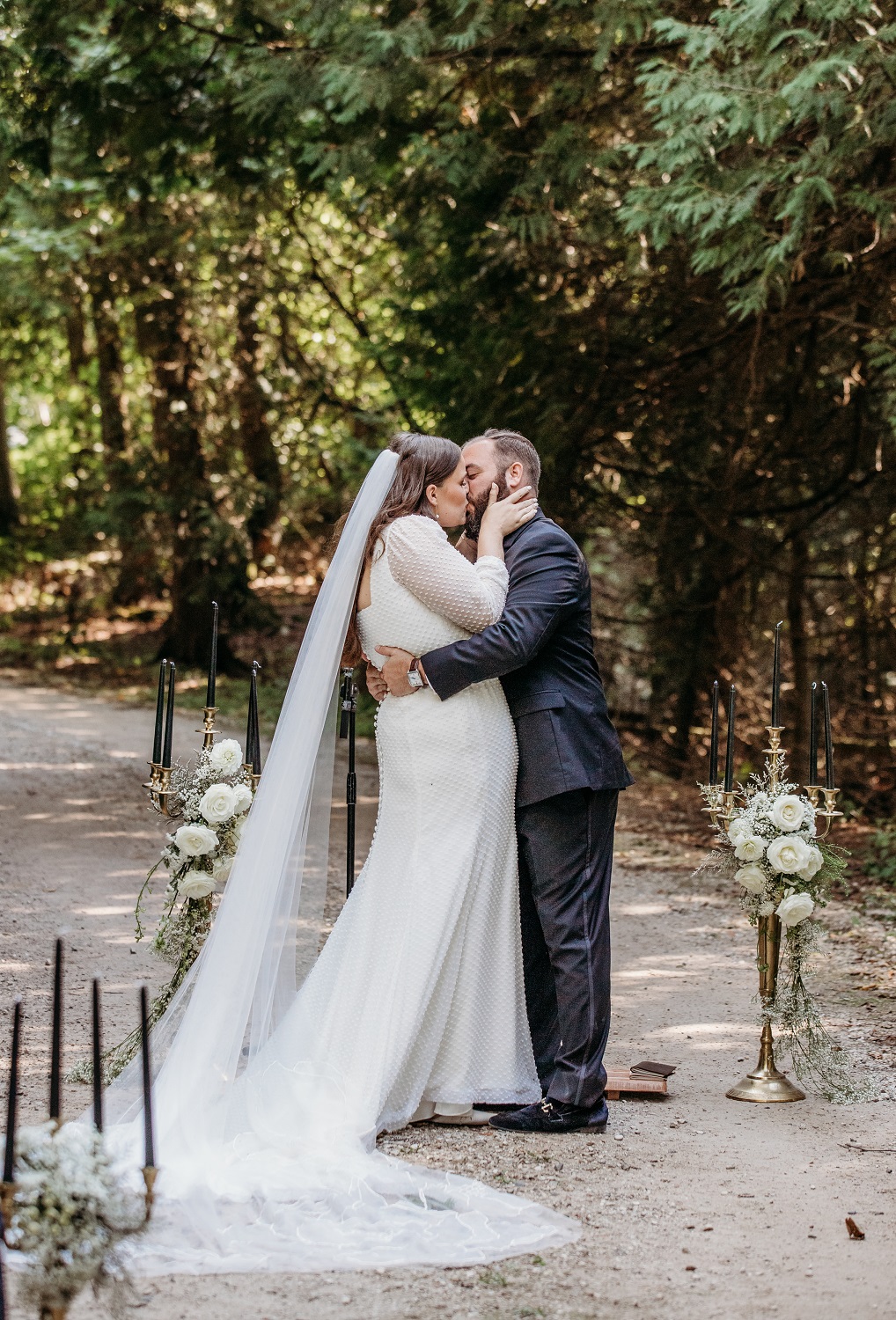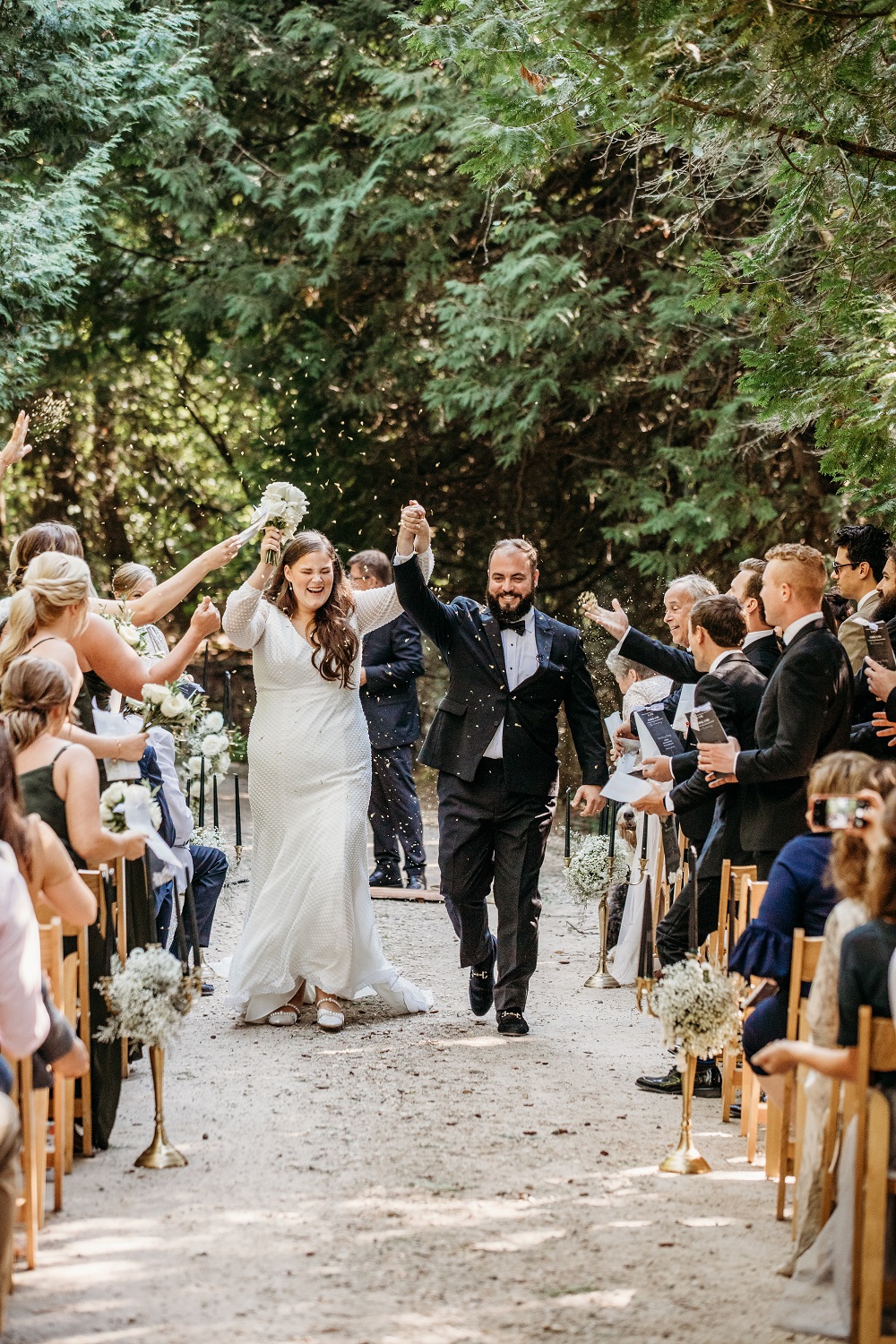 Lakeshore Cocktails
From the ceremony, guests continued up the road to emerge on the lakeside lawn of the guest house where signature cocktails, lawn games, and a bourbon + cigar tent lounge awaited.  
The seating chart was a creative masterpiece by Lane (and friends).  Large scale paint color strips listed guest names by shades of green, neutral, and night sky for their table assignments.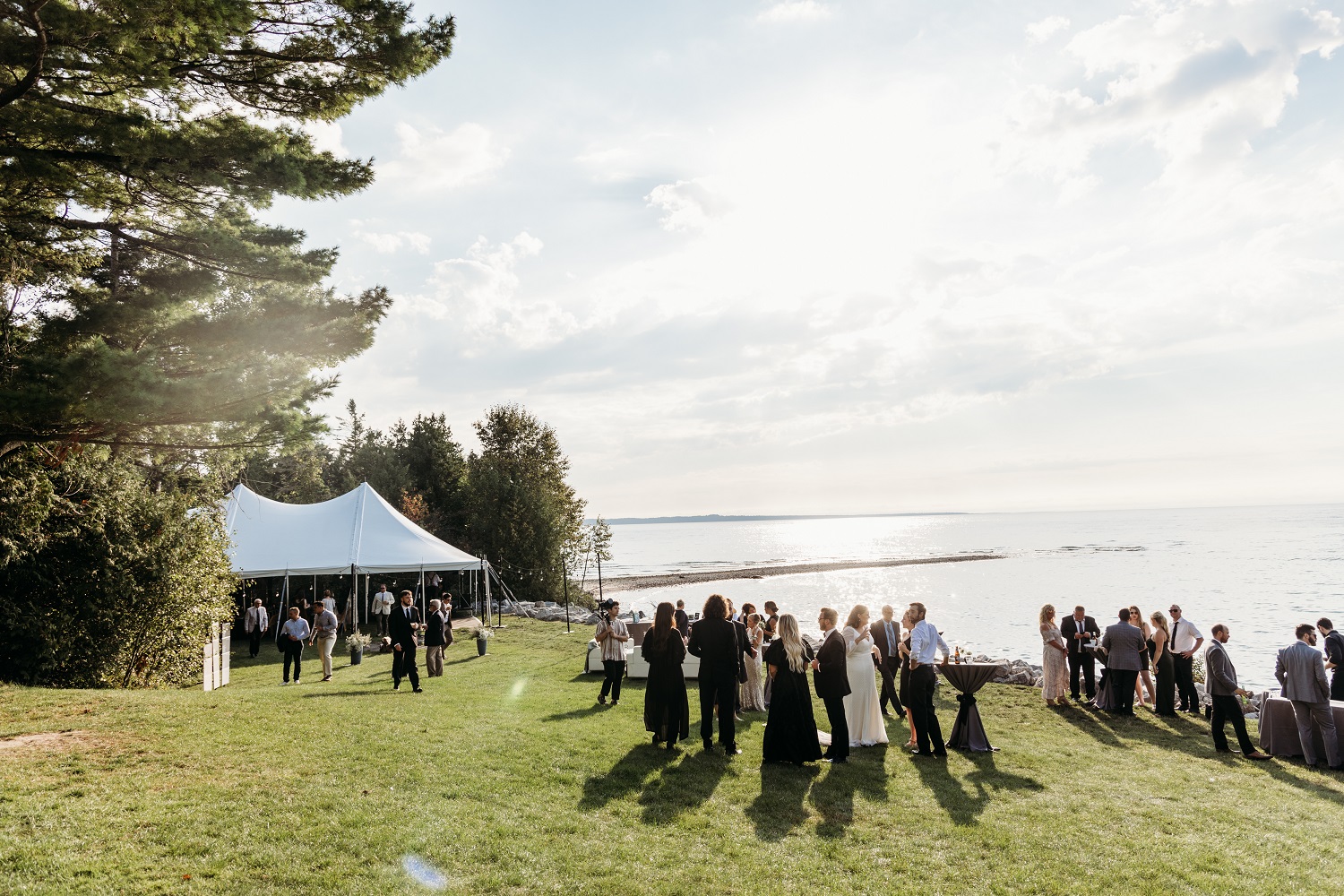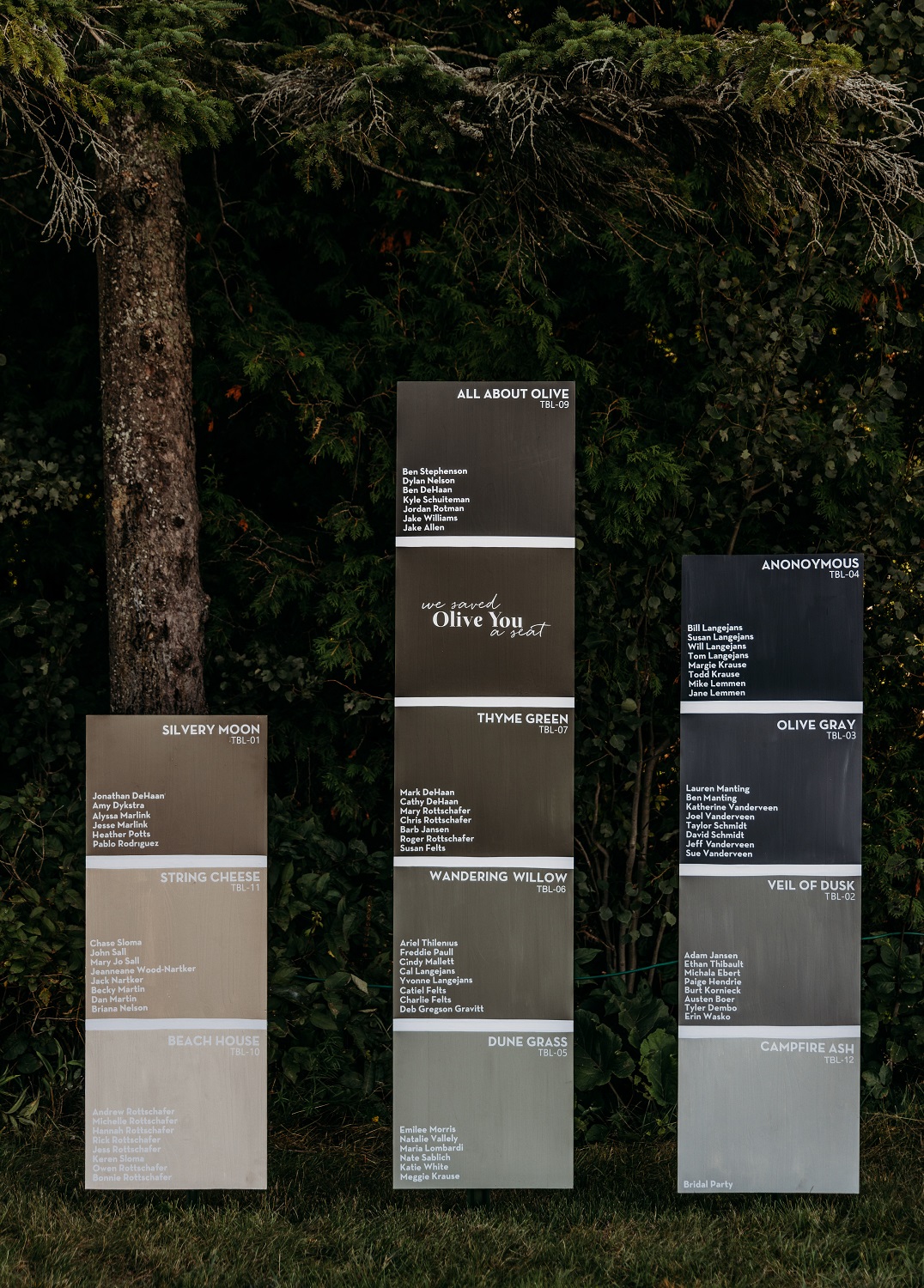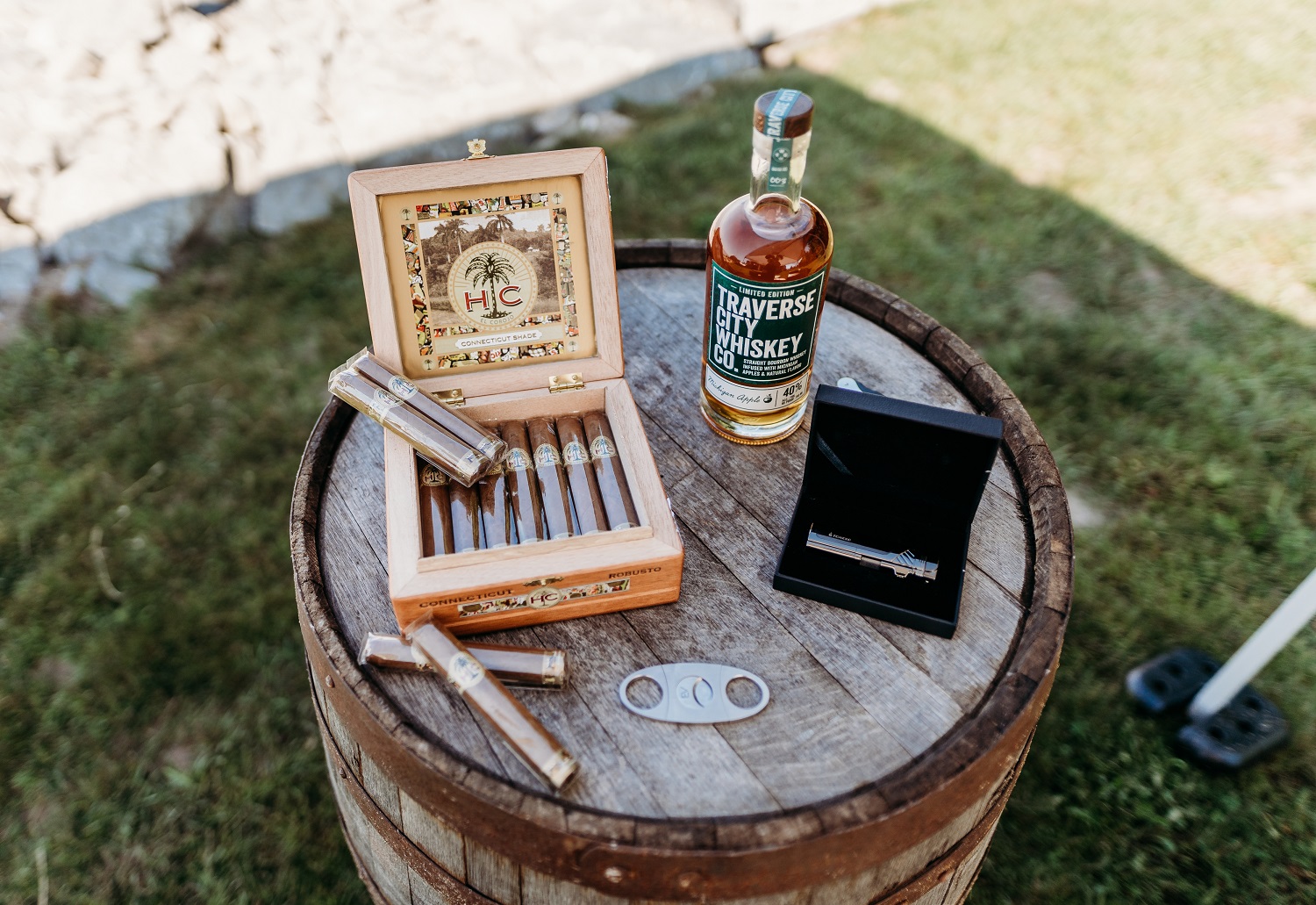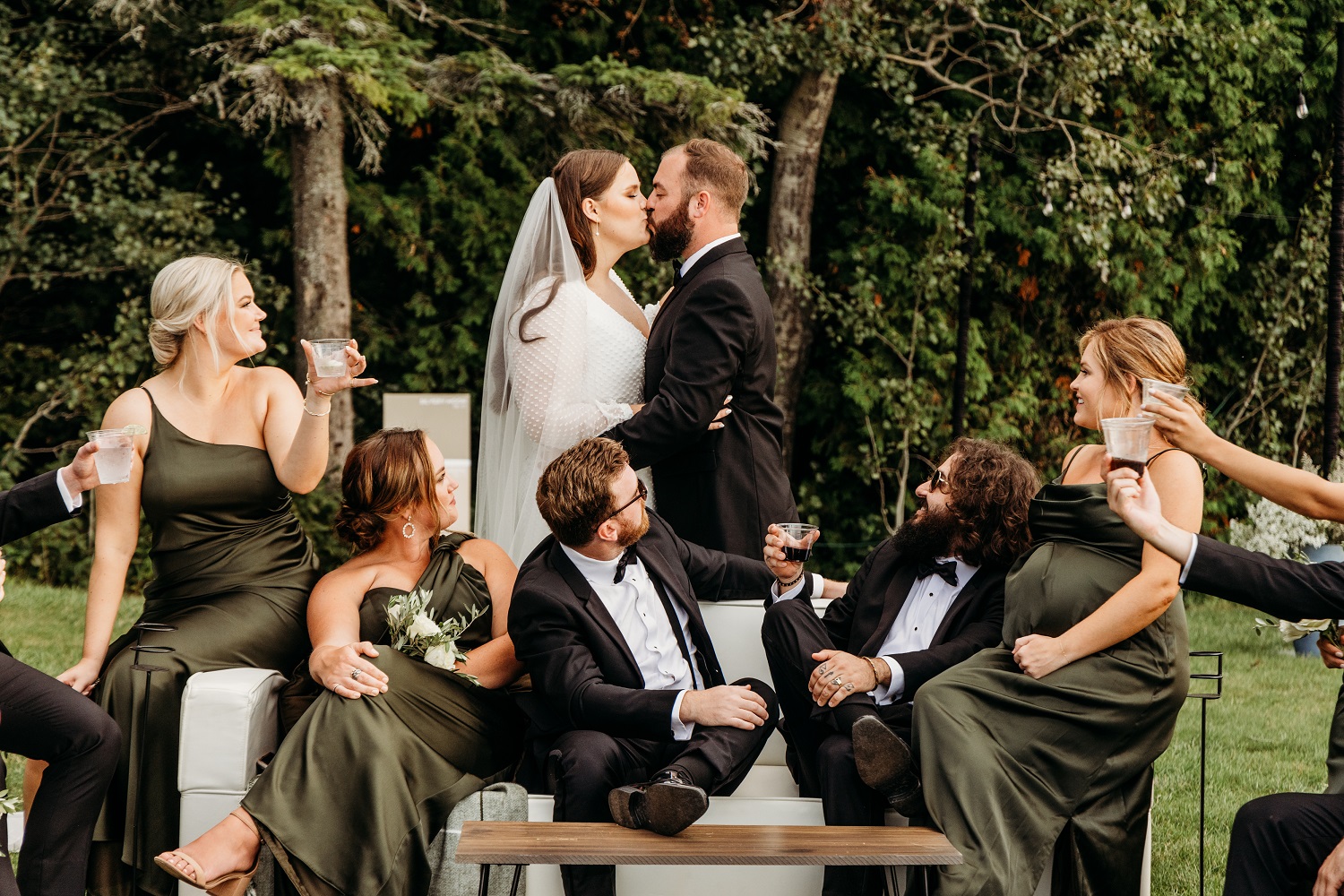 Forest Glamor with a Contemporary Edge
As an interior designer, Lane understands the value of a focal point and wow, did she deliver on the head table vision.  The large scale floral print with a neon sign (a play on their last name Felts), the candelabras, and the moss-dripped edge gave a dramatic flair to the tented scene.
The scene was layered and as guests entered, they discovered a monogrammed glass water bottle at each place setting, cement vases (made by Copeland), hourglass smoky water goblets, and black edged hurricanes that gave the scene a contemporary edge.
Salads were pre-set to intentionally compliment the palette of black, white, & neutrals with a pop of green.  Dualing pianos provided fun music thru dinner and into the night on the lake end of the tent.  An enchanted mirror photobooth across from the bar kept that end of the tent hopping all evening.
Our generator powering the pianos flickered at one point in the evening and in the glow of candlelight, guests carried on singing in a beautiful moment that summarized Lane & Copeland's vision for a romantic moody vibe with fun-spirited authentic experiences.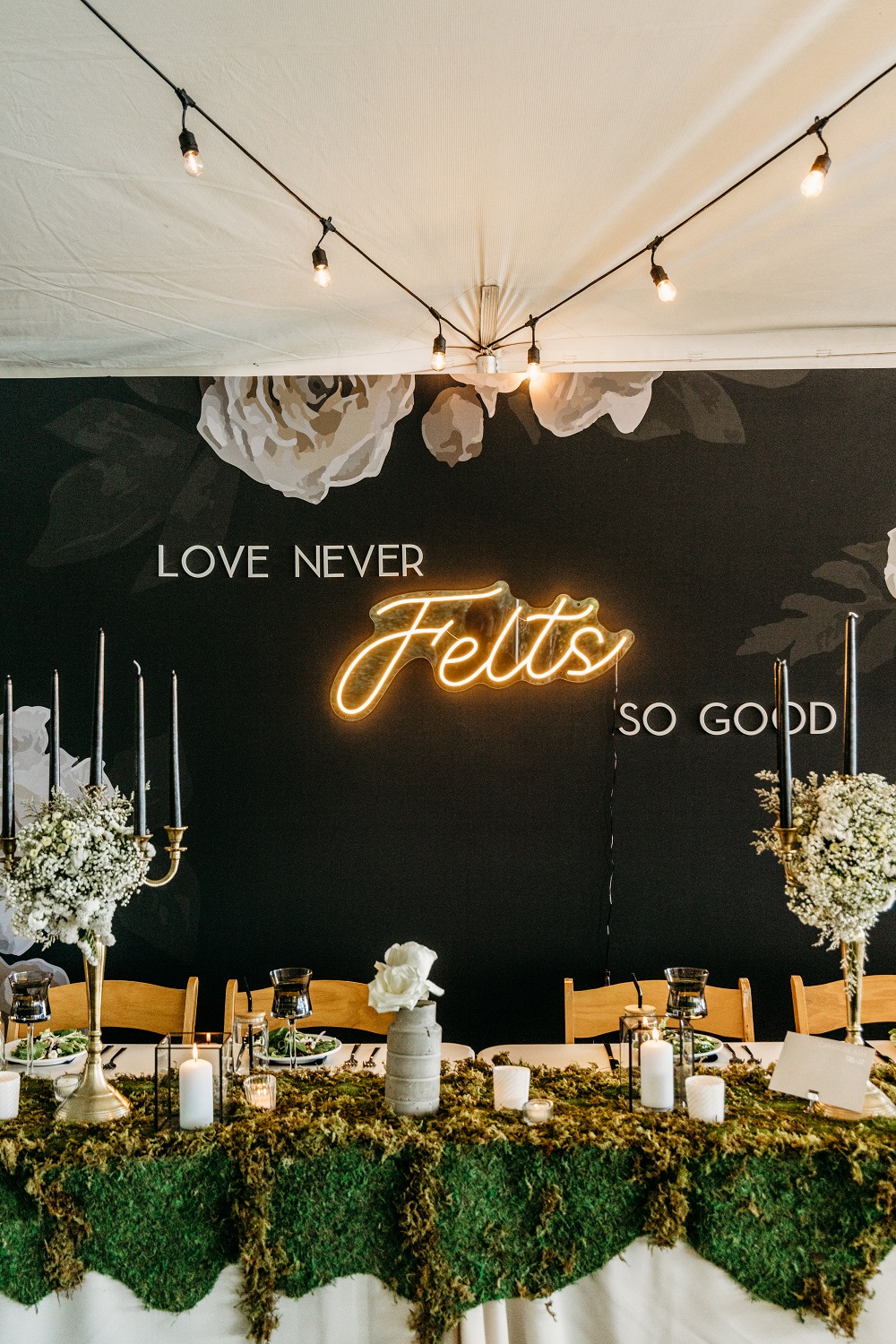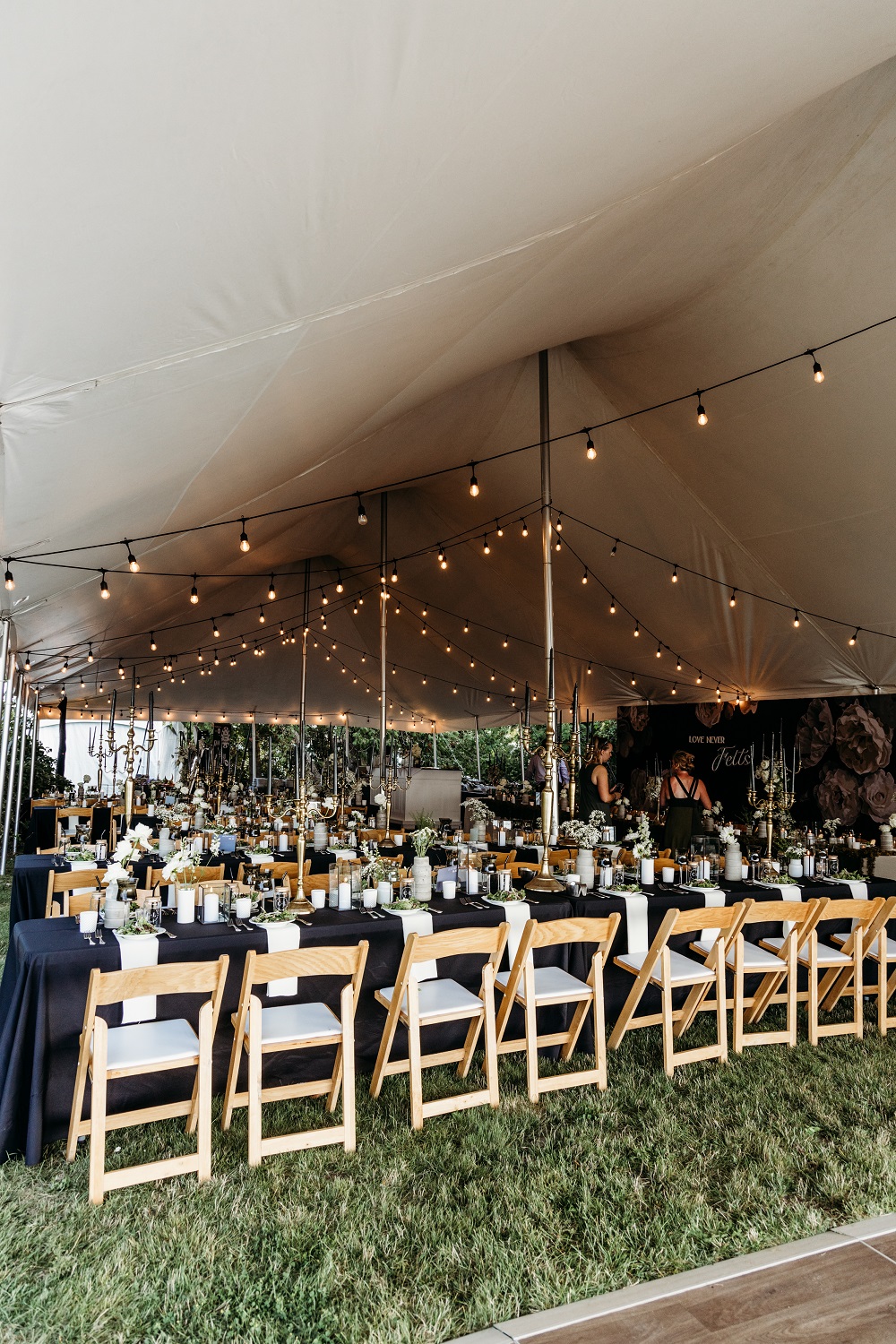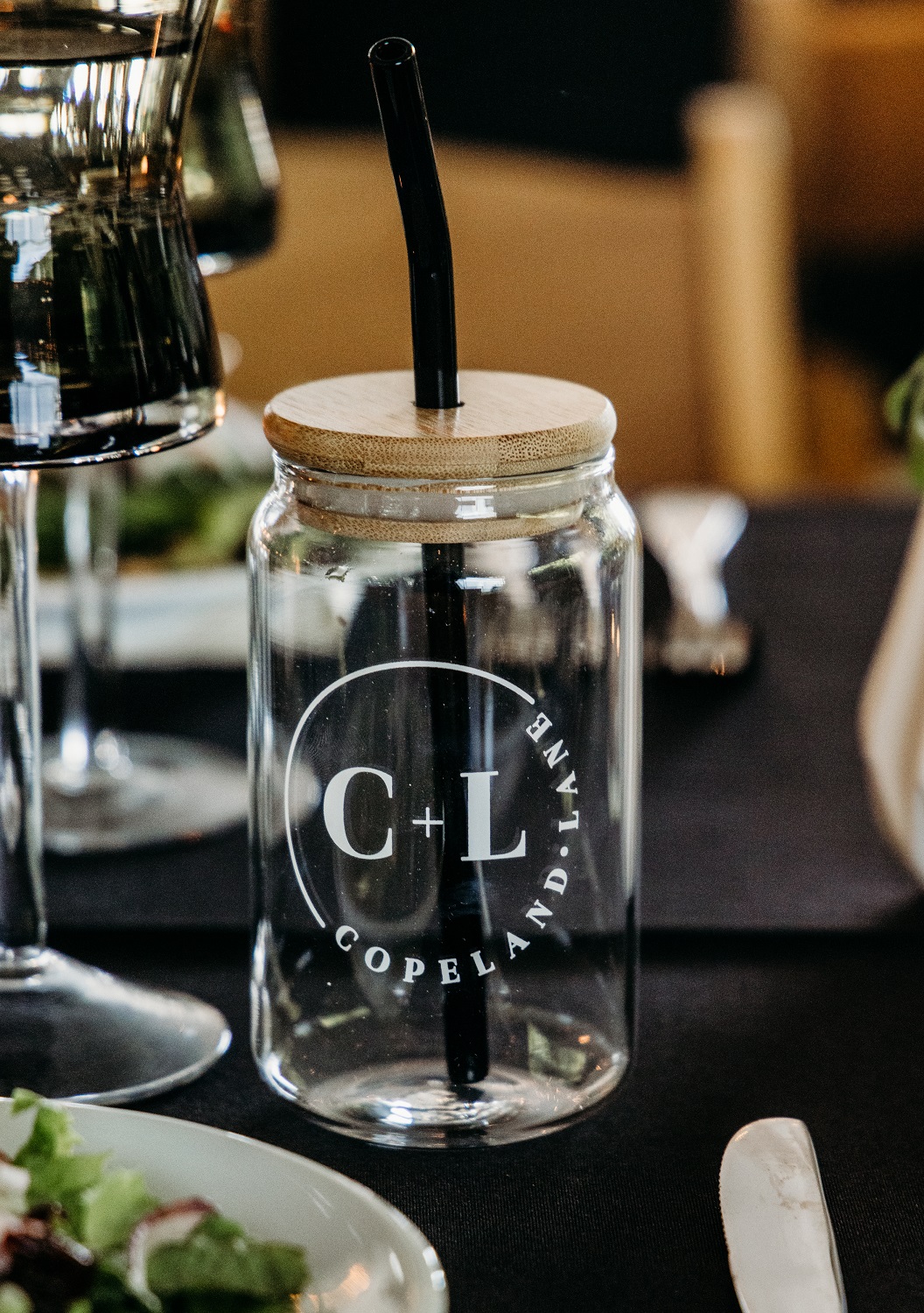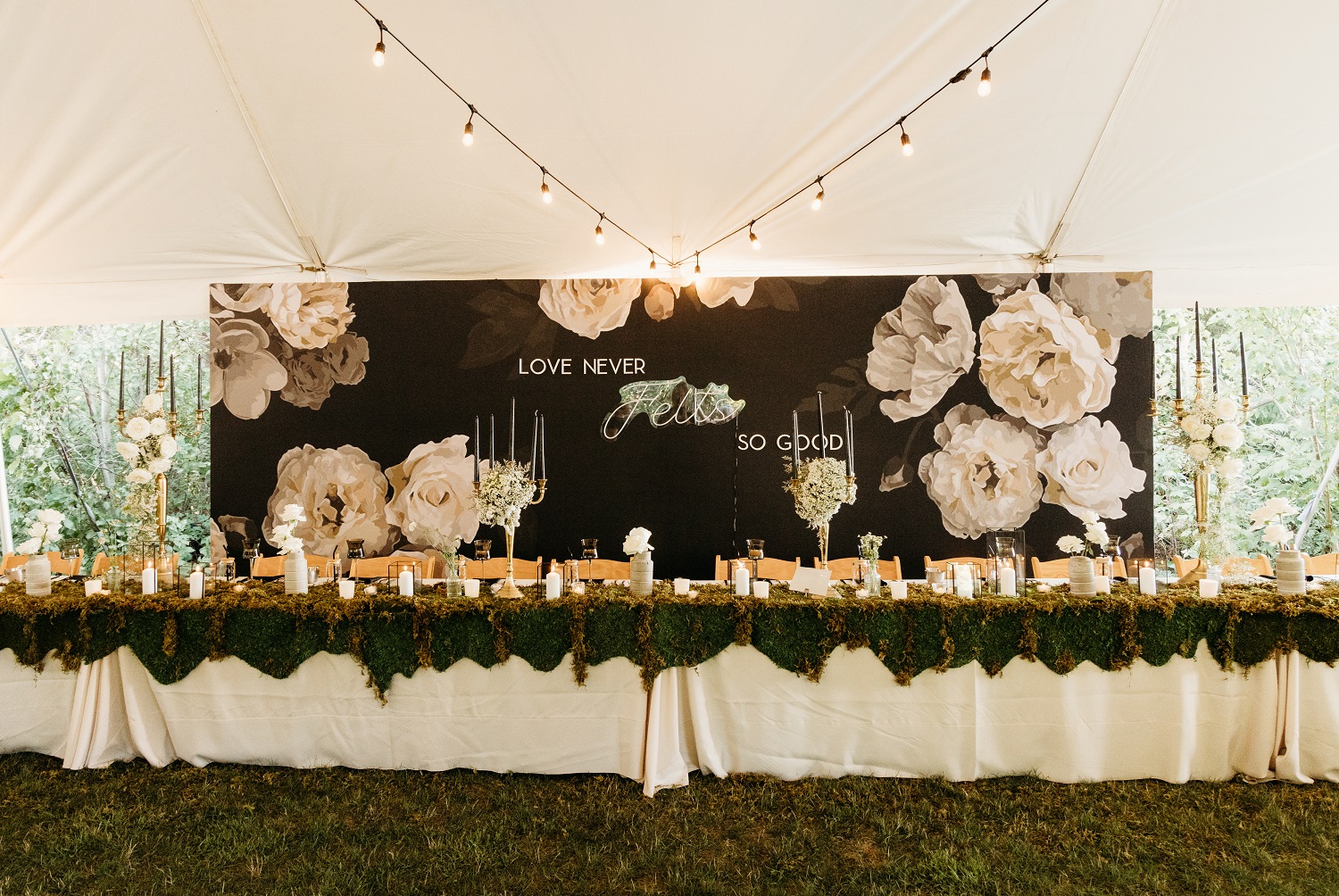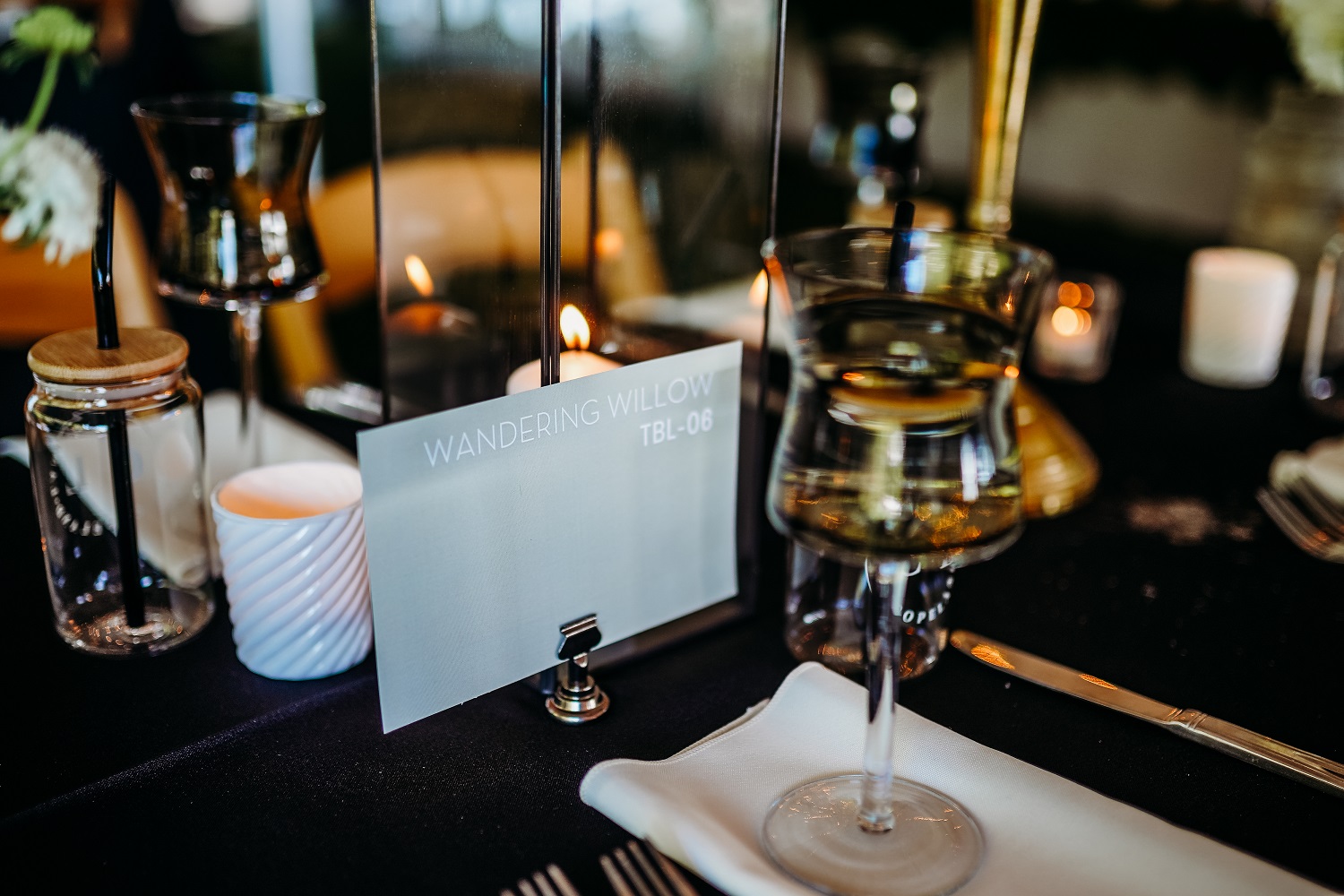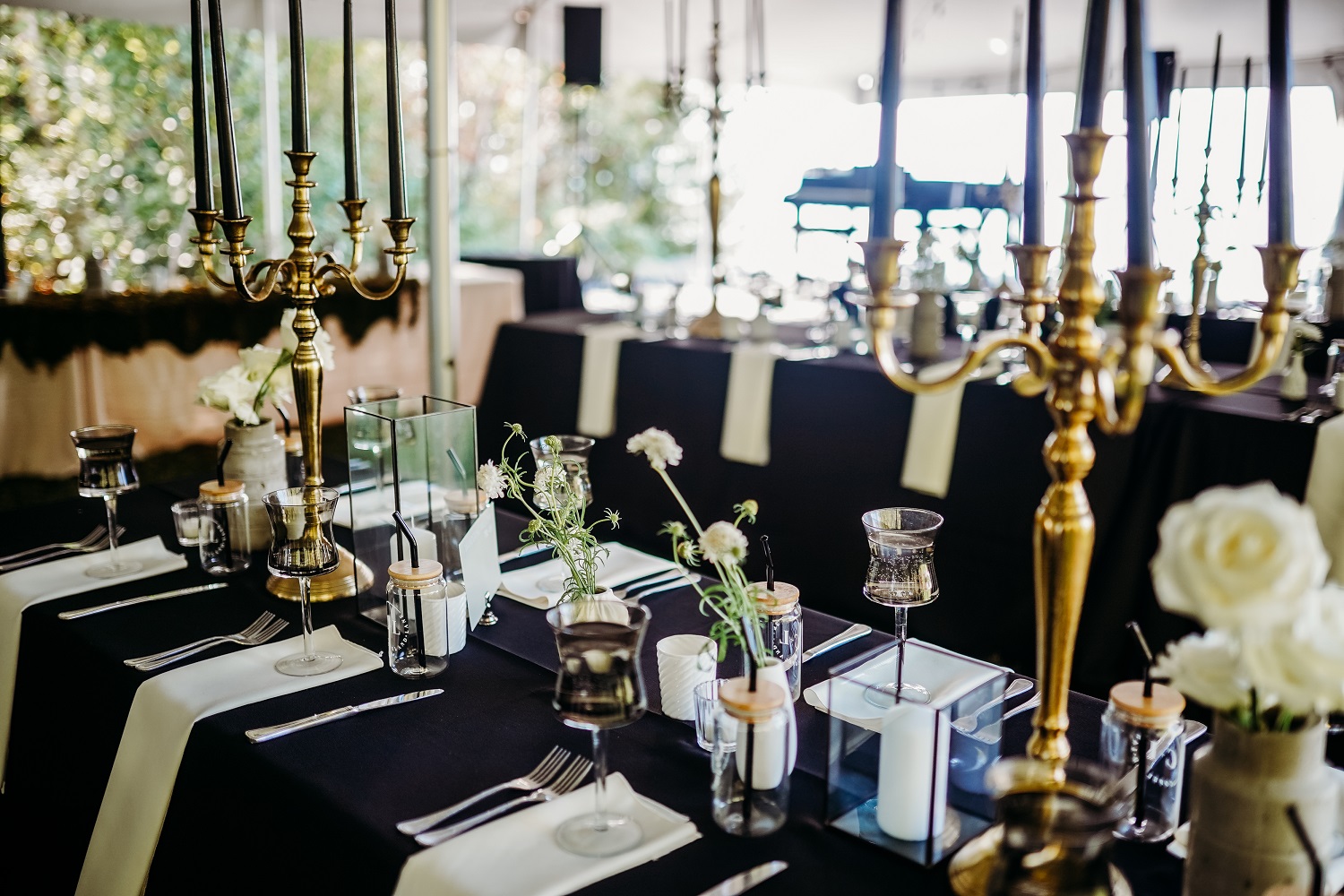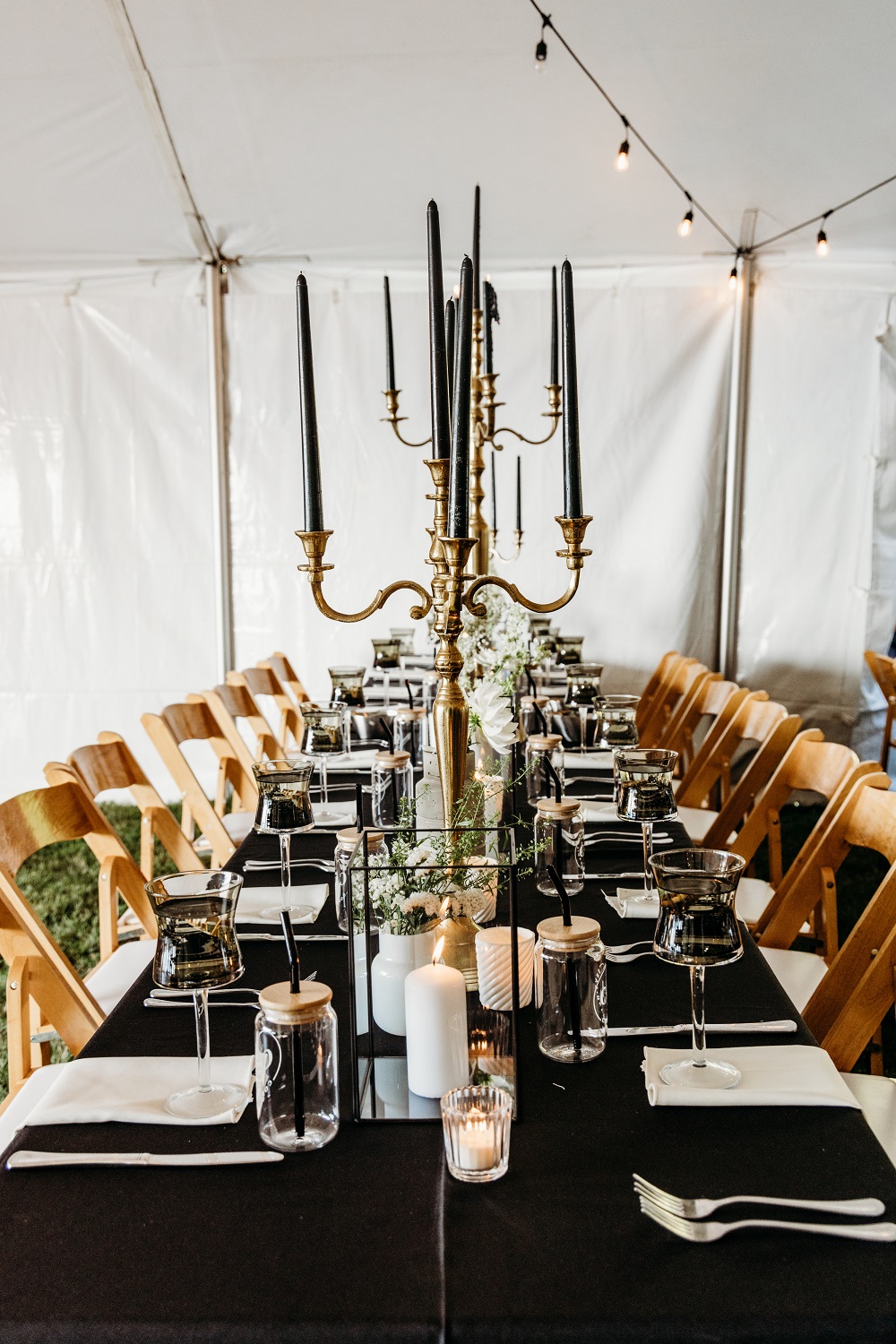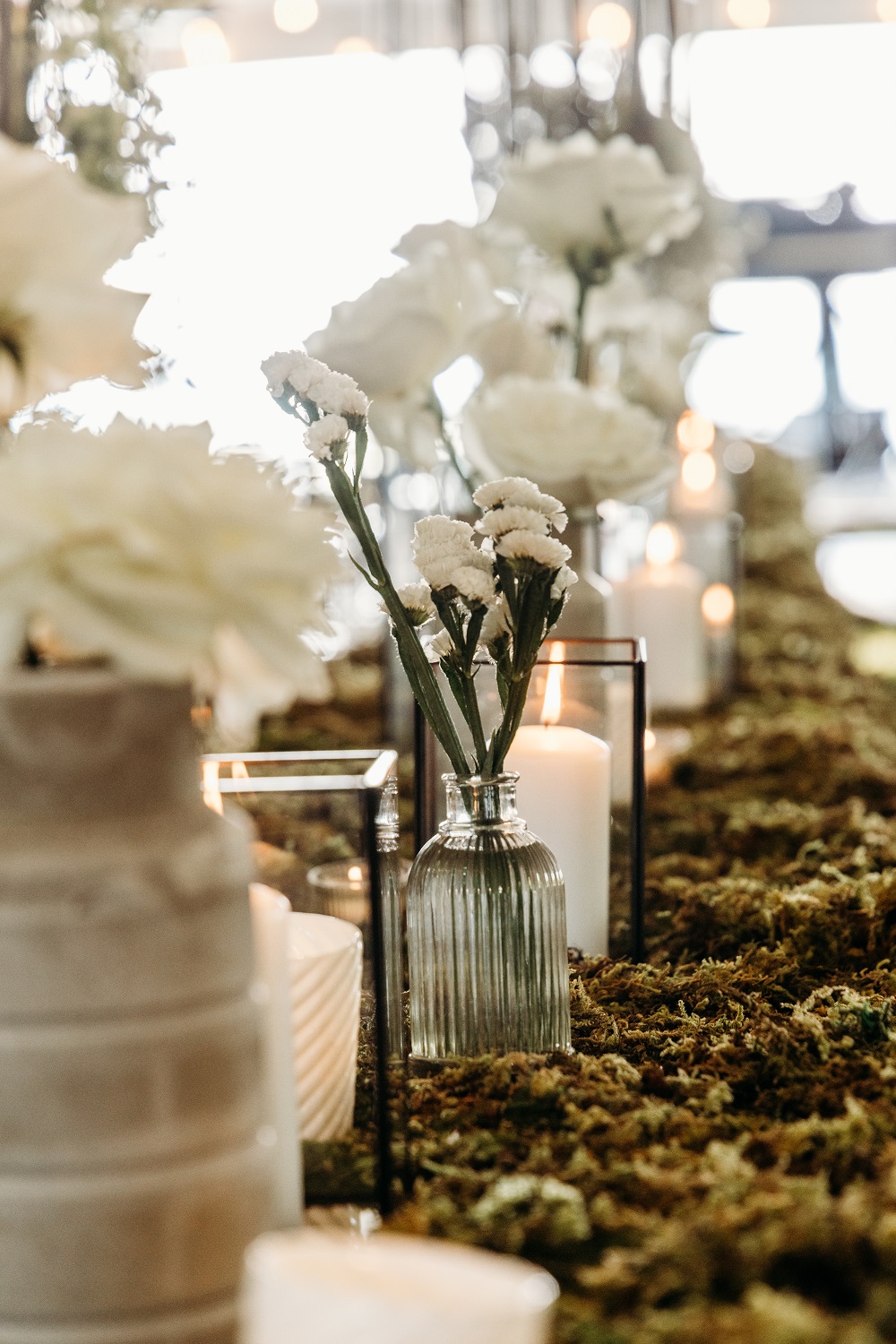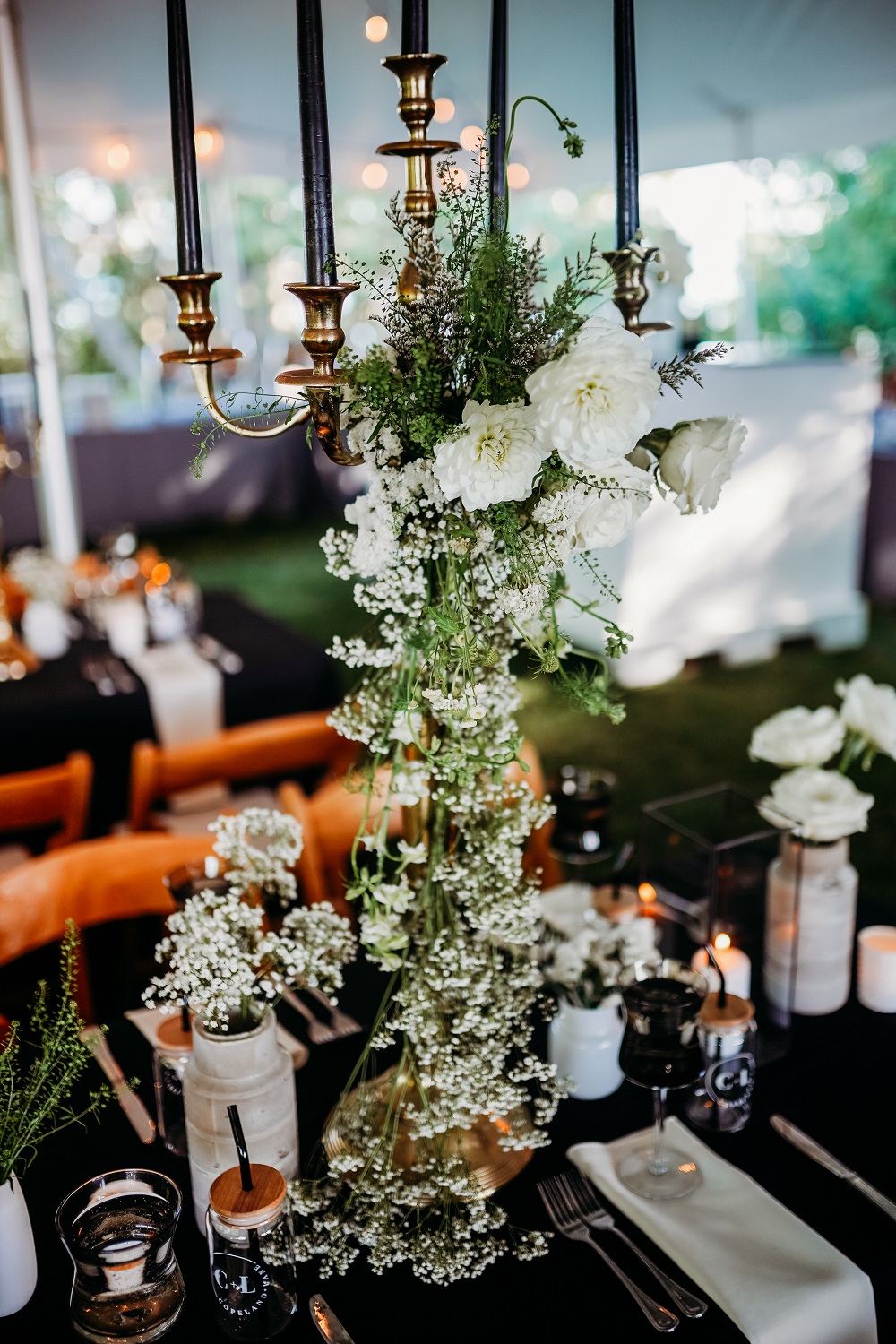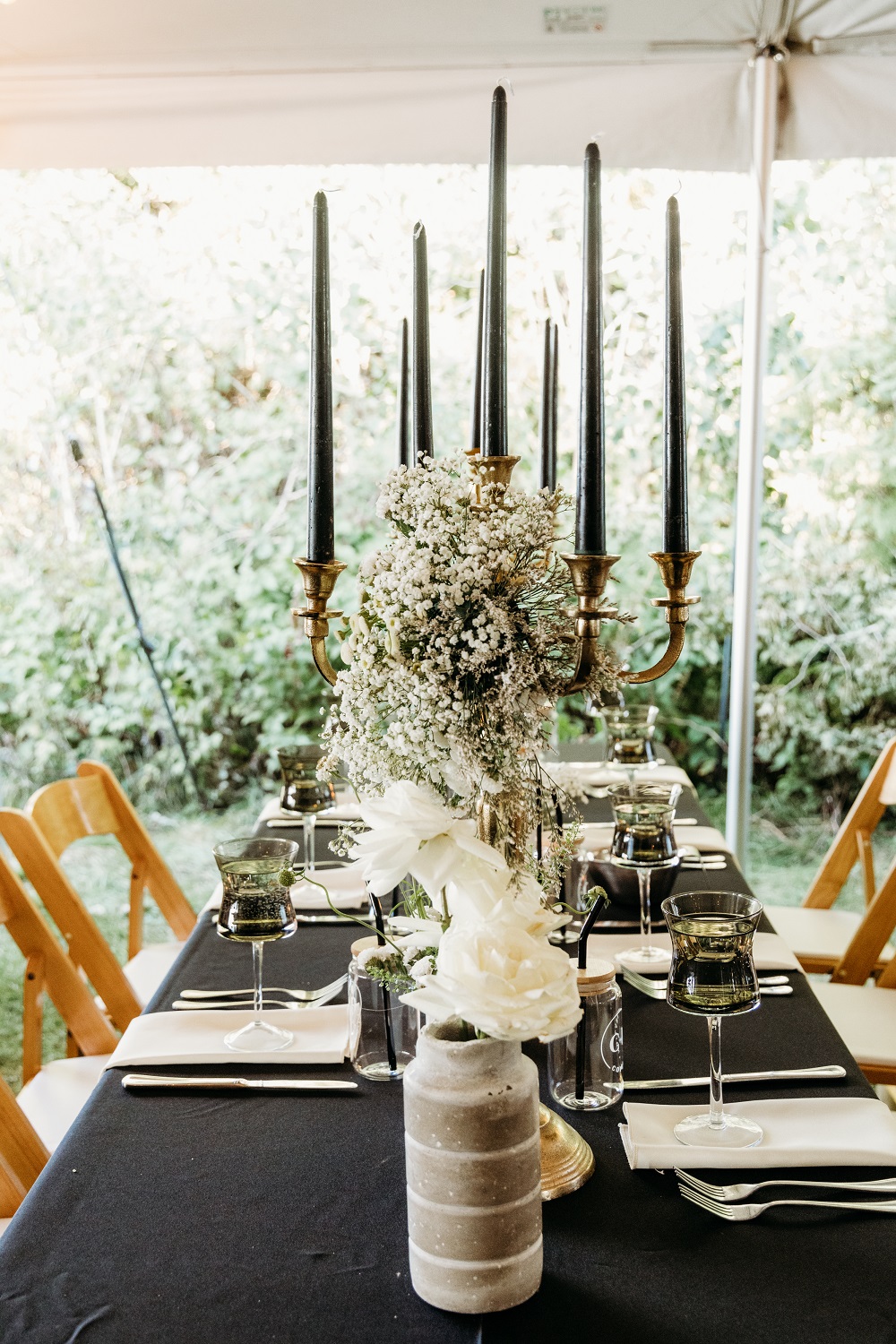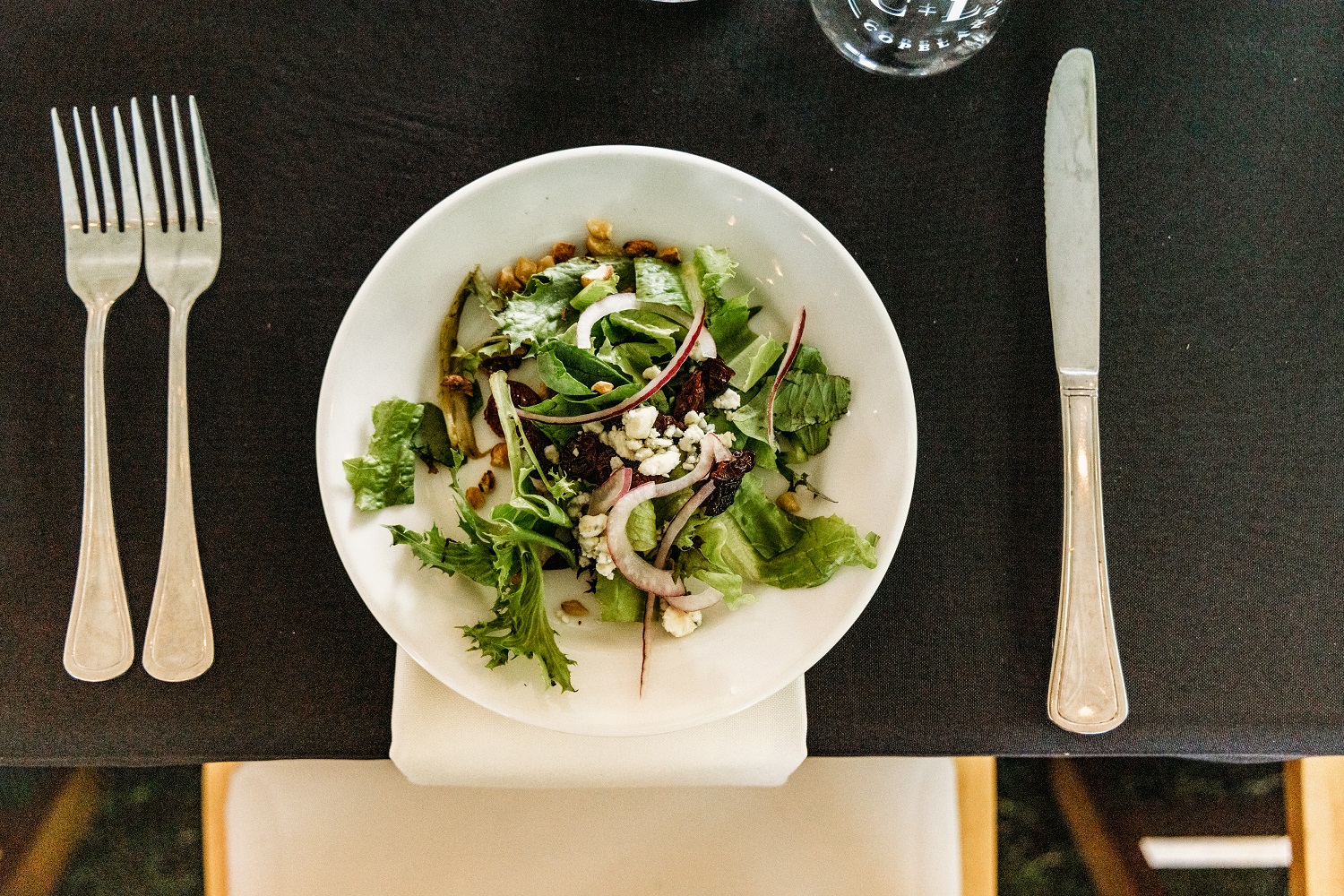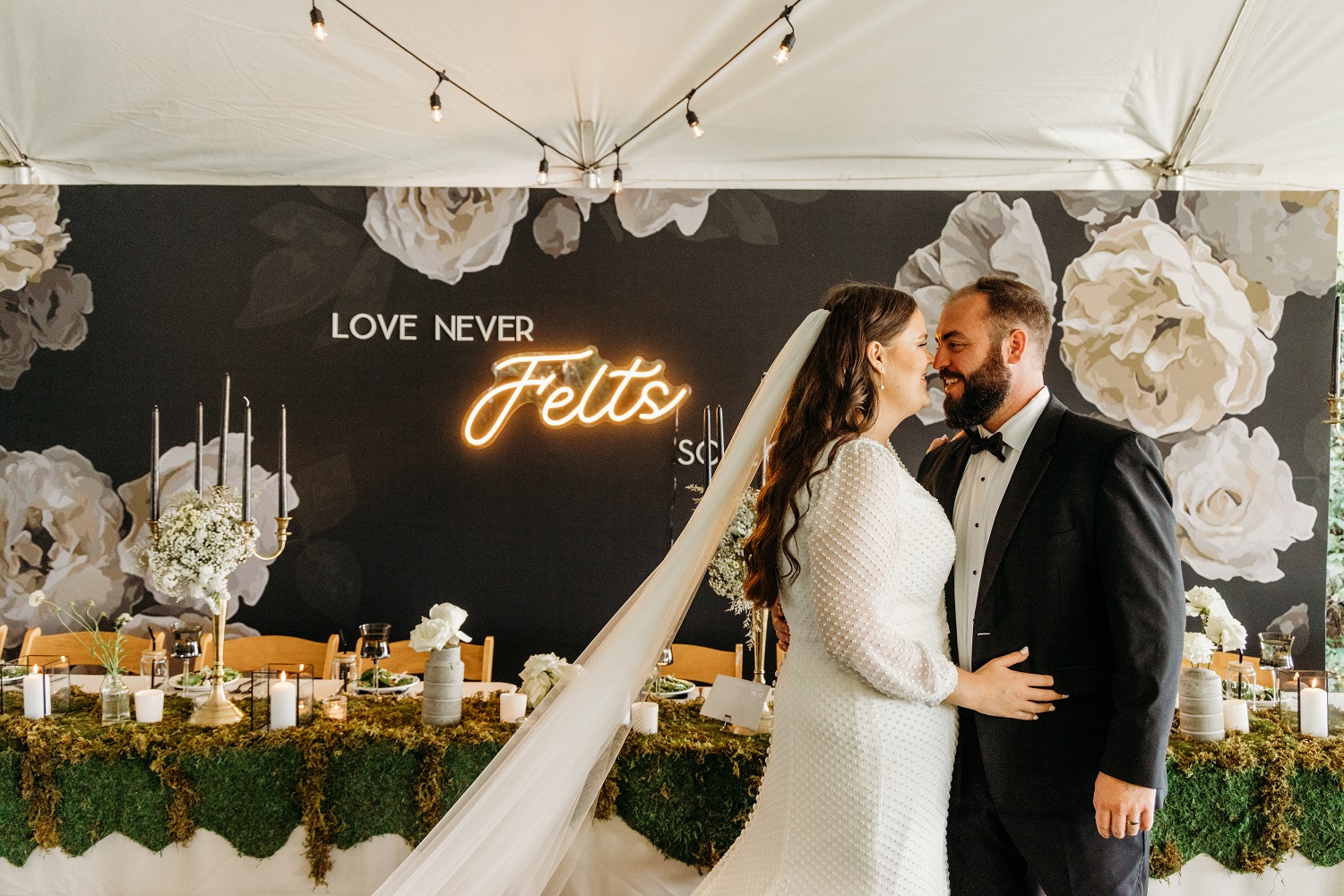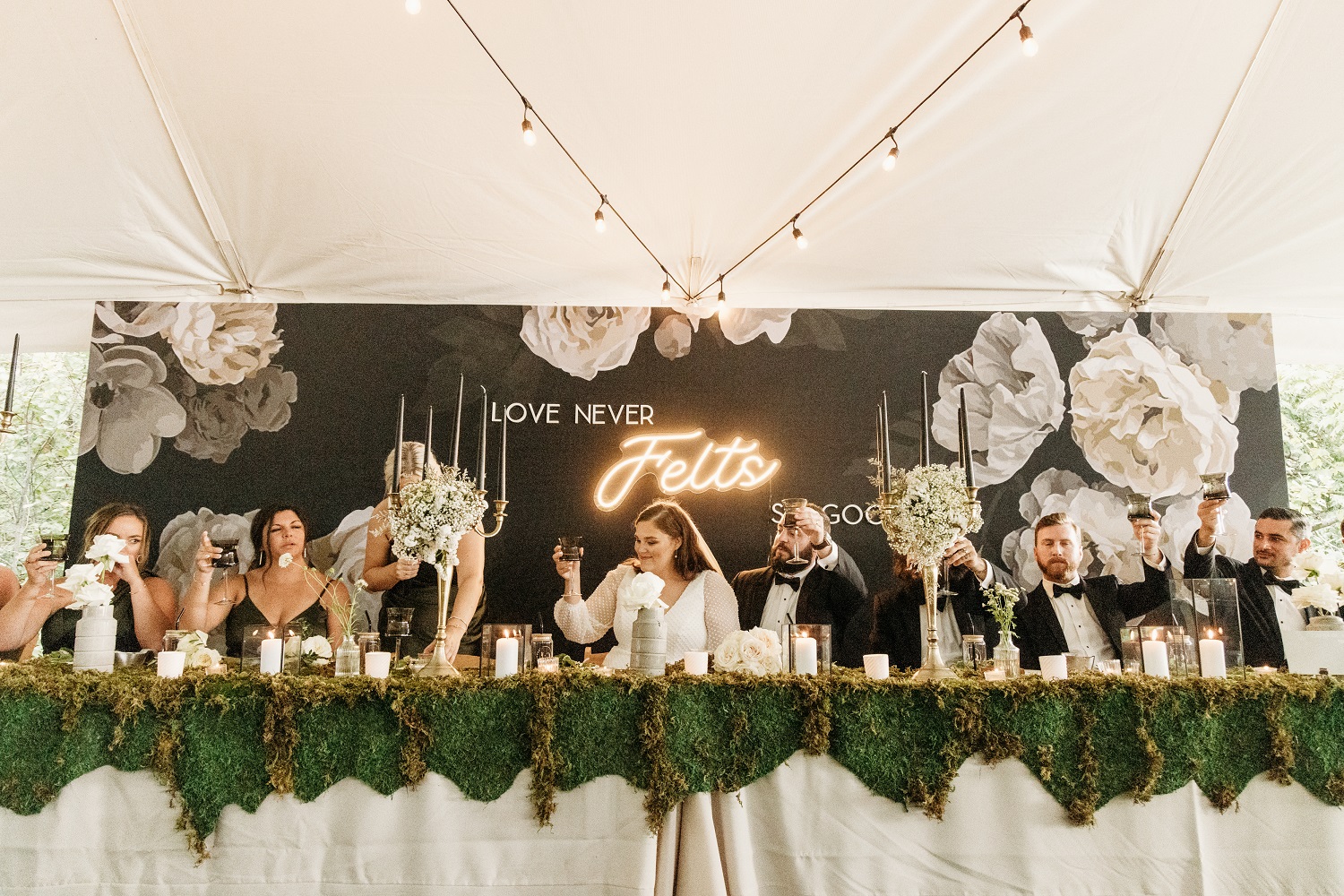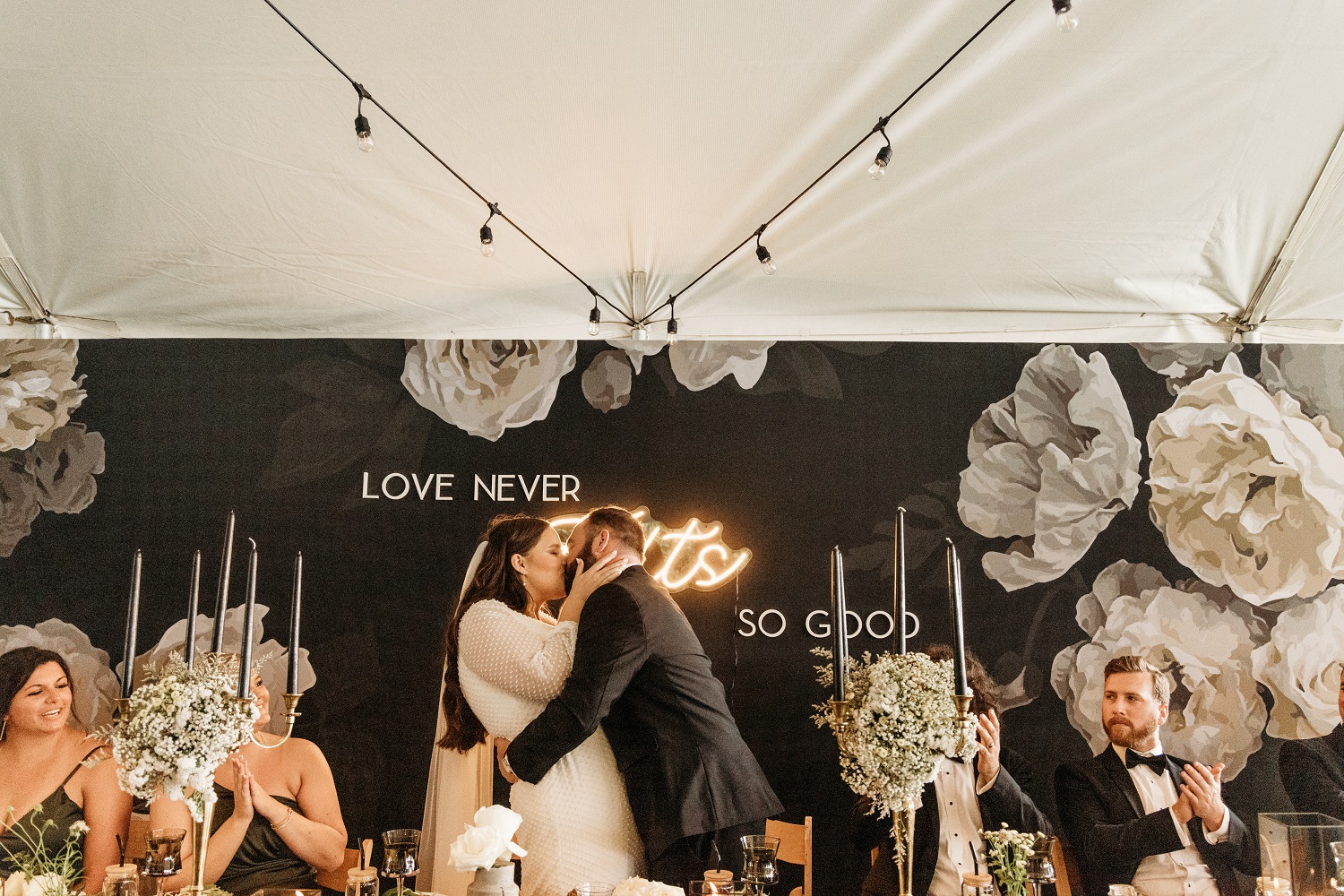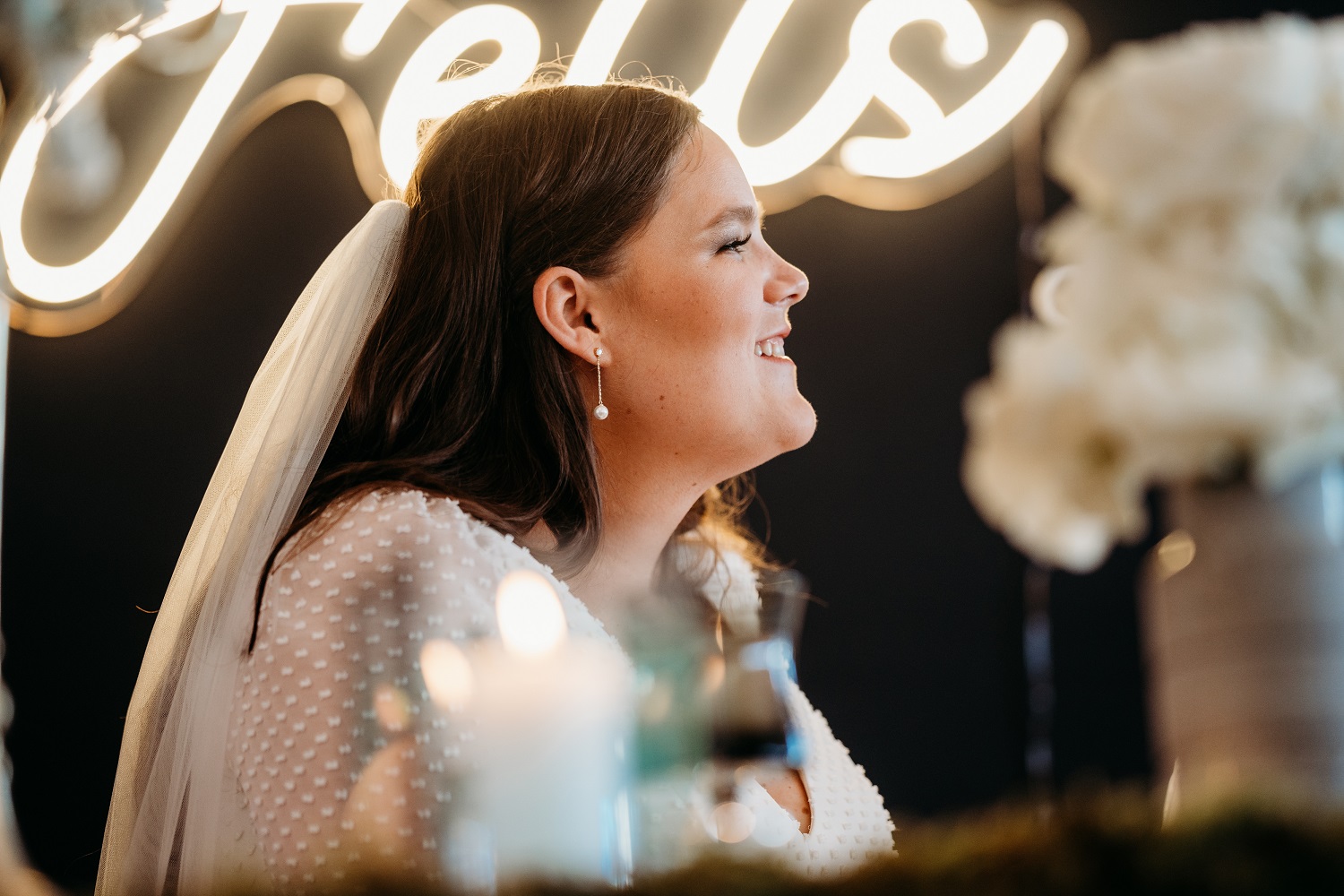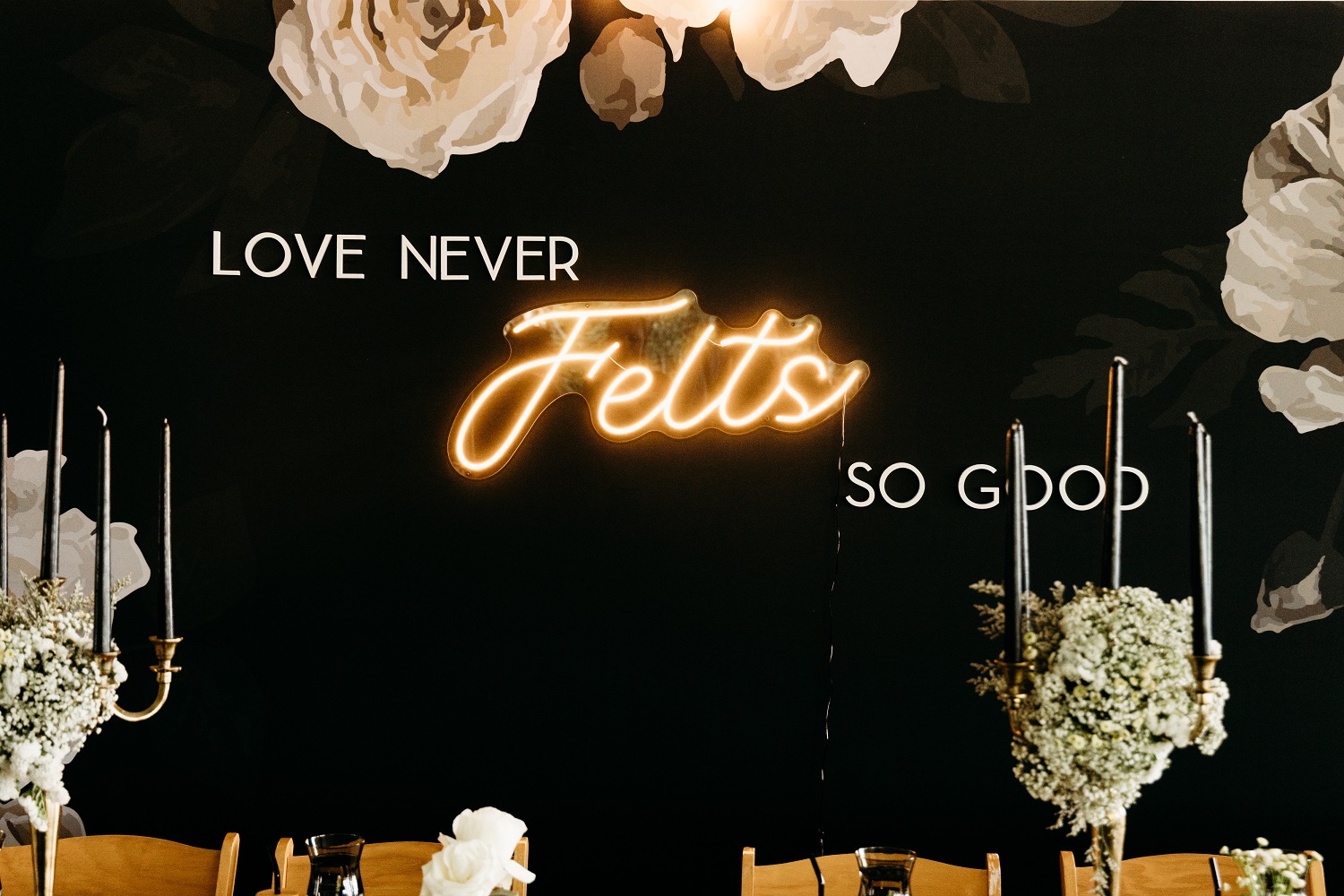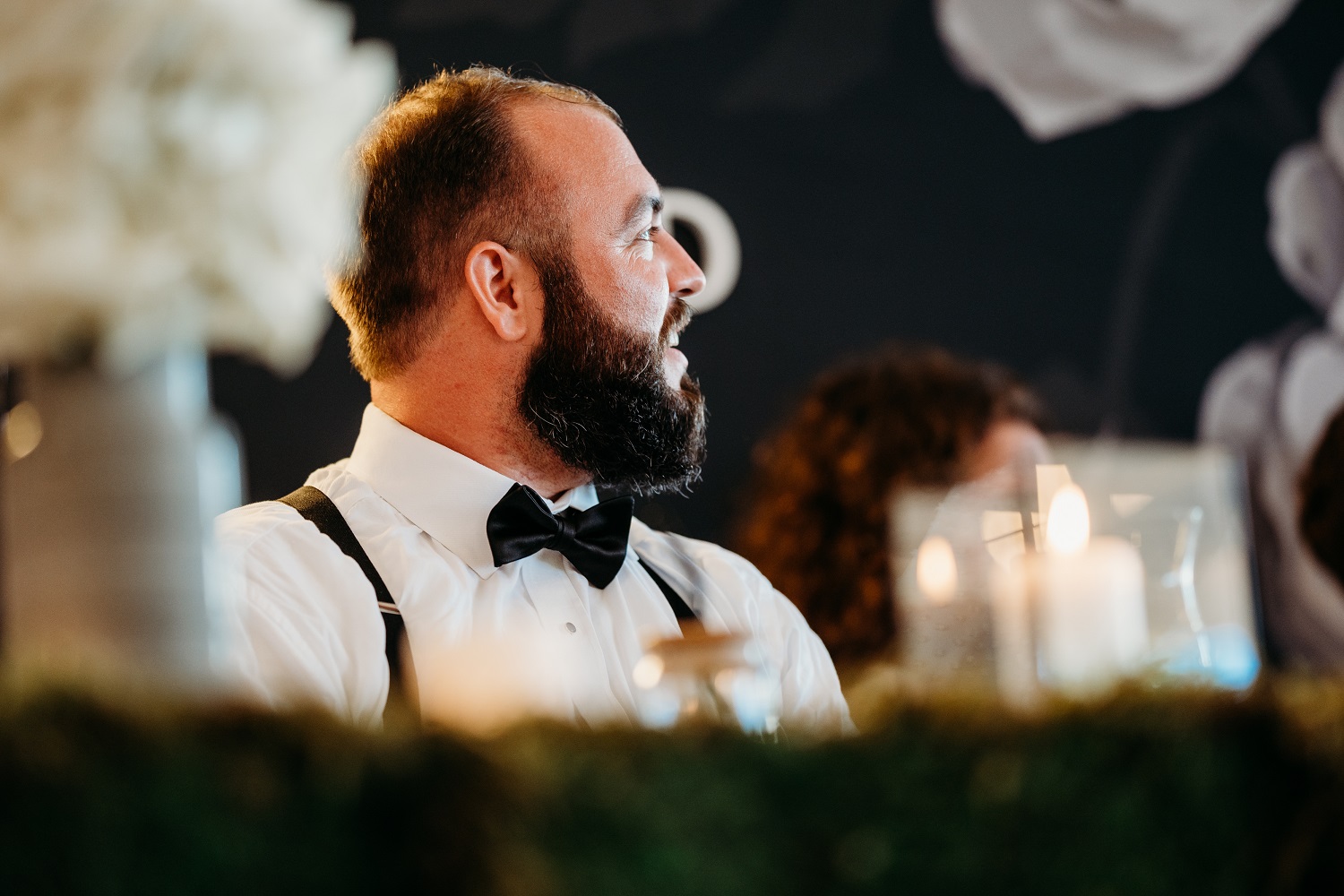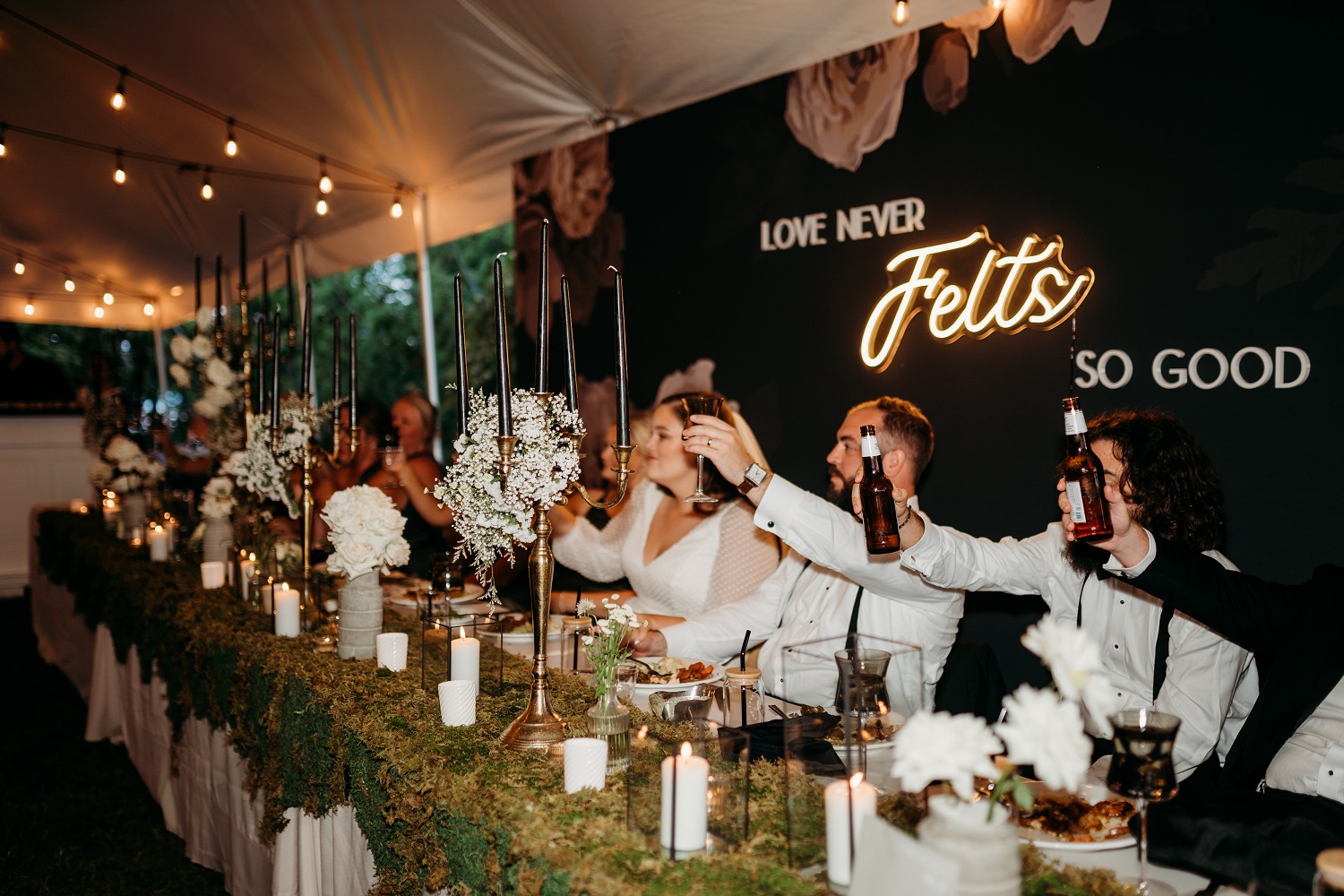 Sunset, S'mores & Moonlight Dancing
As Lane & Copeland stole away with Olive for some sunset photos on the beach, guests roasted marshmallows around the bonfire, ate some incredibly artistic cookies (made by Lane) and enjoyed the photobooth.  Dancing to the dualing piano music continued until a full moon lit the night sky (until the clouds came back).  In keeping with Copeland's love of the night sky, the pair's last dance was "Dancing in the Moonlight".
This one was full of creative vision with kudos to the couple for many personal projects that made it special.  It was an unforgettable adventure we were lucky to be part of on the lovely shores of Lake Michigan.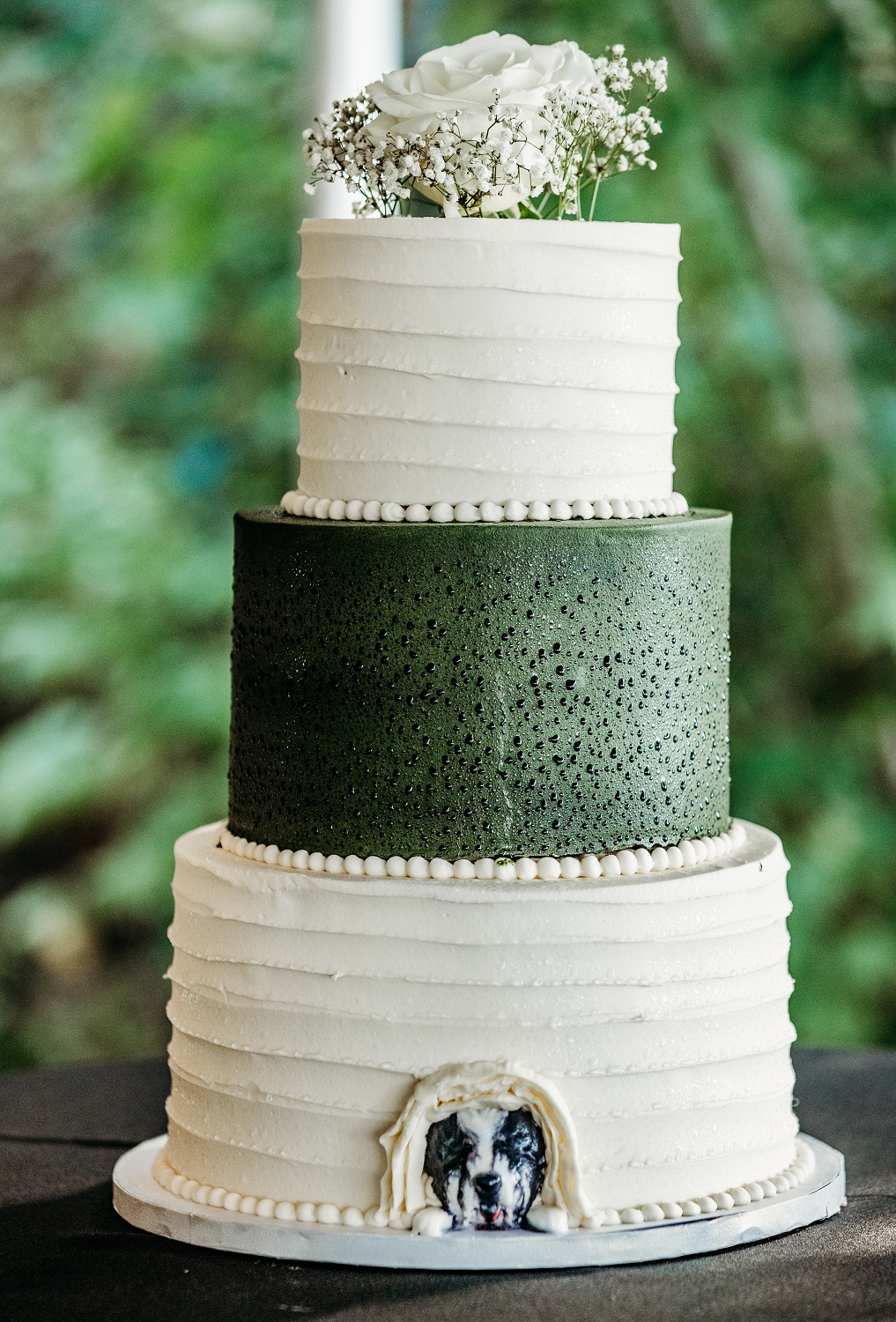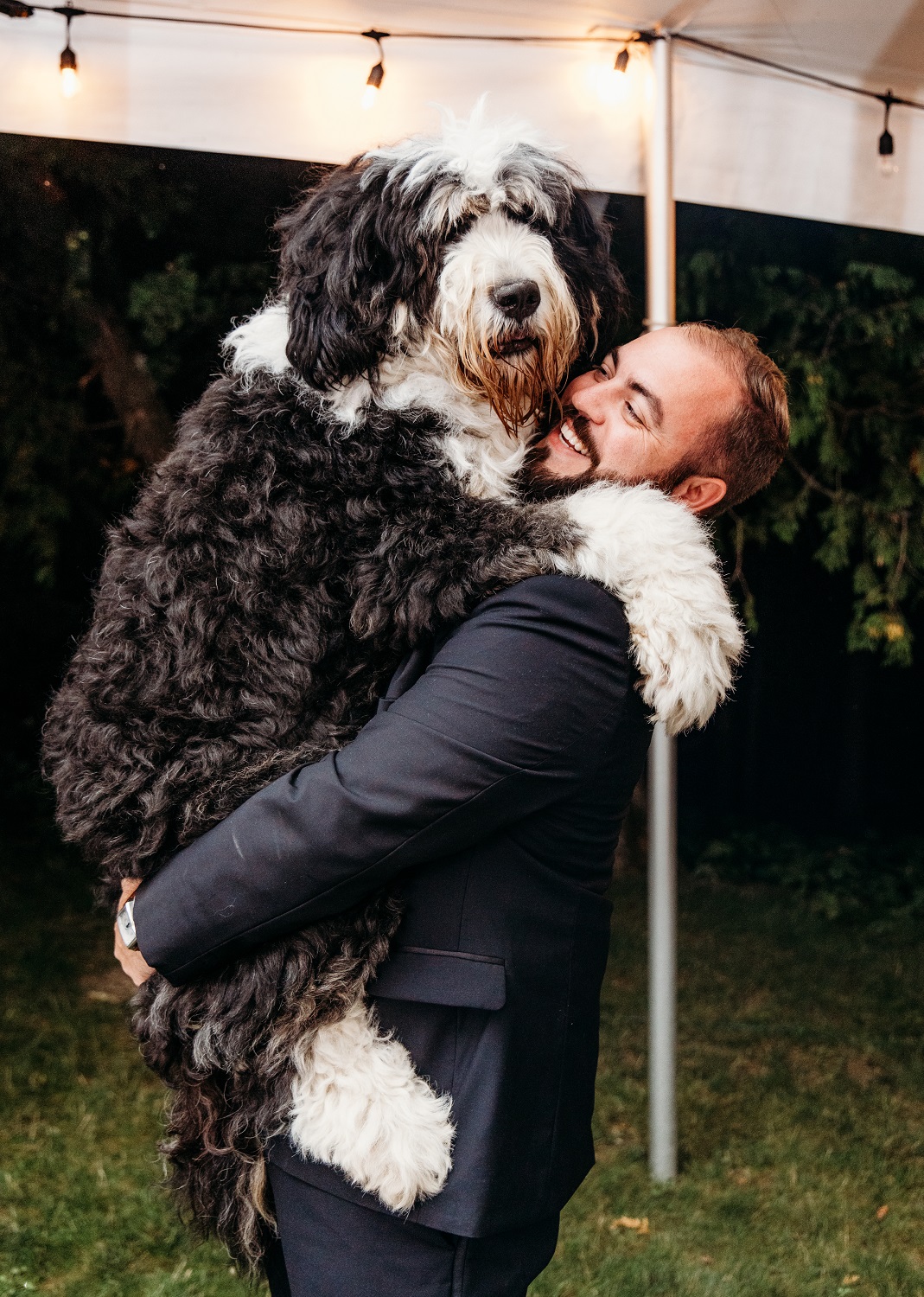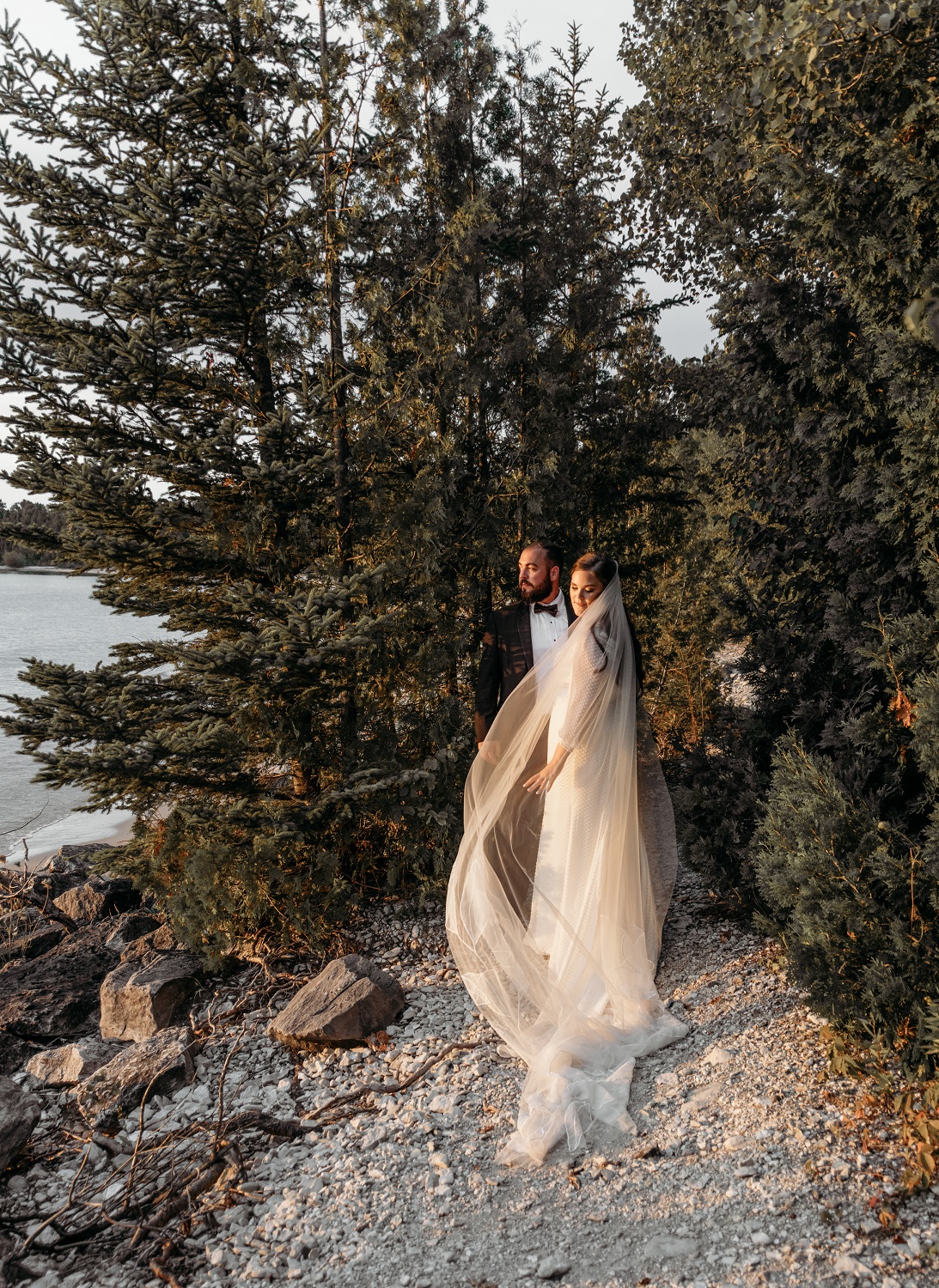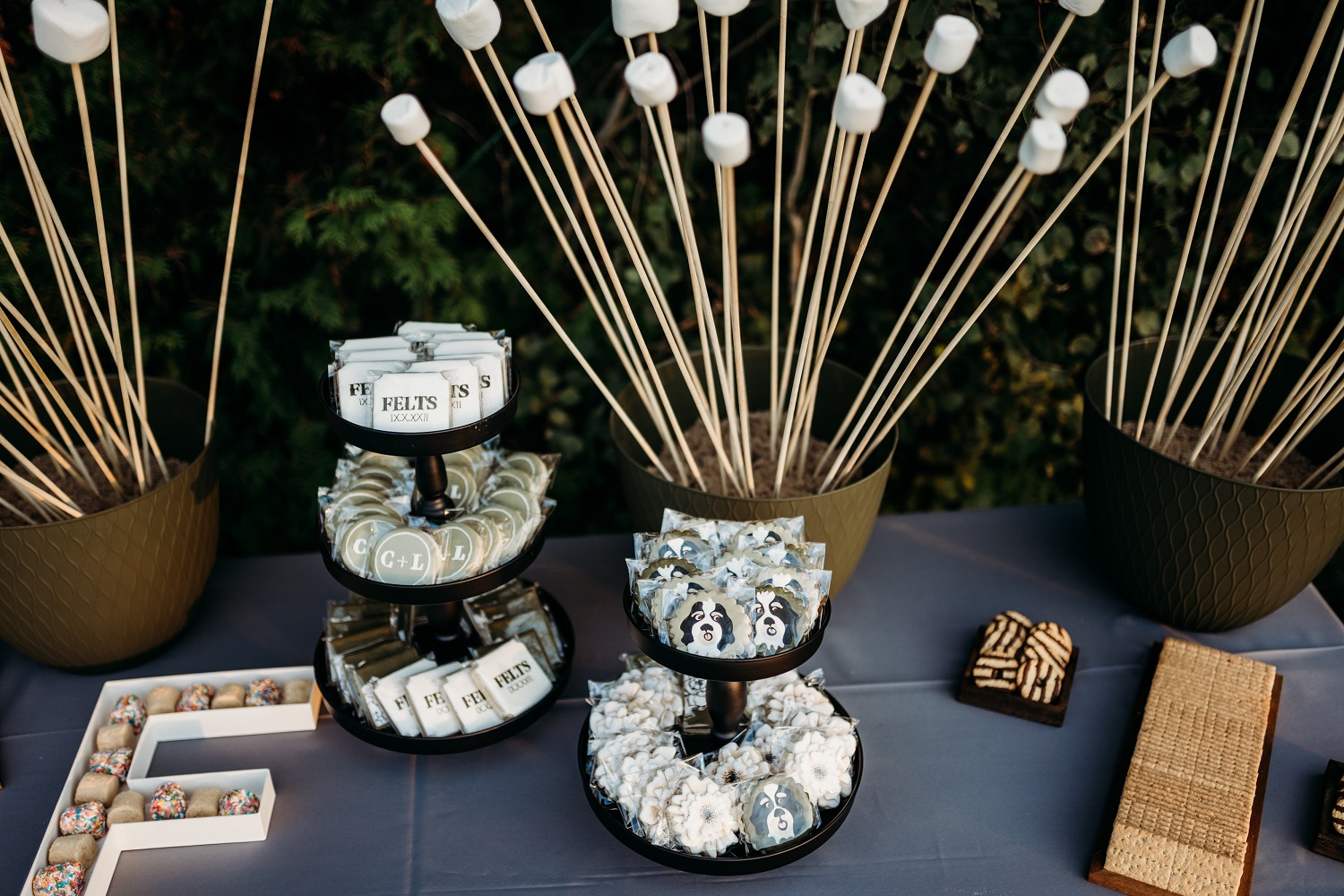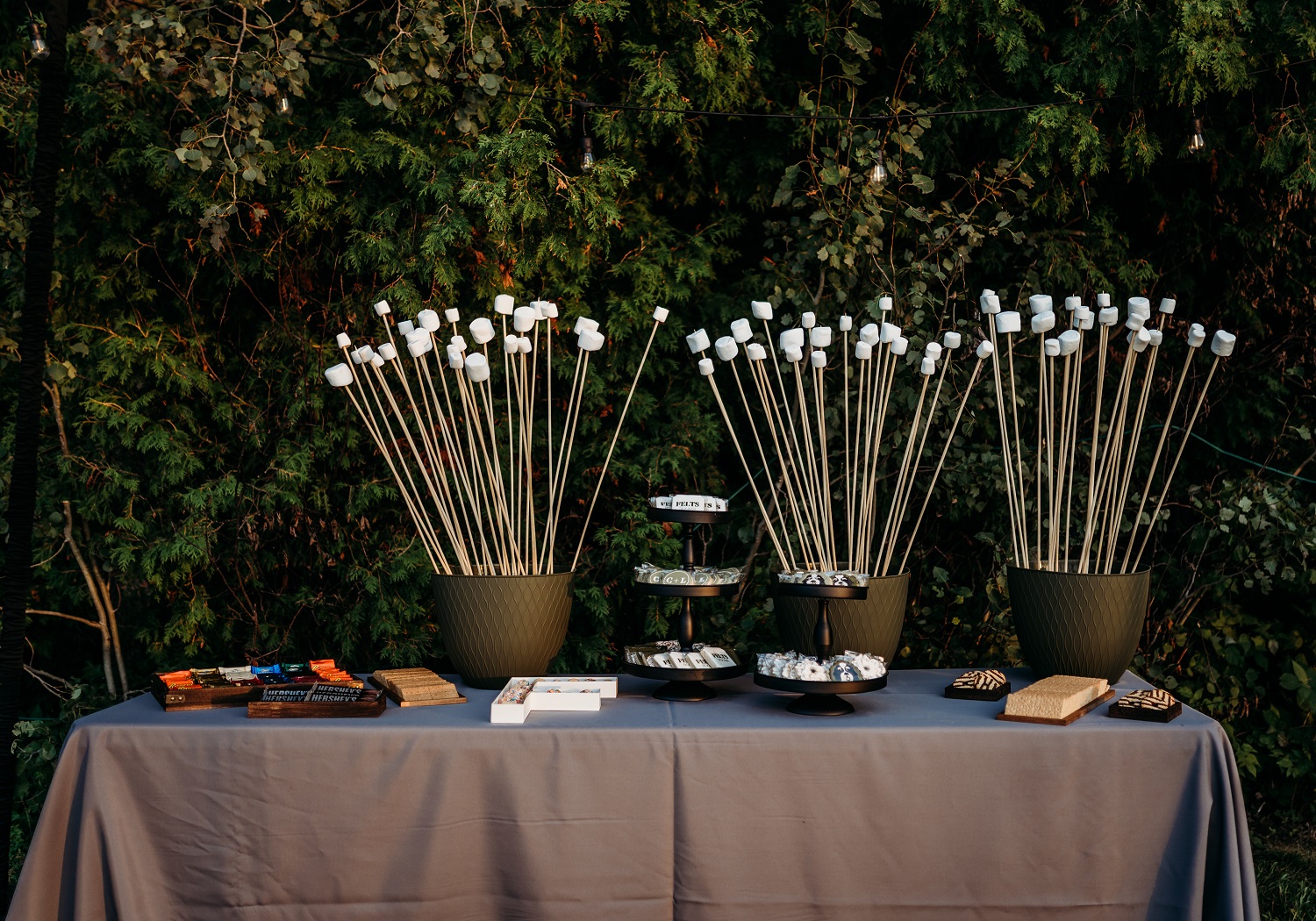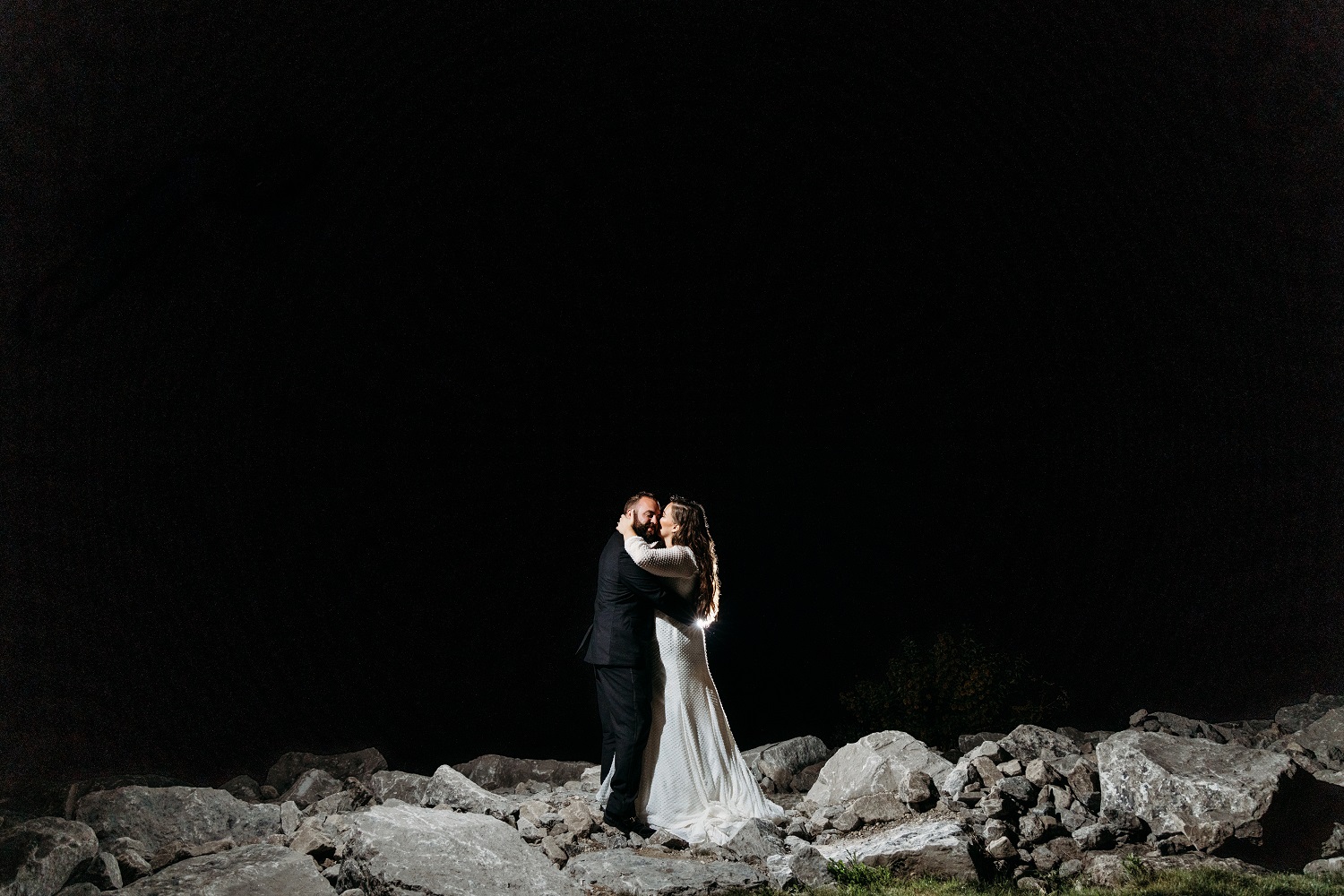 Creative Team Credits
Photography:   Becky Martin Photography
Videography:  MCA Media
Planning + Design + Coordination:  Juniper & Lace Events
Venue:  Headlands Dark Sky Park
Tent & Rentals & Linens:  Meggison Tents & Events
Floral Design:  Truer Design
Dualing Pianos:  Midwest Dualing Pianos
Catering:  Wine Guys Catering
Ceremony trio:  August Strings
Hair & Makeup:  MI Day Beauty
Mirror Photobooth:  Exposures by Rah
Decor Rentals:  GJs, Sensational Events, TC Tented Events, Event Theory
Generator Rental:  Taylor Events
Restroom Trailer:  Luxury Lavatory Services
Transportation:  Sunset Premier Shuttle
Friday Catering:  Knot Just a Shrimp Boil