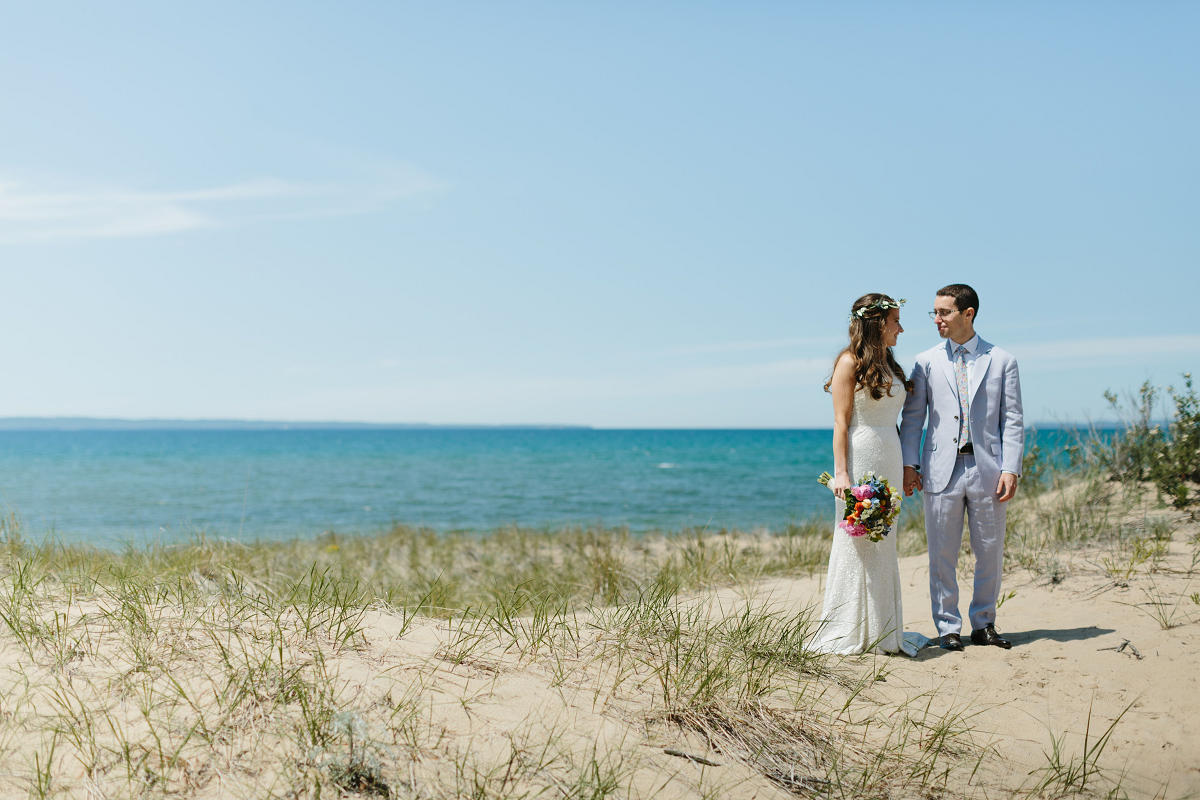 Robin & Reid made history for j+l as the first couple to jump in a canoe and float by their cheering guests after exchanging vows by the forested riverside.  We (and the team from Tonic & Lime) had stocked said canoe with beer and bubbly for a pre-ceremony refreshment and the Field of Flowers team had flowered it, so while Reid promised to co-adventure with Robin for the rest of his days, we stealthily removed the extra beer and slid that canoe into the river for a seamless getaway.  It was epic.  Captured in all it's glory by the talented Mae Stier.
Reid was our first j+l groom to rock a lilac suit with a floral tie that looked hand-picked from the bouquet.  Magic.  Robin was our first j+l bride to do a surprise encore of the first look when she switched into a lace jumpsuit before dinner.  So stylish.
That whole forested riverside ceremony—also a first at Leelanau School, was followed up by cocktails on Lake Michigan with not only great views of the dunes, Manitou Islands, and striking blue waters, but also featured a signature cocktail inspired by The Bleeding Heart  from Oyamel, the couple's favorite cocktail at a favorite restaurant in their old stomping grounds in DC.  Reid went there to taste it again on a work trip shortly before we met with Amber from Tonic & Lime who did a whole cocktail tasting with us, complete with pomegranate ice and nectar.  I also went there when I happened to be in DC for work…it seemed like the responsible planner thing to do.
From the beach, guests walked into a sailcloth tent on the forested lawn, decked out in a profusion of whimsical color—the suspended floral over a white bar, tables with playful patterned napkins, vintage china salad plates, grounded in light blue runners with blue and teal water goblets, and graced with family style salad and seven bowls of accoutrements, kicked dinner off with festive friendly vibes.  The paella and skewers station from The Daily Blend continued a colorful flavorful dining experience.
The dessert scene was also epic.  Robin, who, back in her DC days, happened to work the counter at a bakery that supplied the Obama inauguration with cake, made a neopolitan cake (inspired by Reid's favorite ice cream) adorned in adorable fox cookies, easily one of the best I've ever tasted.  Assorted Grand Traverse Pie Company pies kept the cake company and Robin's dad was the jovial scooper of our locally famous Moomer's ice cream from a miniature self-serve cooler case.  Local roastery, Higher Grounds, brought on the pour-over coffee station to complete an exquisite dining experience before Pluister Entertainment rocked the dance music to round out an incredible evening.
From the weekend that kicked off with rehearsal dinner at Hagerty Center and finished with brunch at West Bay Beach Resort, included SO MANY great planning experiences along the way, and really brought a light-hearted playful spirit to the forests and lakes of northern Michigan, here are the moments that are already inspiring future weddings.  My canoe is up for it.  Just saying.
THE CREATIVE TEAM
Planning + Design + Coordination:  Juniper & Lace Events | Venue:  Leelanau School | Photography:  Mae Stier | Floral design:  Field of Flowers North | Tent, tables, chairs, lounge furniture:  307 Events & Tents | Colored glassware & vintage china plates:  Gigi & LaClede | Patterned napkins & linens:  BBJ Linen | Solid napkins & linens:  Special Occasions | Gauze runners:  Green Earth Studios (Etsy) | DJ:  Pluister Entertainment | Catering:  The Daily Blend | Bartending:  Tonic & Lime | Beer:  Short's Brewery | Pies:  Grand Traverse Pie Company | Ice Cream:  Moomer's | Pour over coffee station:  Higher Grounds Coffee | Hair & makeup:  Dream Details | Shuttle:  The Magic Shuttle Bus | Welcome sign:  Ampersand Lettering Lab | Officiant:  Mica | Welcome Gathering:  Hagerty Center | Brunch & lodging:  West Bay Beach Resort