Ashley + Aaron // nature, maple city
Forest Revelry at Nature, A Michigan Retreat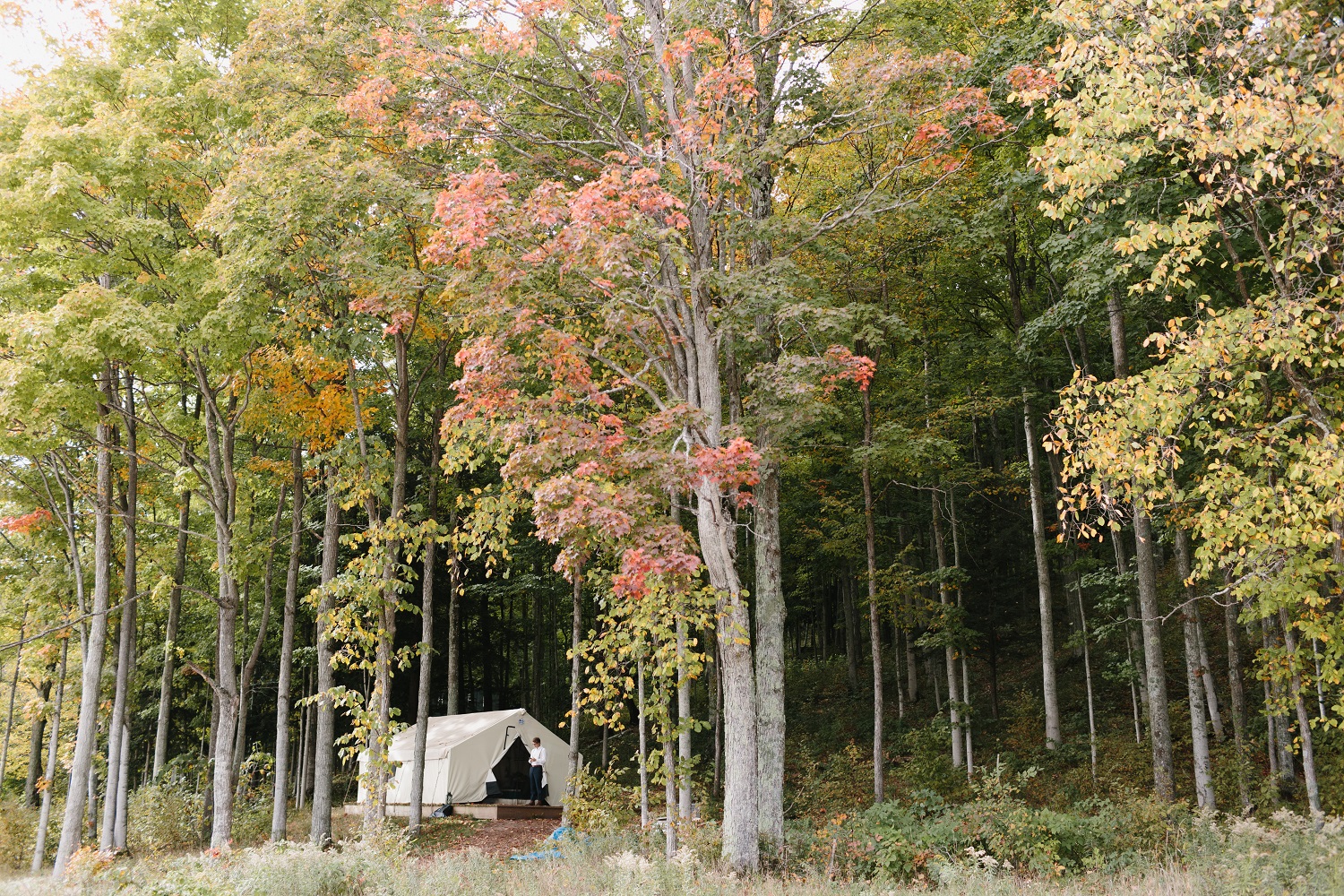 Inspiration & Arrival
Aaron is a botanist with a passion for trees and wildflowers.  In college, he did a stint of dune ecosystems study in northern Michigan so when he and Ashley, residents of Kentucky, decided to get married "up north", they found their dream venue in Nature.  The glamping retreat is on forested rolling terrain in Maple City, just northeast of Sleeping Bear Dunes.
The adventurous October weekend itinerary included a dune hike with friends, pizza by the pond after rehearsal, glamping in the woods, and on the wedding day, golf cart rides up a sandy trail to a forest ceremony.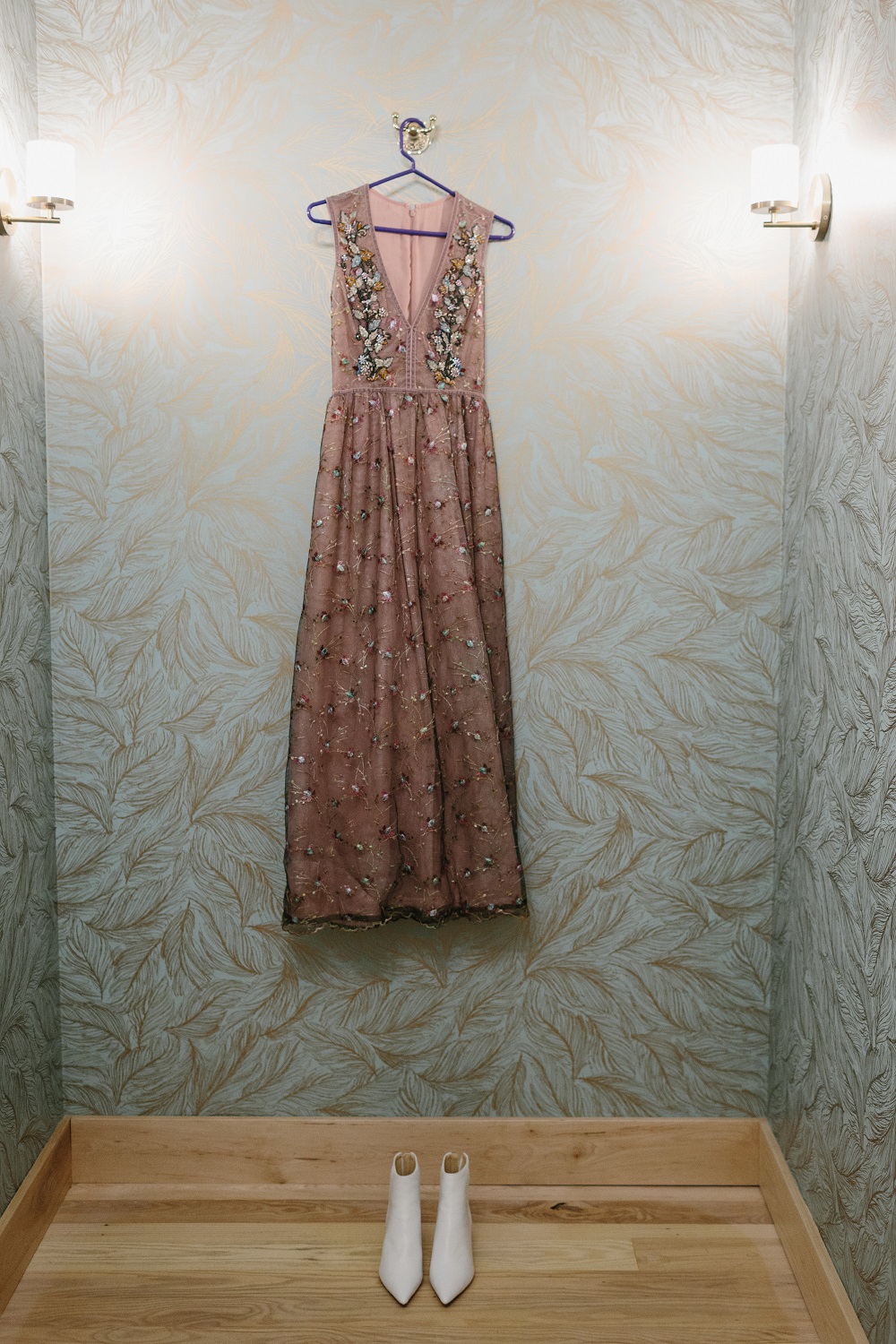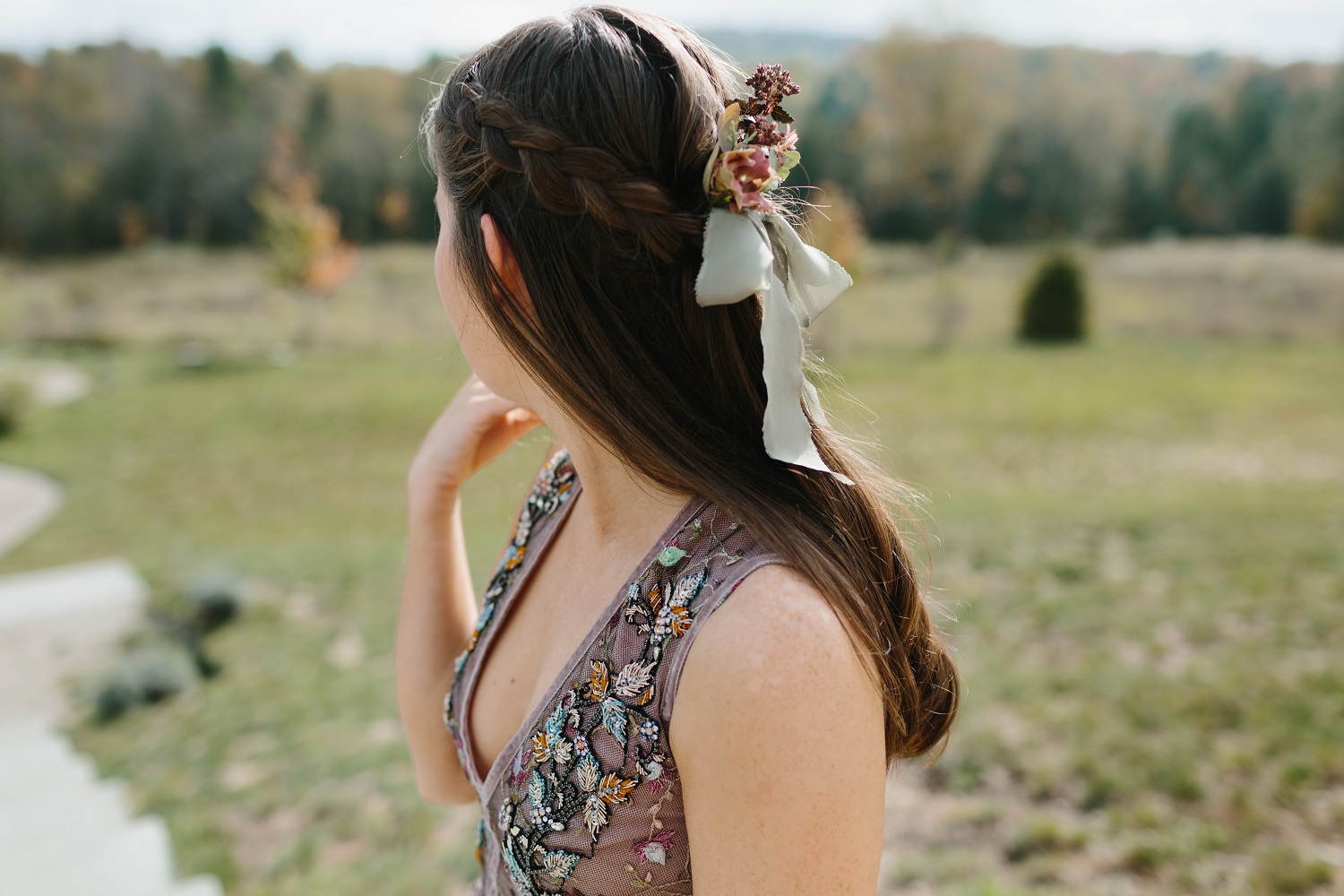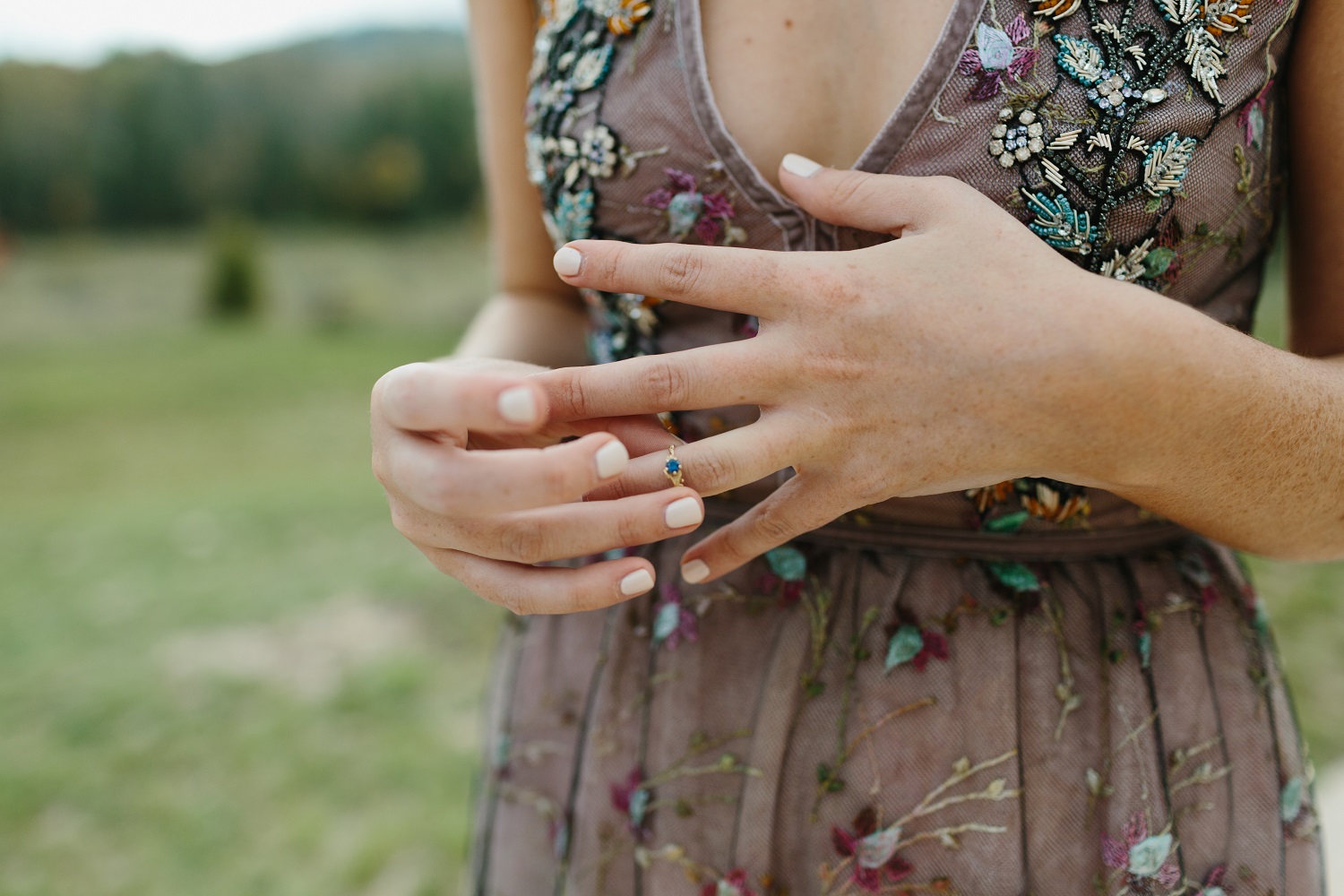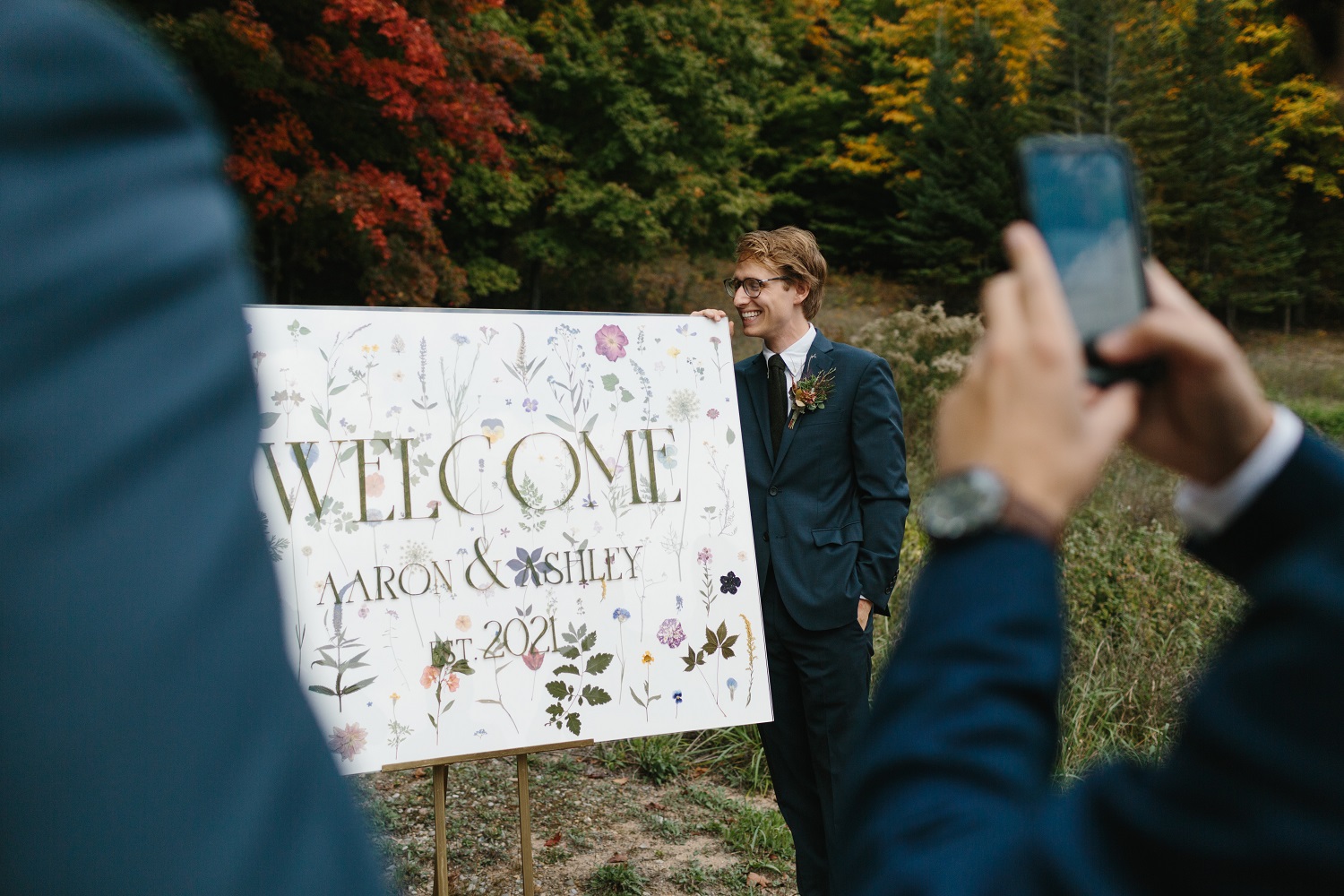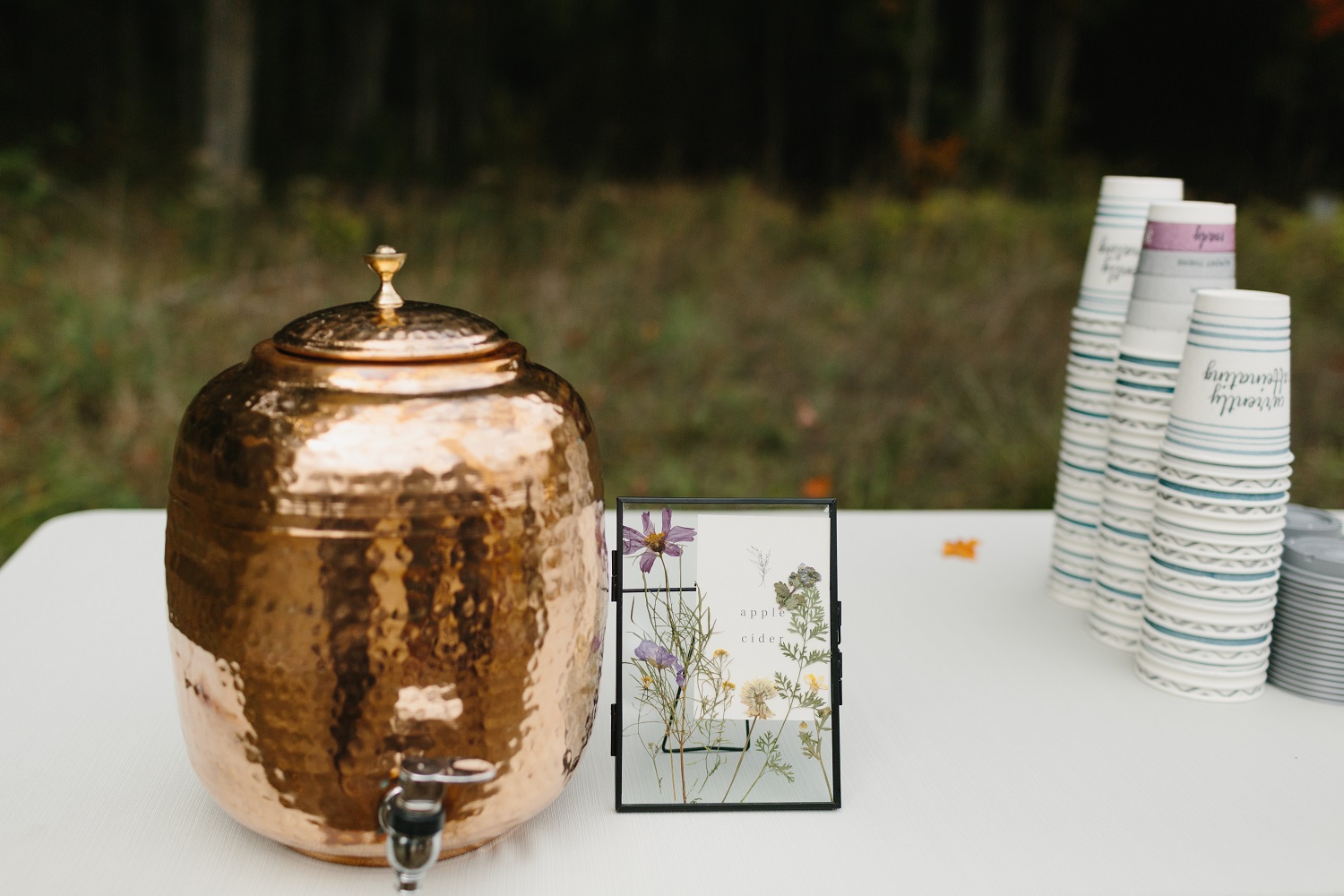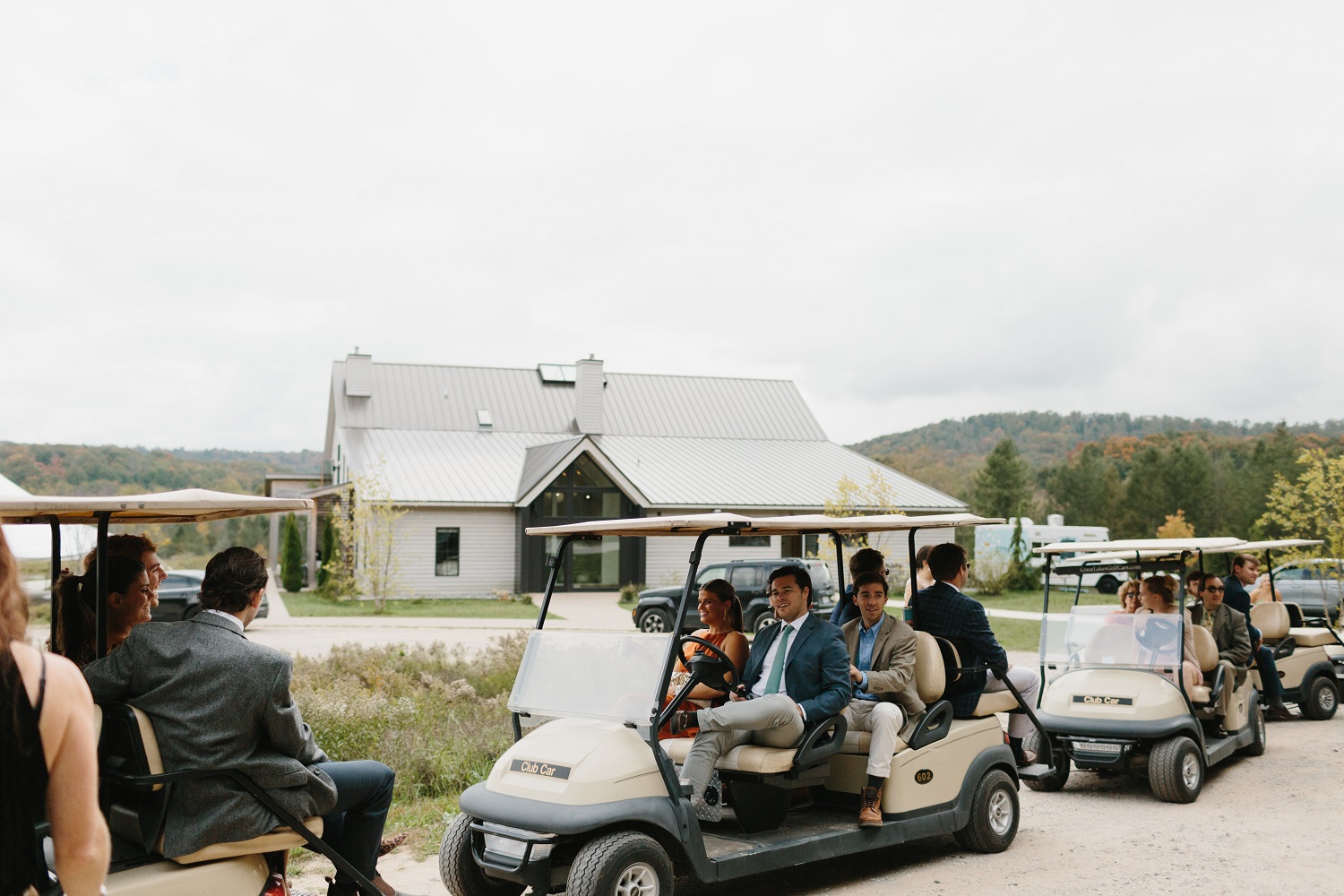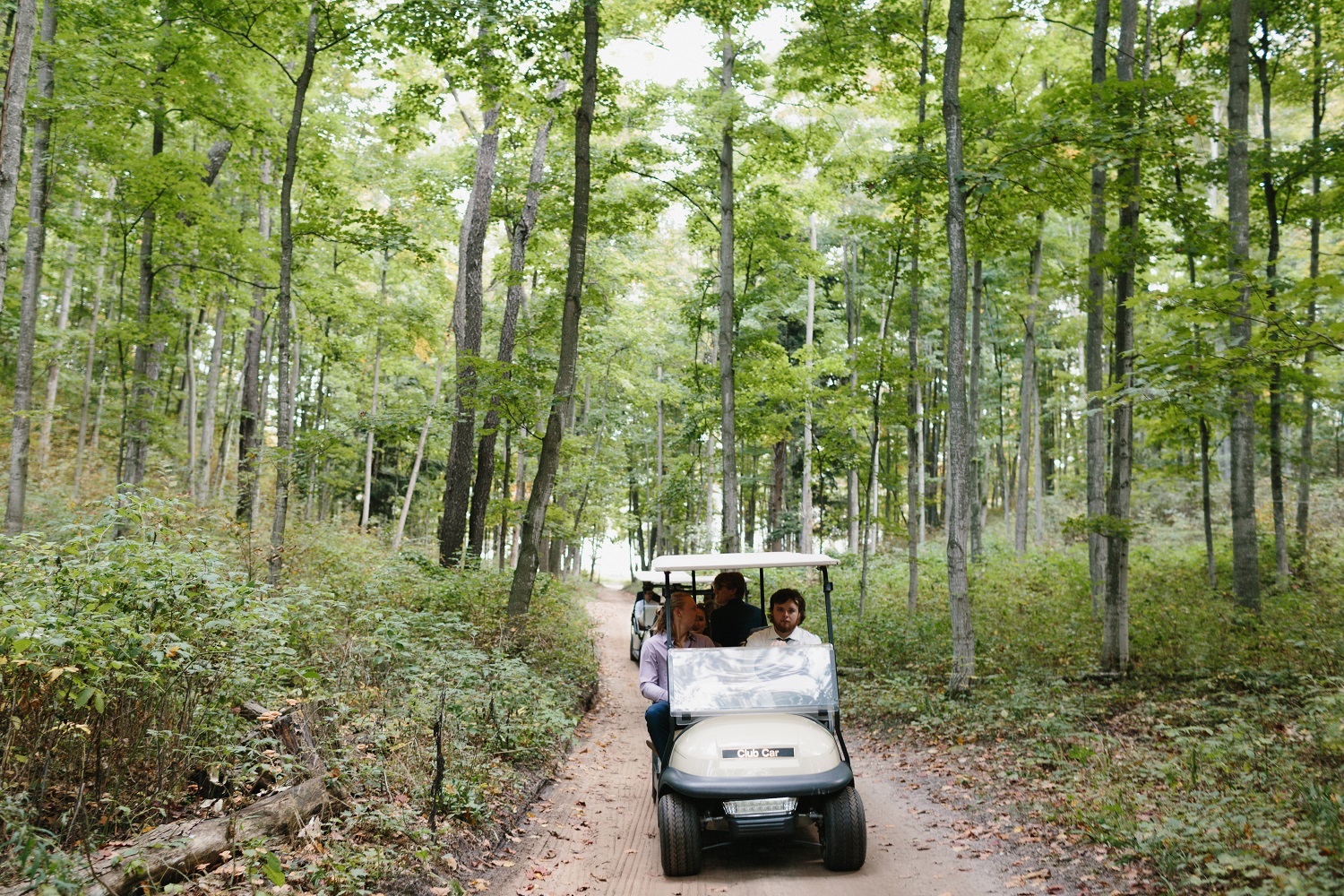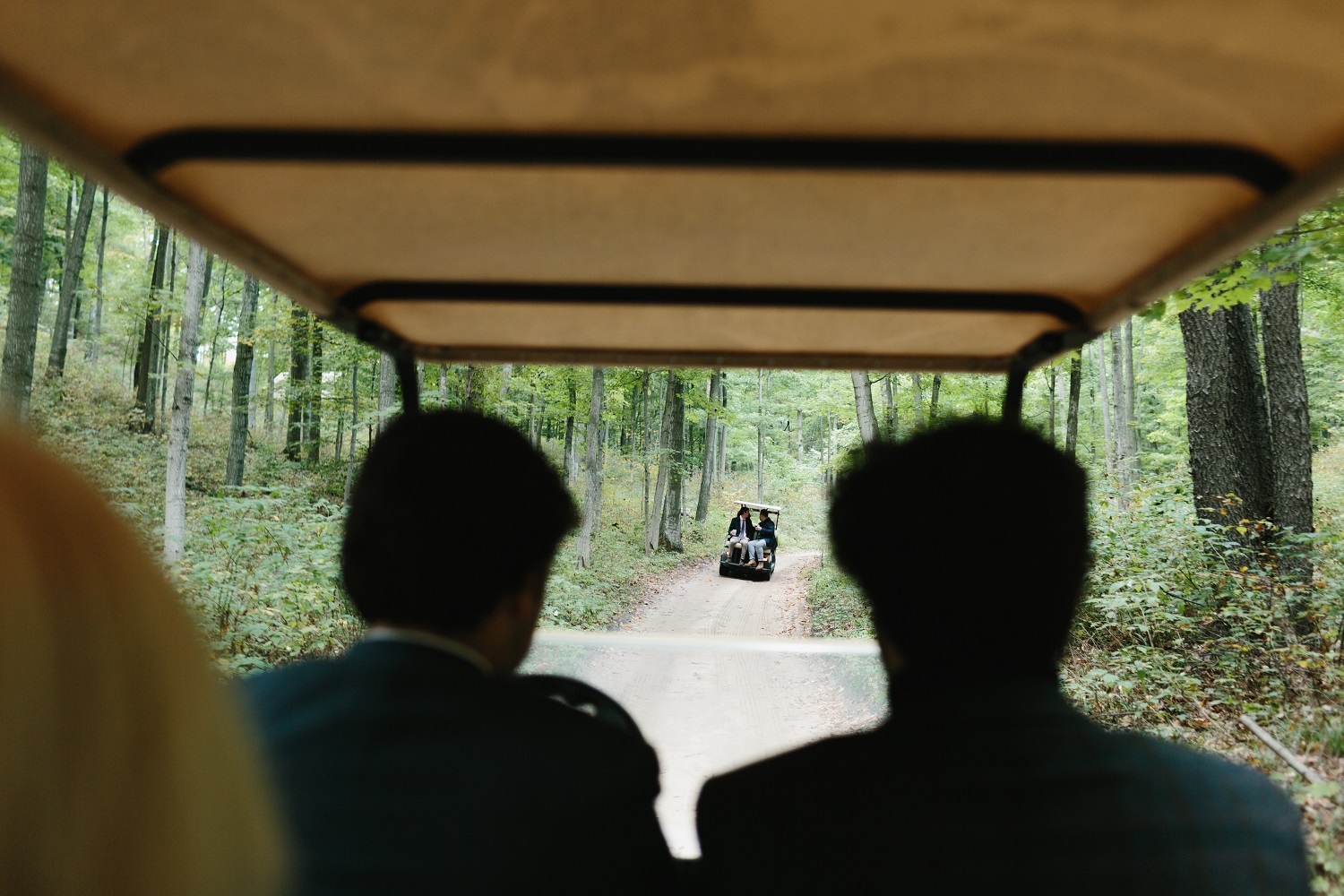 Forested Ceremony
Mulled wine and hot apple cider in copper dispensers greeted guests at the trail entrance.  A collection of pressed floral, collected by Aaron, was used in signage throughout the day.  Ashley was gorgeous in a mauve dress adorned in stunning beaded floral detail.  The pair exchanged vows in the Forest Sanctuary clearing with an altar of ground floral featuring native grasses and pops of burgundy.  Immersed in nature.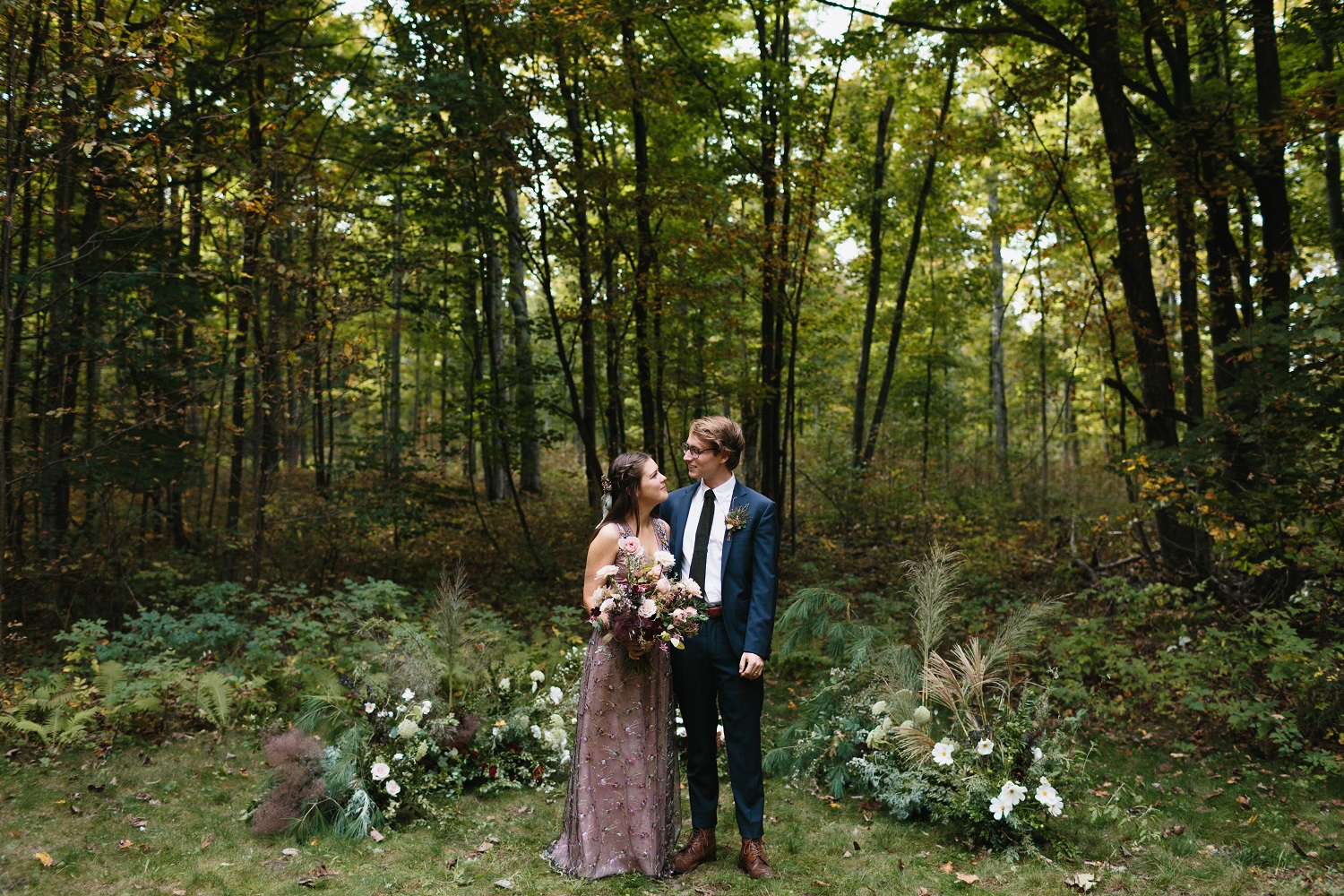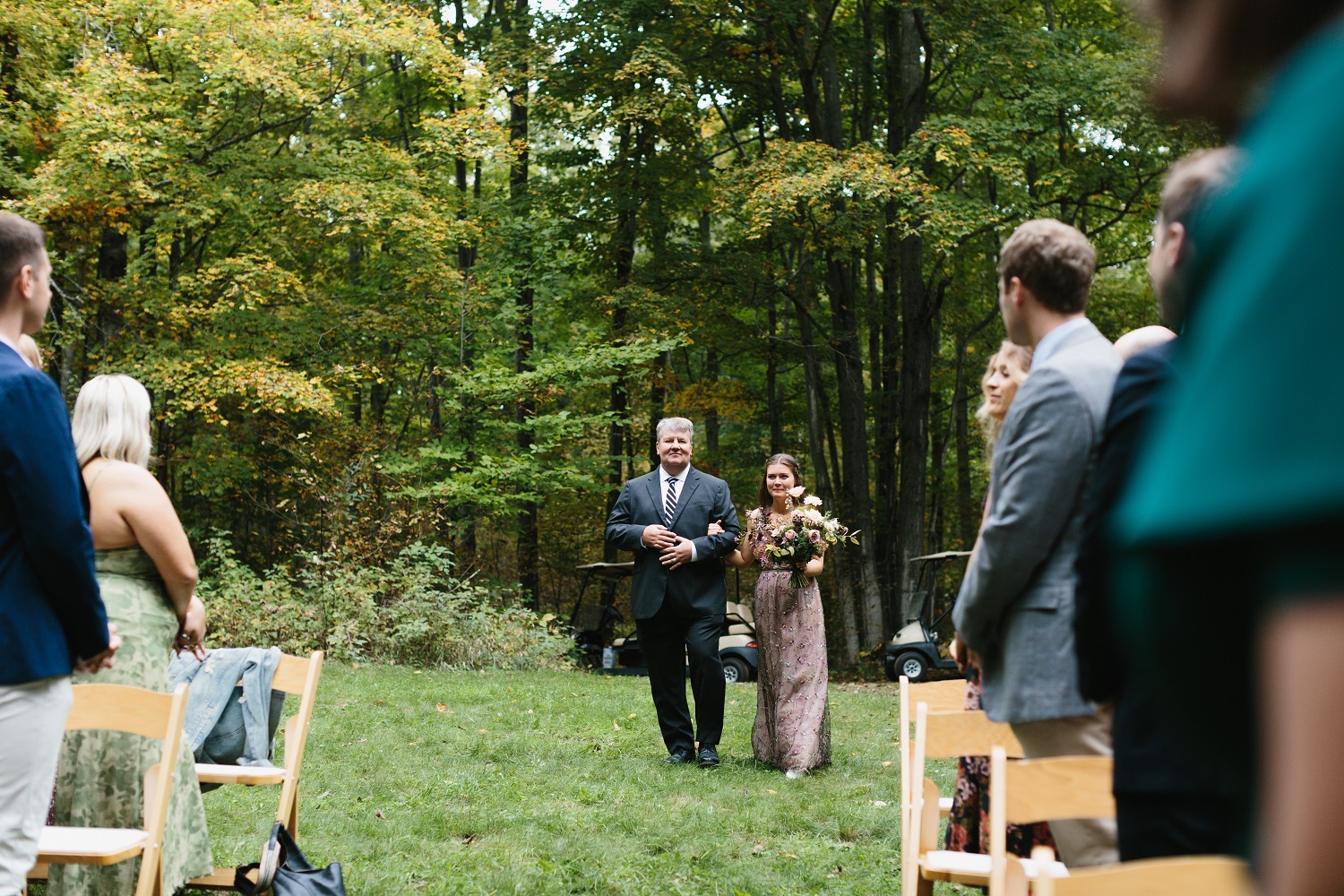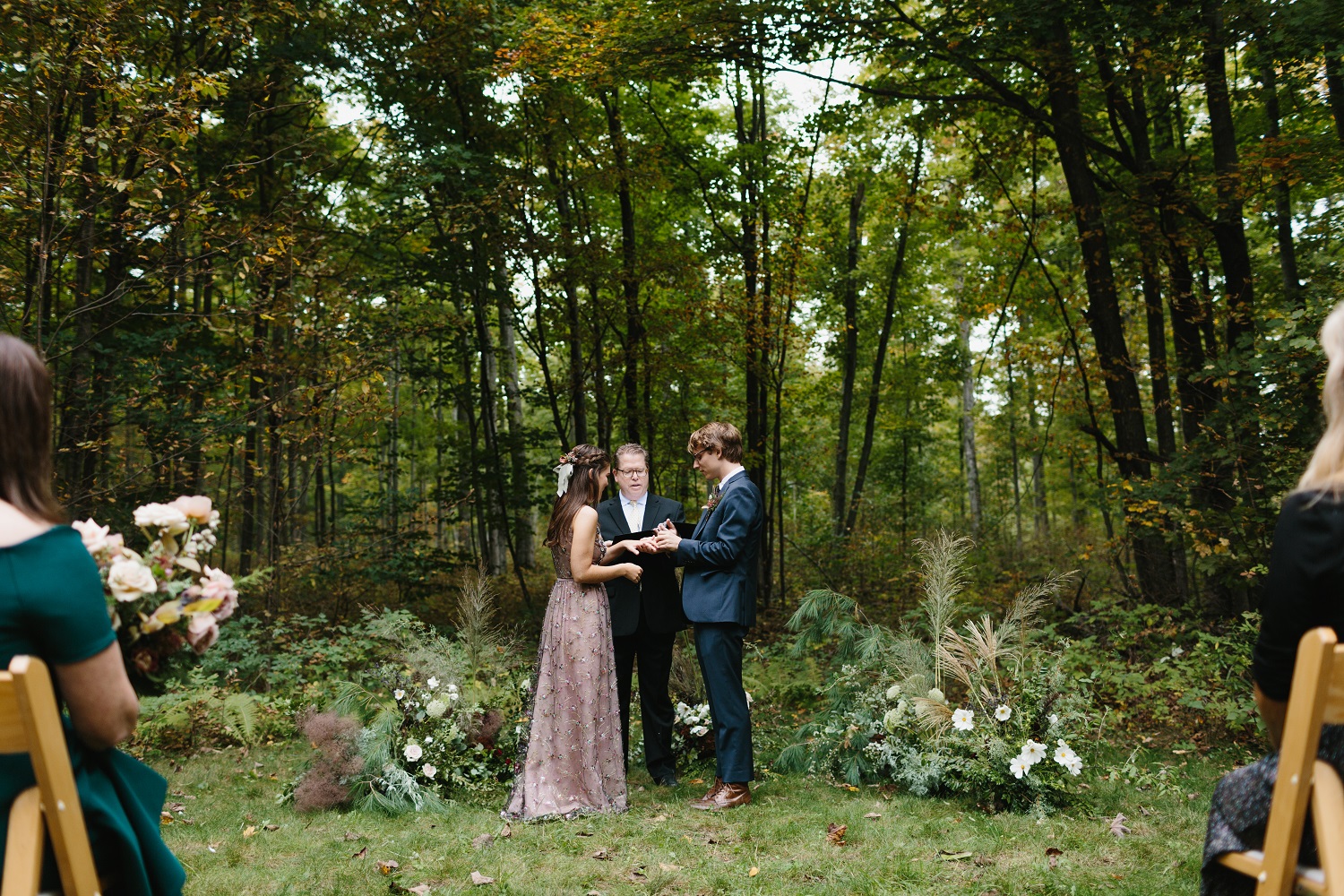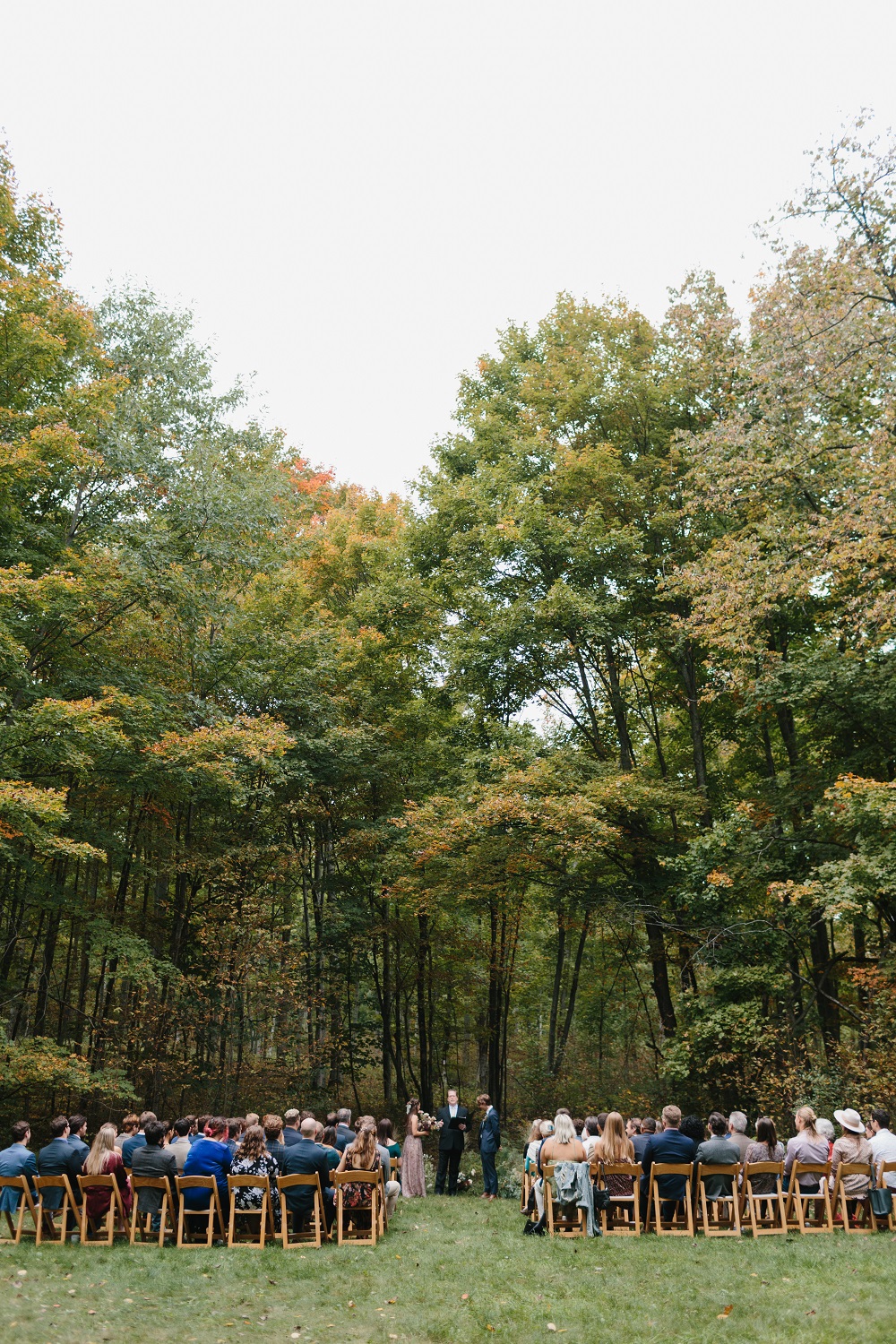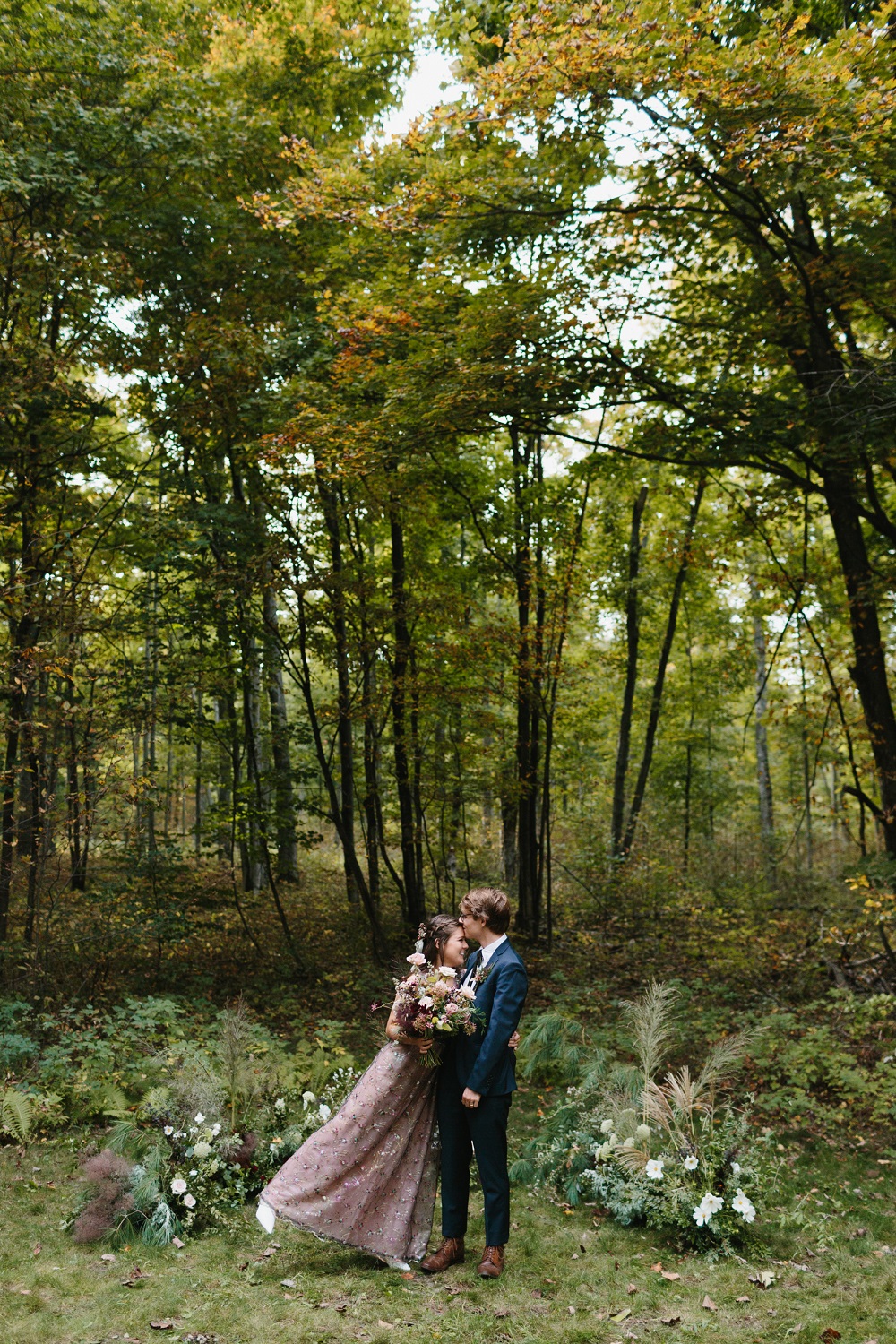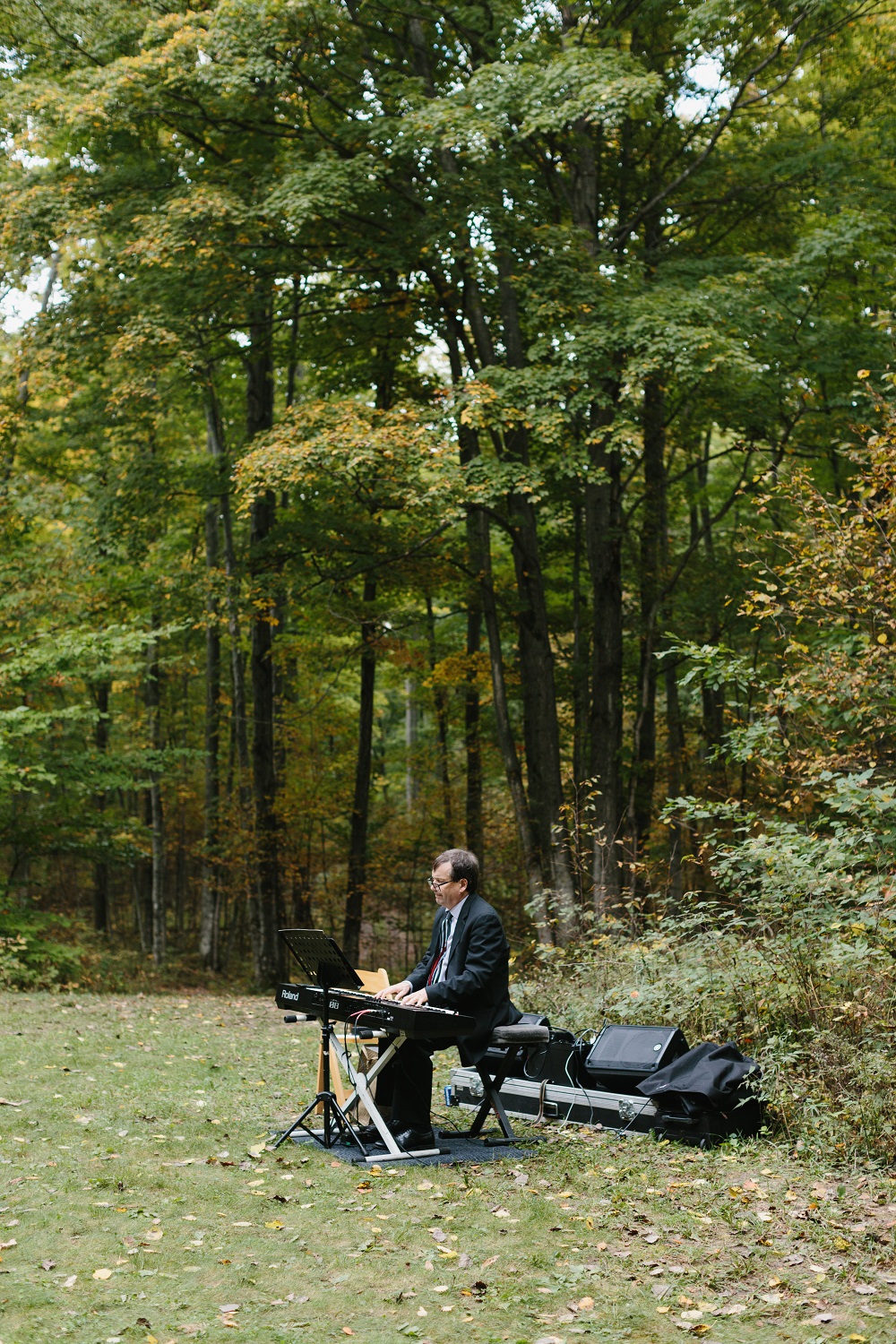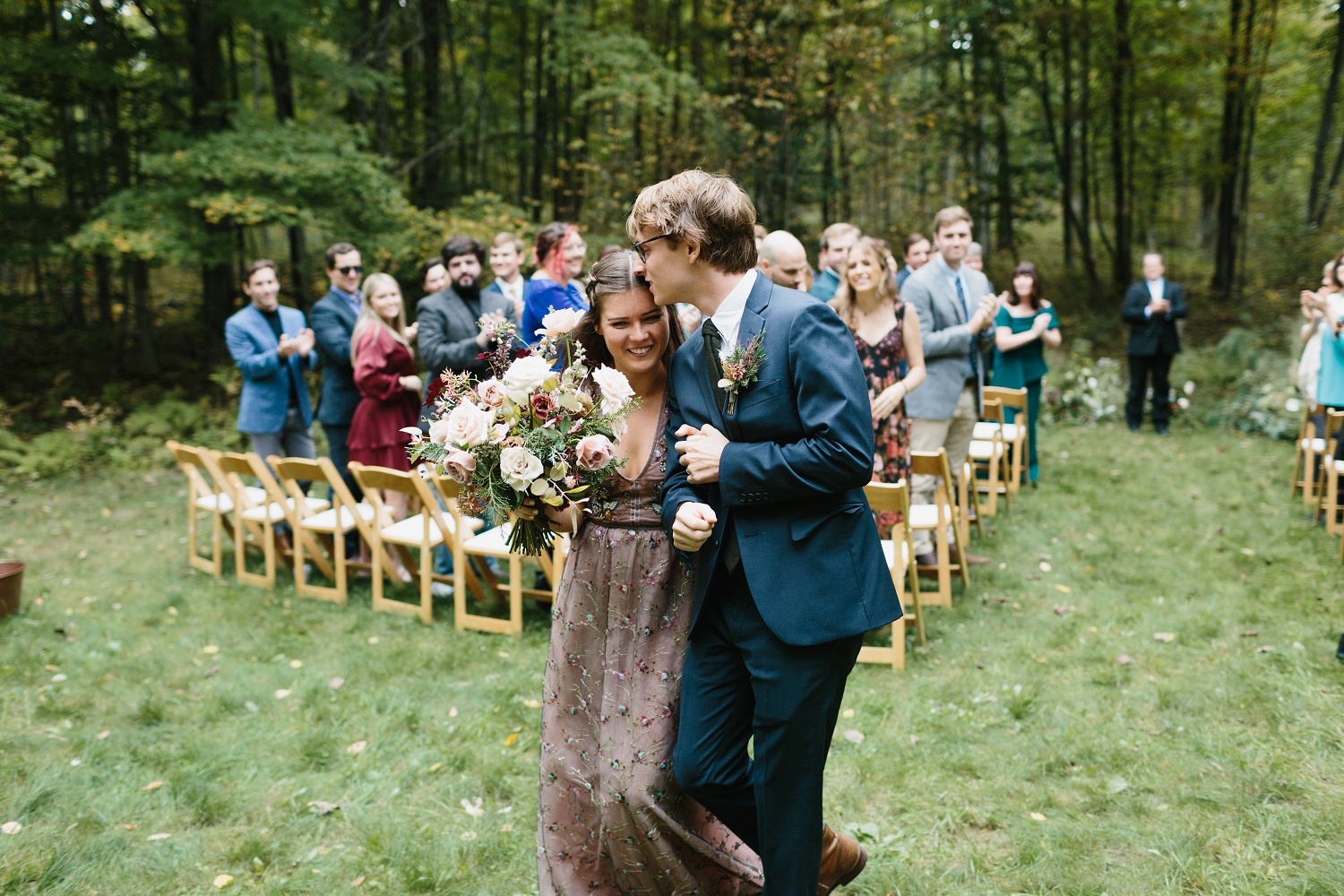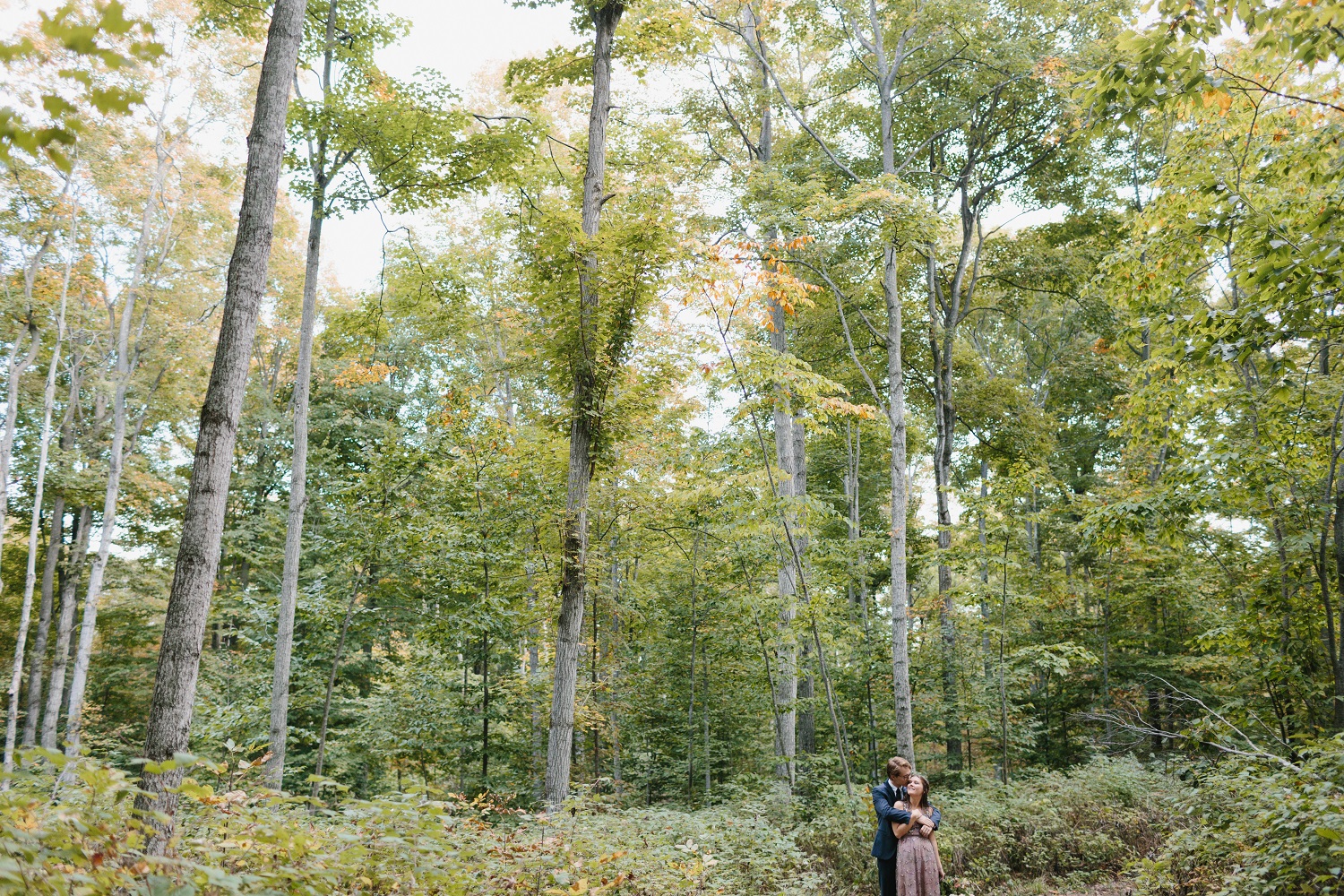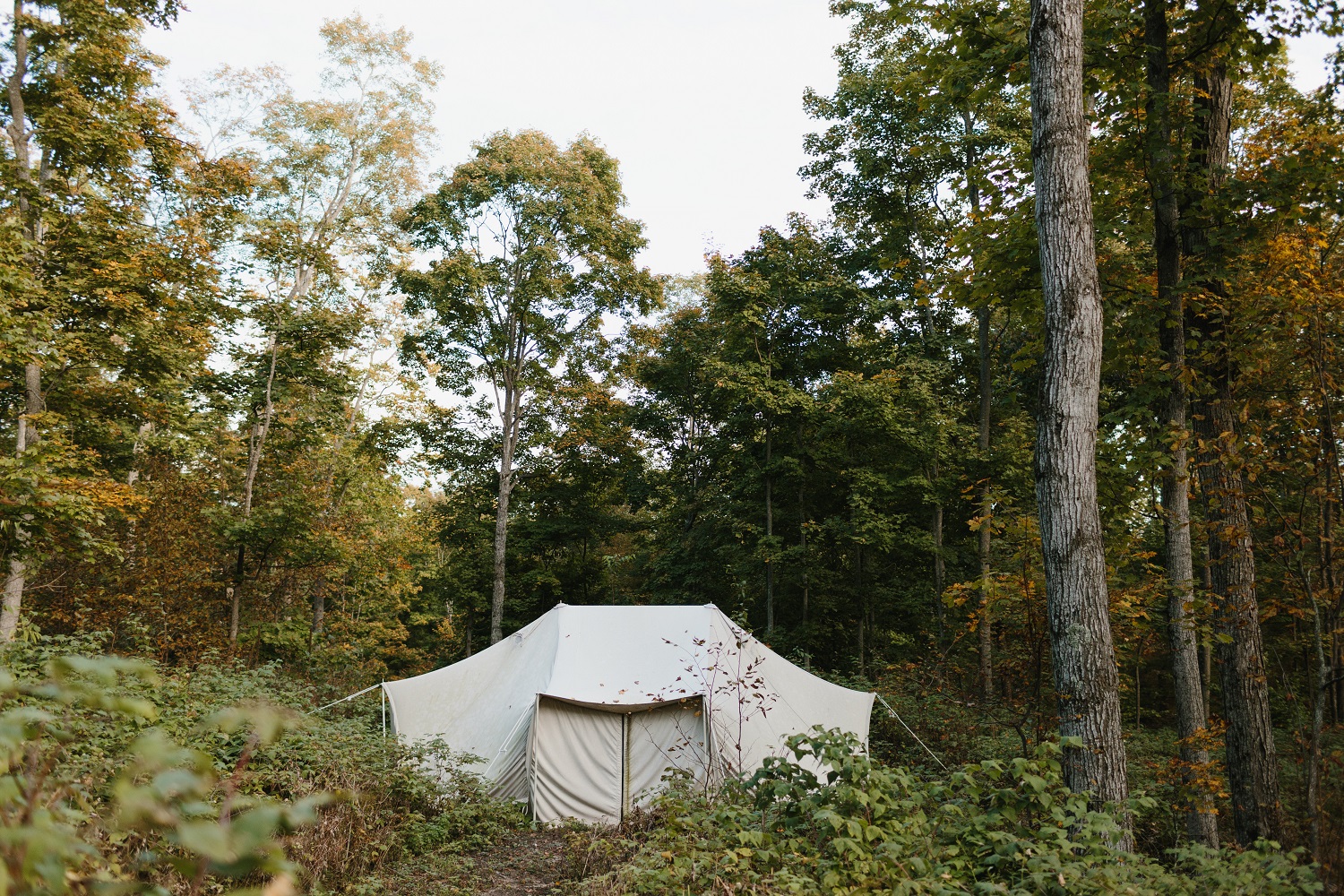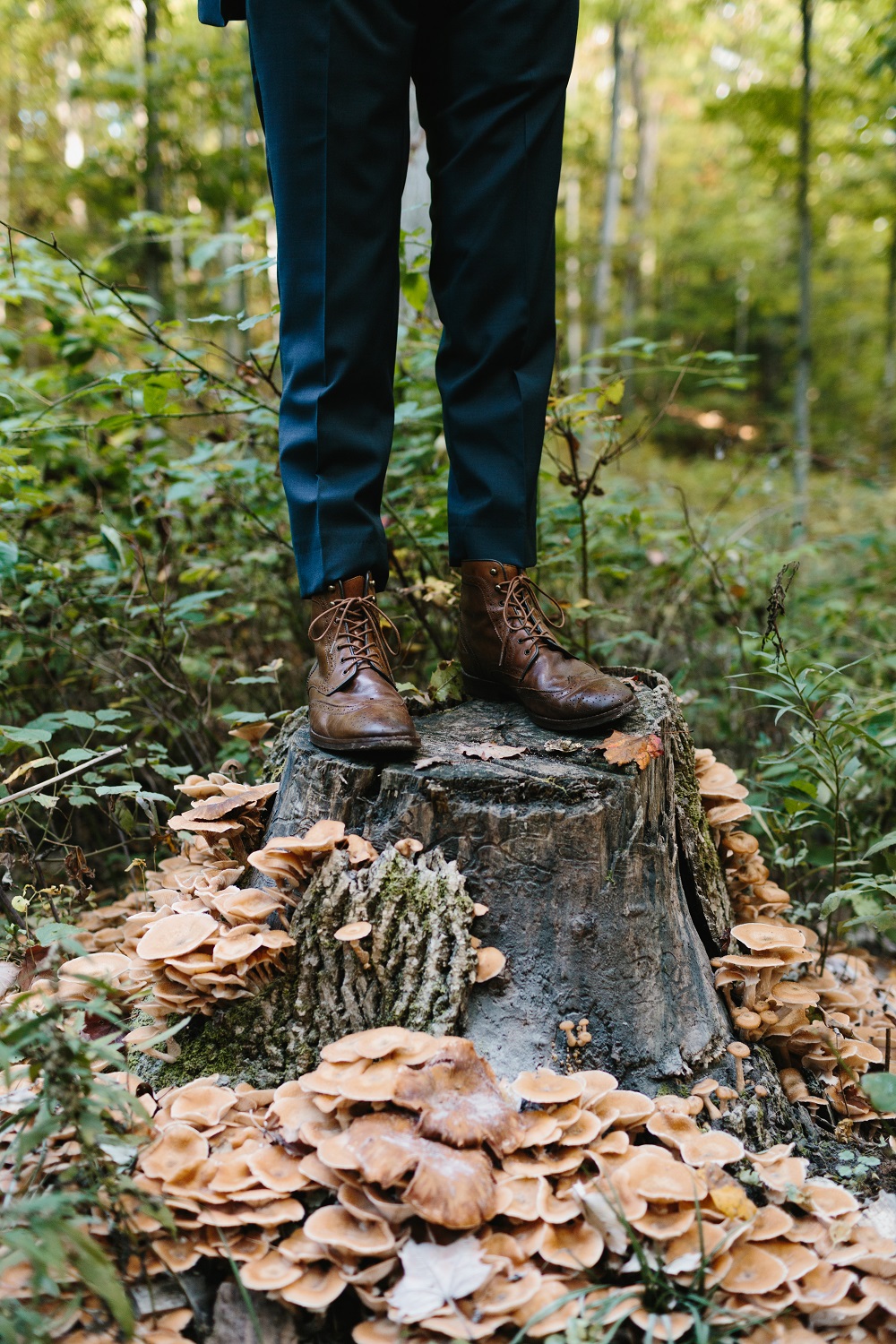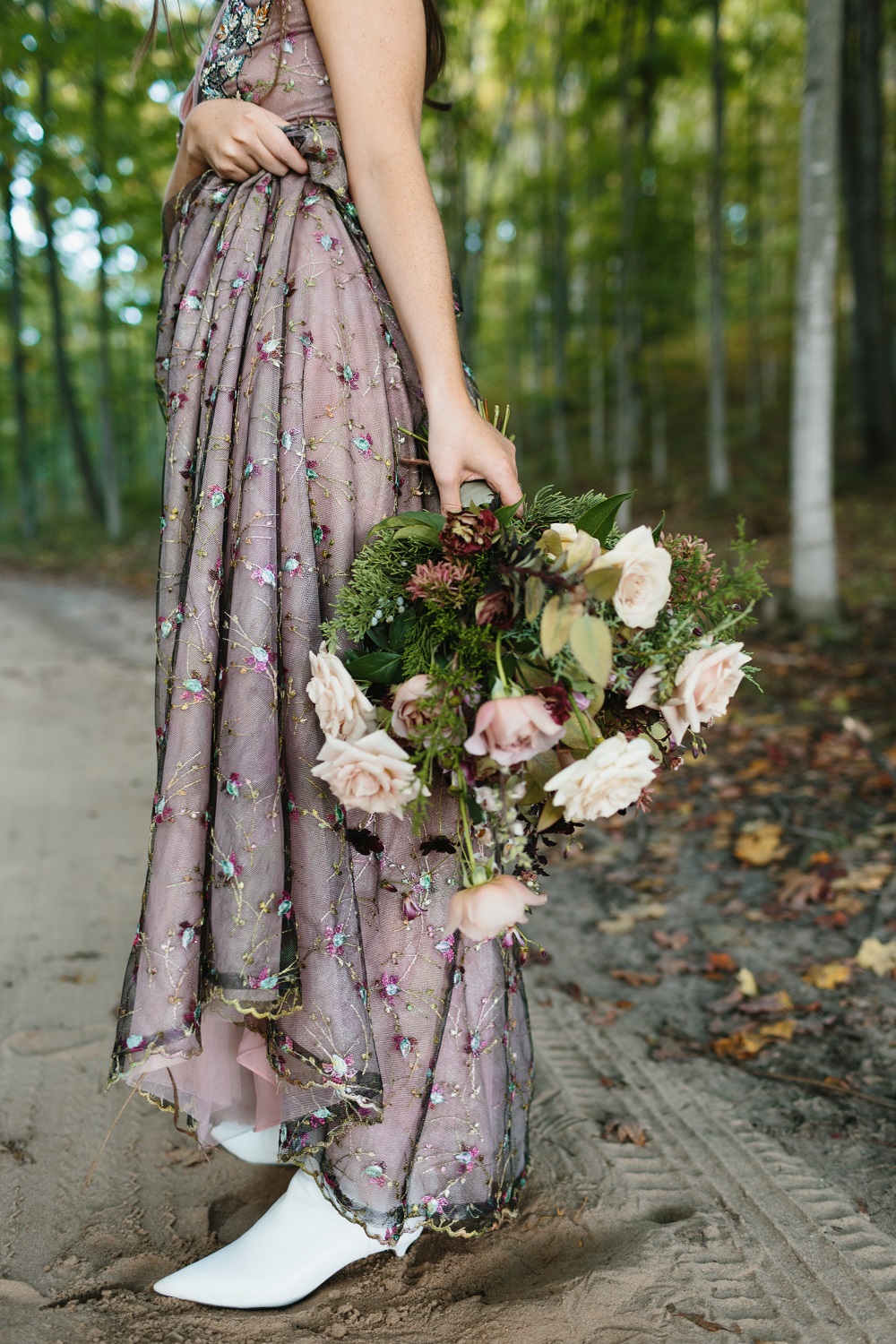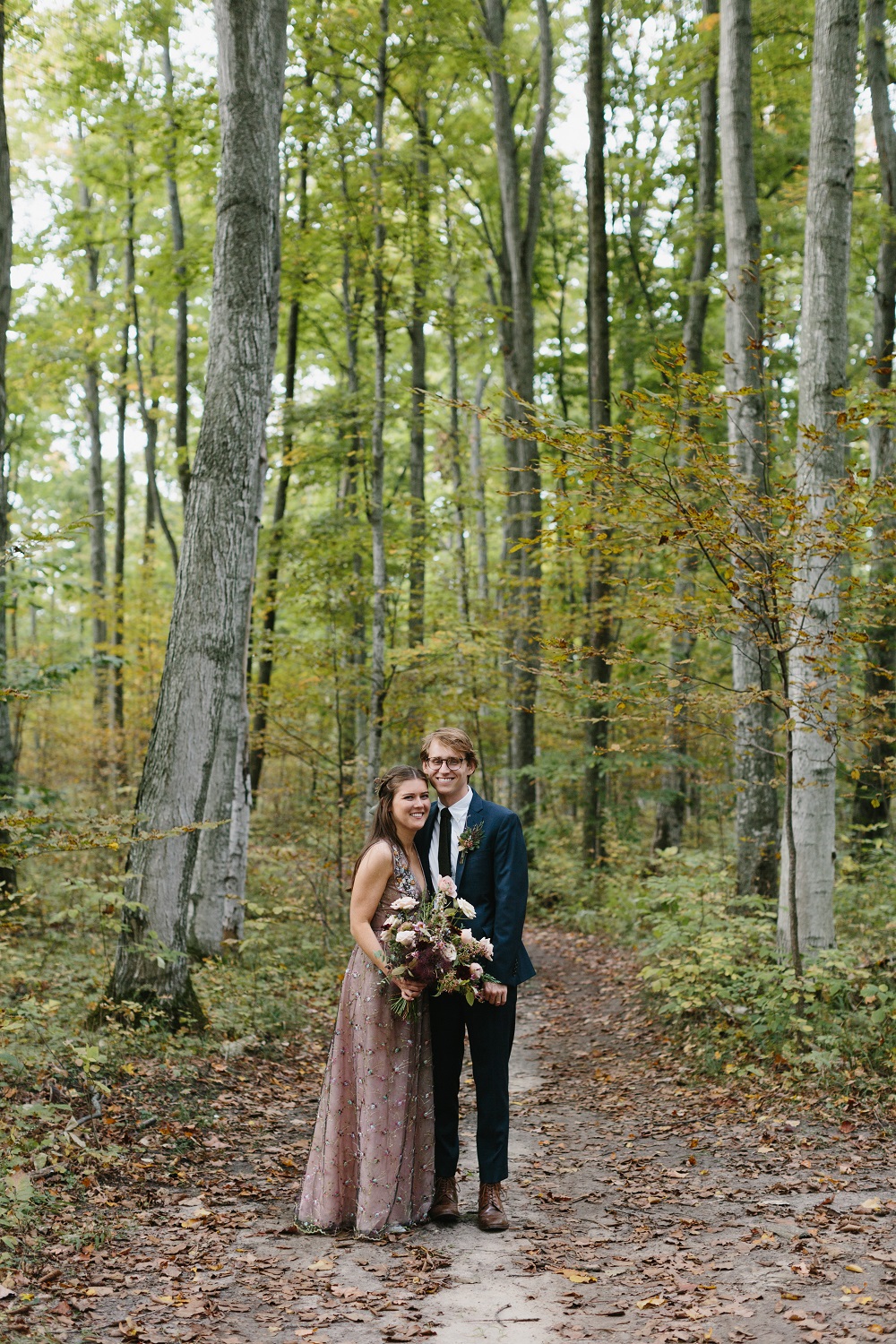 Cocktails Pondside
Guests rode golf carts back down to the venue's pond lawn where they enjoyed botanical signature cocktails – The Lavendula, a gin based violet and lavender drink, specialty brewed beer named Leelanau, Louisville, and Denver, and local Glen Arbor Wines.  Frames of pressed floral (collected by Aaron) were used in the seating chart display.  Cloches of botanical elements accented cocktail tables and a glorious cake embellished with figs and berries was displayed on a wooden paddle for visual admiration thru the cocktail hour.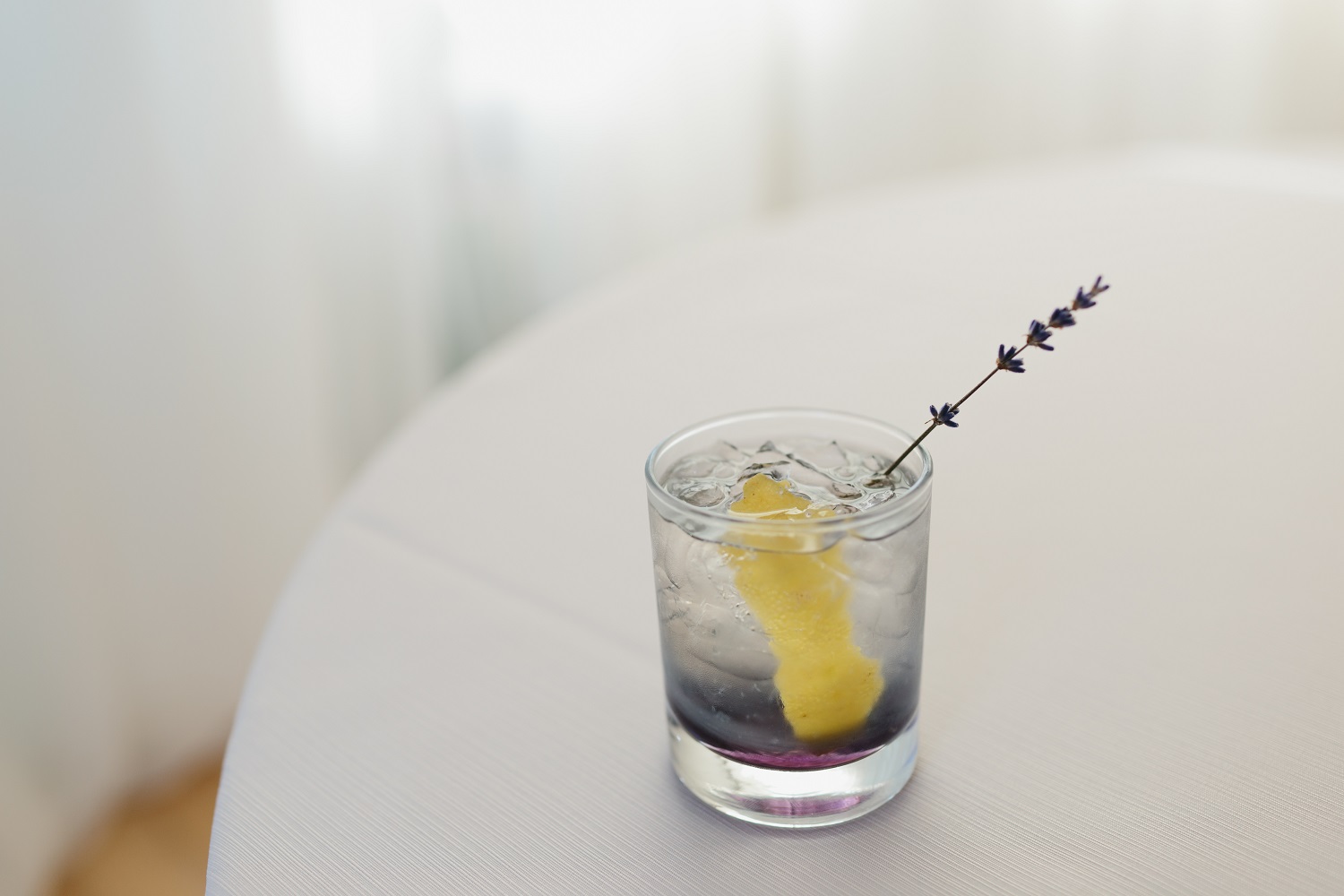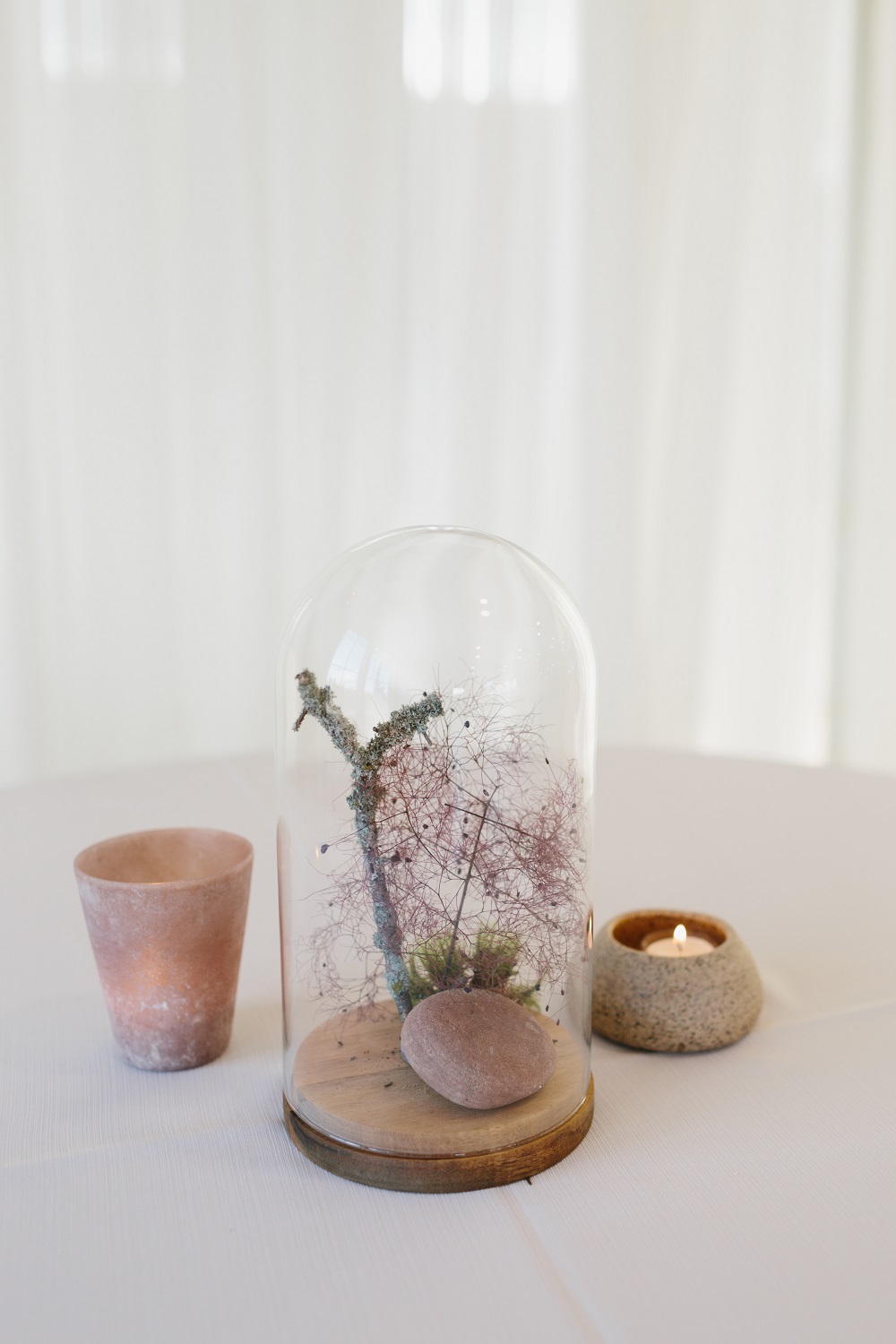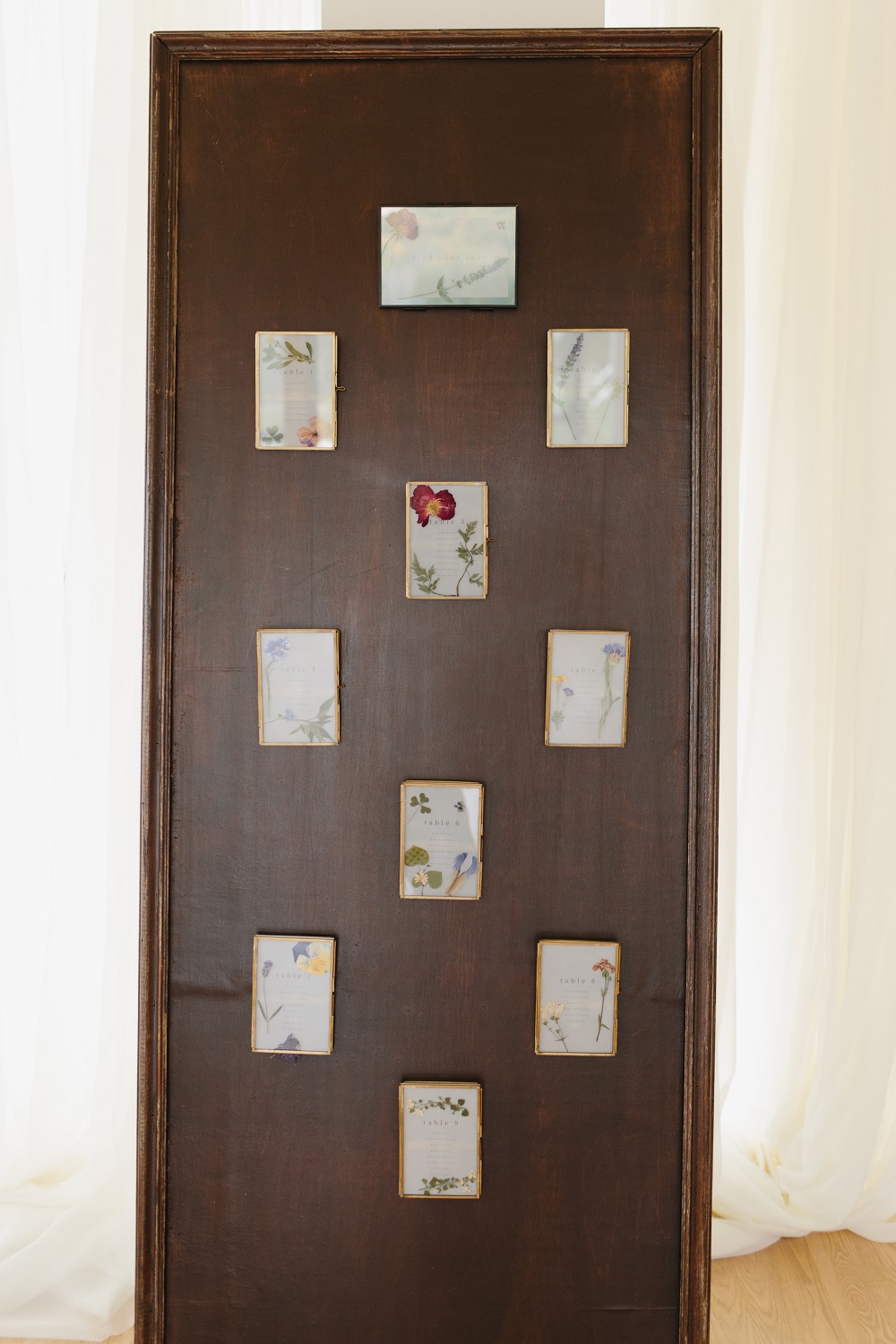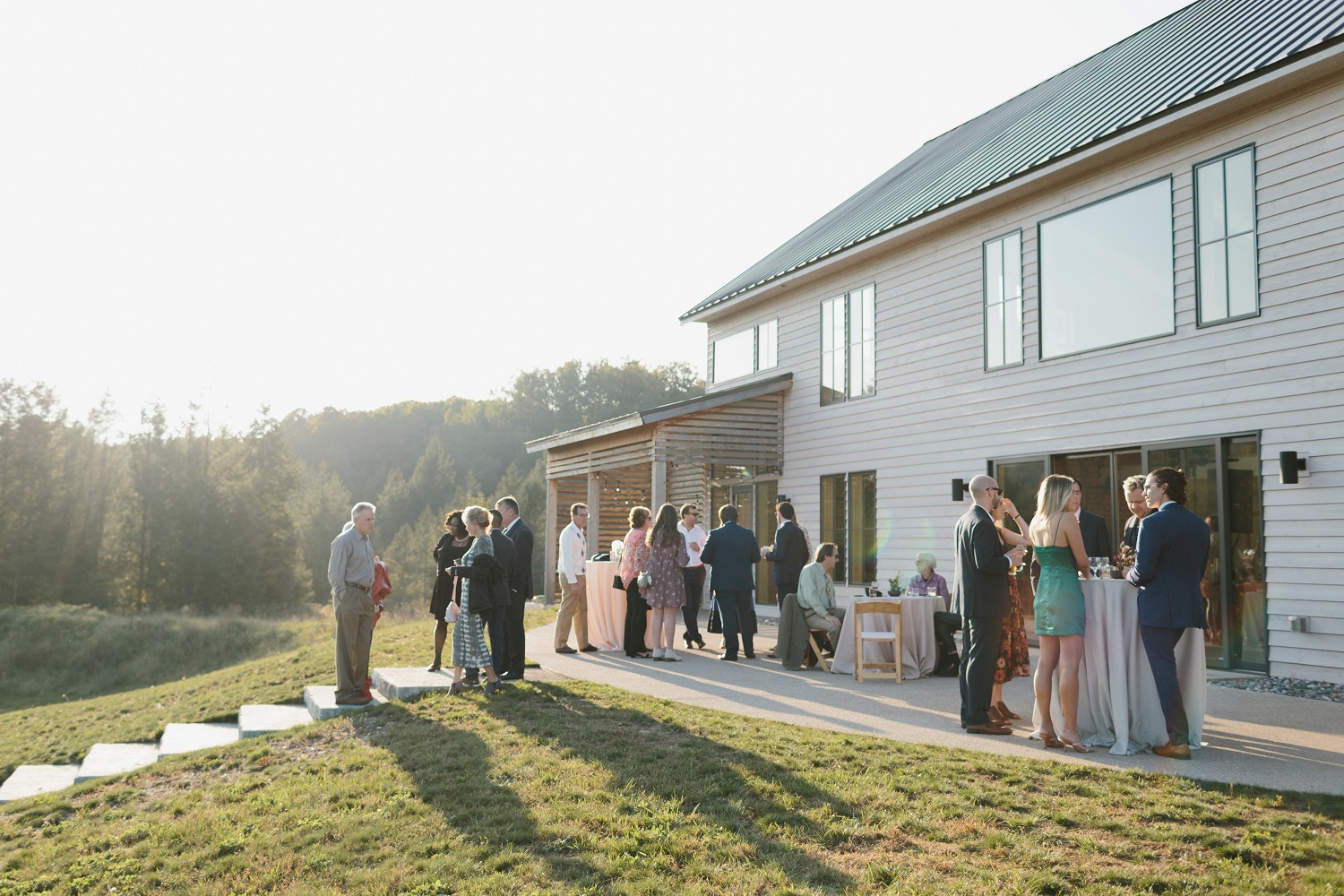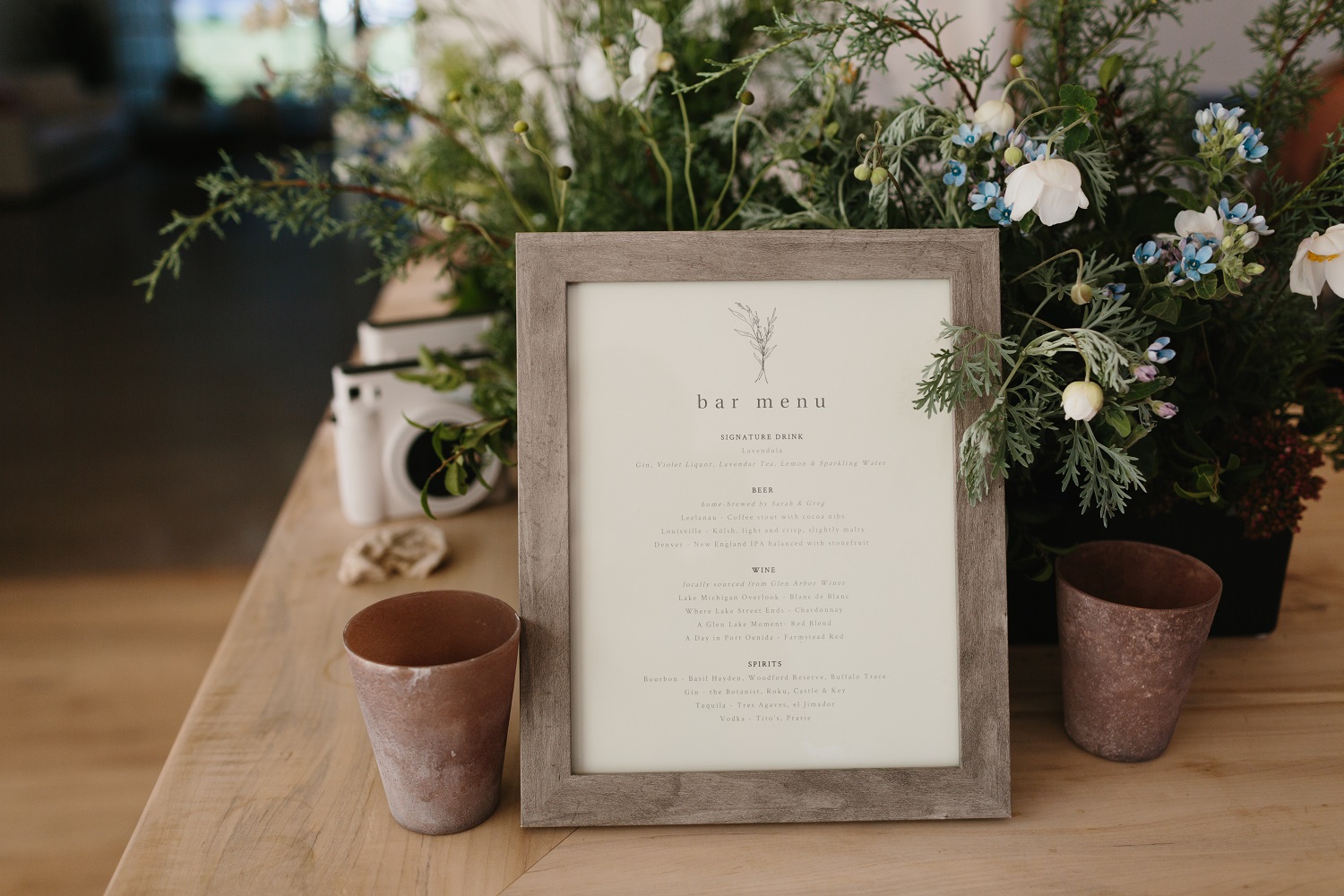 Dunescape Dining
The concept of Aaron & Ashley's tablescape was inspired by their love of the dunes and brought to life creatively by Windflower Design Co.  Lindsey came up with the concept of "walking thru the dunes into the forest".
On three long tables, that translated as delicate blooms and grasses paired with shoreline rocks and sand colored napkins on the front ends.  It moved into more greenery with flowers and sticks and a shade darker napkins in the middle, then even more lush floral and greenery and darker napkins at the end.  The plates were a speckled brown & green, framed by black flatware representing earth and lakeshore.  The crowning touch was a mix of maple trees in fall color and coniferous trees to create a backdrop that framed Aaron & Ashley in the center.
Dinner was a Nepalese feast, served in black bowls.  It was a colorful and flavorful experience that represented Aaron & Ashley's adventurous appreciation of ethnic vegan cuisine.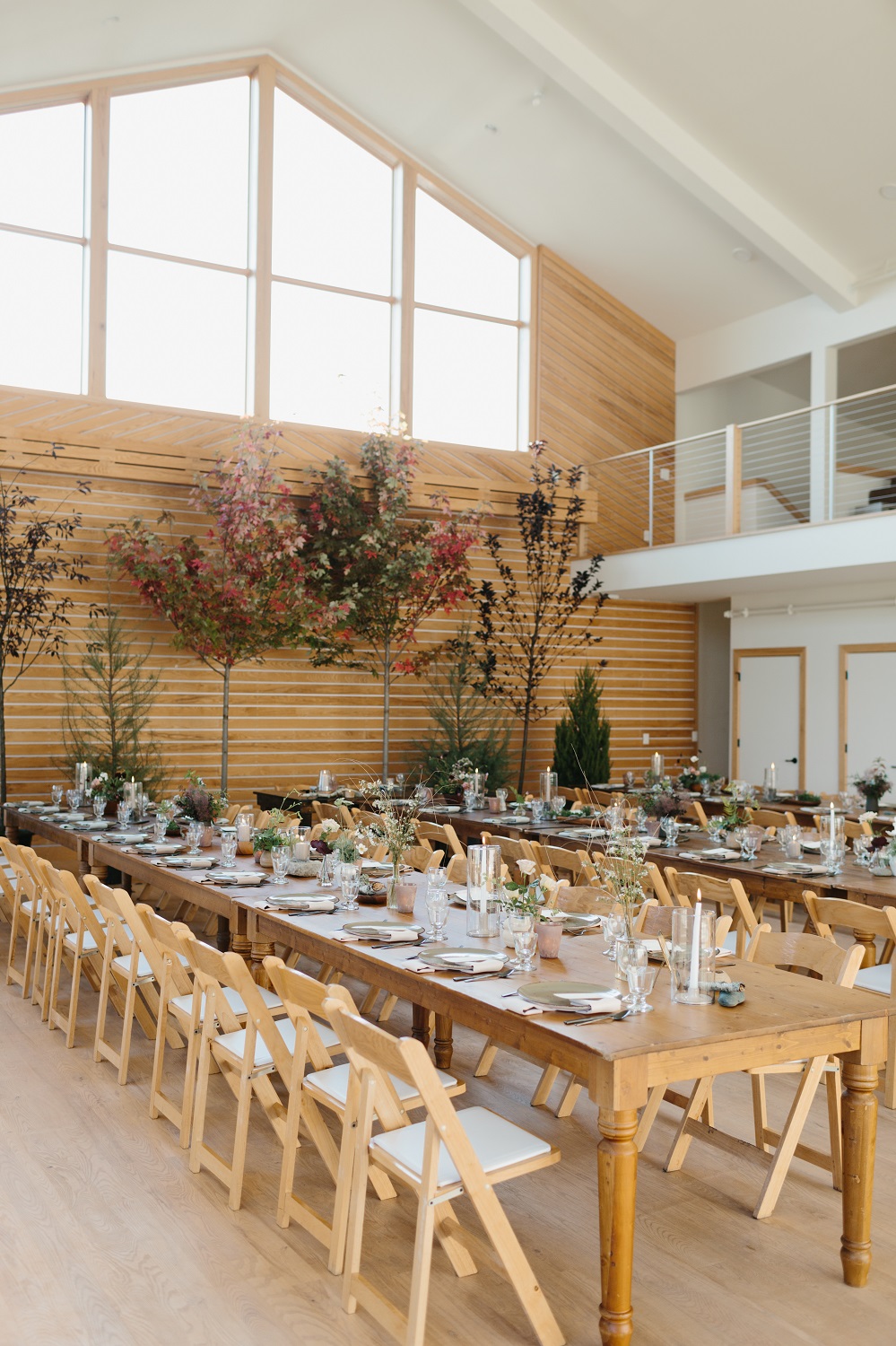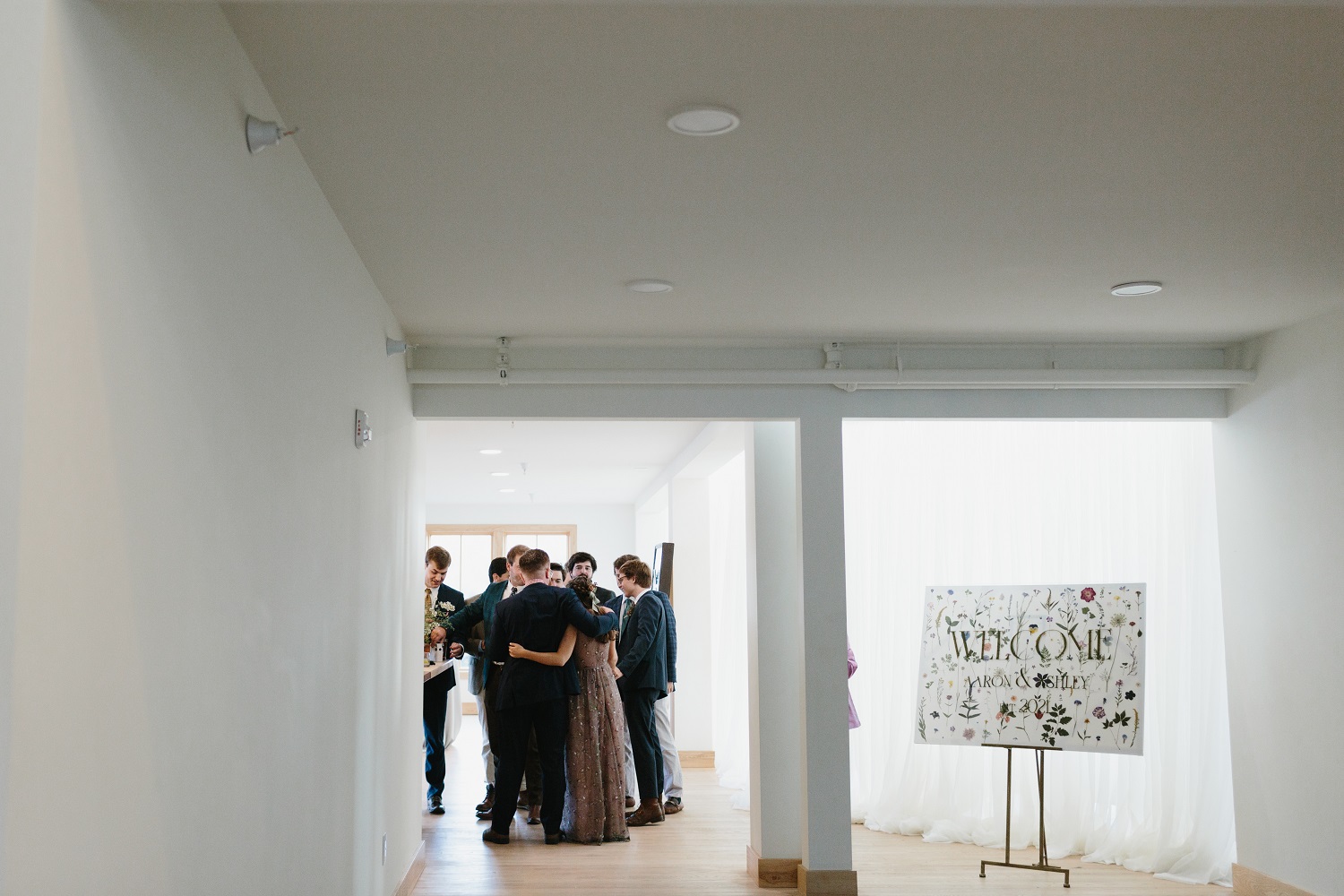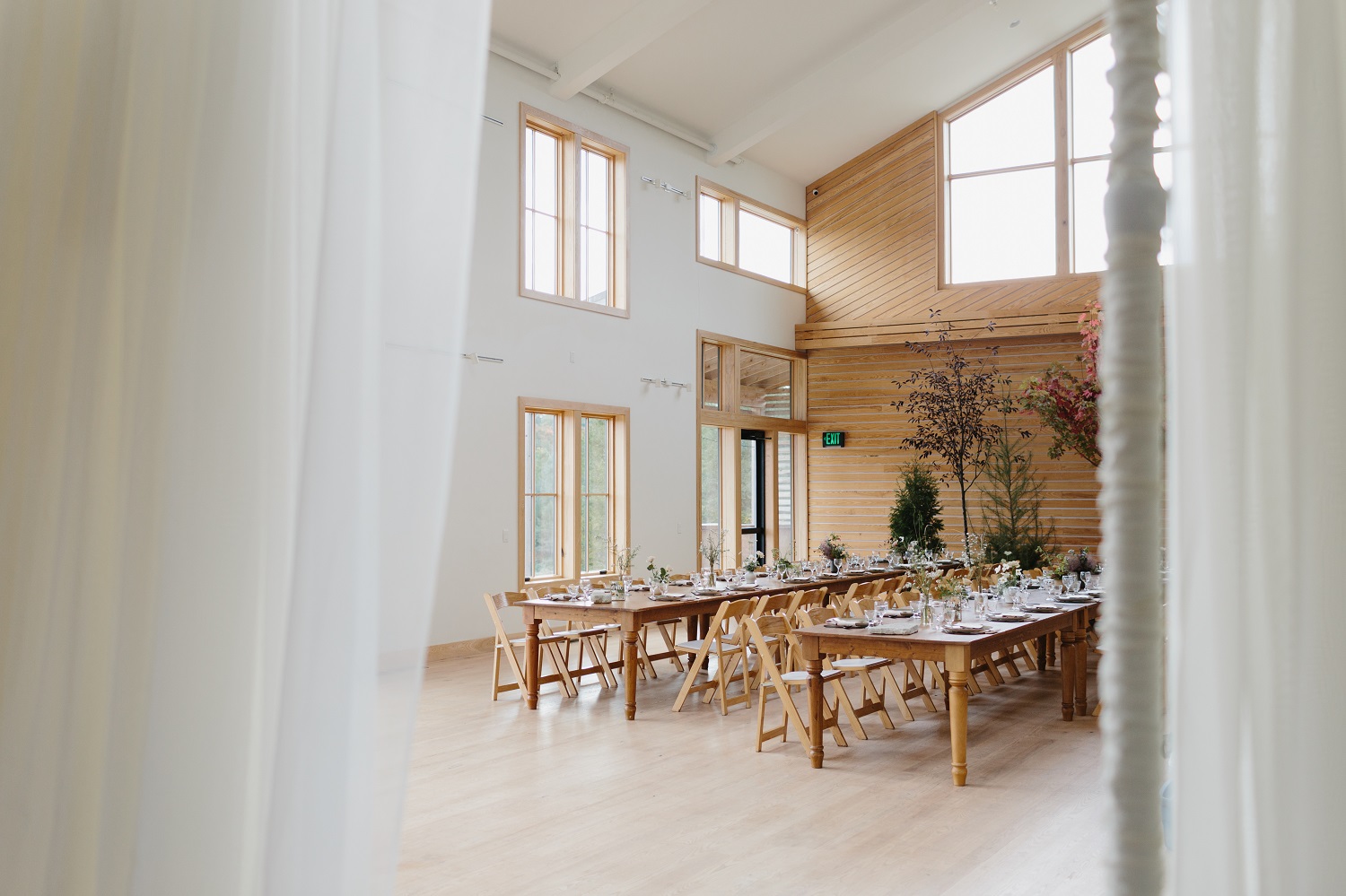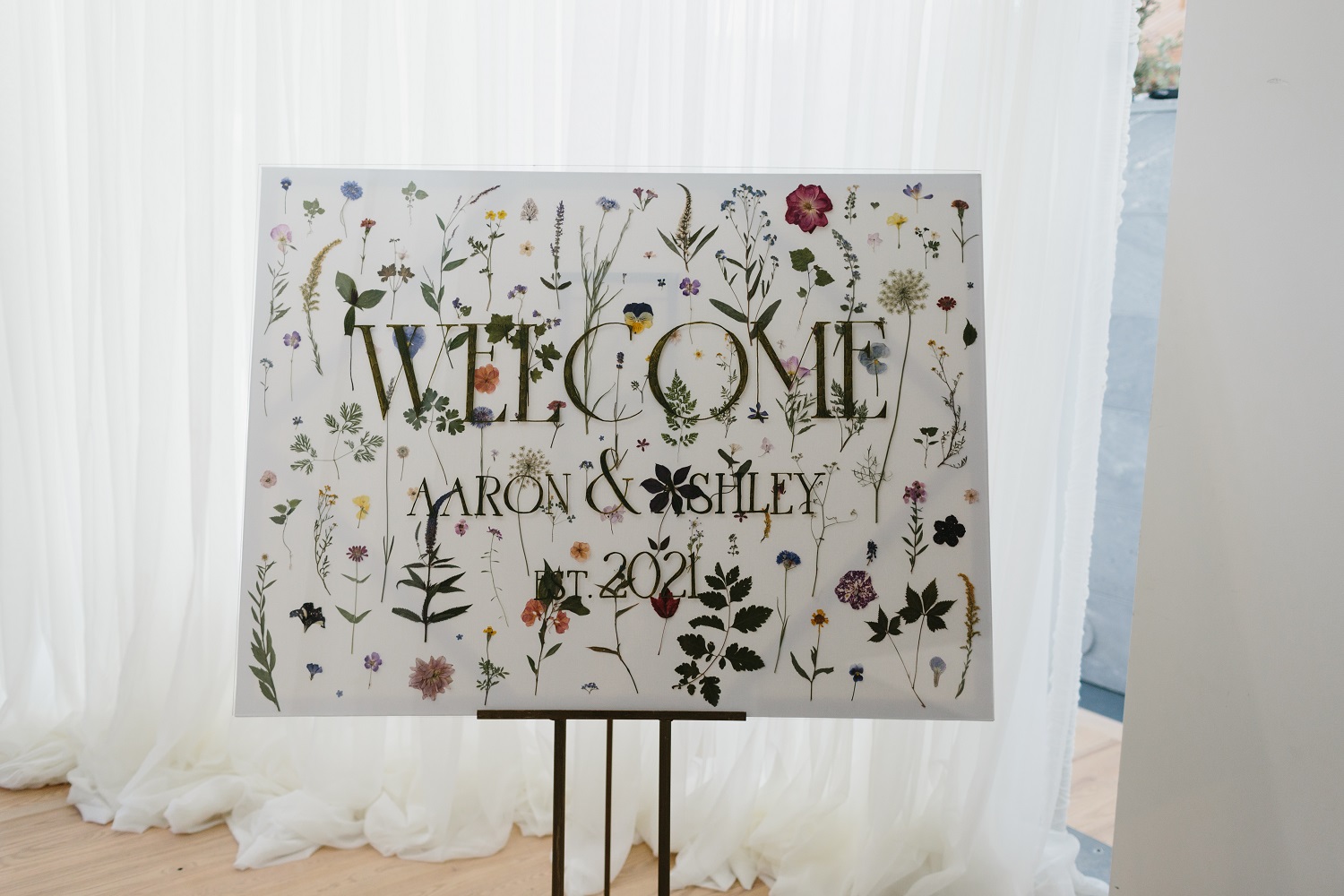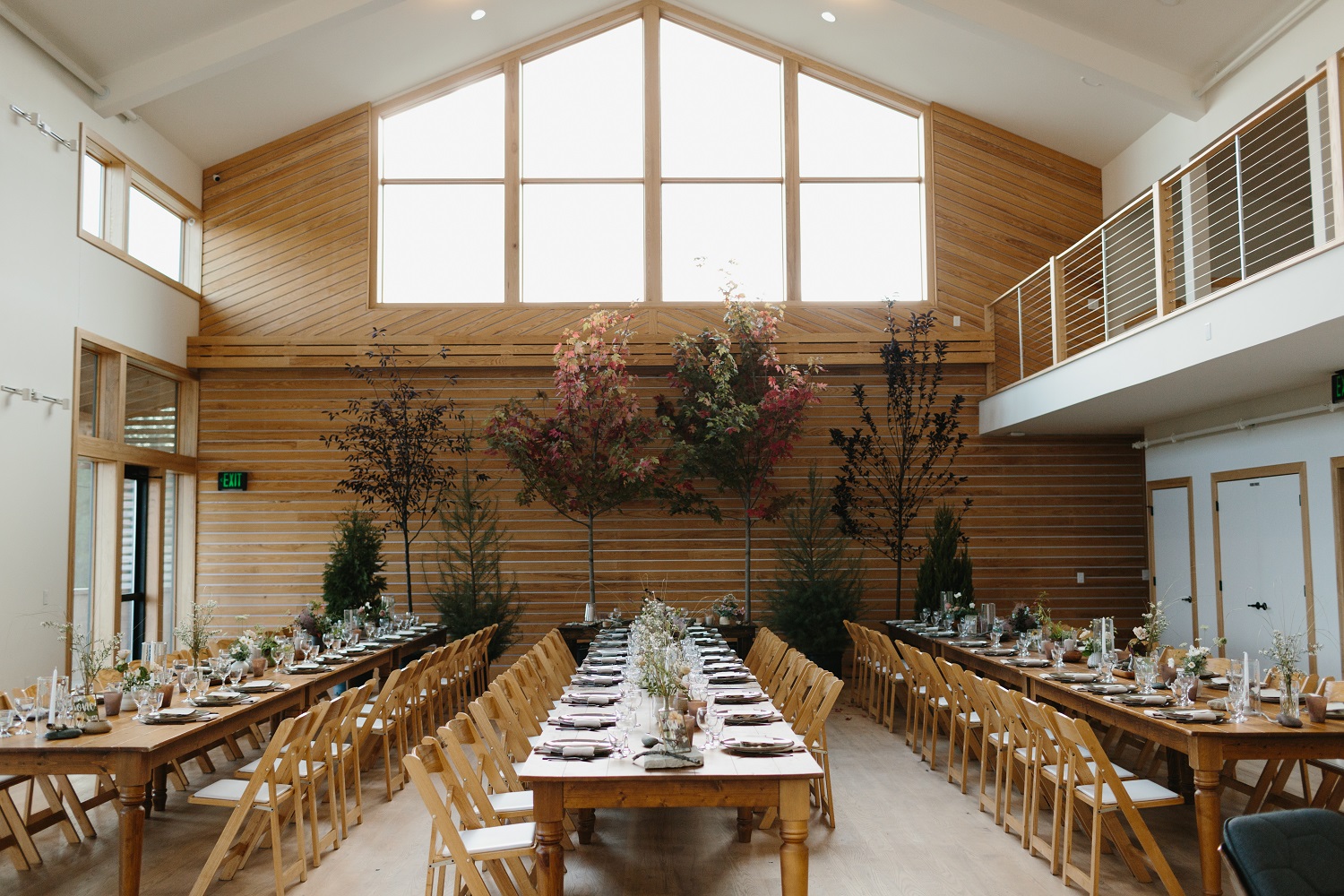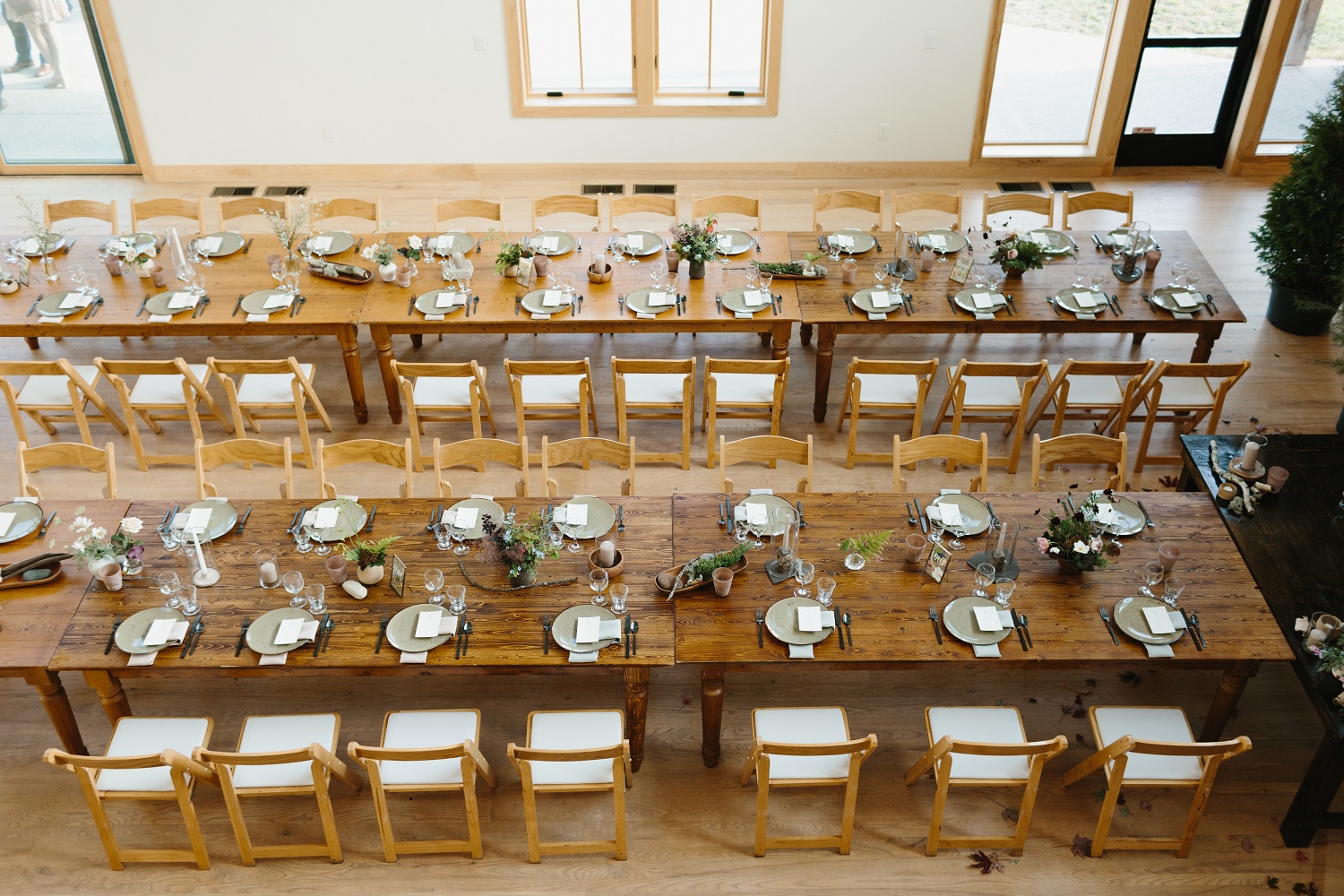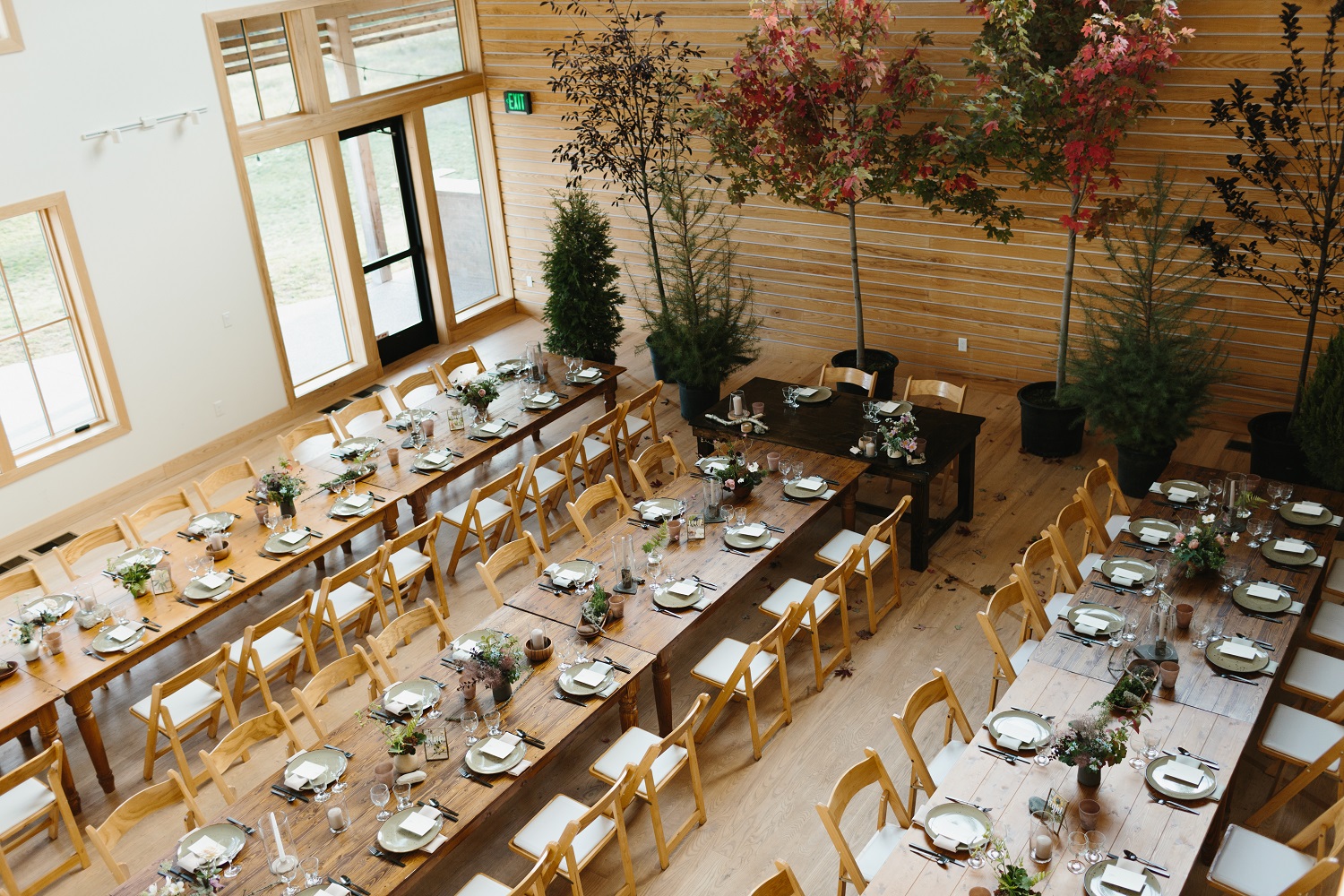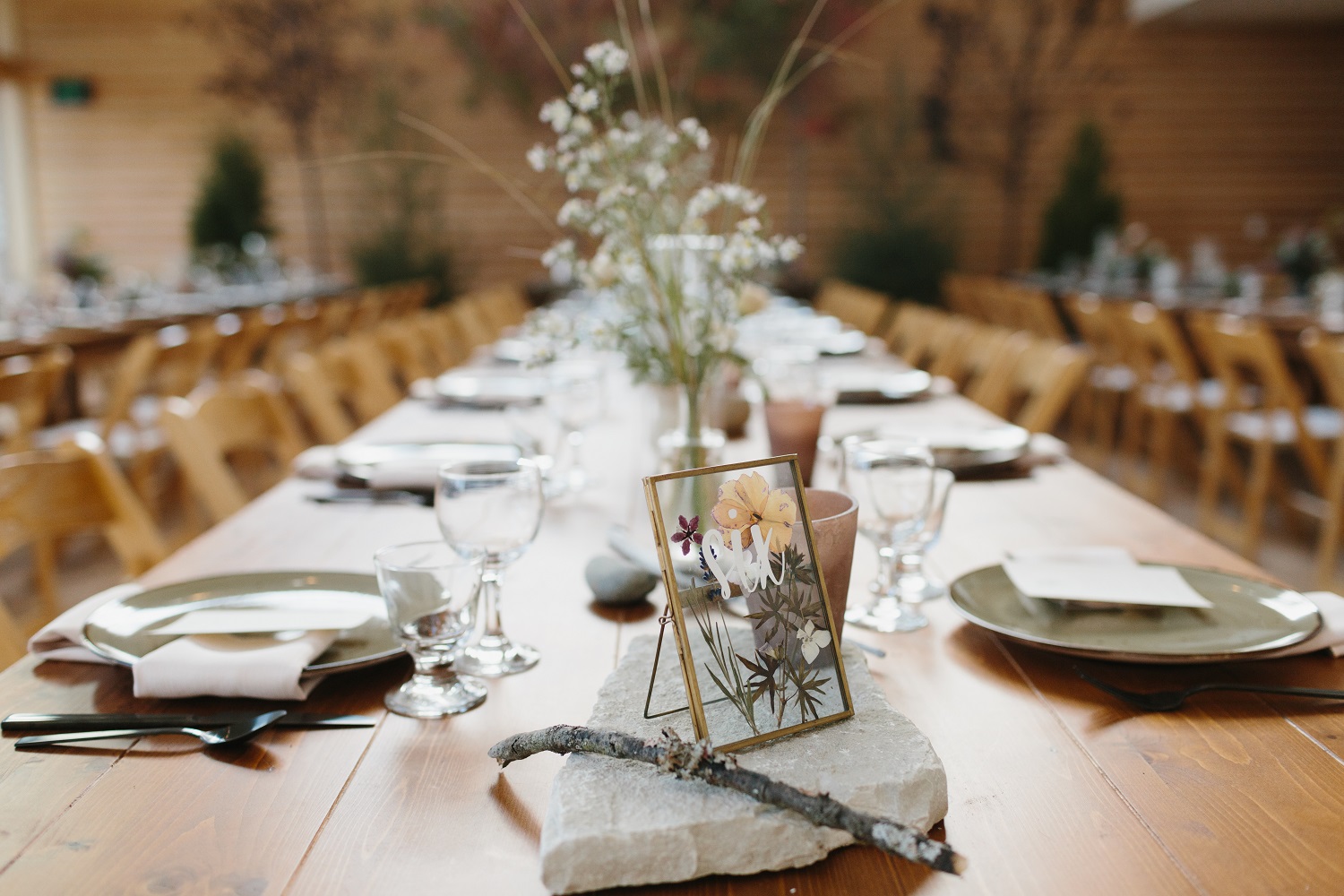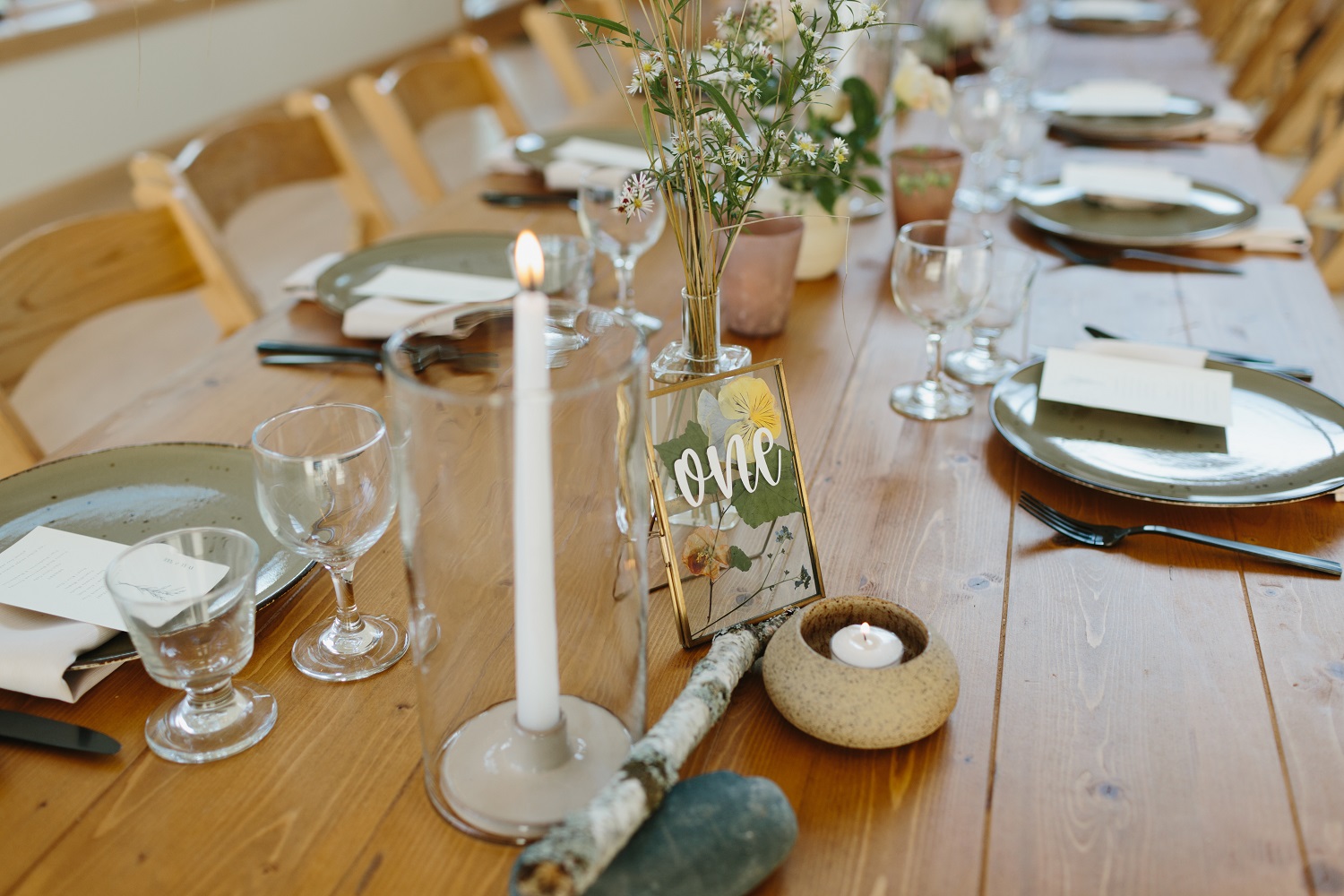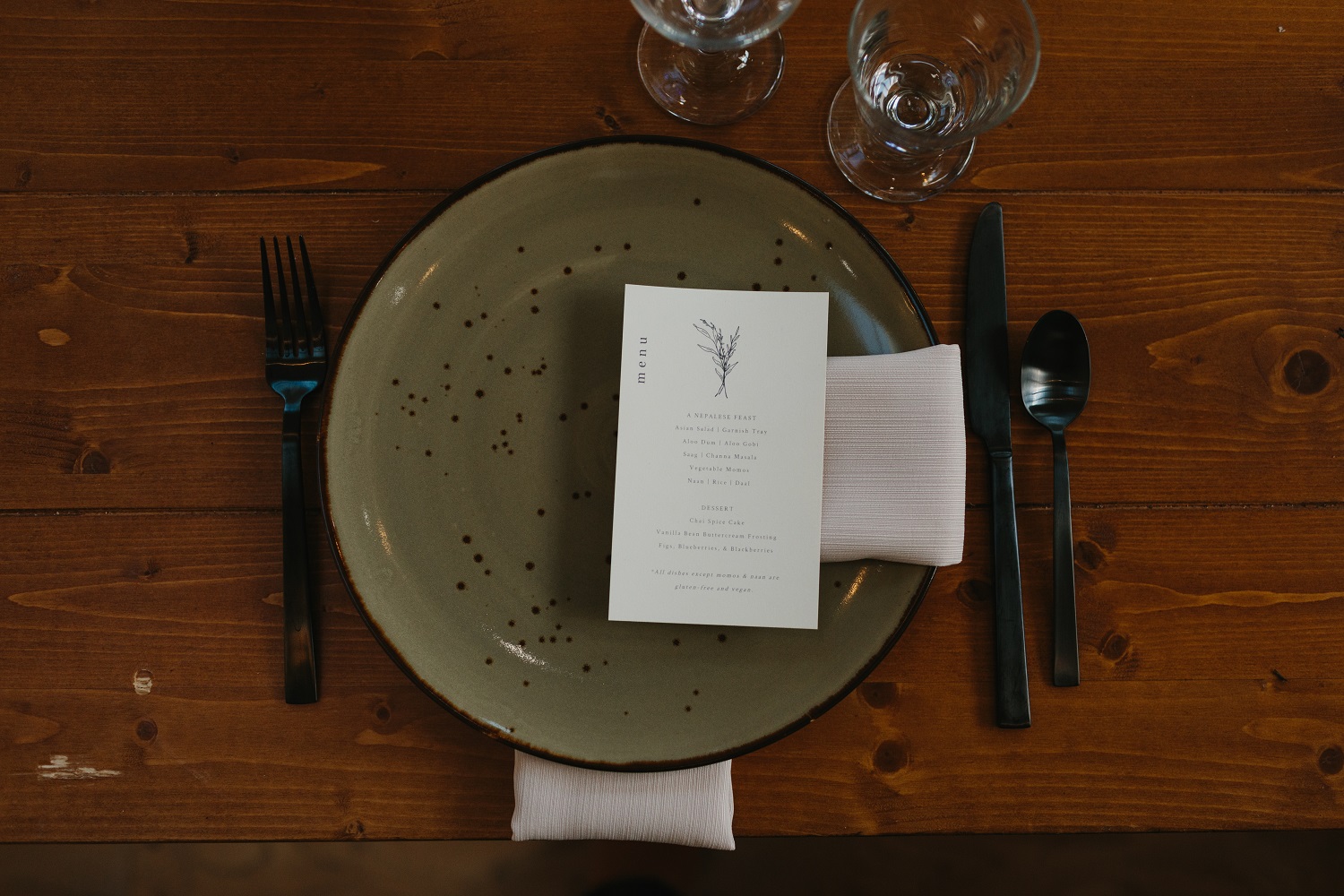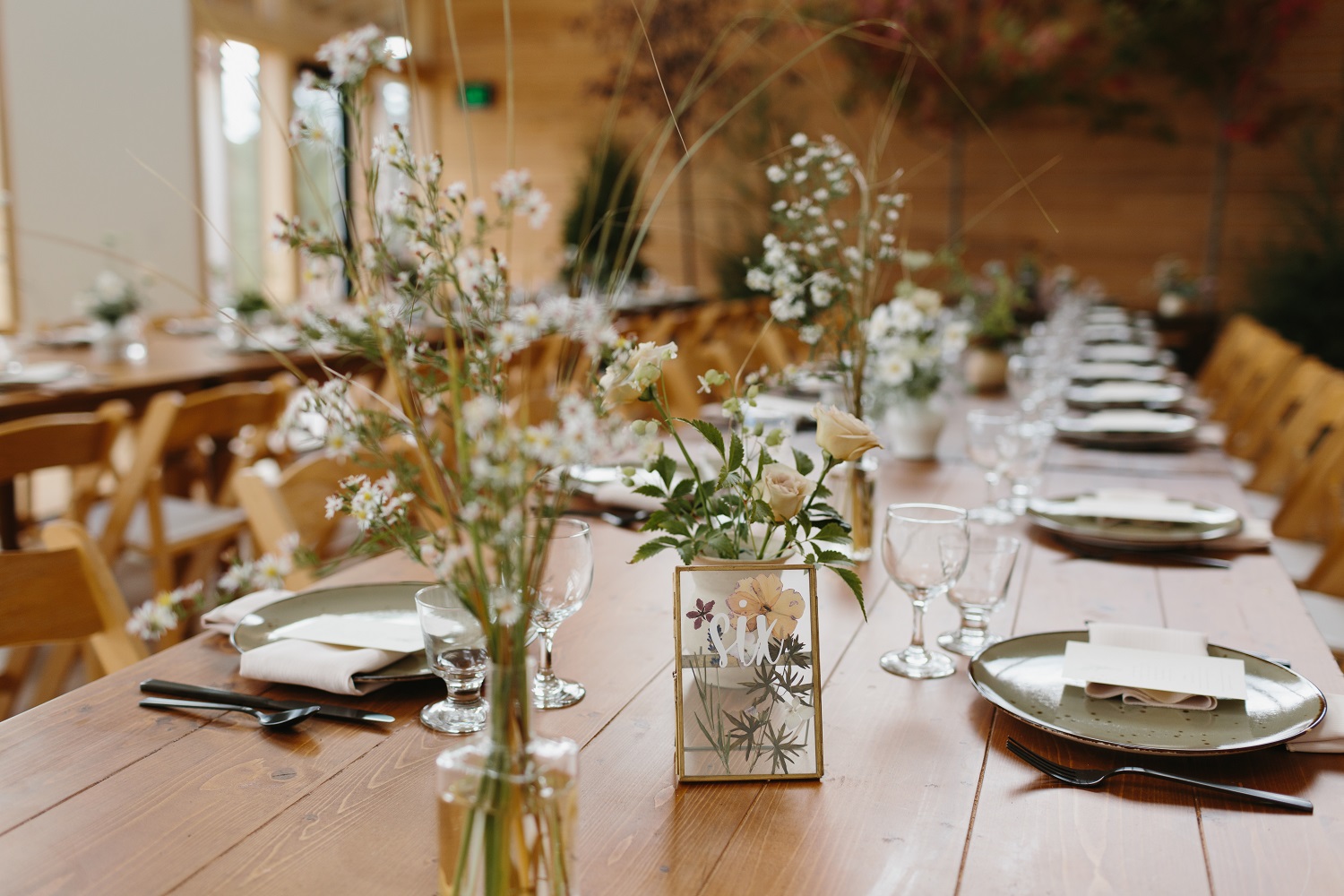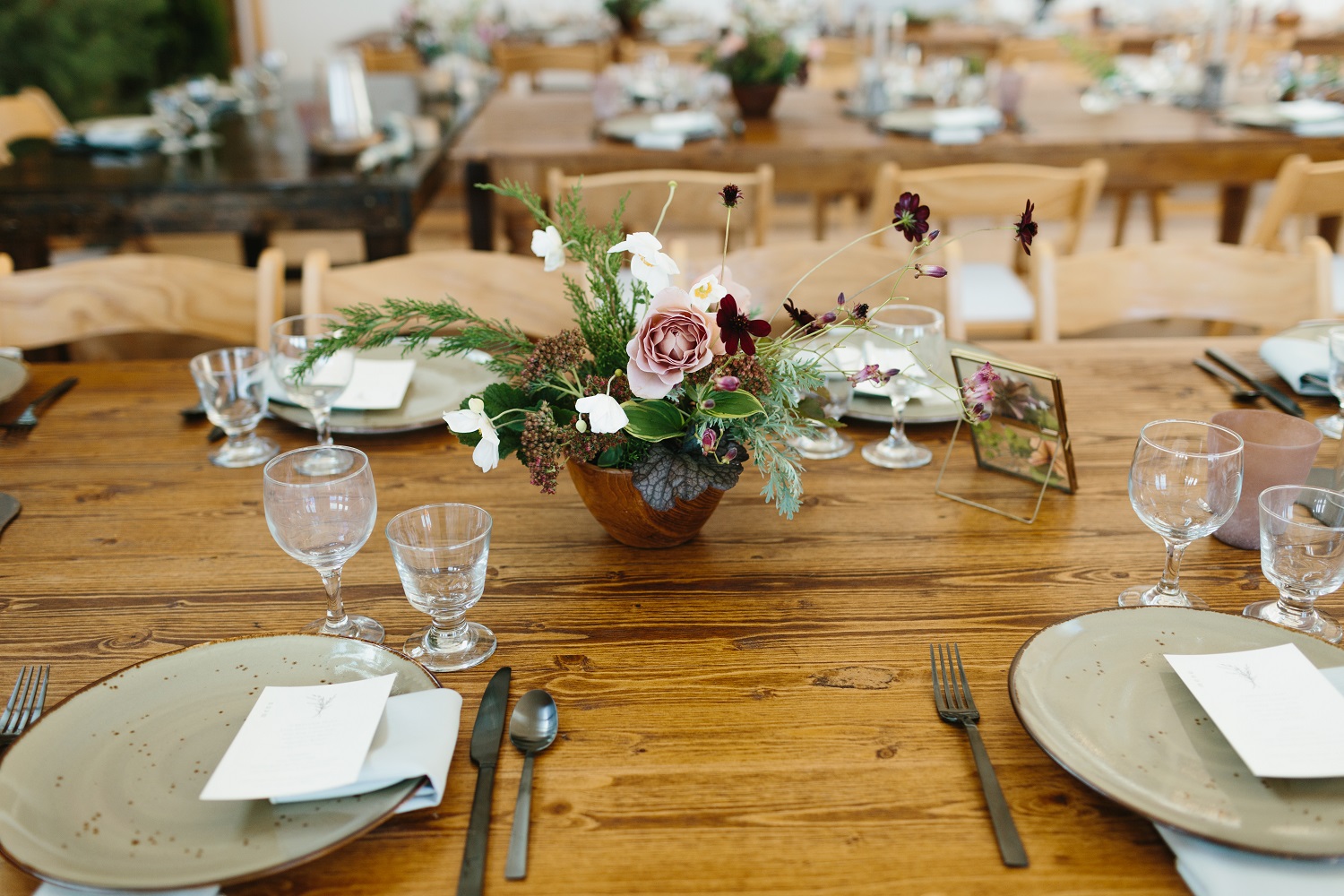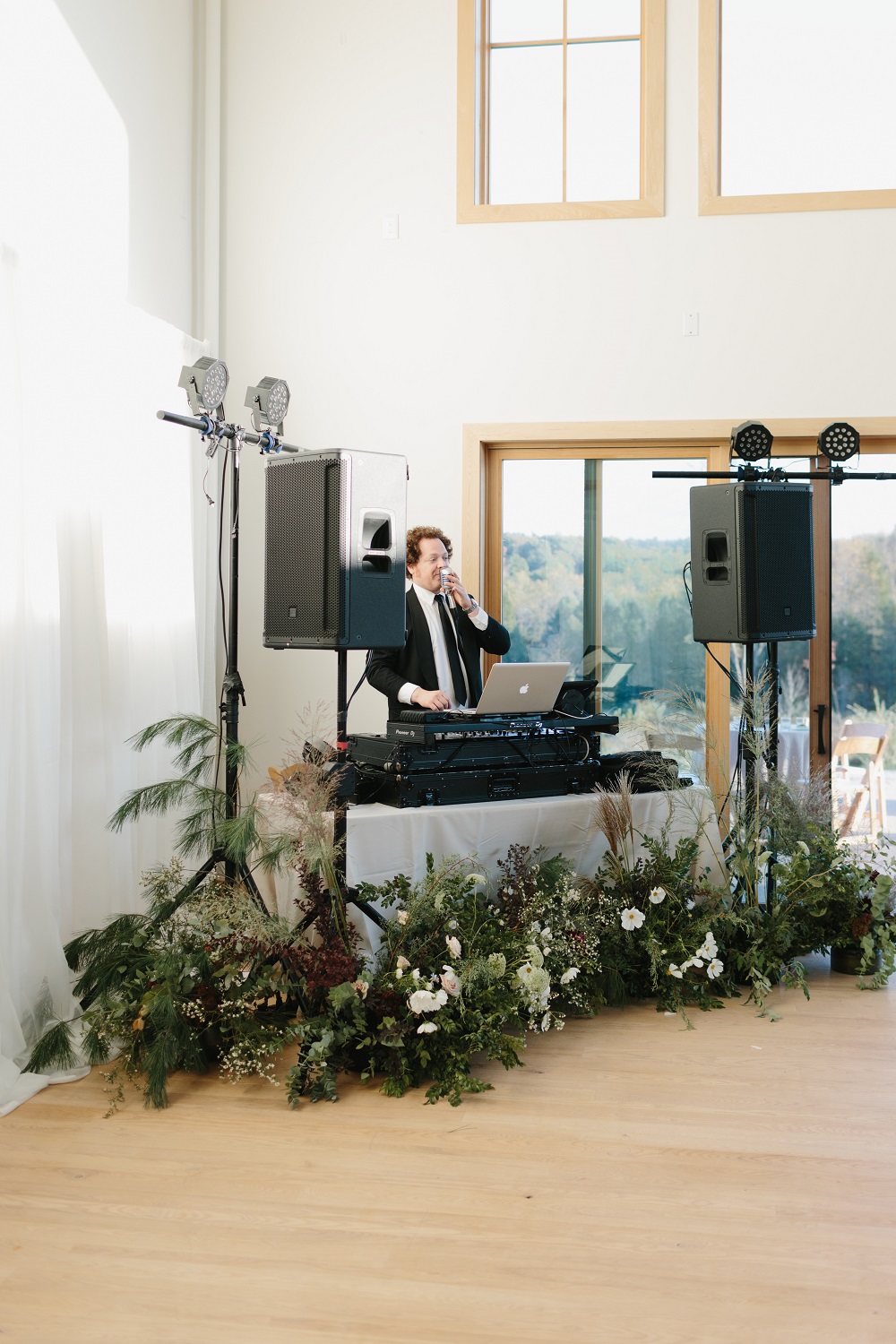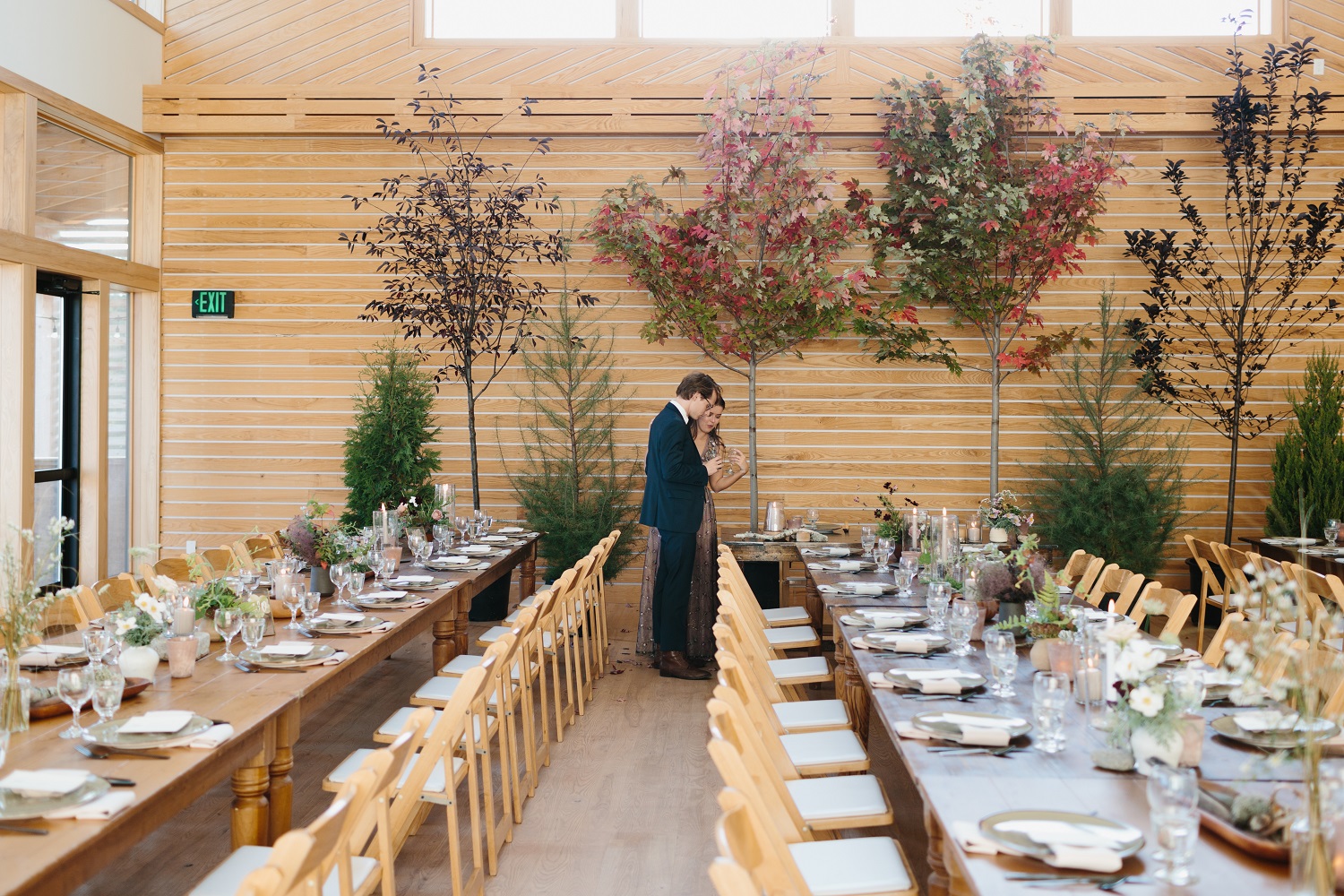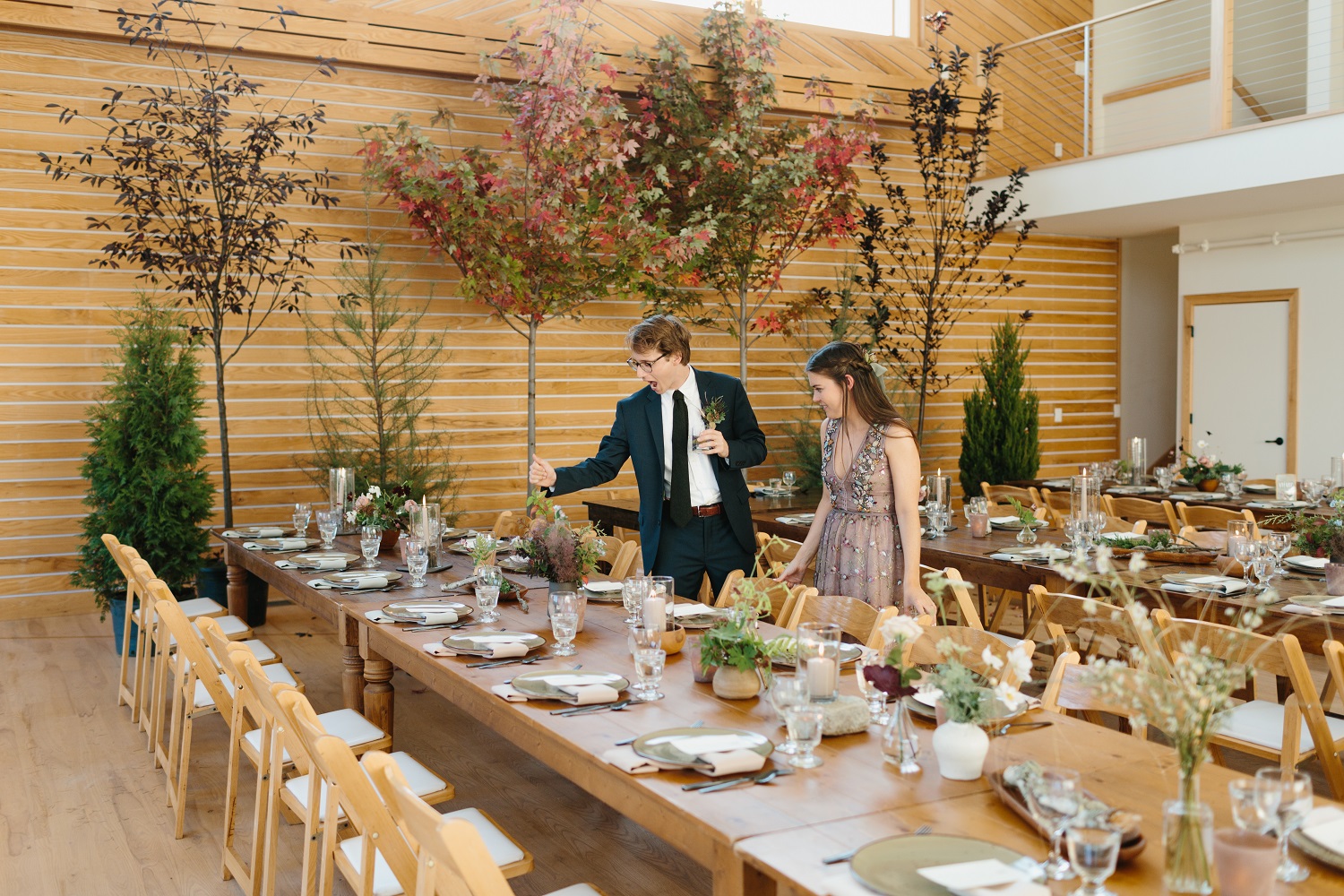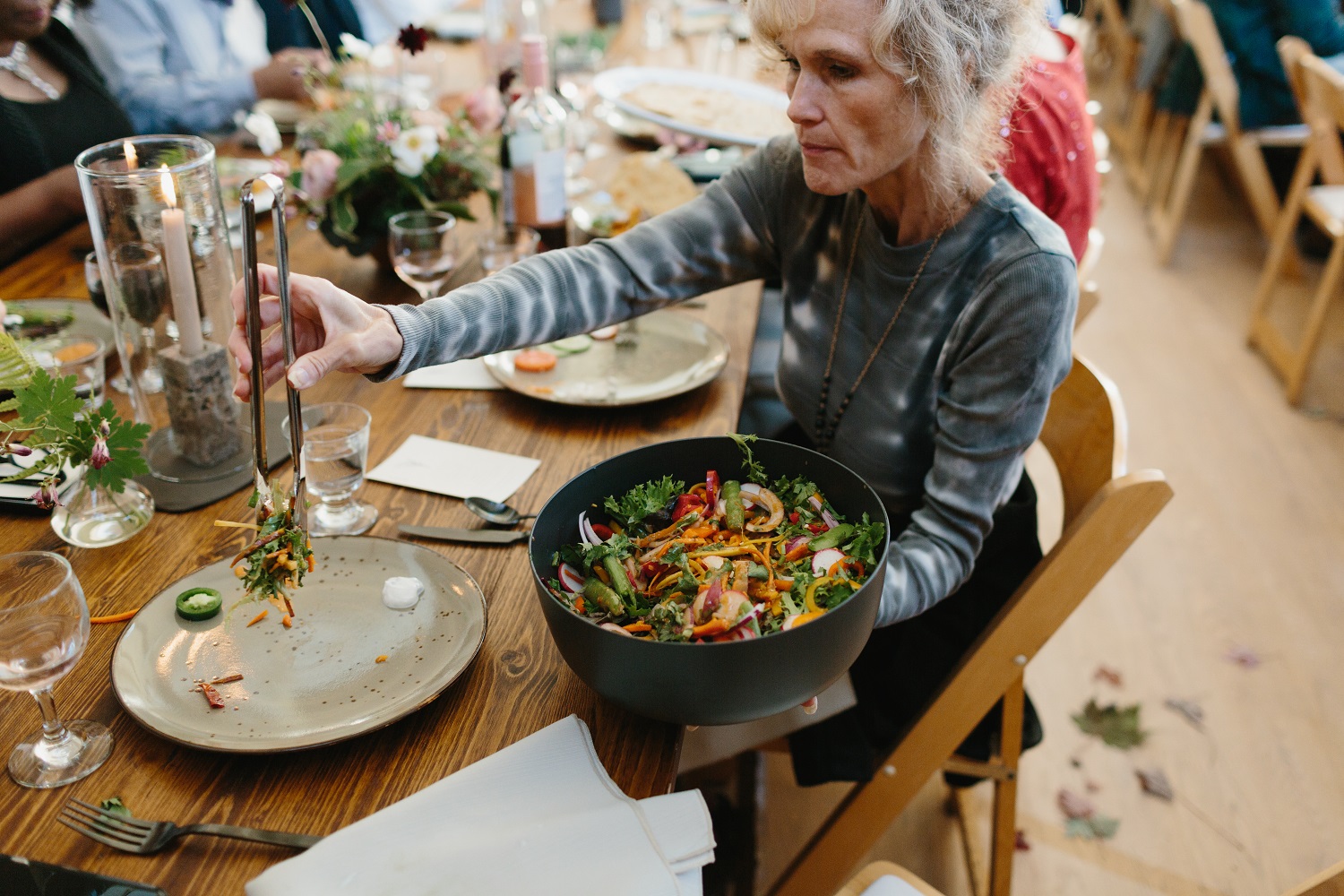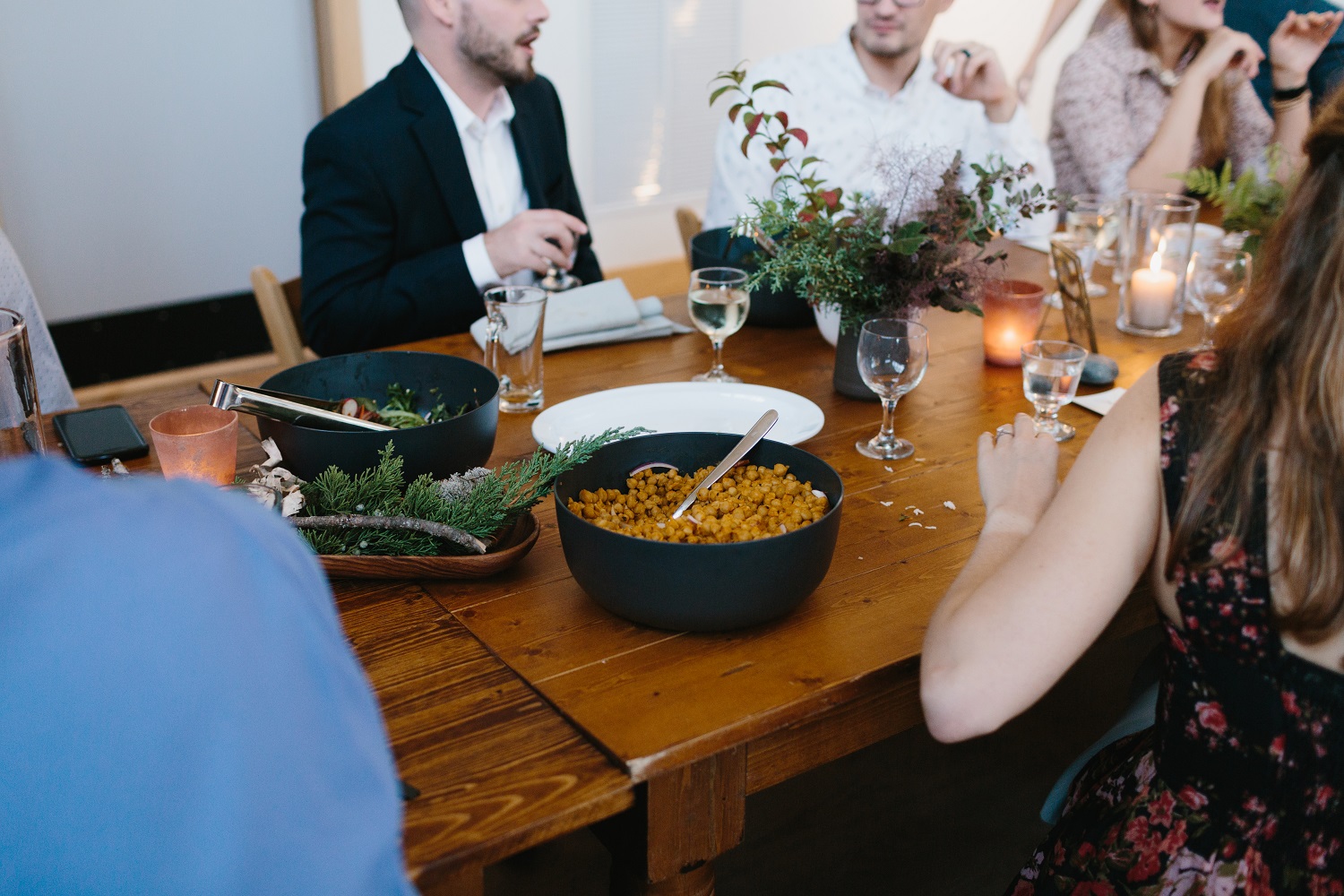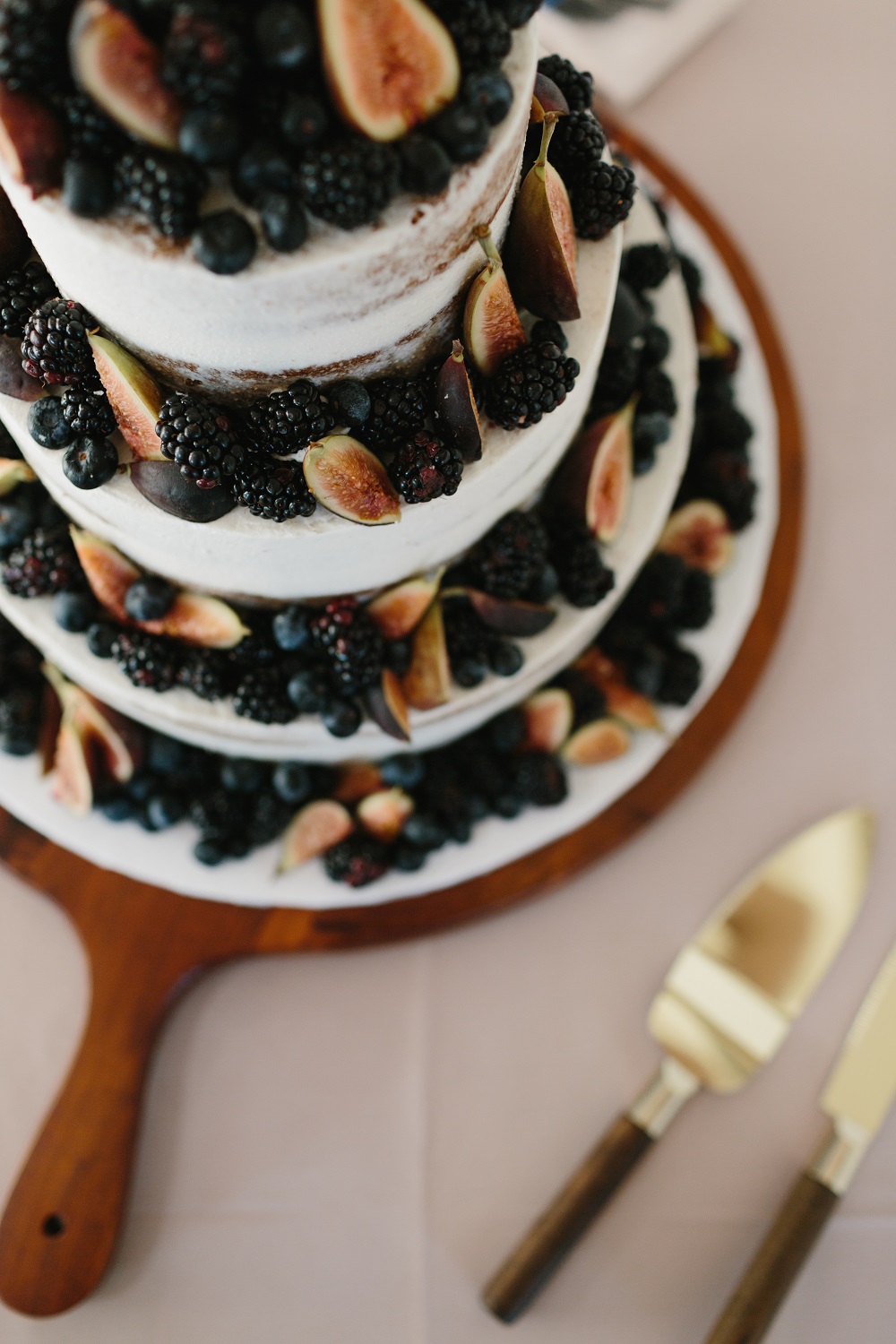 Dancing & Glamping
Chai spice cake (gluten free and delicious) and karaoke by candlelight (along with a great dj) continued the evening of revelry.  Aaron & Ashley slipped out for some dusk photos by their glamping tent as the evening sun glowed on red and orange maples.
A bonfire with s'mores capped the evening experience before guests carried lanterns back to their canvas tents in the forest.
This was a wedding with so much heart and soul, so much thoughtful authenticity, and such naturally adventurous spirits.  It was a beautiful representation of who Aaron & Ashley are and an equally beautiful picture of how loved and supported they are by friends and family who embraced the experience like riding golf carts thru the woods with mulled wine in hand is a natural wedding thing.  Literally.
We're honored to have been part of this one (and only got the truck stuck once on that sandy trail).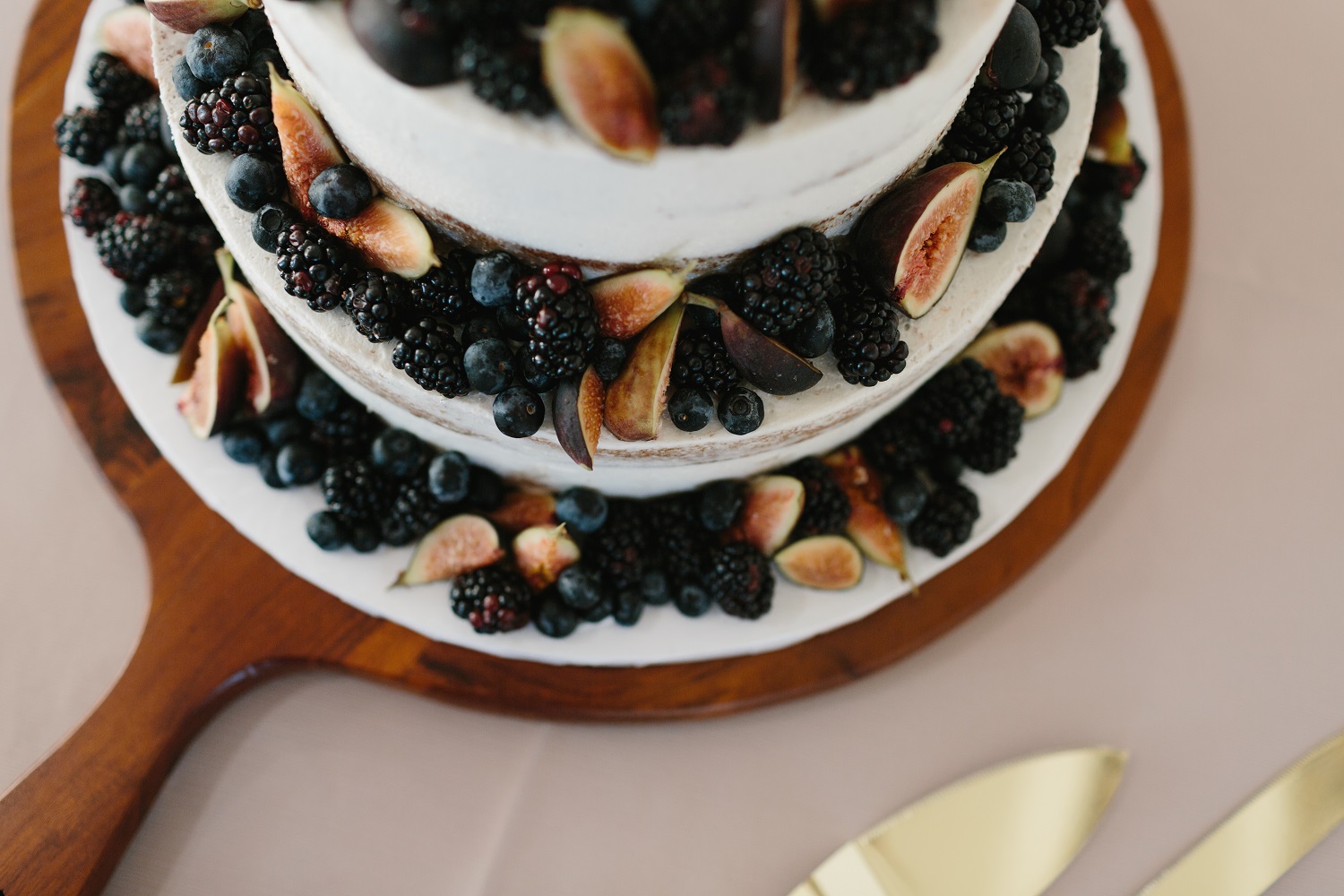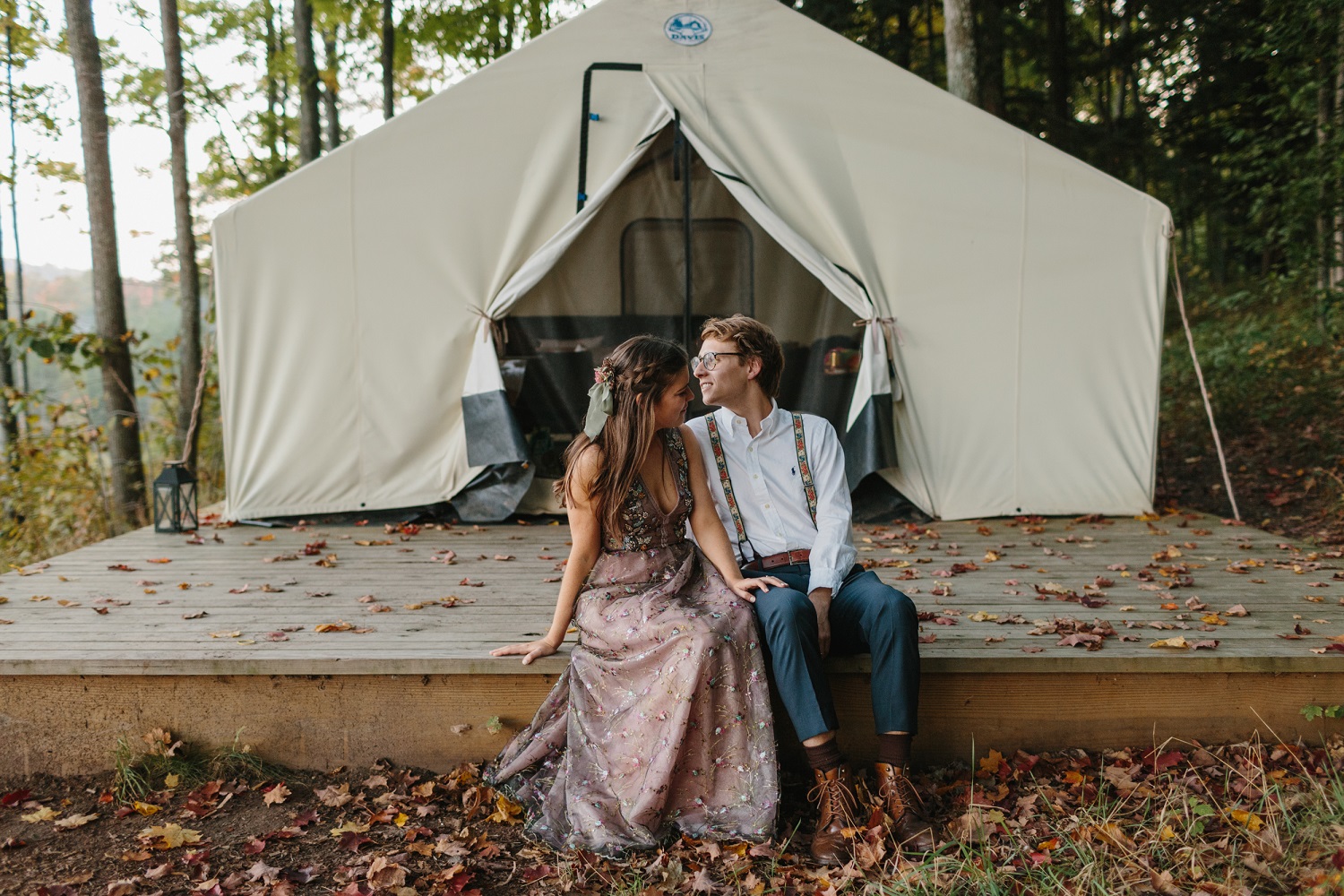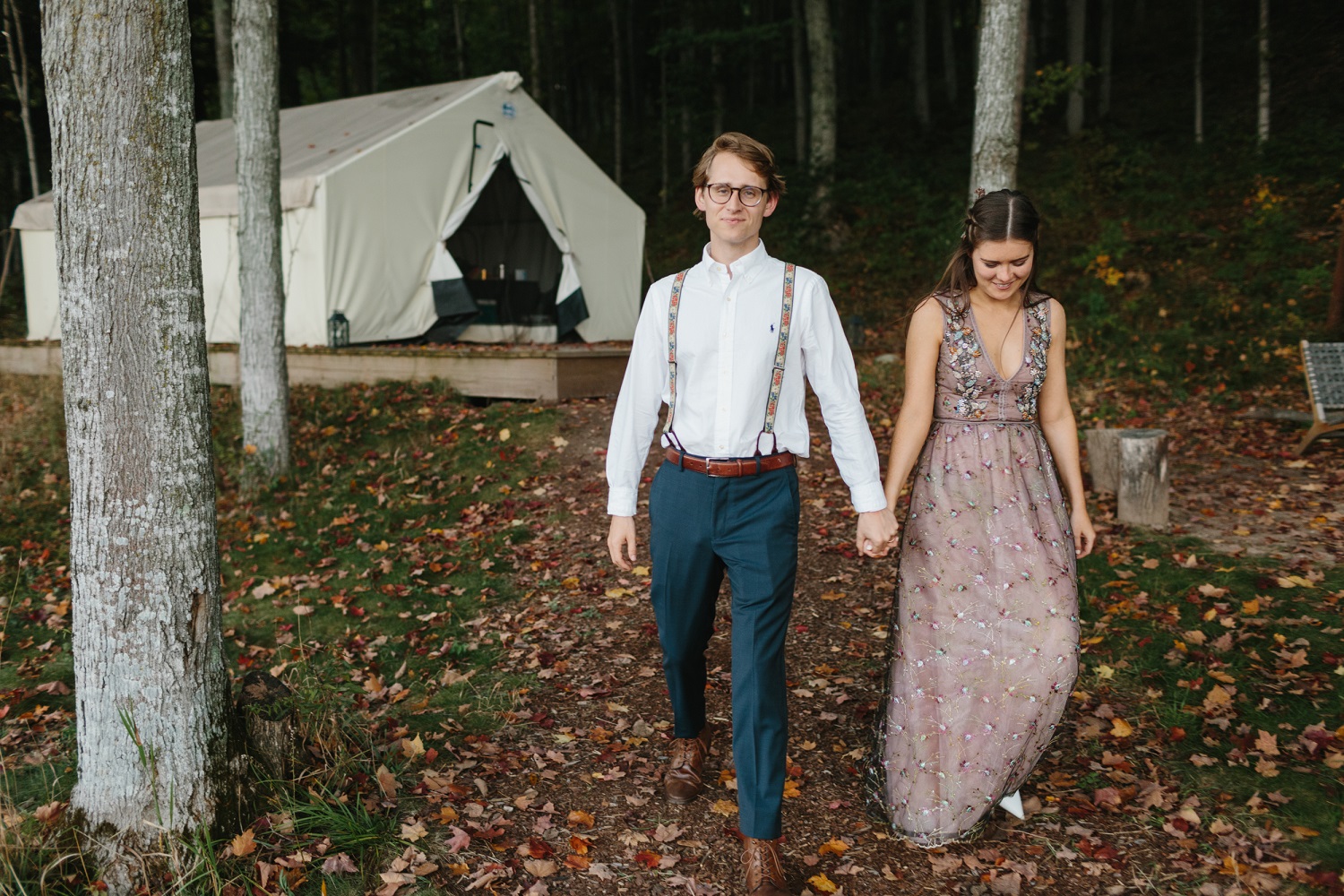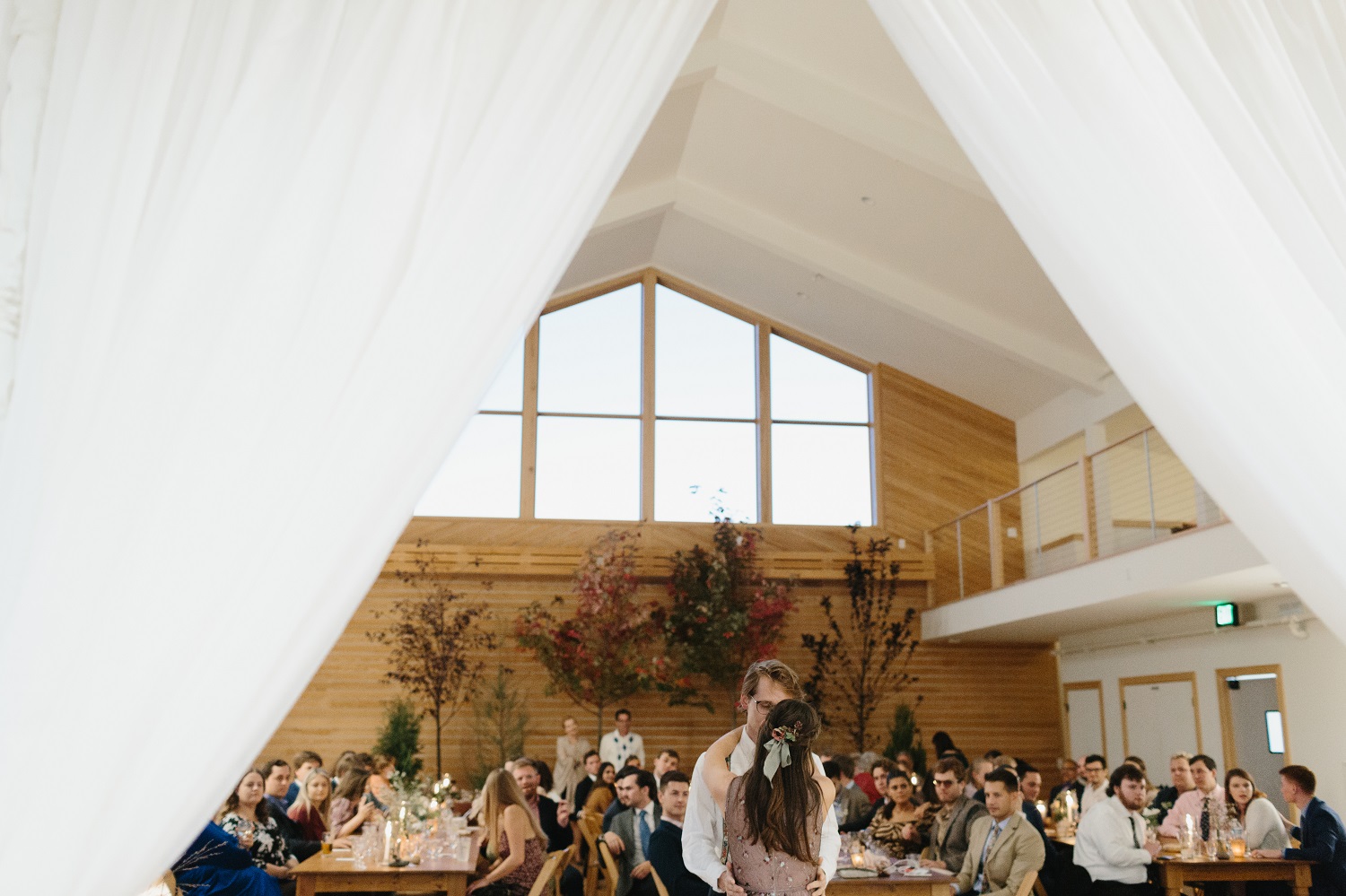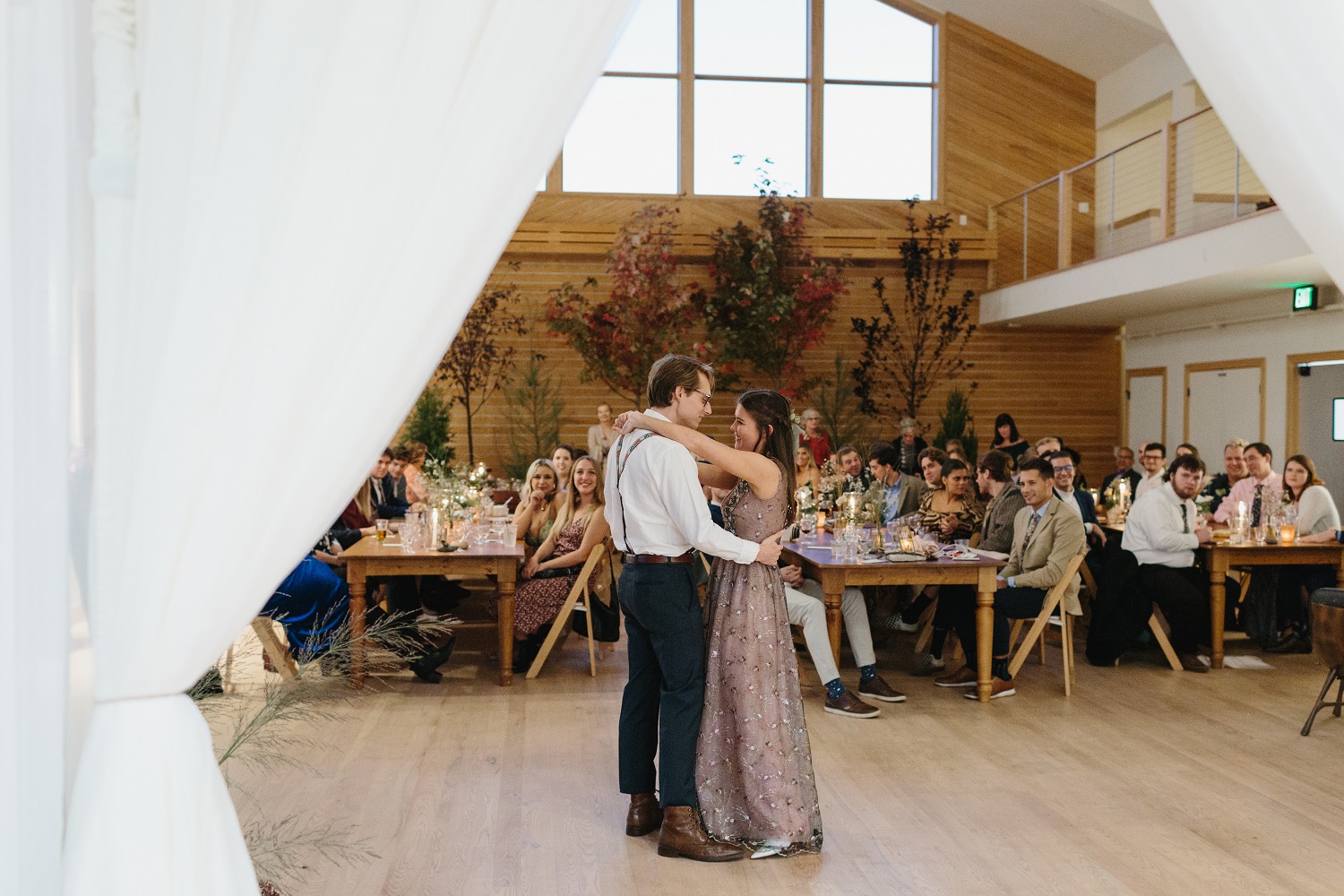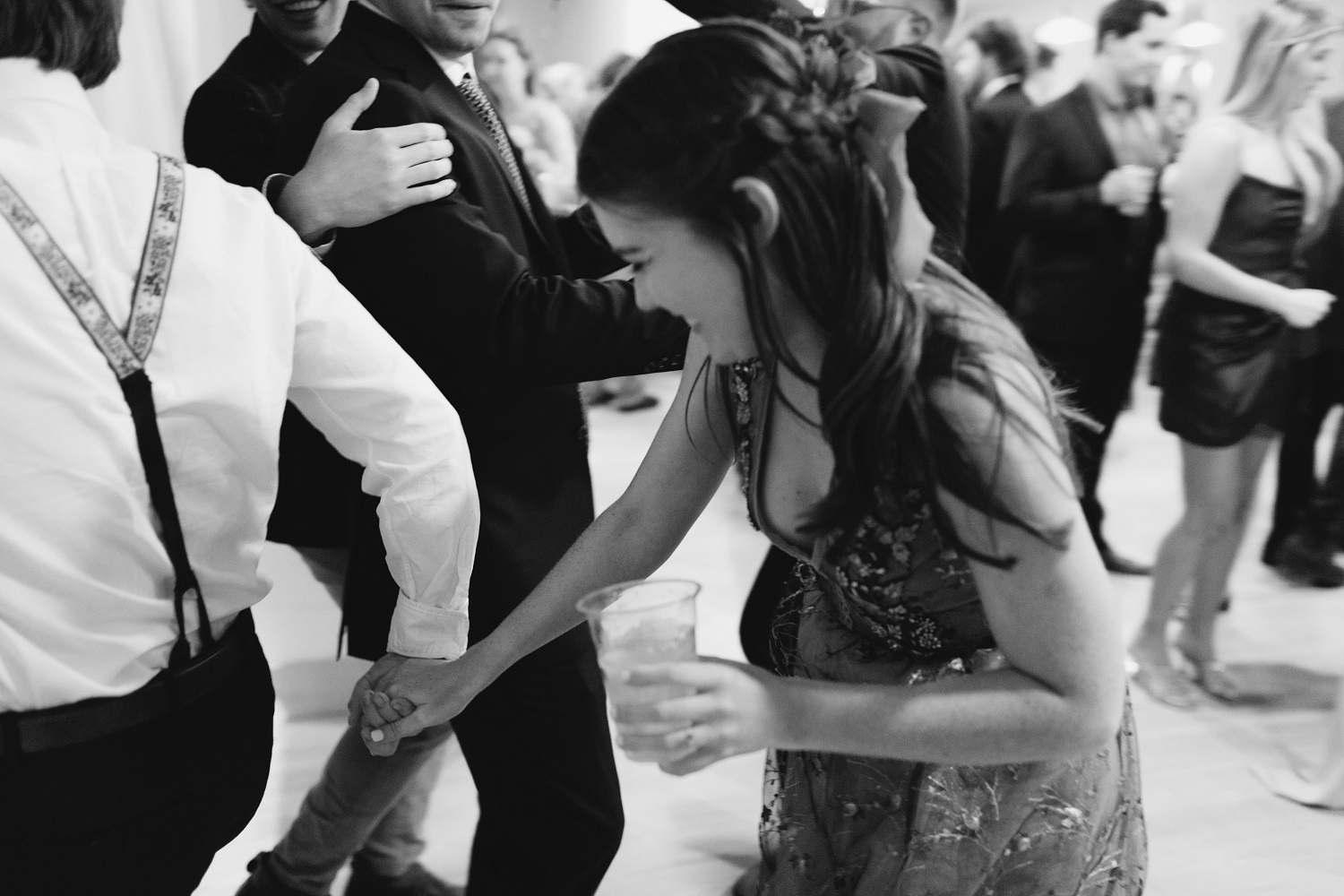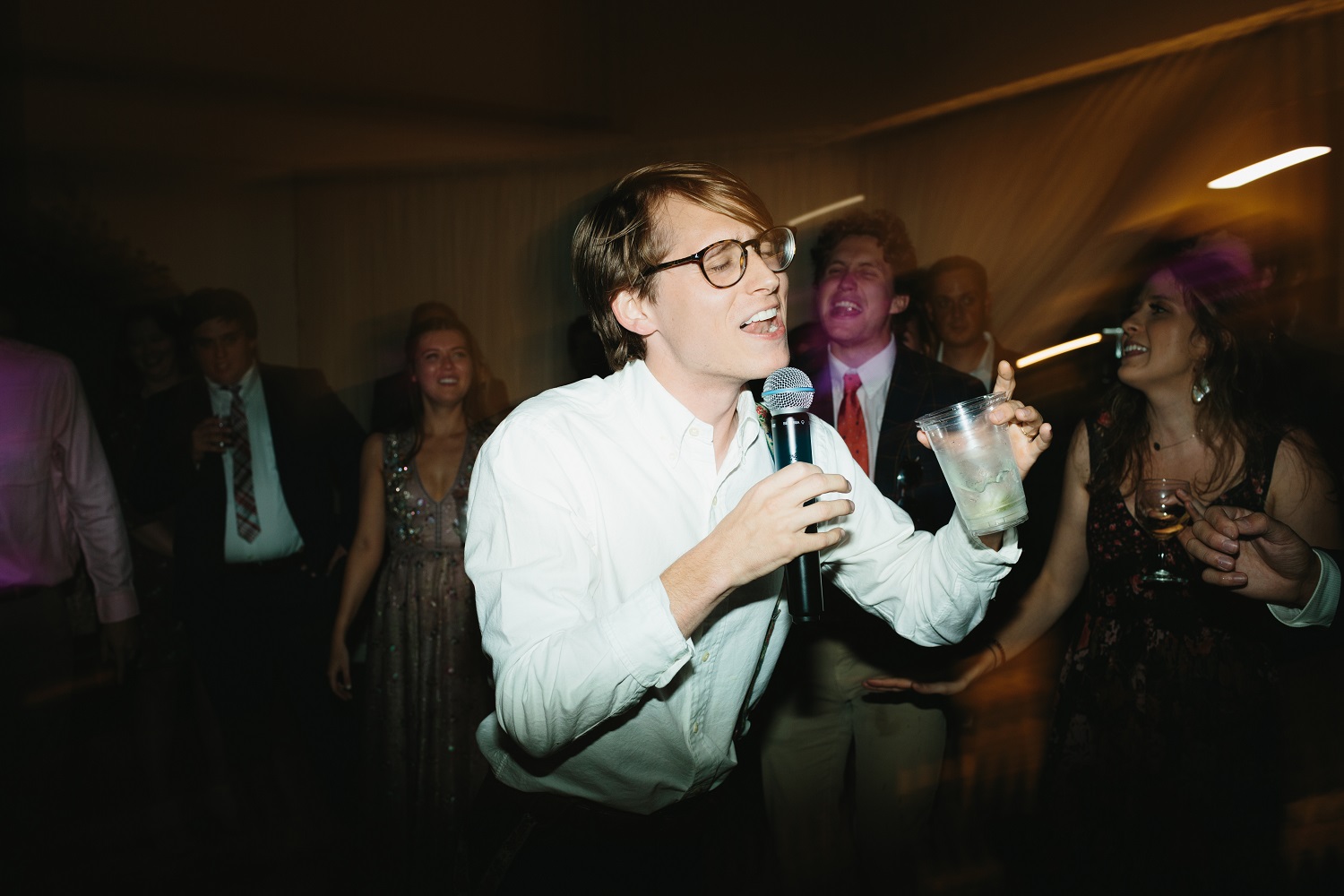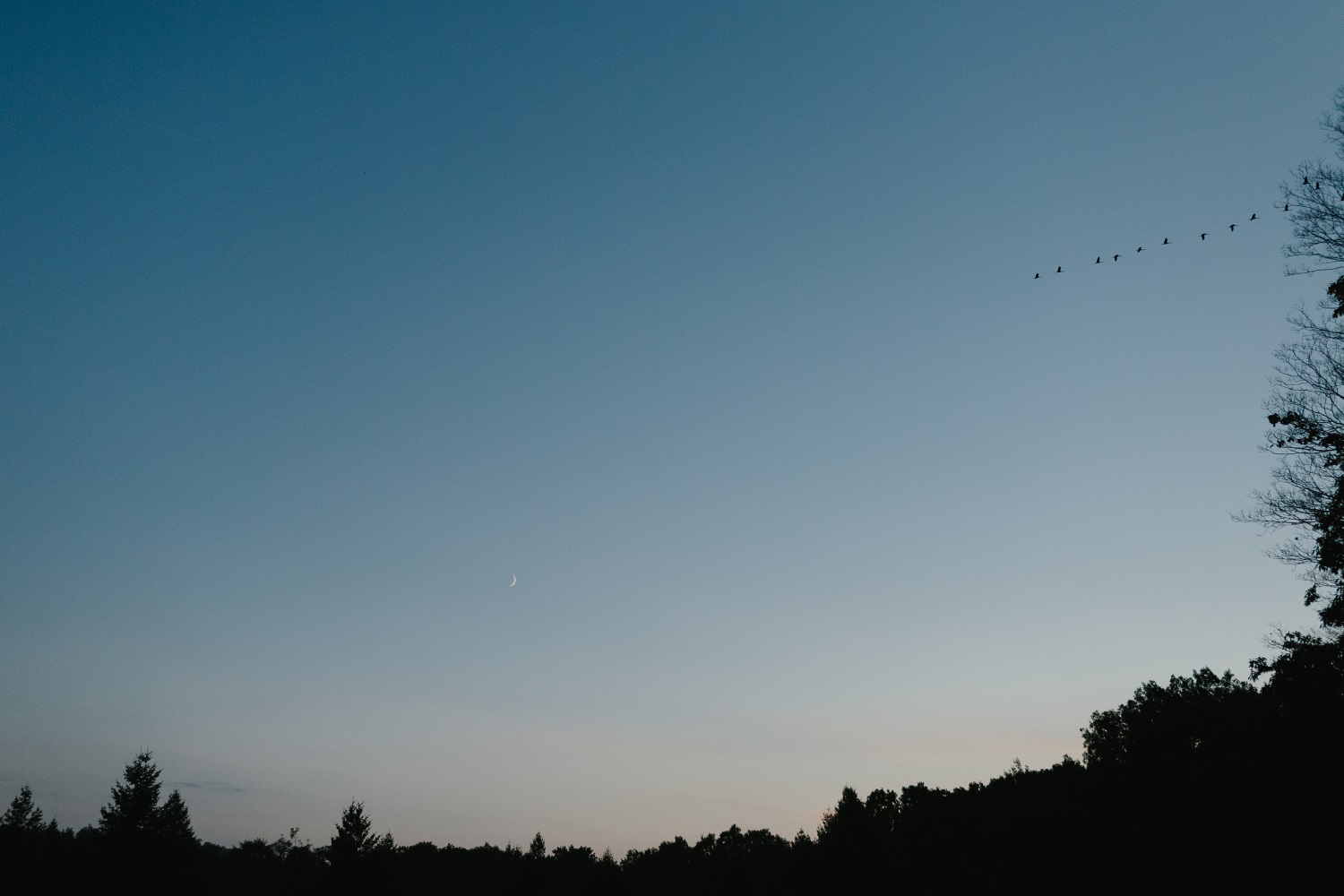 Creative Team Credits
Photography:  Mae Stier
Planning + Design + Coordination:  Juniper & Lace Events
Venue:  Nature – A Michigan Retreat
 Floral Design:  Windflower Design Co
DJ:  Michael's Entertainment
Catering:  West Bay Catering
Cake:  Third Coast Bakery
Ceremony Music:  David Chown
Hair & Makeup:  Up North Perfection
Decor Rentals:  GJ's, TC Tented Events, Sensational Events, BBJ LaTavola
Welcome Sign Lettering:  Ampersand Lettering Lab
Pressed Floral:  Aaron (groom)
Transportation:  Magic Shuttle Bus