Lauren + Dan // The Leelanau School
Summer Camp Inspired Wedding on Lake Michigan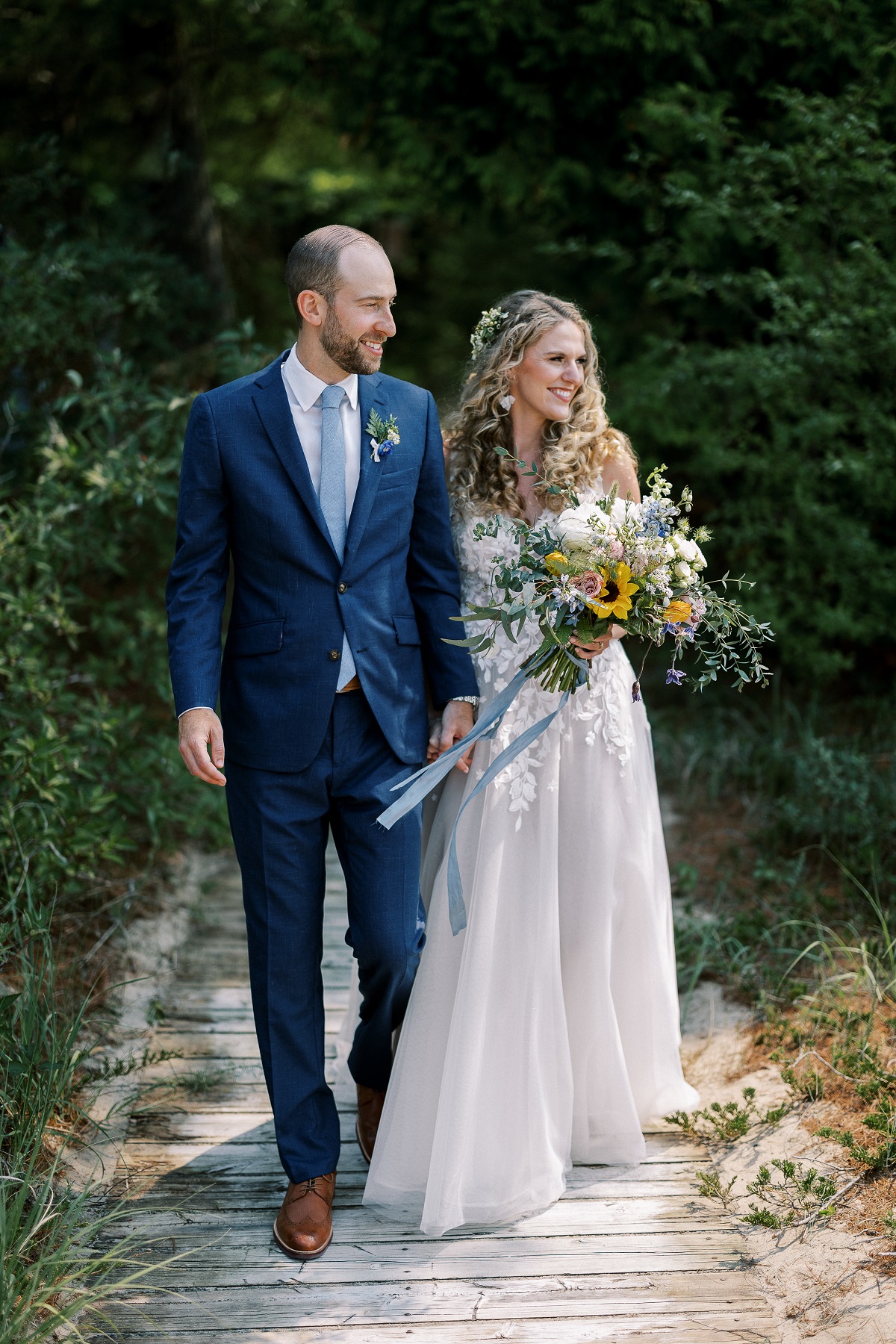 First Look Hike on a Nature Preserve
A "first look" is the moment when a bride and groom see each other dressed in wedding day attire for the first time.  It happens before the wedding ceremony and is intentionally private, emotionally authentic, and often involves reading a love letter or even wedding vows to each other. 
The first look experience is beautiful and meaningful but Lauren & Dan took it to a whole new level.  On their wedding day, they drove separately to a nature preserve that they had discovered on one of their many trips north.  Their photographer ensured that Dan hiked down the .2 mile trail first and that once he was out of sight, Lauren followed to the forested edge of Lime Lake where they shared a first look experience.  
In keeping with their value of preserving and enjoying natural spaces, they had made their gift registry an opportunity to donate to the Leelanau Conservancy fund in support of Teichner Preserve.  The bench in that lakeside clearing now bears a small plaque in honor of the donations that were made by their wedding guests.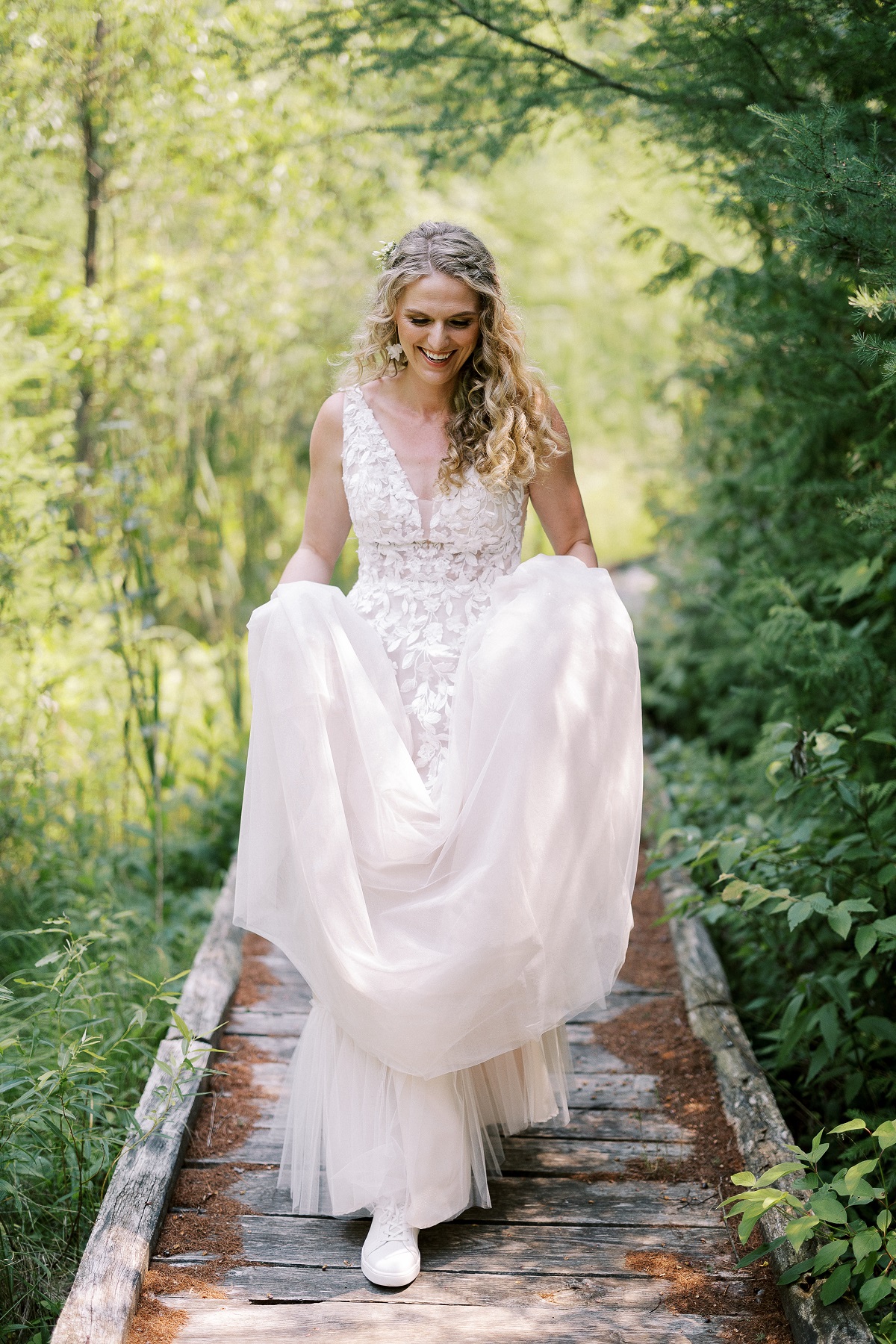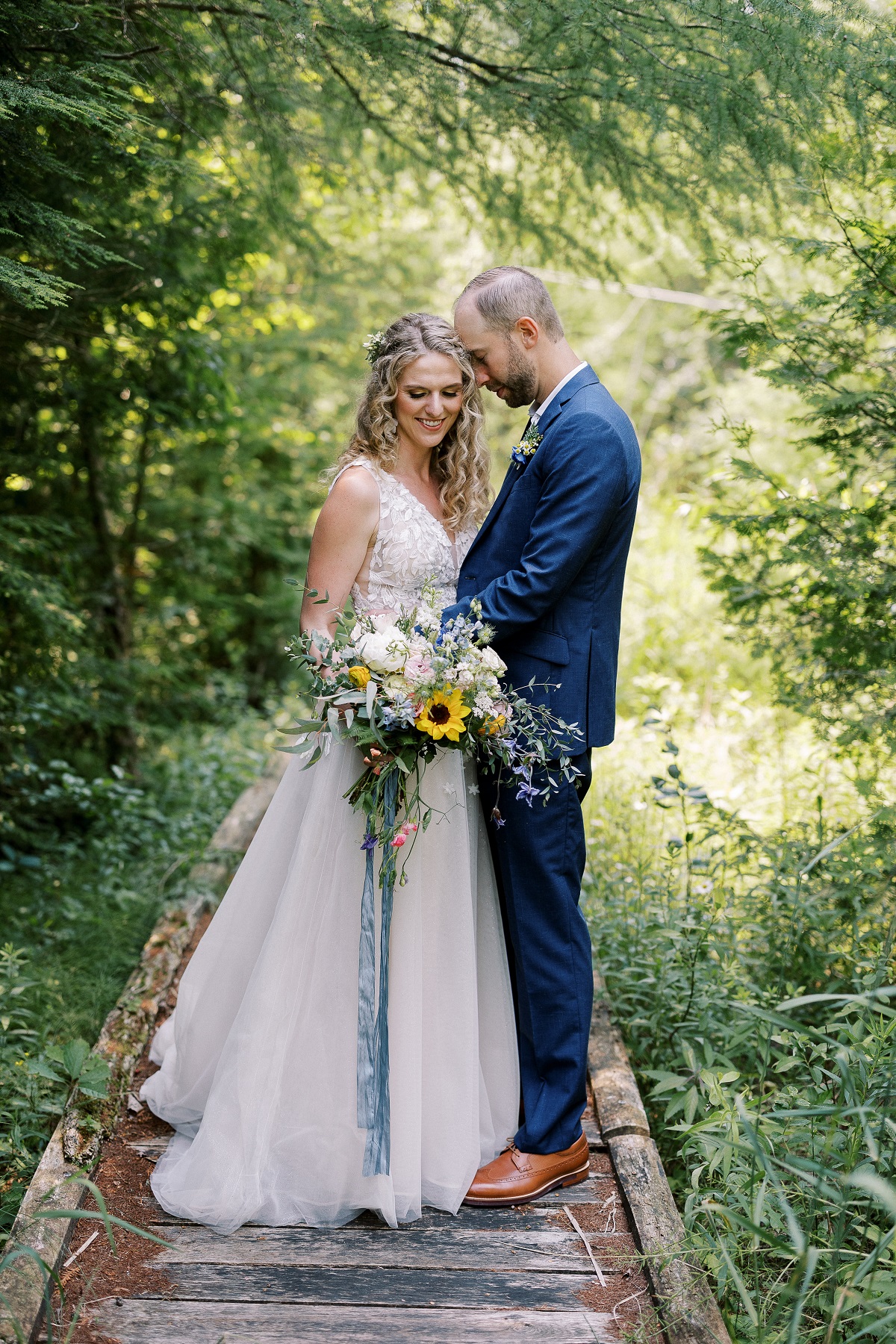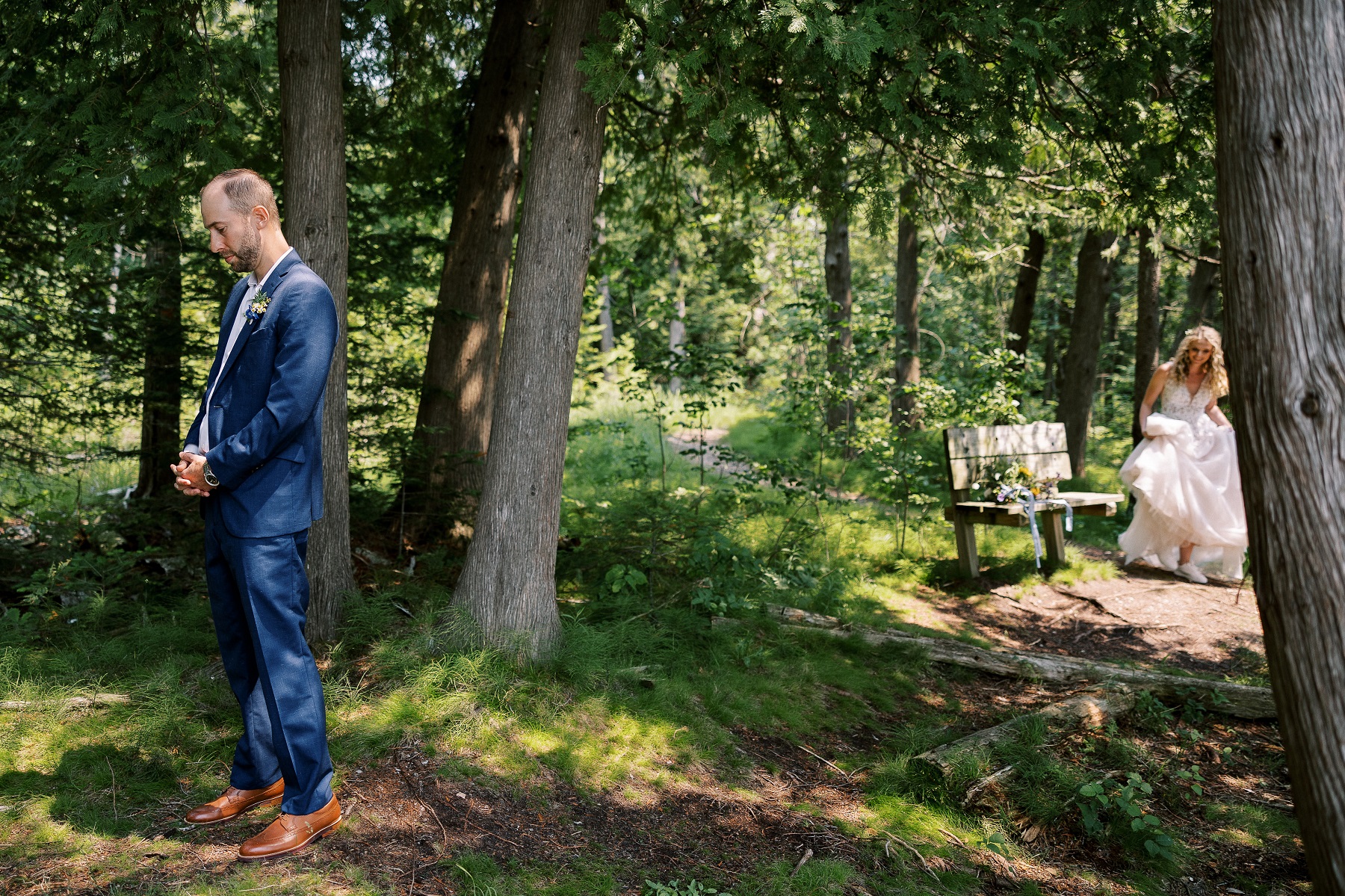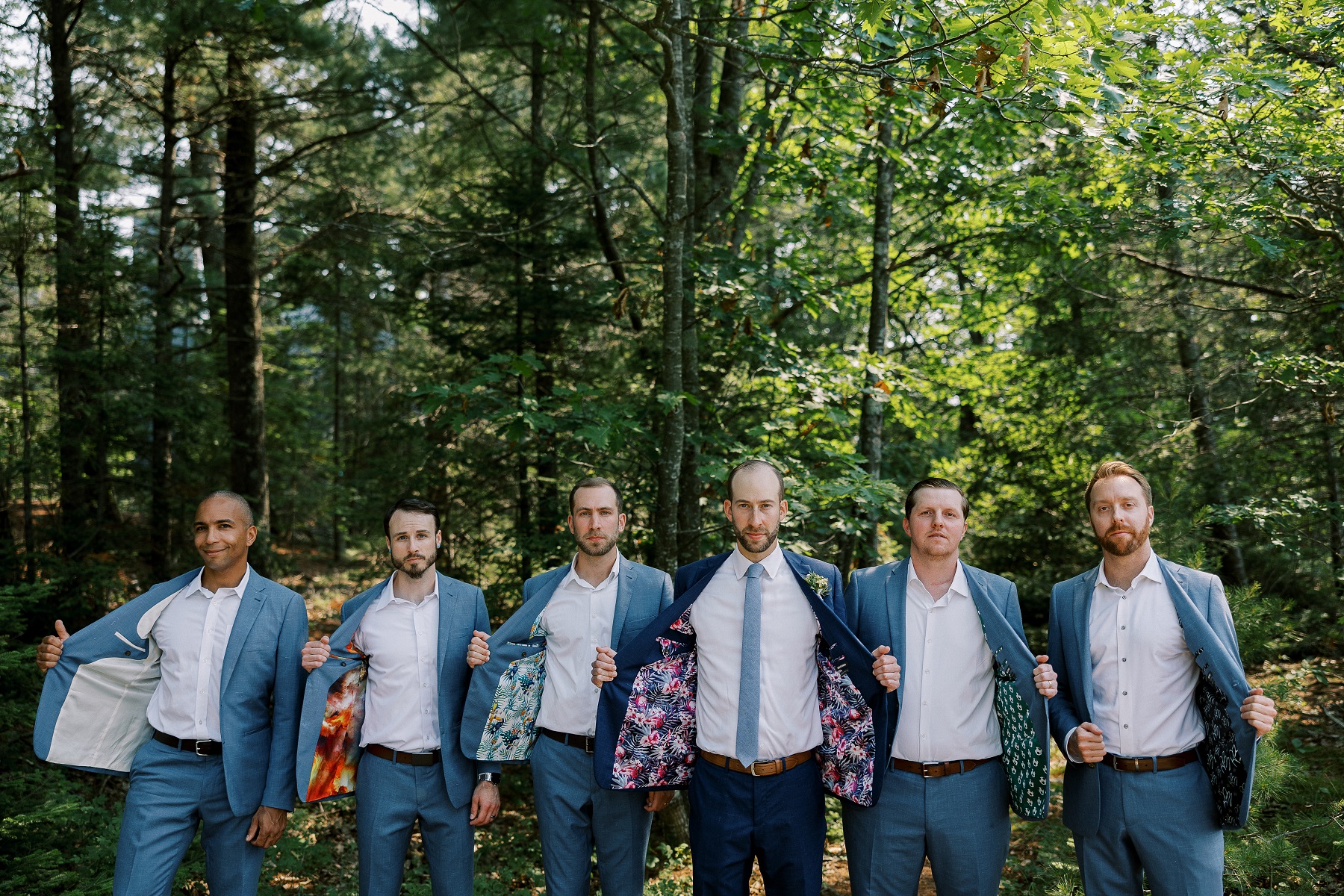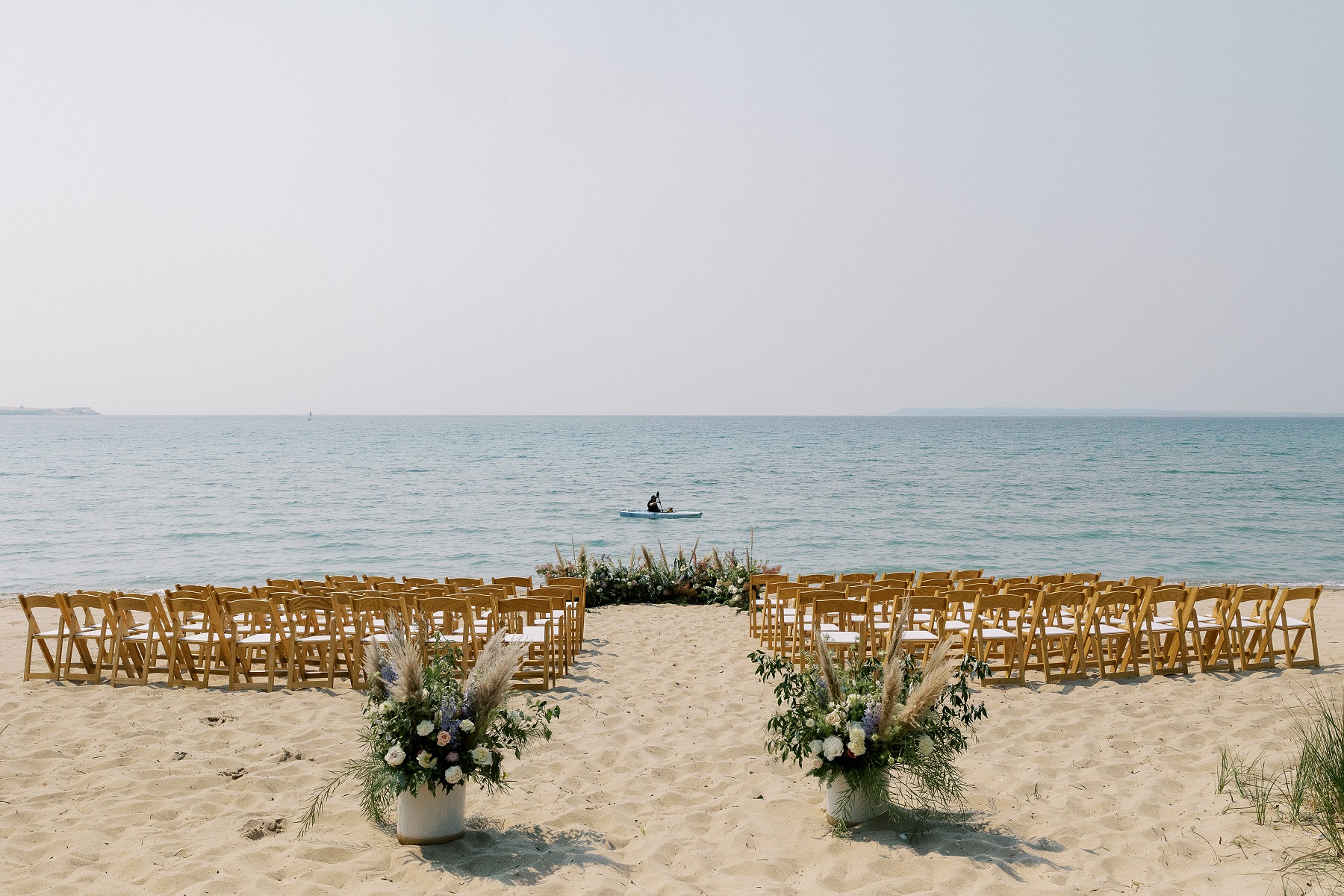 Ceremony on Lake Michigan
Guests strolled thru the woods and over the river bridge on their way to Lauren & Dan's beach ceremony.  They passed a small flock of plastic flamingos staked in the ground, a playful homage to Lauren's late father.  A small station of White Claw seltzers and rattan style fans equipped them for the sunny ceremony and as kayakers paddled by, guests settled into their seats on the sandy shore of Lake Michigan.  Lauren & Dan were entirely in their element as they exchanged vows in a "wildflowers & beach grass" inspired floral ground arch.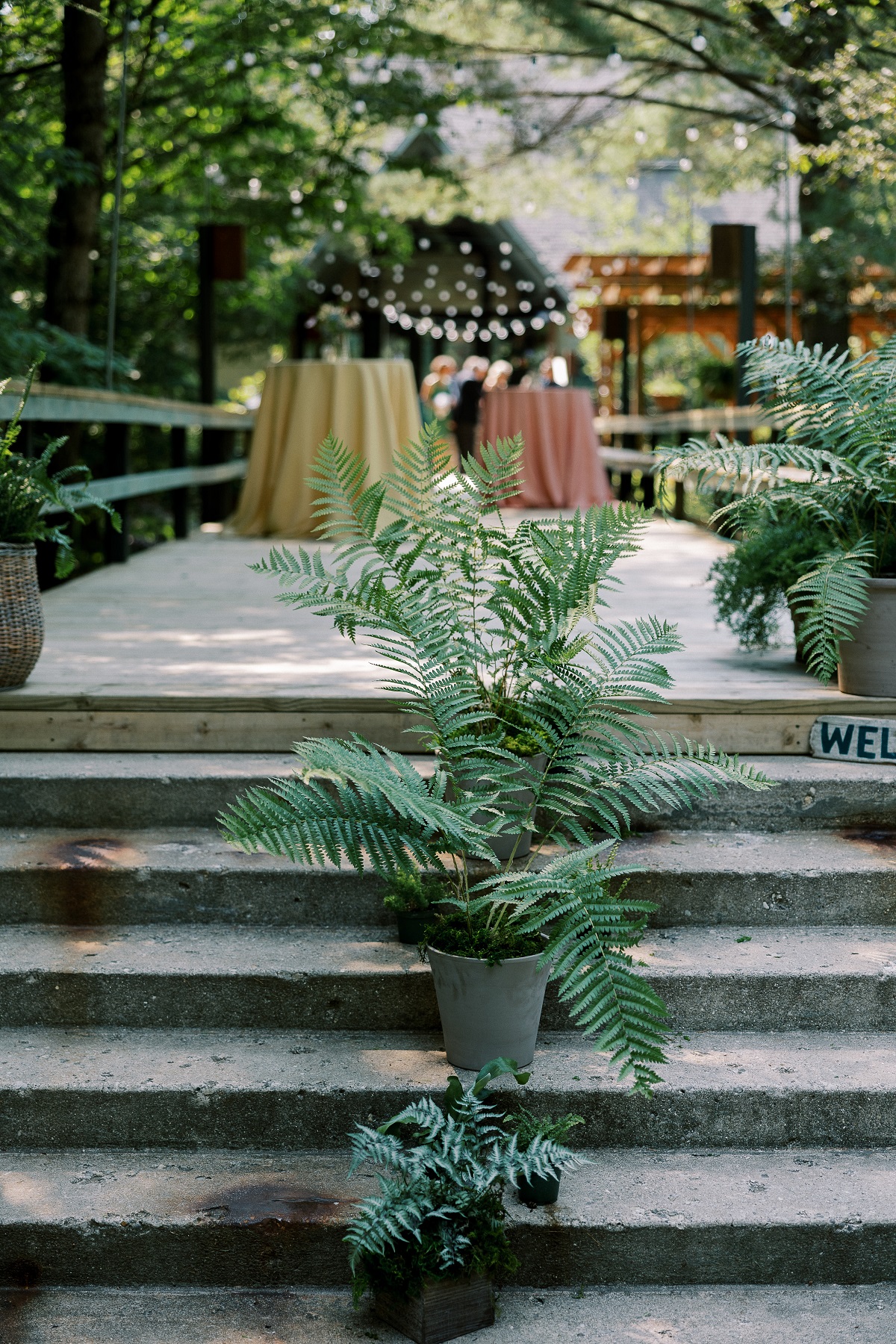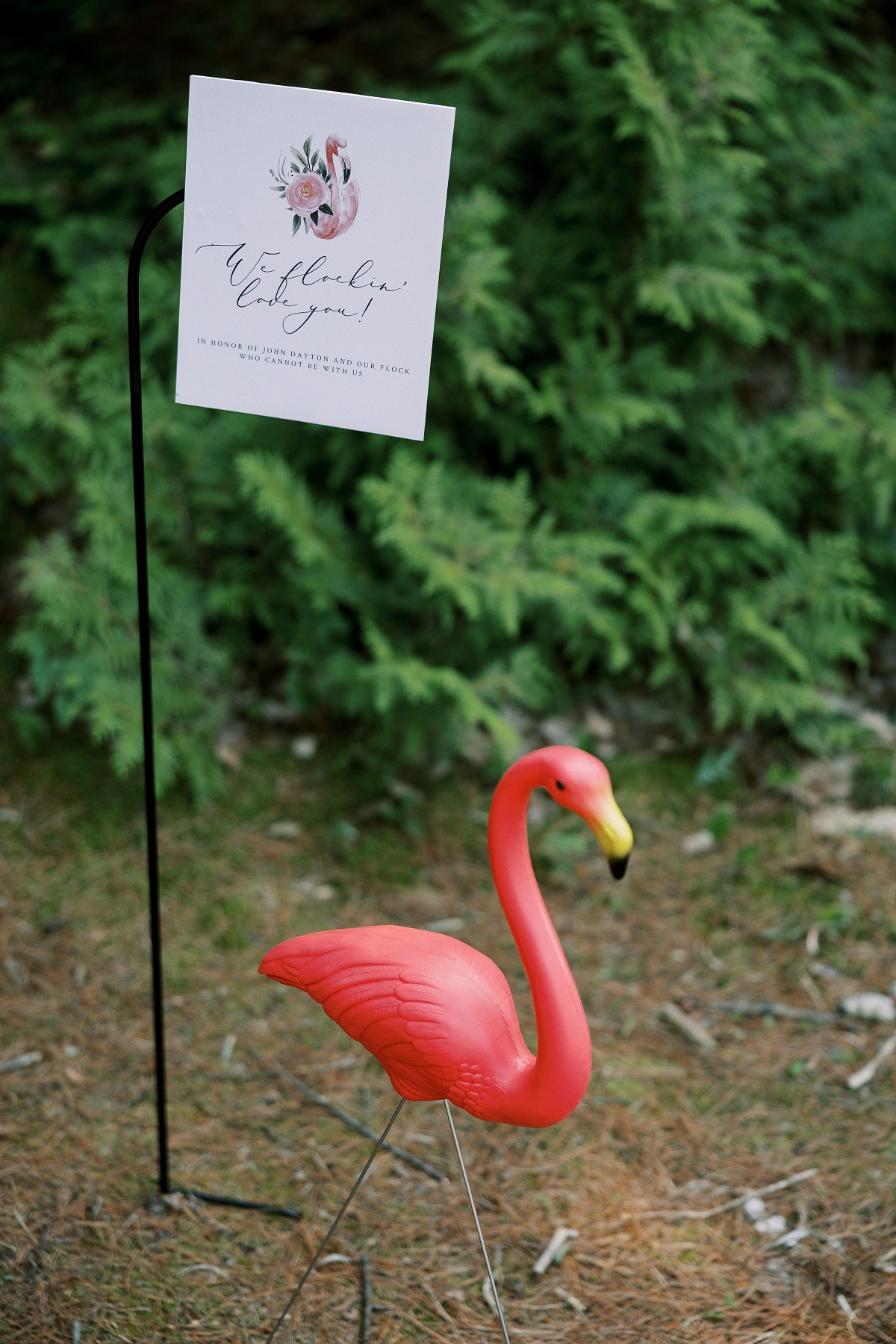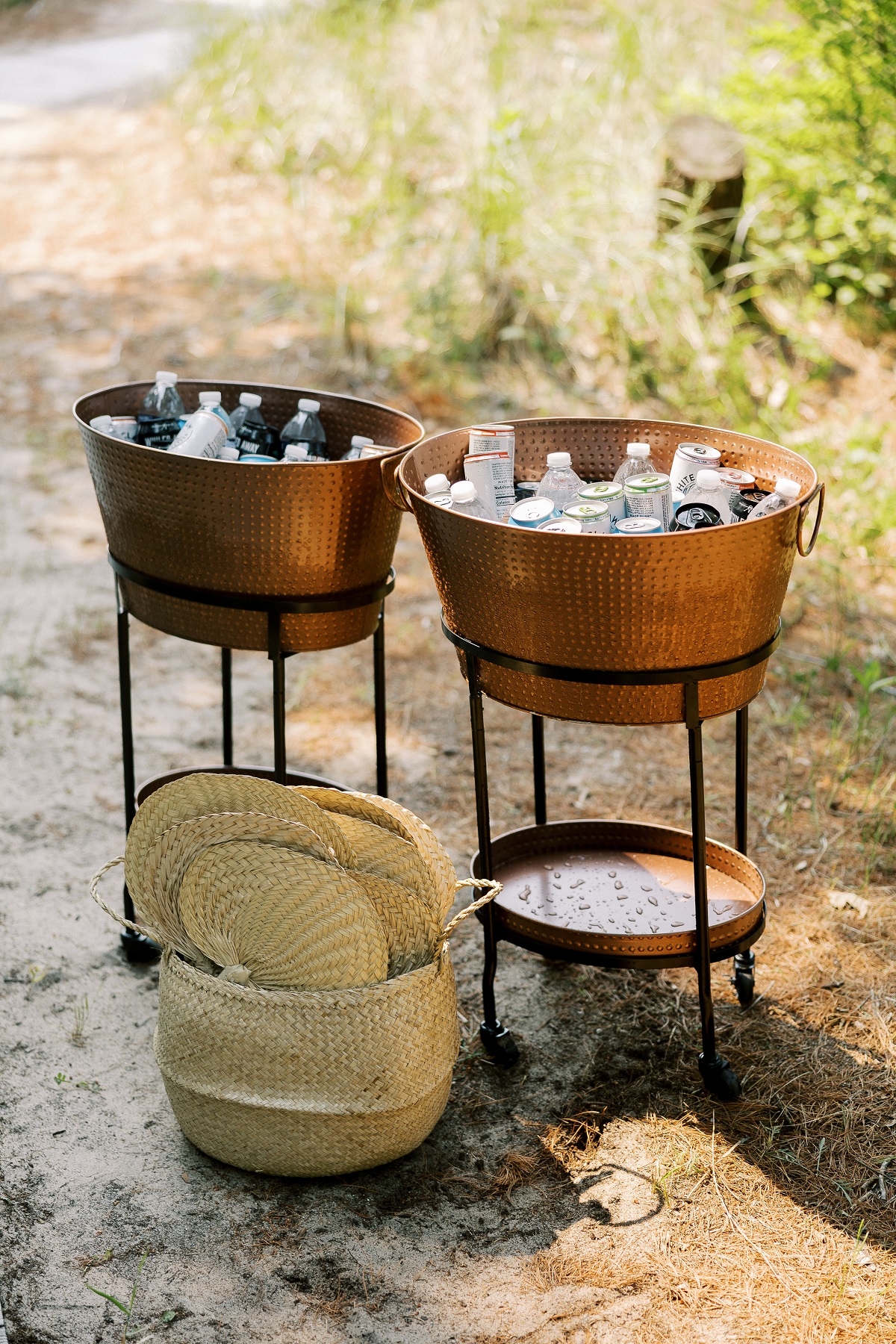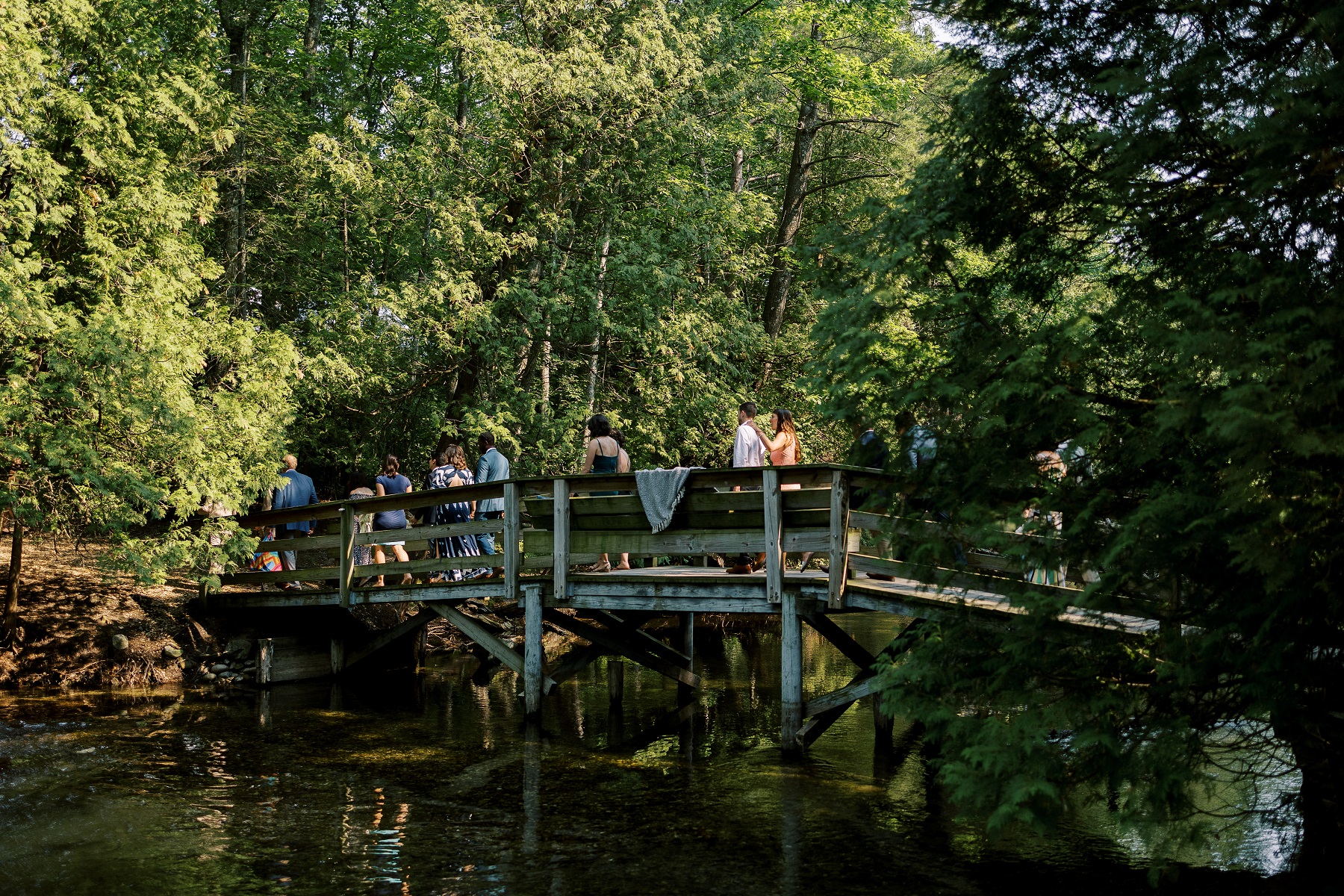 Cocktails on the Boardwalk
Cocktail hour happened on the school's boardwalk entrance, forested on both sides.  The cocktail linen colors were inspired by a vintage camp themed postcard and were topped in wildflowers.  Beer was served from a small canoe filled with ice.  Guests found their dinner seating assignments on a hand-lettered scroll hung from one of the pine trees en route to the reception tent.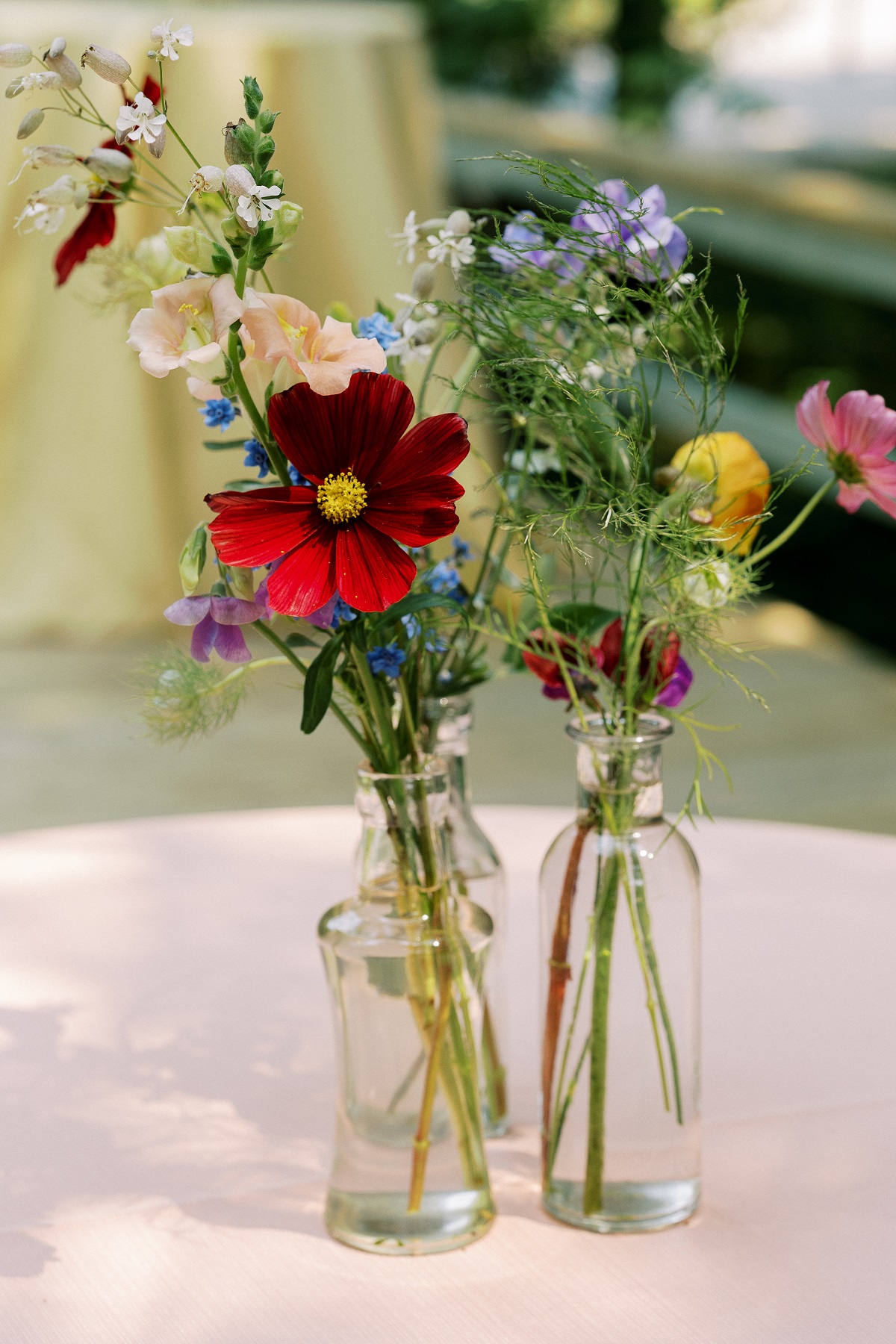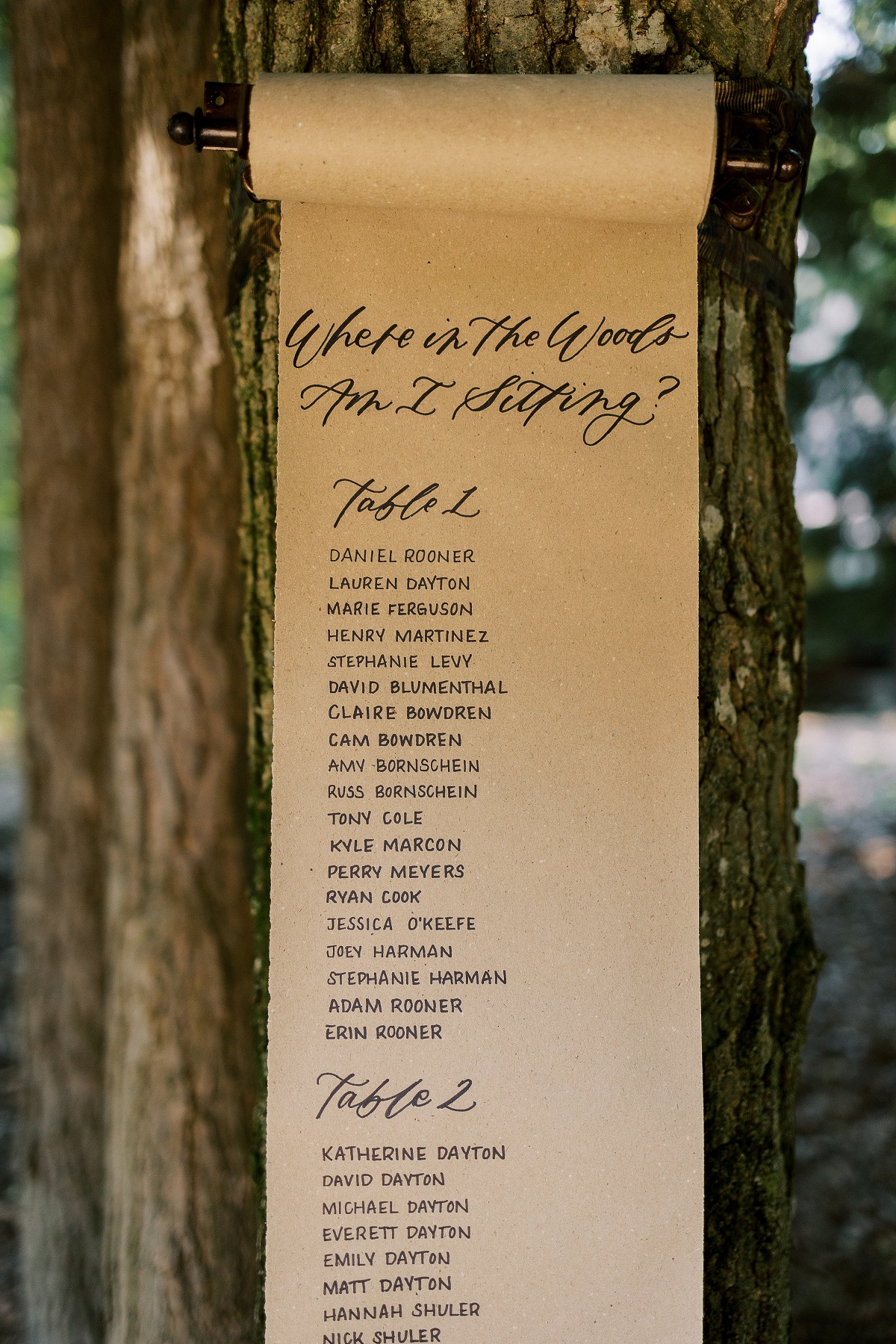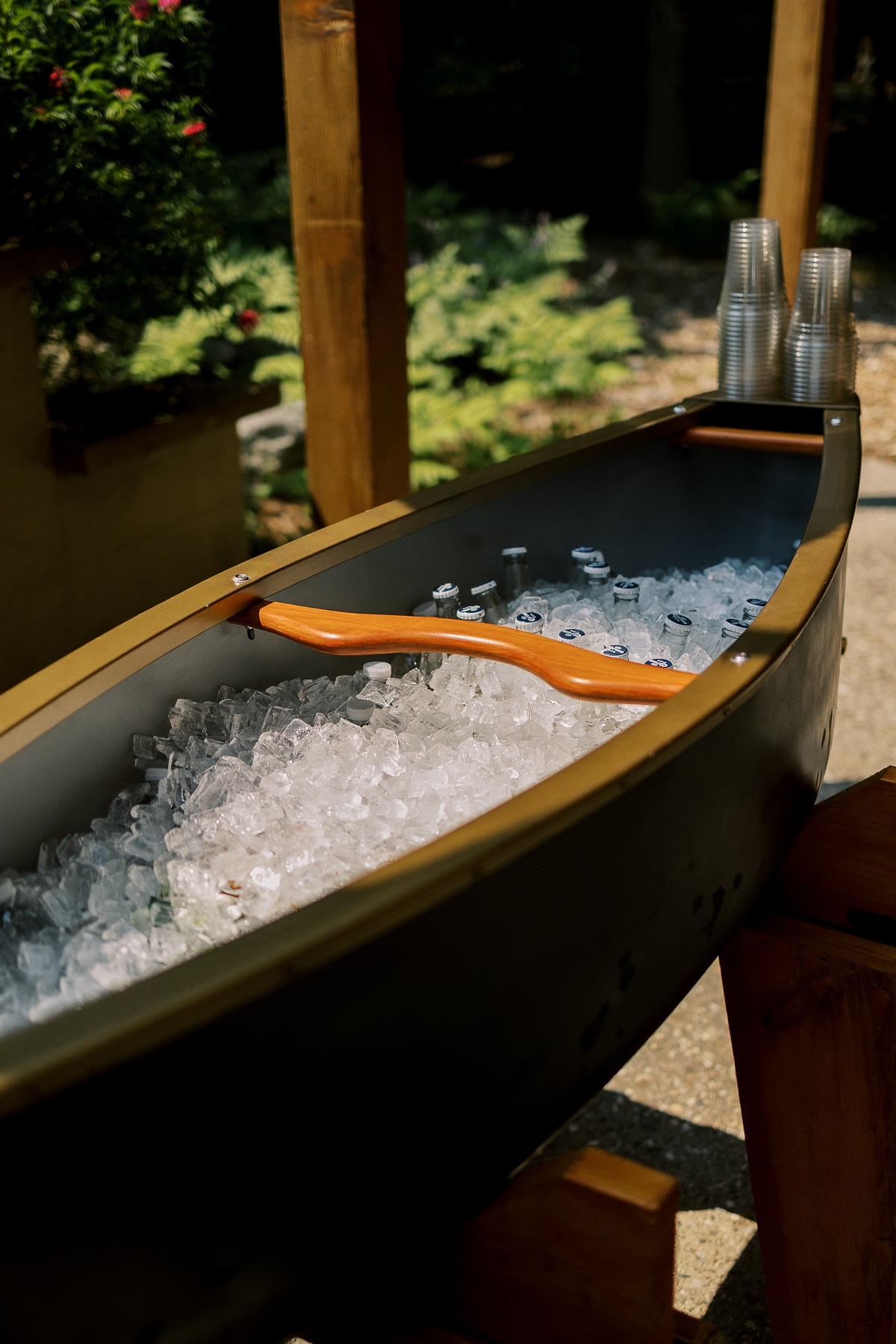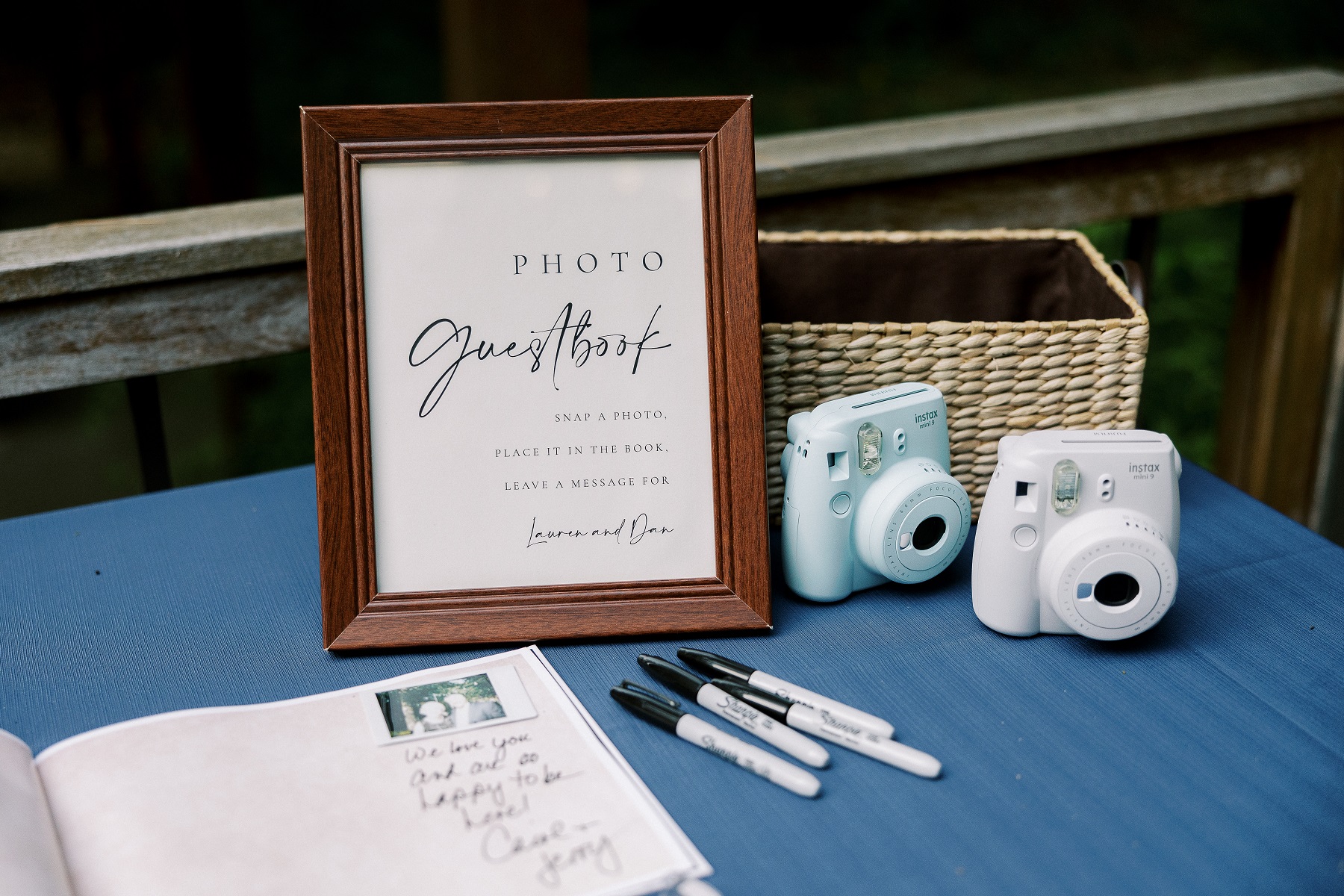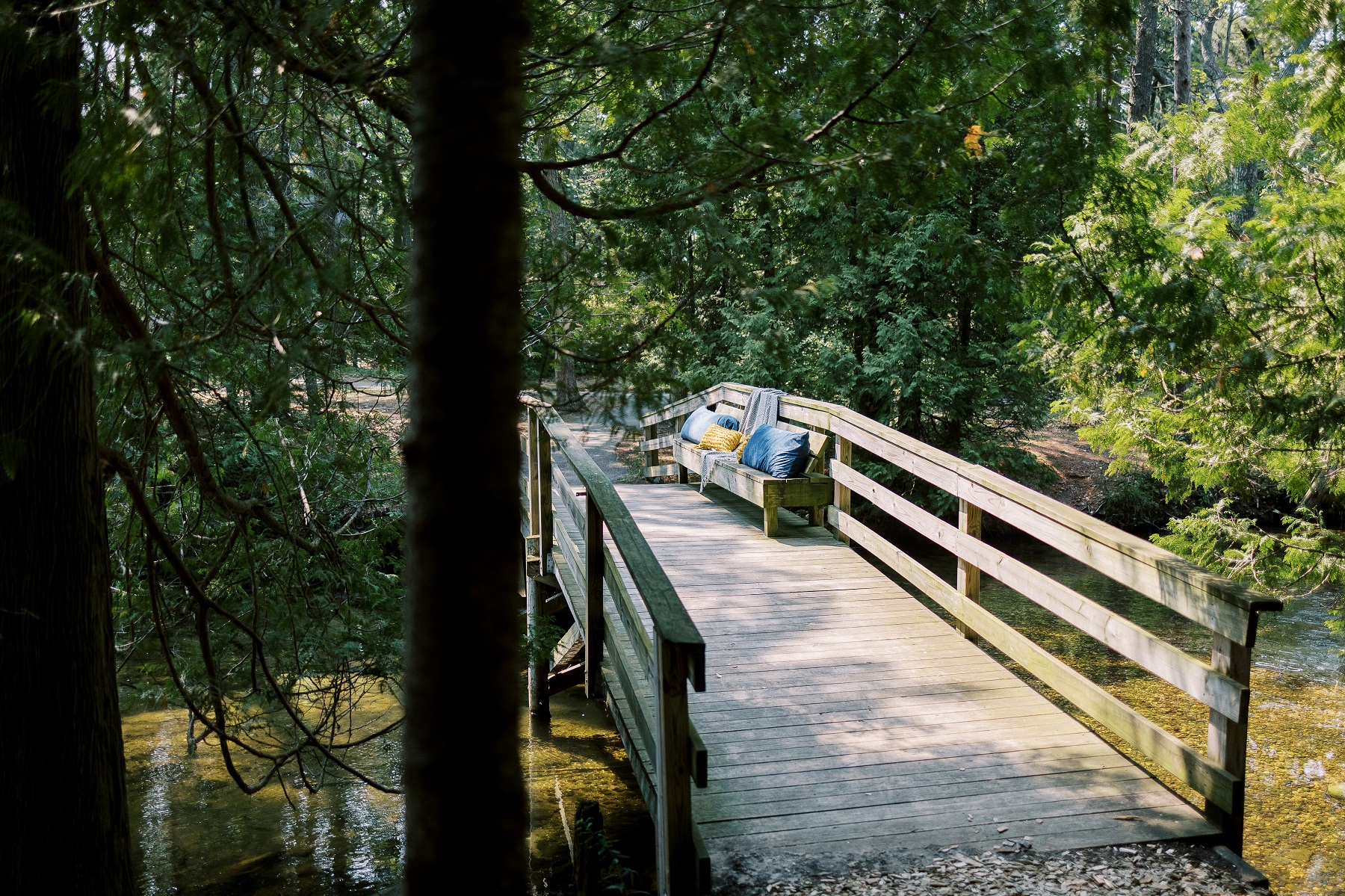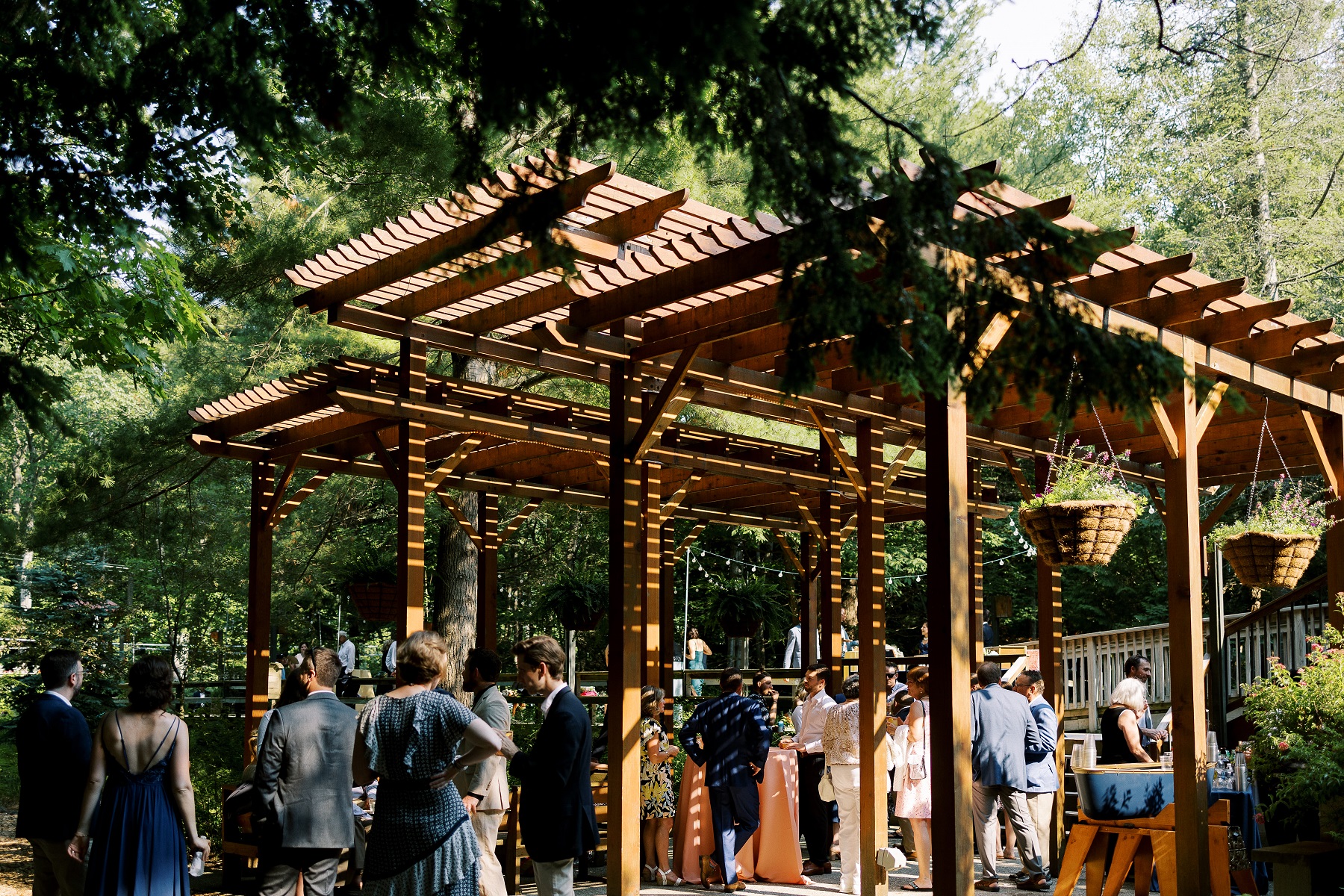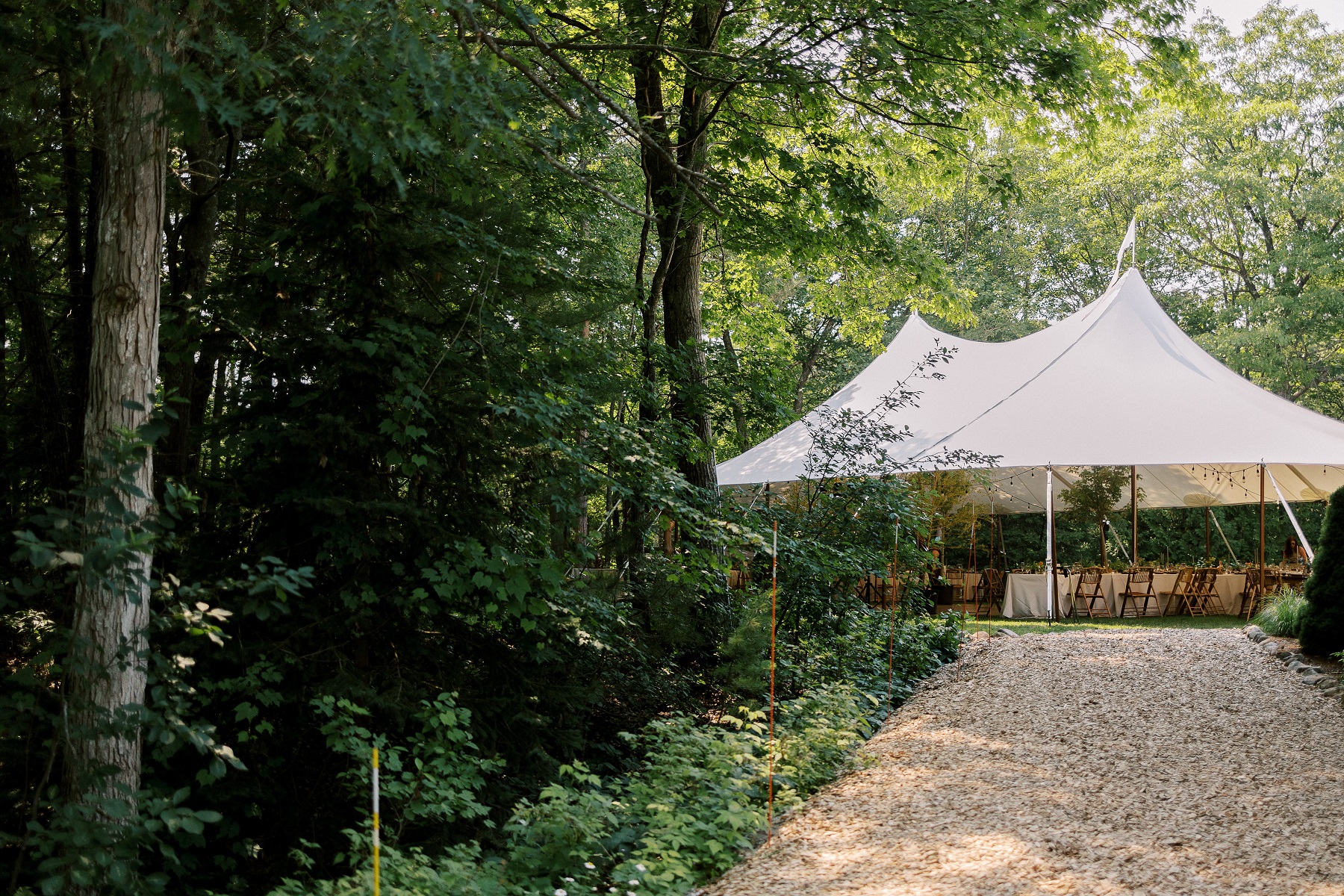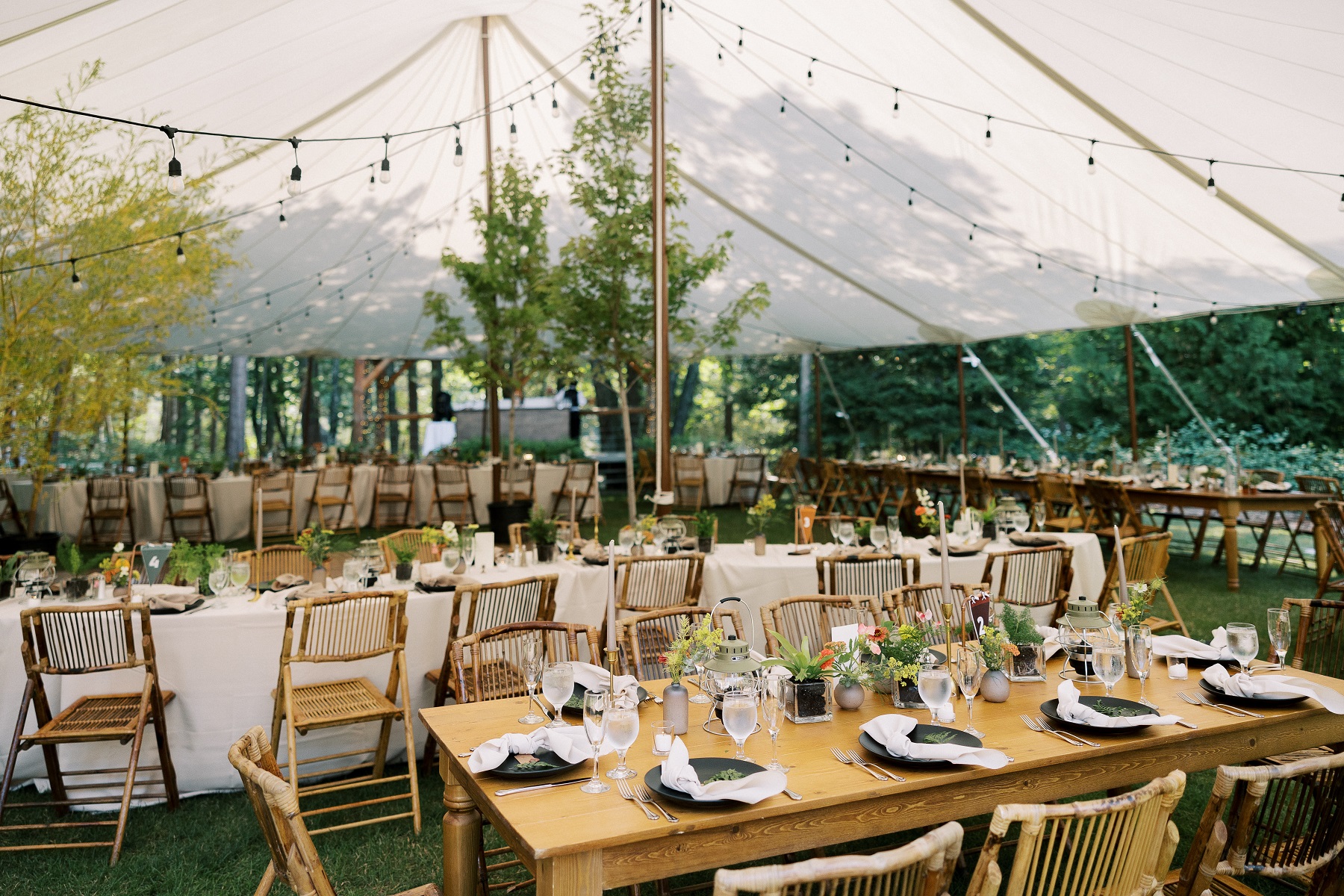 Camp Vibes Dinner under a Sailcloth Tent
When we were designing the reception scene, we referred to it as "an enchanted woodland with nods to summer camp".  We rented trees for the entrance and dance floor to pull in a forest vibe.  We chose a whimsical layout of serpentine tables, wooden tables and a few round tables.  The textural depth of bamboo chairs complimented black plates and the black dirt in clear vases that were part of a fun tablescape.  Earthen vases with wildflowers, camp lanterns, taupe taper candles in gold stands, and custom camp pendant table numbers on copper frames completed the dynamic table centers.  Hand-lettered place cards were accented with wax seals which each wax color indicating what entree that guest had chosen.  A knotted napkin and sprig of fern gave place settings a casual yet composed look.  Throughout the evening, a hammock lounge (Lauren's genius idea) under market lights was a popular gathering spot.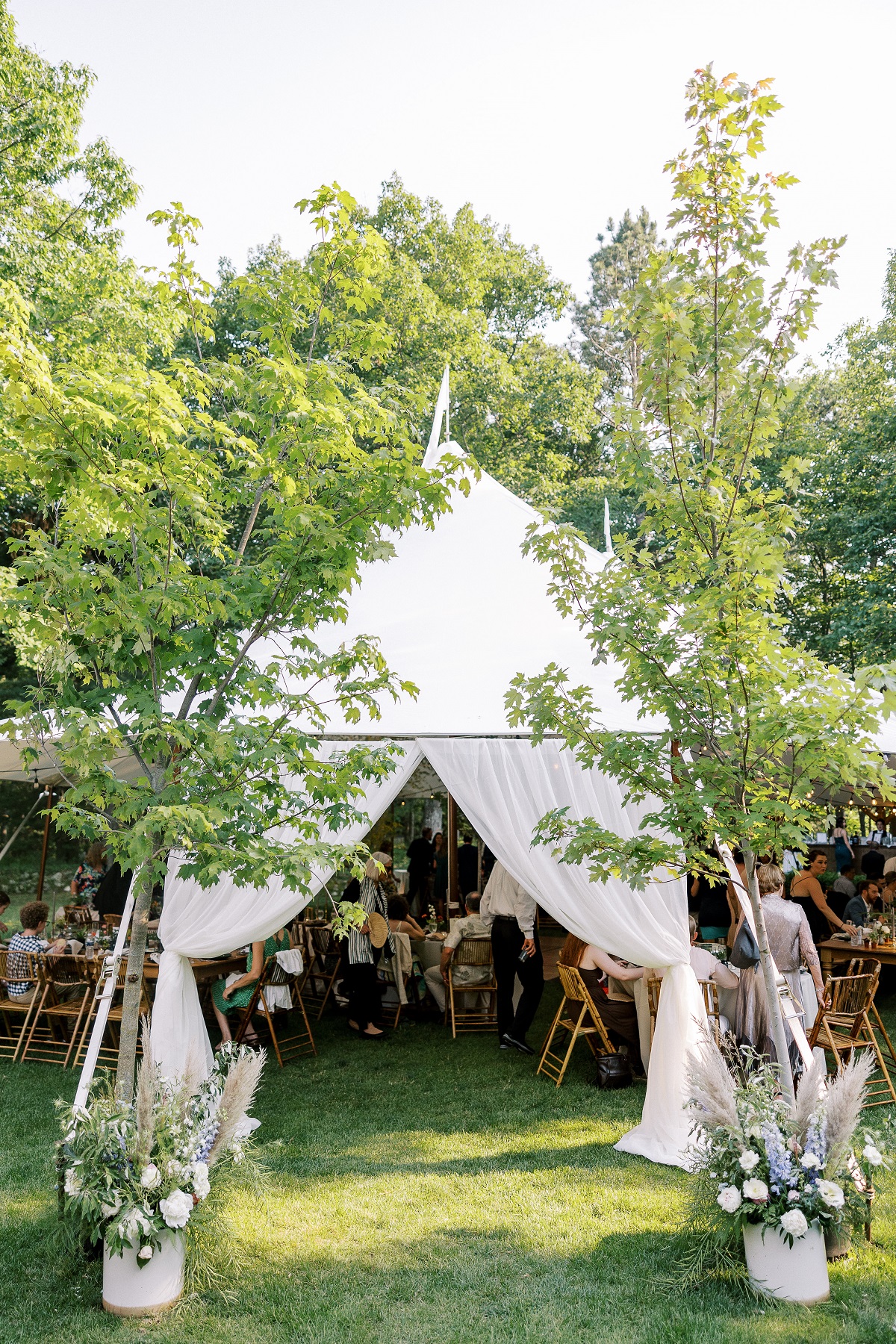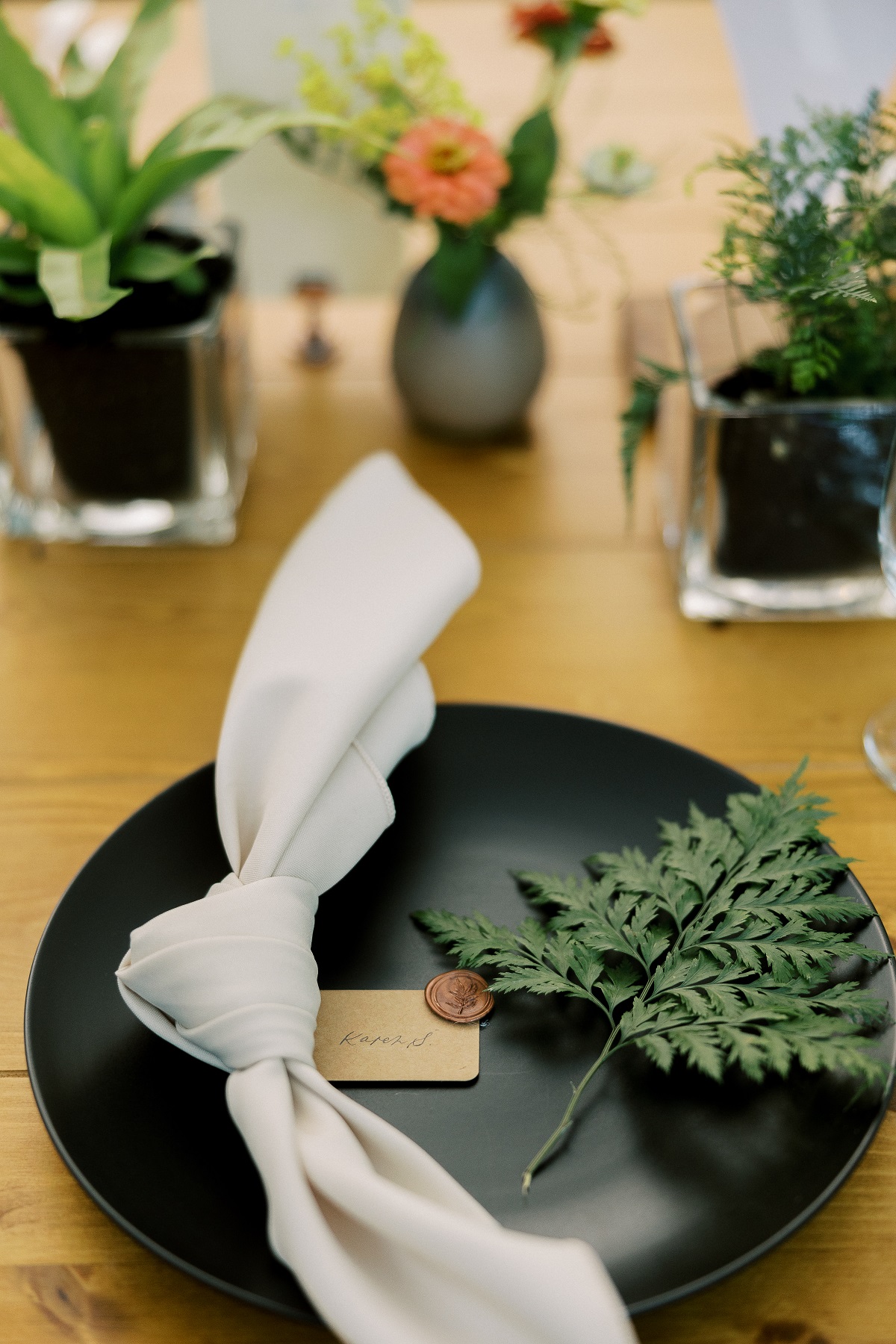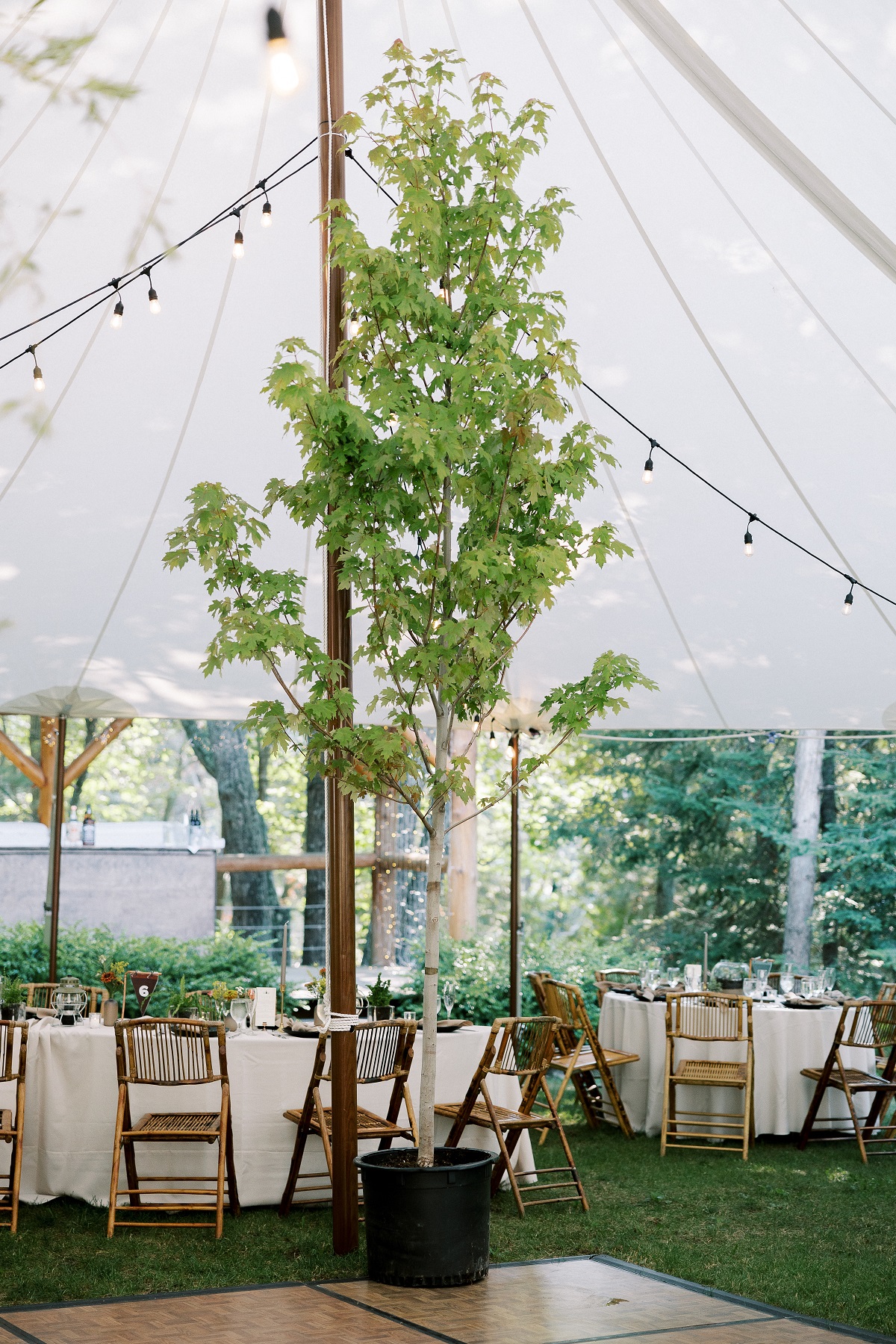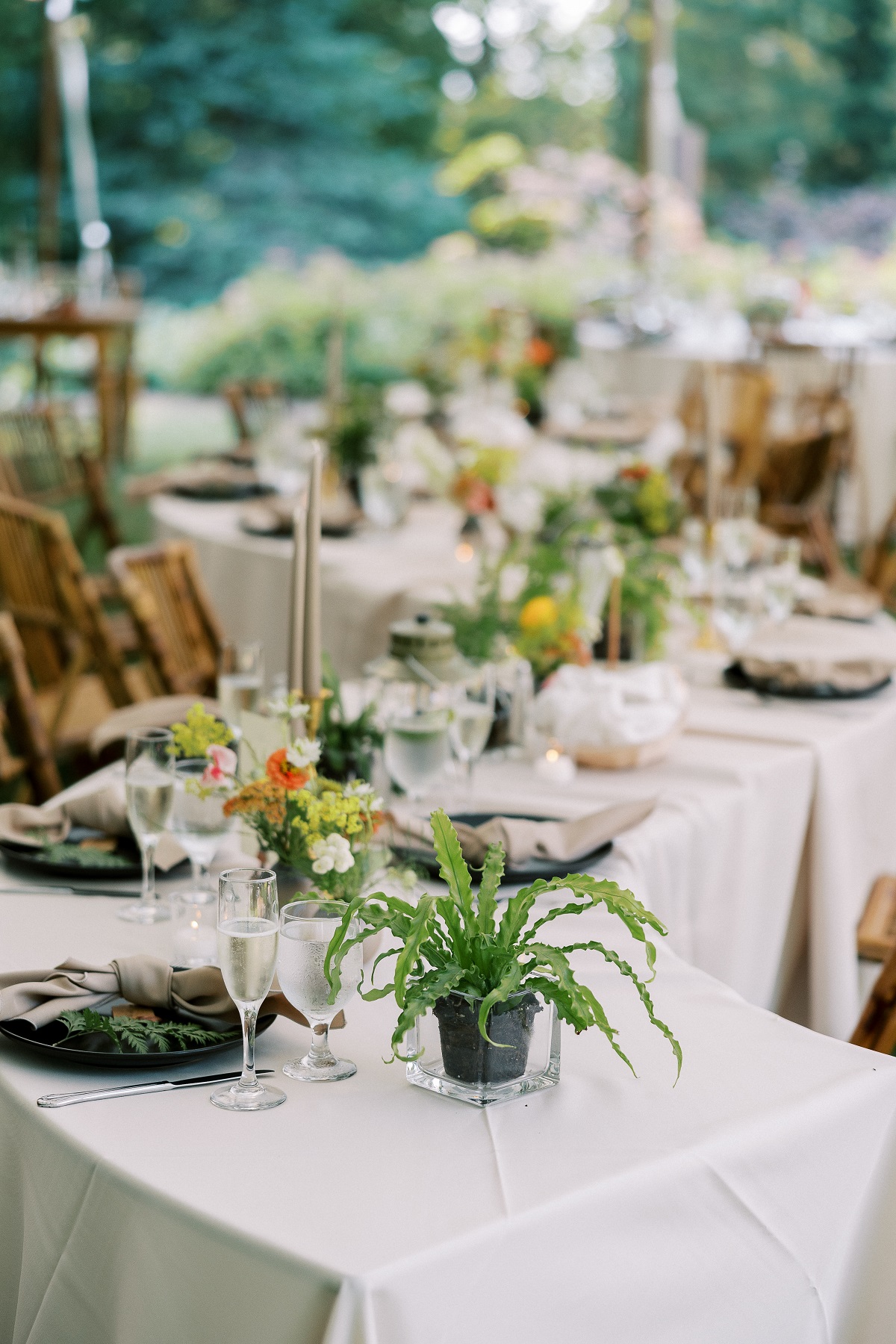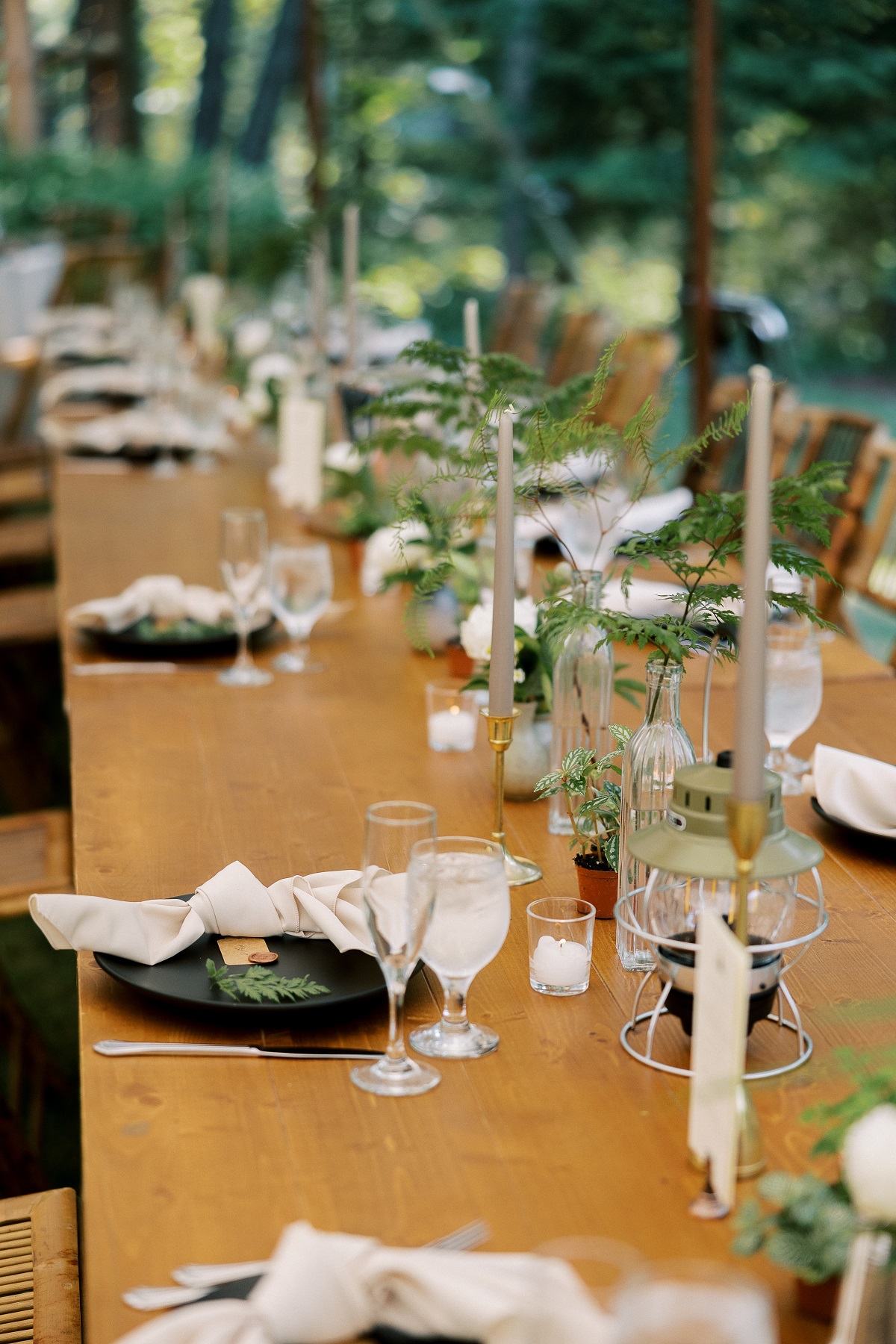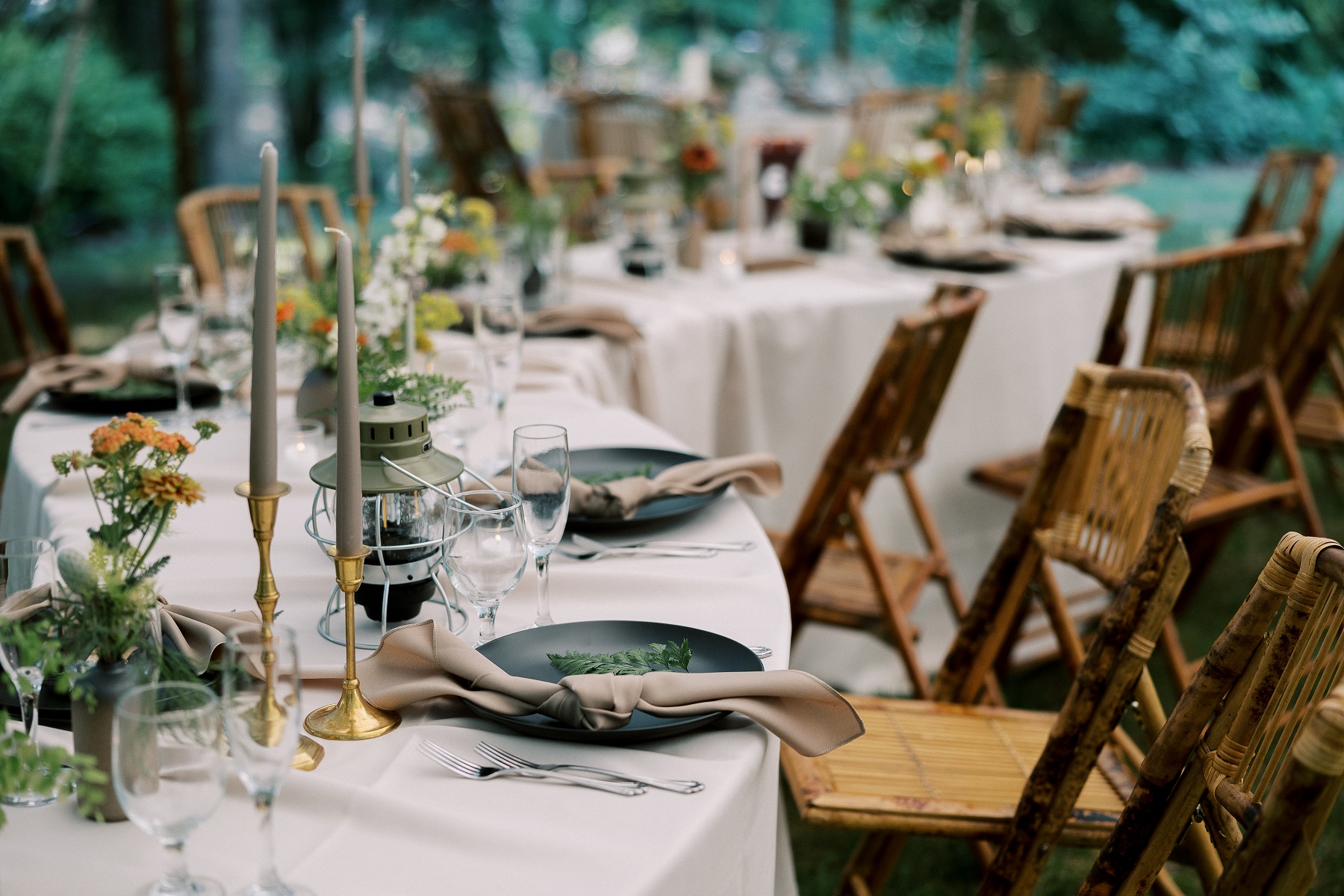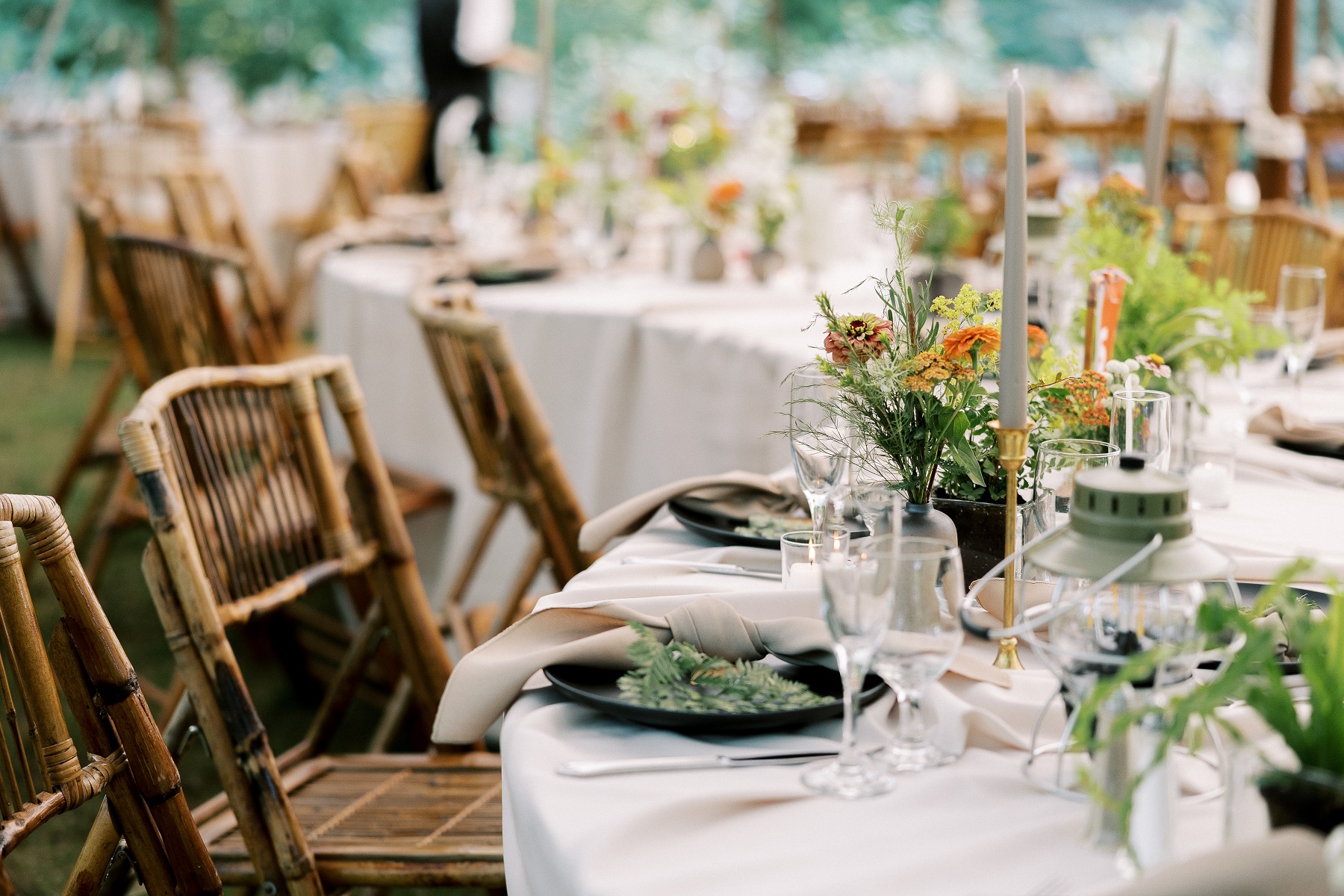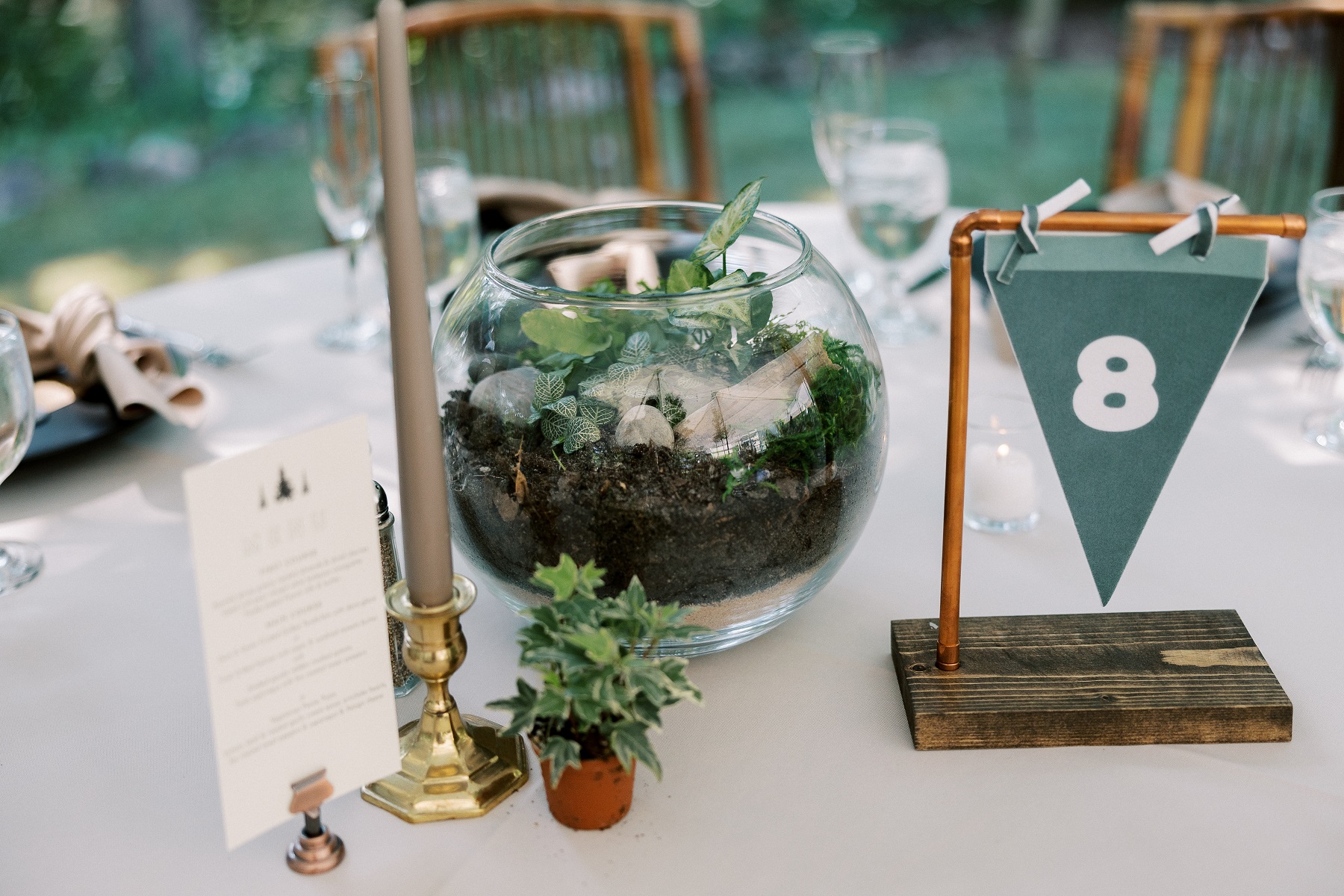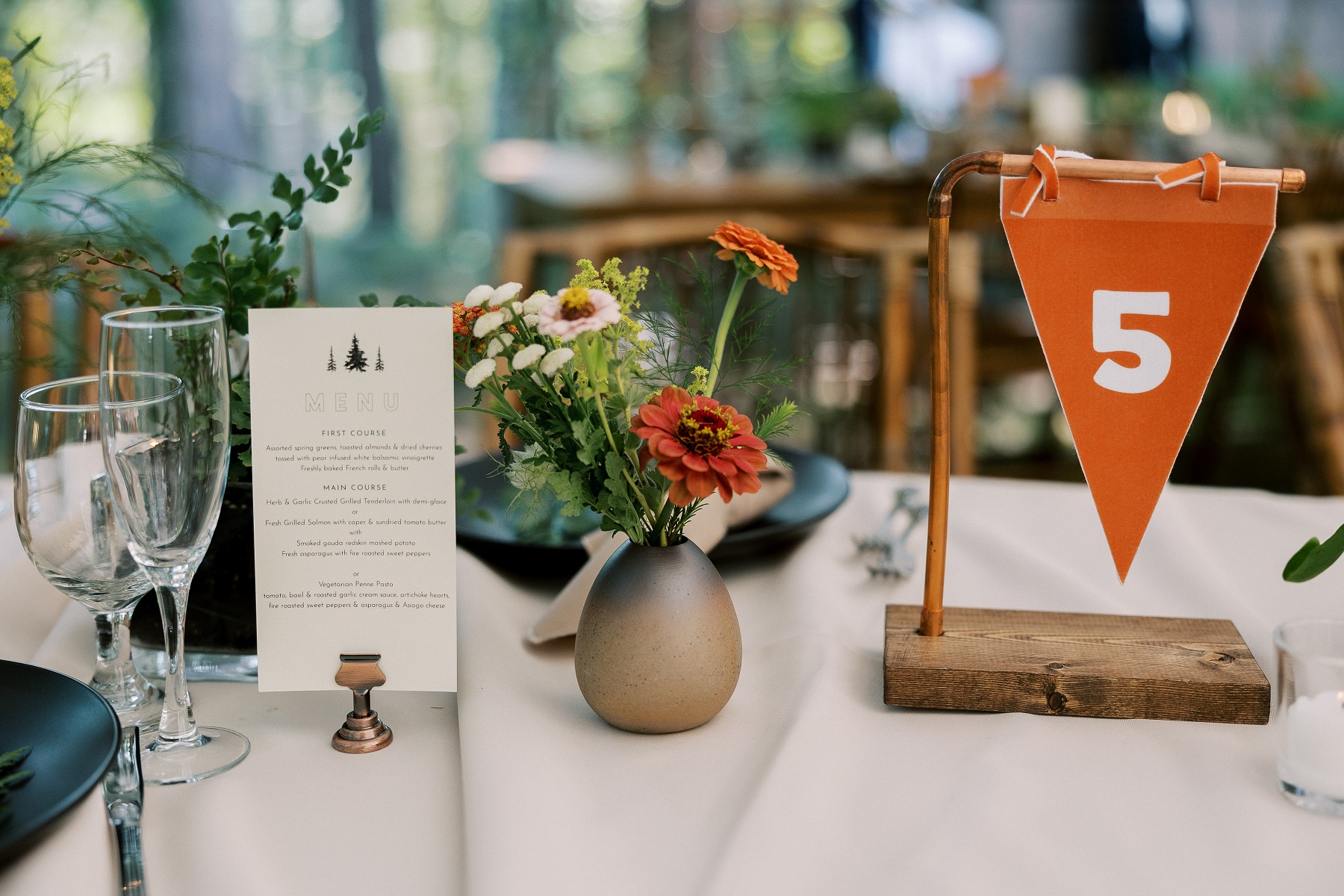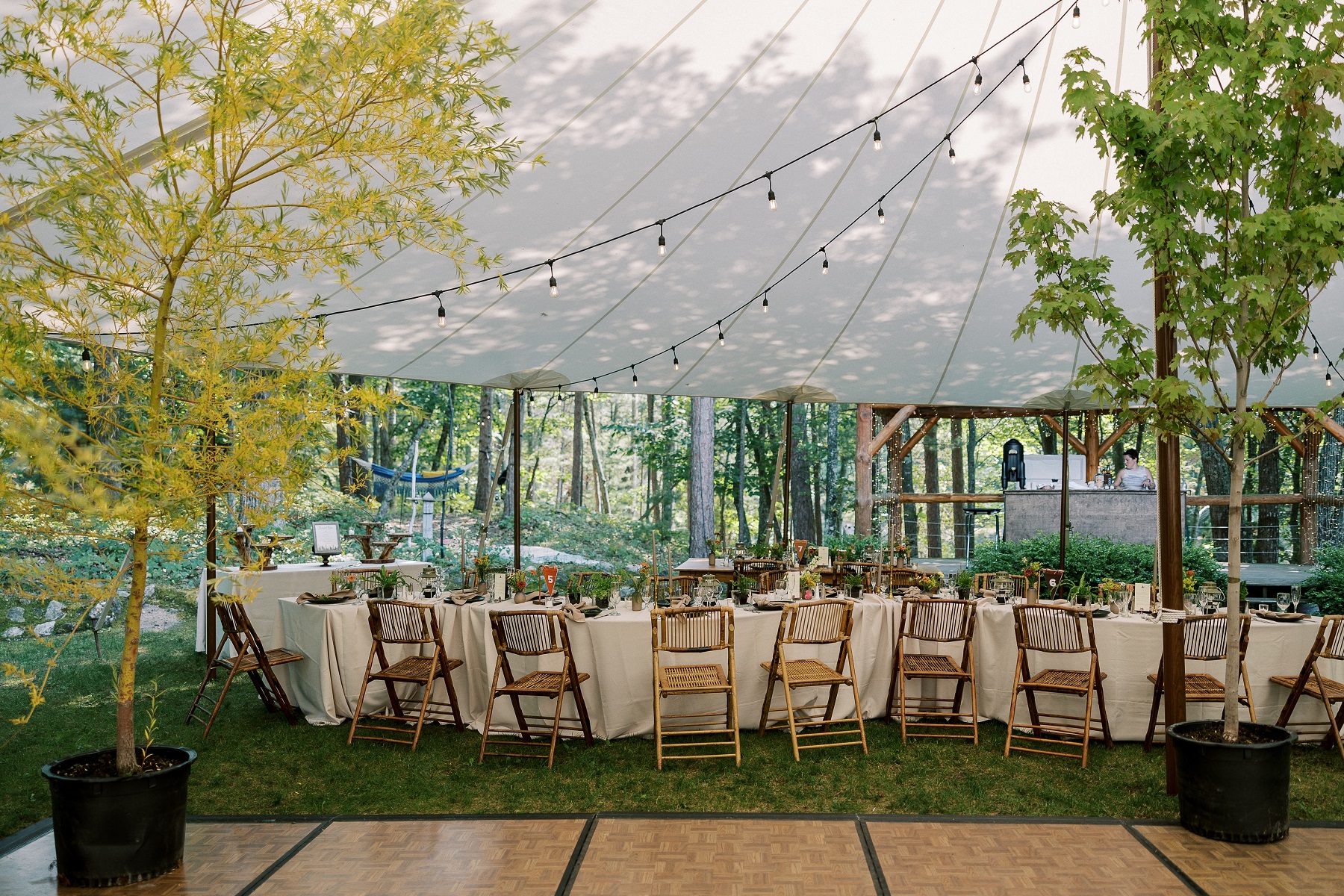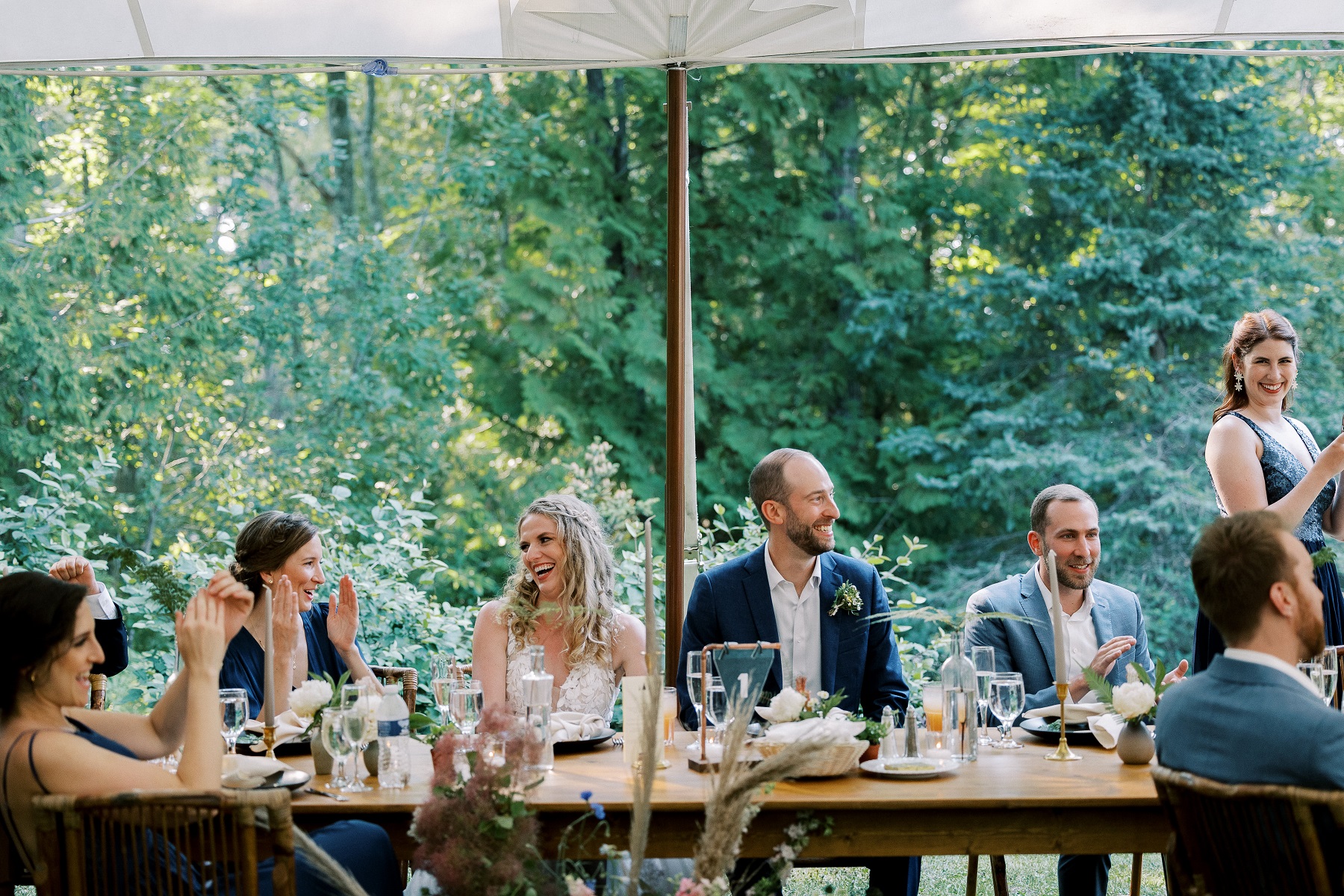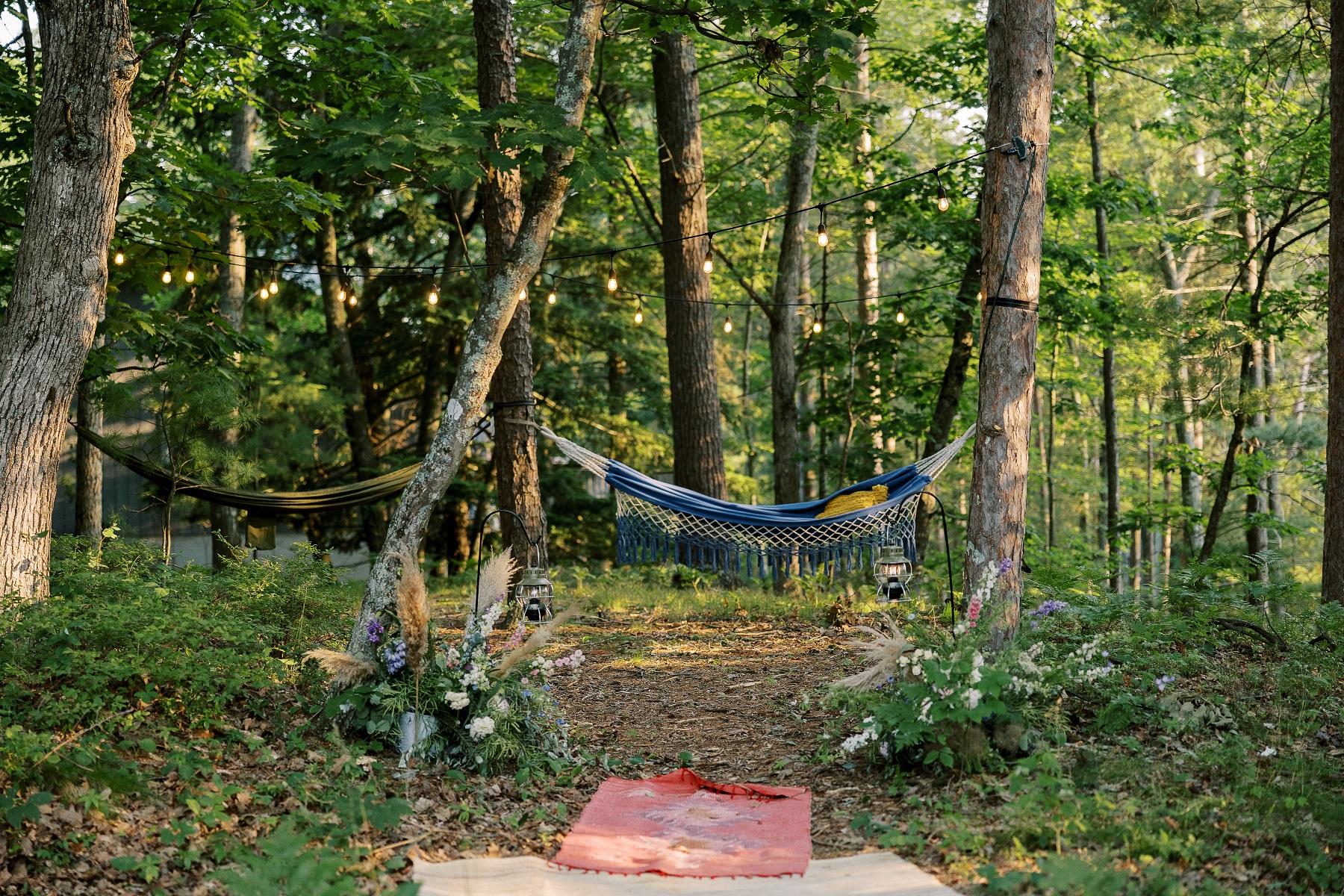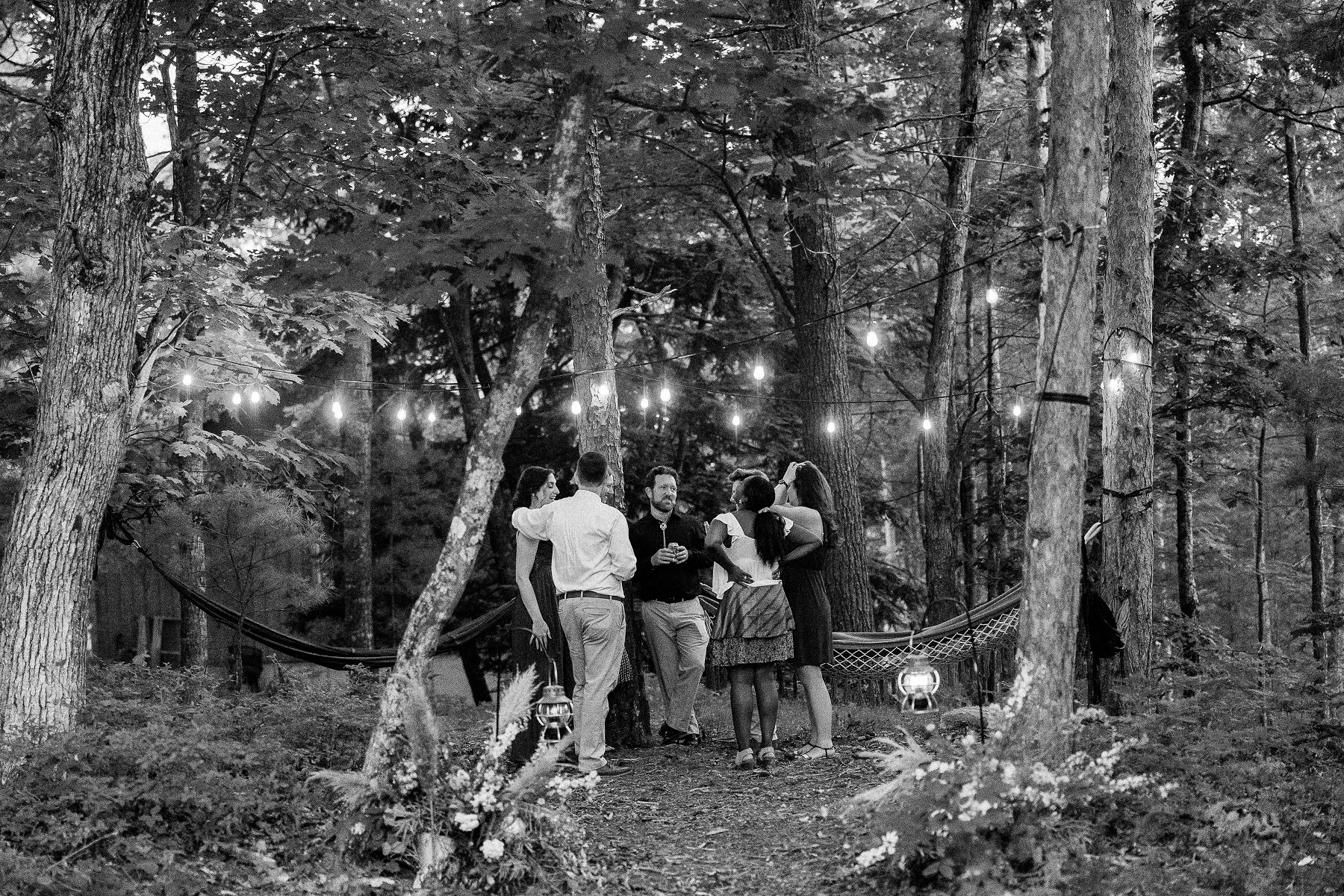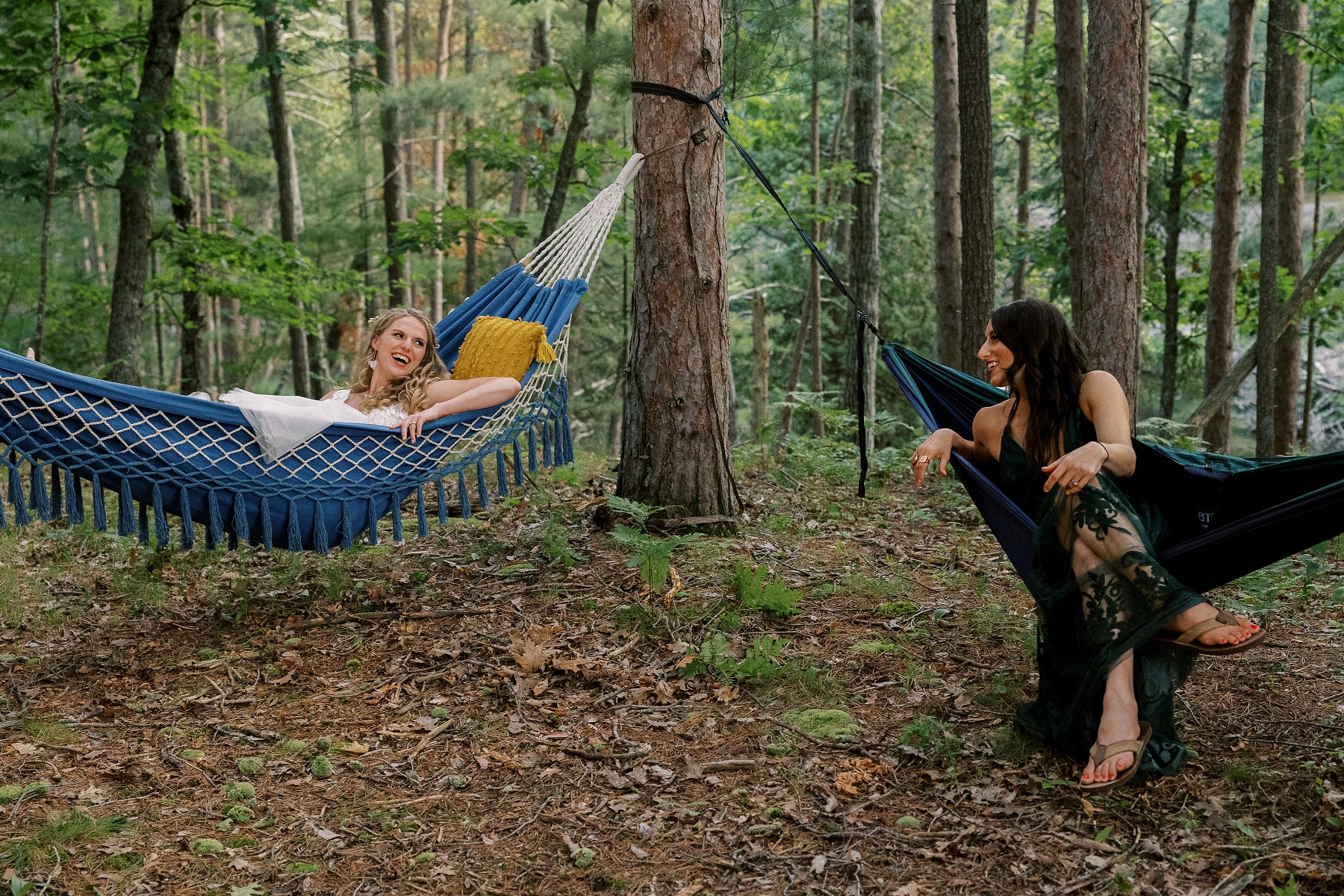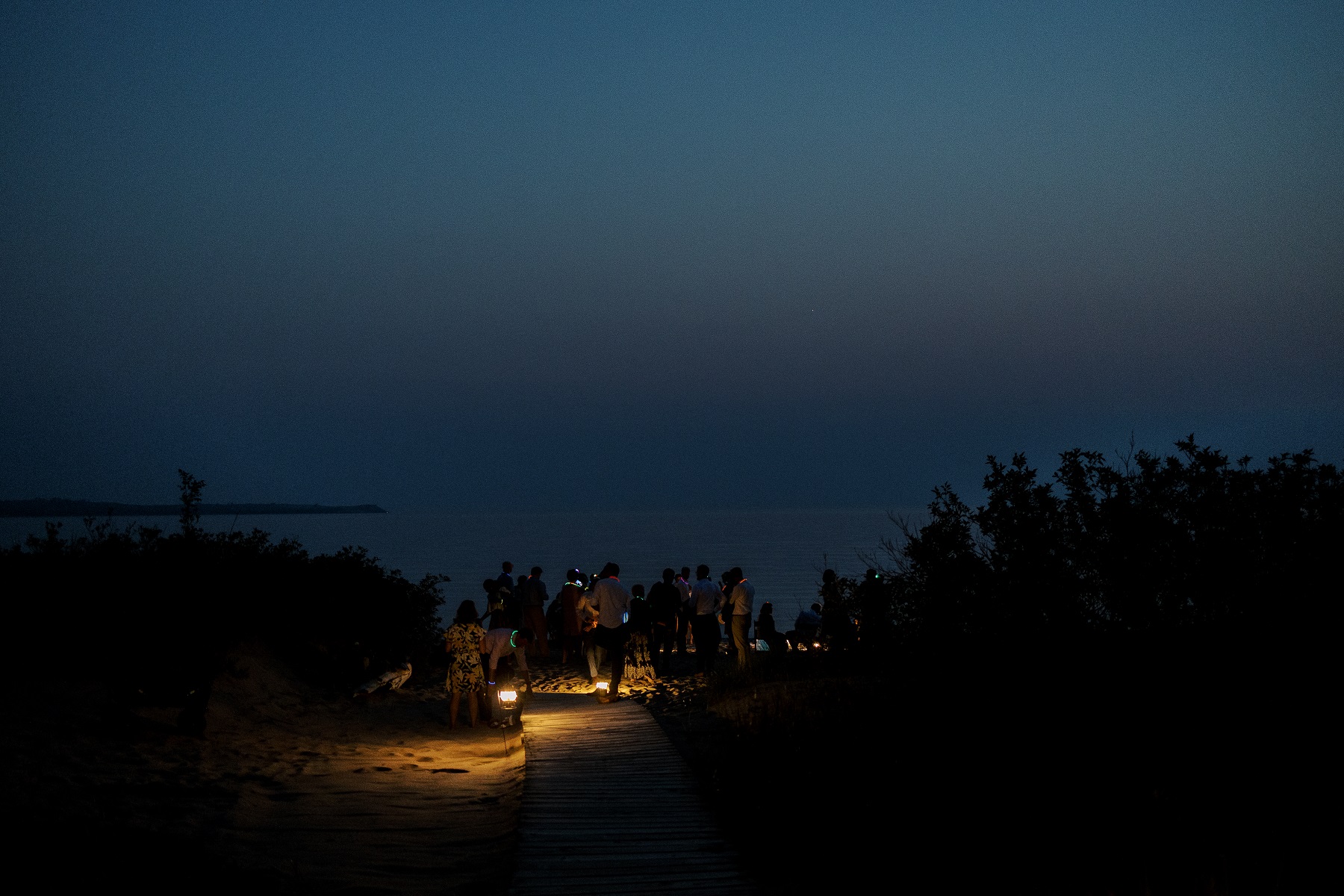 Late Night Beach & Bonfire Time
Lauren & Dan pulled a canoe adorned in their ceremony flowers into Lake Michigan for a quick sunset paddle.  When they came back to the tent, we brought the "beer canoe" from cocktail hour out to the dance floor with glowstick accessories to end dancing on an energetic note.  Guests then returned to the beach where we had beach blankets, lanterns, glowing balls, beverage coolers and chairs set out lounge style.  Lauren's glowing cape was a hit.  The sparkler exit led guests up to a bonfire with s'mores and hot dogs to wind down the evening.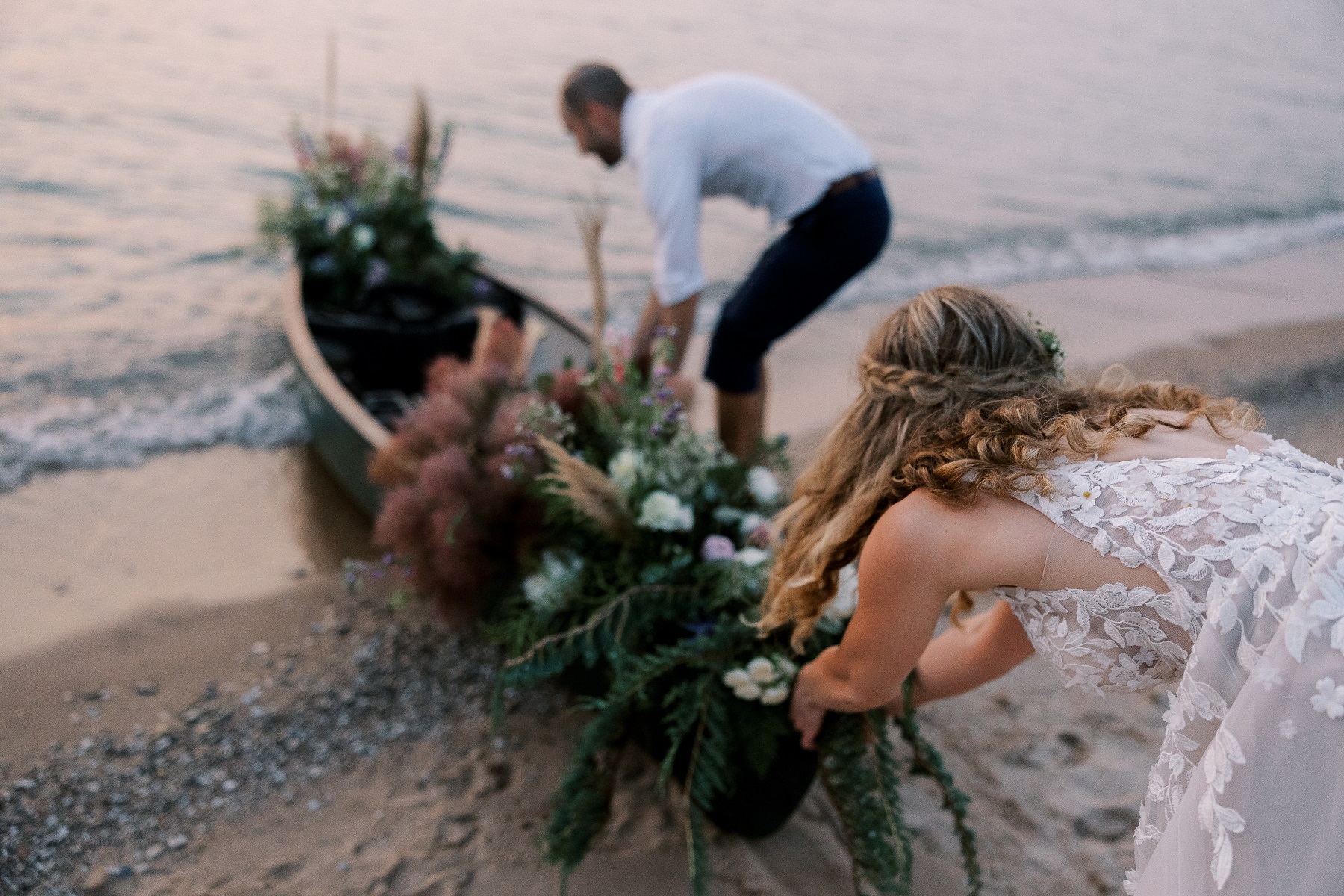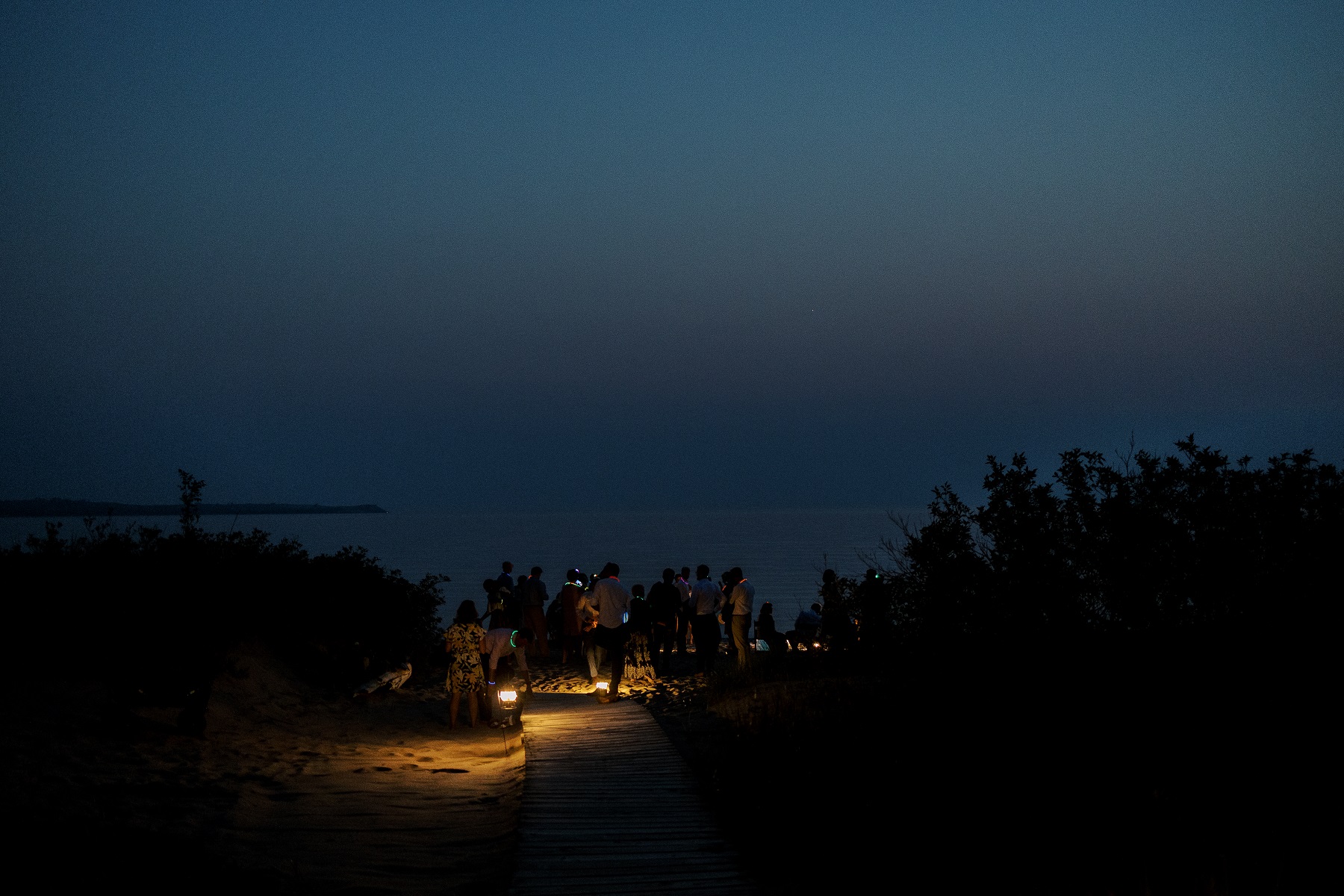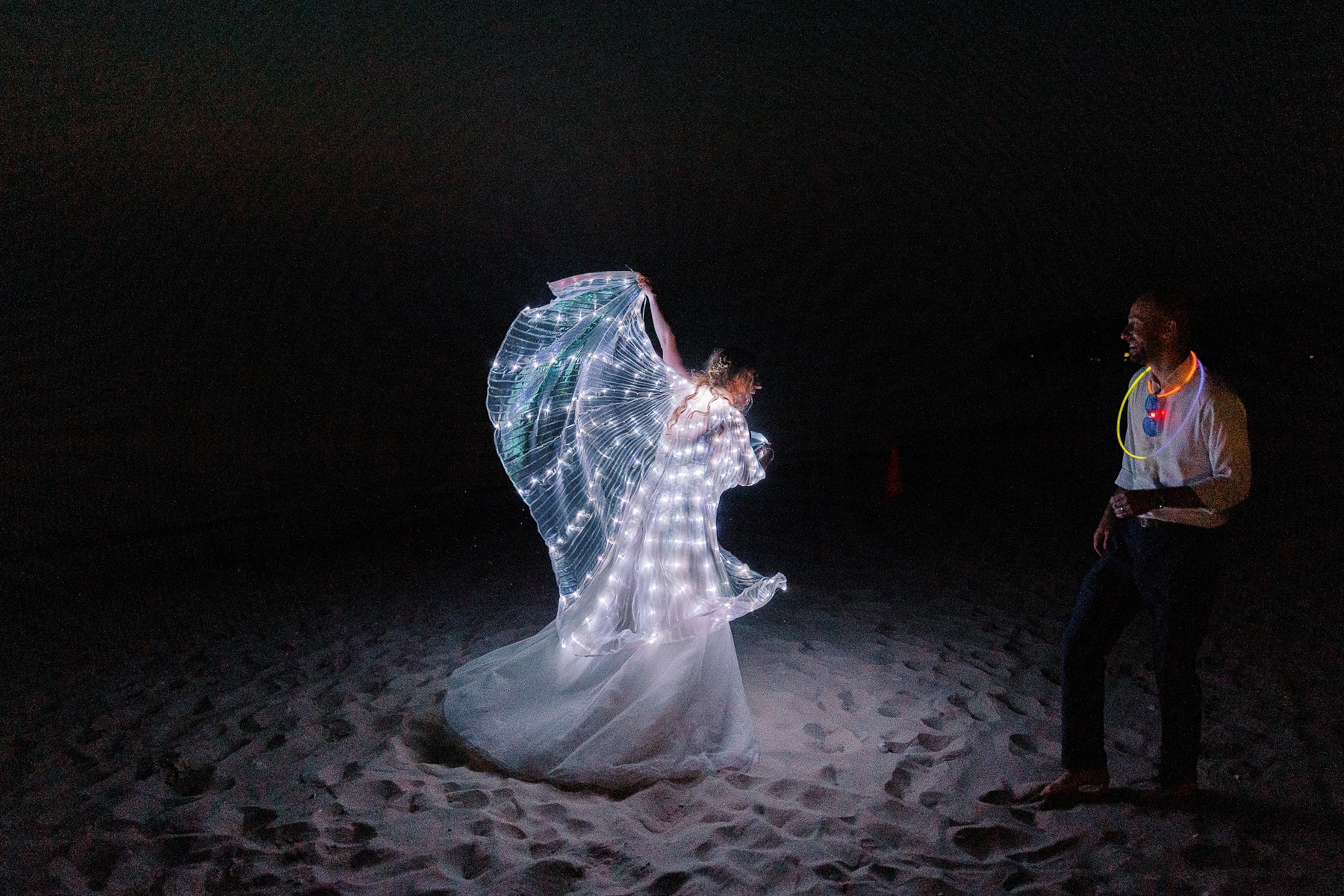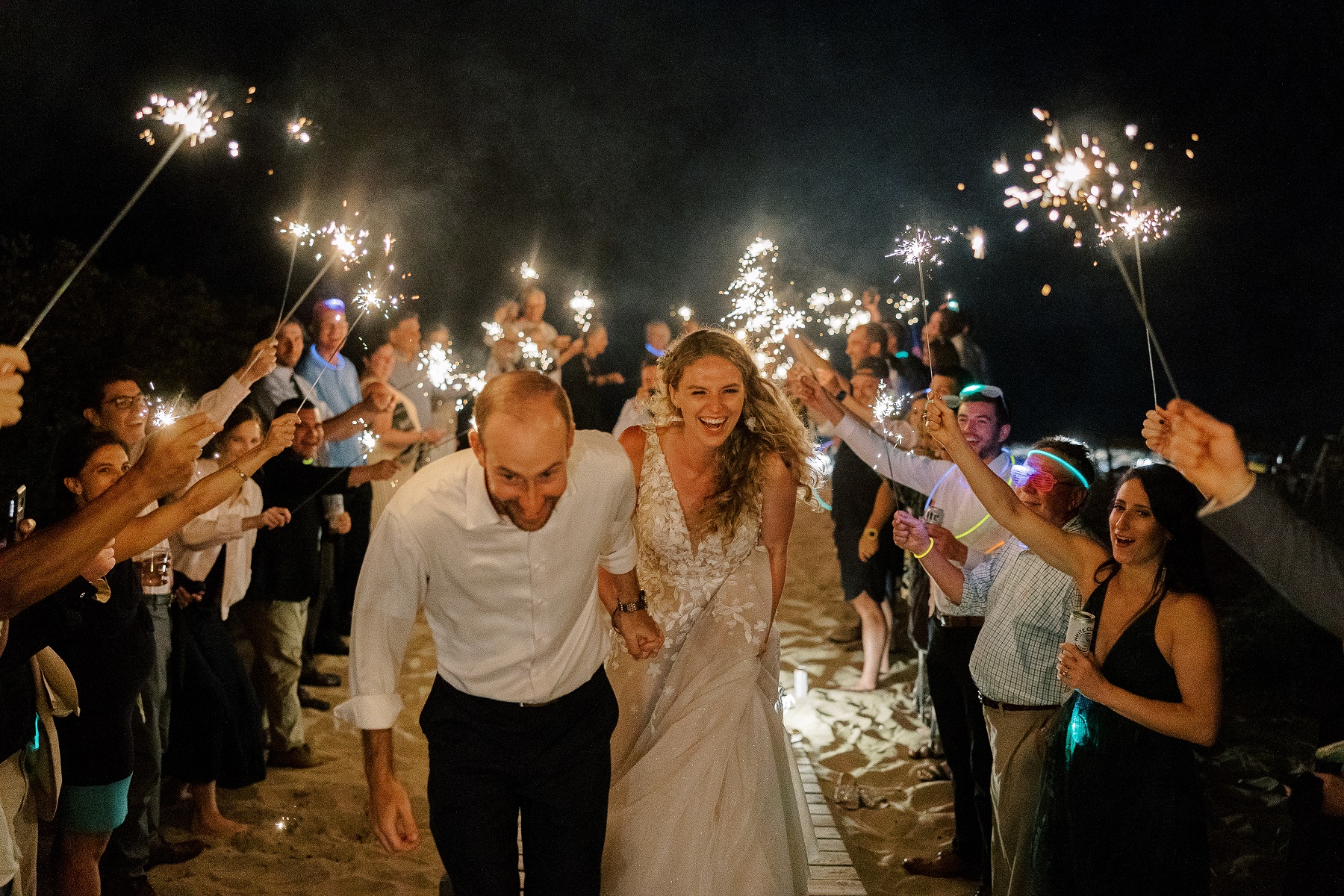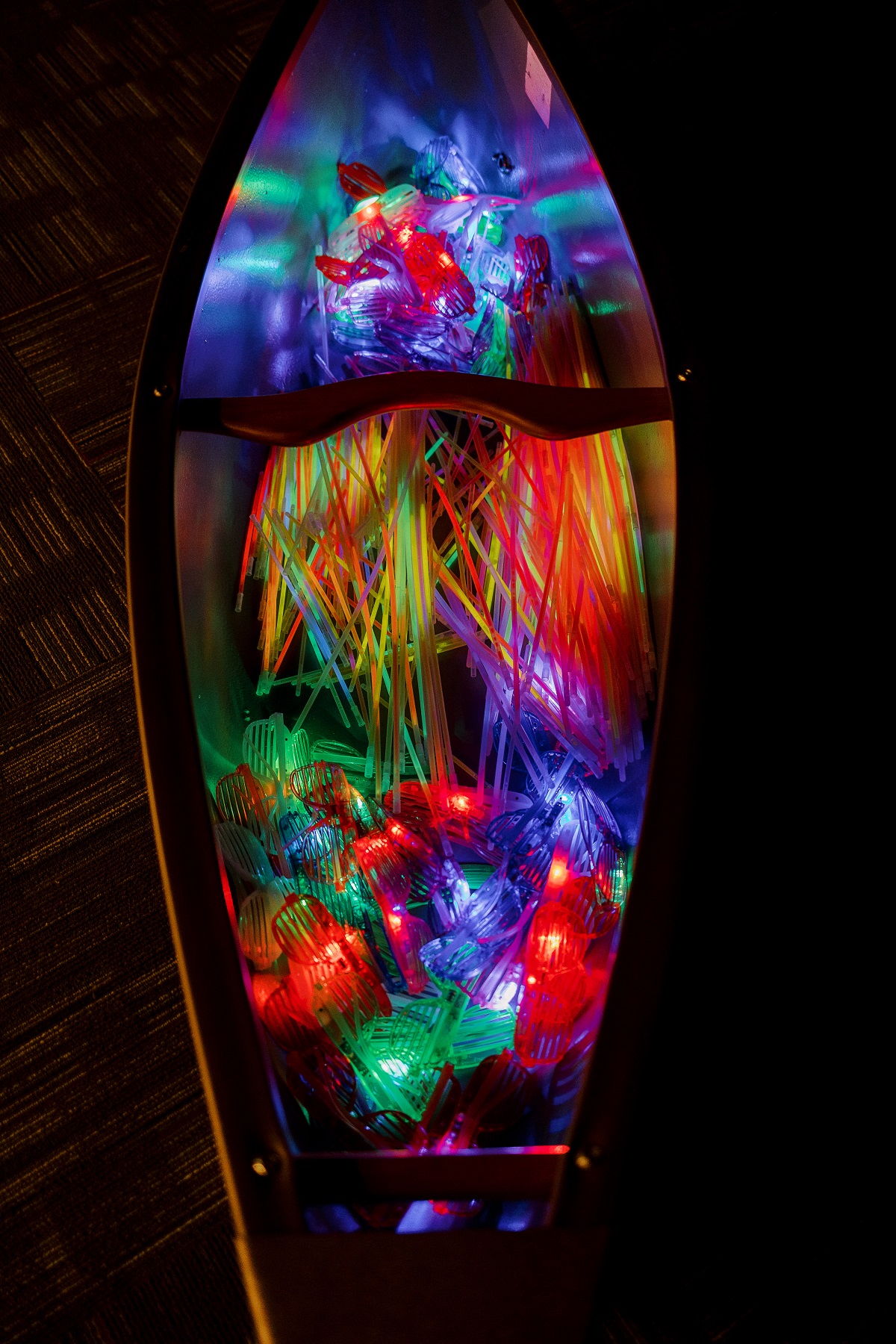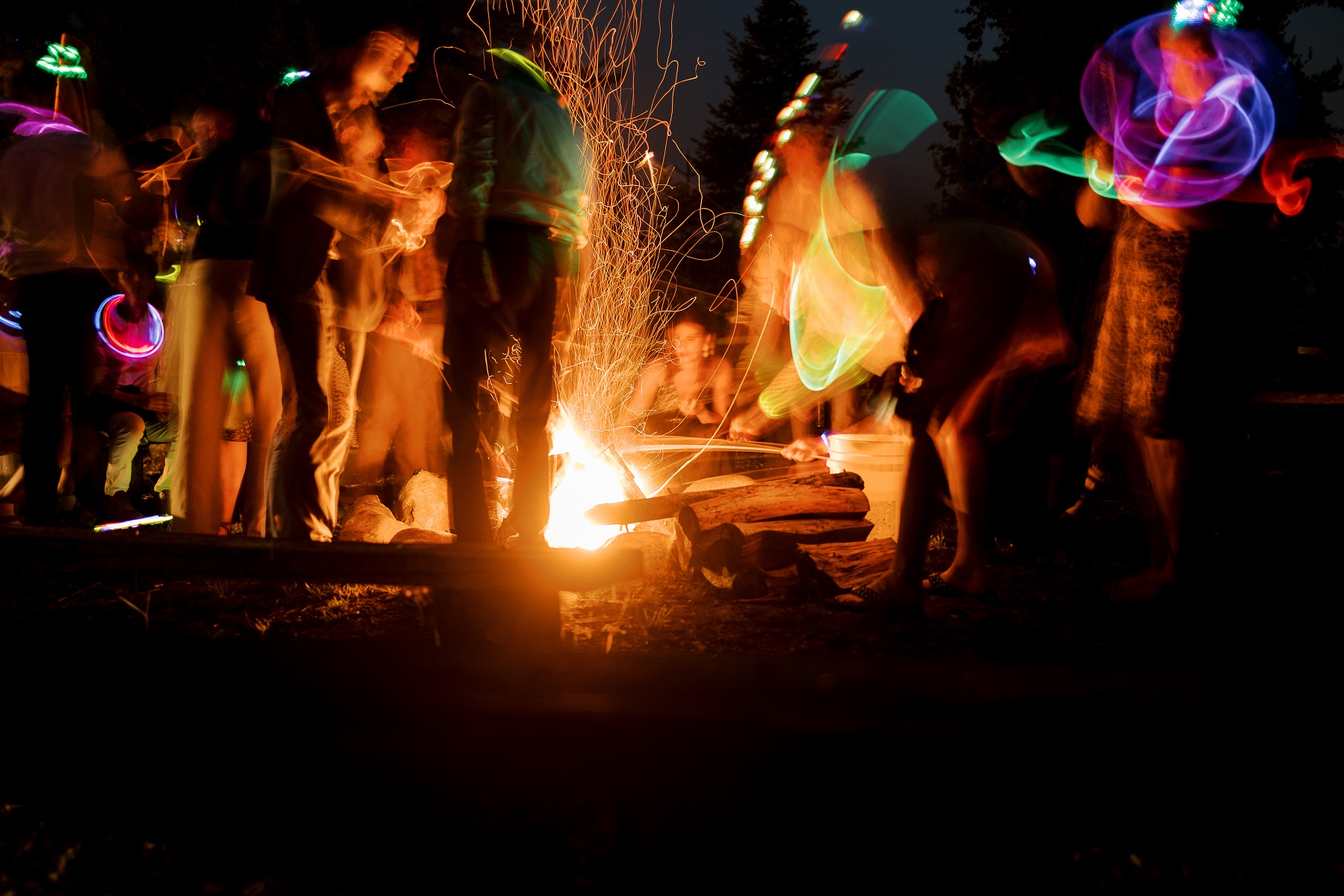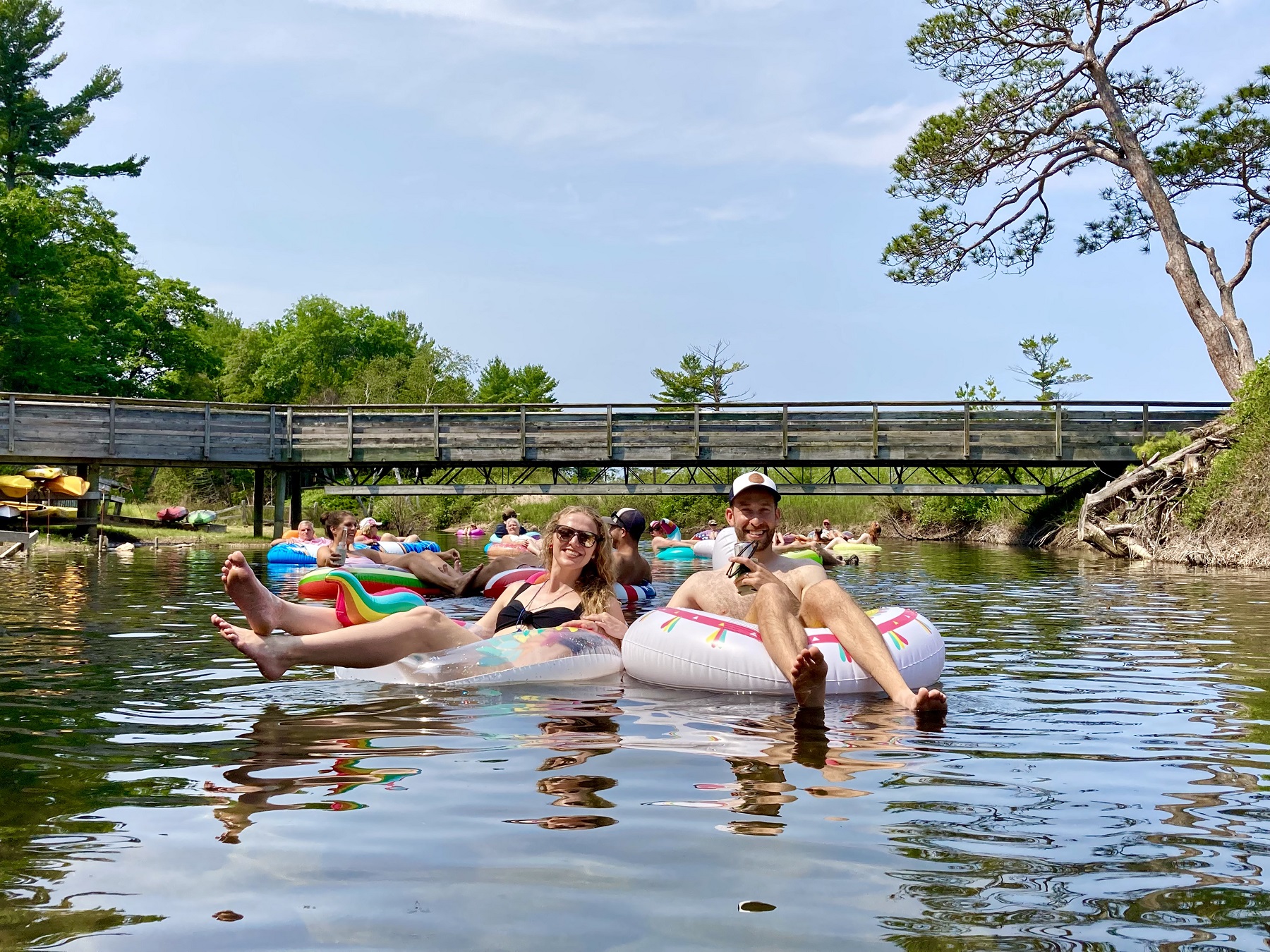 Sunday River Floatie Parade
One of the most anticipated events of the weekend was Sunday morning's river float.  Guests regathered at the school for New York style bagels.  A mountain of festive inflatables in the tent were fair game and guests took them down the the river bridge to "put in" and float down the river that would bring them to Lake Michigan where beverage coolers and beach blankets awaited.  
Epic weekend with a visionary, thoughtfully intentional couple.  So grateful to call them friends.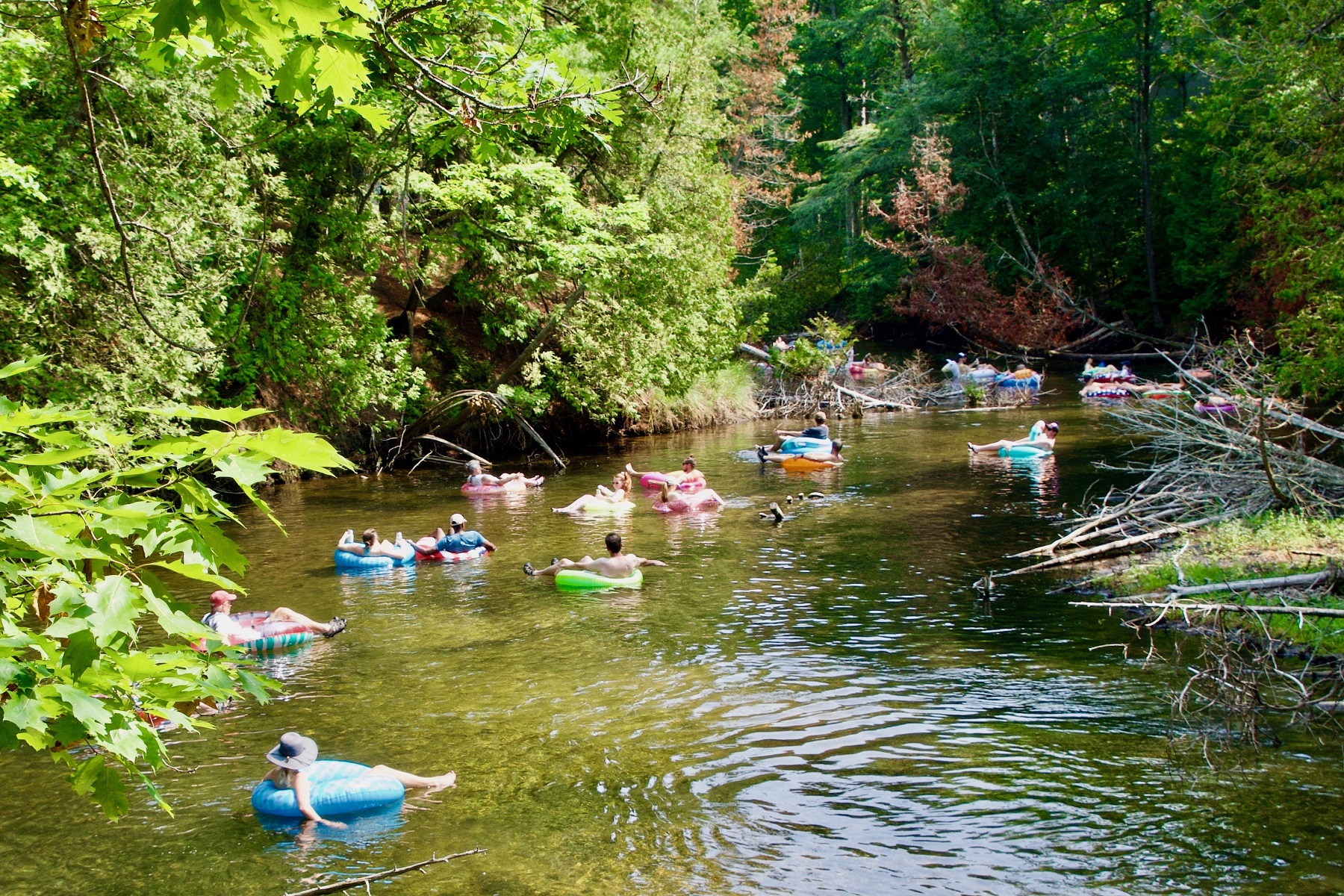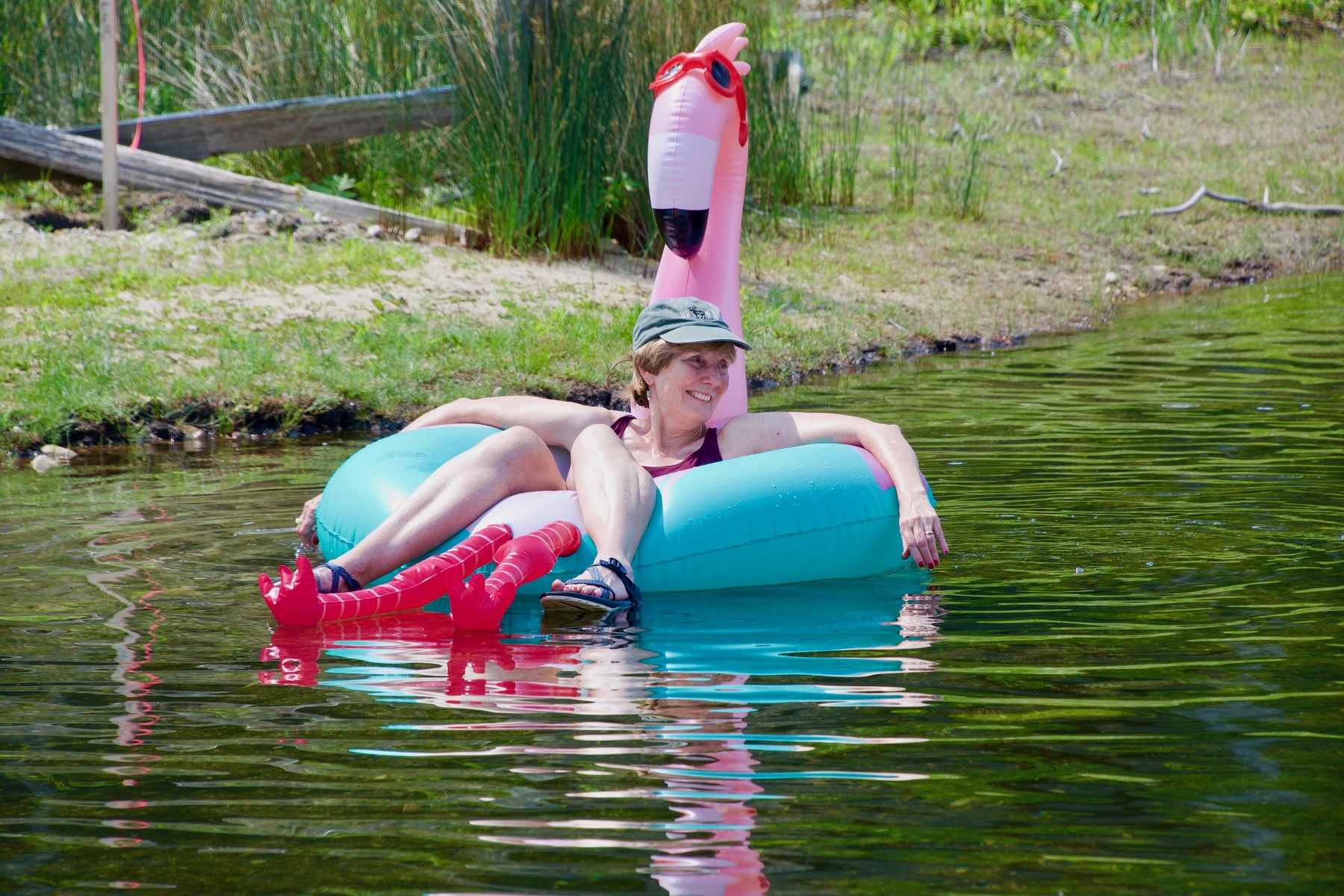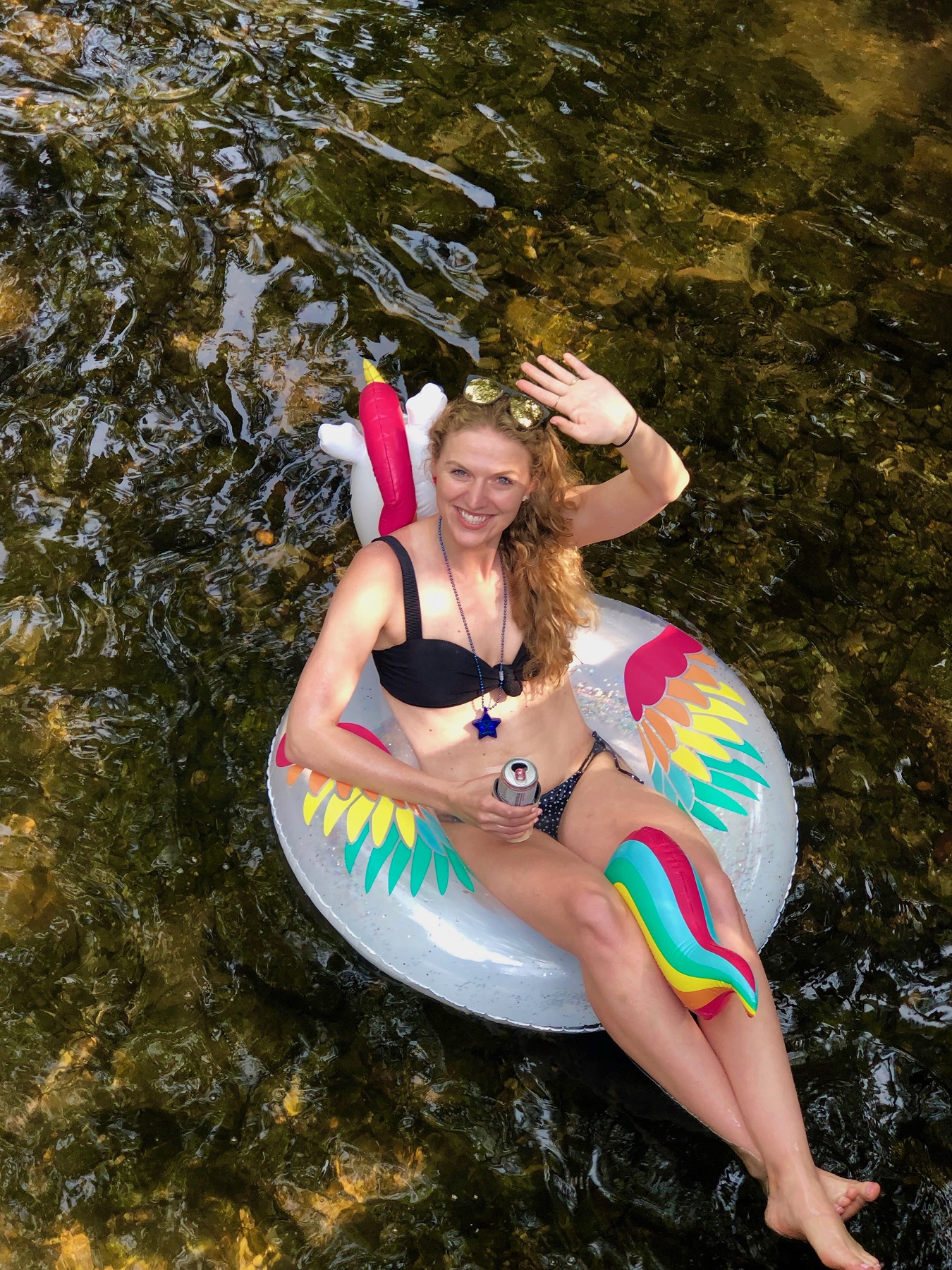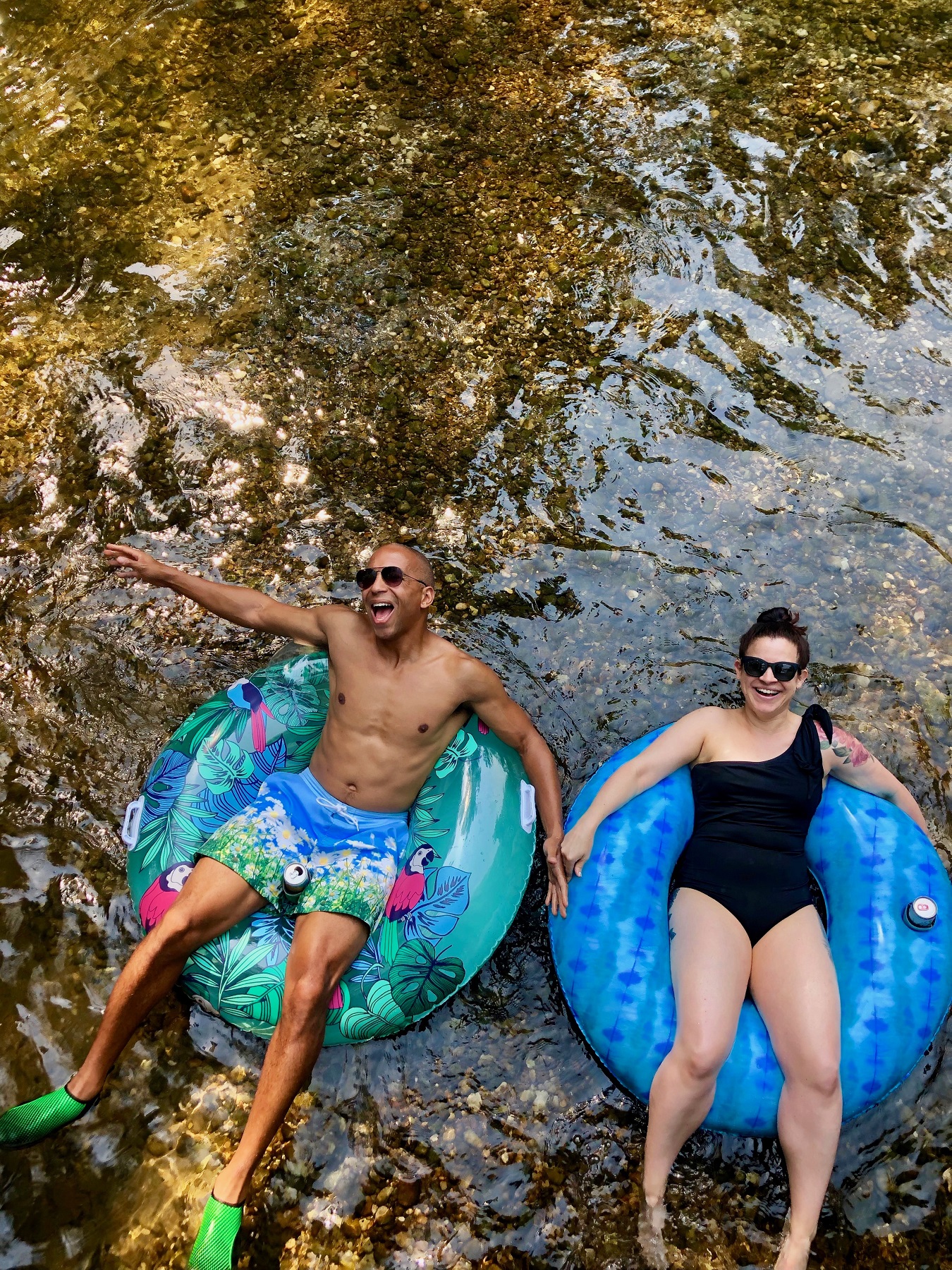 Creative Team Credits
Photography:  Dan Stewart Photography
Design + Coordination:  Juniper & Lace Events
Venue:  The Leelanau School
 Catering:  Catering by Kelly's
Cake & Desserts:  Sweet Tartlette
Hair & Makeup:  The Hair & Beauty Lounge
DJ:  Pluister Entertainment
Floral Design:  IndieGrow Flowers
Decor & Rentals:  307 Events, GJ's Rentals, BBJ LaTavola
Beverage Canoe Rental:  Down by the Bay Creative Rental