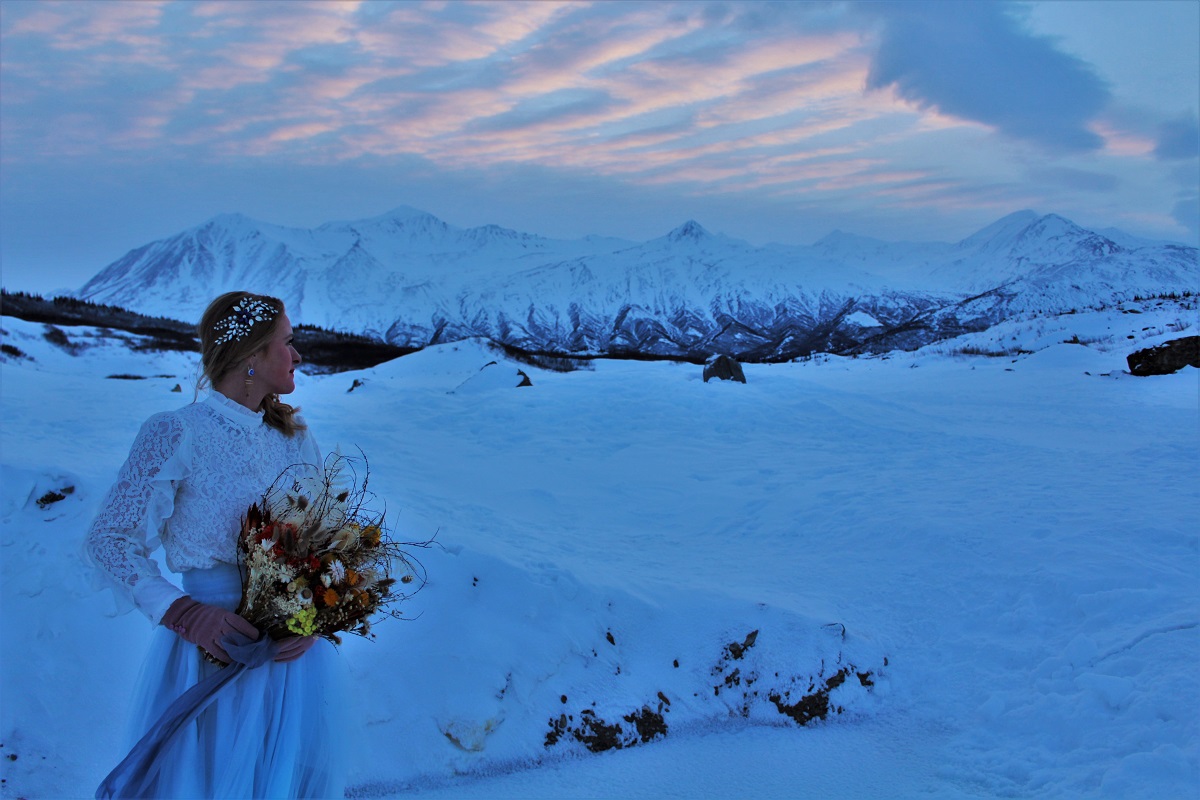 ADVENTURE ELOPEMENT STYLED SHOOT | Castner Glacier Cave | Delta Junction, Alaska
THE CREATIVE TEAM:  Design & Coordination:  Juniper & Lace Events | Photography:  Haley Nicole | Models:  Sarah S. & Kevin H. | Floral Design:  Eight Tree Street Floral | Hair & Makeup:  Elements Salon & Day Spa, Fairbanks | Bowtie:  Lakeside Bridal | Snowshoe earrings, Alaskan puzzle, sheep wool wrap:  Sarah Lewis with An Alaskan Migration | Adventure Assistants:  Laura, Cindy, Sarah L., Emma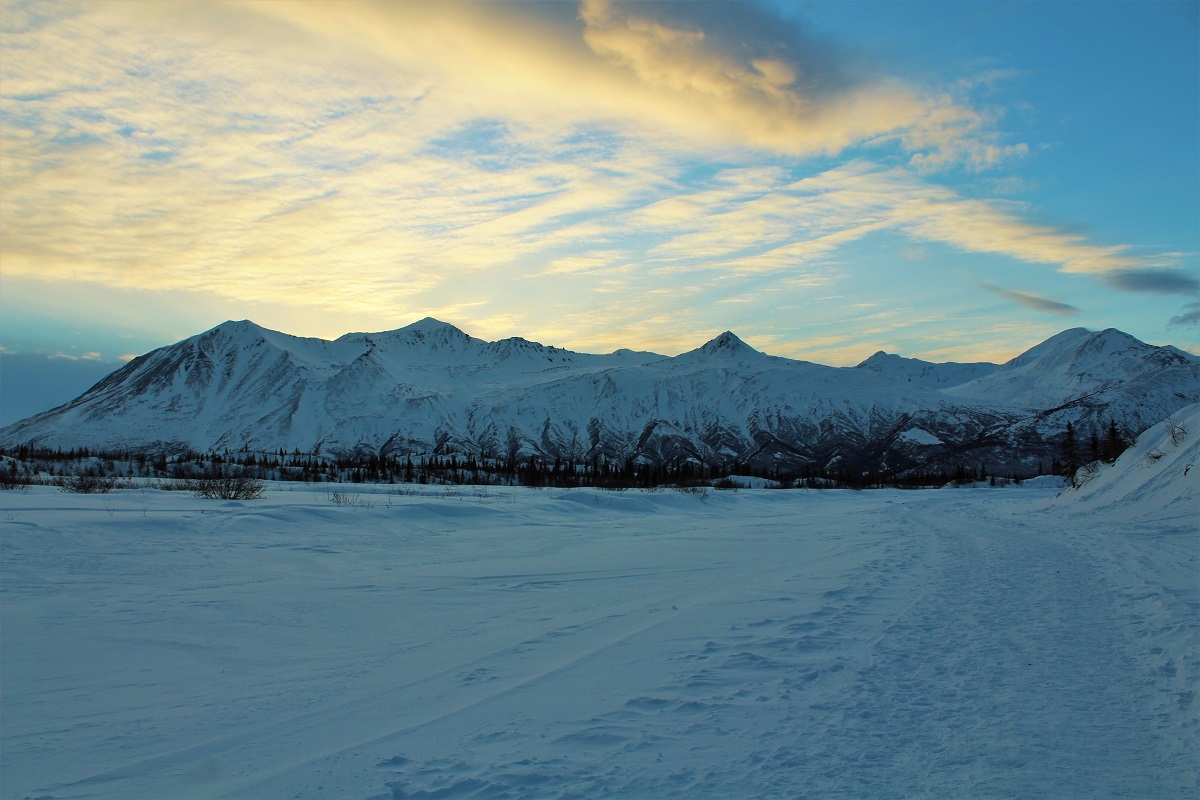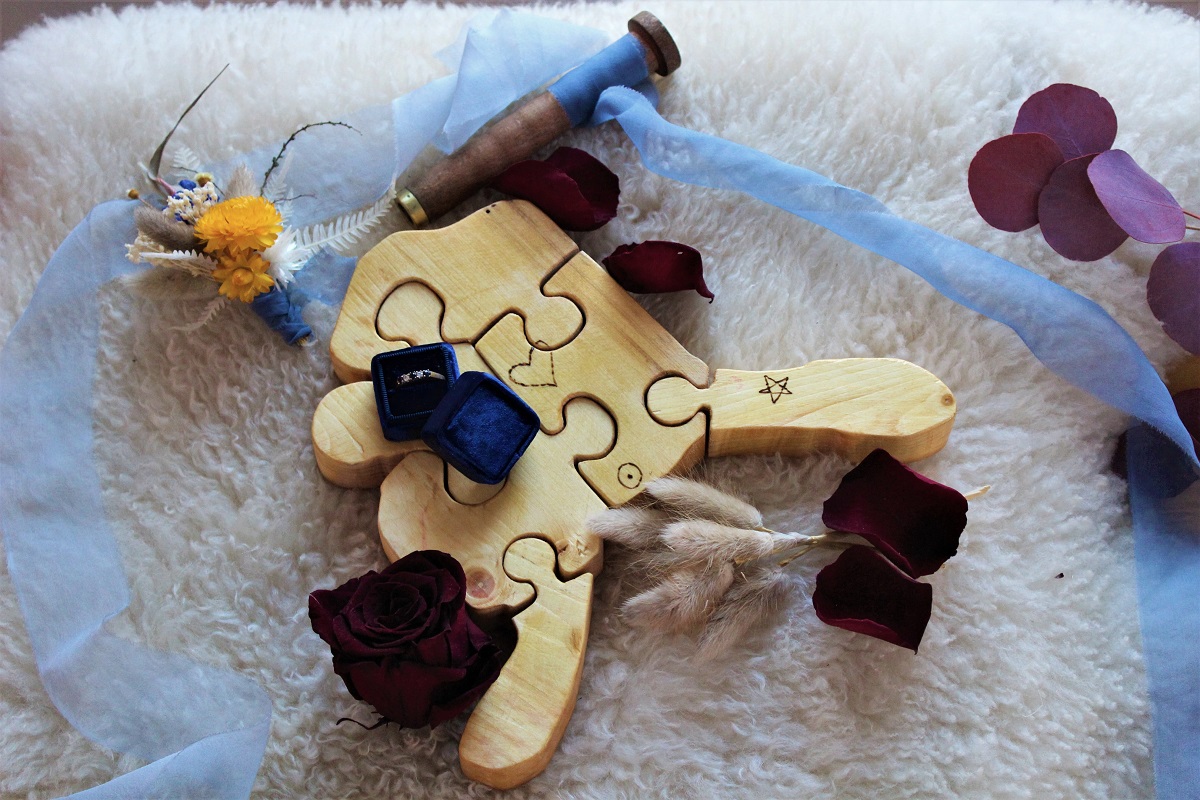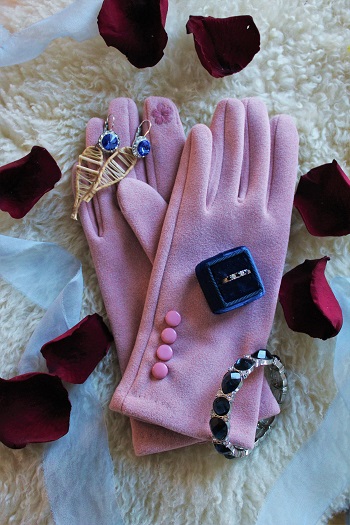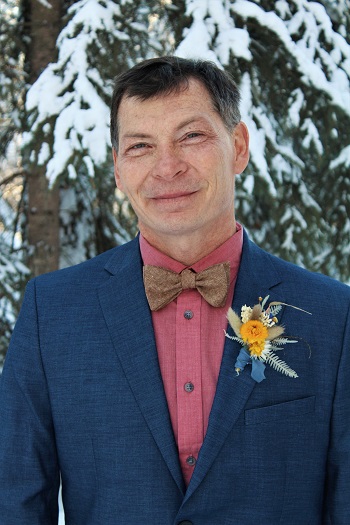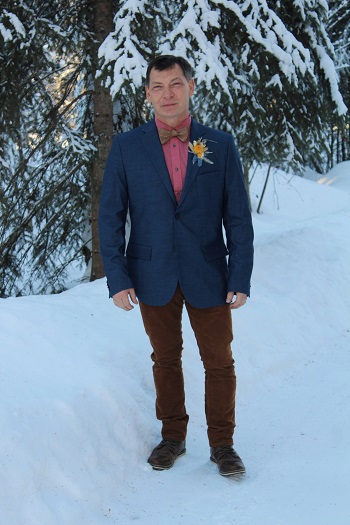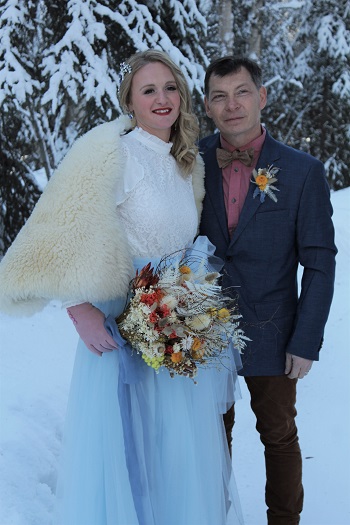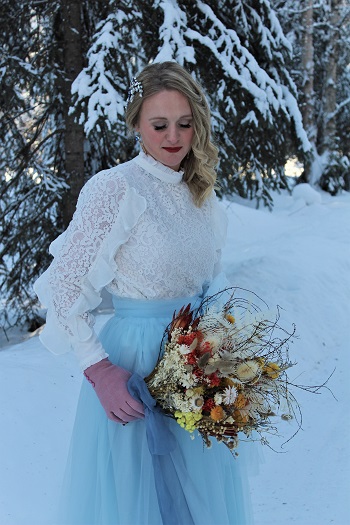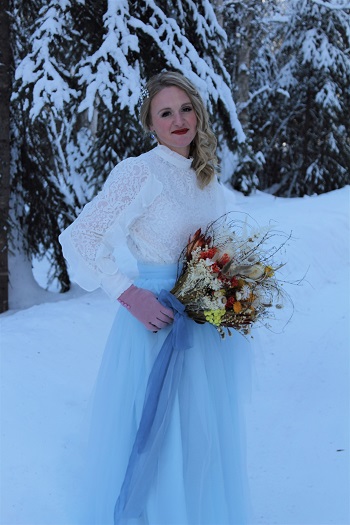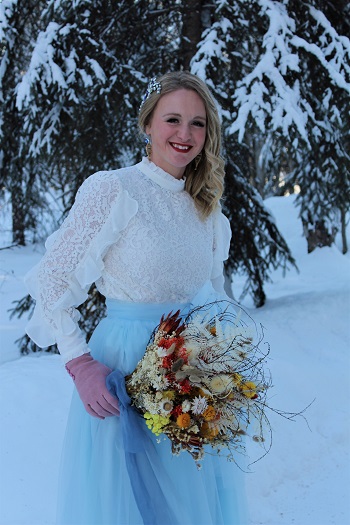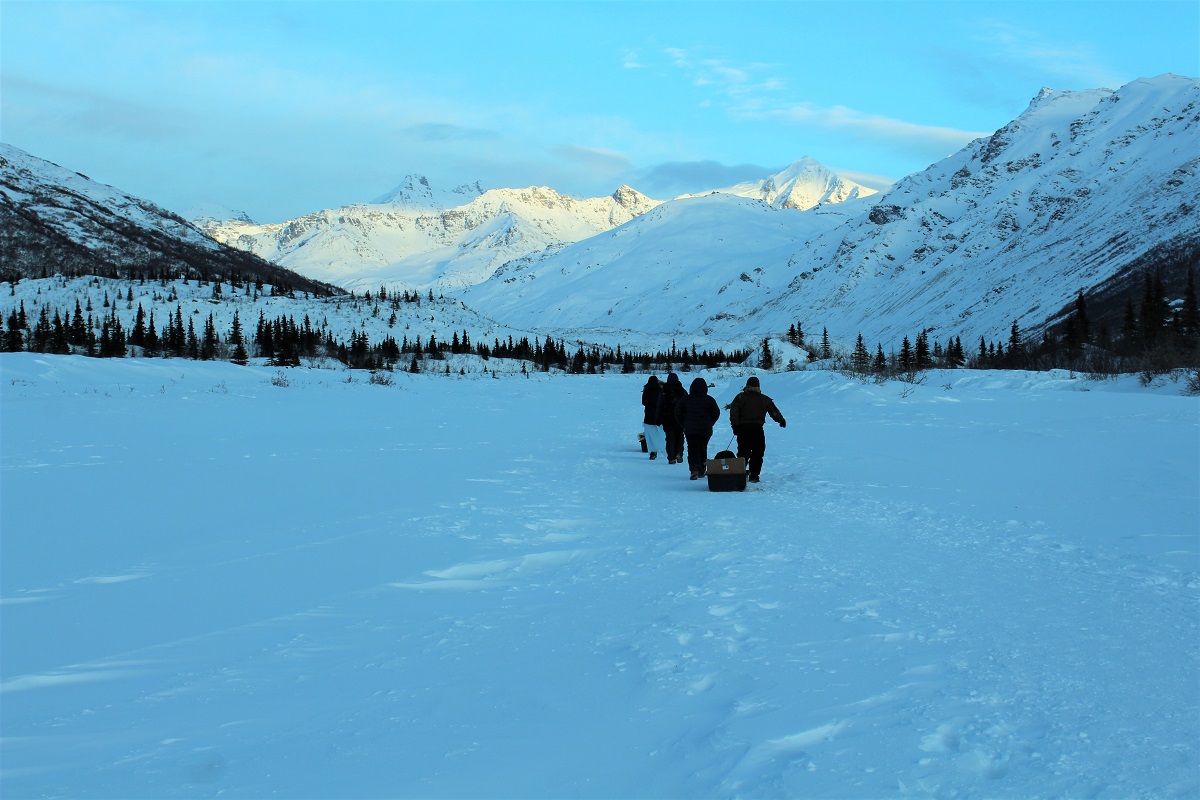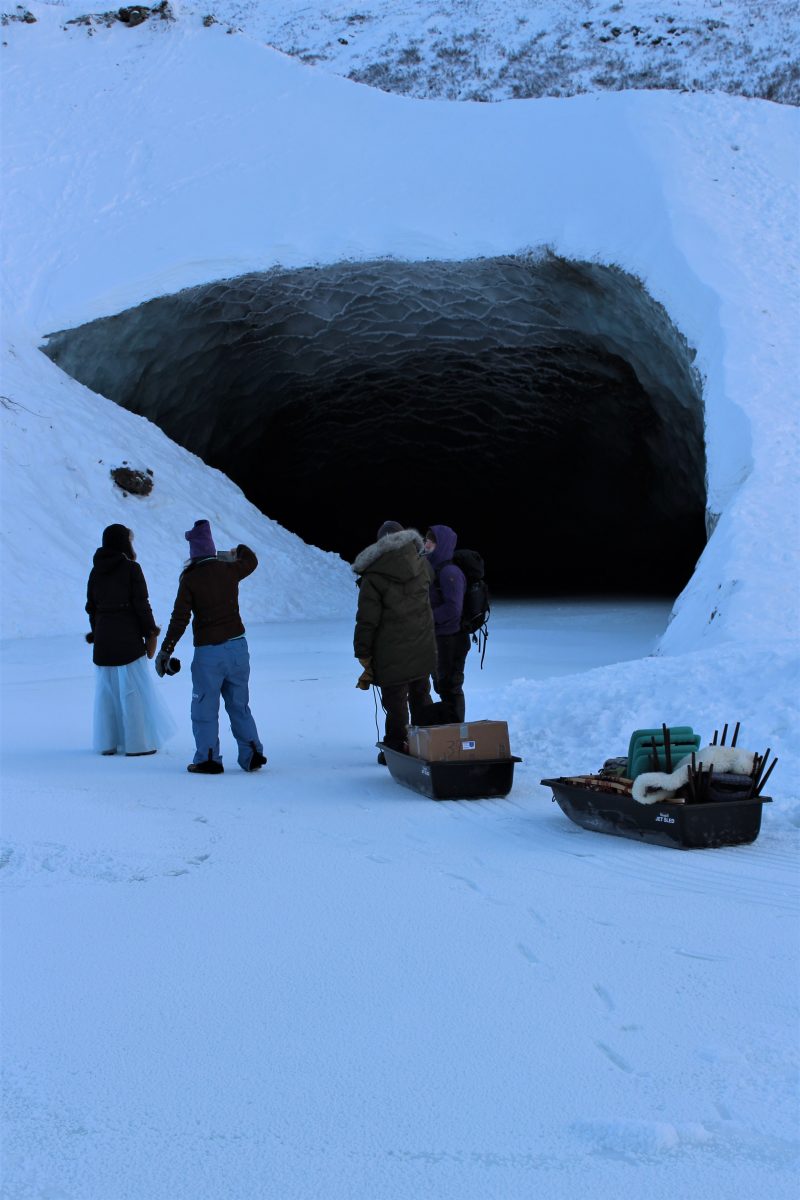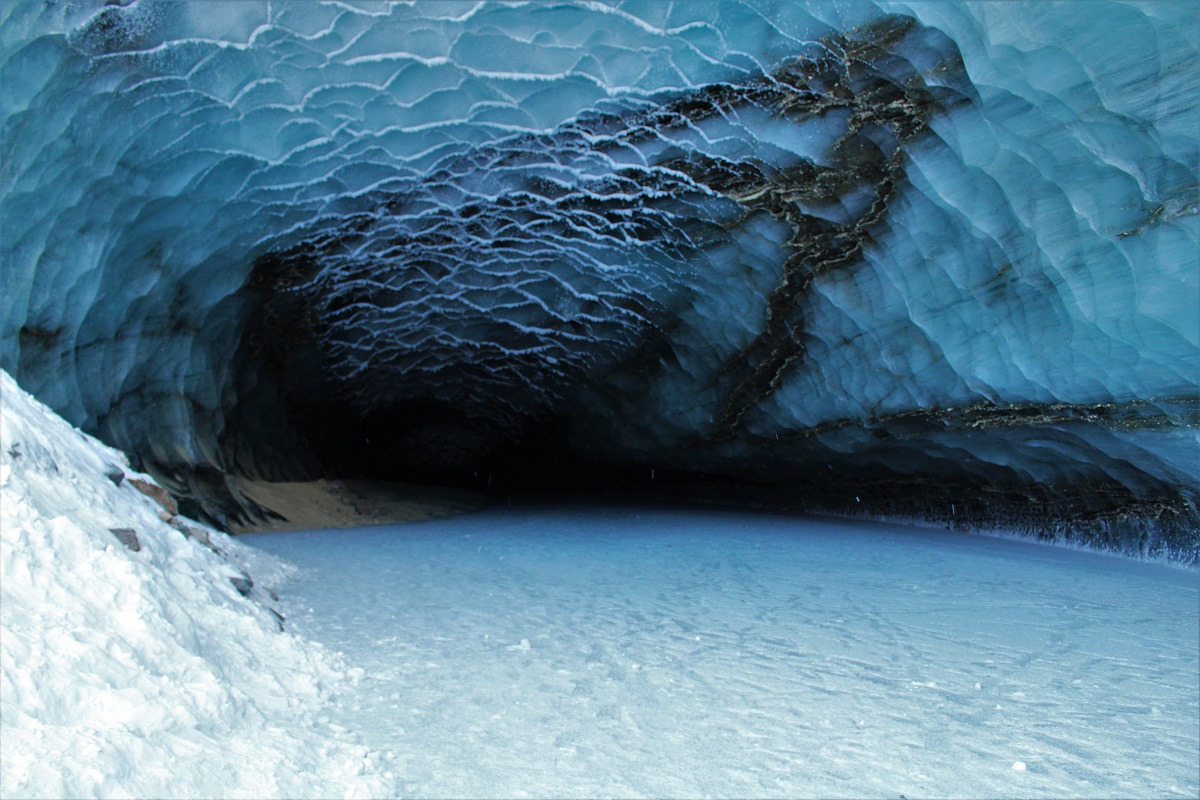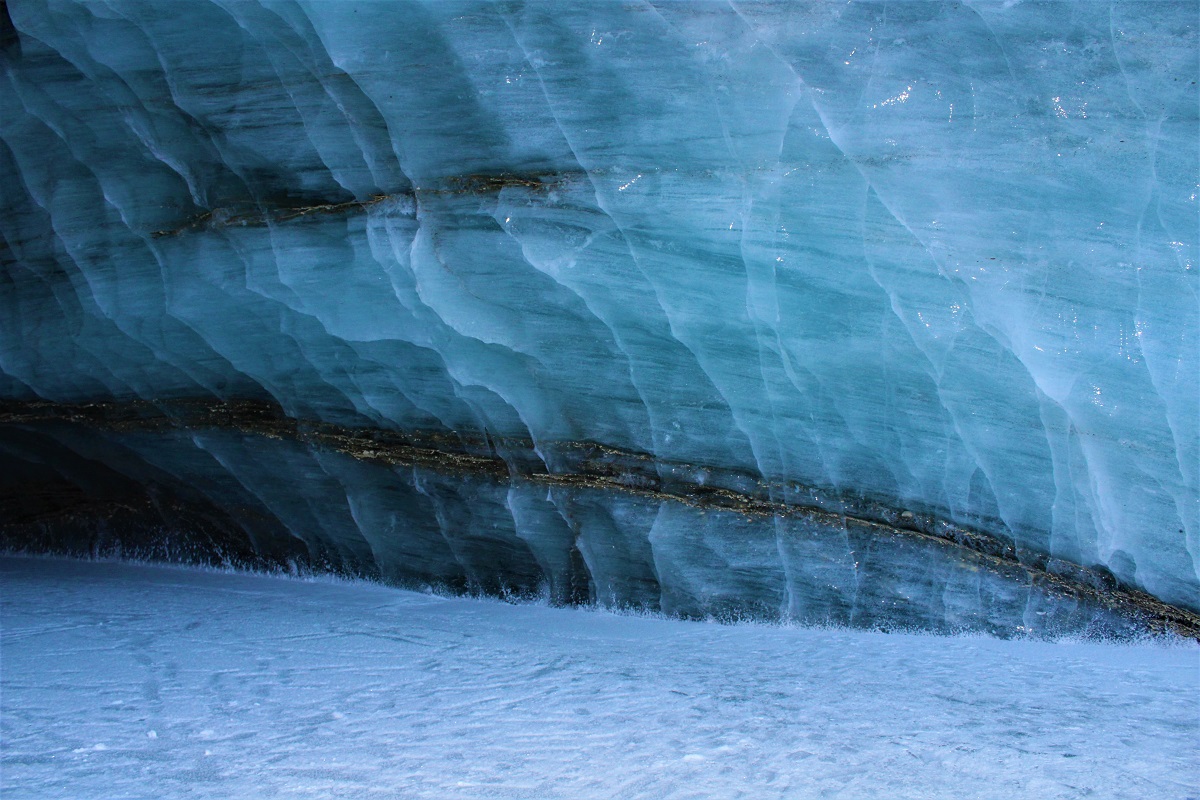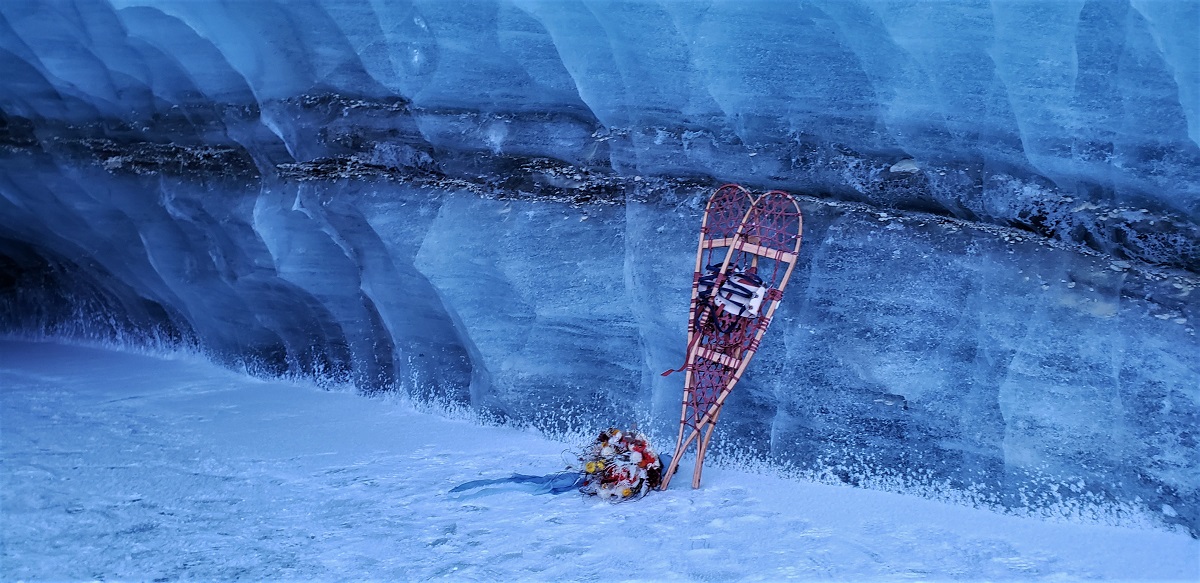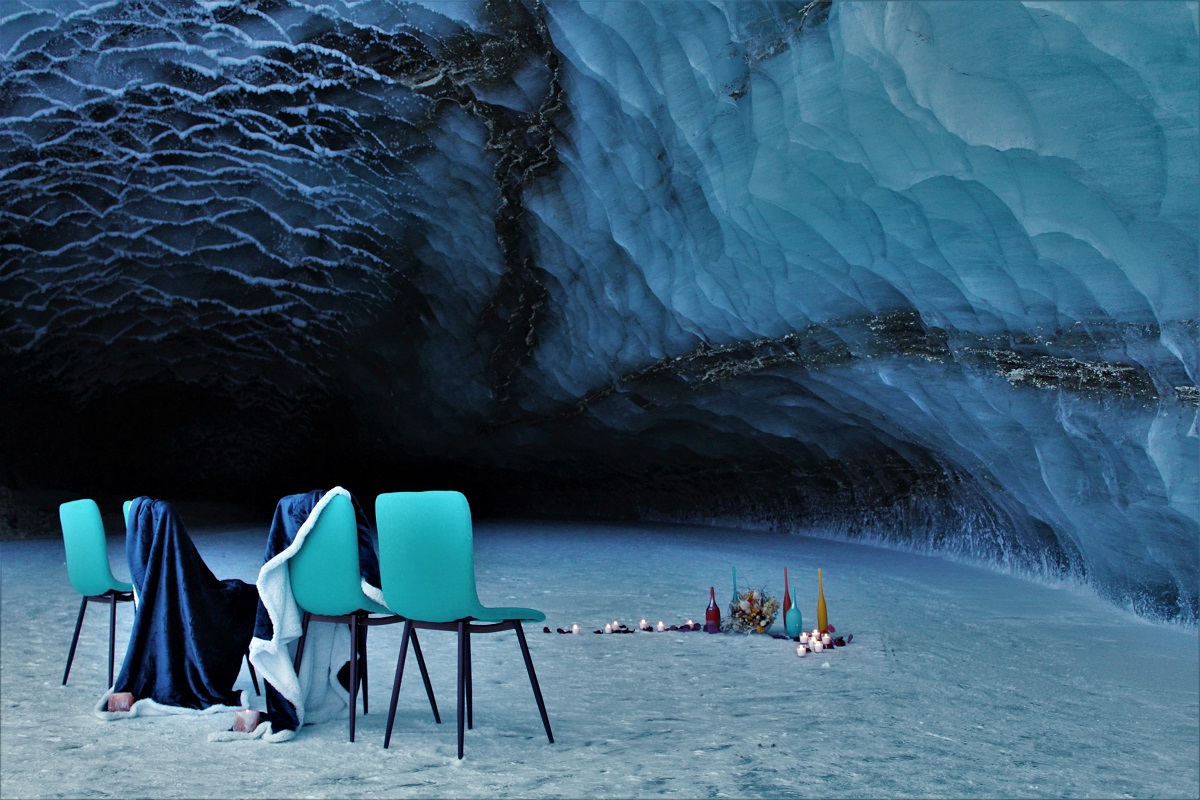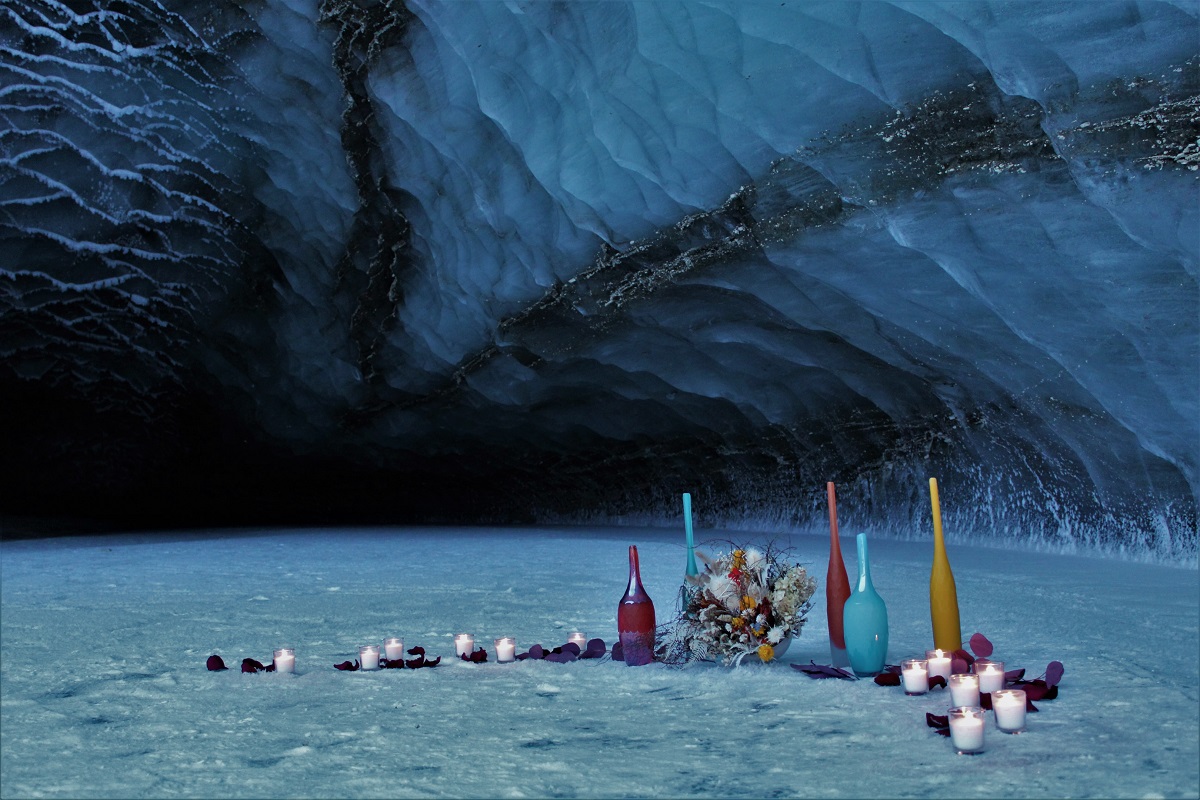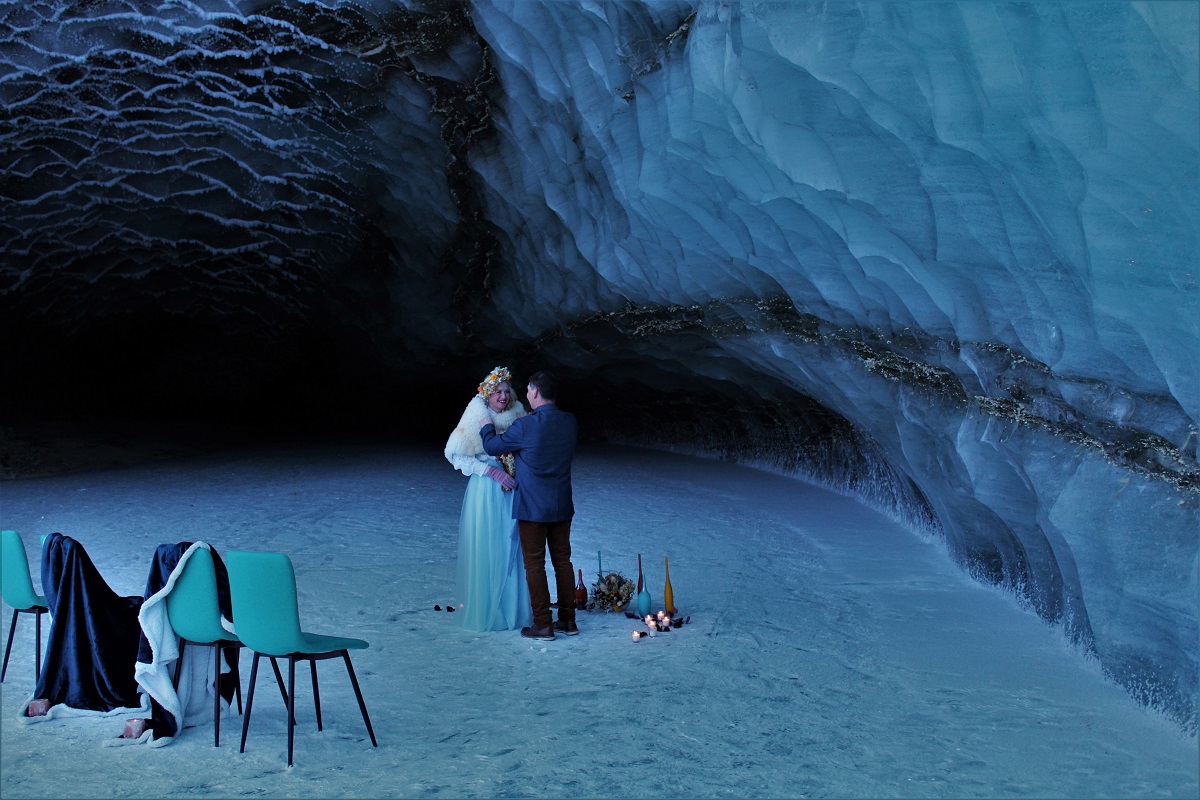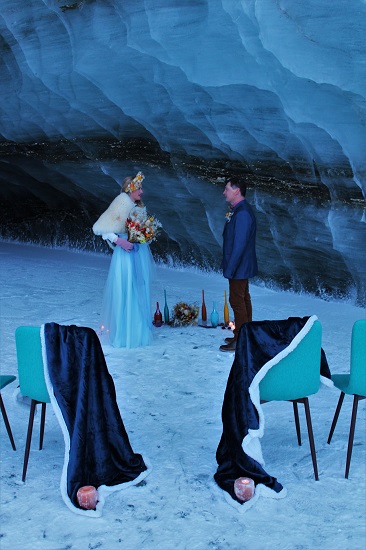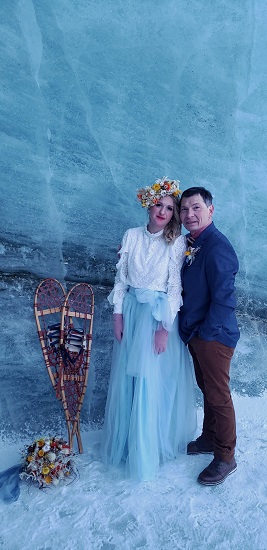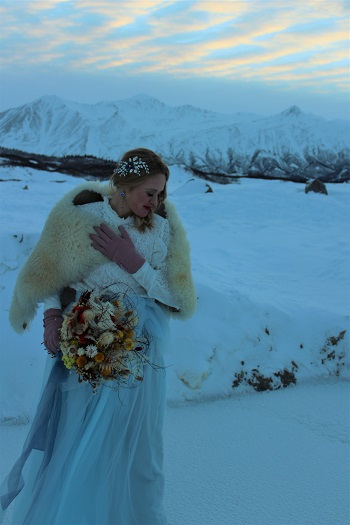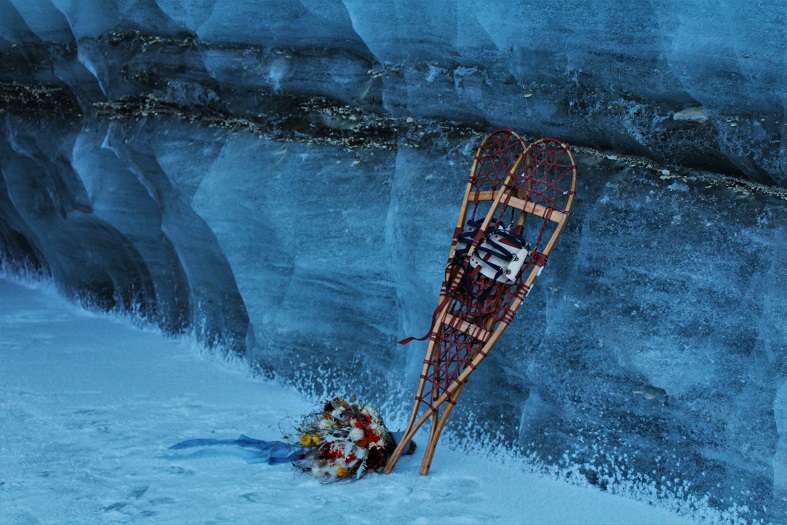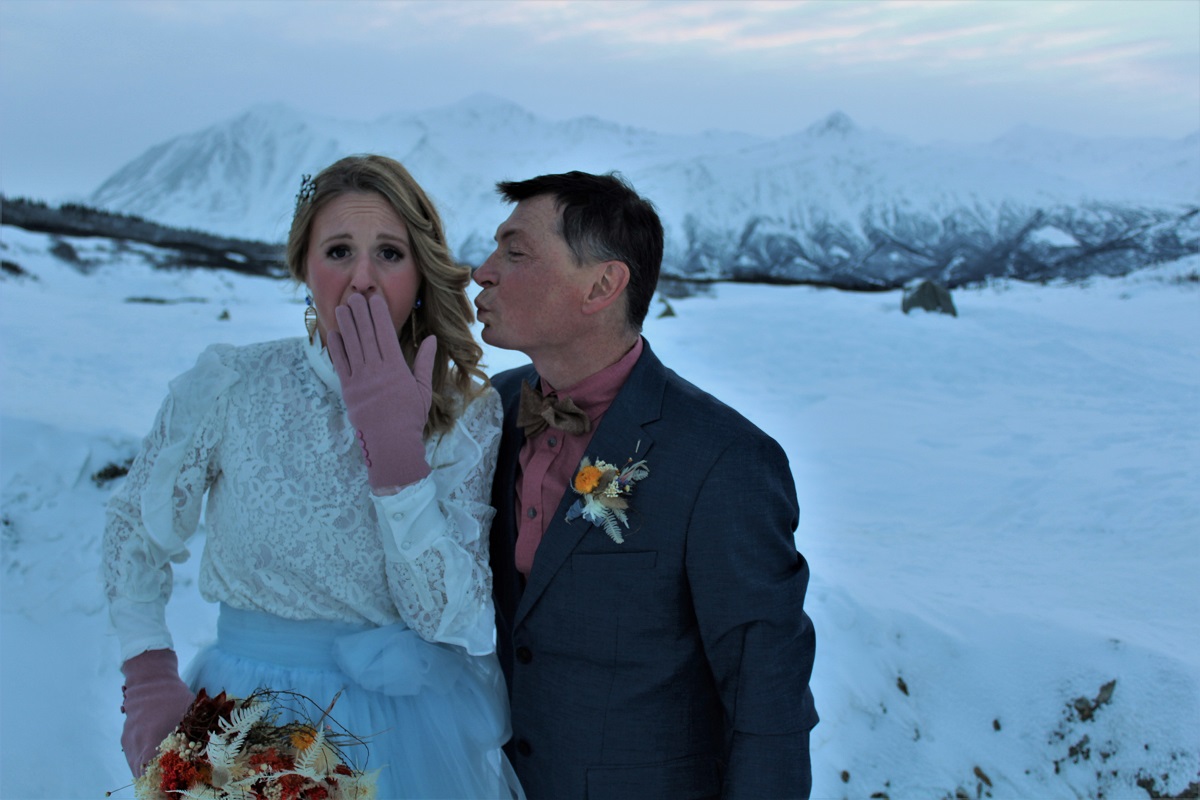 We ventured down an unmarked trail and up the frozen Castner Creek pulling two sleds of candles, vases, chairs, flowers, blankets, and a portable heater.  The sun was just lighting the top of the Alaska Range mountains, an hundred and fifty miles south of Fairbanks.  Temperatures of 15 or 20 degrees below zero with a piercing wind that whistled thru our ears kept us trekking at a brisk pace towards the destination we had never been to.
We maneuvered our sleds thru sapling trees on the high south bank, dropped down to the creek and followed it a mile or so to a stretch of pale blue ice on the north side.  Ahead of us, a foot trail carved its path up the side of a steep bowl where the creek seemed to end and we wondered aloud if we would be coaxing our supply sleds up the snowy slope.  Descending into the heart of the bowl, we rounded another high bank and stepped into the mouth of a stunning cave.  Carved from glacial ice by the frozen river below our feet, the walls were a striking turquoise color with streaks of golden brown earth that reached back into the darkness where a ceiling of ice edged scallops turned into intricate ice crystal stalactites, delicate to the brush of a hat.  It was better than the internet had promised.
We basked in the glory of shelter and glacial beauty, snapping photos that didn't quite capture the magnificence.  Then a quick discussion of optimal backdrop lighting, an efficient unloading and unwrapping of décor while Sarah swapped her parka for a sheep wool wrap and Kevin wandered back to the sandy creek bank to pull on leather boots and peel off winter layers making way for a boutonniere layered with vibrant botanical textures.
We lit the candles, adjusted the teal chairs and navy blankets, sprinkled rose petals, and pulled out the vibrant earthy bouquet to set the scene of an "adventure elopement with friends" against the backdrop of ancient ice.  The scene itself was set for maybe 15 minutes.  Sarah donned a couture floral headpiece, fashionably complimenting her locally crafted snowshoe earrings.  Haley worked the camera angles.  Then coats and hats were quickly reclaimed around the portable heater with a swig of honey whiskey.
It was kind of crazy – an idea born six days before the flight to Alaska, nurtured by the enthusiasm of vendors from three states, family members willing to model and refine, and friends willing to photograph and trek.  Amazon prime had just enough time to deliver the essentials to Fairbanks, our florist created masterpieces from dried and faux floral that frigid temps wouldn't destroy and then speed shipped them to us from Virginia.  We found a salon excited to style Sarah and even though the pandemic policy prevented mask removal, they gave us an Ulta shopping list for DIY finishing.  We mocked up the scene in my sister's living room, disassembled the chairs to fit them in our rented SUV, and drove 150 miles south thru wintery mountain landscape that itself was breathtaking.  We parked in a pull-off just past the bridge and trusted internet intel when tracks and a frozen creek were our only signposts.  It was crazy, but that cave was beyond worthy of the excursion.
We blew out the candles and regathered the rose petals, repacking one sled while the other was pulled up the bowl trail for a quick steep sled ride down.  We turned on headlamps and wandered further back into the cave, stooping under the delicate crystals.  And then we hiked quietly out in the dusky light, an adventure relived with laughter over pizza in a cozy Delta Junction pub on the way home.
OUTTAKES FROM THE CELL PHONE…because the cave was so darn amazing (photo credits Sarah Lewis & S. Horn)