dressing the bride tribe, part 1 | 6.27.18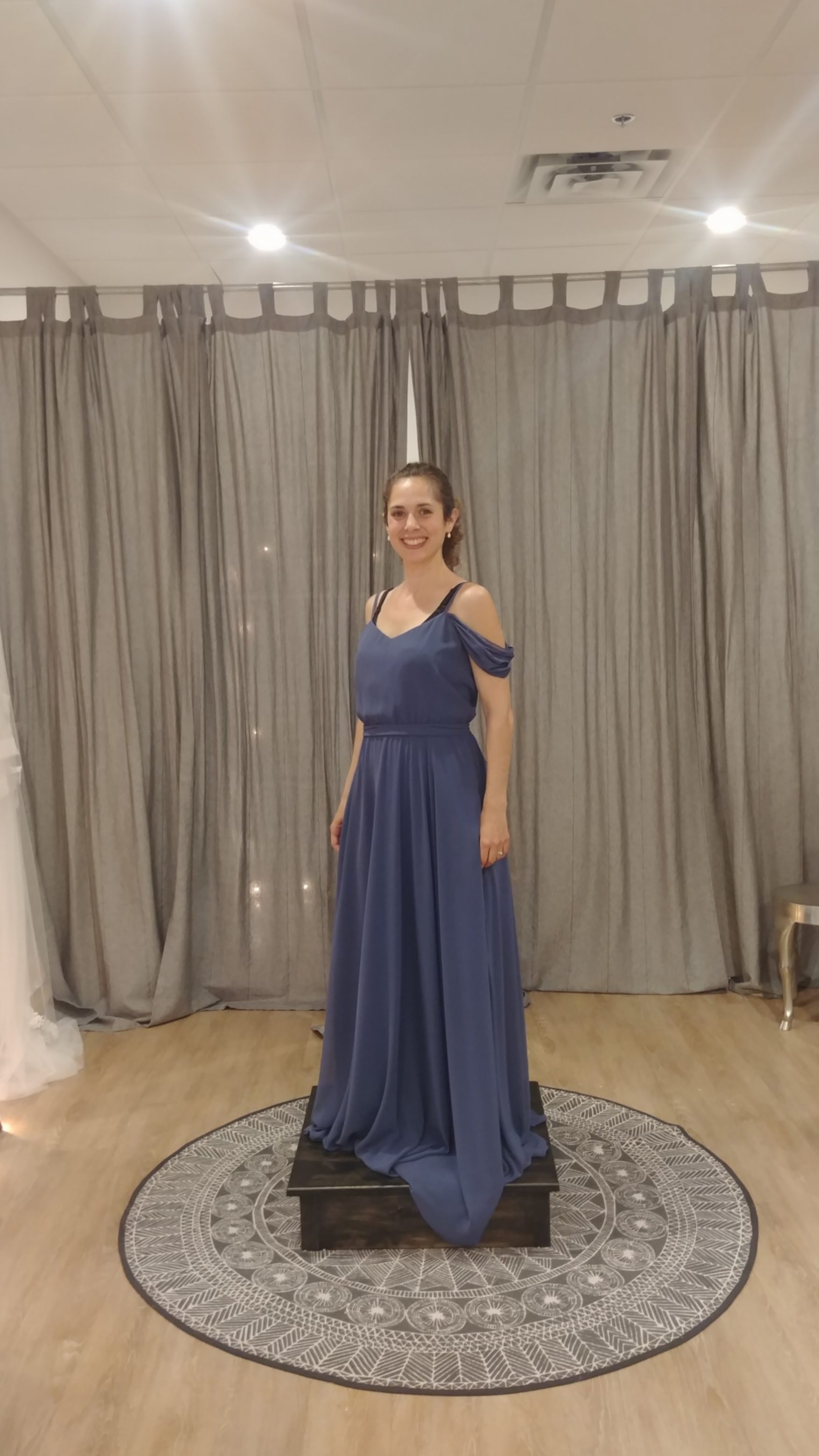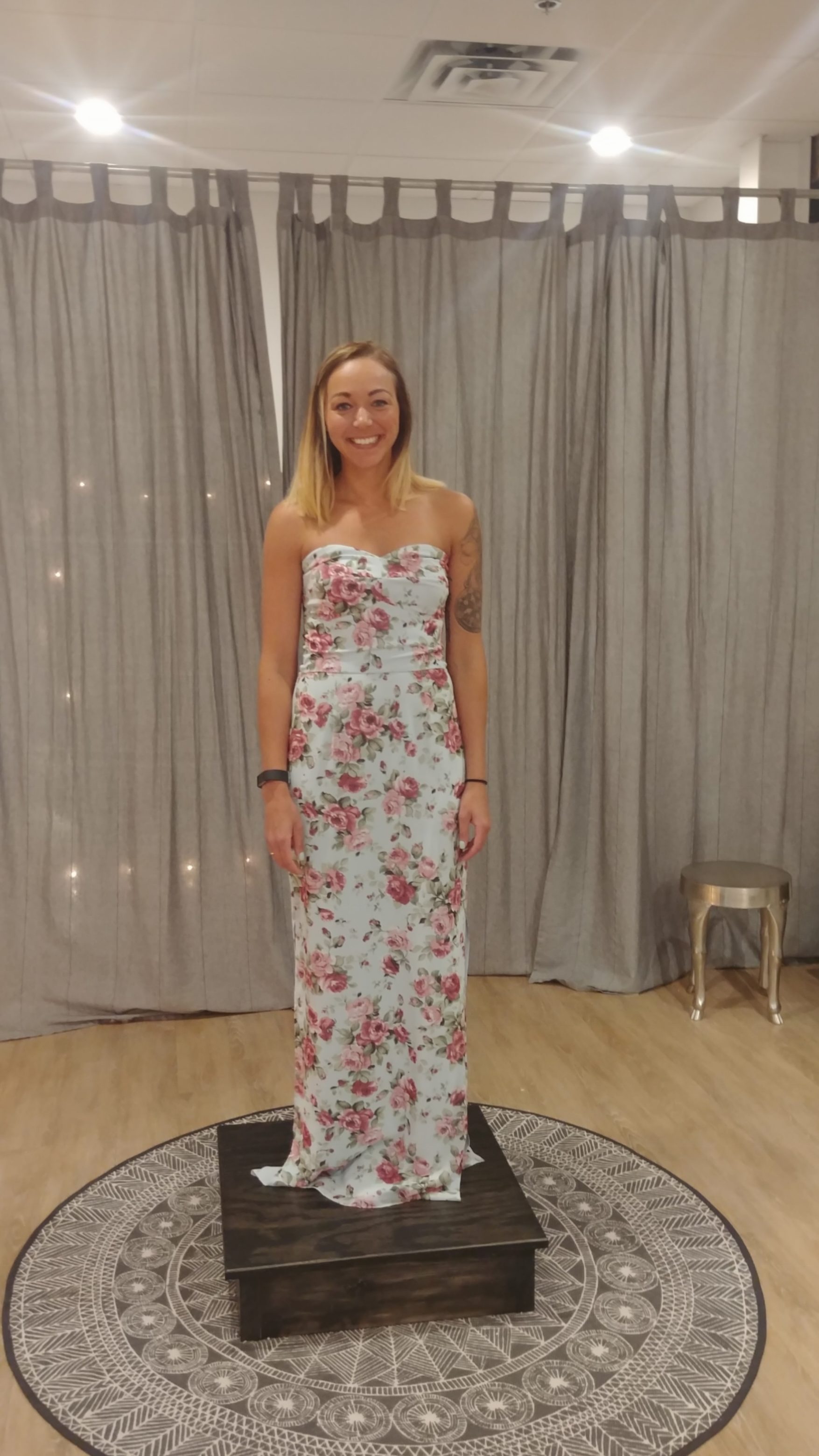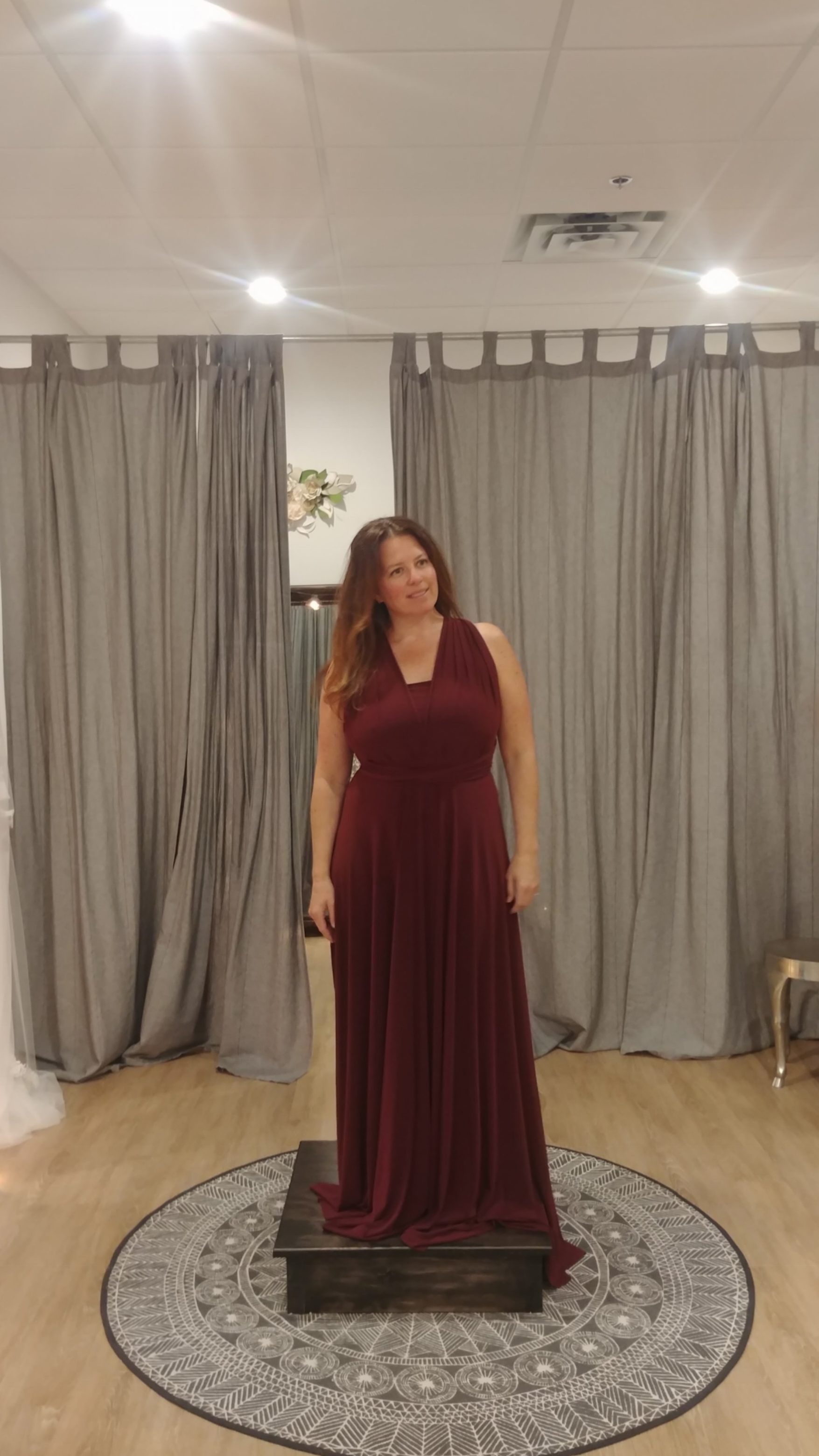 BEHIND THE SCENES | We went shopping at one oak bride a couple weeks ago to outfit our bride tribe for the August styled shoot.  We came into the boutique with a color palette inspired by dusk over the lake and a vision to be on trend with a floral dress and a two piece dress in the mix of six bridesmaid models.
Renee greeted our bride Tracy and three of her six ladies with enthusiasm and expertise.  As someone who loves almost every dress I've ever met, it can be a little hard to know where to start but Renee pulled a fabulous light blue dress with floral in shades of pink and light green leaves as our starting point.  We loved it, especially on Brittany, one of the winners of our bridesmaid spot giveaway.
We pulled out more dresses in shades of blue.  Jennifer loved a wine colored gown that we may have otherwise overlooked, given our softer palette but it not only looked stunning on her, it complimented the floral dress really well and helped pull out the darker tones in the floral.  As we worked thru our color choices, we realized that the wine dress fit perfectly in the maid of honor position to provide contrast to Tracy's gown and help her stand out.  Genius.
The lighter shades of blue were easy to decide on.  Our palette mixes the blues of a lake and dusky sky, pulling in a bit of slate, lighter peach, and some greenish blue that also complimented the greens in our floral dress.  As we looked at the collection, we questioned how to make the wine and floral that fit so well together, not draw our eyes from the softer palette.  One of the ladies pulled out a midnight blue gown that was exquisite on Emma and became the perfect bookend to our line-up.  It added depth with the wine color and with the blues that we loved.
In addition to the delightful mix of color, we are thrilled with the variety of textures that this line-up features.  Chiffon, tulle, and a newer waffled fabric make the dresses as fun to touch as they are to behold.
UP NEXT | We'll be revisiting One Oak Bride this afternoon for more bridal gown shopping from their newest featured designer.  Tracy is gorgeous and we can't wait to see which dress is "The One".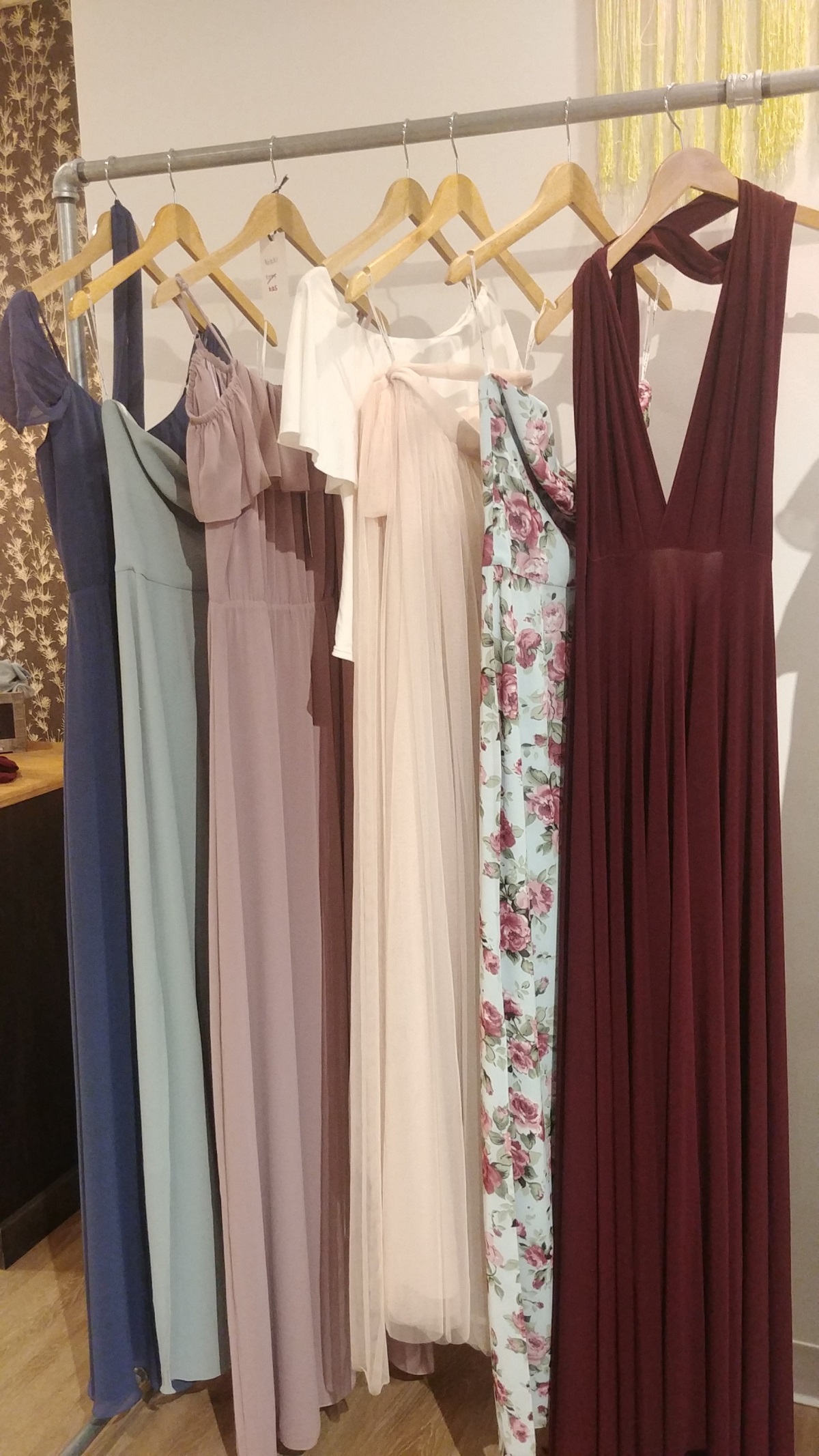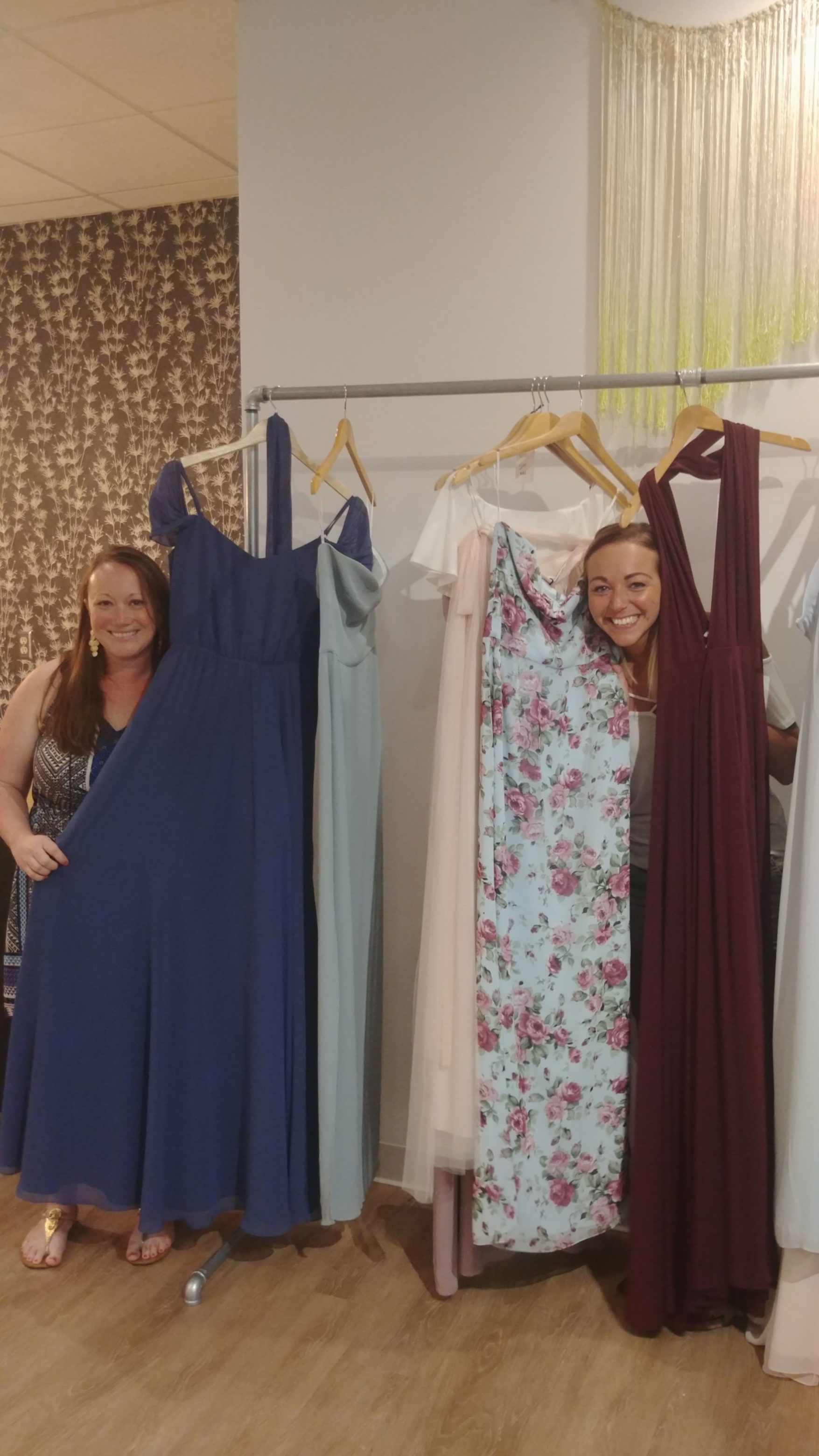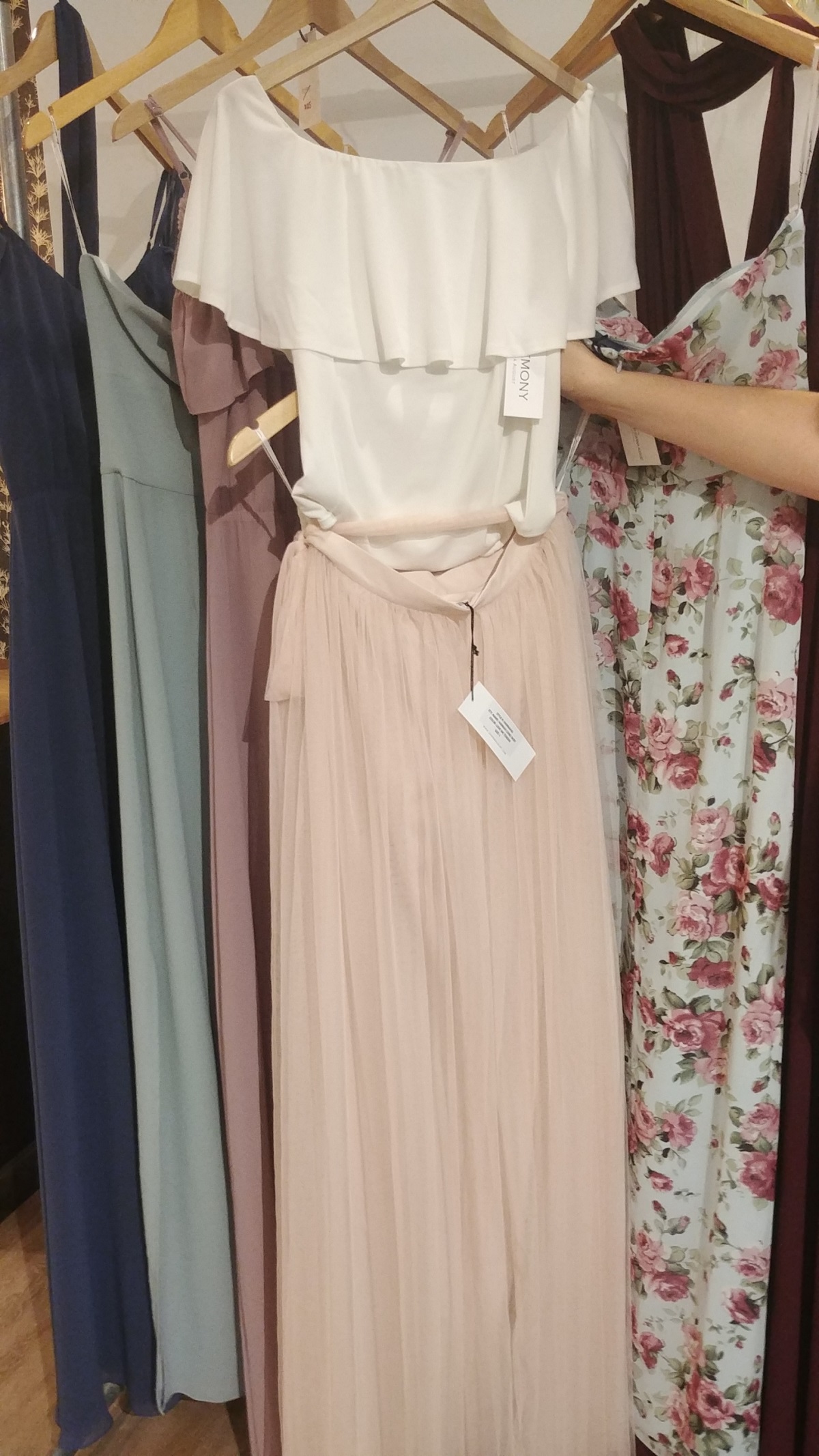 beginnings of a styled shoot, part 2 | strawberry lavender pop tarts | 6.7.18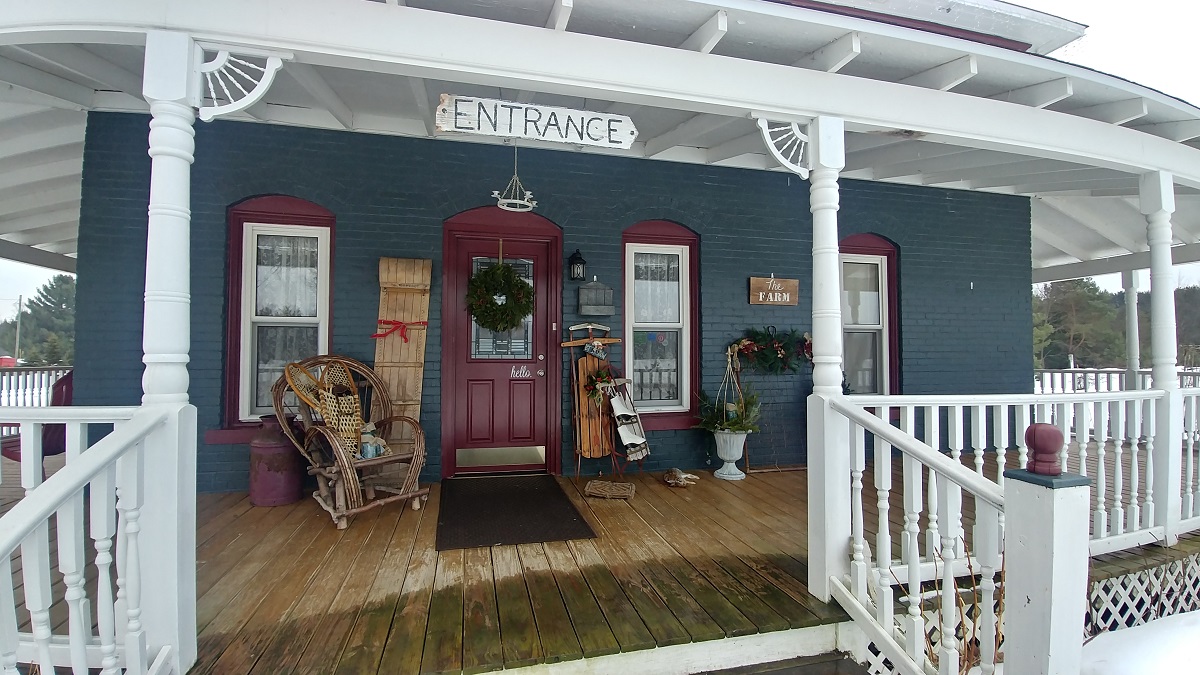 BEHIND THE SCENES | Although we point to our January tattoo conversation as the beginning of this styled shoot (see part 1 post below), it wasn't until we experienced fresh-from-the-oven strawberry lavender pop tarts in February that we really made things official.  February.  Right on the heels of our winter styled shoot.  Right in the midst of our winter wedding giveaway.  Right after I had told our photographer Jen that we should probably not do another styled shoot until next year and we both had a good laugh at the mere thought of it.  And then I called her and casually asked if she would be game for doing a styled shoot in August, one of the busiest months of our wedding season.  And we had a good laugh again.  And she said yes.
This is a good point to take a step back and draw some parallels because, chances are, you're reading this with a wedding on your horizon or you're one of our really cool clients who already got married but you stick around as an adoring fan (the feeling is so mutual).  In either case, I think you'll relate.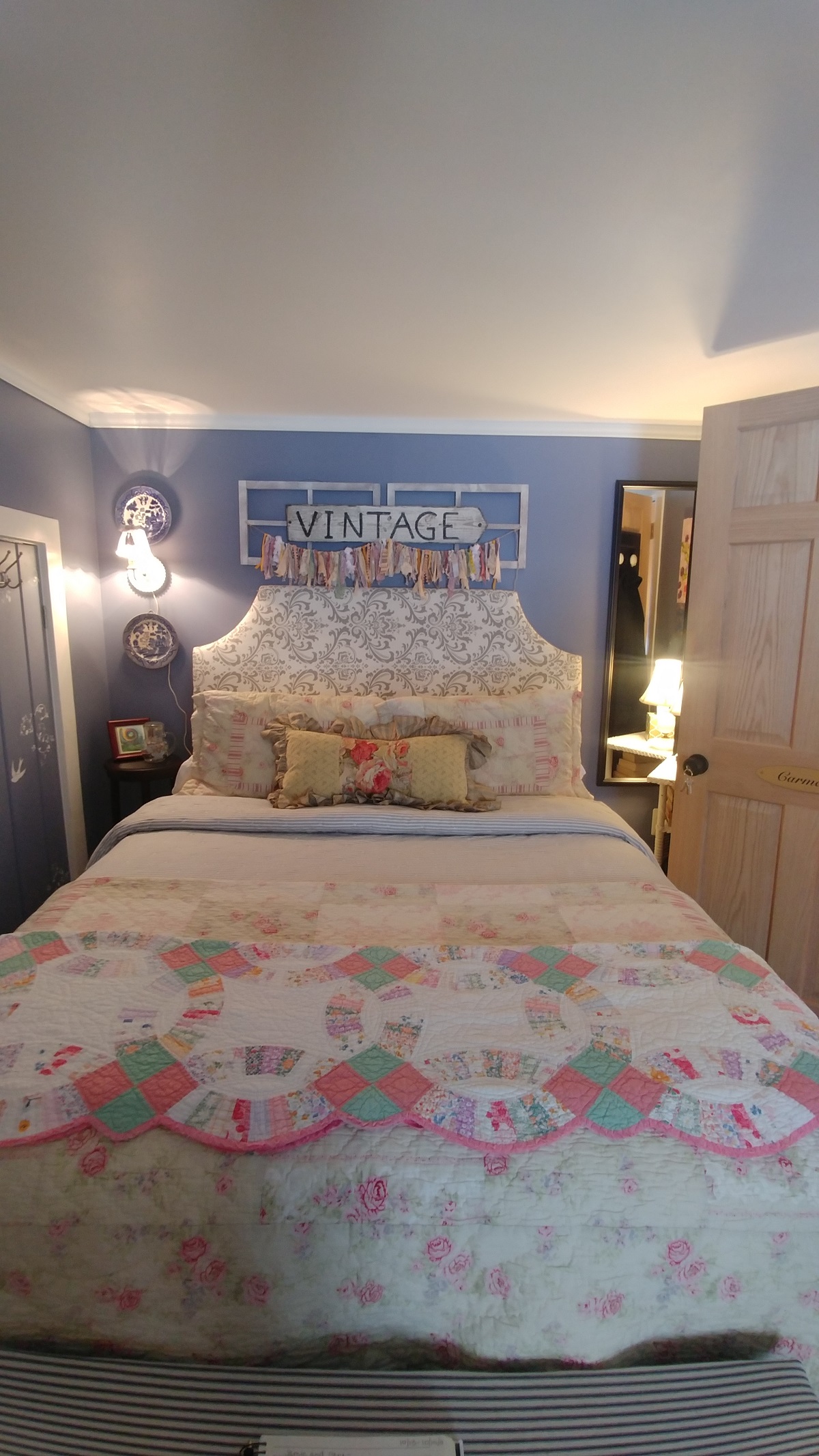 planning this styled shoot is like planning a wedding because:
We found the groom first.  We just didn't know what to do with him yet.  Someone once made the wise observation (probably on social media, I don't remember) that once you find the person you're going to marry, the hardest part is over.  I think of that sometimes when we're in the throes of planning weddings, caught up in all the details and emotions.  This is your gentle reminder to celebrate that whole business of falling in love and finding someone you want to live and laugh with for the happily ever after.  Revel in it, truly.  The other details will fall into place in due time.  Probably longer than the two weeks it took us to find a venue for our styled shoot groom but worth the wait in either case.
The timing is a little crazy.  We're doing this styled shoot in August with a team of really amazing vendors (more to come in future posts).  August.  Middle of the busiest four months of our wedding season.  We'll tell you why below in "the scoop" but for this moment, I want to say that life doesn't actually stop when you decide to plan your wedding.  It would be kind of nice if you could put everything else on pause and dedicate months or even weeks to planning your dream wedding.  In reality, you'll probably feel accomplished to eek a late night hour out of your schedule and it may take a glass of wine or two to work out the guest list conversations.  Life keeps happening.  In fact, it often just picks up the pace when you declare you're getting married.  Not kidding.  In the course of planning, our clients take finals, buy houses, change jobs, travel a lot, work a lot, move across the country…all the things.  I think the beauty of this reality, though, is that we're putting something into the fullness of life that gives it more meaning.  We're celebrating that such fullness will be shared.
Finding the venue is important.  When you decide to host a wedding or to style a shoot, you really need a venue and a date to move forward.  It's usually the first thing you do.  We weren't actually looking for a venue on the day that we ate warm strawberry lavender pop tarts.  We hadn't even committed to doing a styled shoot with our groom model.  Most couples who want to host a wedding are intentional about finding a venue and they spend hours and sometimes days in the search.  But quite often, in northern Michigan, they point to family summers on the lake or weekend getaways up north and they knew that this area is where they would get married, even before they knew they would get married.  Sometimes the area, if not the venue, finds you.
THE SCOOP | Applesauce Inn in Bellaire, Michigan, is the venue for our August styled shoot.  We went for a tour.  We ate the strawberry lavender pop tarts.  We talked about weddings and how to be an emerging wedding venue in a hidden gem of an area.  In the parking lot, we called Jen and laughed and as we drove away, we were already talking about our August calendar.
It's an absolutely charming bed & breakfast with THE BEST breakfasts!  Their Instagram feed is mouth-watering on a daily basis.  The vintage farmhouse complete with a flock of chickens and glorious flower gardens has a sprawling back lawn, a towering walnut tree (which we refer to as the ceremony tree), and a neighboring plot of little Christmas trees.  It's also close to natural adventures like hiking and kayaking in the Grass River Area, mountain biking on the Glacial Hills trails, pontoon boating on Torch Lake, rafting on the Jordan River, and skiing at Shanty Creek.  We're thrilled to be partnering with Jamie, joint owner and board member of Destination Bellaire, in August when the gardens are in their prime and the summer adventures are most compelling.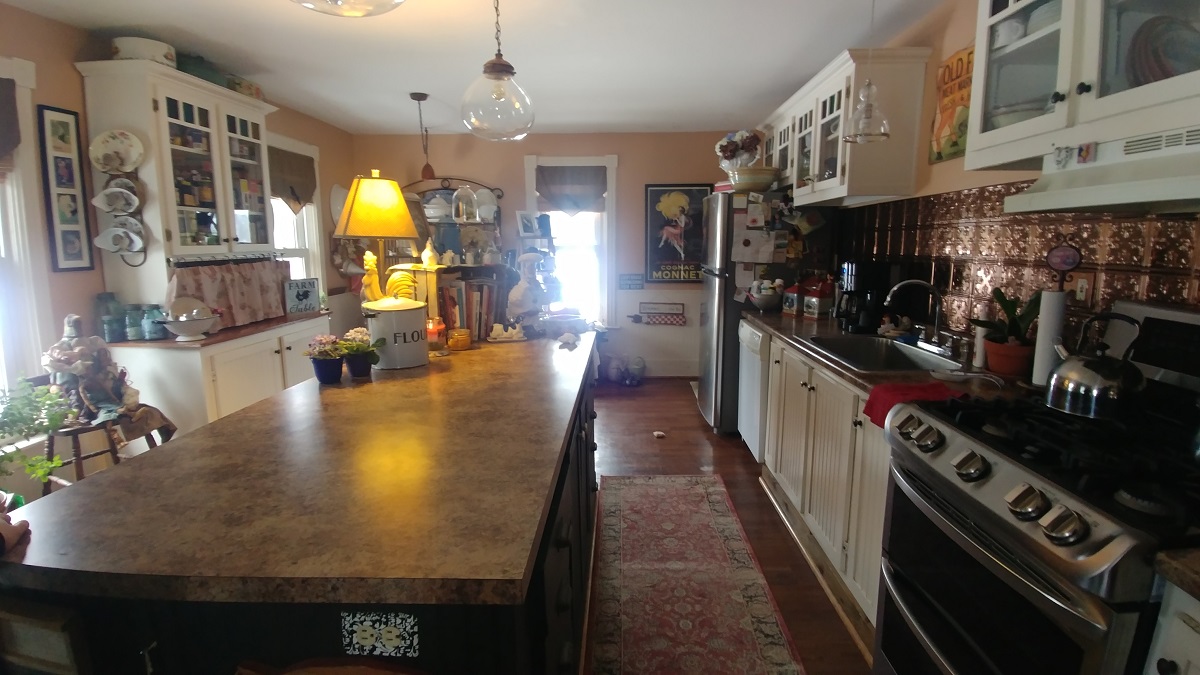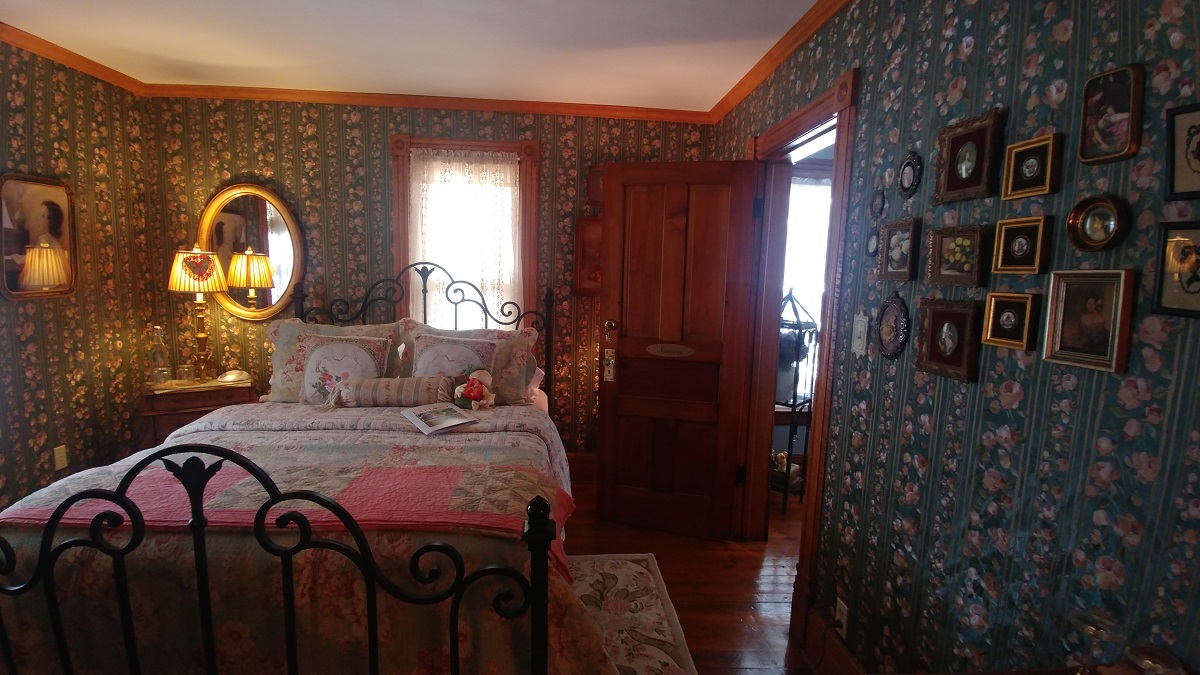 THE GIVEAWAY | There will be one.  You'll have to wait until August for this one, though.  Trust us, it will be well worth the wait.  In the meantime, follow @applesauceinn for mouth-watering virtual breakfast experiences.
beginnings of a styled shoot, part 1 | tattoos & collaboration | 5.31.18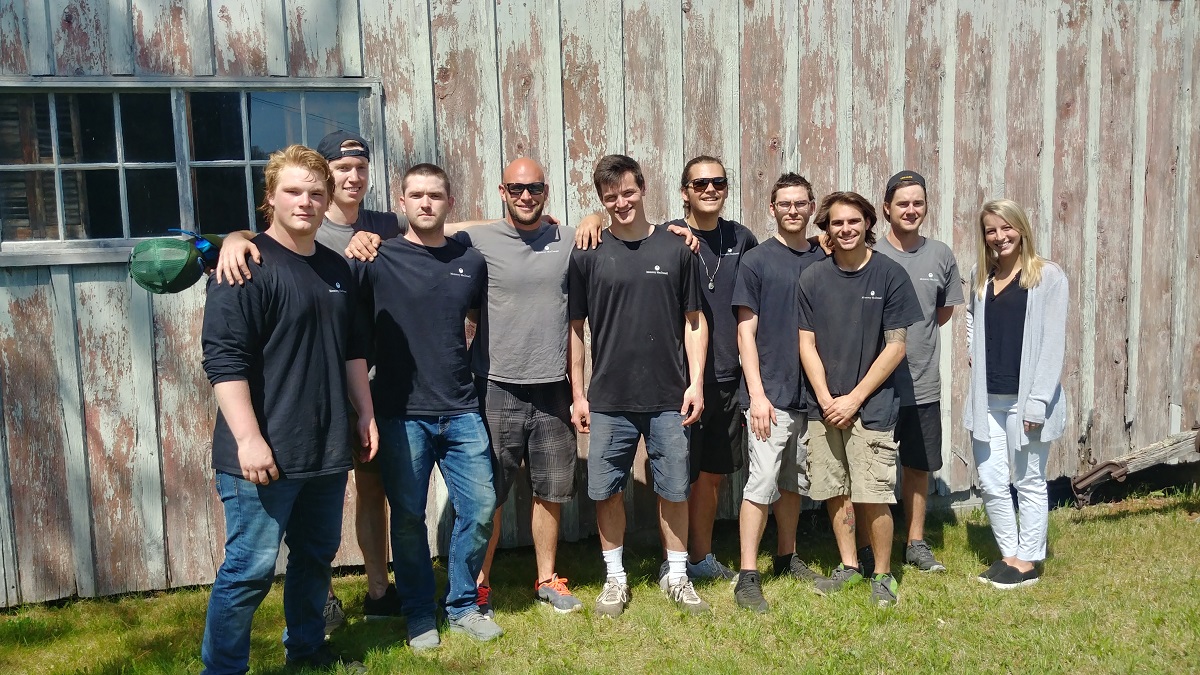 BEHIND THE SCENES | Most styled shoots start with a creative idea.  Ours started with a conversation that went something like this, "Hey, if you ever need a model for one of your styled shoots, keep me in mind.  I have tattoos."
Sold.  Granted, we still needed a few pieces to come together, but when one of the most popular business owners in our creative events community offers face time AND tattoos, we're already mentally debating the white shirt with rolled up sleeves and open collar vs the bowtie and suspenders.  More on that to come in a future post.
This, however, is a great post to share a little more about the purposes of styled shoots.  There are many and often they create little purposes of their own along the way.  Here is the bullet point rundown:
To be creative.  To push the envelope a little.  To show things that aren't being done very much.  Yet.  To be trendsetters.  To inspire.
To collaborate with colleagues.  To play in the sandbox with new people and with established favorites.  To start and continue the kind of collaborative relationships that lead to really great events.
To showcase the new things.  To spotlight the emerging venues.  To bring out the pretty new chairs, the sweet old photobus, the watercolor macaroons.  To share the possibilities.
To get photos of it all.  Maybe they'll get published on a cool blog.  Probably they'll jazz up our websites.  Definitely they'll appear on social media.  Points 1-3 are valuable, sometimes most valuable.  The photos are why we show up, though.
THE SCOOP | Alex MacDonald, of Monstrey MacDonald Events is our groom.  He's the guy with shades in a grey t-shirt who kind of looks like Bruce Willis.  We asked him to ask his wife to be the bride (she said yes!) because lovers are more comfortable looking like lovers in front of a camera (true story, true strategy).  We also asked him if any of his crew would be interested in modeling as groomsmen.  We were hoping for two takers and we got six.  No joke.  SO…
THE GIVEAWAY | We need a few more bridesmaids and you could be one of them!  Maybe you're an aspiring model with a portfolio to build.  Maybe you want to wear a cute dress and hang with fun people for a day.  Maybe you're digging the faces on our groomsmen squad.  We're giving away one bridesmaid spot.  We're taking care of hair and makeup (yay, M.O. Hair & Beauty Lounge!), providing the dress (on loan from one oak bride–you won't want to give it back), and pictures (that's why we show up, remember).  The groomsmen squad will choose finalists and our bride Tracy will draw a name for the winner.  Watch Facebook for the contest launch (June 1-5, 2018)
That's a wrap for this post.  More behind the scenes, more scoops, more swag to come!