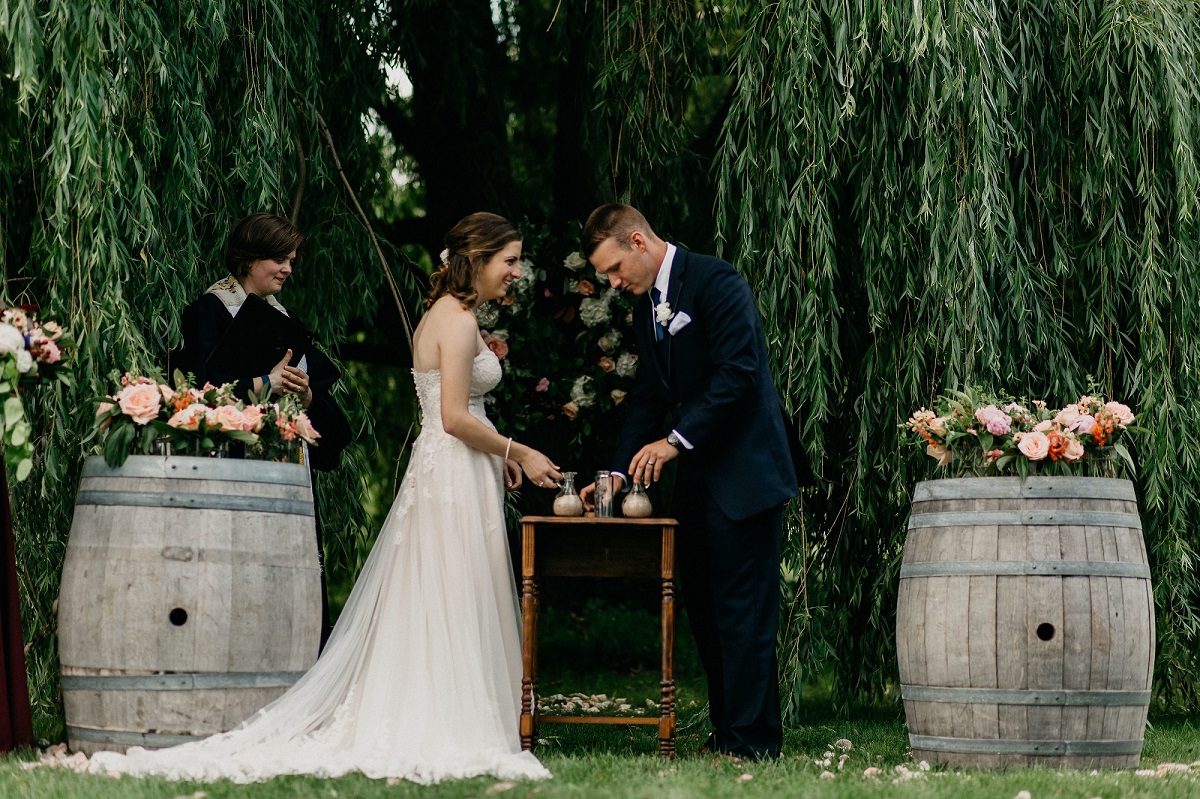 KATHLEEN & RYAN | Aurora Cellars, Lake Leelanau | Sweet Lemon Drop Photography
The rich color palette, the willow tree, the fruit accented garlands, the glorious wreath…all set in one of the area's finest wineries and celebrating one of the absolutely sweetest couples I've ever met, make Kathleen & Ryan's Aurora Cellars wedding one we're thrilled to share.  We especially love the "behind the scenes" commentary from Kathleen.  Be sure to check out the highlight reel from White Owl Wedding Films and full vendor credits at the bottom.
From the bride:  "When Ryan and I began planning our wedding, we agreed to just focus on having a fun party with our friends and family. We did not want to put too much pressure on the day and ruin it. Therefore, when we set out to choose a venue, we focused on where we most felt comfortable. Almost immediately, we decided on Aurora Cellars. We were warmly welcomed there and loved the idea of getting the farmhouse to ourselves the entire wedding weekend rather than being kicked out for another wedding the next day. And of course, the willow tree and all its romance sealed the deal. We love to be outdoors, especially in Northern Michigan, so we wanted a venue that reflected that.
            Our wedding day was full with happiness and ease. After a week of rain, it was sunny all day with not a cloud in the sky. I spent the day getting ready with my bridesmaids at the farmhouse while Ryan and some of the guys went golfing. I met Ryan under the willow tree for our first look pictures, which turned out to be a great decision; first look pictures gave us the chance to spend more of the day together and ease our nerves. We had a lot of fun with pictures even though it was completely impossible to take a group picture without one of the groomsmen trying to crack a joke. As a violin player, I loved our string duo who played both classical pieces like "Ave Maria" and contemporary pieces like "Halo" while we all walked down the aisle.
For our ceremony, it was important to Ryan and I that we write our own vows in addition to saying traditional vows. The ceremony was full of meaning for us, and we felt surrounded by love the whole time. One of my favorite moments might have been when a particularly strong gust of wind caught hold of the willow tree and obscured my bridesmaids for a brief moment. Jokes were made about the "whomping willow" after the ceremony. I also loved walking back down the aisle with our guests throwing flower petals; it really added to the joy and happiness of the moment. We had a good laugh at the pictures, in which Ryan looks like he is trying to catch the petals out of the air like a cat.
            We made sure we built in a lot of time for dancing during the reception; if we are having a party, we need to dance. My father, my sister, and Ryan's best friend gave wonderful speeches that I thankfully have saved on video. I was happy to hear our dog mentioned in every speech as well as represented on our cake topper. We spent the evening dancing to our favorite songs, making s'mores on the fire, and eating great food with family and friends. Ryan and the groomsmen enjoyed a cigar together as well. Before planning a wedding, I was excited about all the fun details that go into the planning process. However, I did not appreciate that the most wonderful part of our wedding would be being with all the most important people in our life at the same time and being able to celebrate the foundation of the rest of our life with them. We ended our evening with our guests surrounding us while we danced under the lights until our bridal party converged on us with a group hug. I felt our wedding (and all weddings really) was symbolic of all the support and love that goes into nurturing a relationship. It was humbling. We are so happy with how perfect and personal our day felt. We will only look back at it with fond memories and love."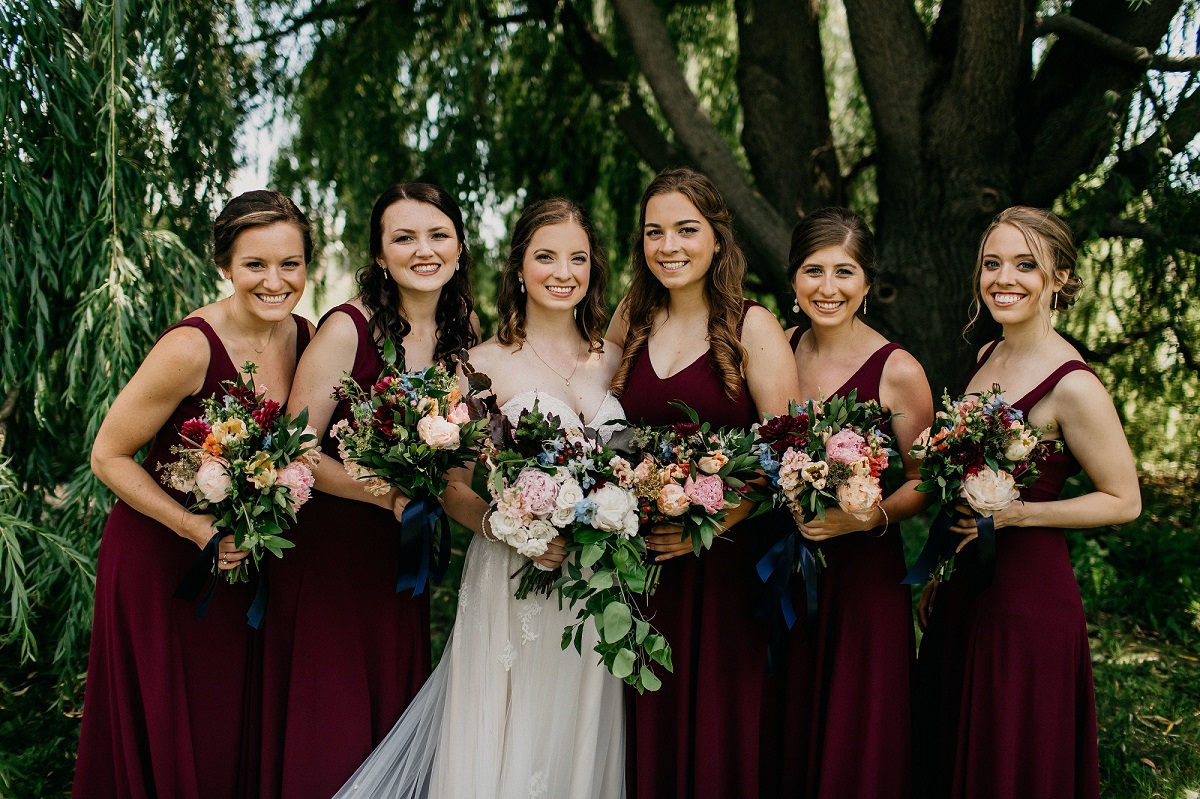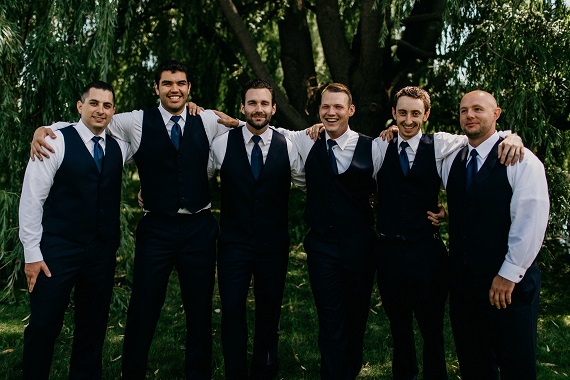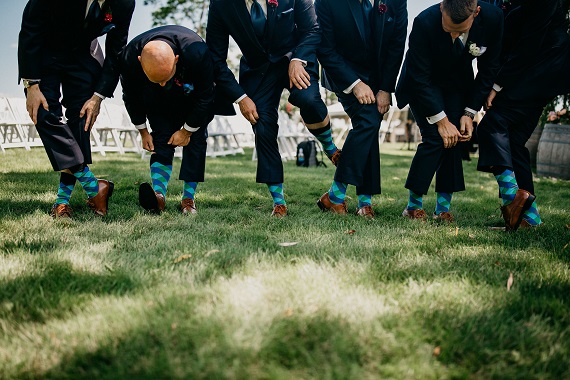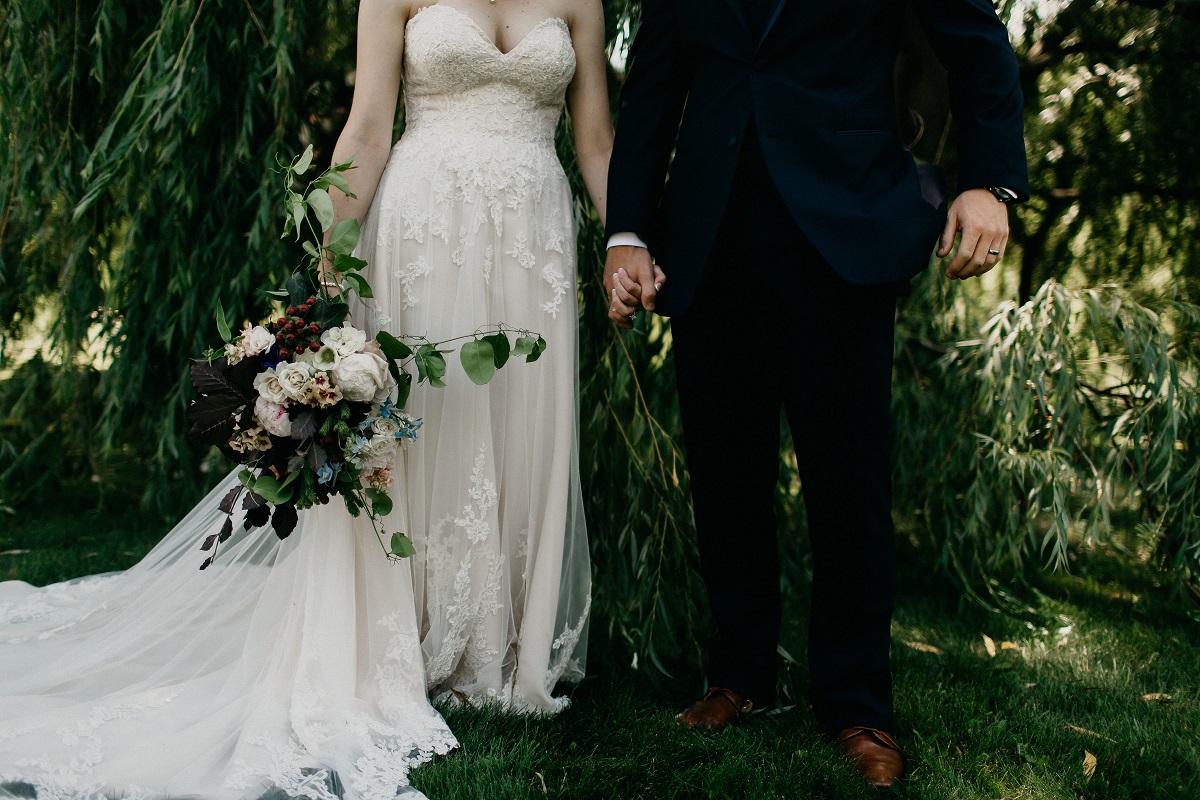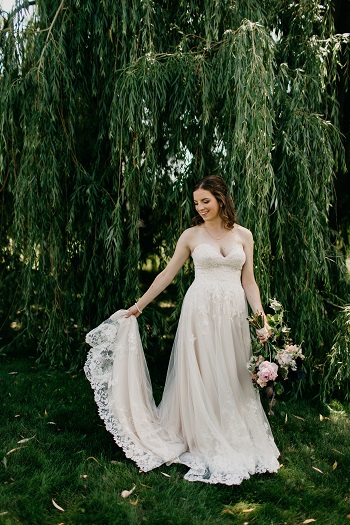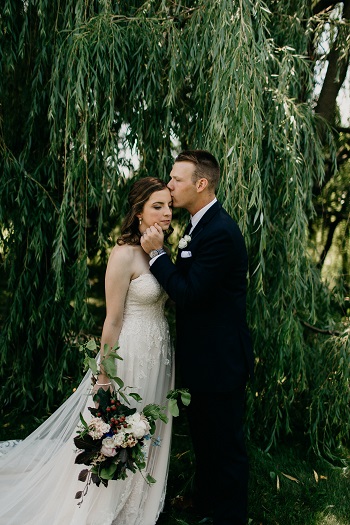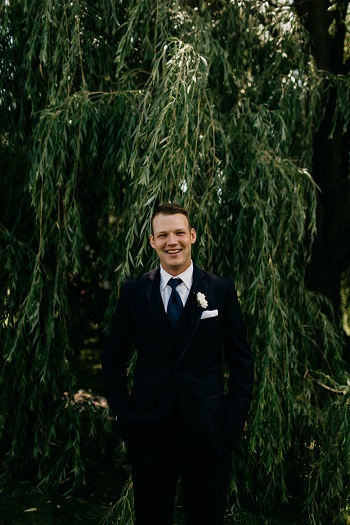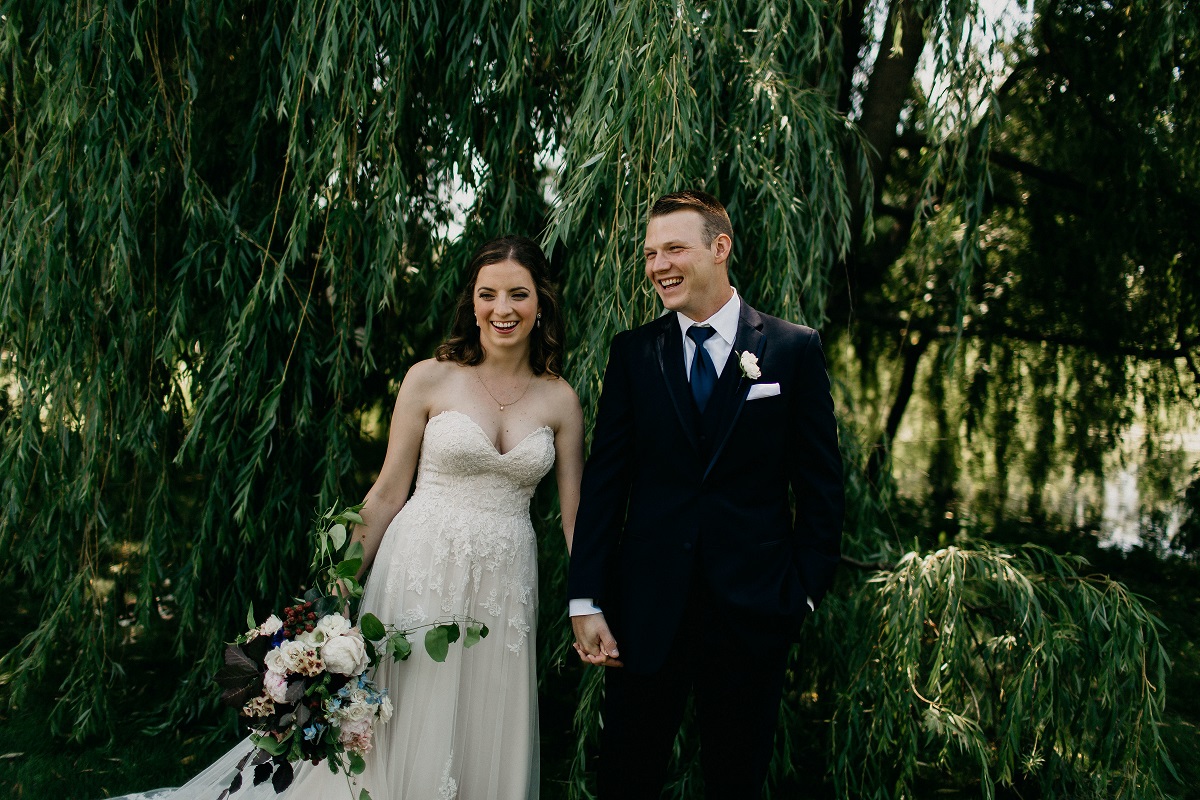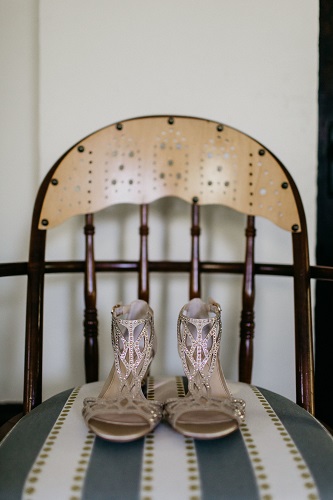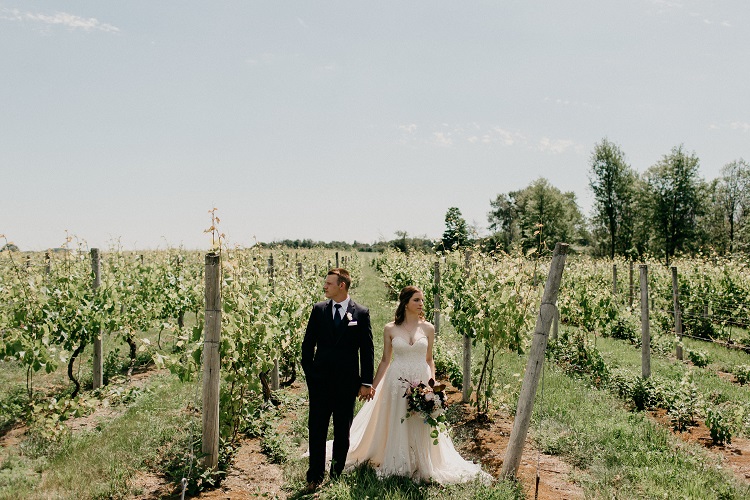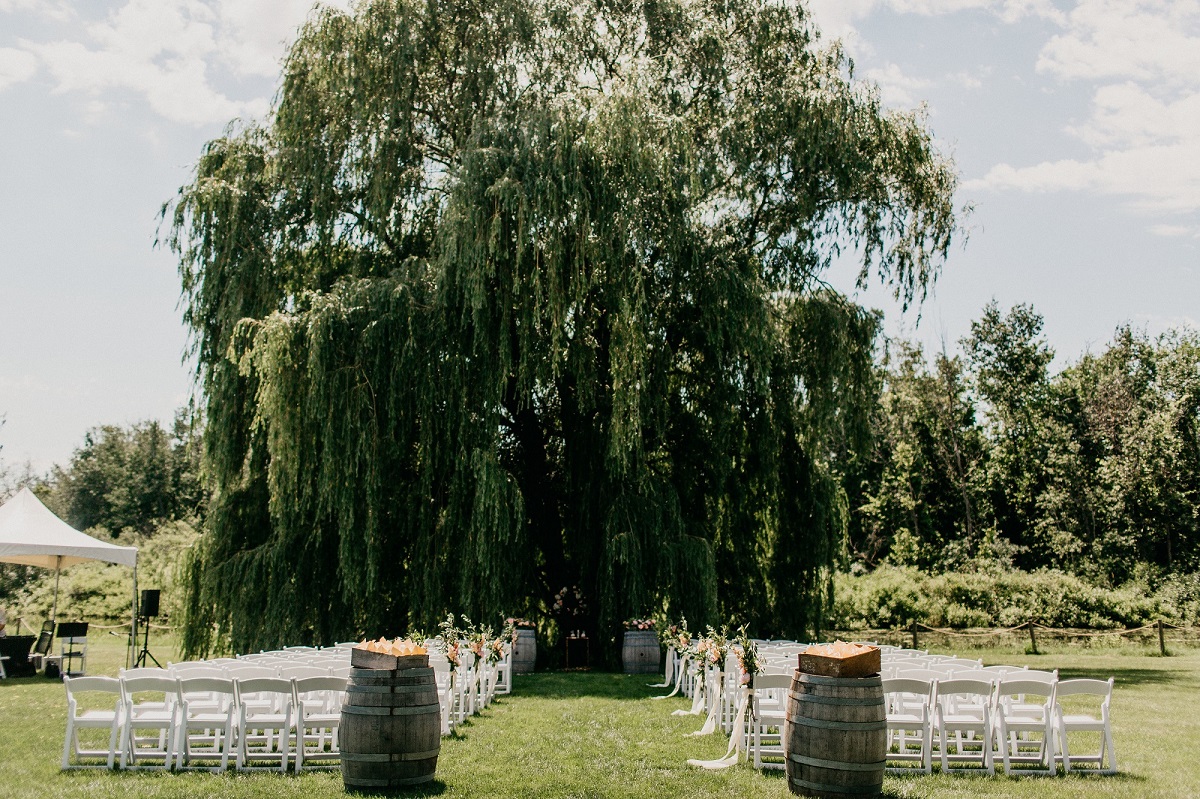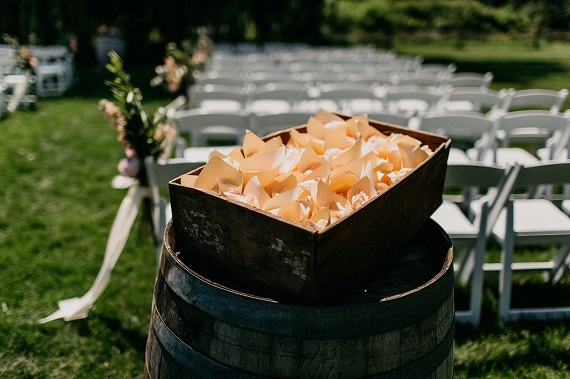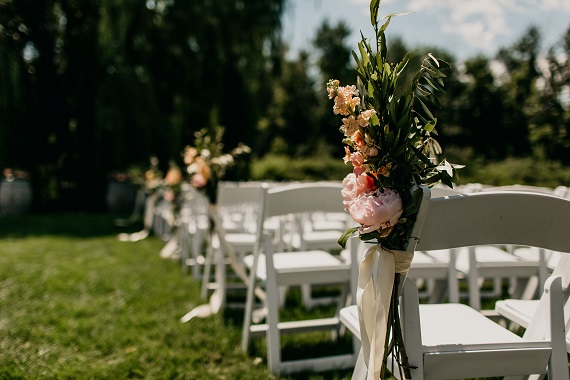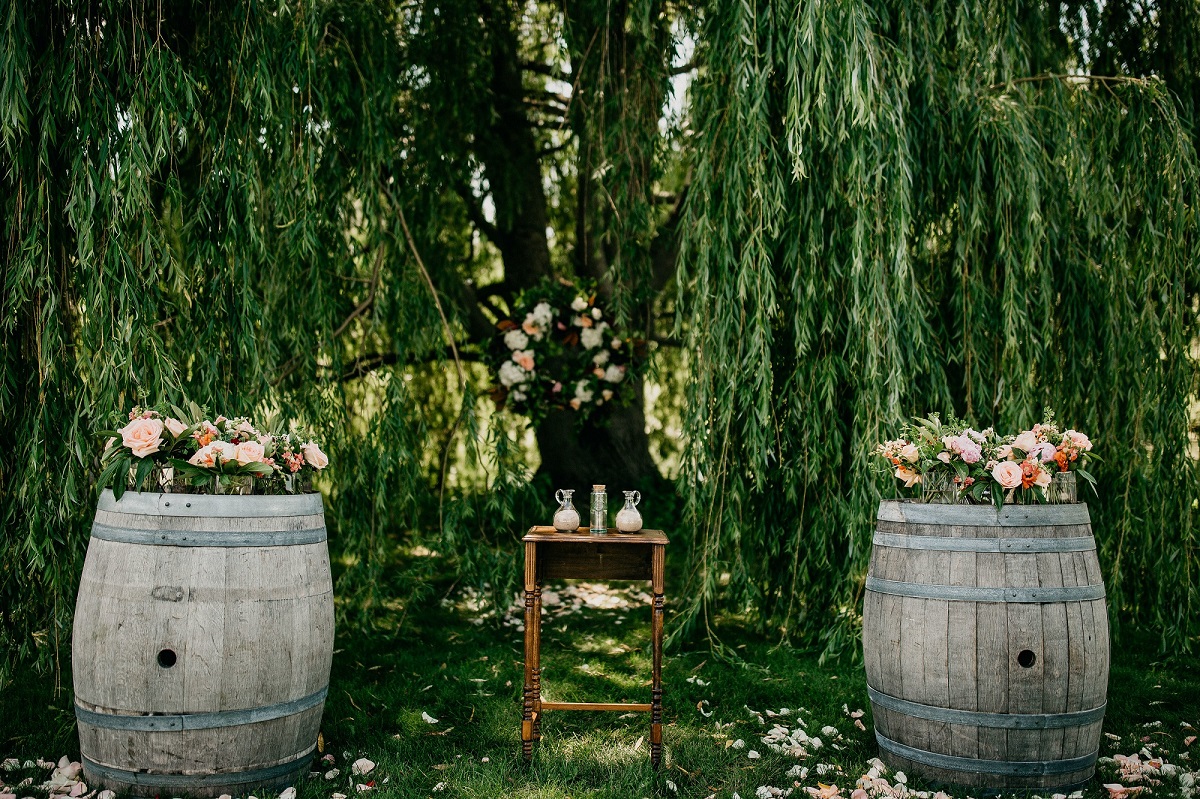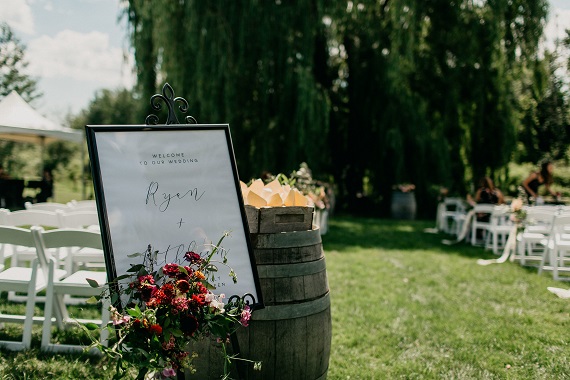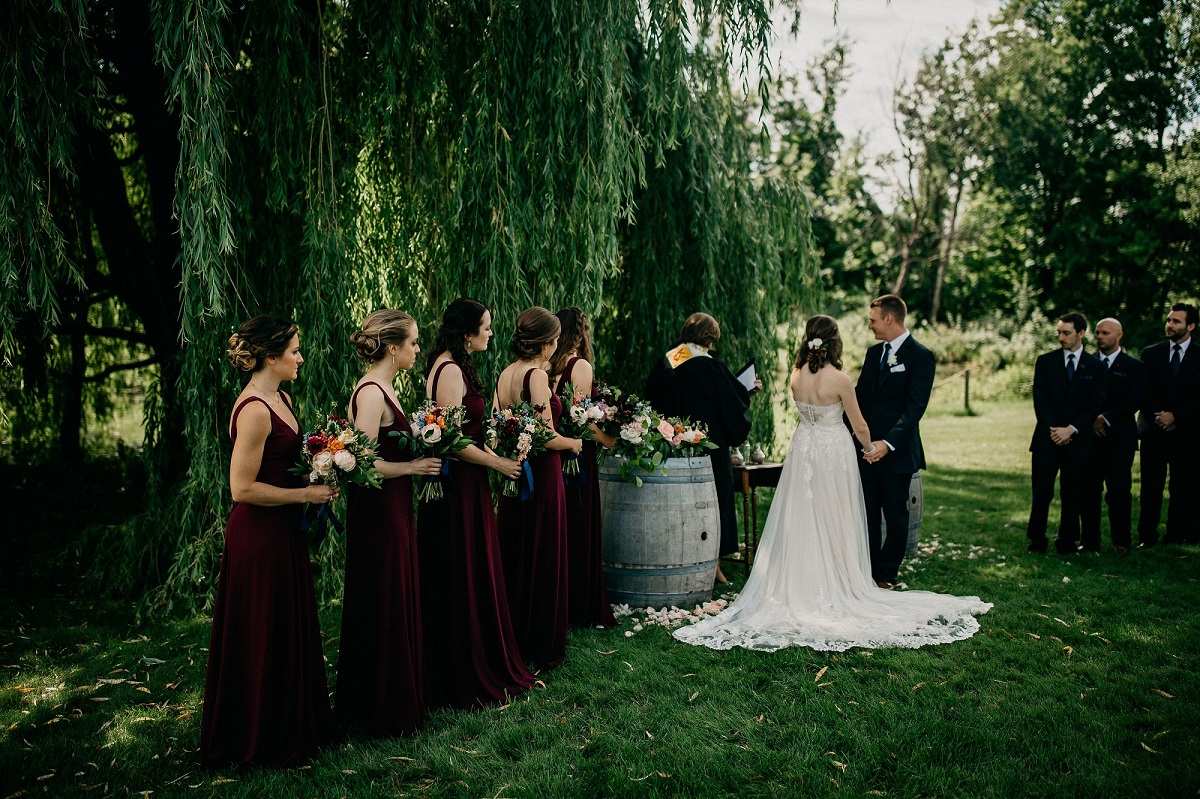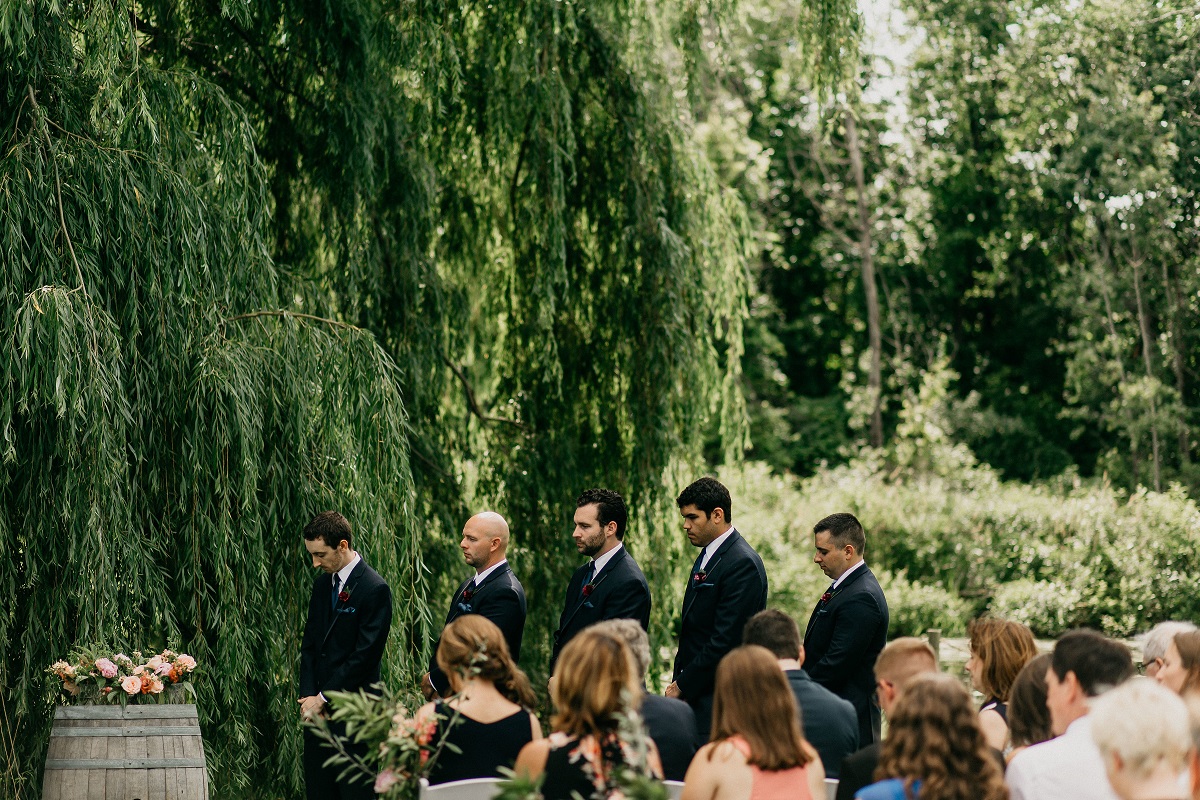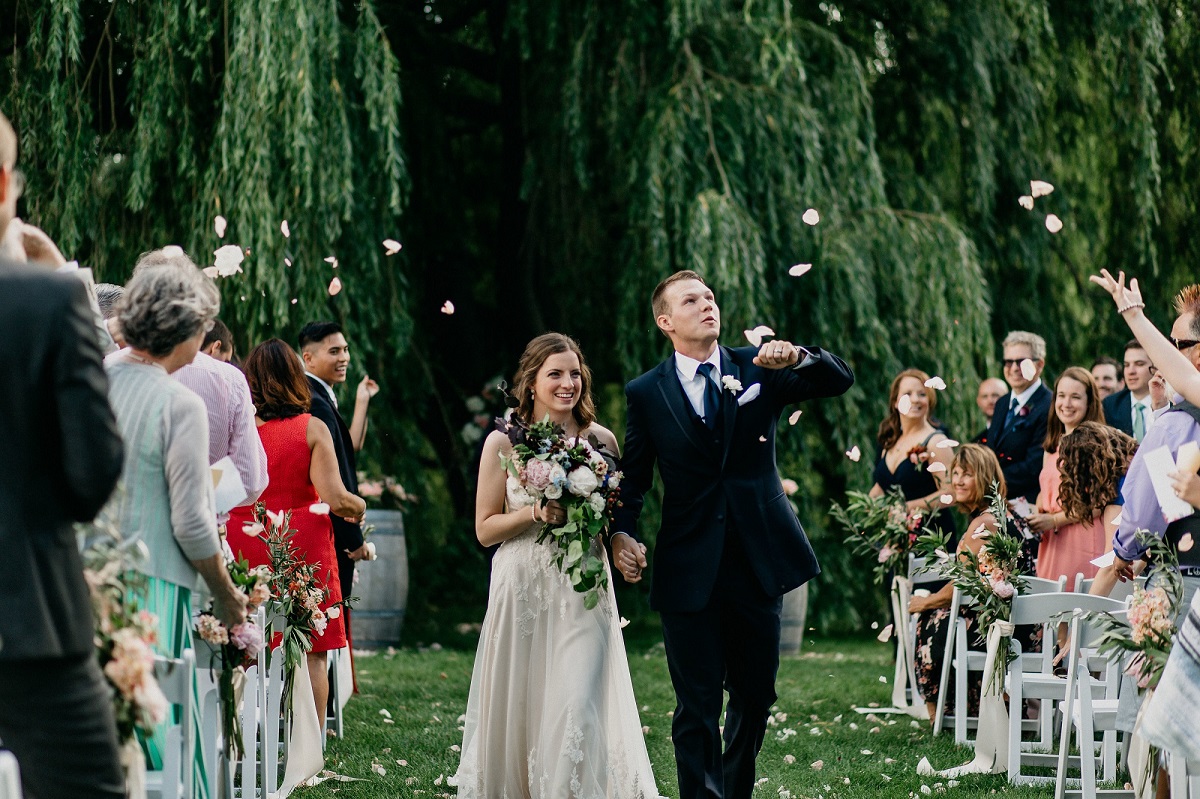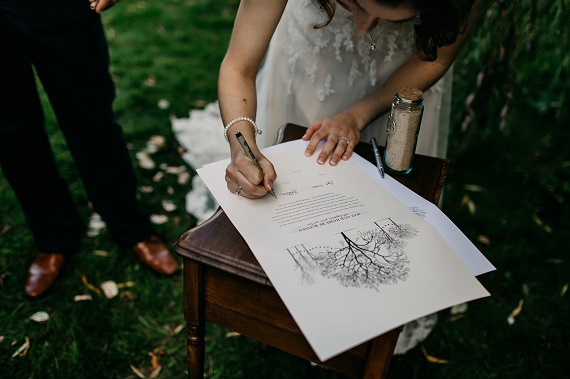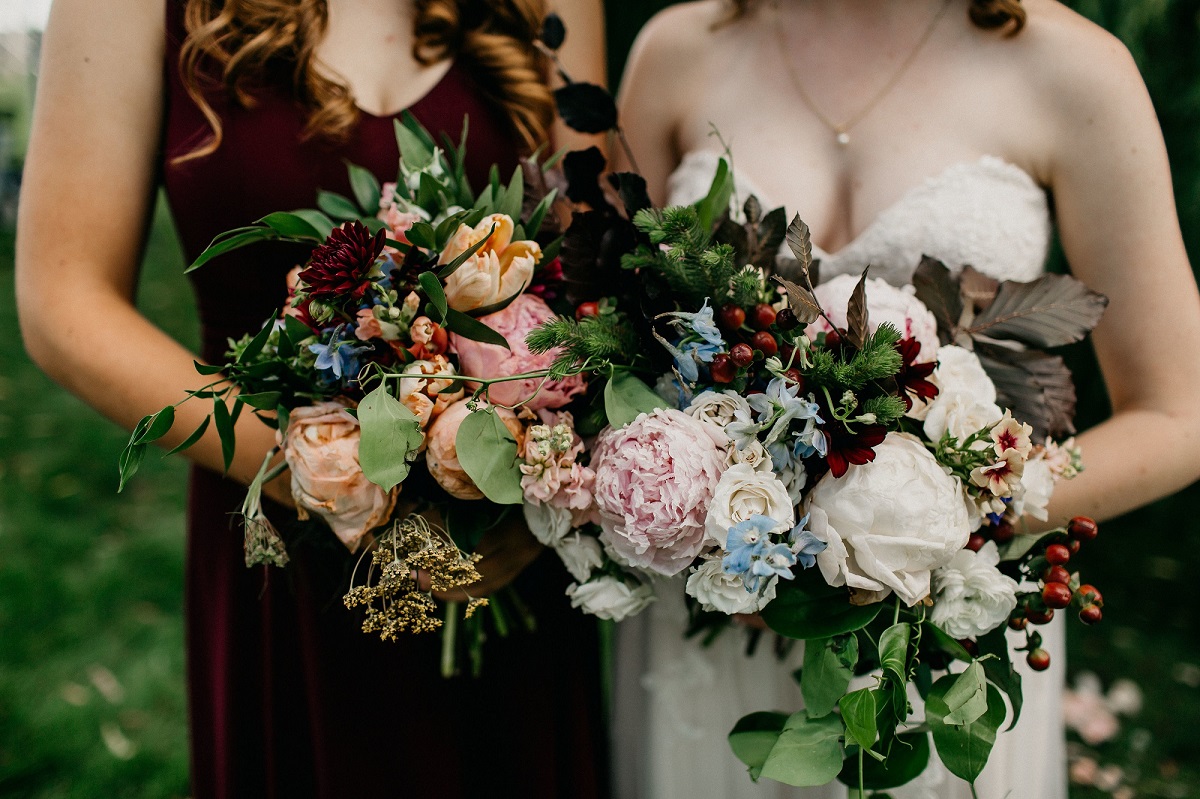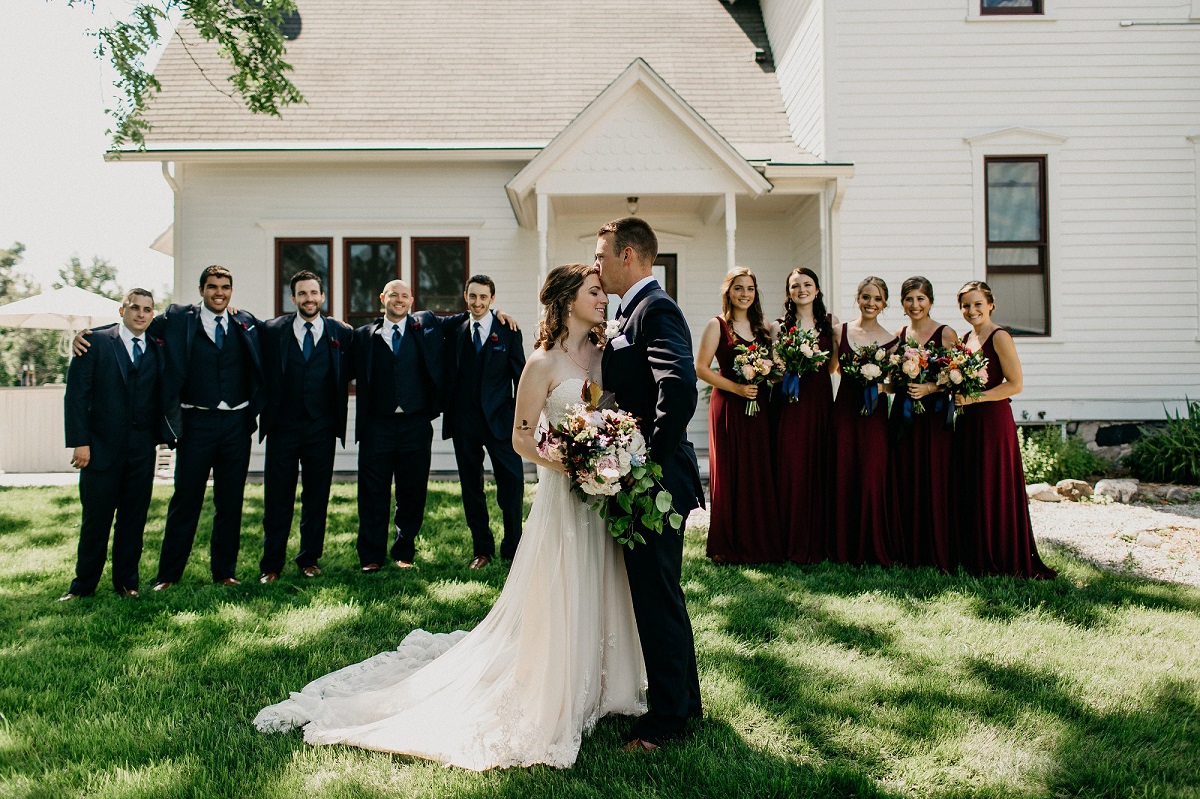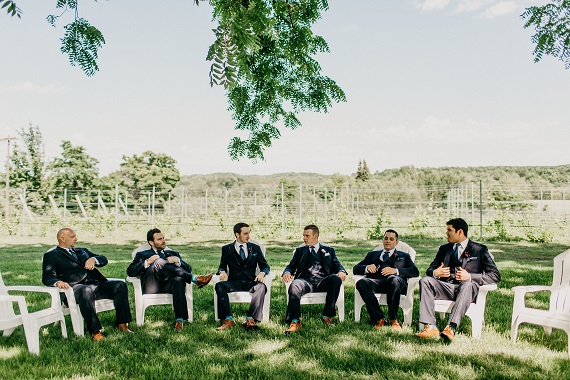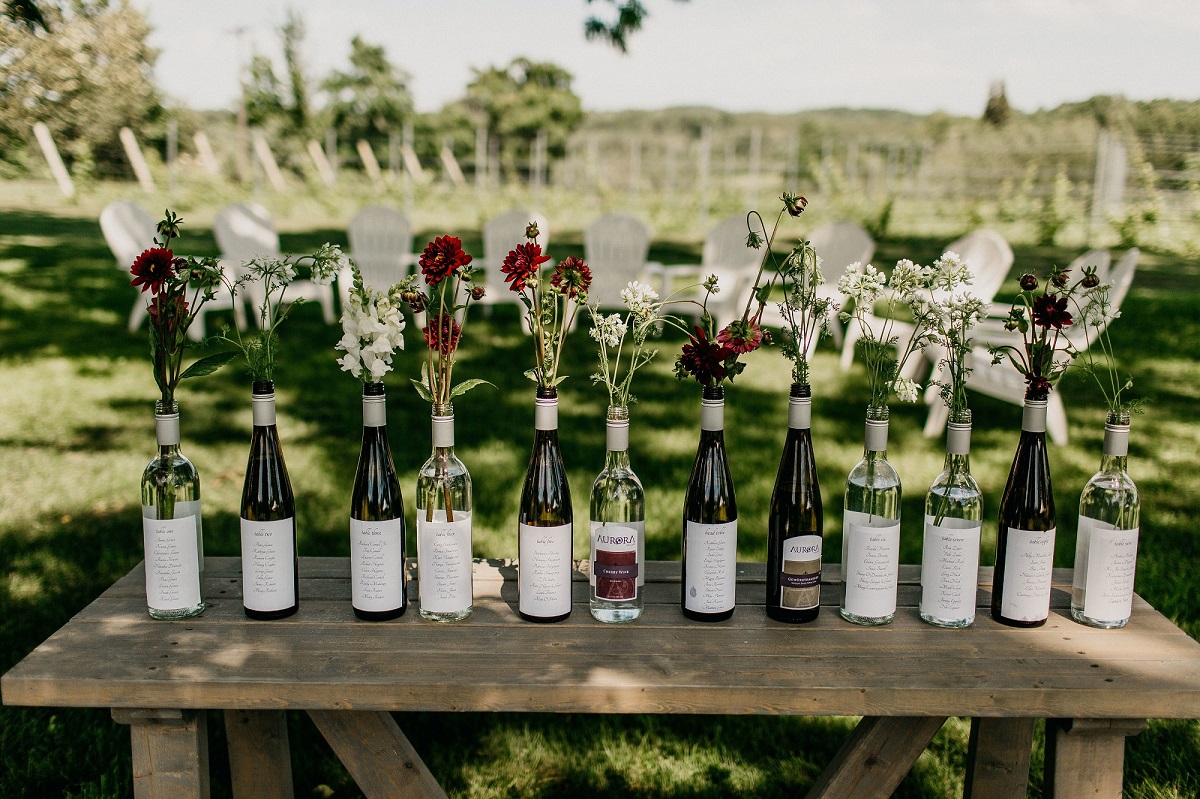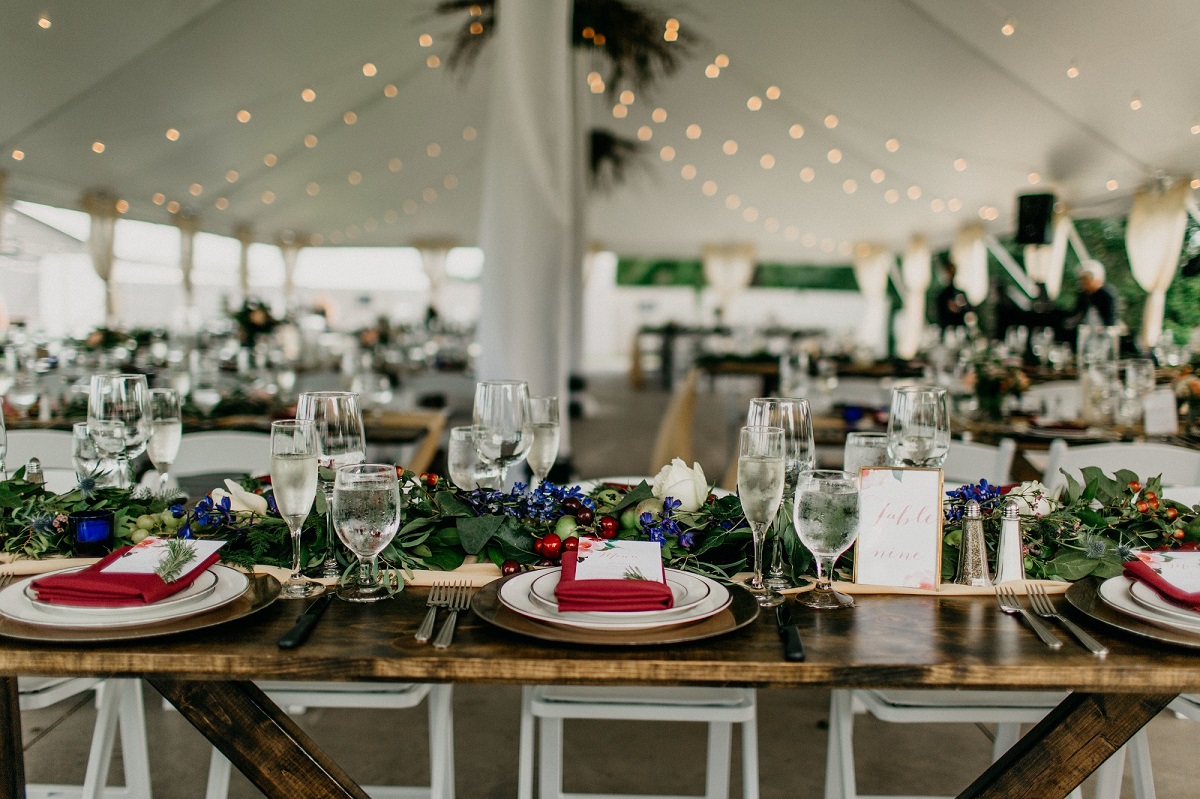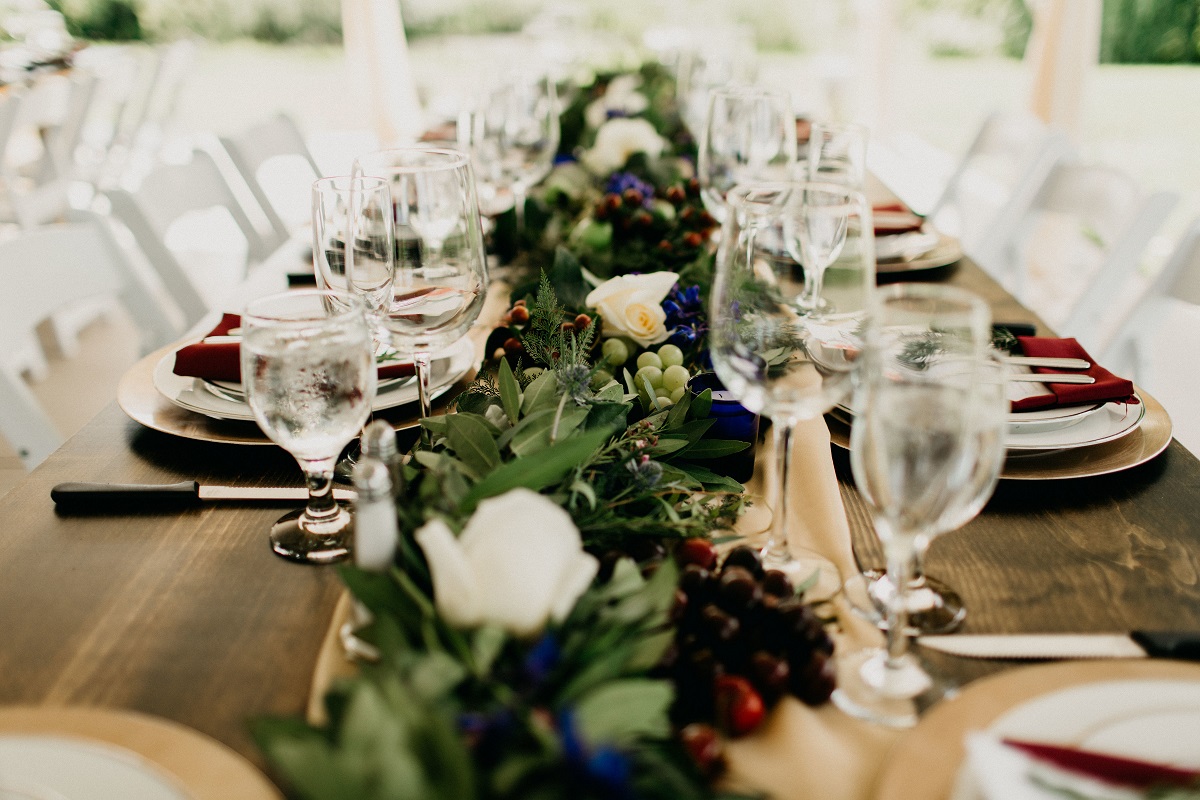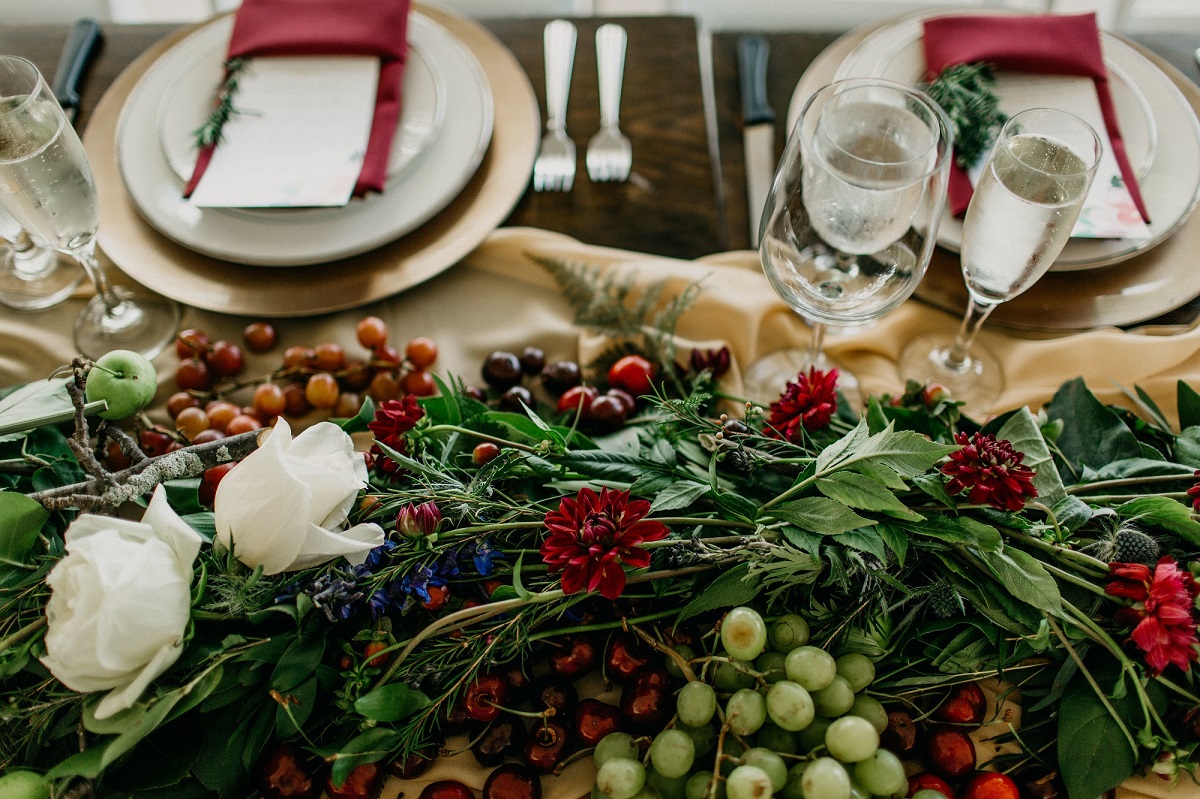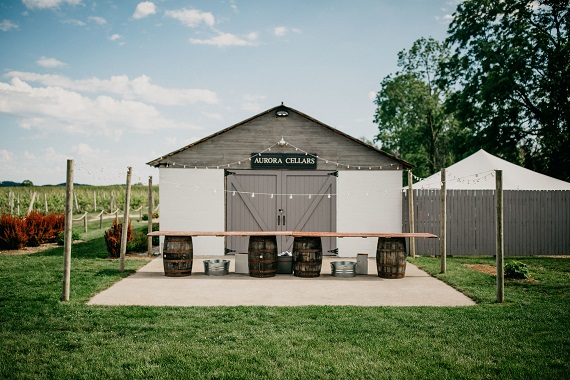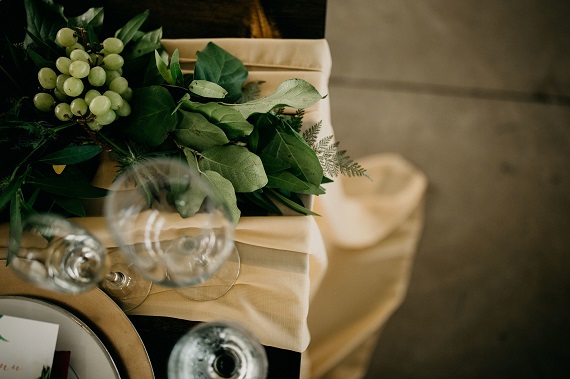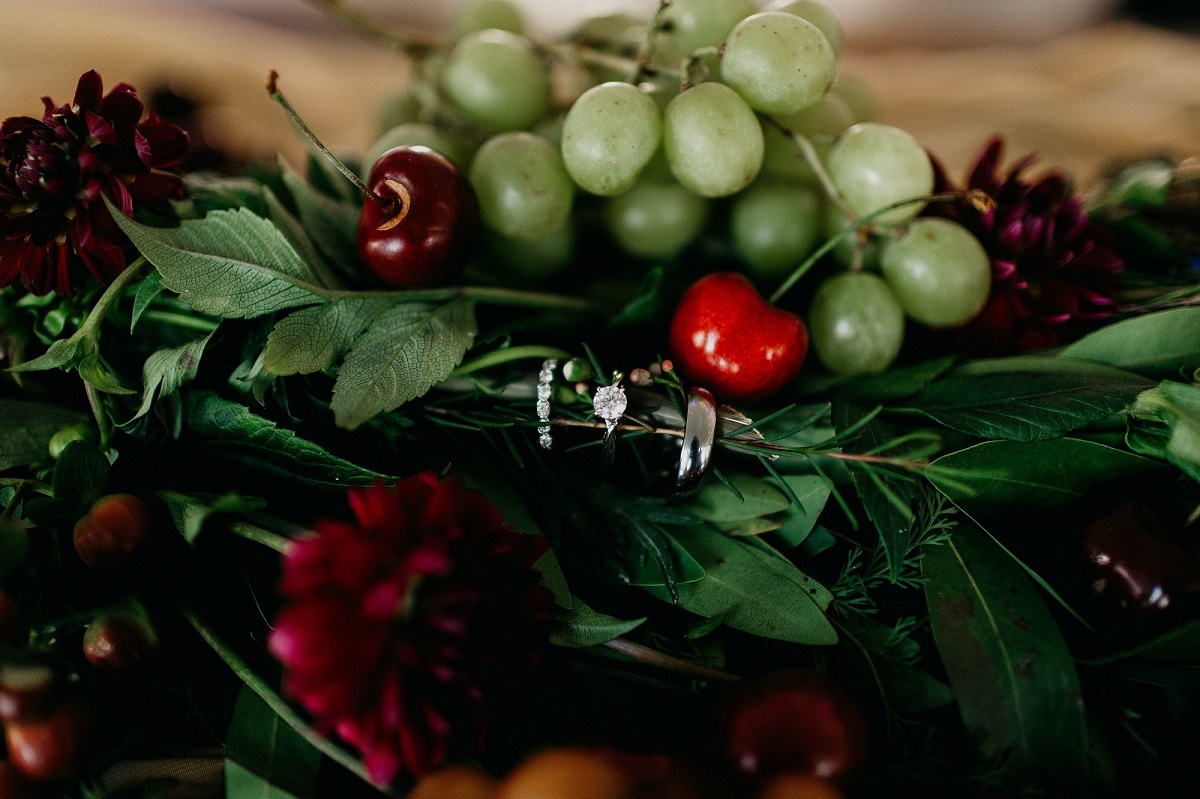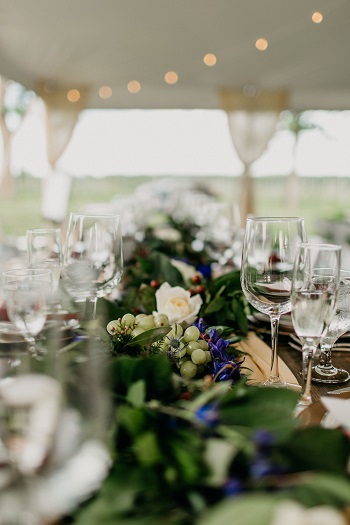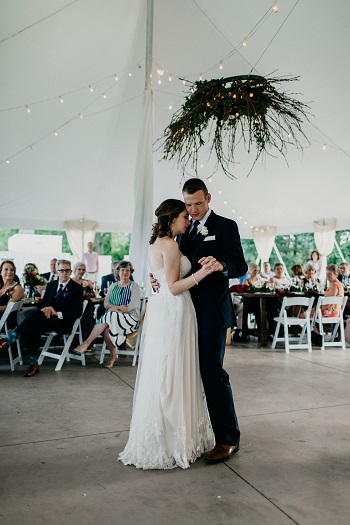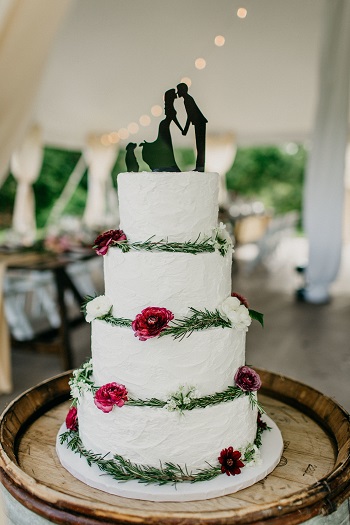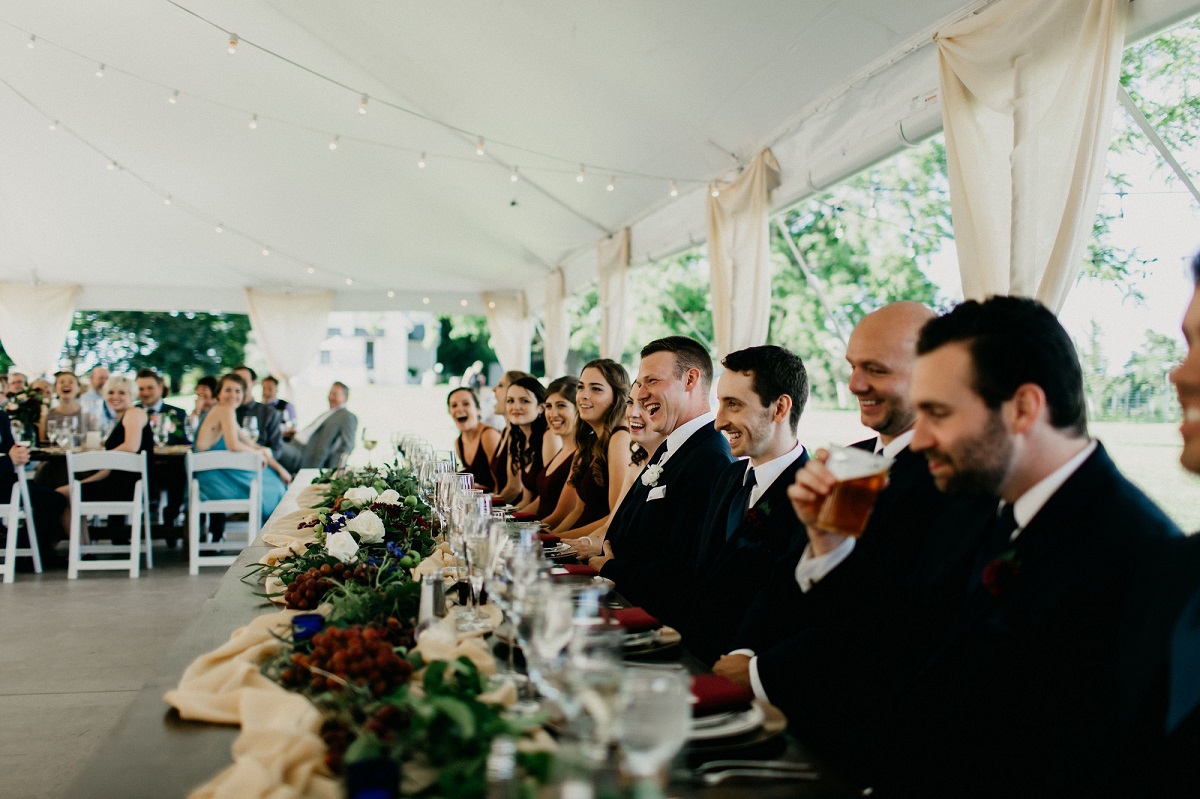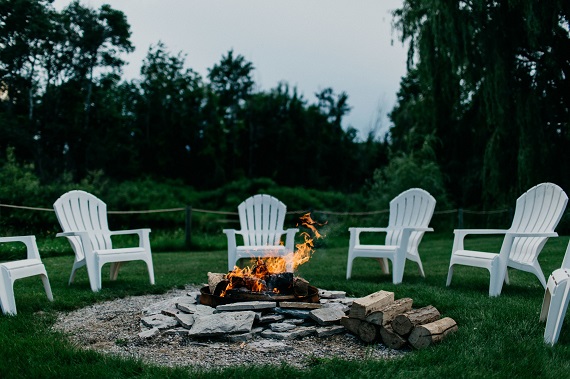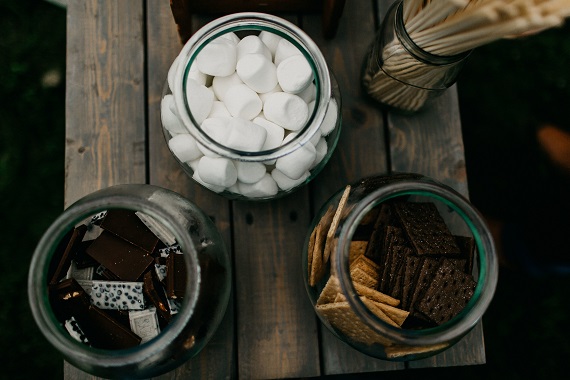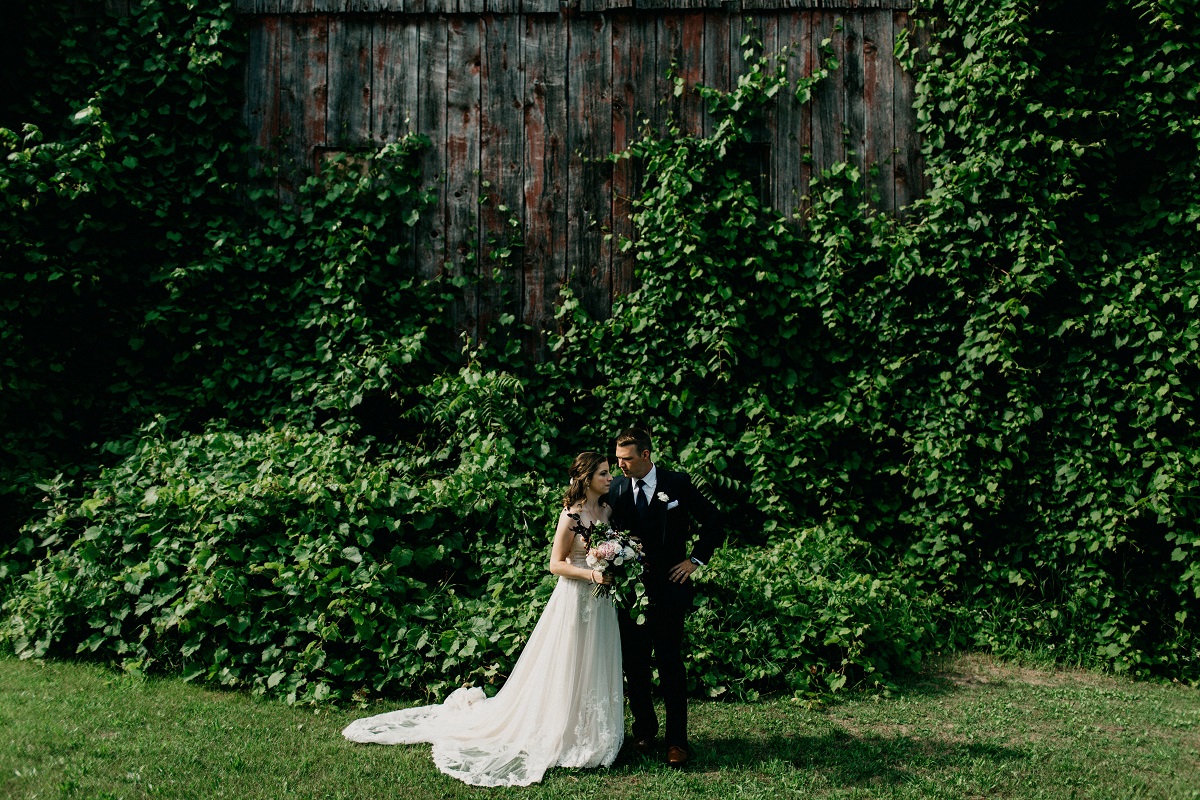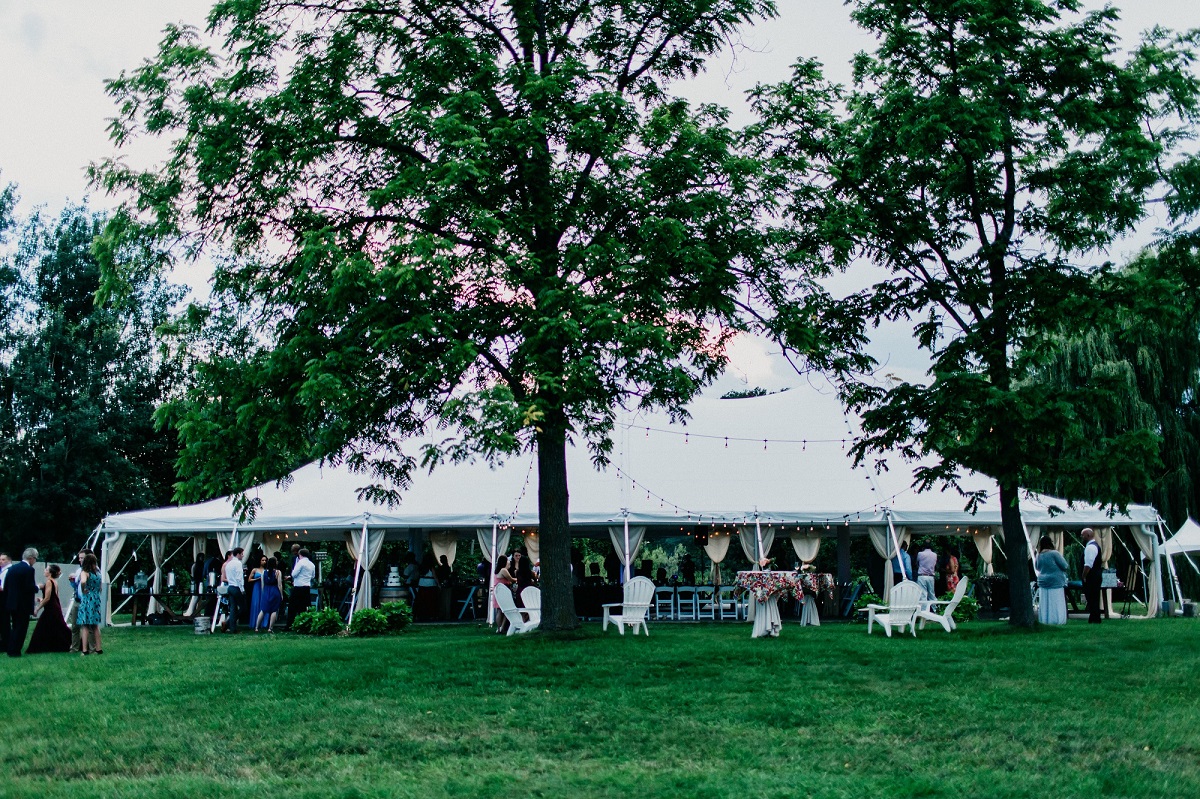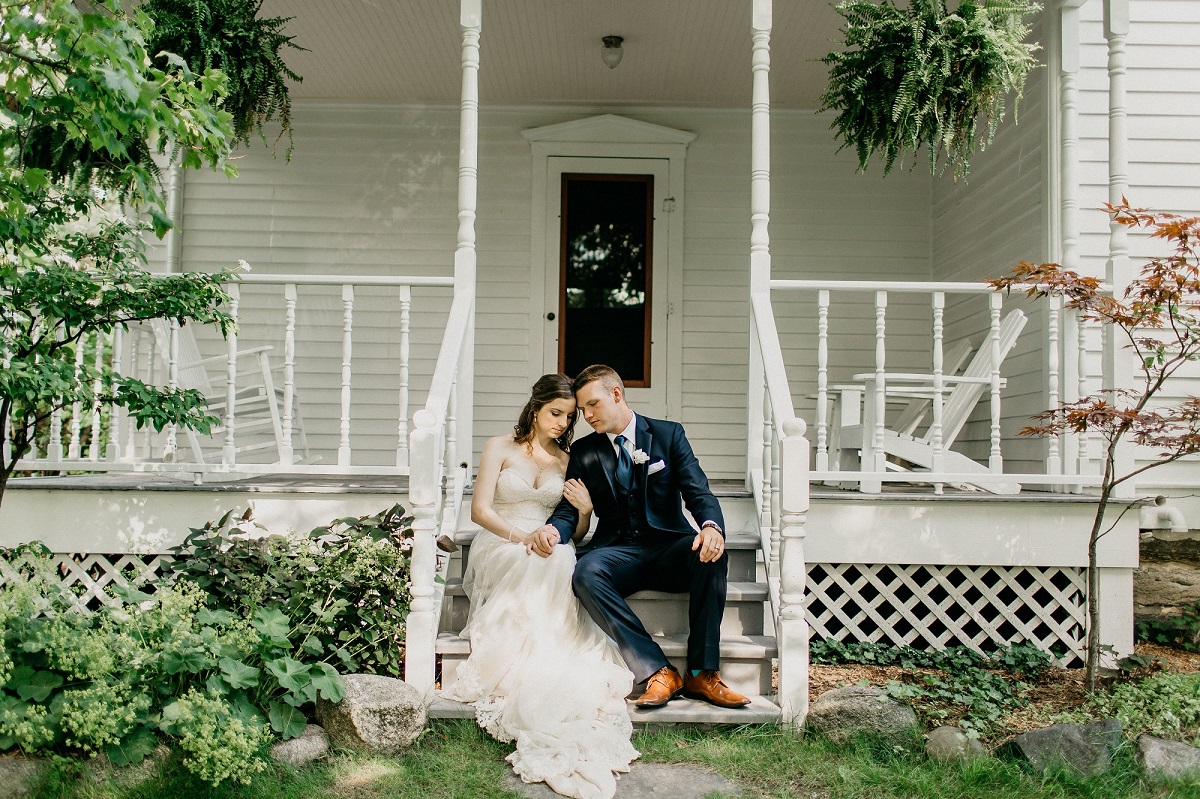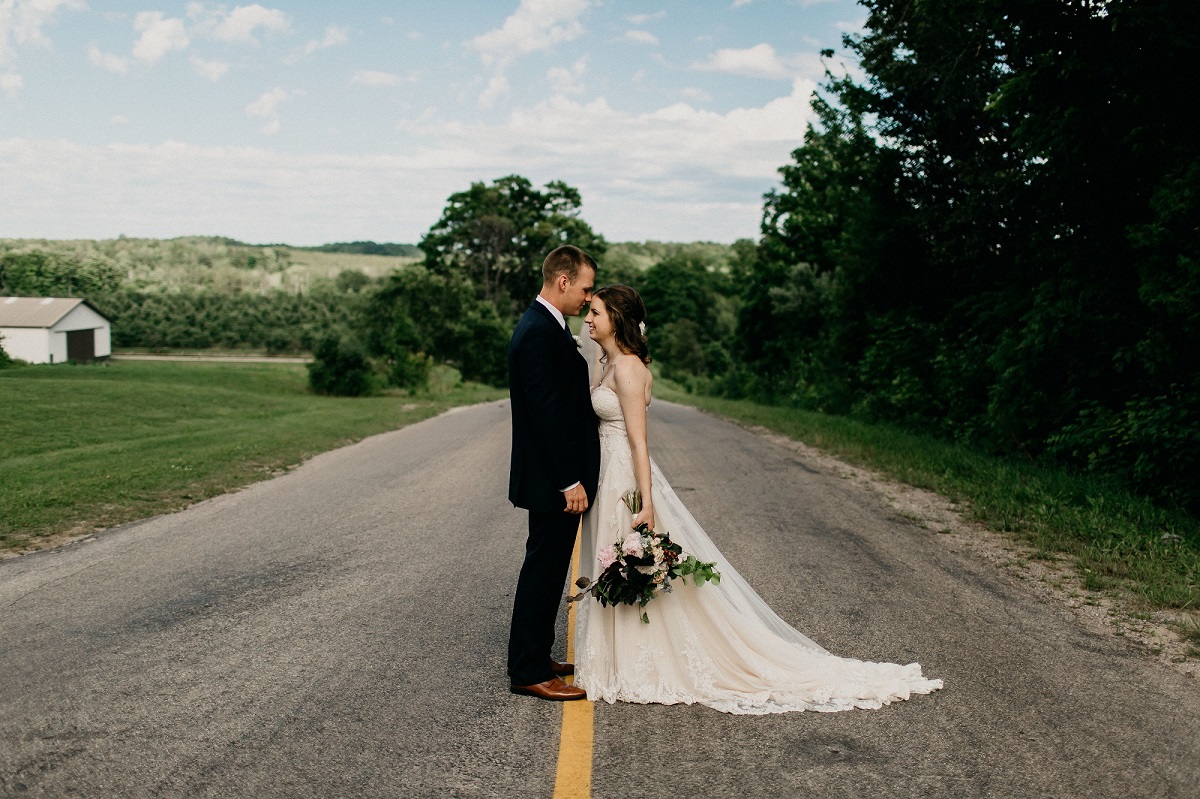 Creative Team
Design + Coordination:  Juniper & Lace Events | Venue:  Aurora Cellars | Photography:  Sweet Lemon Drop Photography | Videography:  White Owl Wedding Films| Floral Design:  Field of Flowers | Catering:  Bayside Gatherings | Drape & Lights:  Monstrey MacDonald | Runners:  Special Occasions |  Menus, program, table number, & small sign design:  La Bohemme Paper Co | DJ:  Northern Michigan DJ | Ceremony Music:  August Strings | Cake:  Cake Connections | Hair & Makeup:  Evolve Salon | Officiant:  Pastor Mary