Southern Romance in Northern Michigan, a Summer Wedding in Lake Leelanau
Rhea & Rog met at Vanderbilt University.  They share a passion for music, a love of family, and an appreciation of travel and cultural experiences.  They are also a really fun and thoughtful couple, the kind of people I have the best time planning with and then miss after the wedding weekend.  These exquisite photos from Carrie House Photography and that stunning film at the bottom by SJK Productions take me back to an incredible weekend in Lake Leelanau.  Rhea sent us some back story to pair with the photos so grab a latte or a glass of wine and enjoy!
From the bride | How we met–Not your typical "we met in college story"
Roger and I met briefly my first day of college at Vanderbilt.  We didn't talk much until the end of Roger's senior year (my sophomore year).  We had our first real conversation while sitting next to each other at a Vanderbilt basketball game, and instantly clicked.  We went on a few dates, but just as things were getting good, we were hit with the harsh reality that Roger would be graduating and moving to Houston for his first job, and I'd be staying in Nashville to finish by remaining two years of college.  We ended things and moved on peacefully with the thought that if things were meant to be, they'd be.  Two and a half years later, I was in graduate school at Vanderbilt, and Roger was visiting Nashville for the Homecoming game.  We ran into each other in downtown Nashville when we were out with our friends after the game.  We got back into touch after that fateful encounter, and had just as much chemistry as we did the years preceding.  The timing still wasn't right, though, because I still had to finish graduate school, and I wanted to get a job in the big city where I didn't know anyone.  Meanwhile, while I was in college, my parents moved from Lafayette, Louisiana to Houston, Texas where Roger was still living.  Upon my graduation, I started looking for jobs in big cities all over the country.  Ironically, my first job offer was in Houston, TX.  Its like we were meant to be.  I called Roger to tell him that I'd be moving to Houston, and the rest was history.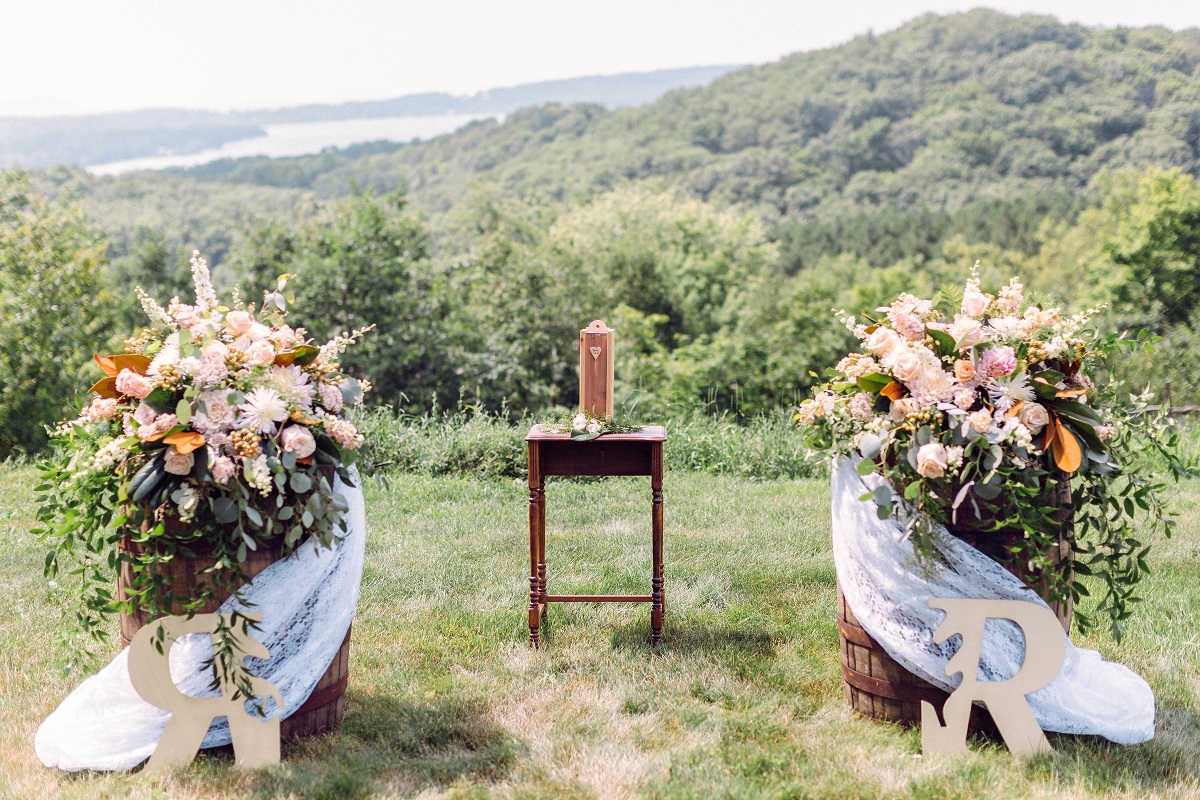 Rhea, born in Trinidad and raised in Louisiana, and Rog, a Texas native, wanted their weekend celebration to be meaningful, intimate, full of great music, and reflective of a tasteful luxe southern vibe.  Rog's parents' home in Lake Leelanau provided the perfect bespoke setting with its matchless views, over rolling forested terrain, of Lake Leelanau and Lake Michigan.  A soft romantic palette of blush, white, and green complimented the natural setting while lush floral design on wine barrels flanking the hilltop ceremony, a farm table garland loaded with dahlias and roses and accented with magnolia leaves, and a stunning carnation chandelier over the bar (Premier Floral Design) made graceful statements of Southern charm & hospitality.
Music and wine kicked off the weekend festivities as Rog's brother Alex's band entertained guests on the garden patio of a local winery for rehearsal dinner.  A local mandolin-guitar-bass trio with accomplished musician, Don Julin, filled the lawn with acoustic melody on the wedding day and the popular MacDaddy Band brought out the best dance floor moves as the evening progressed.
Rog's brother Jon created a double R logo inspired by the oak leaf of Vanderbilt University, encircled with a Texan lasso rope.  This logo was creatively incorporated in the couple's invitation suite, cake topper, "R"s (Platypus Papers LLC) menus, and programs (Etsy template).  Rhea's mom is an incredibly talented artist and her handiwork in the bespoke garter, the hand-painted wine glasses, and gorgeous cake plate were beautiful meaningful details in the day. 
As a nod to Rhea & Rog's appreciation of culture and travel, table names were thoughtfully assembled from the couple's date & travel momentos—movie ticket stubs, hotel keys, plane tickets, museum passes, etc were framed and the corresponding cities labeled each table with a diversity that spanned the globe.
The menu for the evening featured local flare with area microbrews and farm greens from Grandview Catering.  A sweet two tier ice cream cake, six flavors of the locally famous Grand Traverse Pie Co pies, and four flavors of the award winning Moomers ice cream, (located half an hour away on their own milk-producing dairy farm), made for a decadent local dessert experience.  Cherries in the salad, pies, and ice cream were all a nod to this area of Michigan being the largest producer of cherries in the nation.
The revelry of the evening continued under strands of market lights, sunset glow, and romantic vibes, an exquisite, thoughtful, intimate celebration for a truly beautiful couple.
Full credits to a truly amazing creative team are listed at the bottom (under the sweet film from SJK Productions).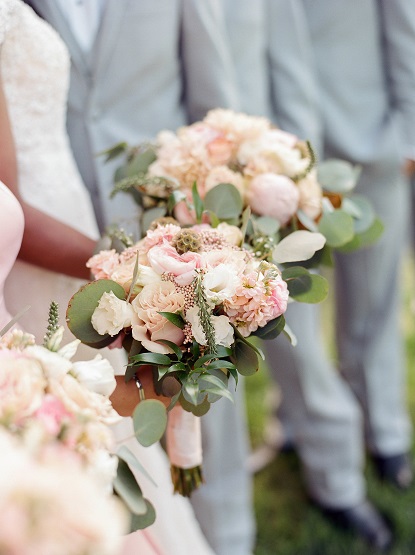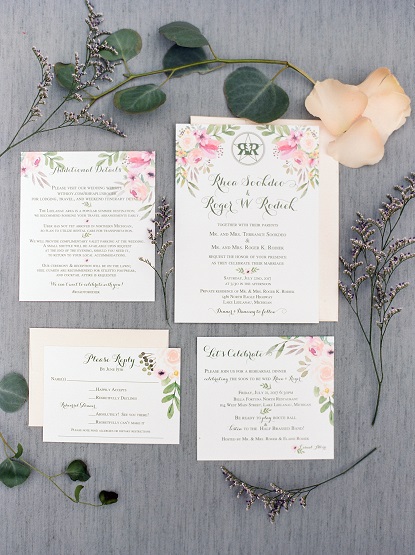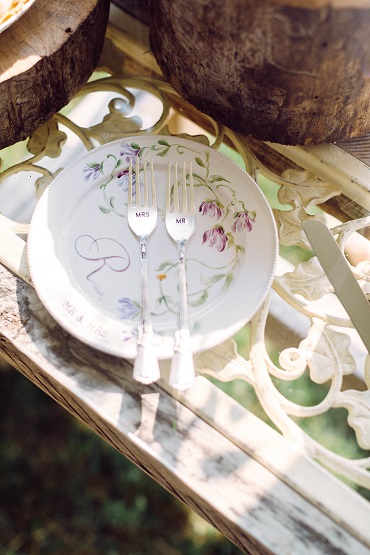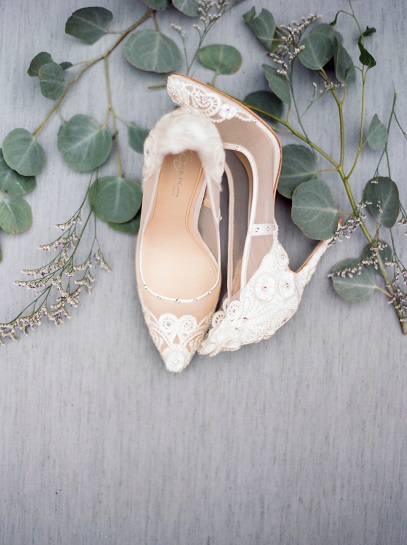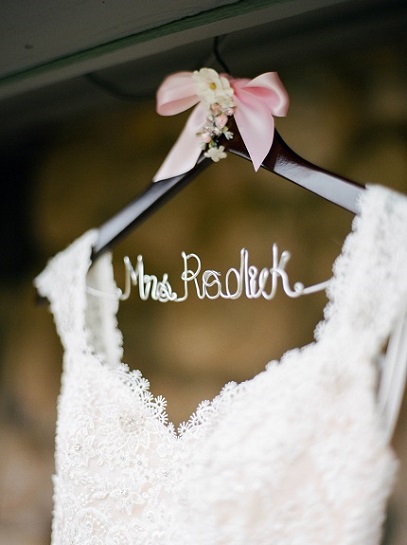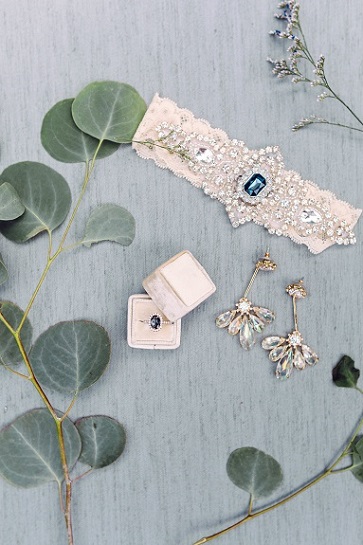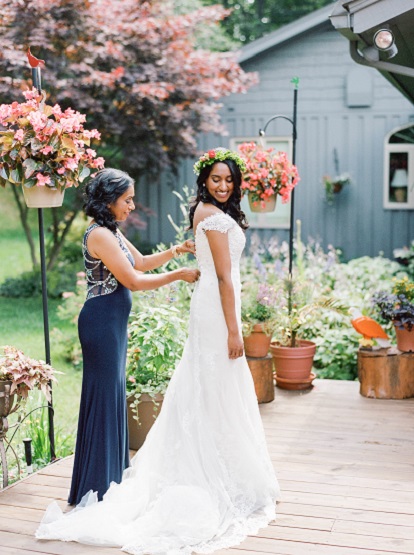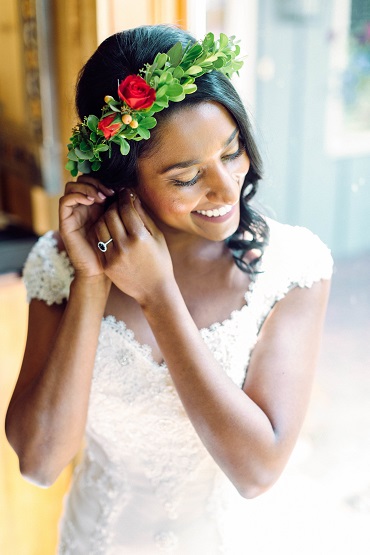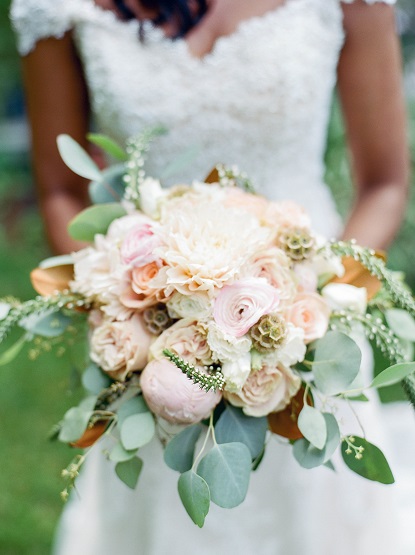 From the bride | The ring & the dress
The Ring | Roger told me that he wanted to propose to me with a ring that is "one-of-a-kind", just like you."  I do not know of anyone else who has an alexandrite engagement ring, so I'd say that he nailed it!  This stone changes color depending on the lighting, and can look blue, green, purple, red, and everything else in between!  Check out Rhea & Rog's gorgeous engagement session  with Carrie House Photography at Good Harbor Beach, featured on The Overwhelmed Bride.
The Dress | My mom and I drove to Lafayette, Louisiana, the city where I spent most of my childhood, to peruse small boutique shops for a unique wedding dress.  My wedding dress was actually the first wedding dress I ever tried on!  My mom and I fell in love with it immediately, but it seemed to good to be true.  I kept trying on dresses, and we kept browsing other boutiques, but nothing compared to the first dress.  The details in the lace and beading were unforgettable.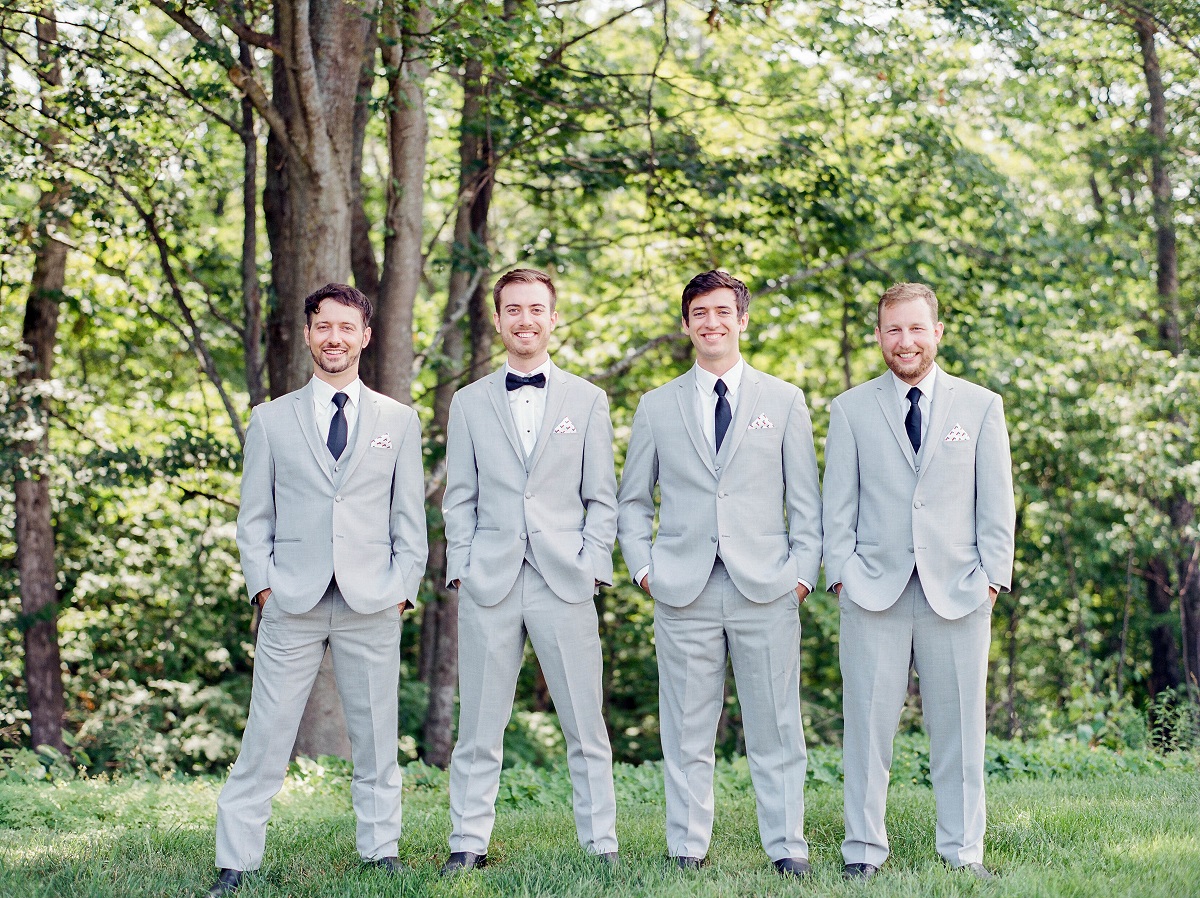 Rog and the groomsmen worked with The Knotty Tie to custom design pocket squares with miniature pictures of the Texas flag on them.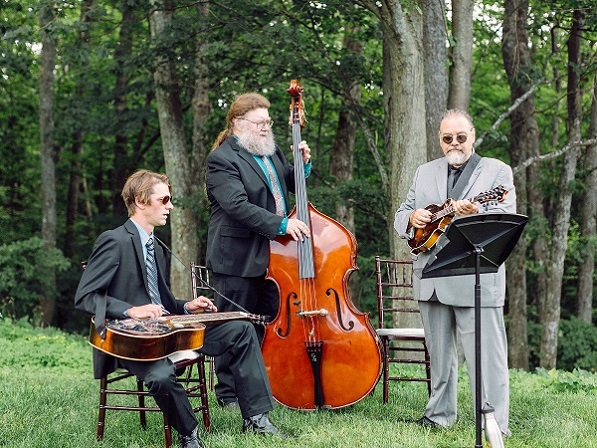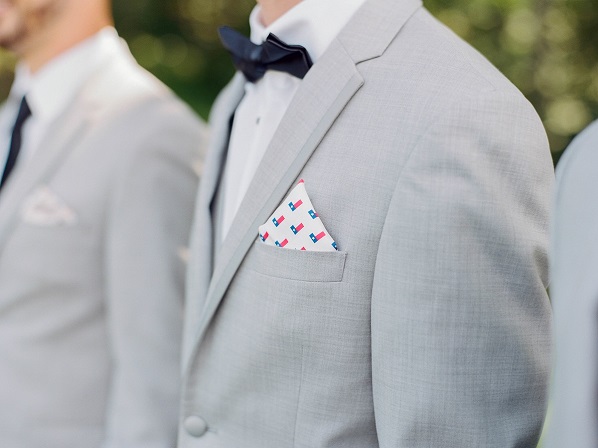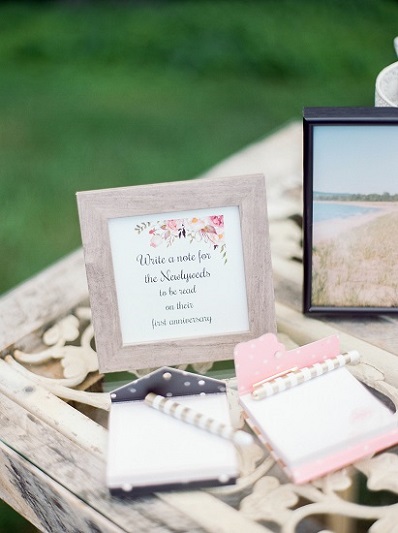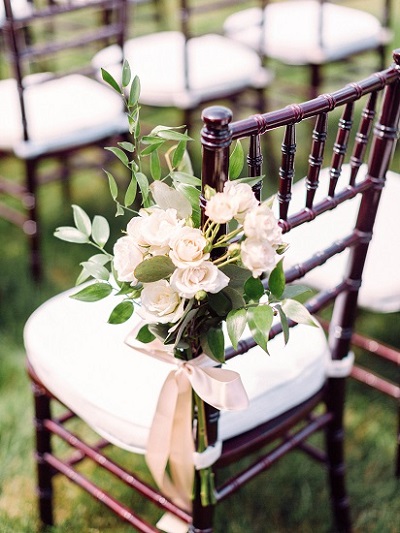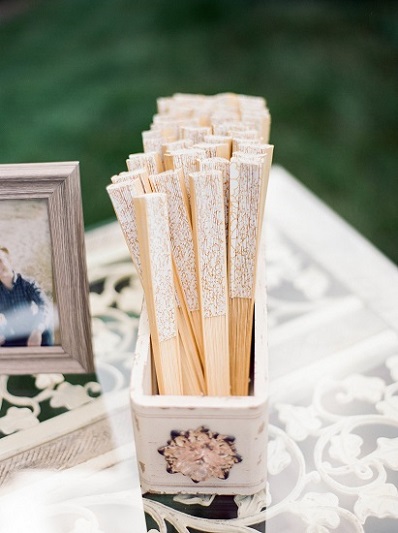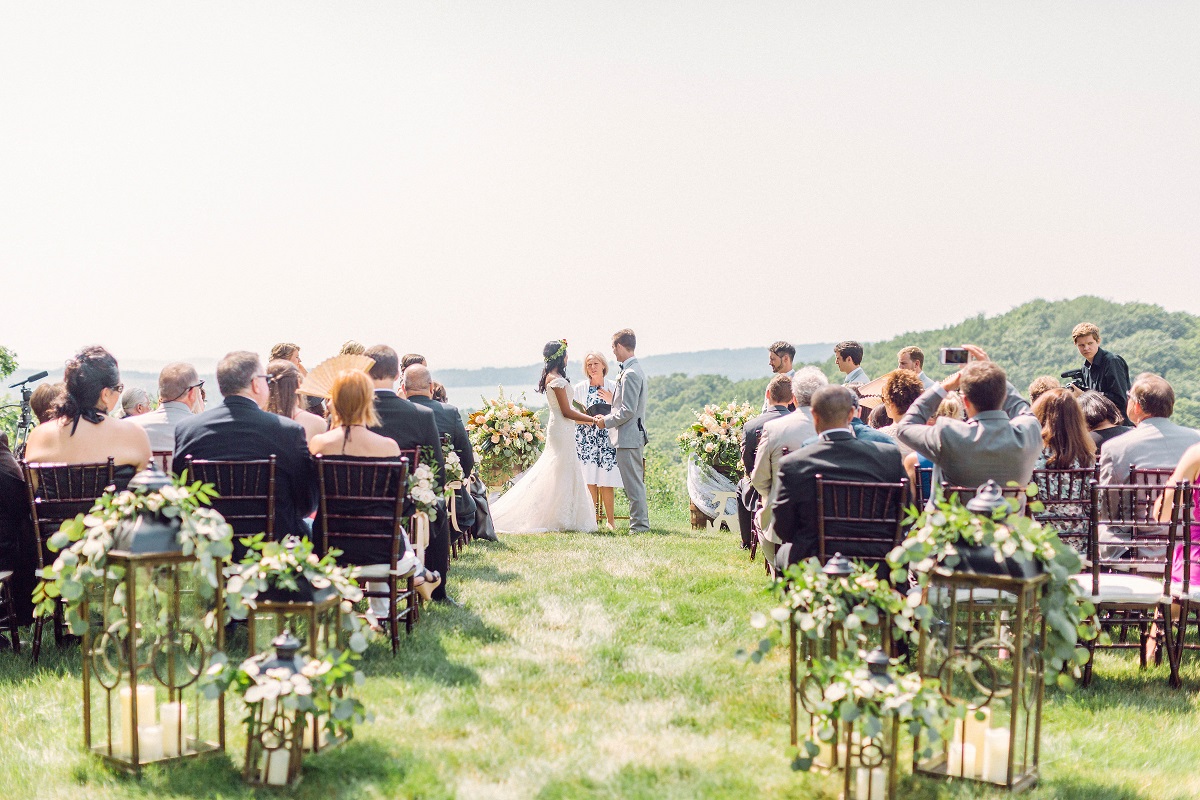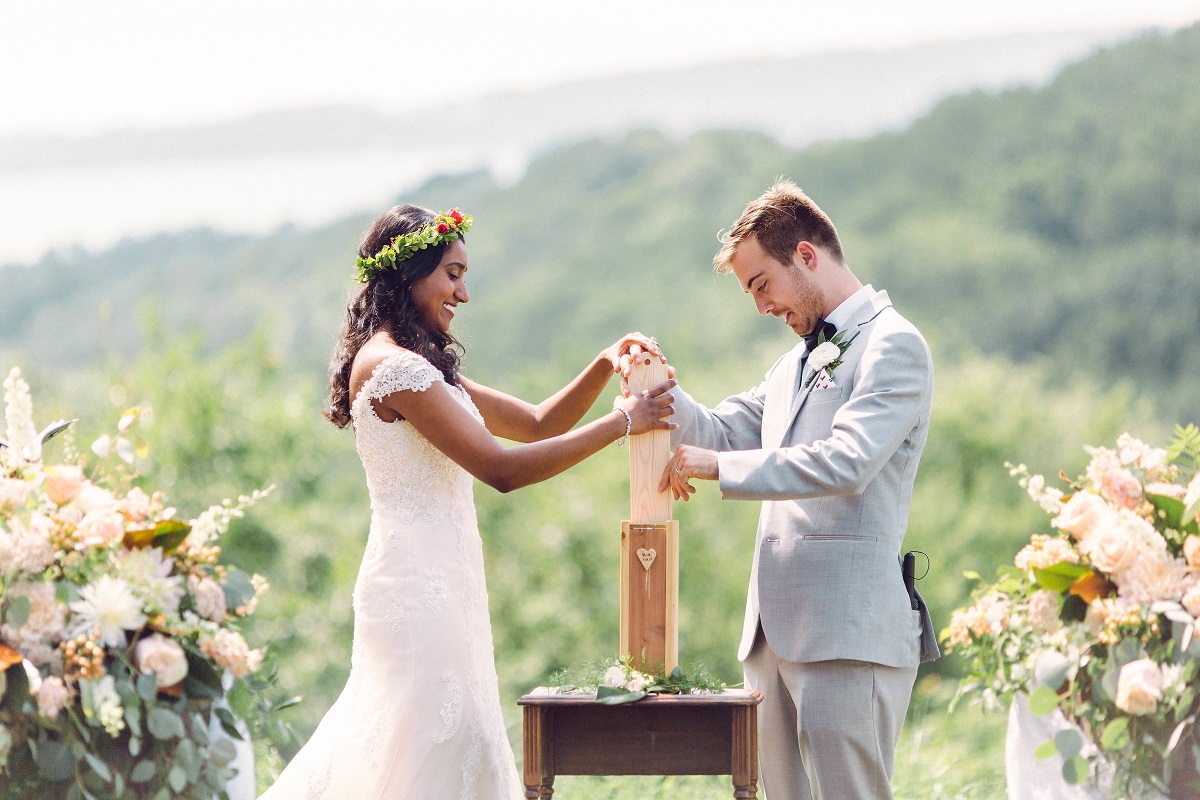 From the bride | The wine box & the buried bourbon
The Wine Box | Our altar area was marked with decorated wine barrels overlooking Lake Michigan and Lake Leelanau.  There was also a wine box, which was a gift from our wedding planner, Stacy Horn, that contains wine and notes from our guests.  We will open the box on our 5th anniversary.
The Buried Bourbon | It was supposed to thunderstorm on our wedding day, but thankfully the rain cleared up in the morning.  True to Southern folklore, Roger's older brother and his wife had buried a bottle of bourbon upside down near our ceremony site to keep the rain away.  We got a shovel during the reception and dug up the bourbon bottle, and passed it around to all of our guests.  We all drank straight out of the bottle!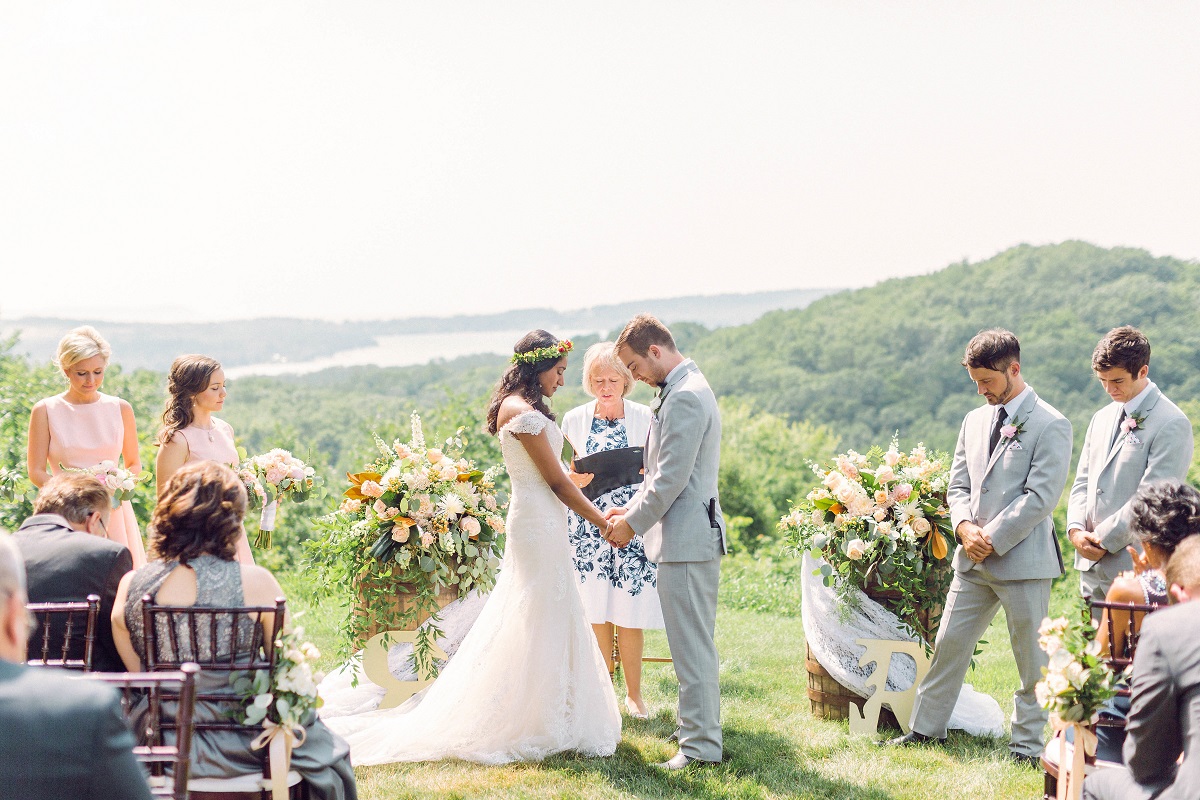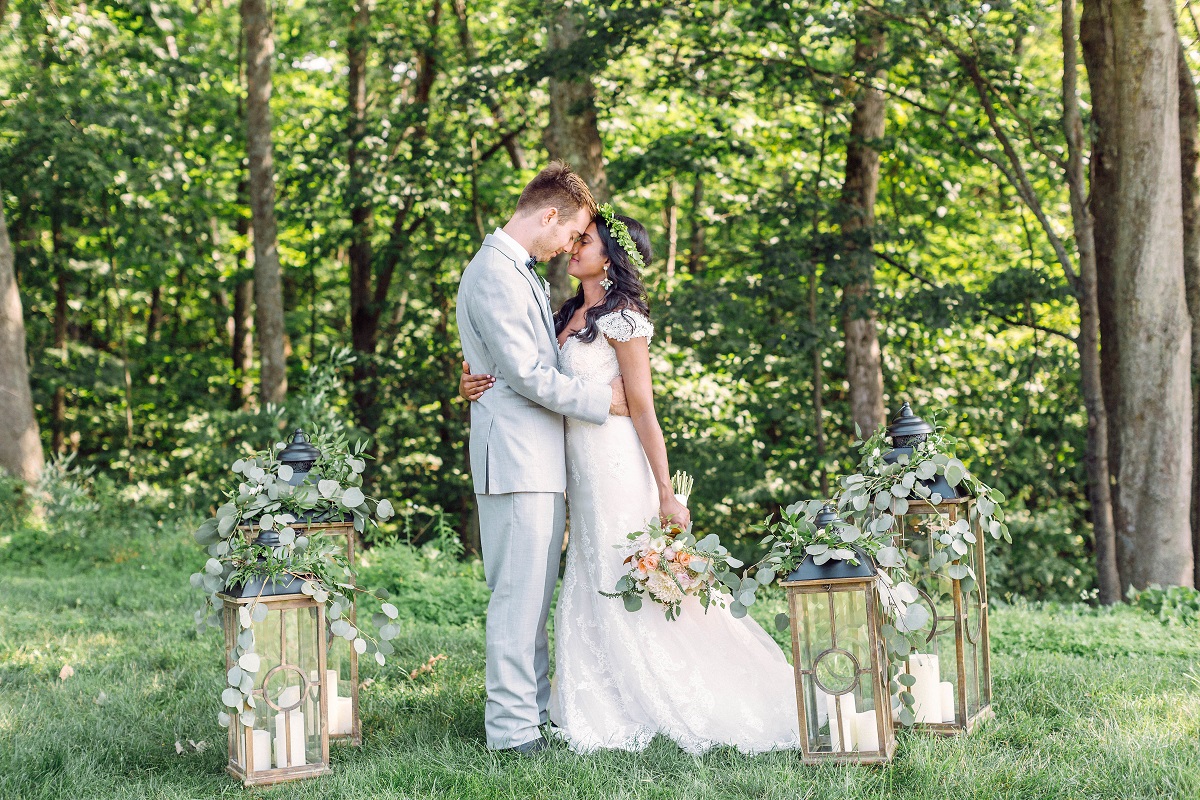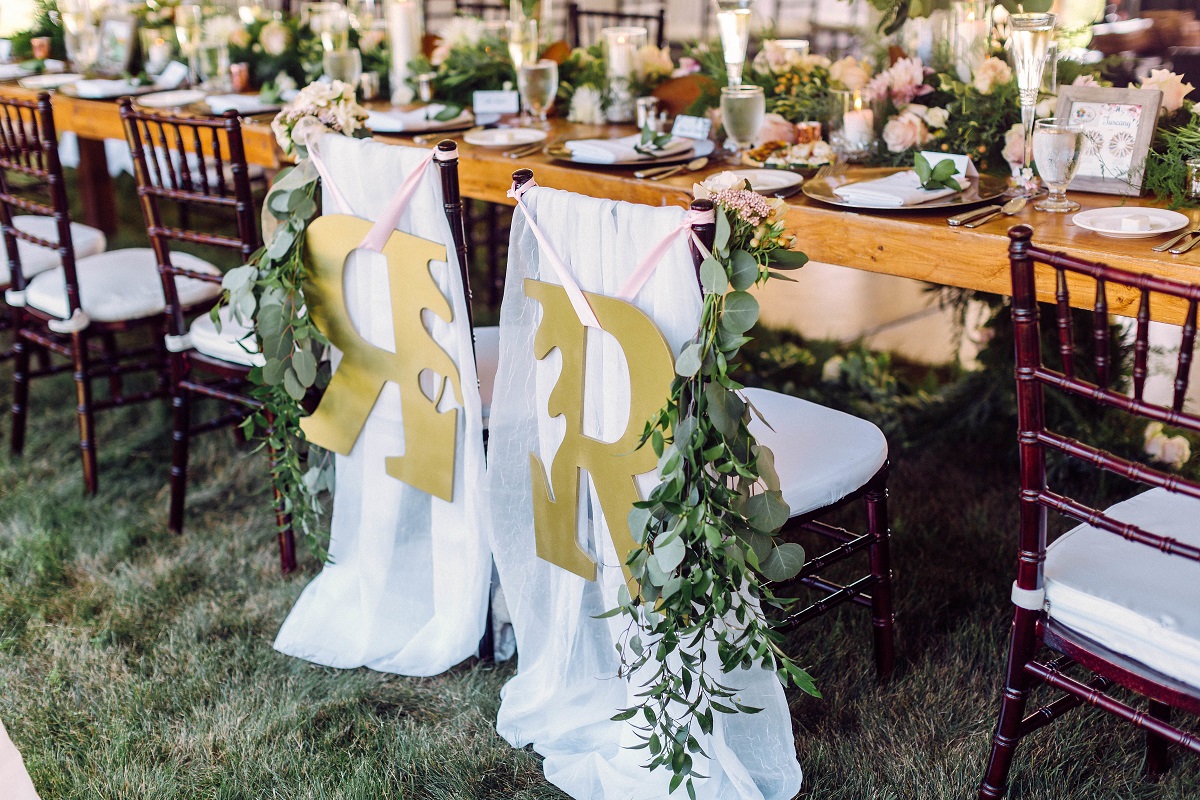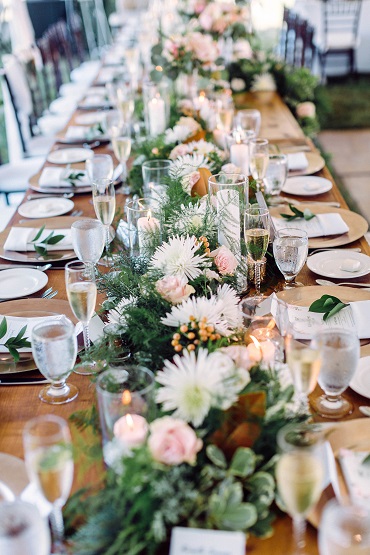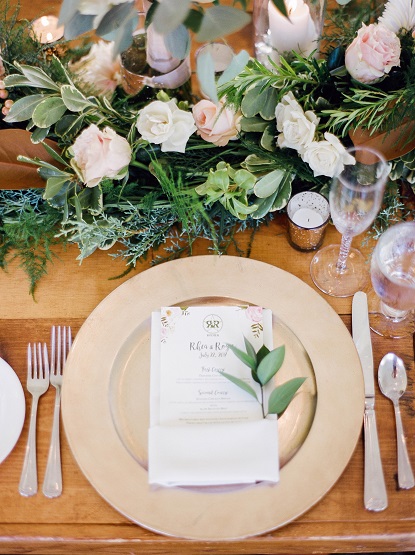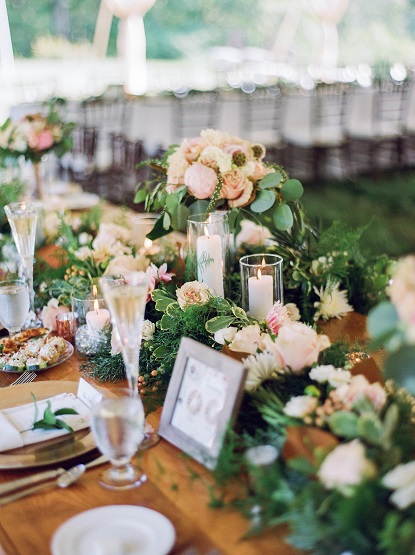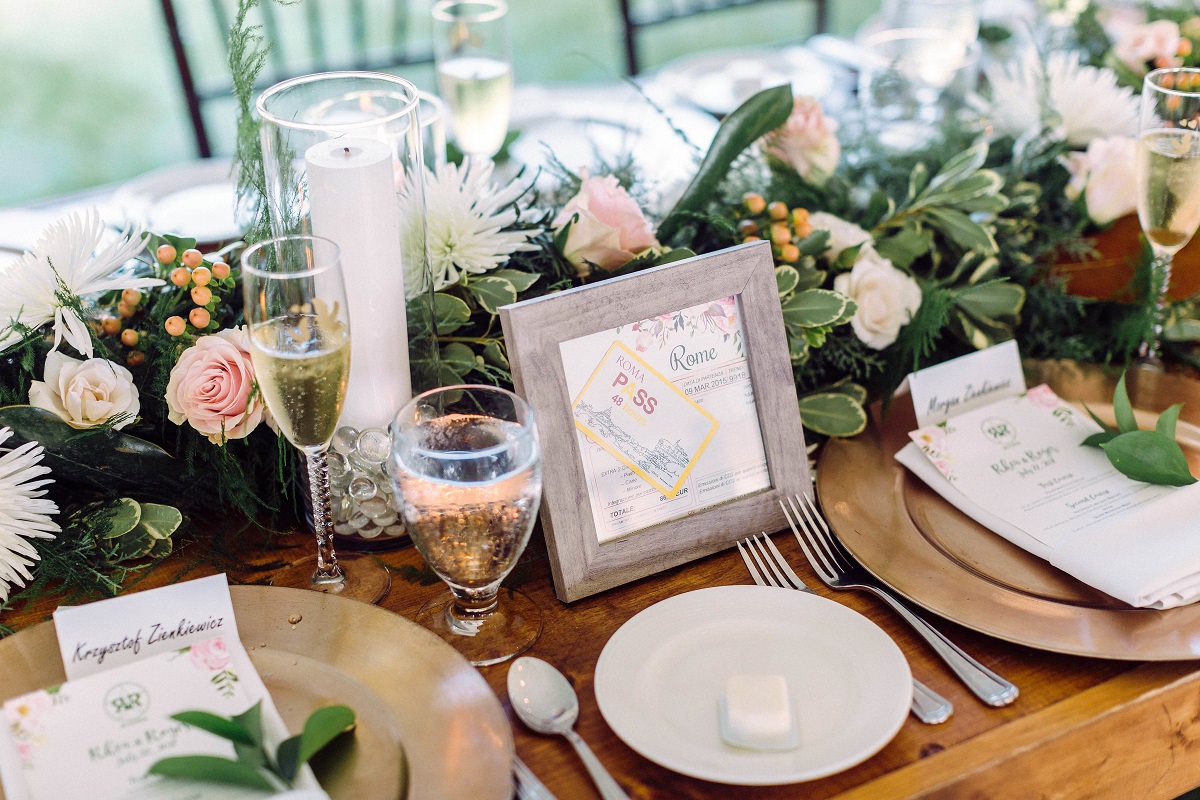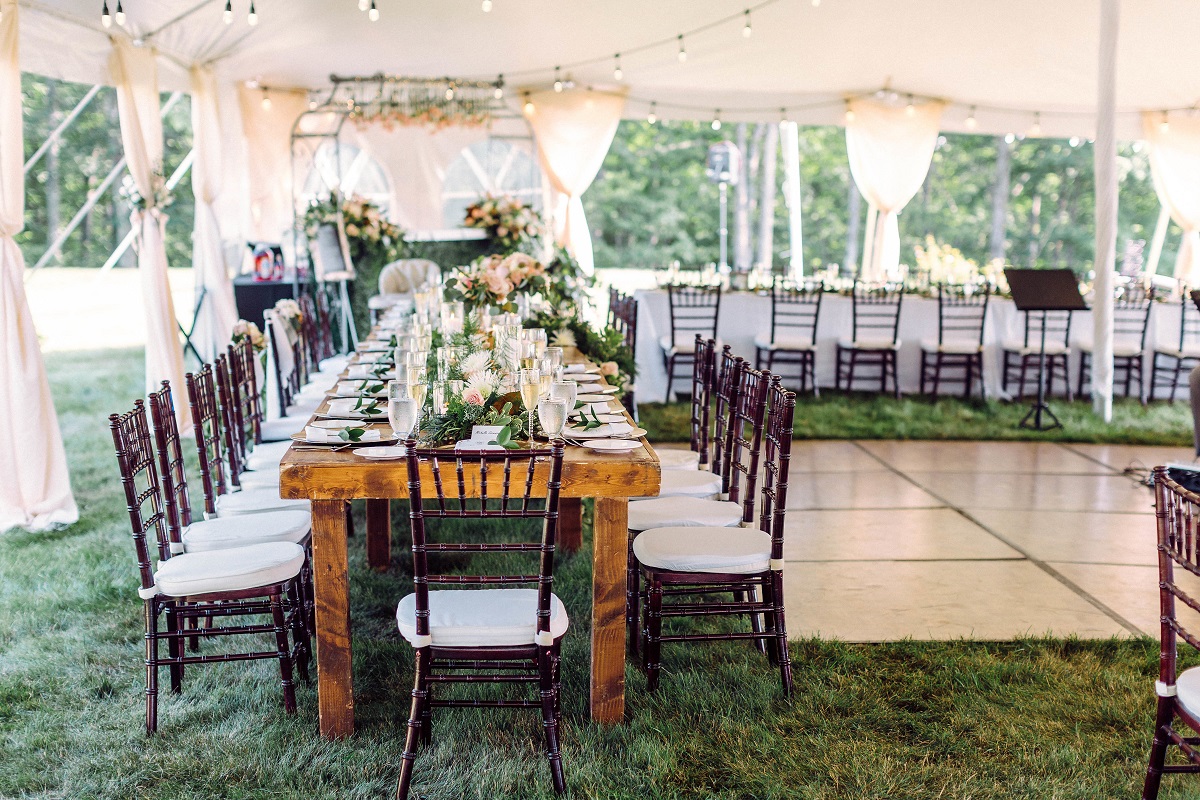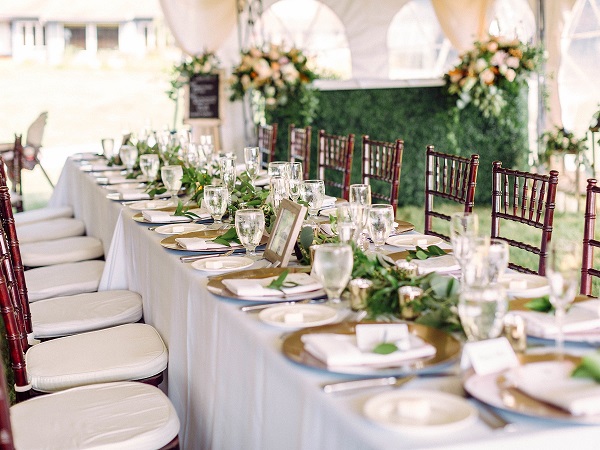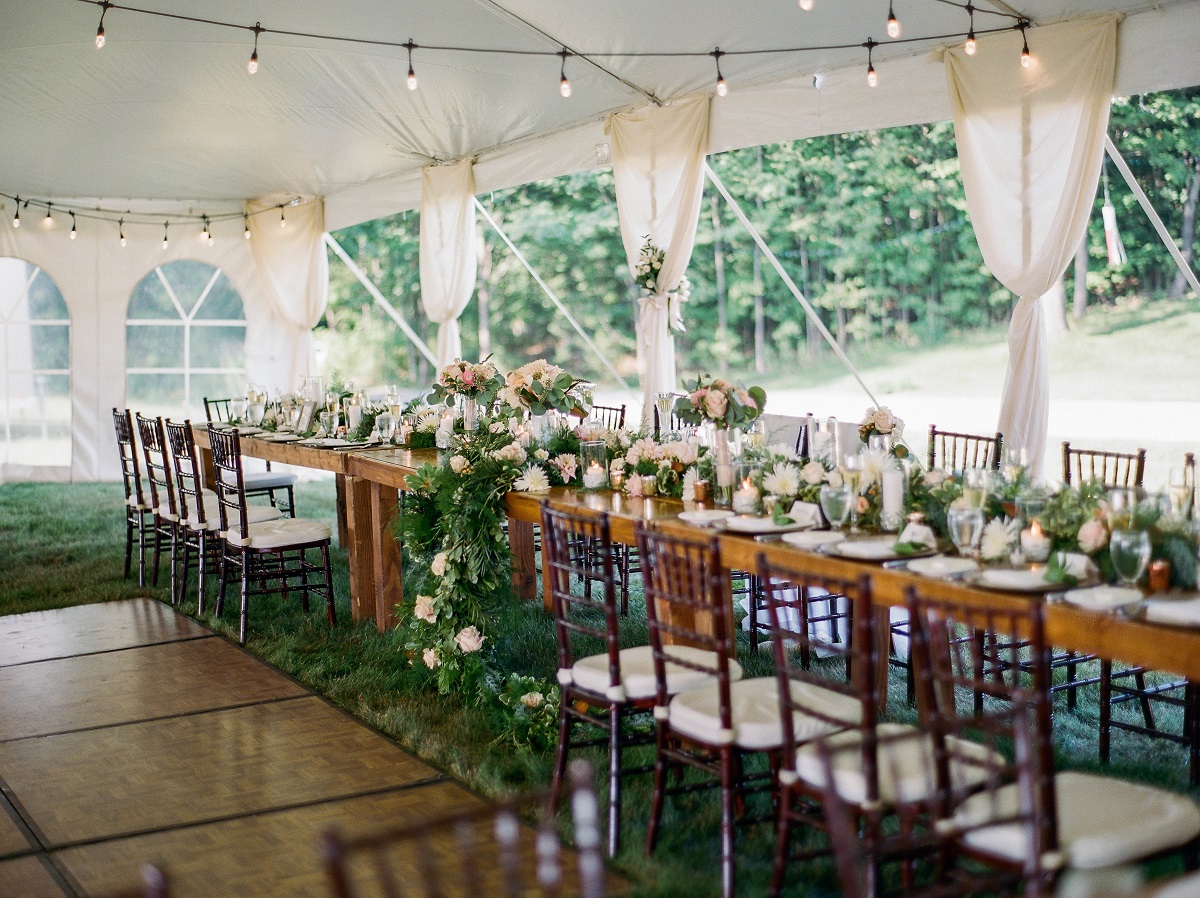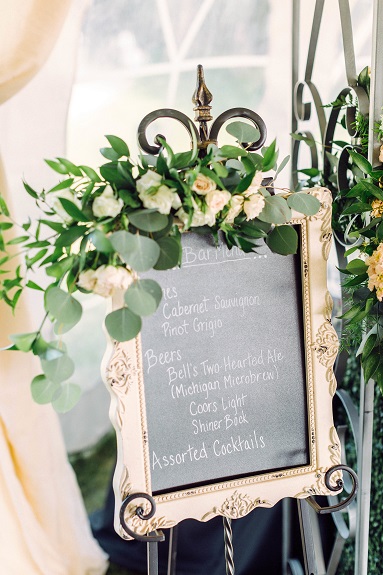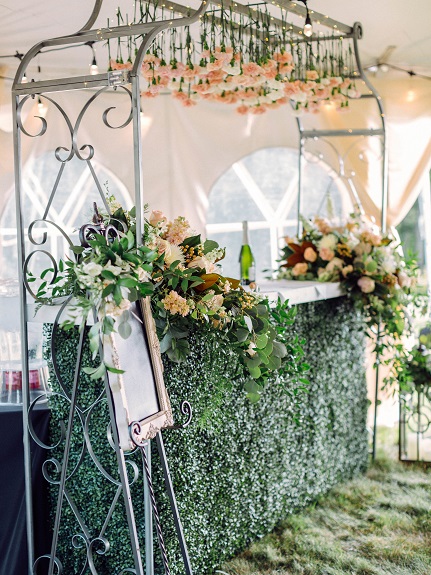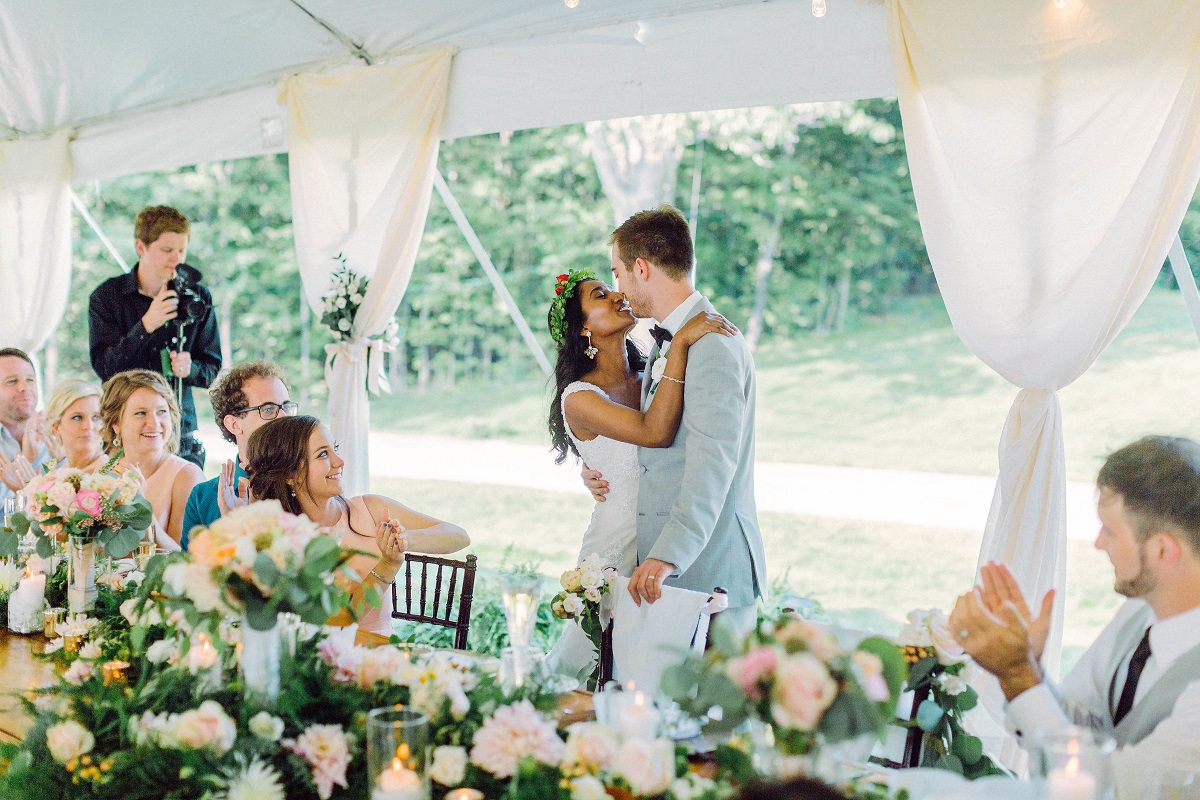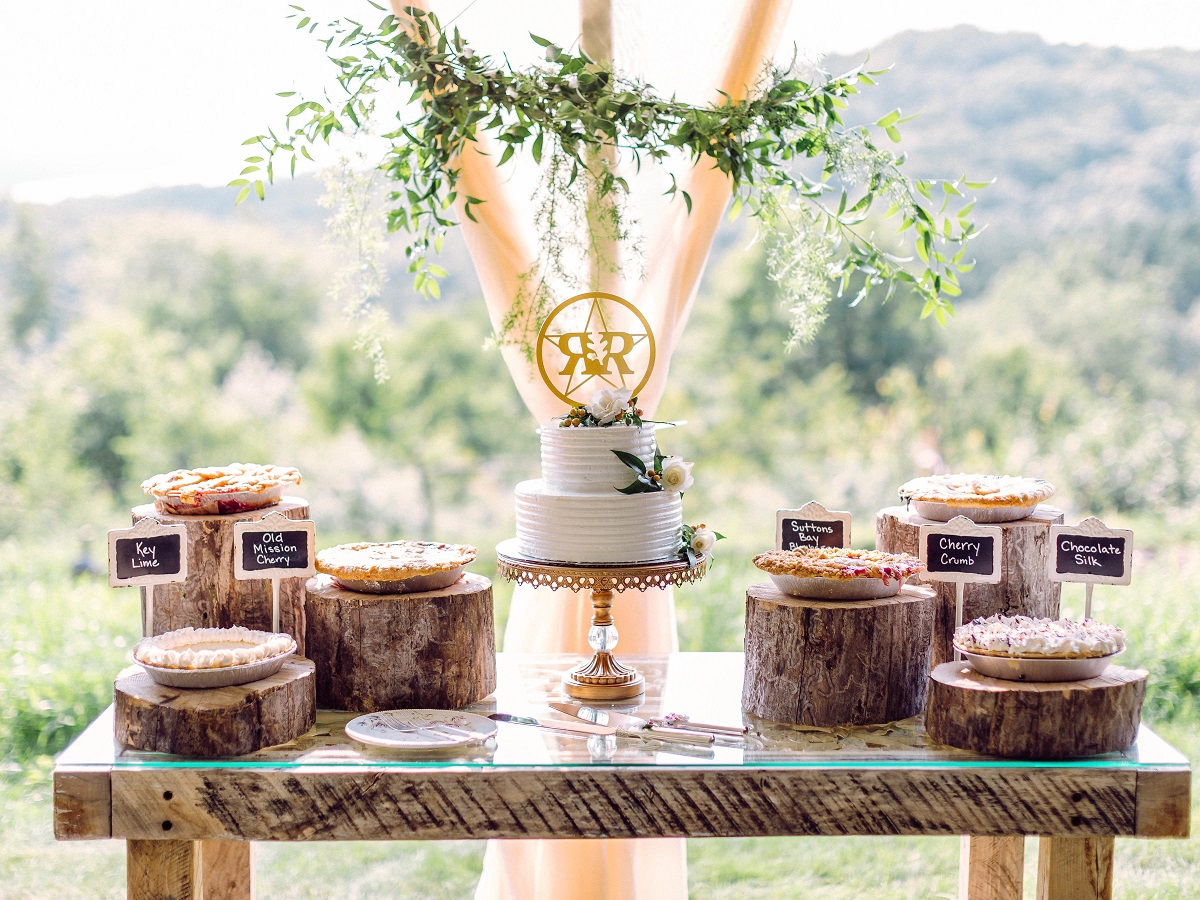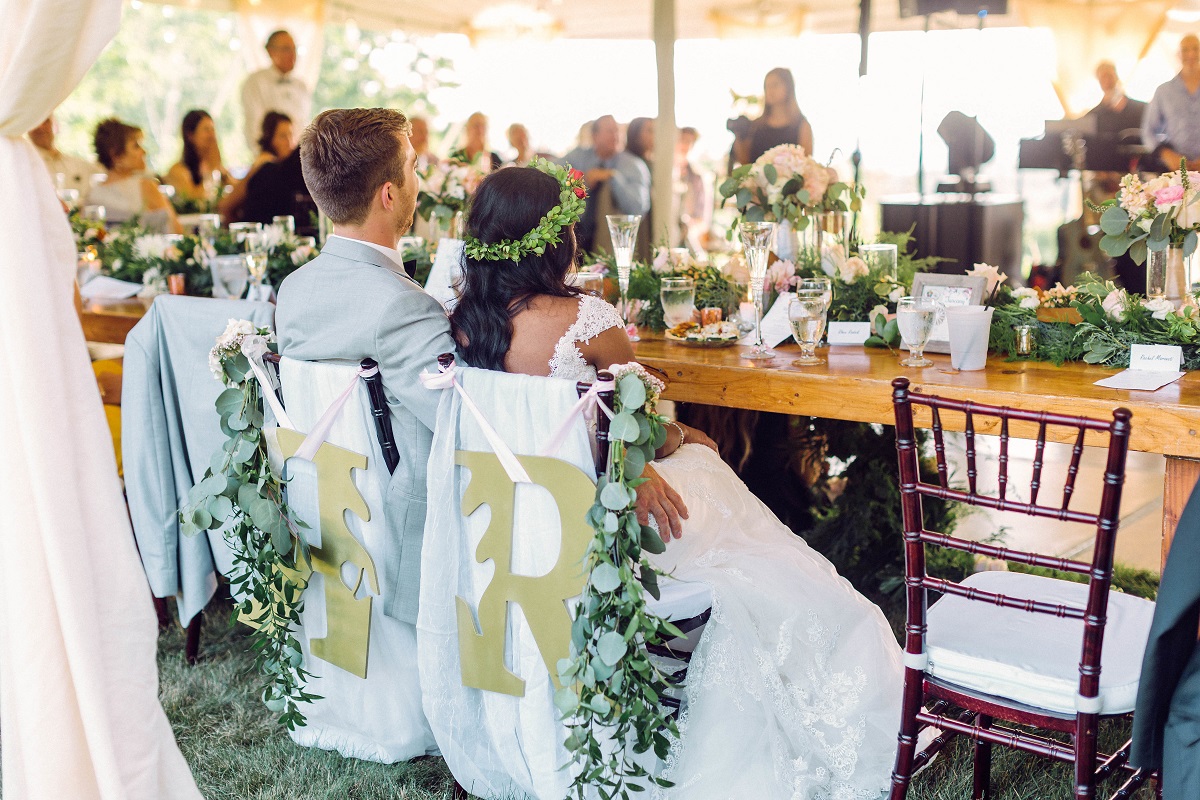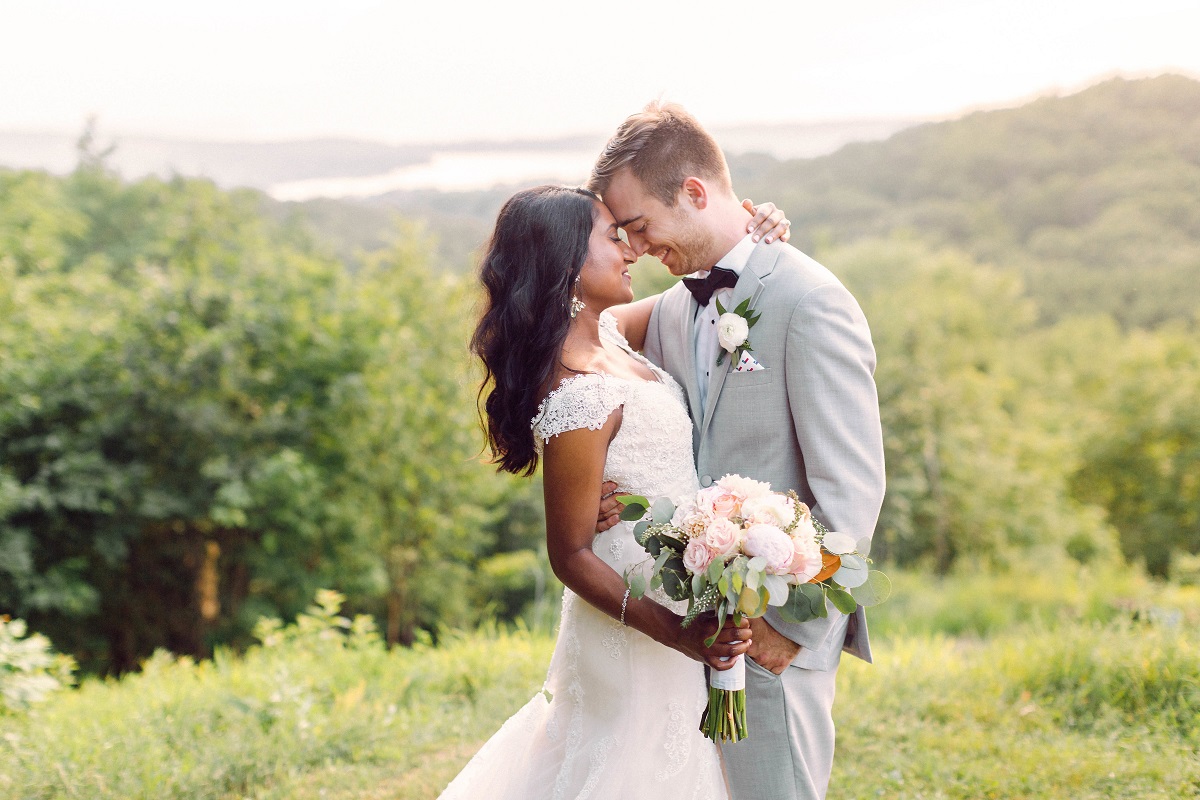 Roger & Rhea 07.22.17 from SJK Productions on Vimeo.
The Creative Team
Event Planning & Design:  Juniper & Lace Events | Venue:  Private Residence, Lake Leelanau | Photography:  Carrie House Photography | Cinematography:  SJK Productions | Floral:  Premier Floral Design | Decor Rentals:  307 Events | Hair & Makeup:  Memorable Occasions | Tent, Tables, Lighting, & Stage:  Monstrey MacDonald | Chairs & Dance Floor:  Traverse City Wedding & Party Rentals | High Chair Rental:  Tiny Toes Travel | Catering:  Grandview Catering | Ice Cream Cake & Ice Cream:  Moomers | Pies:  Grand Traverse Pie Company | Ceremony Music:  Don Julin Trio | Reception Band:  MacDaddy | Officiant:  Northern Michigan Wedding Officiants | Restrooms:  Houdek's | Shuttle Transportation:  Blue Lakes by the Bay | Valet Services:  Parking Solutions | Invitation Suite, Cake Topper, & "R" decor:  Platypus Papers, LLC